Virgin Atlantic | Airbus A330 | LHR-JFK-LHR | Economy

Maps generated by the Great Circle Mapper – copyright © Karl L. Swartz.
For my first longhaul trip of the year, I'll be travelling to New York's JFK onboard one of Virgin Atlantic's newly delivered A330's. I had been wanting to Visit NYC again for a few years now but the high accommodation prices had always put me off. Then, one March night whilst having a conversation with my dad, he mentioned that he had stayed in Brooklyn and, although still being quite a high price, was more reasonable than staying in the center of Manhattan, and a reasonable area too. I did a bit of research and found that hotels could be found in the region of £100 a night. In the end I opted for the Super 8 Motel in Brooklyn for a pricey £420.


It was then time to look for flights. A bit of searching on expedia showed that the likes of Delta, Continental and United were the cheapest coming in at around £400 return. I also looked at BA and VS – both were around £560 for the dates I was looking for. All options were more money than I had to spend on flights at the time so I held out and monitored prices. During the next month or so, the prices seemed to vary from £370 to £570 with VS who I wanted to travel with, so it was a case of catching them when they were having one of their cheaper moments. VS gave me 3 options to get me to and from JFK – The morning flights onboard their new A330-300, the afternoon flight on the 747-400 or the evening flights on the A340-600. I opted for the morning flights as I'd not been on an A330 before and by departing at 09:30 from LHR it meant I got more time in New York and less time waiting round all day for a flight at home! For the return, again I could have selected any number of options, but once more chose the earliest of the 3 flights from JFK. The reason being that I had logged many flights on VS' 747's and the A346 flight left JFK just a little bit too late for my liking and it would of meant hanging round without the use of a hotel for 12 hours. Although this was a difficult choice because if I'd chosen the 747 flight I might just be able to catch G-VROC and therefore would of flown on the entire VS 747-400 fleet. As it turned out, the 747 flights on the days I travelled were operated by G-VHOT and G-VWOW.
One rainy Saturday afternoon, I was again looking at the VS website and noticed the price had come down to £440. In the end I managed to bring this price down to £390 by spending a couple of thousand VS flying club miles I had lying around, and the booking confirmation was sent shortly followed by the E-Ticket.

Interesting how VS still use the old logo on the confirmation and an older livery
Do VS really expect me to believe that they're carrying me across the Atlantic for just £44? Yeah right… Although they all do it.
A few weeks before departure it was time to apply for my ESTA. The last time I travelled to the US this was free but now they charge $14. I guess they have to try anyway possible to make some money!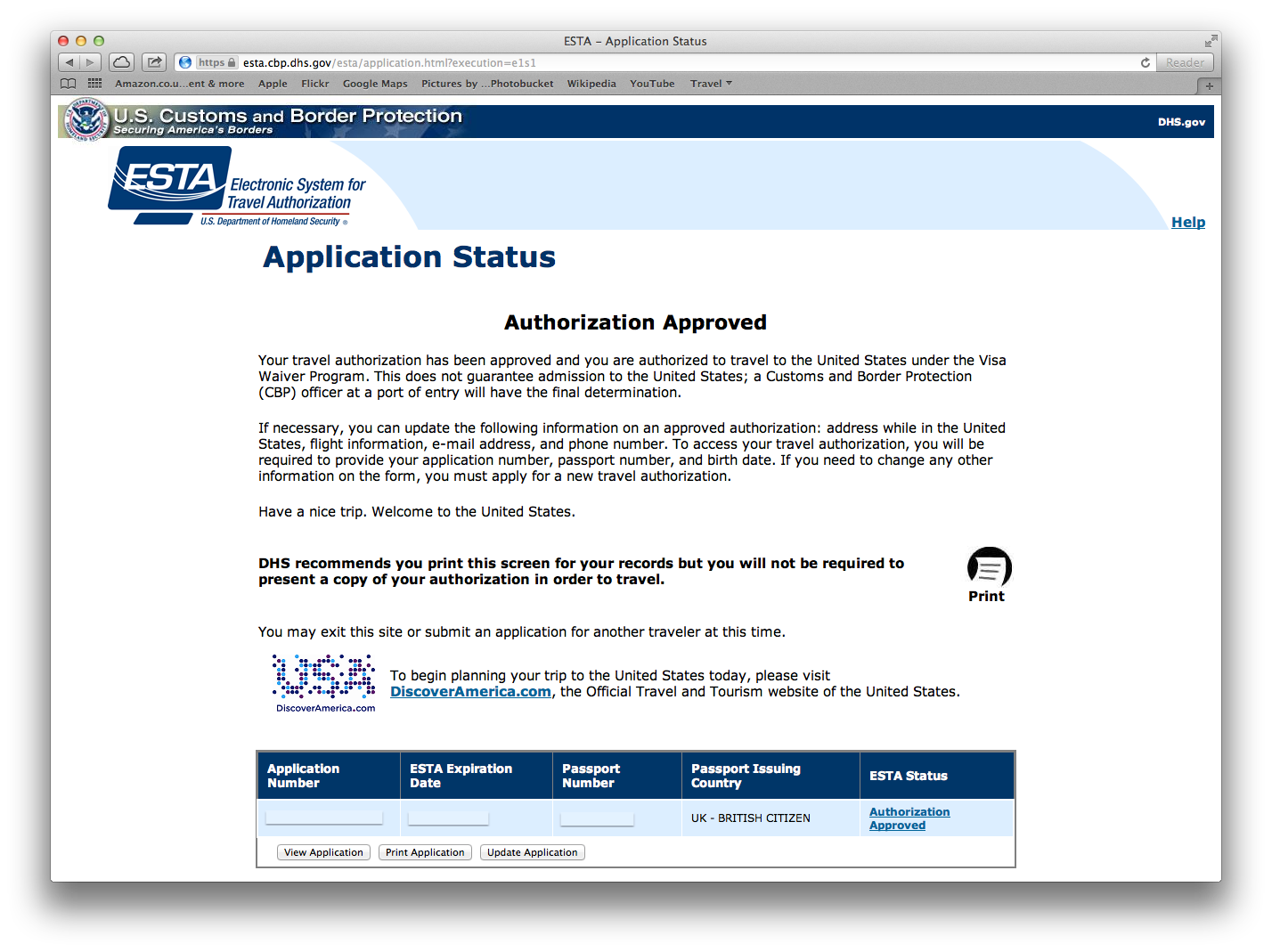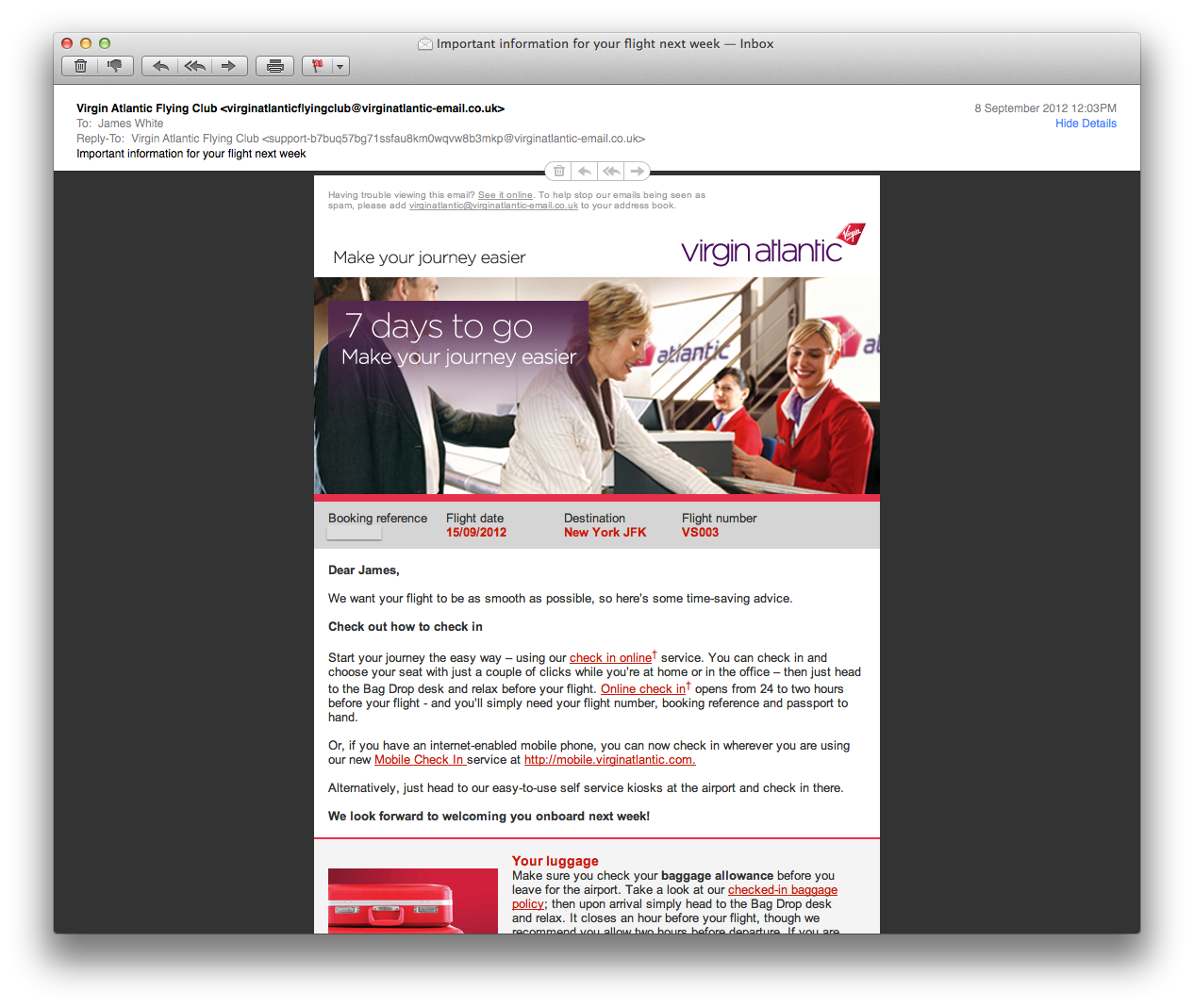 Handy for frequent flyers I guess…
Also of note is that this would be my first trip on VS in Economy since 2008 so it will be of interest to see the latest updates to the product.
The day before departure, it was time to check in online: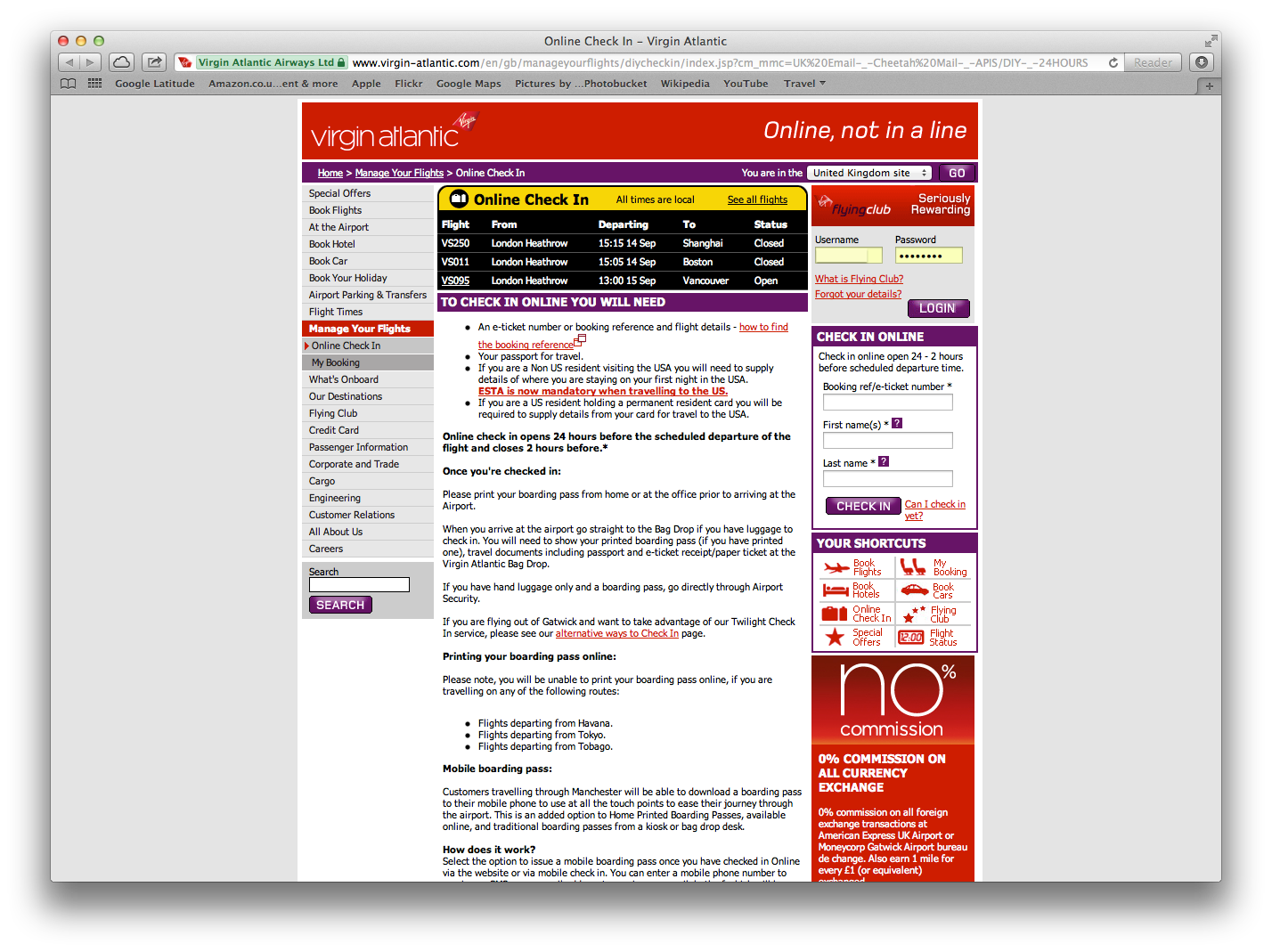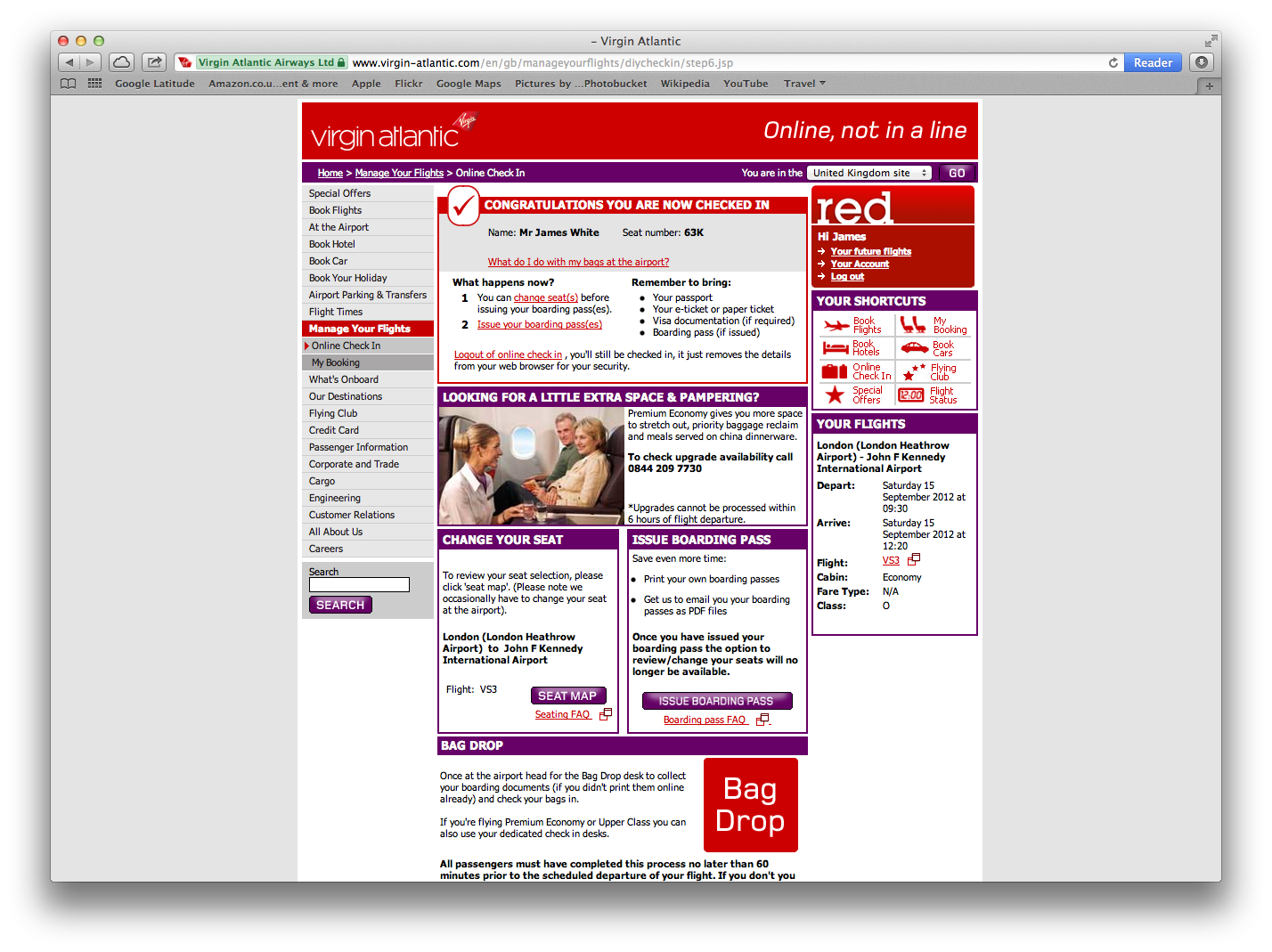 I've noticed that VS are quite inconsistent with their branding – some things use their old logo where others use the new. Surely its not that hard to change a graphic?
The day I'd been looking forward to for more than a few months finally arrived. I'd been on many trips so far this year, but nothing beats a long haul! This was the most I had anticipated a trip since my first in 18 months to Frankfurt back in March. As usual it was the first coach of the day to Heathrow, at 06:20.


The coach to the airport was a couple of minutes late but nothing major. More irritating was the couple sat the row in front – way too noisy and enthusiastic for this time of the morning!
Around half an hour later the coach had arrived at the central bus station and it was off through the tunnel to T3.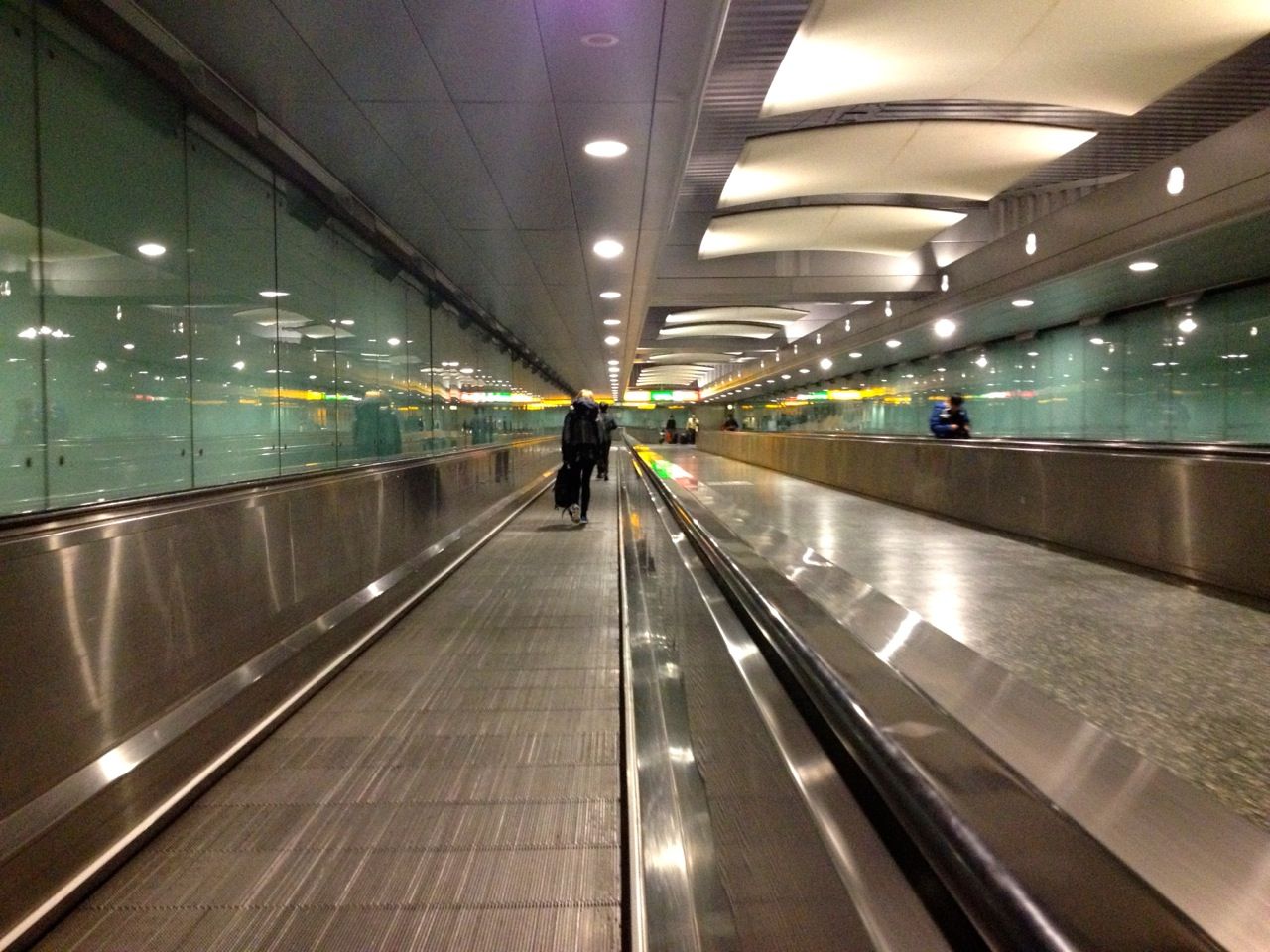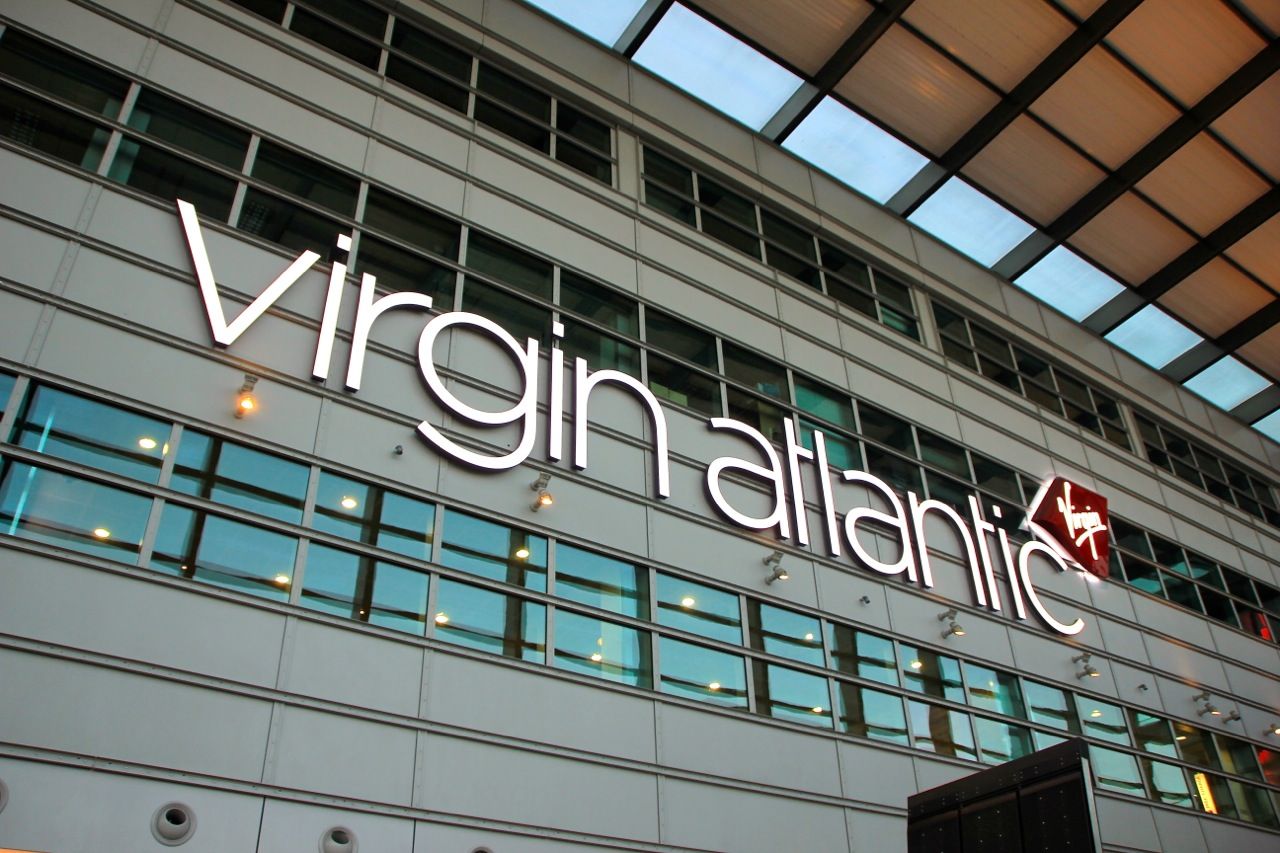 Check in was no major hassle. There was a couple in front of me who were trying to check in what looked like the entire contents of their house, however one of the check in assistants saw this and I was invited to use the premium economy check in instead.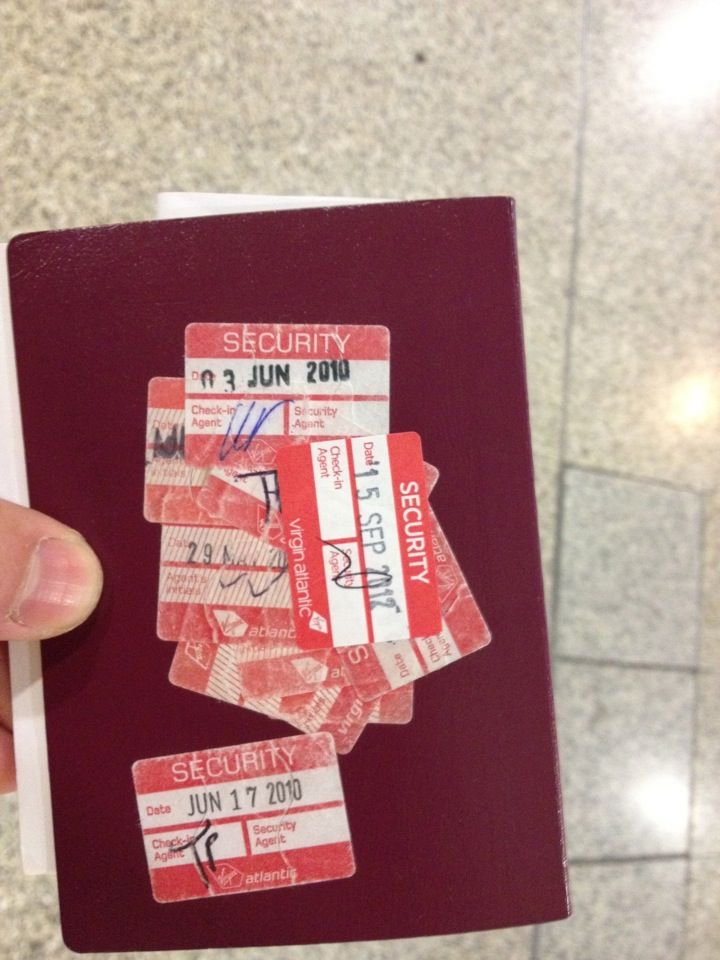 Another sticker for the collection!
As expected T3 had changed beyond all recognition since I last departed from here back in 2006. Barely any shops landside compared to back then, as its nearly all a security area rather than just the one. However it works out better this way due to there being less of a queue. The queues at security that i remember from the old days had always put me off using LHR!


Still managed to find somewhere for breakfast though.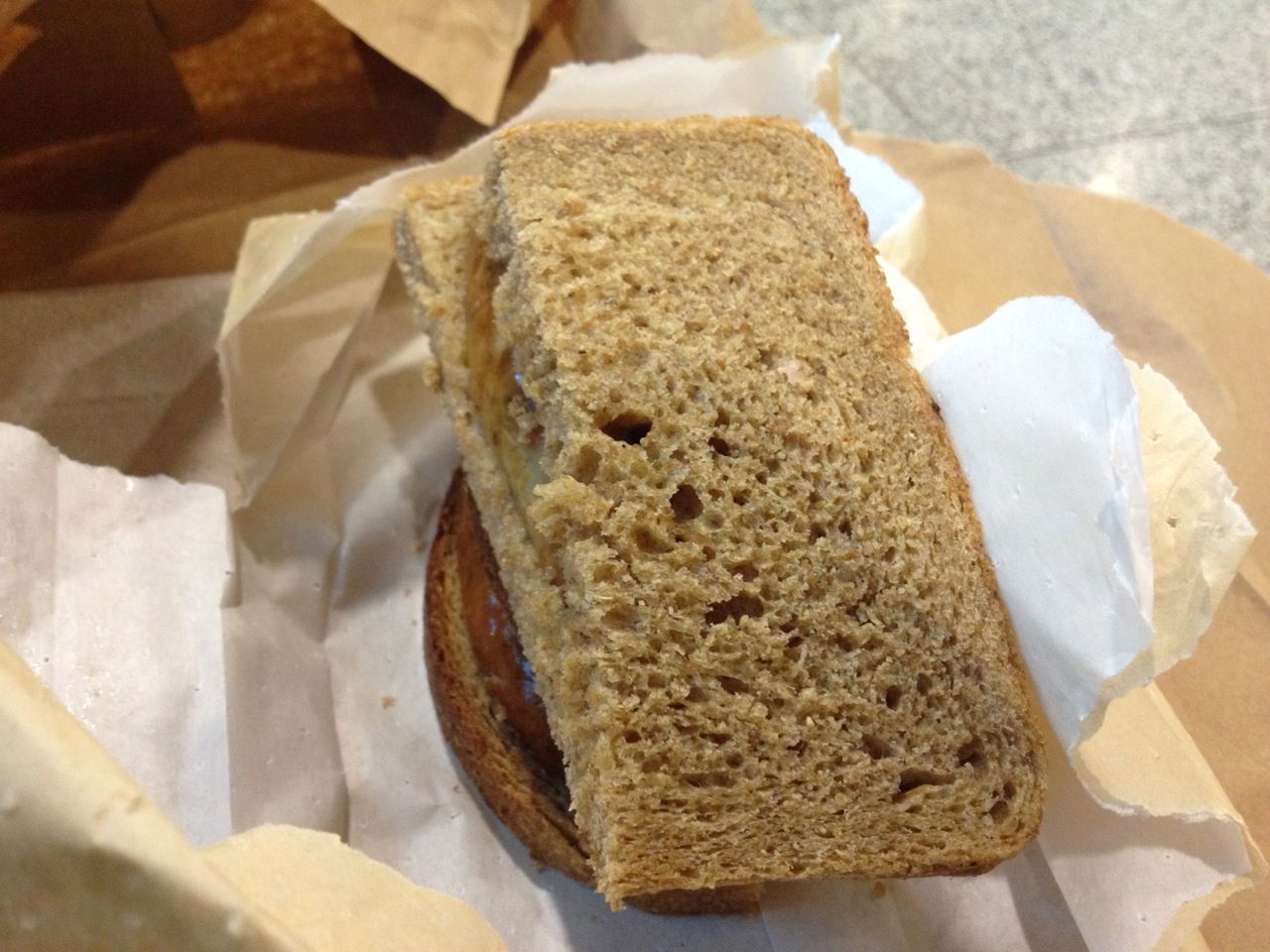 After this I headed through security and it was as expected – full of people who weren't quite sure of the rules! Then it was into the shopping mall.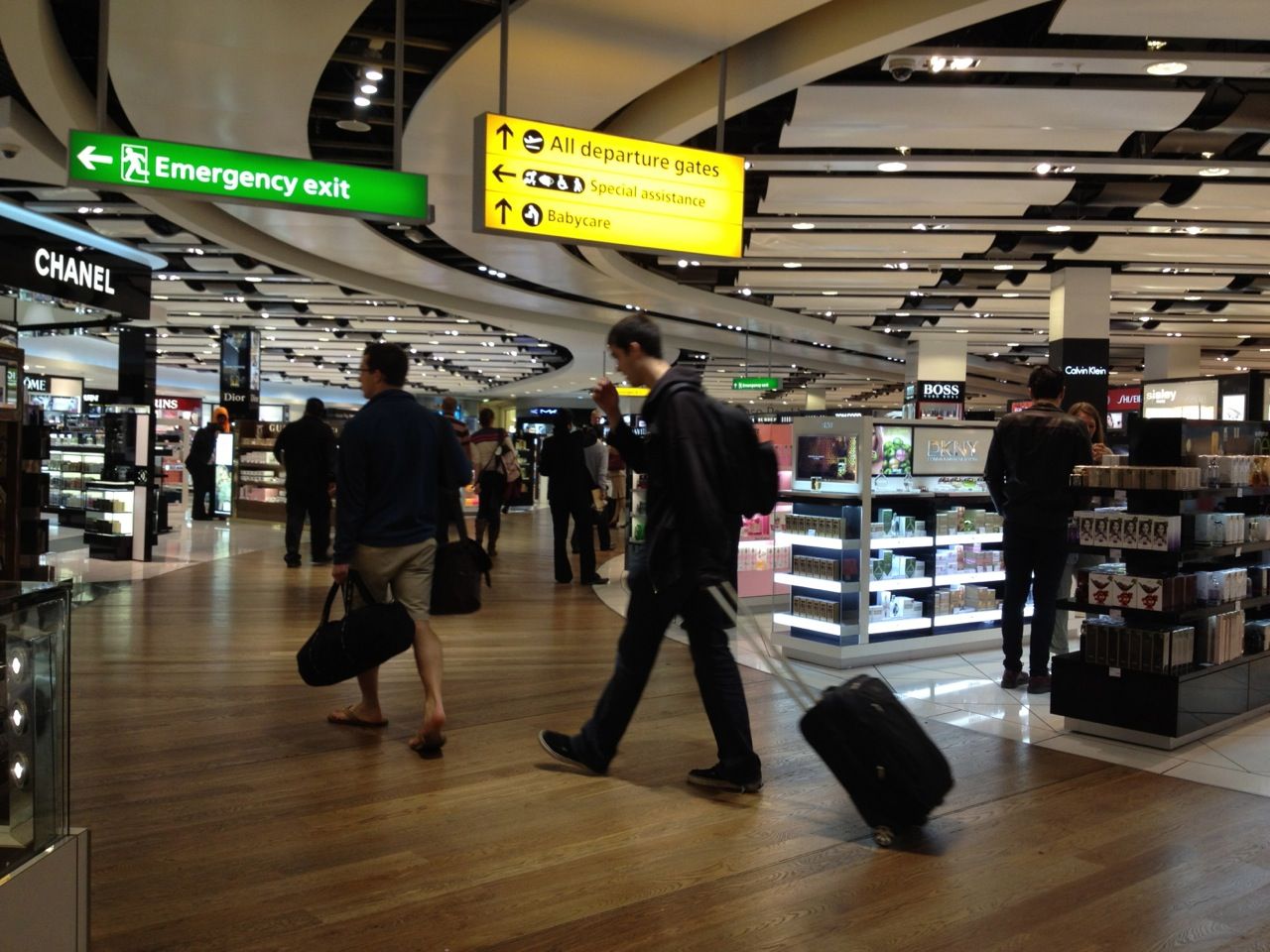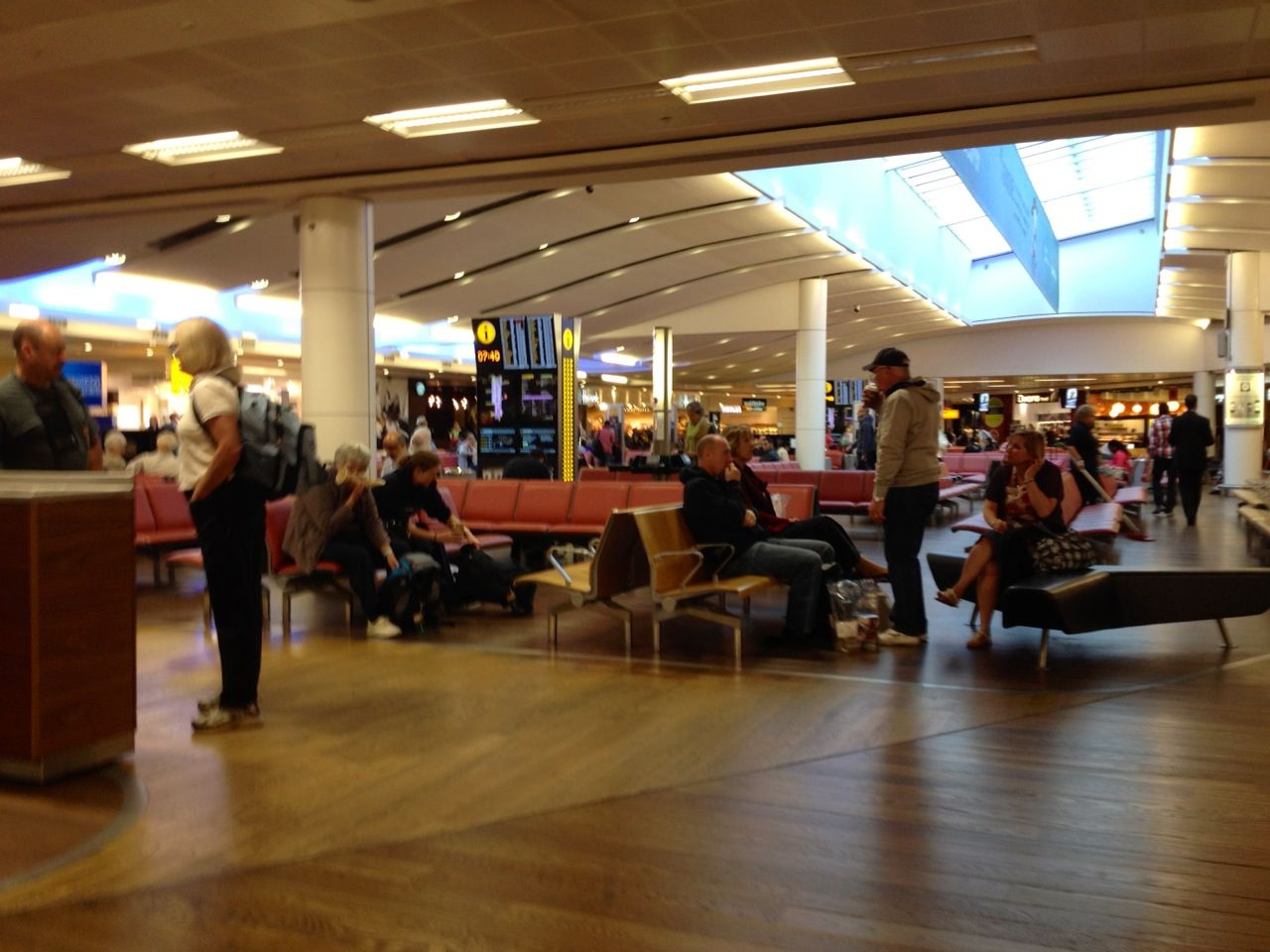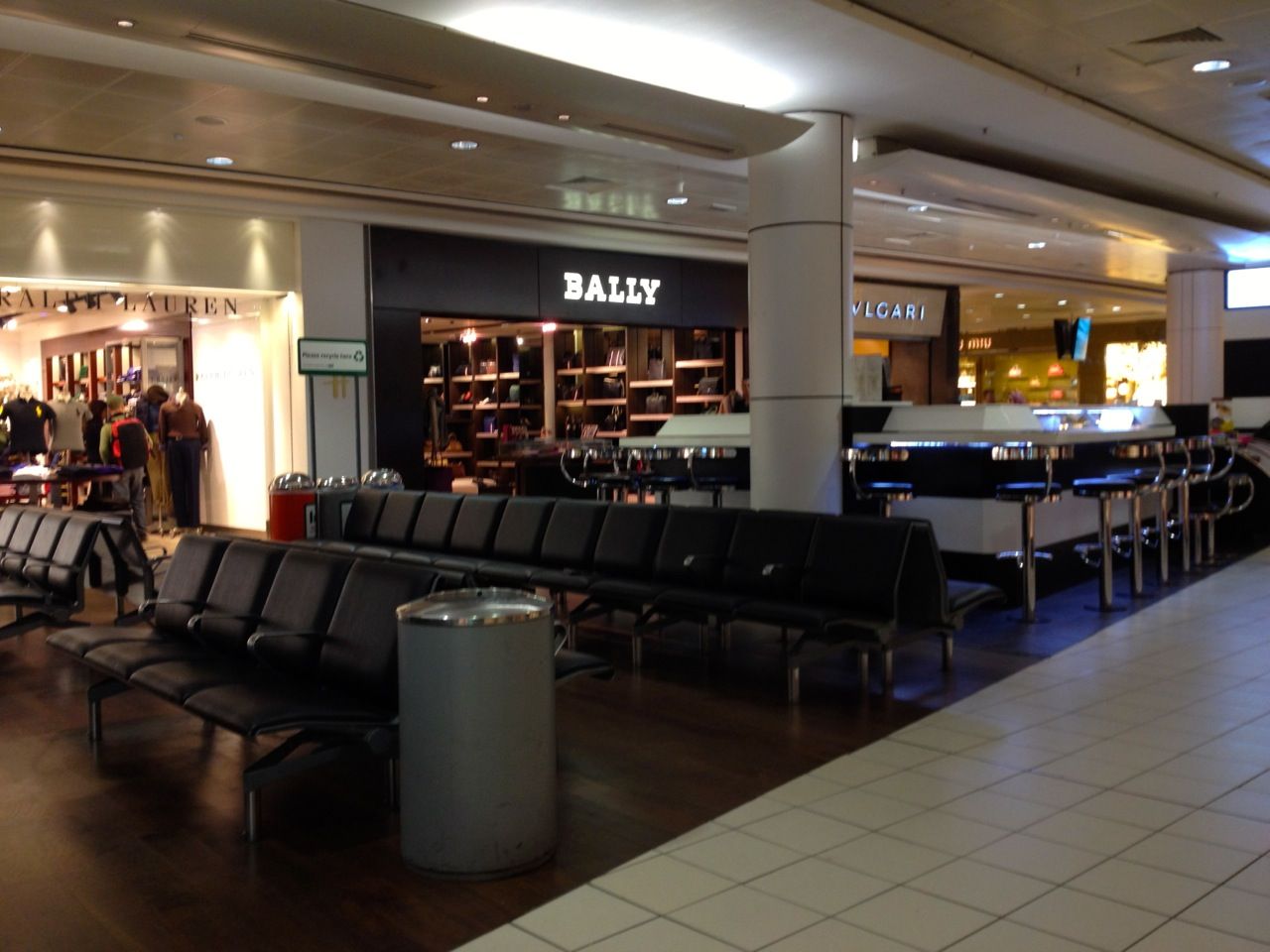 I found a window to keep myself occupied for a few minutes.

G-VNYC can be seen in the background of this one being towed away from its stand.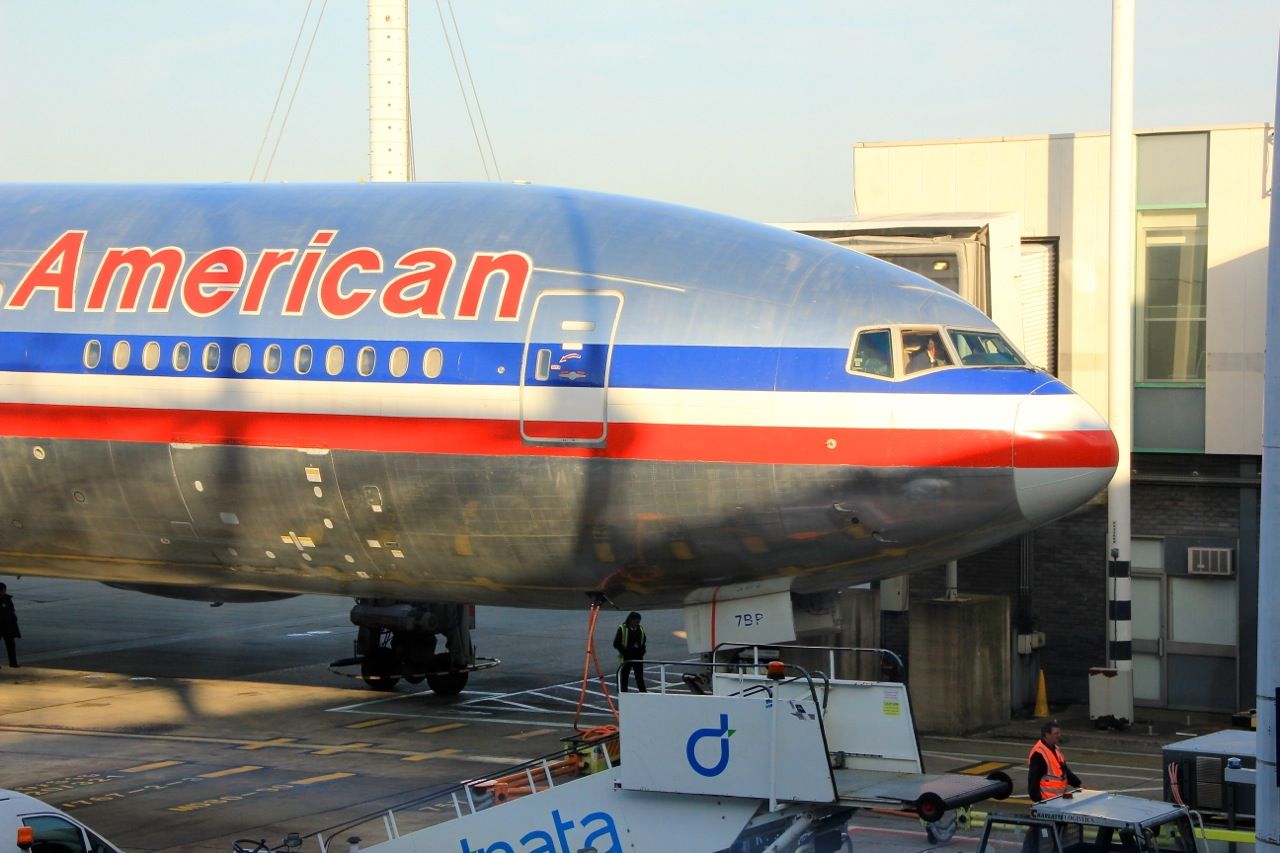 Then it was time to head down to gate 1.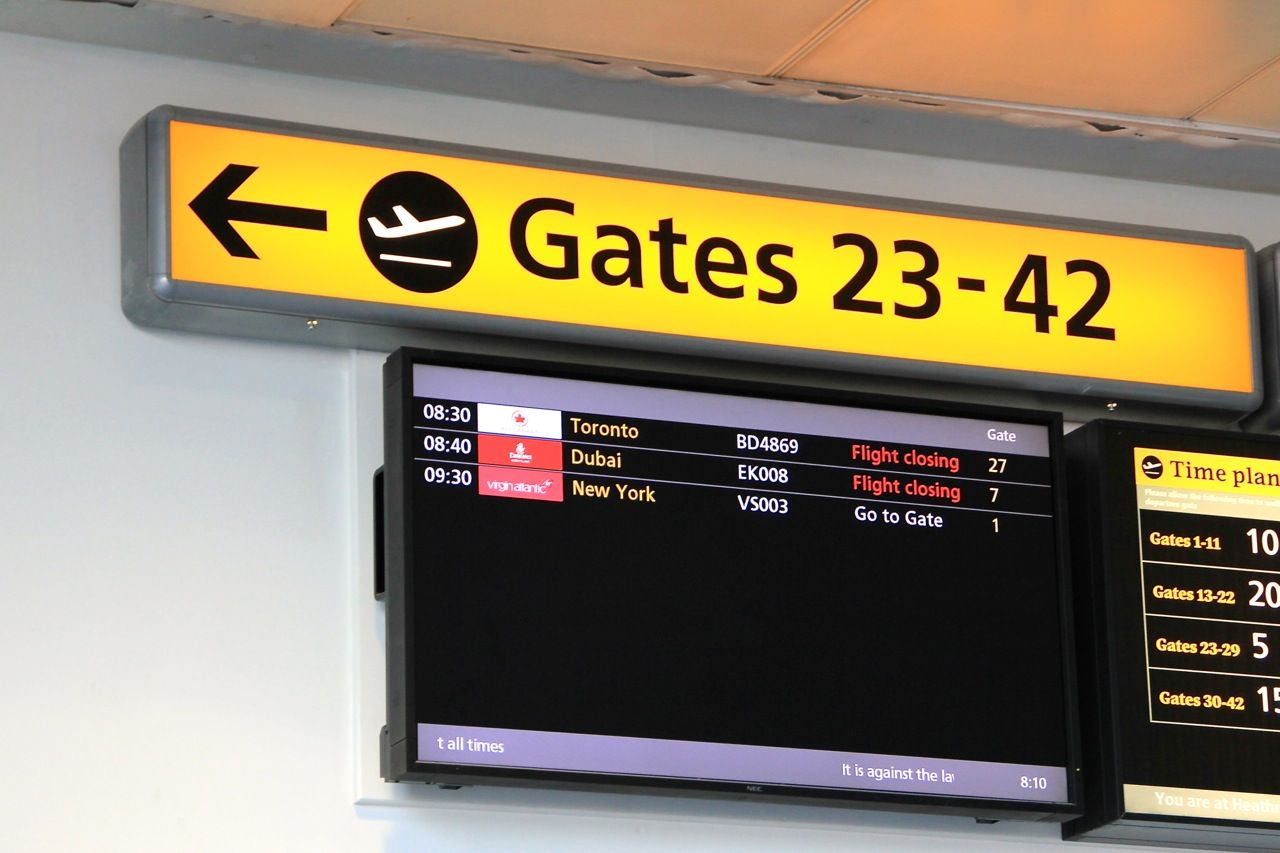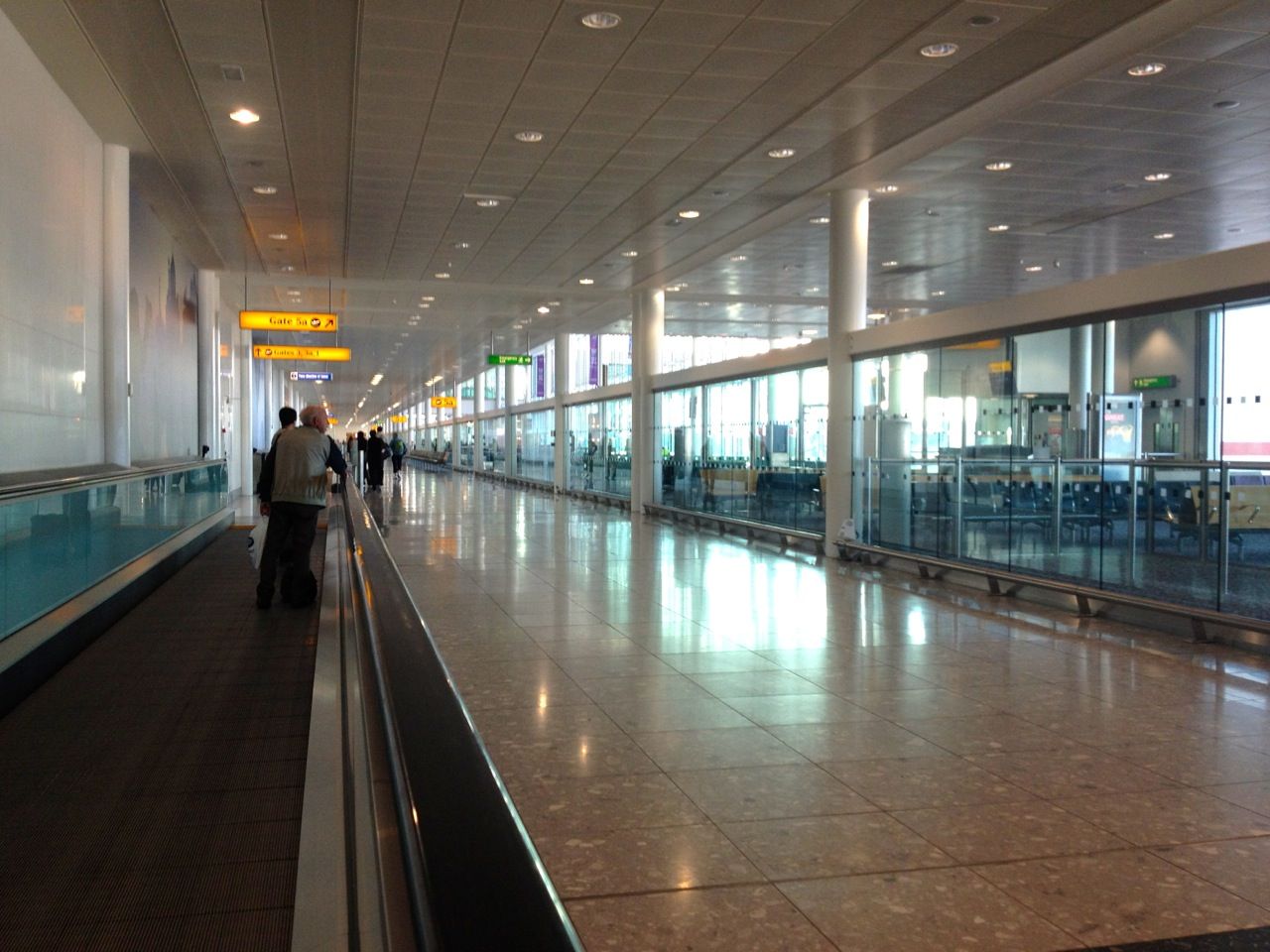 I was welcomed to the holding pen with a 'welcome back sir'. Although I was a VS flying club silver member for a good few years, that has long run out and I haven't actually flown VS for over 2 years – so I thought this was a nice touch.
Once inside I found G-VNYC waiting – which was pretty appropriate considering today's destination. Although I was a bit surprised by this as I had just seen this aircraft leave another gate further round T3 – maybe they decided to move it nearer to the active runway for a quicker taxi? Seemed strange to me.
This was about the best shot I could manage of the plane I was on, however there was a much better photo opportunity of our neighbor.


And another one off in the distance


VS003
LHR-JFK
15 September 2012
A330-313 – G-VNYC Uptown Girl
Off Stand: 09:31
On Stand: 12:12
Boarding started at 08:45, although nobody could actually understand the PA – maybe that's VS' way of stopping the mass stampede?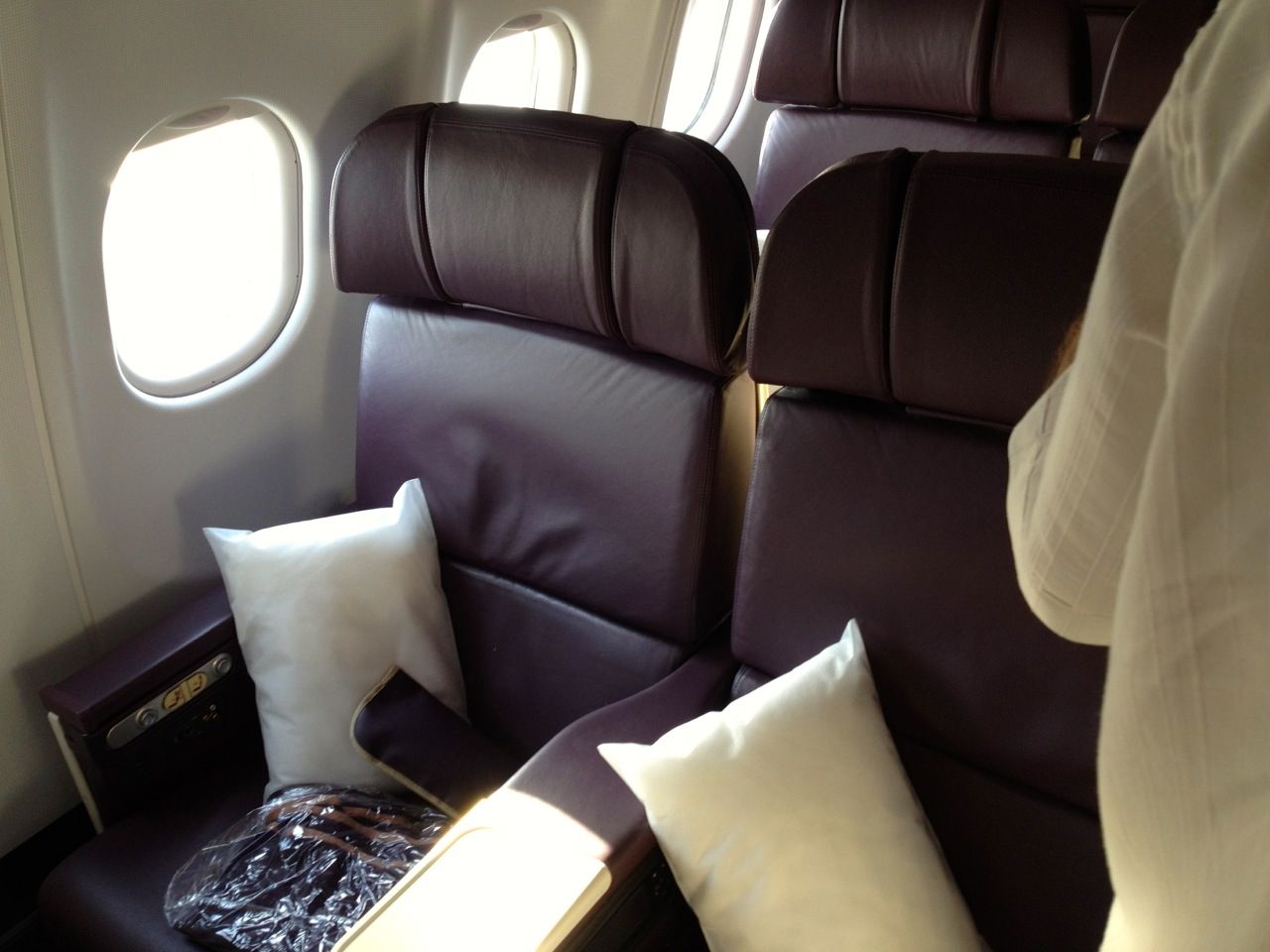 Not for me today unfortunately.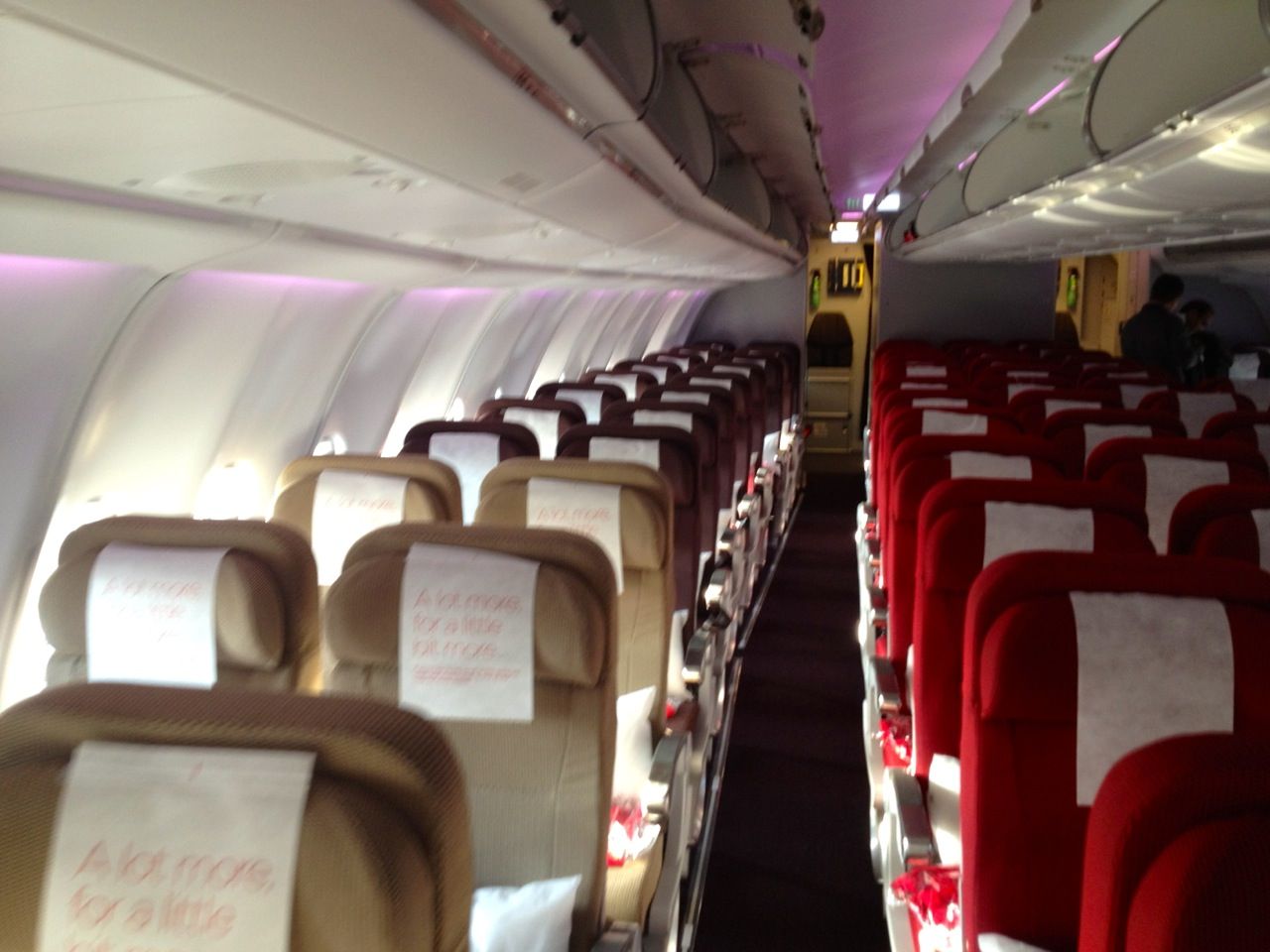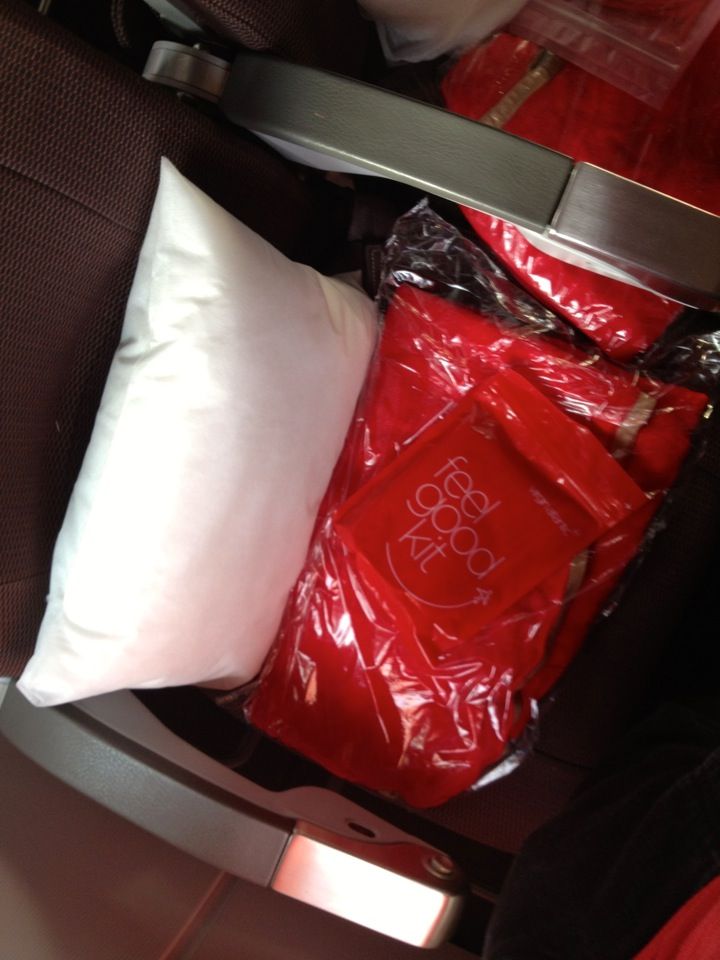 Interesting to note was that economy had the newer amenity kits, whereas Premium had the older type still.
Once on board, I actually found the legroom pretty decent.


Flight time was given as 7hours 24 minutes. Shortly before pushback, the crew confirmed there were 266 passengers on board.
This new A330 was certainly much better than the older LGW based 747's, although these are currently being brought up to a similar standard.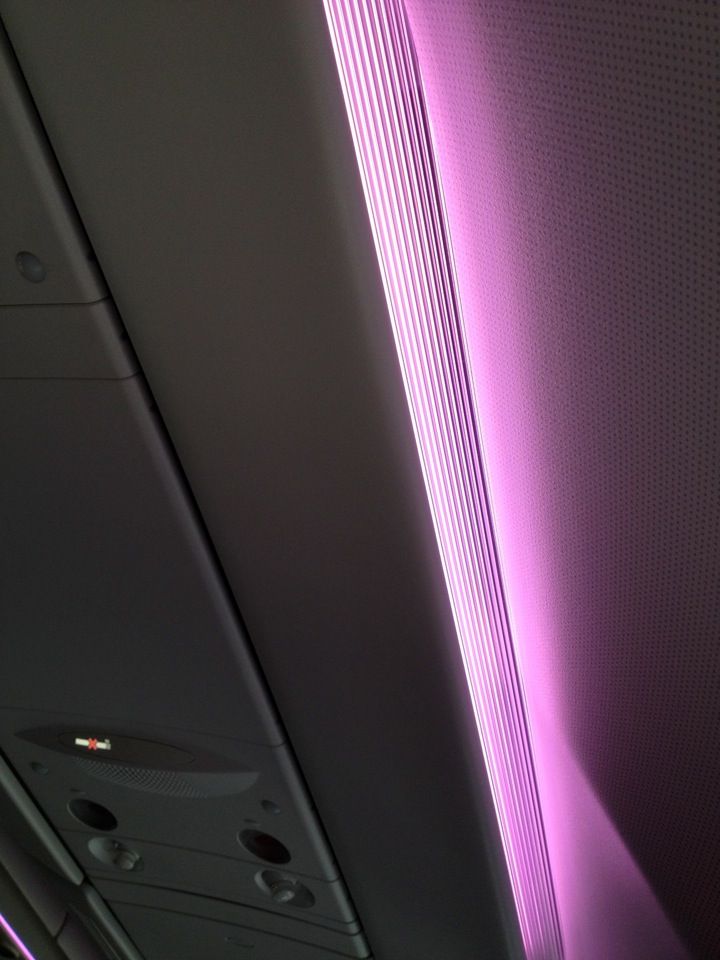 Range of connection options
Nearly time to go.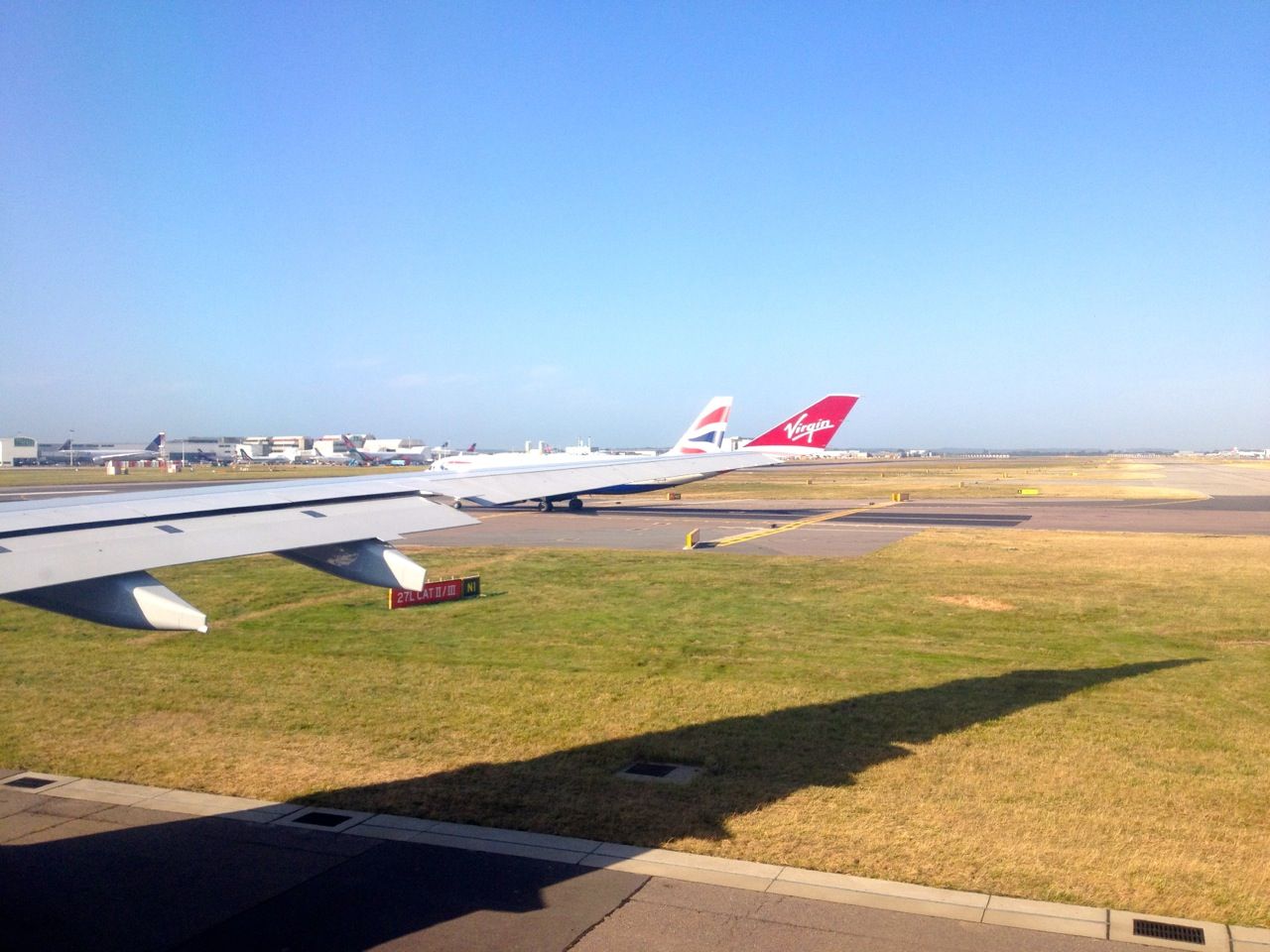 Departure was made from 27L at just after 09:45.
[youtube https://www.youtube.com/watch?v=Z3kD1C-3q5E]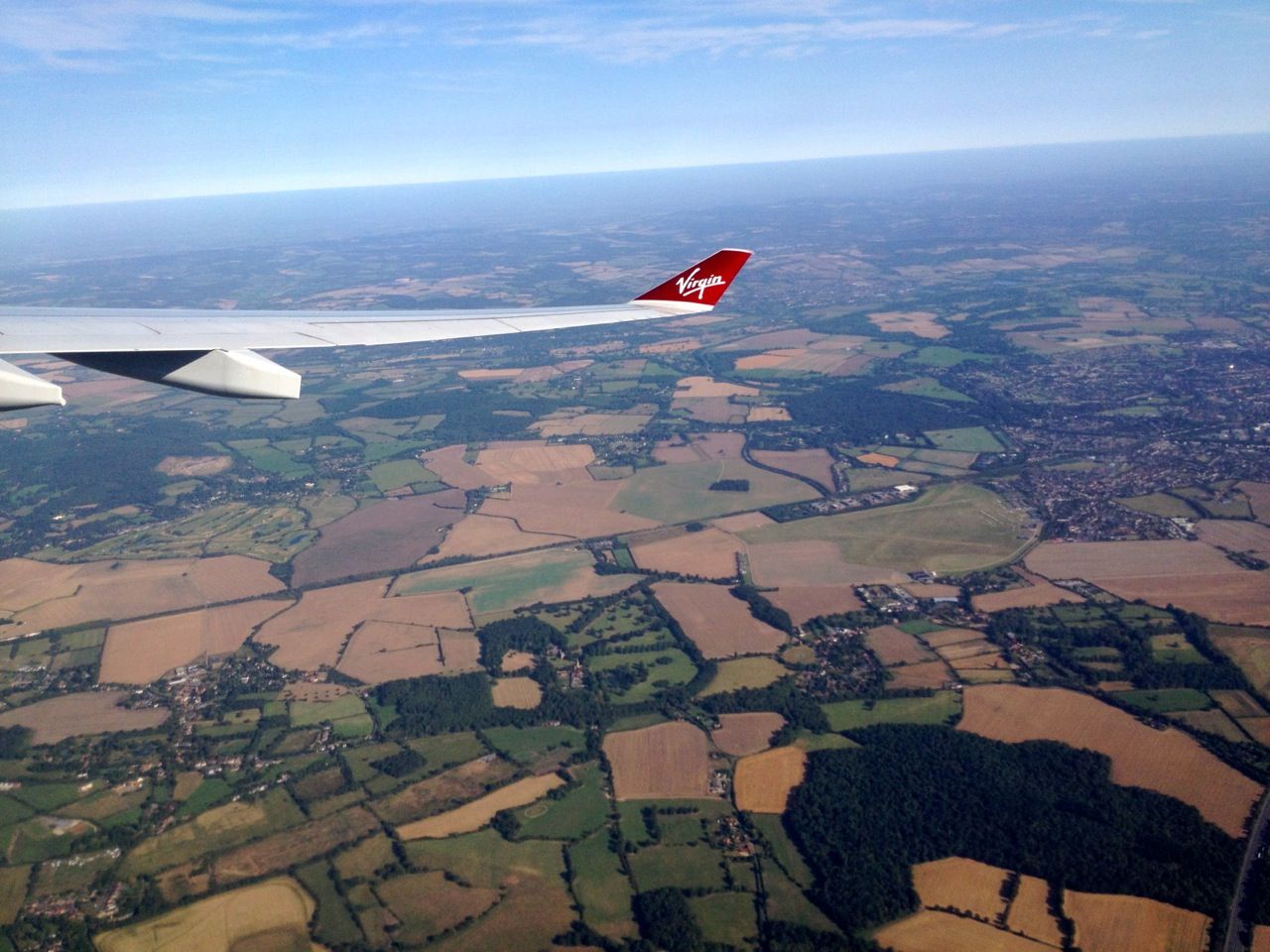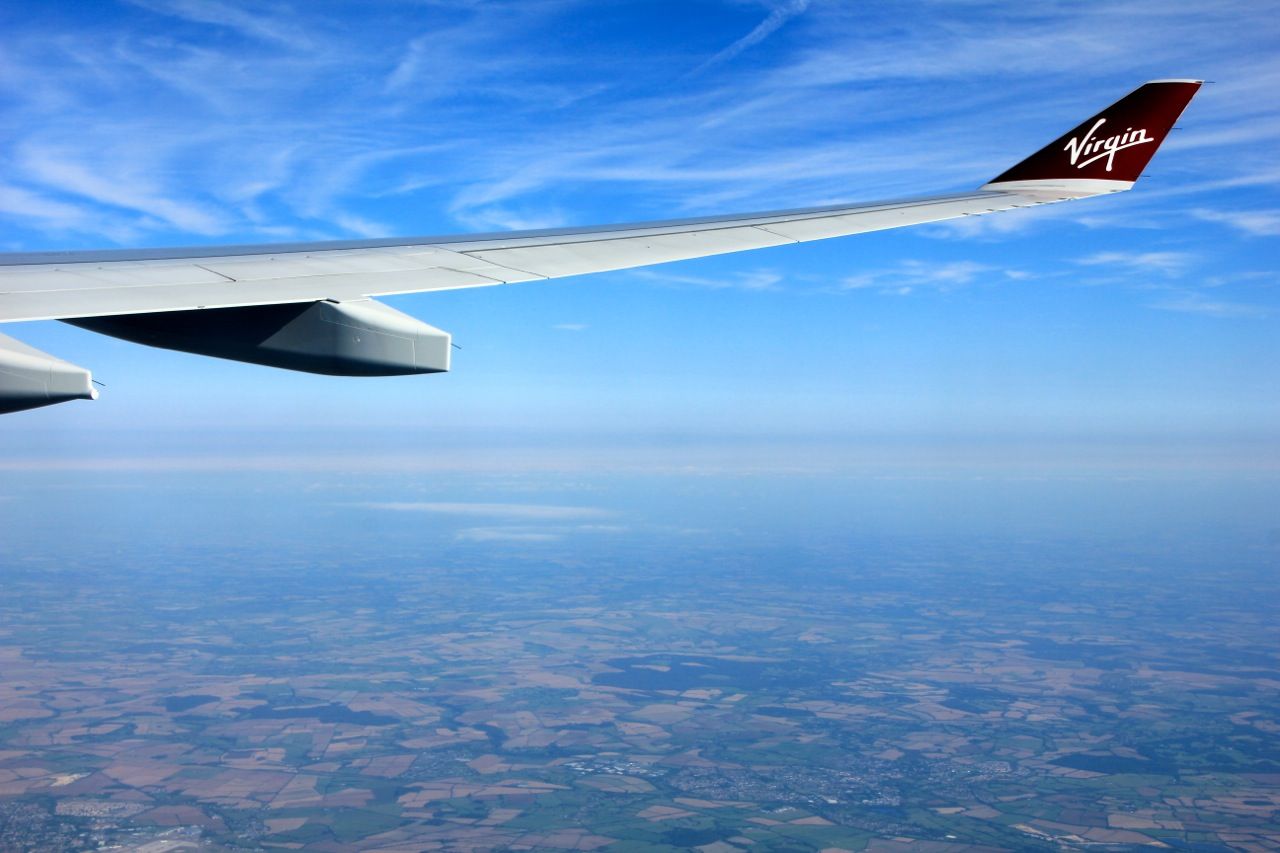 Around 10 minutes later the crew started their service, first handing out headsets shortly followed by menus.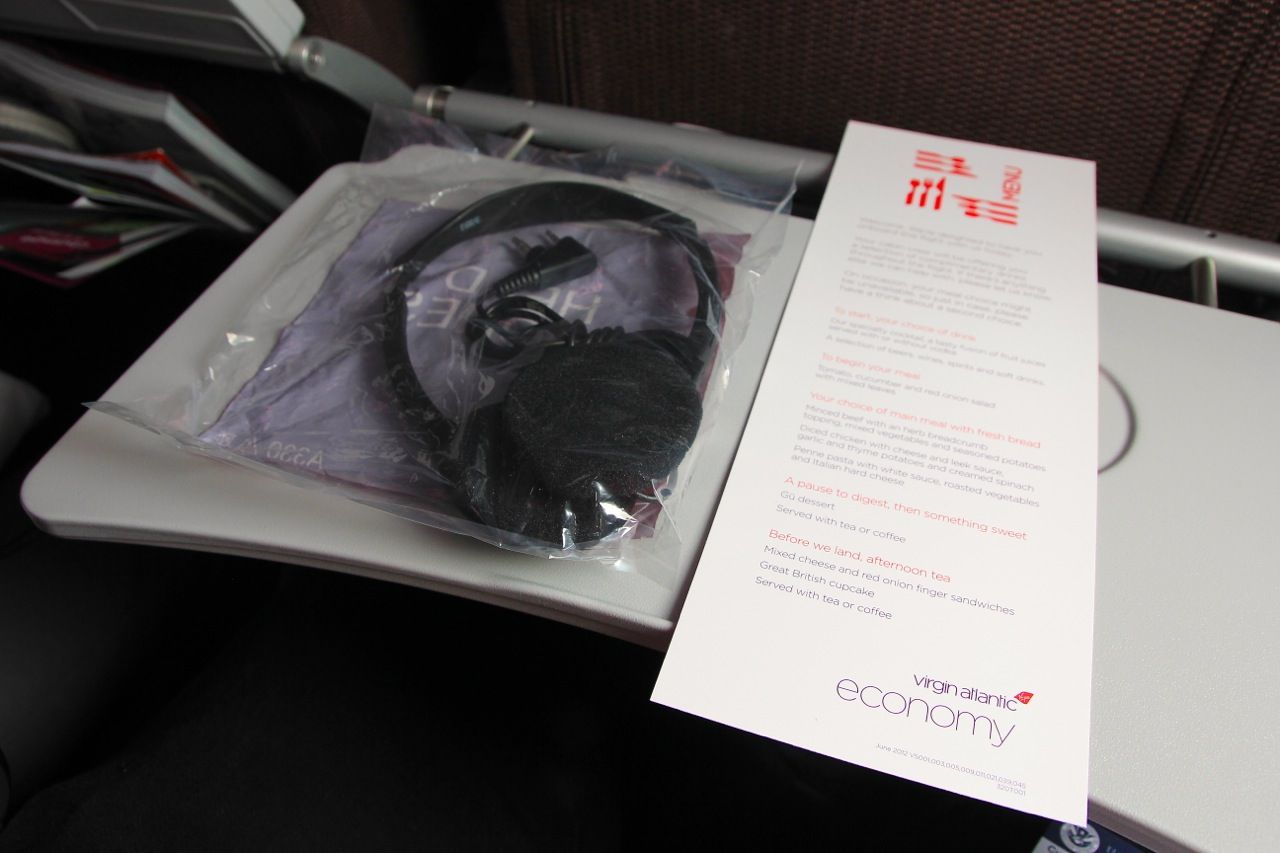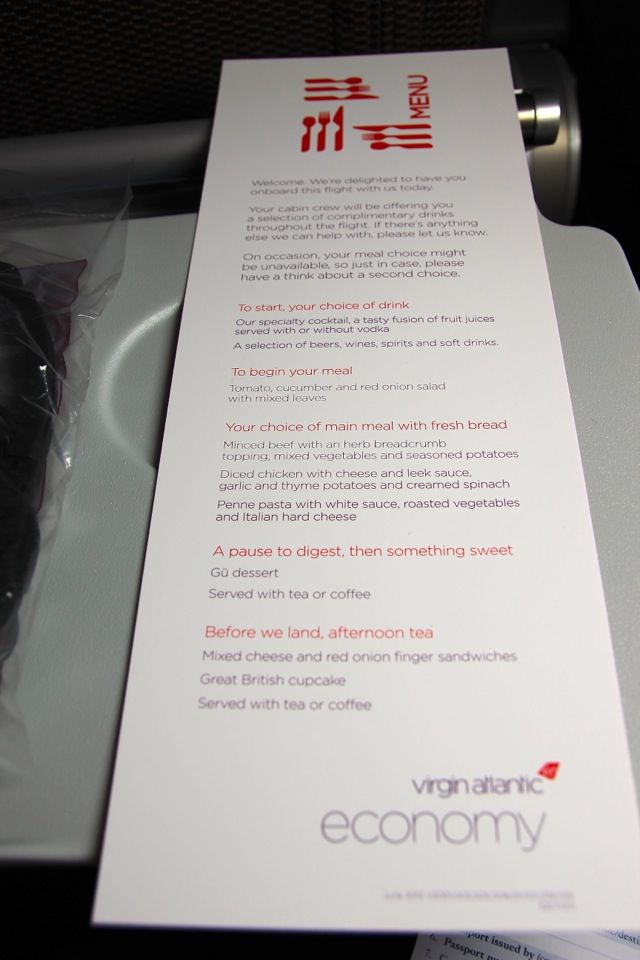 One thing I did notice was that the legroom seemed a little bit more generous in these last few rows. And also that the A330 was very quiet compared to the 747-400 that I'm used to flying across the Atlantic.
It was then time to check out the Jam AVOD IFE: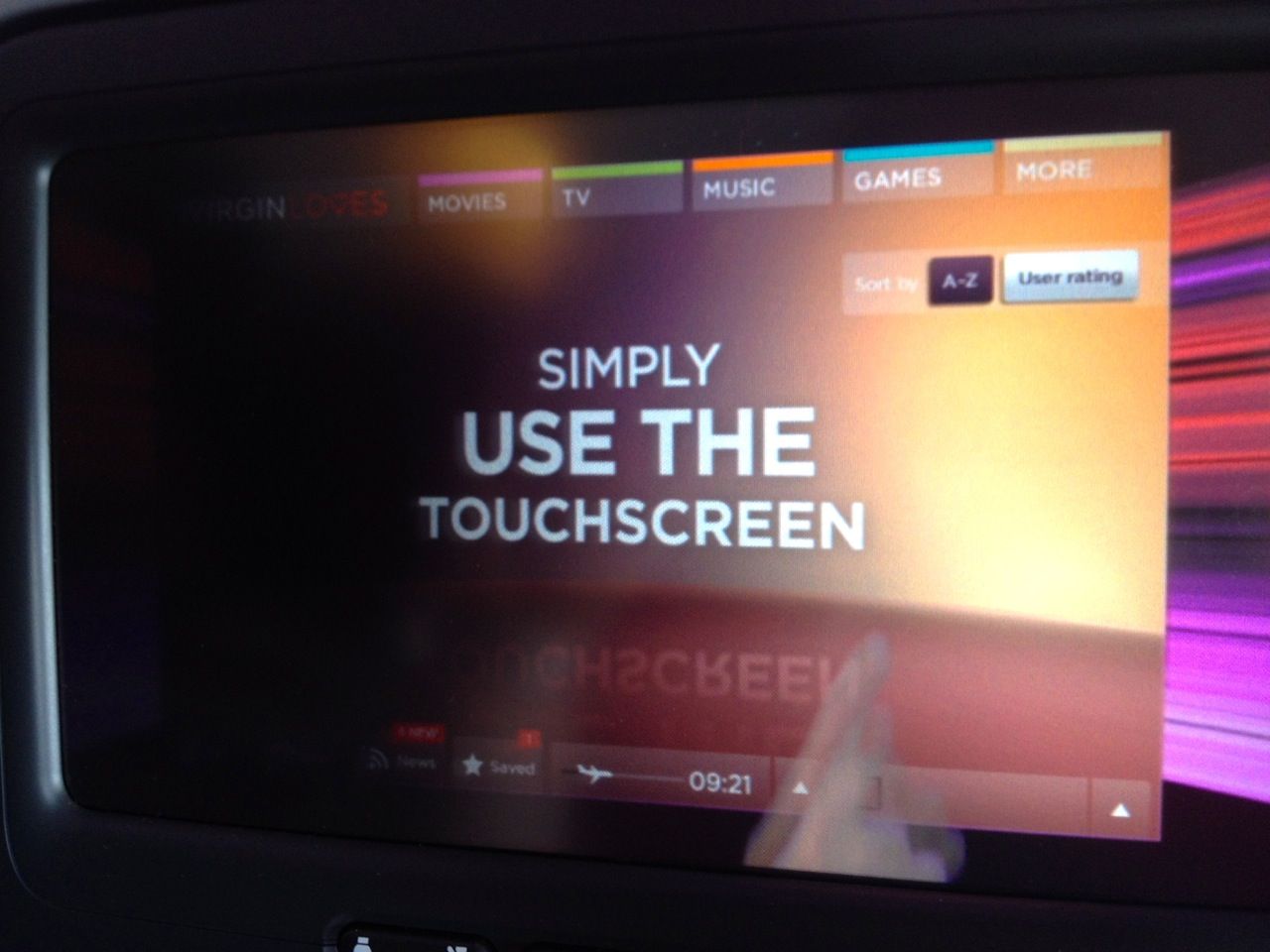 Erm… we appear to be going the long way round?
That's more like it
Then the drinks service started. It took a while to reach me and by time it reached the row I was in, they had run out of the welcome cocktail. So I went with lemonade instead.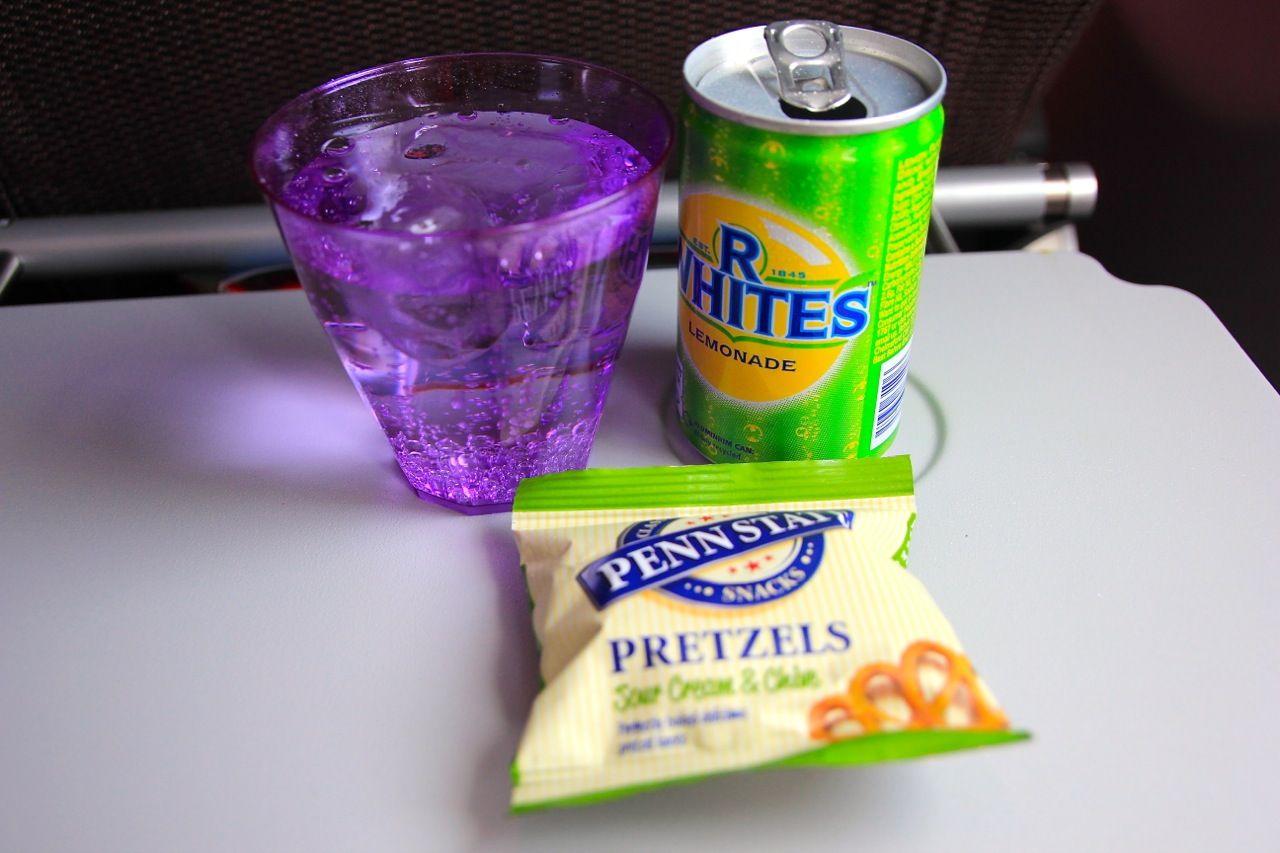 As soon as the drinks run had finished the meal service began. Although it was still a bit early for lunch I'm my opinion – only just 11:00AM in London. The choices were the usual chicken, beef or pasta.
It was around this time a few bumps began although it was nothing too major.
Once the meal service had reached the row I was in, I was informed by a slightly embarrassed stewardess that the only meal option left was the chicken – this didn't bother me though as that's what I was after anyway!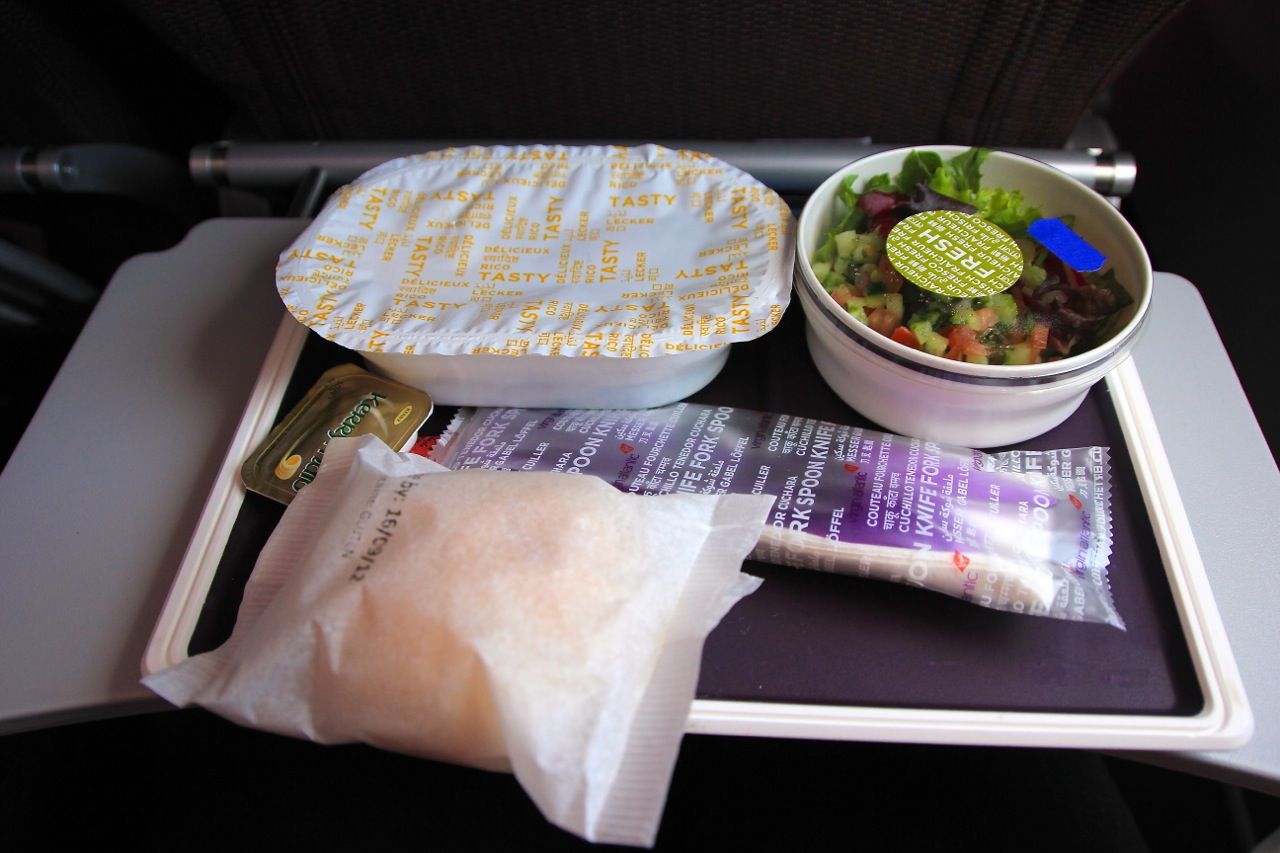 Tasted quite good but could of been a bit bigger
Then around 50 minutes later the dessert was served, along with some pretty poor tea…


After this I decided to settle down and watch a movie
After the film finished, I headed to the rear galley and made an attempt at having a conversation with the crew. They seemed more interested in chatting amongst themselves on this occasion though – oh well!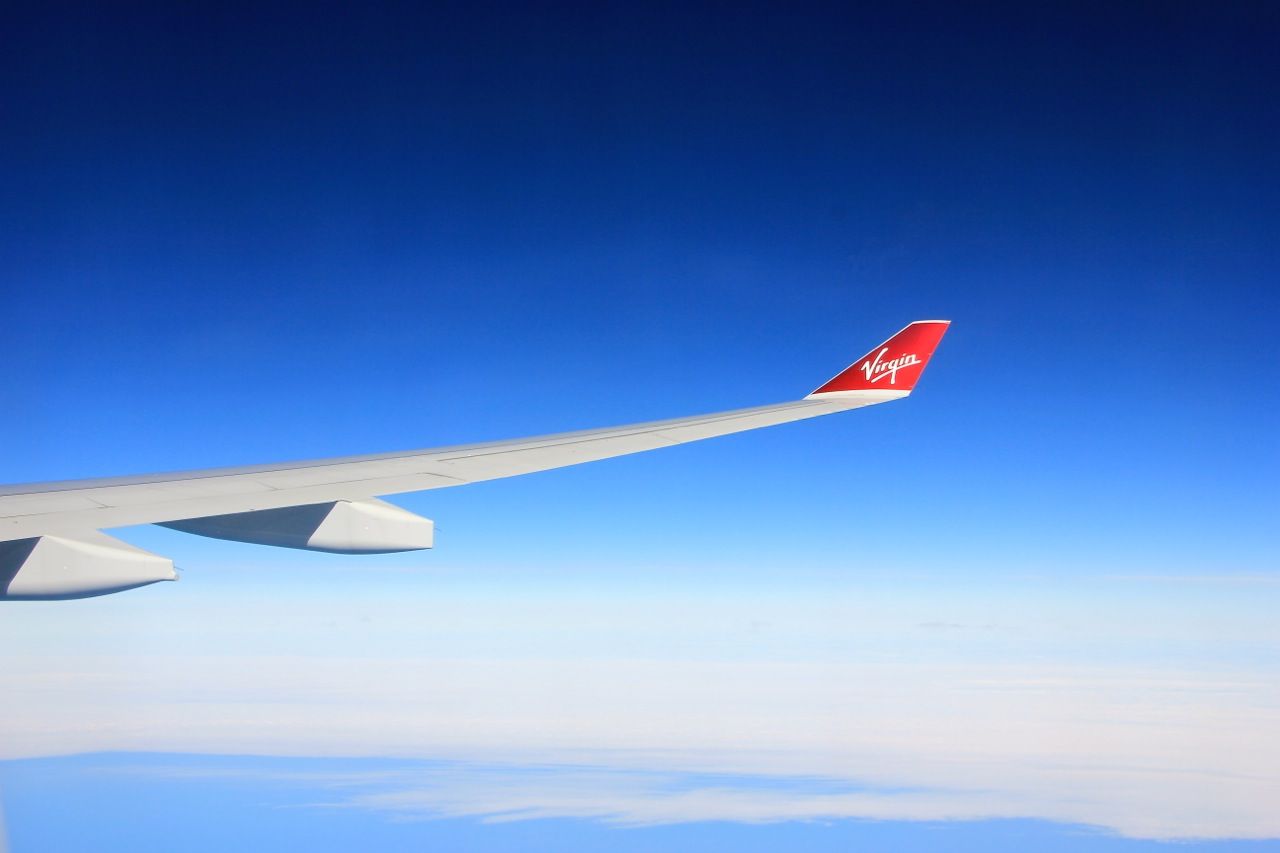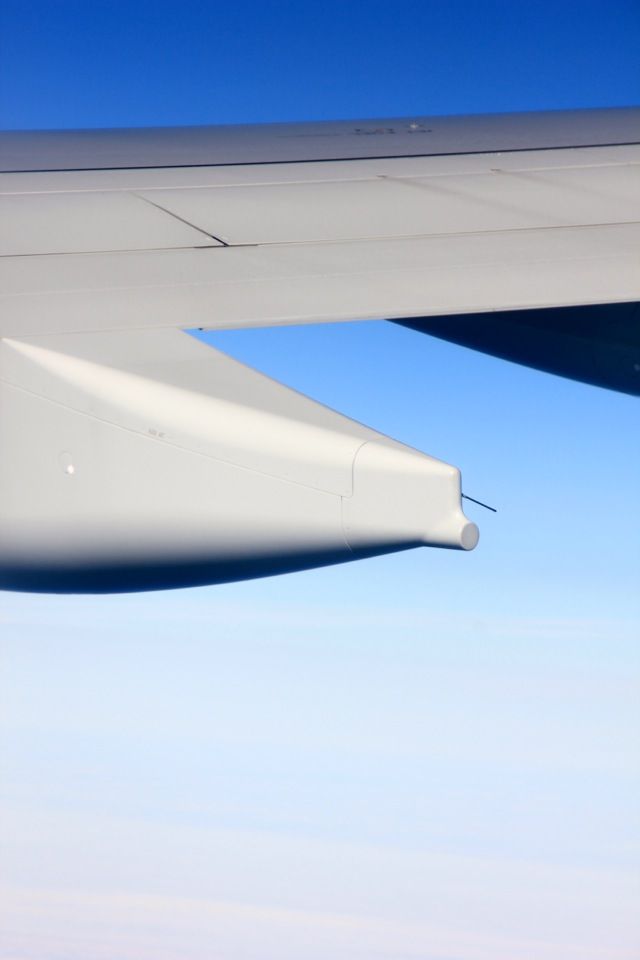 No fuel dumping on this one
Ice cream during the movie
By this time we weren't too far from the coast of Canada and the afternoon tea service had started.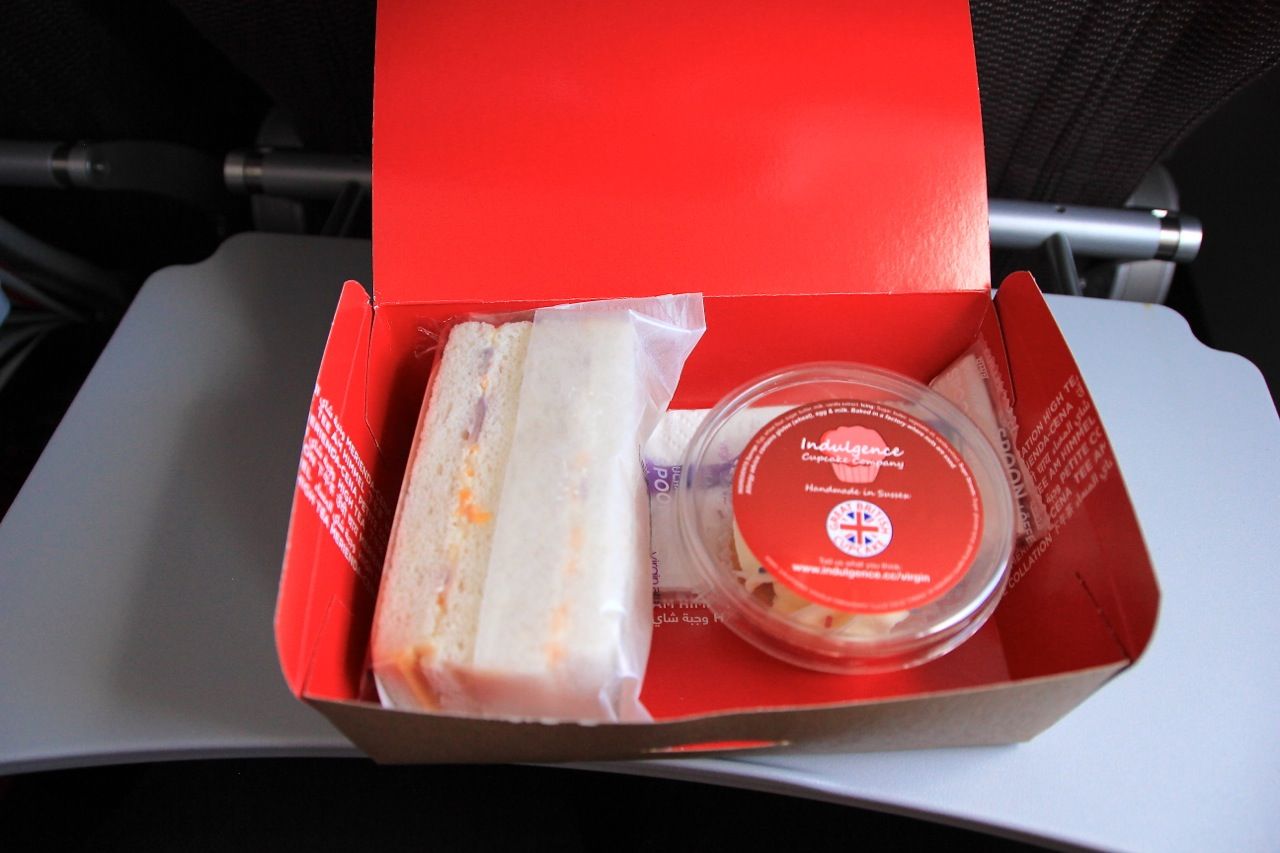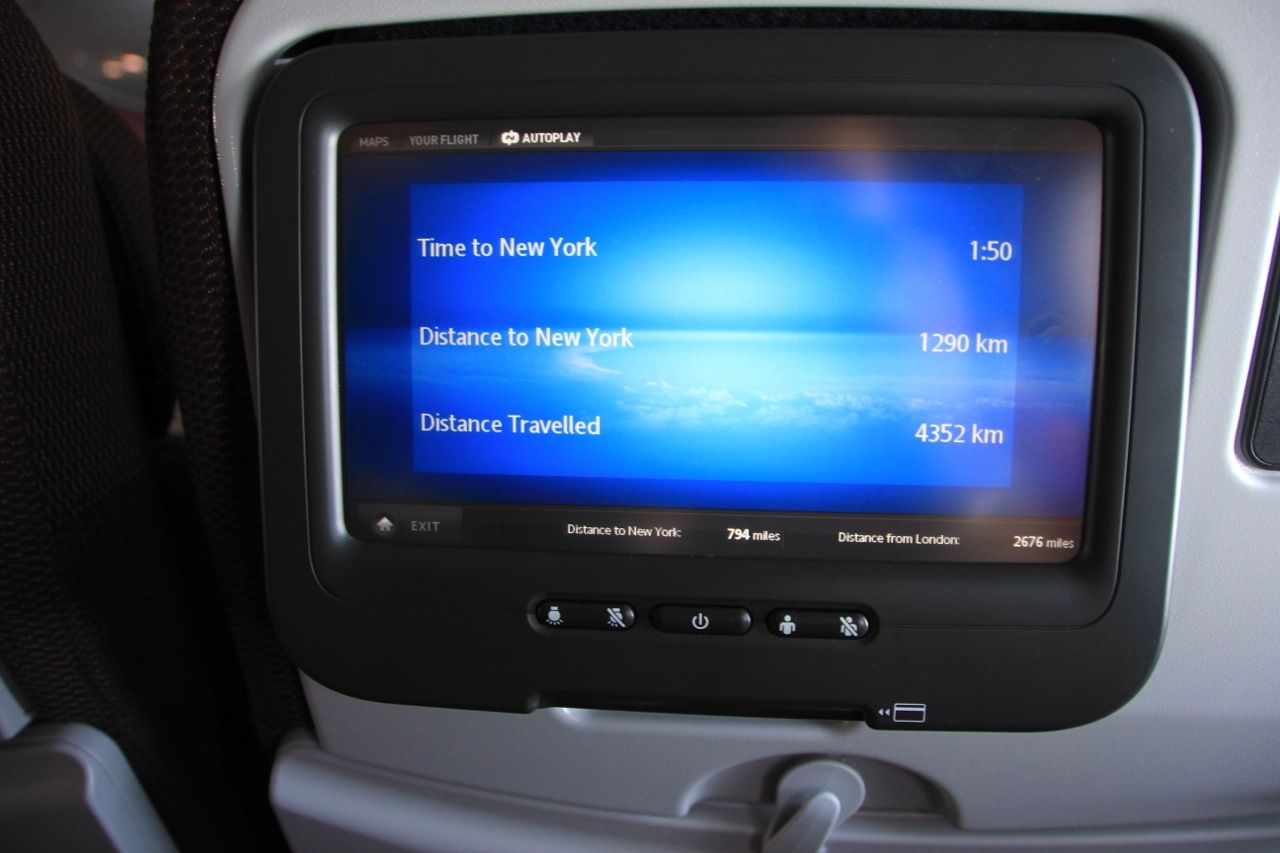 The sandwiches were pretty average really… in fact they didn't really taste of anything but bread! A bit more filling would of been a bit better. Although as they were the only choice I guess they couldn't do anything too fancy. The cake was good though.

Boredom or a work of art?!
Land ahoy!
The remaining hour or so was spent watching the minutes count down on the sky map. The seatbelt sign was turned on for around 15 minutes or so although I suspect that was more to do with the crew wanting the parents of the screaming child that decided to run from the rear of economy to upper class to get it to sit down rather than any issues from the pretty minor turbulence we had hit.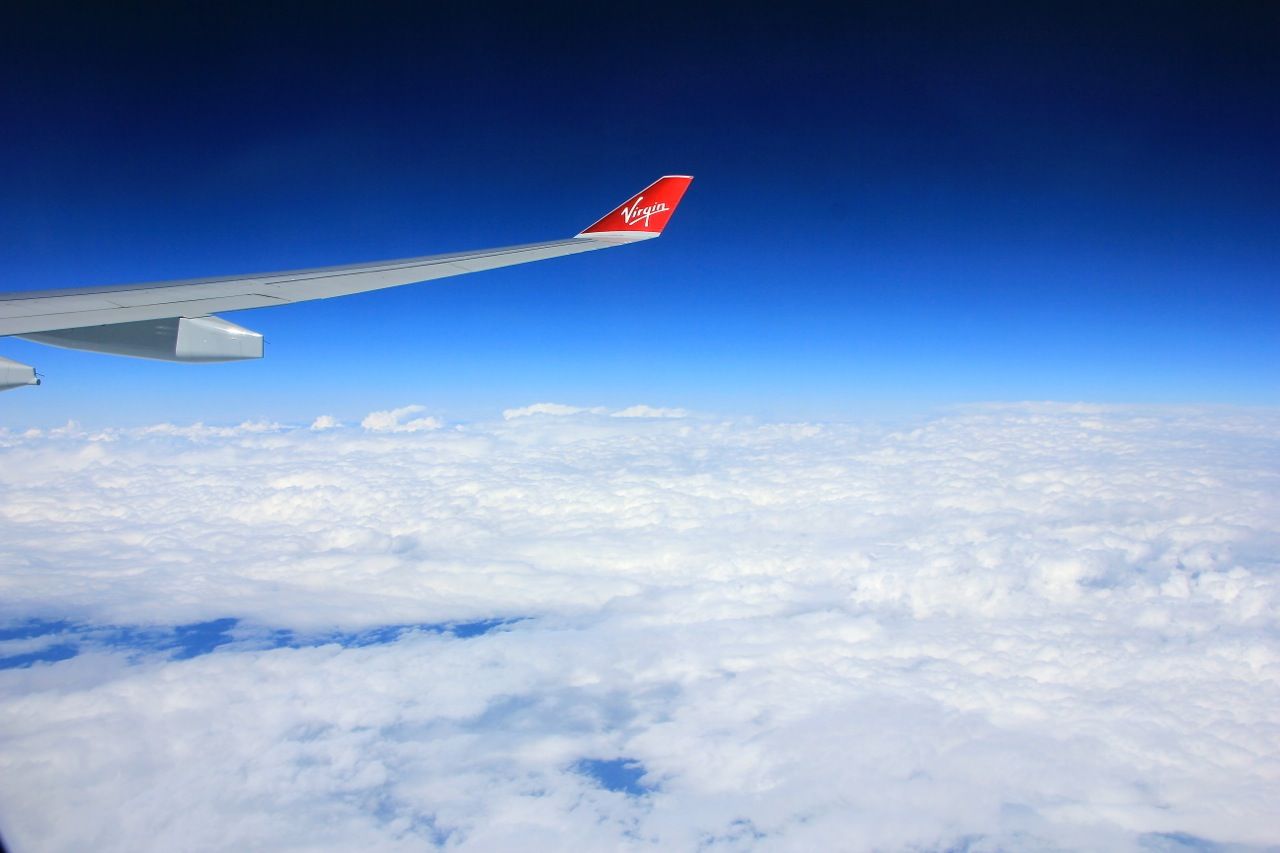 Approximately 50 minutes prior to arrival, the cabin crew informed everybody that the seatbelt sign would be turned on in 25 minutes – and suddenly everybody on board decided they needed the toilet! I figured there would probably be more than a couple at JFK so didn't bother, and instead carried on watching the skymap.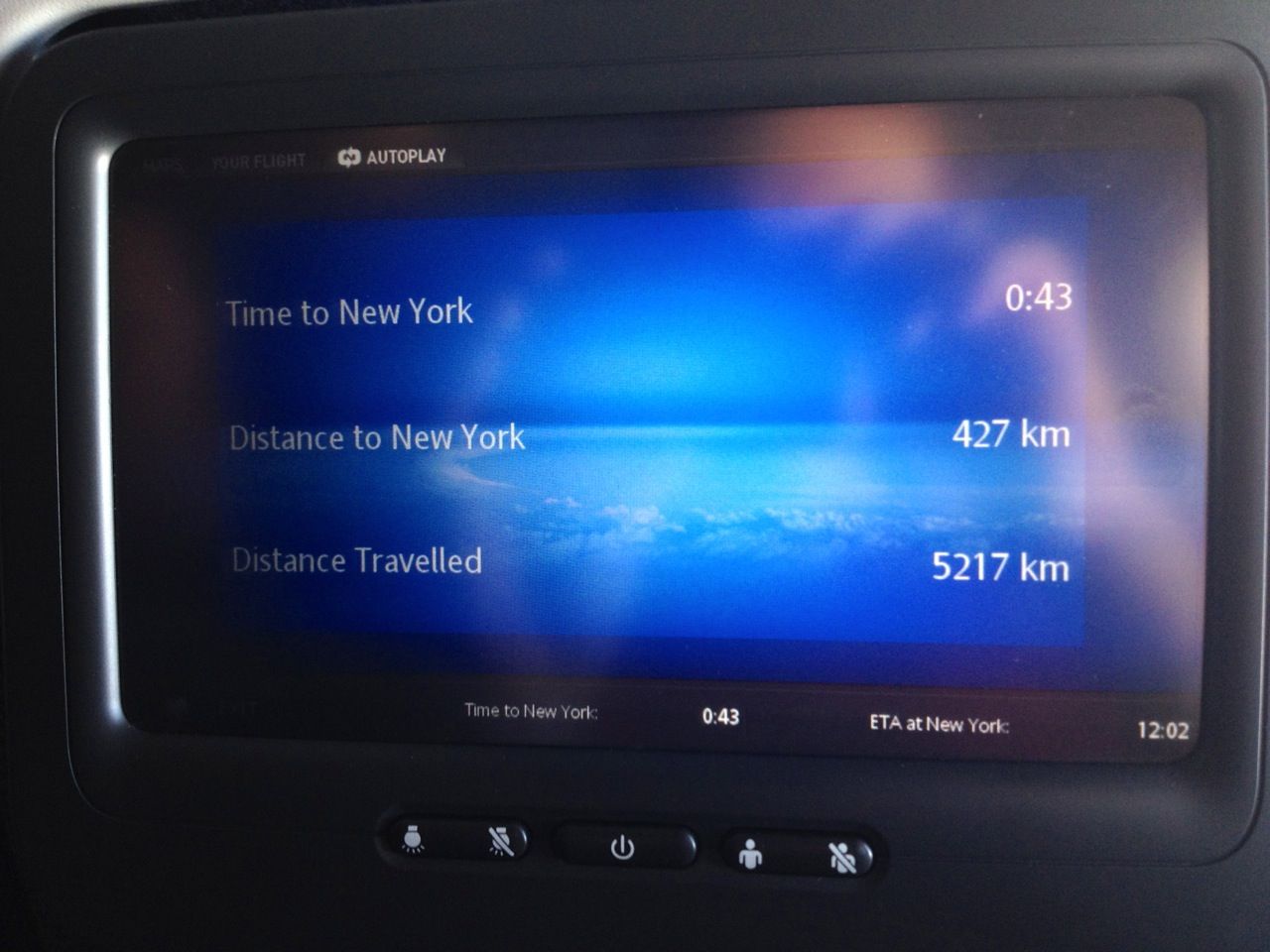 Descent started at 11:30 local. It was quite a noisy descent too as the previously mentioned screaming child continued to scream at full volume, with it's parents continuing to not be bothered…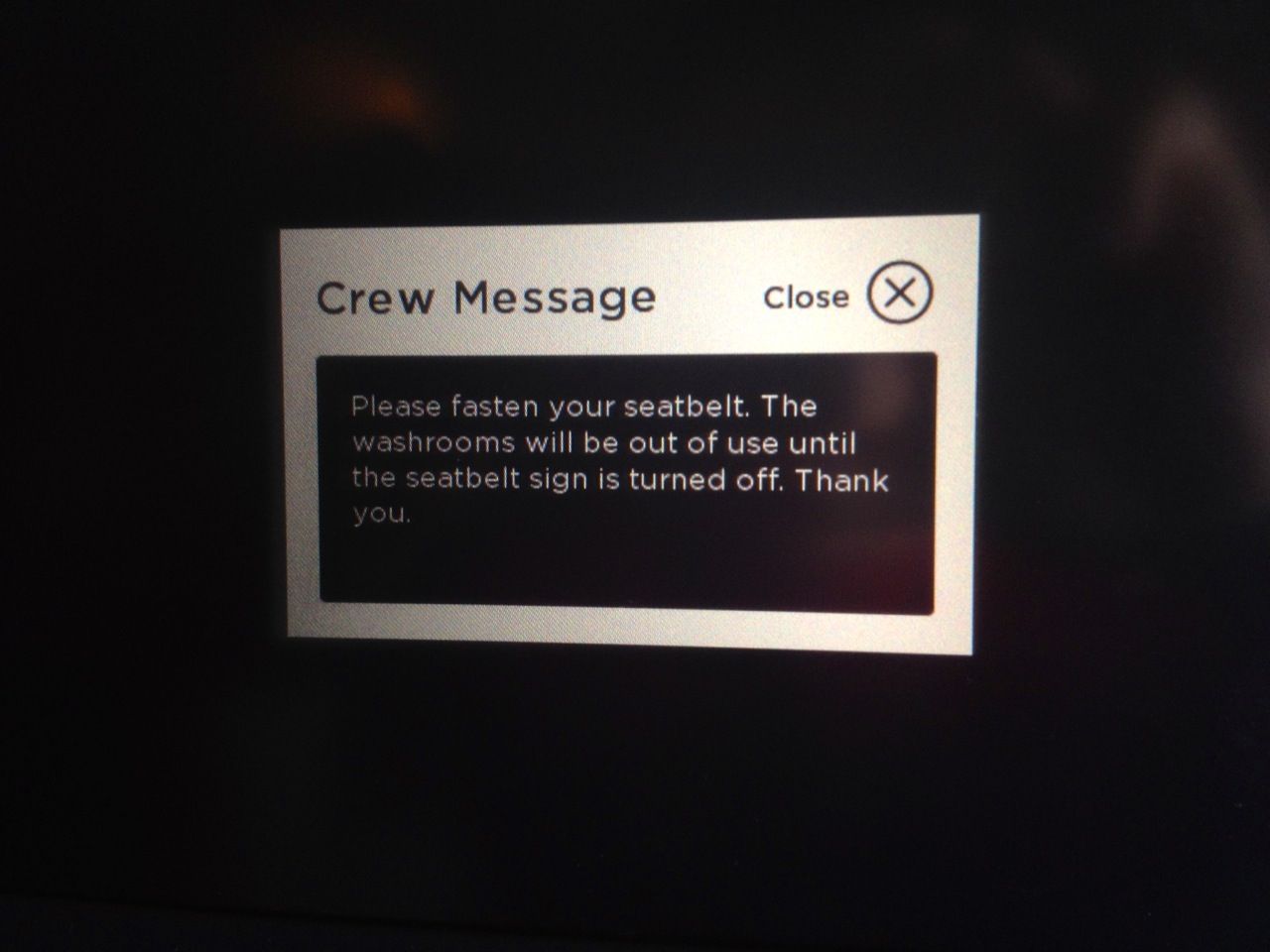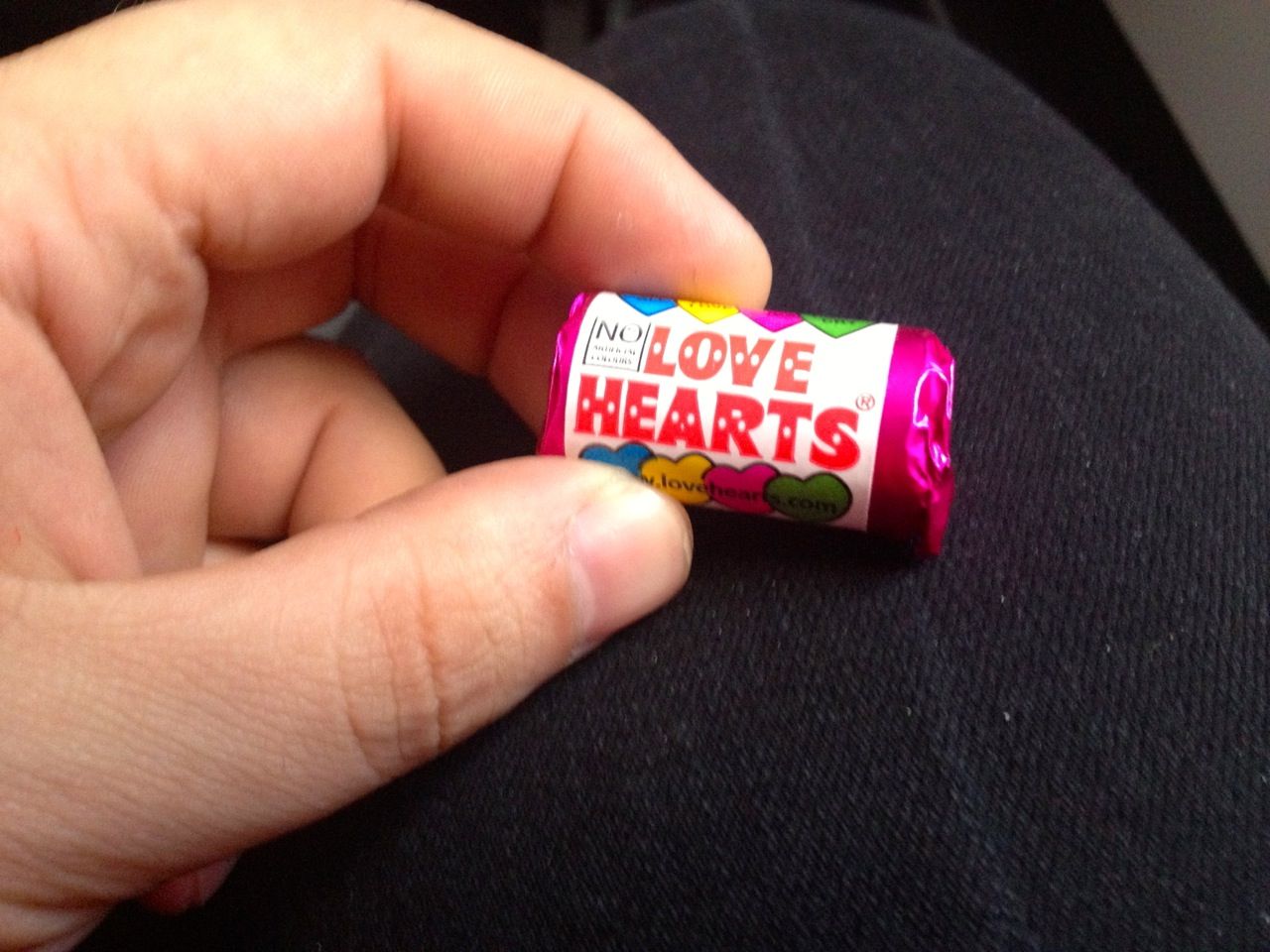 Not had sweets on landing for years!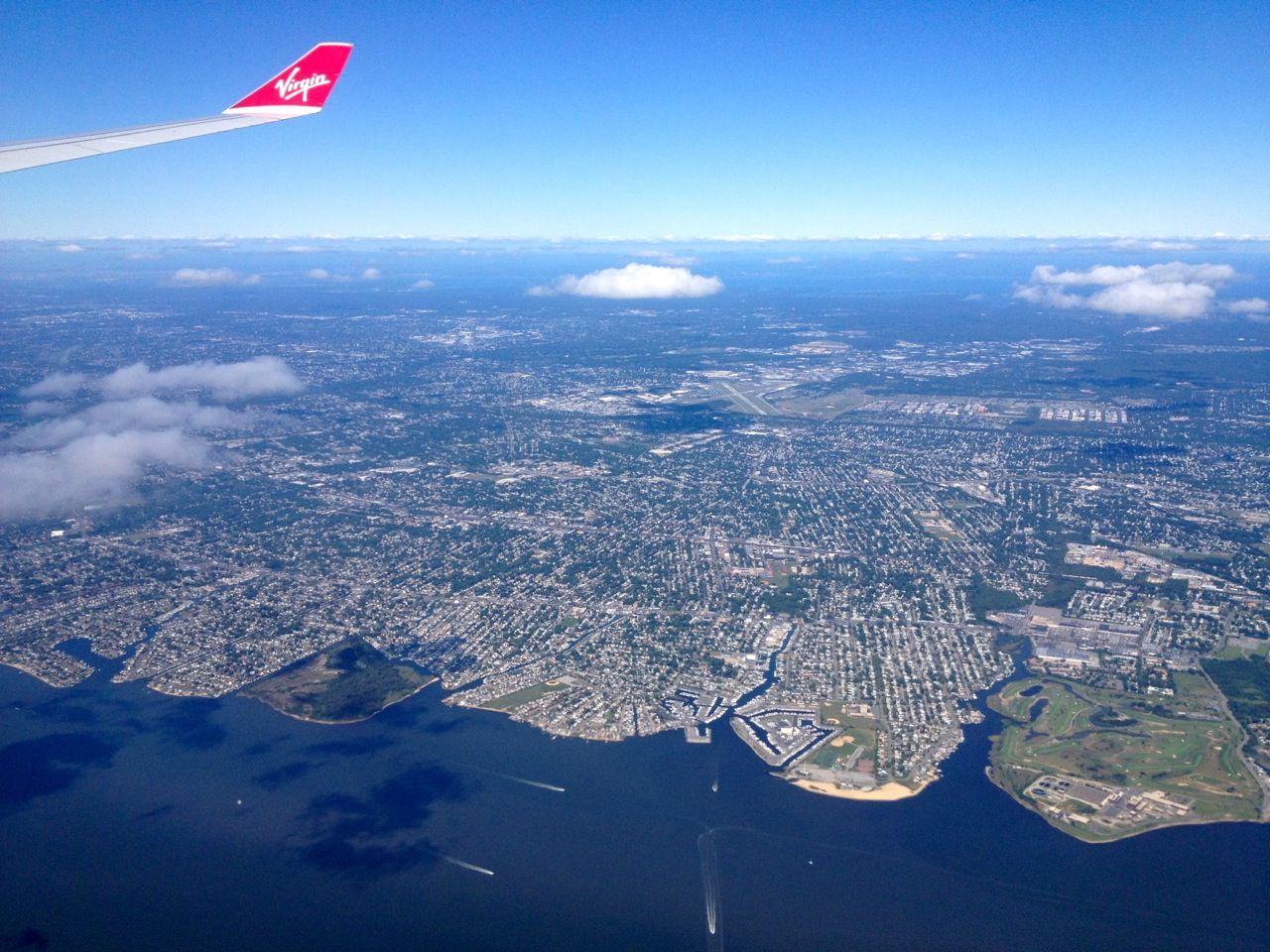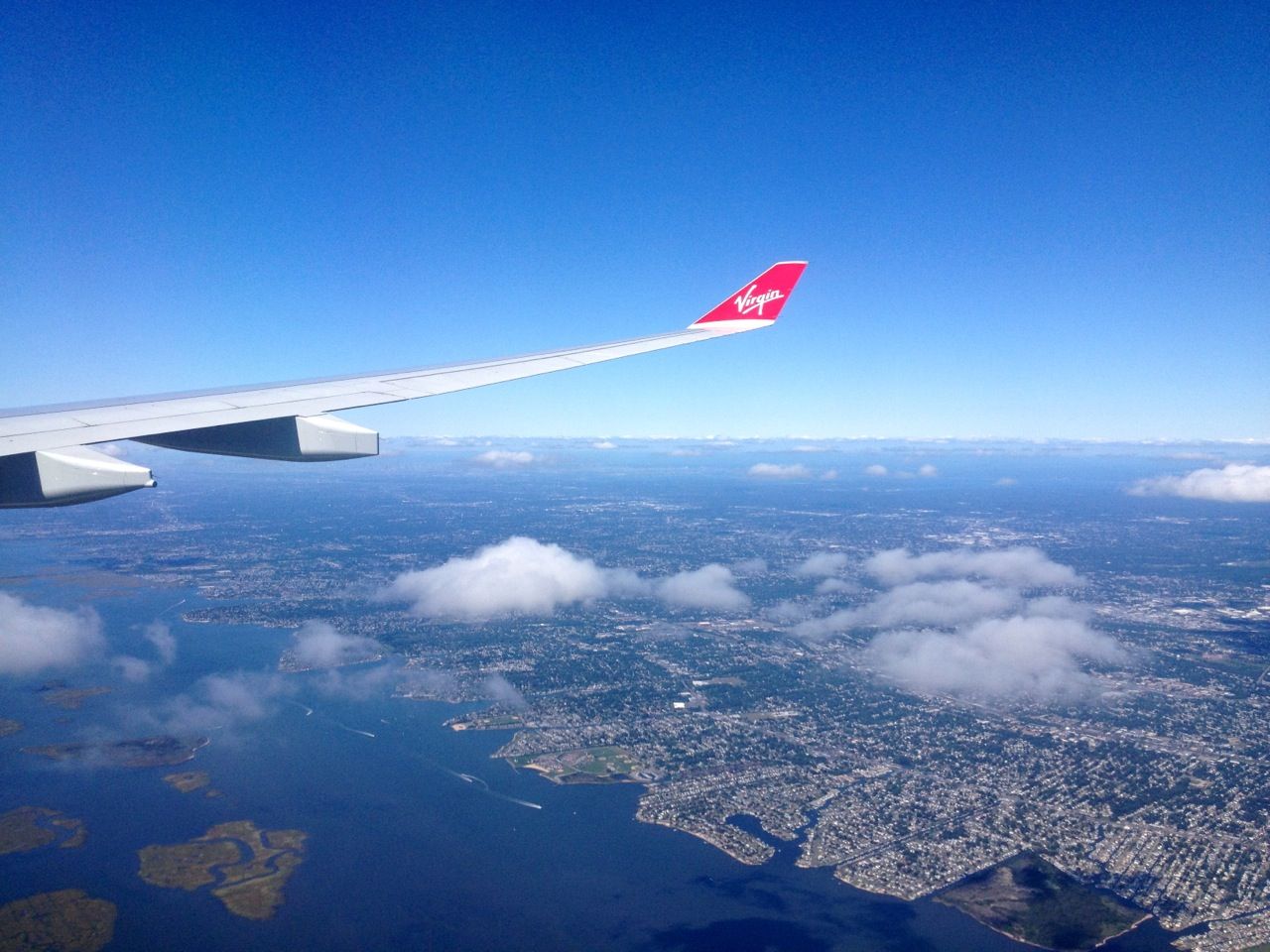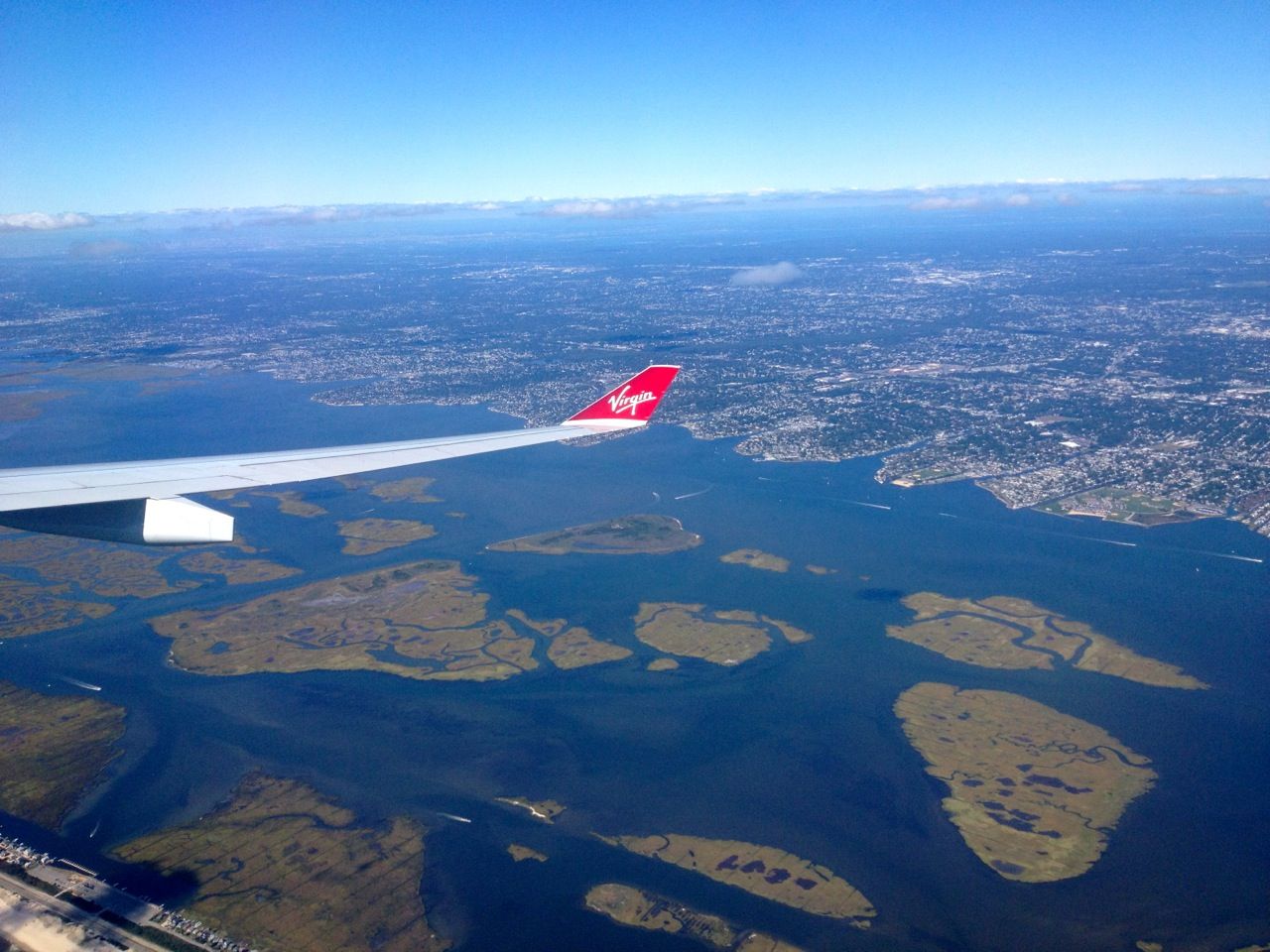 [youtube https://www.youtube.com/watch?v=ueApN65ngEc]
We touched down at just after 12:00 local and made a fairly quick taxi over to terminal 4E. I thought this was unusual as VS normally use 4W, however the new VS clubhouse is now in 4E rather than before security so this might now be a permanent change.


Then it was through to a very busy immigration hall.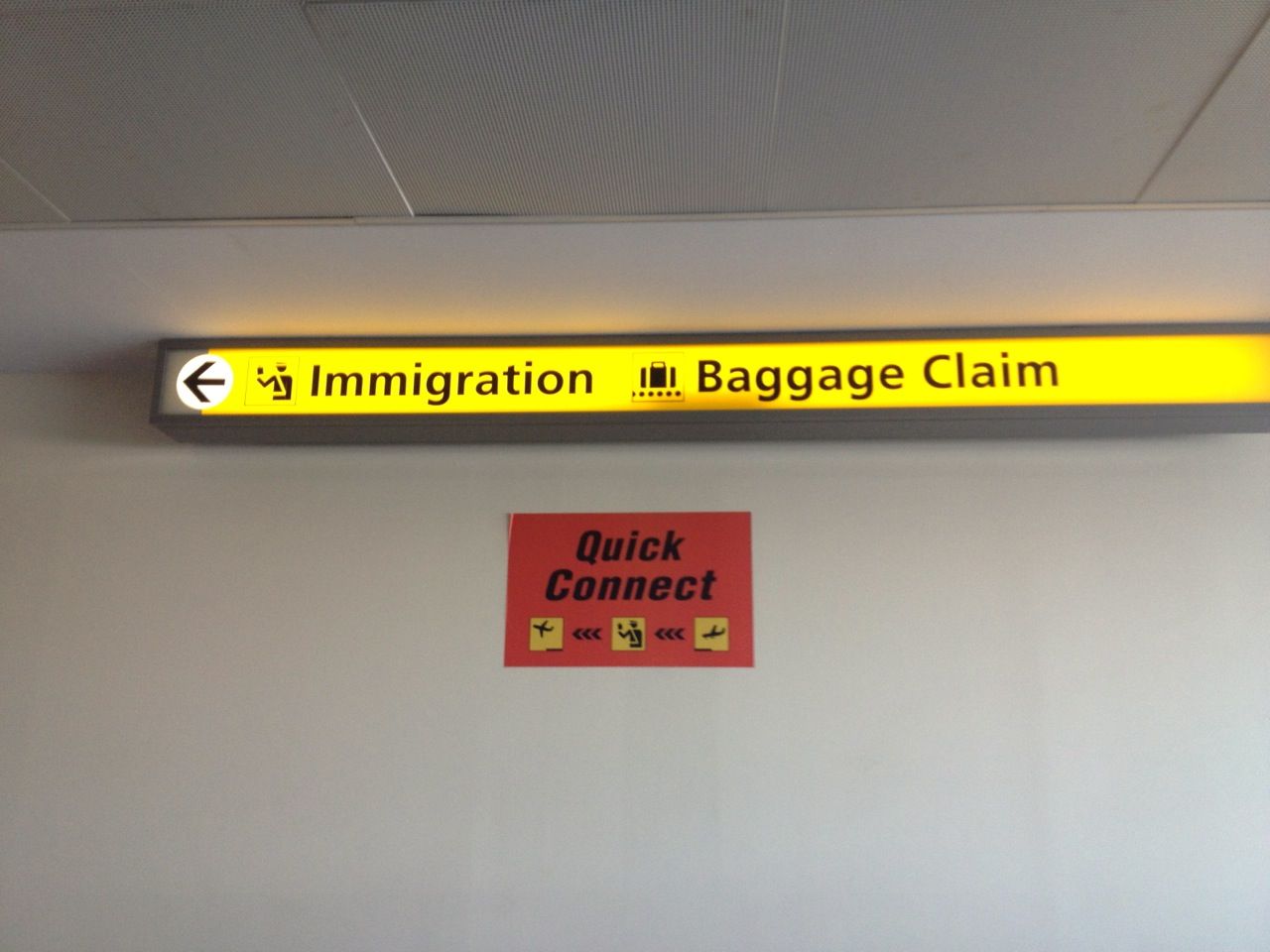 Almost an hour later I was welcomed to the USA by an unusually friendly immigration officer. He continually used my first name, made conversation about the hotel I was staying in and generally easy going – something I'd not experienced at immigration in the US before where they generally take the guilty until proven innocent stance. It was off to find the Air Train to Jamaica station.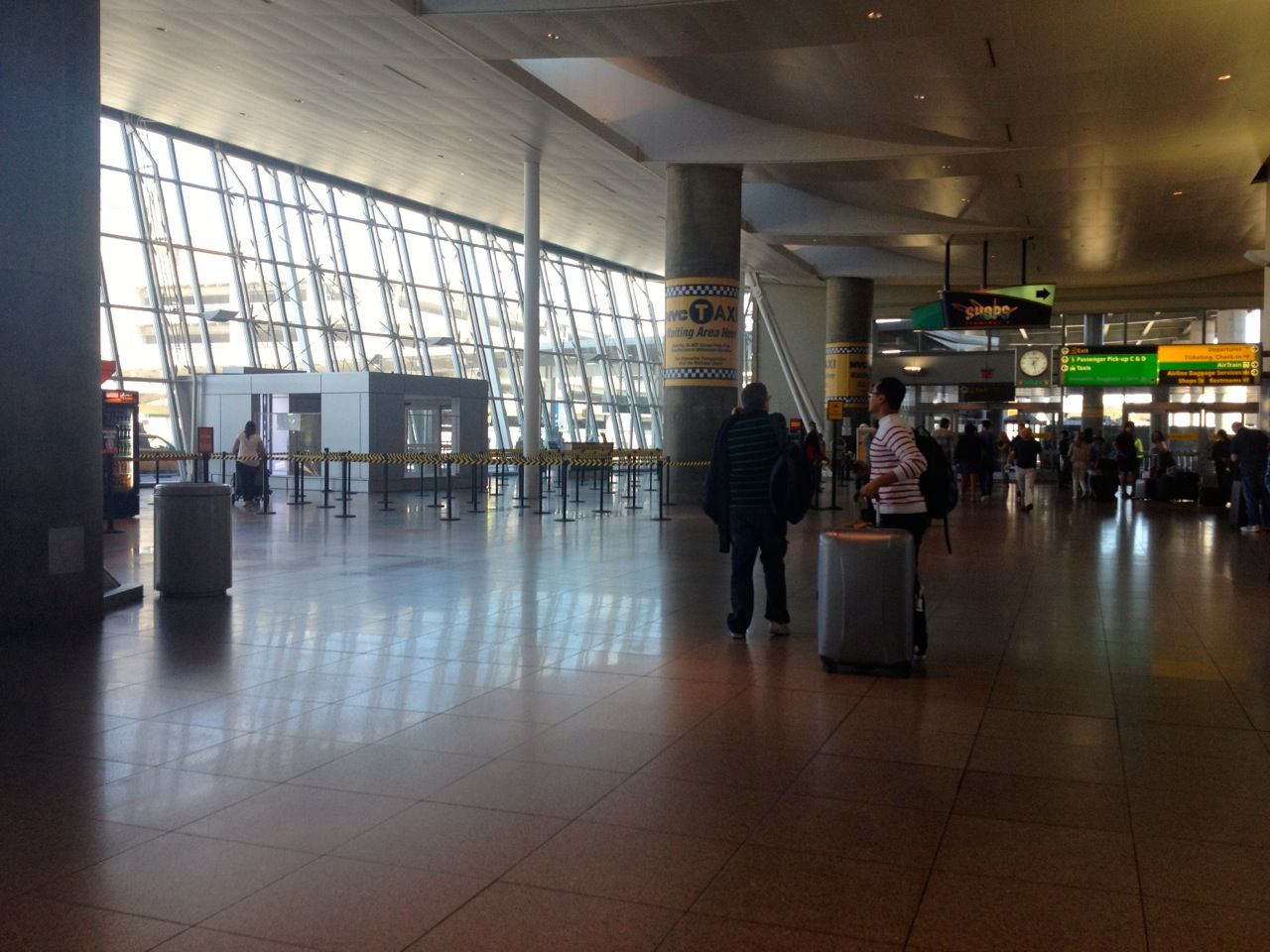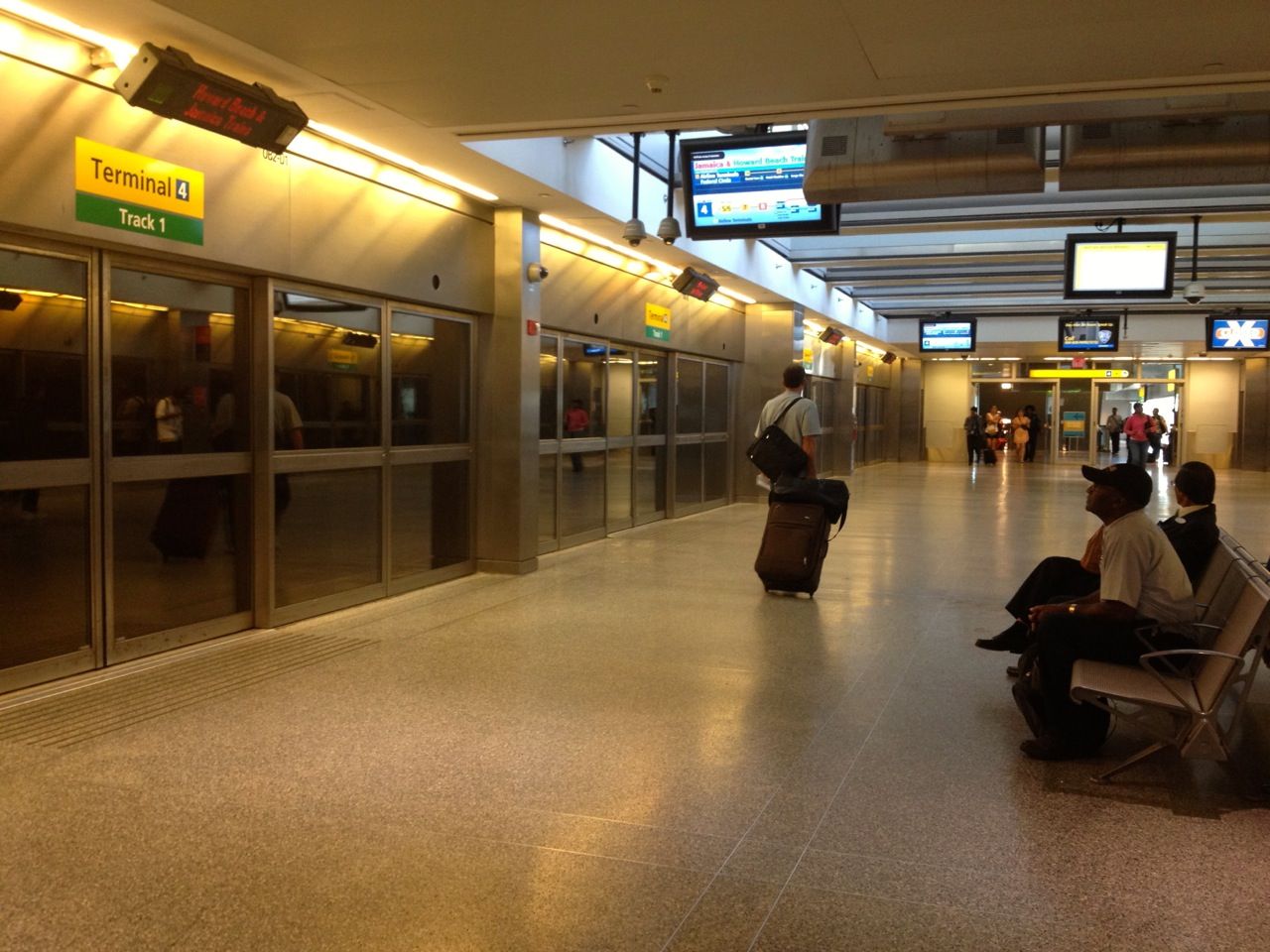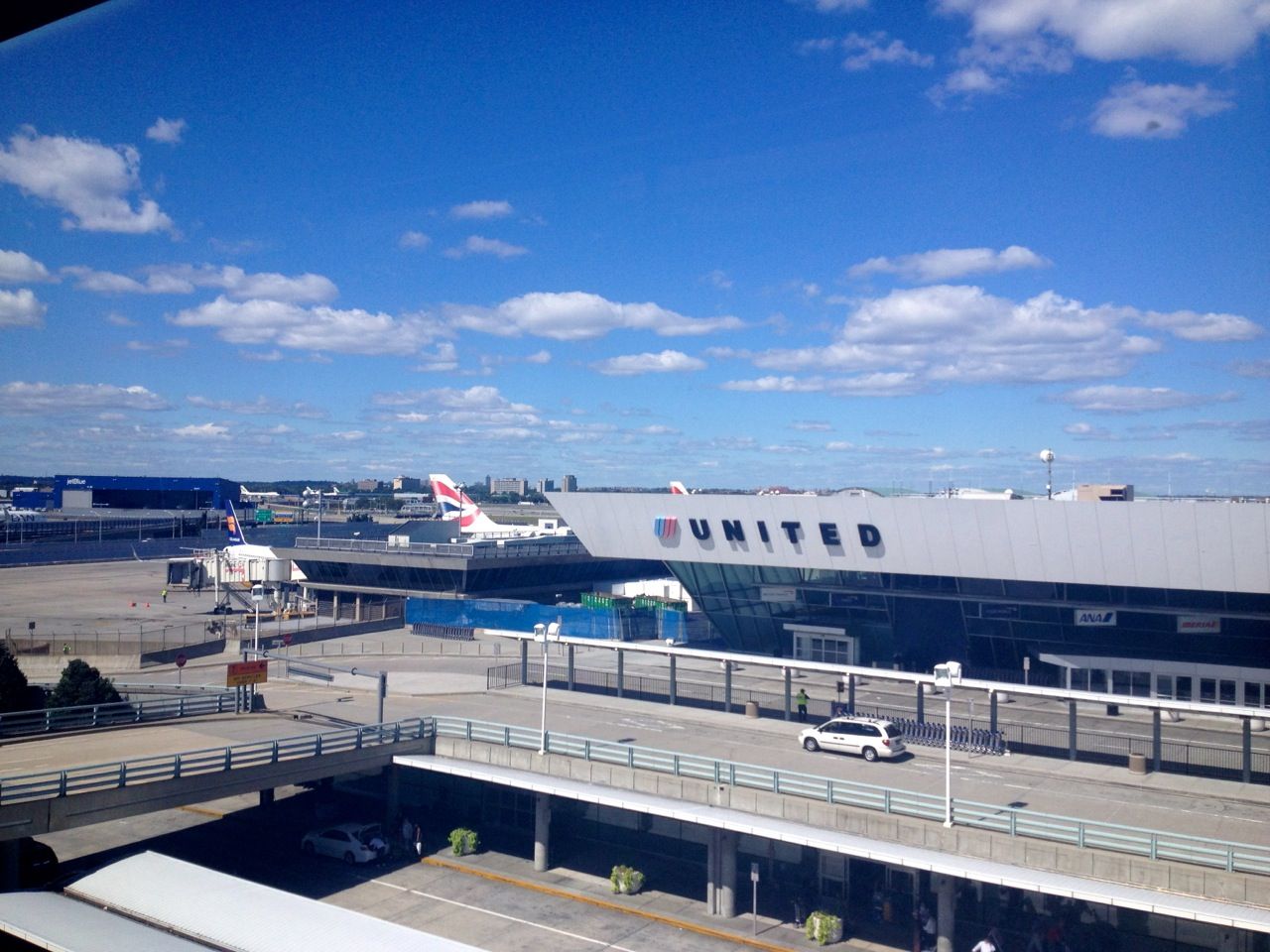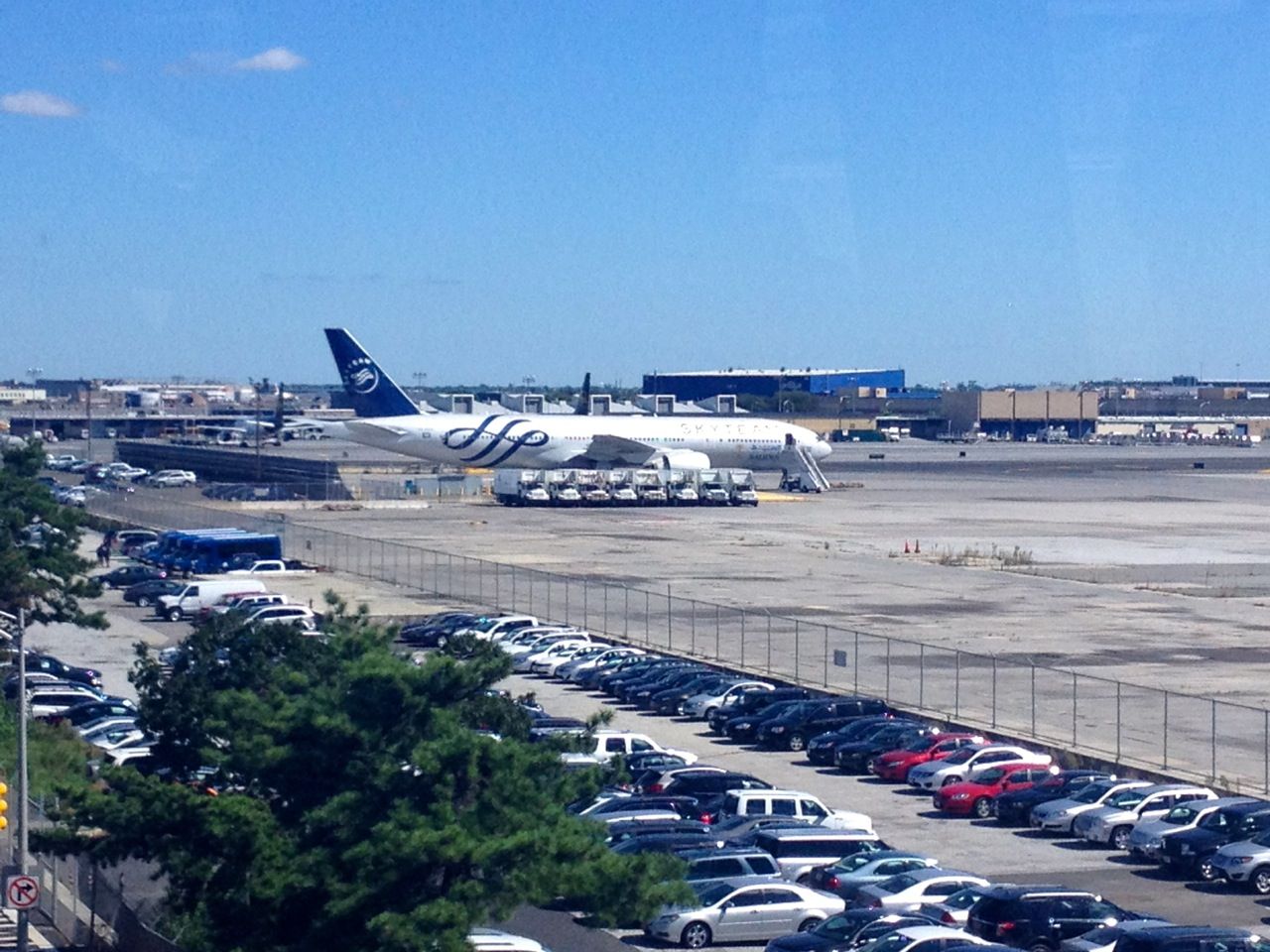 Once at Jamaica station, the next stop would be Atlantic Avenue. My hotel wasn't too far from here. The initial plan was to carry on to Coney Island before checking in, however as I'd inadvertently brought an unlimited metro pass I figured I might as well stop by my hotel as I was passing anyway.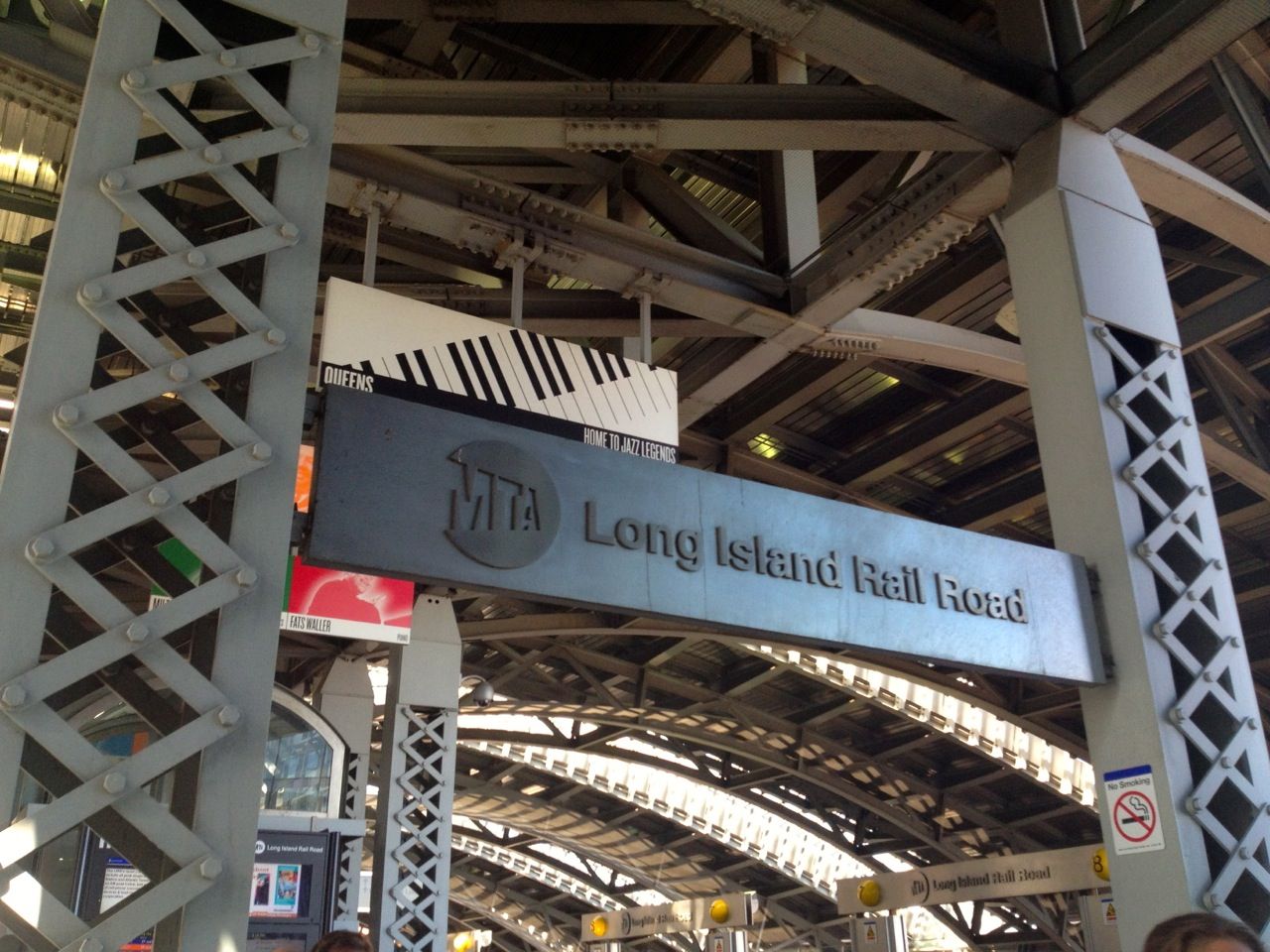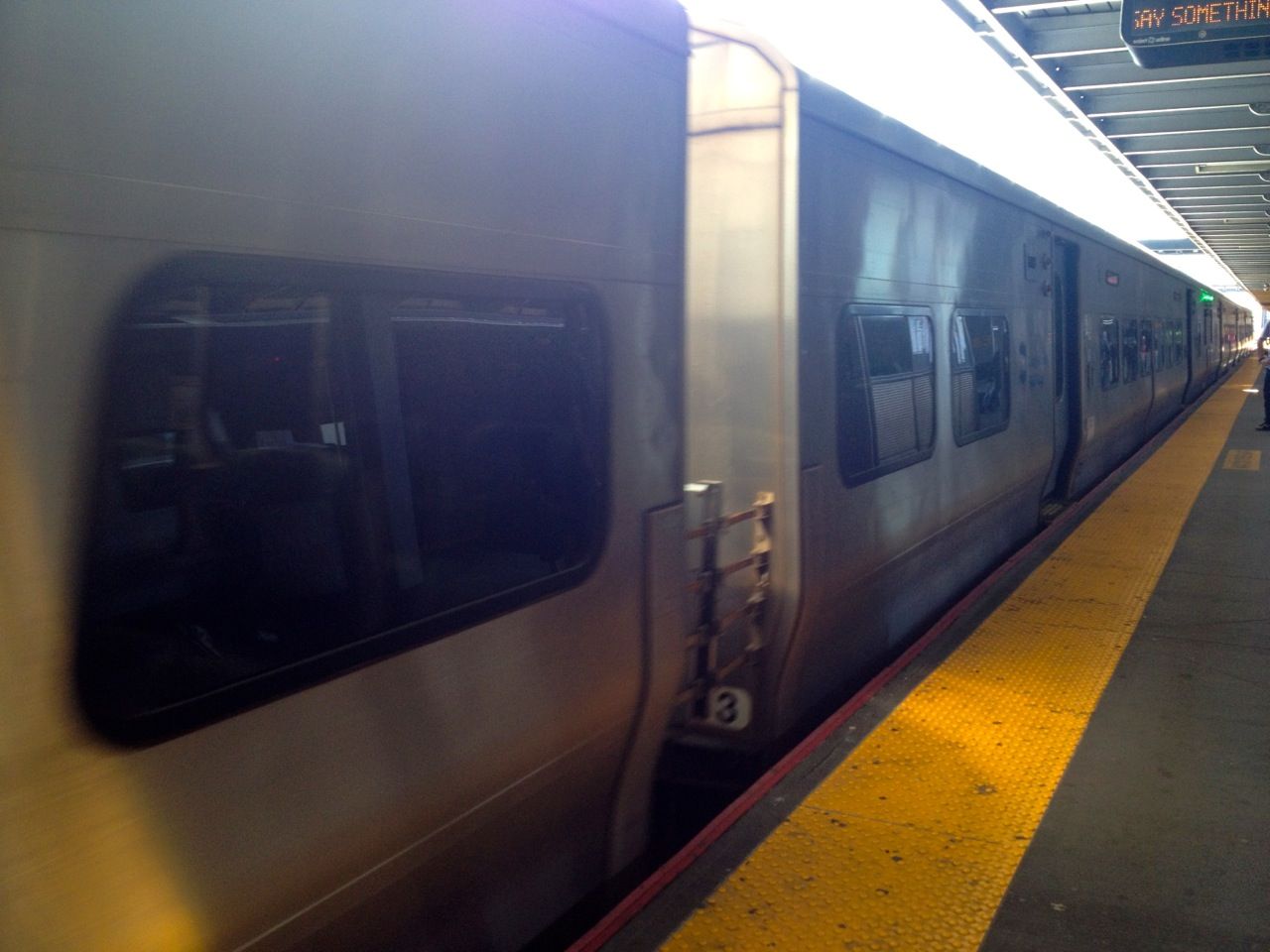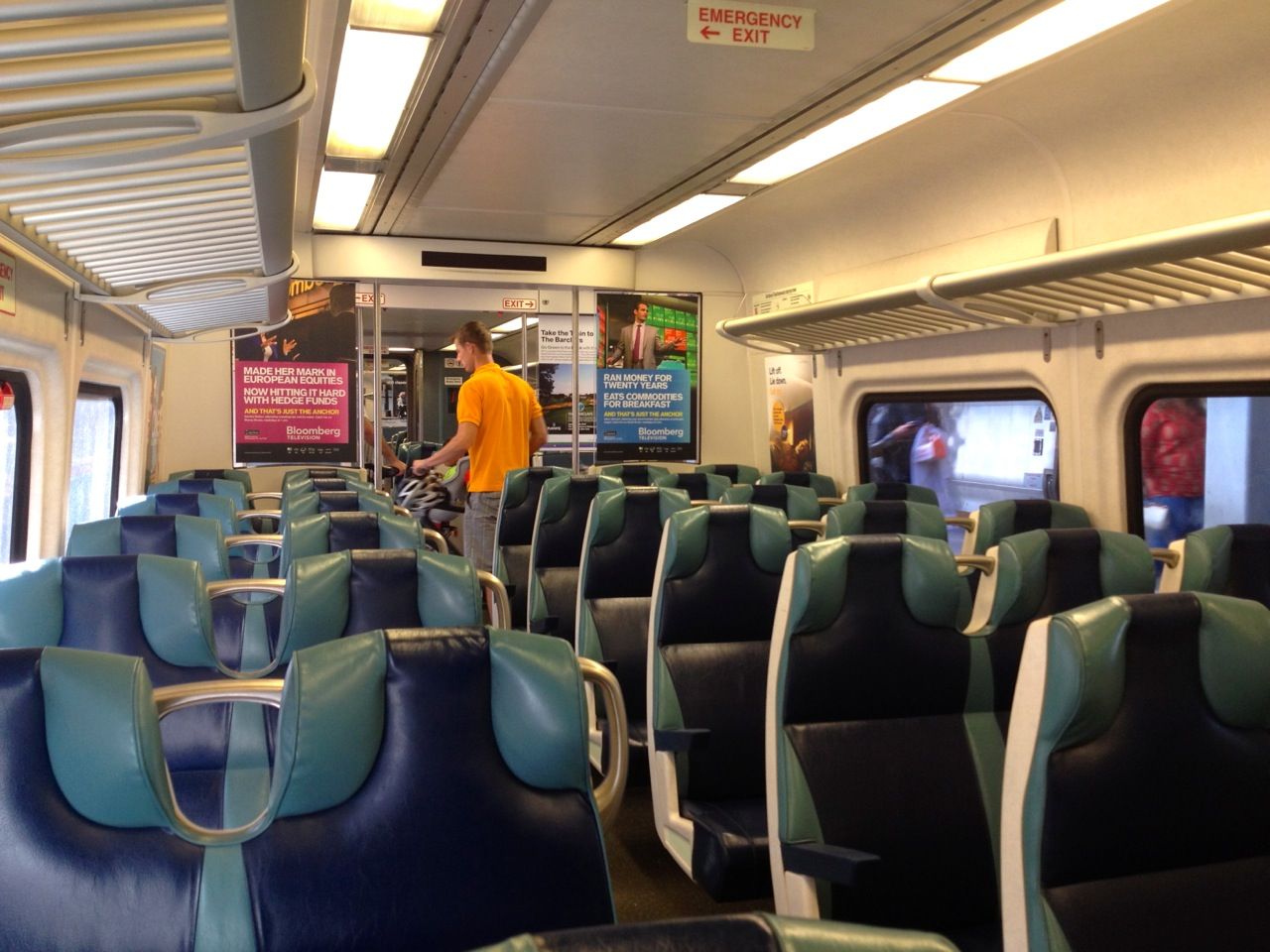 It was a short walk from Union station to my hotel.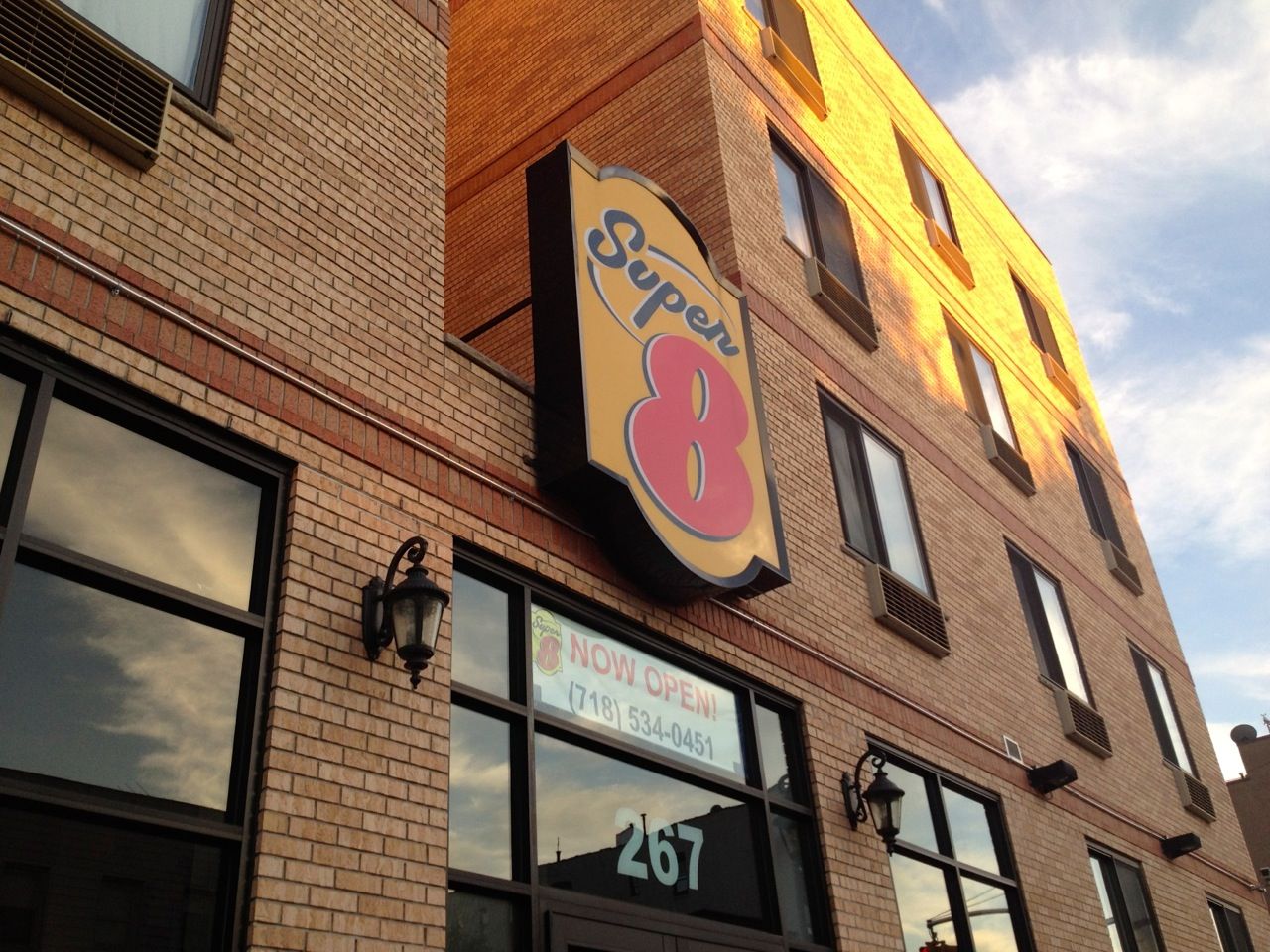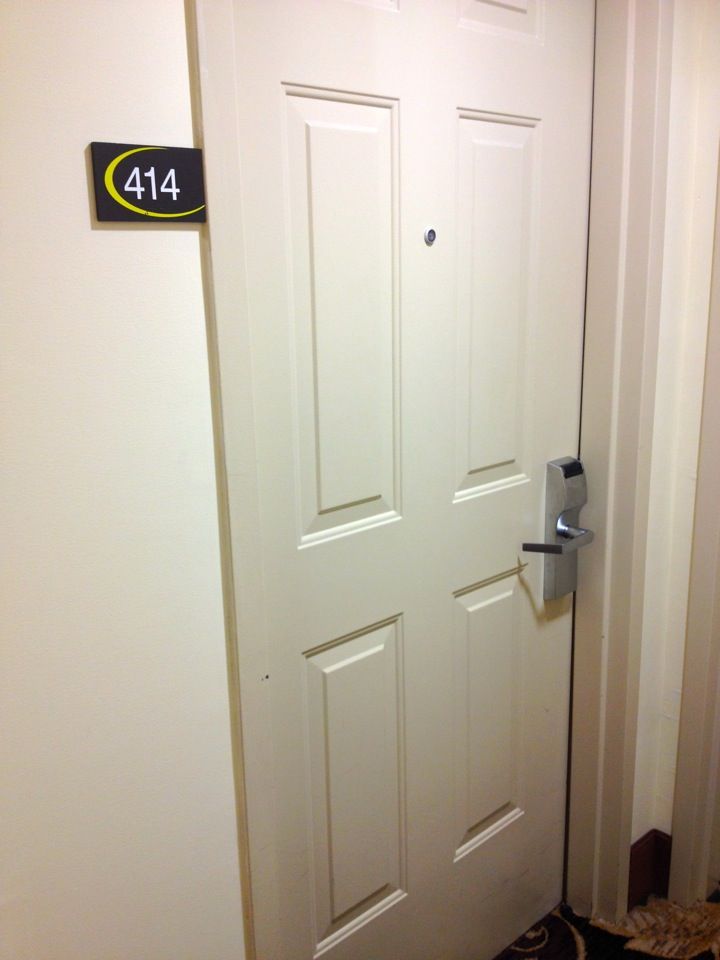 What's behind door 414?
Not bad.
View is Ok too
Then it was on to Coney Island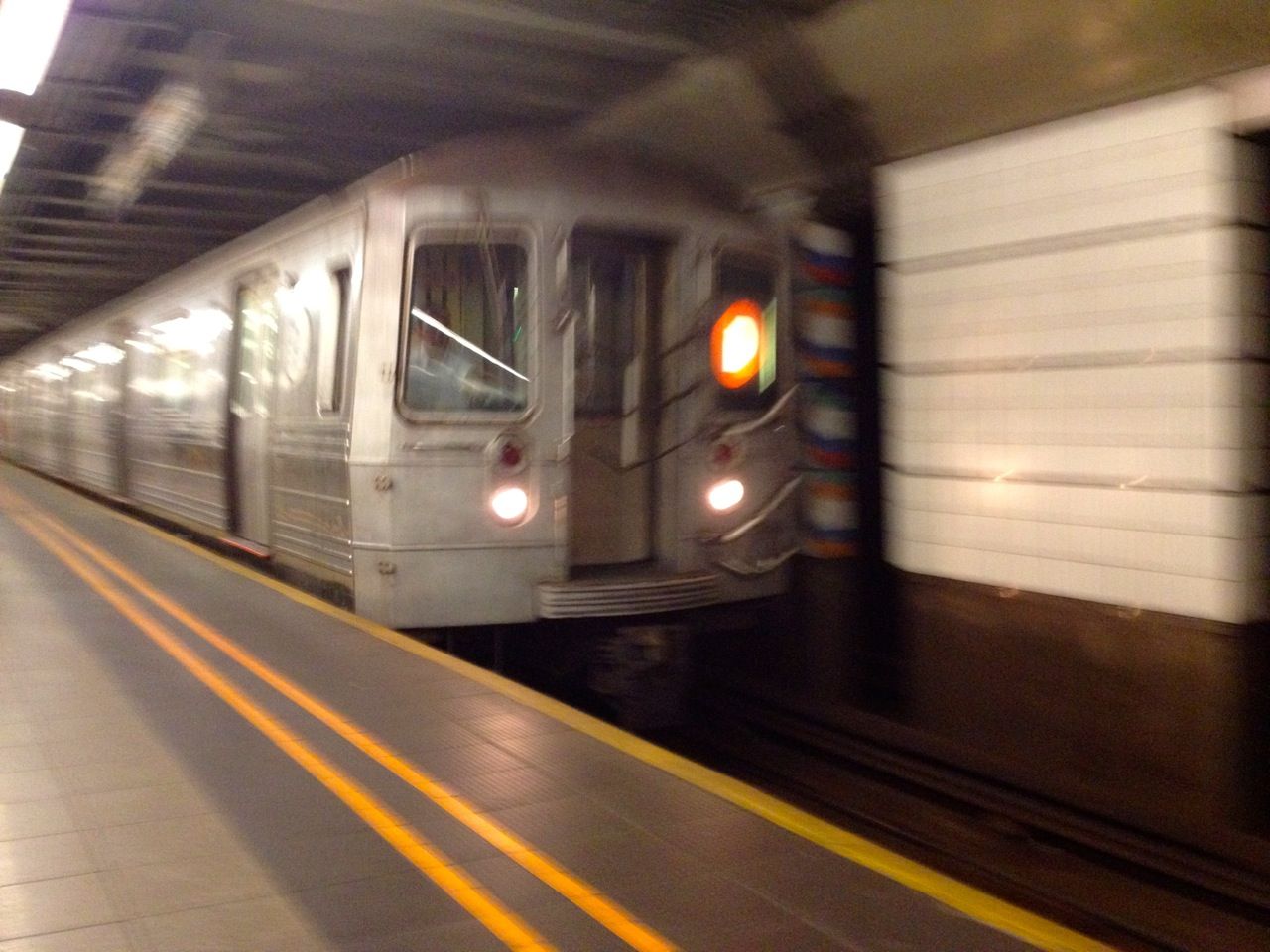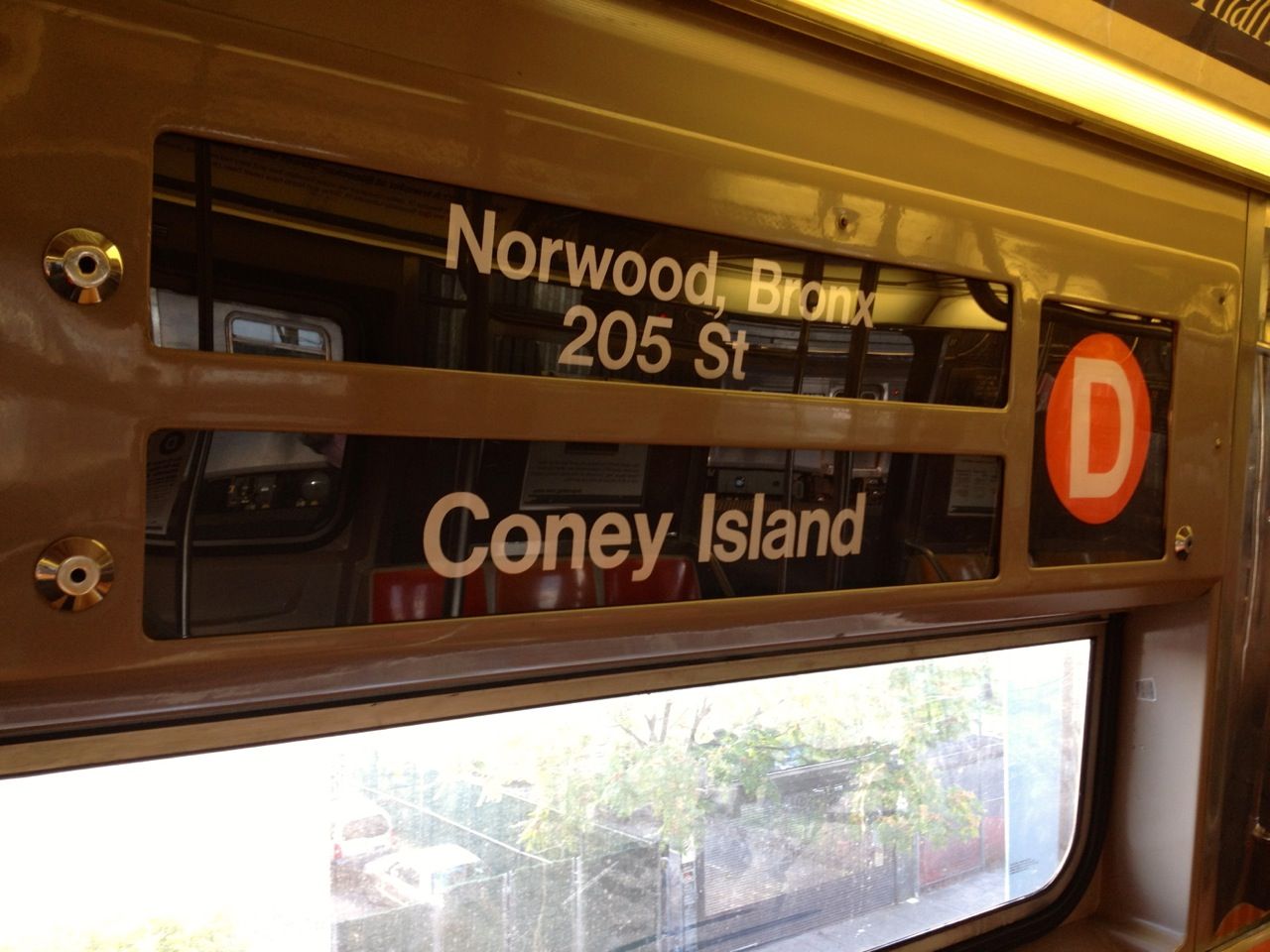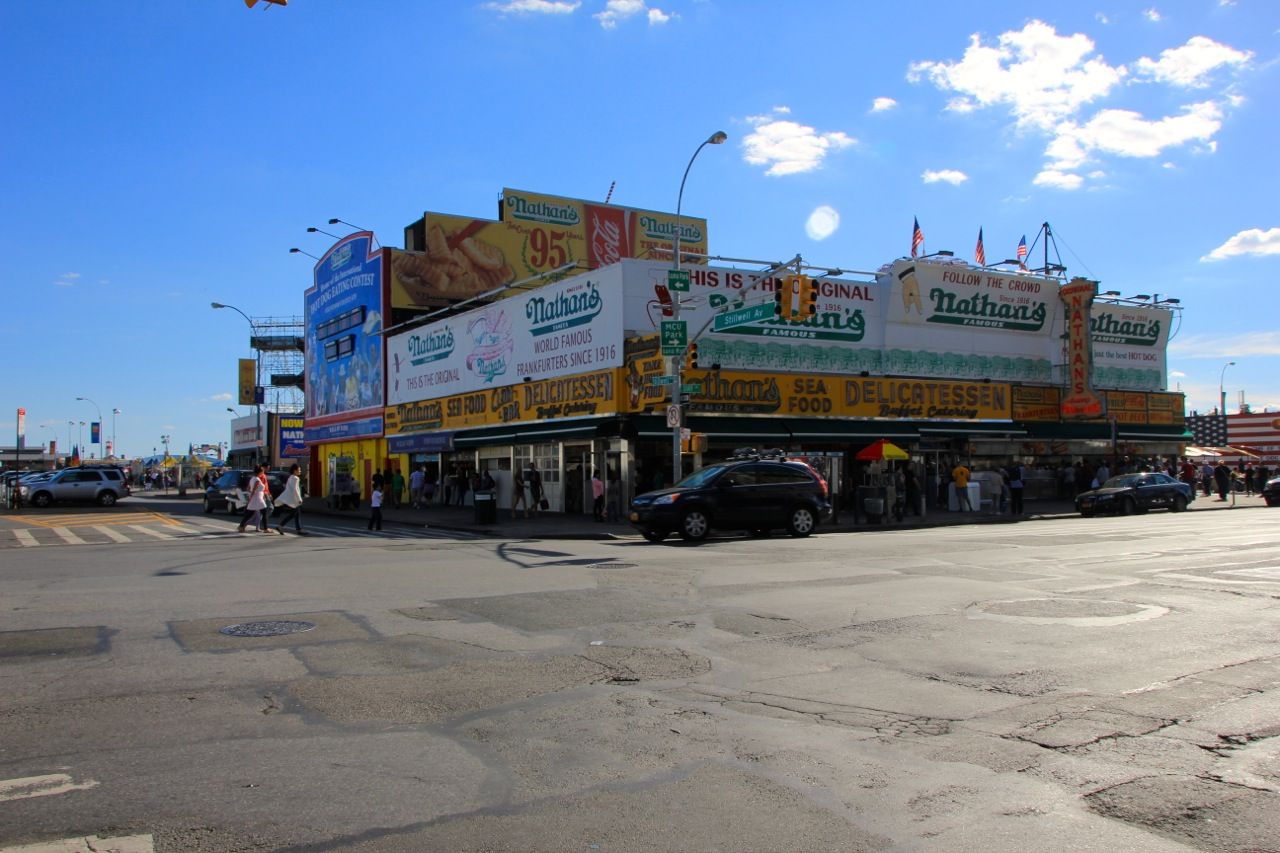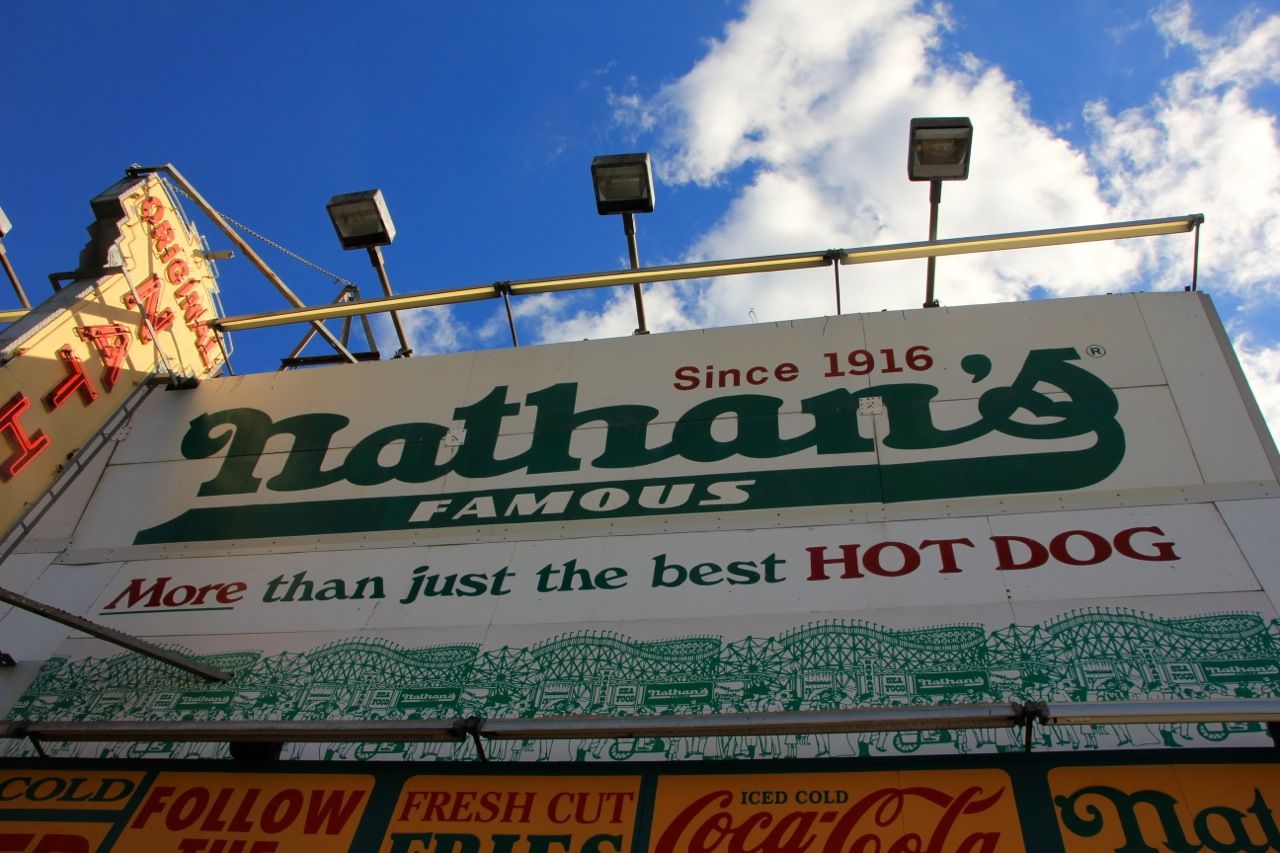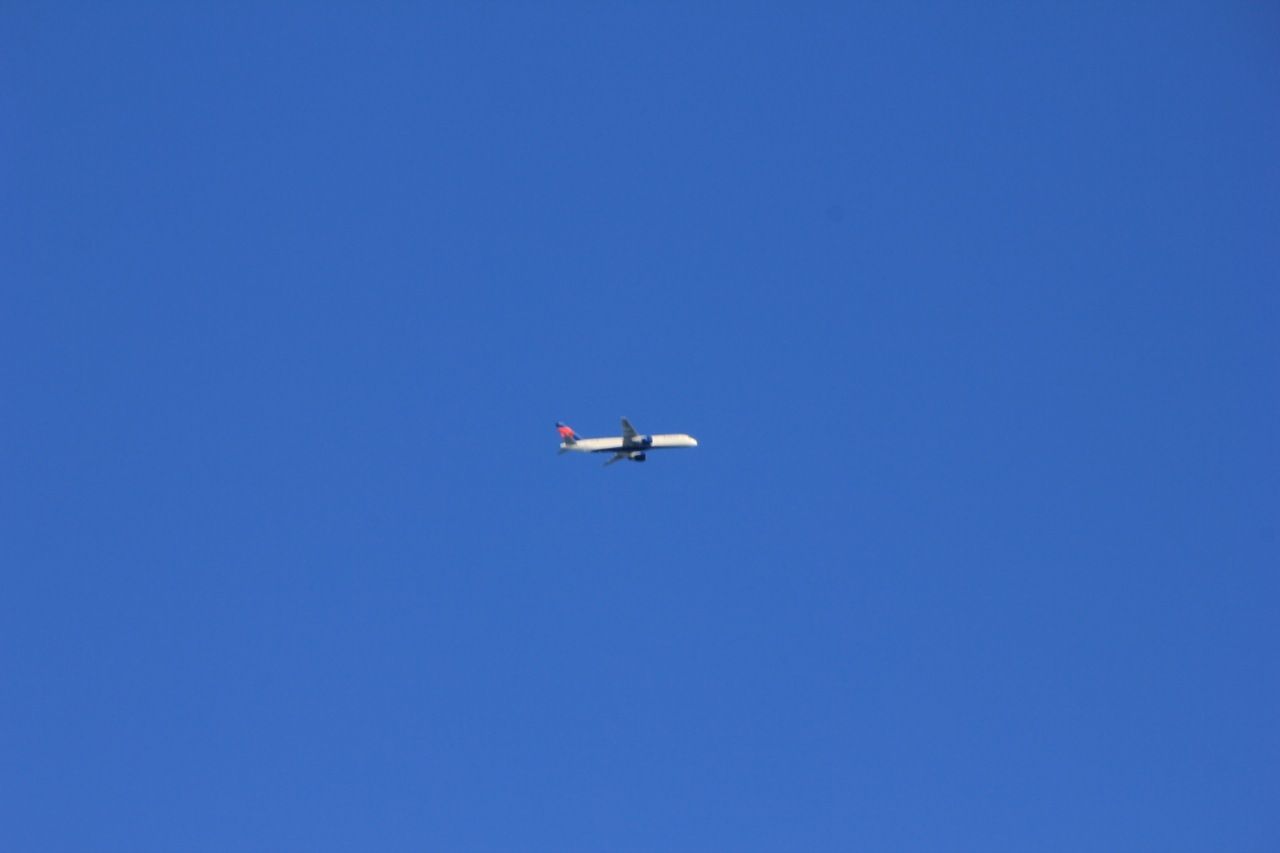 At around 7PM I headed back to the hotel and watched TV for the rest of the evening.
The next couple of days were spent exploring what New York City had to offer:
Sunday it was the empire state building, Rockefeller center and central park. But first off, it was breakfast at the hotel.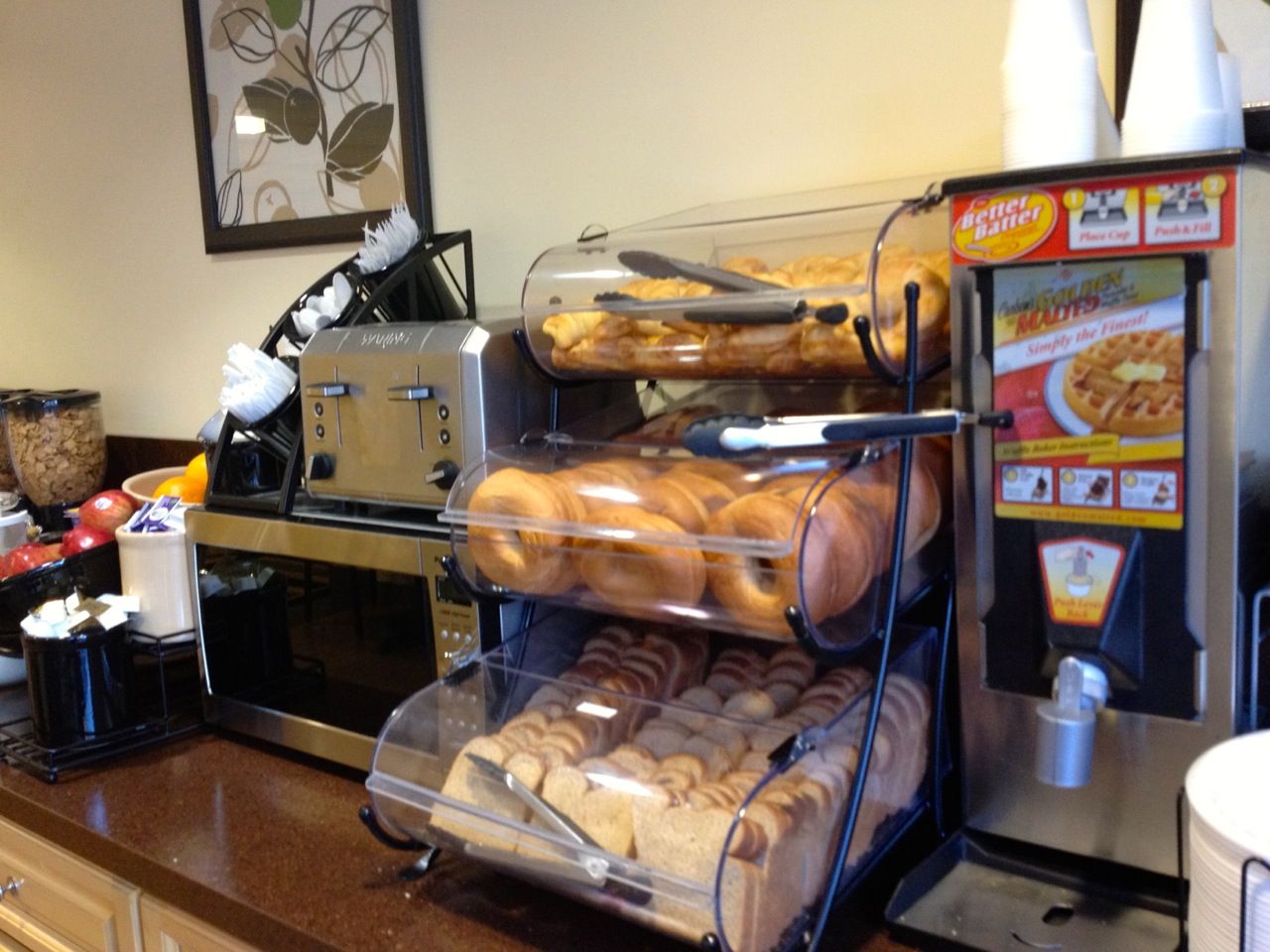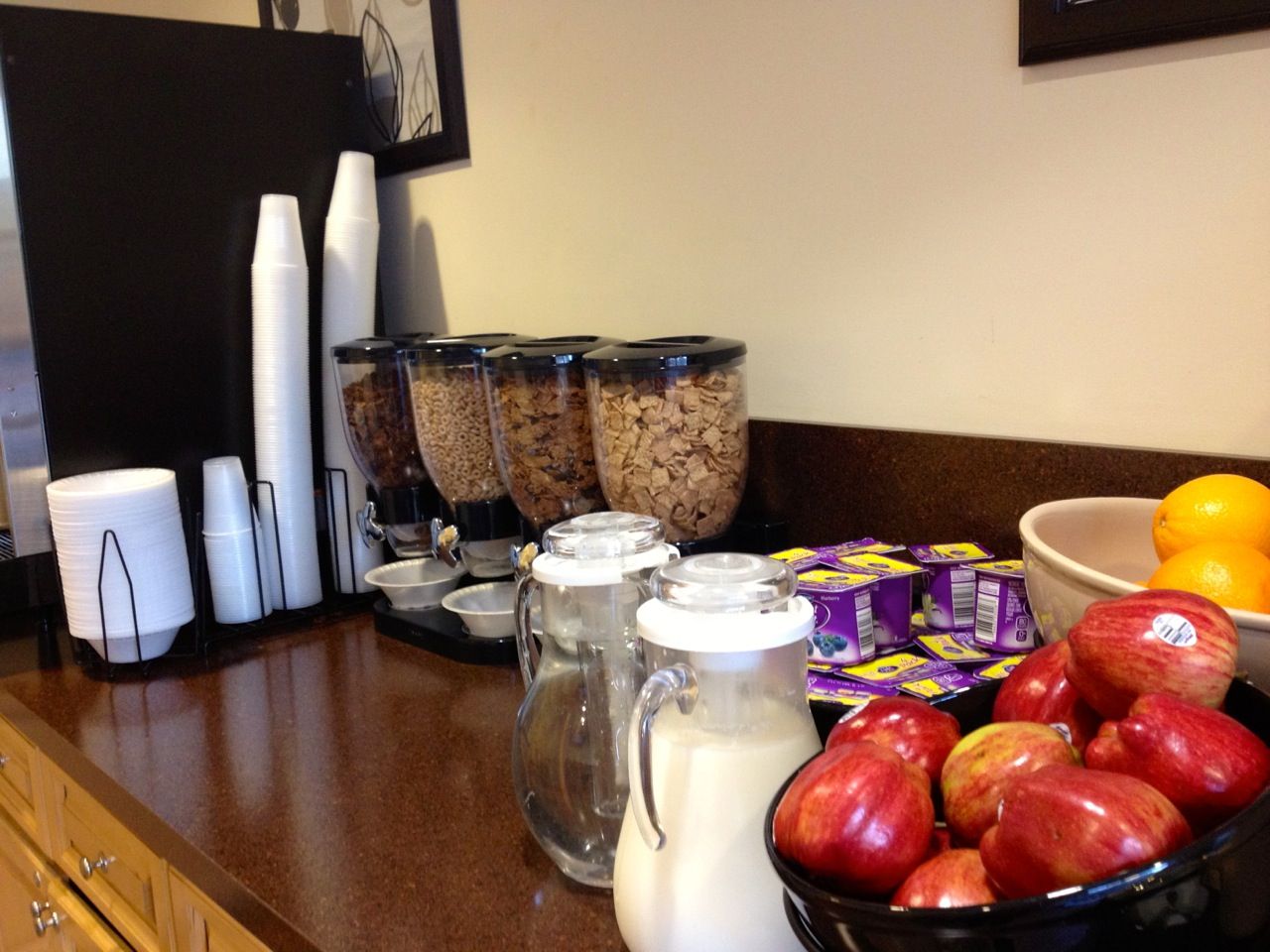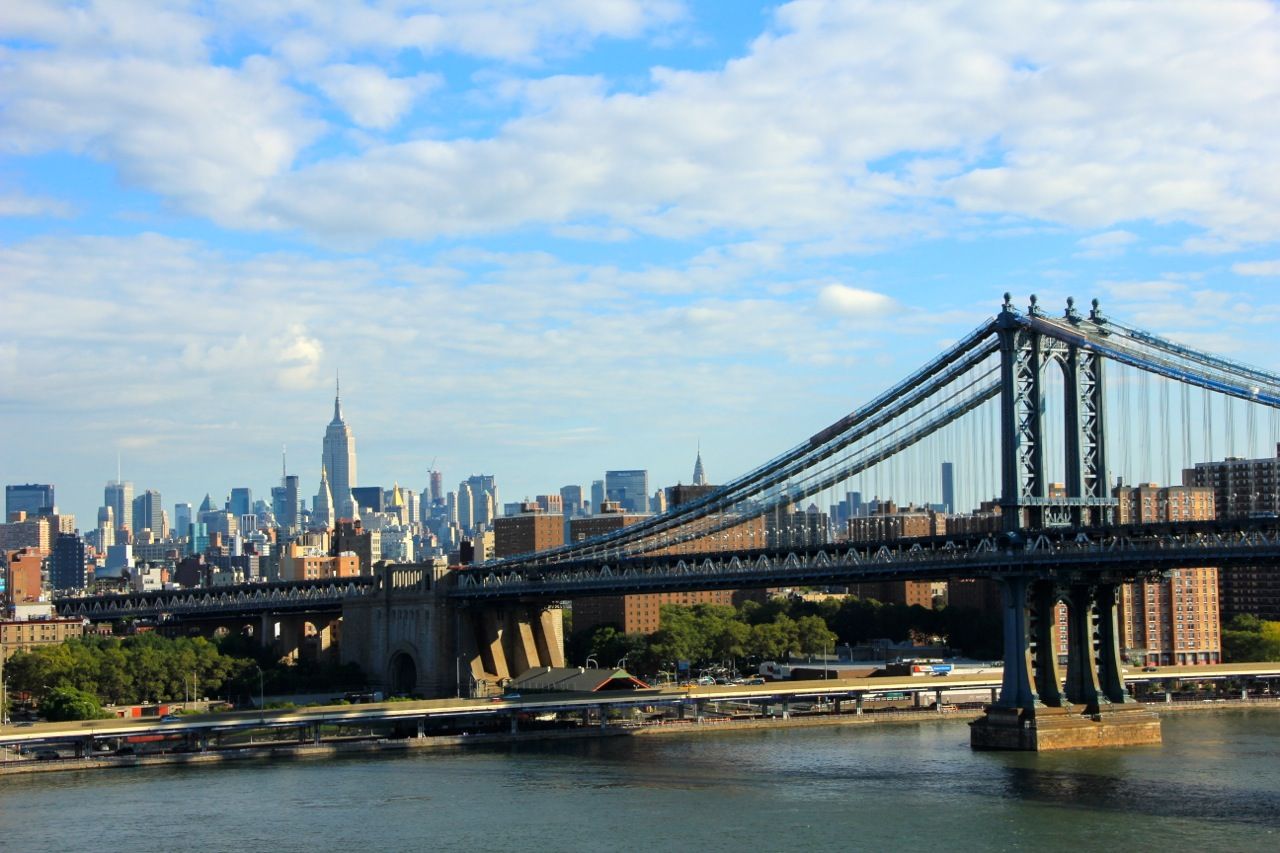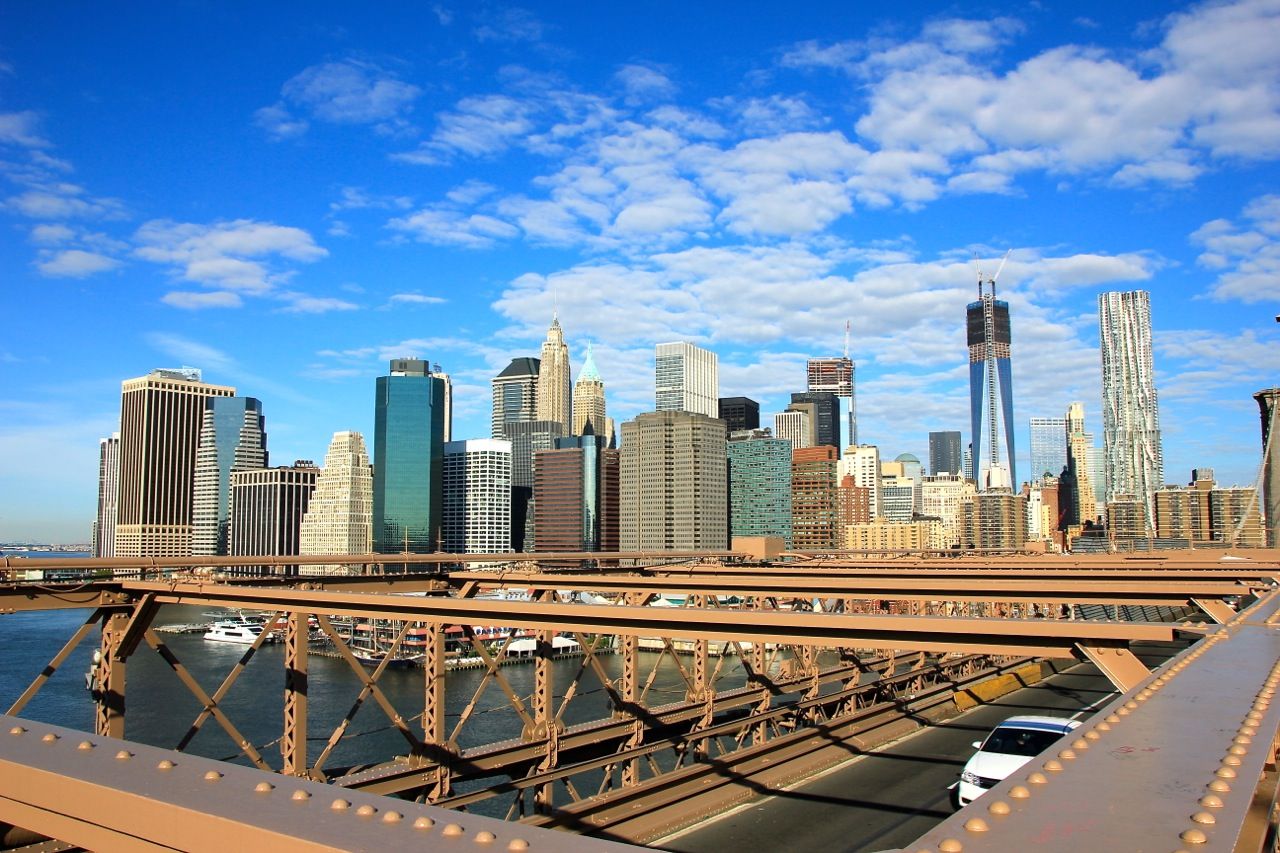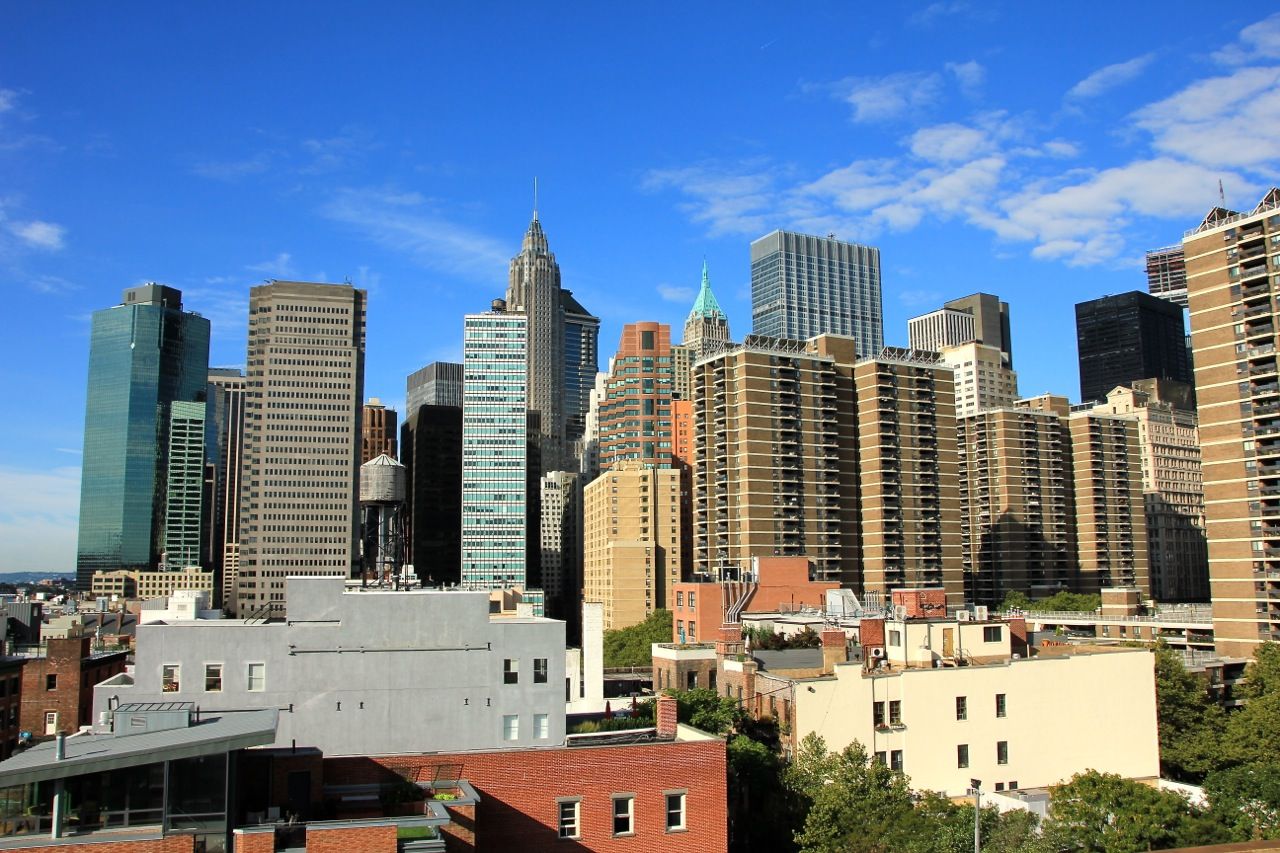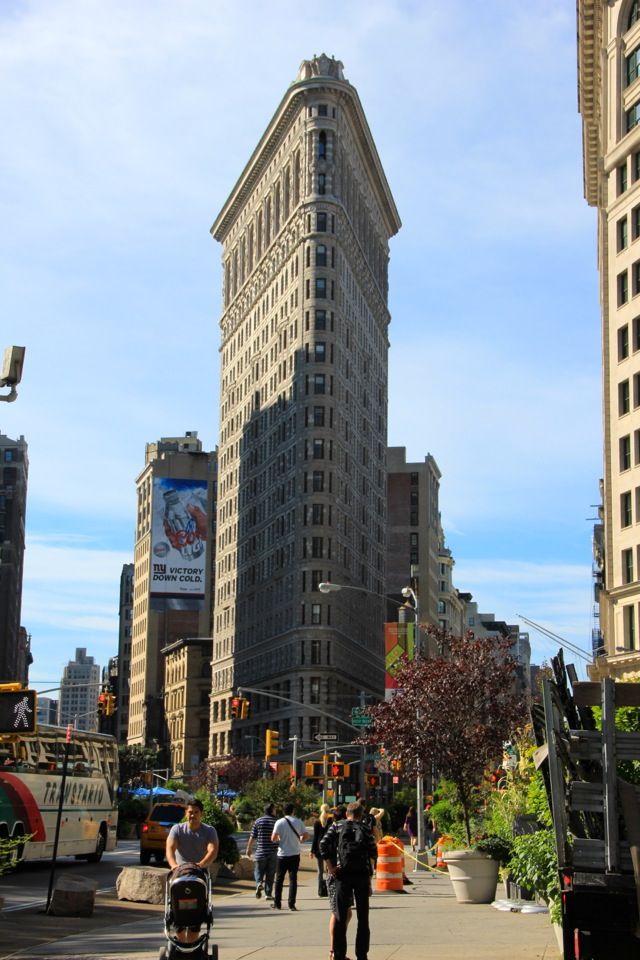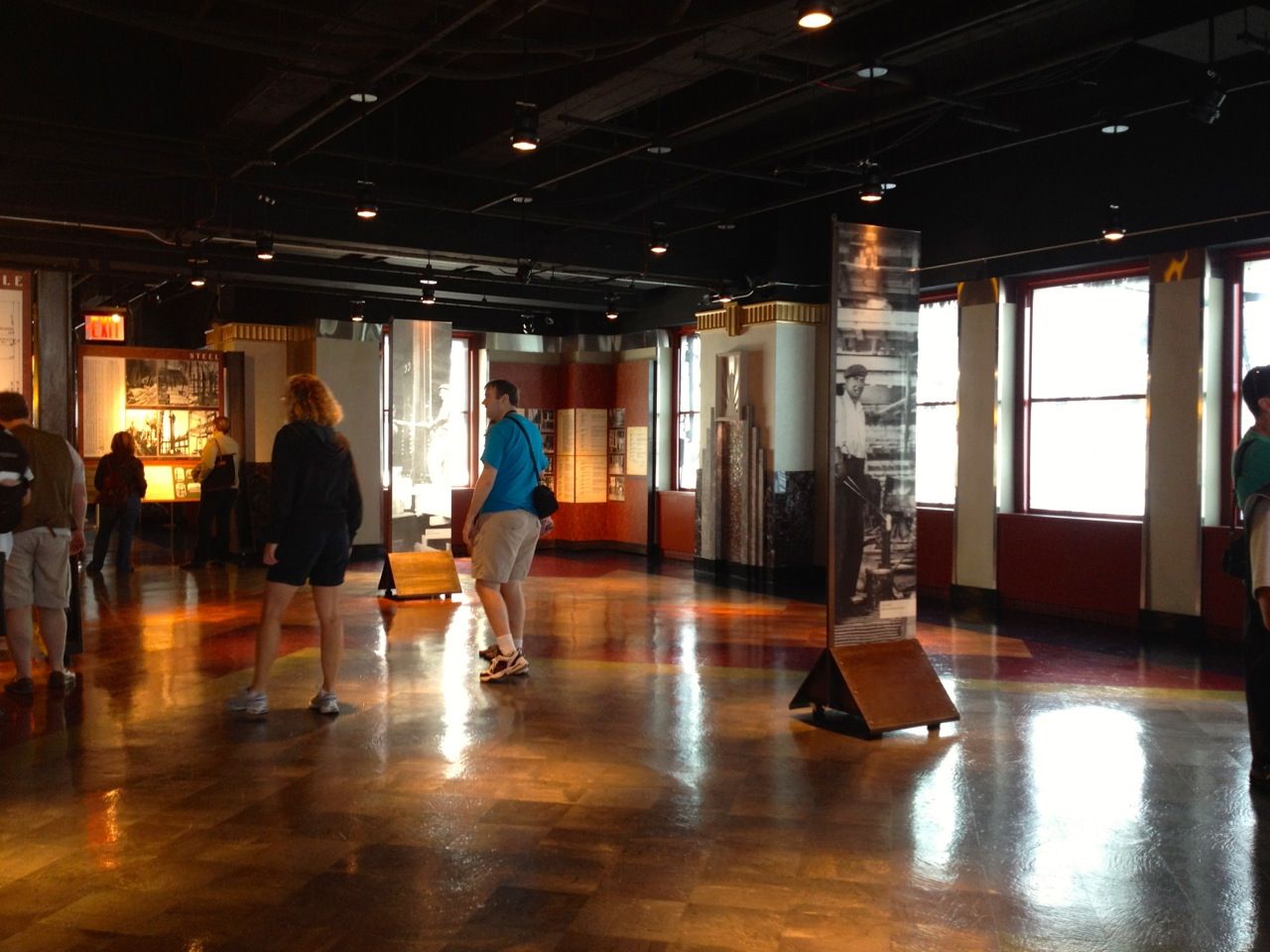 On the way up the Empire state
LGA in the distance
EWR in the distance
And finally JFK
Grand Central Station
Slightly closer to LGA
Pretty impressive elevator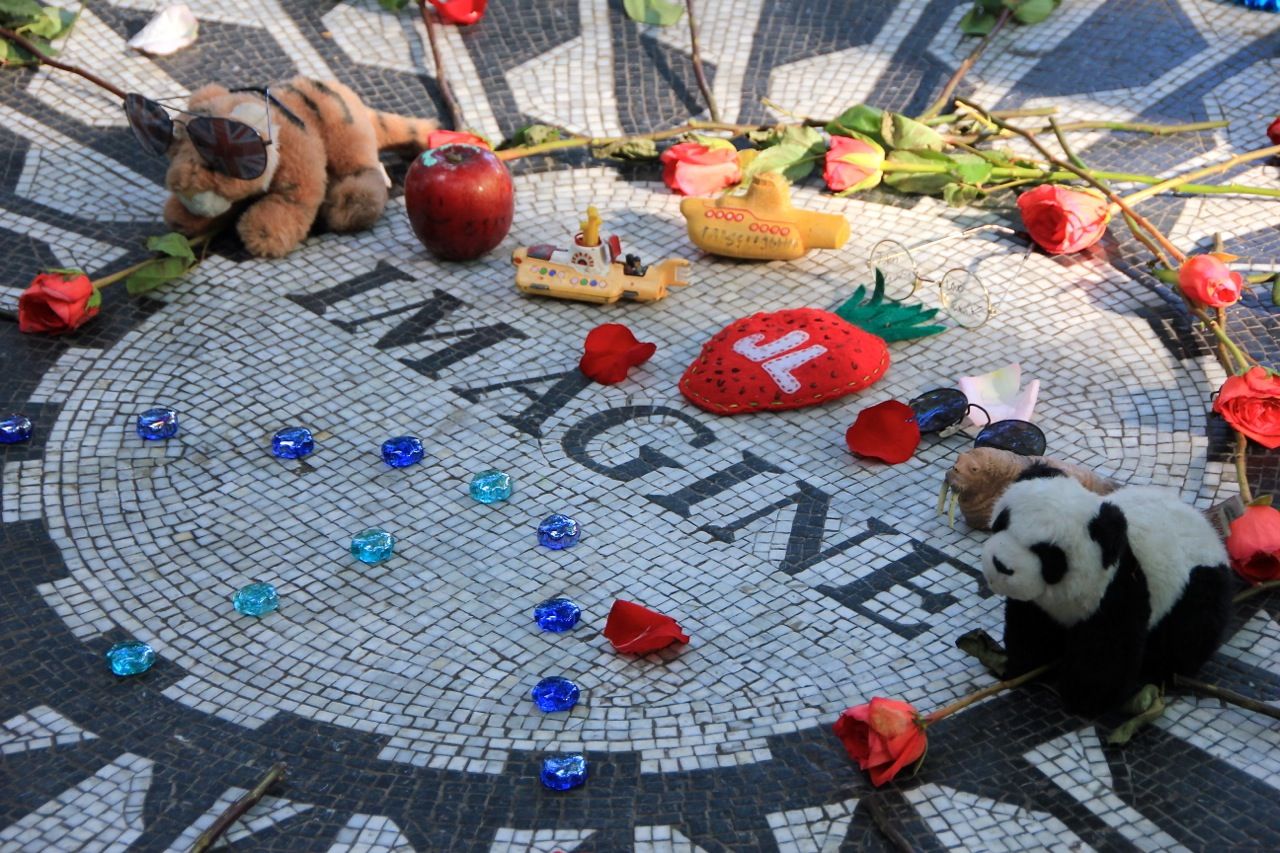 Monday included Times Square, Ripley's believe it or not, which is always worth a visit, the USS intrepid. To be honest I thought the USS Intrepid was a little disappointing but the space shuttle pavilion was worth the visit. Finally it was on to the Staten Island ferry to get a few views of the statue of liberty.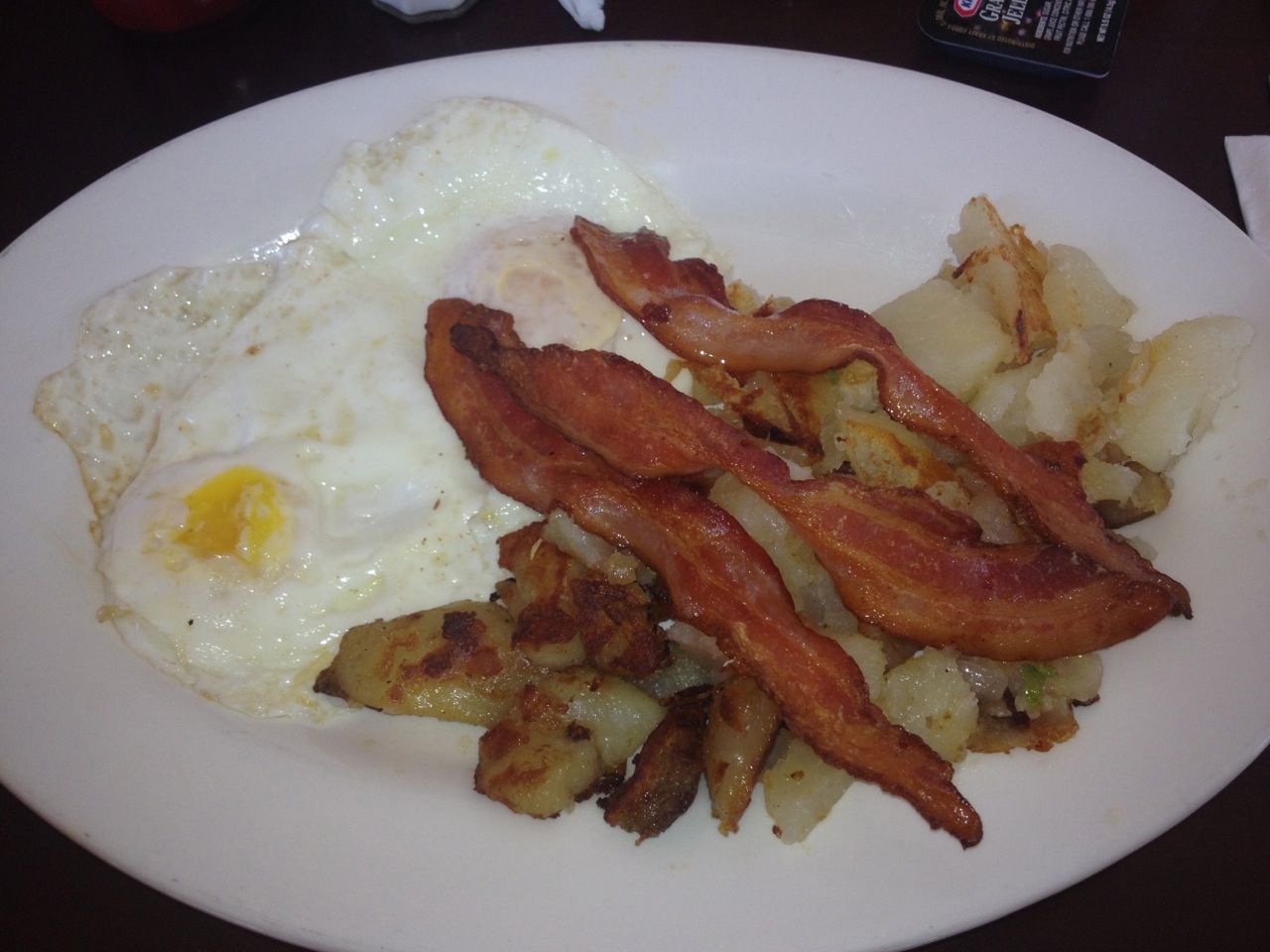 Pretty good for the equivalent of about £4!
Seems like most of the Berlin wall has ended up in various Ripley's.
I also took a walk through the High Line Park
Waiting for the Staten Island Ferry
SQ A345 seen approaching EWR
Making my way back to Times Square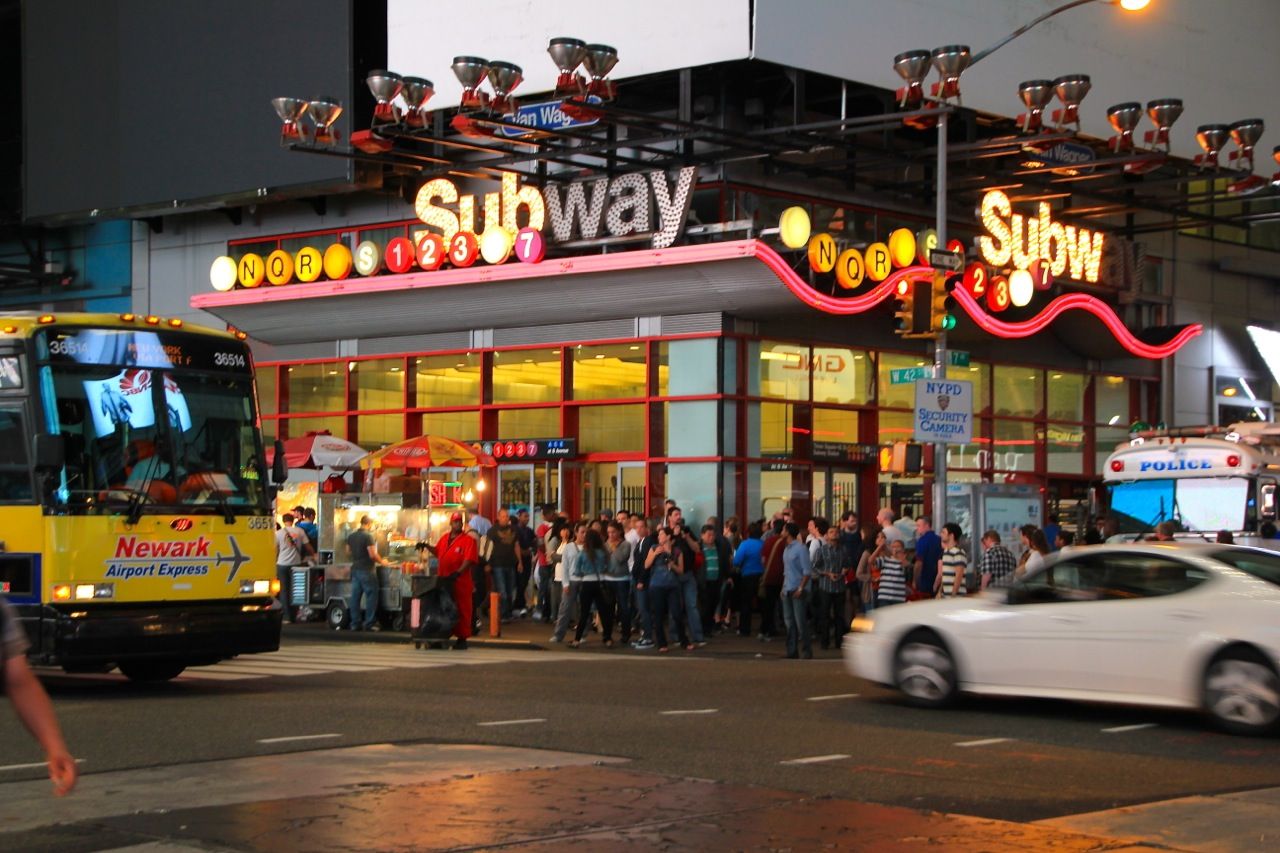 Tuesday was spent visiting the 9/11 memorial and Wall Street. The 9/11 memorials were well worth the visit. It didn't cost anything but I've heard that it gets booked up a long way in advance. Luckily I went online the night before and managed to book tickets though.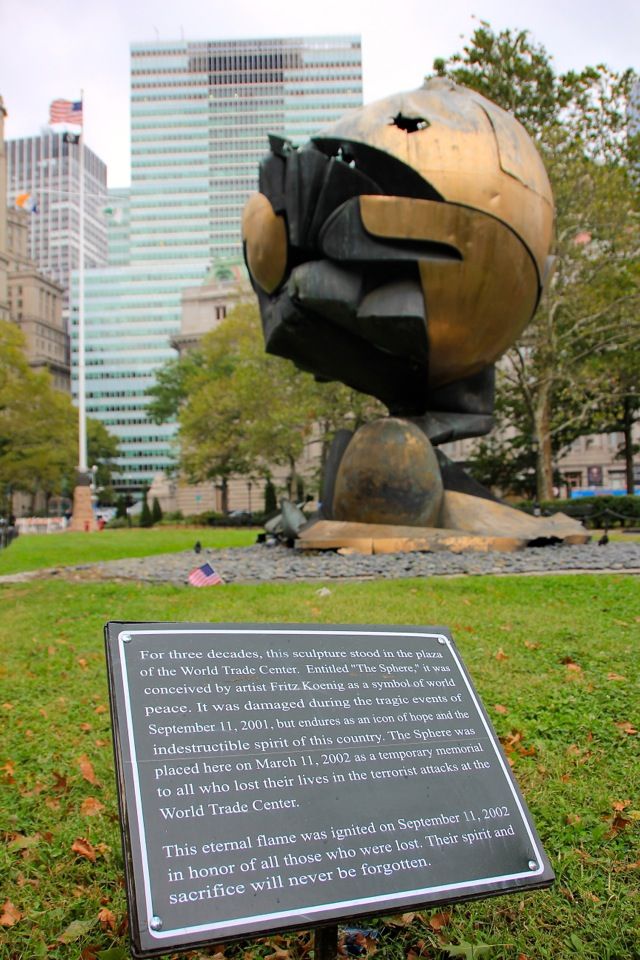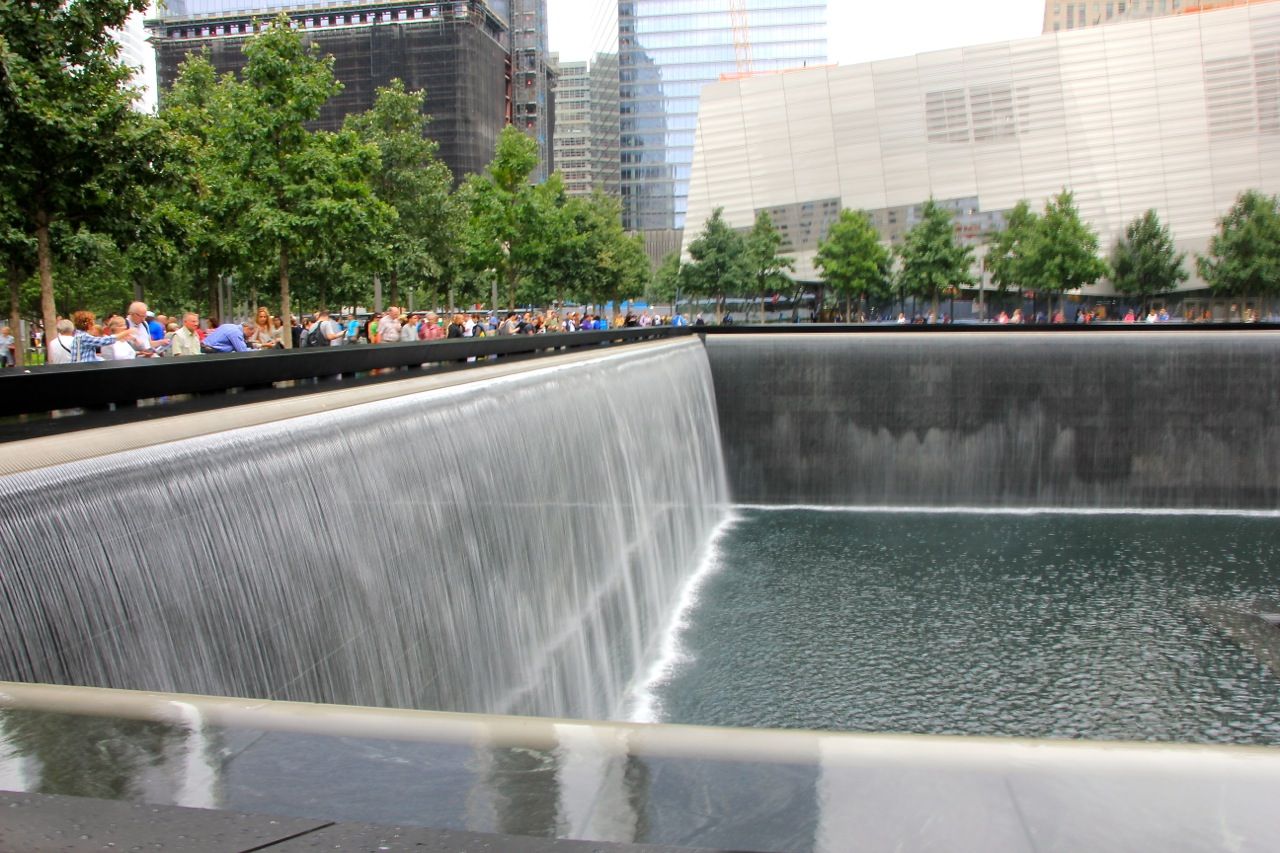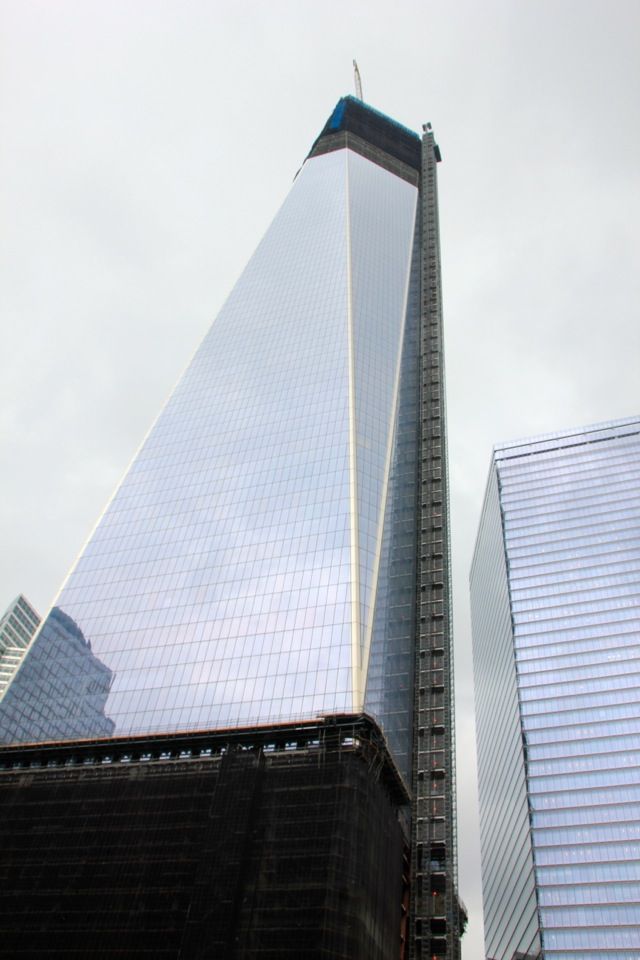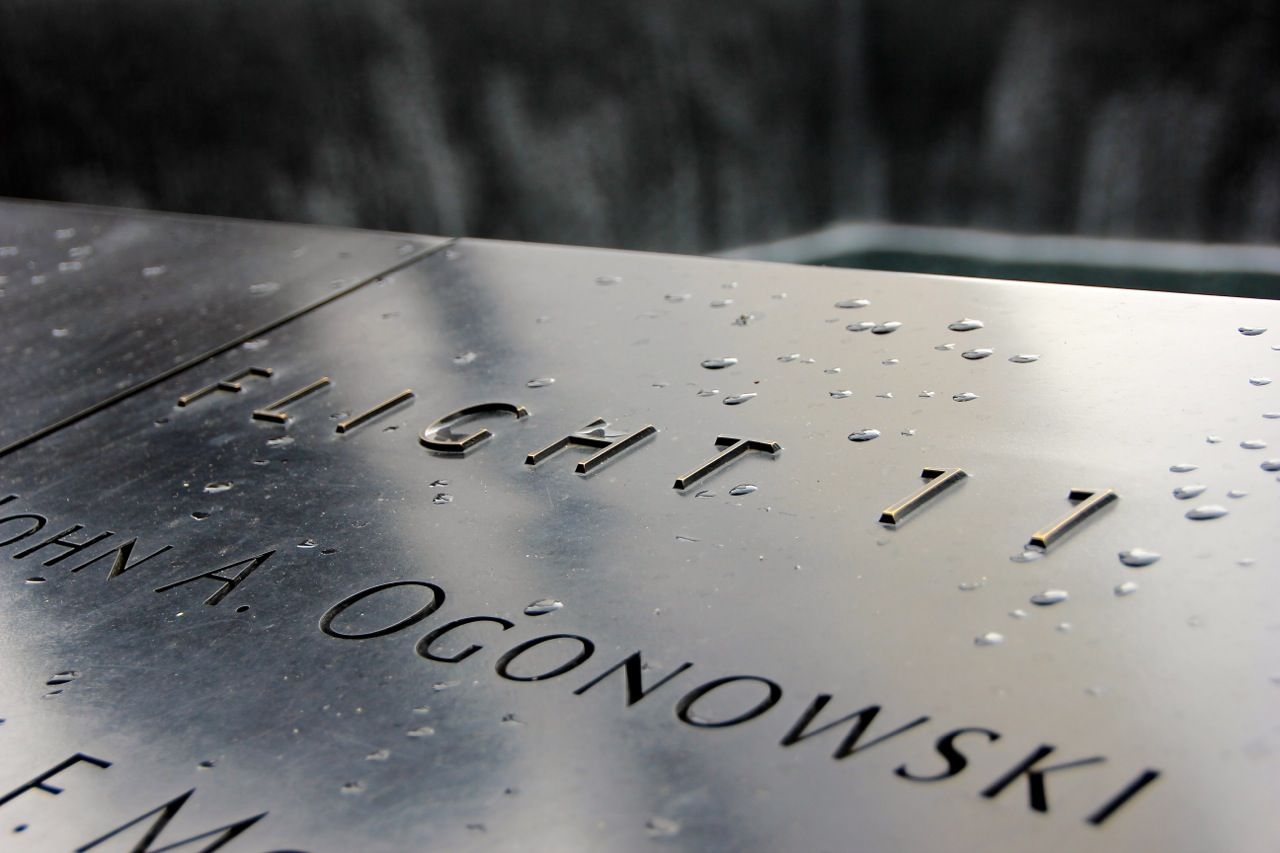 couldn't come to NYC and not get a hotdog from a cart!
Managed to find a model shop near Times Square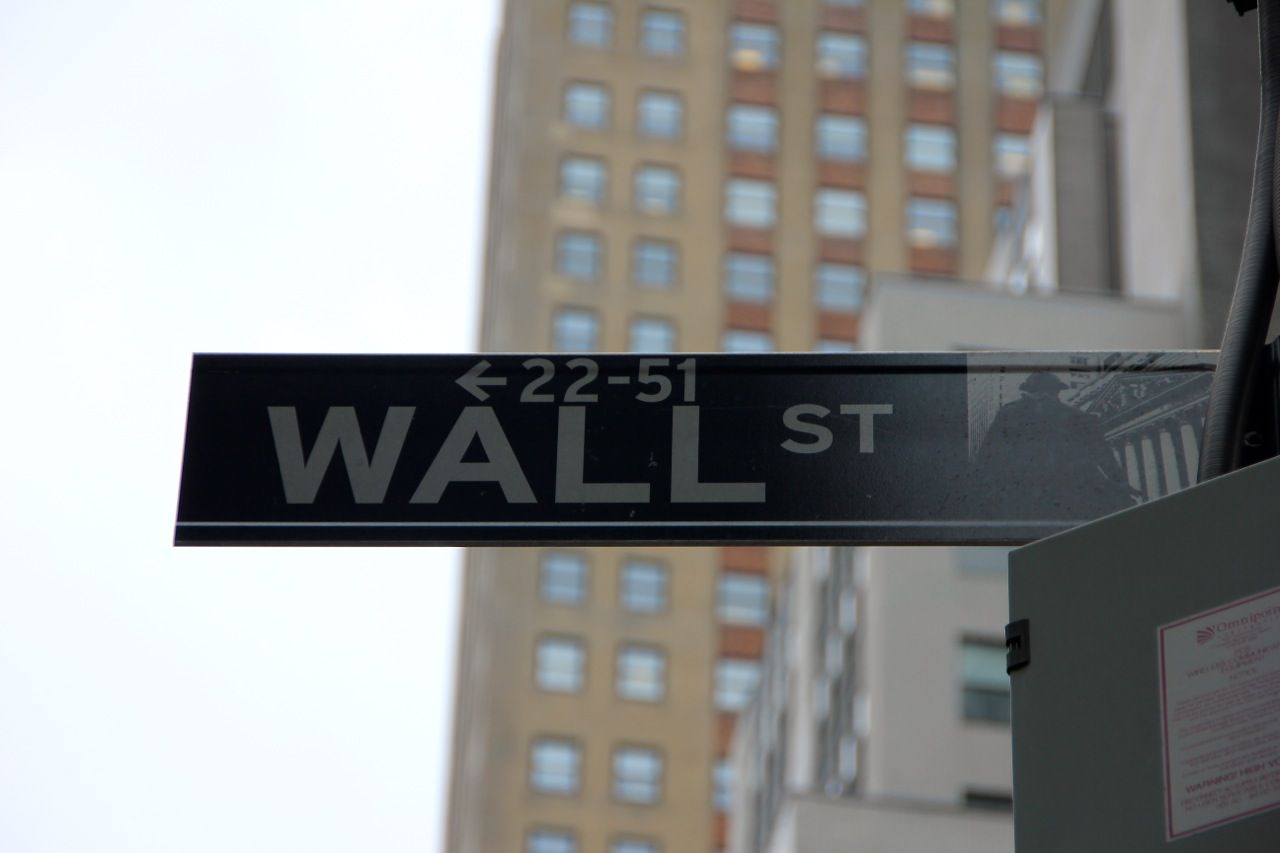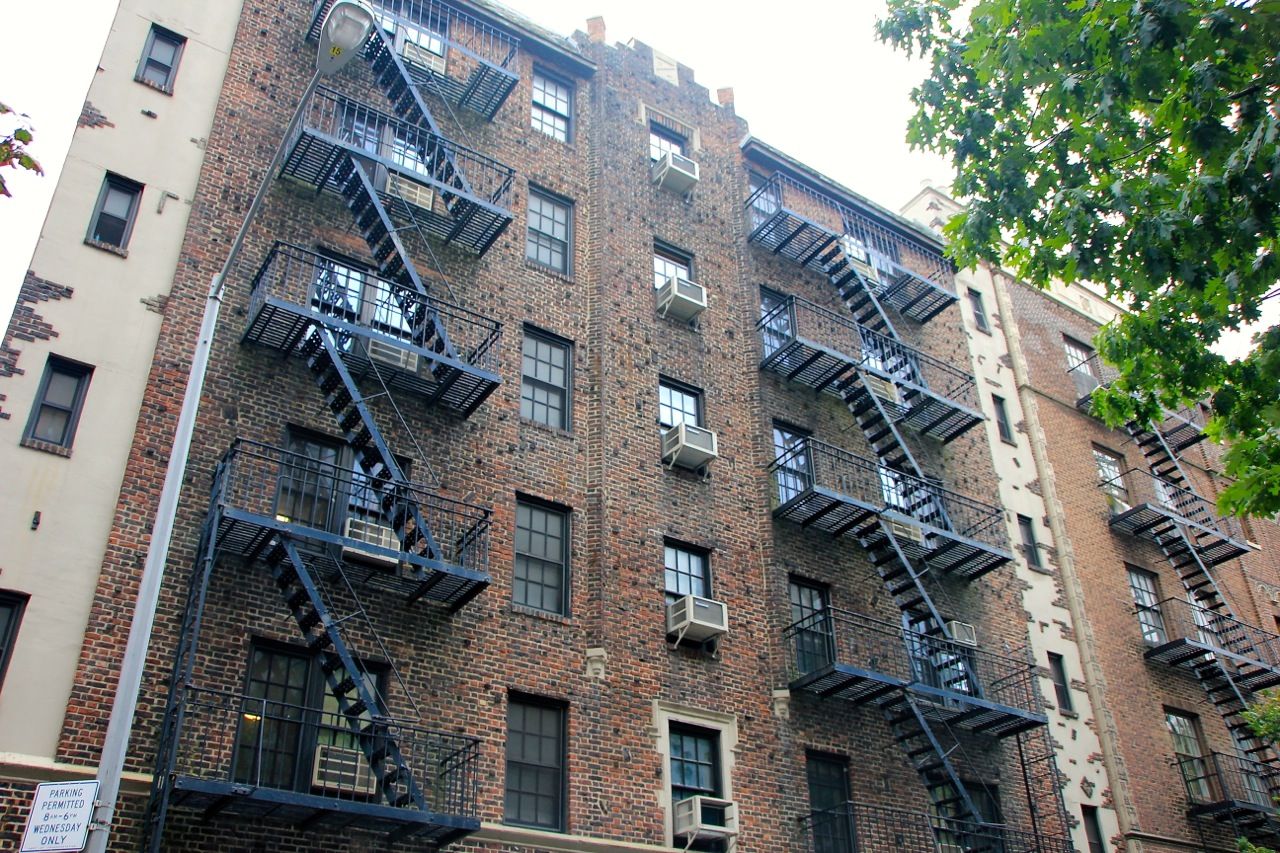 Once I returned to the hotel it was time to check in for my return flight.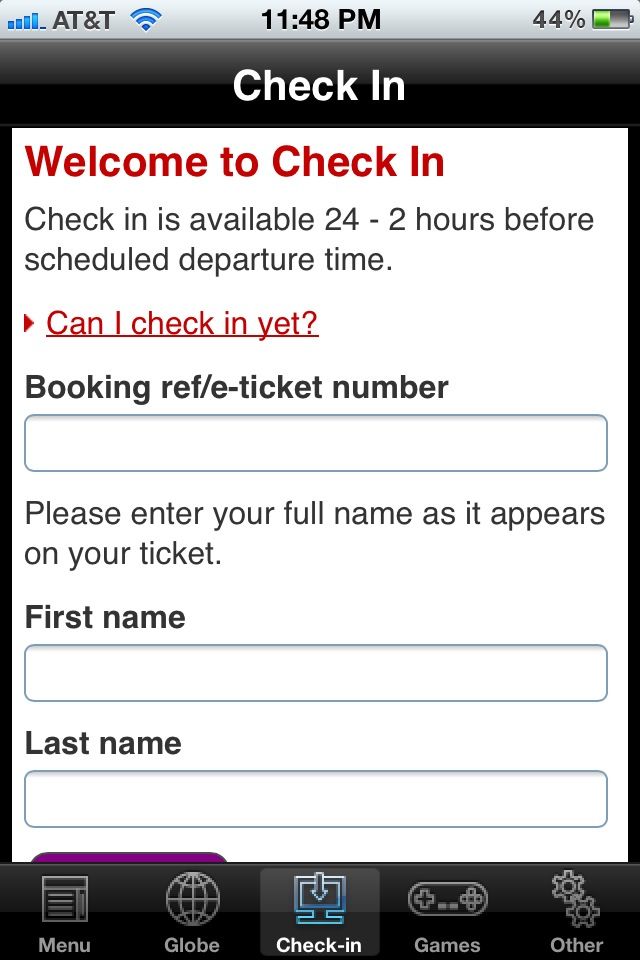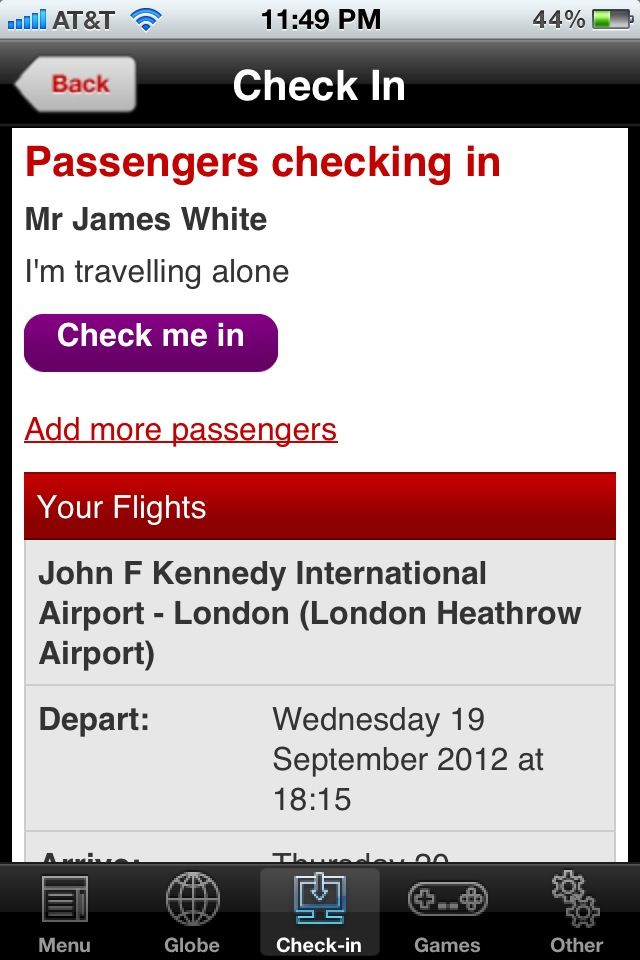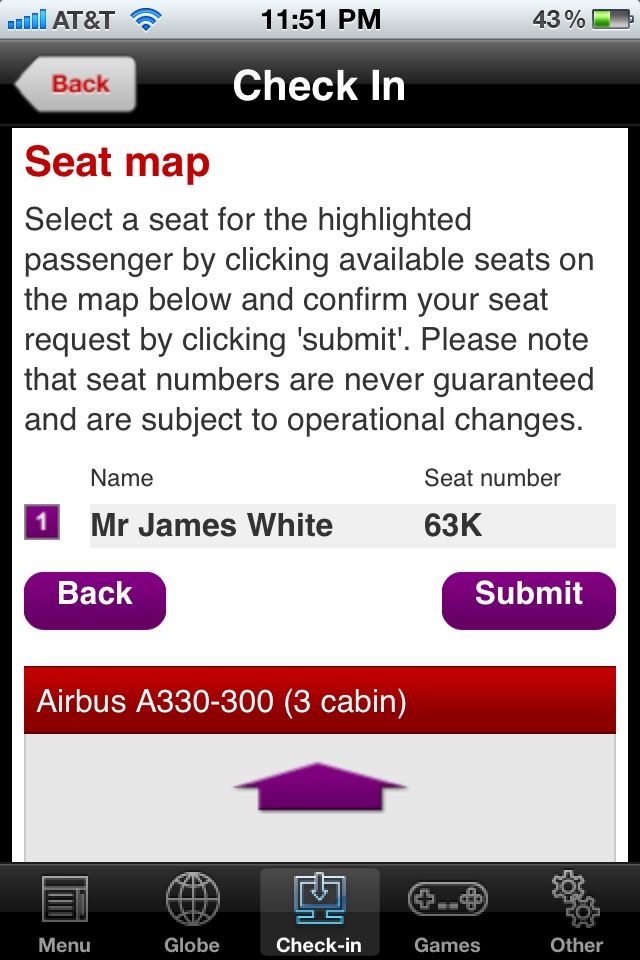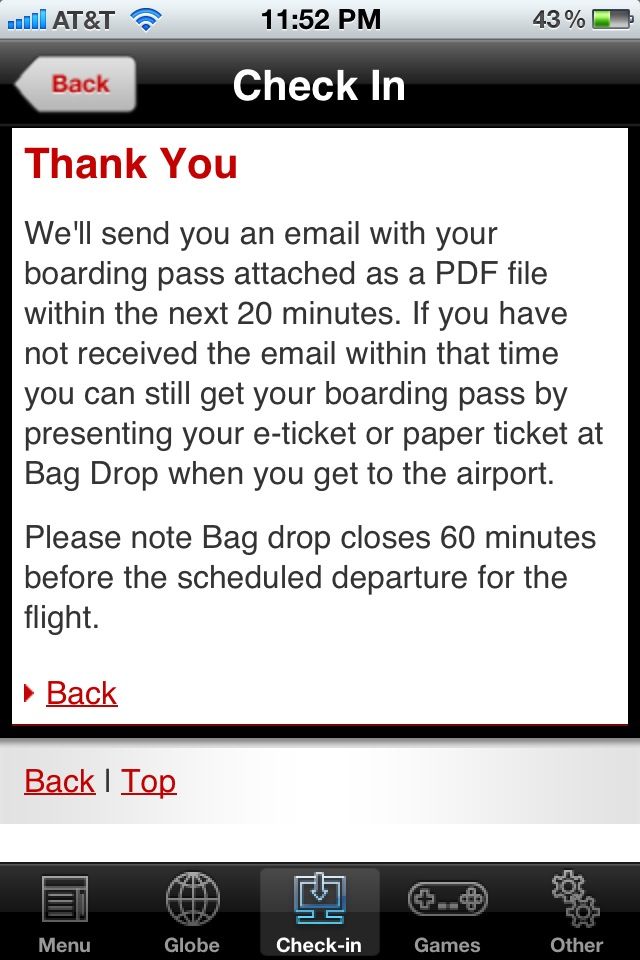 On Wednesday I checked out of the hotel and decided to check out the NY Transit museum. Just before I left, I looked up which aircraft would be flying me home – G-VRAY.


Then it was on to the subway to the museum.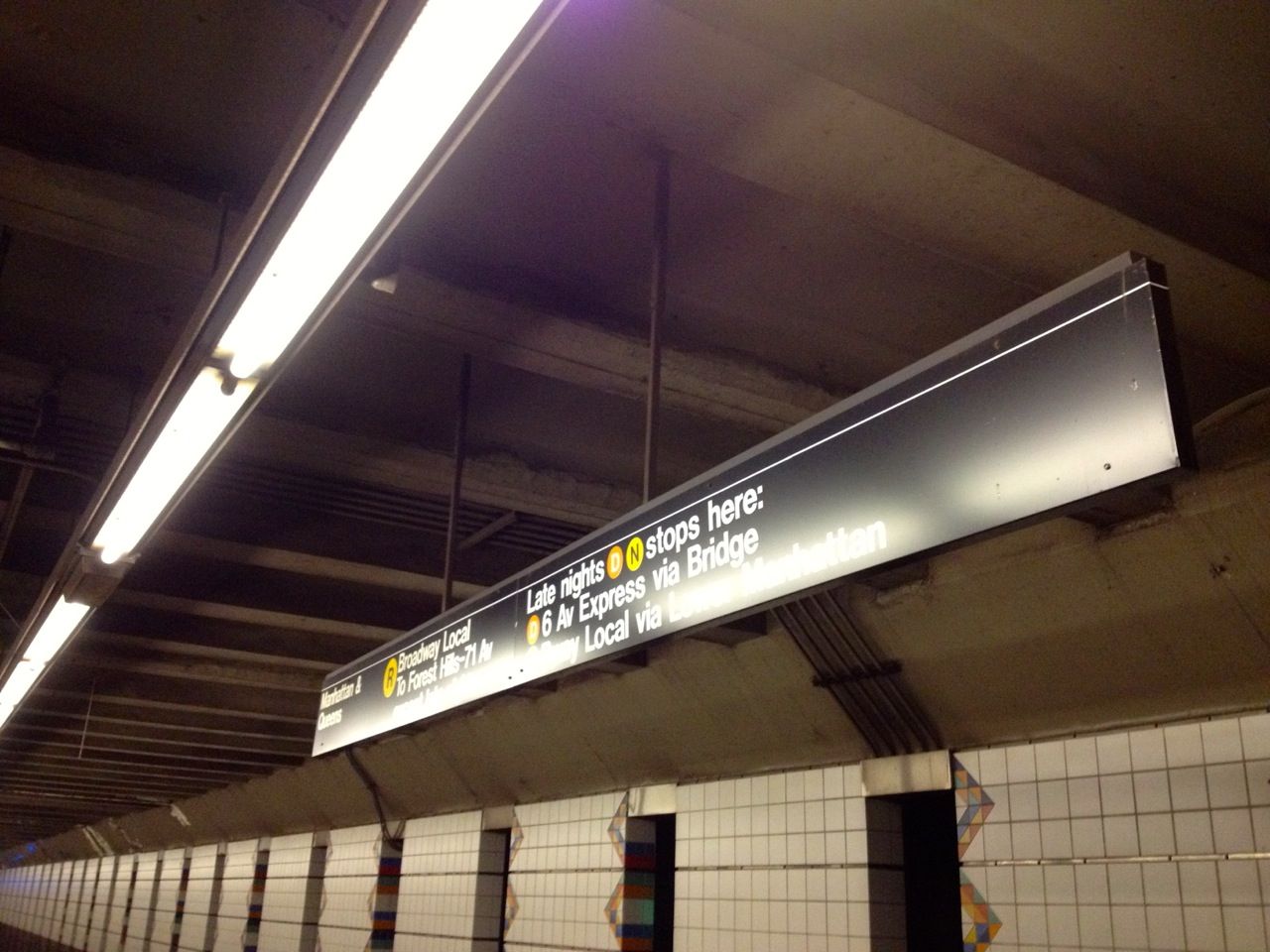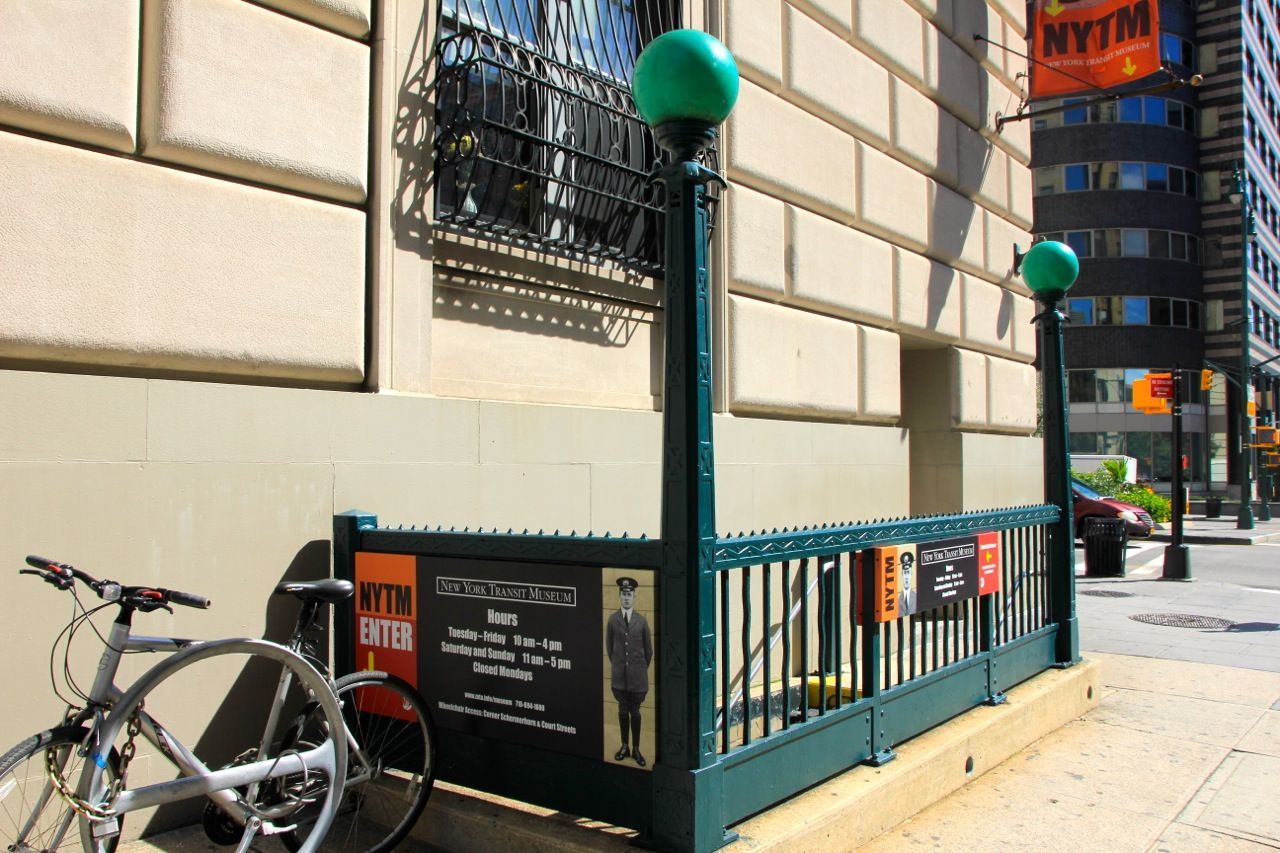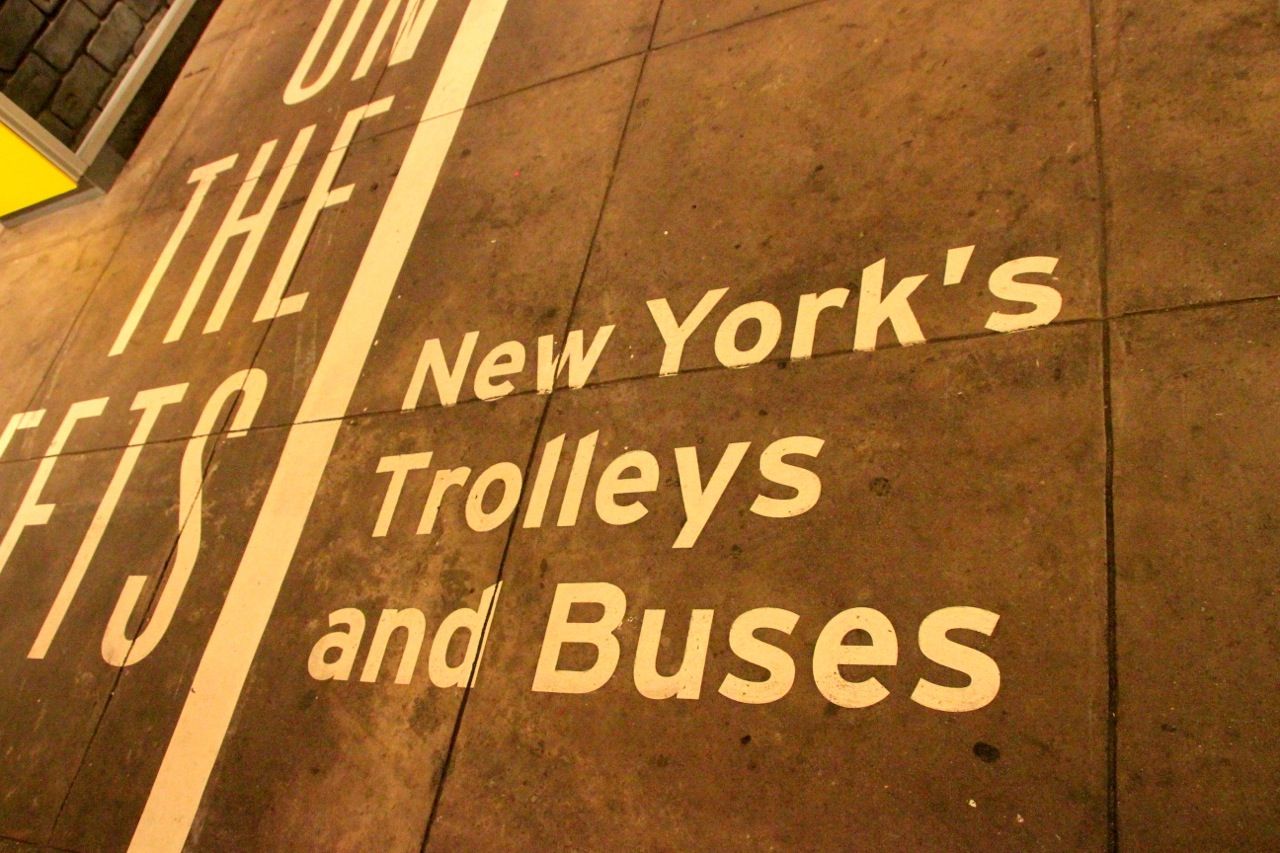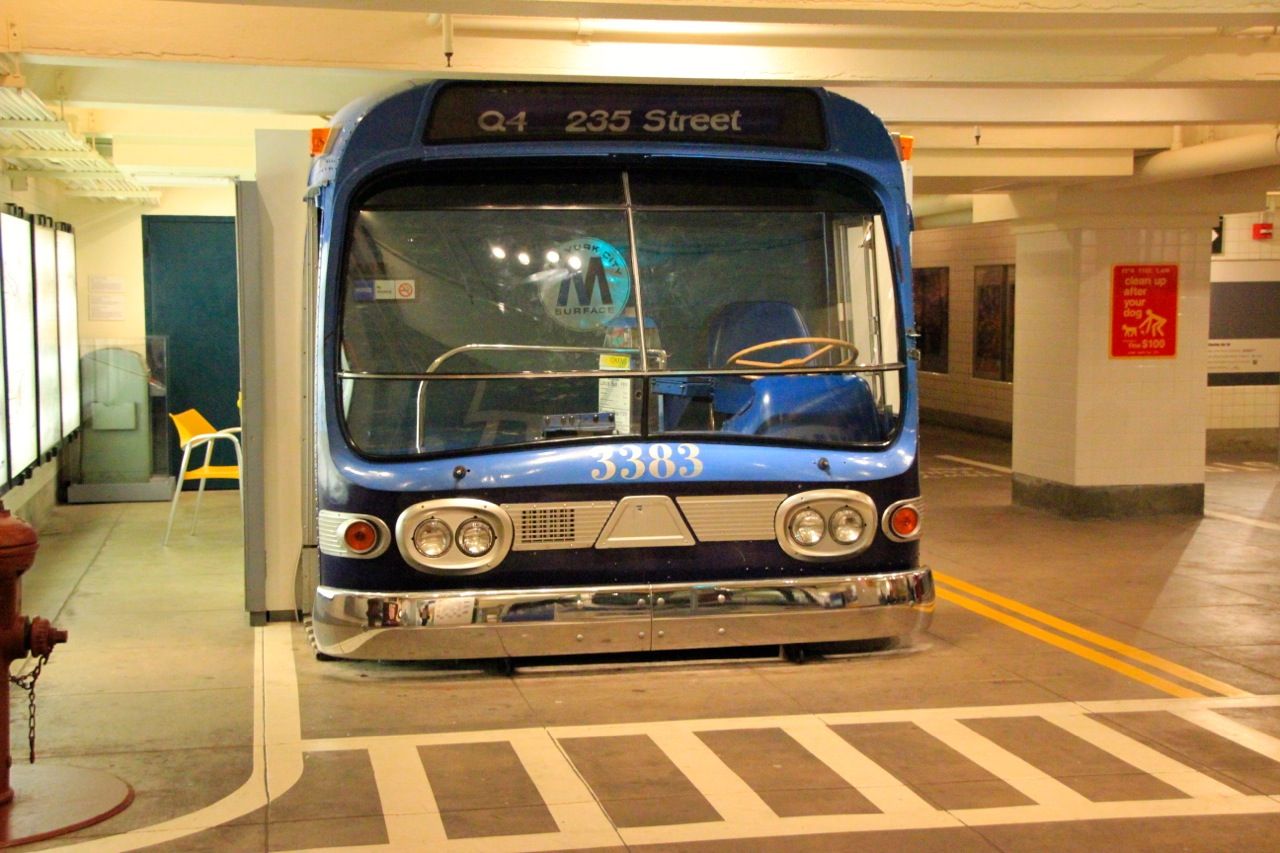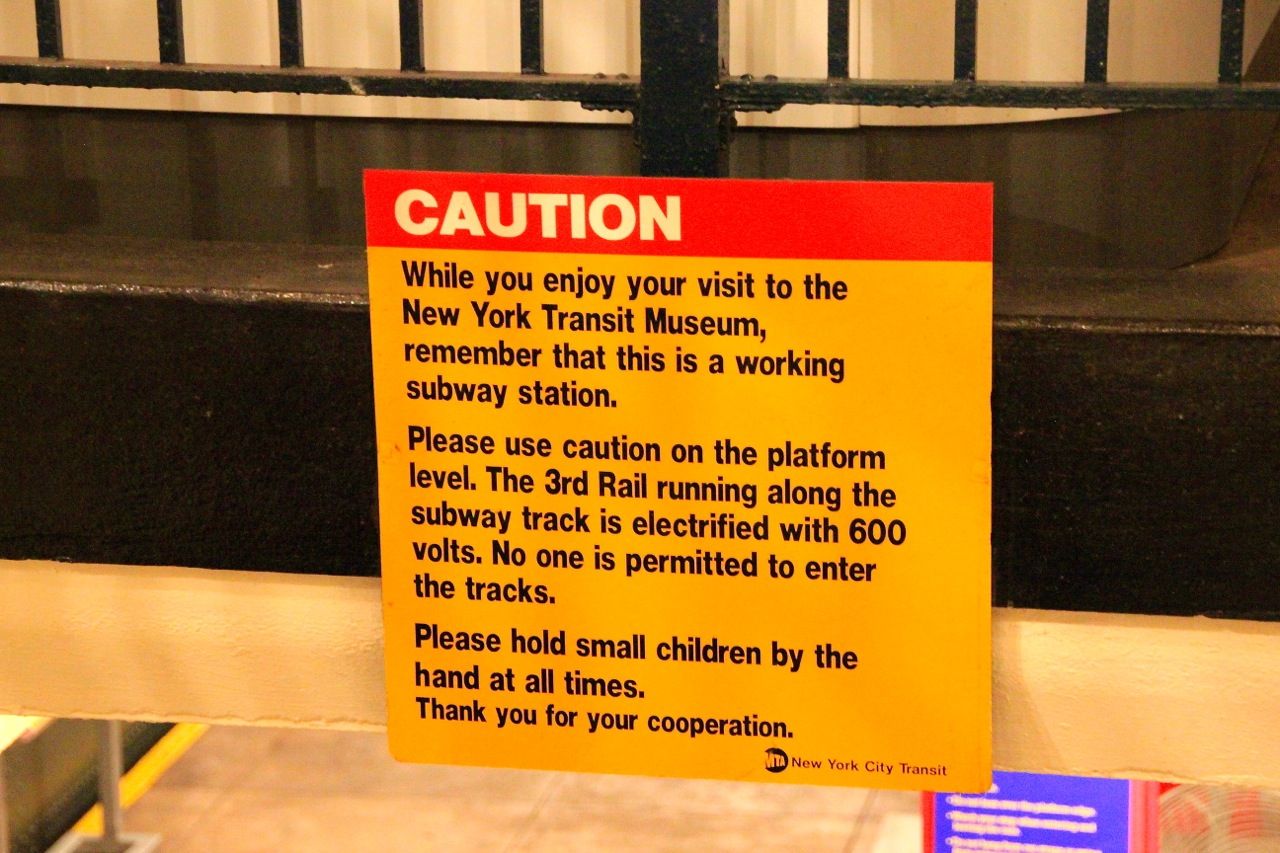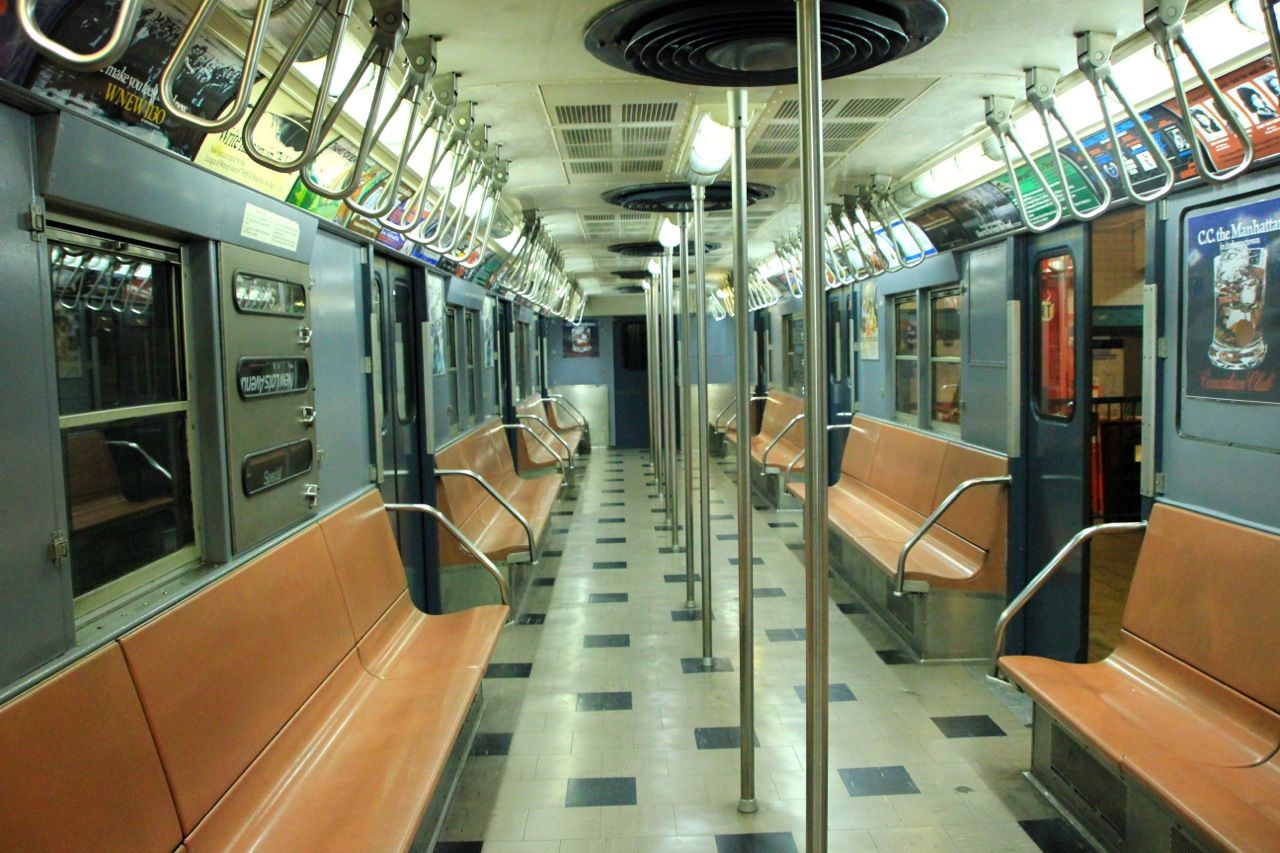 After an enjoyable couple of hours looking round the museum, I made my way to JFK. As I had plenty of time and it was more convenient, I took the subway to Howard beach and connected with the air train there.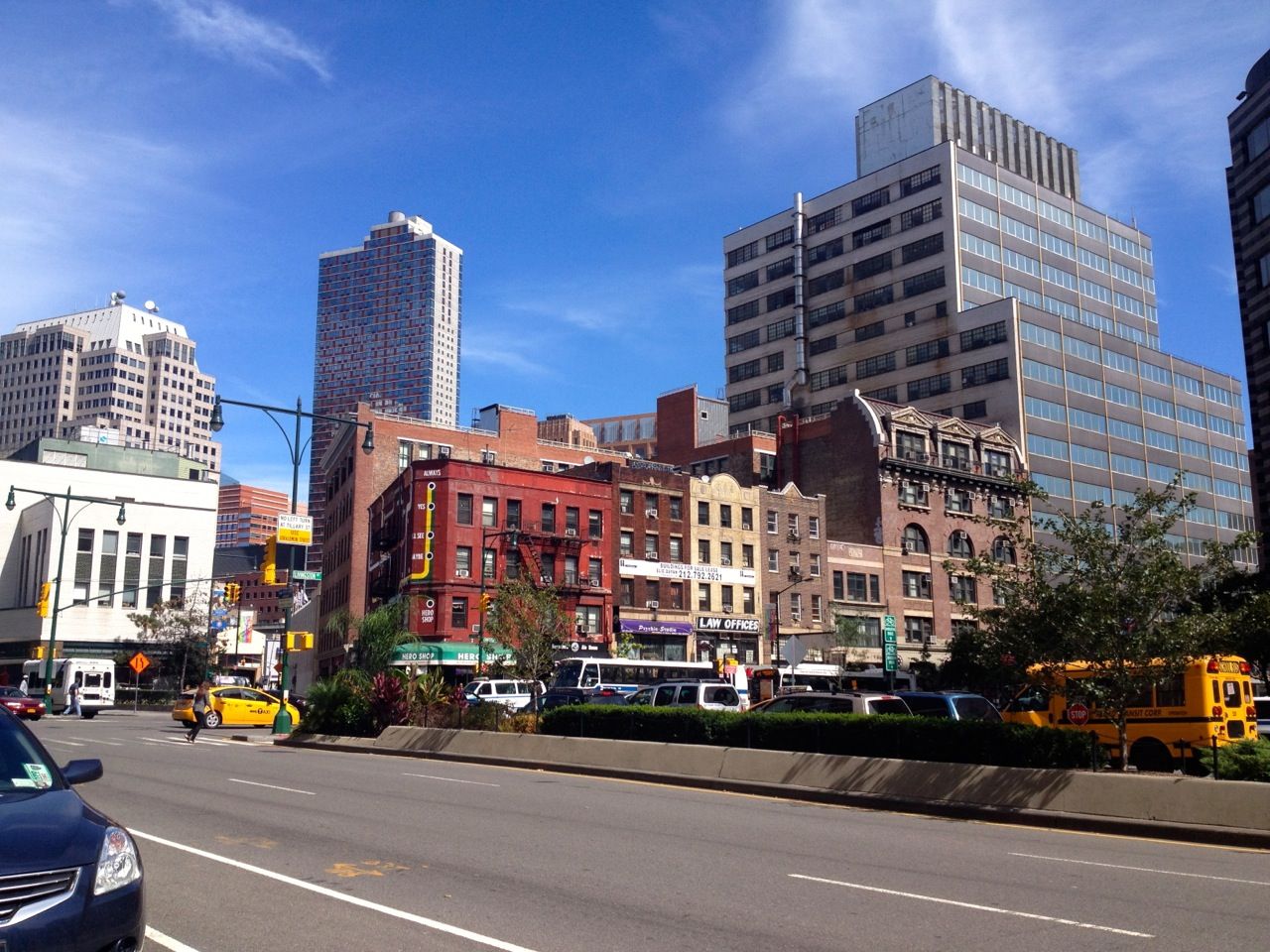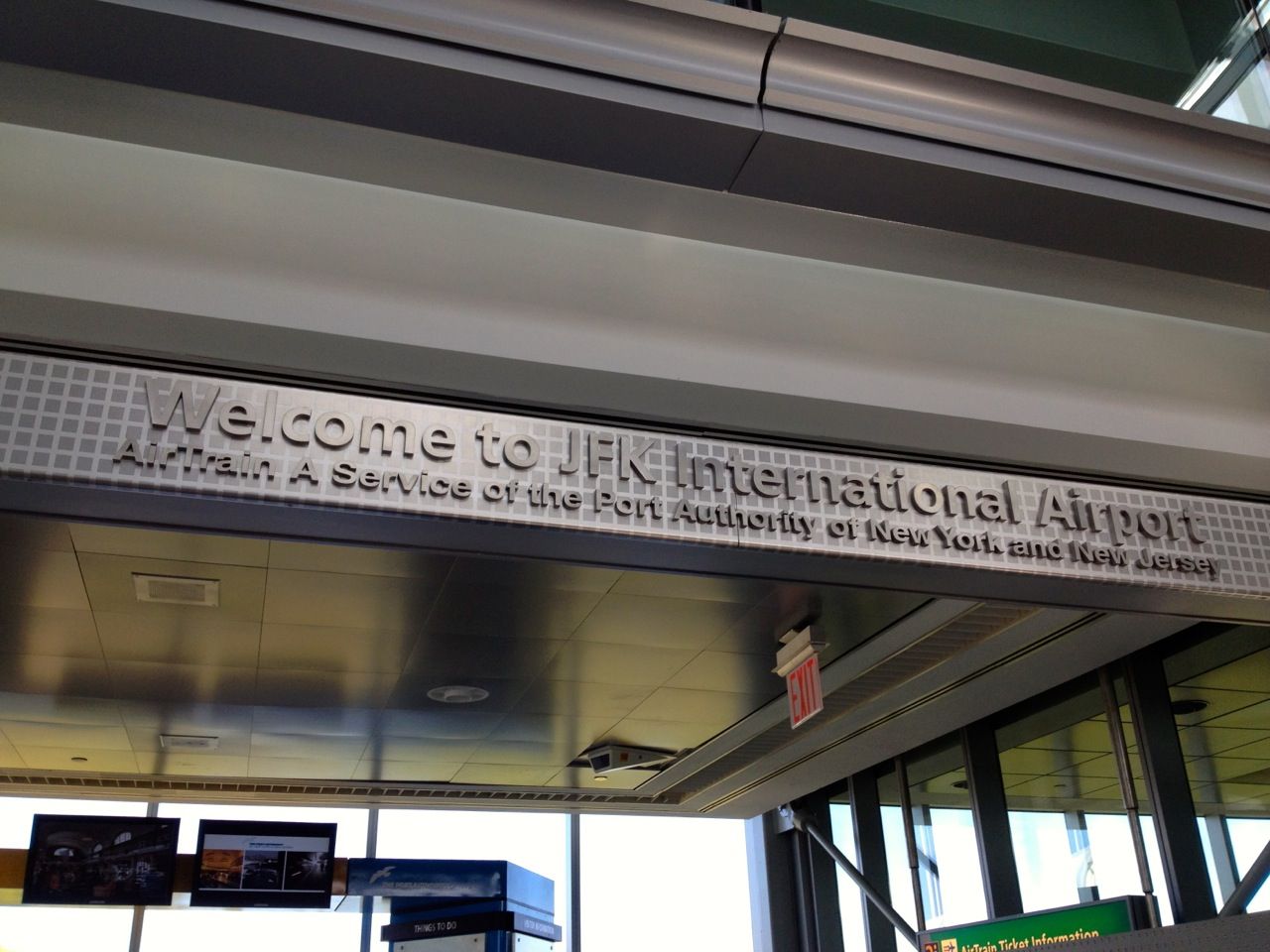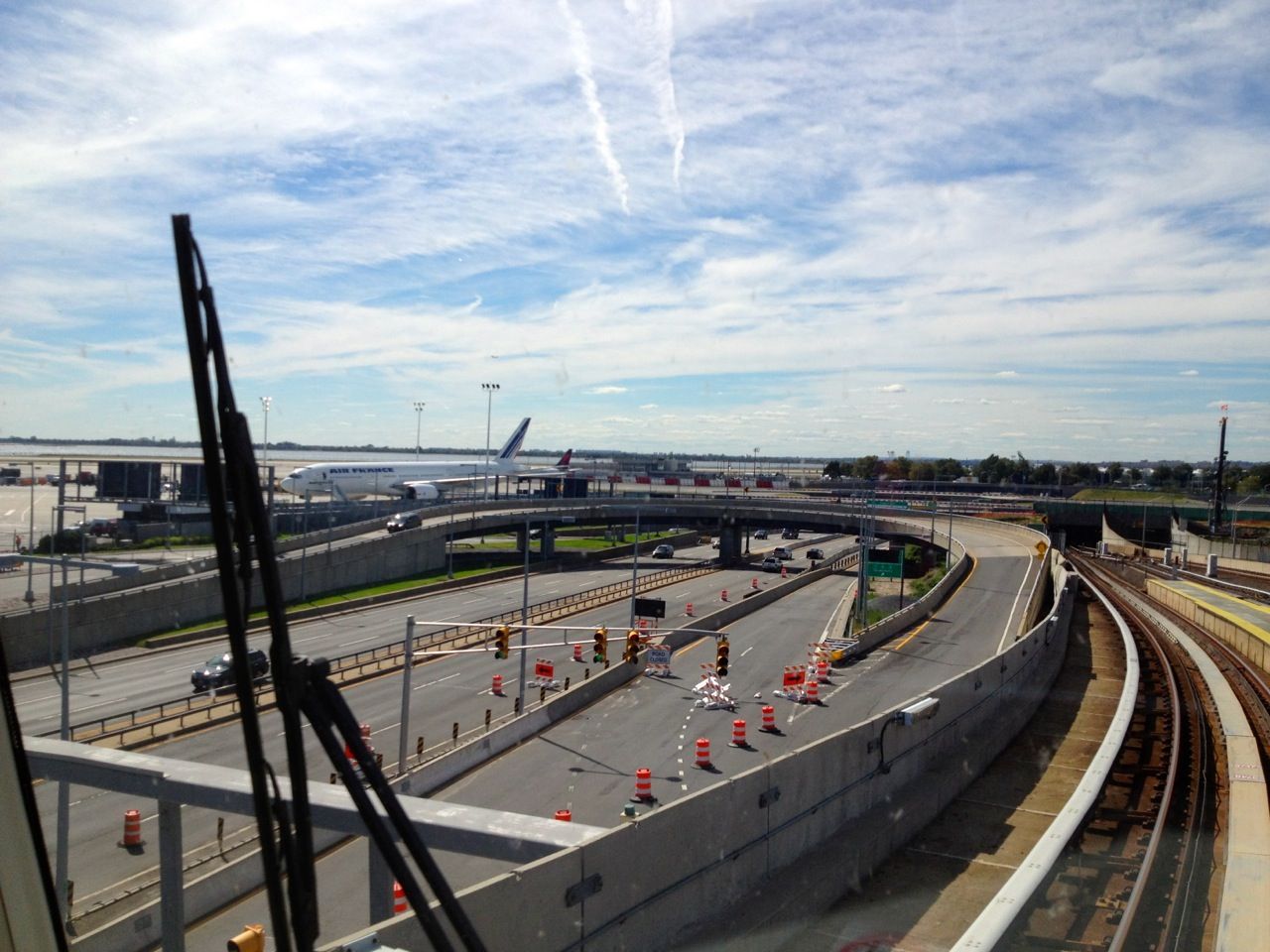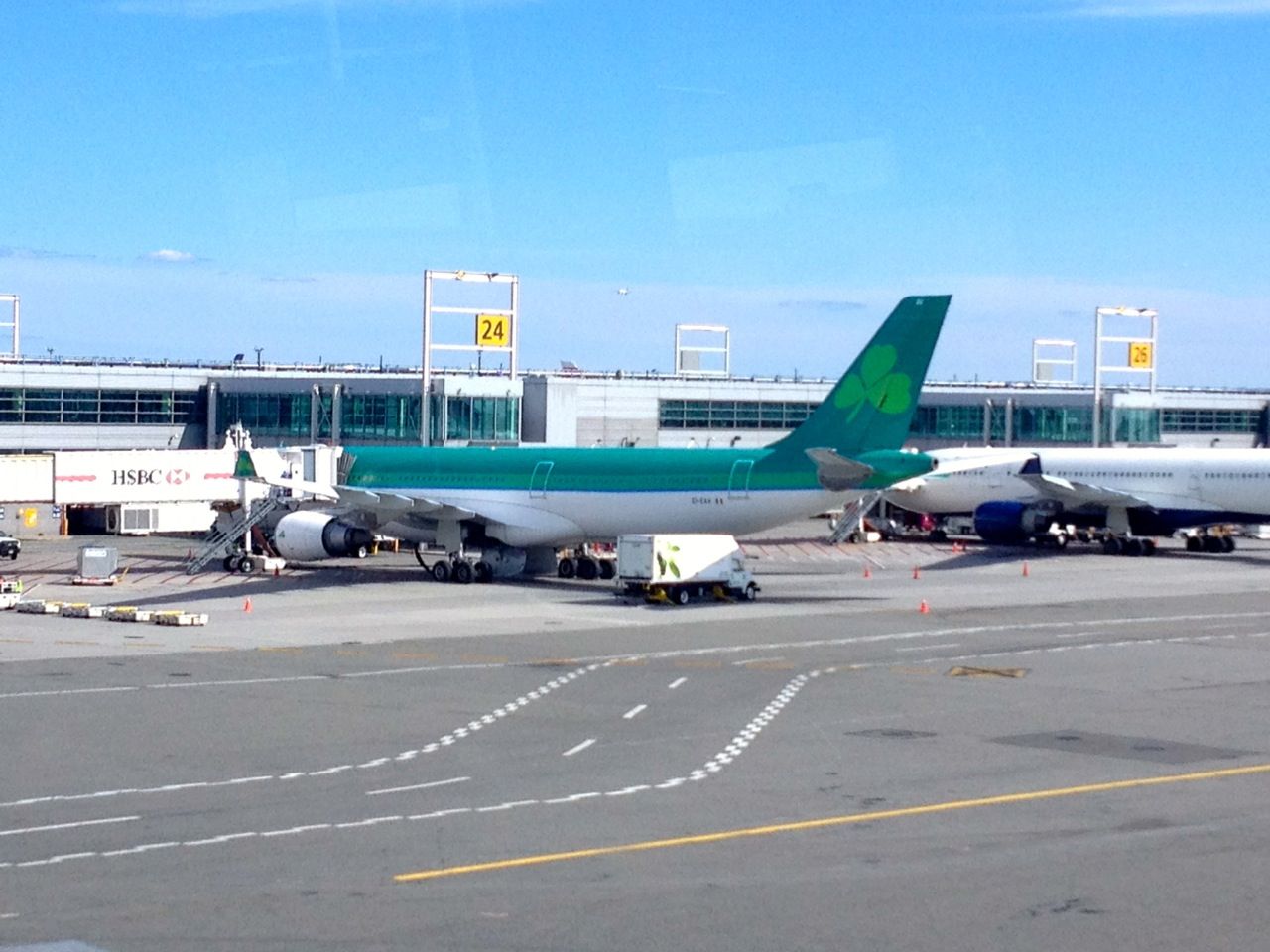 Once at JFK it was off to check in to collect my boarding pass. This time I was invited to use the upper class check in – a nice upgrade over my check in experience at LHR. I asked the check in agent if the flight was full and she replied not at all. Then I followed up by asking if the seat next to me was free to which she said it was for the moment. She also seemed surprised that I'd spent 4 nights in New York and yet wasn't checking any bags in… Little did she know my rucksack was full to the brim and probably way over the 5lbs limit! It got accepted anyway though so no big deal.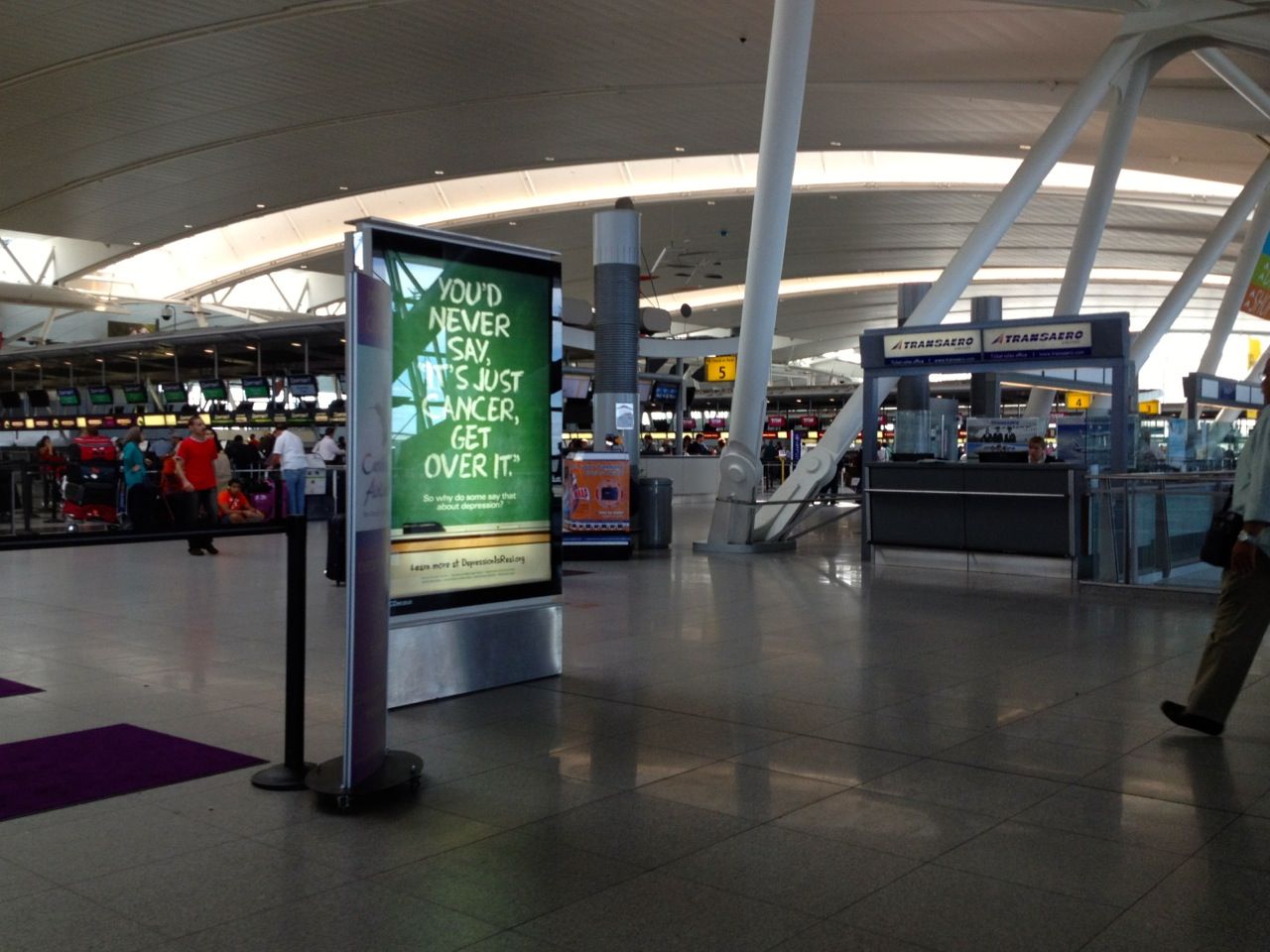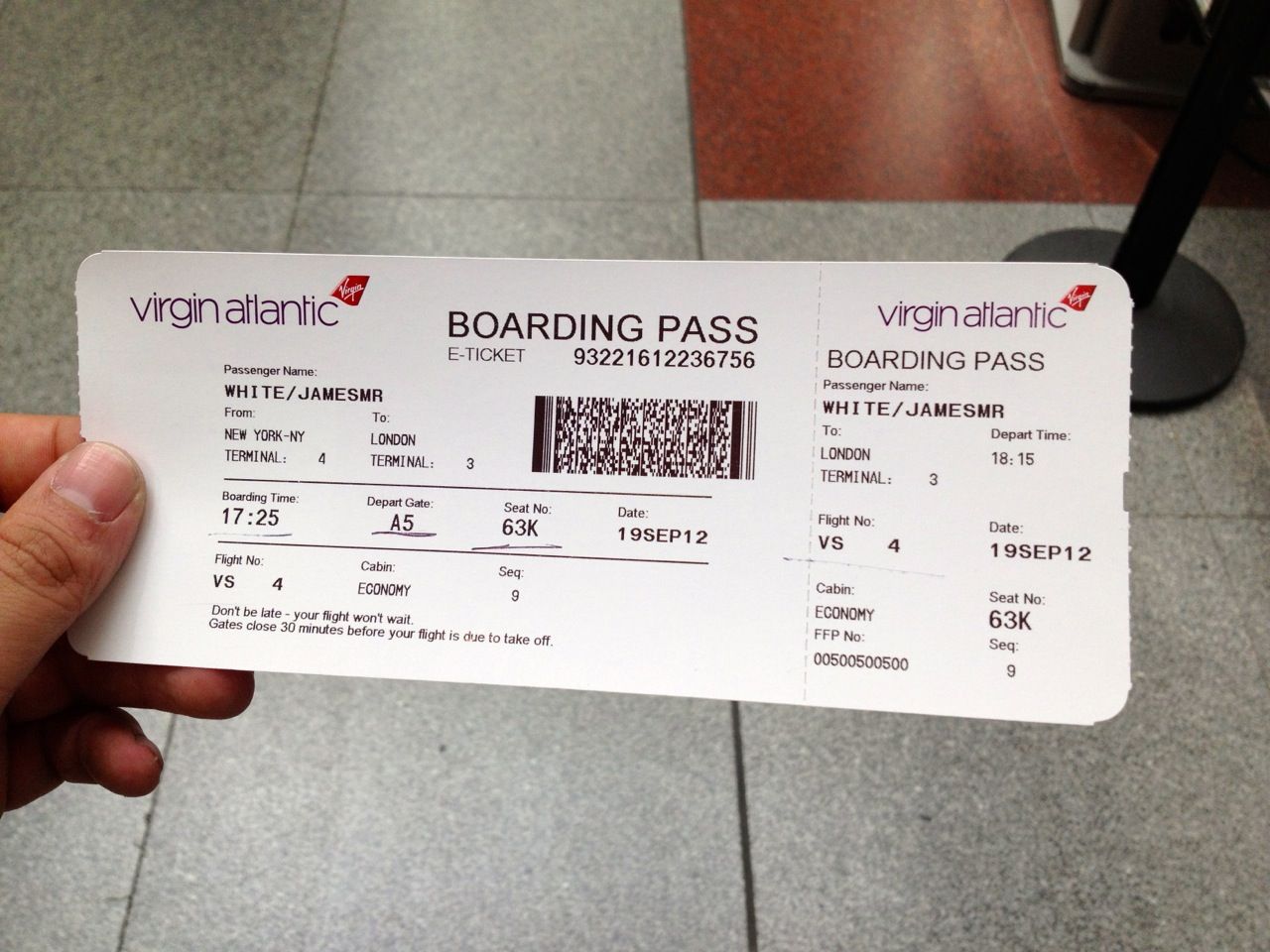 Then it was off to explore T4. It reminded me a bit of LHR T5…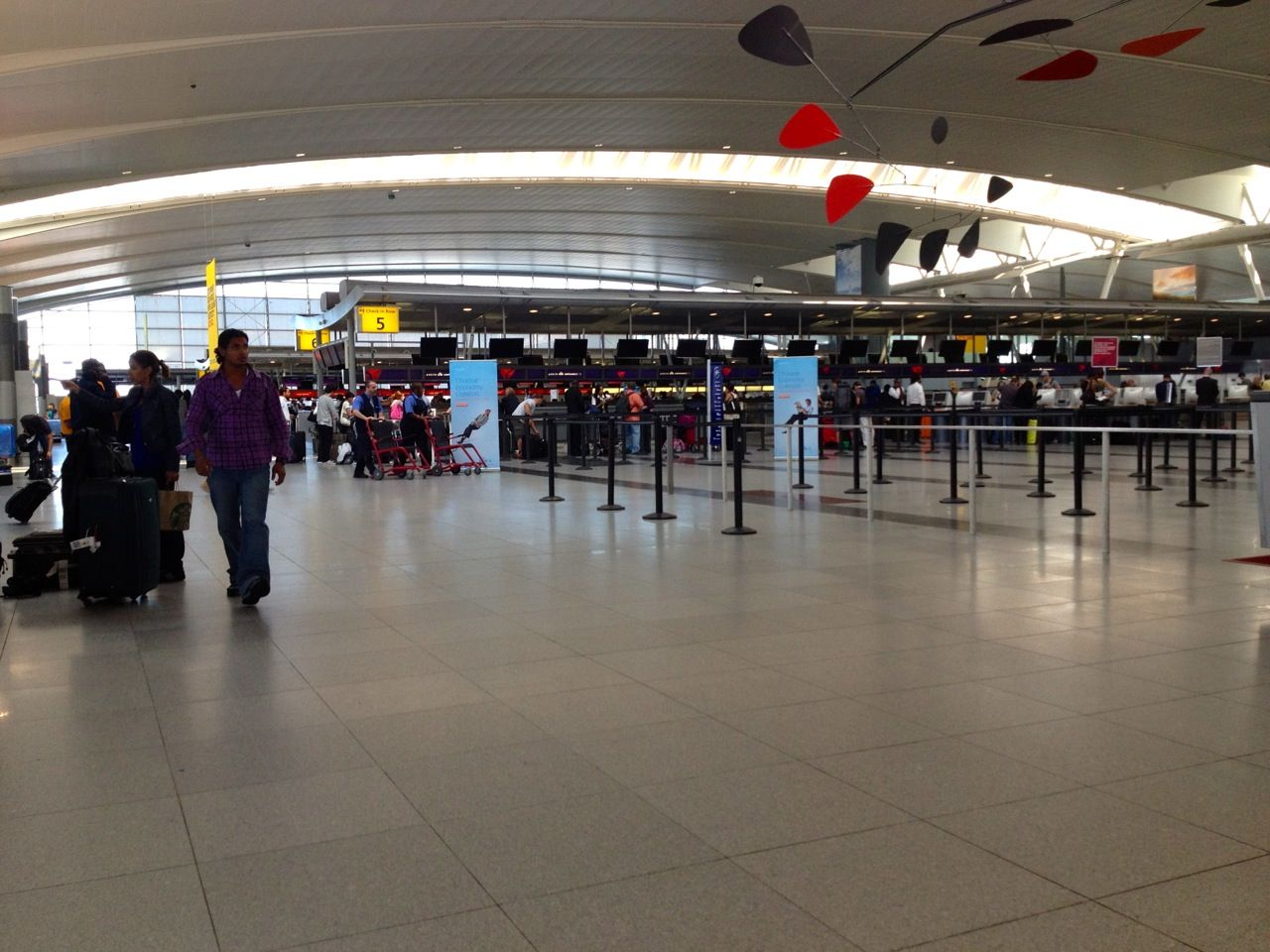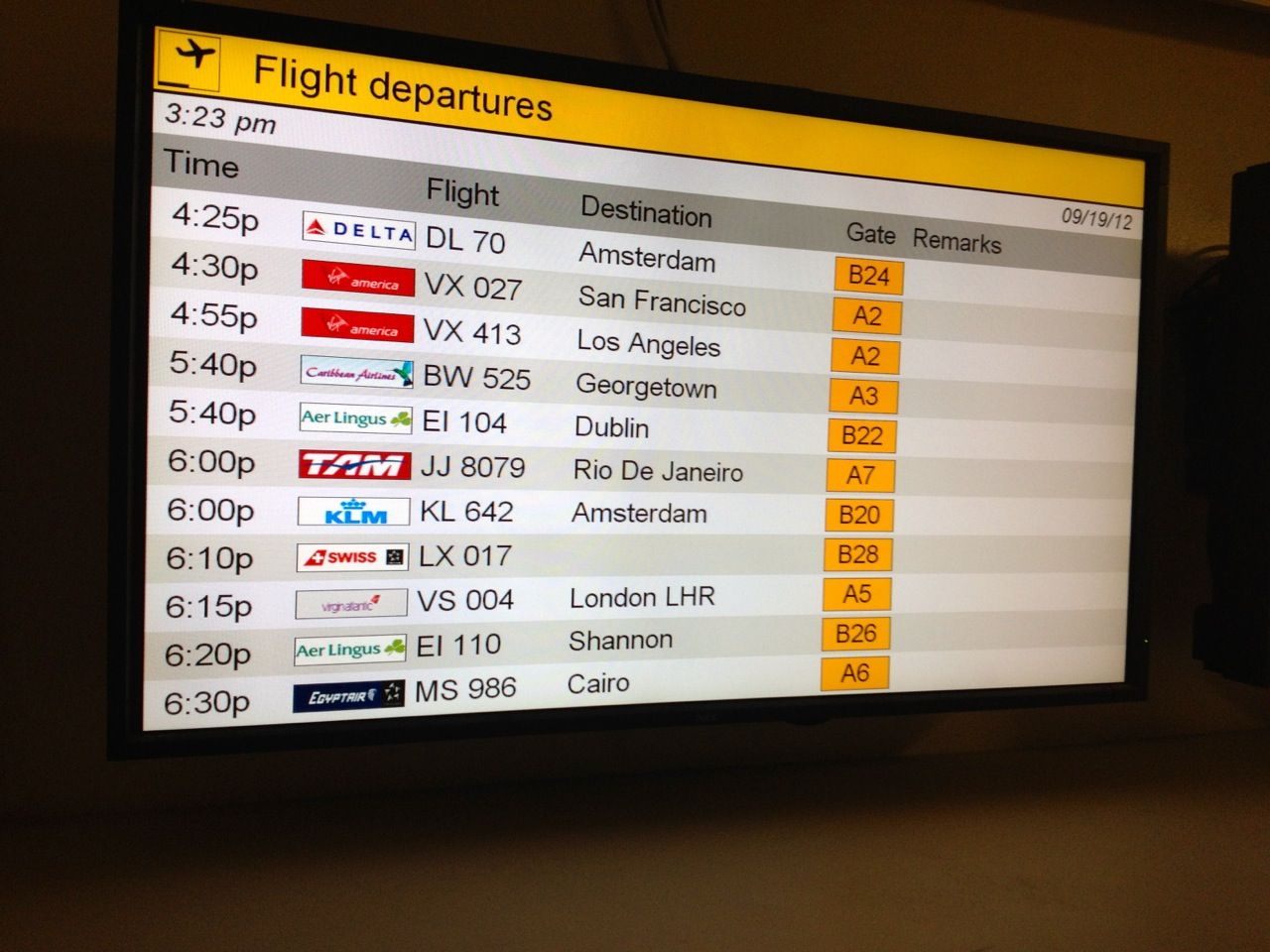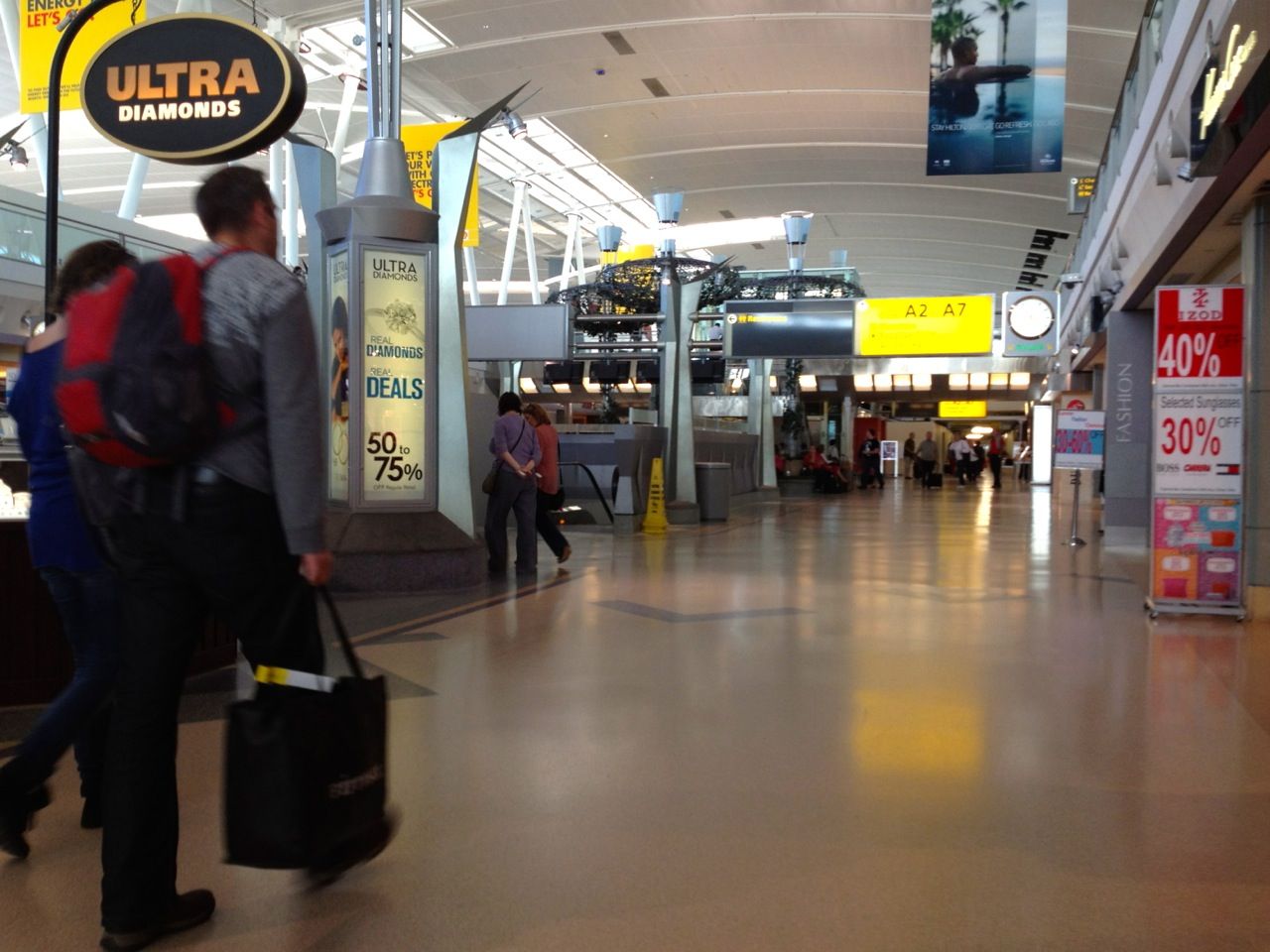 …Except with more building works!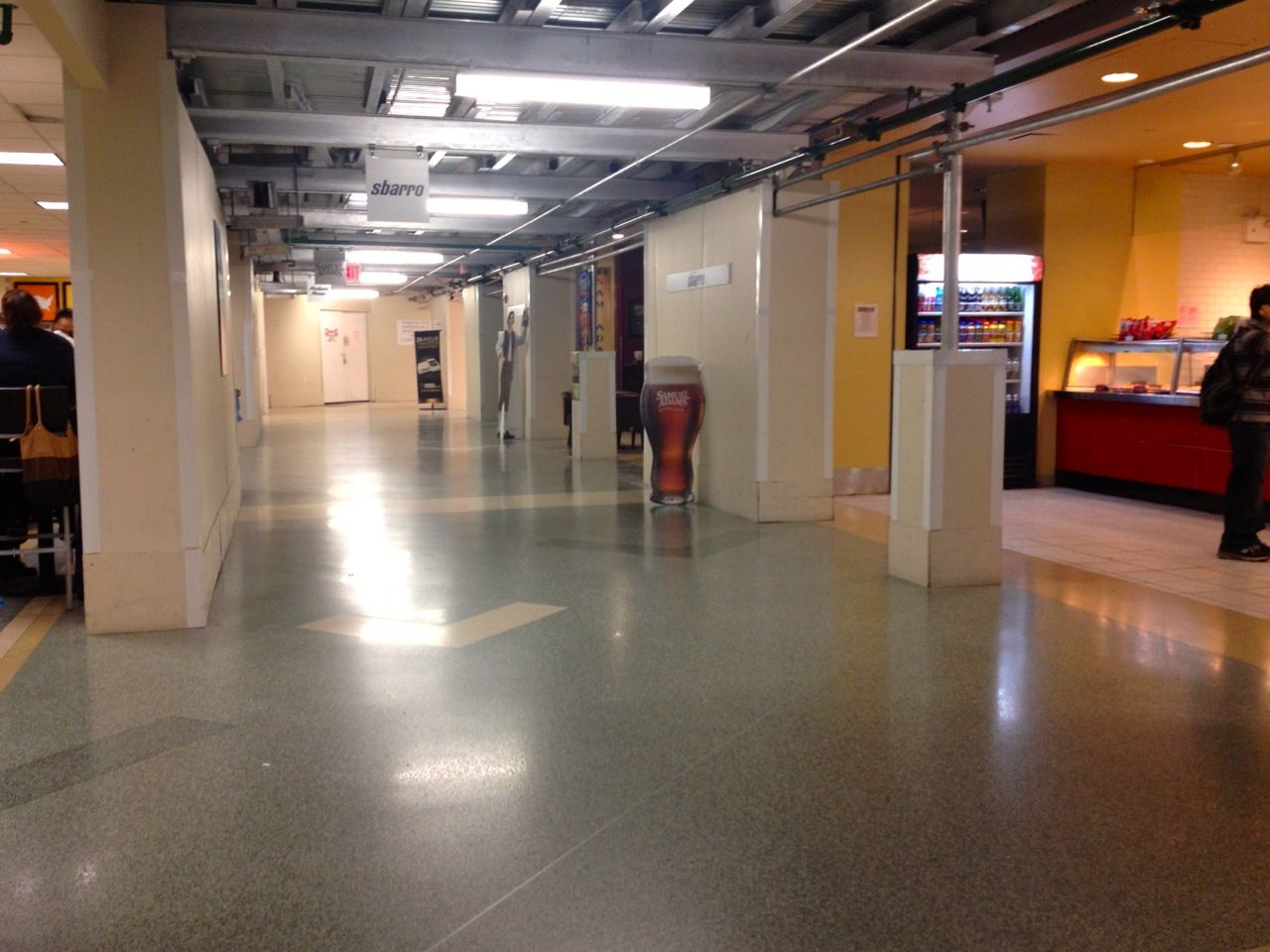 After grabbing an expensive and very spicy bite to eat, I headed through security. Interestingly this flight would also depart from the A gates. Maybe VS have moved? Although it appears the new clubhouse is here.
Security was hardly any problem apart from the guy in front that seemed more interested in finishing his lunch than actually paying attention.
After that I headed down to gate A5, but much like my trip to Amsterdam a few weeks back, something important was missing.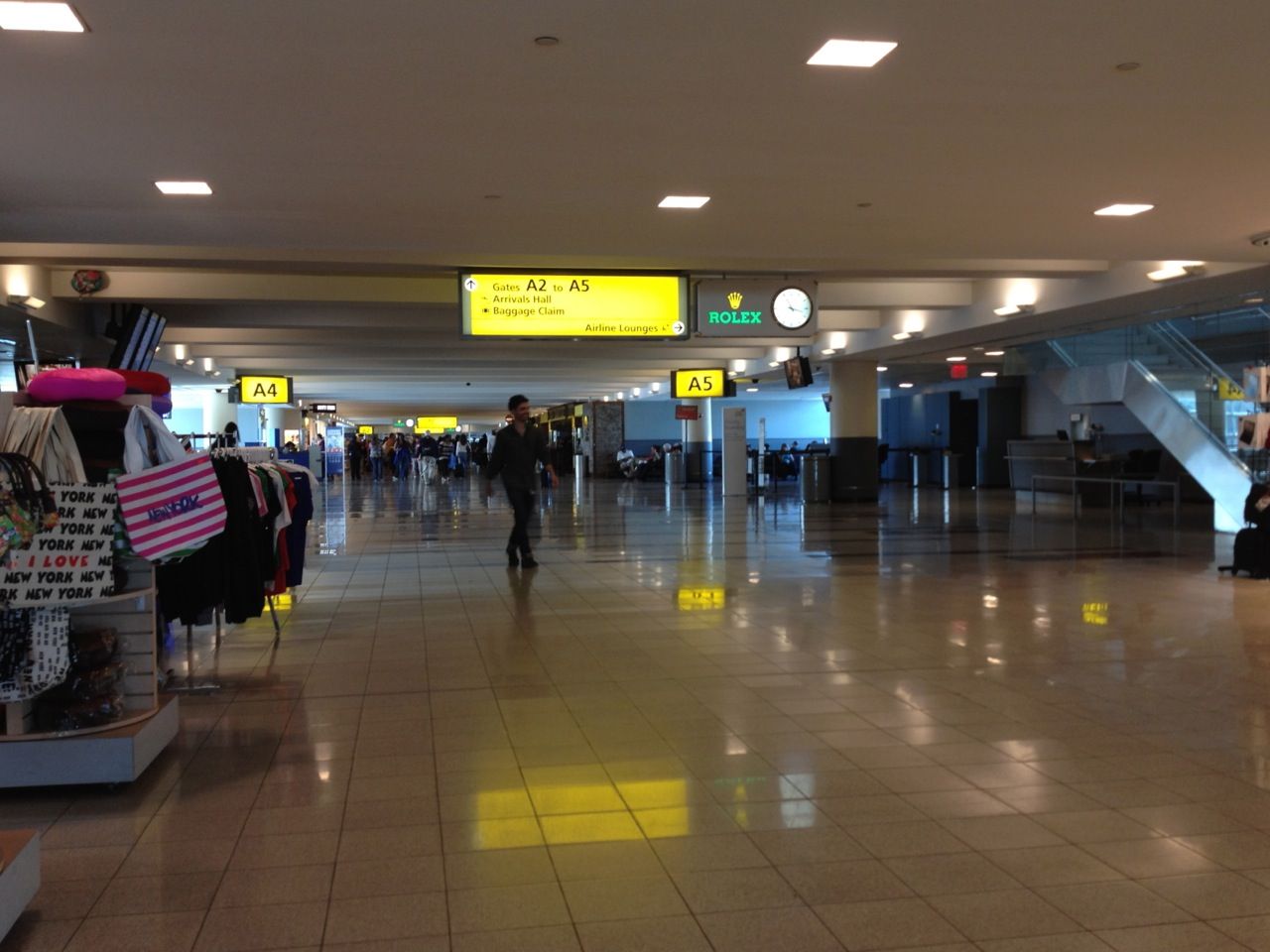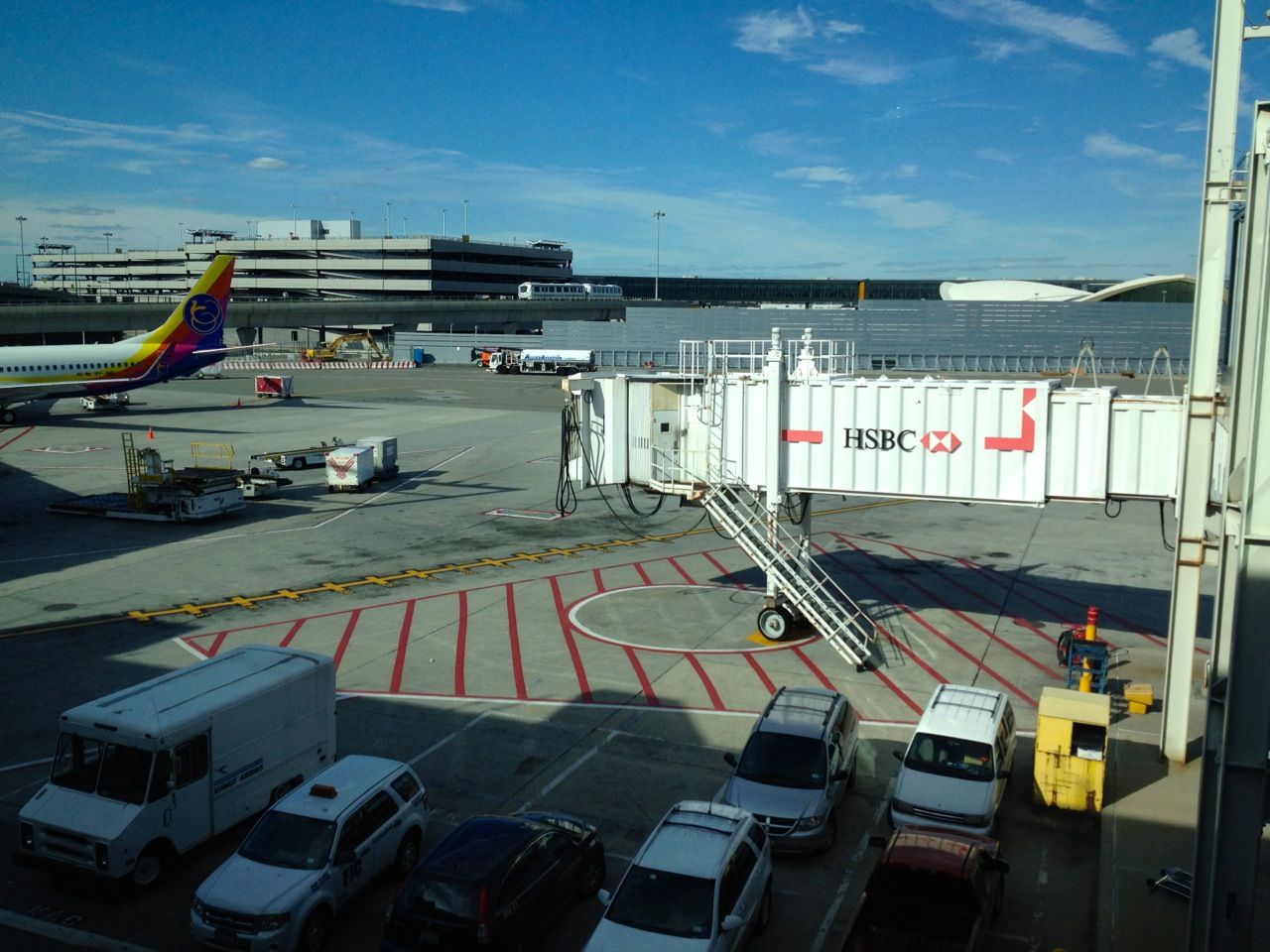 Luckily I found it a few minutes later, along with a few others: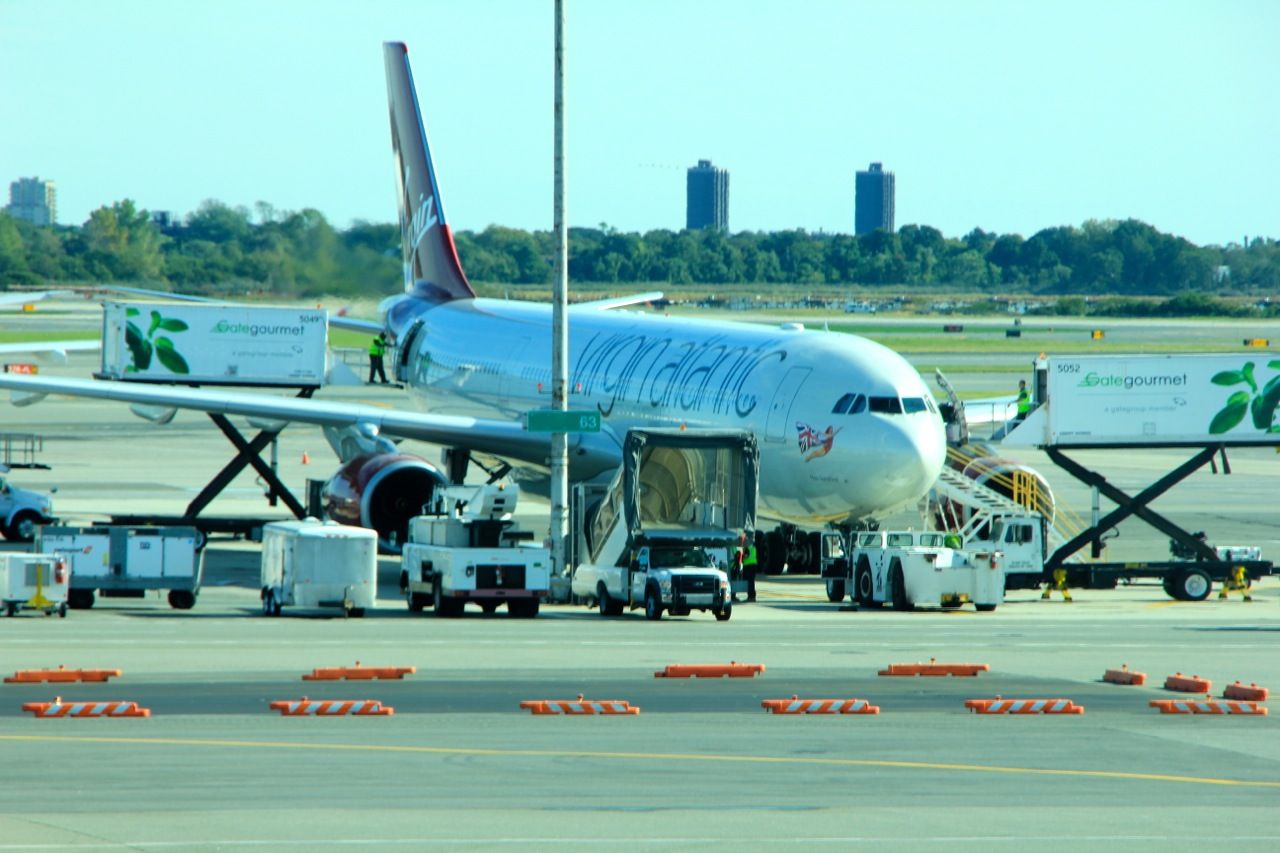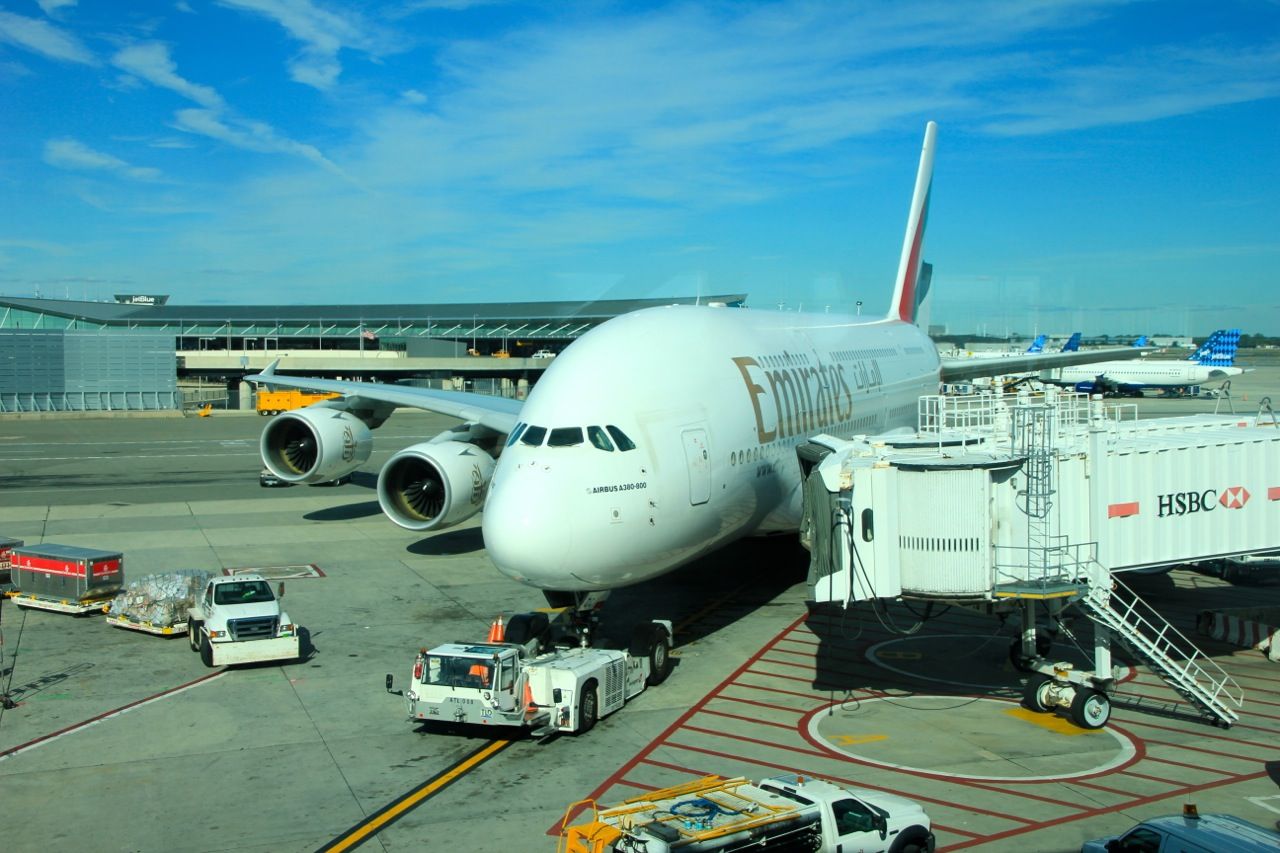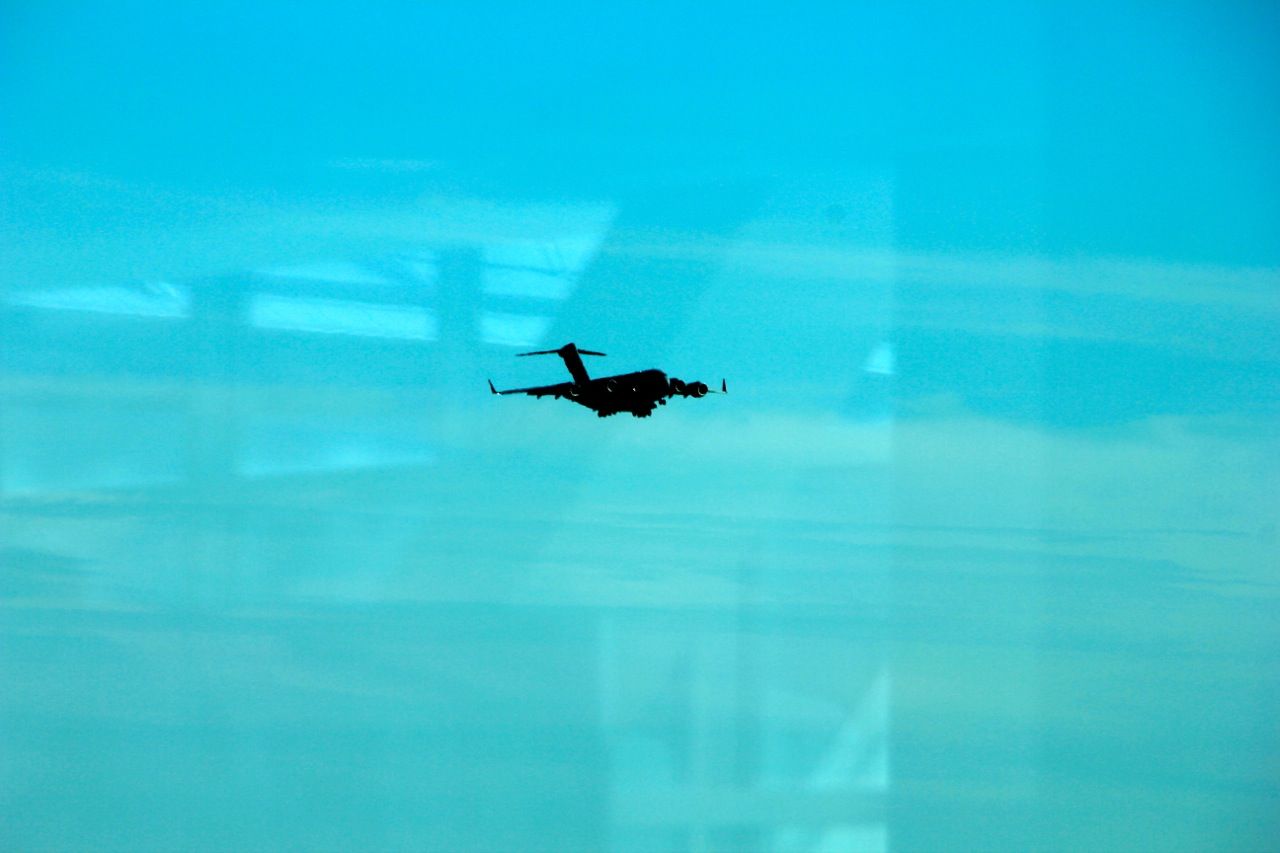 Interesting visitor – shame it was a bit far away
'Miss Sunshine' on stand now

VS004
JFK-LHR
19 September 2012
A330-313 – G-VRAY Miss Sunshine
Off Stand: 18:10
On Stand:06:11
Boarding was announced pretty promptly at 17:20 local and the aircraft name, Miss Sunshine was given. At this point, as usual everybody seemed to have some need for pre boarding.

I wish all airports had gates like this!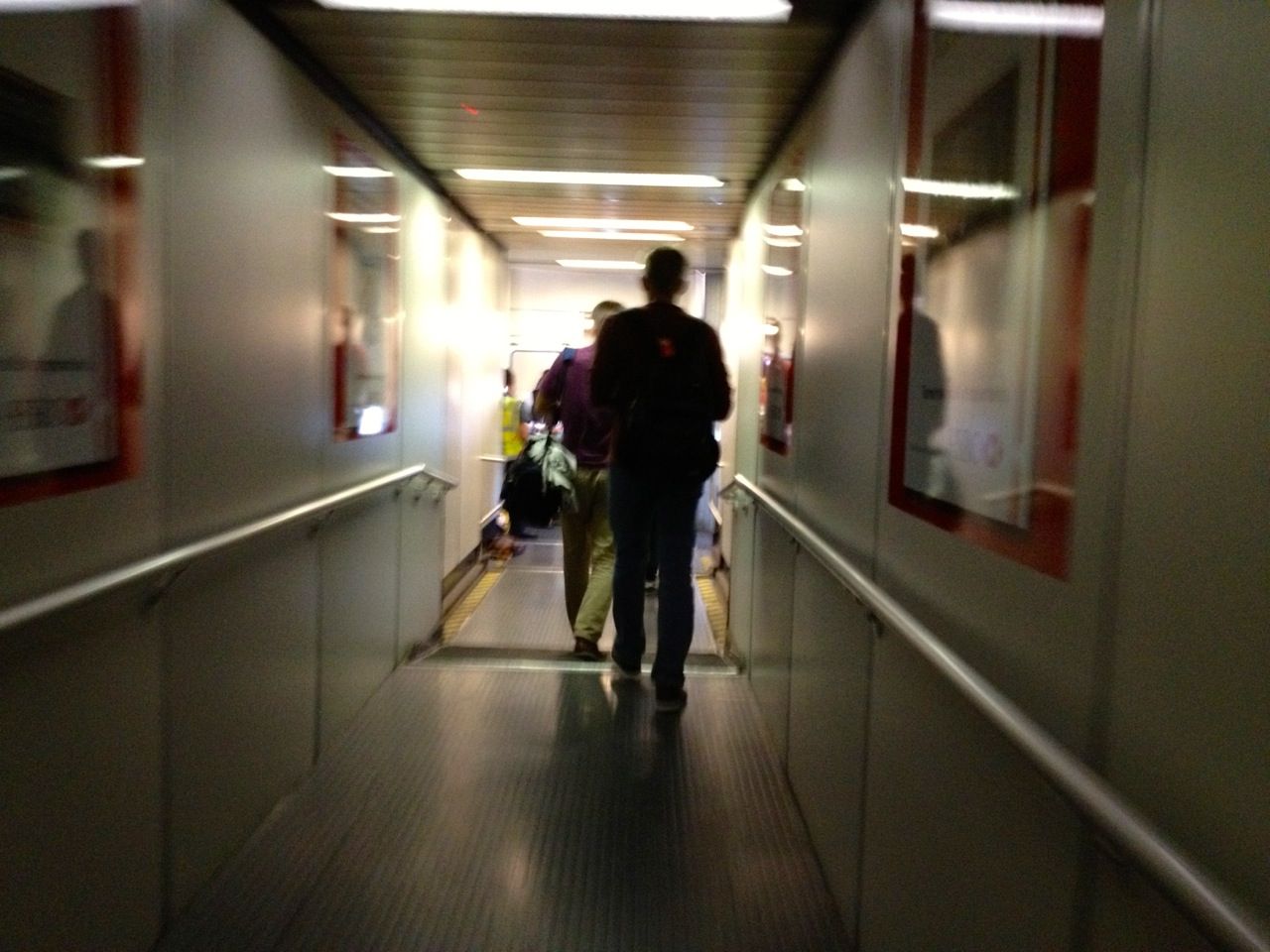 Once on board the cabin crew came over the PA and announced a flying time of 6 hours 11 minutes. A few moments later they came over the PA again and said that as there's plenty of room, feel free to move around – with the exception of the exit row seats and the extra legroom seats. If anybody did wish to sit in these seats, they would be charged £50 and £30 respectively. I had more than enough room as it was though as I had no seatmate.

Bit grubby for a new –ish plane
The captain was on shortly after saying pretty much the same as the cabin crew had already said, however he mentioned that we couldn't land before 6:00am so that might cause a few problems due to the short flight time. He also said that we would be taking off to the North East and taking quite a Northerly track to take advantage of a good jet stream.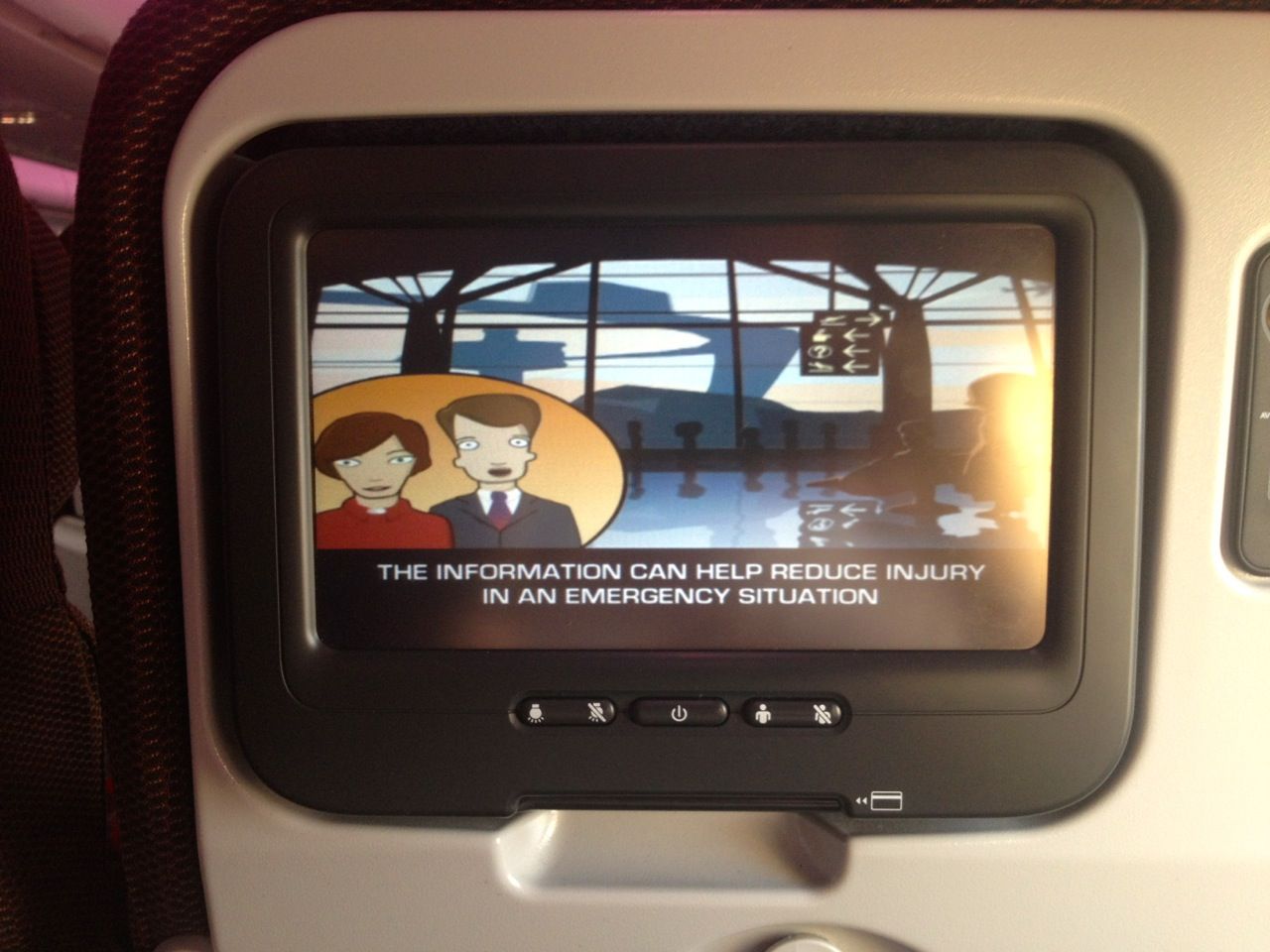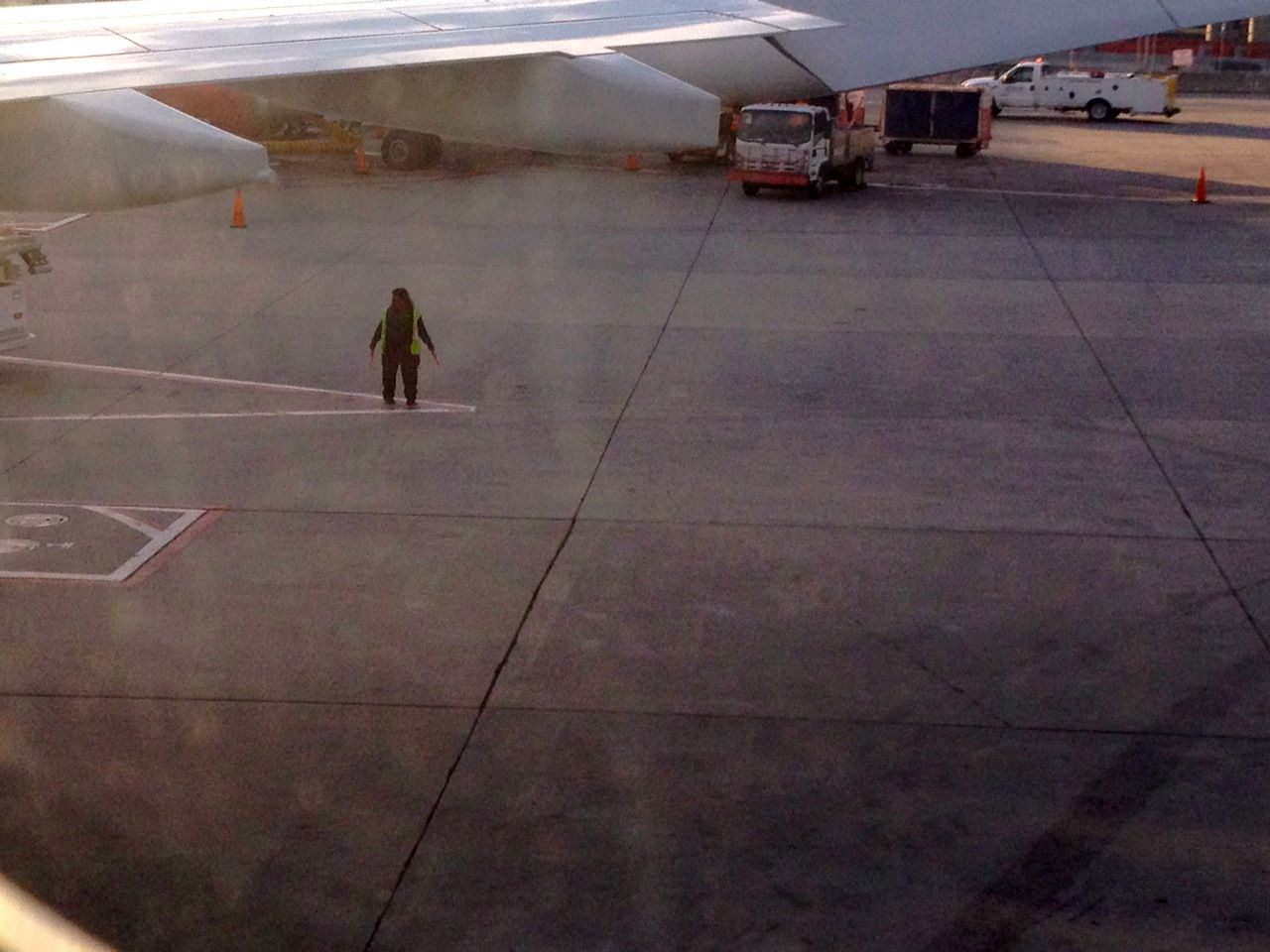 Time to go
Push back was a pretty long 8 minutes. Take off was at 18:30 into some quite nice looking skies.
[youtube https://www.youtube.com/watch?v=jQrVJE_UO7c]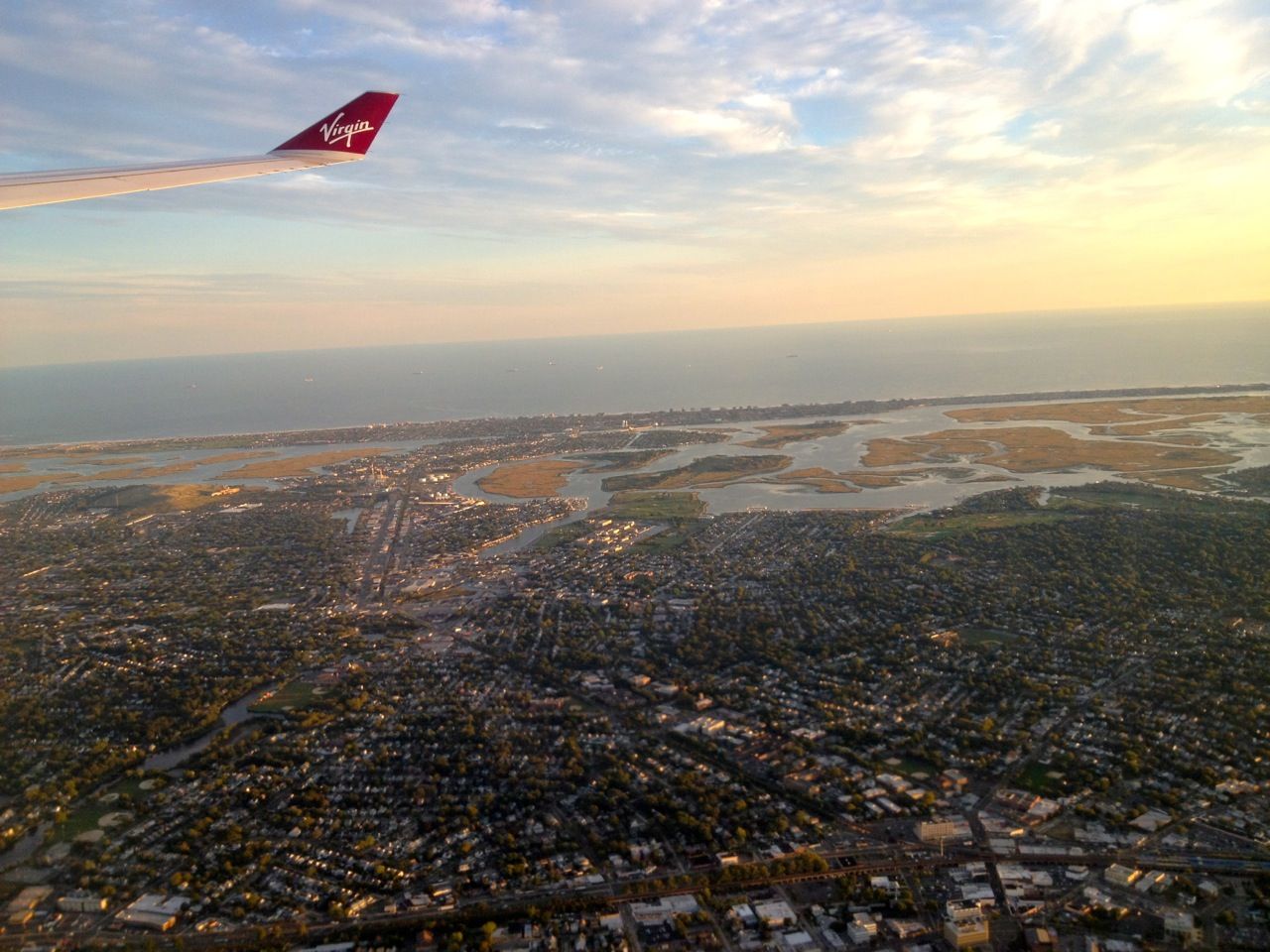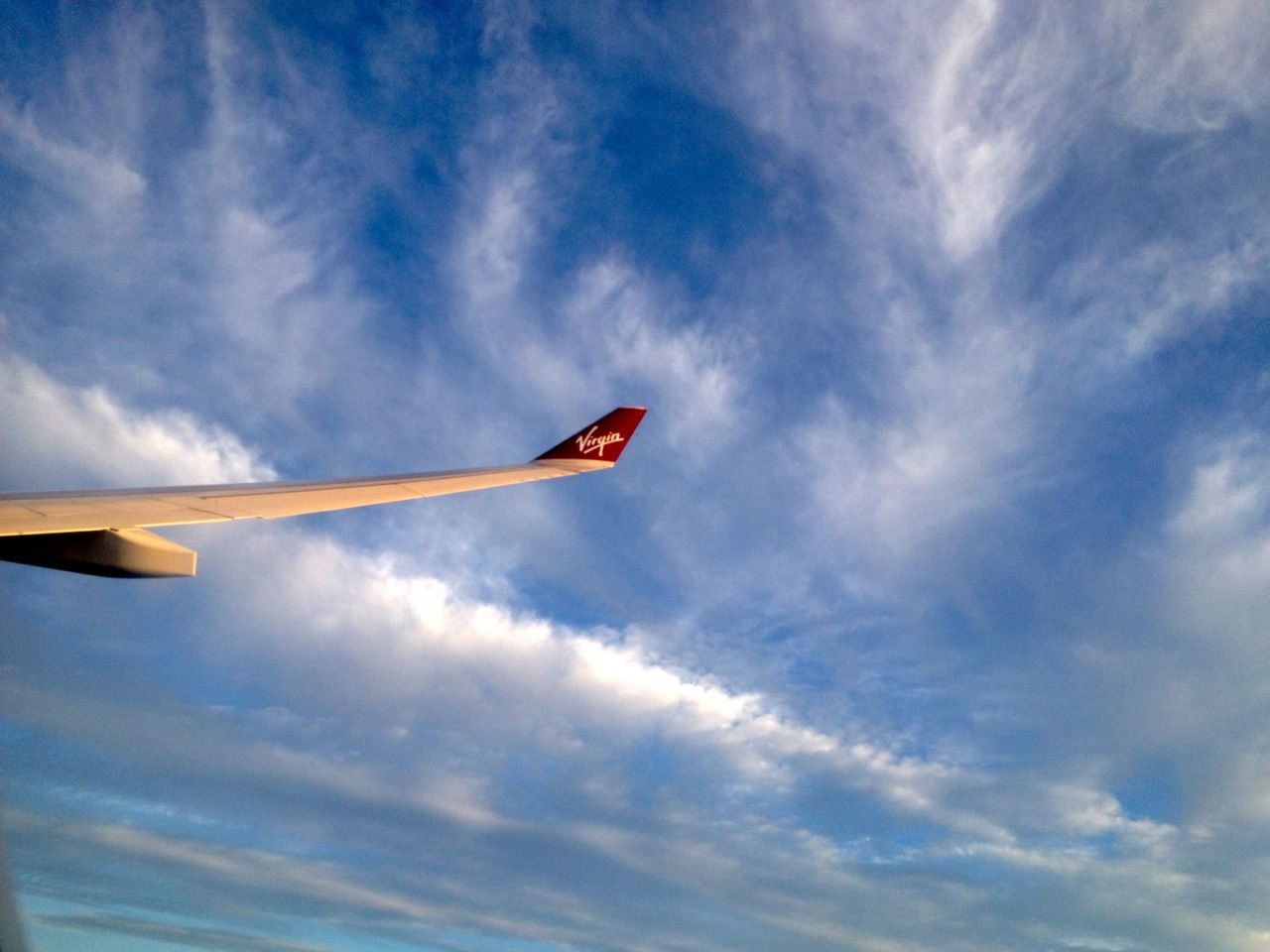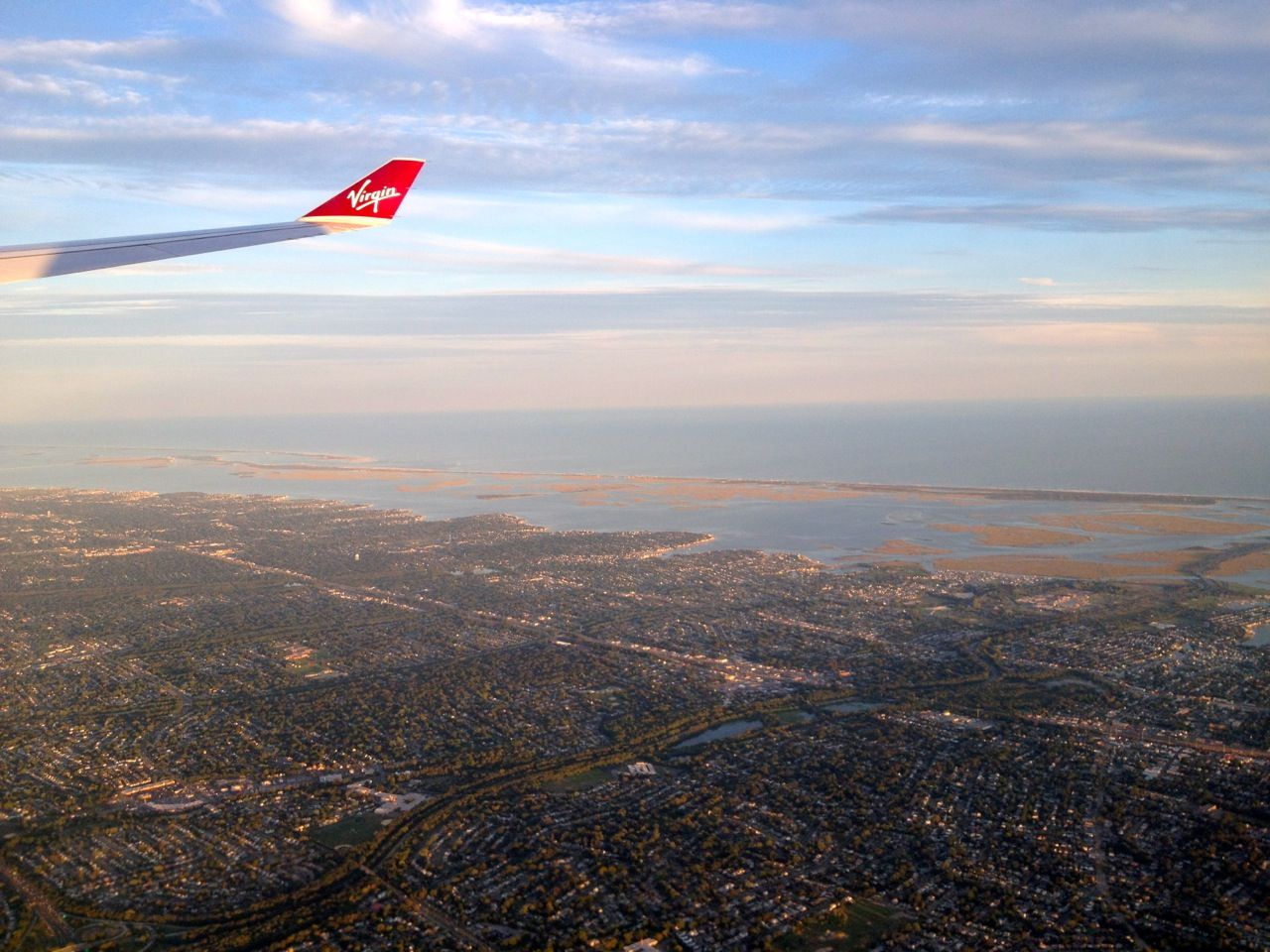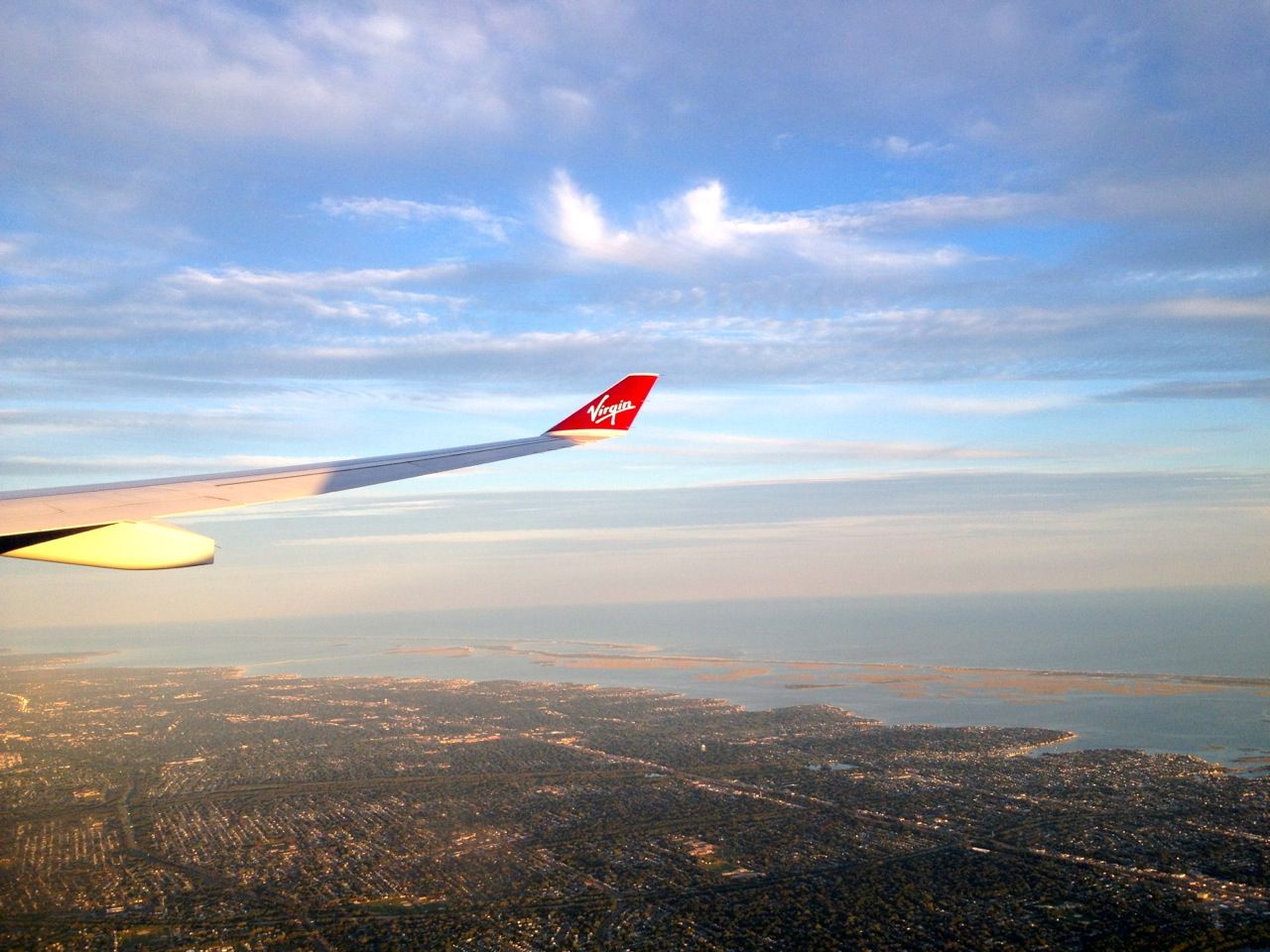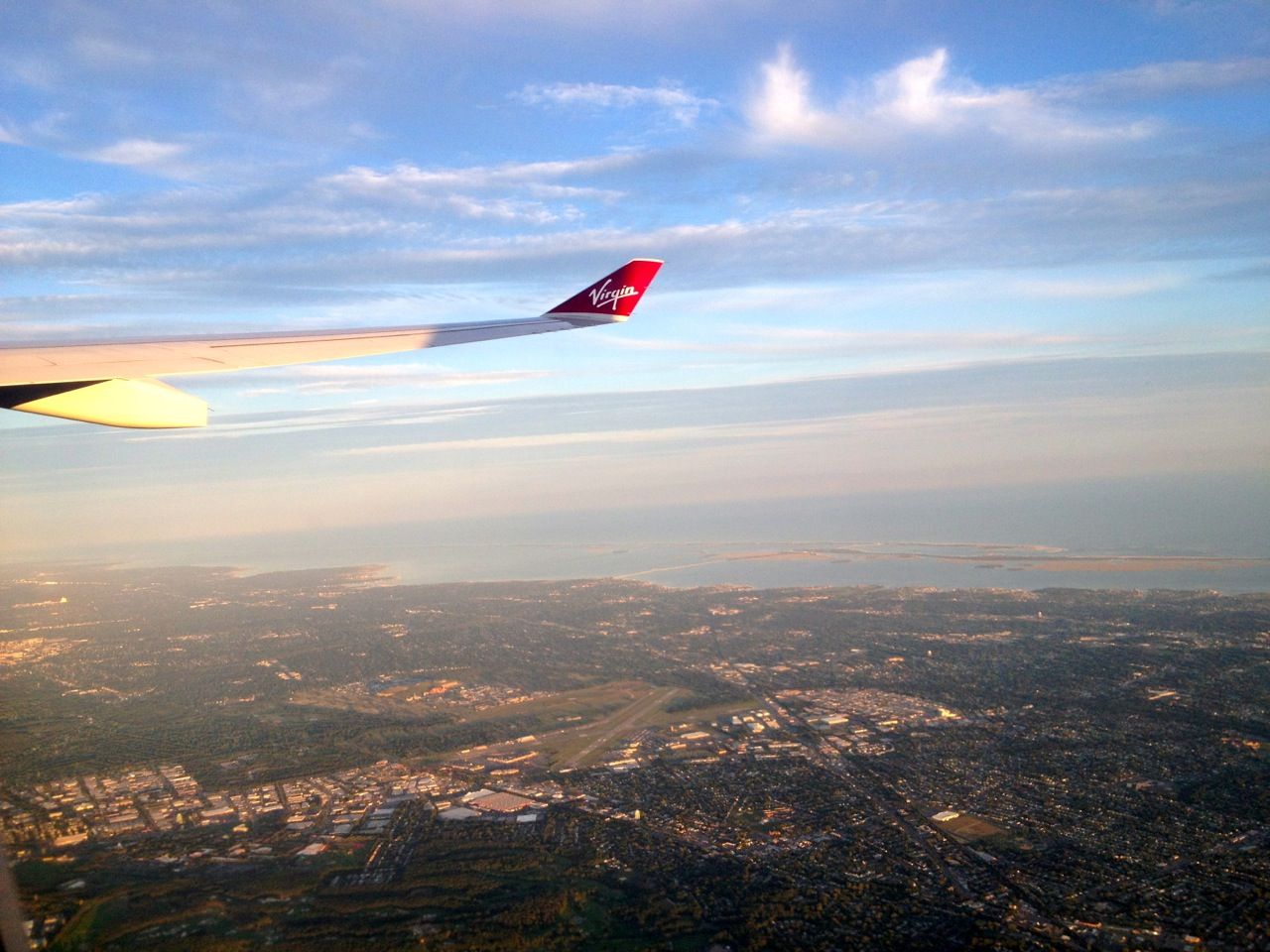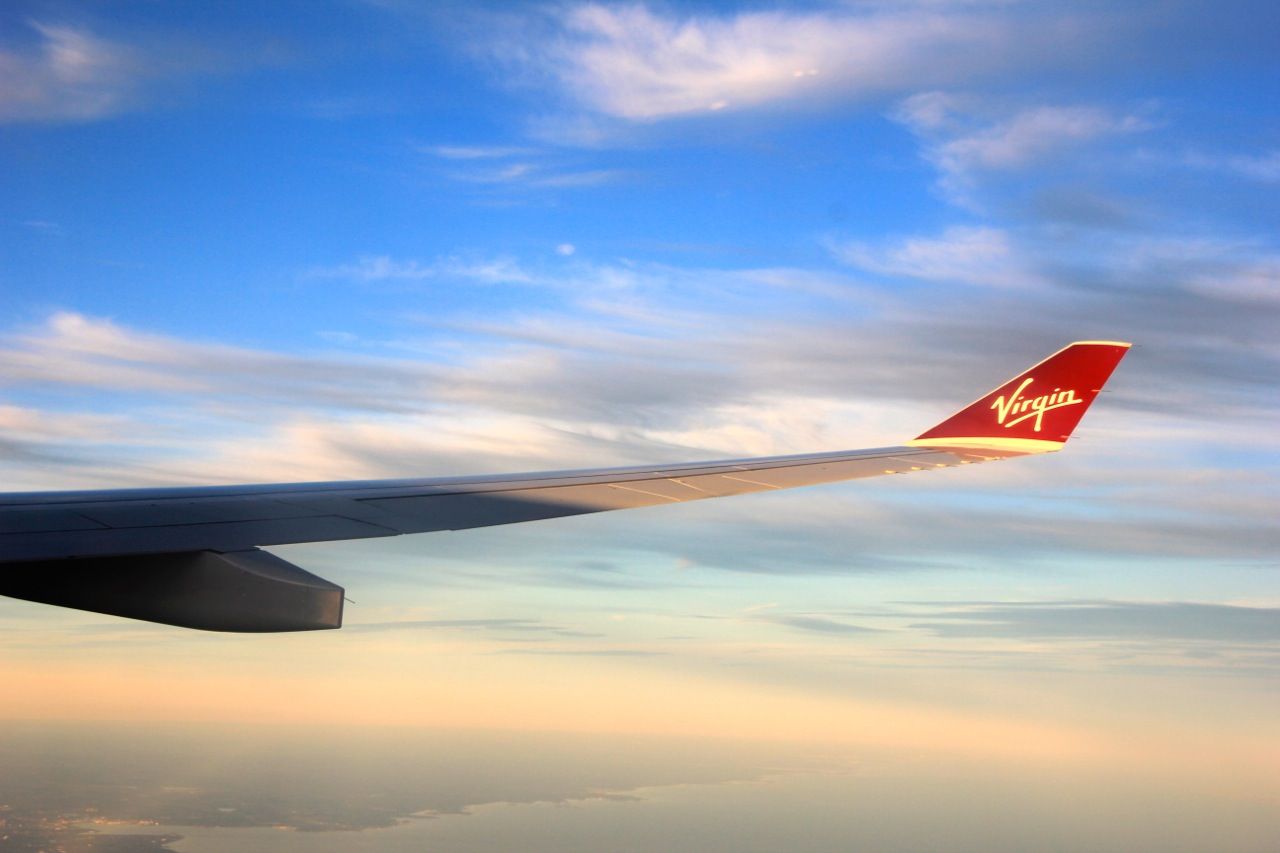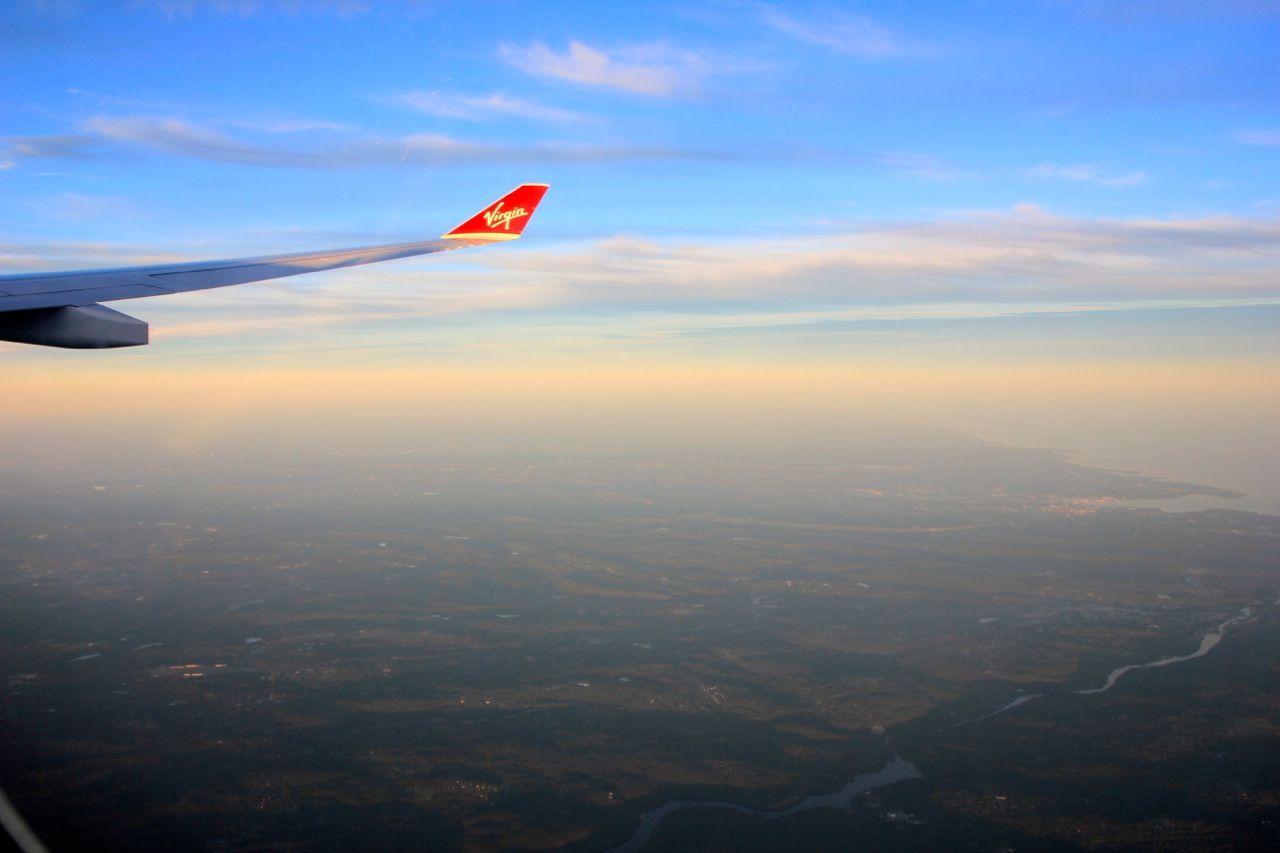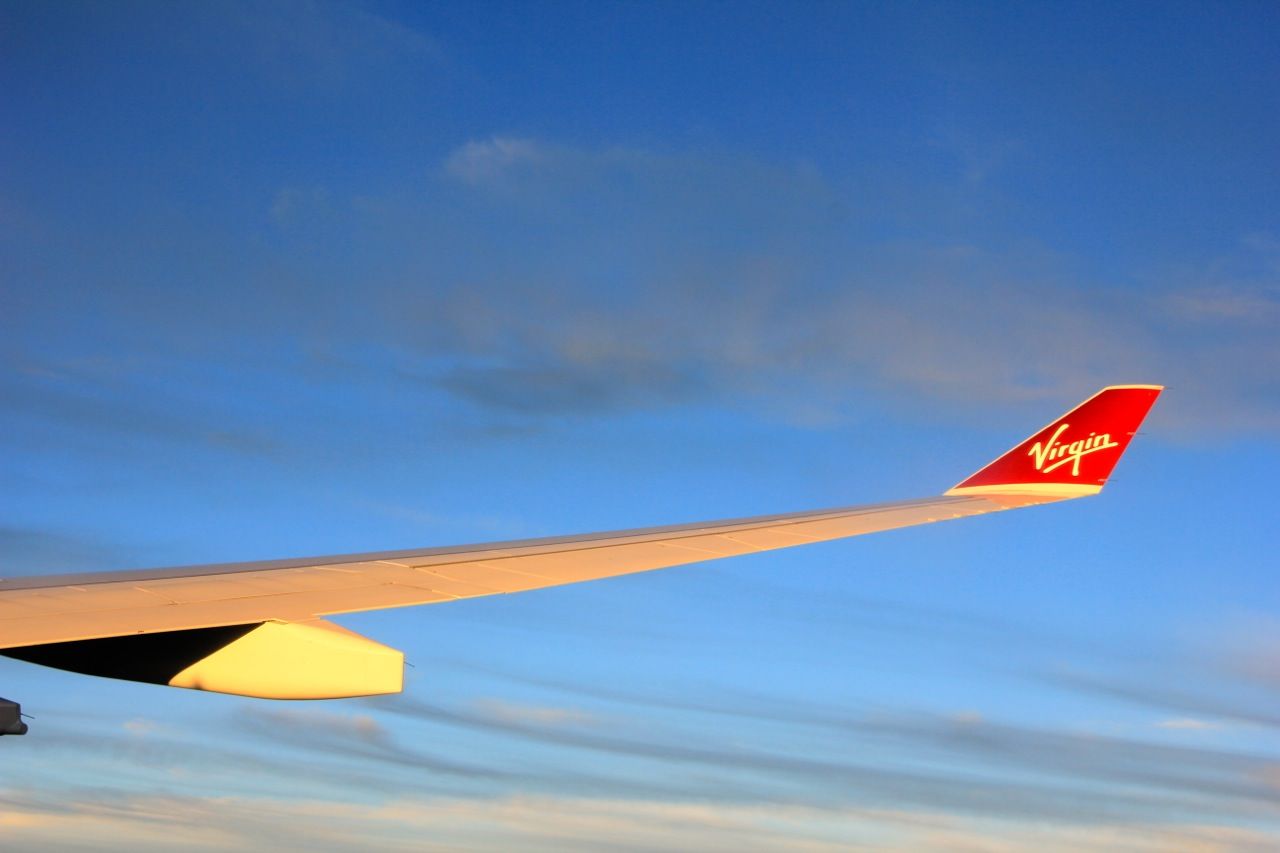 Around 10 minutes after departure the crew started their service. I was happy to sit and admire the view for now though.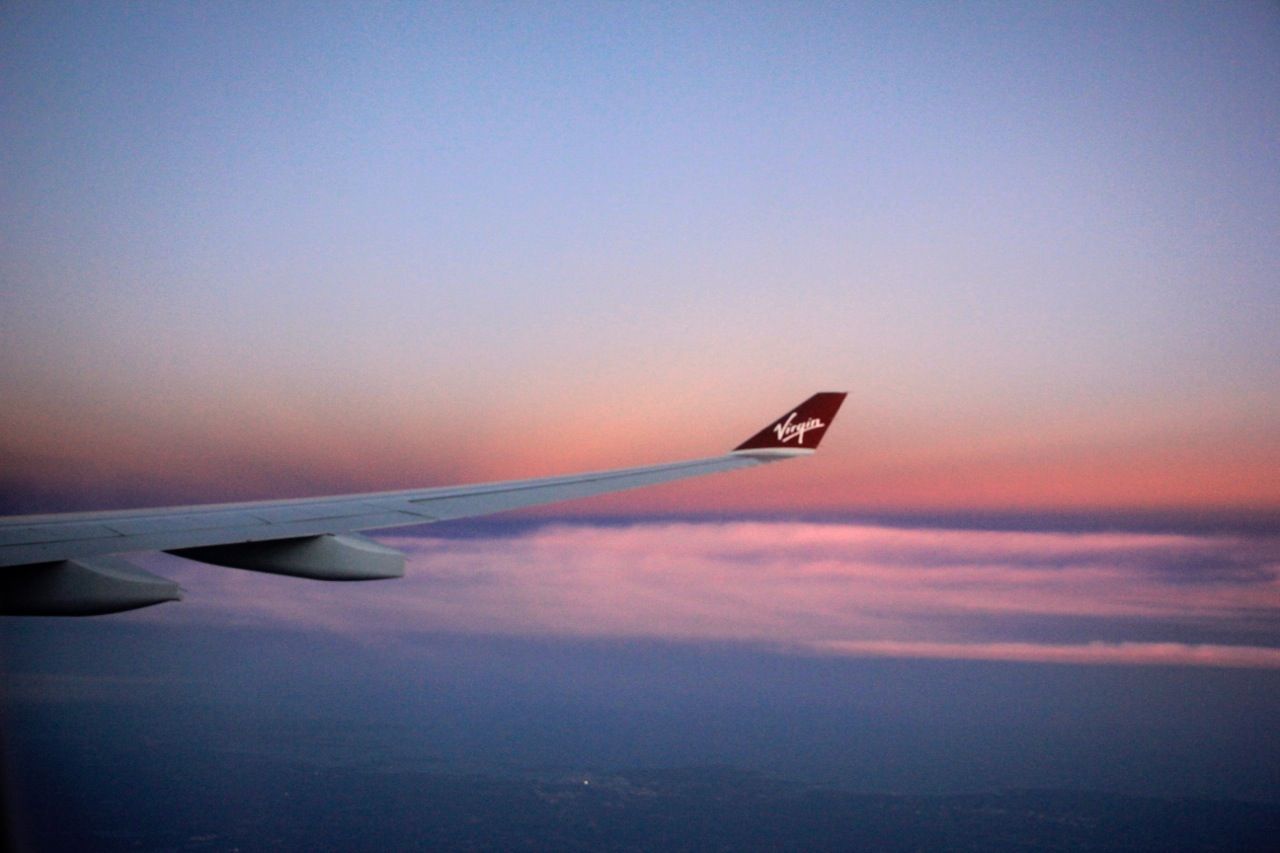 Literally a few minutes later we hit some moderate turbulence and the seatbelt sign was switched on again just moments after it was switched off.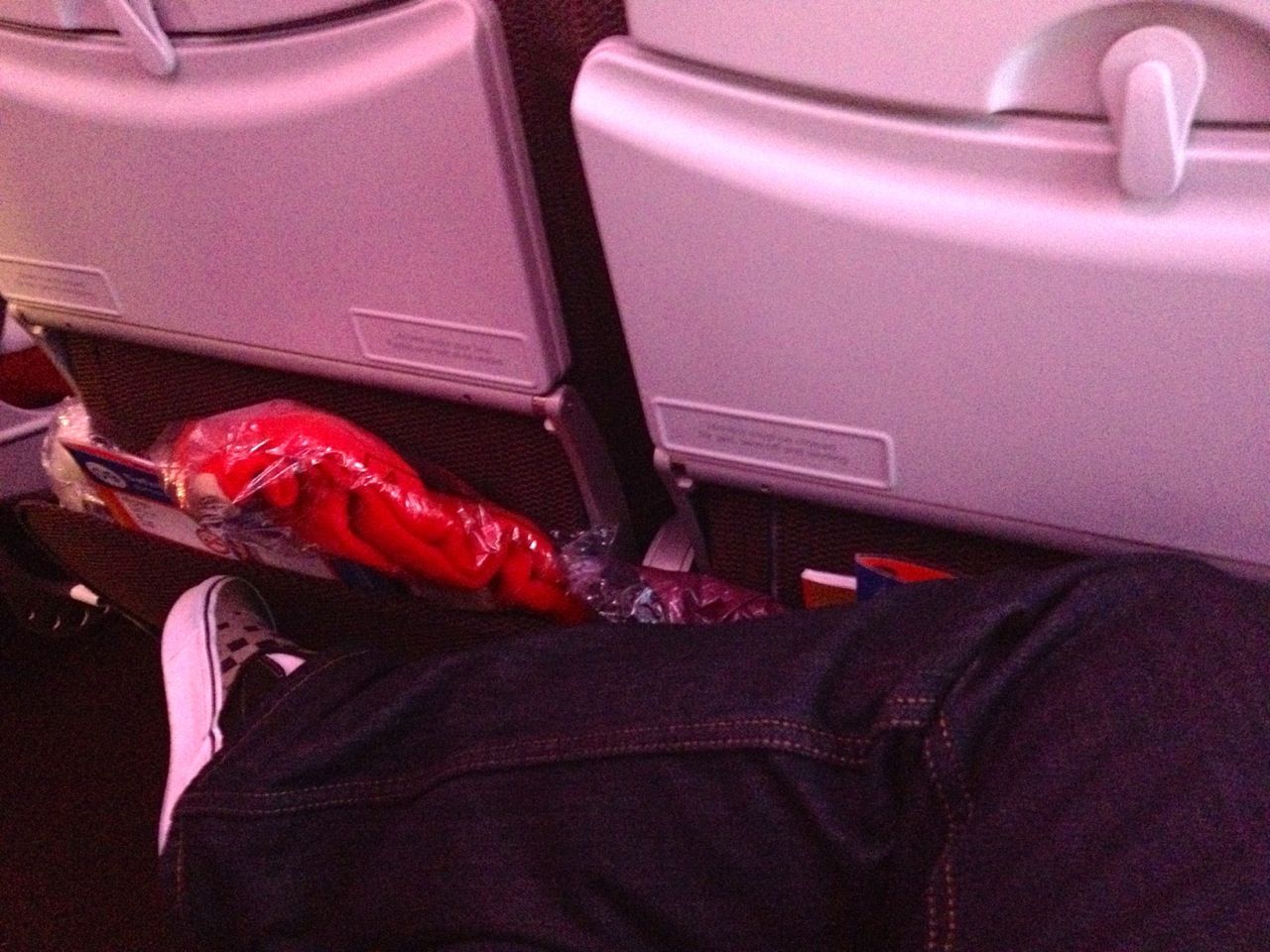 Plenty of room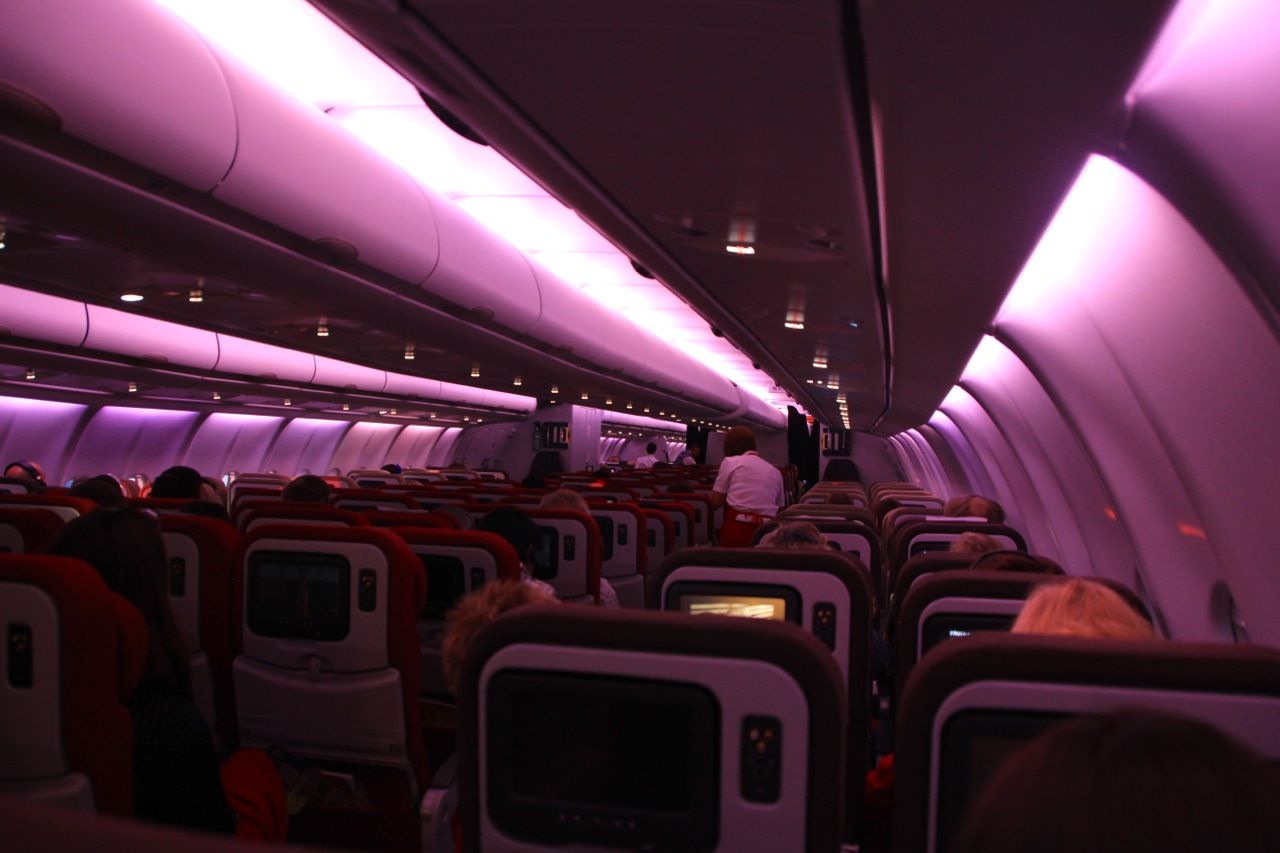 Once the seatbelt sign had gone off the crew resumed their service and I settled down to watch a movie. American Pie. I'd seen the original on board VS back in 1999 so seemed only appropriate that I see the latest on a VS night flight too. Much better than I thought it would be actually.
Then it was time for the dinner service. Once again the choices were chicken, beef or pasta. I went for the pasta this time, although I didn't enjoy it as much as the meal I had on the outbound journey.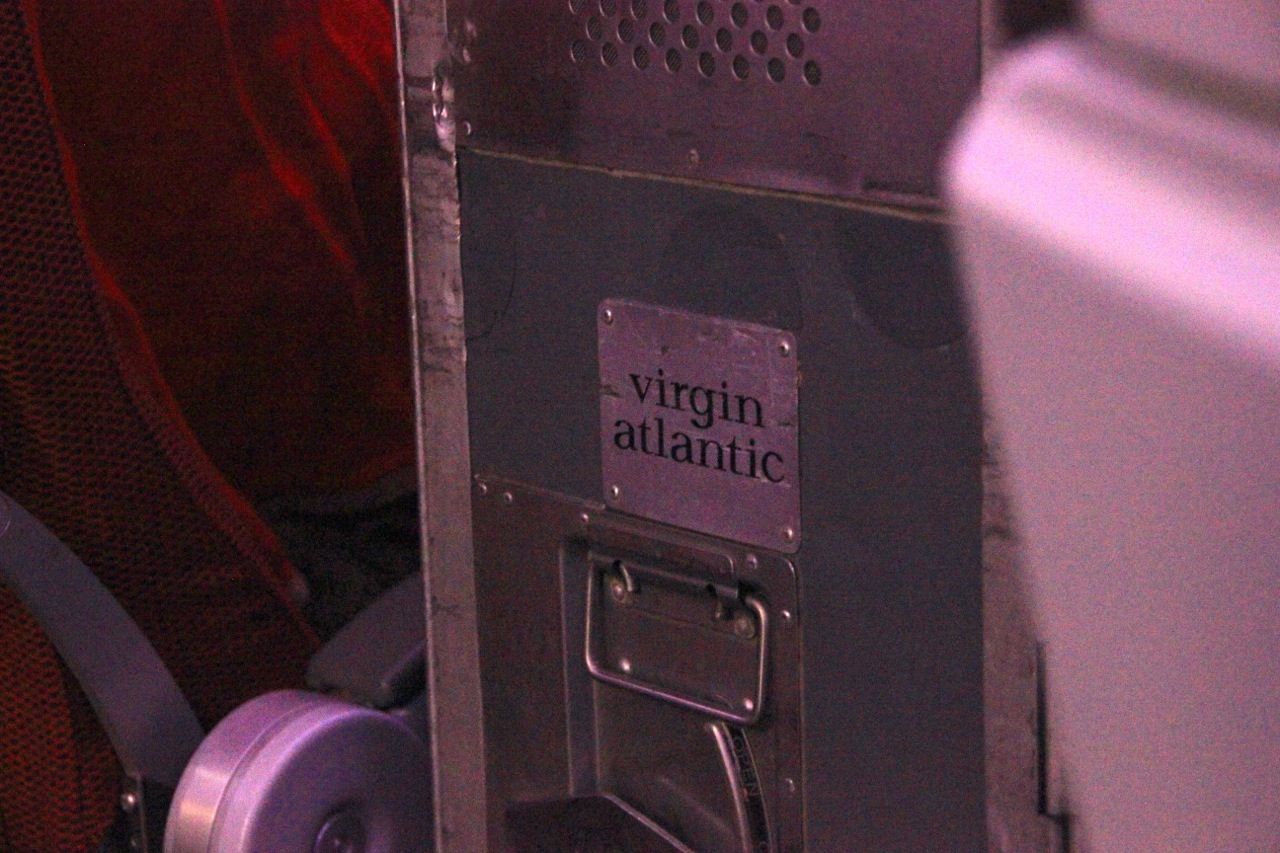 Bit of a retro looking dinner cart.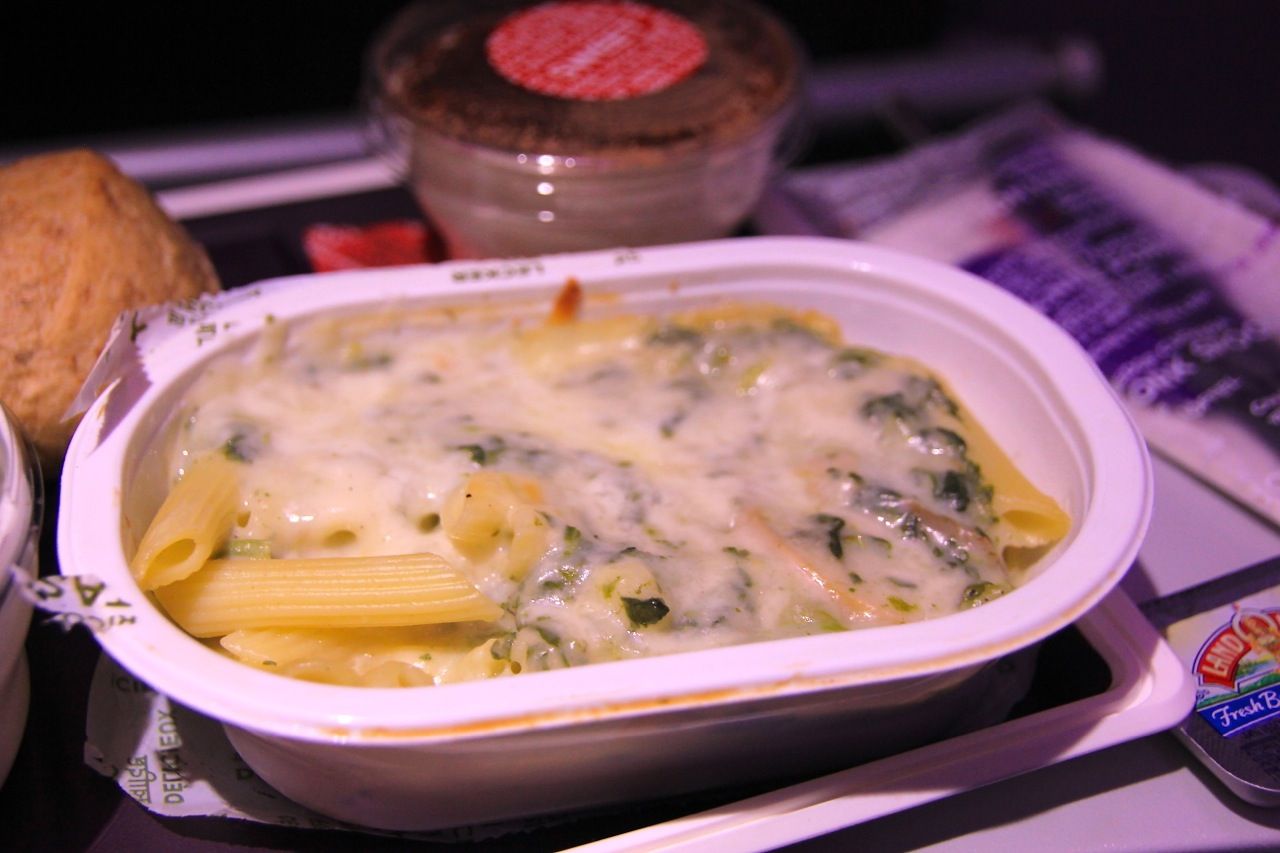 And shortly after the hot chocolate was dished out. Not had hot chocolate offered on a plane before and it was quite good. Better than their tea anyway!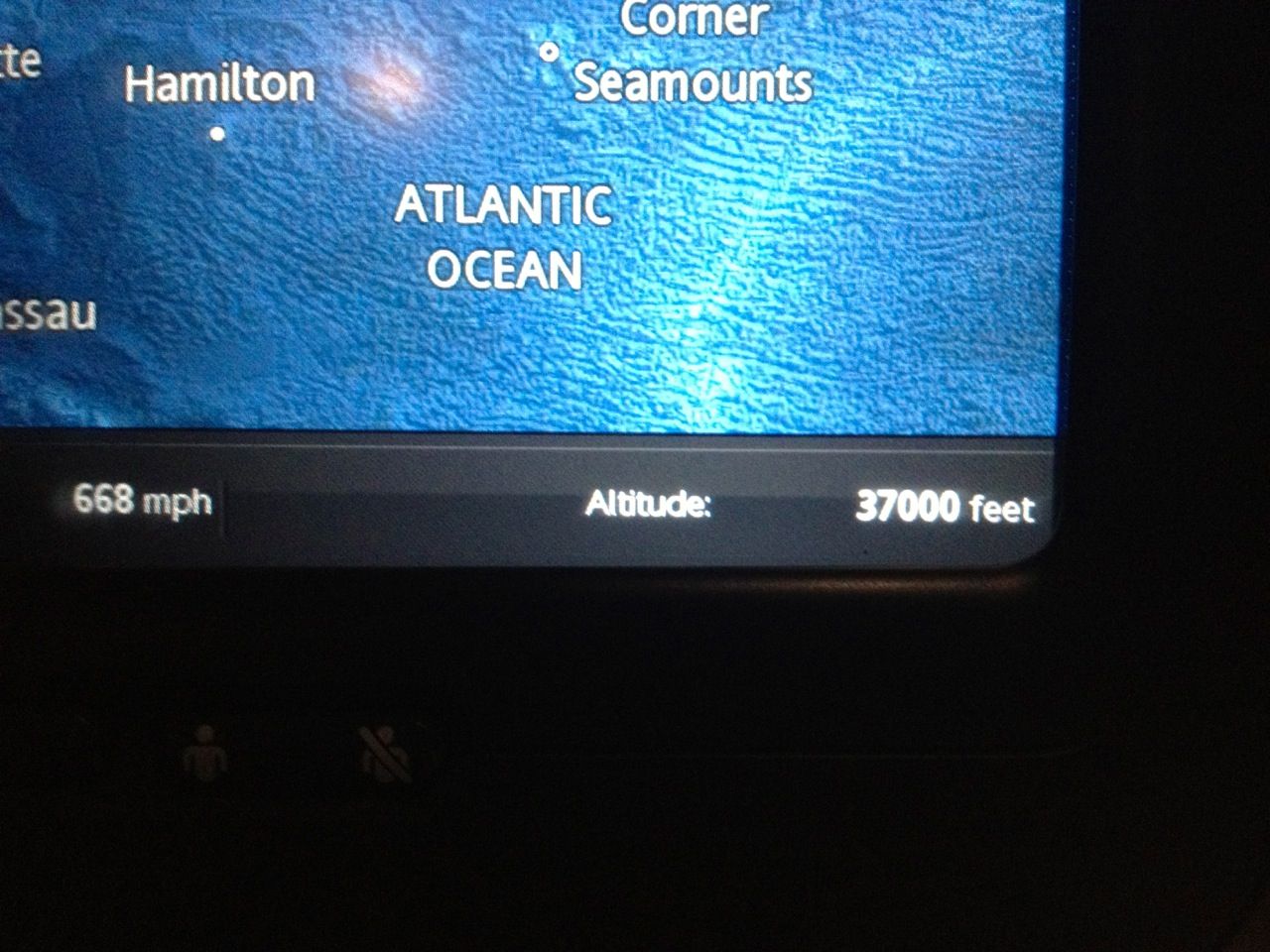 Cruising altitude was 37,000 ft.
Looks like we're going to be holding for a while over London.
There was a bit of turbulence over the Atlantic. The seatbelt sign stayed on for about an hour or so, although I think it was on for about half an hour too long in my opinion.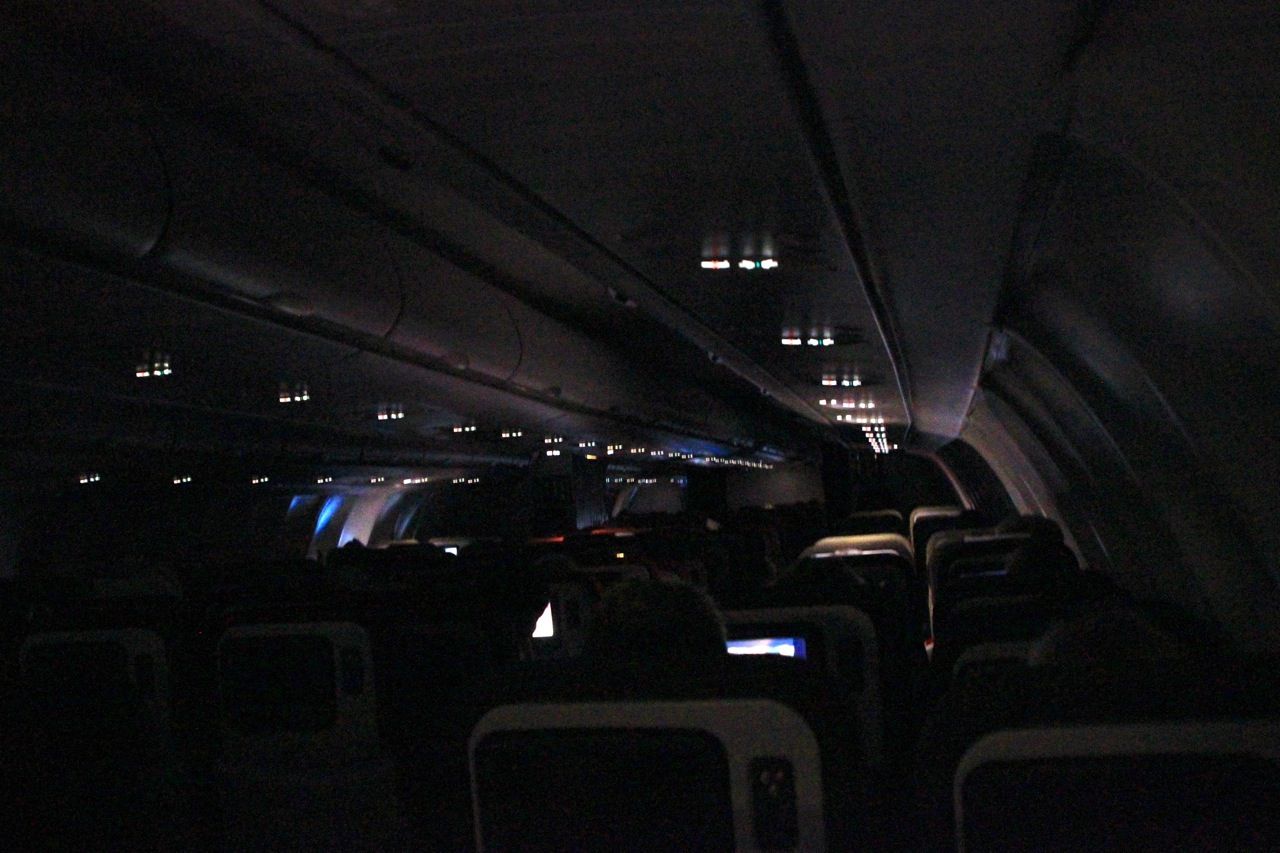 Cabin Overview
Time to wake up!
Nearly there
Just after the cabin lights came back on, breakfast was served. Thankfully VS seem to have got rid of those awful cheese muffins!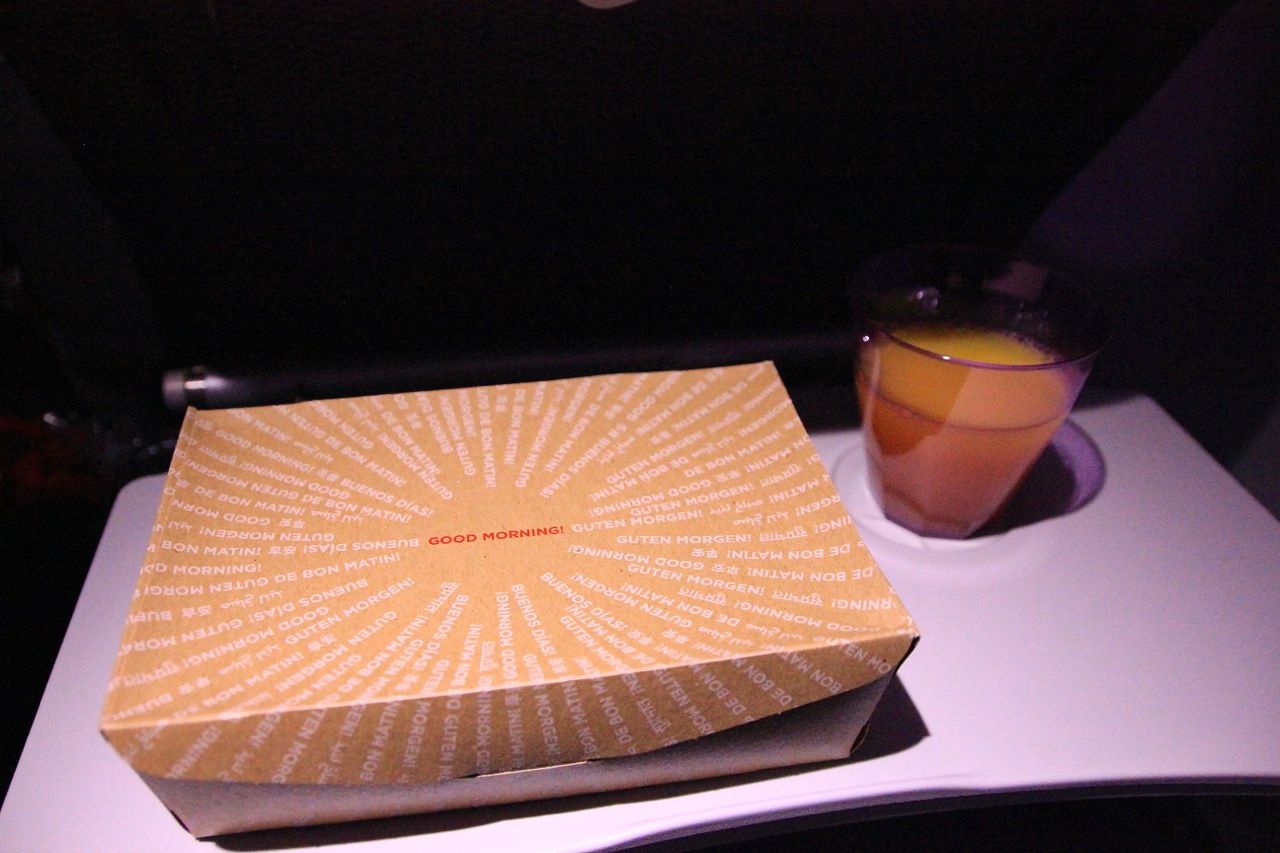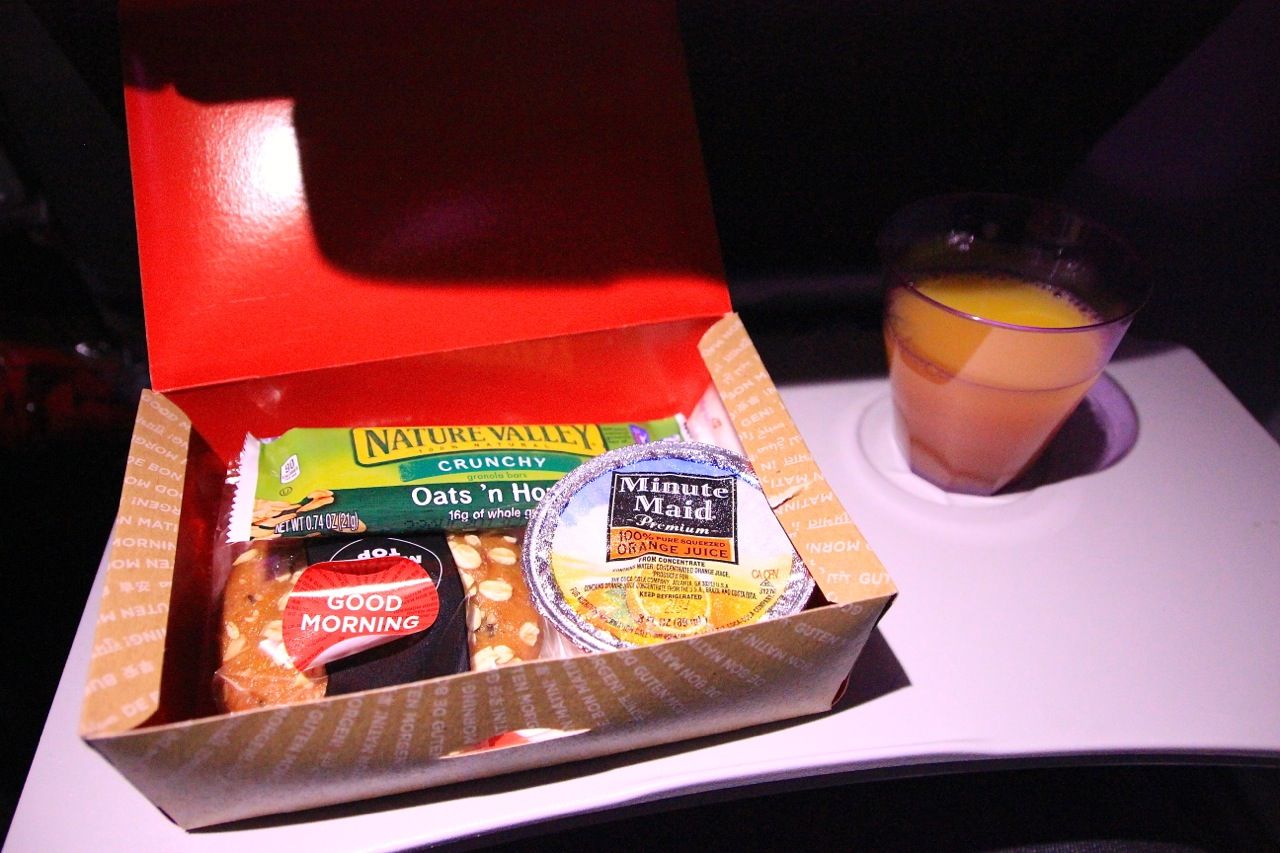 Descent started at 05:15 local. As expected we were a bit early and did a couple of laps of the Biggin Hill hold. Then it was onto finals and some very good views of London. The pictures don't really do it justice.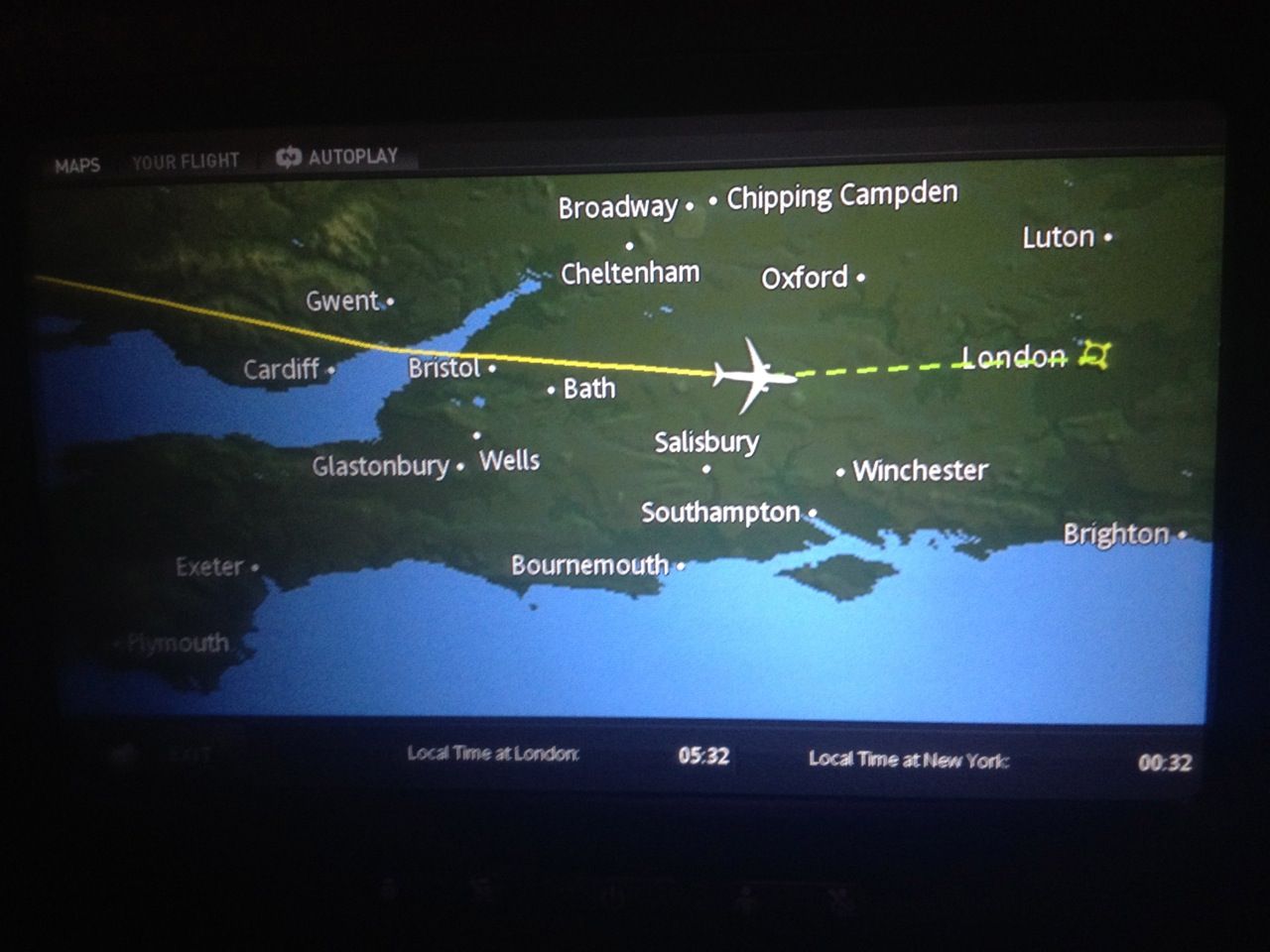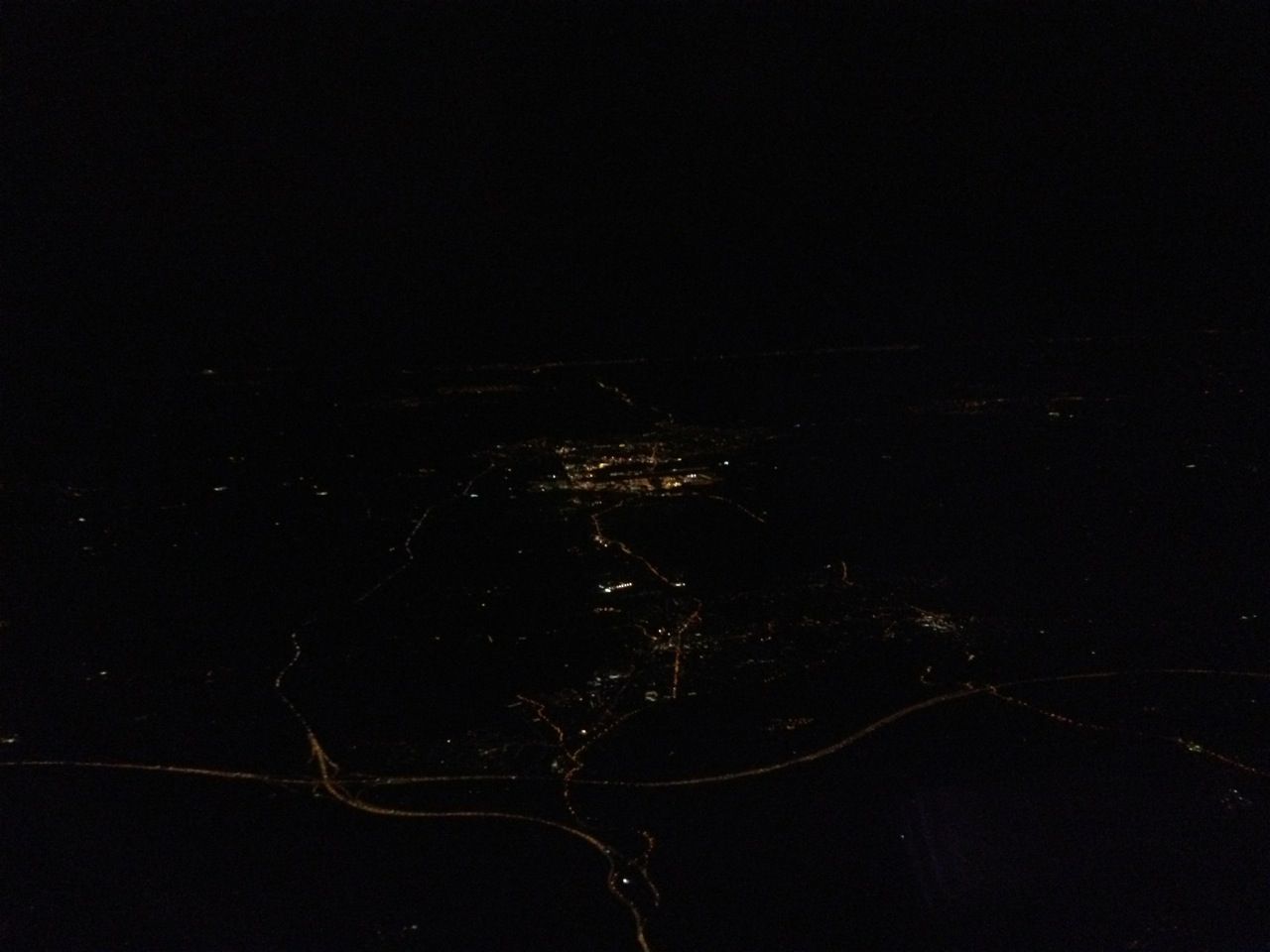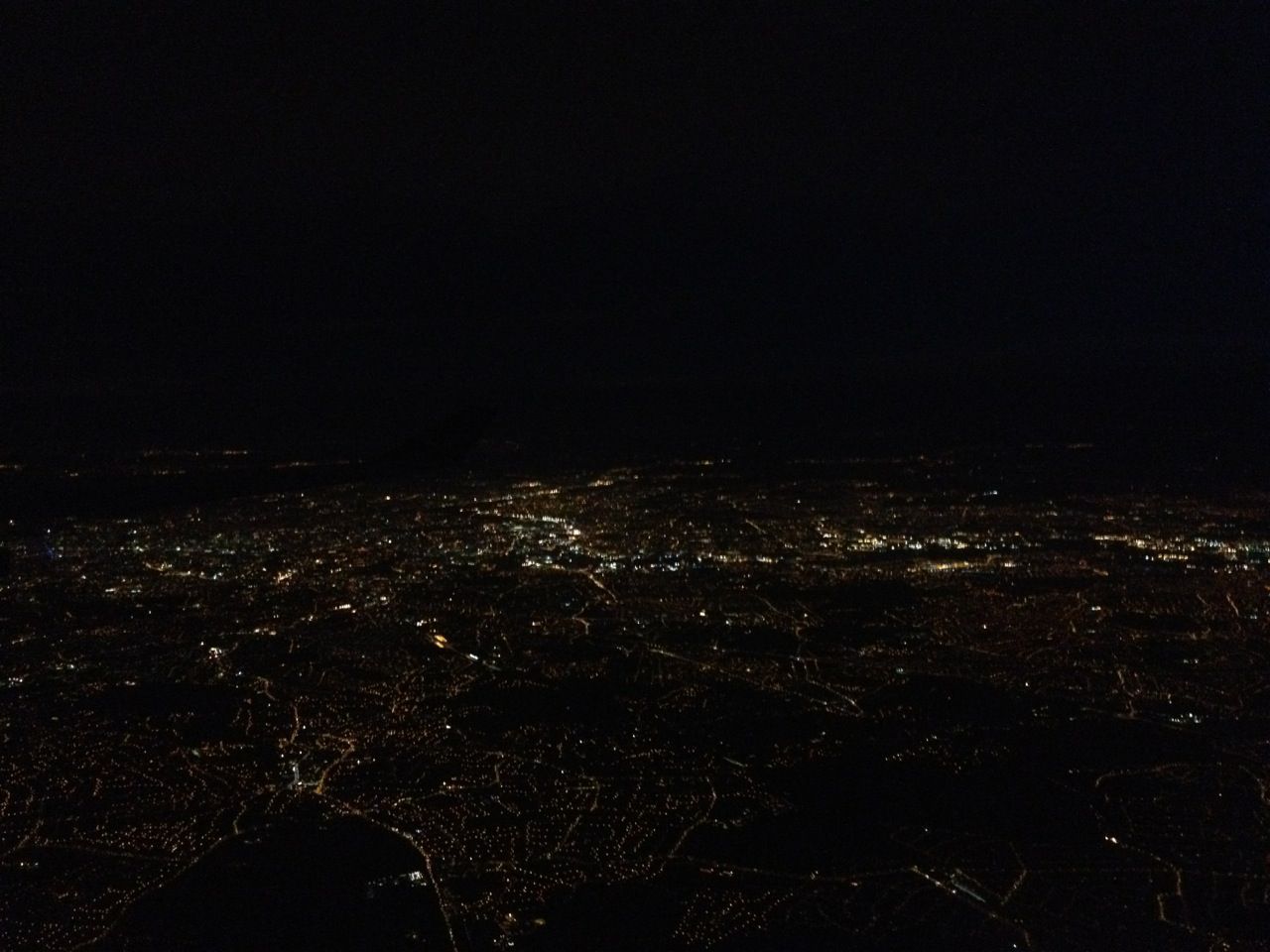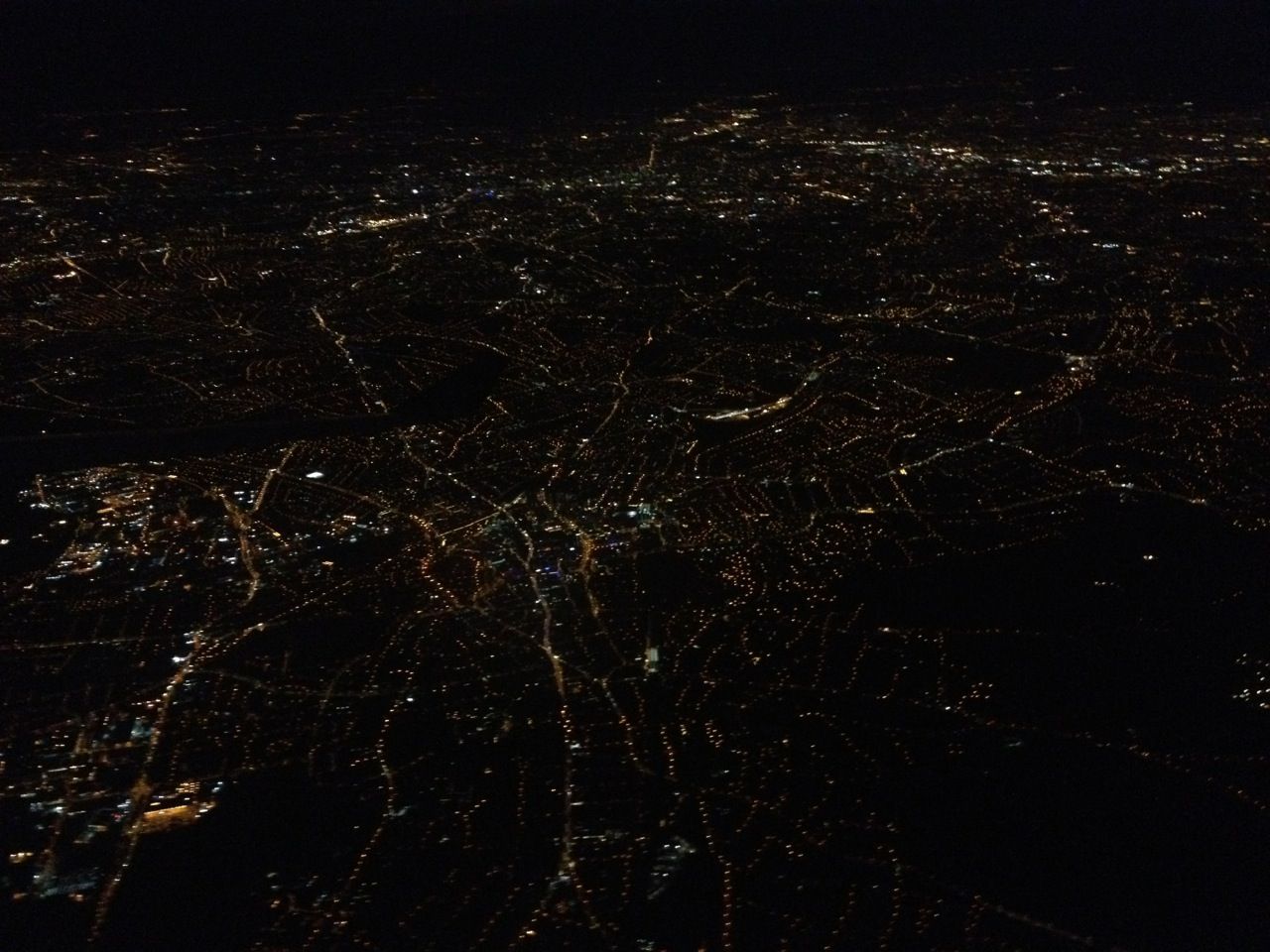 [youtube https://www.youtube.com/watch?v=7MmHsx16gLs]>
Touchdown was a just after 06:00 and we made a pretty quick taxi on to stand, alongside G-VATL that had just arrived from Sydney.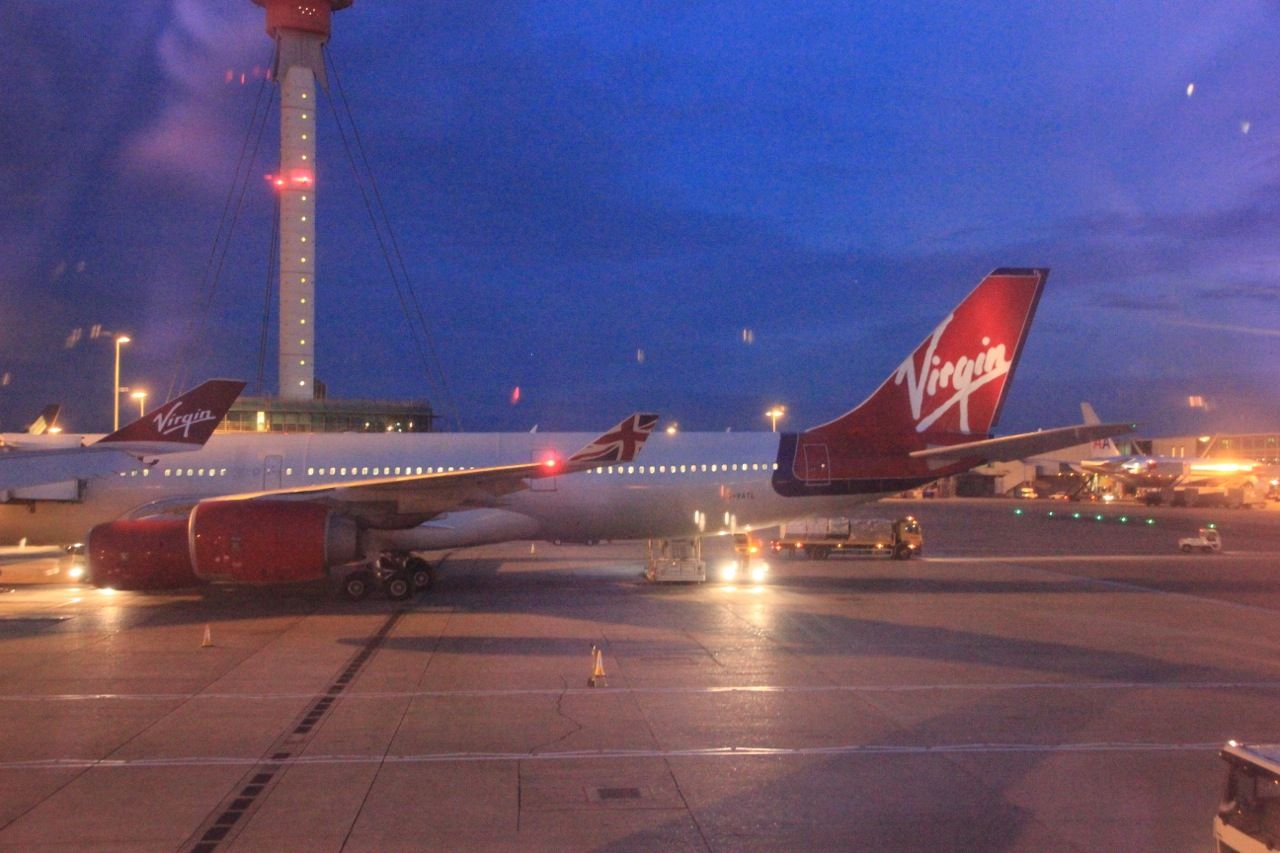 On my way out I asked for a flight deck visit, which was granted. On my way through I grabbed a quick pic of Premium economy.


And the new Upper Class dream suite.


Unfortunately I was only able to visit the flight deck for a couple of minutes, as the ground crew wanted all passengers off ASAP due to the short turn around. This one would be heading back to JFK in a couple of hours.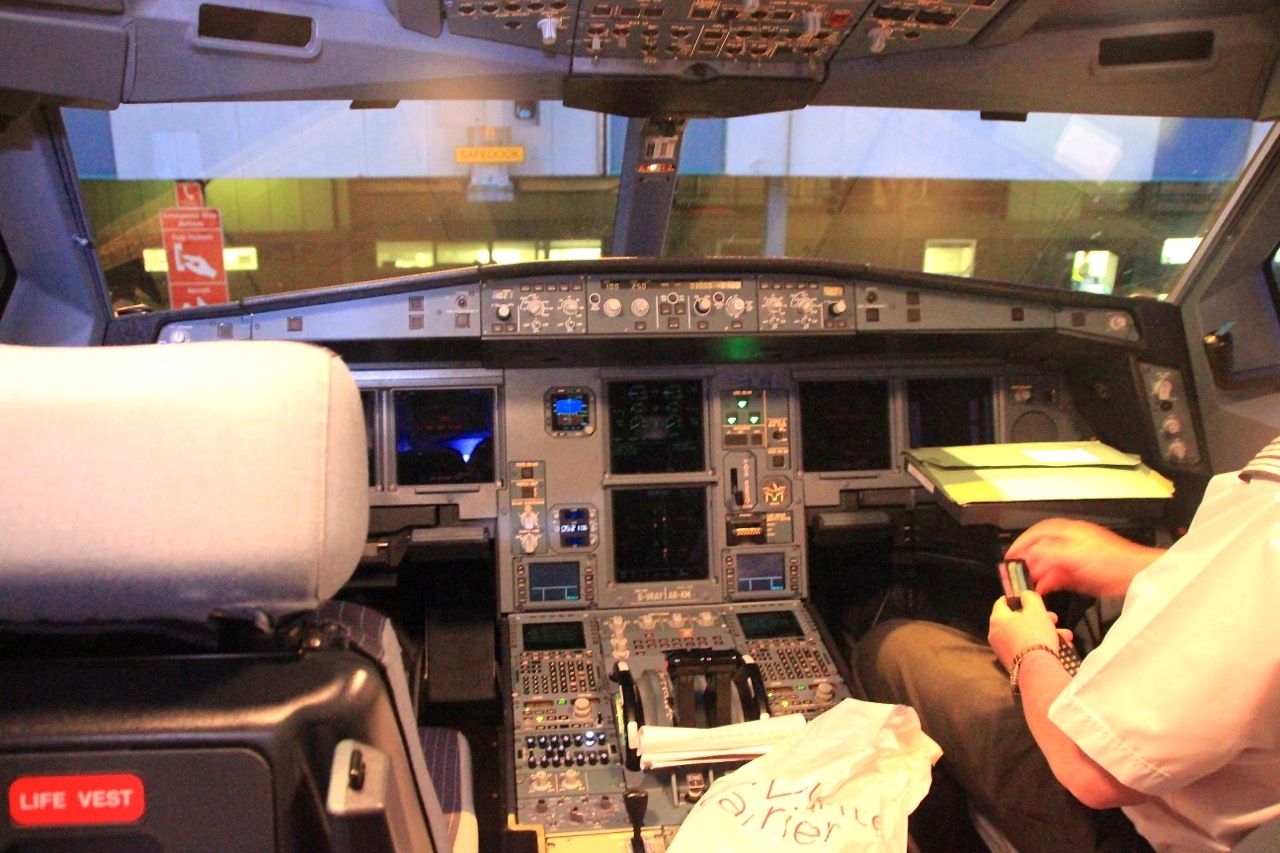 Then it was off for a long walk to passport control.


Luckily, I was towards the back of a reasonable queue but one of the officers saw it was getting busy, and shifted a few barriers which put me right at the front!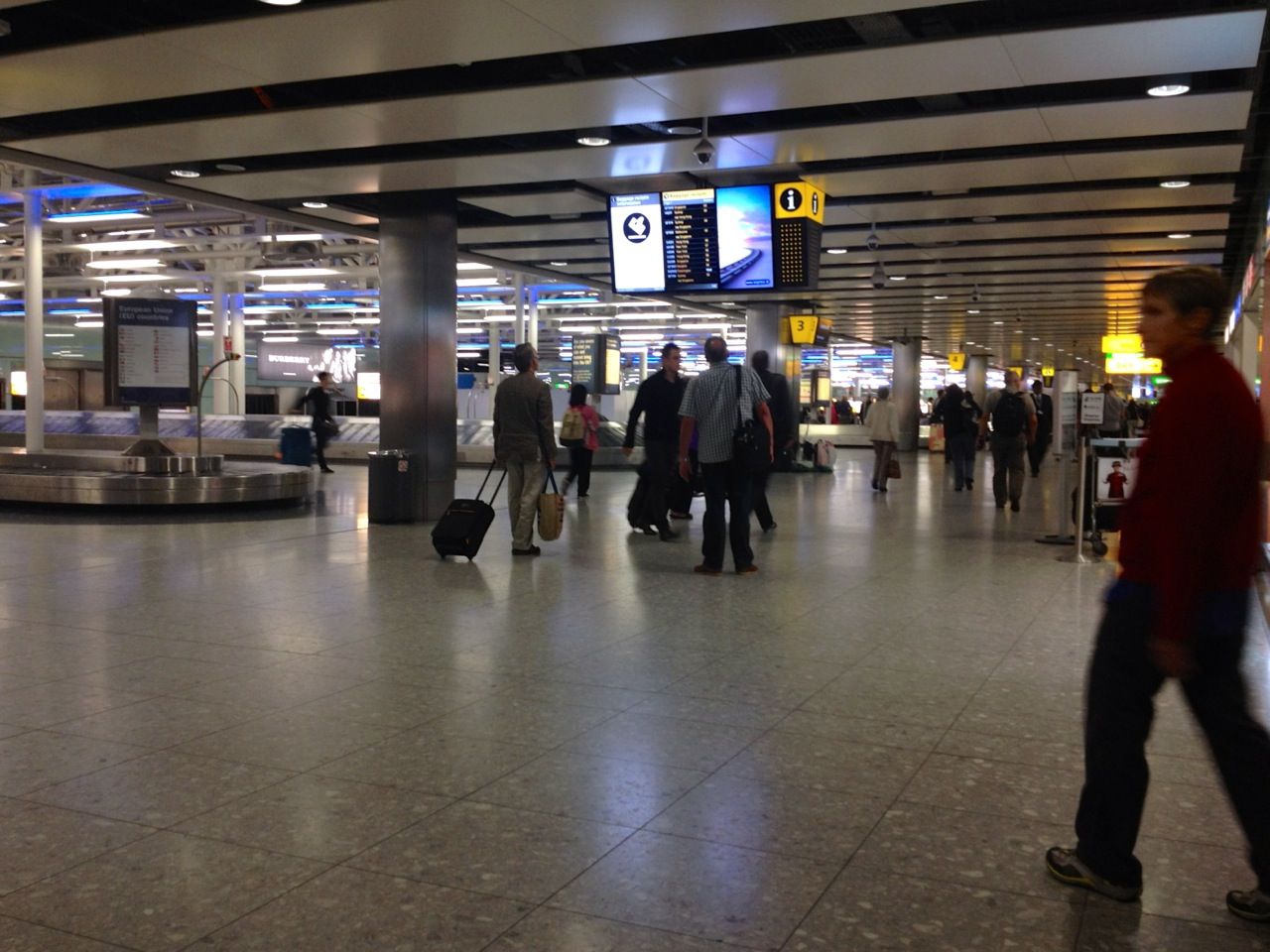 Shortly after it was through the tunnel to the central bus station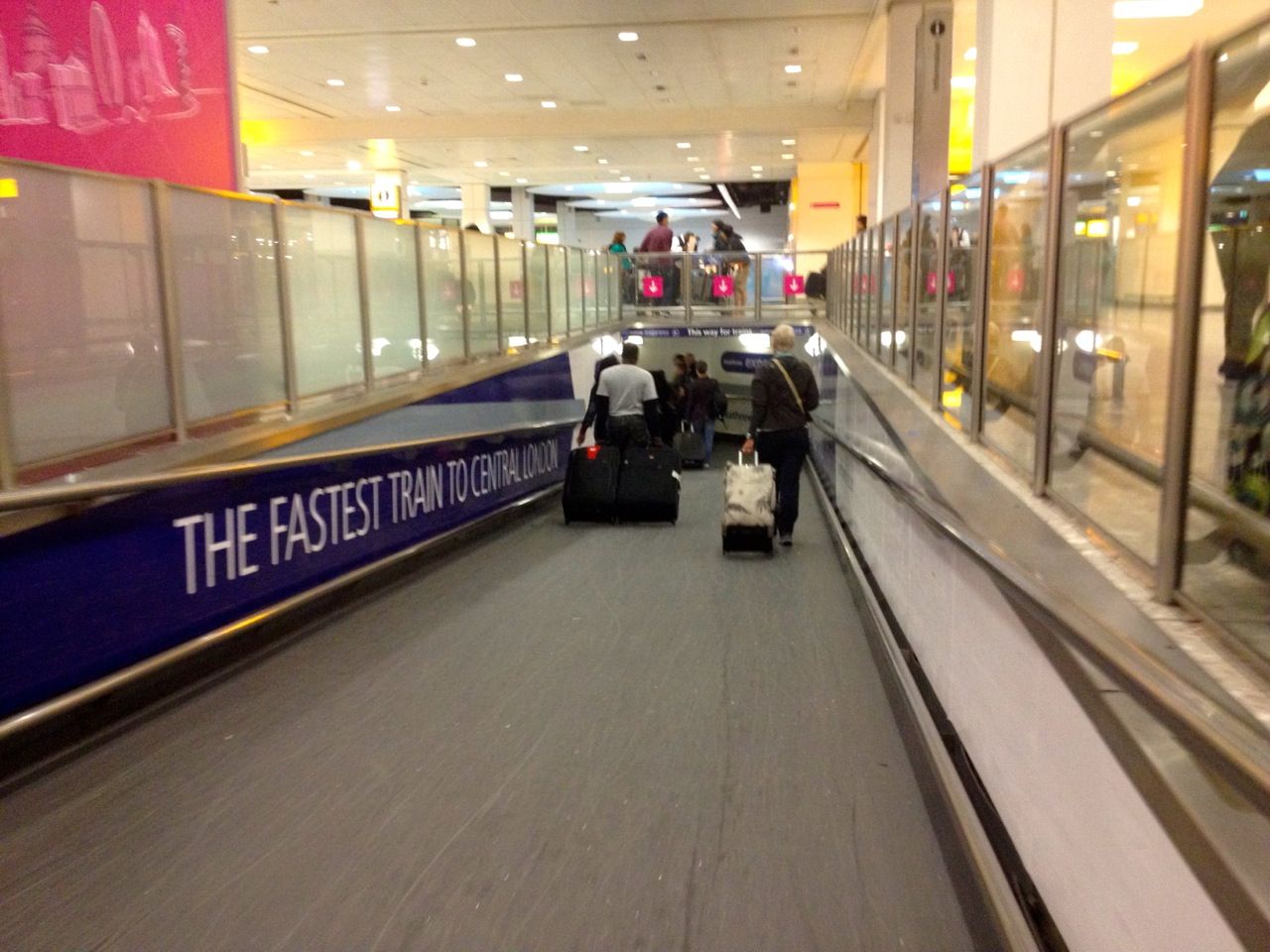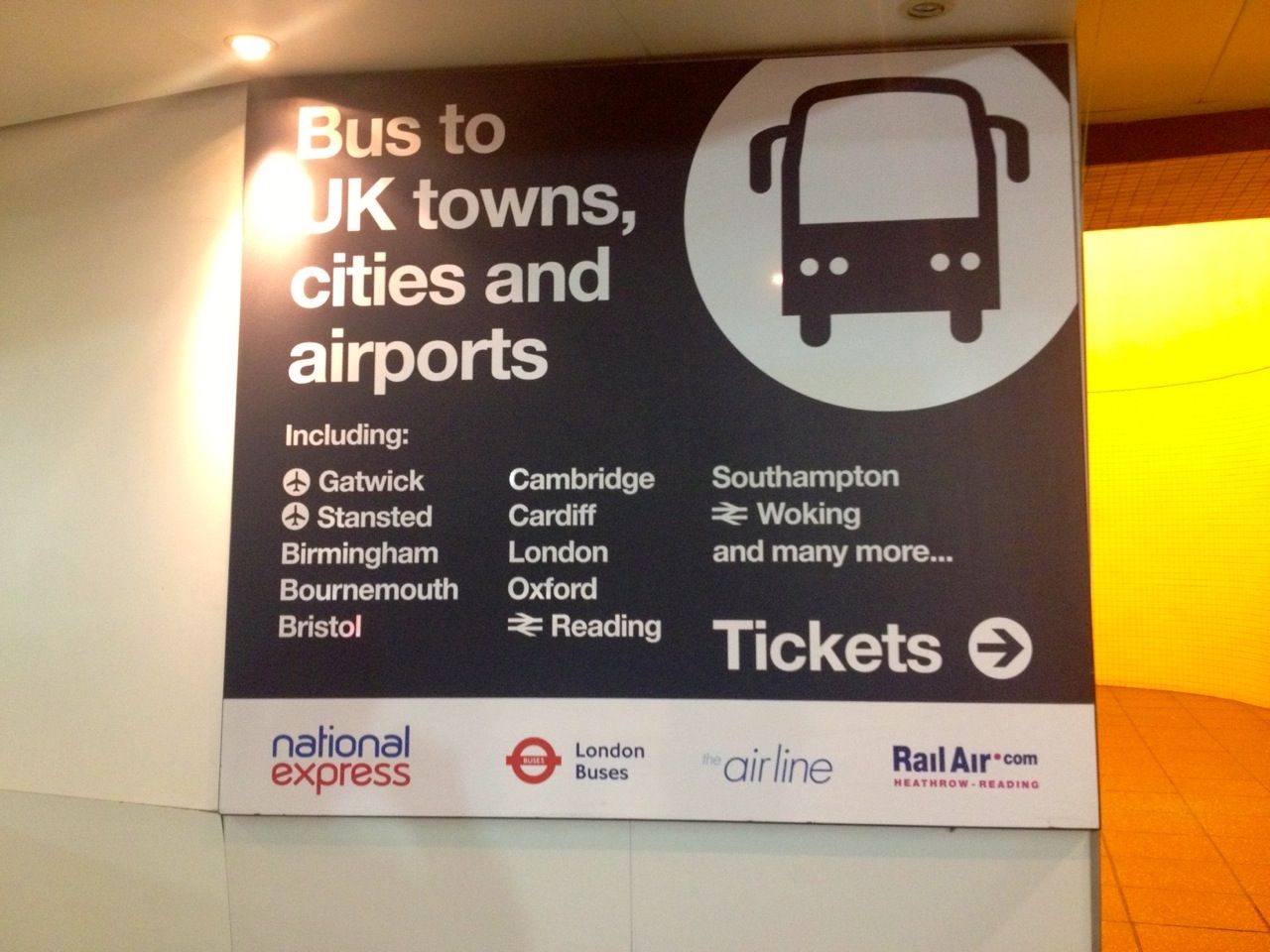 There was a coach waiting, however the driver said this was the 06:45 coach and I was booked on the 07:15… But he'll let me on just this once – which made sense as I was the only person on the coach. If it was full I could understand but a completely empty one?? Why the fuss? Either way I made it home about an hour after pulling onto stand.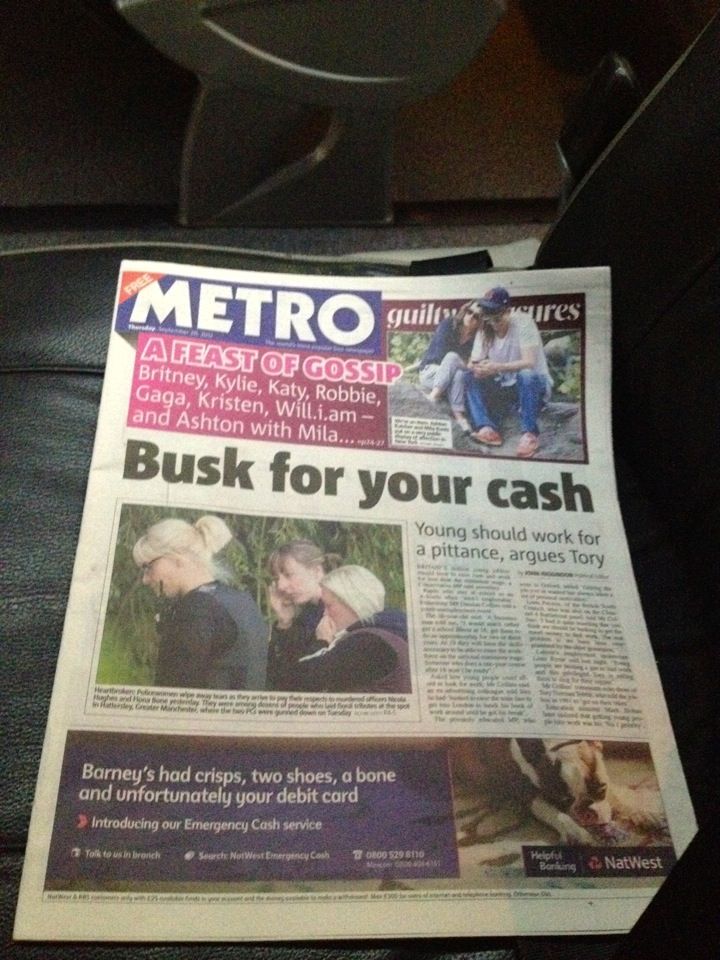 Free paper on the coach
So that brings an end to another trip.
Virgin are starting to look promising again after slightly losing their way over the last few years. Their latest product is very good, however I'm not sure it's going to be rolled out across the whole fleet. One of the biggest complaints I've read across forums and Facebook is about the inconsistent fleet. They are making progress with standardizing the fleet, which should be complete by the end of 2012, however I'm led to believe no aircraft will have the new Upper Class retrofitted? Either way I was satisfied with the product. The crew was generally good – they more proactive on the return flight however by doing extra drink runs, where as on the outward sector they just let people help themselves from the galley. No big deal though. It was a bit annoying that they had run out of the welcome cocktail on the outbound flight but I guess that's the downside of sitting at the back. The plus side however is that I was treated to a bit of extra legroom – so ill definitely be choosing these seats if I fly on a VS A330 again.
As always I welcome your comments!