Sun Air | Dornier 328 Jet | GOT-MAN | Euro Traveller
This Trip
British Airways | Airbus A320 | LHR-ARN | Club Europe
Clarion, Stockholm Arlanda
Qatar Airways | Boeing 787 | ARN-DOH | Business
The Airport Hotel, Doha
Qatar Airways | Airbus A350 | DOH-SIN | Business
Crowne Plaza, Singapore Changi
Cathay Pacific | Boeing 777-200 | SIN-HKG | Business
Cathay Pacific | Boeing 747-400 | HKG-HND | First Class
Hilton, Tokyo Odaiba
ANA | Boeing 787 | HND-ITM | Premium Class
Courtyard by Marriott, Osaka
Asiana | Airbus A330 | KIX-ICN | Business
Four Points by Sheraton, Seoul
EVA Air | Airbus A330 | ICN-TPE | Business
Novotel, Taipei Taoyuan Airport
EVA Air | Boeing 777-300ER | TPE-SIN | Business
Conrad Centennial, Singapore
Qatar Airways | Airbus A330 | SIN-DOH | Business
Doubletree by Hilton, Doha Old Town
Qatar Airways | Boeing 787 | DOH-ARN | Business
Radisson Blu, SkyCity, Stockholm Arlanda
SAS | Boeing 737-600 | ARN-GOT | SAS Plus
Sun Air | Dornier 328 Jet | GOT-MAN | Euro Traveller
Hilton, Manchester Airport
British Airways | Airbus A319 | MAN-LHR | UK Domestic
Airline: Sun Air
Aircraft: Dornier 328Jet
Route: Gothenburg – Manchester
Flight number: BA8233
Seat number: 2A
Cabin: Euro Traveller
Flight date: April 2016
Check In / Security
Check in opened around two hours prior to departure – which was a little annoying (but hardly surprising) as I had arrived from Stockholm a couple of hours previously. And theres not an awful lot to do landside at Gothenburg. When it did open, my bag was given a priority tag, which was a little surprising as BA don't give their elites travelling in economy priority handling. Maybe those rules are different on Sun Air?


There was a fast track available, however as BA rarely make it clear if you're eligible to use it or not (despite it being a published OneWorld Emerald benefit) I used the normal lane, as it wasn't too busy.
Lounge
There are two lounges in Gothenburg – the SAS lounge, for all Star Alliance carriers and the Menzies lounge, catering for OneWorld and SkyTeam flights. As such, it was the Menzies lounge I used. It was a reasonable lounge, with plenty of light and a couple of secluded areas – which nobody seemed to be using, so I took advantage of that fact.


The food options included a salad buffet and crisps/nuts etc.


Boarding / Onboard
Boarding was more or less on time, but there was no priority boarding. With a maximum of 38 passengers though, it wasn't really an issue.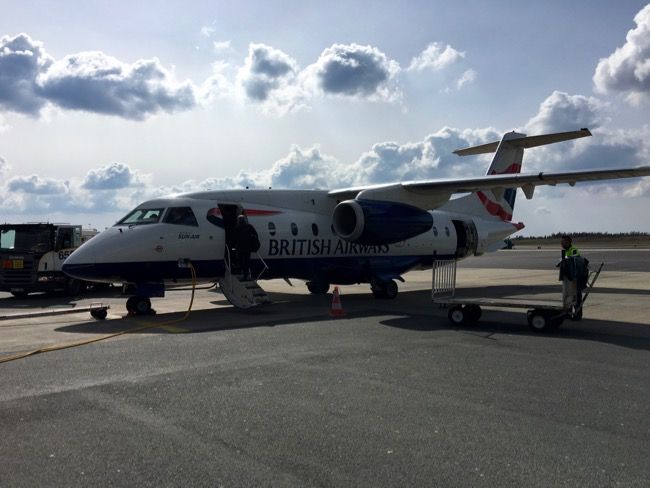 Legroom on this small jet (at the front at least) was pretty decent.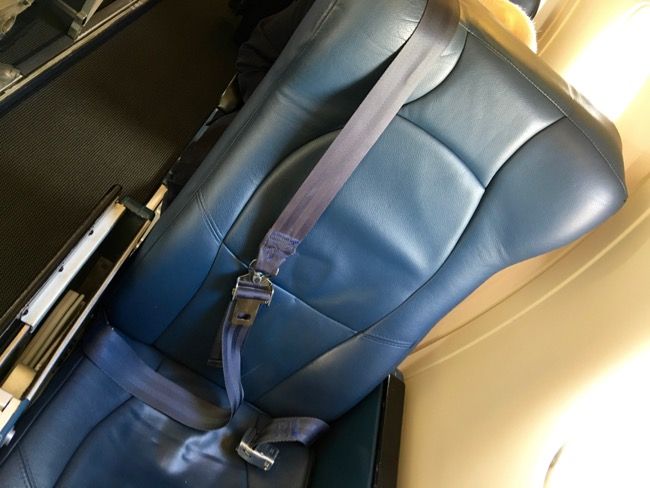 Service
Sun Air has a pretty good reputation for their on board service, and its very well deserved. In fact their motto is "not bigger, but better" and I'd have to agree with that. The service got underway with a drinks run, complete with snacks. On the mainline at this time, this would be all you'd get for the entire flight.


However on Sun Air, this is followed up with a meal.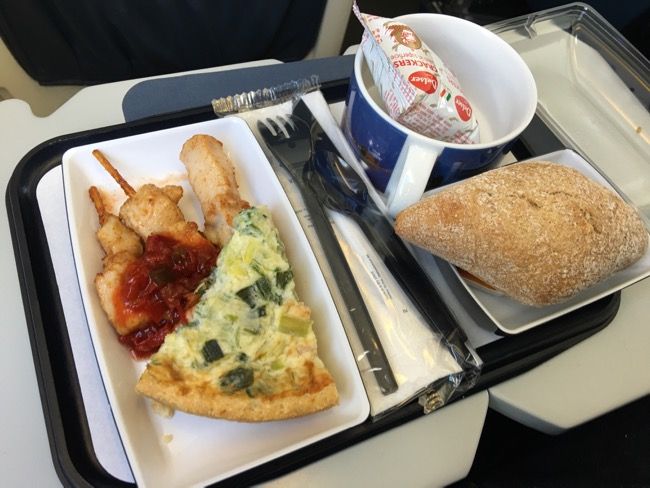 Which is then followed up with an ice cream service.


And finally tea or coffee.


Previously, there was also a digestif run, but that didn't happen on this flight.


Arrival
Arrival was made a little early. There was a short wait for the bags to appear and mine was around the tenth off. Despite it having its priority tag, there were others without that came out before however.


Conclusions
Another fine run with Sun Air. The food on board was plentiful and tasty. Only minor issue was that the digestif run wasn't completed, but that could have been done away with since my last flights with the airline back in February 2015.
Questions? Comments? Come and Say Hi on Twitter!
Follow @mytripreport
Look out for the YouTube video soon!