Malaysia Airlines | Airbus A380 | LHR-KUL-HKG | Economy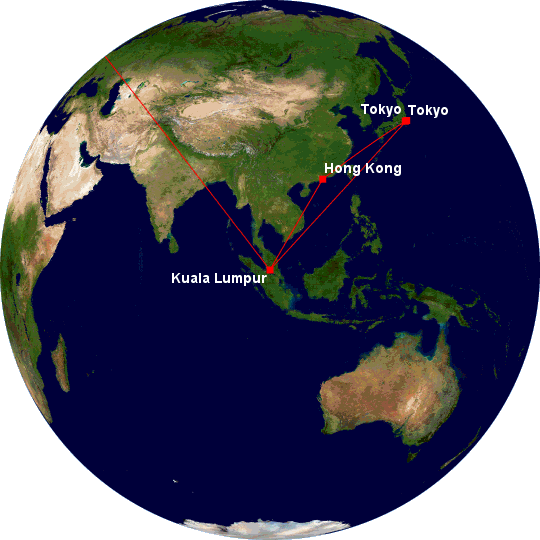 Maps generated by theGreat Circle Mapper -copyright © Karl L. Swartz.
This is the first part of a new series that will tell the tale of my trip to Asia back in September 2013. There will be four parts, covering the following route:
Part 1 – LHR-KUL-HKG on a pair of Malaysia Airlines A380's
Part 2 – HKG-HND on a Cathay Pacific 747-400 in First Class
Part 3 – NRT-KUL with Japan Airlines on a relatively new 767-300
Part 4 – KUL-LHR with Malaysia Airlines, again on one of their A380's
So how did this trip come about? Well, it's funny how plans change. The initial plan for September 2013 was to head over to the West coast of the USA with Virgin Atlantic and do a bit of domestic flying with VX. However prices seemed pretty high – £700+ just for a LHR-LAX/SFO-LHR routing, without any domestic flights thrown in. So I studied other options. The plan then came to head East instead. I pretty much settled on CX to Hong Kong, following on to Tokyo a few days later as they were two cities that I had been wanting to visit for many years. Since I was still at school in fact. The prices with CX were actually pretty good in comparison to the VS flights to the USA.
Then, on the 1st February 2013, Malaysia Airlines became a full member of One World. Being my alliance of choice, this opened up another opportunity. I looked into flying to KUL instead on Malaysian's A380 and then heading up to Hong Kong from there. The prices seemed pretty comparable to the Cathay Pacific option but of course worked out better value for me as there were a couple of extra flights thrown in. As I finish work at 1PM on Fridays, this also meant I could take advantage of Malaysia Airlines 10PM departure from LHR and squeeze in an extra night away.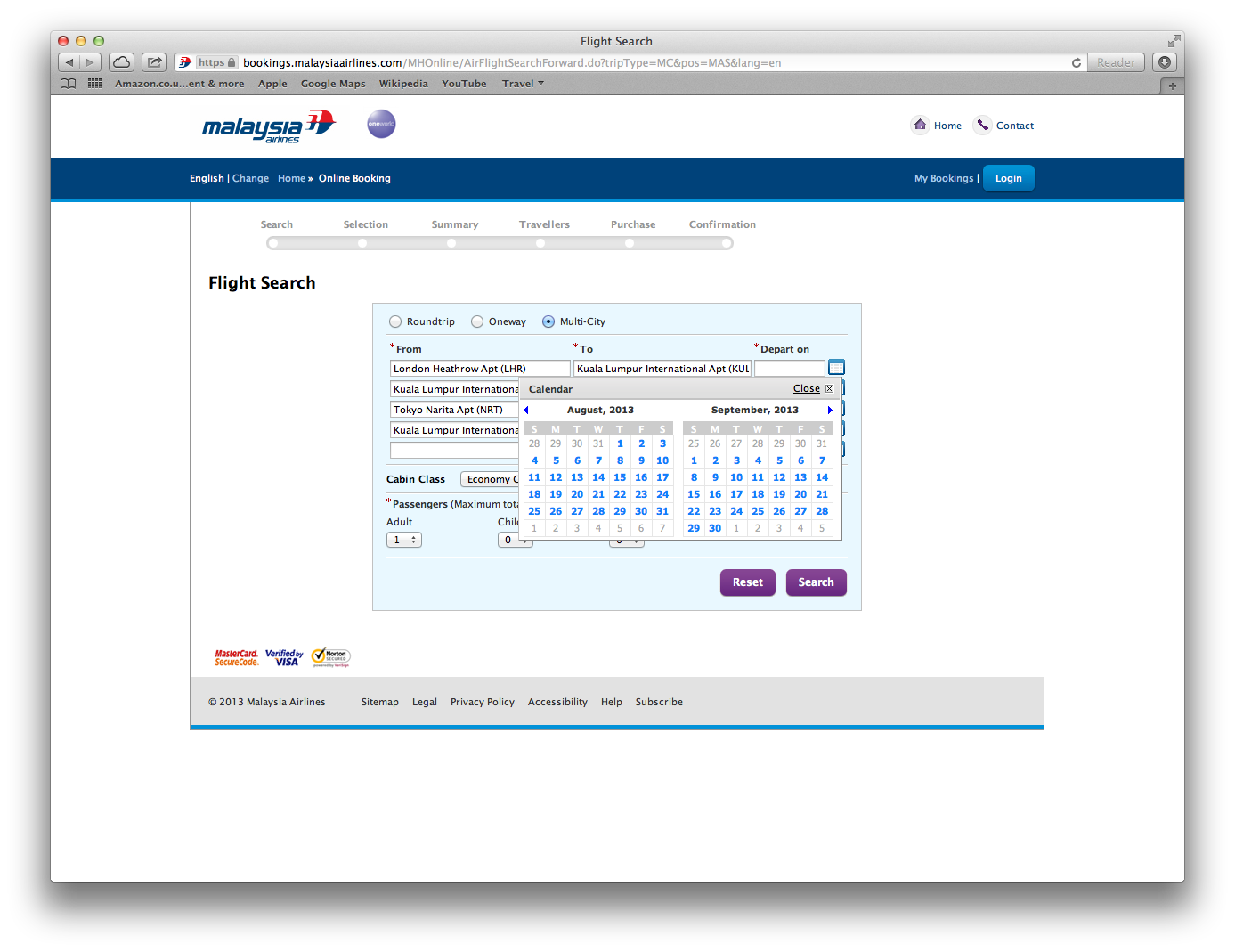 Also of note was that the return sector of this trip from KUL-LHR would be my longest flight. Although not the most time I'd spent on an aircraft. That record goes to the Air Europe 757 that I spent 14 hours on flying LGW-BGR-ACA way back in 1989. The booking process was probably one of the most frustrating I'd experienced. I selected the flights I was after online – MH from LHR-KUL, CX from KUL-HKG, JL from NRT-KUL and MH again from KUL-LHR however the system continually threw up an error.



So I decided to contact their helpdesk. The guy on the phone said the problem was due to having two codeshares in my itinerary. As much as I fancied logging another A330 and CX, I elected to keep the JL sector as I was planning to book a flight with CX on the HKG-HND sector later. He priced up the new option and gave a price of around £375. Did I hear that right – £375?! Book it! He put me on hold, and a few moments later I was cut off. Great. So I called back, pressed 1, then 5 followed by 2 and then 3 another four times before being told my call is very important and I'll be speaking to somebody ASAP around seven times. Finally, once I was speaking to somebody again, I was told that this was a mistake fare and it was actually the more expected £600 or so. Before being cut off again. So back to the Internet it was, where things went a bit better (and £25 cheaper) this time.


Ideally I would have preferred to take either the 777 or 737 flights to Hong Kong for comparisons sake, but they caused the price to go up quite considerably – almost double in fact – so I stuck with the A380 option. As it later turned out, this was actually a stroke of luck.
I tried to book my seats online but the prices were pretty steep (£12 per sector for standard seats or £35 for 'Premium' seats) so didn't bother straight away. Annoyingly, there wasn't an option to book seats later through manage my booking. Either pay up when you book or go without!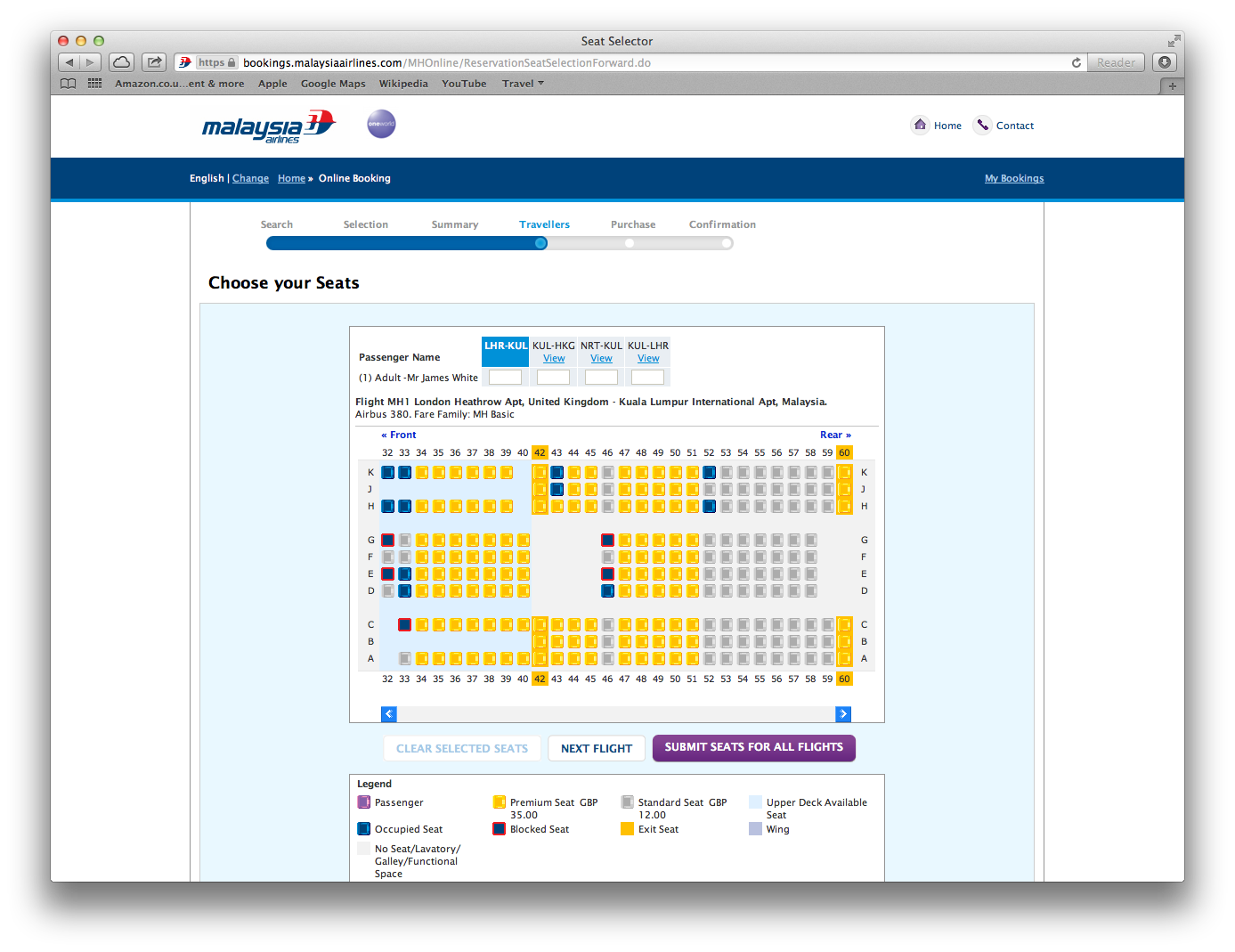 Although I later phoned up, and after telling the guy I was a One World Sapphire member (and informing him that MH were now members of One World), he booked the Premium seats for me free of charge – saving me £105 in the process. Outrageous prices to book seats! They still didn't show up in the manage my booking section of the website though.
Forty-eight hours before departure, I checked in online. Not overly pleased with my prebooked seat of 44K, I decided to see if there were any seats available on the upper deck.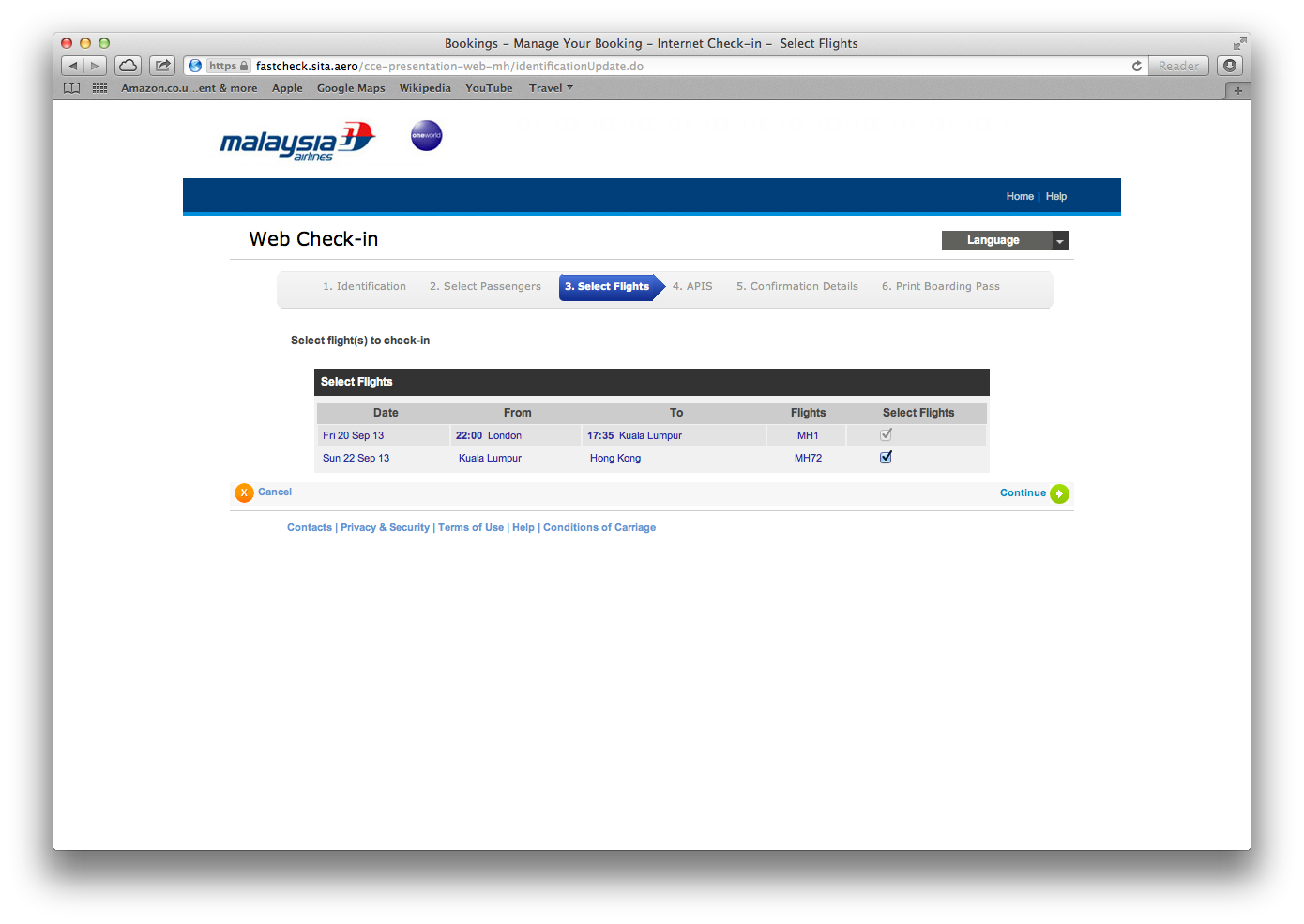 There weren't, so instead I moved a bit further back on the main deck to a row of three that were empty and hoped that it would stay that way.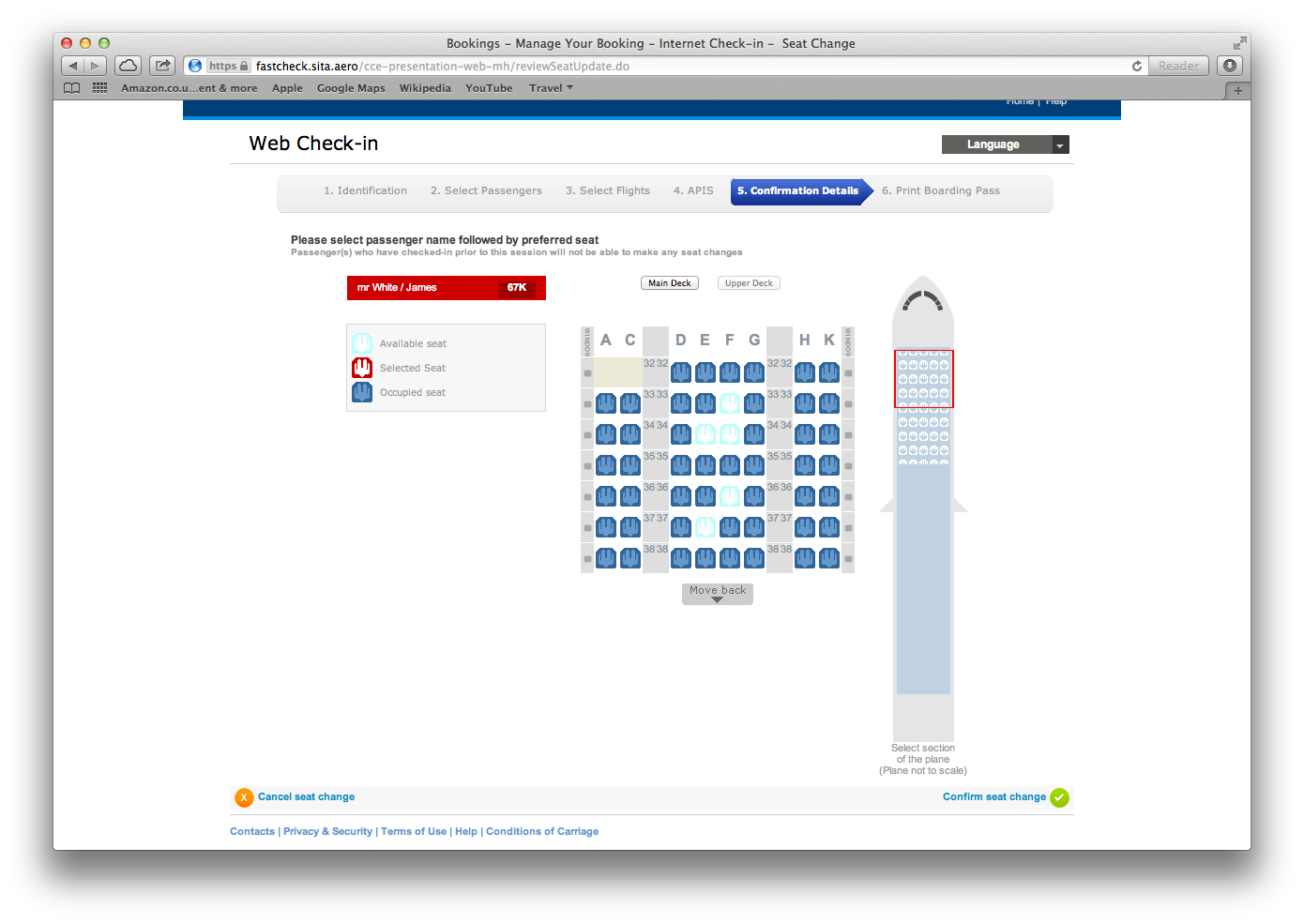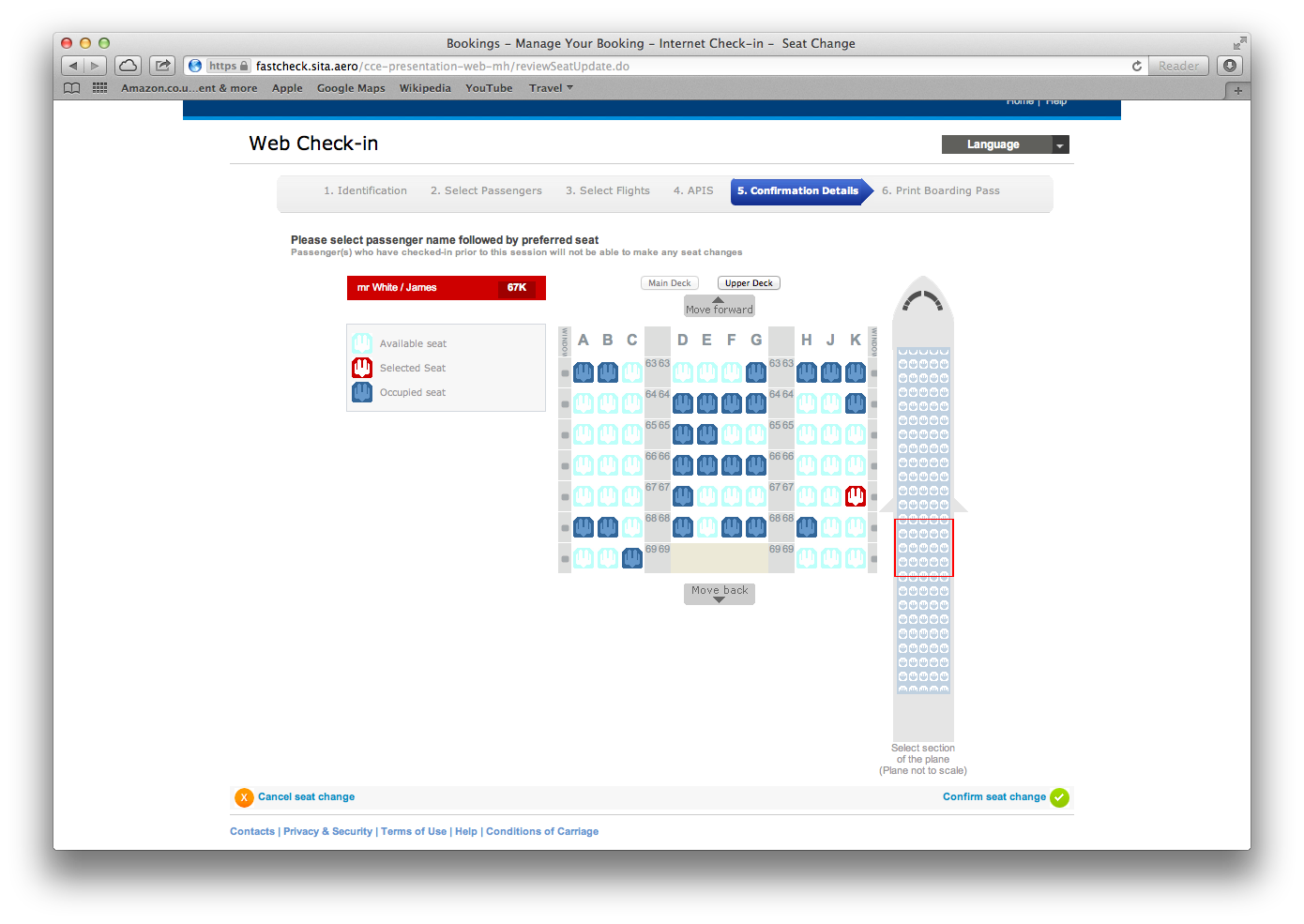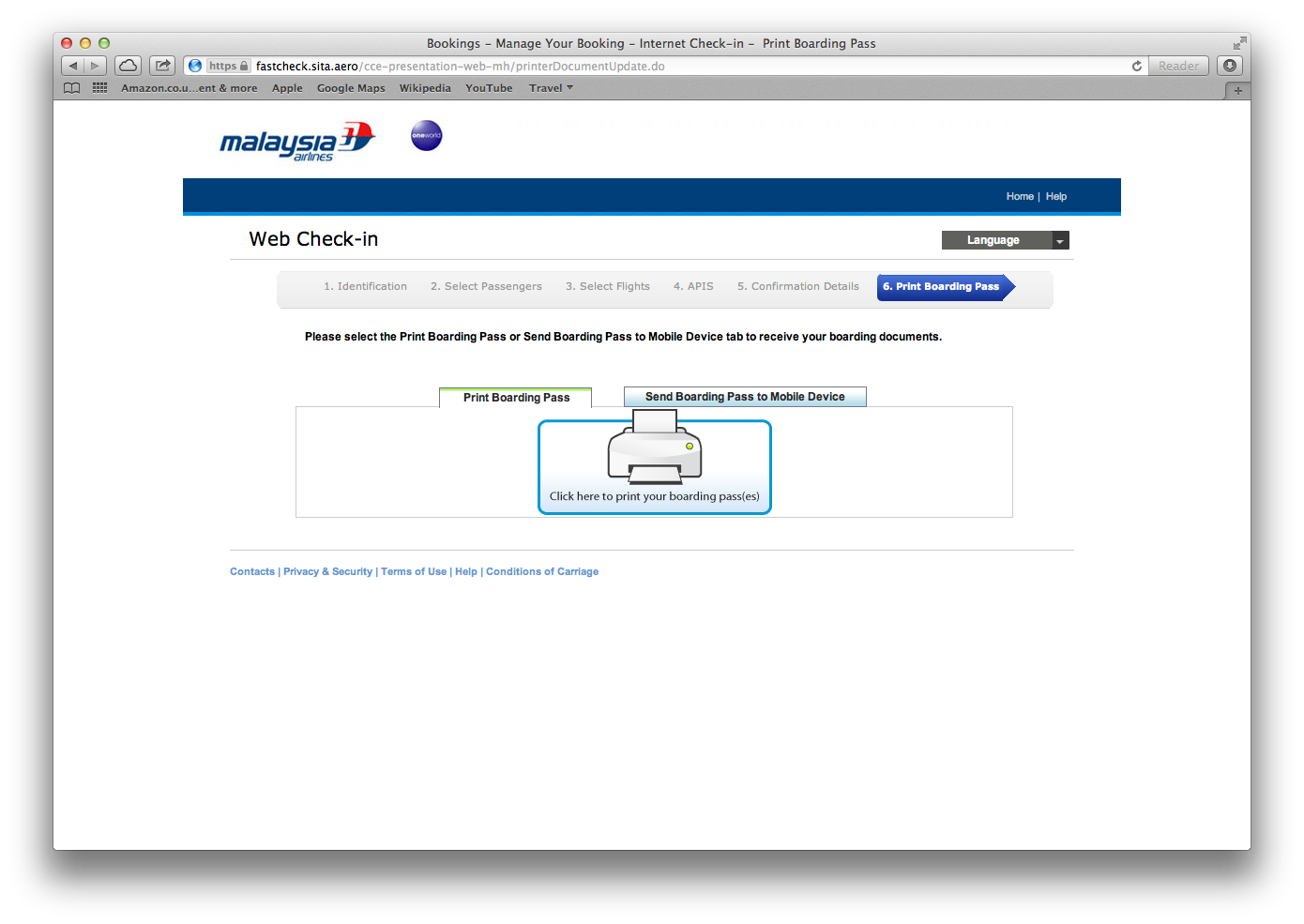 There was the following note on my boarding pass. It seems that in the six months since booking, MH has finally figured out that they're in One World.


Earlier in the day, I checked up to see what aircraft was operating the inbound flight from KUL: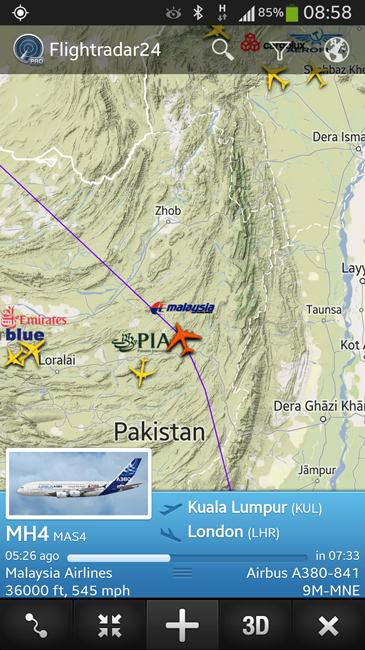 9M-MNE it was then.
After six hours at work that seemed more like sixteen, 1pm finally came around and I clocked out for the next week.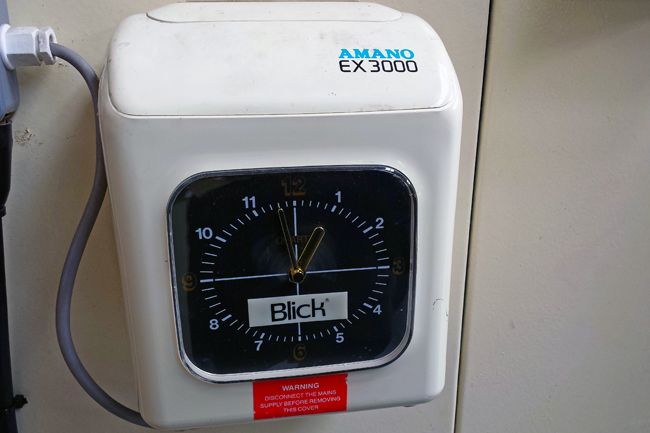 I made the fifteen minute drive home, had a bit of lunch and walked into town to get my haircut. Then for the next couple of hours, I looked to the newly released GTA V for entertainment. I set off to the now familiar station at 17:15 in order to catch the 17:35 coach.

Perfect weather to fly.
As I was walking, I noticed a coach disappearing around the corner at 17:20 – which I though was odd timing. I stood at the busy coach stop, and at 17:45 I figured the coach was late due to bad traffic. By 18:00 I figured it wasn't going to turn up – but the next one should be along in a minute, and by 18:15 I was getting more than a little fed up. Finally at 18:20, one did turn up – once it had fought its way through the traffic.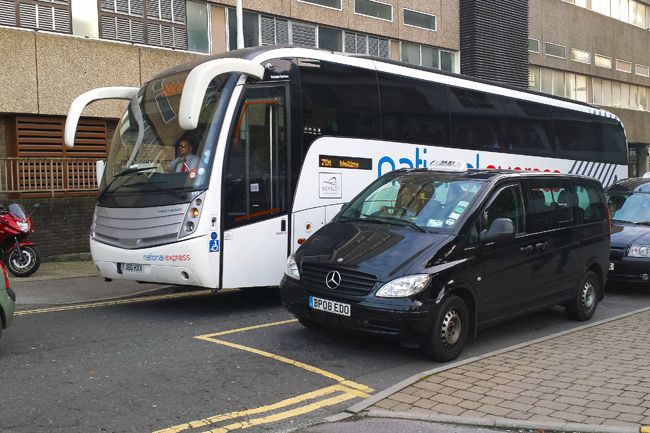 To add insult to injury, the driver then stood around smoking for the next couple of minutes. Once he did get on board, as he was checking peoples tickets, I asked what coach this was – he said it was the 18:05 – so what happened to the 17:35? Who knows? It was then out into the busy Friday evening traffic, arriving at Heathrow central around an hour later. I made my way down into the tunnels to catch the free Heathrow express over to terminal 4.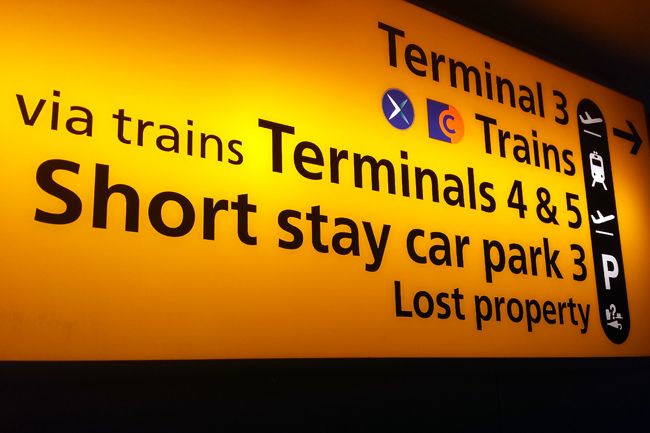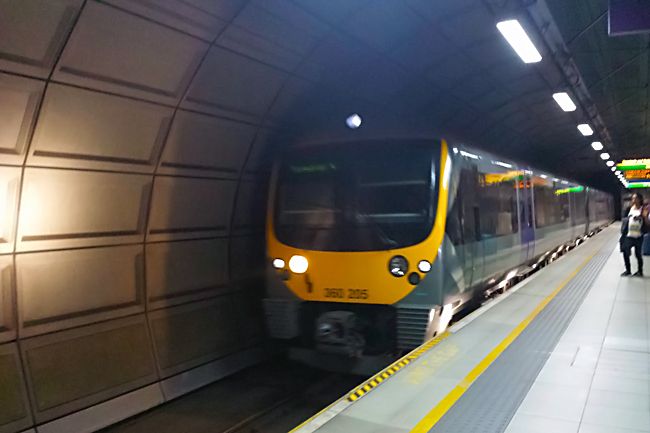 I arrived at the busy terminal around fifteen minutes later.


Malaysia airlines check in is at the opposite end of the terminal to the Heathrow express station, so I fought my way through the crowds to zone B, which is the premium check in – economy is in zone A.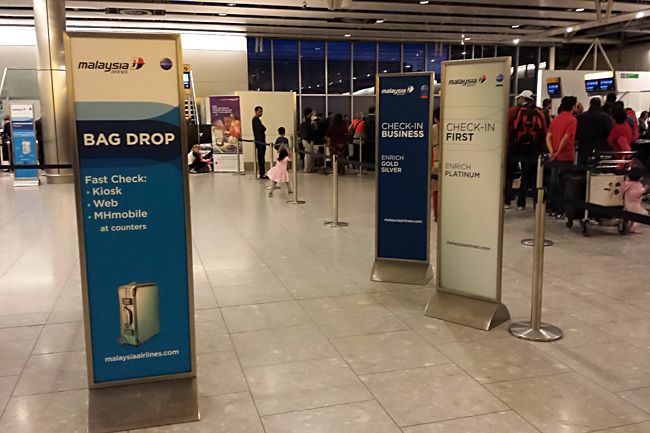 I was checked in by quite a young girl – maybe 18 years old at the most, and when I handed over my BA card the reaction was 'wow!' Shortly followed by 'BA have the best looking cards'. I asked of the flight was full, to which she shrugged and replied they're always full. I was handed my two souvenir boarding passes and made my way to security.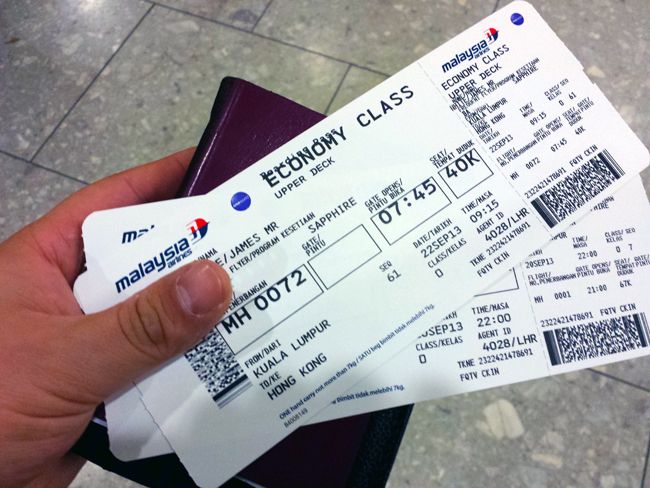 I wasn't too sure if I should use the fast track or not, as there wasn't the familiar One World logo with the blue and green oval's underneath, but as fast track security is listed as one of the perks on the website, I thought I'd chance it. I was met halfway along and asked if I was in business or first, I replied no, but I have frequent flyer status. They allowed me through. I made my way to the train station style gates, scanned my boarding pass and was let through. Upon reaching the passport check (something I've not experienced at security at LHR before) the officer asks 'first, business or none of the above'. I chose the third option, but flashed my card to which he replied 'it'll be the slow line for you then'. Oh well, I tried. It was a familiar process at the security check – busy, but not heaving, full of people who were unfamiliar with the rules and just generally slow. It seemed as though the fast track wasn't overly fast either so I didn't miss out too much. Once I was through, I had planned to head down to grab a few pics of the departures from 27L, but due to my late arrival it was now dark – so abandoned that idea. I headed to WHSmiths to grab some water and some IFE instead.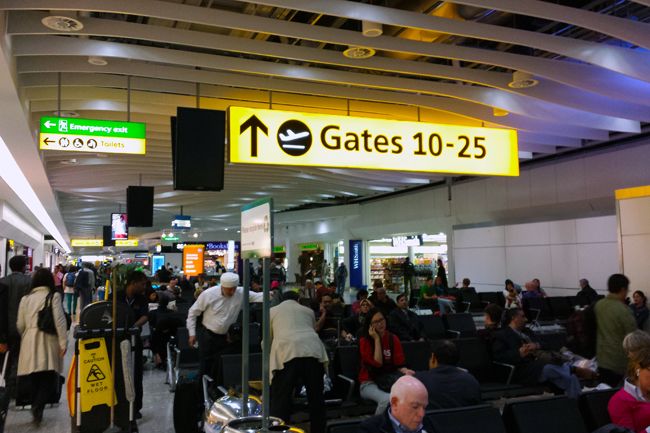 I then made my way to the MH lounge. I did wonder if I would be let in after the previous few communications with MH staff seemed to show they were a little unaware they were part of One World. Luckily, I was welcomed in with open arms.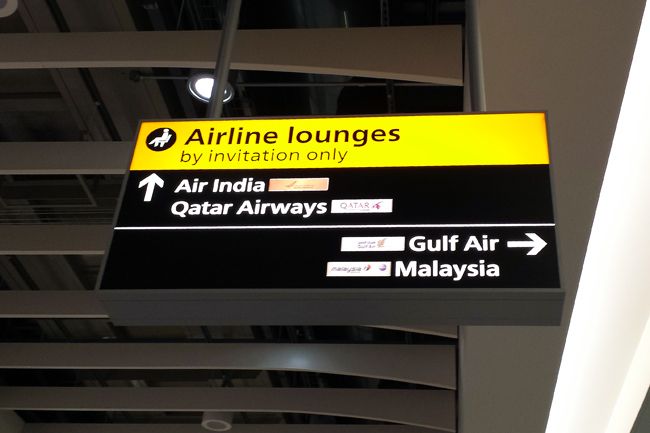 The lounge itself wasn't huge, but with only one flight at midday and another in the evening it was pointless having a massive lounge – in fact I'm surprised they even had their own rather than use a third party one.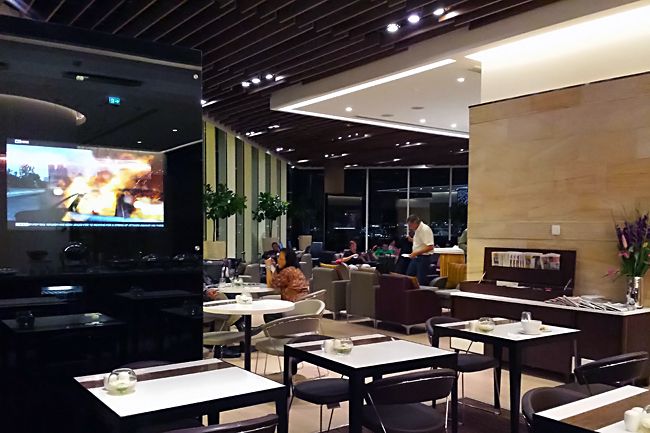 The food selection wasn't too bad, but not to my taste so I settled with a couple of sandwiches and a very good dessert.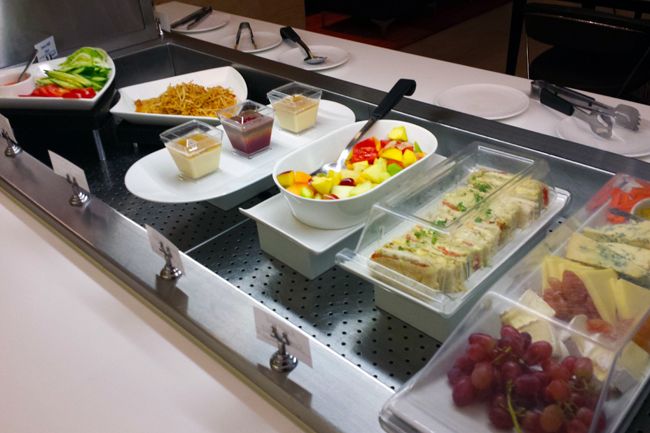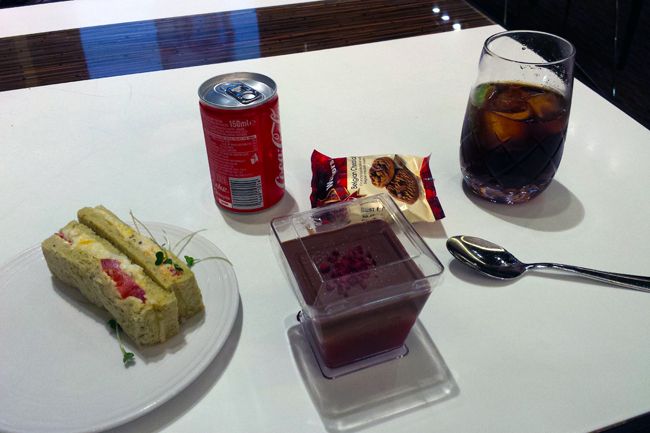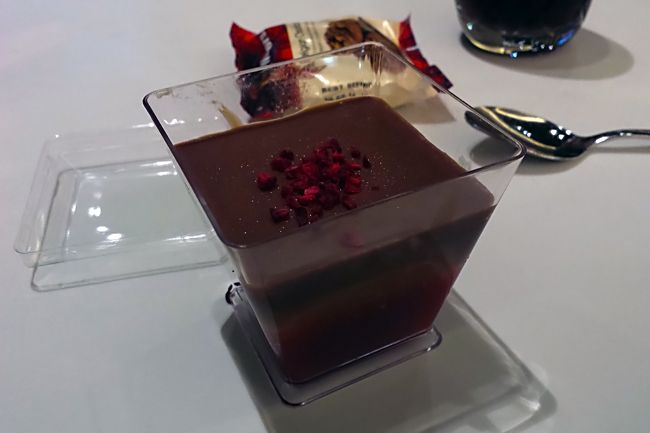 I then made my to the bar in the middle of the lounge and grabbed a drink. I noticed a separate area for first passengers just off the bar – with just one person in it.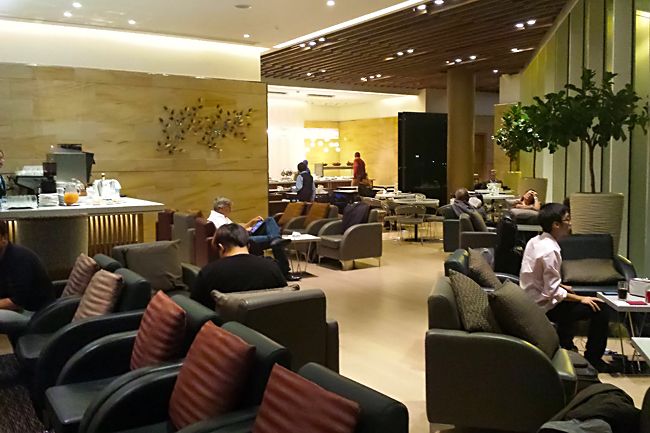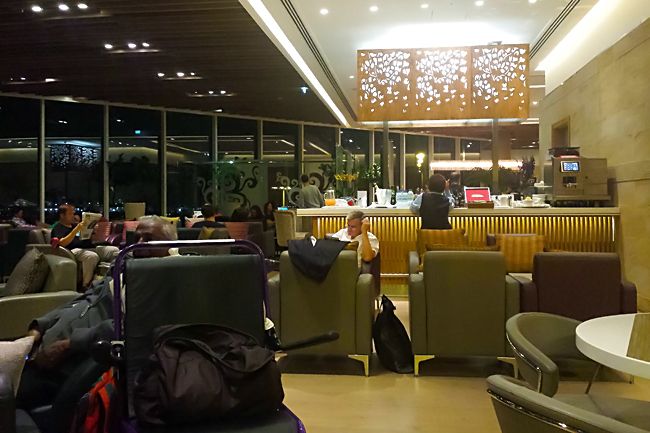 The views outside were pretty good. That's if it wasn't dark of course.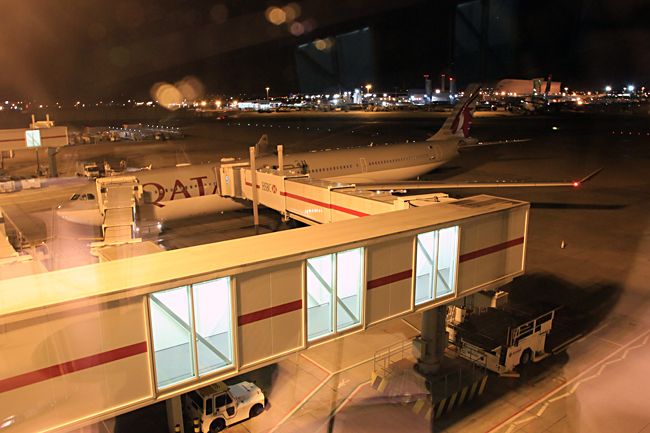 As it was pretty busy, I was forced to sit at once of the dinner tables, rather than in the more comfortable looking lounge area. I grabbed a coffee to try and stay awake for a while longer after being up at 5:30am for work…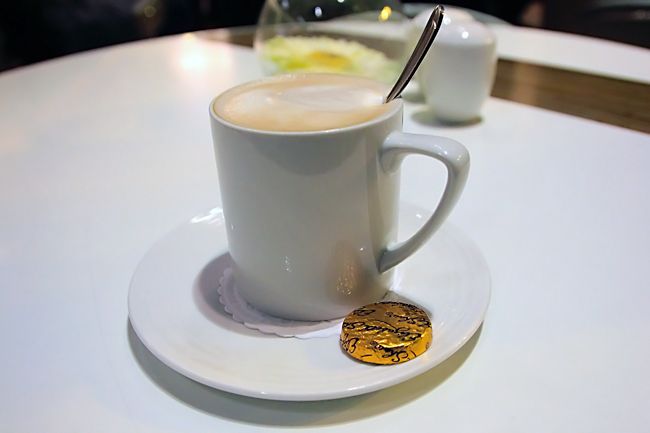 I noticed my ride for tonight over in the distance looking a little abandoned.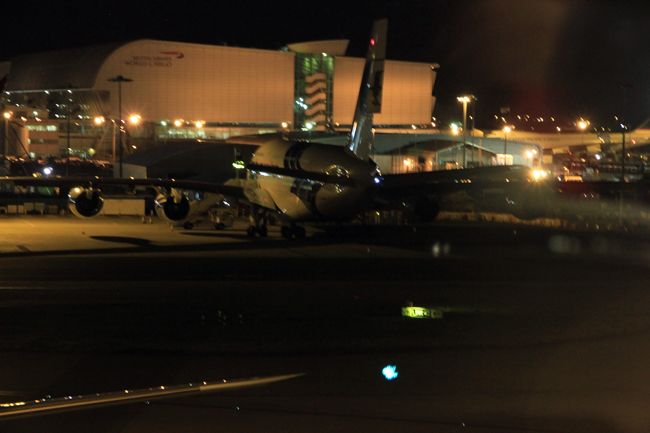 At 20:45, around fifteen minutes before boarding was due to start, the A380 pushed back and made its way over to gate 5.


I asked if boarding would be announced in the lounge, which the staff member said it was. I was slightly amused by seeing a girl who looked to be in her twenties casually wandering around in her PJ's – do you not realise you're in public?
At 21:15, I made my way downstairs only to find what I thought was boarding in full swing and there was a massive queue. I did look for a priority lane, but there wasn't any. So much for announcing boarding in the lounge. Or maybe they announce it after the masses have made their way on-board?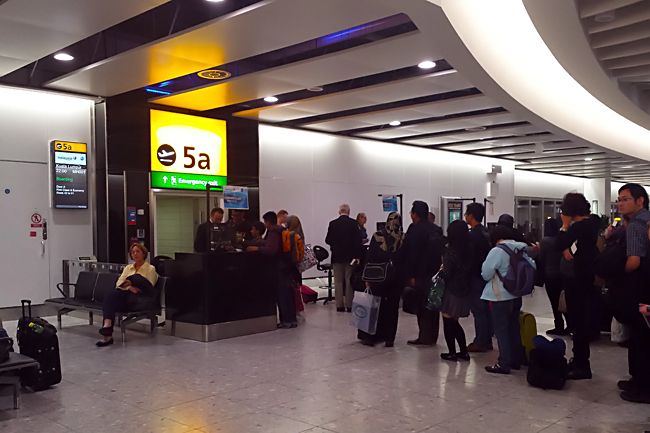 After a few moments in the queue, the announcement came that rows 70+ could now board, along with First, Business and One World status passengers. I made my way forward and when the guy saw I was sat in row 67, said that my row would be called shortly. I pointed to where it said sapphire on my boarding pass, said that they just announced that One World passengers could board and he said that 'well, 67 is pretty close to 70, so I'll let you go just this once'. Well thanks, but don't announce pre boarding if you can't stick to it.



MH1
LHR-KUL
September 2013
A380-841 / 9M-MNE
Seat: 67K / Economy
Scheduled: 22:00/17:35
Off Stand: 22:05
On Stand: 17:27
I was welcomed on board, and sent in the direction of my seat.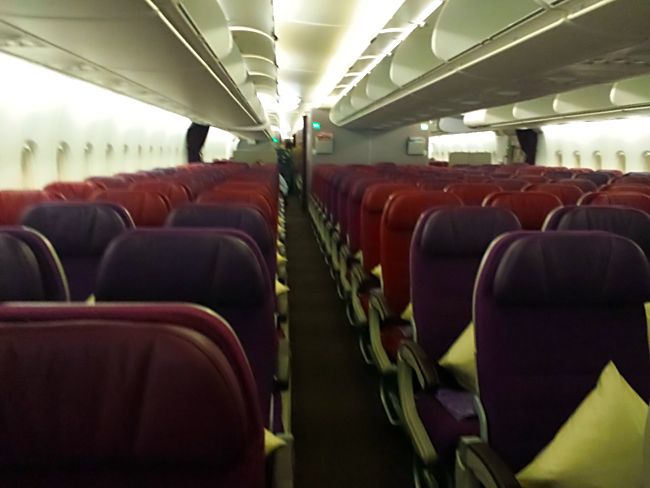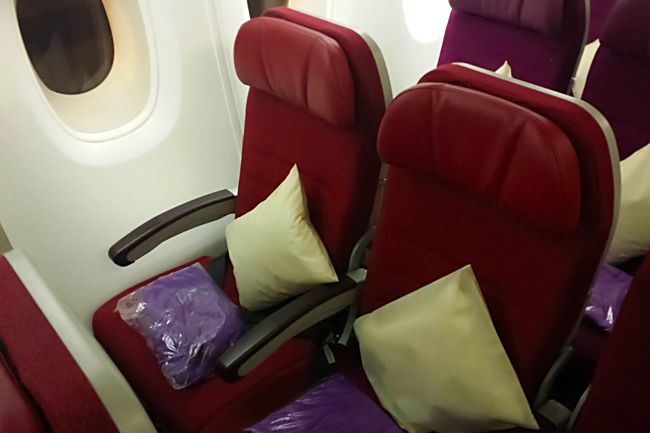 A few moments later, my two seat mates turned up, a young Australian couple – there goes my plan to spread myself out. Although in fairness, as far as seat mates went they were pretty good. They didn't insist on sleeping from boarding to disembarking, they were more than happy to let me get up and most importantly, they didn't give me strange looks for taking pictures of everything in sight!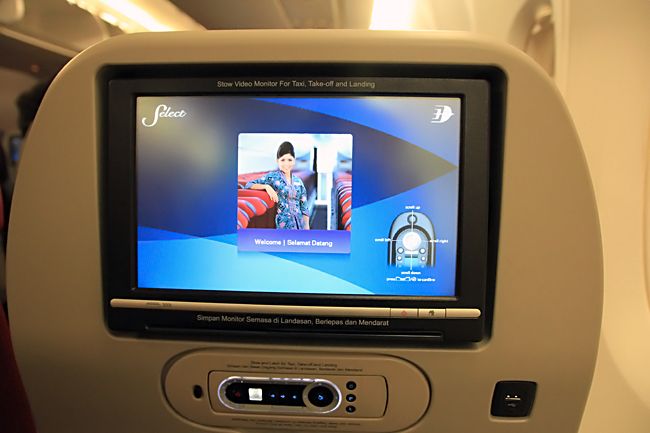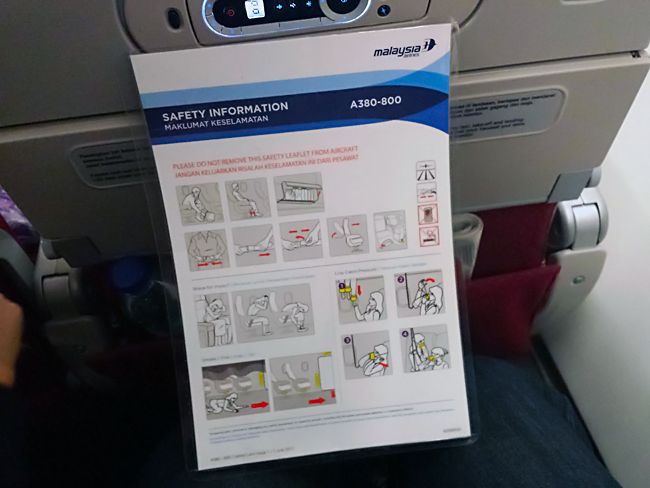 The cabin crew made the usual announcements, as did the flight crew but nobody mentioned a flight time – I later found out from the sky map that our flight would take a couple of minutes under twelve hours. I noticed there wasn't an option to manually select the tail camera like on Emirates. It just flickered into action when the rest of the IFE was switched off – highly amazing my two seatmates.


Once boarding was complete, the safety video was played.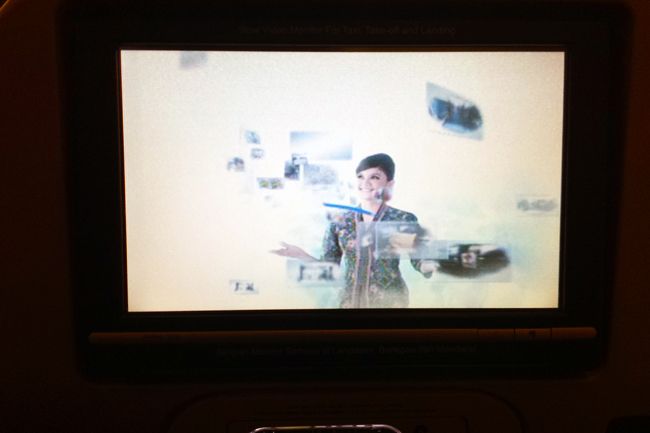 We pushed back a few minutes behind schedule and made the taxi out to 27L. I noticed that we crossed the runway, before heading past T3, so I'm guessing the more traditional route from T4 isn't A380 compatible.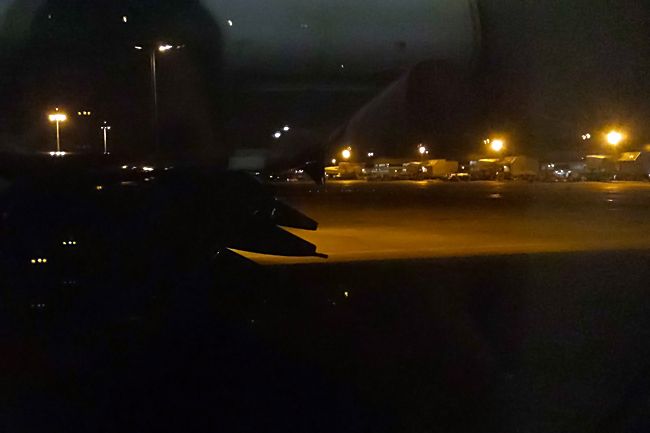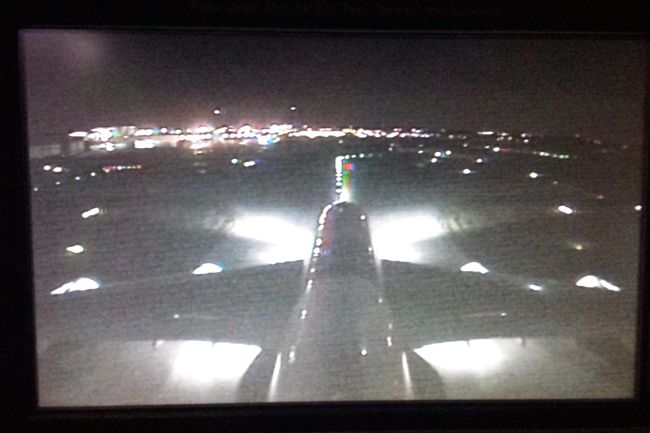 There were quite a few ahead of us to depart, which was surprising considering the time of night, including an EI A320 and a couple of BA A32X's. Is there ever a time when LHR isn't busy?! At 22:25, it was our turn to pull on to the runway and make a pretty slow amble into the air, making an almost immediate turn to the left before heading into the cloud and everything blacking out.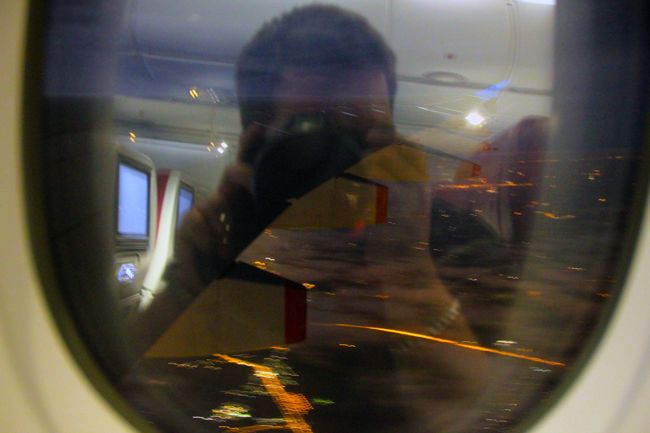 The IFE was then switched on, however I decided against any movies for the moment, as going by my track record I'd probably be asleep before the end. I browsed the in flight mags for the moment.

Tempting…
One company, many liveries.
I then decided to watch Friends on the IFE – one of the only things on the TV section of the Ife that really took my fancy. The MH Select system isn't too bad, but it's not ICE by a long shot. During this time, there was a drinks service and peanuts were dished out.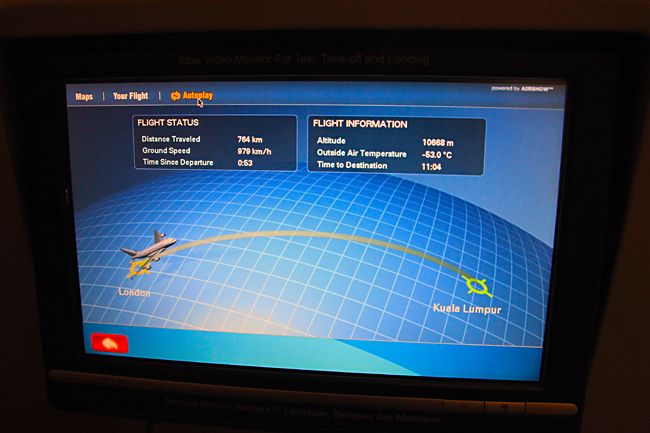 A long night ahead
Around an hour so after departure, the meal service began. It was a choice of chicken and rice or fish and potatoes. I chose the chicken, as did the guy sat in the aisle, only to be told that they weren't sure if there was any left – well why offer it then?! There was an option to view the menu on the IFE, but it just took you through to the books section instead.


Around ten minutes later the crew member returned, only to say it would have to be the fish and apologised. As it turned out, it wasn't too bad. Although the plastic cutlery didn't exactly scream '5 Star airline' at me.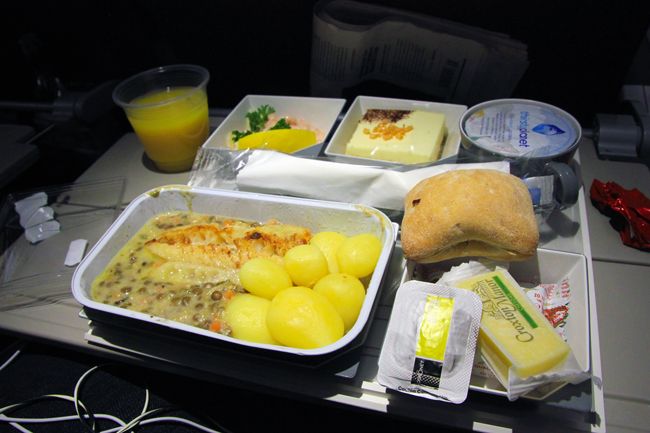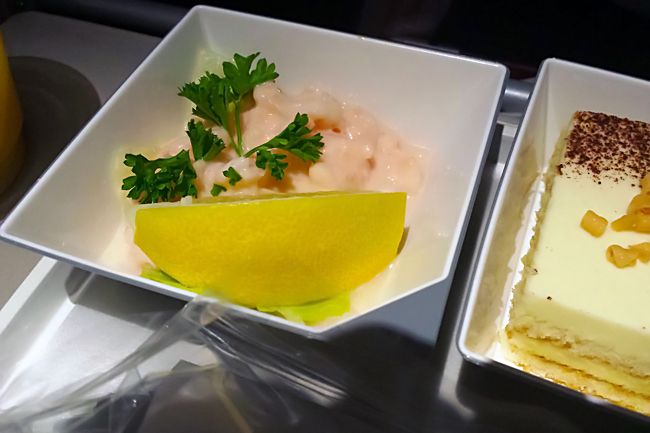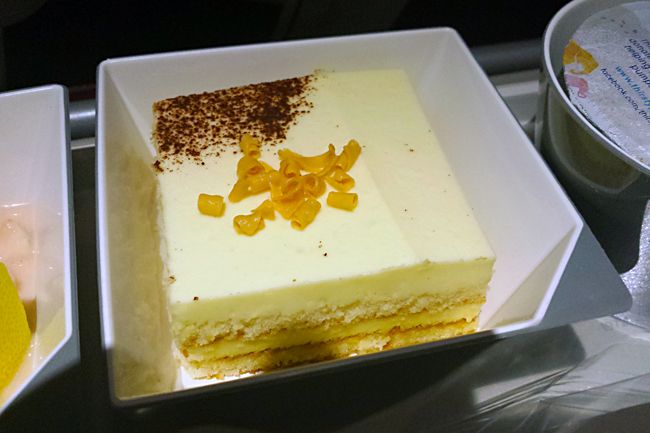 Once the trays had been cleared, a snack box was handed to me by my neighbour and the lights were dimmed before being switched off completely.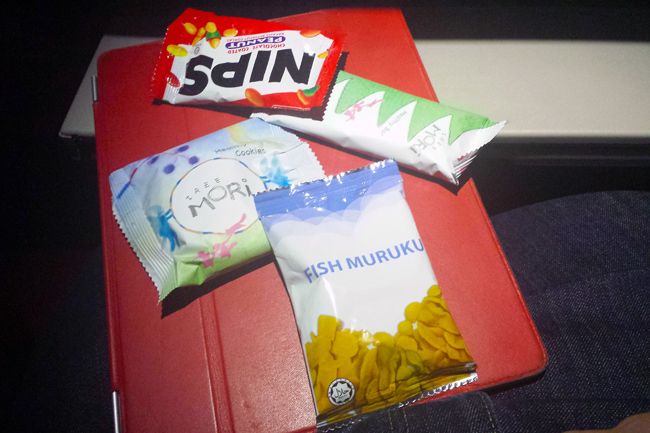 I followed up with a documentary about the history of American cereal – a bit of an odd choice for airline IFE, but still pretty interesting – although it succeed in sending me to sleep before I caught the end, although I woke up just as the end credits were rolling. So I then sat watching the sky map and listening to the latest album by the Welsh trio, Manic Street Preachers that had turned up earlier in the day.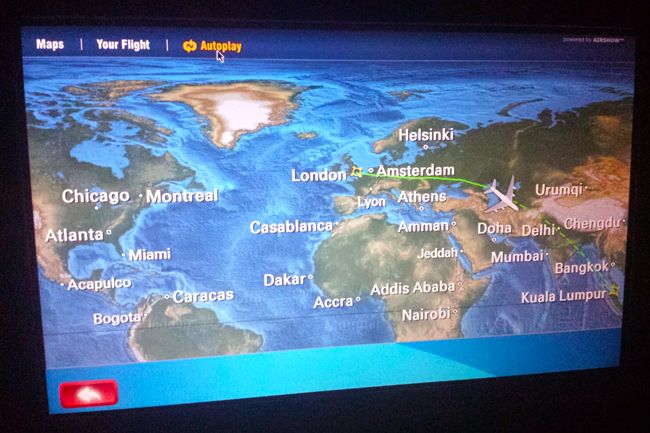 I then switched to my best albums of 2013 playlist and fell asleep, although once more my slumber didn't last long however, as I was woken by the ding of the seatbelt sign shortly afterwards.
I was well and truly awake by this point, so turned to the iPad for some entertainment. I happened to lift the window blind and saw our giant wing illuminated by the moon – the picture doesn't do the sight justice at all. It was actually a lot darker than it looks, yet the wing was lit up nicely.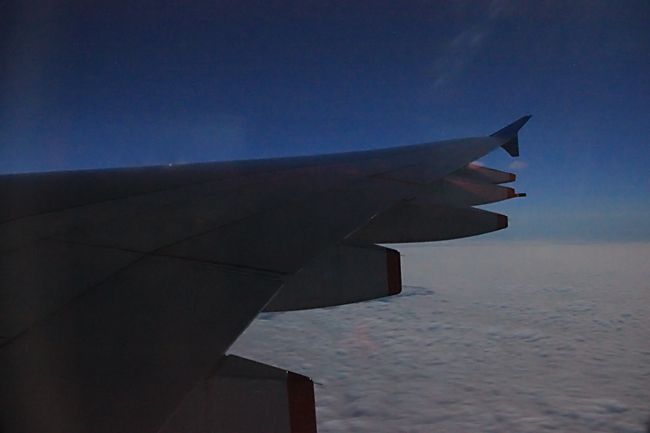 The crew made a pass of the cabin, offering juices and water to those who were still awake. I then drifted off again for the next hour or so, waking as we passed Northern India by the IFE being reset and the default A380 splash screen being displayed and the brightness of it waking me.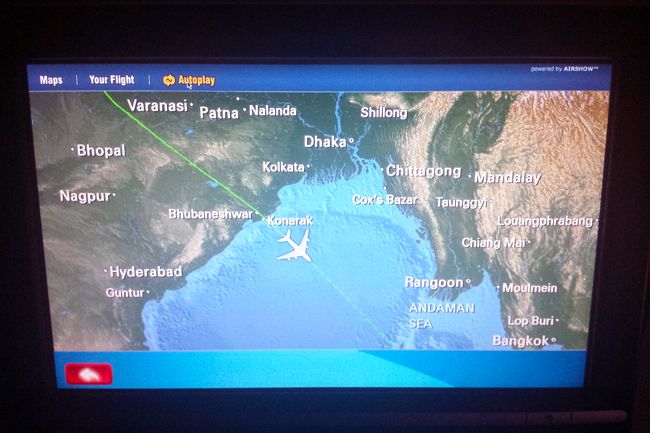 By the time I had come around properly, the lights were switched on, and the crew appeared to be coming to life again.
Shortly afterwards, the second meal service began. I was expecting breakfast, and therefore a pretty pale looking sausage with some bland egg based product, but it was actually a second dinner service. There was a choice of meatballs and mash, or… Well to be honest I didn't even bother listening to the second option, they had me at meatballs! Very good they were too, although the mash was a little on the dry side.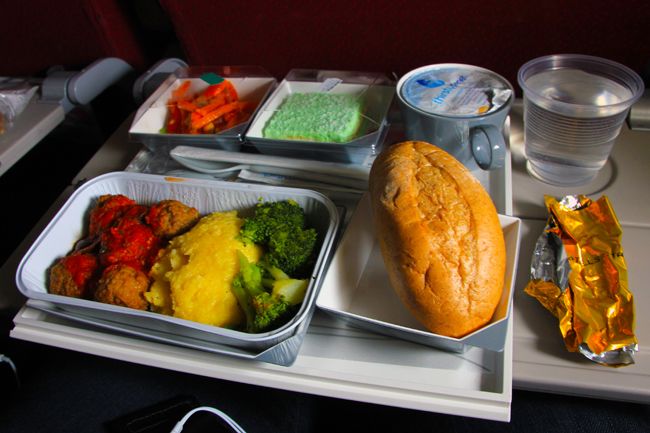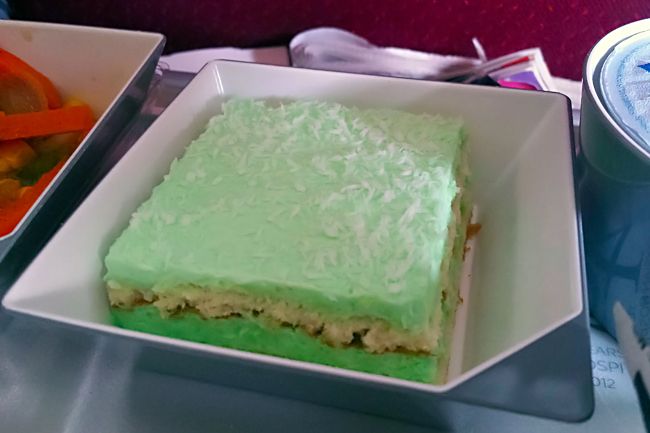 No idea what this was supposed to be… it didn't taste of anything but sponge.
First daytime view of the wing
After the dinner trays were cleared, I made my way to the rear washrooms to freshen up. The washrooms themselves were being freshened up too by an enthusiastic crew member giving them a wipe down and a freshening spray after every passenger. A pretty impatient Chinese guy casually bypassed the queue and walked straight into the next free washroom – causing the guy behind to mutter 'typical Chinese'. I replied that I couldn't comment, as I'd never been to China. Although I would sort of be going to China soon enough.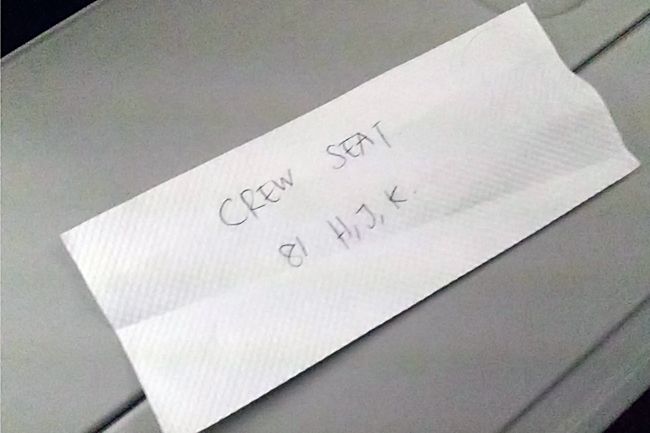 No crew rest?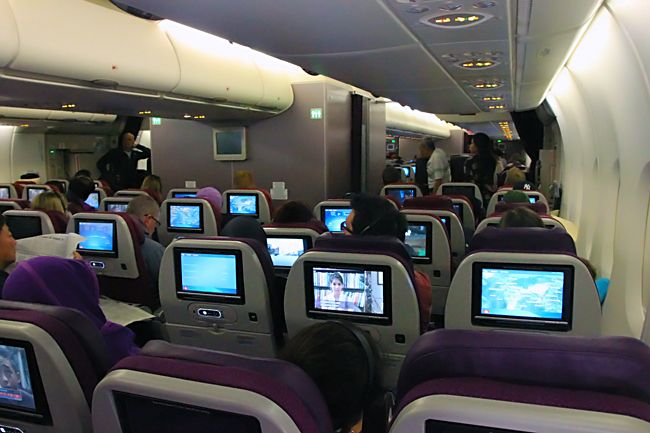 I returned to my seat, and put on Just Married – something nice and easy.


One complaint about the MH IFE system was that there wasn't really that much choice in the TV selection – mostly American sitcoms. The captain came over the PA around fifty minutes prior to arrival and said we would be landing to the South… Unless ATC directed us to the North instead. Well, yeah, that much is obvious. He also expected a ten minute taxi to our stand after landing. At this point, I switched the film off and started paying attention to the flights proceedings again.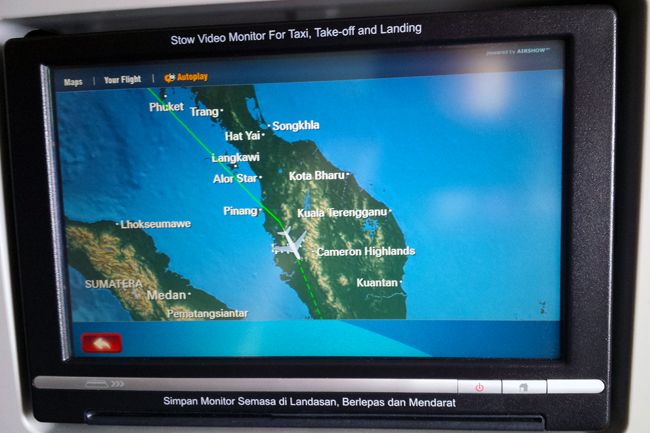 Descent started and the Malaysian countryside slowly came into view.


The captain came over the PA during descent, saying that there was a great view of Kuala Lumpur on the left side – however I was sat on the right. I could see KUL in the distance though, along with the Sepang Grand Prix circuit just below it in the picture. The V shaped structure is the worlds longest grandstand (at the time of opening), at 0.8 of a mile!


We swung around 180 degrees to the right and on to finals.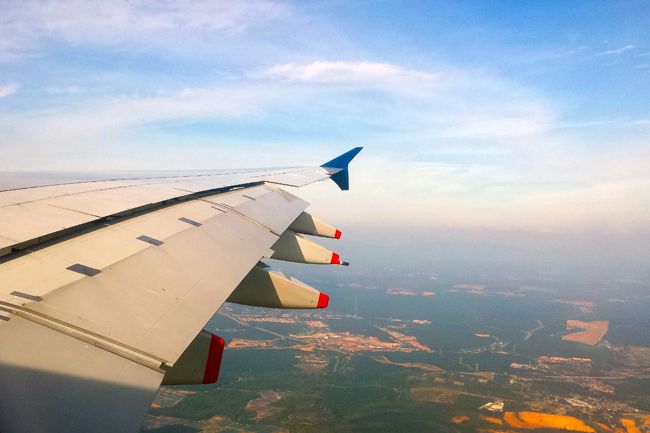 We gently touched down into Kuala Lumpur at 17:20, making the seemingly characteristic A380 long rollout.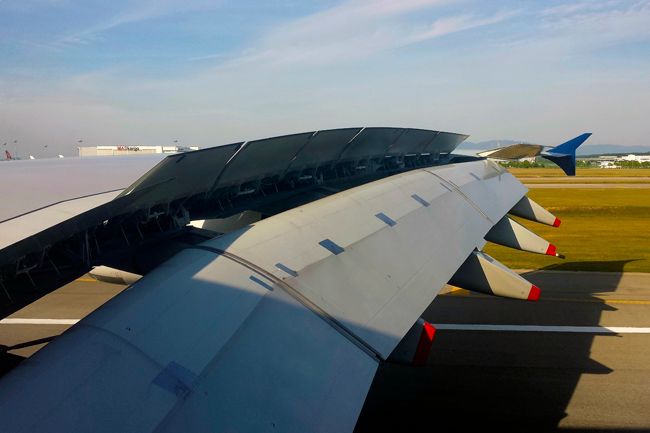 We exited to the right and made the taxi over to the international satellite, pulling on to stand C17 seven minutes after touchdown.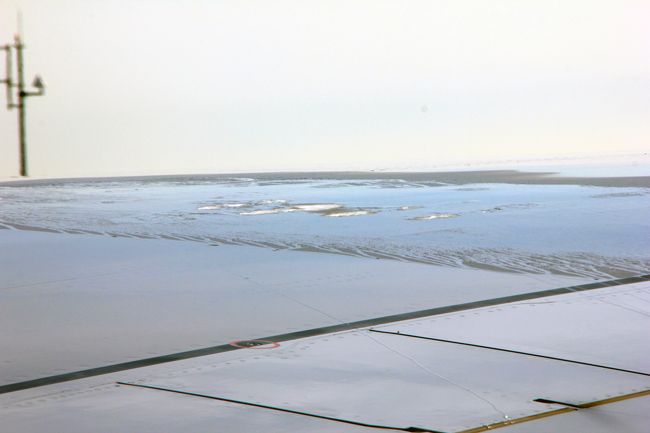 A little iced up.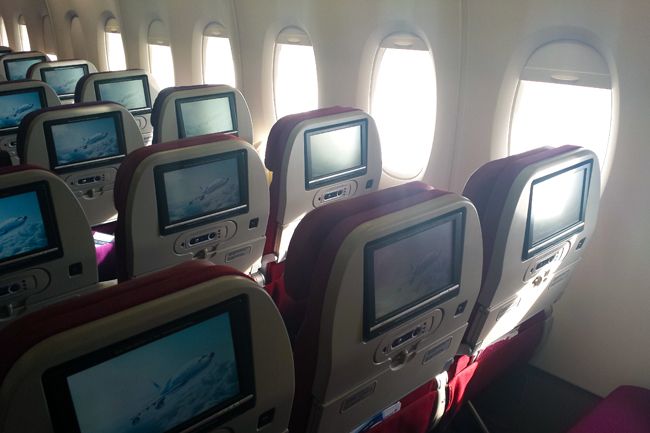 It was a bit of a wait to be released, before making a slow walk to the shuttle to the main terminal. Interesting how arriving and departing passengers mix here – not that common.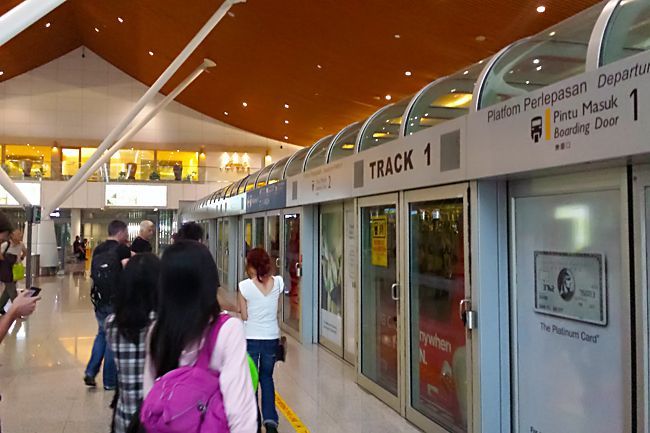 Passing the models before heading downstairs to arrivals.
I arrived at an almost deserted passport control and was let into the country after a couple of minutes. As I made my way through baggage claim, I noticed tonight's hotel, the Sama Sama, had a stand where I could check in, so took advantage of this.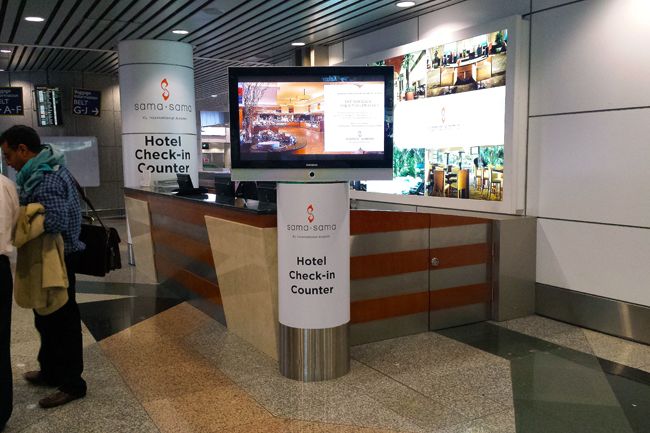 It was then a case of following signs to the Sama Sama hotel. There was a free shuttle, but to be honest I fancied the ten minute walk. I made my way straight up to the spacious and comfortable room.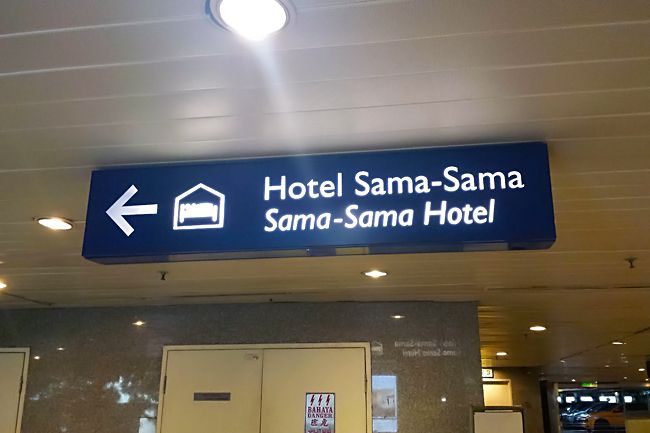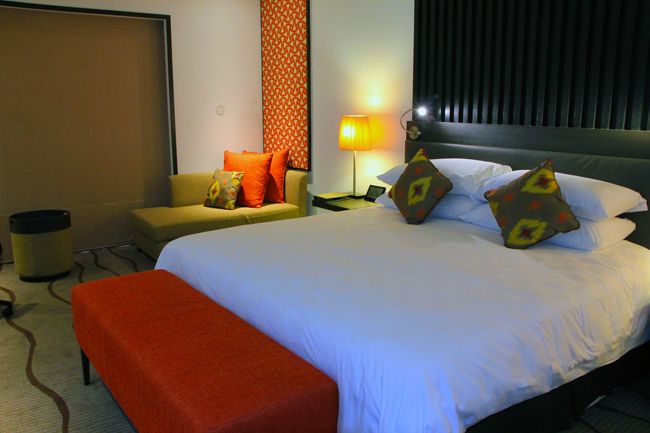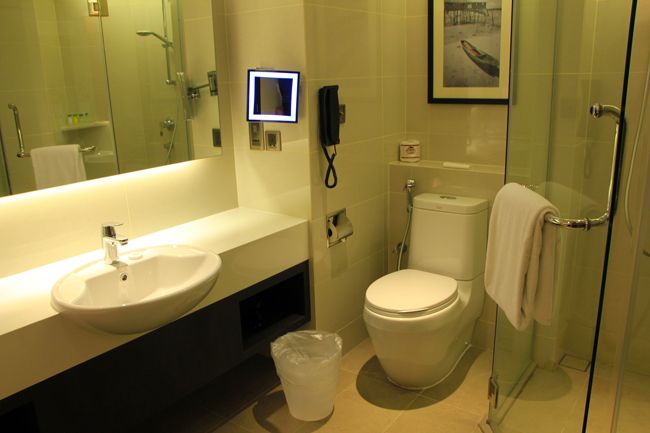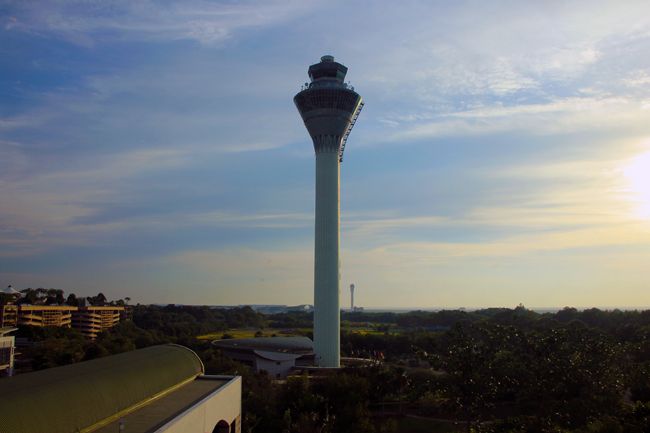 Could have been a worse view I guess
I'd seen on twitter that VS had cancelled both of their flights to HKG the following day due to an incoming typhoon ( http://uk.reuters.com/article/2013/09/22/uk-asia-typhoon-idUKBRE98L01B20130922 ). CX had also cancelled a few. I was hoping my flight in the morning would still be running. After around 30 minutes or so, I ventured back to the airport to grab a bit to eat. I also went to check out the observation deck, although as I was only planning on eating, I didn't bring my camera – so phone pics would have to do.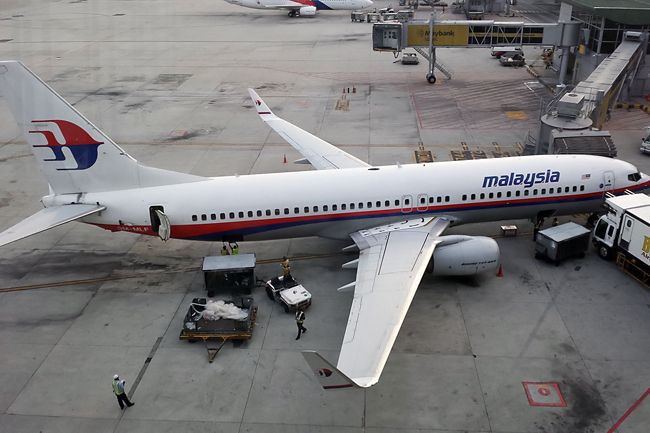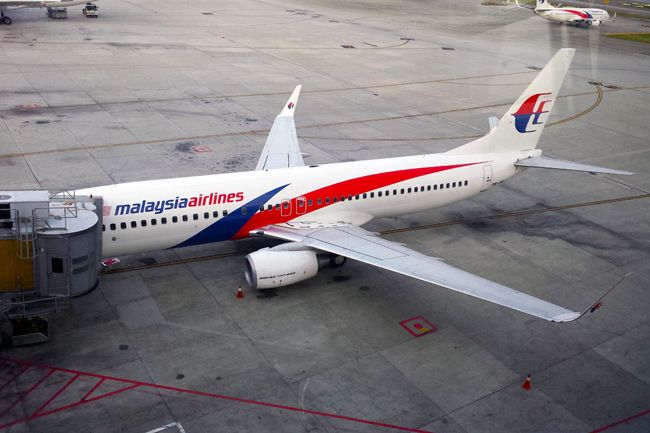 Following this, I jumped on the golf buggy back to the hotel for the evening, relying on the complimentary on demand movies for entertainment. Wow, that was a long day – 32.5 hours or so by my calculation. Although it didn't seem like I had been to work earlier in the day. Or yesterday… whenever it was!!
My alarm went off at 6am the following morning. I got ready and headed out to the airport via the shuttle.


Due to the note on my boarding pass, I visited the MH check in area to see if I needed any passes for the lounge and/or the fast track at security. I checked to see if there were any issues regarding the typhoon in Hong Kong, but the agent didn't seem to have any idea what I was on about.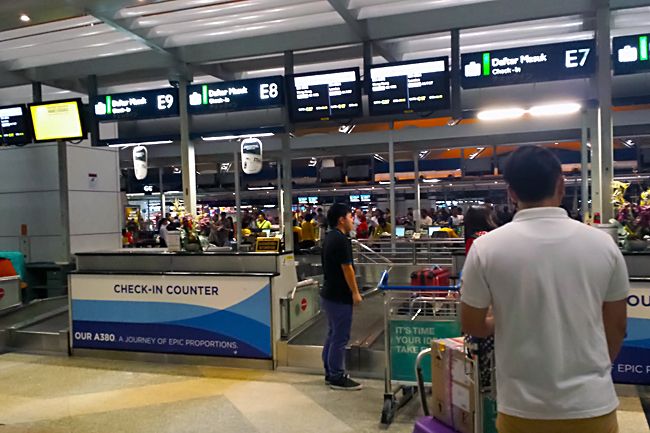 I had planned on having another look at the observation deck, but it was still dark so I made my way down to security, and it was pretty laid back – much like how it was in the old days in fact. No laptop out, no liquids out – just bag on the X-ray and through the metal detector. I beeped, was given what can only be described as a half arsed stroke and was allowed on my way. Easy!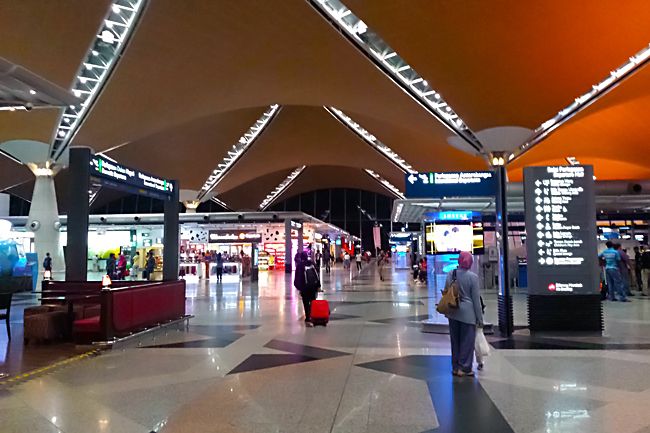 I jumped on the shuttle to the satellite and made my way up to the Malaysia Golden lounge.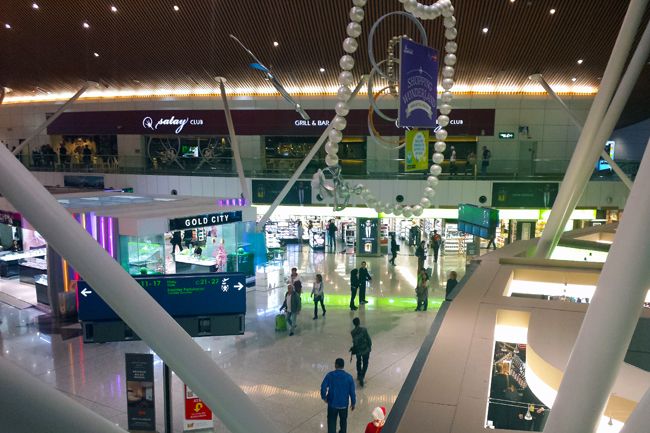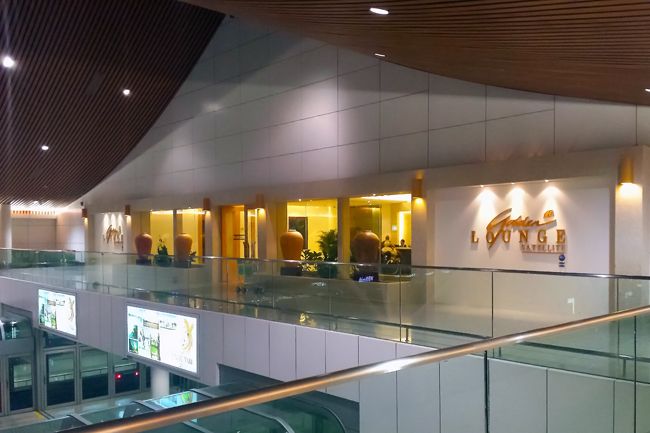 I was welcomed in and signalled to go to the left, the right hand side being for first class passengers. The lounge was pretty big and open although a bit of an odd layout.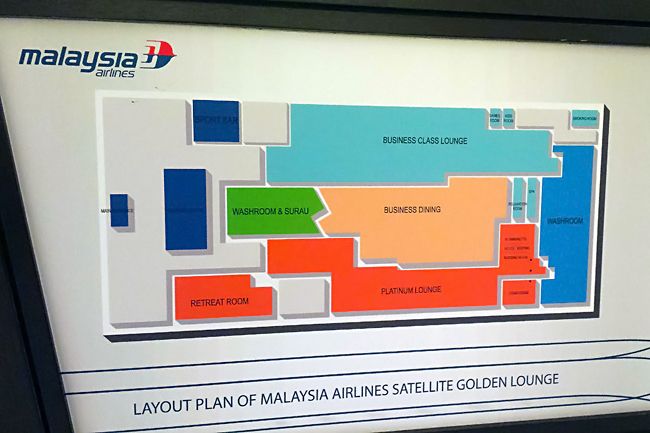 There was a bar on the left before you had properly entered, then as I made my way through the entrance doors there was a pantry type room on the right, serving up sandwiches, croissants, pastries, cereals and ice cream.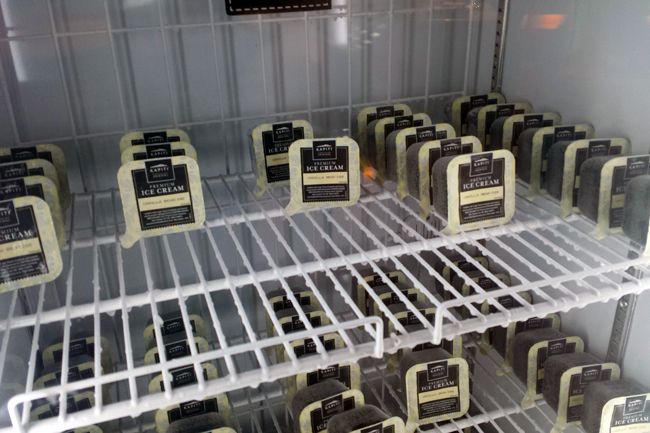 Behind that was a bar serving up coffees – good idea, but the person serving them up was a little on the slow side. I grabbed a cappuccino, yet again dished up with a plastic spoon. Seriously MH, you cant even give metal cutlery to premium passengers on the ground?!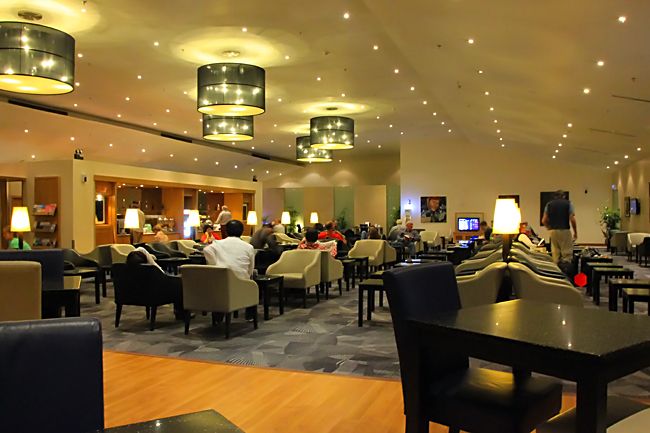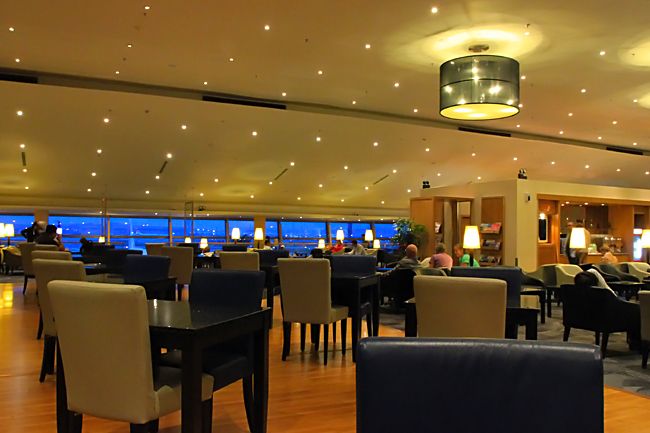 It was only after I spotted another food stand in the middle of the lounge, on one side serving Malaysian dishes and the other western food. So I grabbed another plate, along with some juice. Not the best breakfast I'd ever had, but it filled a hole.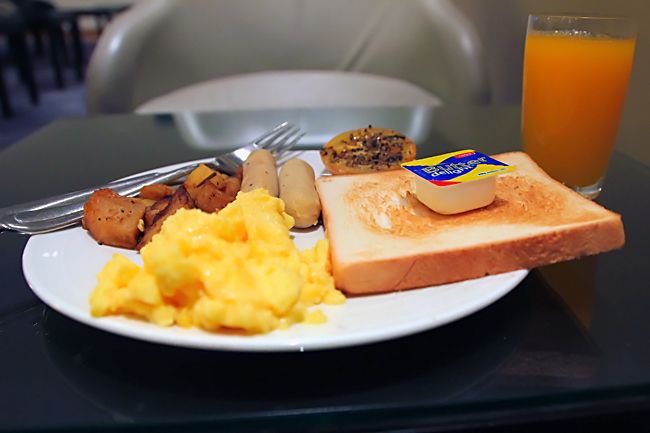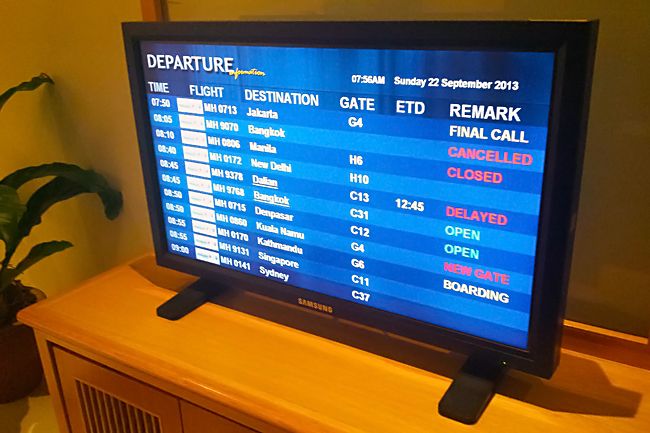 Once I had finished eating, I went to the lounging area next to the window.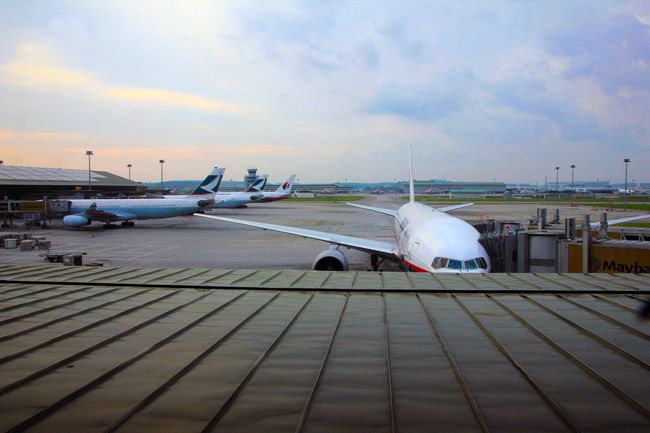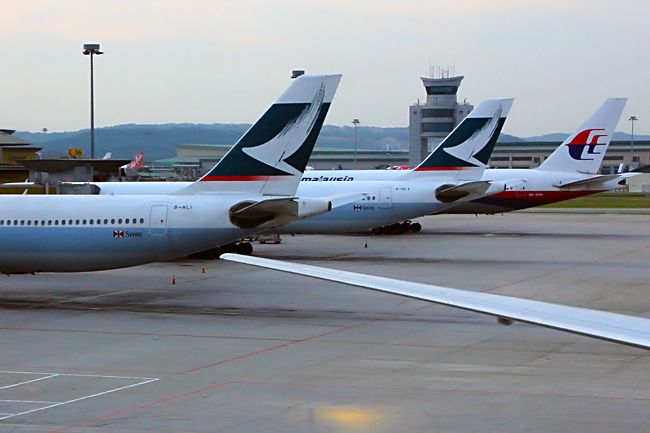 One of the flights I had wanted to go on.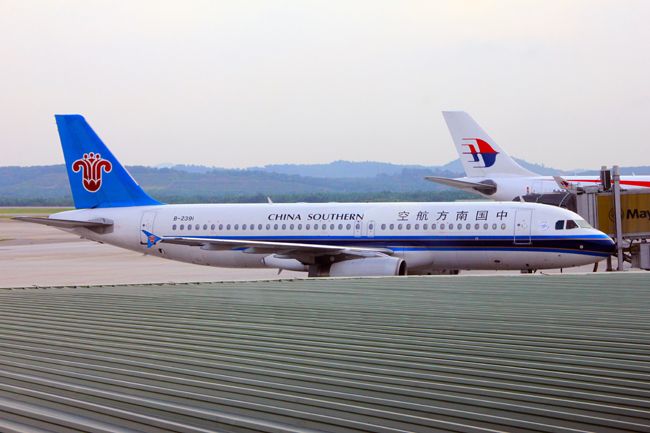 At around 8AM, fifteen minutes after boarding was scheduled, I was feeling a little bored so decided to go and take a look around The terminal. Pretty much at the bottom of the stairs was the KLIA Jungle Boardwalk. So I headed out, and the unmistakable Asia heat hit me for the first time on this trip.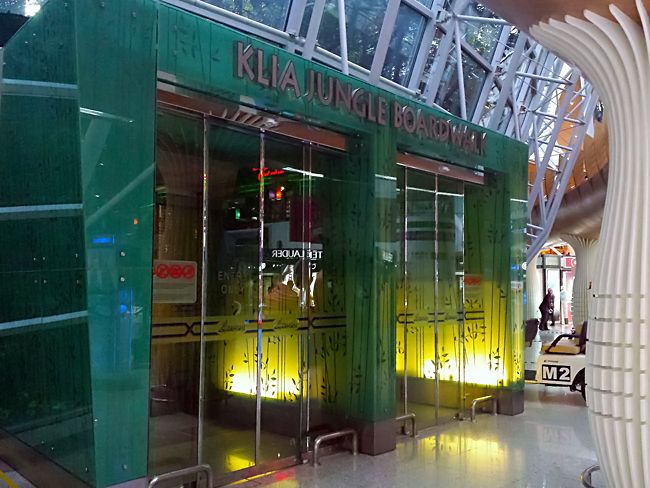 I then took a walk around, looking at what was going on outside.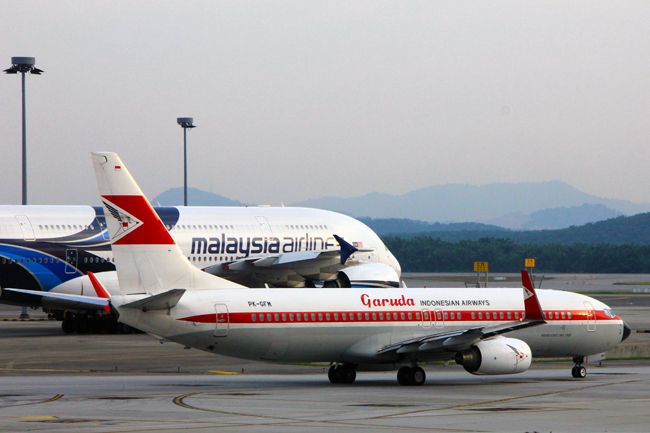 Three MH liveries in one shot.
I then made my way down to gate C17 where my flight was boarding – and there was a pretty long queue due to another security check taking place. Once I reached the front of the queue, I was signalled to go upstairs as my seat was on the upper deck. I found 9M-MNA waiting, the first A380 delivered to Malaysia Airlines, entering service just over a year previously in July 2012.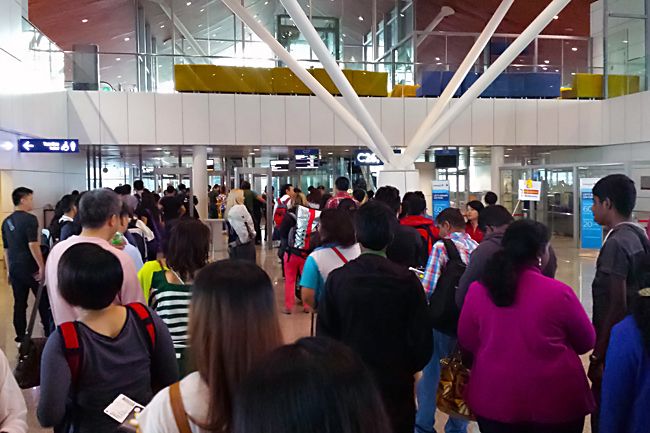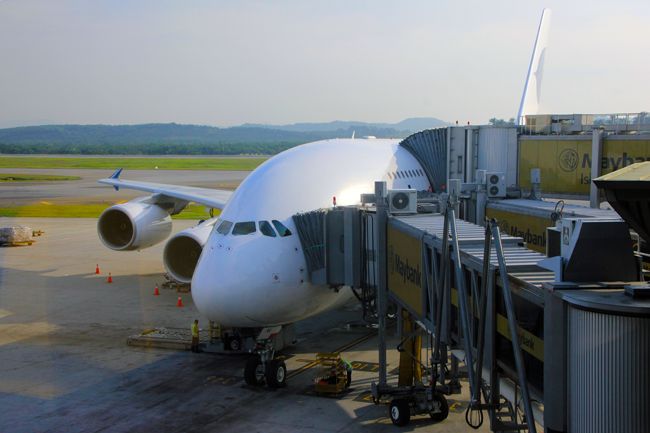 I sat by the window at the far end, watching the goings on.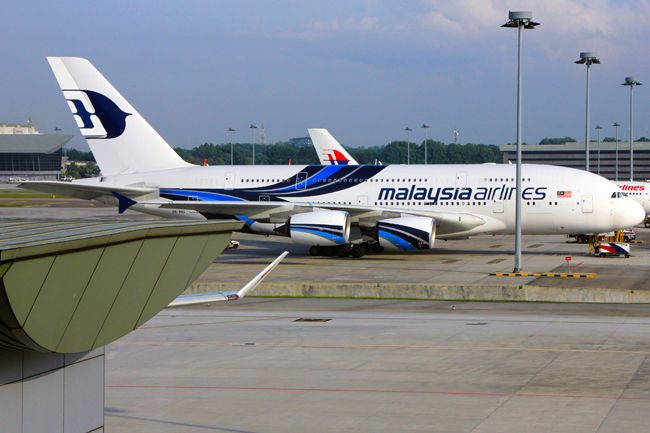 Last nights jet still resting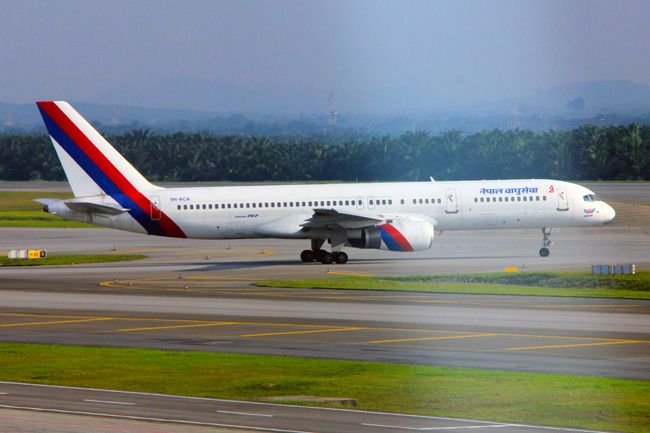 First time I'd seen an Air Nepal in the flesh.


MH72
KUL-HKG
September 2013
A380-841 / 9M-MNA
Seat: 40K / Economy
Scheduled: 09:15/13:05
Off Stand: 09:22
On Stand: 12:58
Boarding was called at 08:40, and surprisingly there wasn't a mad rush towards the door. So I took the lead and was welcomed along the entire cabin.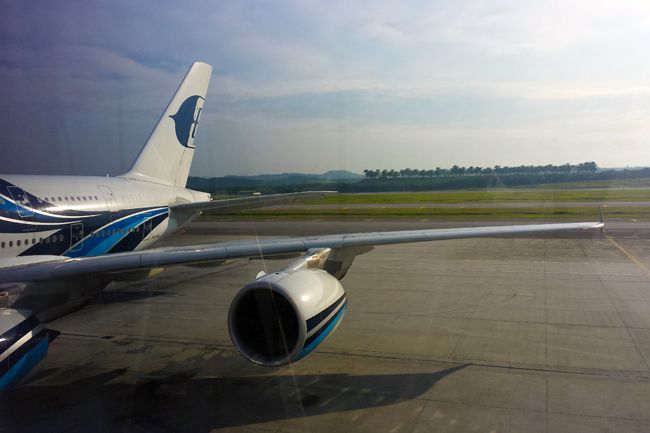 Once I reached my seat, there was a 'crew only' band around it, along with the adjacent one. The crew member immediately removed them, and I asked if I would have a seat mate – he said it was a completely full flight, so it was likely. Malaysian seem to be putting their A380's to good use! We then chatted about my travel plans for this trip, and I also told him about the other places I'd visited this year.

Spacious sidebin on the upper deck of the A380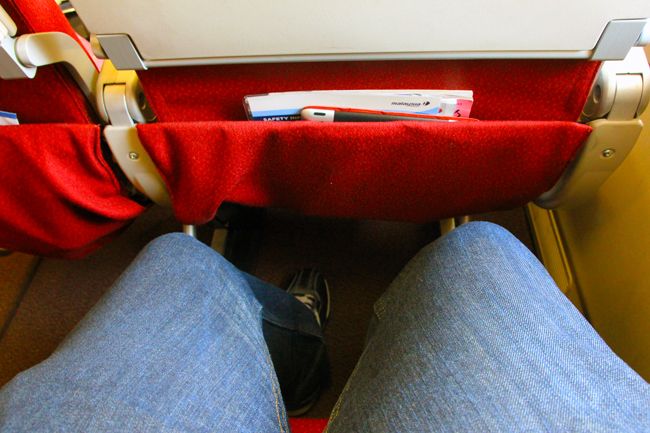 Not sure what's so premium about these seats?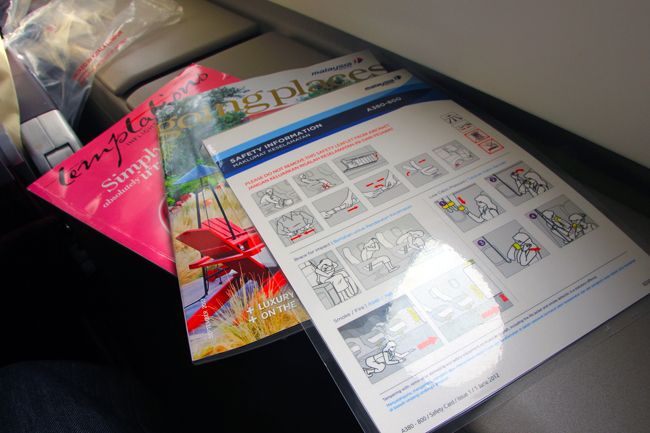 HKG landing card.
Eventually my seat mate did turn up, an elder Chinese lady, and promptly fell asleep not waking again until we reached the gate in Hong Kong. Hmmm. The crew came over the PA and announced a flying time of 3 hours 25 minutes. The safety demo was played, we pushed back and took off at 09:35. I could see from the forward facing cameras that we went pretty much right down to the end of the runway before rotating.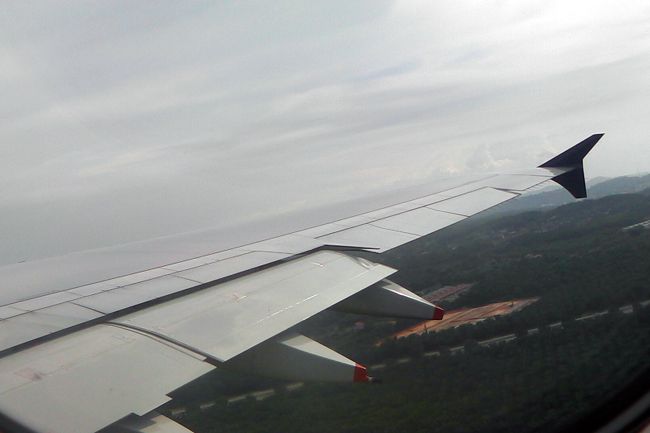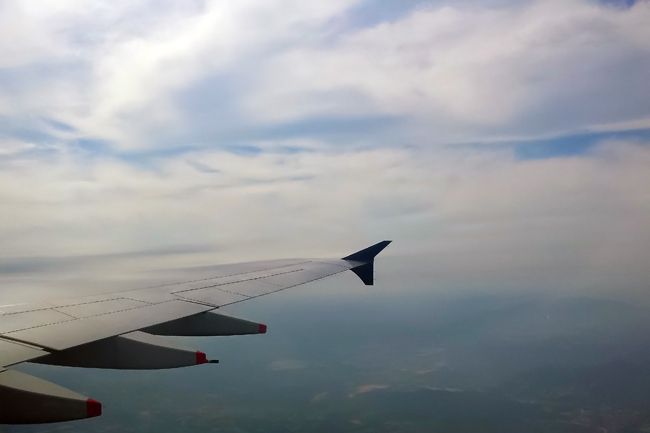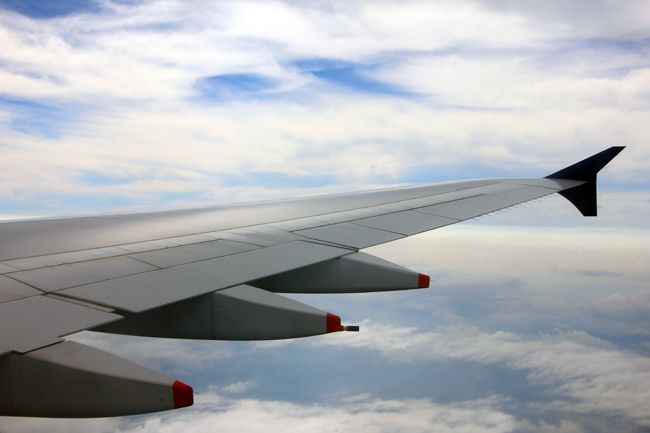 The crew started their service shortly after starting with drinks and peanuts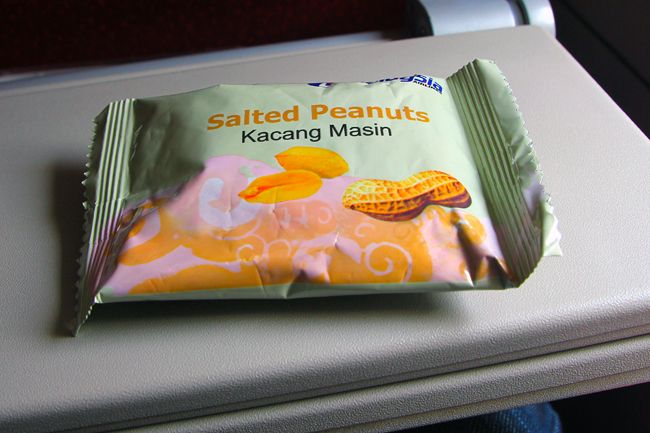 Today's meal choices were spicy prawns with rice or chicken and noodles. I went for the chicken, and it must have been one of the best meals I've had on a plane. It was followed up shortly after with some ice cream.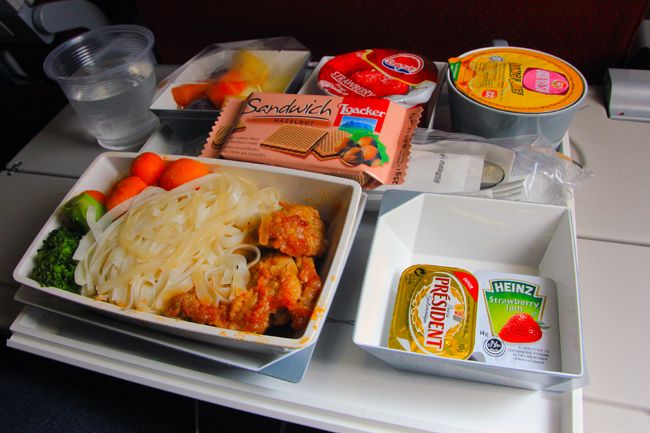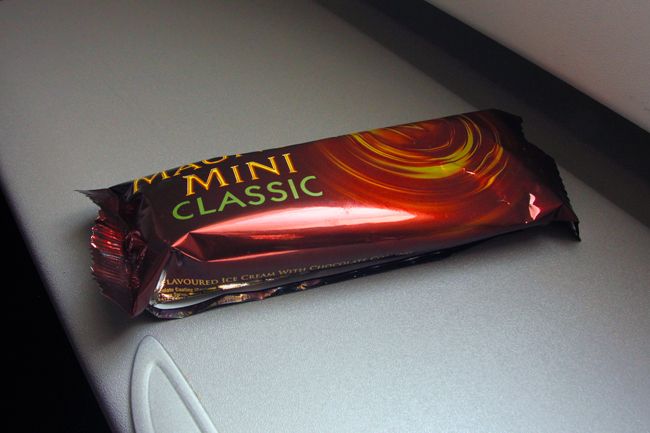 I then decided to watch a film – although my IFE system froze and then crashed, requiring a reset. I pressed the call bell and the crew member was more than happy to help. It was reset twice in the end, and I finally got to watch the Hangover 3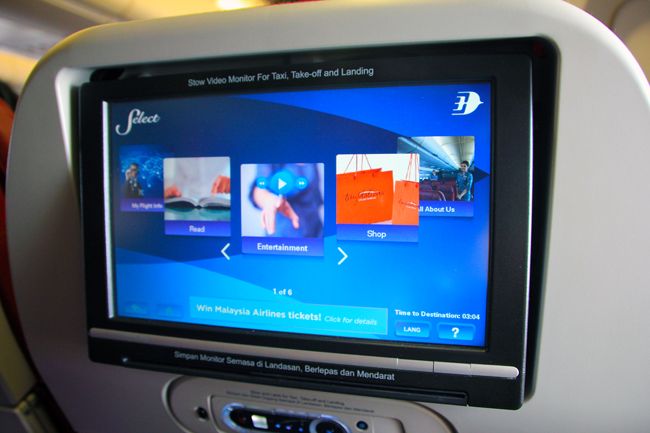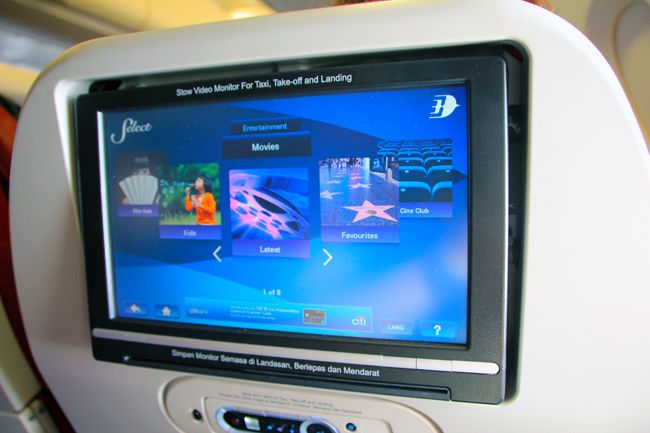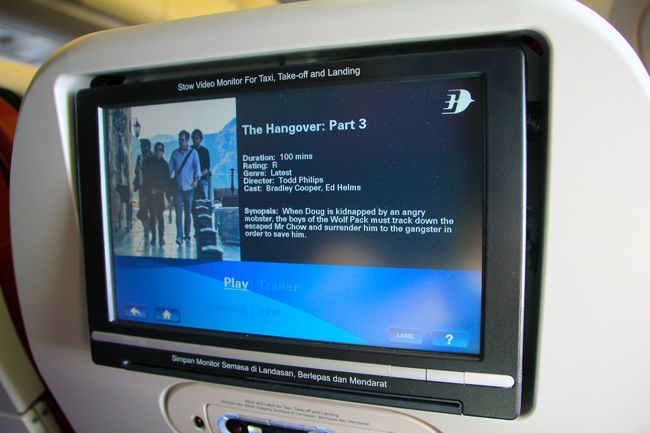 During the flight, the seatbelt sign came on quite a few times. Upon checking the skymap, it became obvious we were dodging some nasty weather.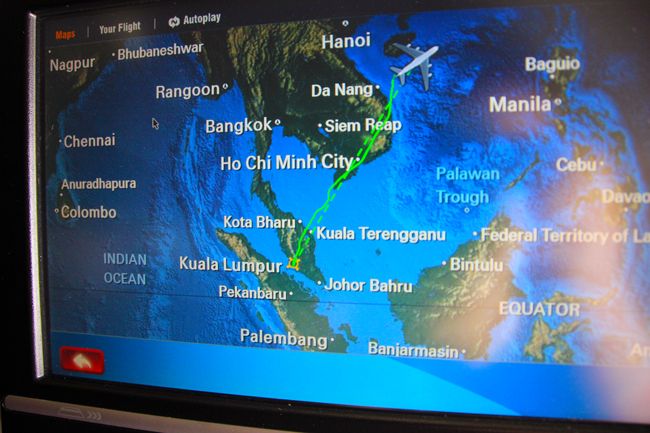 I listened to an album on the IFE (one of the few that I've wanted to listen to but don't actually own) and by the time it had finished, there was only around forty minutes of the flight remaining – so descent was near. As descent started an arrivals video was played, basically stating all the do's and don'ts of Hong Kong.


During descent there wasn't a huge amount to see due to cloud cover and the fact we were over the sea.


We made a reasonably forceful touchdown at just before 1pm, and were on stand almost immediately as we exited the runway, just as it started to rain.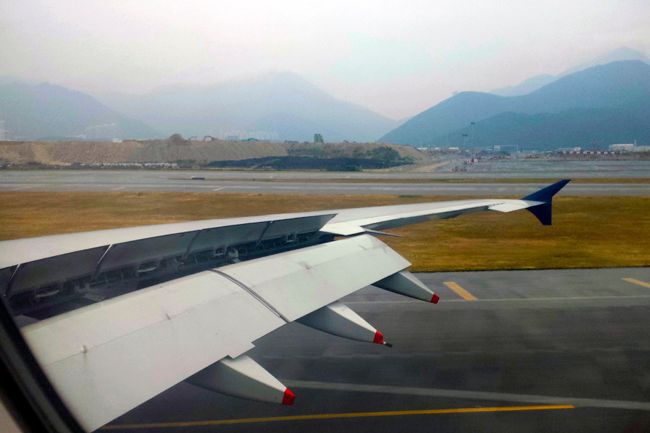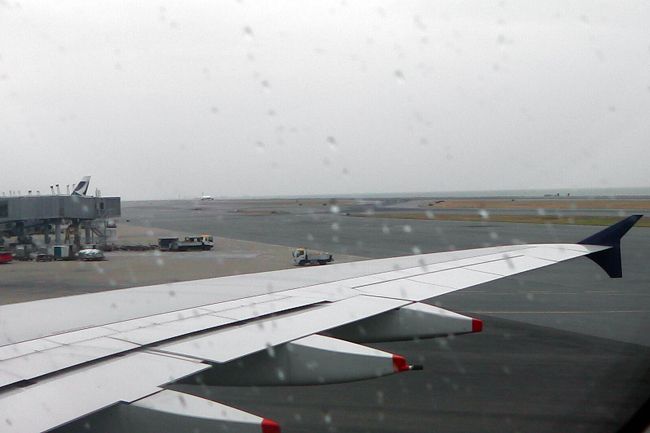 Passing through business class.
It was then through to a busy arrivals hall and immigration, passing another A380 along the way.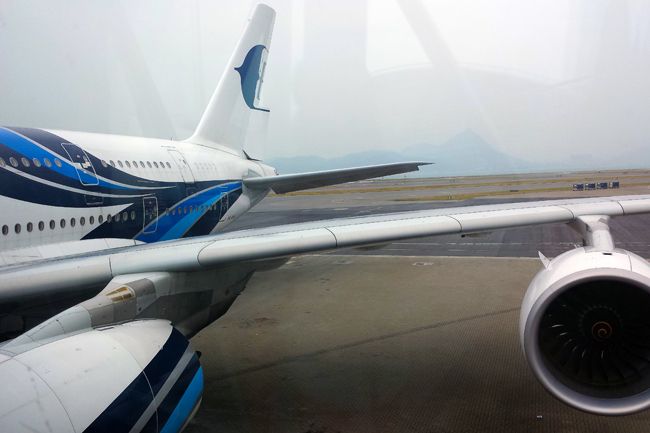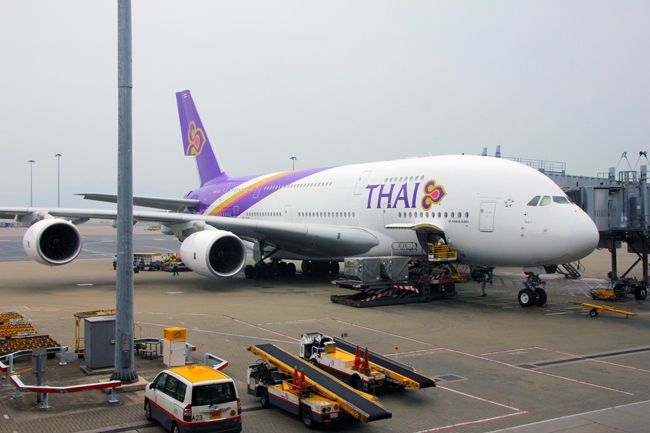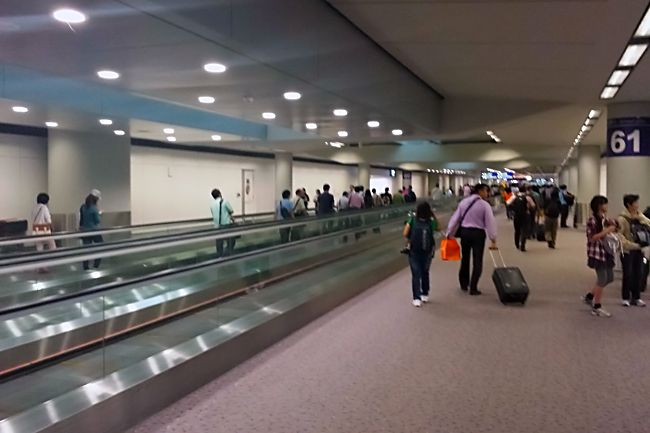 I was stamped – or should I say ticketed – into Hong Kong around twenty minutes later.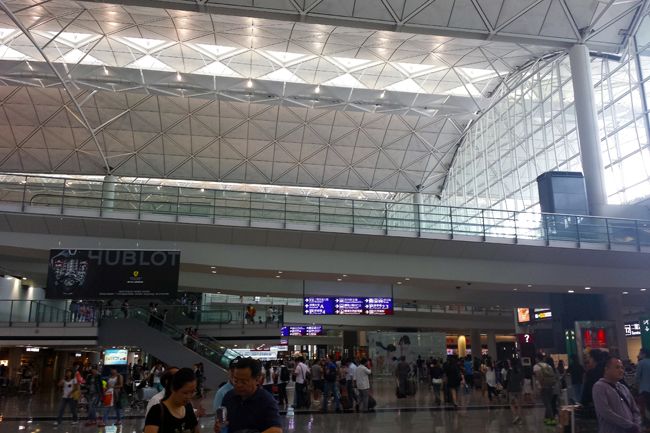 I then took a walk over to T2 to see the observation deck, but due to the typhoon warning, it was shut. As it turned out, HKG itself would soon close due to the incoming typhoon. So glad I did choose the first of the KUL-HKG rotations that day, as I'm led to believe only the following CX flight made it in the end.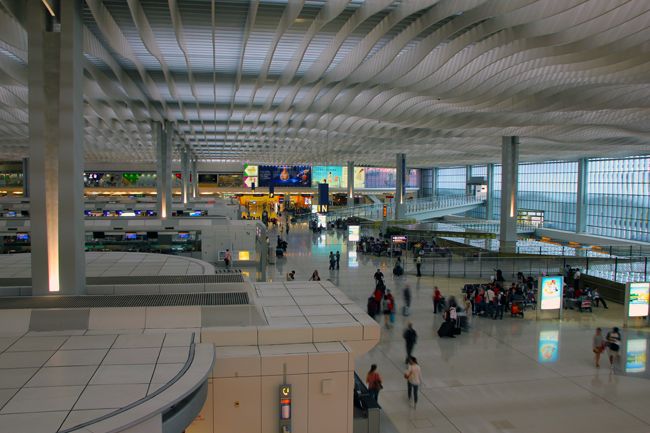 Great architecture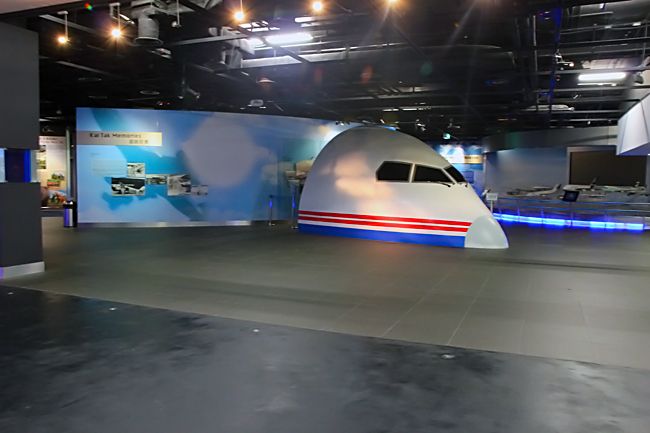 So instead I took a look around the museum and then headed back downstairs to catch a train to the city.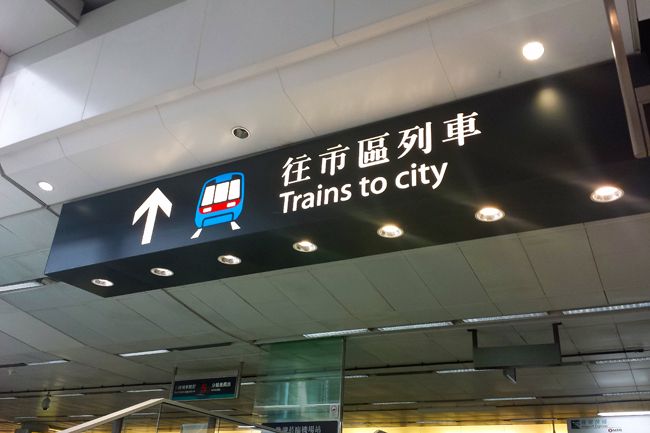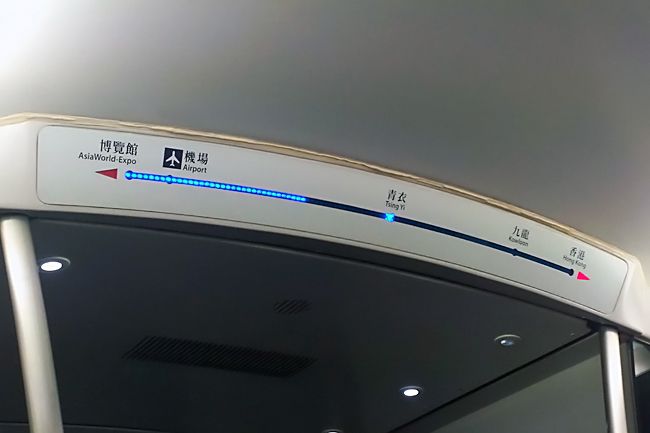 Upon arrival at Kowloon station, it was down into the basement and on to the free bus to my hotel, the Butterfly on Prat.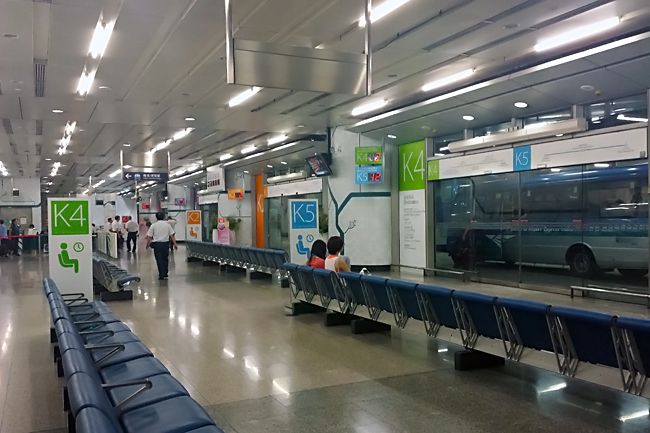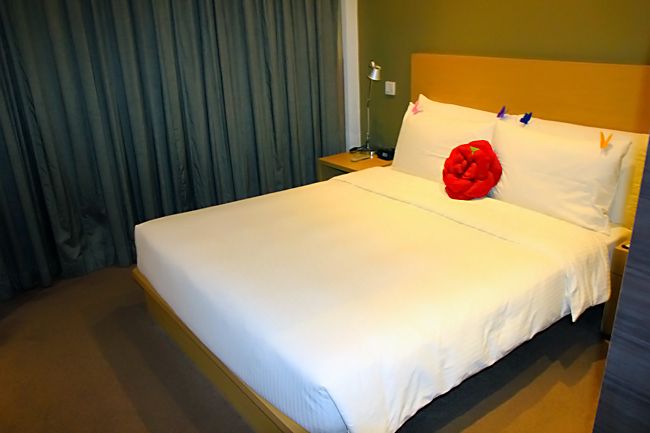 I'd waited years to visit Hong Kong, so a typhoon wasn't going to stop me from seeing it. I made my way down to the Avenue of the Stars, walked along the front and into a shopping centre to take refuge from the weather.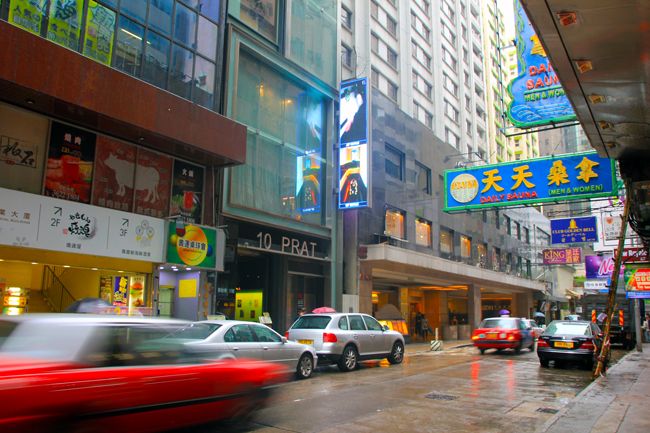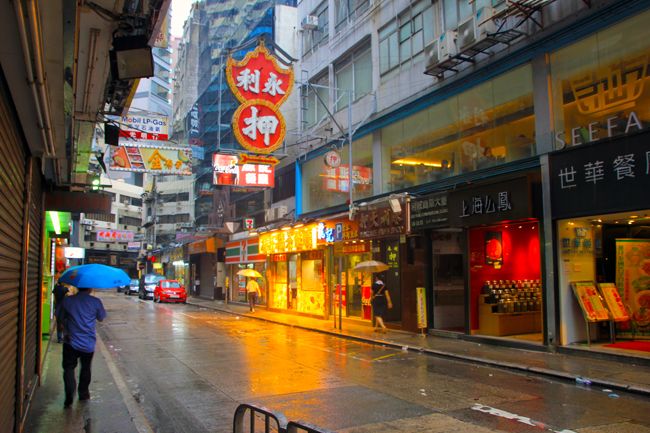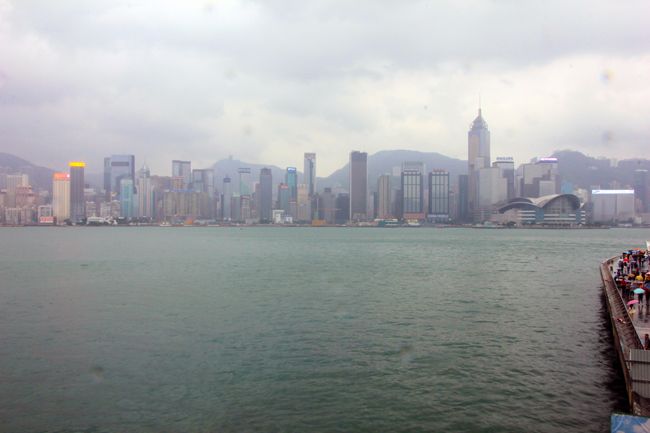 The wind was getting up now.
As the wind was getting up, and the rain was showing no signs of holding back, I made my way back to the hotel. Although there was a balcony to take refuge under just long enough to see the skyline.


Upon returning to my hotel, I switched on the TV and noticed that the Typhoon warning number had increased from 3 earlier in the day to 8. I also saw that HKG was now closed, as was the port of Hong Kong.
The following morning, I took a walk to west main toys to see their collection of models. Along the way, there were a few signs of the previous nights carnage.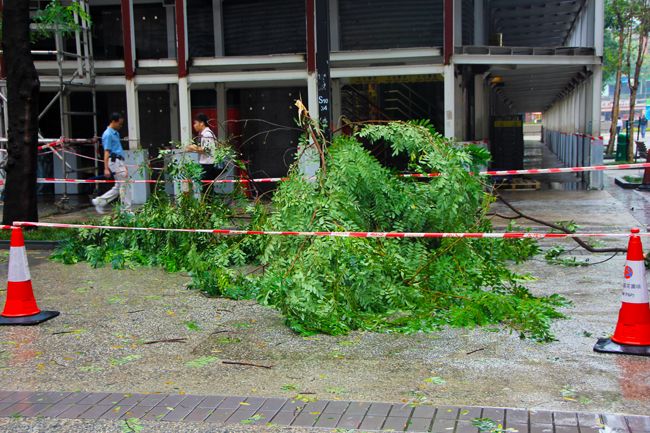 Upon arrival at the shopping centre however, the shop was shut!


So instead I took a long look through their window, before heading back downstairs to grab a bite to eat.
Walking along the avenue of the stars to the ferry across Victoria harbour.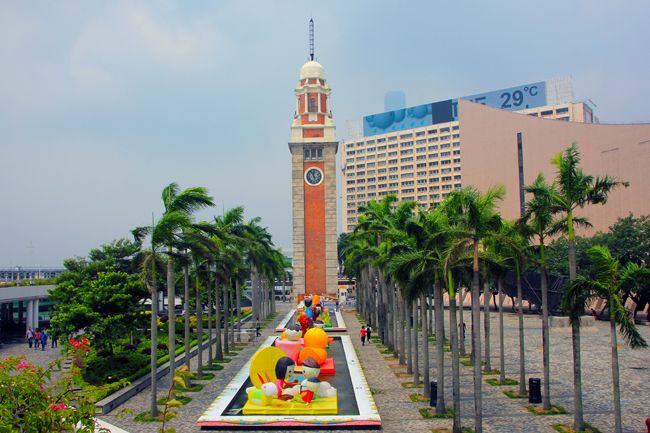 I paid the $2.50 for a token (about 20p) and made my way on board the ferry for the ten-minute journey.

Mass exit of ships after last night's closure.
I made my way across to the IBC and had a play with the newly released (at the time) iPhone's in the Apple store. They're ok, but I don't think I'll be rushing out to buy one anytime soon – they're just not different enough from the iPhone 3G, 4 and 4S I've had previously. I then took a walk around the rest of the shops before heading out again.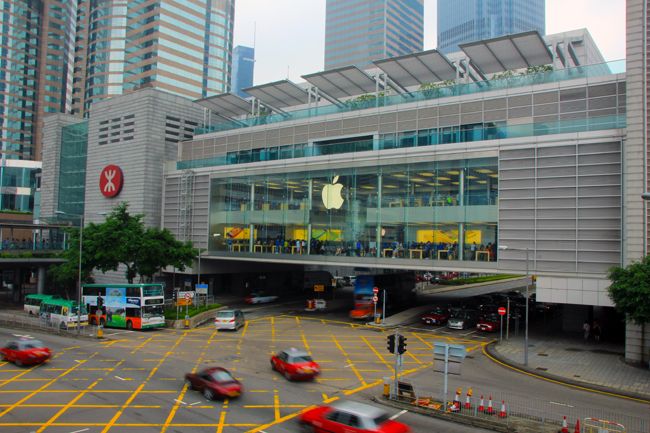 I caught the number 15 bus up to the peak, for a pretty reasonable $9.80 – although it actually cost me $10 due to not having the correct change. Either way, it was still less than a pound for the half hour or so journey up the hill. The bus never made it to its destination however due to a pretty smashed up taxi and ice cream lorry blocking the road – so the final half mile or so was made on foot.


Annoyingly, there wasn't much of a view to be had due to the low cloud cover. I still wasted a couple of hours up there though.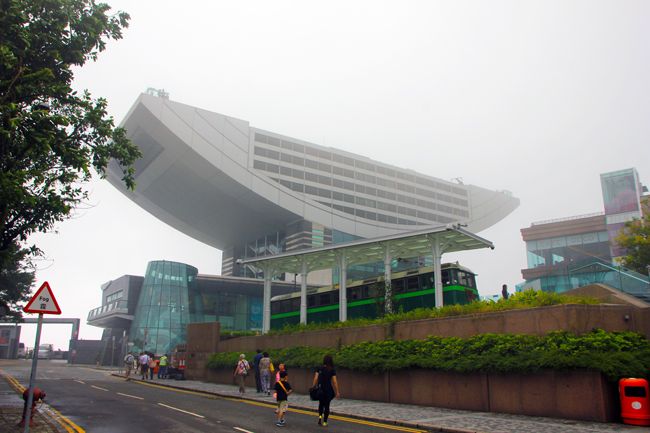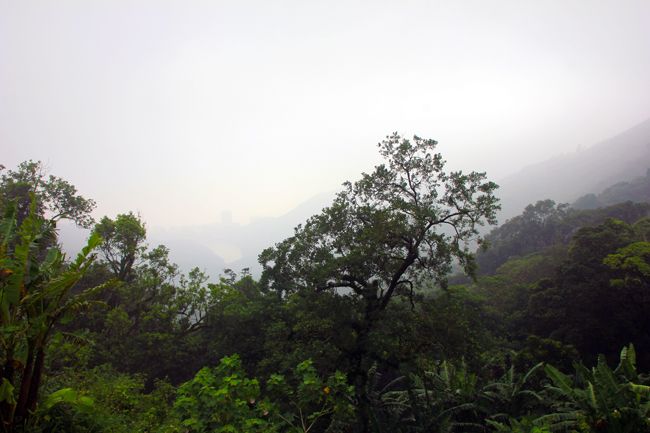 Great food at Bubba Gump's. I'd previously been to one in Chicago earlier in the year and enjoyed it, so figured I'd give the HK edition a shot too.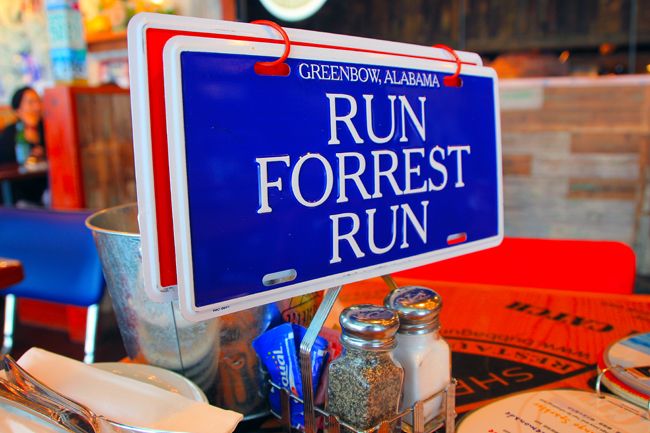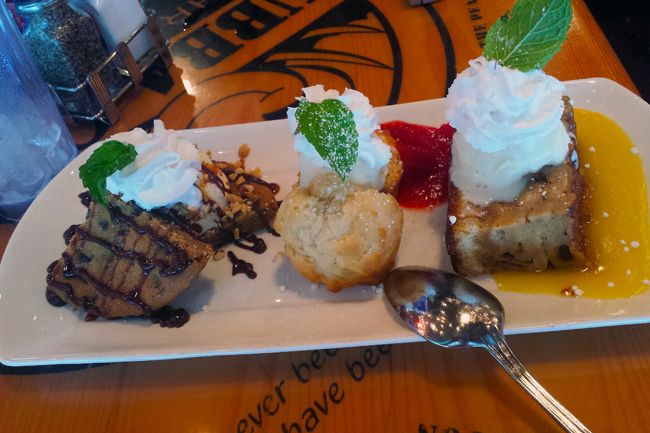 Taking a walk around the mountain.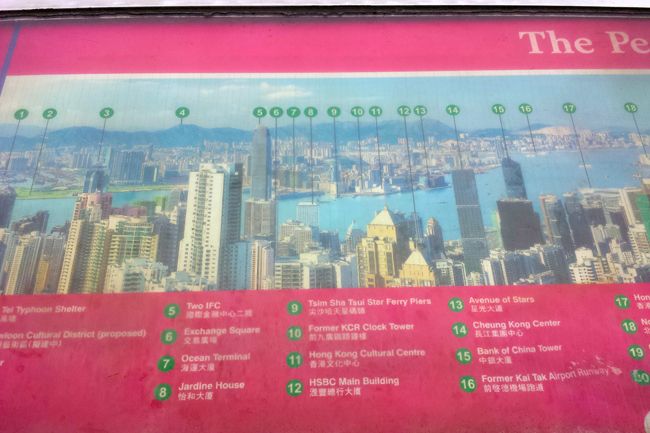 The advertised view…
…The actual view.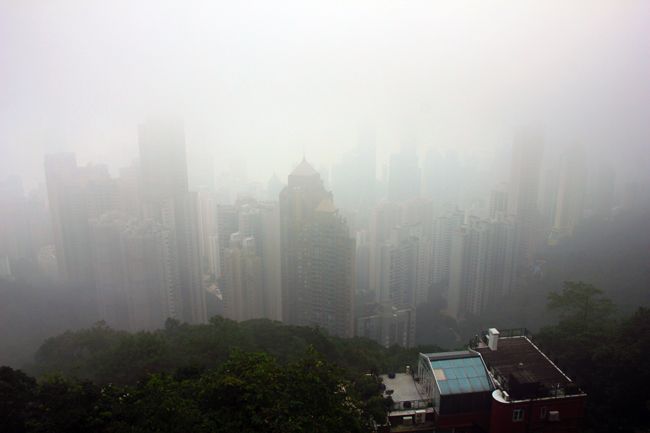 Making my way back down the mountainon the tram – which was much quicker, but much more touristy and pricey. I much preferred the bus, as it gave a good ride around the mountain roads (plus it was far less crowded) but I had no idea if the road was still blocked or not.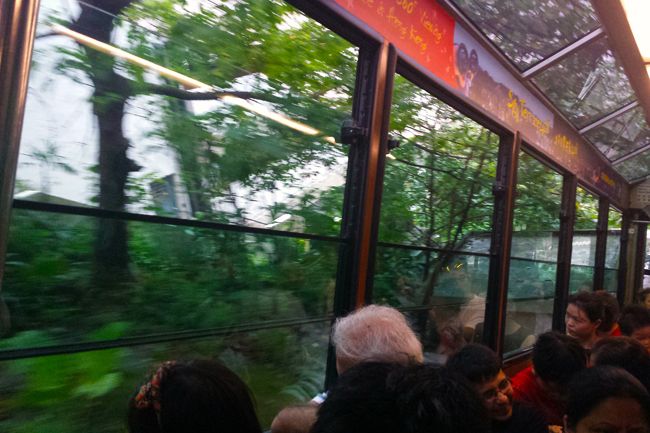 Checking out the city of Hong Kong and the great looking buildings.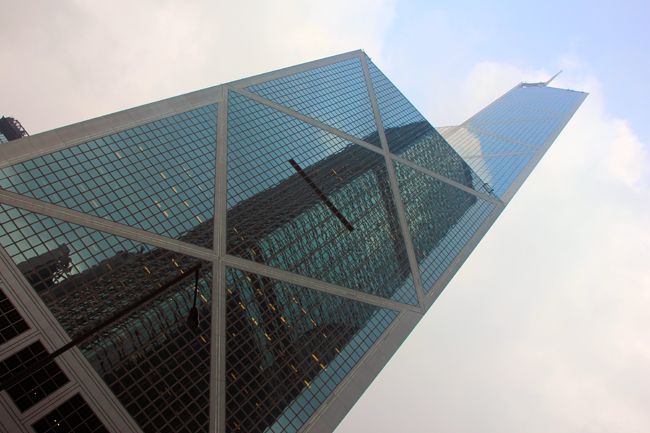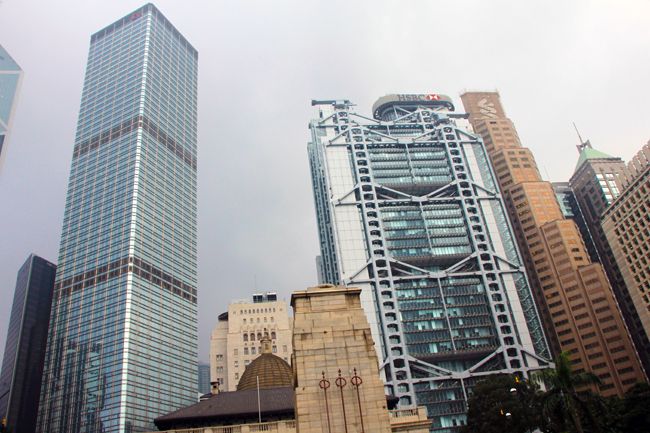 Great looking buildings here.
Back in Kowloon.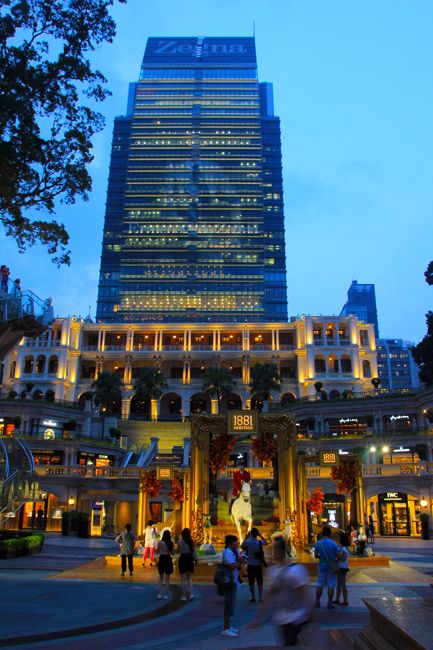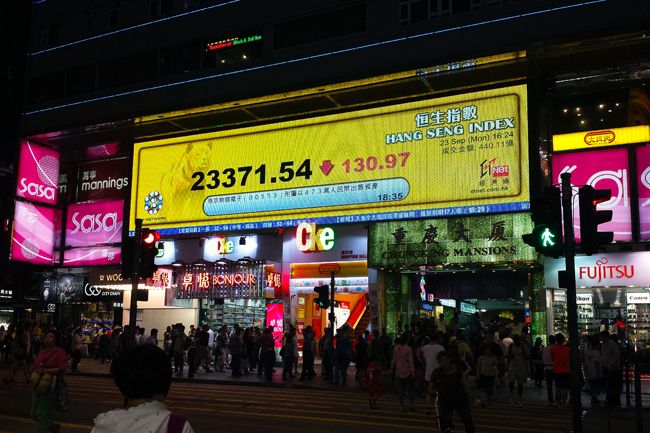 Hong Kong skyline once more


My final evening in Hong Kong, and where i'll leave this part, was spent watching the Symphony of Lights show. A very impressive show where the lights of the city light up in time, with music being played out over the PA. A must when visiting HK. There's a pretty interesting video about it here: http://www.bbc.co.uk/news/world-asia-pacific-12448437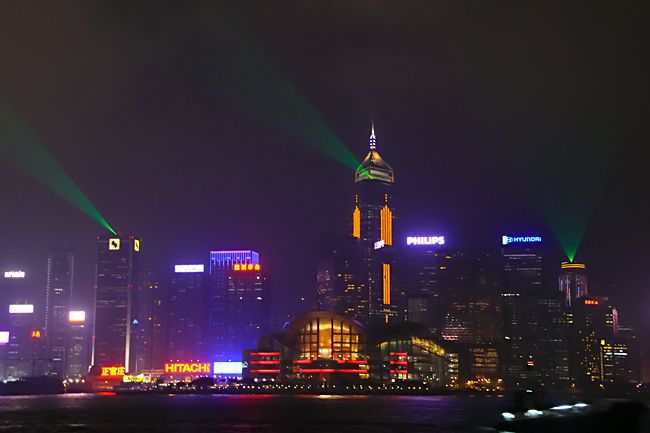 Stay tuned for part 2, which will see me head for Tokyo on board Cathay Pacific in their great First Class cabin.