LOT | Boeing 787 | LHR-WAW-LHR | Business/Economy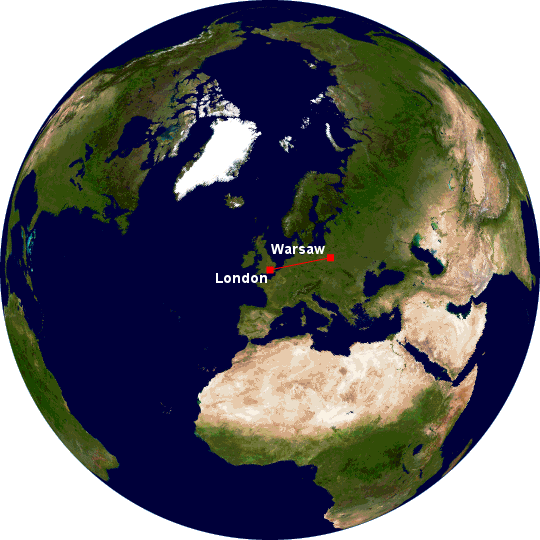 Maps generated by the Great Circle Mapper -copyright © Karl L. Swartz.
Poland – one of those countries that I'd always liked the idea of visiting, but never thought I'd get around to visiting. That was until a post on Facebook showed that LOT Polish would be sending their new 787 on flights to London on some training flights. Well that was the excuse I needed! Without taking much time to think about it, I was parting with £182 to book myself on the limited flights. LOT would only be sending their new toy to LHR on limited dates throughout December and early January on the promotional European tour. Due to being on my Christmas break from work during those dates, any were possible for me – the only reason I chose the dates I did were because they were the cheapest. I selected both the 787 sectors as I liked the idea of going on two, but the downside of this would be I wouldn't have too much time in Warsaw due to the early departure the following morning.
LOT would also send their Dreamliner to Munich, (See PlaneHunter's excellent report for details on this sector – 100th Report: LOT 787 Dream)Liner, 1st Day Of Ops (by PlaneHunter Dec 16 2012 in Trip Reports) ) Vienna, Brussels, Frankfurt, Hannover, Prague, Budapest and Kiev. As it turned out, it was lucky I didn't choose the very first LOT Dreamliner flight into Heathrow. Due to landing gear issues with SP-LRA, the planned 787 flights were substituted on that day for the tried and tested 737-400. As the second Dreamliner was delivered shortly after, the planned promotional flights continued with SP-LRB being put into service pretty rapidly, and as it turned out only the one 787 flight into LHR ended up being substituted.
Booking was made via the LOT website: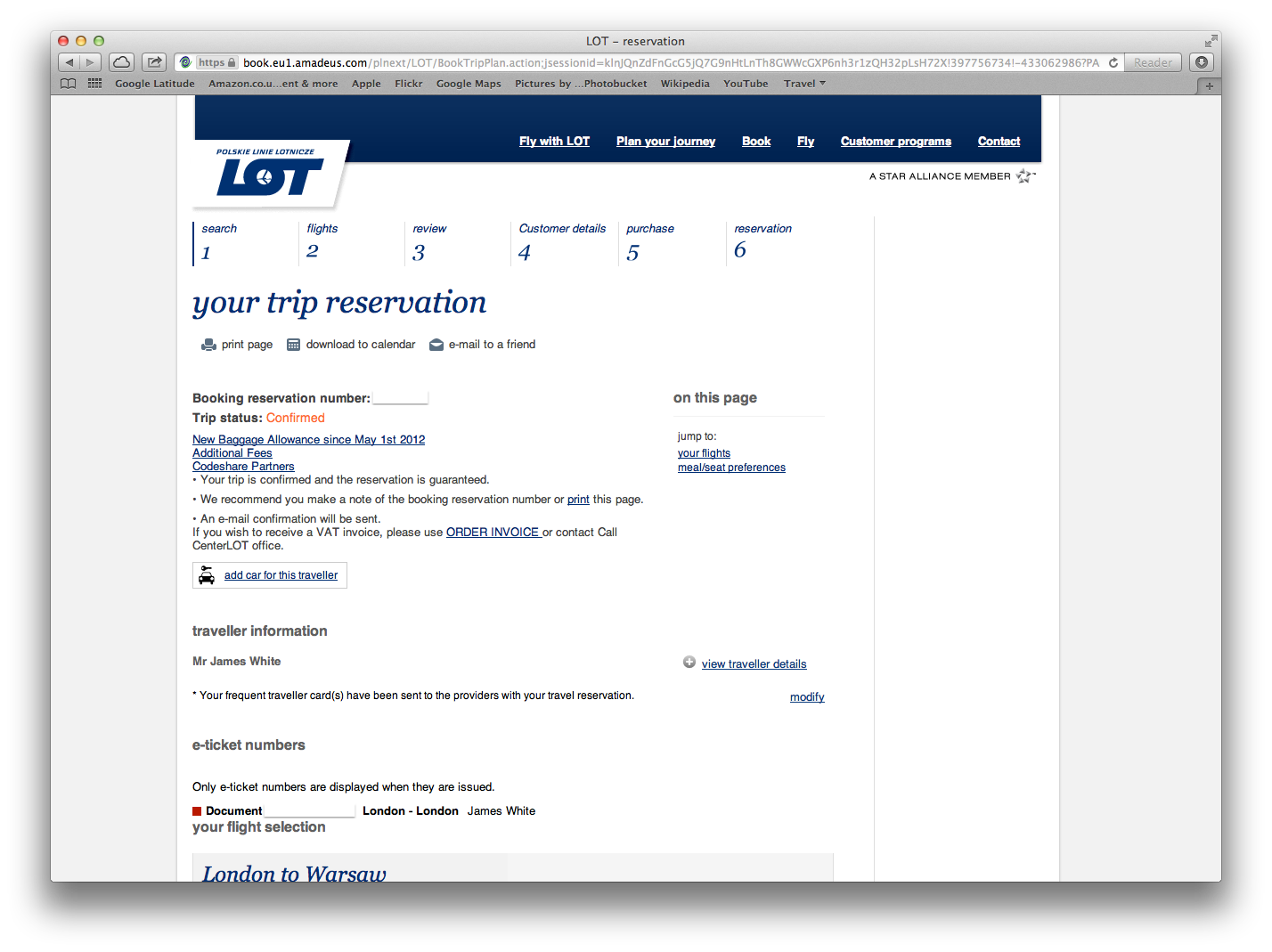 The booking process was pretty standard really. I initially chose seats 27A for both sectors, although upon looking at the walkthrough of the 787 on the LOT website shortly after delivery, I saw that those seats had no window. That wasn't acceptable, so I logged back on to my booking and changed to 15A and 22A – Luckily I noticed this as although the plane didn't seem overly full, most of the window seats seemed to be taken.
Due to the pretty early departure of the return flight, I elected the Courtyard by Marriott at Warsaw airport. When booking, the price shown was 215 Zloty. Not having any idea of the conversion rate I didn't know if this was expensive or not, however upon checking the currency convertor it worked out to about £45 – Bargain!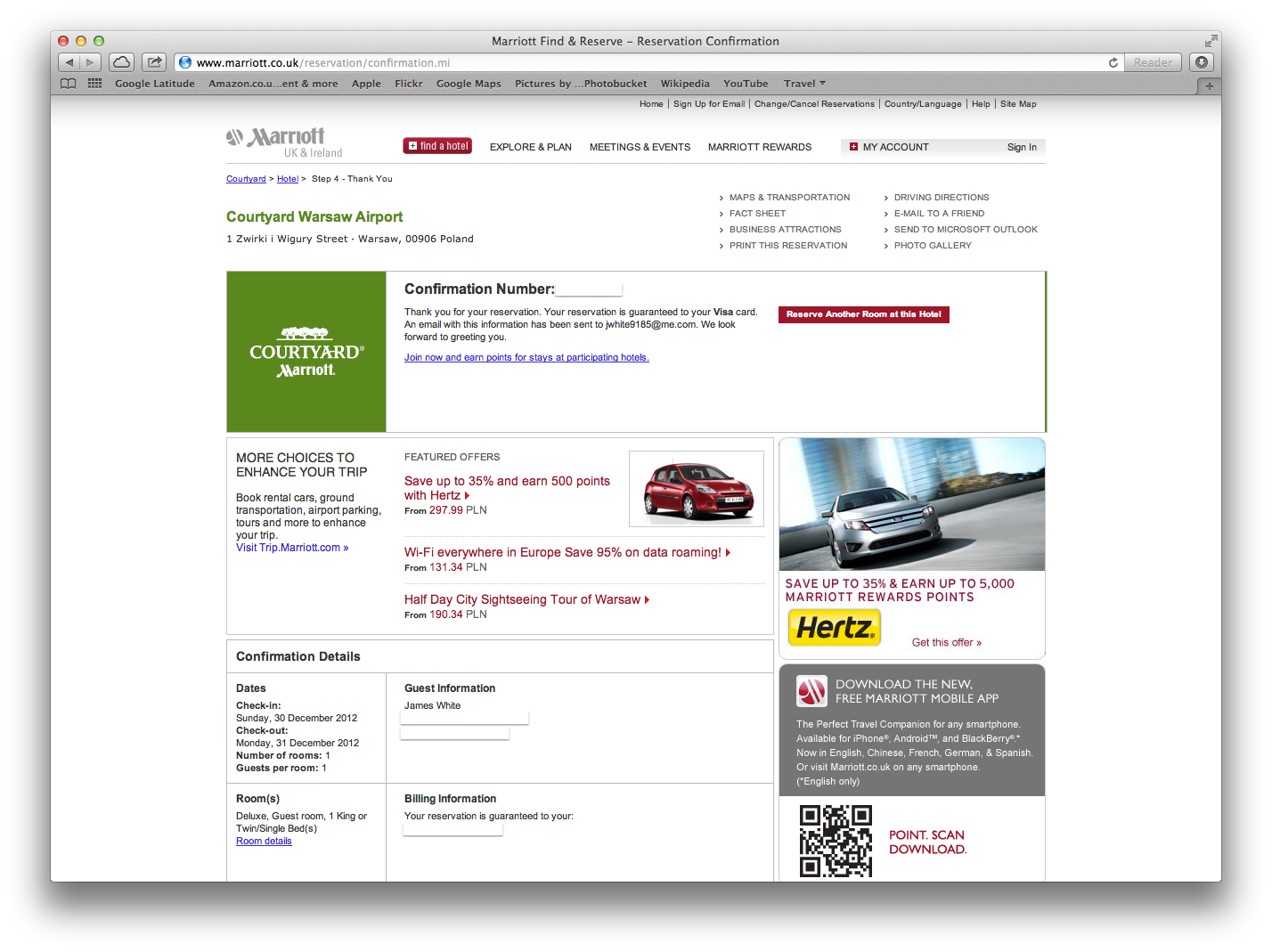 The day before departure I used the online check in. It was the usual process, however there wasn't any option to select no bags, so therefore it wouldn't let you print your own boarding pass. Although I suspected this was to ensure everybody went to check in at the airport in case there were any last minute aircraft changes. I had initially requested seat 15A as it was the only remaining window seat, although once checking the seatmap at check in, I had noticed a lot more had opened up – therefore I moved forward to 12A as at that point I had no seatmates.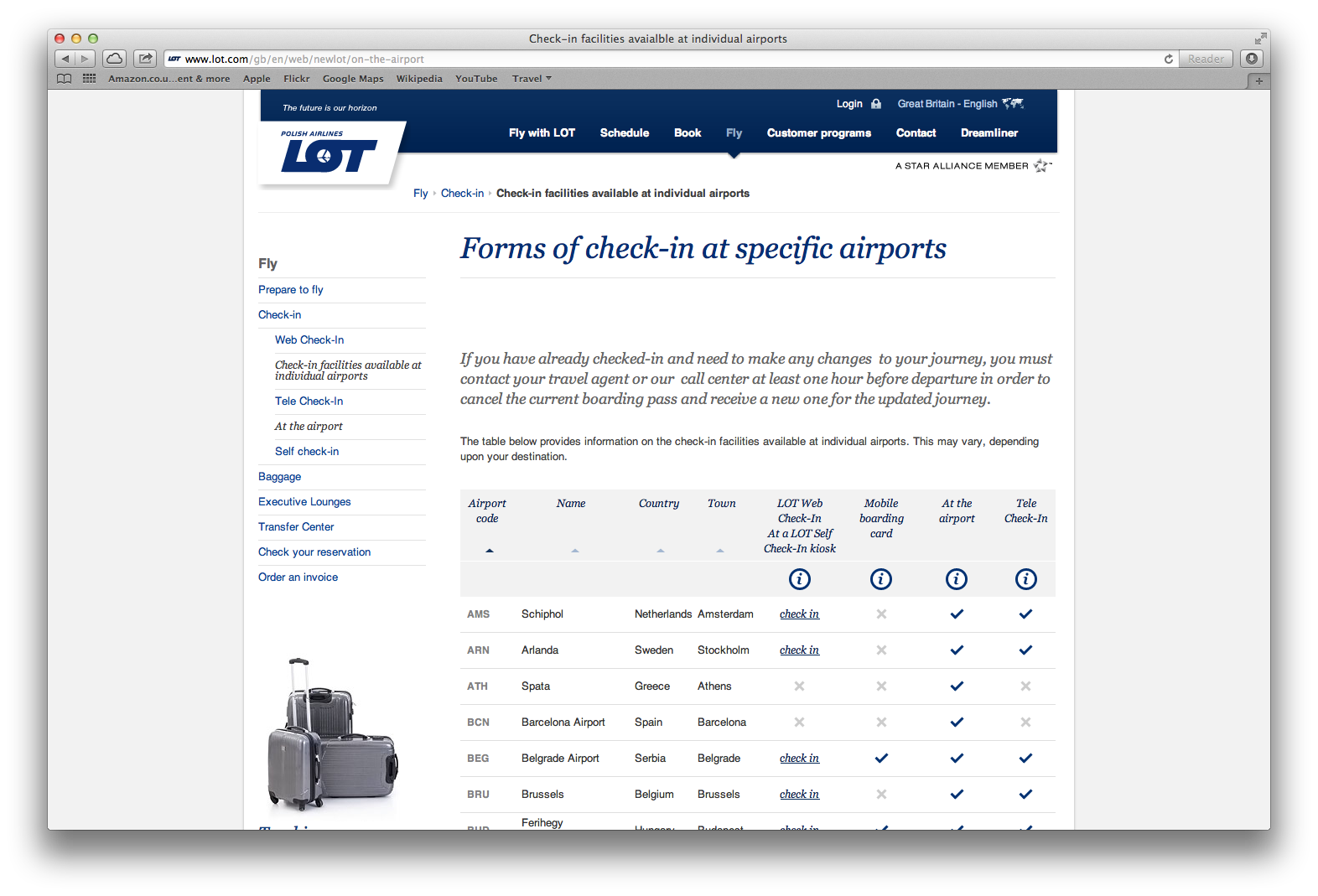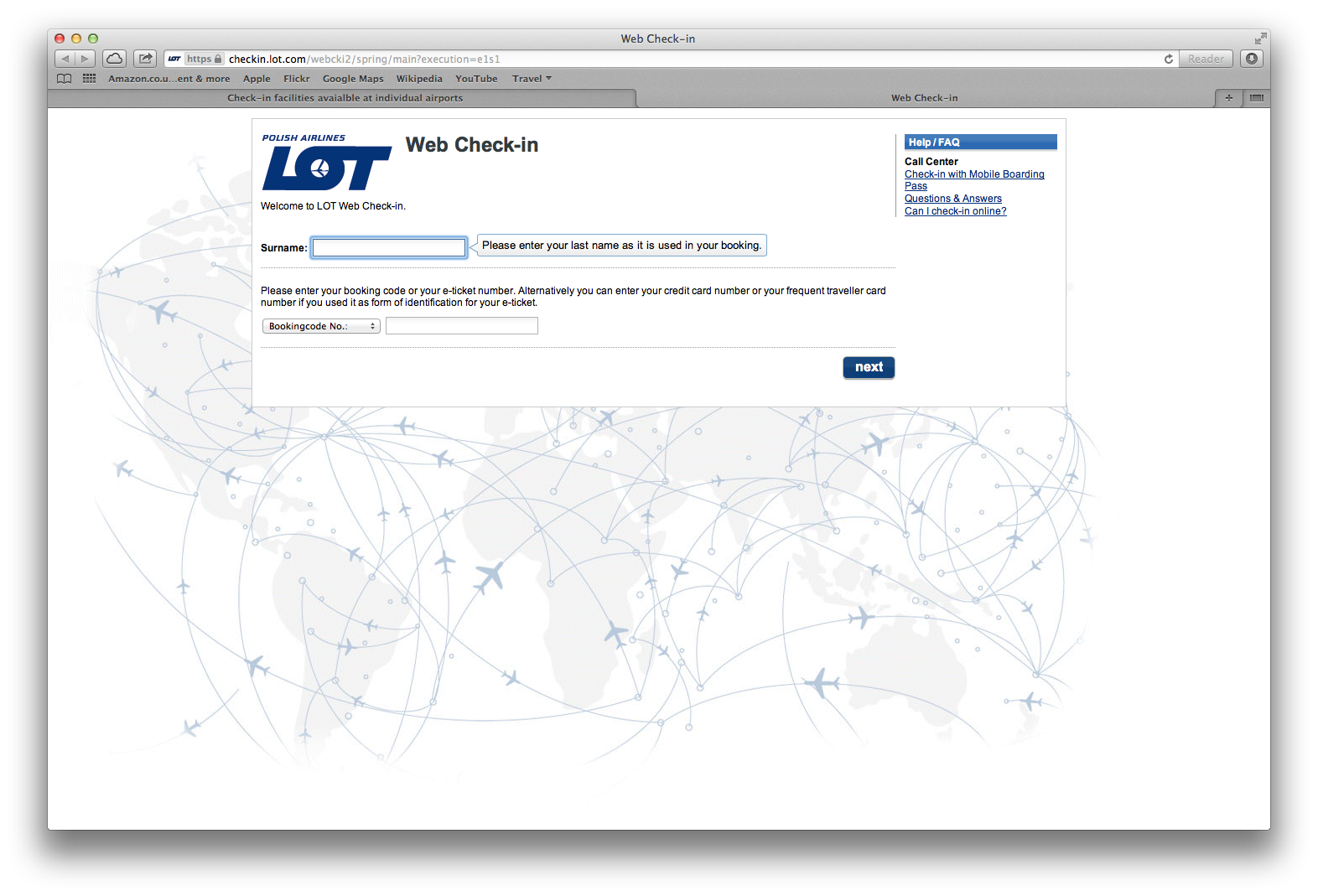 The morning of departure I woke up a little earlier than needed so I could check in for my return flight. This was a no go though as it said it couldn't load the seat map. So in theory LOT's online check in was good, but in practice it had a few flaws.
As I had a while to wait before leaving, I checked the inbound flight – and luckily it was still the Dreamliner.


I then made my way out to catch the 07:50 coach.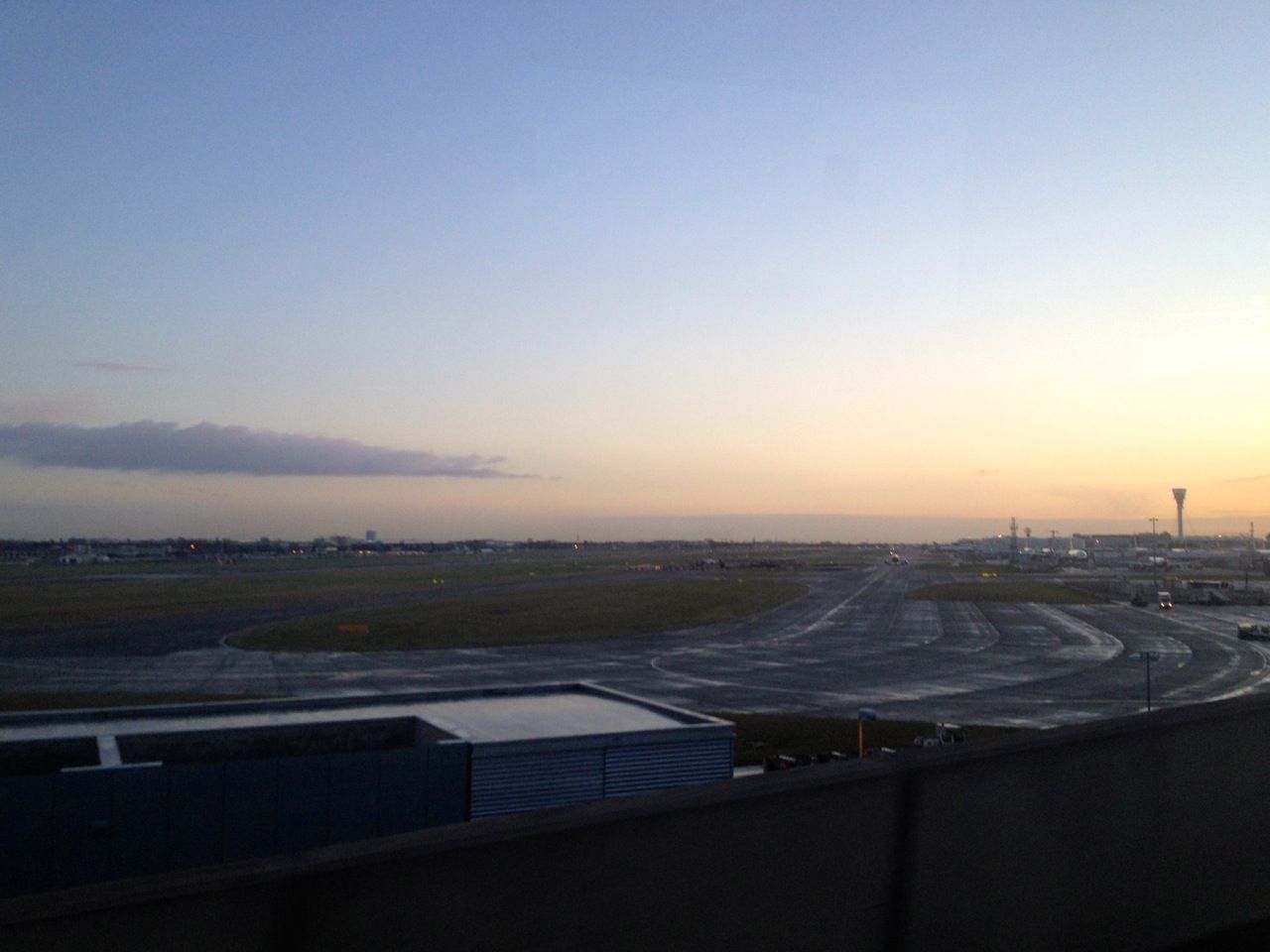 Passing T5 on the coach
Upon arriving at T1, I made my way over to the LOT check in to get my boarding pass and to try and check in for my return flight. This was no problem, and I was also given better news. As the flight was empty, the friendly check in agent said she would upgrade me to premium. After thanking her and mentioning that I'd chosen this flight for the Dreamliner, she replied if that's the case she'd put me in business if her supervisor agreed to it. She wondered over to another older guy checking people in, he glanced over at me, gave a slight nod and then she replied saying it was fine. She then gave me a choice of row one, two or three. I said I didn't really mind as long as I had a window. So she gave me seat 1F. This would be the first time I'd sat in row 1. I'd been right in the nose of a VS 747 many years ago, but their rows start at 6, as row 1 was upstairs at the time.
It was then through to security – which was pretty slow even by T1 standards. And to add insult to injury, my bag was also selected for a random search. Once I was finally through I thought I'd try my luck at getting into the Star Alliance lounge – and I was welcomed in with no questions asked.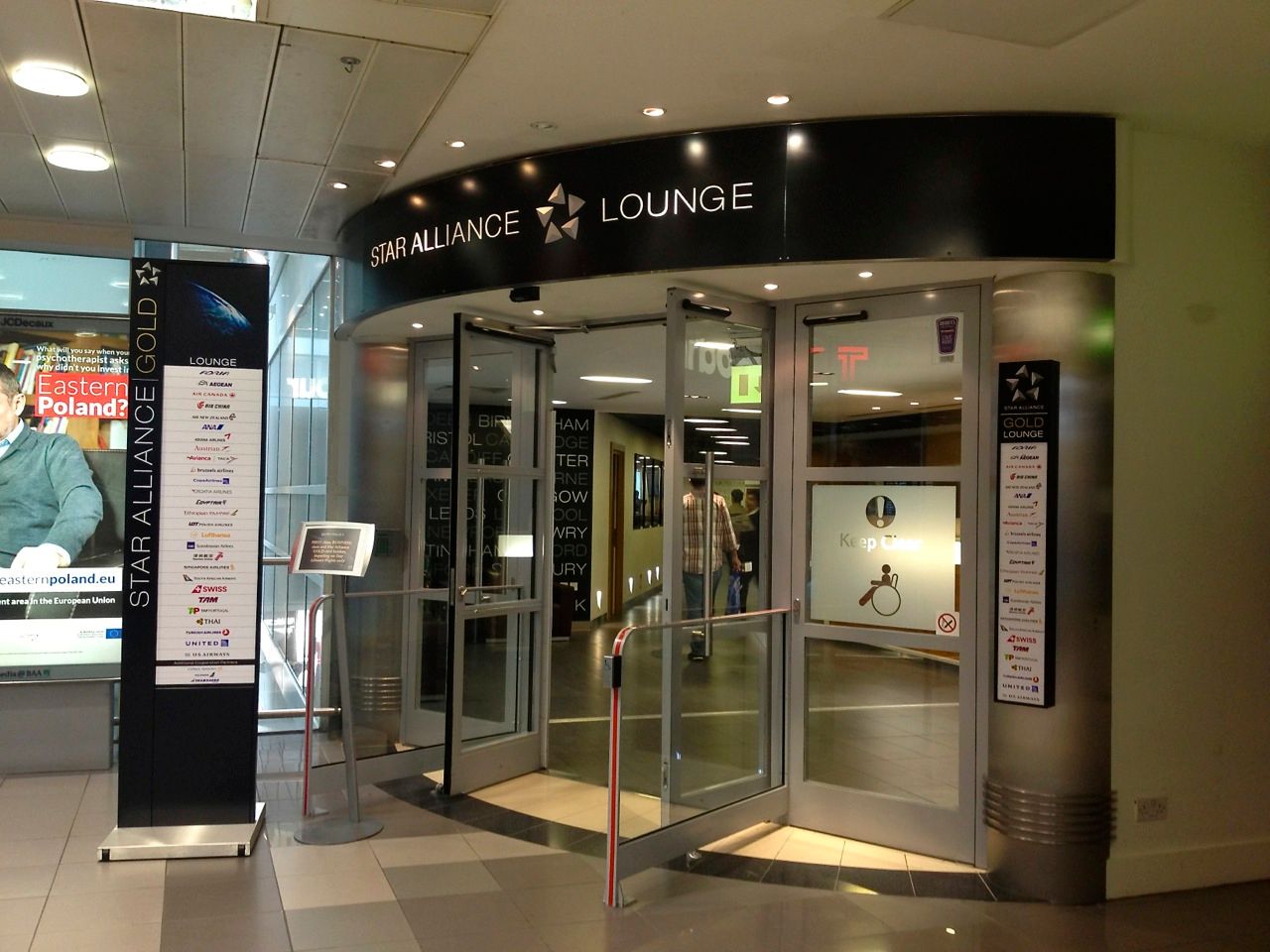 Food offerings: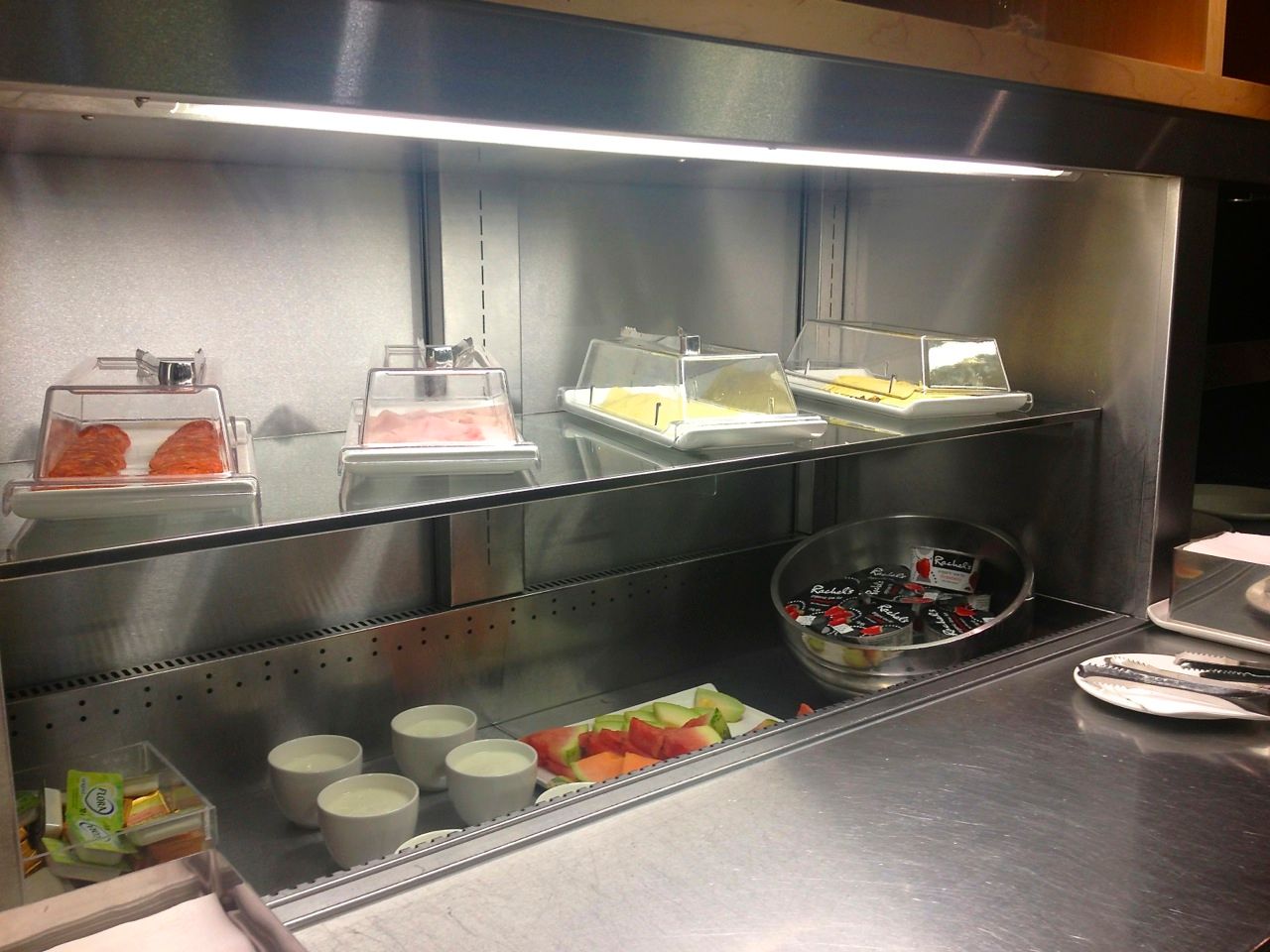 Breakfast

I found the breakfast offerings in here to be pretty good, although the quality of the food wasn't the best and the lounge itself wasn't the best I'd been in. In fact, I was so unimpressed with this lounge, around 30 minutes before boarding was due to be announced I decided to go for a wonder to see if I could see my jet for today. It was unusual for me to leave a lounge so early, especially considering I had seen more than enough of T1 on my previous visit back in October. On my travels I saw the familiar LOT tail heading off in the direction of the new stands, so I made my way down there too as this was unfamiliar territory for me.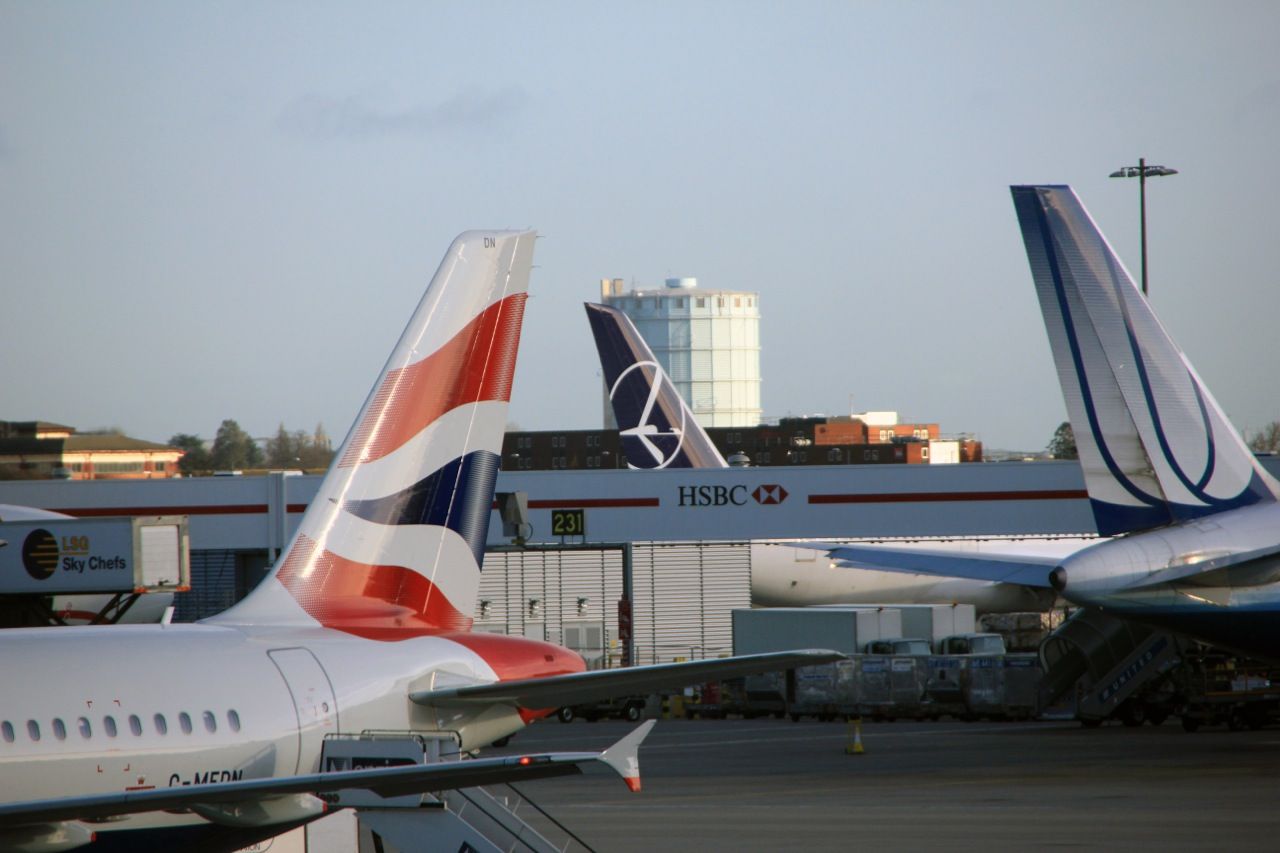 It looked like gate 47 would be in use today.


Of interest was that a lot of people heading for the adjacent UA flight to LAX were stopping off and having a good look at the Dreamliner – I guess most of them hadn't seen one before.
Upon entering the holding pen, there were quite a few enthusiasts around.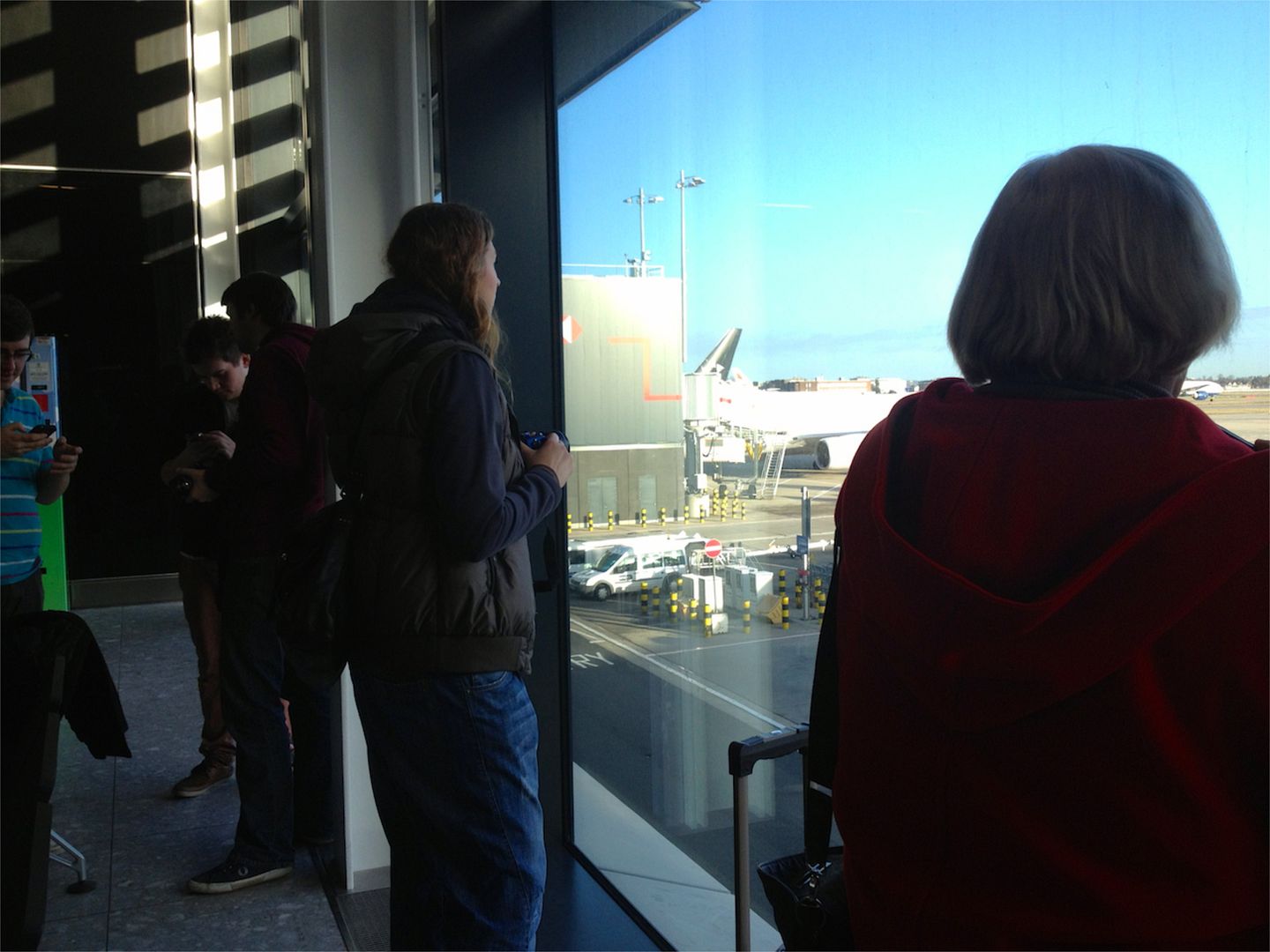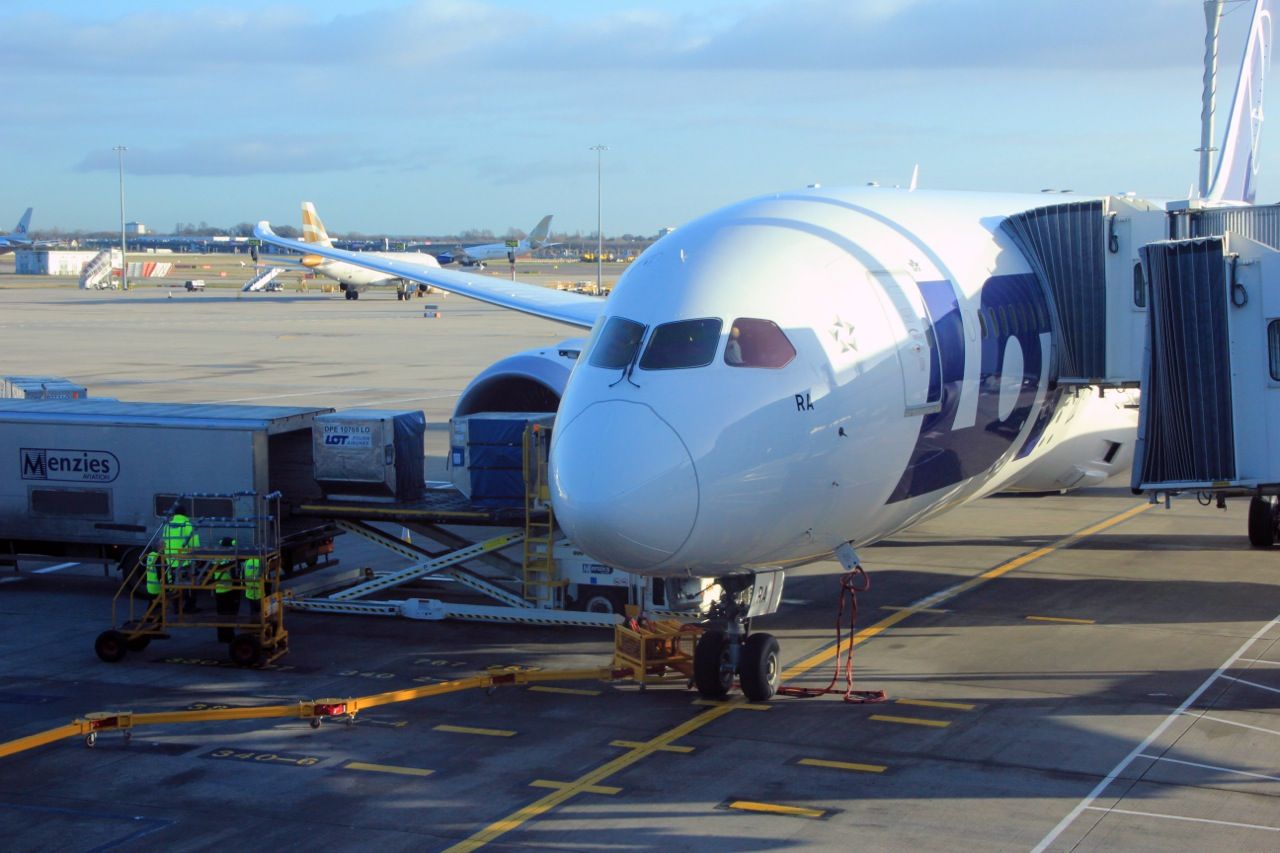 Boarding started, and I made my way down the jet bridge. Unlike PH's flight there was no fanfare for this sector. The only mention came onboard during the announcements, mentioning the promotional flights.


LO282
LHR-WAW
30th December 2012
787-85D / SP-LRA
Seat 15A / Economy
Seat: 1F / Elite Club
Scheduled: 10:35/14:10
Off stand: 10:46
On stand: 13:50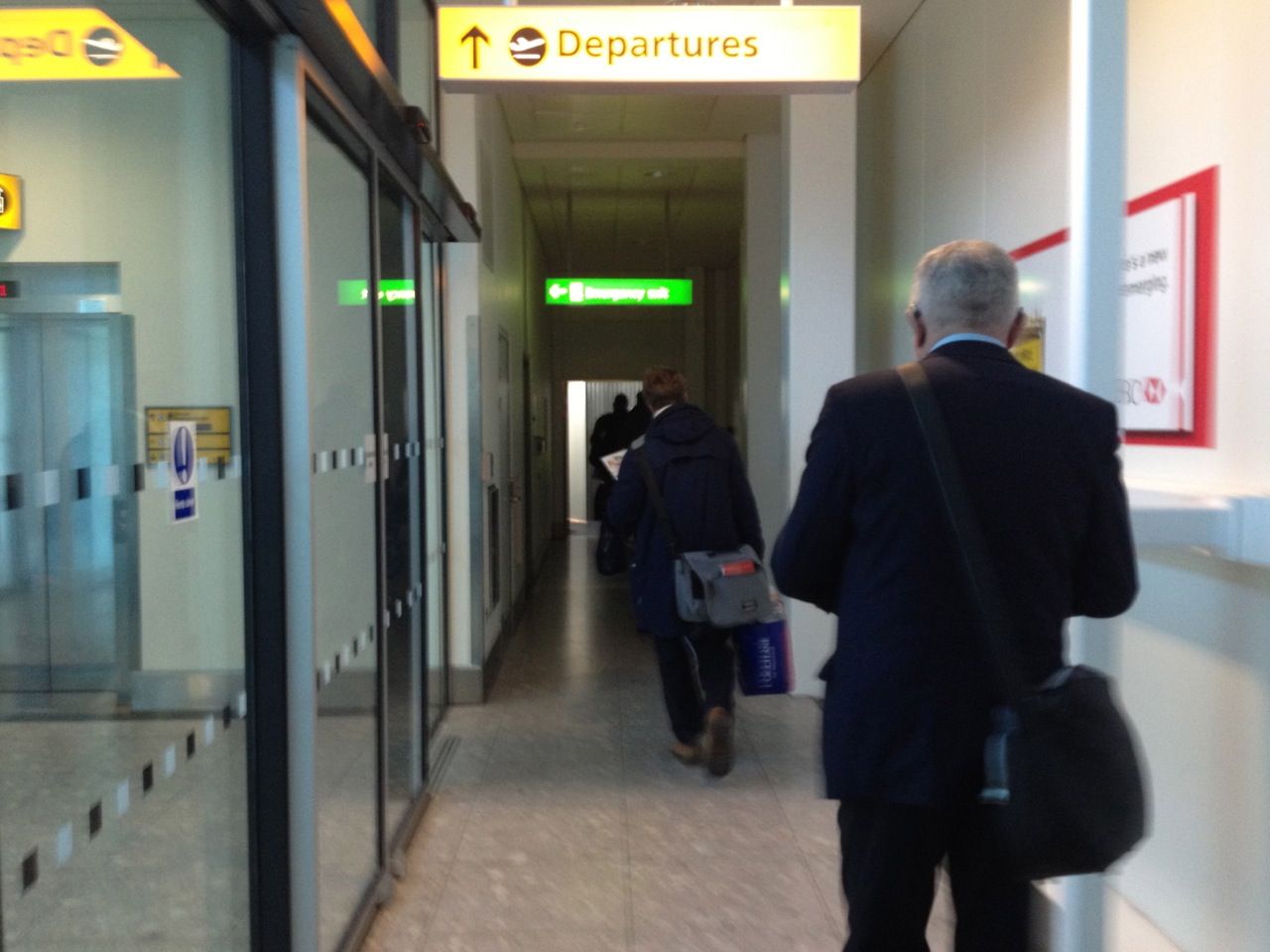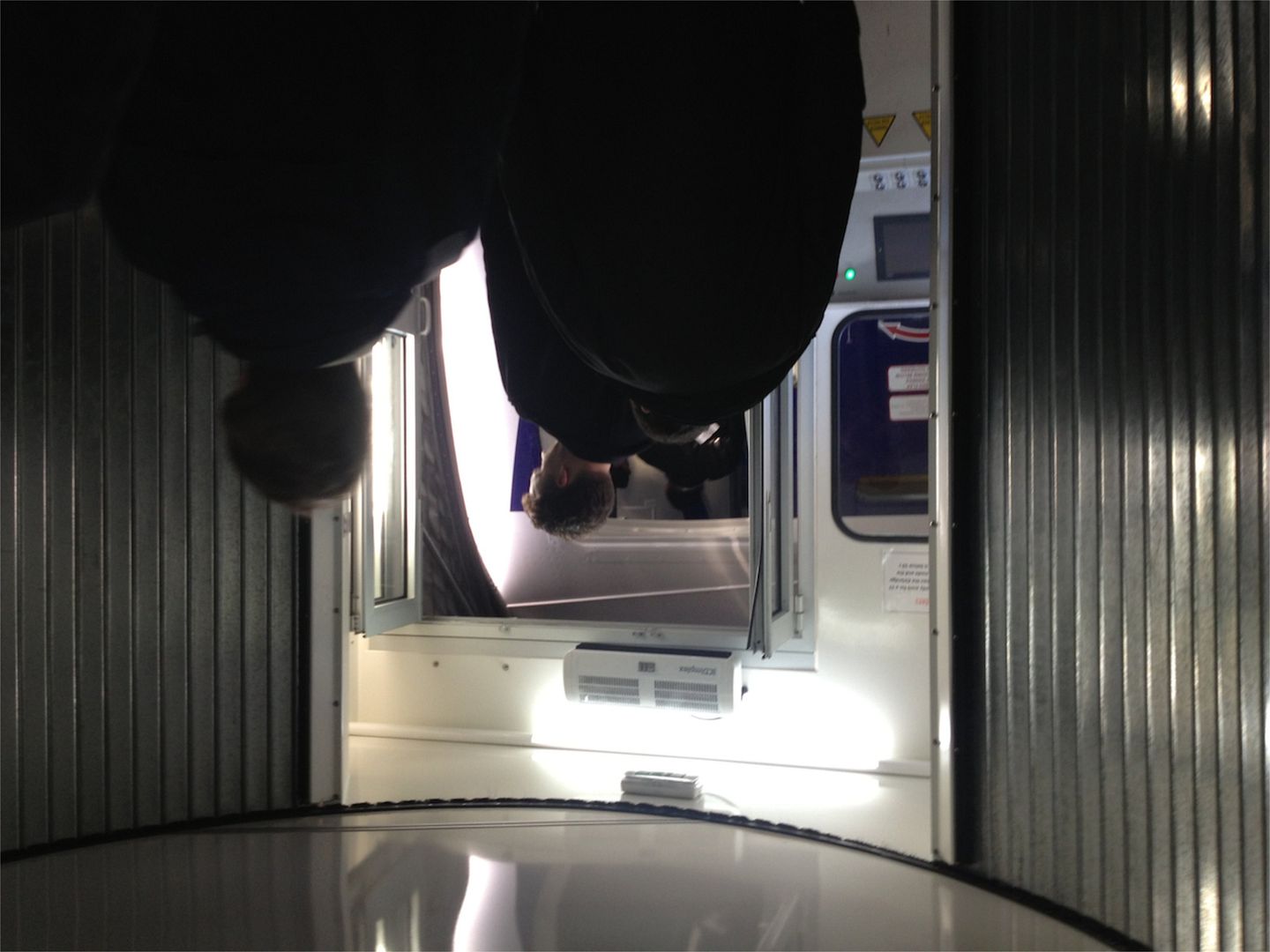 I was greeted at the door by two friendly polish flight attendants and directed to seat 1F.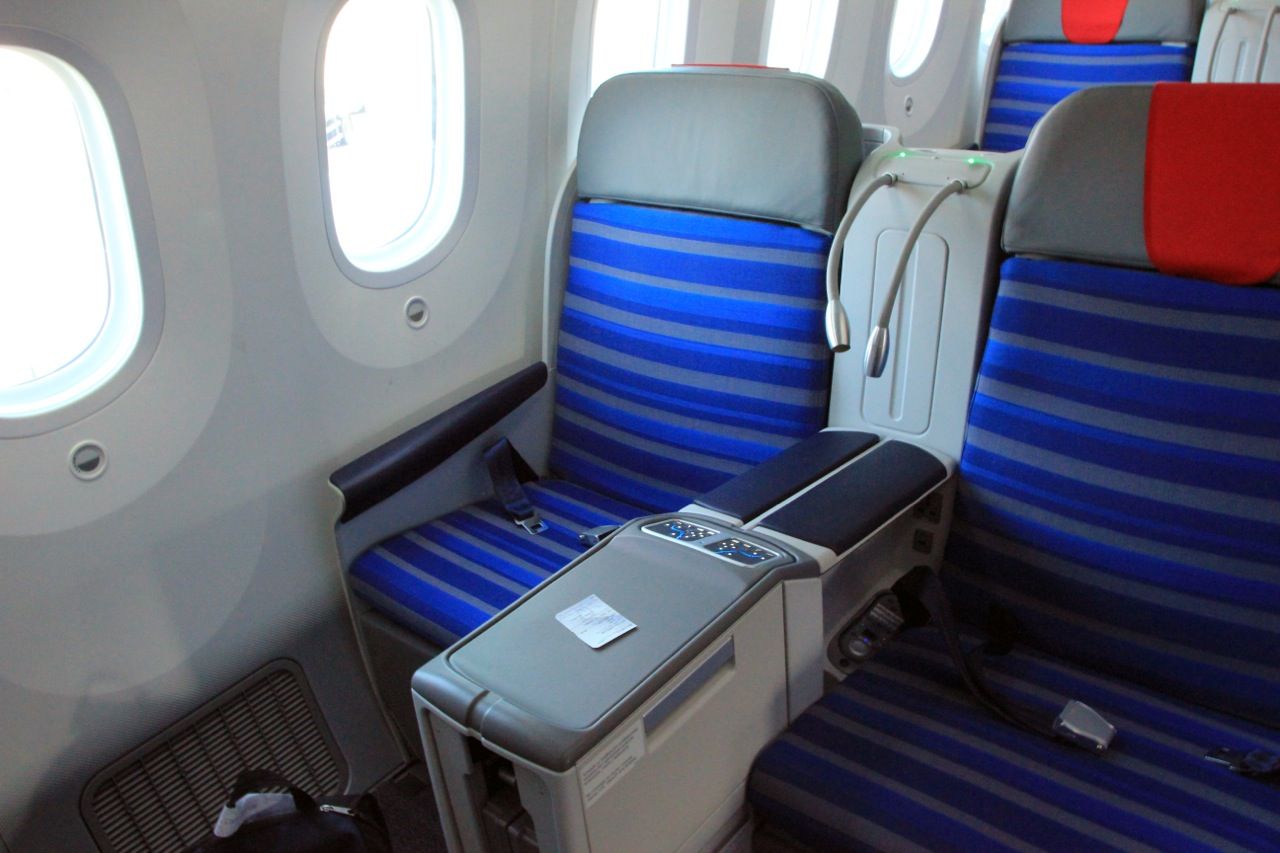 Legroom wasn't an issue on this flight

Within a couple of minutes some drinks were brought around. Not in the glasses of BA though, more the plastic of economy.


There were some announcements made but I found them a little hard to hear due to the background noise of the APU etc. and the fact it was a little distorted.

A bit grubby for such a new bird.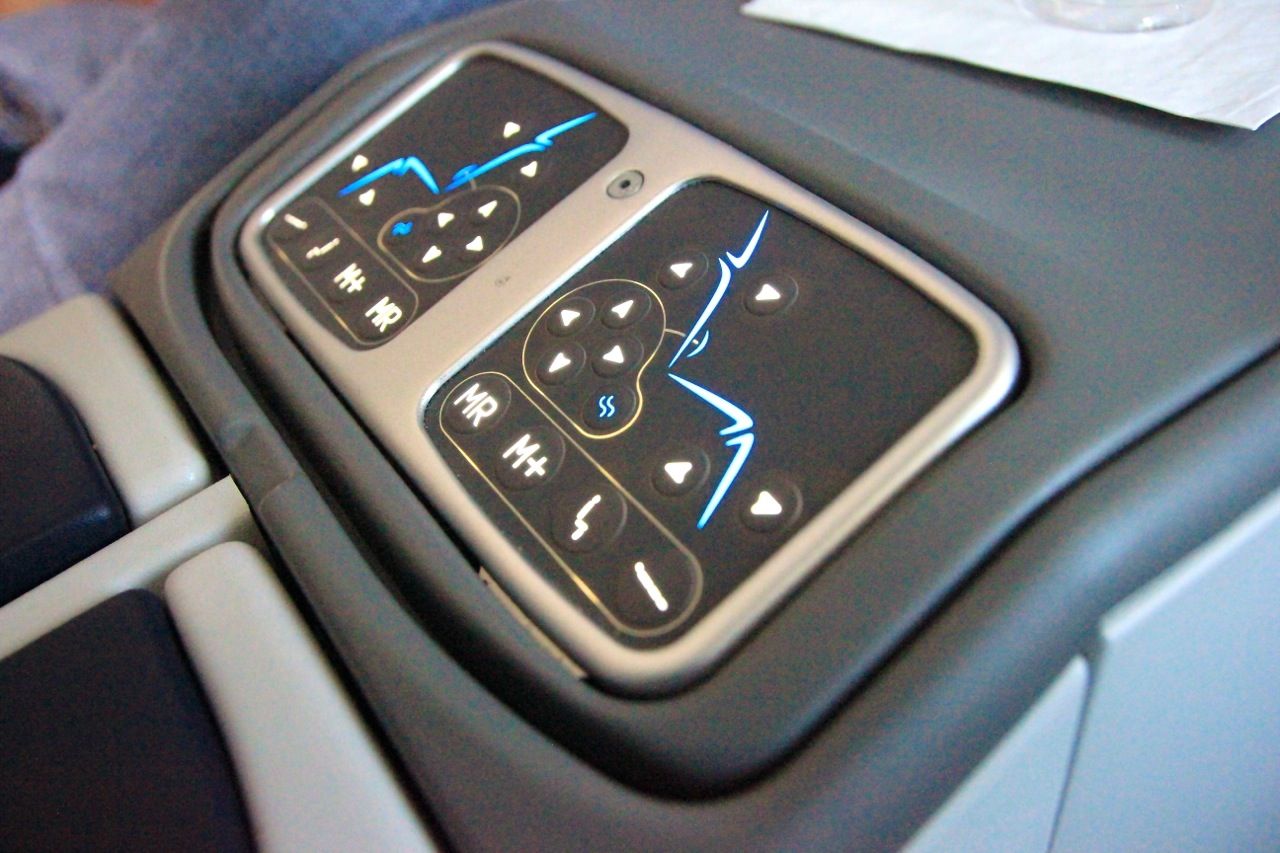 Seat controls

I did have a seatmate on this sector – one of the few people in business that did actually. He seemed pretty chatty, and he had also flown a lot by the sound of it. Although he had no idea about the world of aviation! I tried to explain that this was the first aircraft of this type in Europe, but he was of the opinion that all planes are the same. That was until later in the flight when I started playing with the window dimmer. That amazed him, and I informed him that this was unique to this type of aircraft. He was also of the opinion that Emirates were the best airline and that Air India were pretty poor. He also said he liked the catering on PIA but not the planes.

There seemed to be a slight issue with the baggage loader
We pushed back and made a quick taxi out to 27R, departing just before 11 am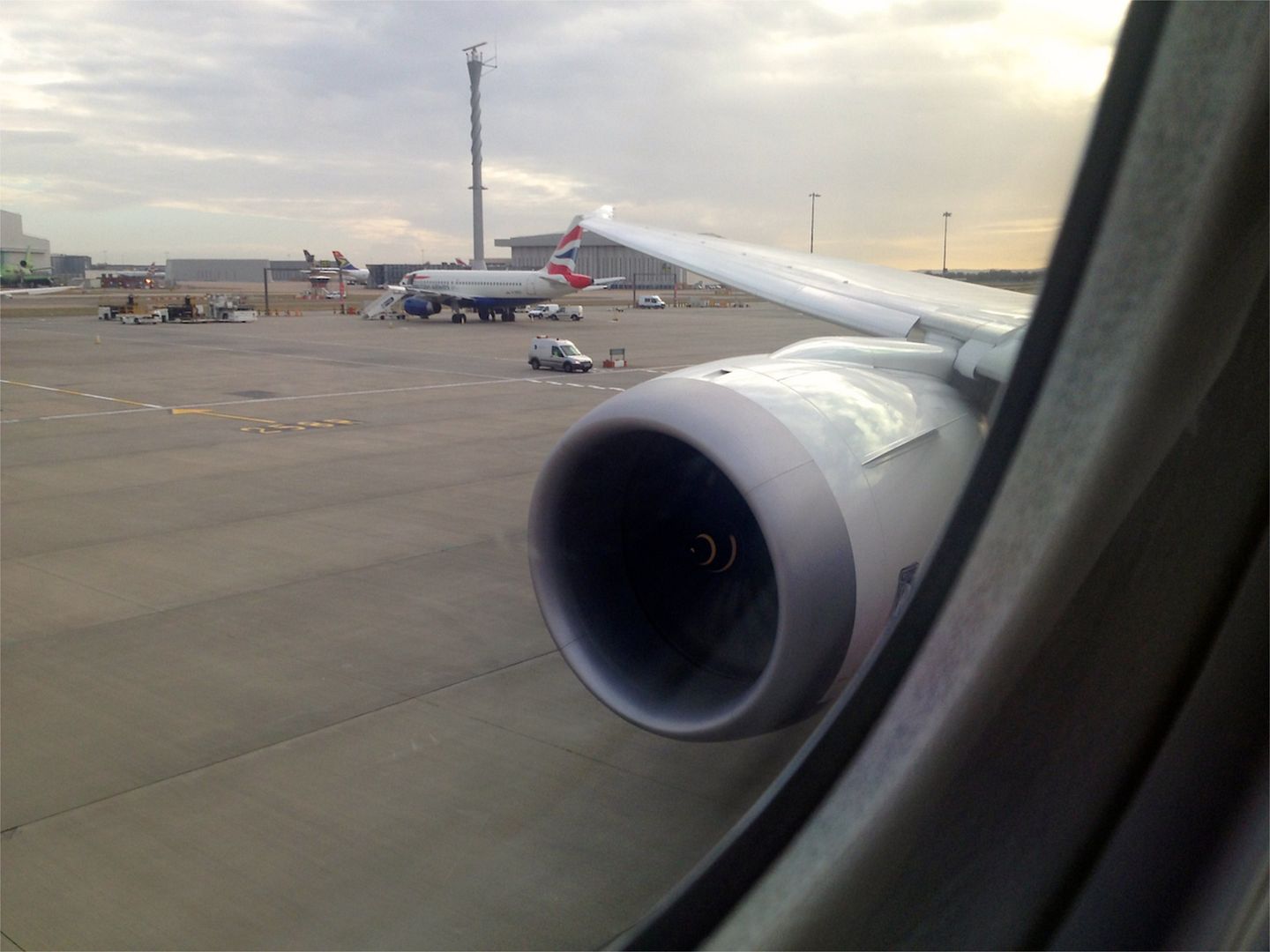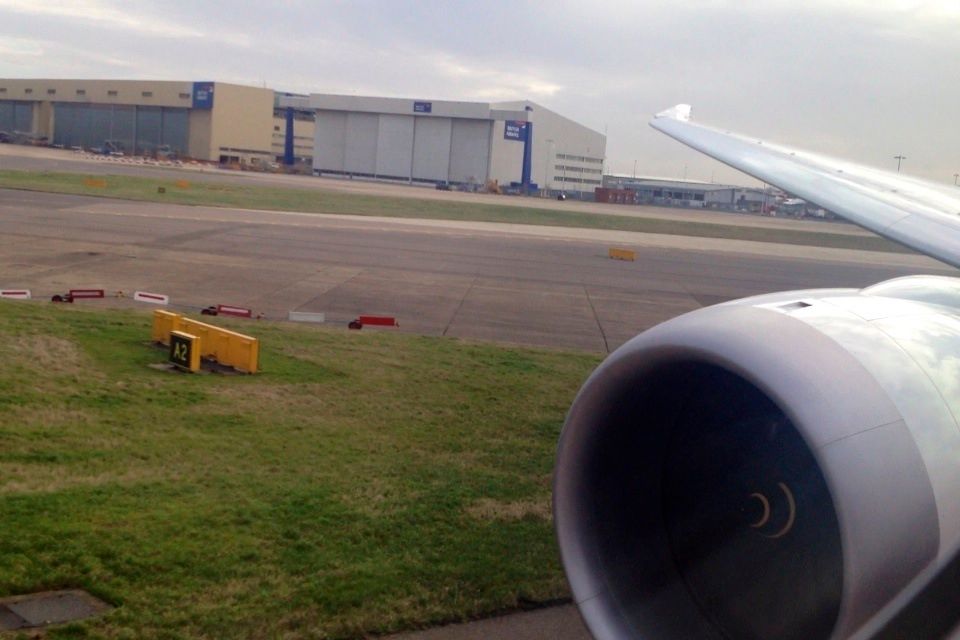 [youtube https://www.youtube.com/watch?v=NppXg_3EdCc]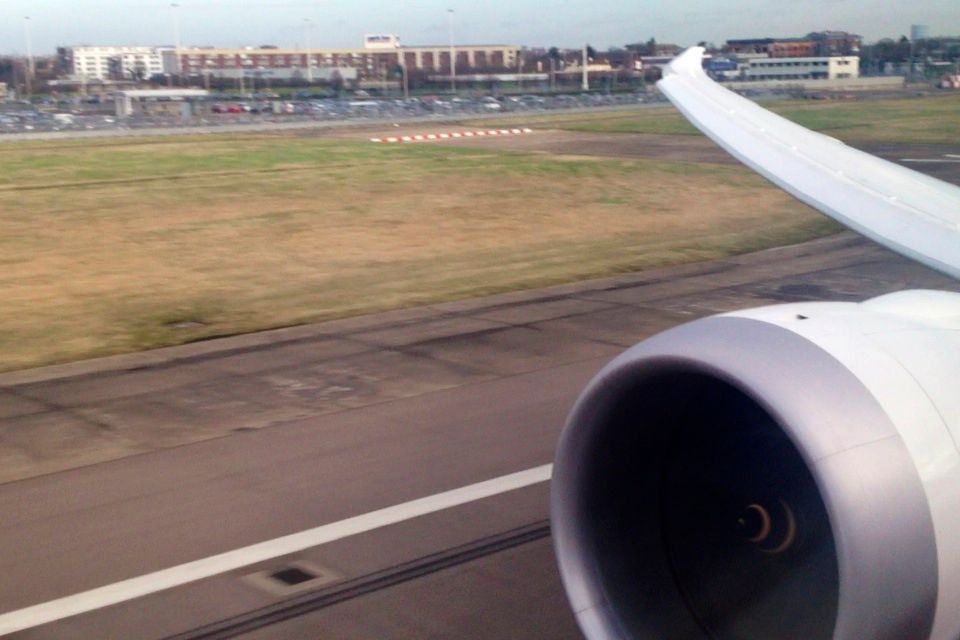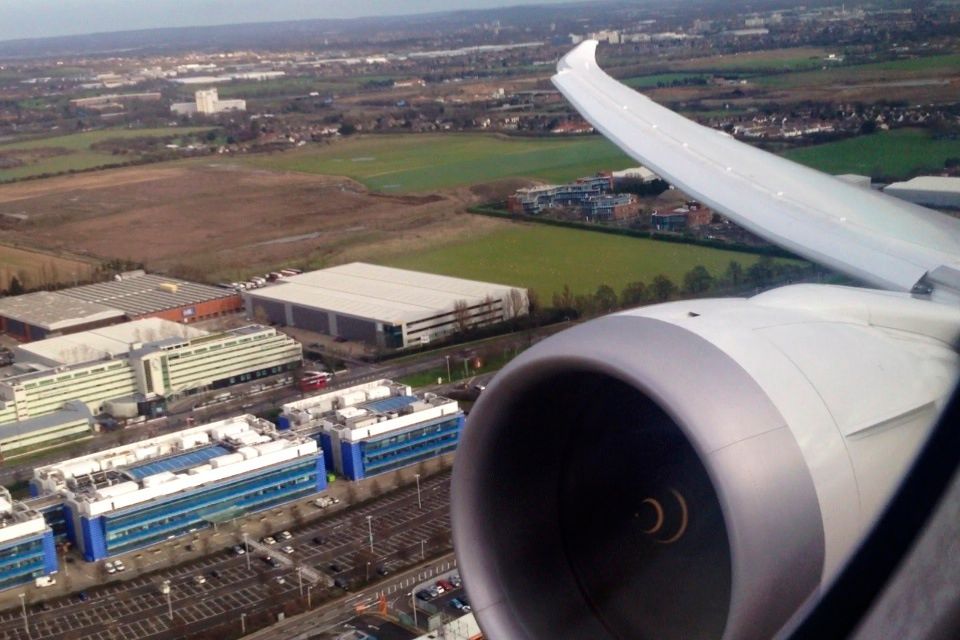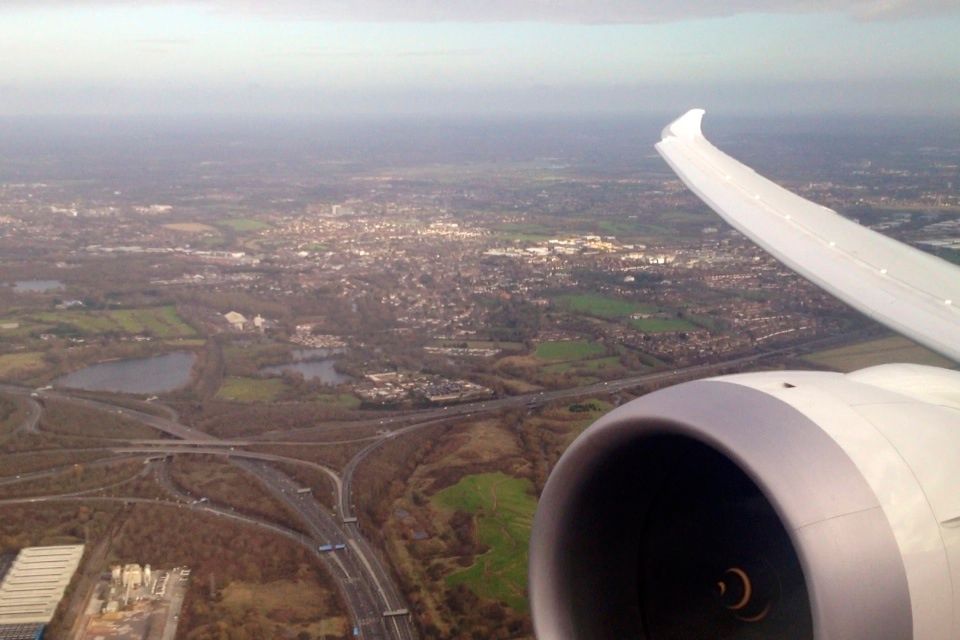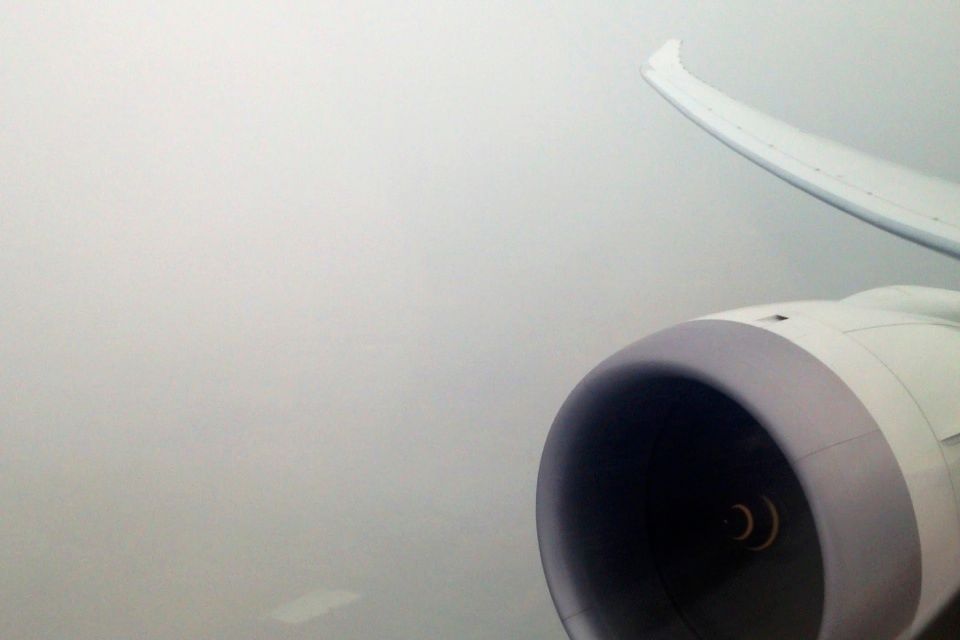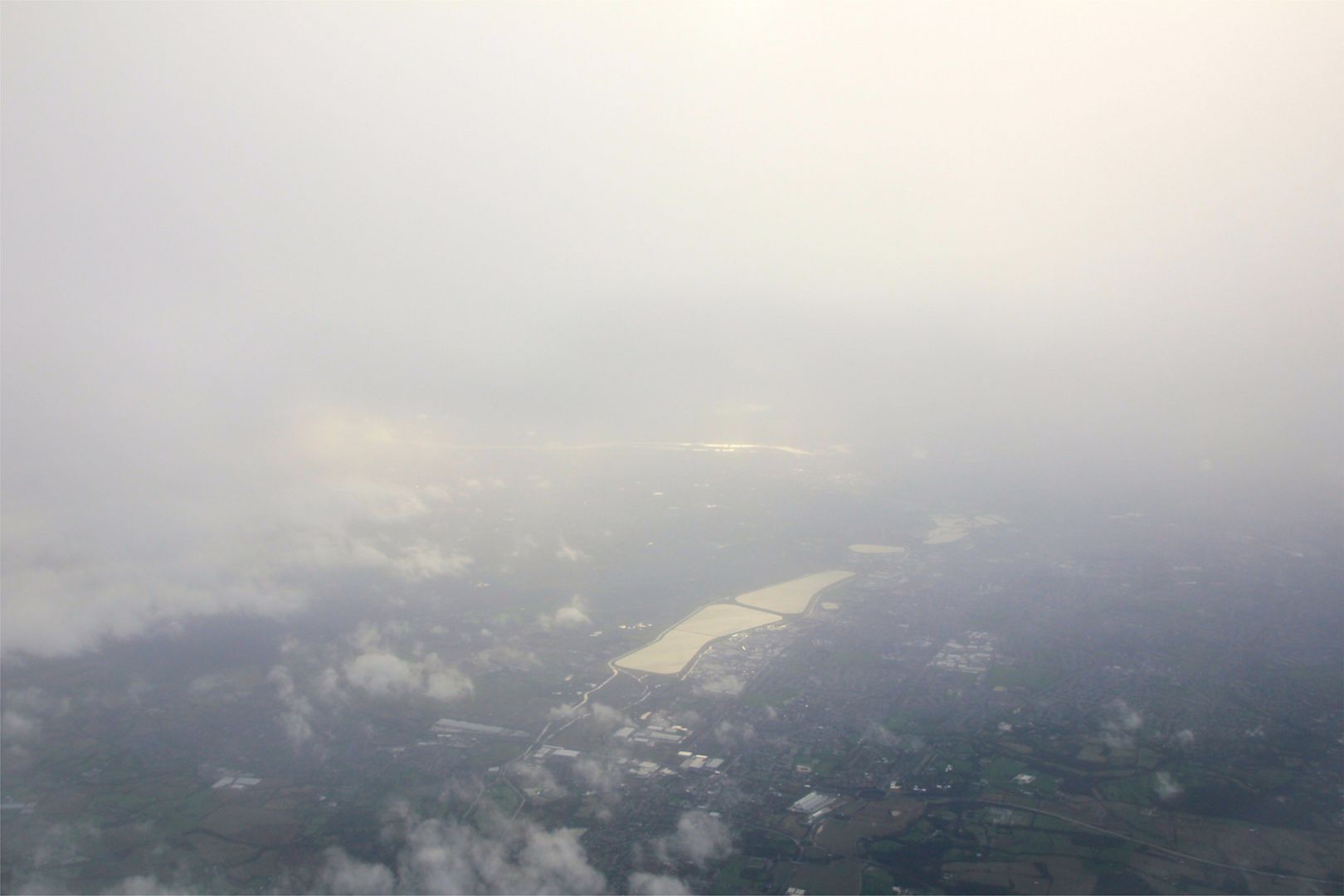 After a bumpy departure, the captain came over the PA and announced a flying time of an hour and forty minutes – shame it wasn't nearer to the two and a half as advertised! The clouds started to clear once we reached the English Channel.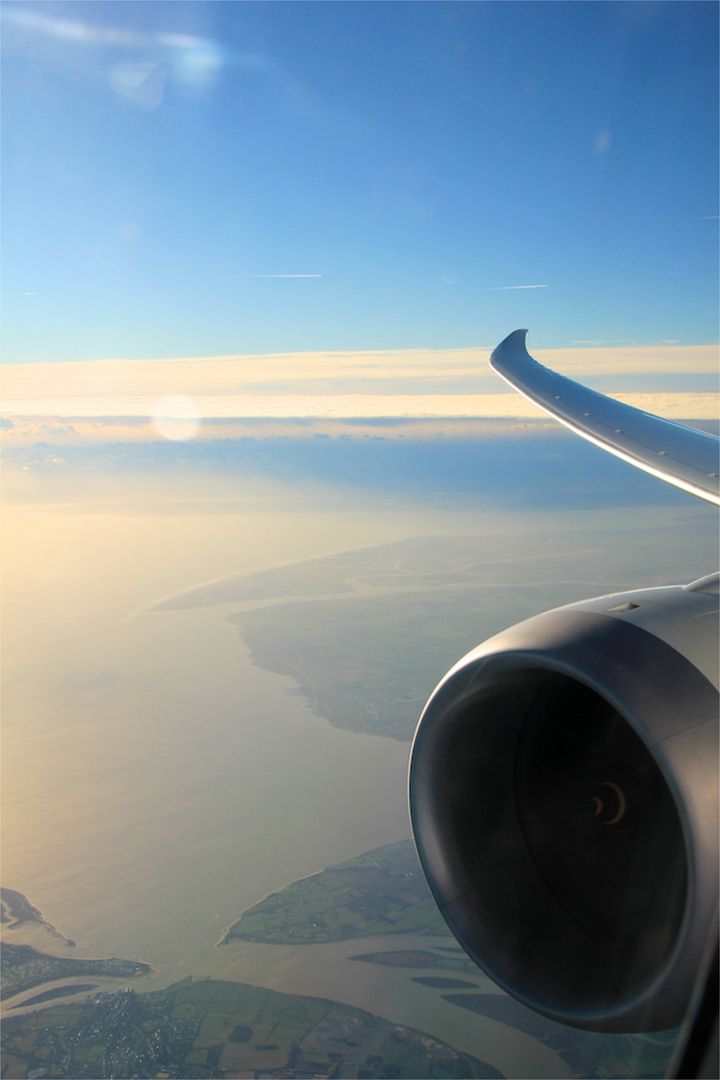 Then the cabin crew started dishing out the various bits and pieces, and I decided to give the IFE a tryout and see how good the noise cancelling headphones were. They weren't too bad for airline stock, but nowhere near as good as my Bose ones! Also the IFE controller was in an interesting place – almost on the seat. I inadvertently turned the overhead light on at one point and wasn't too sure how I had done it, or how to turn it off again. As PH mentioned, the dark blue on black buttons don't make it too clear and the not so obvious position of the controller didn't help matters either.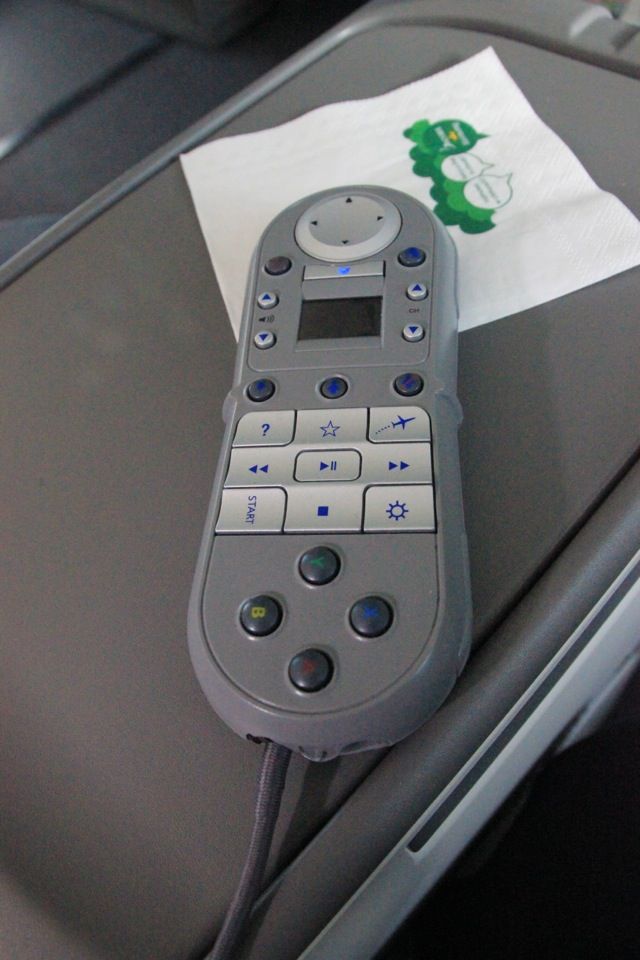 There was a full QWERTY keyboard on the reverse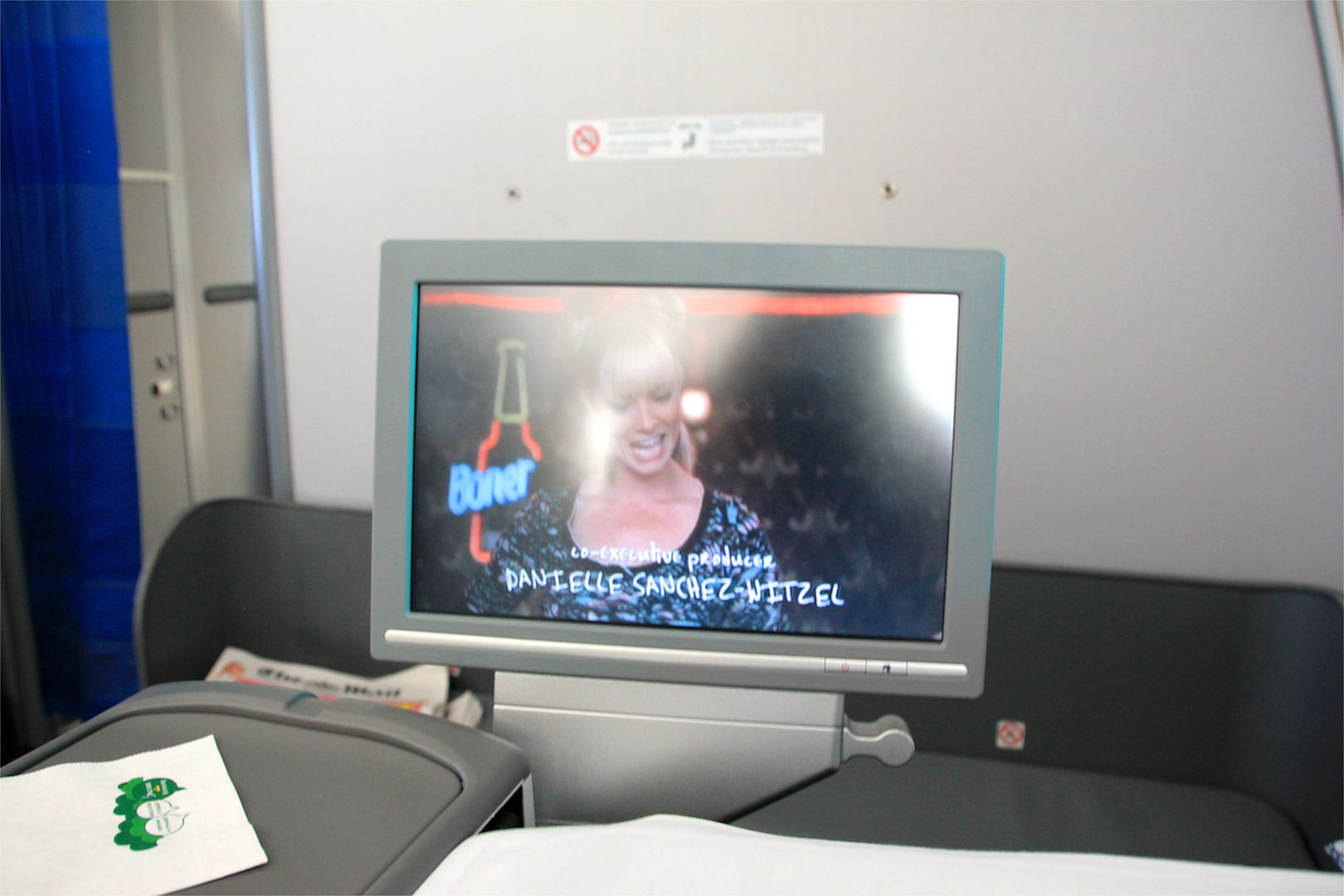 Following this, the lunch service started. First off the table was set, then the drinks were brought round – this time in proper glasses – then the main course. The choice was beef or fish. I chose the beef – although it was only really a mouthful, it was still just about edible. The dessert was a bit hard too, like it had been chilled just a bit too much.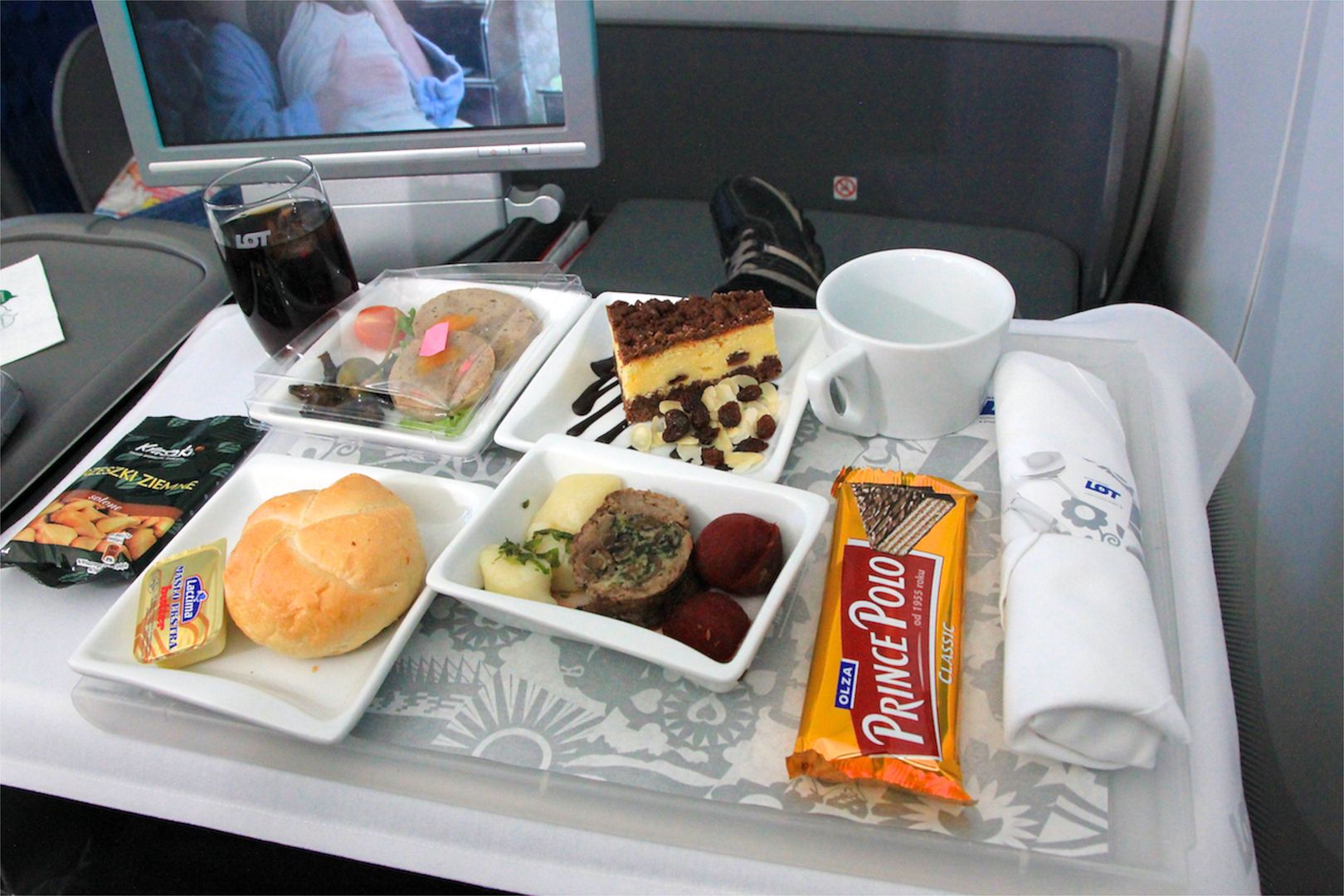 Progressing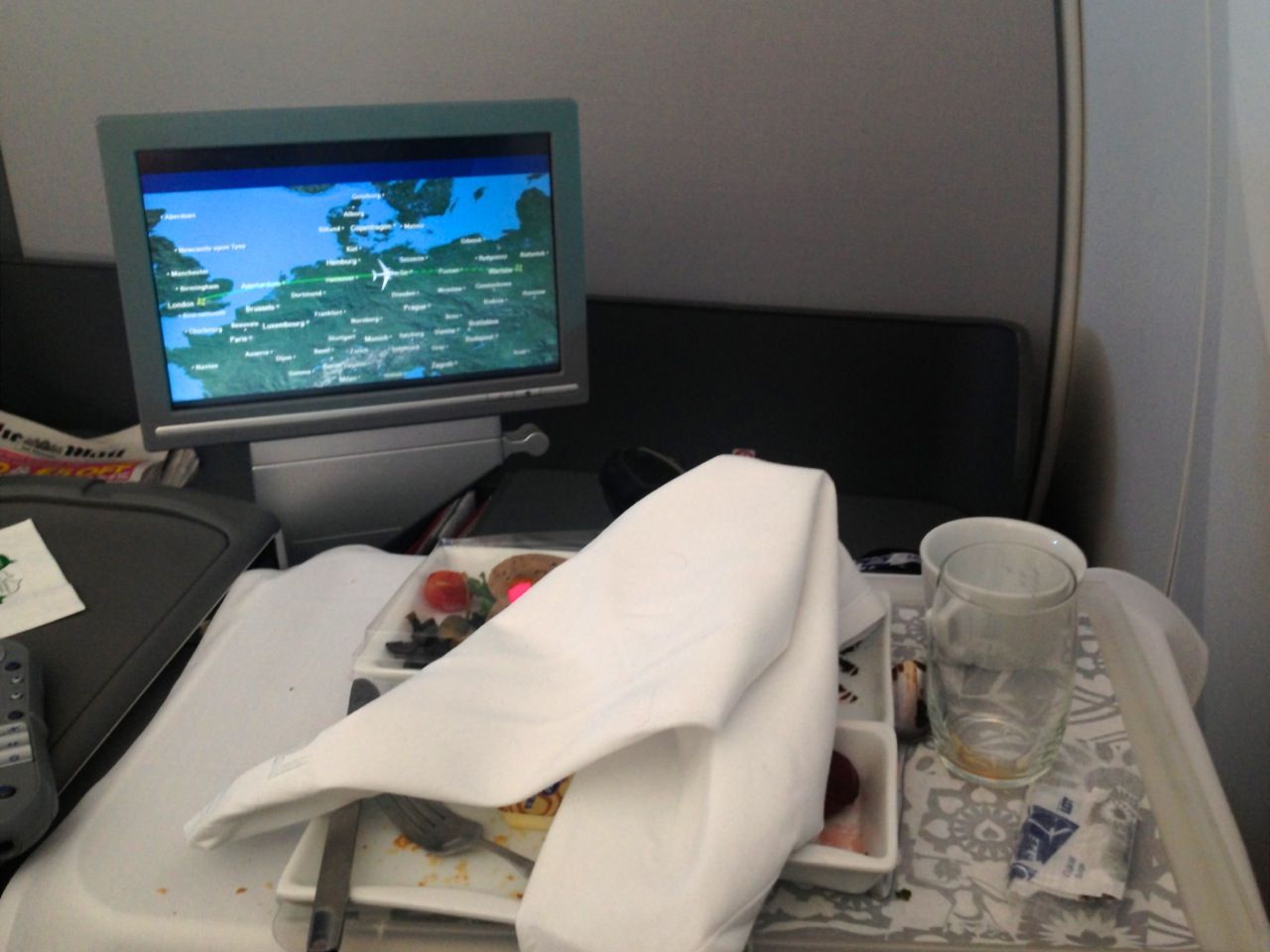 Lunch was finished
After this, I grabbed a few more pictures of the business end of this 787.

Window in fully blacked out mode.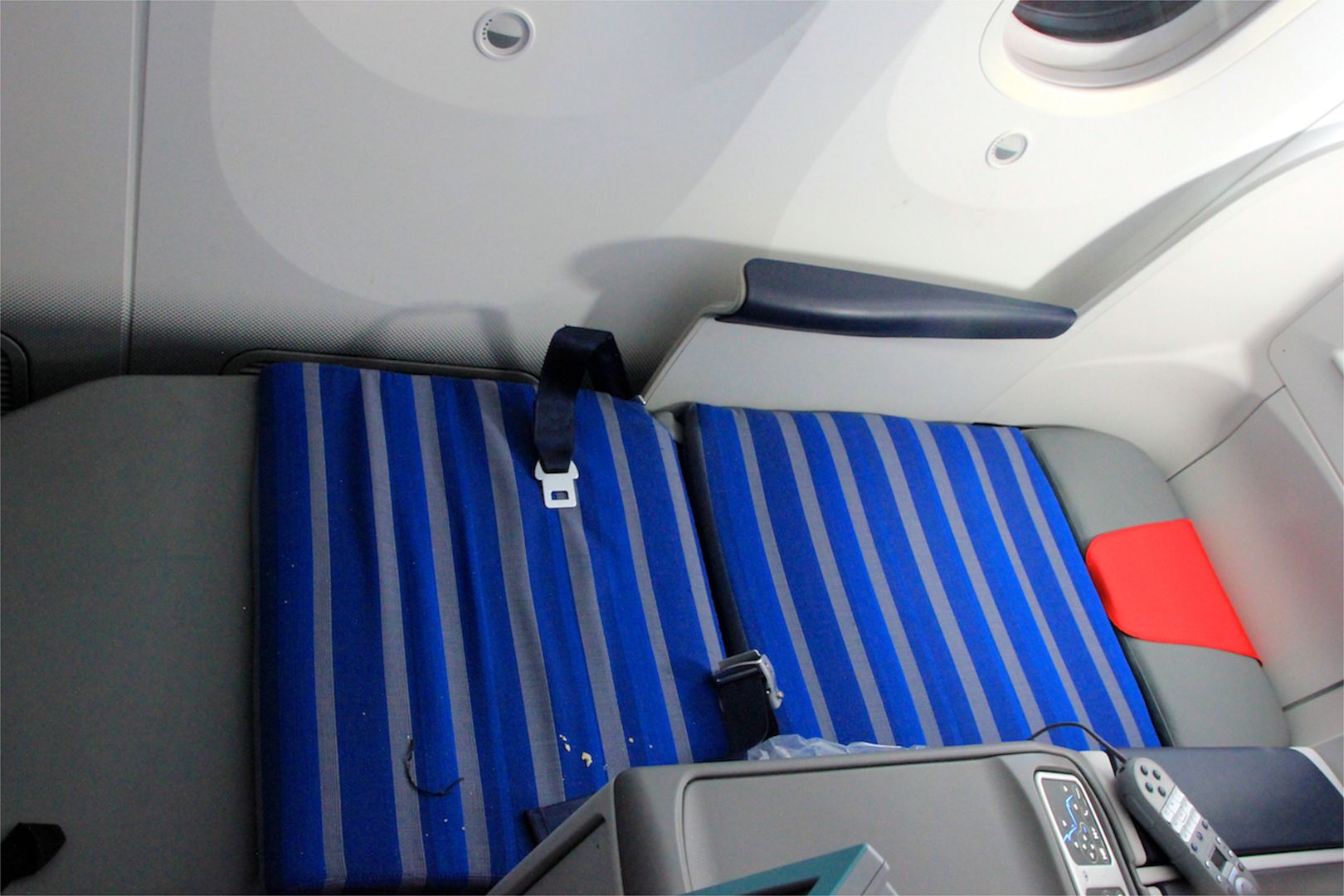 Very comfortable seat and fully flat bed.
Cabin overview
Good example of the window modes
The crew dimmed the windows
No-Smoking signs have now been extinguished
I know this aircraft is billed as being quiet – but I was still in amazement at quite how quiet it was. There was very little engine noise, although there was a loud-ish electrical hum throughout the flight that I had seen mentioned on other reports from the Japanese examples.
All too soon it was time to descend. The descent was pretty rapid – in fact due to the haze and the crew sitting down quite late, I hadn't realized quite how close to the ground we had got – I wasn't even totally sure the gear had gone down as, like everything else on this aircraft, it was pretty quiet up at the front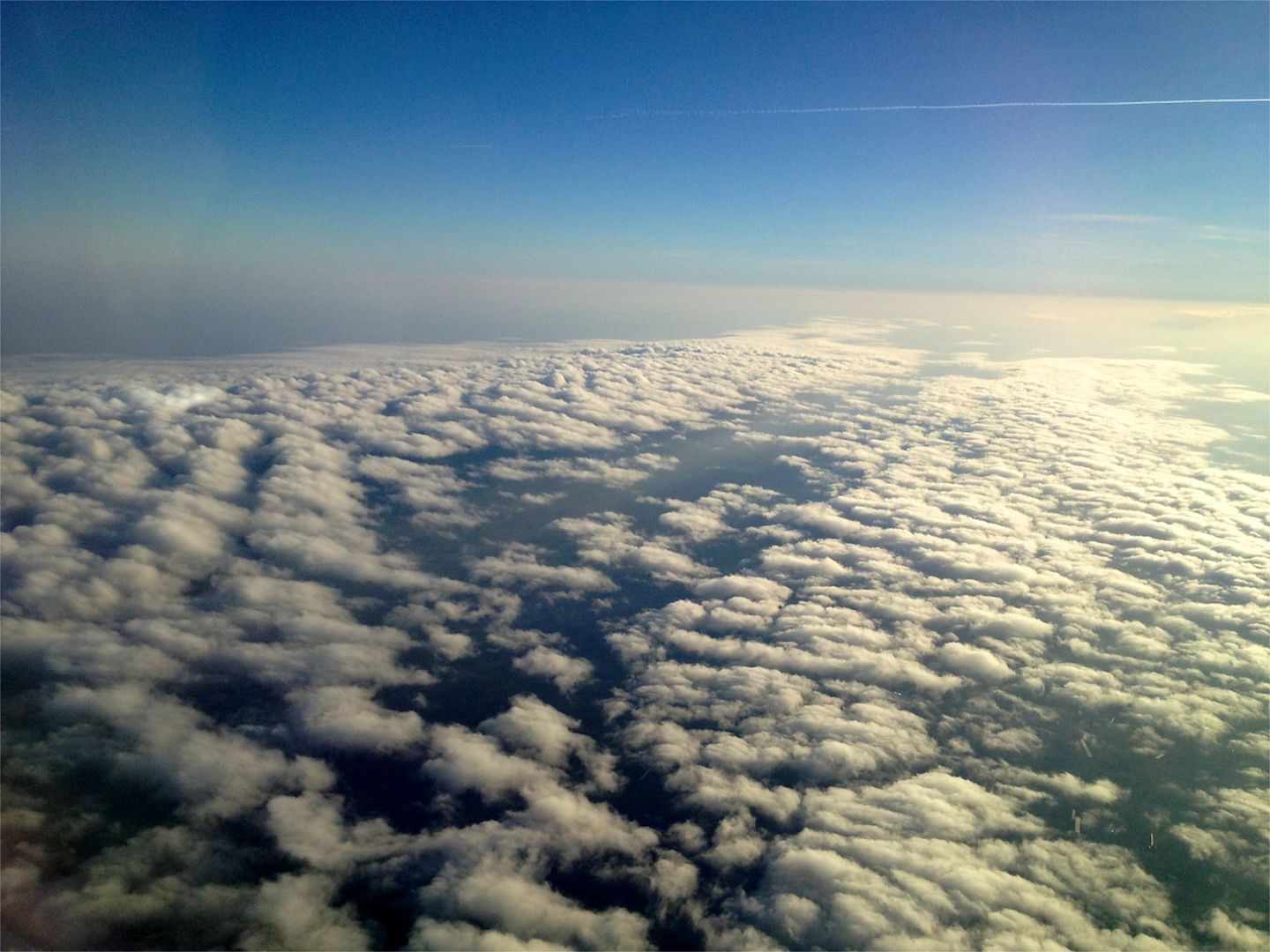 [youtube https://www.youtube.com/watch?v=8clSseILTGc]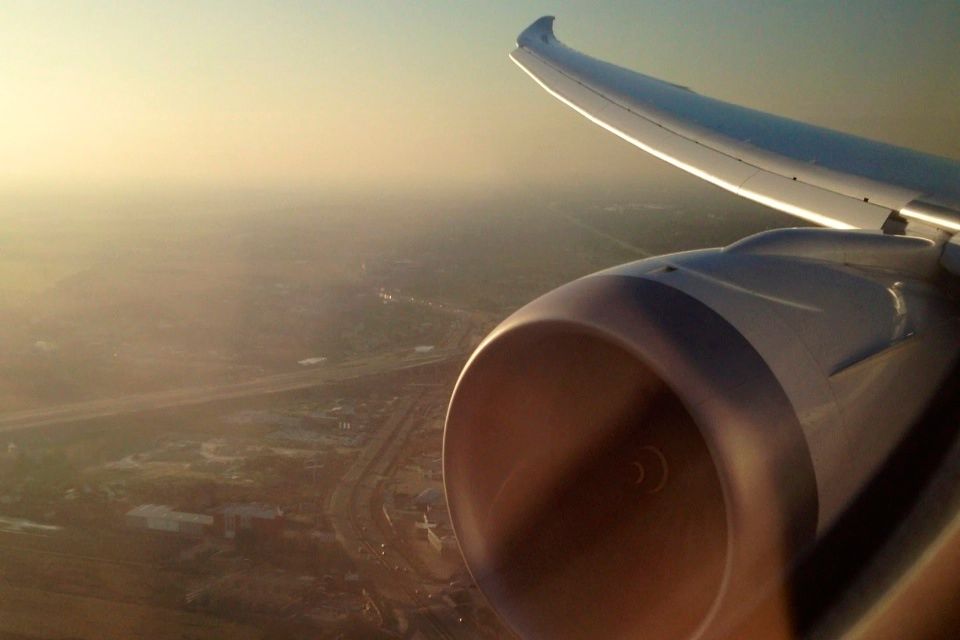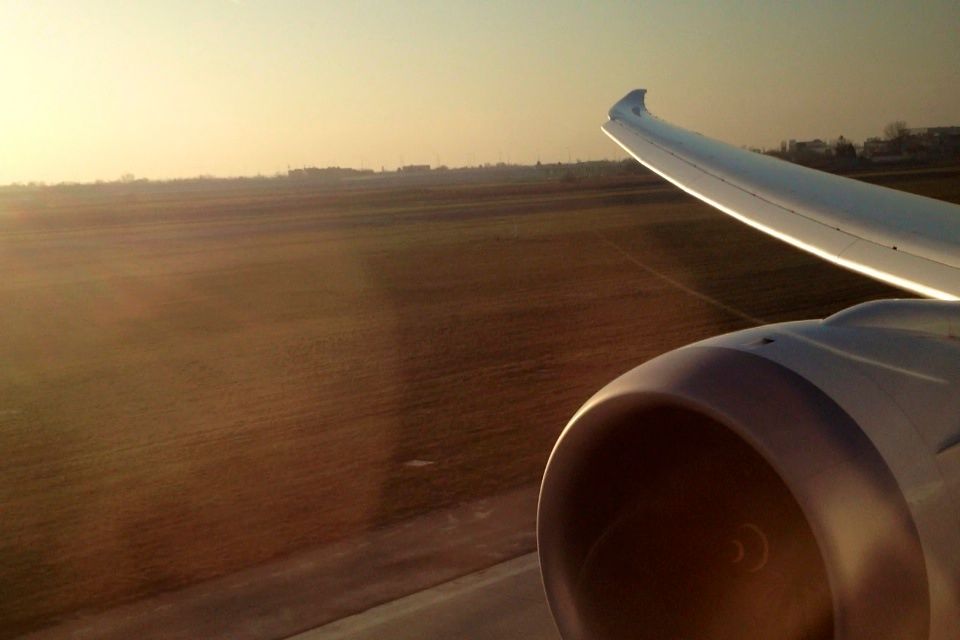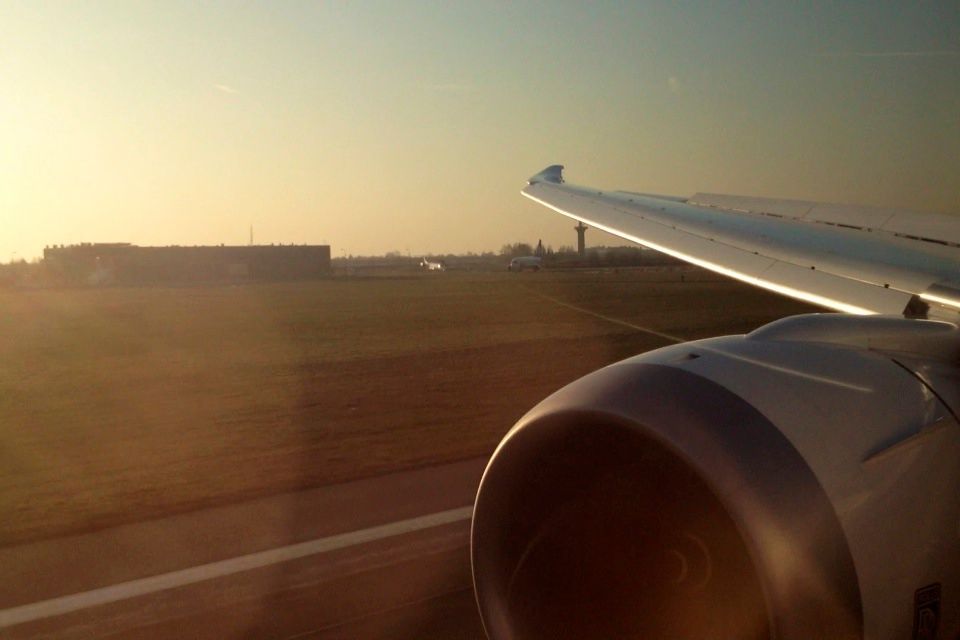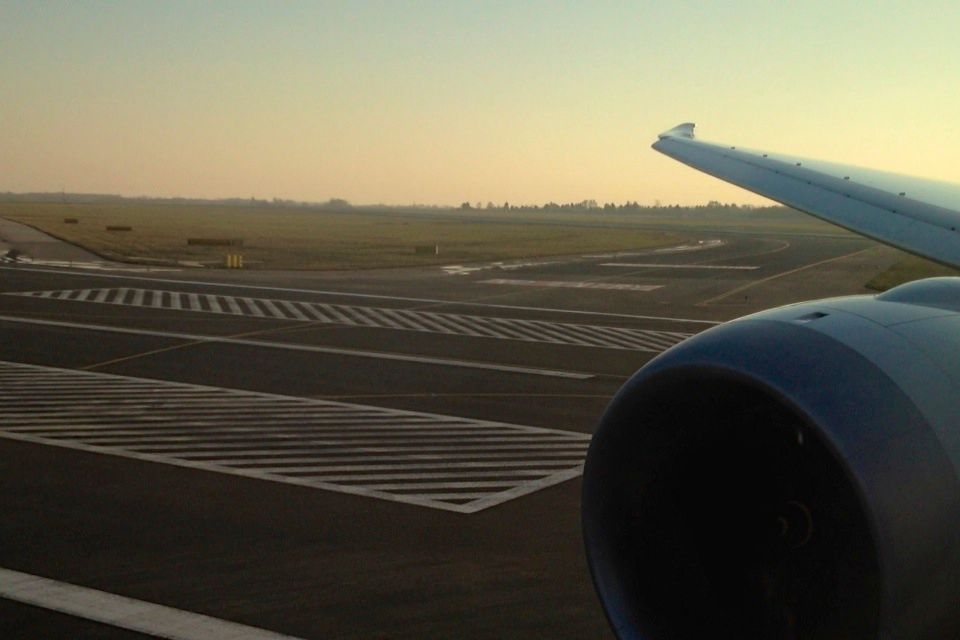 The landing was pretty smooth initially, but once the reverse thrust and brakes had really kicked in, it was a rough ride. It was then over to the terminal, passing sister ship SP-LRB proudly on display – not hidden away in a hanger somewhere like I had expected. Also along the way, I noticed quite a few camera flashes going off in the terminal and a few ground crew taking pictures also.

Sister ship SP-LRB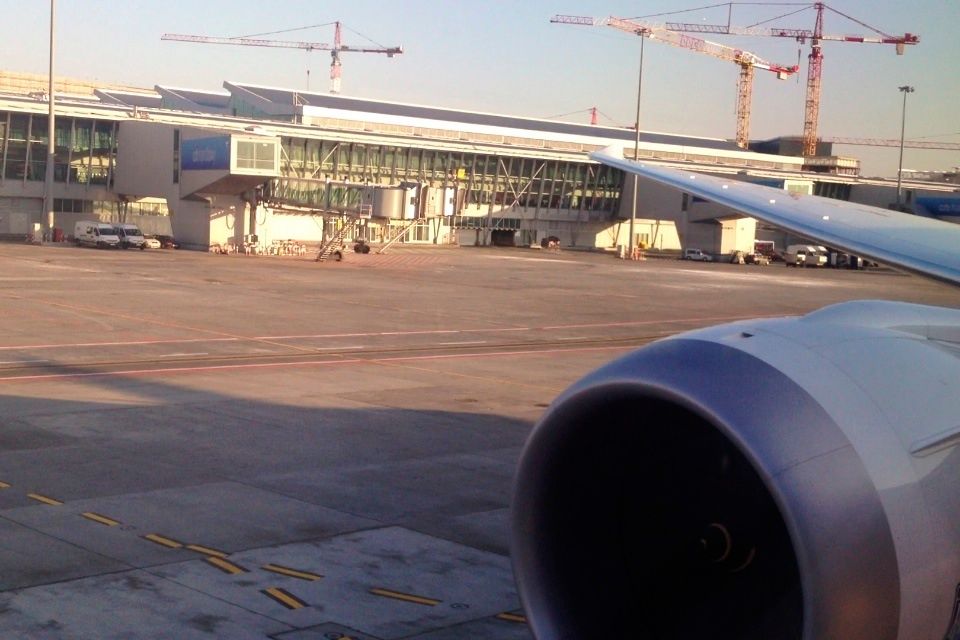 Upon arriving on stand, I asked to visit the flight deck – along with quite a few other people actually. This was eventually granted, however no sooner had I got my lens cap off quite an abrupt stewardess barked "you're finished, next". I did manage to grab a couple of pics, although they were a bit rushed.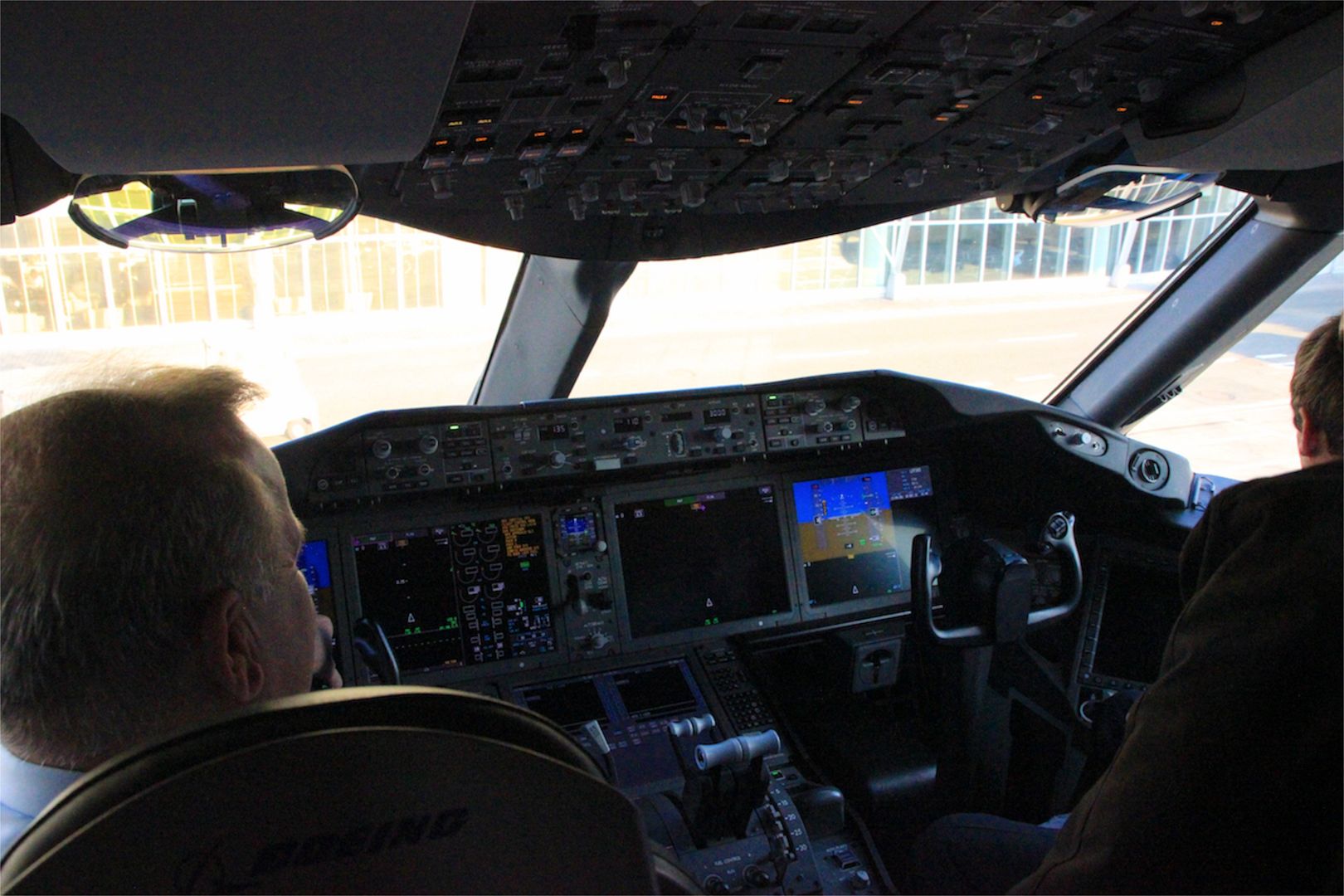 It was then off through the terminal, to the hotel, chatting to another enthusiast along the way – who mentioned that this flight had earned him his millionth air mile. Impressive!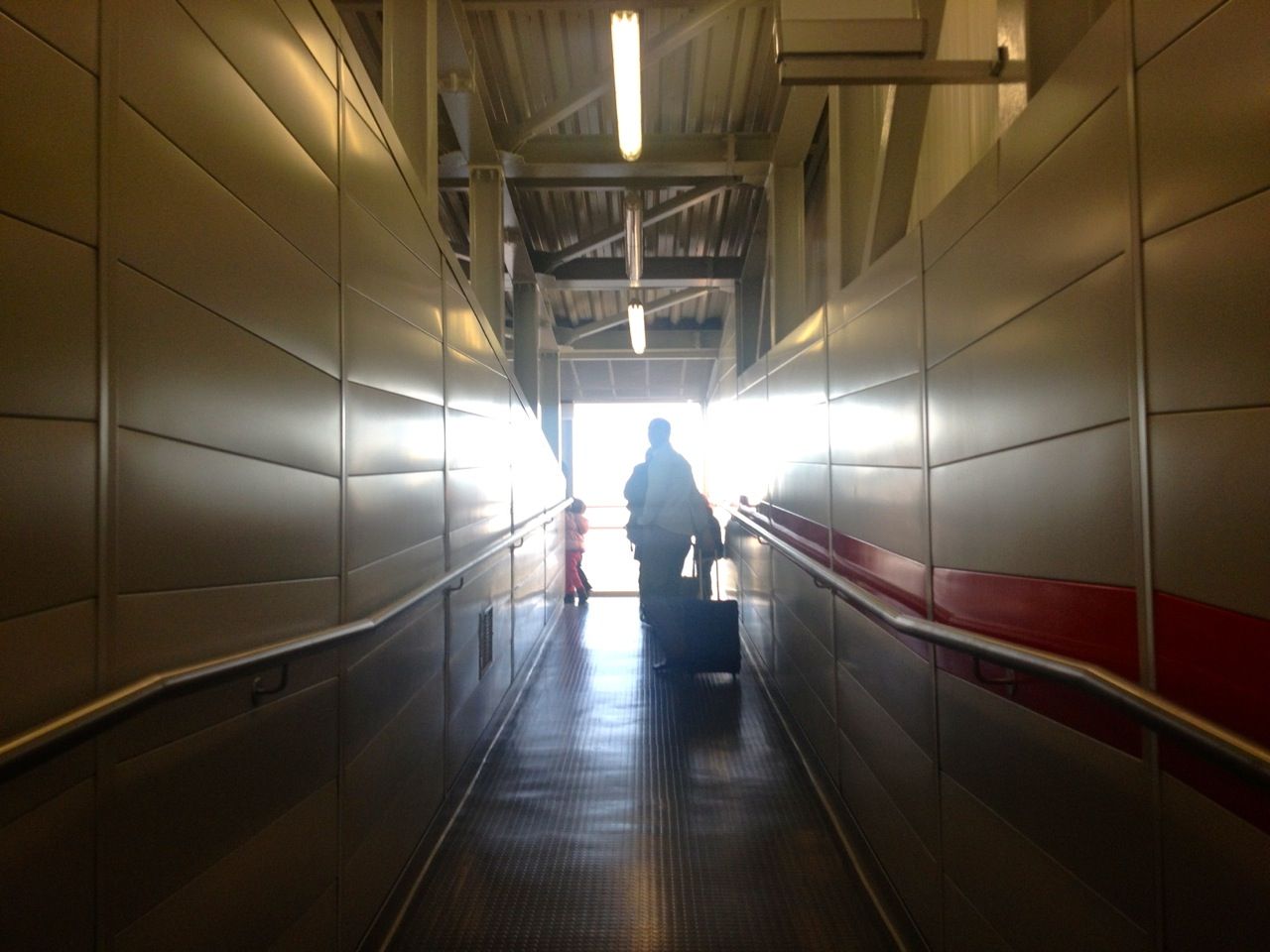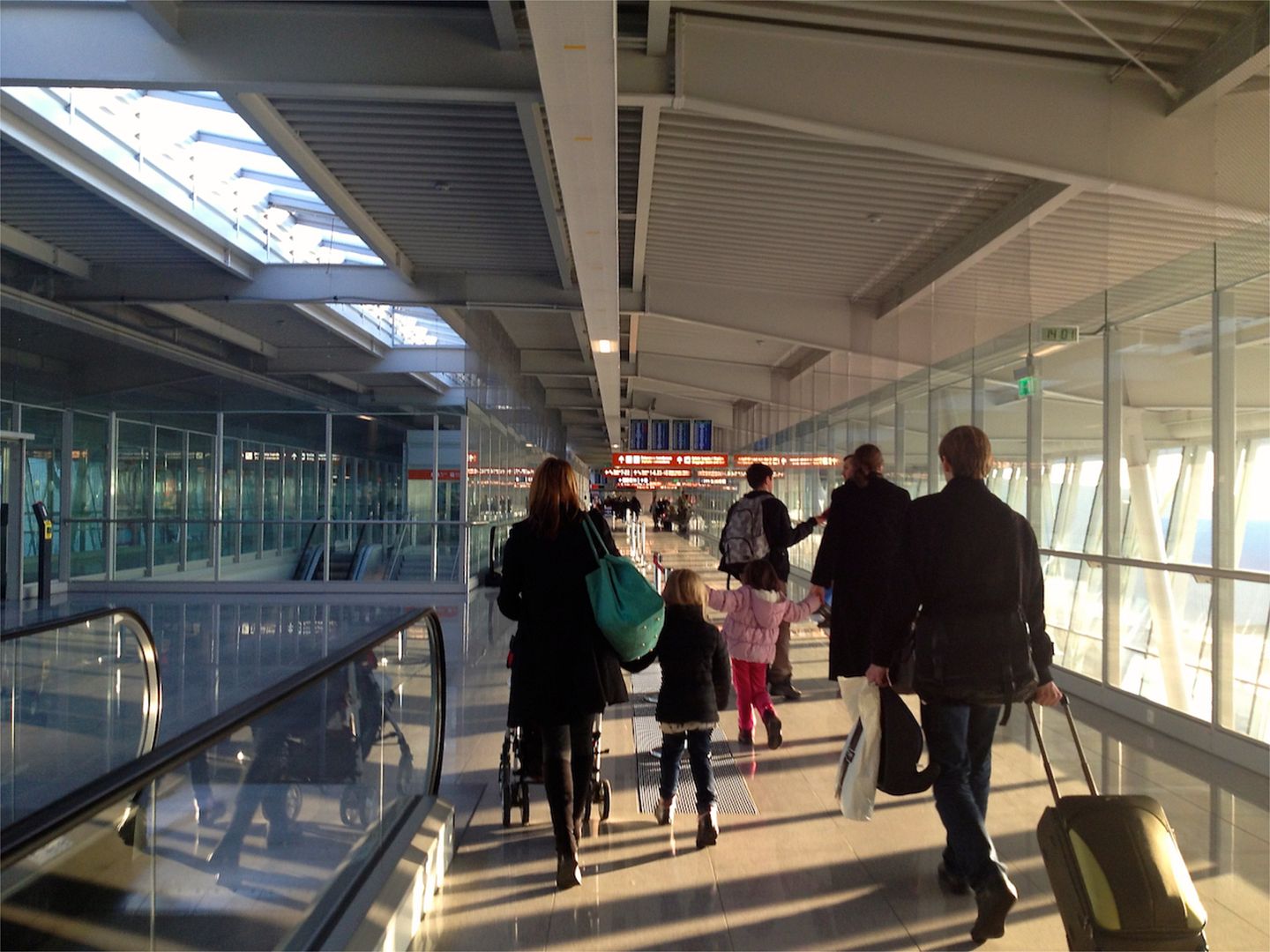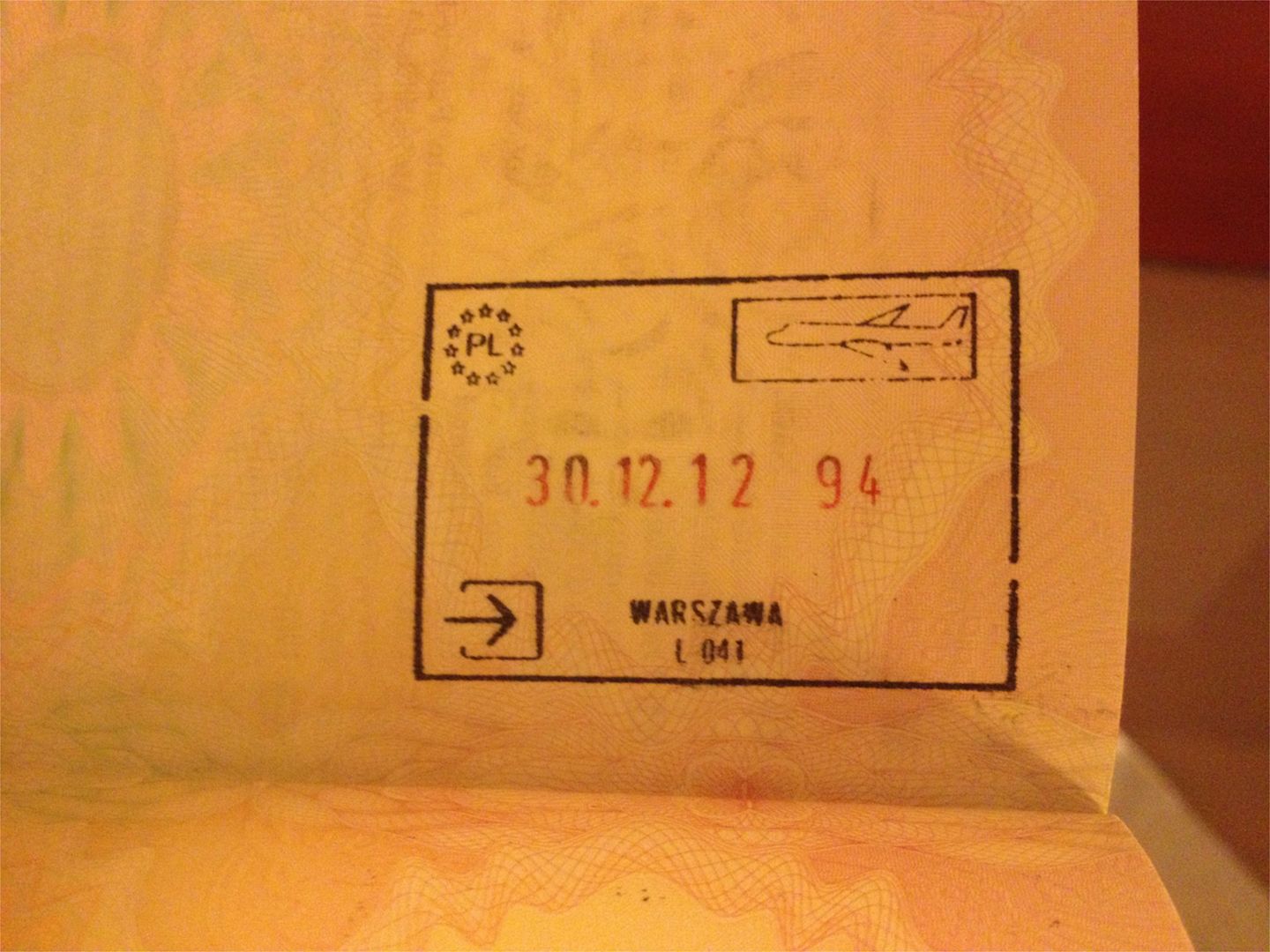 Not the most interesting stamp!

Once at the hotel, I dumped my bag and headed straight down to the train station to go into the city.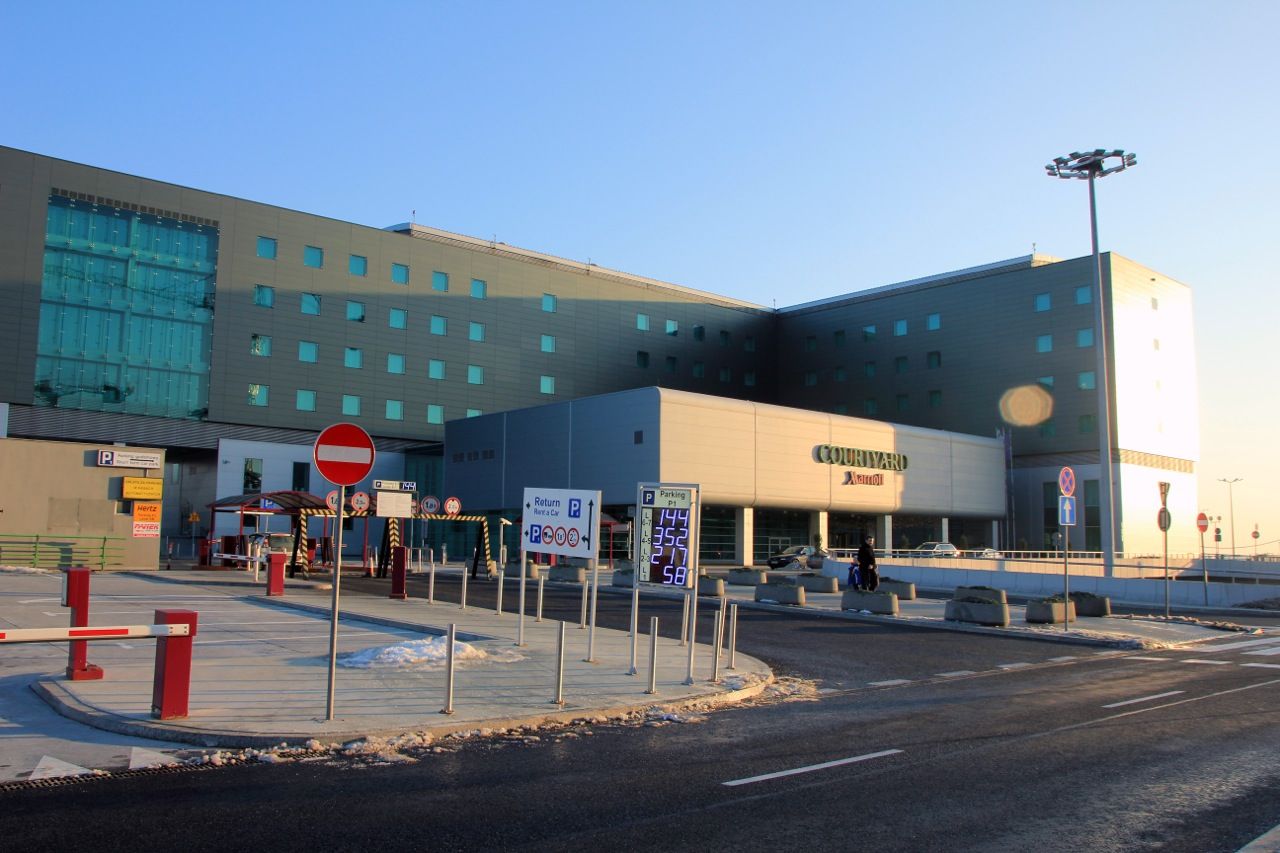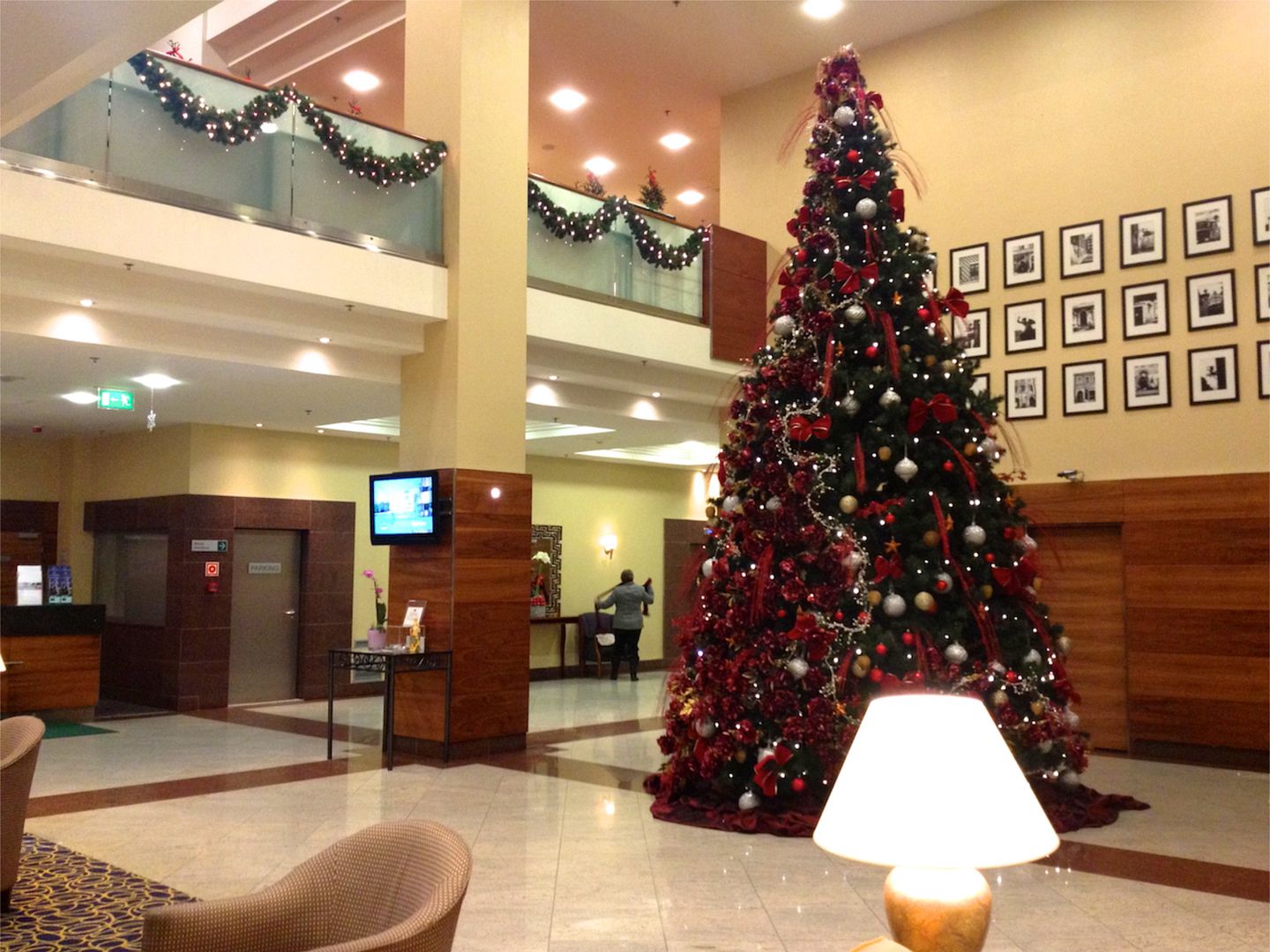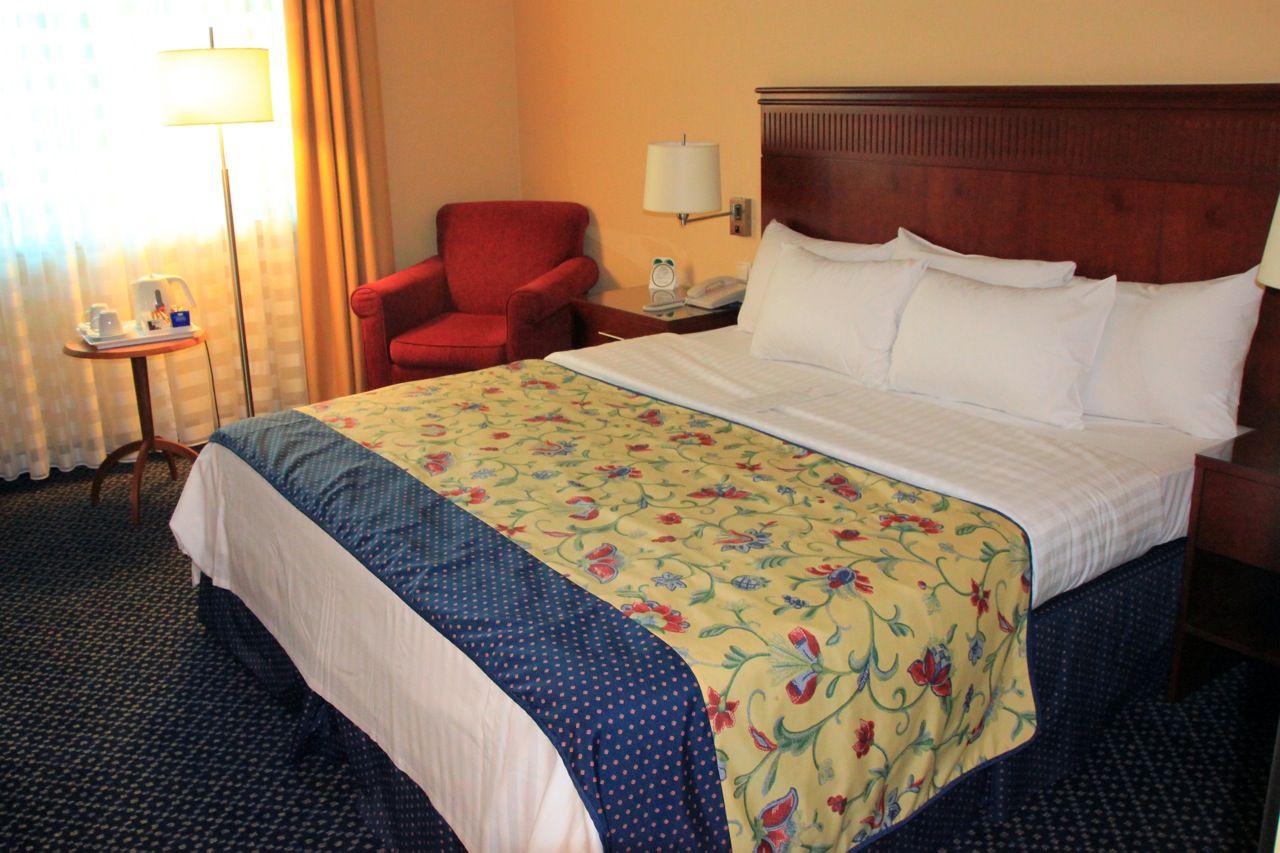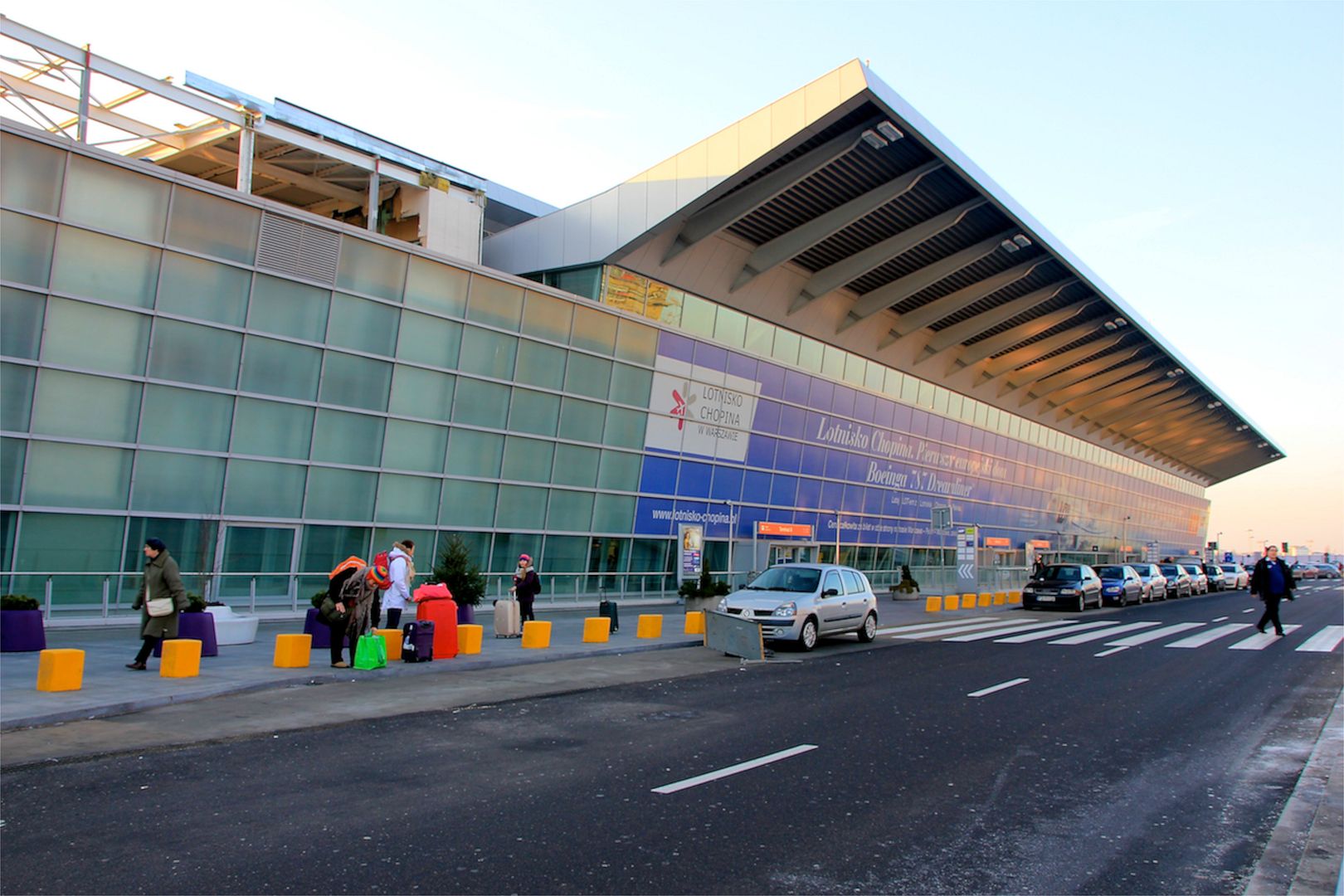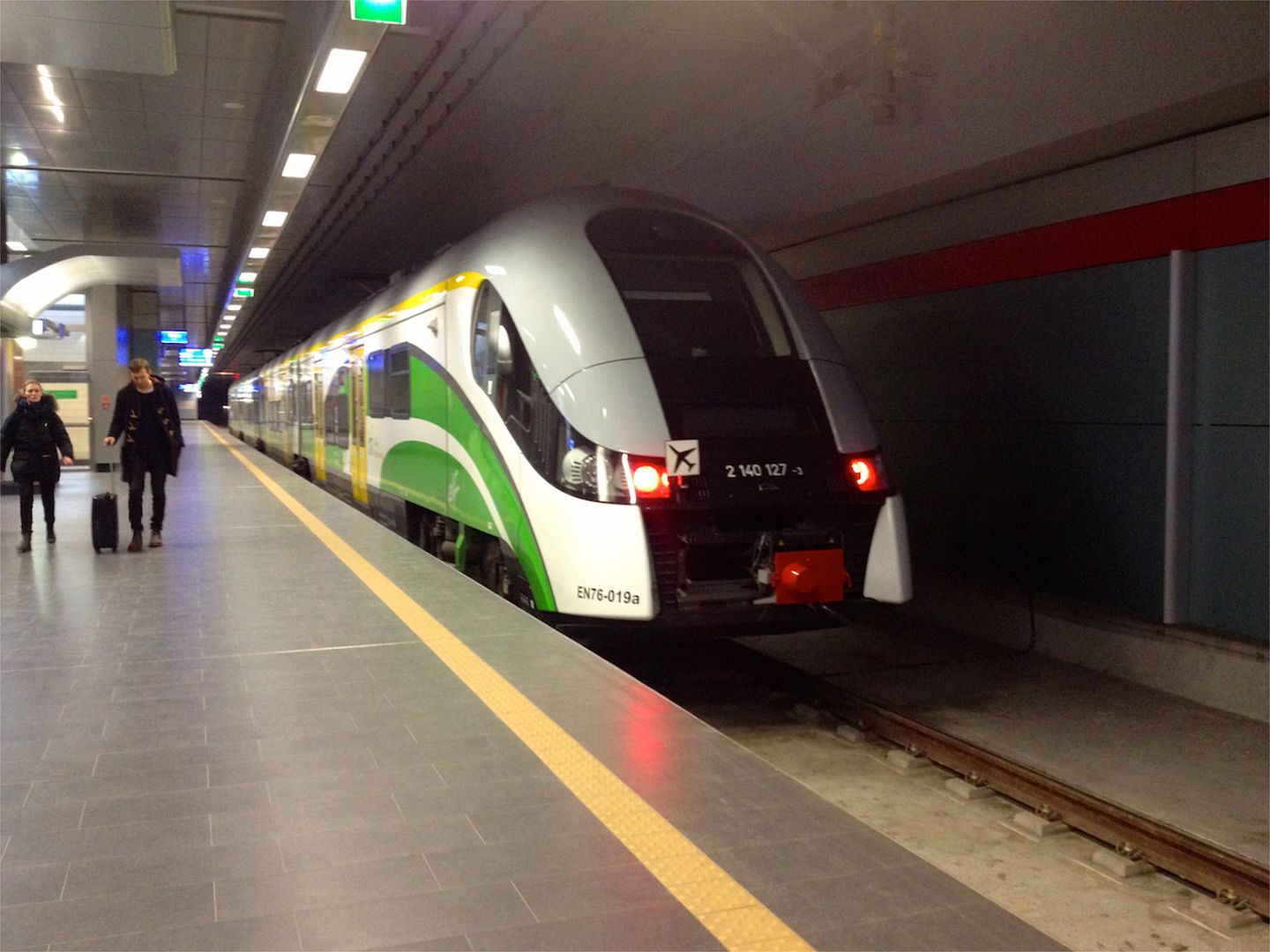 As the light disappears pretty quickly in Poland, the destination pics aren't that brilliant. I got off the train at Warsaw Central and took a walk down to the pretty busy Old Town.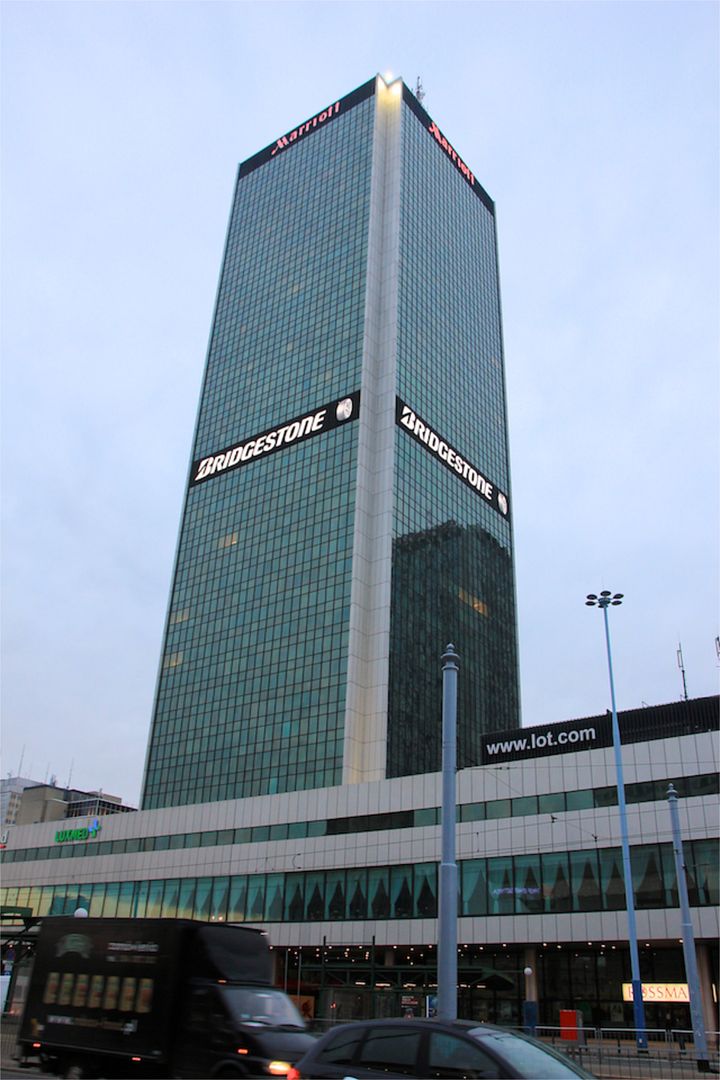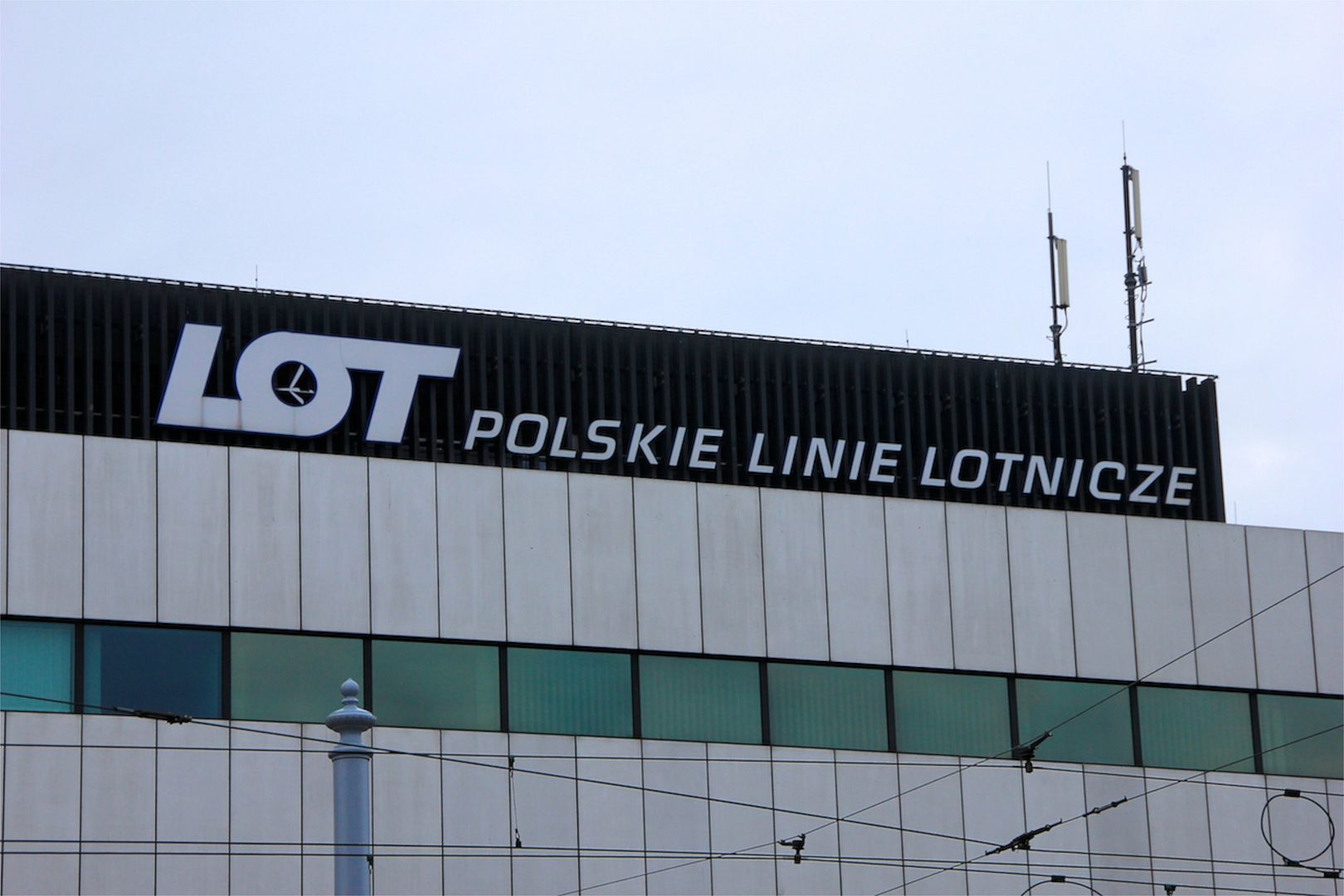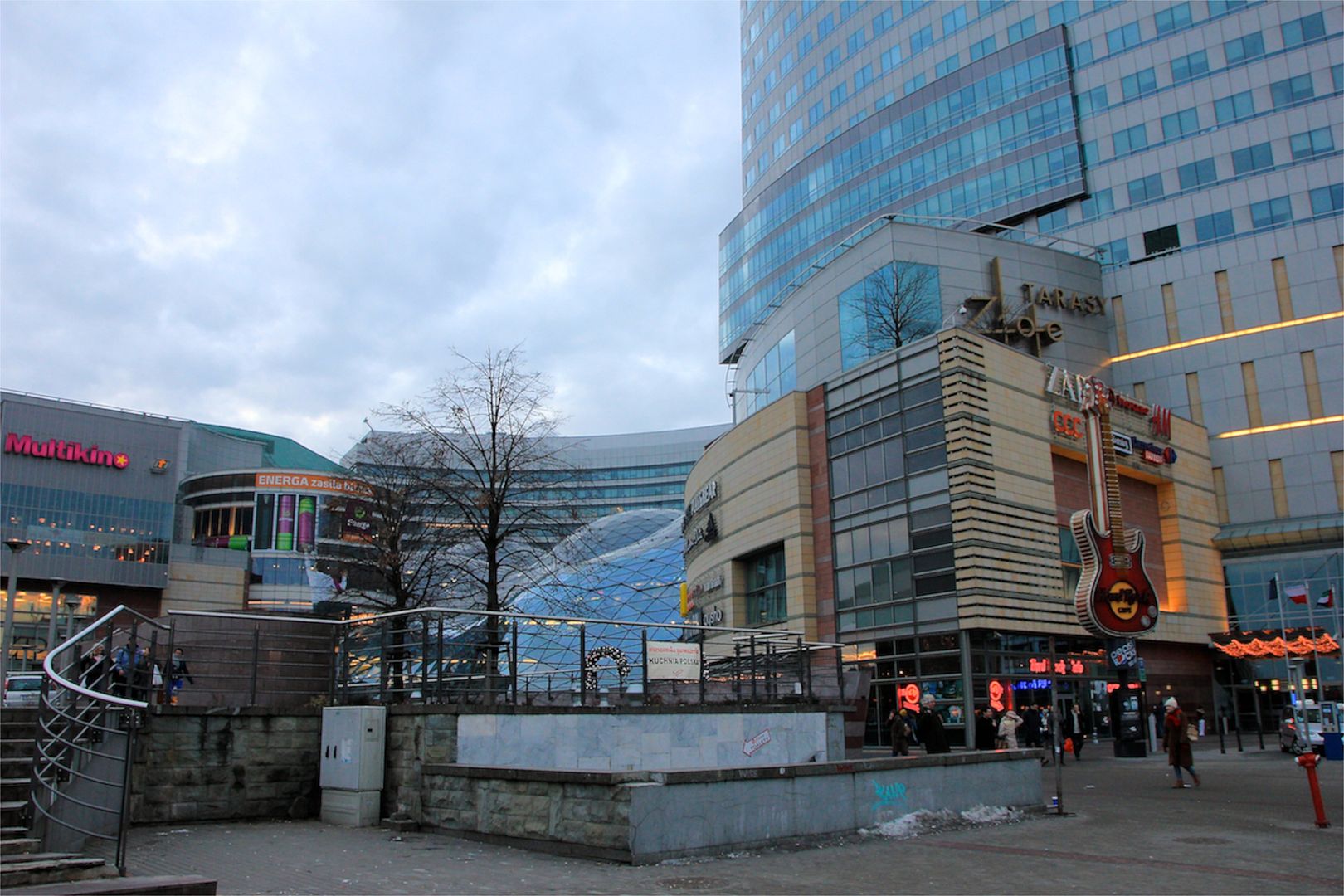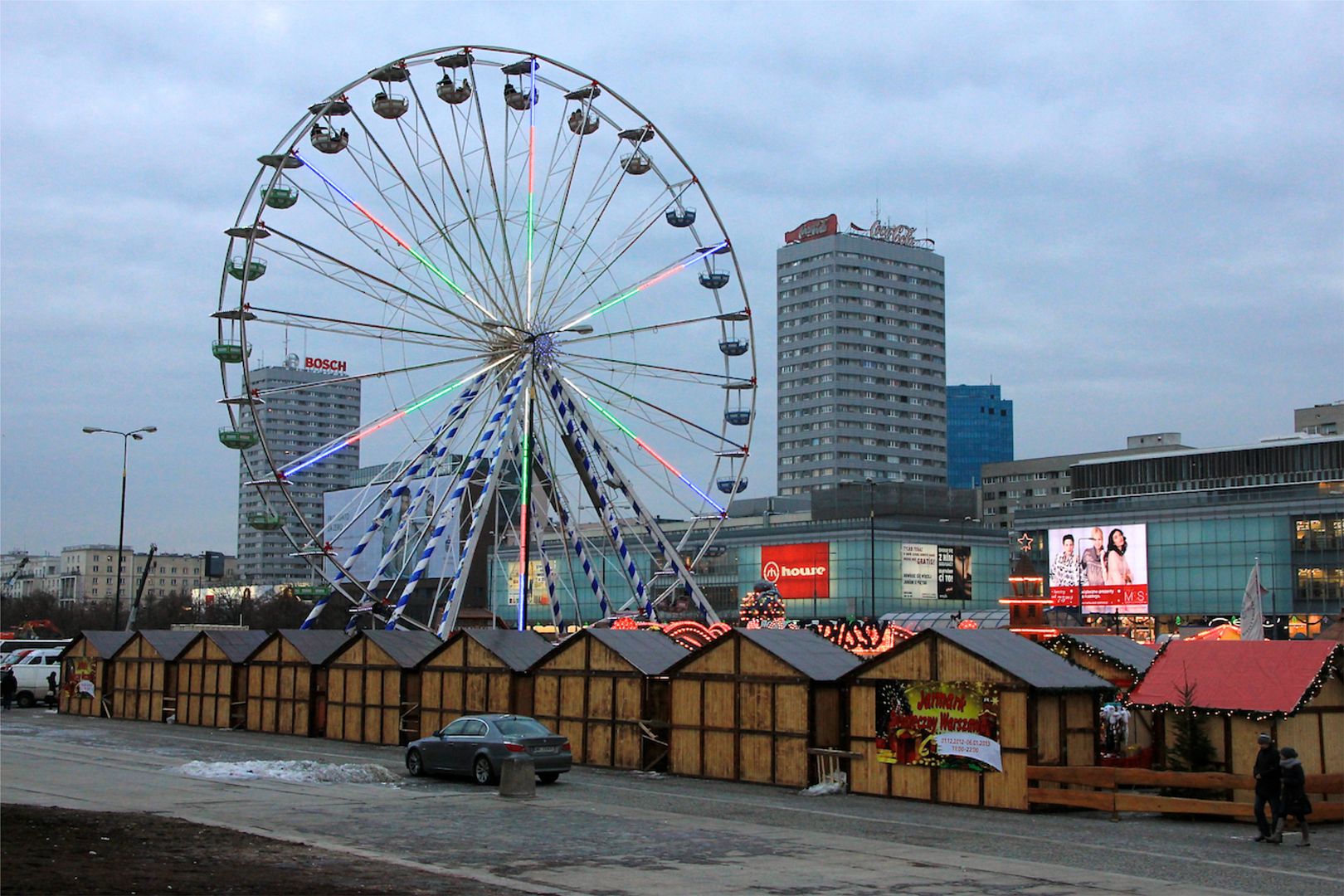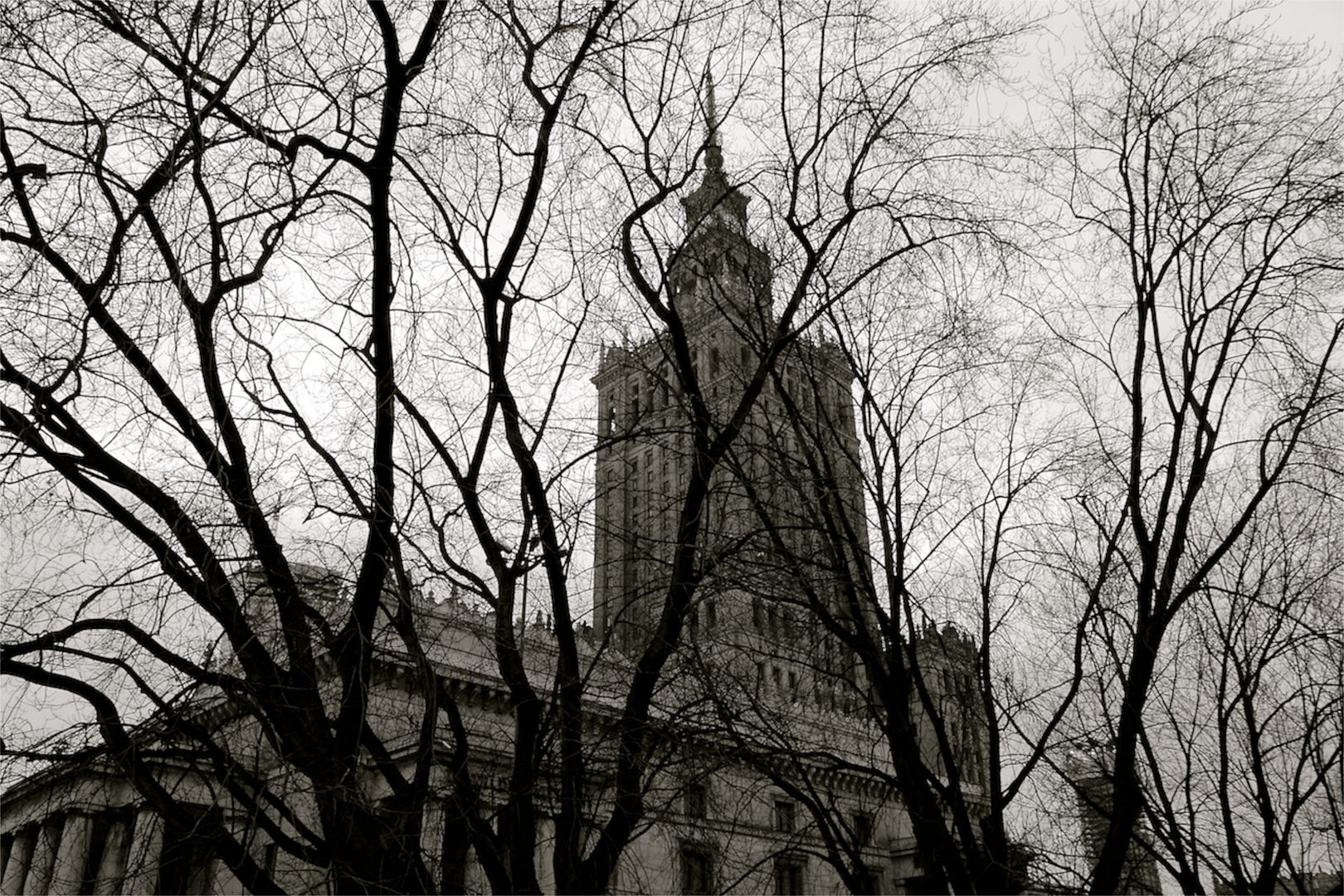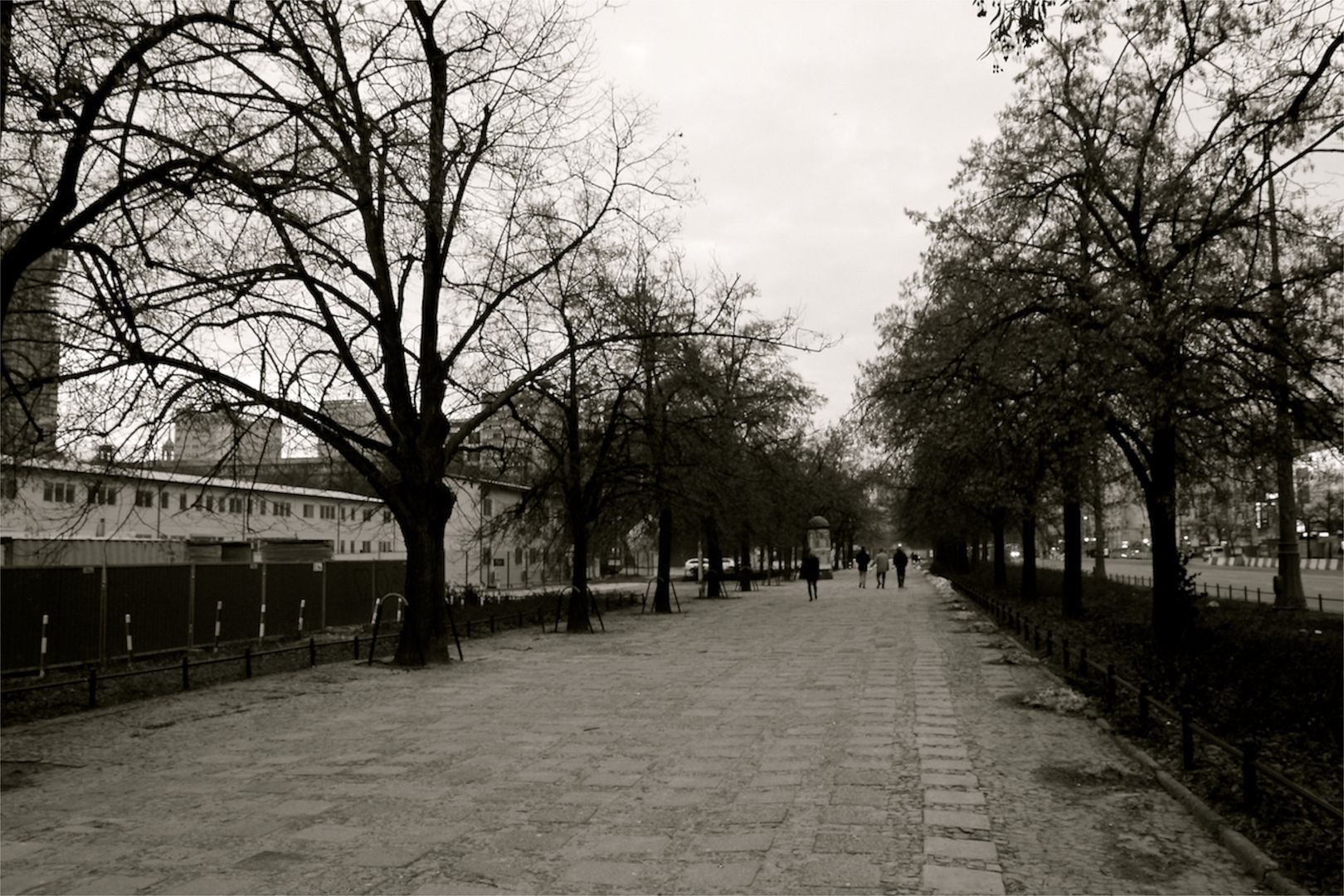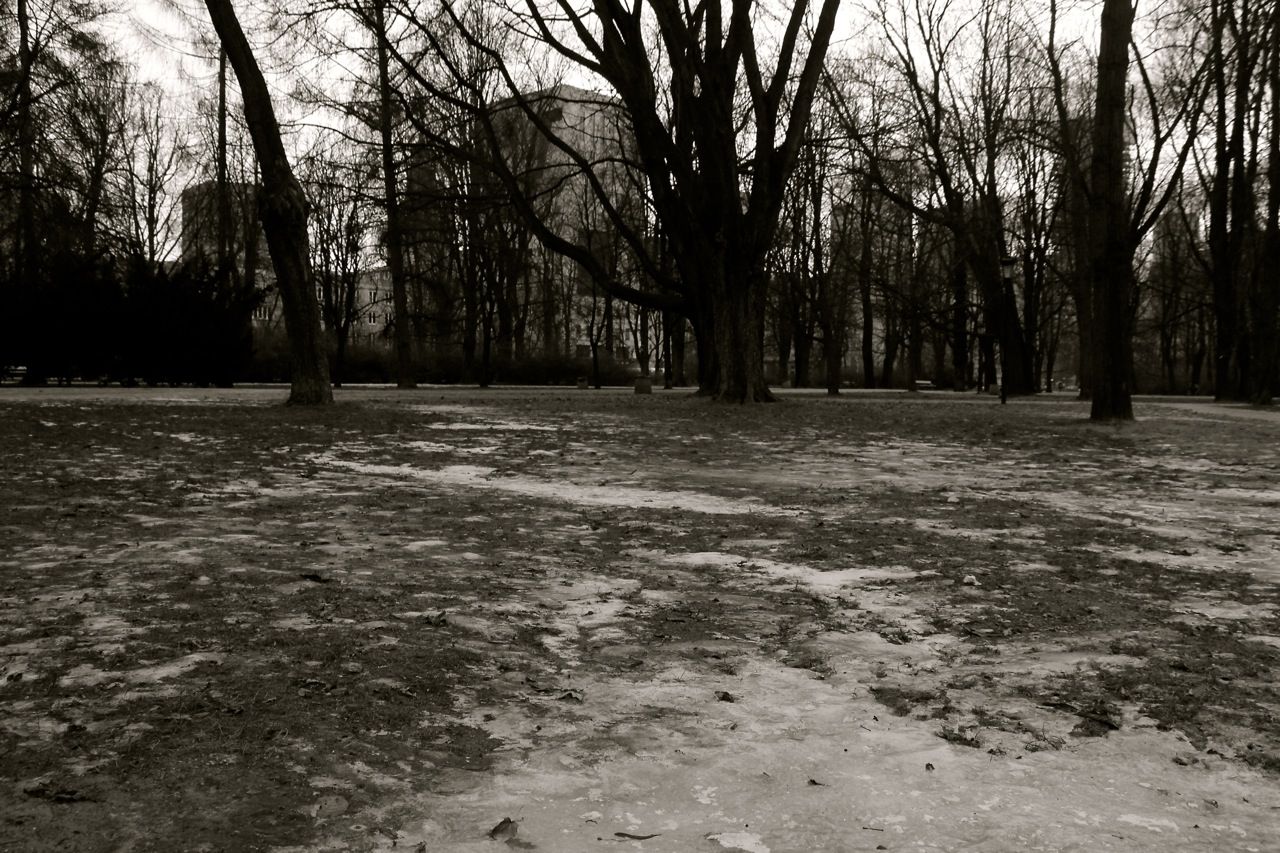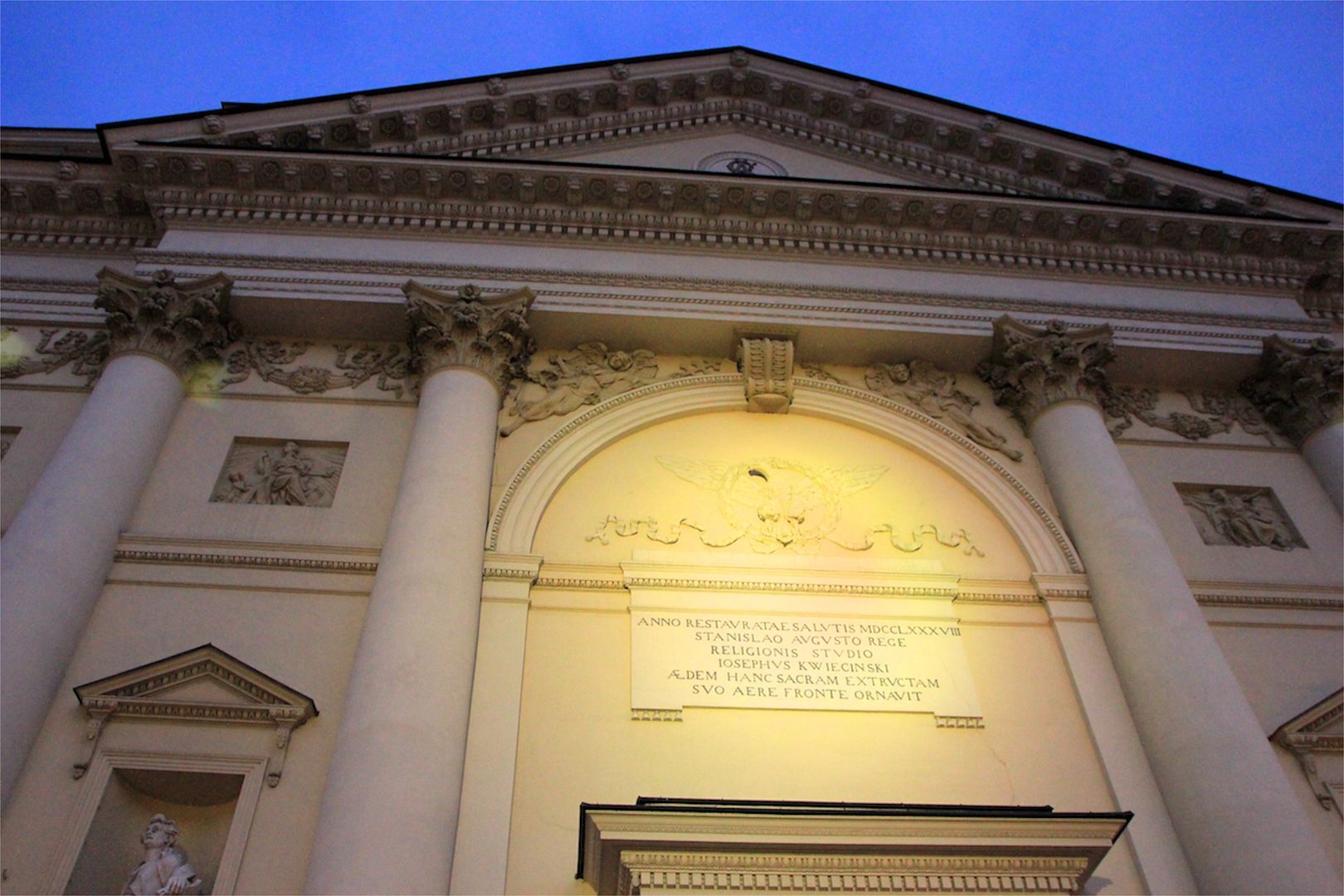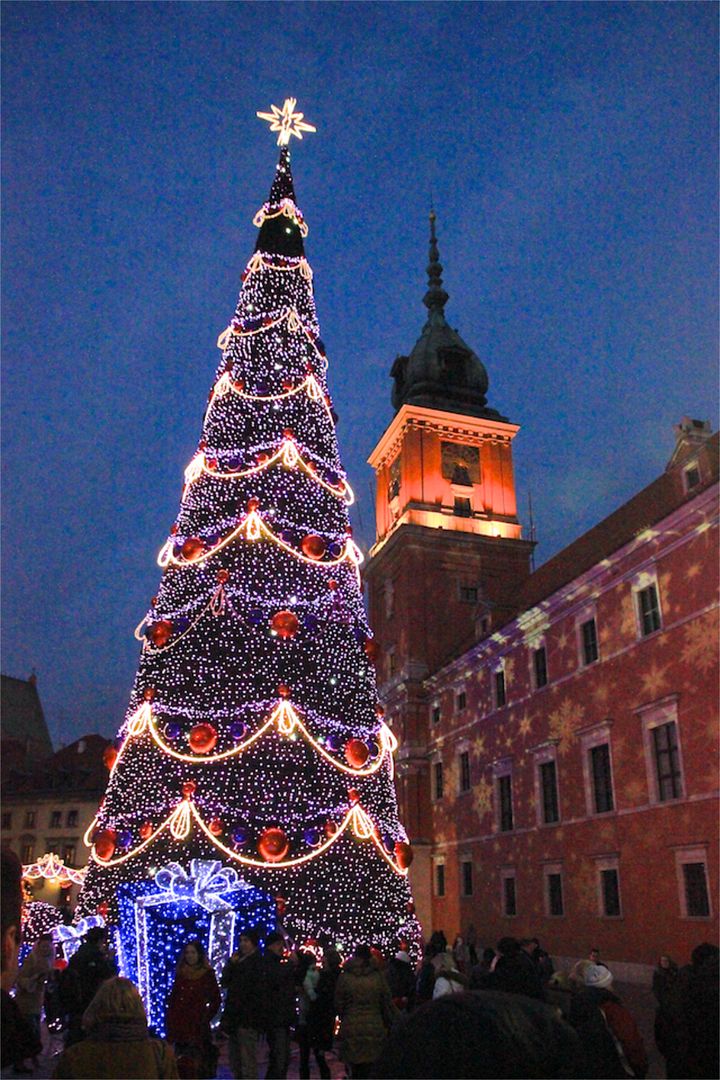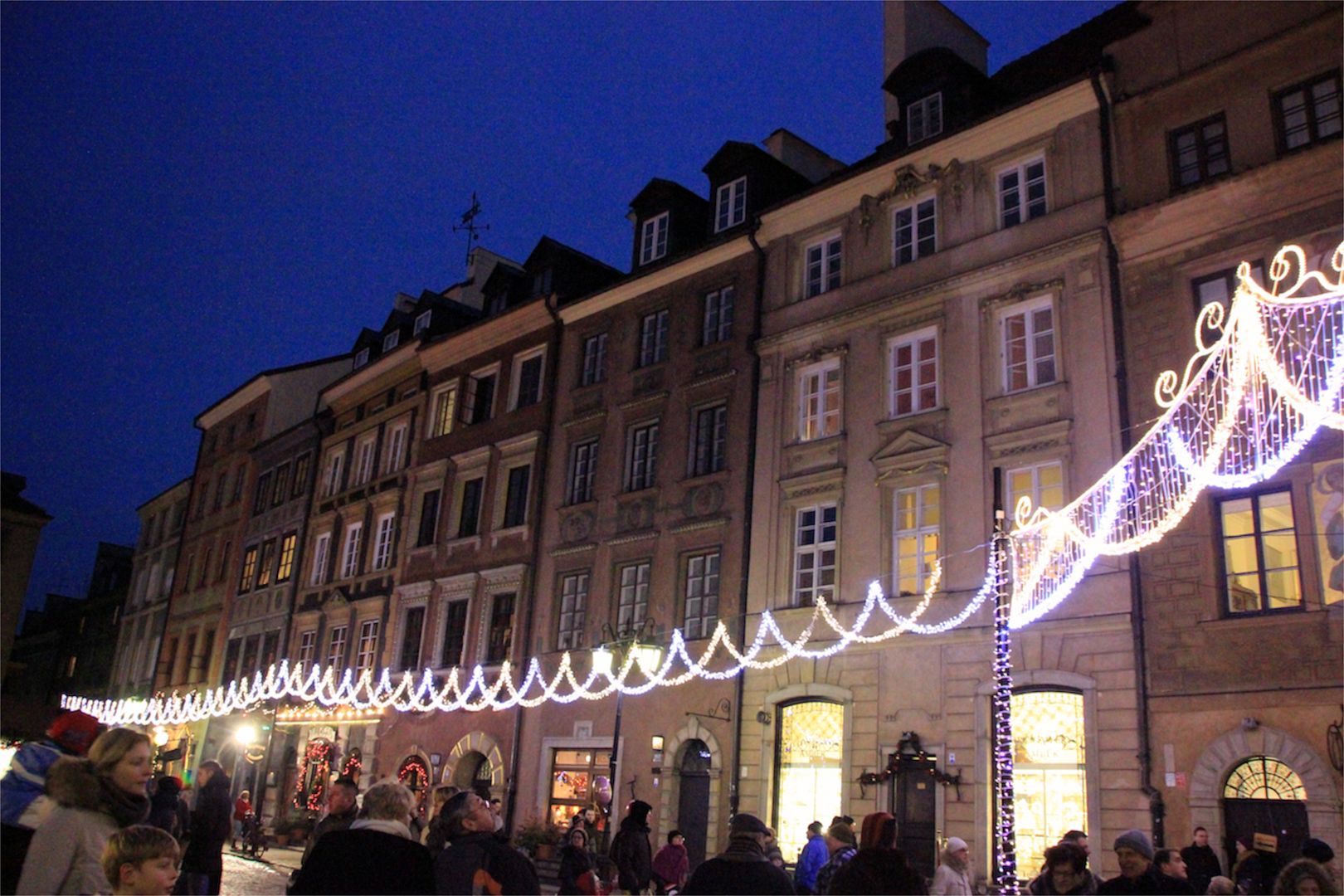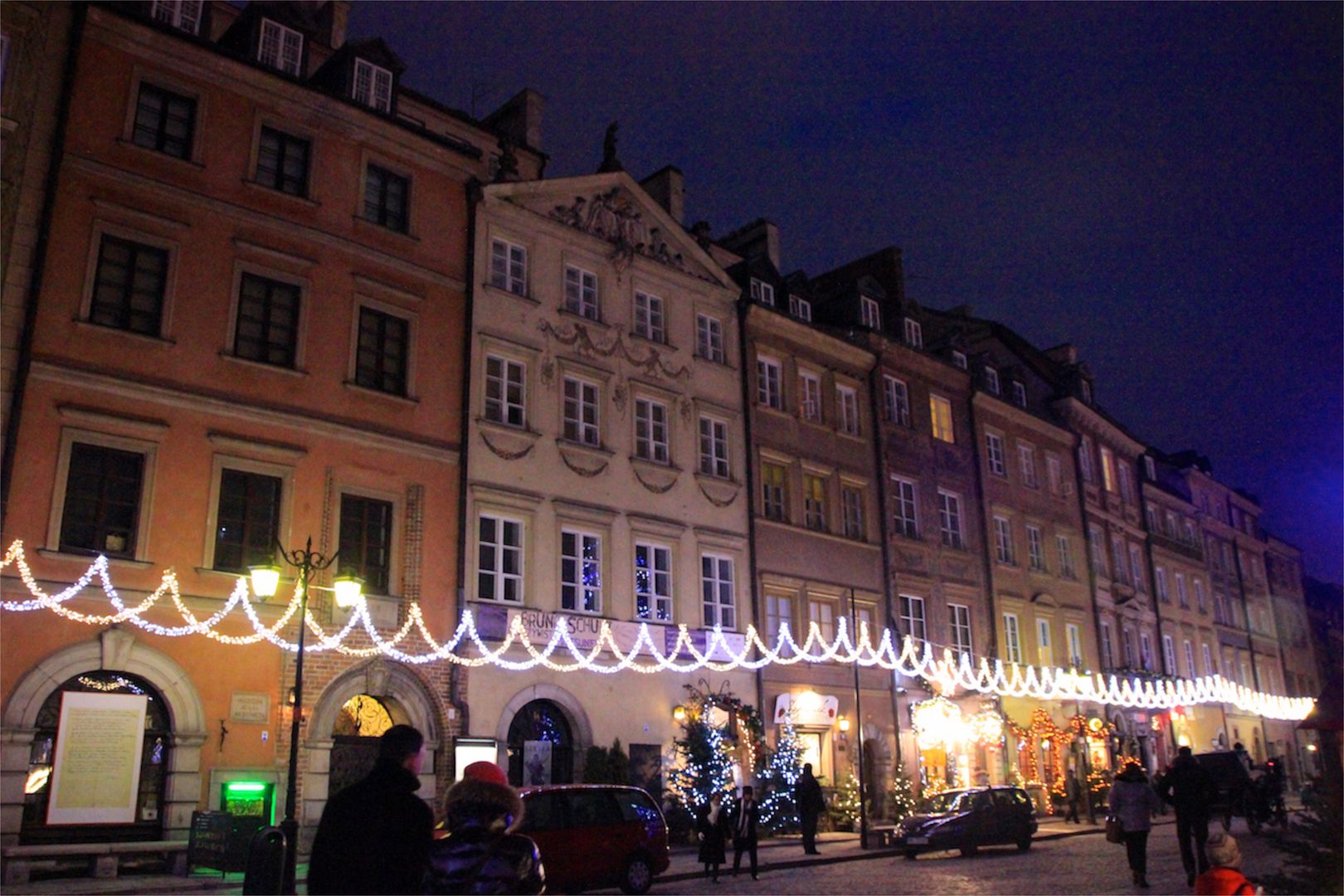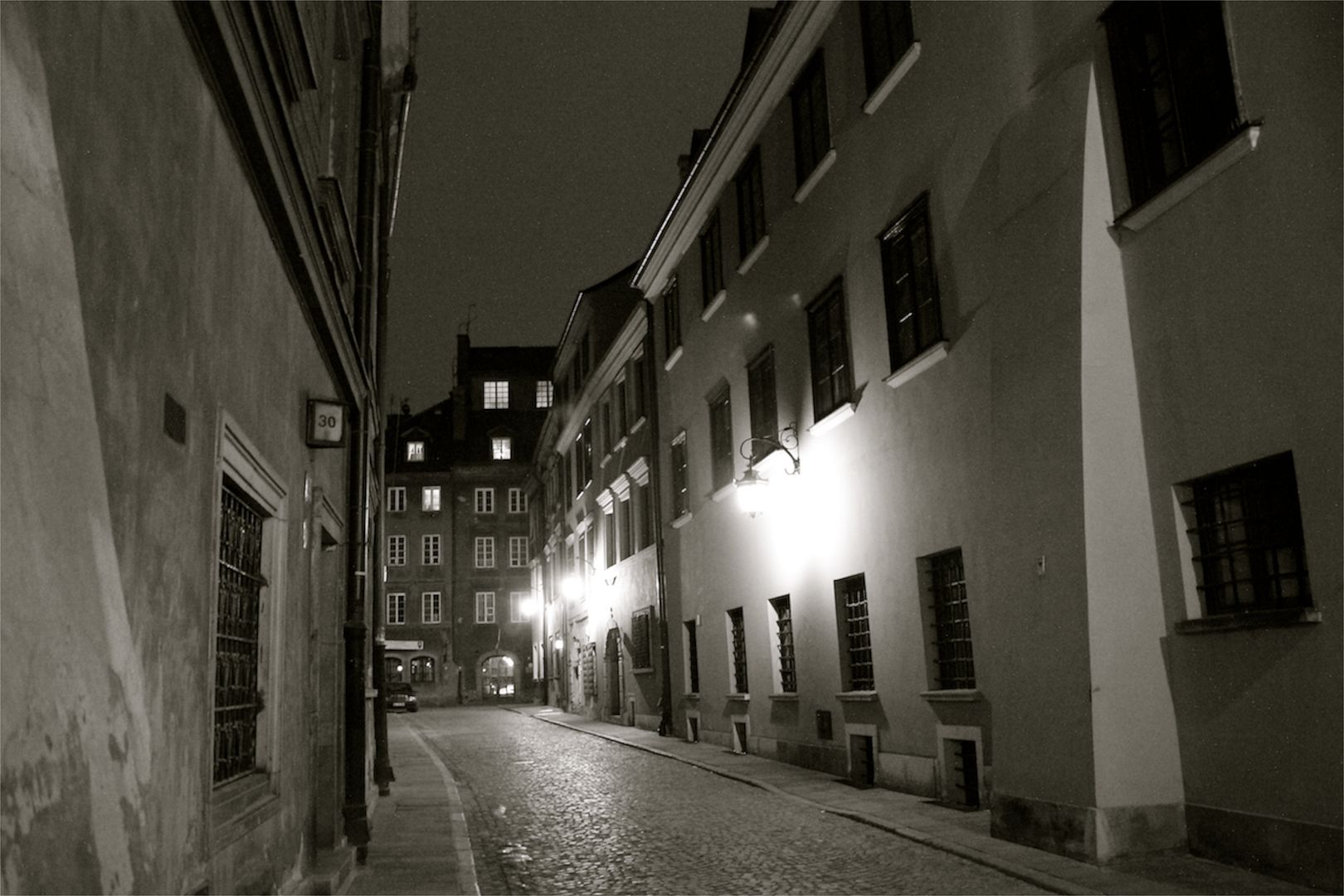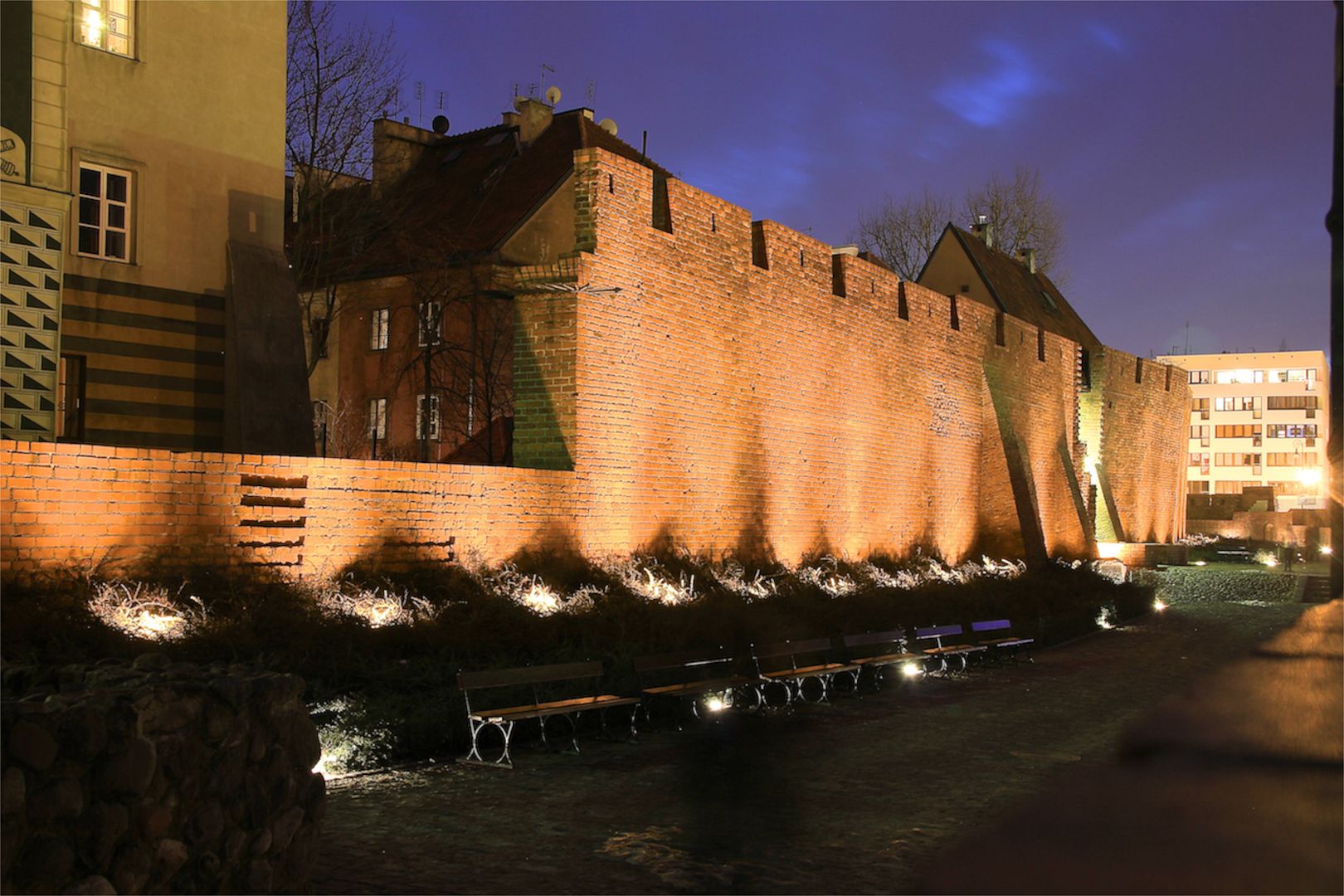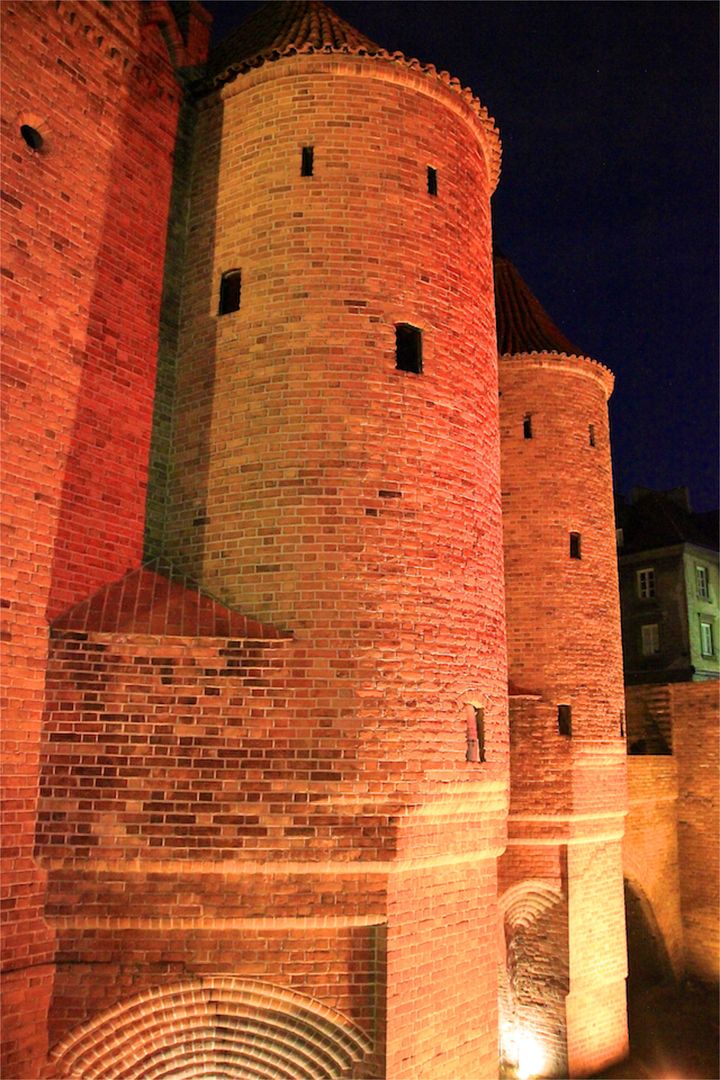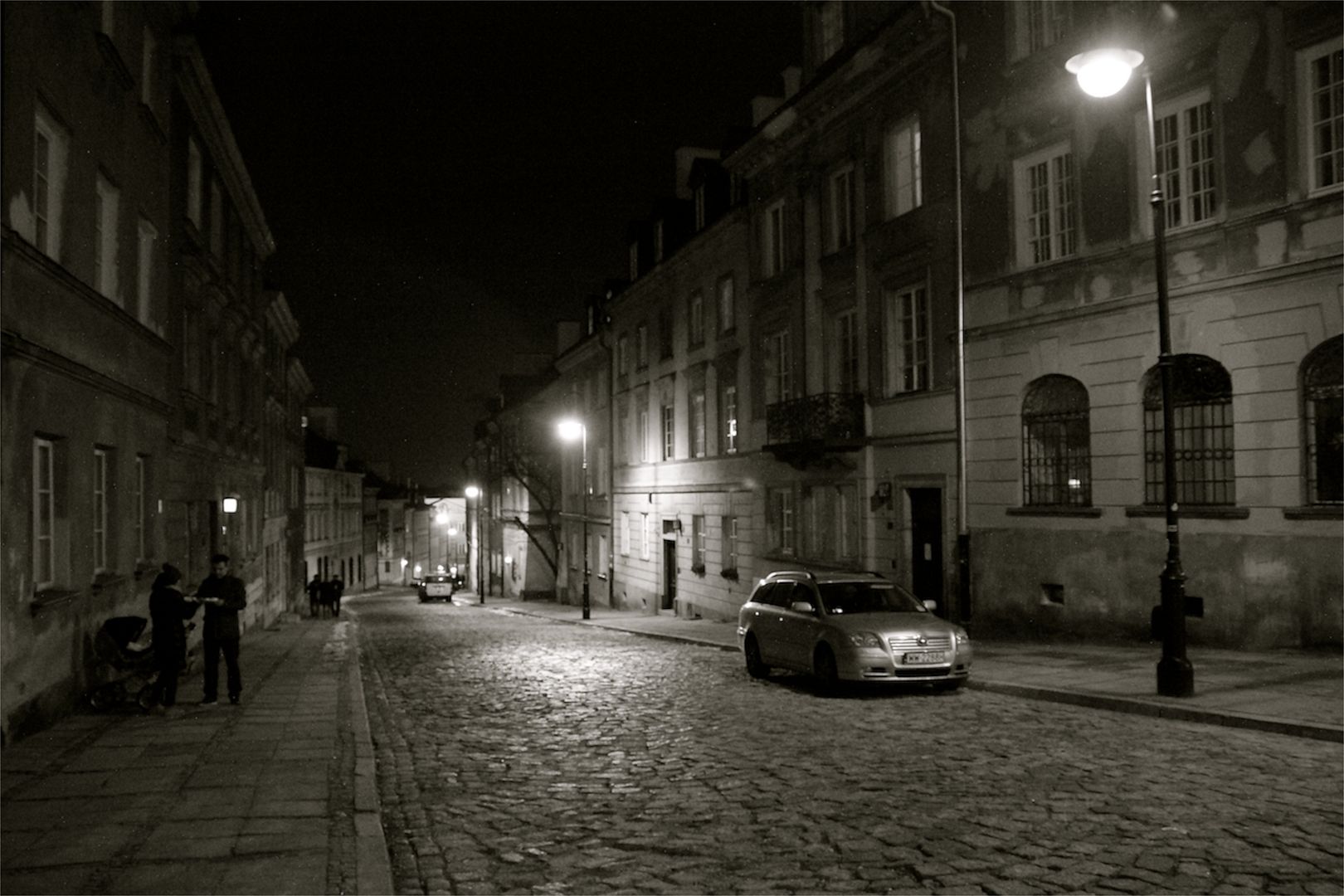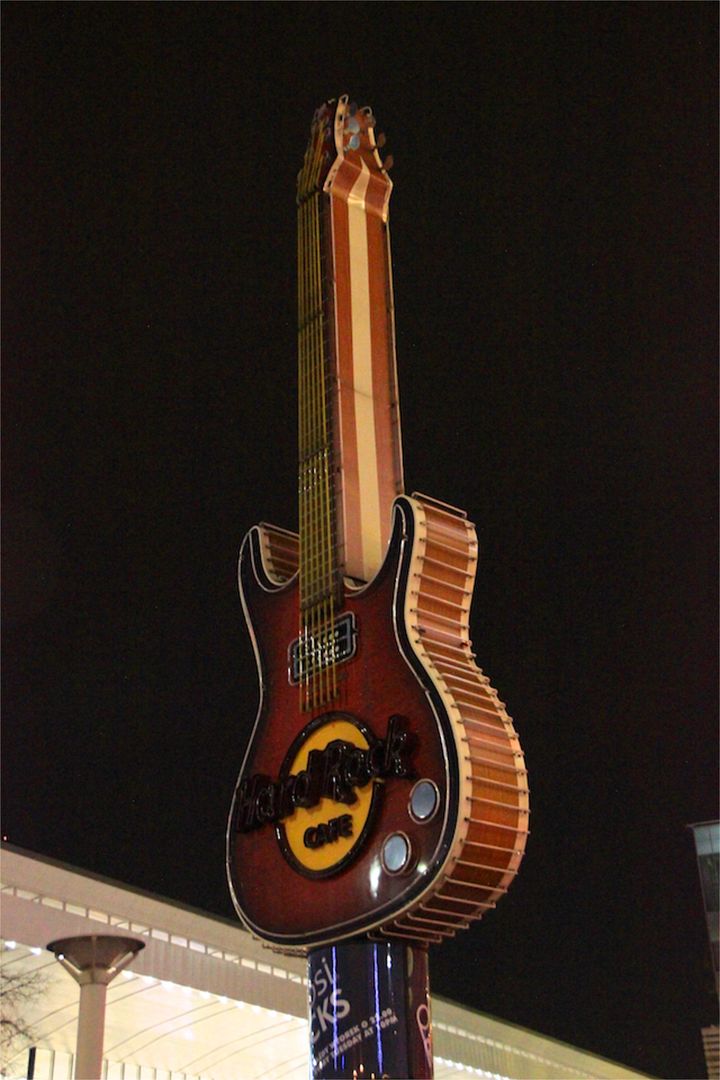 After making my way back towards the central station and grabbing some dinner at the Hard Rock Café, I headed back to the hotel for the night, taking a brief detour around the airport terminal along the way, although there wasn't a huge amount to be seen.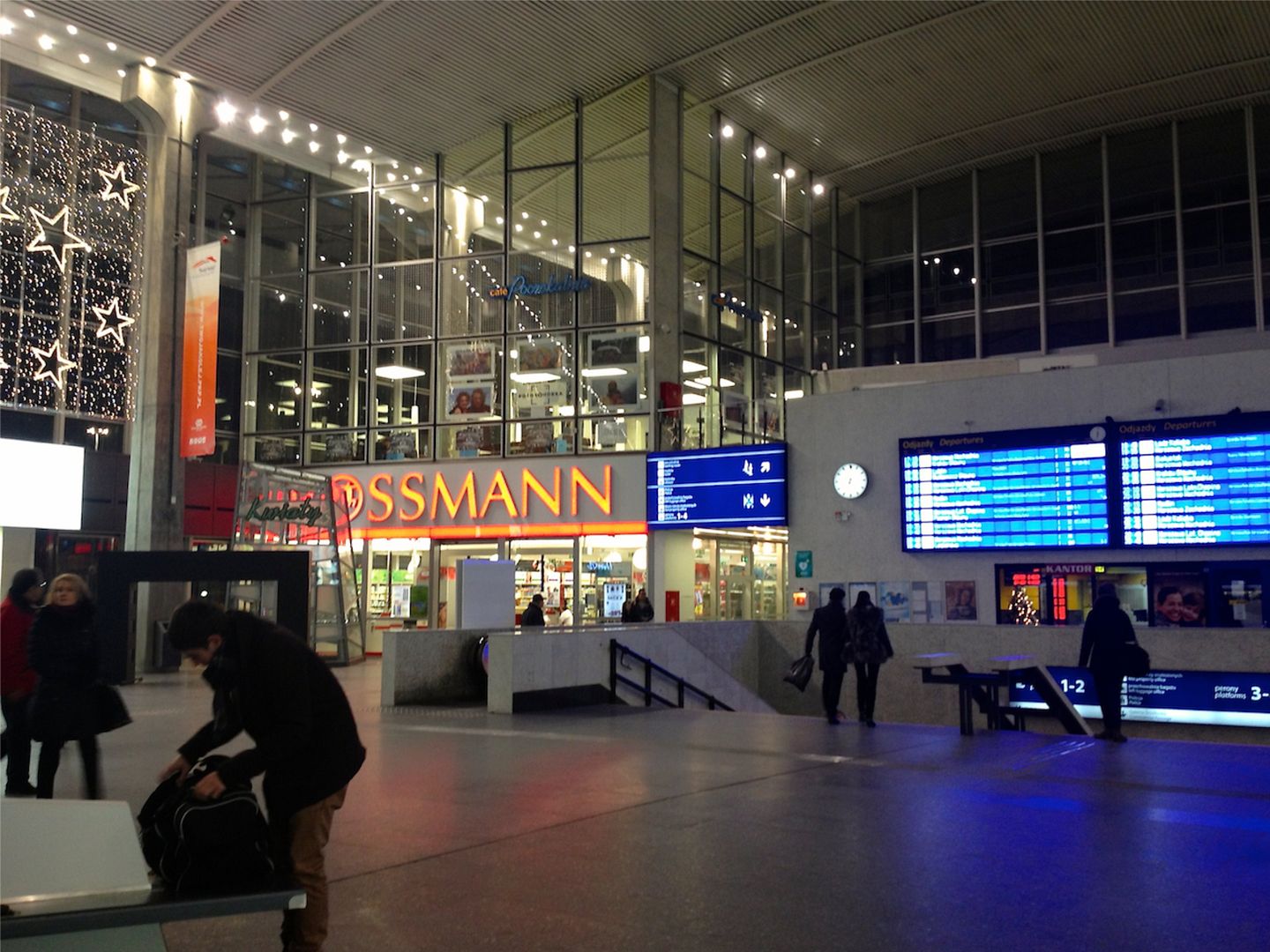 I left my hotel at 05:30 the following morning and made my way over to the terminal. There was a pretty long queue at check in, so I looked elsewhere to get a souvenir boarding pass. Luckily there was a hand baggage only line with just two people in it.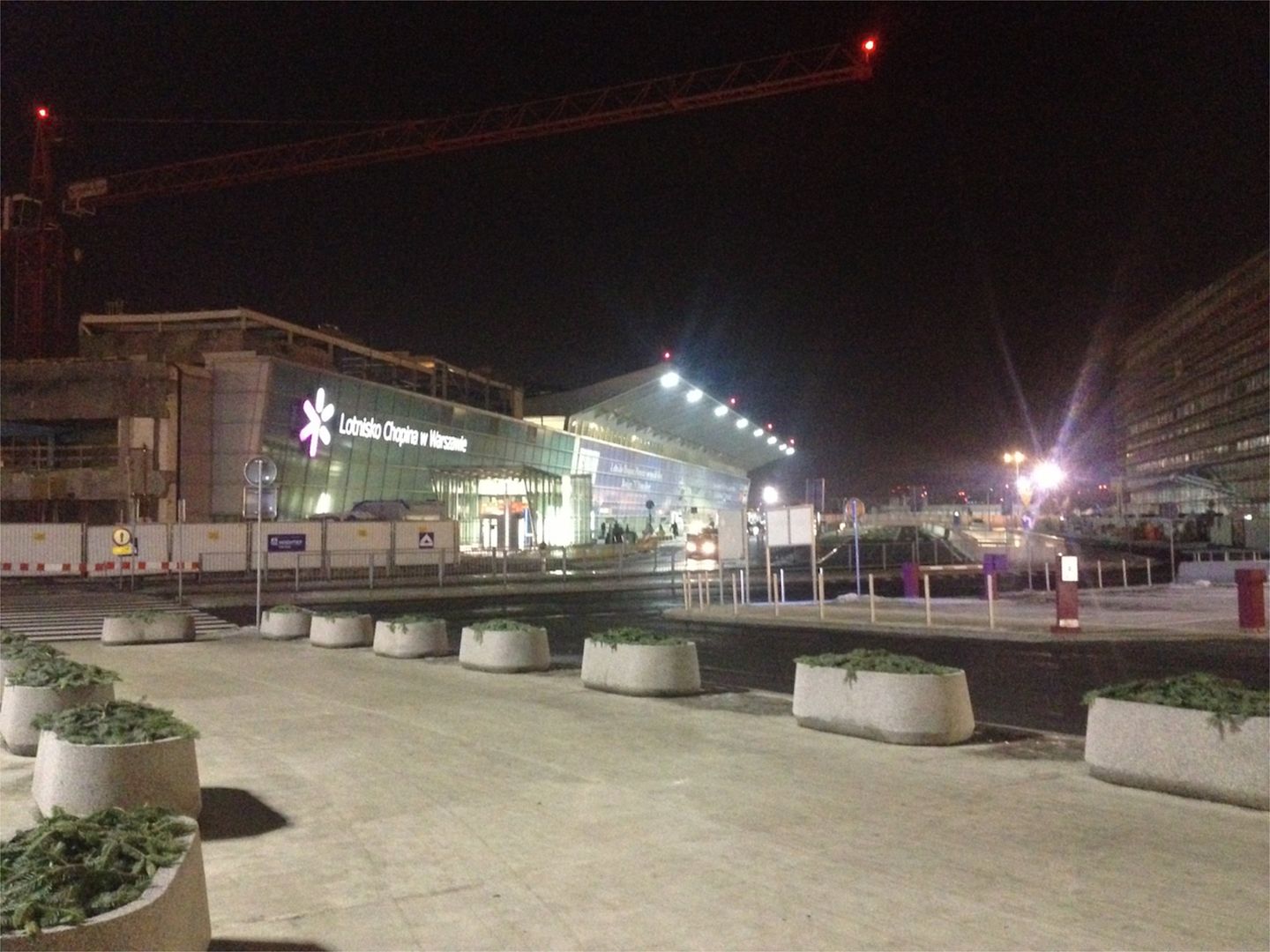 No upgrade today unfortunately, although at least now I'd get a good comparison of business and economy.
Then it was off through security and a brief look airside, before heading down to gate 22.


Once again it would be SP-LRA. I was hoping that -LRB would be put into action, but from looking at its history over the last week or so, I knew that it had been used pretty sparingly.

Pretty difficult to get pictures here due to the curvature of the windows
Boarding started at 07:15 – once again no fanfare apart from the announcements onboard. I guess they only had a celebration for the first day of ops.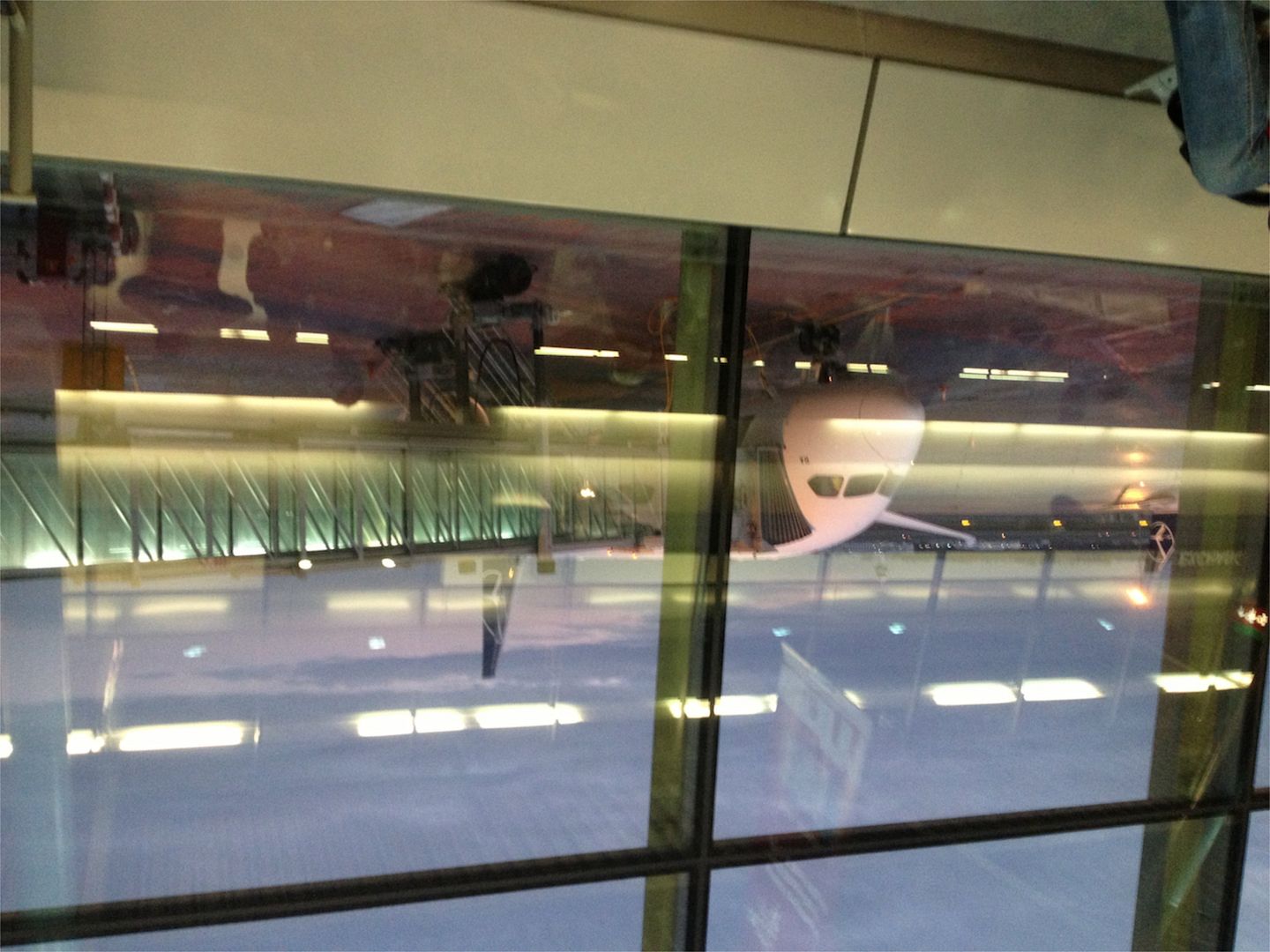 Once through the door to the jet bridge there was a welcome surprise.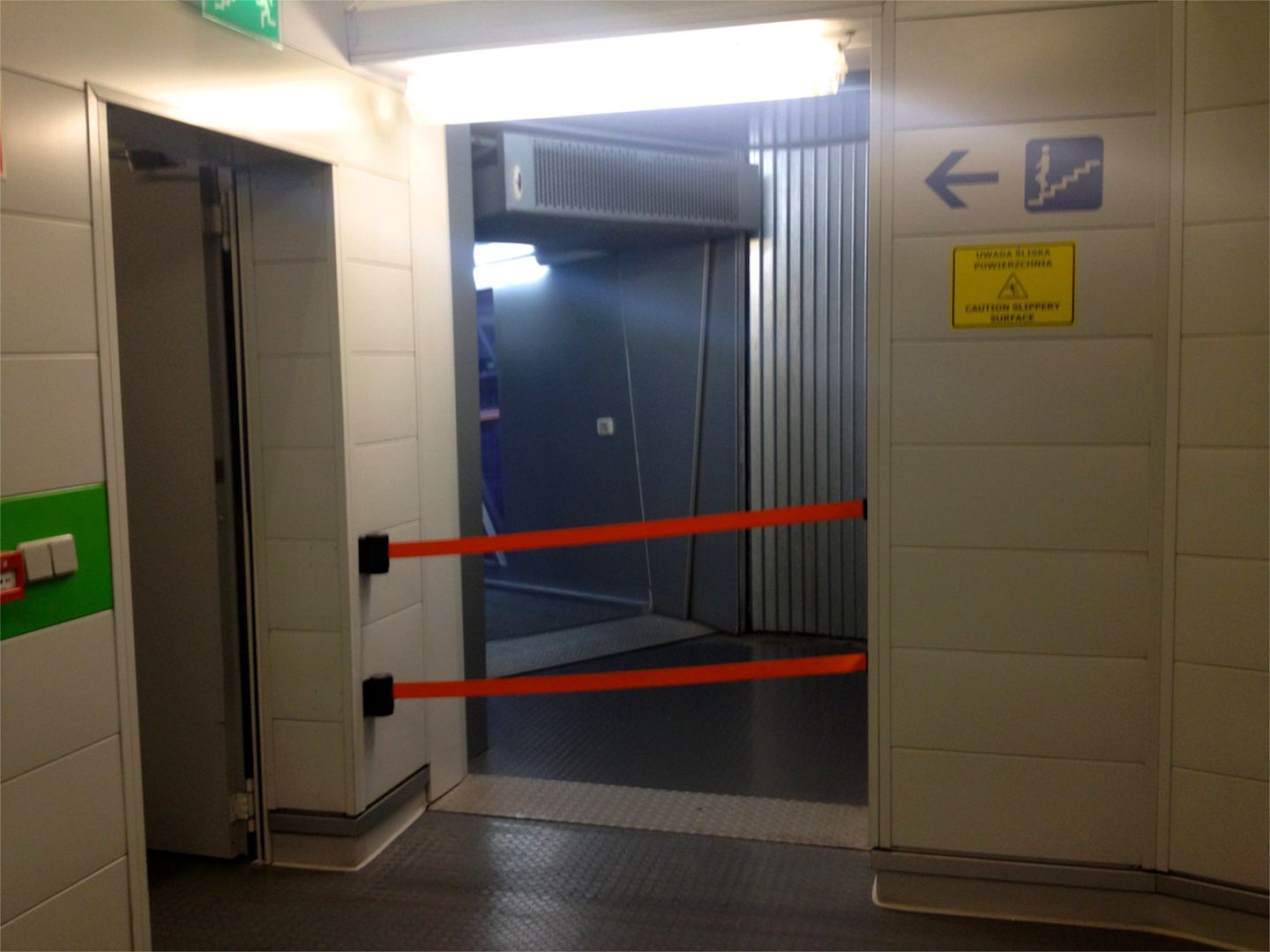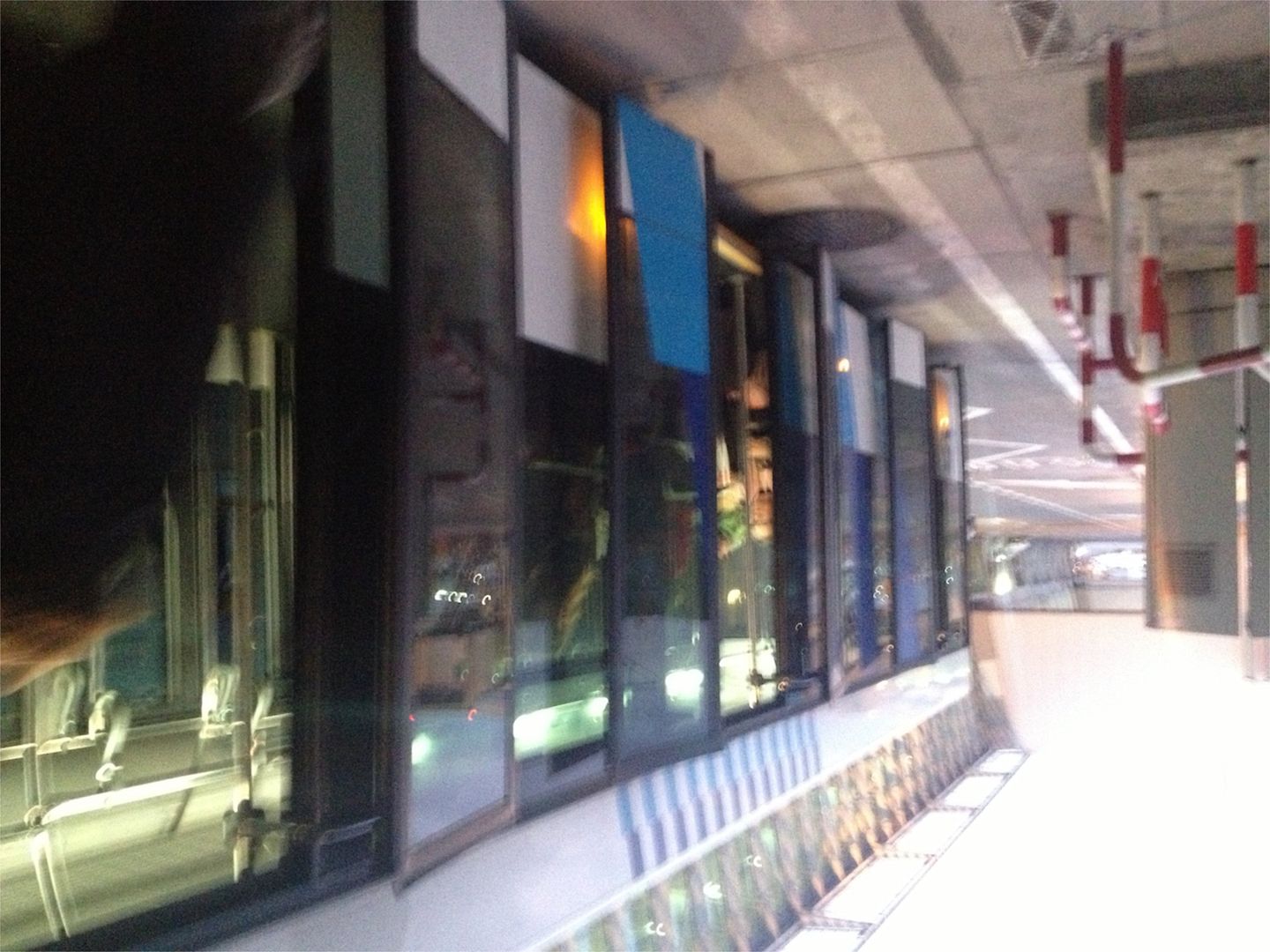 It looked like we would be heading over to SP-LRB after all, which was a nice little twist to the tale. After the delays, cancellations, downgrades that I'd suffered over the last few months it was very welcome to not only get a trip where things had not only gone right but actually much better than expected. Once at the side of the jet, the ground crew were very accommodating towards people wanting to take pictures, and the seemed happy enough to let people hang around. Definitely a first. I took the rear steps.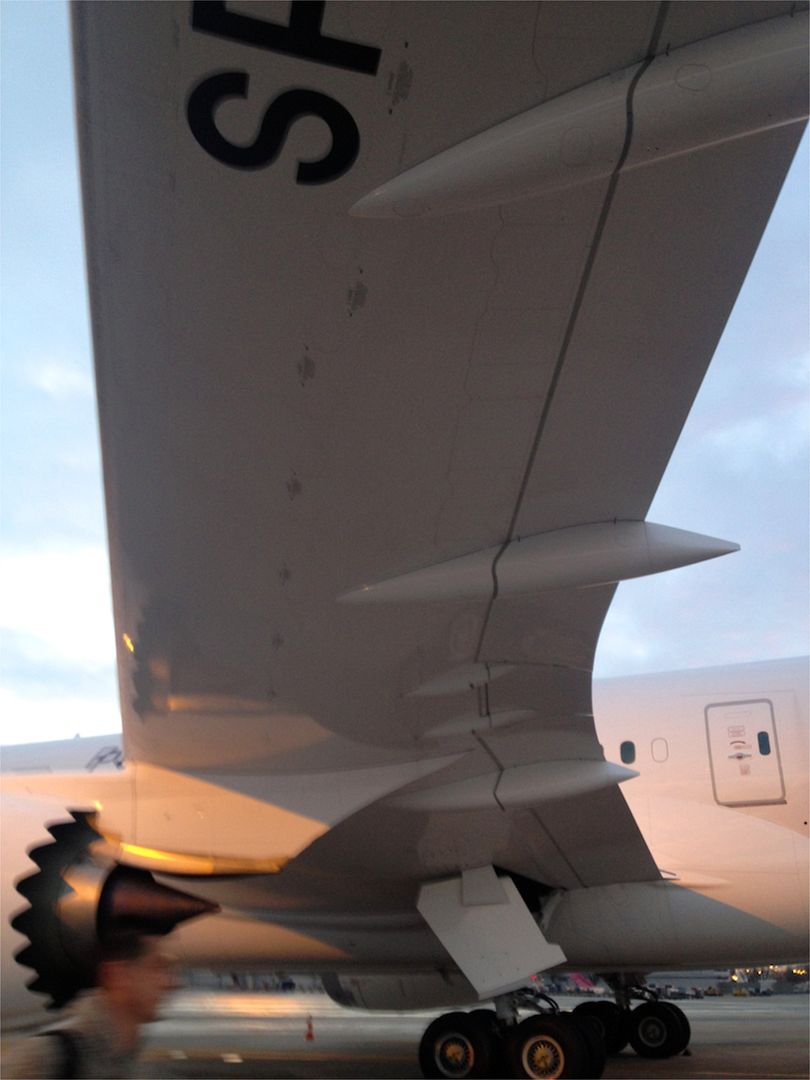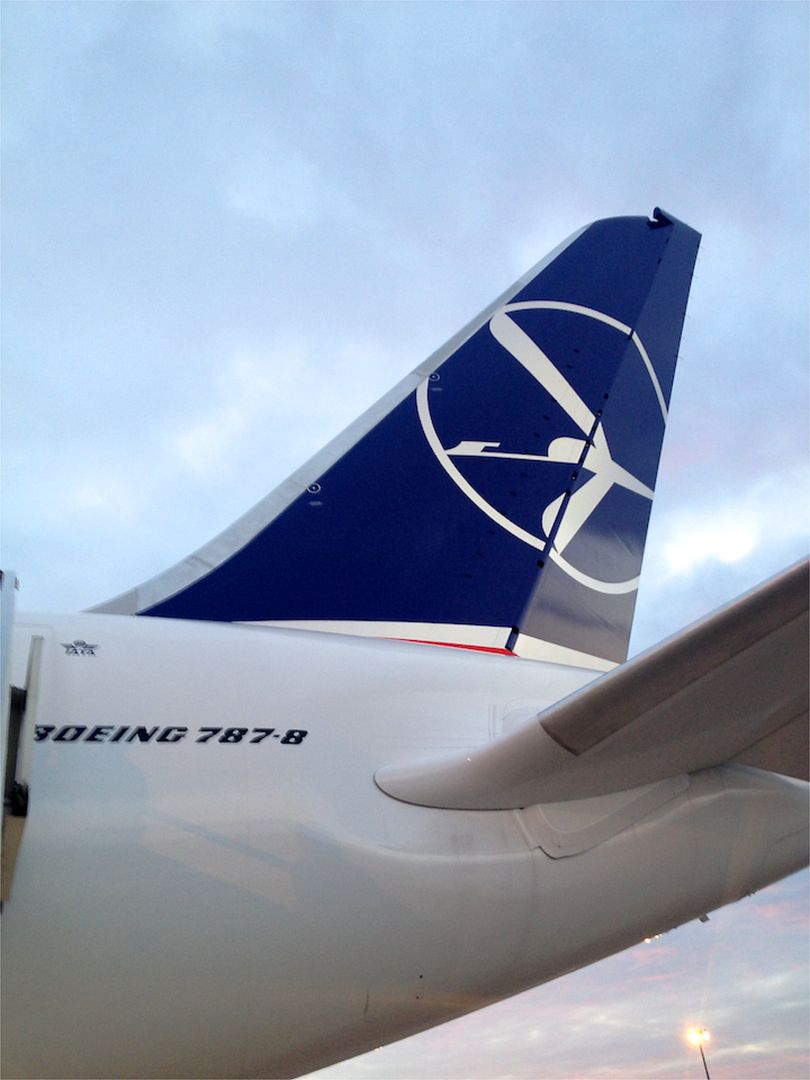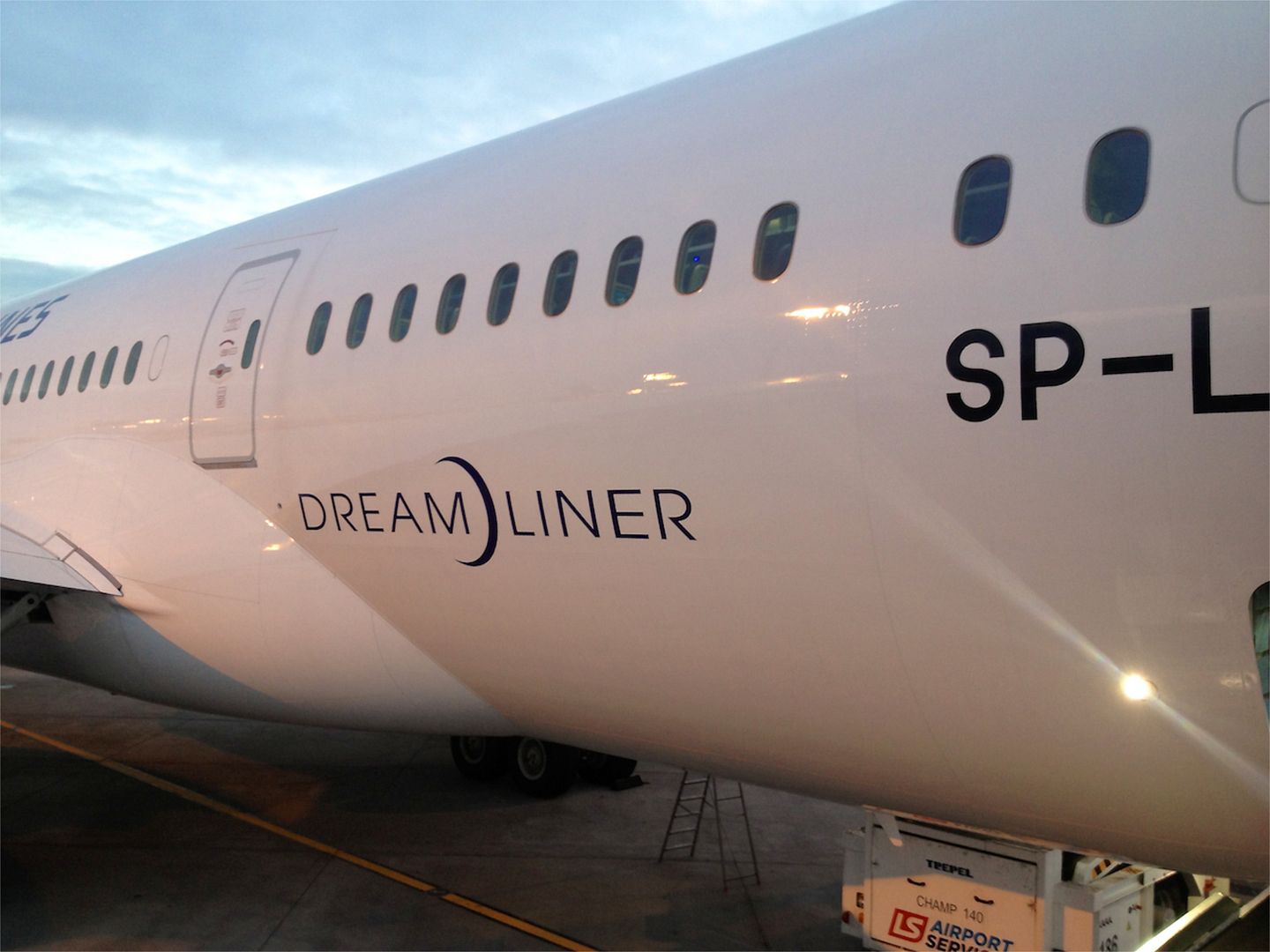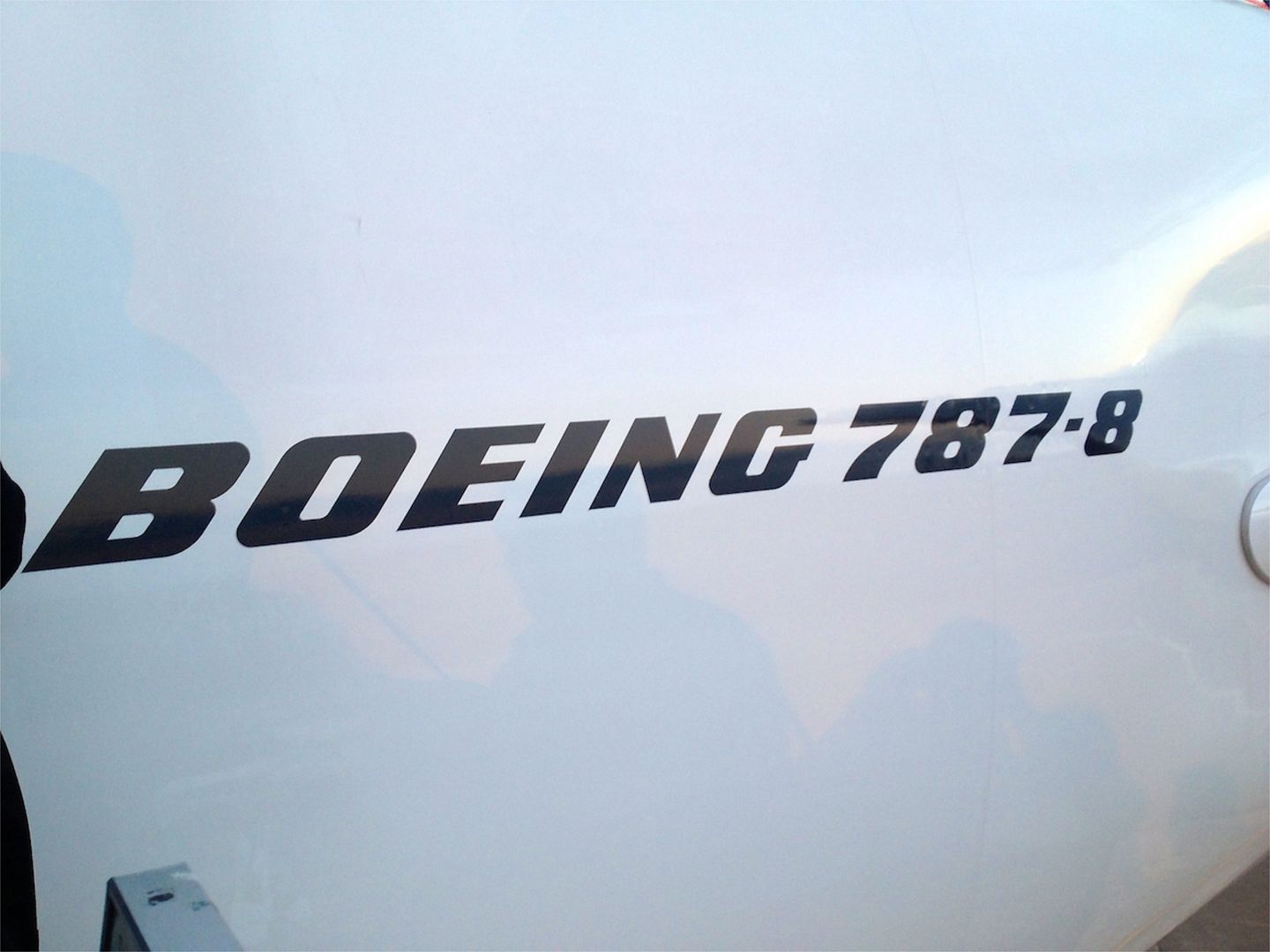 Definitely the 787!

LO281
WAW-LHR
31st December 2012
787-85D / SP-LRB
Seat: 22A / Economy
Scheduled: 07:45/09:35
Off stand: 08:03
On stand: 09:47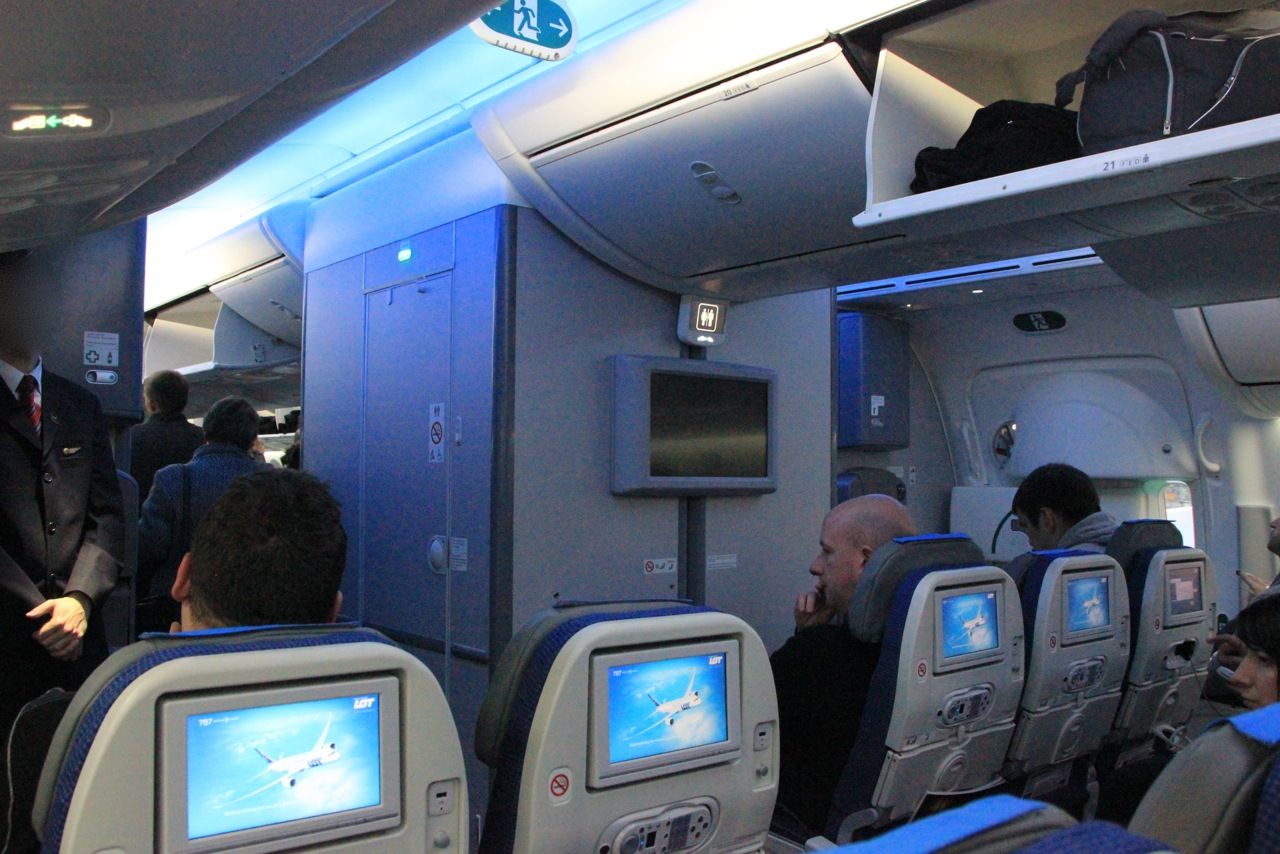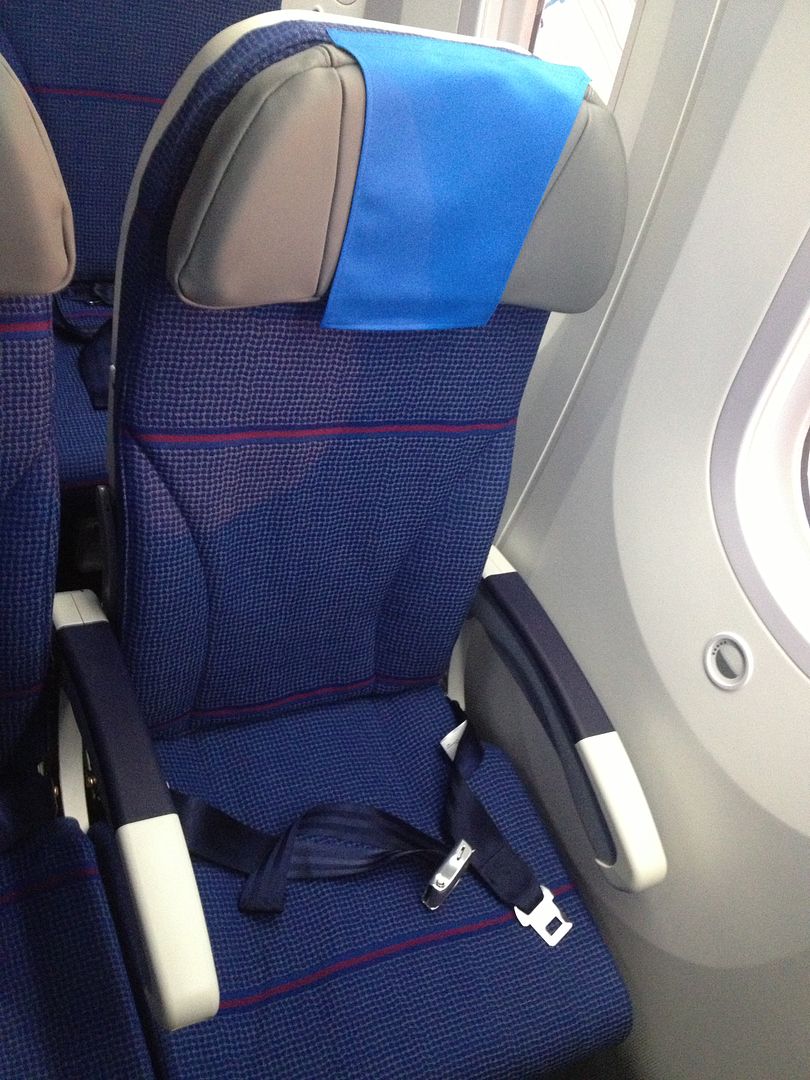 Once onboard, it appeared to be a pretty full flight. In the rear section of economy at least I couldn't see a single spare seat. The crew made the usual announcements, and interestingly they were a little louder and less distorted on -LRB
The legroom wasn't too bad, but the width could of been better. Or it could have been down to the guy next to me who not only thought both armrests were his, but also seemed to have his legs in a permanent ten to two position.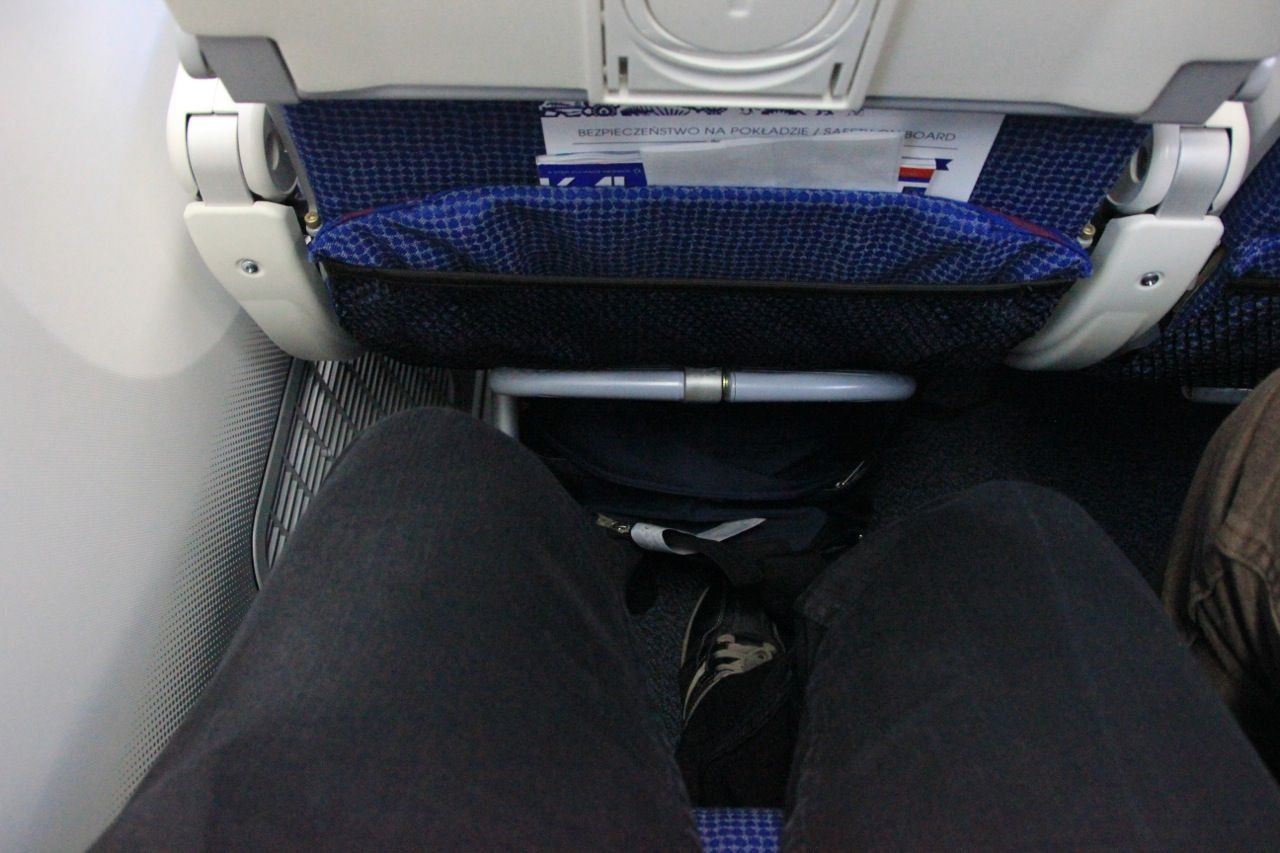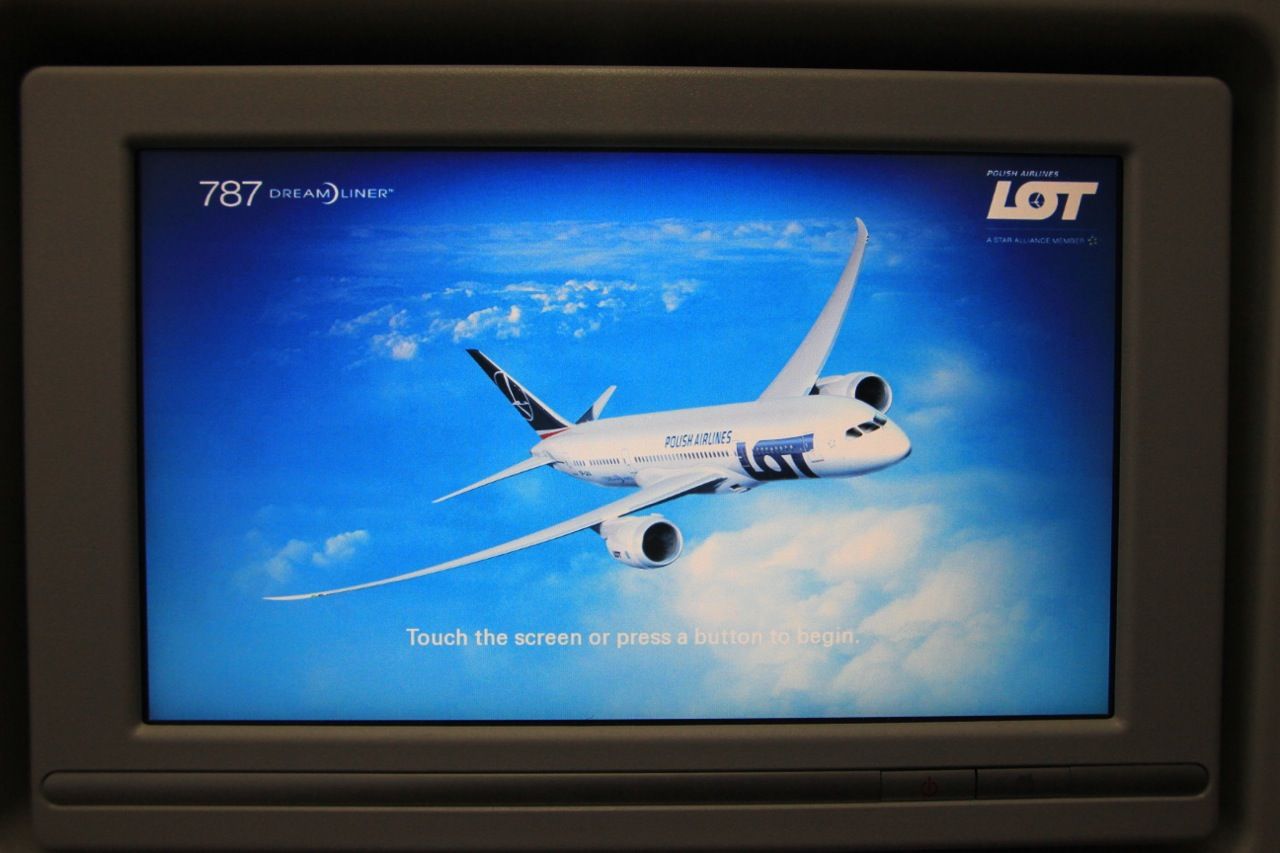 The final Busload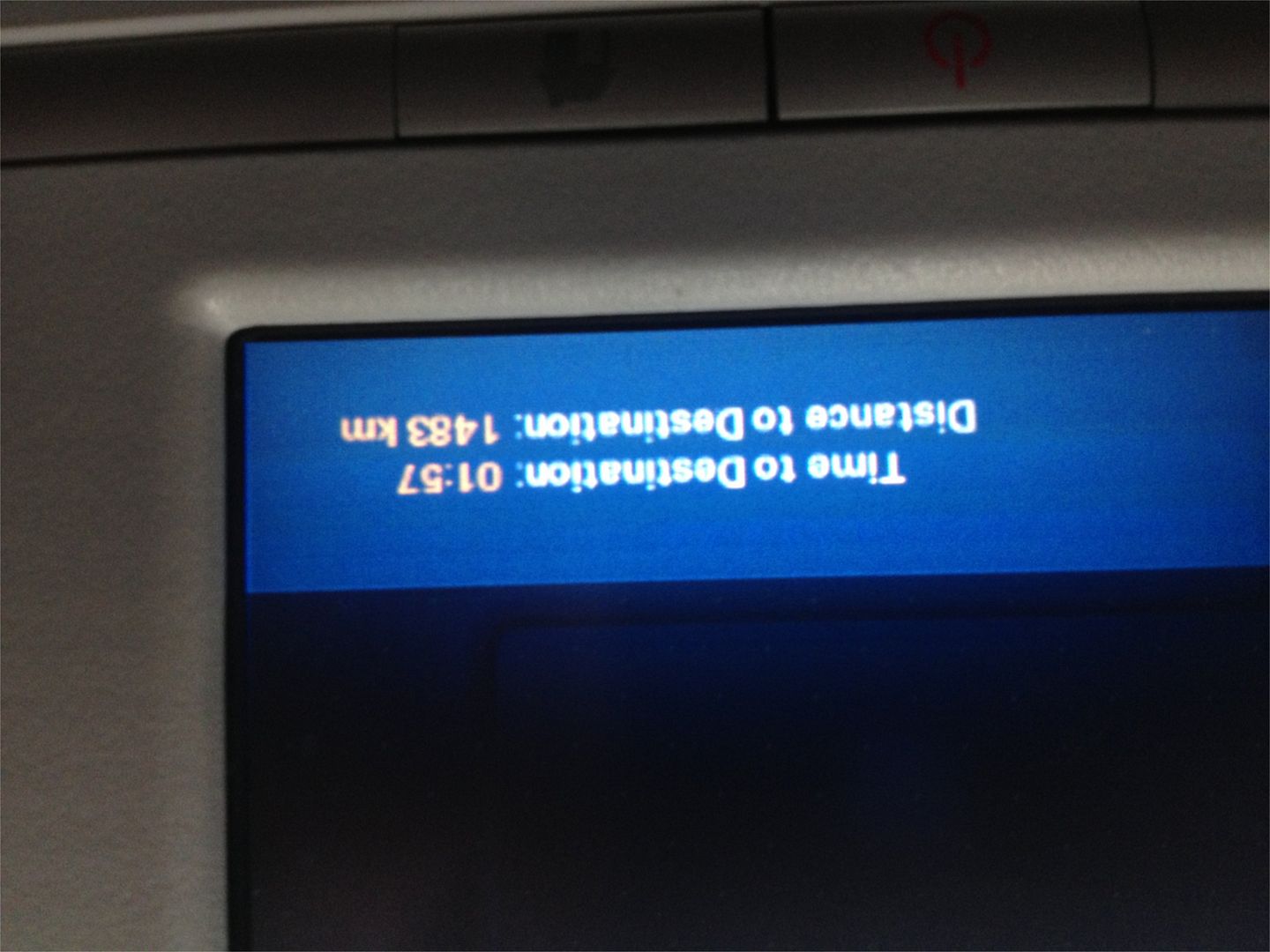 Flying time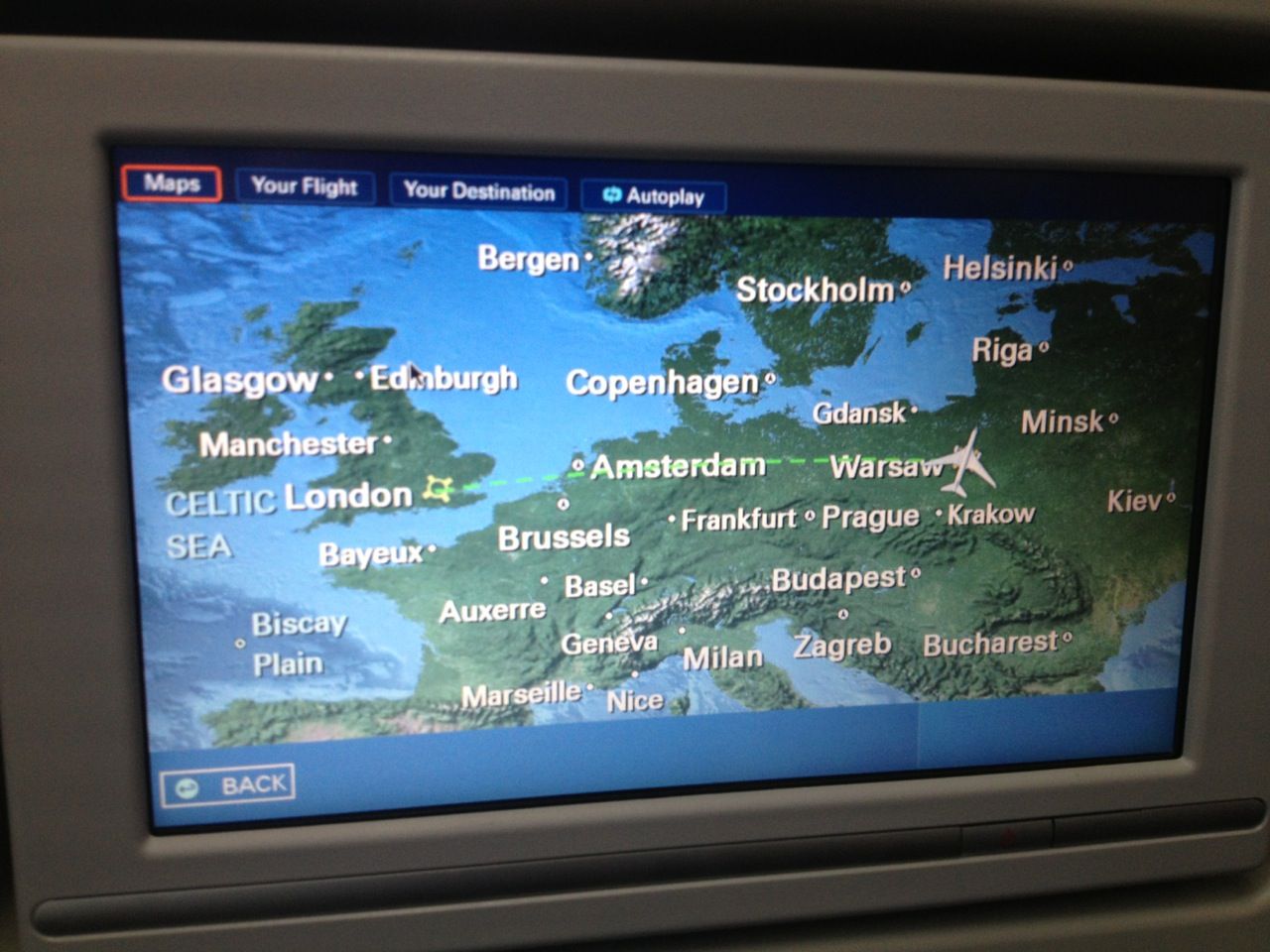 And route
We then pushed back and made our way over to the runway quite slowly. The captain announced a flying time of 2 hours.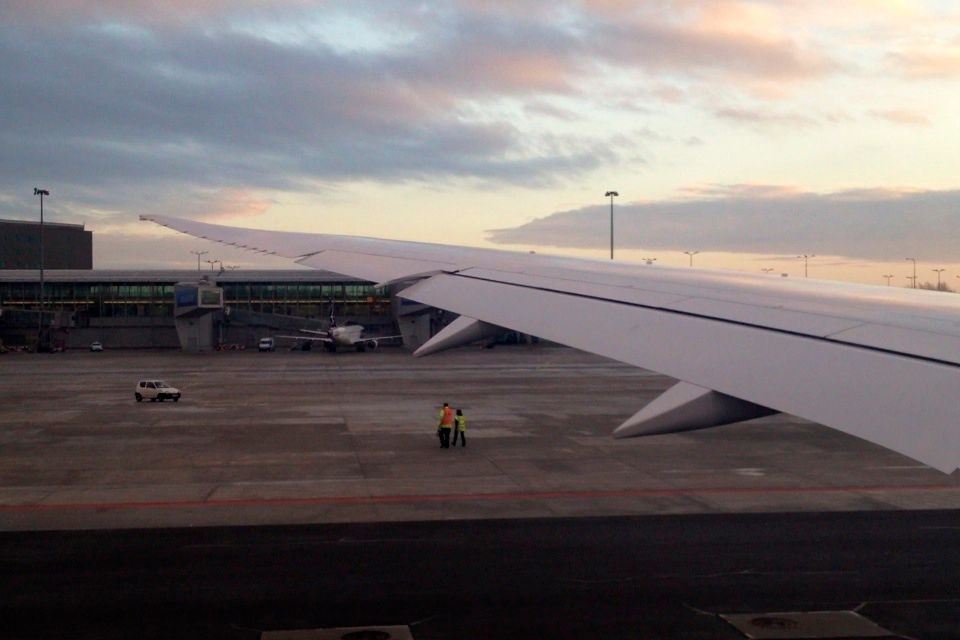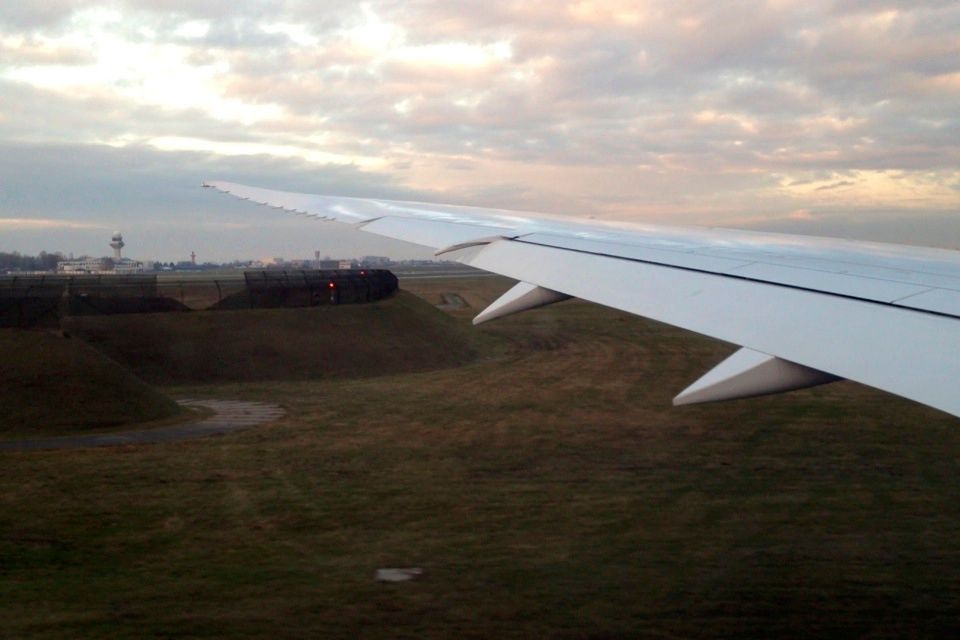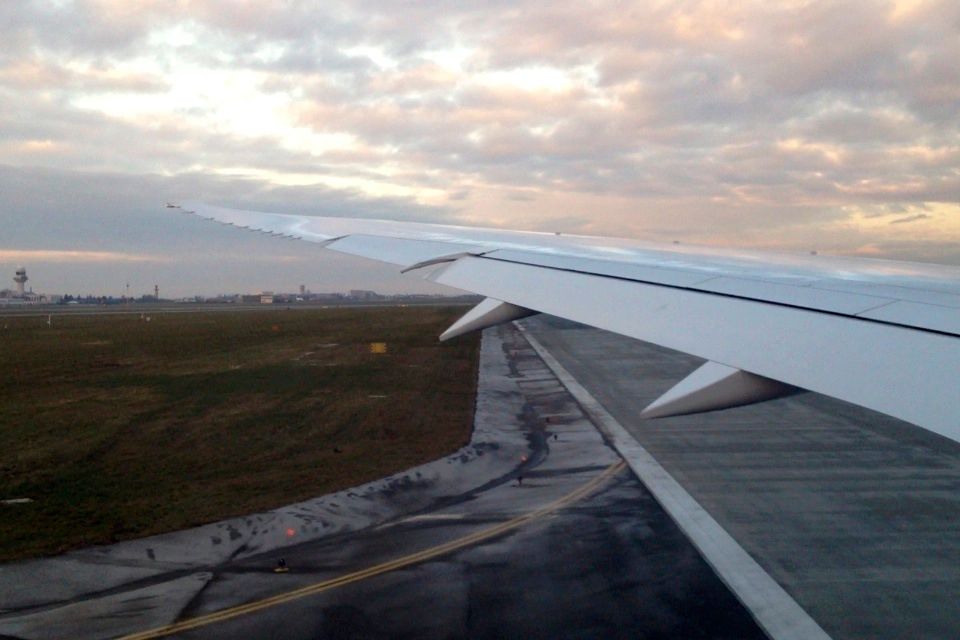 Once at the runway, we taxied into position and held for a minute or two while a EuroLot landed on the cross runway. As soon as that had passed, we were off.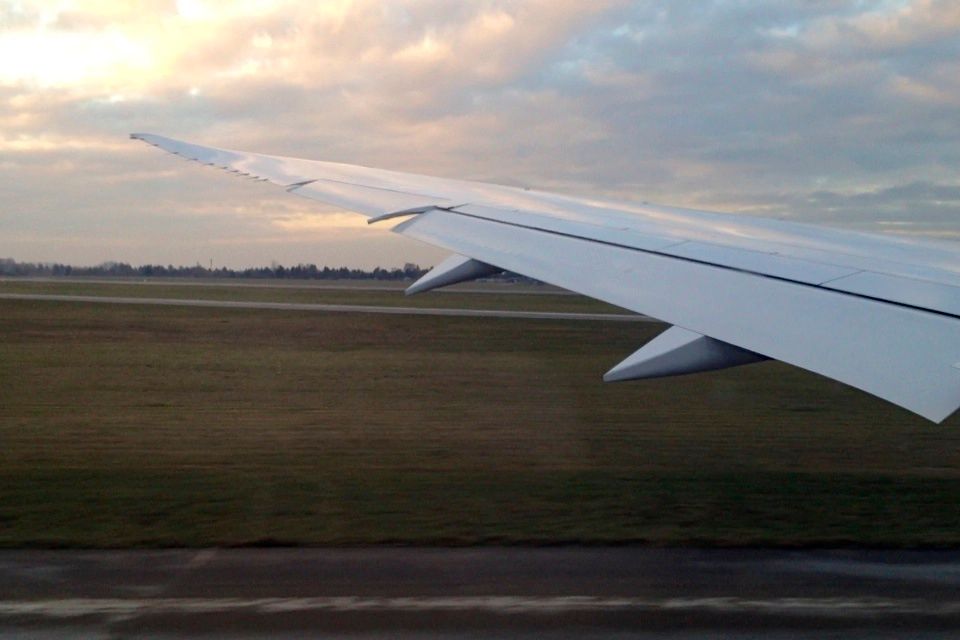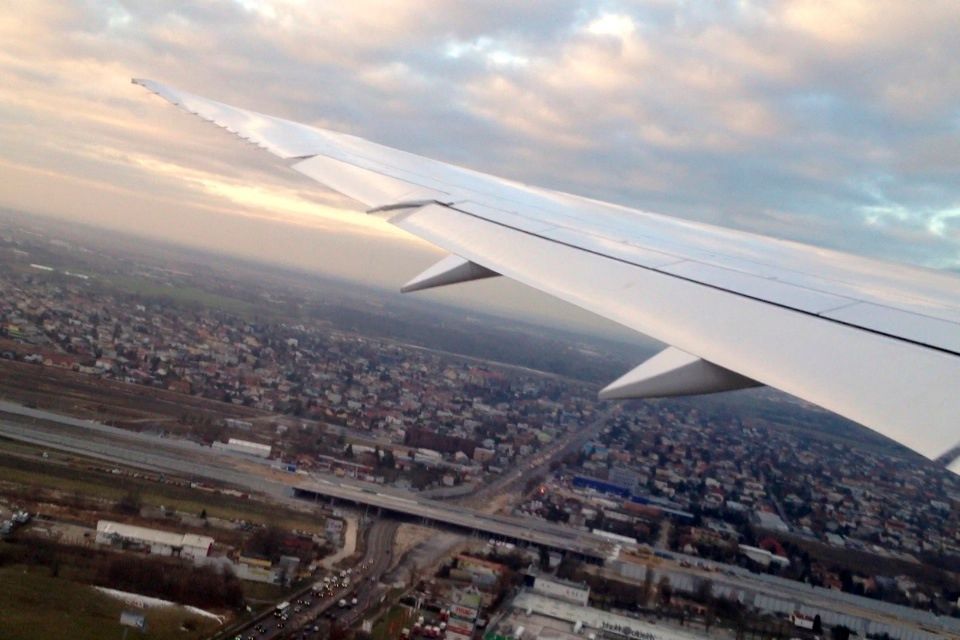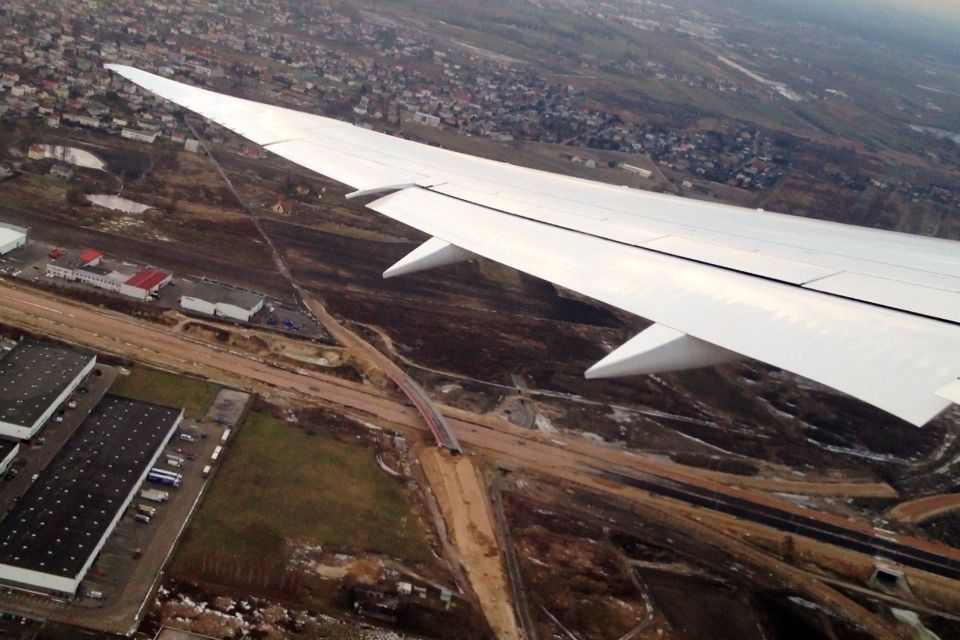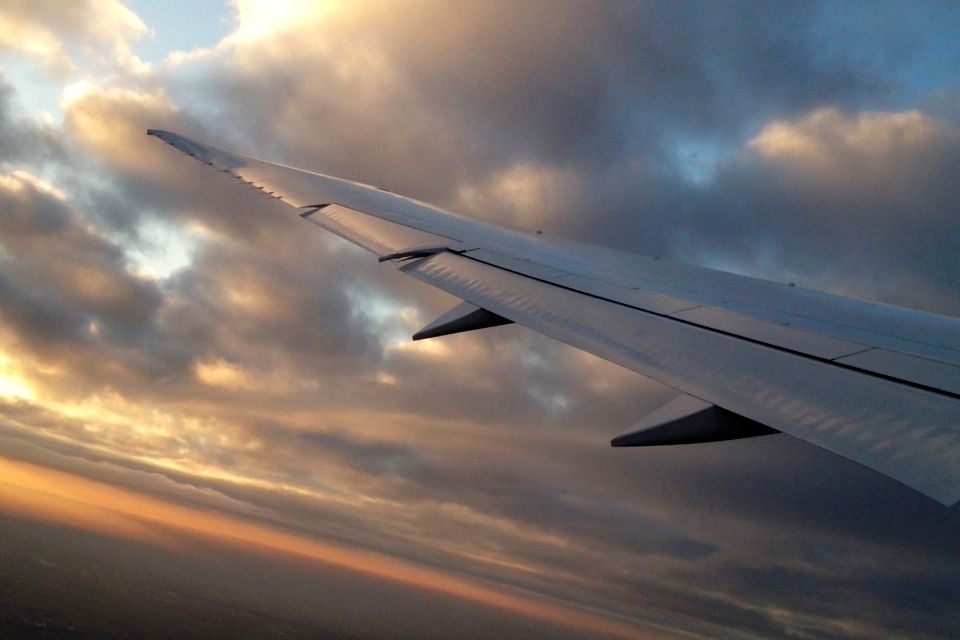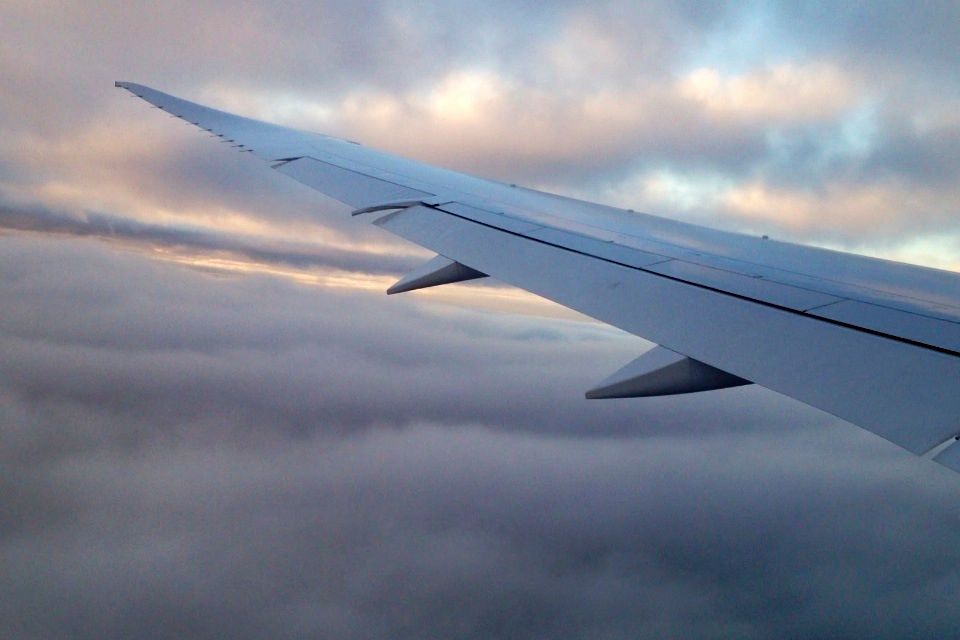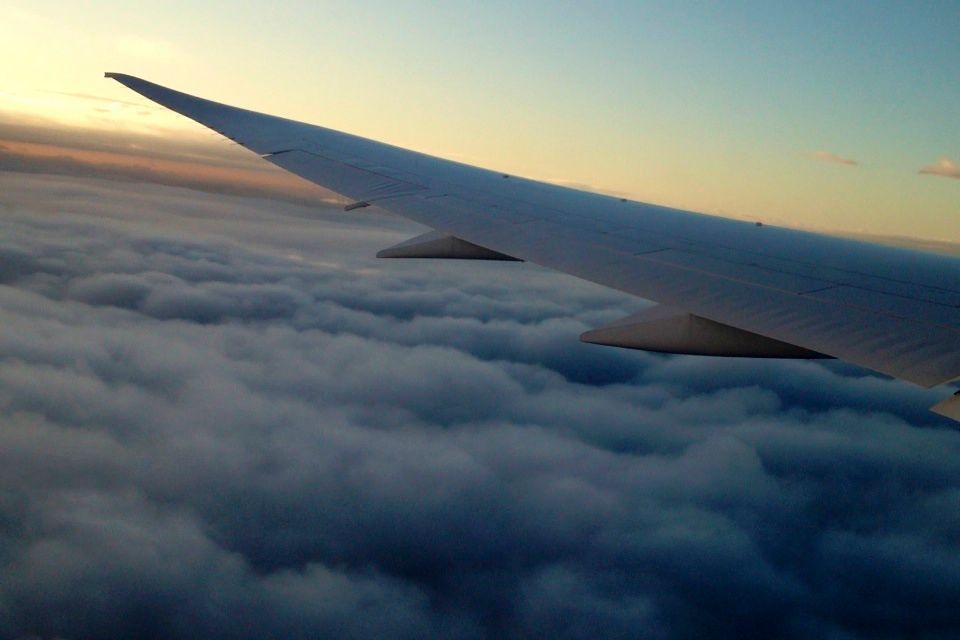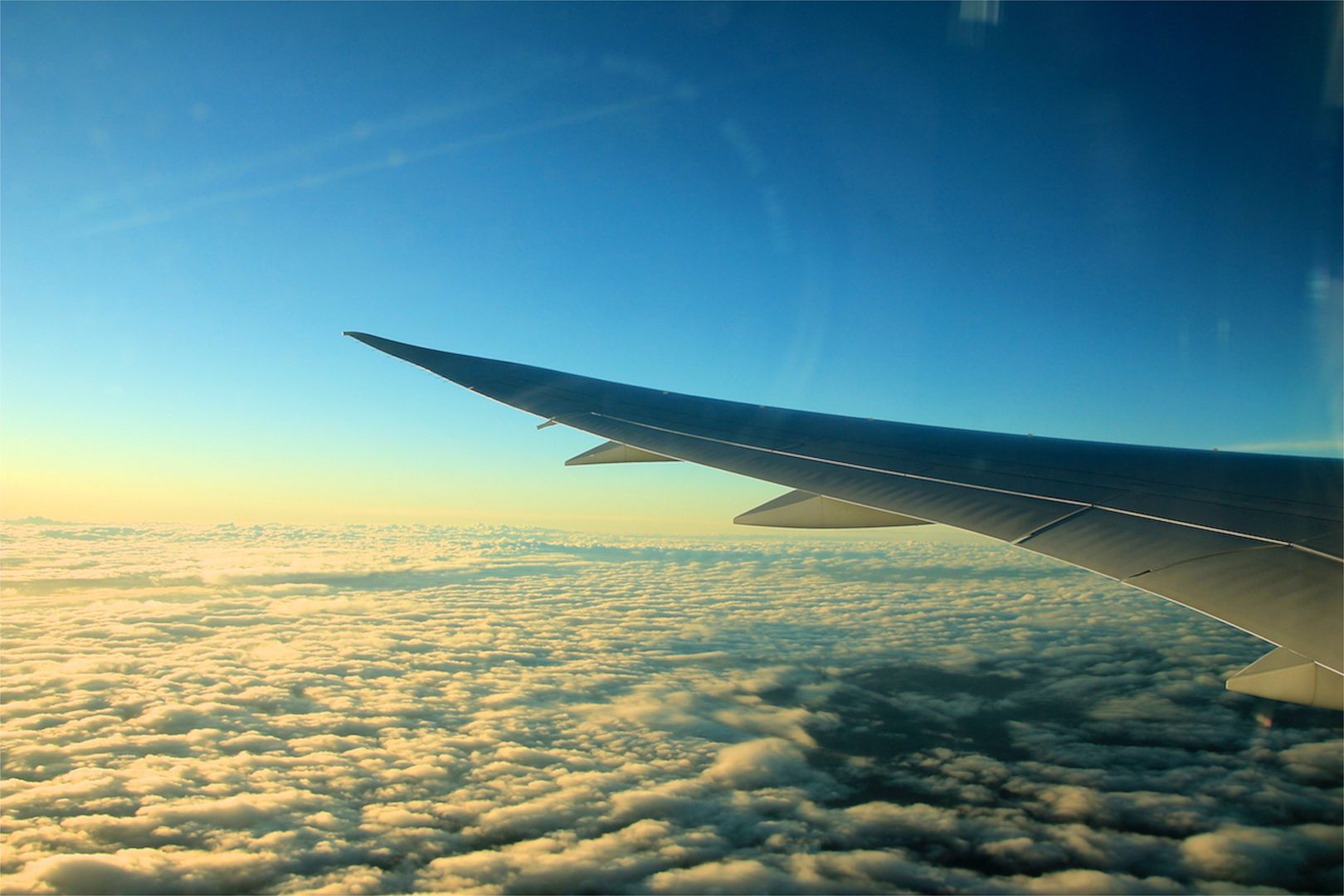 Once airborne, the crew distributed the headsets, shortly followed by breakfast. Although to be honest, it was more of a lunch. Either way it was more substantial and tasty than the business class meal I had yesterday, which was a little strange I thought.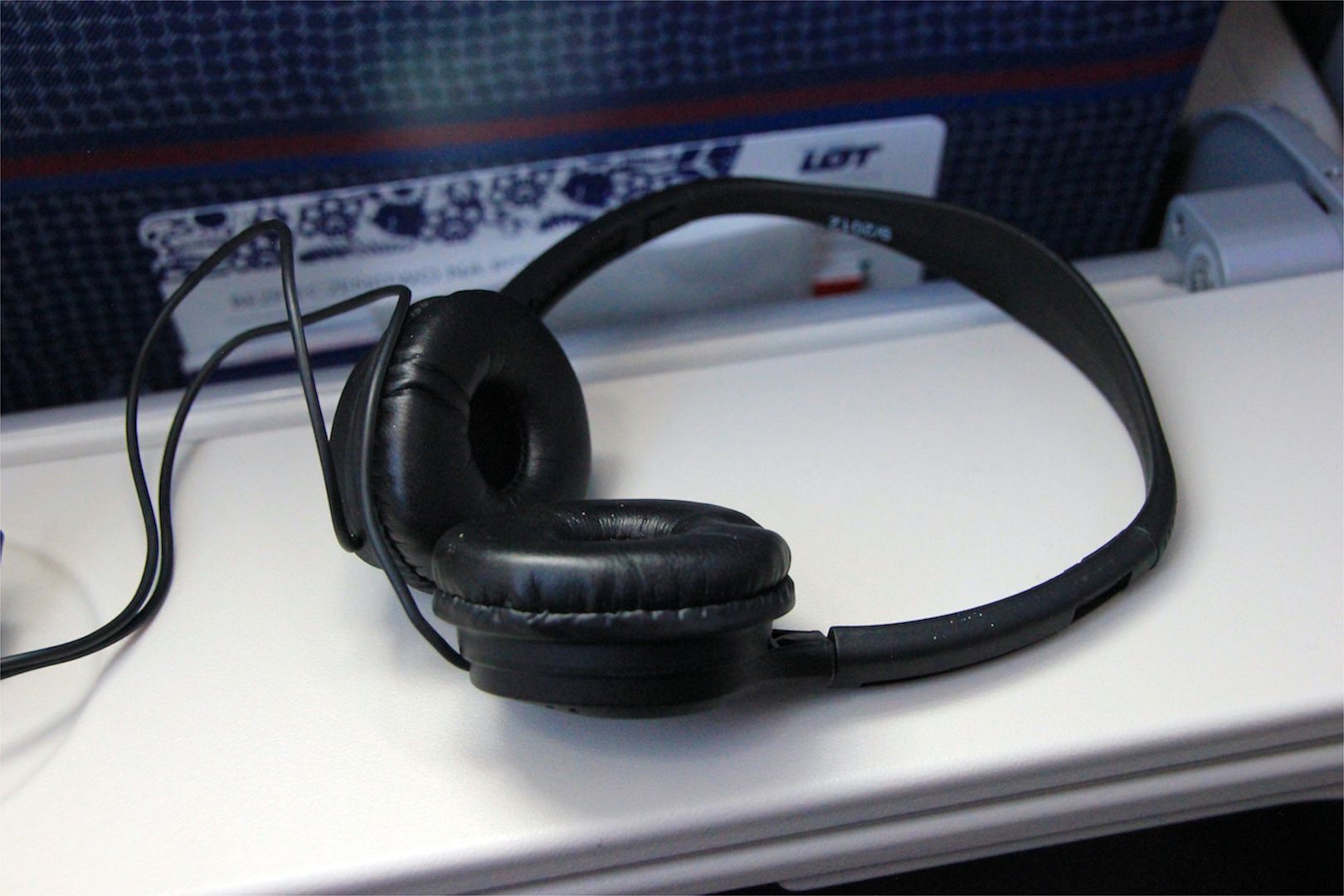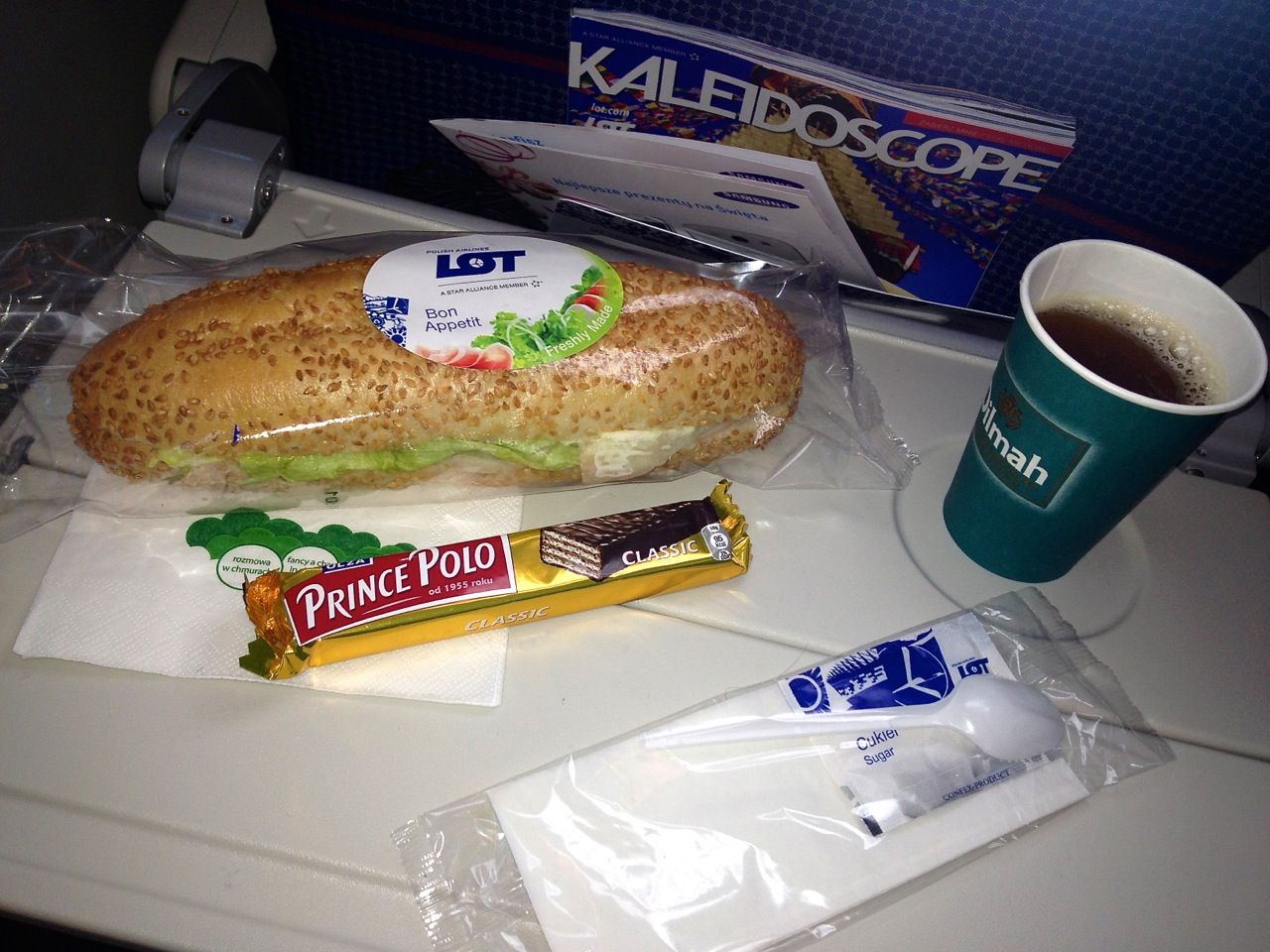 The rest of the flight was mostly uneventful – apart from the person at behind thinking that the seatback touchscreen required a lot of force. And a few light bumps along the way.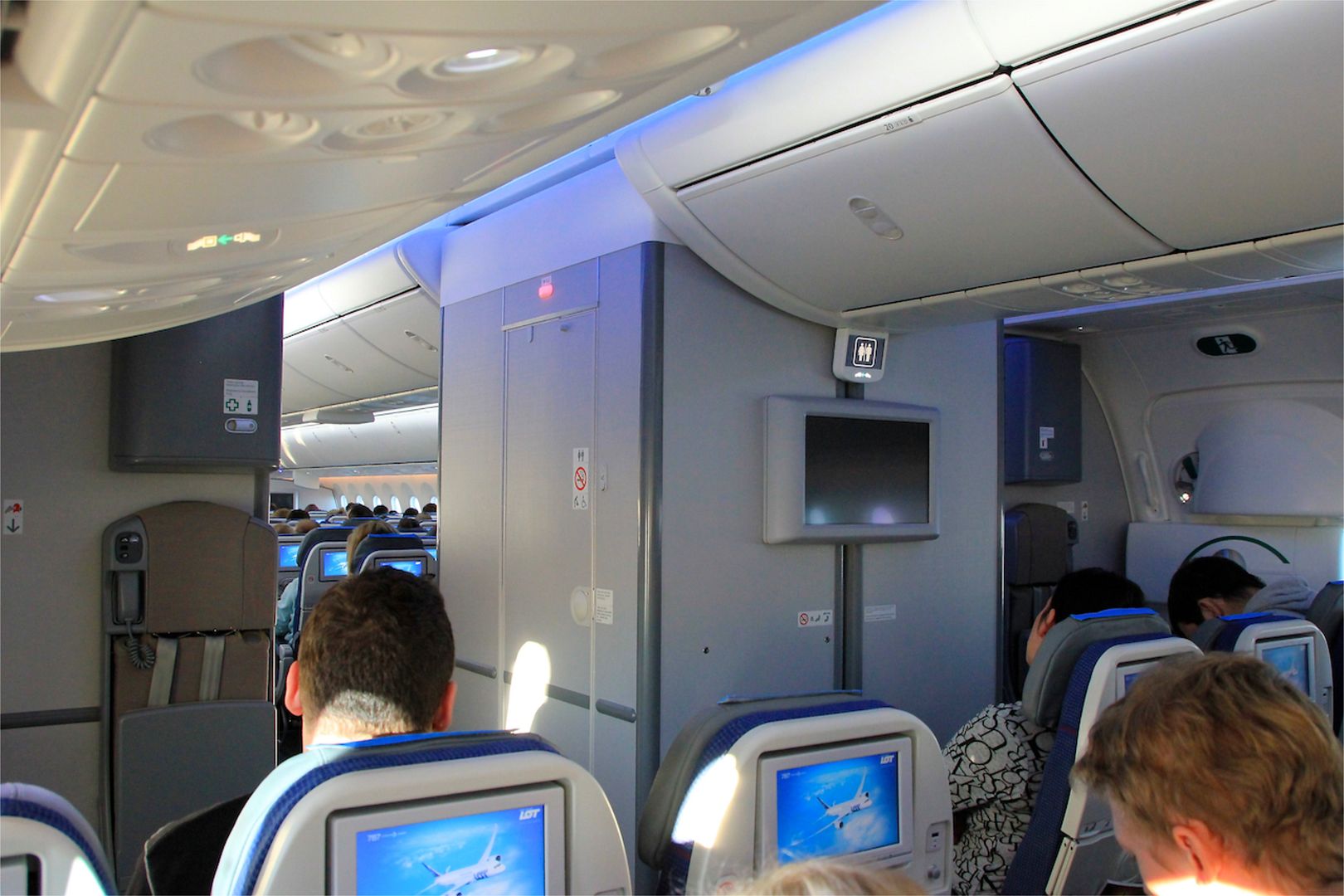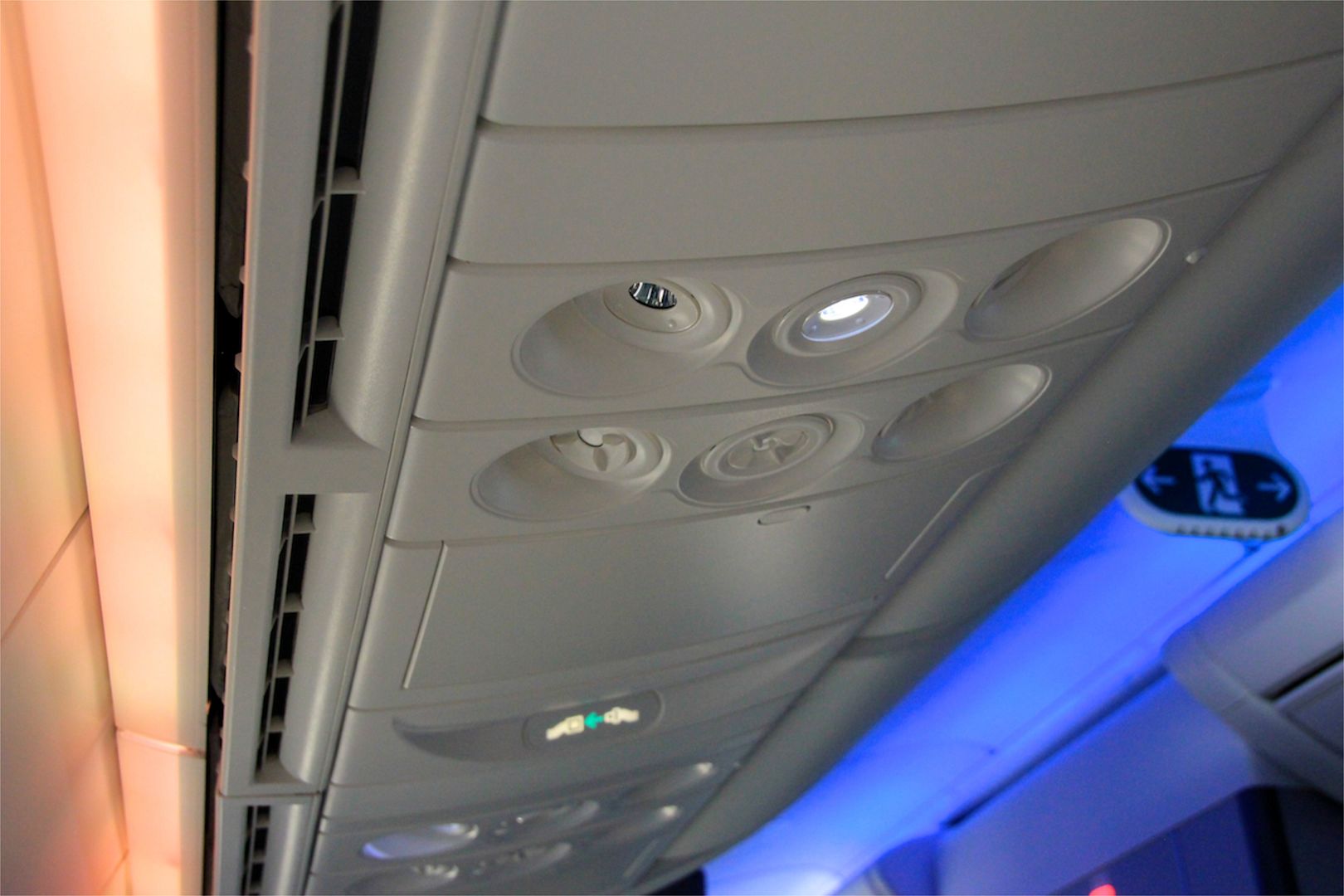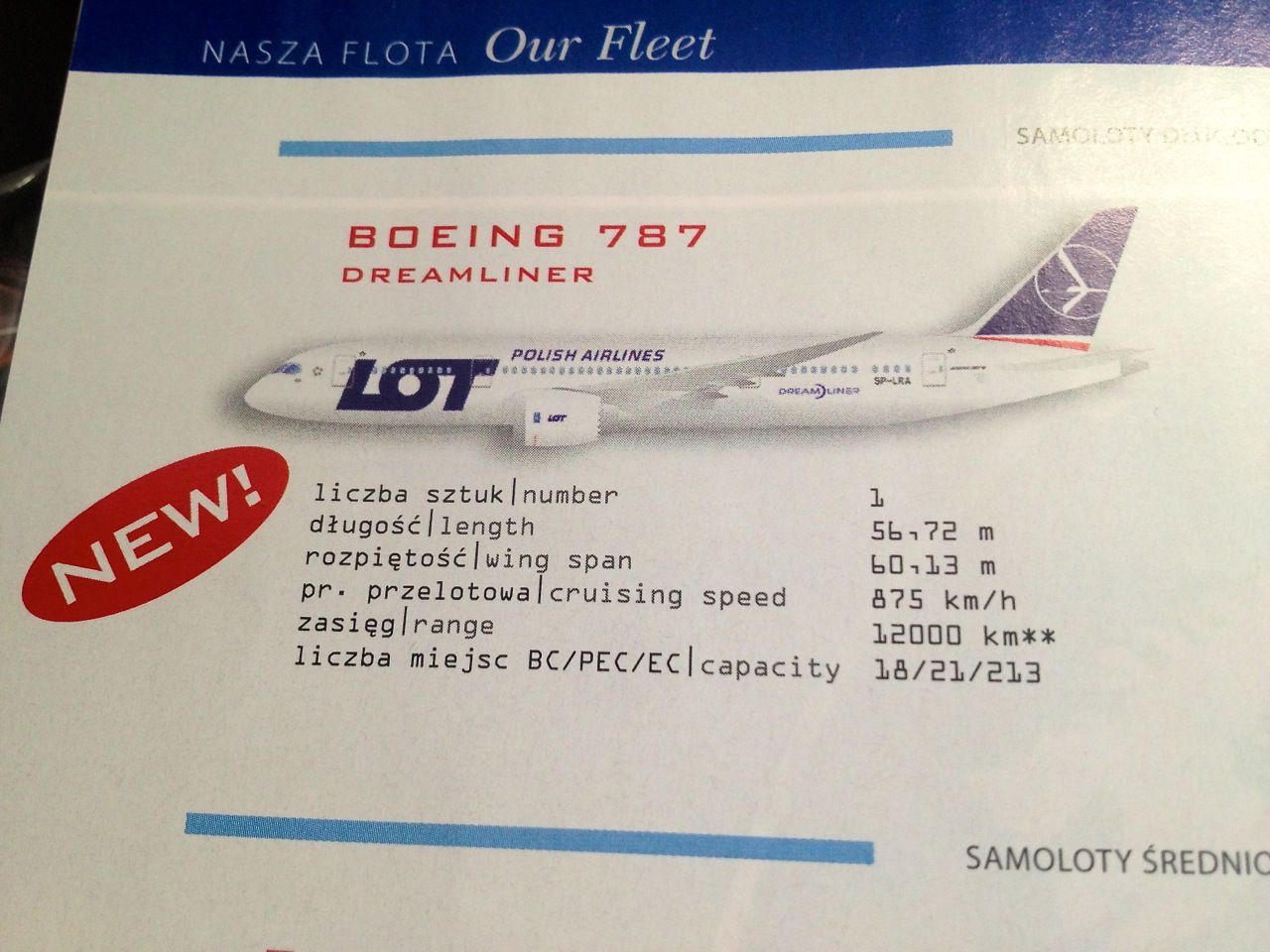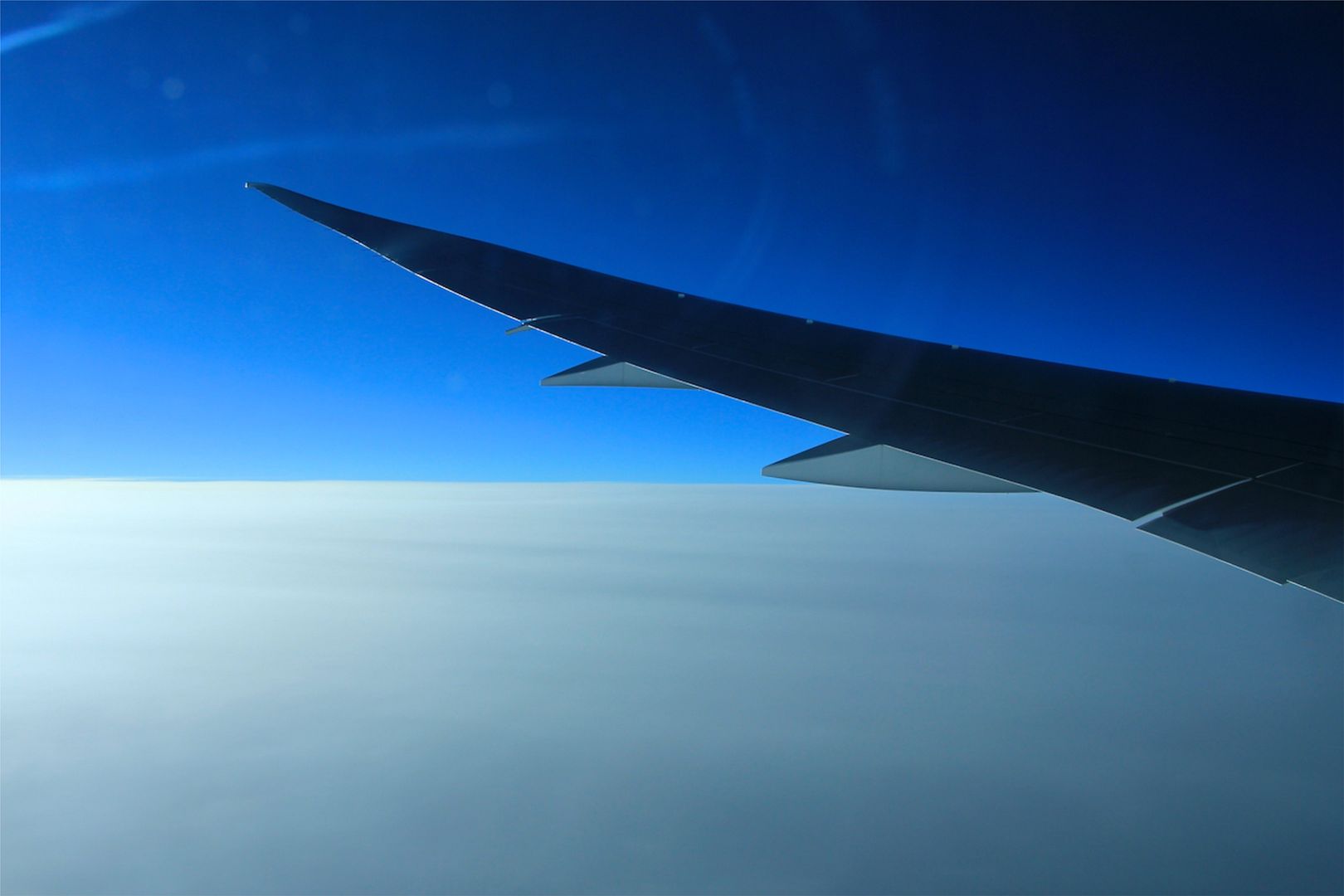 Wing Detail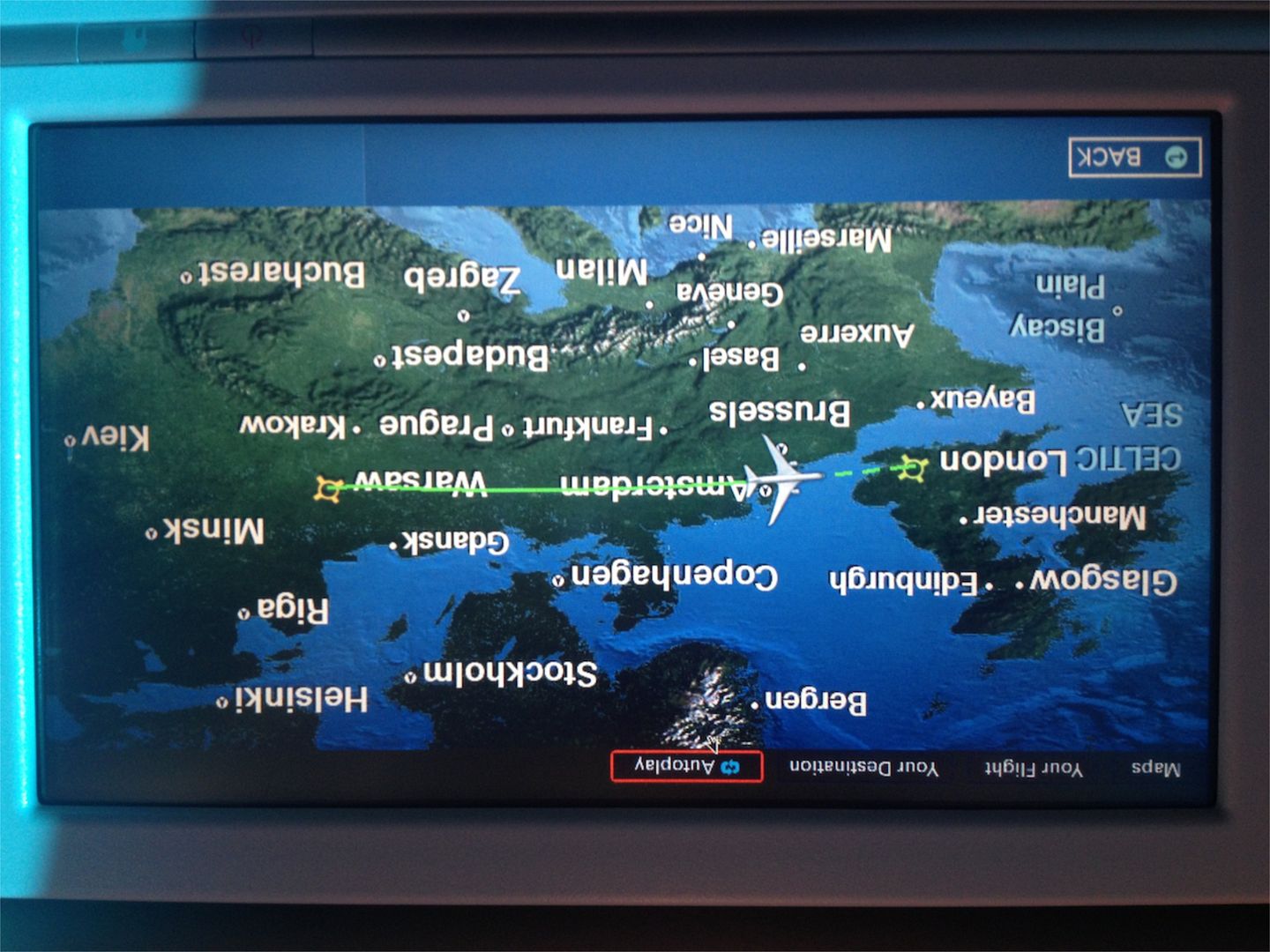 Descent into London started at 08:57. Unsurprisingly, we ended up doing a few laps North of London. Also unsurprisingly, the weather wasn't too great so there wasn't much to be seen until on short finals.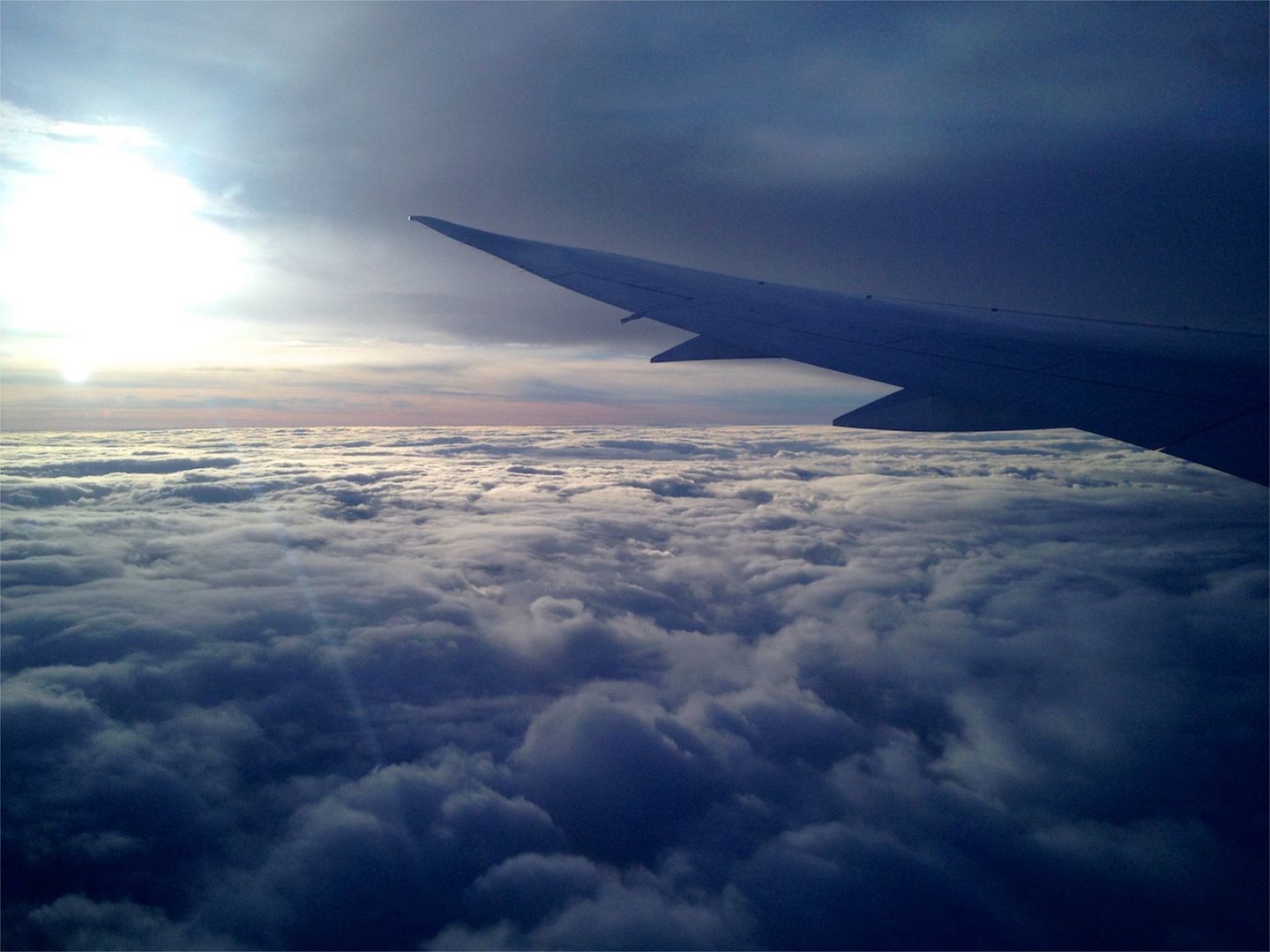 Looking grey over London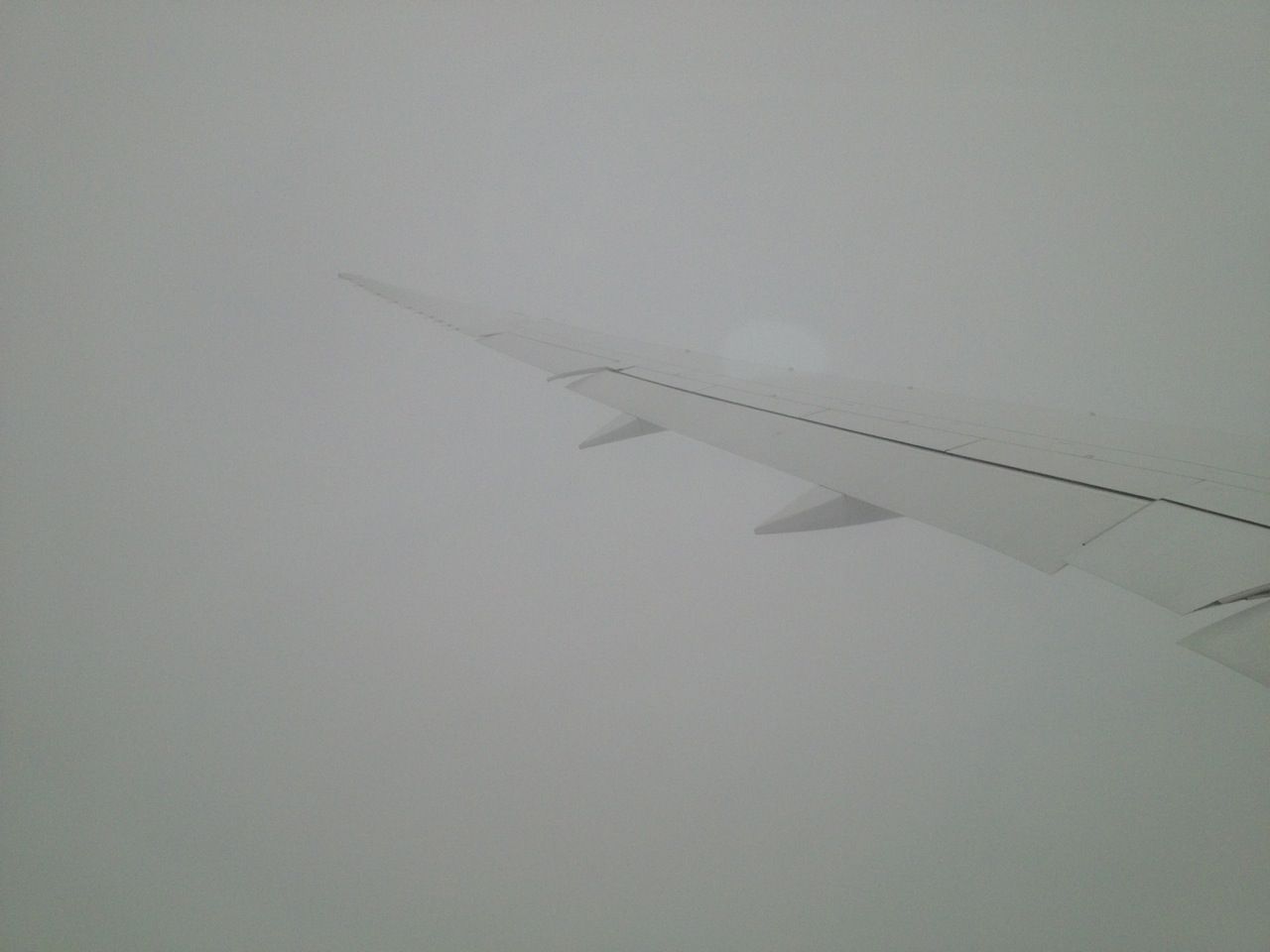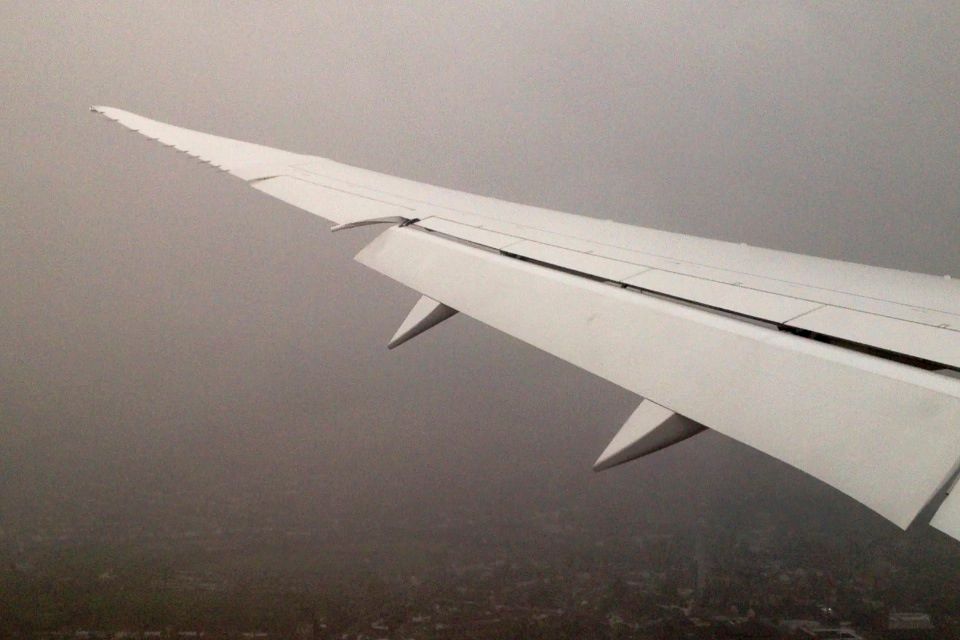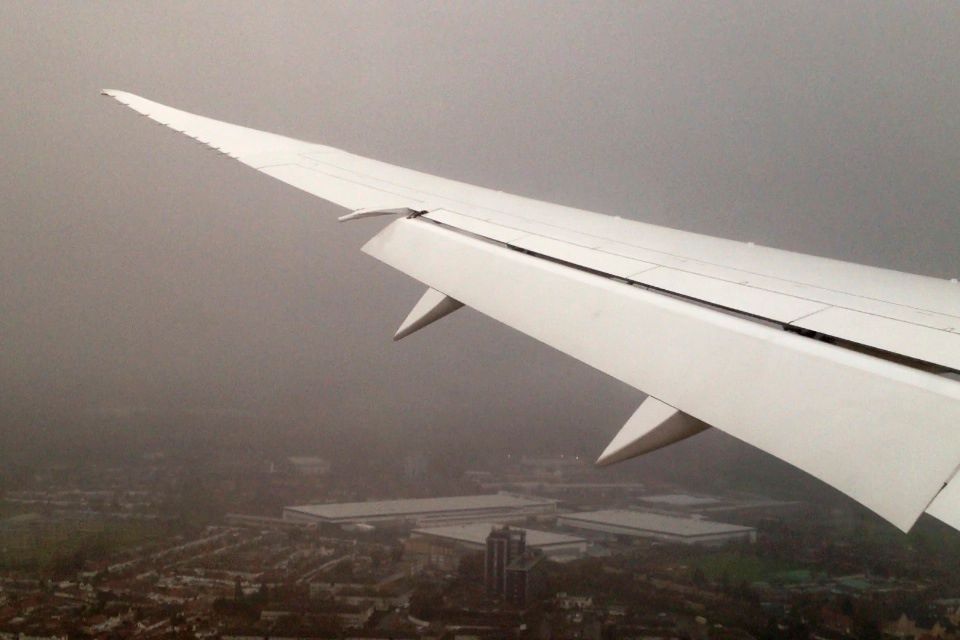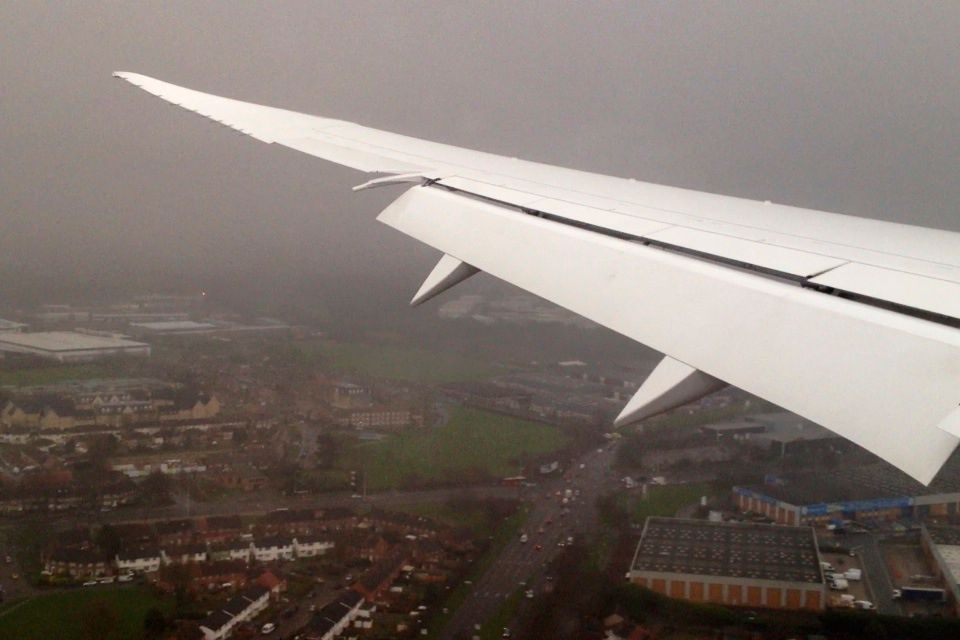 Touchdown was with a reasonable bump and quite a bit of spray and we then made the short taxi (or drive as BA put it) over to terminal 1.
[youtube https://www.youtube.com/watch?v=ZJybVRgcqoU]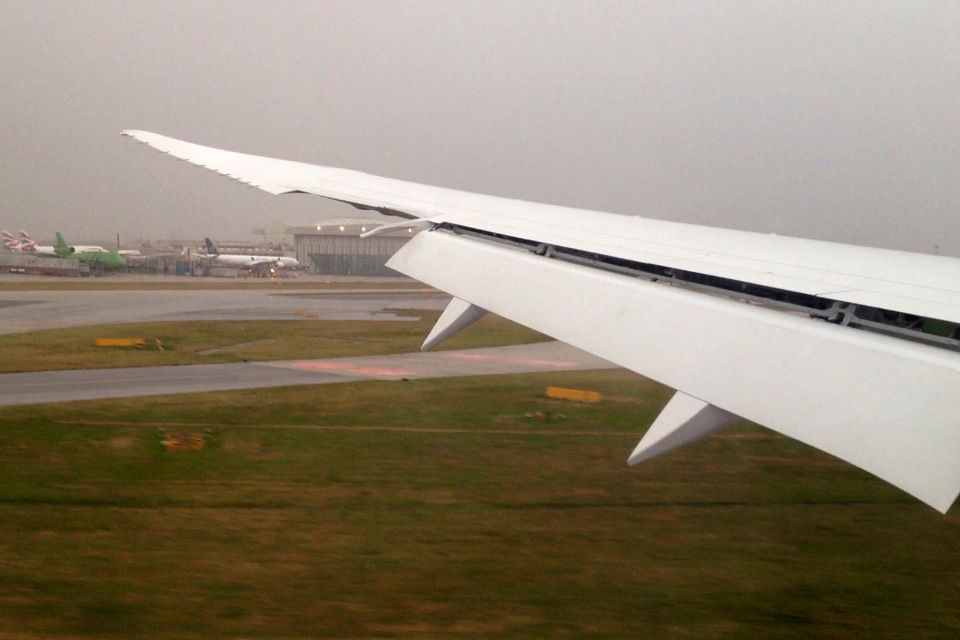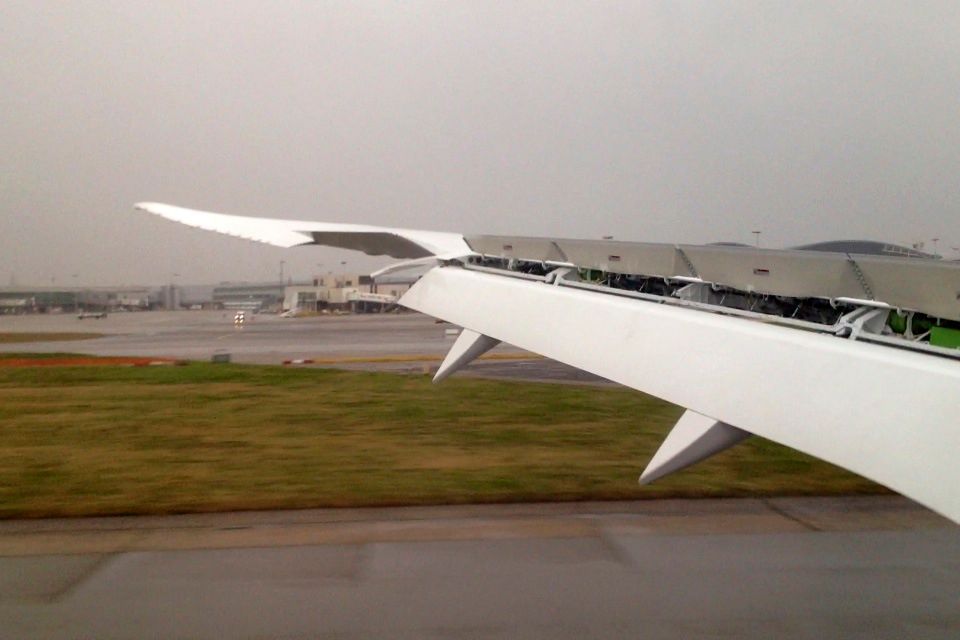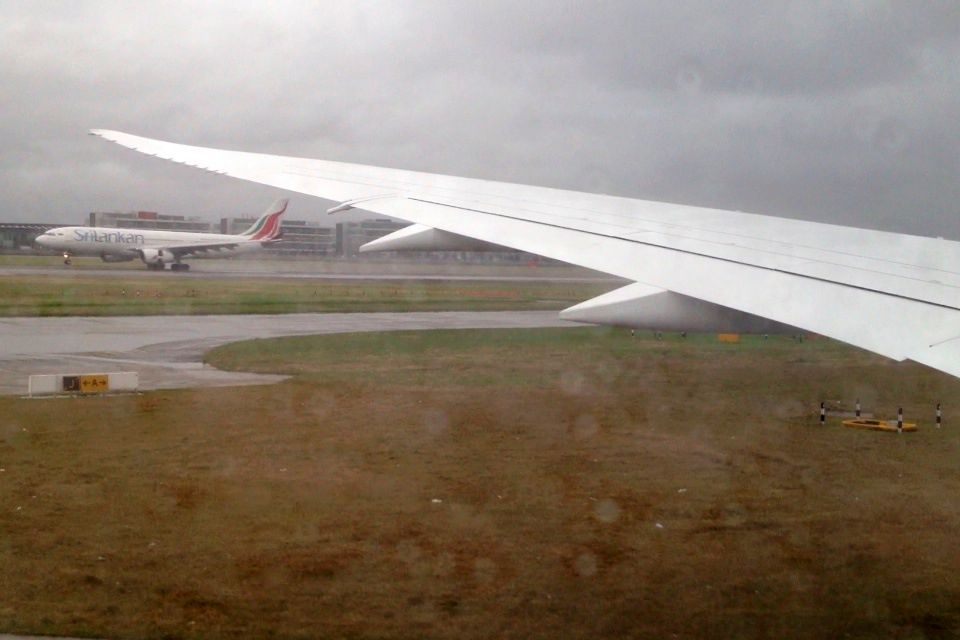 As I'd been held captive in my seat for the whole flight, I decided to hang back and get a few pictures after everybody else had left. This caught the attention of the crewmember looking after the section I was in, and he asked what I thought of the new plane. Well in business, the product was very good – although the service wasn't quite up to the standards of BA/LH etc. In economy, I must admit I didn't find it awfully different to any other plane I had been on really. The cabin air seemed a bit fresher though and it wasn't quite as dry. The air conditioning seemed more like the sort you would get from a car than a plane is the best I can really describe it.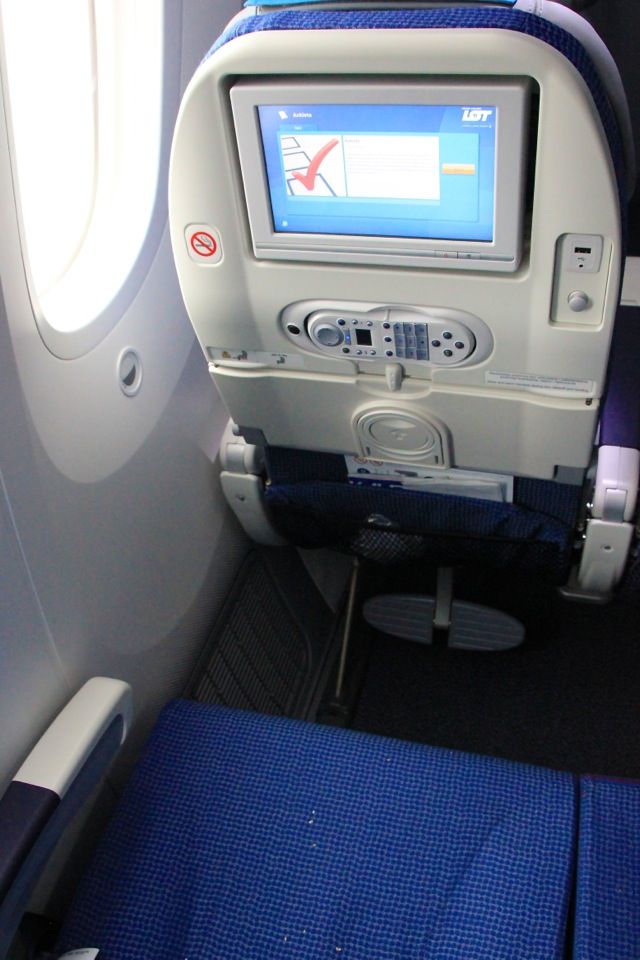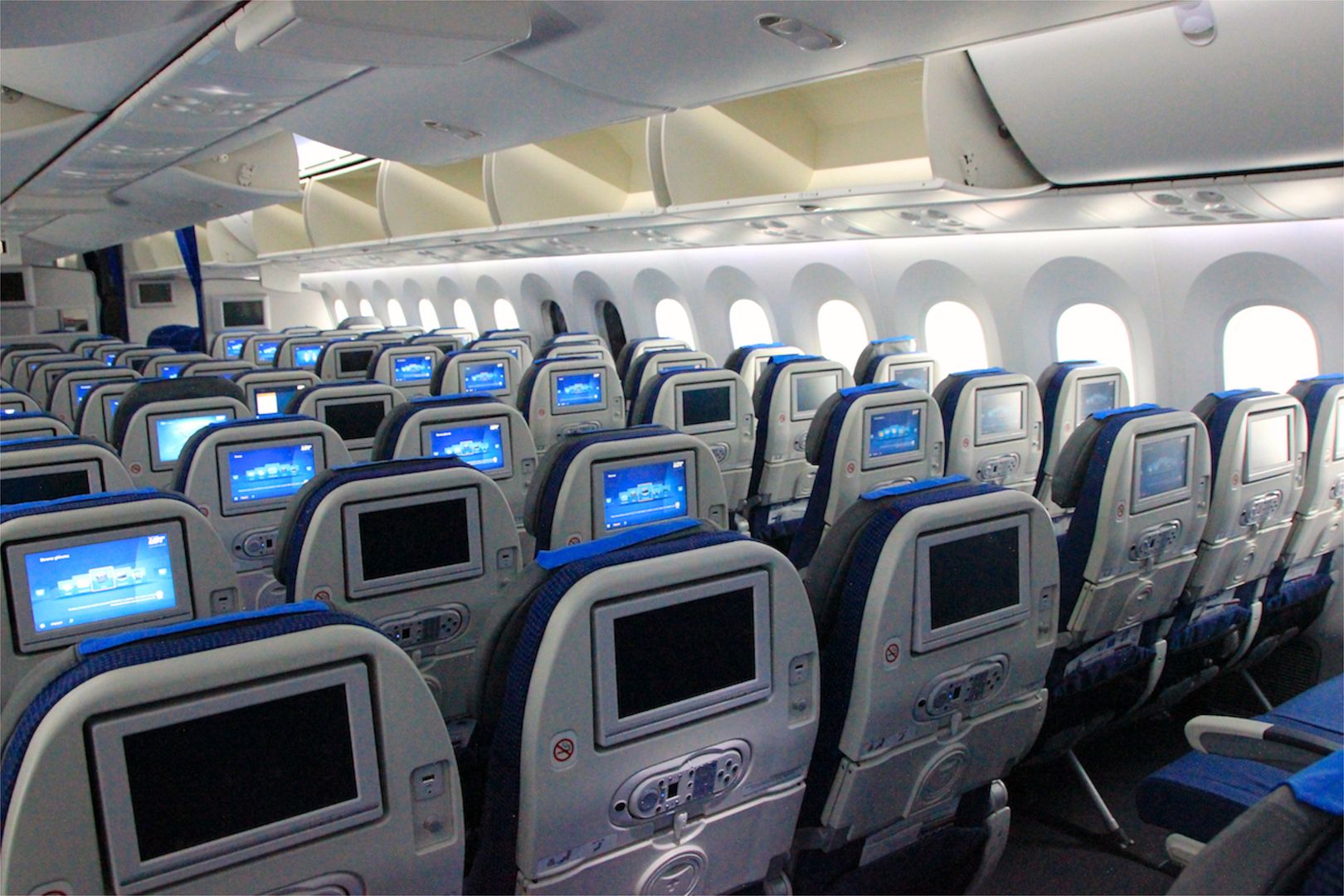 Premium Cabin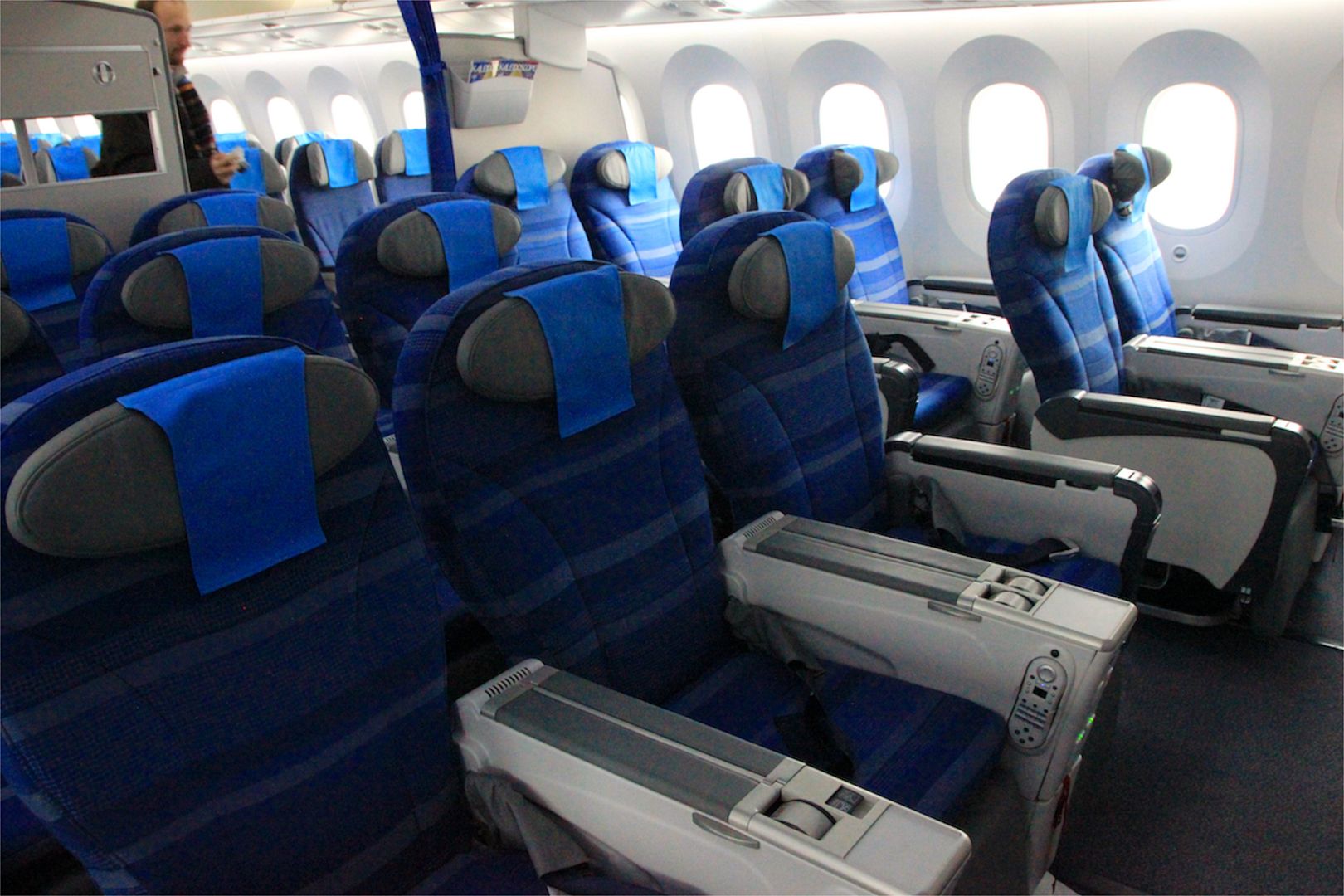 I didn't bother with any pics of the business cabin as I covered that yesterday.
I attempted to get a reasonable time in the flight deck this time round, but once again I was limited to two rushed pics before I was thrown out. They still turned out better than my previous attempts though.


Interestingly, on both sectors there was a British guy from Monarch engineering on the flight deck. I heard him mention on yesterday's flight that he was based in WAW. It was a little annoying I didn't get to find out more, as it seemed odd that Monarch would base somebody at an airport they don't serve on a type they don't even have on order.
After that, it was once again into the future Terminal 2, taking some pictures along the way.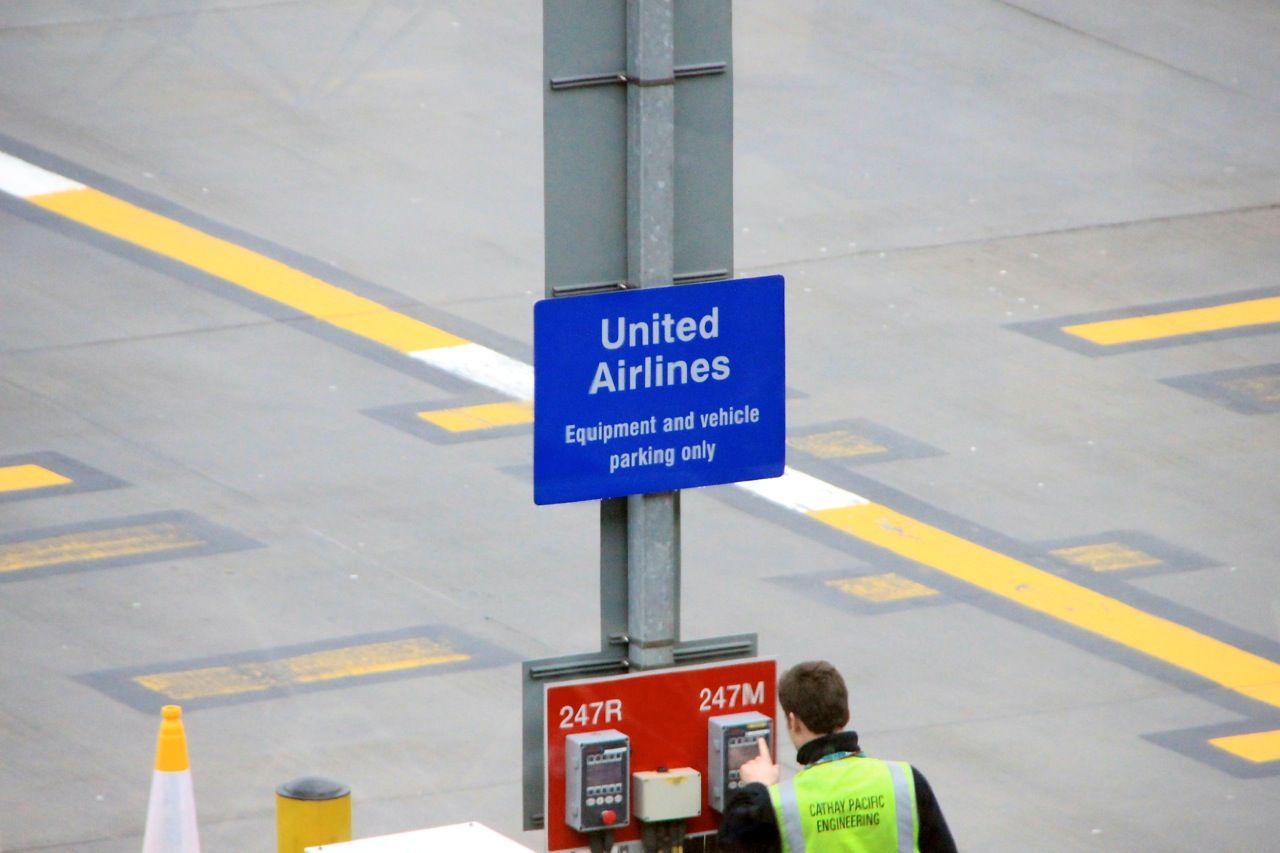 I thought these were only novelty signs?!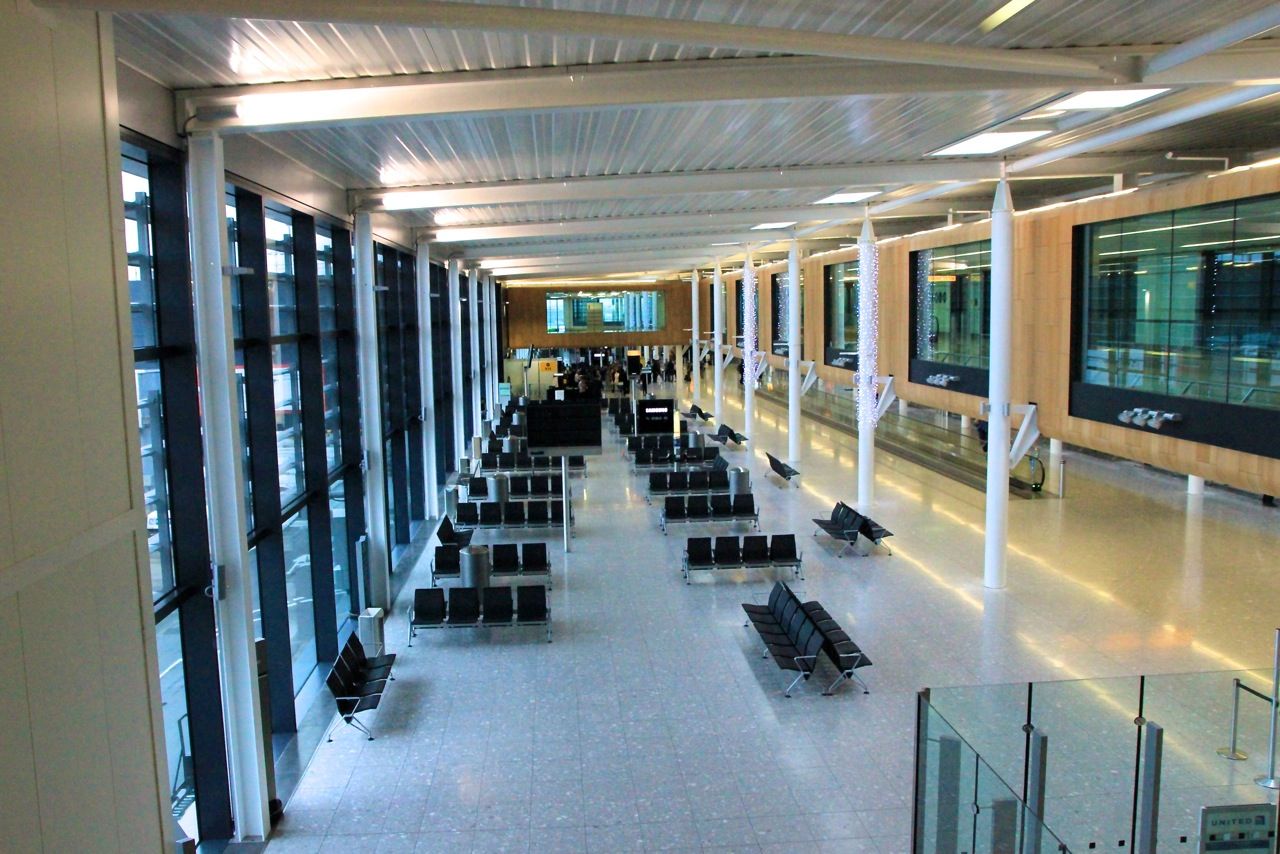 T2 overview
T1 baggage claim
And the last ditch effort to sell you stuff you don't want.
The plus side of all the hanging around was that by the time I'd got to passport control I was virtually the only person there so I was through in seconds. It was then off to the central bus station for the final time this year and homeward bound to put the finishing touches to the report!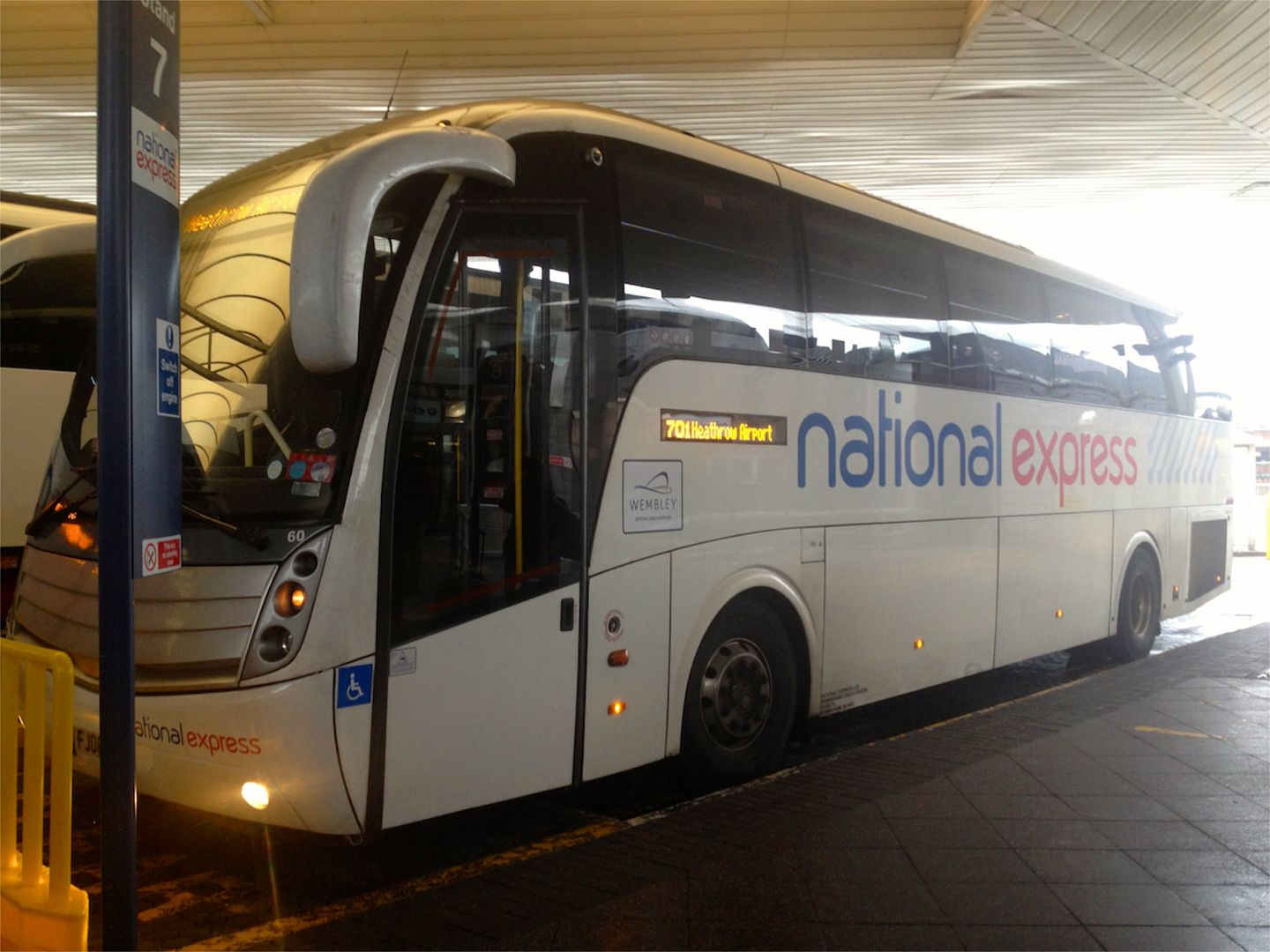 And so brings to an end my most comprehensive year of flying ever. I had well and truly beaten my previous record of eight sectors in a calendar year, set in 1991. I logged ten new types, nine new airlines, eleven new countries and sixteen new airports on board thirty sectors. 2013 is shaping up to be pretty good too with nineteen sectors booked between now and the beginning of May covering new airlines, types, airports, countries and continents as well as re familiarizing myself with a couple of old types and an airline I haven't flown with in 22 years! I'll also be trying out a current airlines new venture on board its inaugural UK domestic flight in March.