Iberia | A321/A340-600 | LHR-MAD-LHR | Business / Economy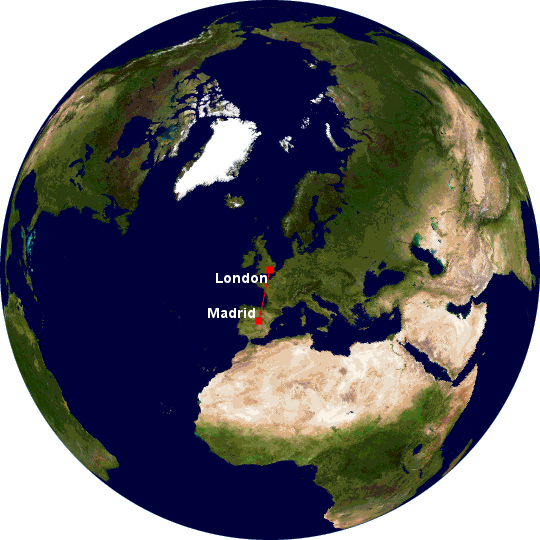 Maps generated by the Great Circle Mapper – copyright © Karl L. Swartz.
My eighth trip of the year will take me to Madrid. Admittedly, it wasn't the first place I thought of going to but after reading a thread on here many months ago about what European routes BA fly their 767's on something interesting was mentioned. That if you choose the right flights, its possible to fly out on a British Airways 767 and back on an Iberia A340. Decision made! My planned trip to Rome got scrapped in favor of a pair of widebodies to Madrid instead. Interestingly my outbound BA flight offered a Club Europe price of just £149 so I snapped that up too – not sure if it was a mistake or not but either way it was a good deal.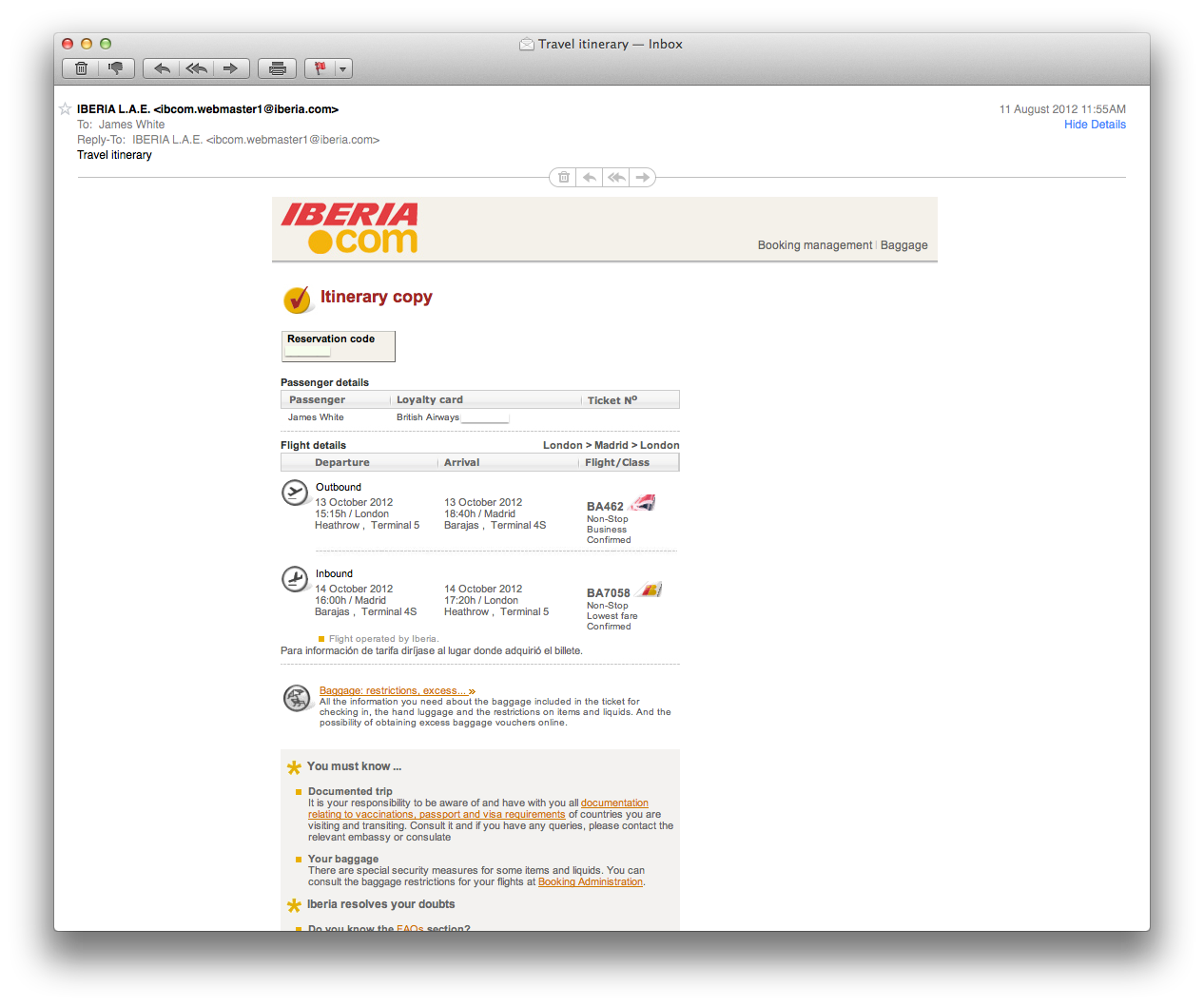 Although I booked through BA, I thought I'd send myself an IB E-Ticket for the collection

At this point I wasn't too sure weather I'd be on an IB A340-300 or -600. Both seem to operate to Heathrow, however the -600 seemed more common. Checking the BA website only confirmed that I'd be on an A340 of some description:


Given the choice I'd rather be on the -600, however either opportunity to fly a long haul jet on a two hour flight suited me!
Next up was a hotel. I was surprised at how many there were within a reasonable distance from the airport train, with a price that fits my budget. In the end I settled on the AC Cuzco Marriott for around £70 for the night.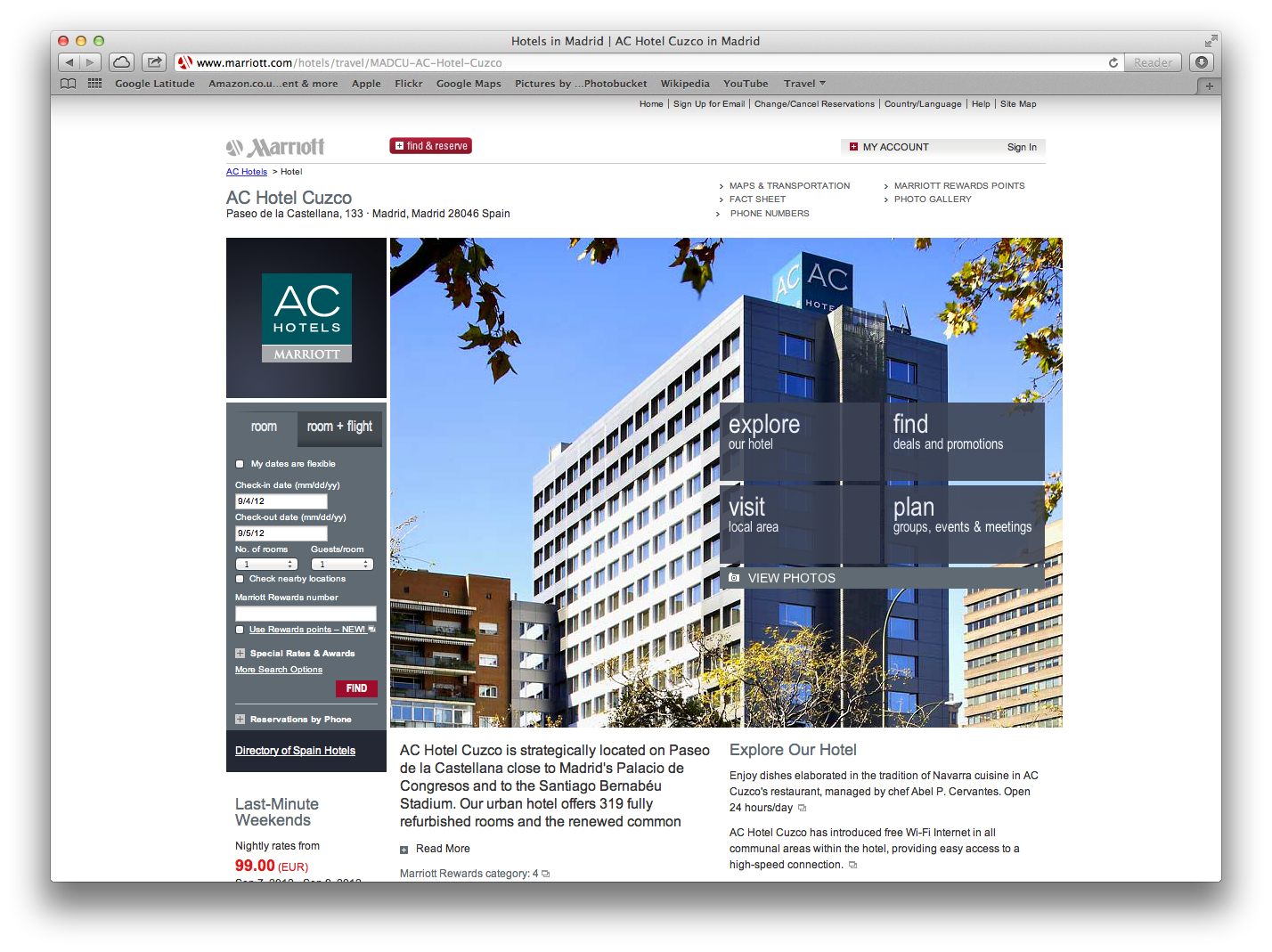 The weather definitely looked warmer than the UK!


24 hour before departure, it was time to check in online…


…or so I thought.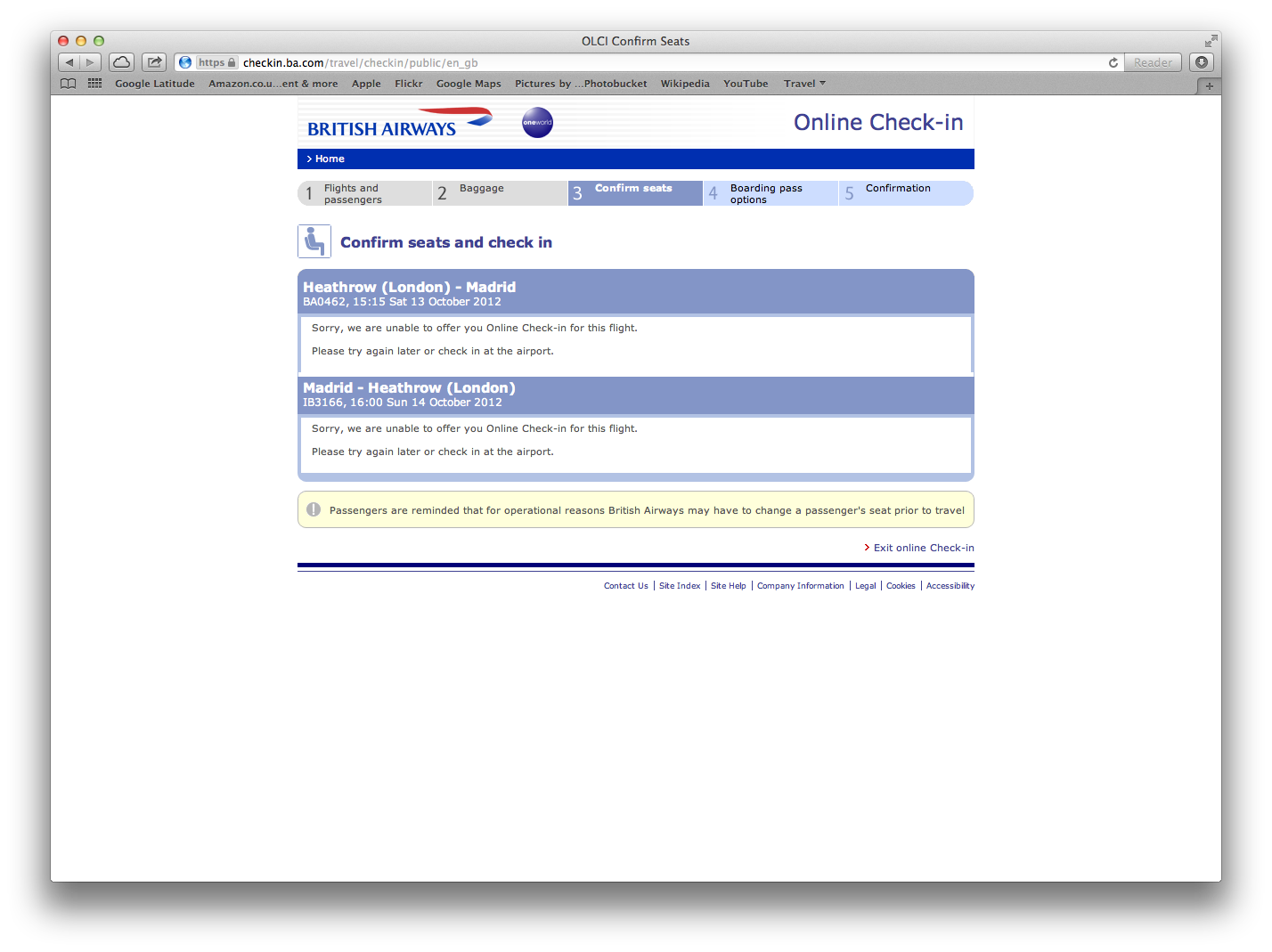 A few tries later and I managed to get my boarding pass.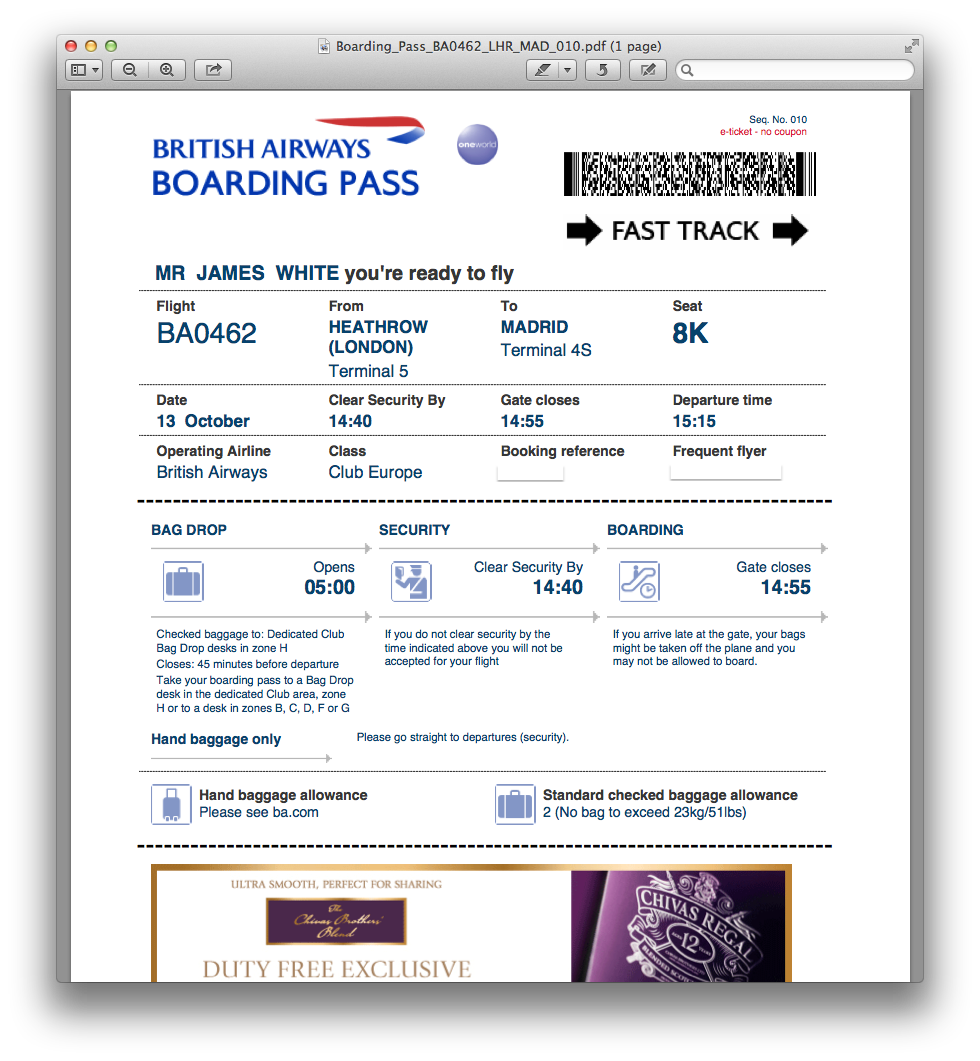 The following morning, I decided to try my luck at checking in for my return flight. And it turned out I was in luck.

This Confirmed that I would be on the A346.

And finally my boarding pass was issued. This was a much easier experience than the one I had with BA yesterday!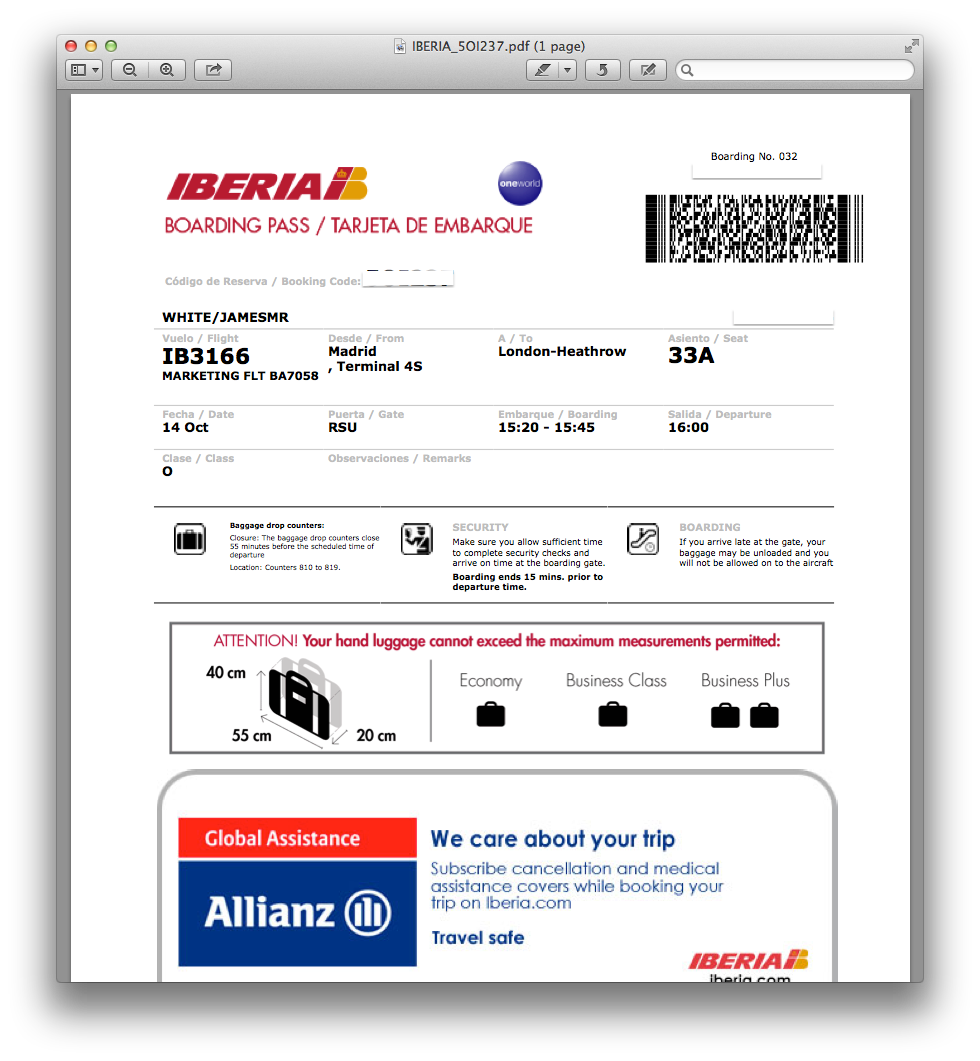 I also decided to get a boarding pass on my phone. IB seems to have the best looking mobile boarding passes!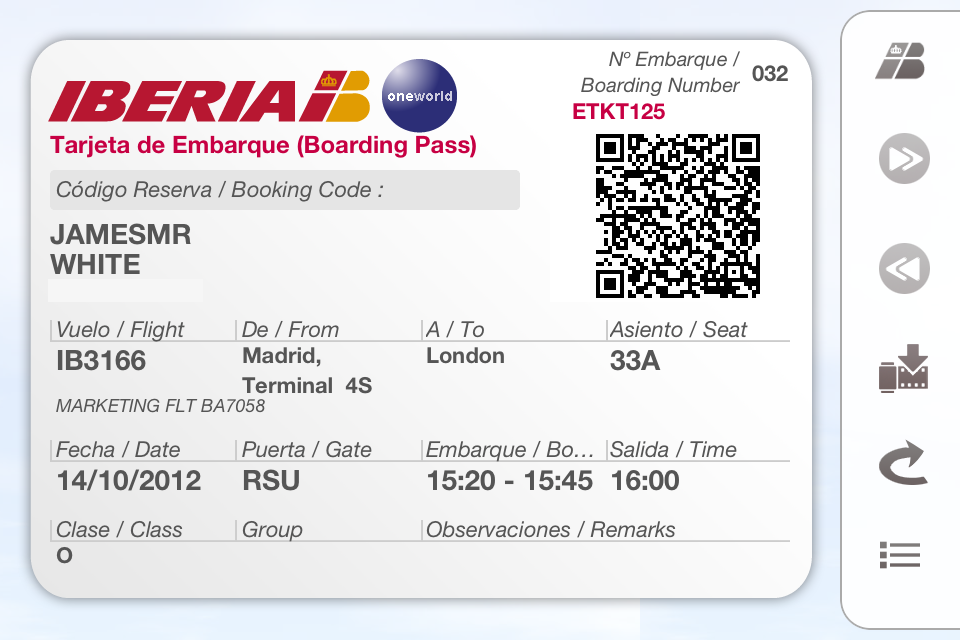 Upon checking the British Airways app, it told me that my outbound flight had an hours delay. Oh well, more time in the lounge!
The new departure wasn't scheduled until 16:15, however as I wanted to get the most of the BA lounge at T5, I set off a bit earlier than needed, just after midday. My lift to the airport would be by my now usual means:


Interesting that National Express seemed to have gone back to the older style coach on this route again now. Although the Woking Railair branding seems to have disappeared, the interior remained the same.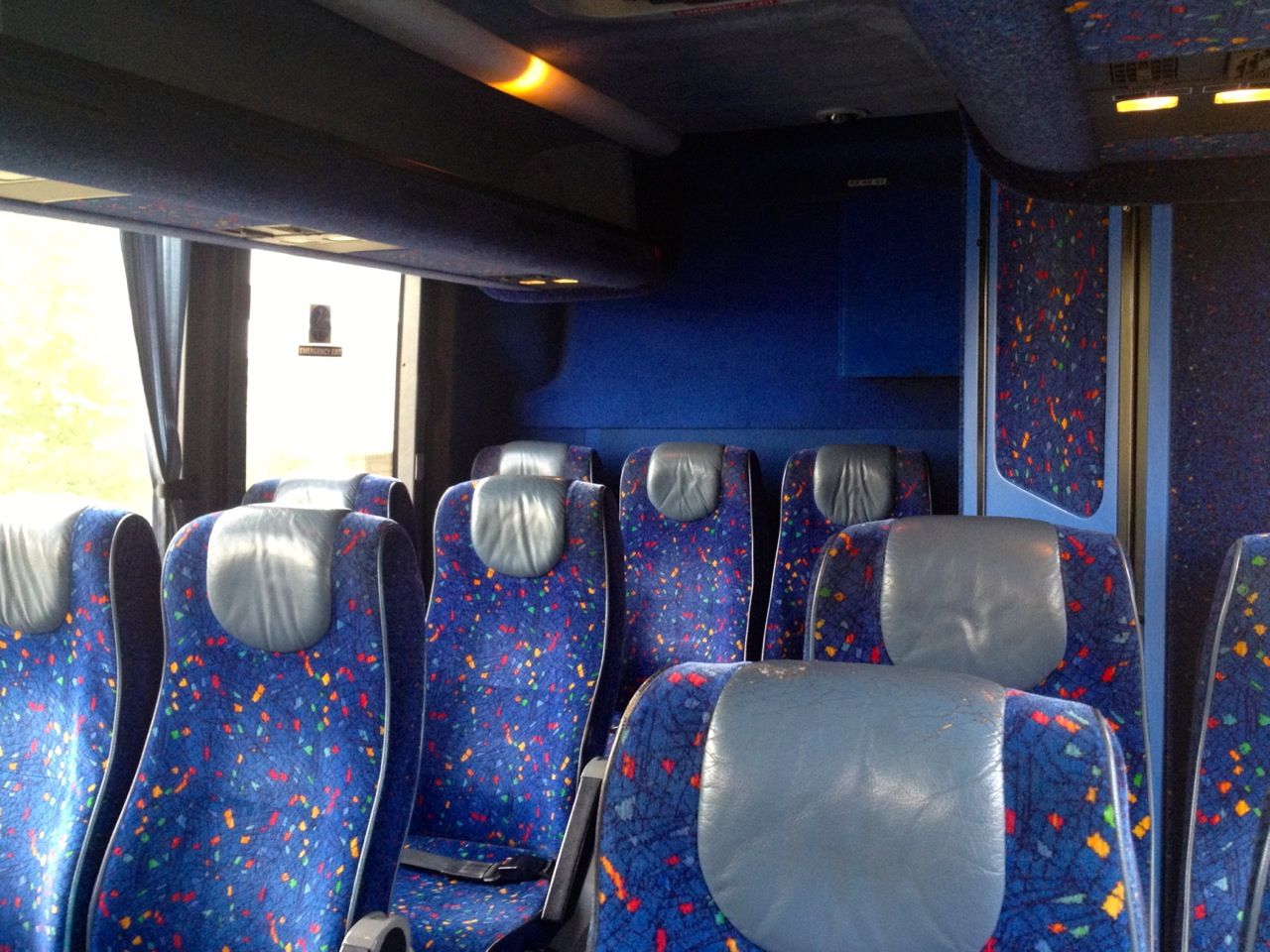 No big issue for a 25 minute run to the airport, but not sure I'd like to spend more than a few hours on here – very retro. Reminded me of going on a school trip!
At around 12:30 the coach arrived at T5.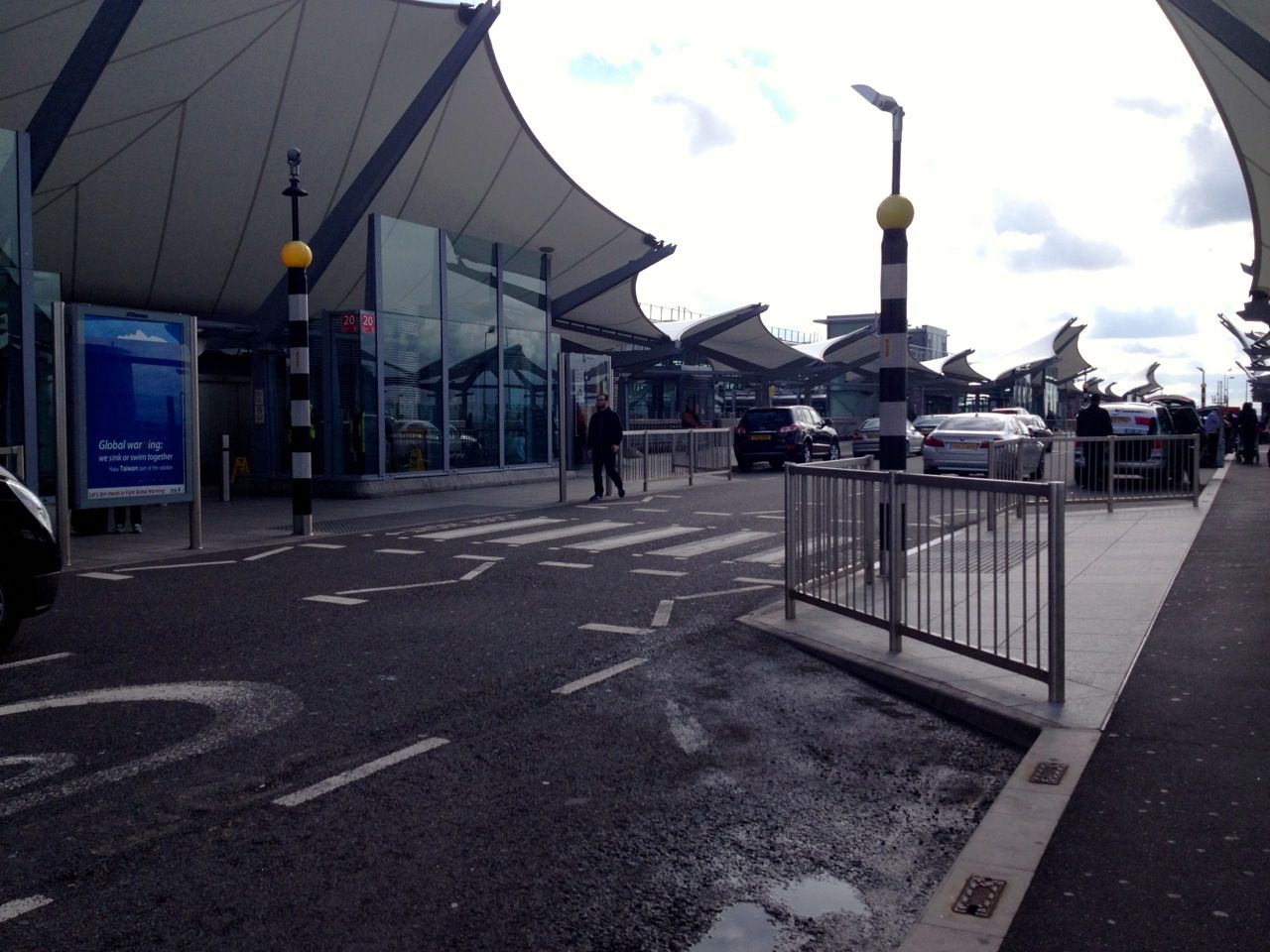 I headed off to check in to get my souvenir boarding pass. There was no mention of the delay to my flight though.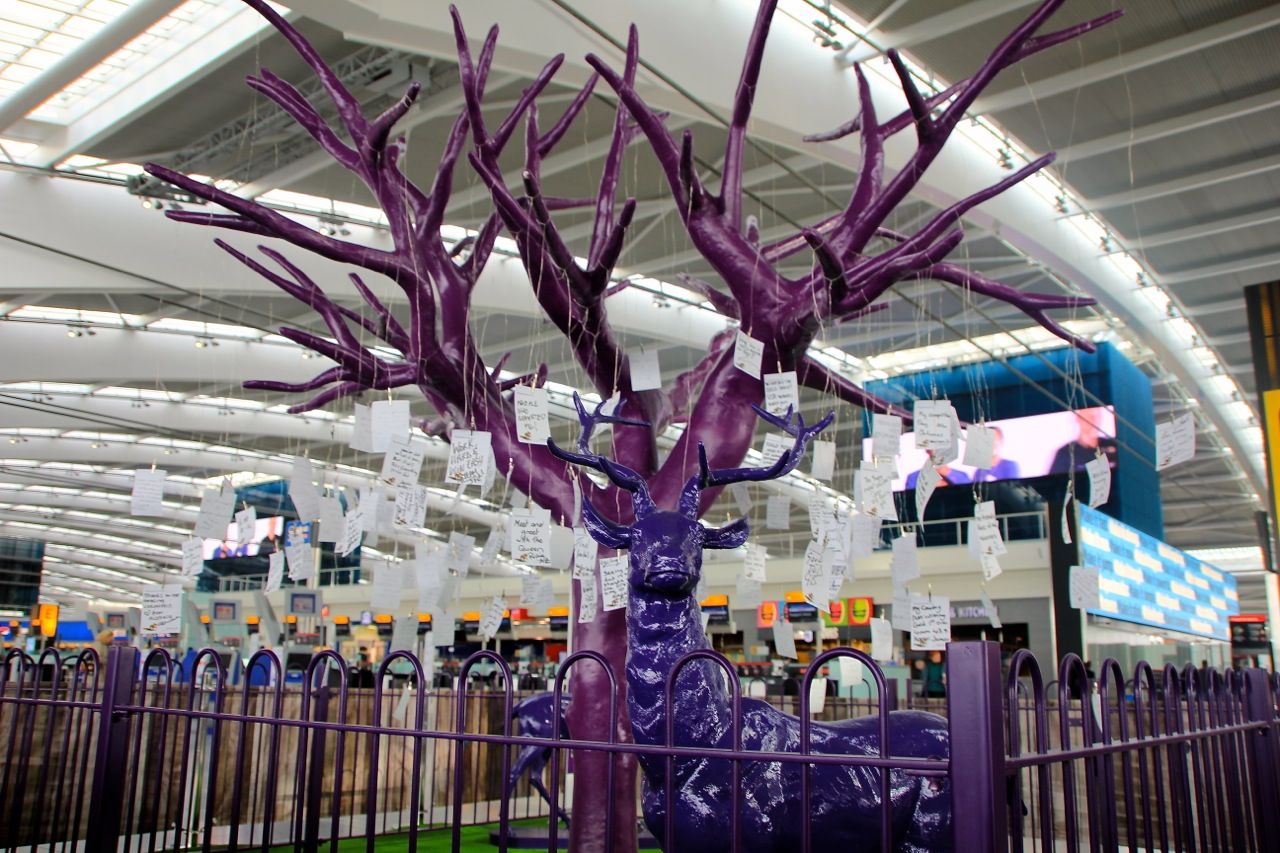 Olympic memory tree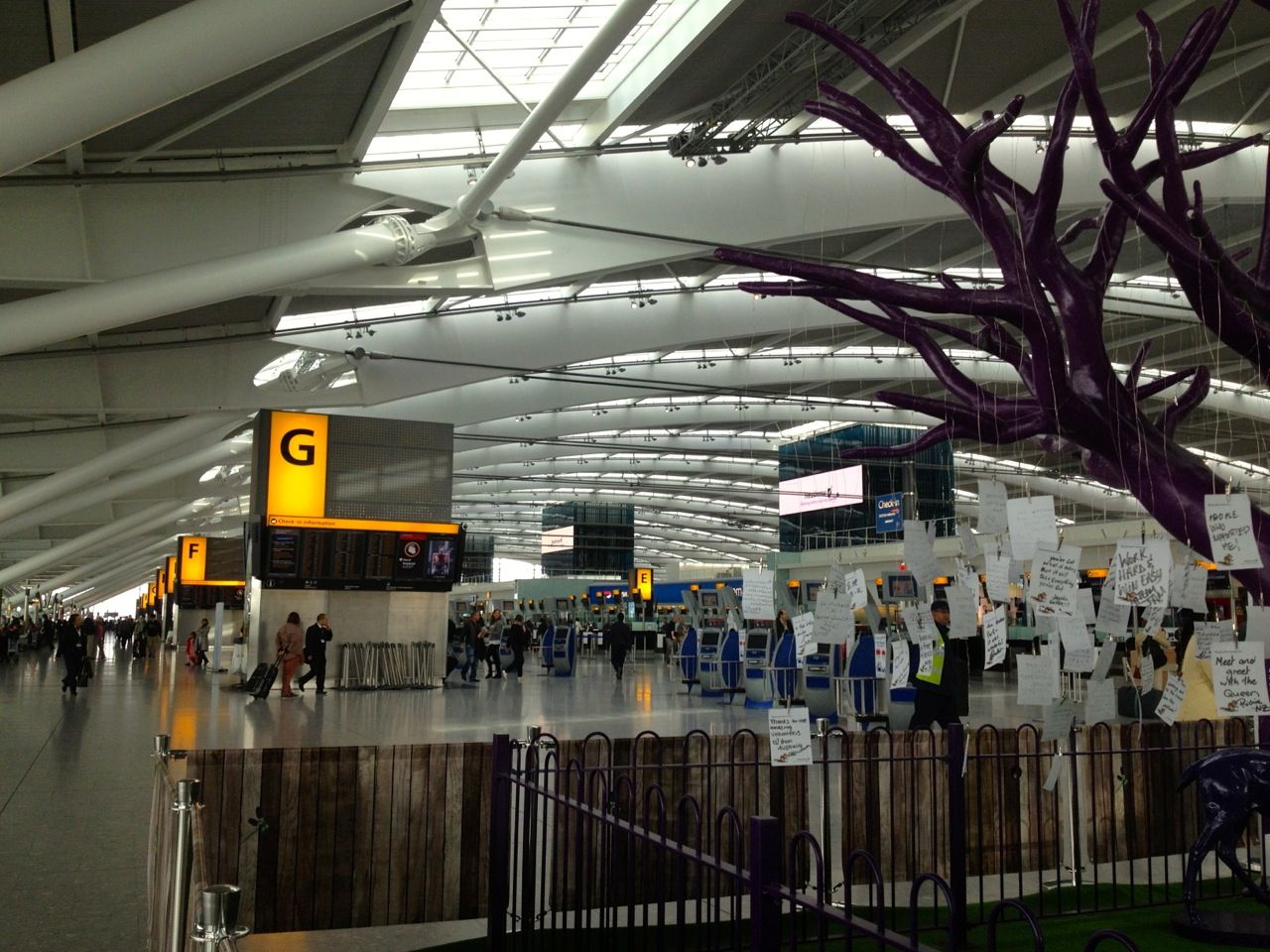 T5 overview
Then I made my way through the fast track security. Although it wasn't particularly fast. Around 15 minutes later I was out into T5


Once airside, I had a choice to make.


I decided to go with the North lounge.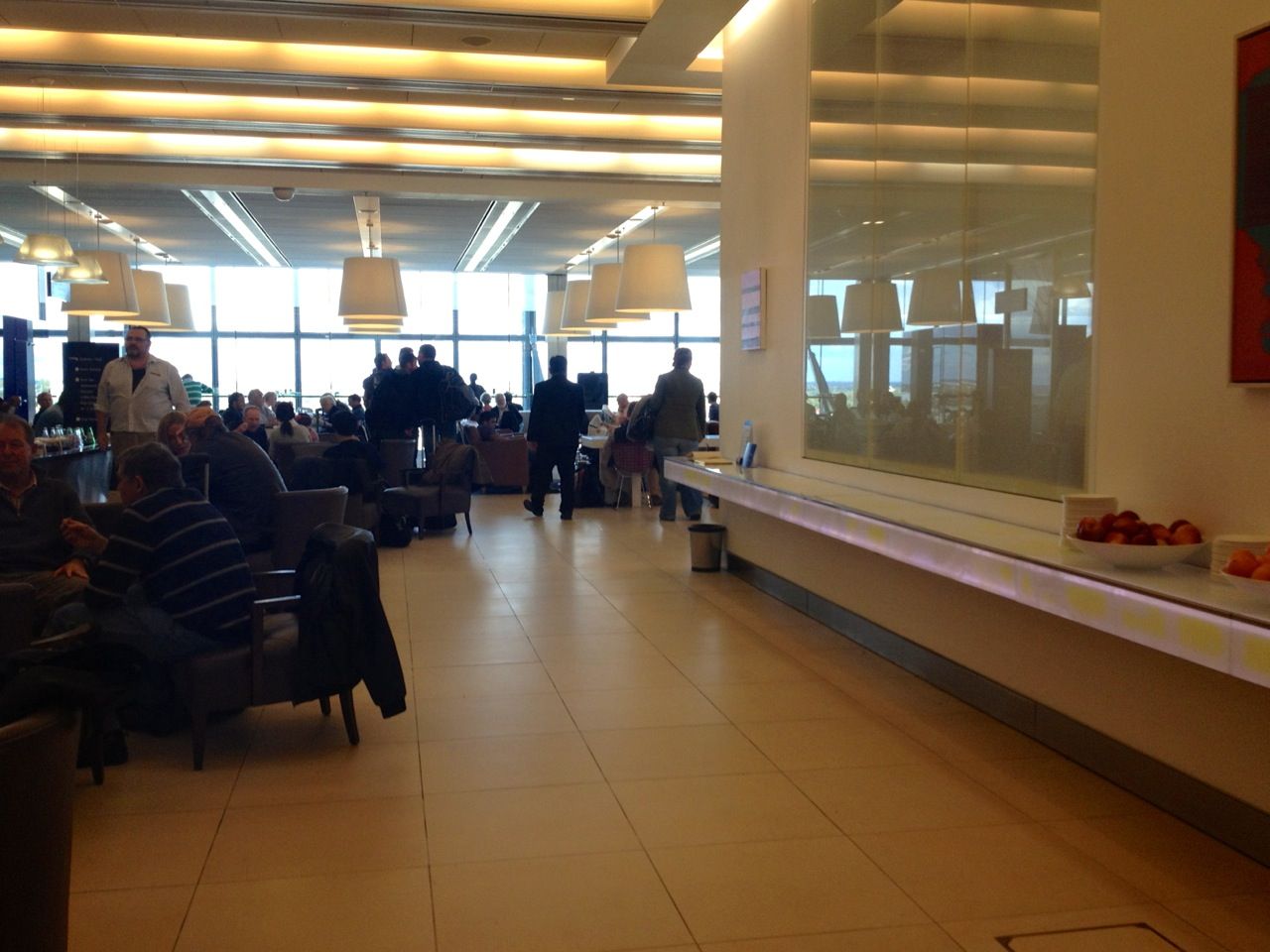 Bit of heritage in the toilets!
It was a little busy but I still managed to find a seat. I was impressed with the food offerings!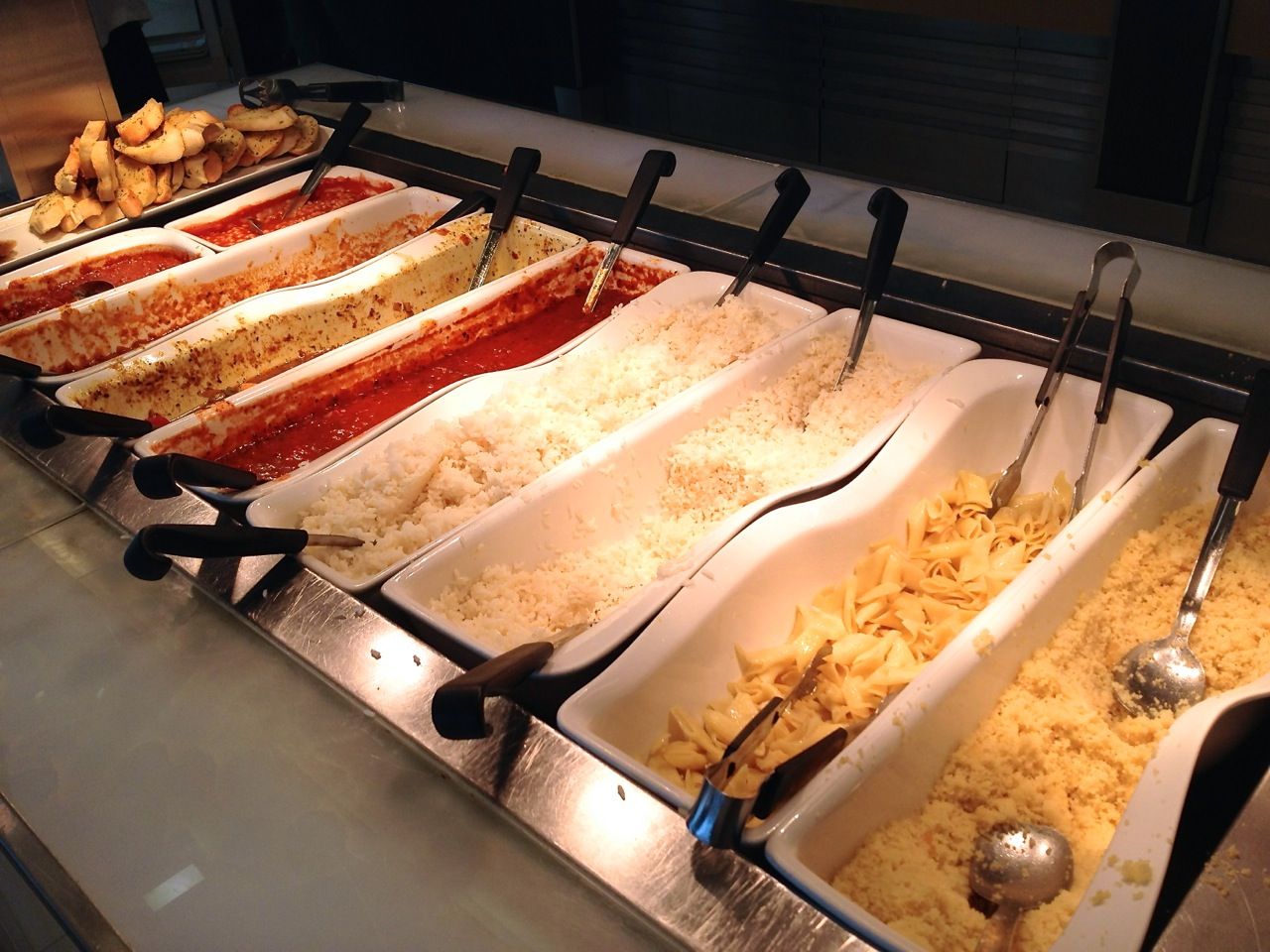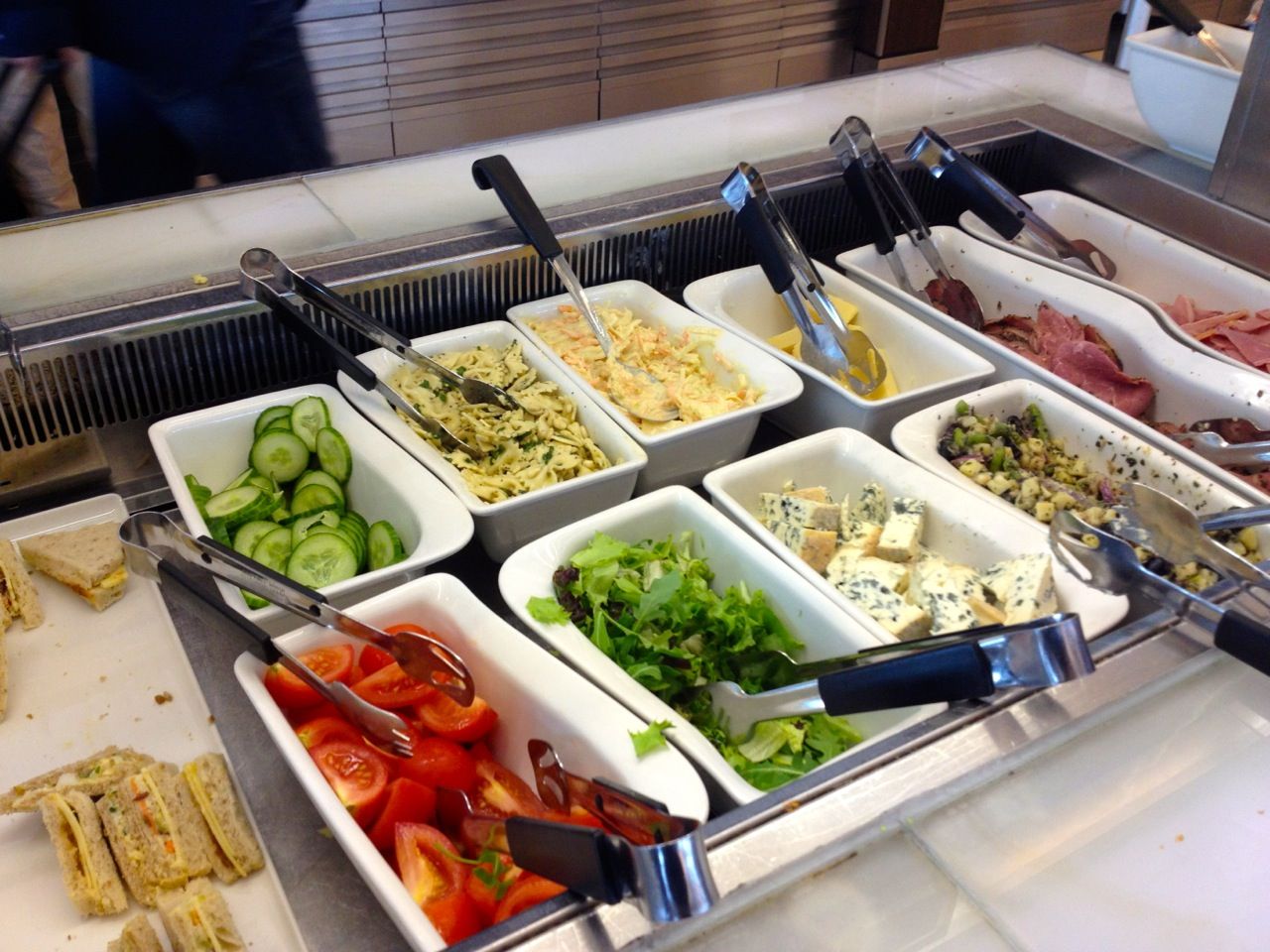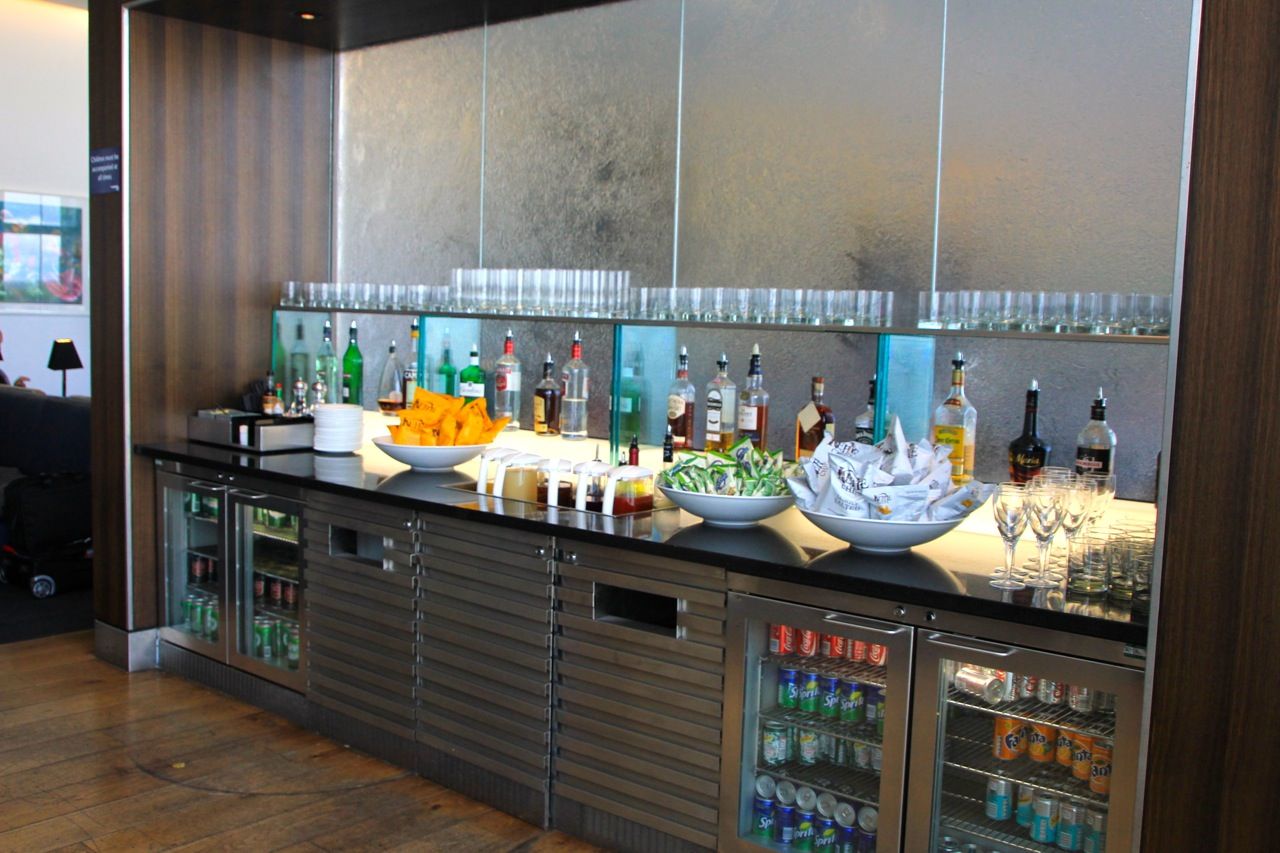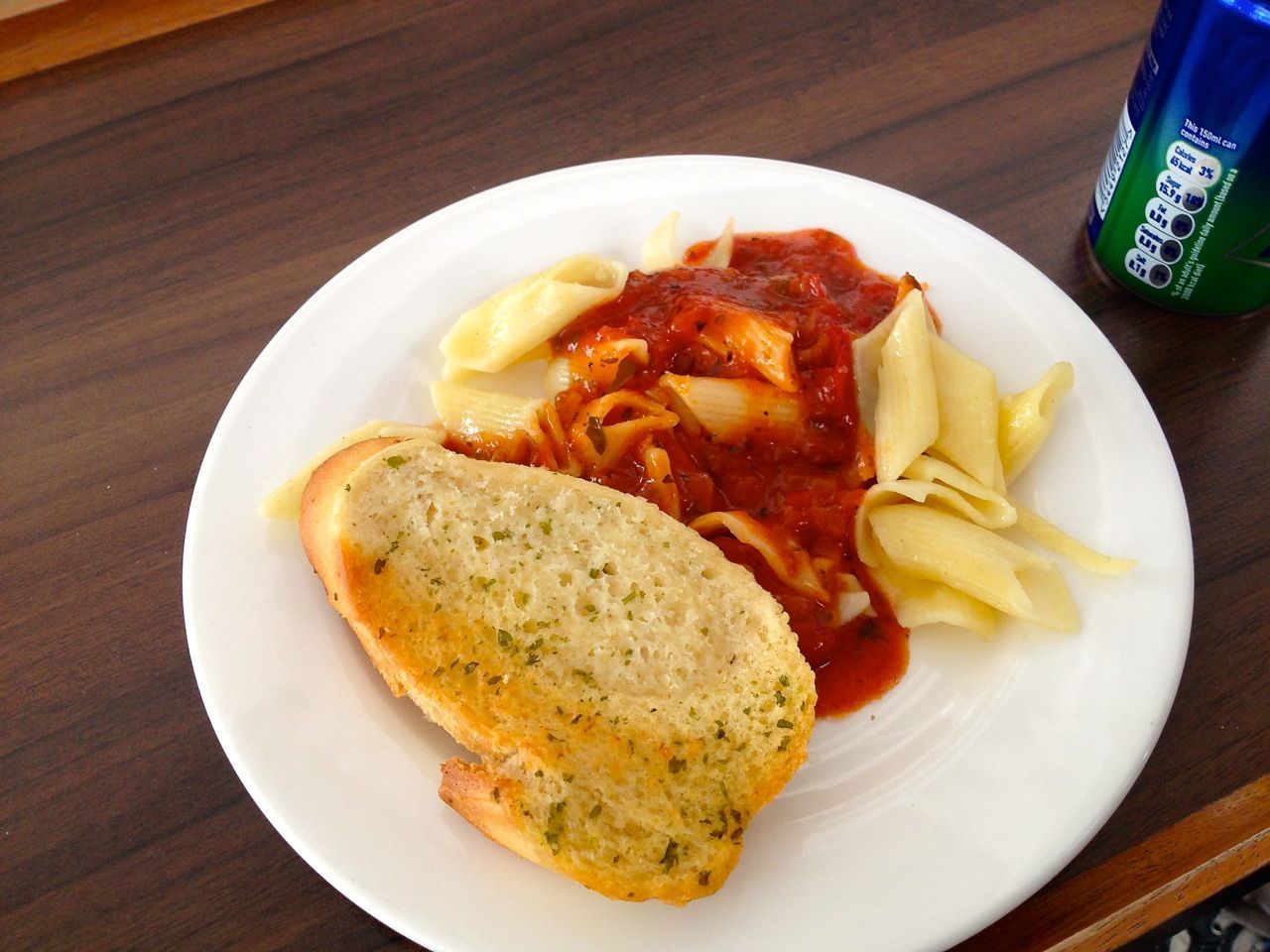 Just a bit of pasta for the moment
Followed by a couple of sandwiches – with a view!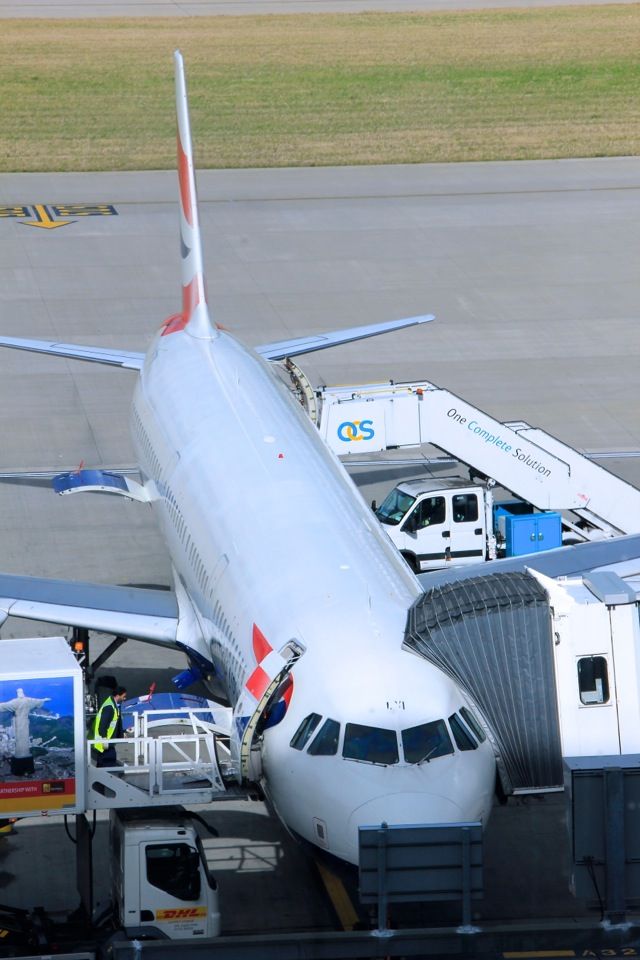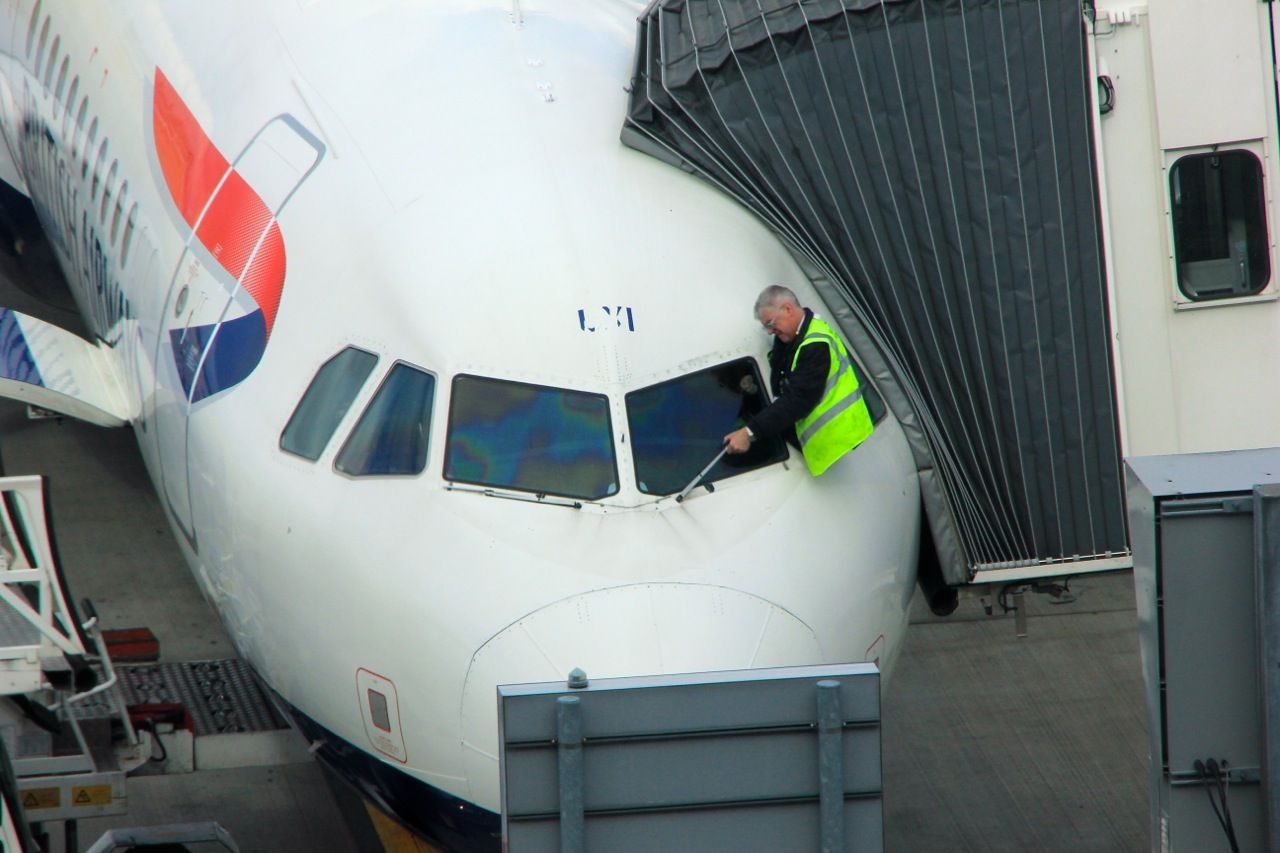 Shortly afterwards, I decided to go and see what the South Lounge had to offer.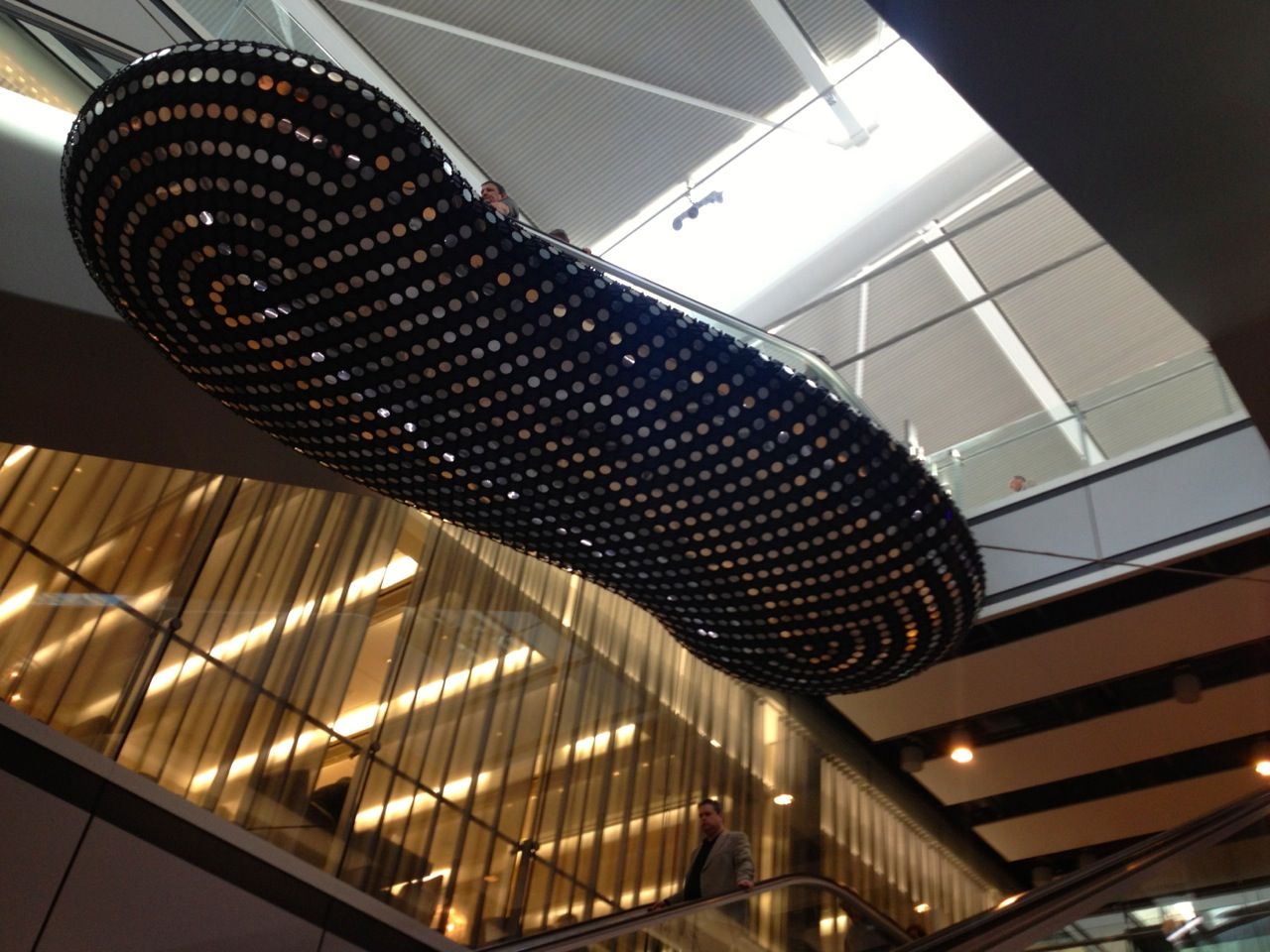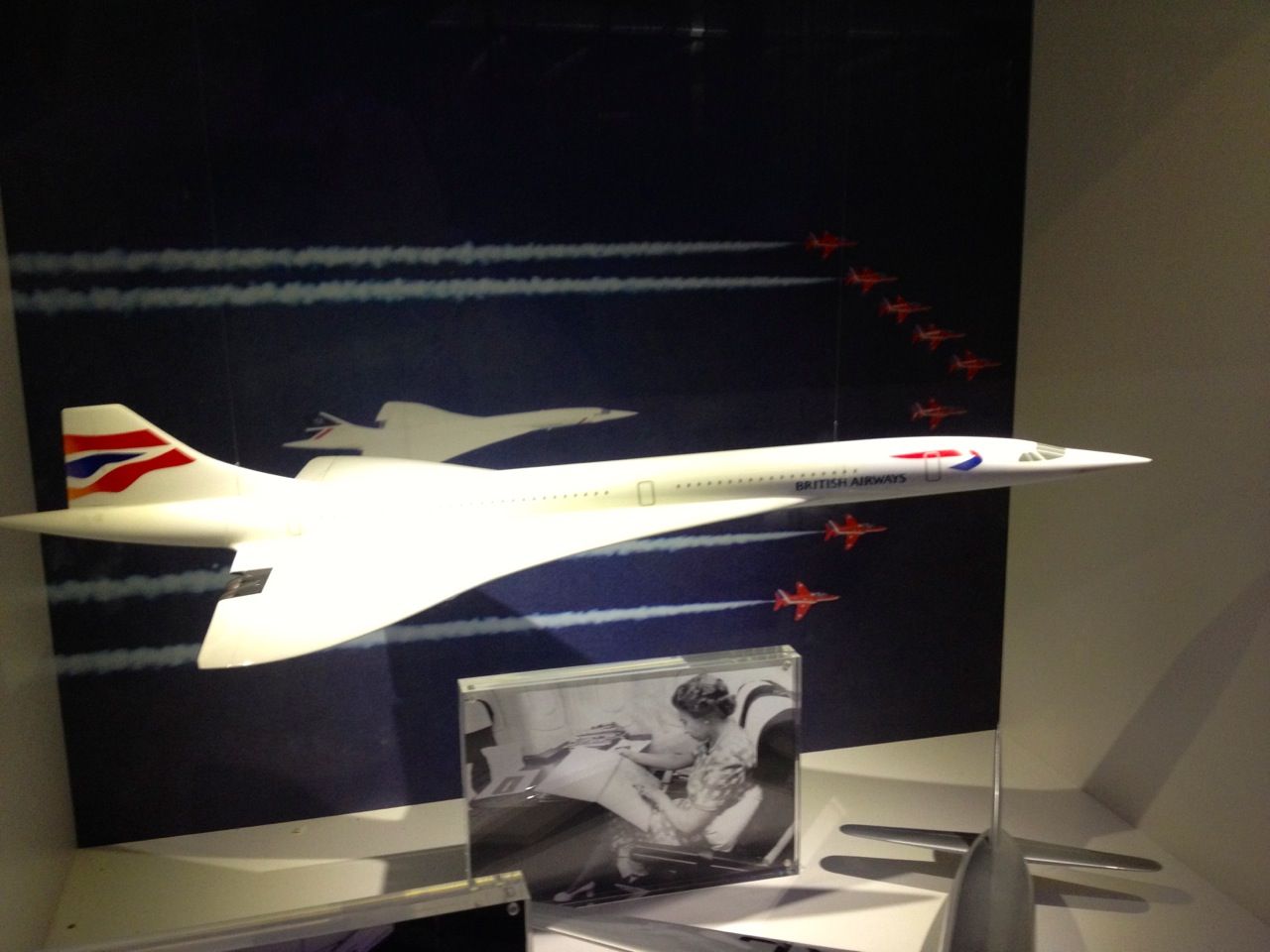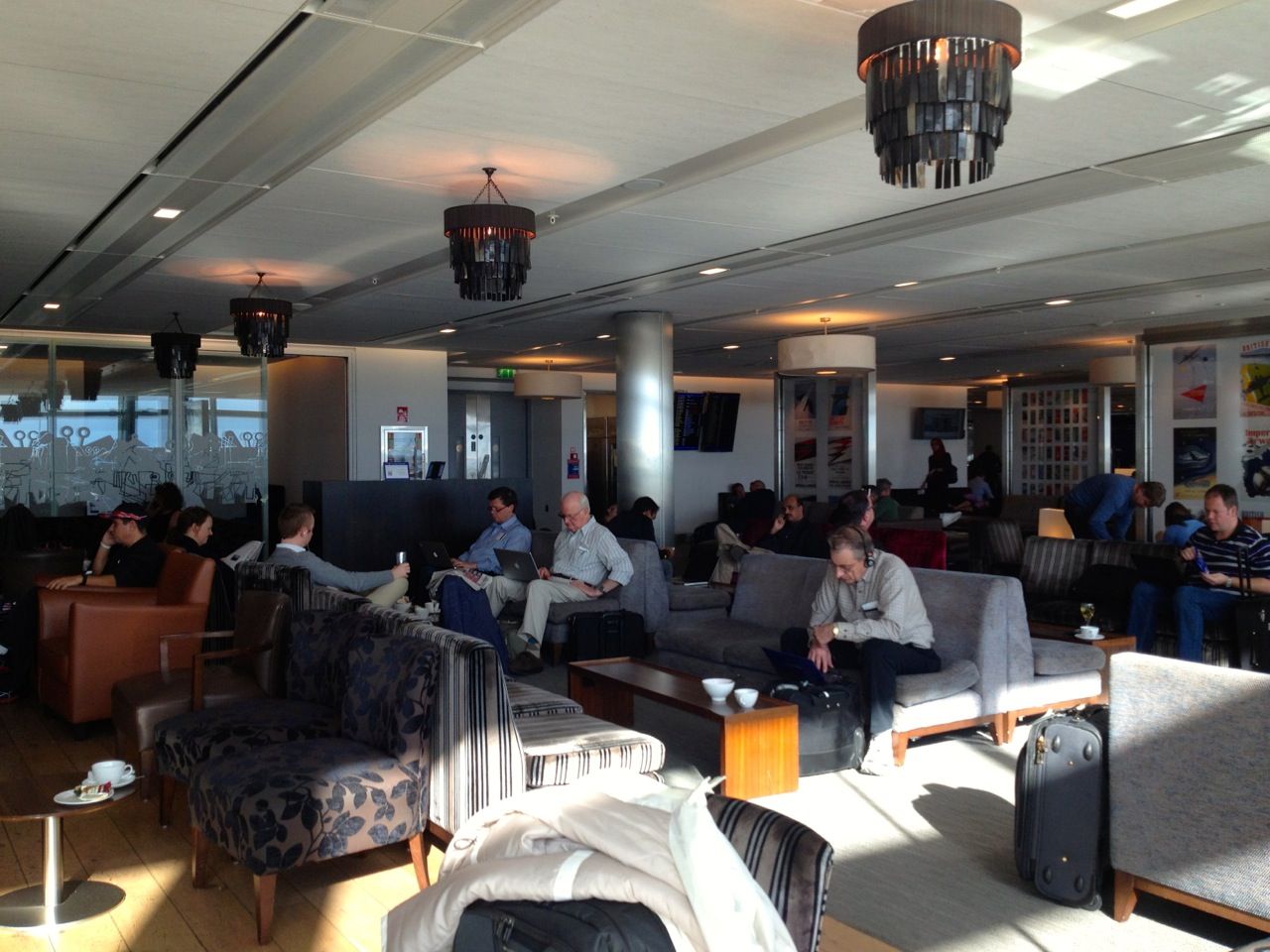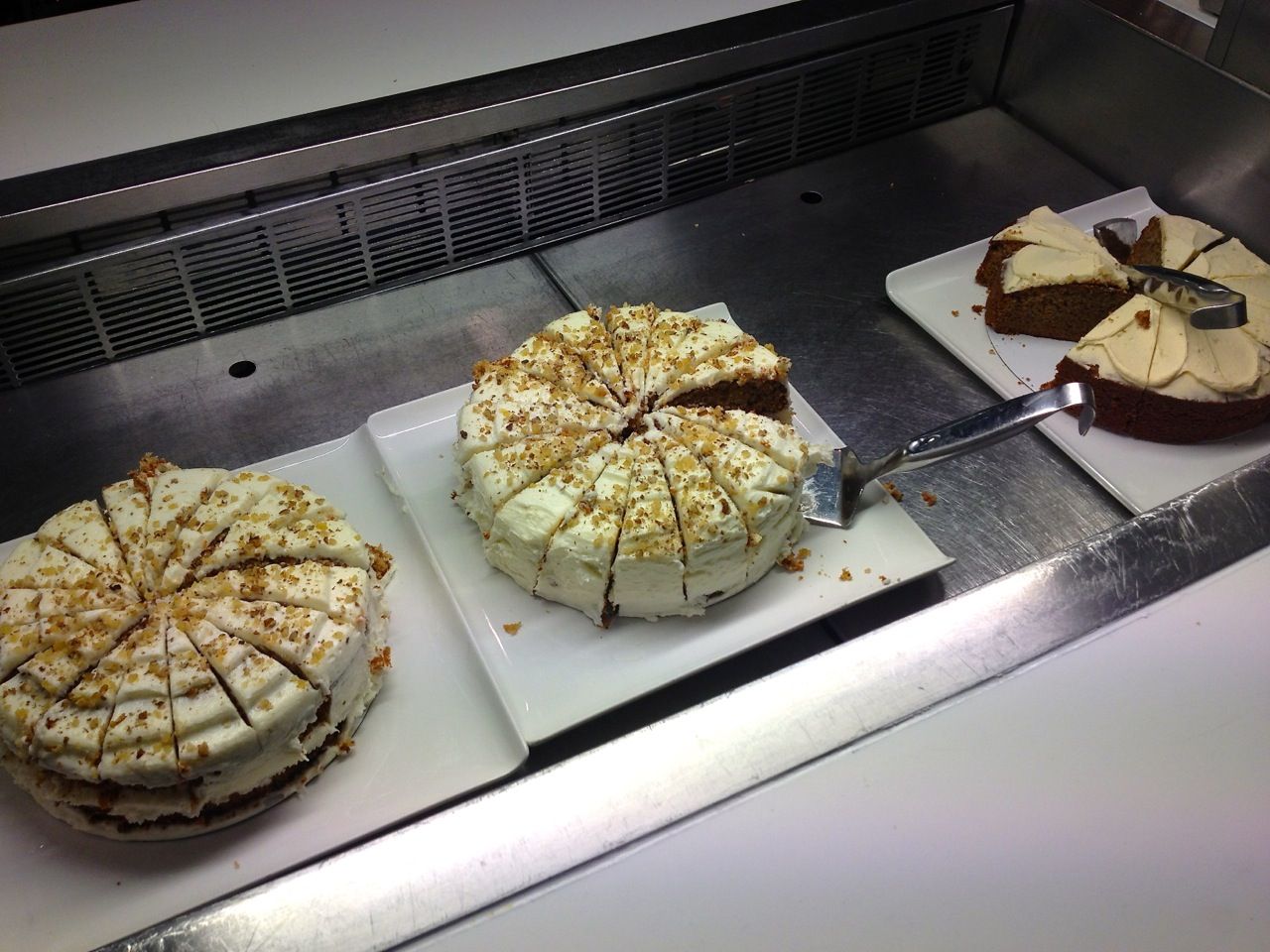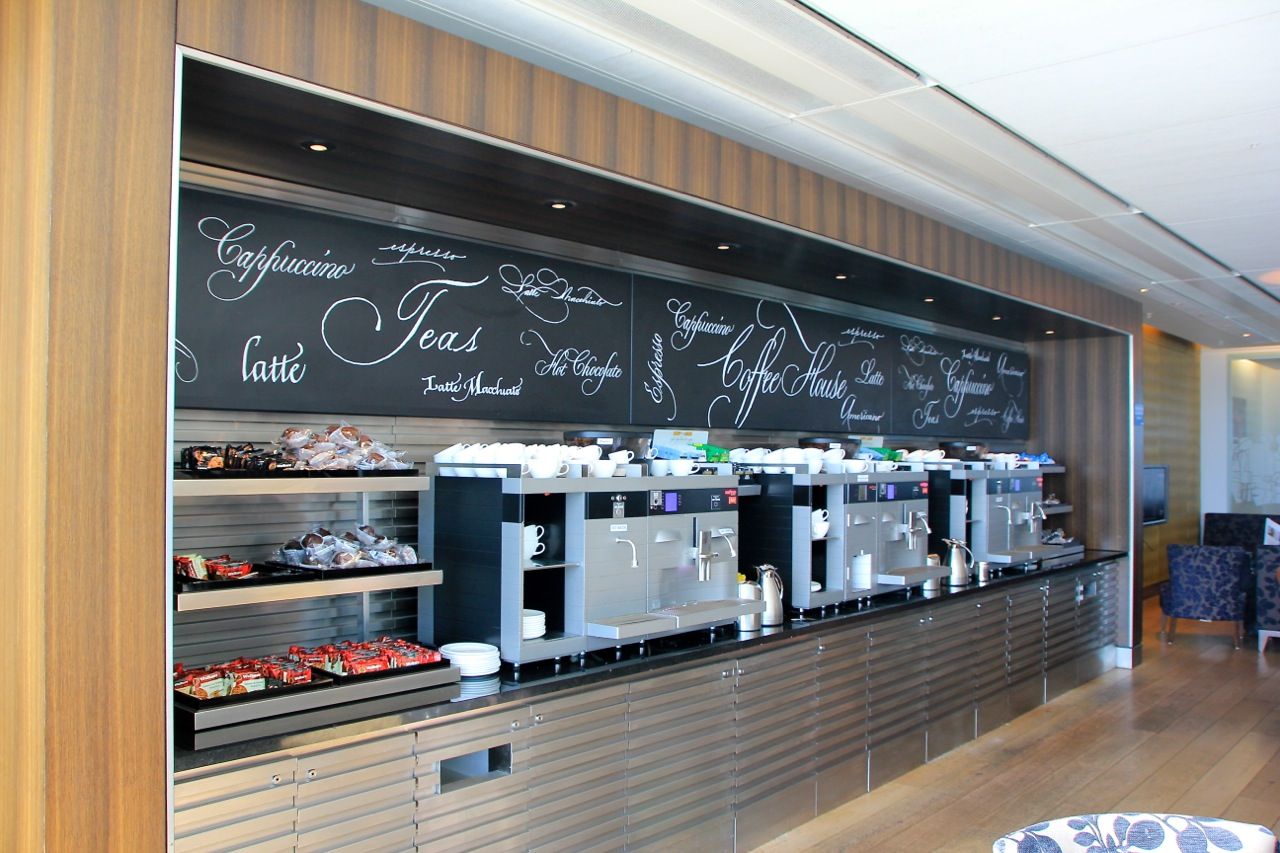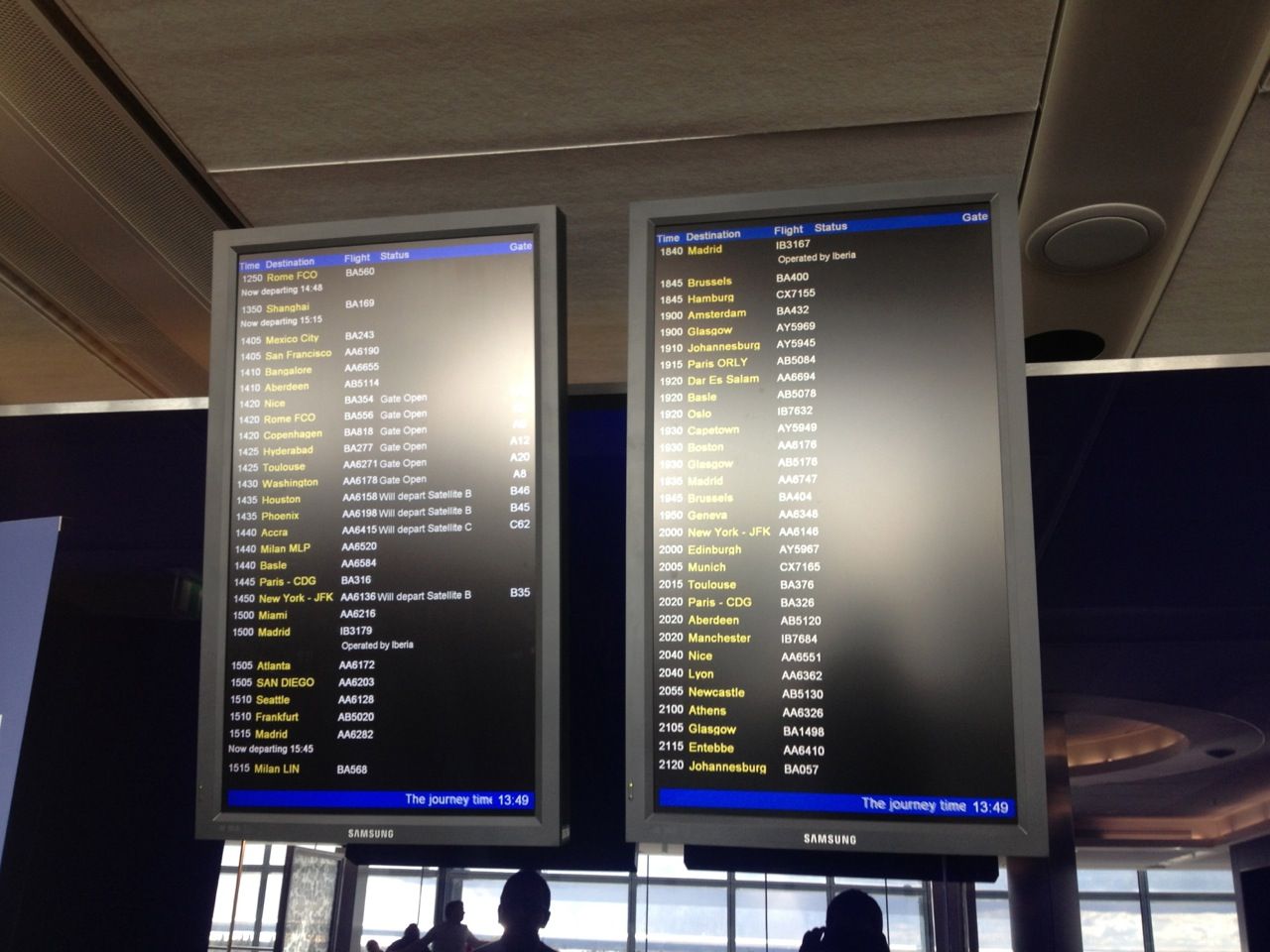 FID's
It wasn't that much different to the North lounge but as it was bigger it didn't feel quite as busy. An added bonus though was that it had ice cream!


Thanks to Gabriel Chew for not only reminding me, but giving me directions too!
At just after 14:00 it was time to head down to gate C65. Seemed a little bit early to me, as according to the FIDs departure wasn't due for another hour and 45 minutes!


At 14:30 I left the lounge and made the long trek over to the C gates.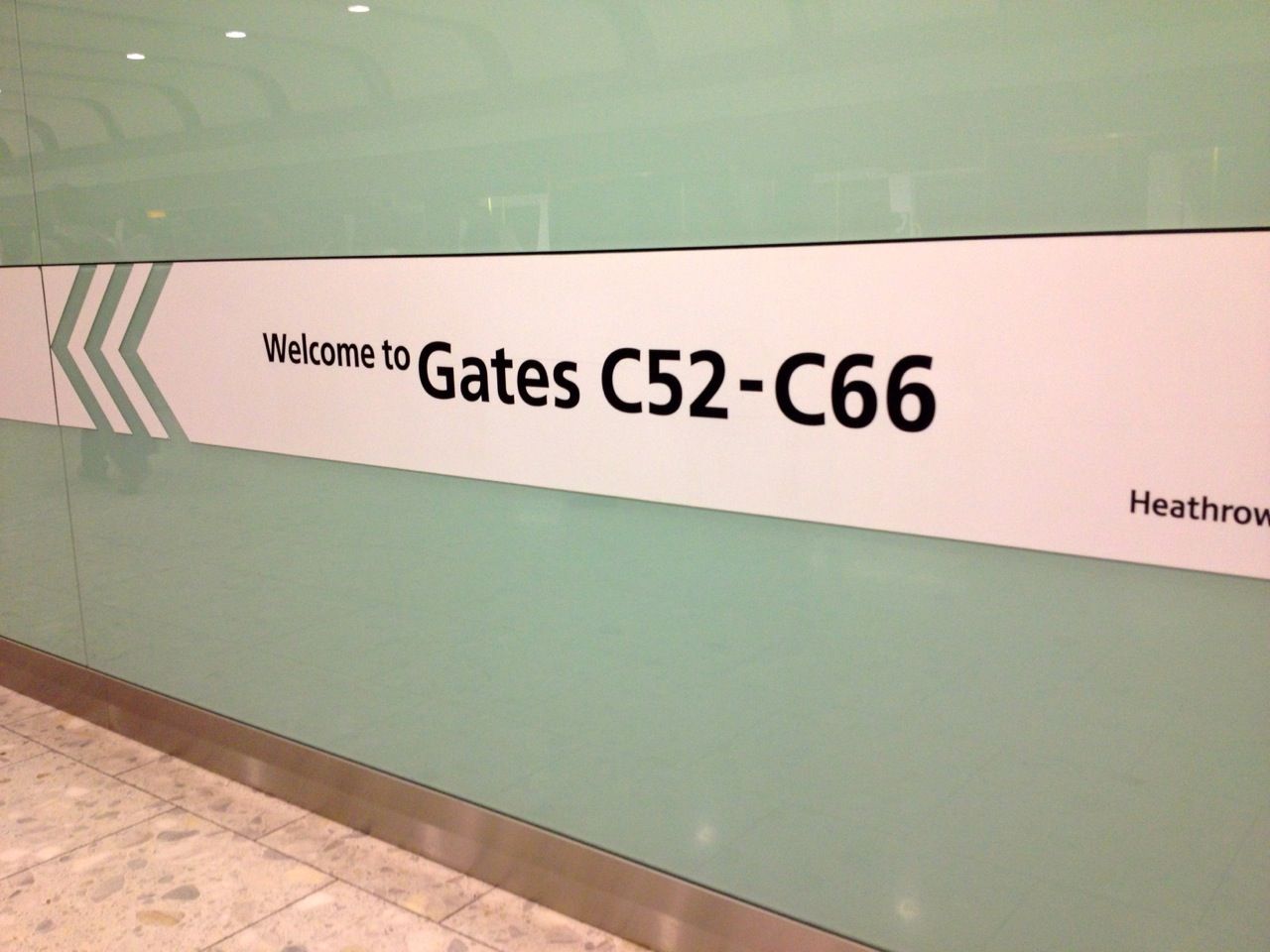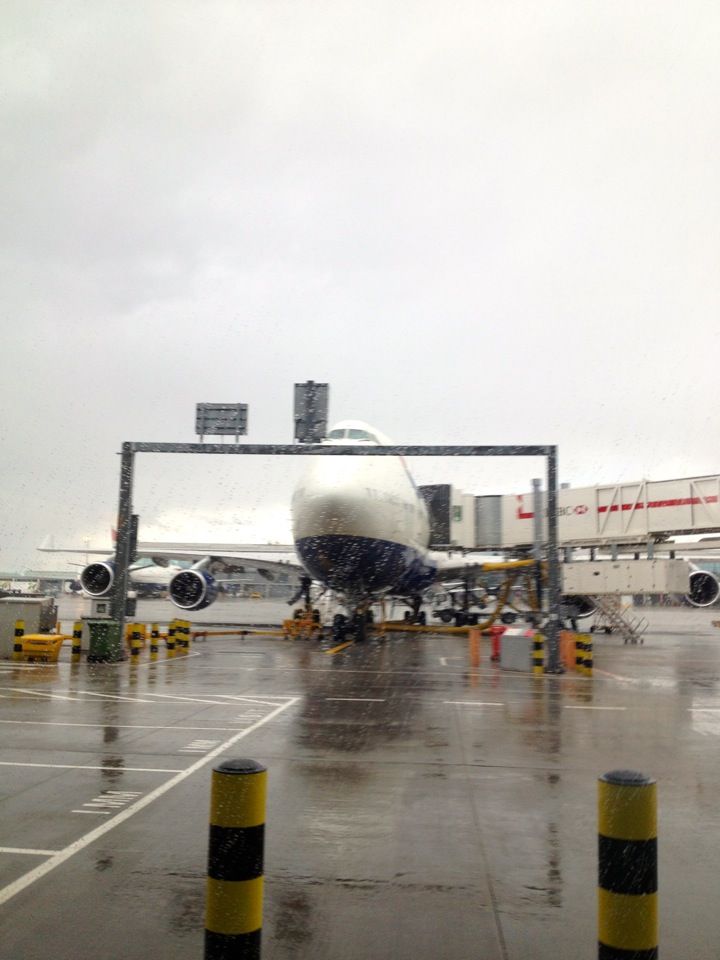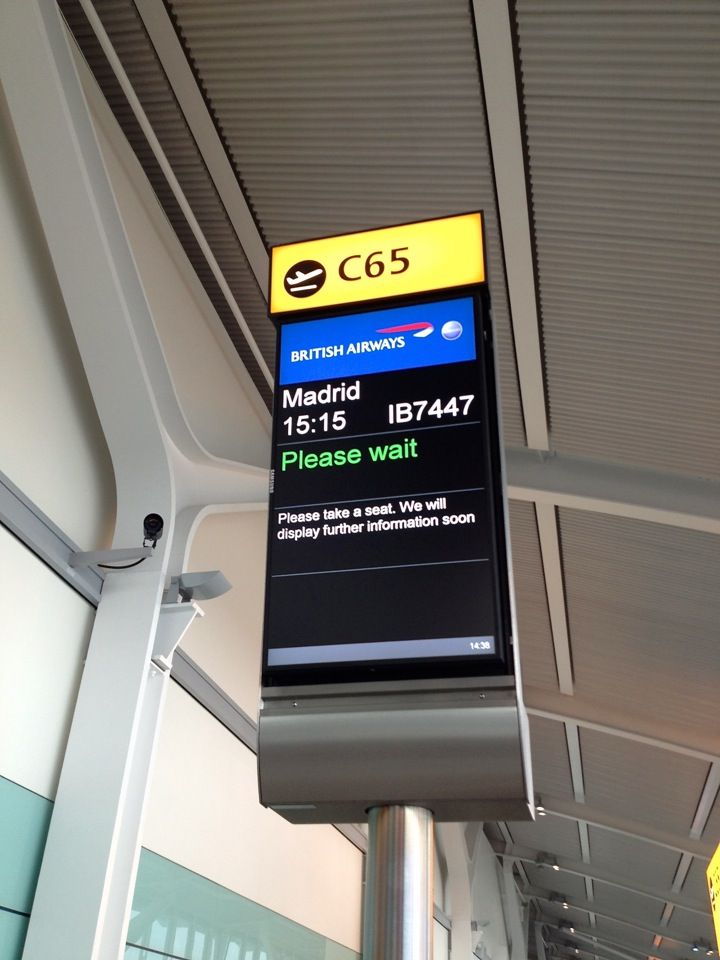 G-BZHB would be doing the honors this afternoon.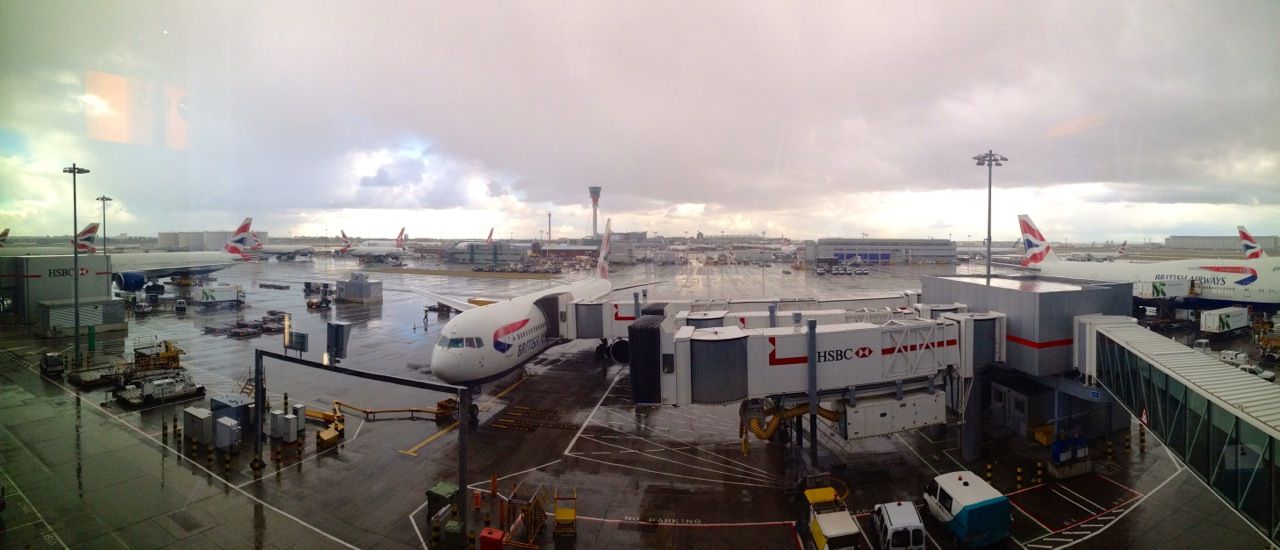 Trying out the panorama mode in iOS 6 for the first time.
Whilst I was waiting fellow trip reporter Gabriel Chew passed on some of his travel wisdom yet again – that all premium passengers departing from T5C could claim £15 worth of food/drinks/merchandise from Starbucks. I went and enquired about this and came away with a decent haul!

Thanks Gabriel!
Despite the plane being on stand and the gate being announced long in advance, there wasn't a great deal going on at the gate. I wasn't bothered though as I had a good view.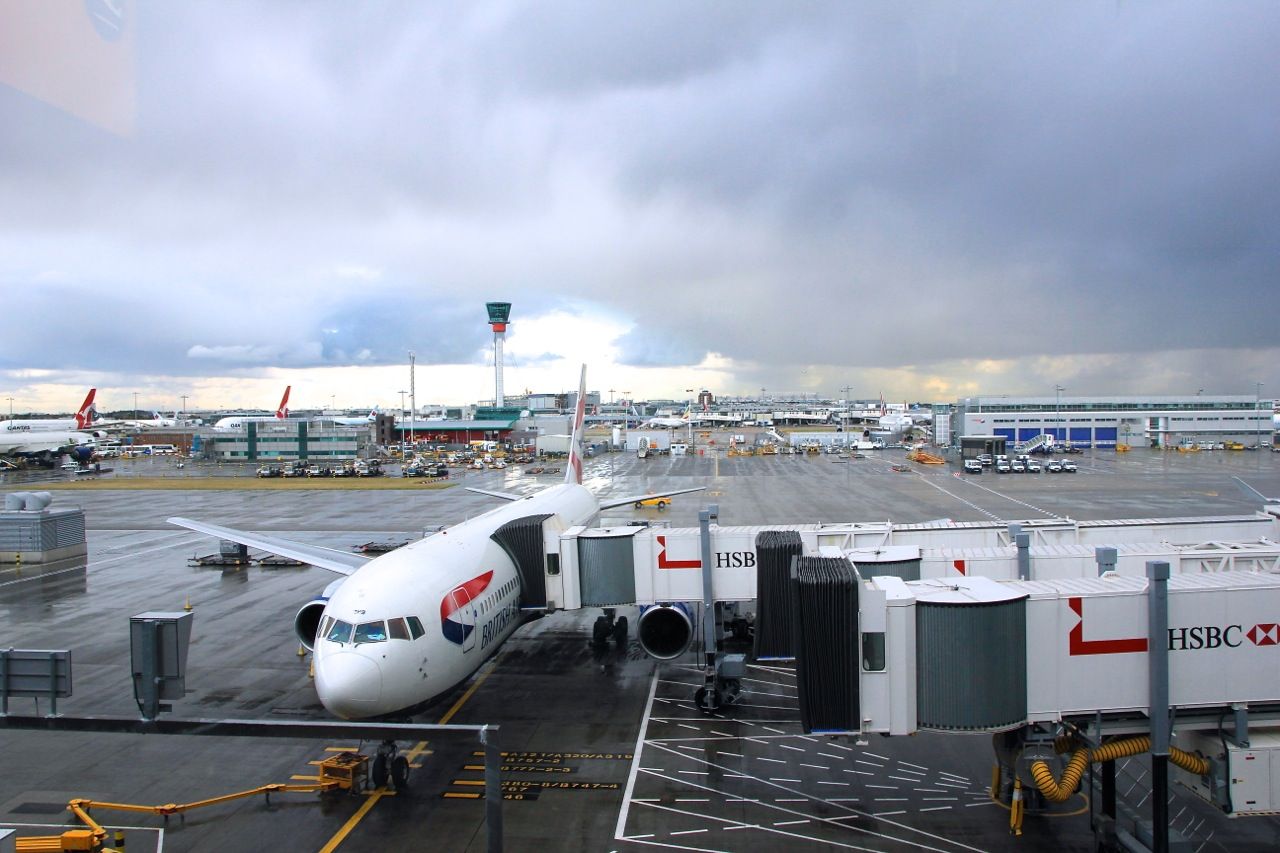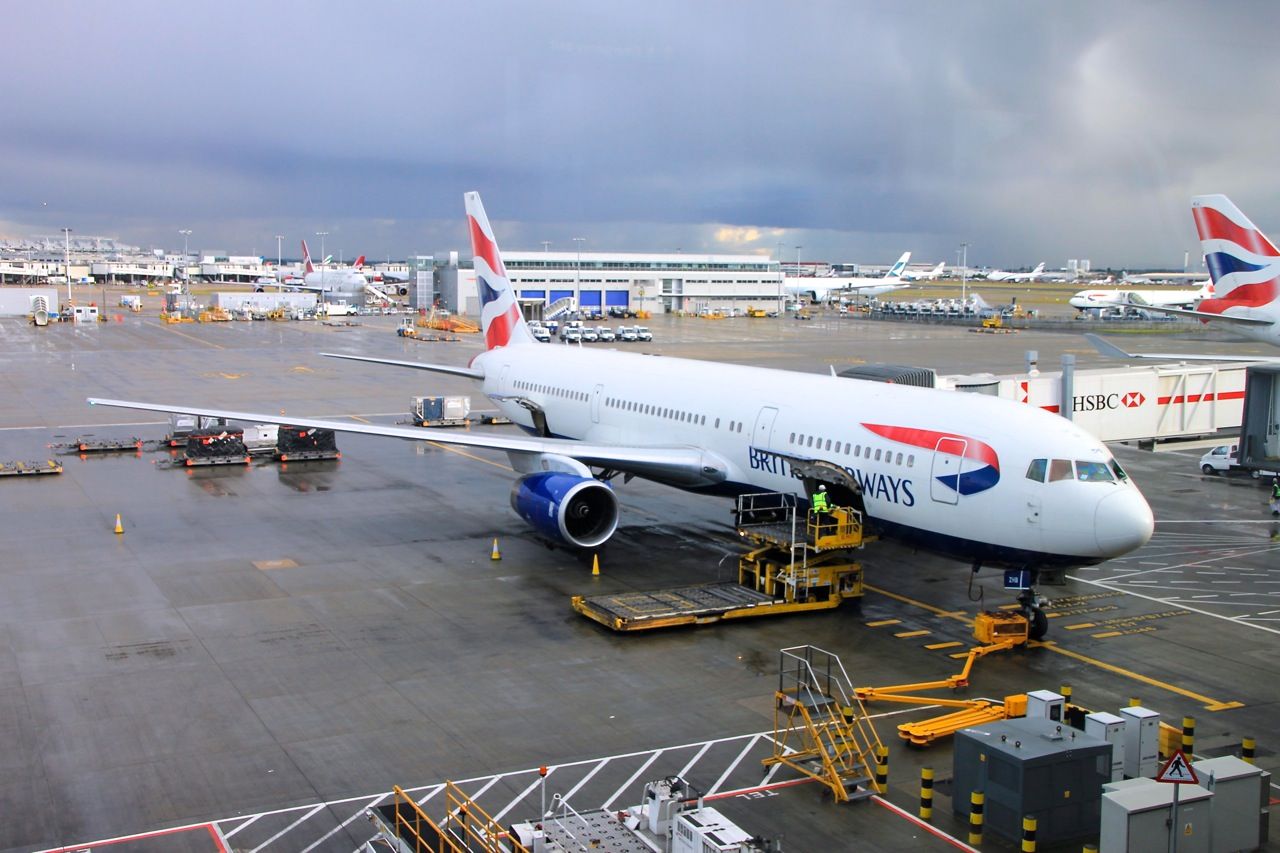 I asked one of the staff when he expected boarding to be started, but all he said was that the flights delayed and he didn't know why, and that boarding should start in around 10-30 minutes. So really covering his arse there! Eventually an announcement was made over the PA saying the delay was down to the aircraft coming in late from its previous journey.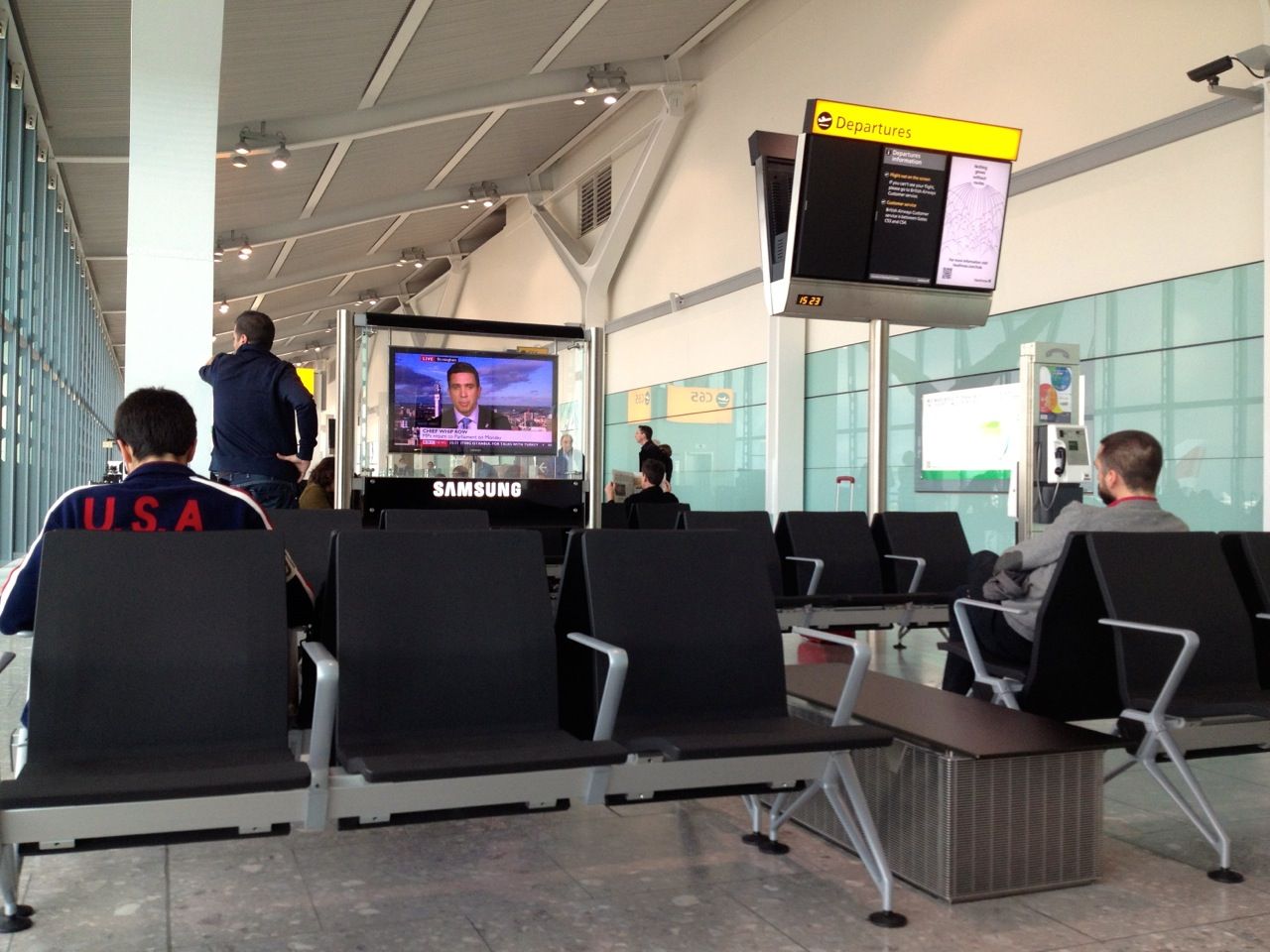 Gate overview

BA462
LHR-MAD
13th October 2012
767-336ER/G-BZHB
Seat: 08K Club Europe
Scheduled: 15:15/18:40
Off Stand: 15:54
On Stand: 16:31
At 15:25 boarding started.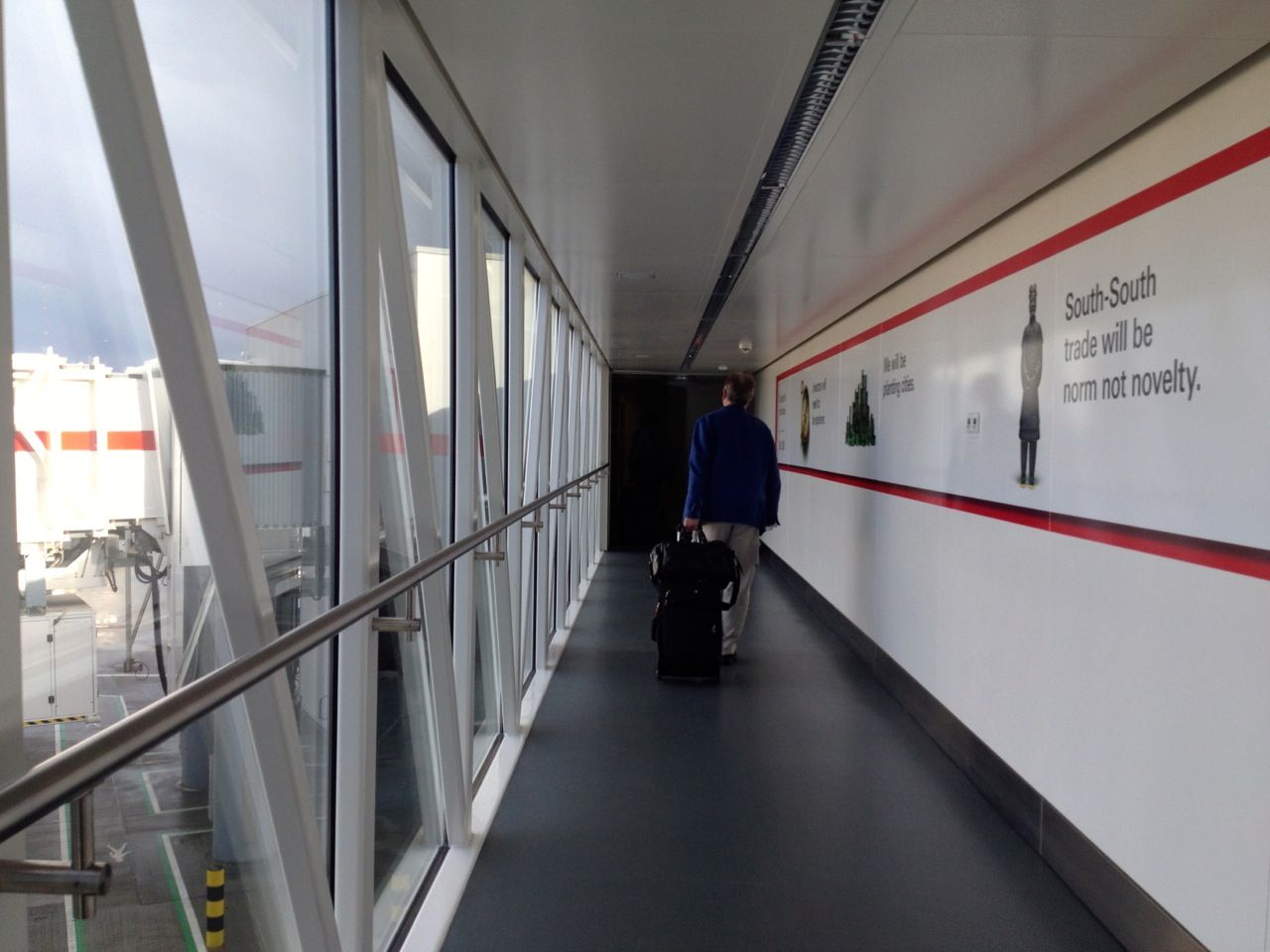 I was pleased to see that this was one of the refurbished planes.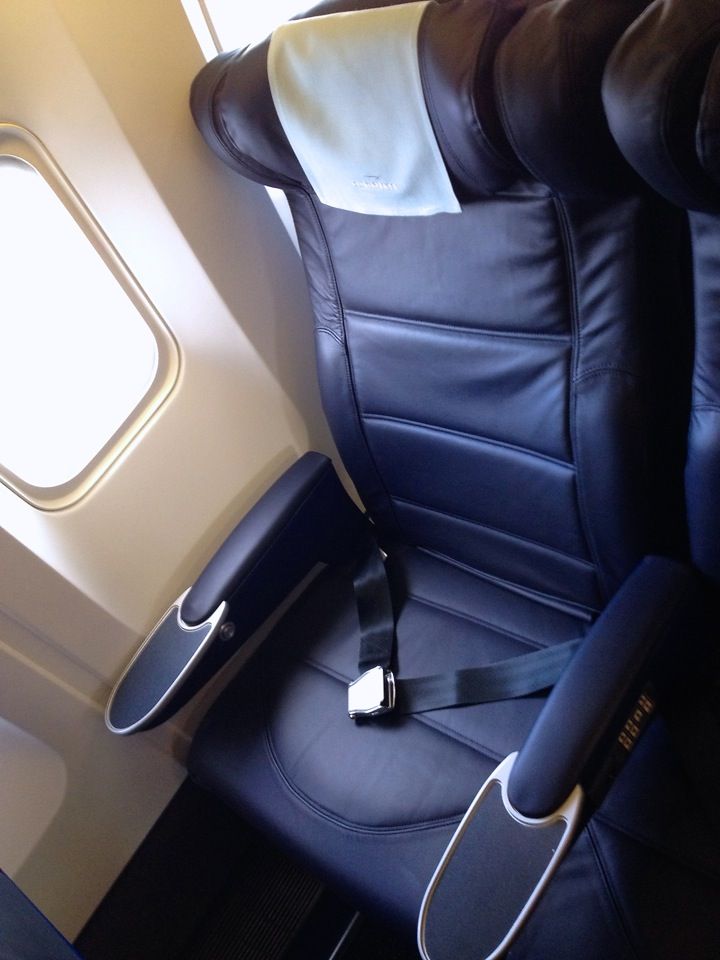 Turns out I was the last to enter the pretty empty Club Europe cabin, as I was asked if the seat I had was ok by the cabin crew and that if I wanted to move feel free.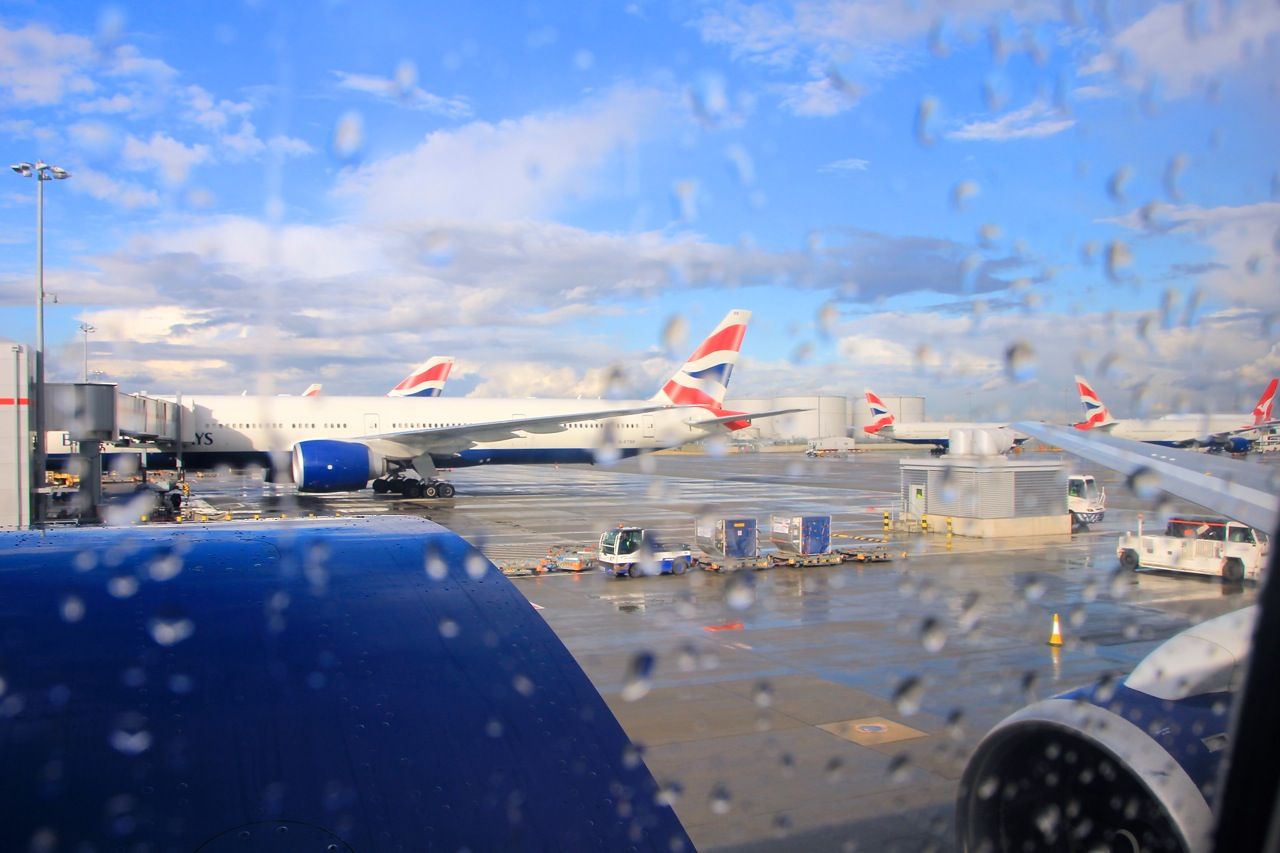 Just before pushback, hot towels were handed out.


The captain came over the PA and announced a flying time of 2 hours. He also mentioned that due to the weather there were a few problems with departures. After my trip to Amsterdam a few weeks back being delayed due to the rain, I was having my doubts if Heathrow could actually operate in the rain.
At 15:48 the jet bridge detached and at 15:54 we pushed back. And that's when the fun began. I noticed that we had been sitting on the Tarmac after pushback for quite a while with the engines running – nearly fifteen minutes in fact. At first I thought that maybe we were being held up by ATC for some reason.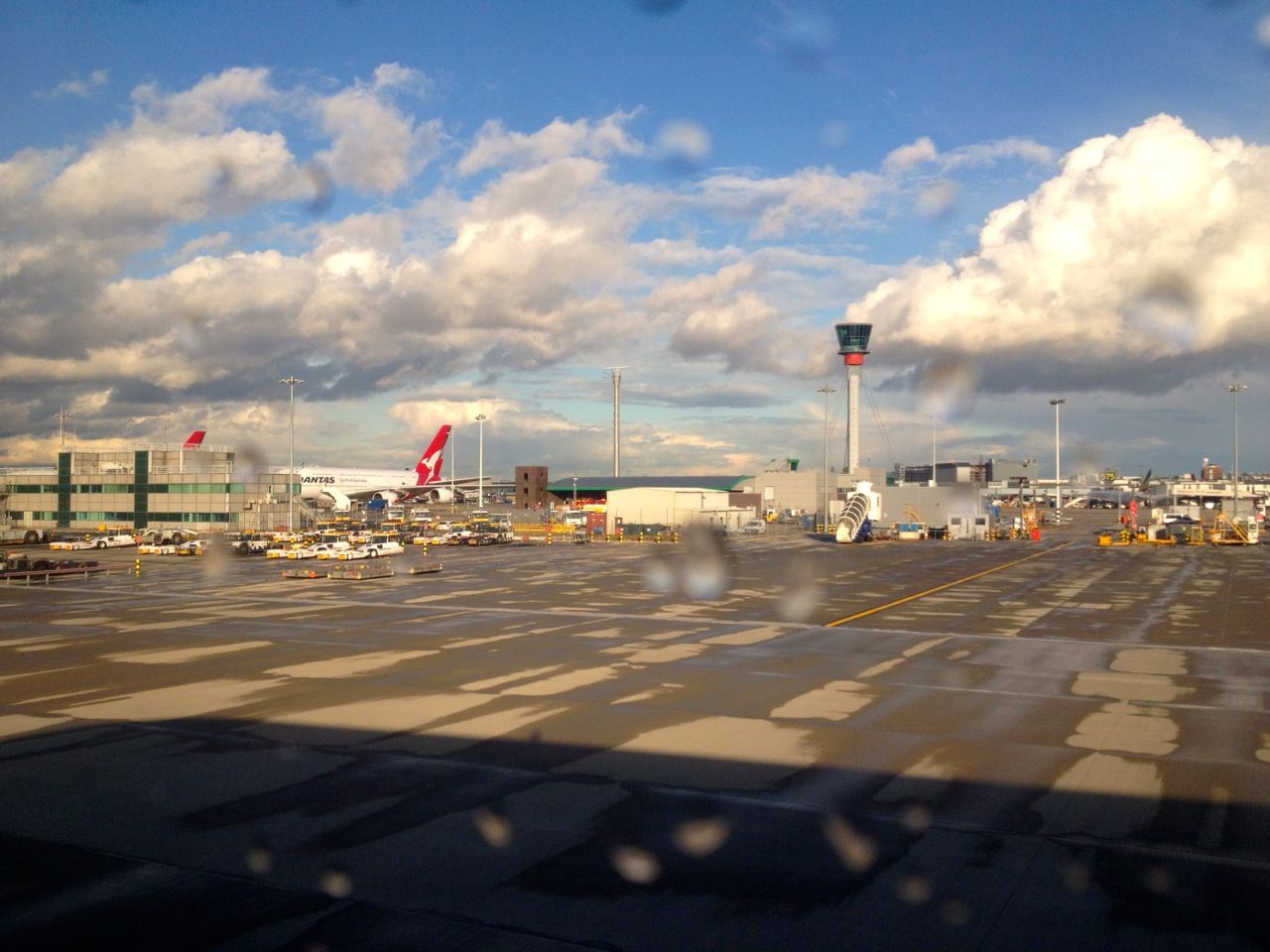 My views for the best part of half an hour
At 16:12 the captain was on the PA again and gave some news that no a.netter wants to hear after they had chosen a flight specifically for the aircraft type. The plane had a technical problem and that he was currently in contact with the ground crew as to what the best course of action was – weather it was best for the ground crew to tell him how to fix it or return to stand. At 16:18 the captain came over again, and said that it was a hardware problem rather than a software glitch and that we would indeed be heading back on to stand. He also mentioned that he didn't know at this time if it would be quicker to fix this plane of find another. I was hoping for this one to be fixed!
At 16:29, we finally moved. But not to anywhere interesting. Just back to the same stand we had pushed back from.
[youtube https://www.youtube.com/watch?v=3bsBfXDThLU]
Whilst waiting, the afternoon tea service started.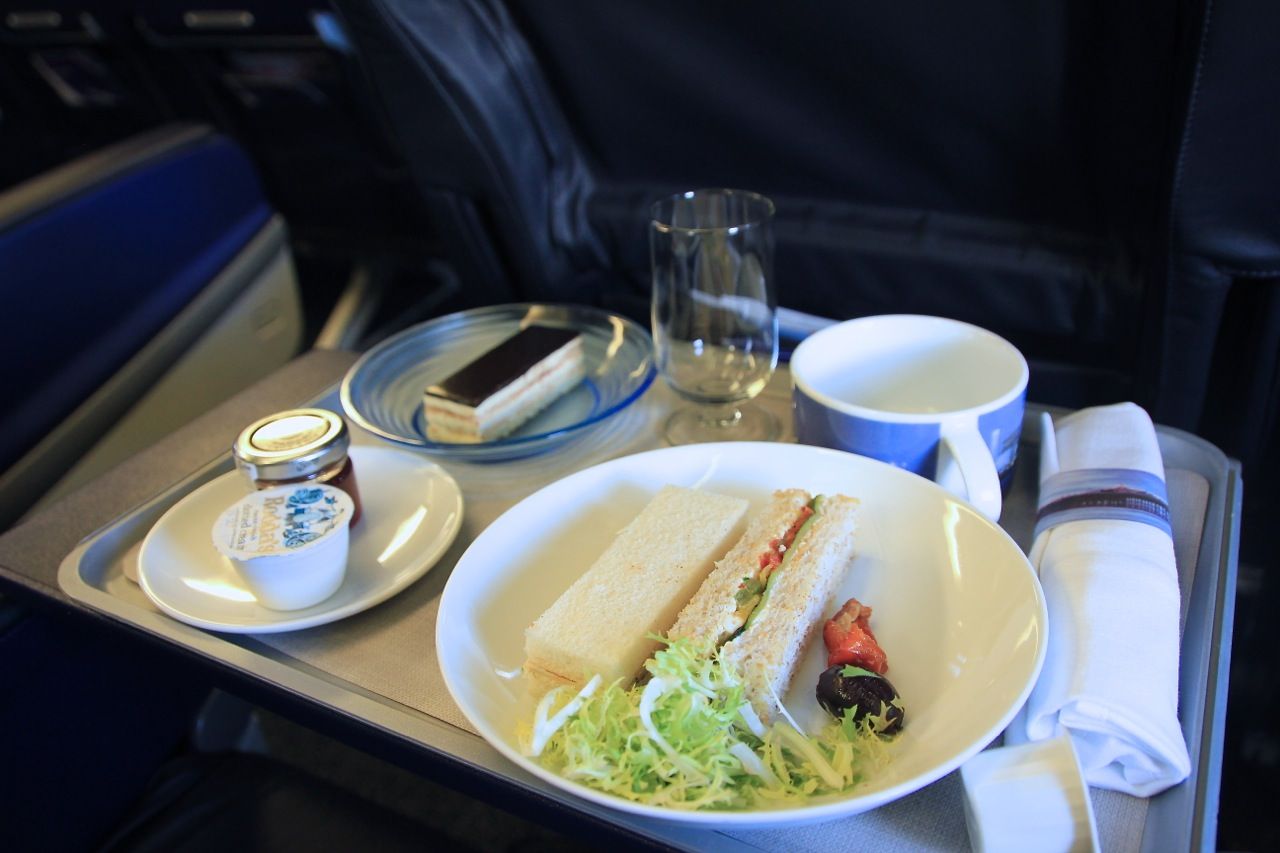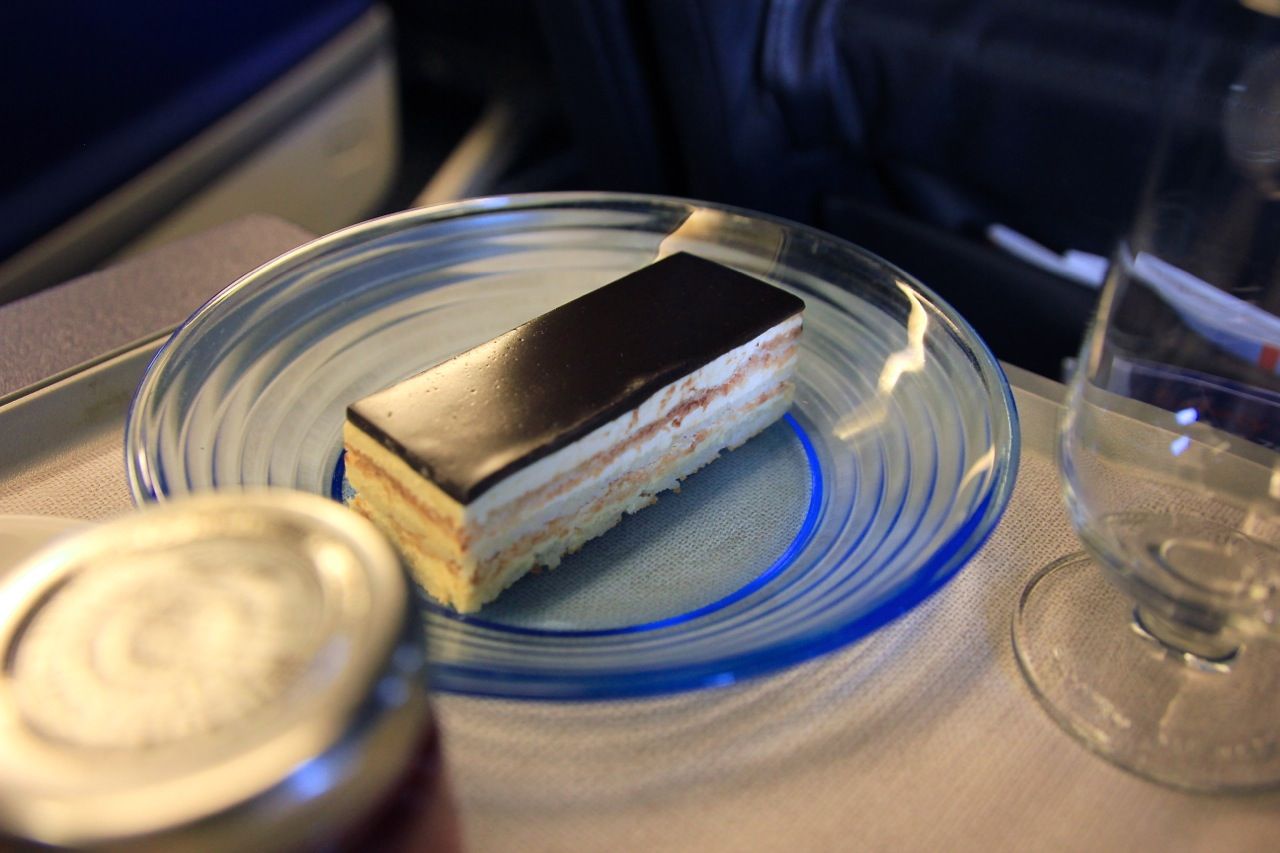 I asked how many hours the crew had left and the flight attendant said they had 12, so there were no worries about this flight being cancelled for that reason. Only unless something was seriously wrong with the aircraft. They also mentioned that even if this flight was cancelled, there were another two Iberia flights later tonight with plenty of room on, so I will get to Madrid tonight.
The next hour or so was spent watching the ground crew go back and forth between the flight deck and slowly eating the sandwiches that were put in front of me.

Ground IFE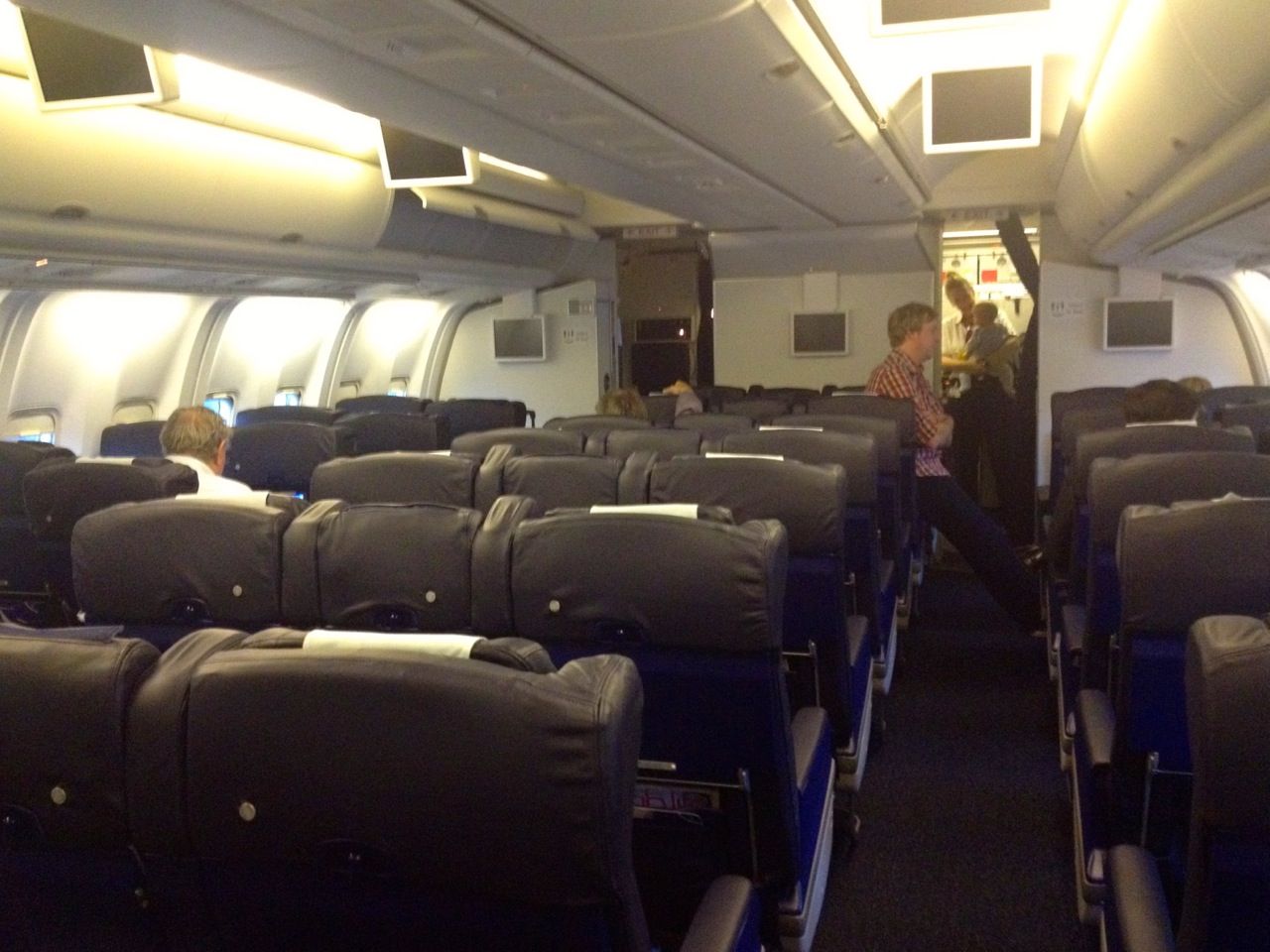 At just past 17:10, the captain came over again and this time said that we would now be flying with Iberia as this plane couldn't be fixed. Annoying as I was looking forward to flying this 767! Luckily I've arranged a flight later in the year on a pair of BA 767's so it wasn't a major loss. Although I was still pretty disappointed.
After having a brief chat with one of the cabin crew about all things aviation related – including a couple of thing he asked me not to share here about the 767 fleet – he very kindly invited me up to the flight deck. Things were a lot more relaxed on this trip and I spent a good 15 minutes up there chatting about the problem (faulty pitot heater), taking pics and aviation in general. He also mentioned that the ground crew had given him permission to fly, although he had to avoid any icy conditions. He wasn't confident of being able to do this with the rain around, plus the fact the return flight from Madrid would be around 22:00, so in the interests of safety he decided to stay on the ground. Also the fact that fitting the part would take 45 minutes, however getting the part to the plane, testing and paperwork would mean a very lengthy delay. I also mentioned the problems I had with my flights to Nice and Amsterdam – the captain mentioned that I must be unlucky as this was the first major problem he had in eighteen years!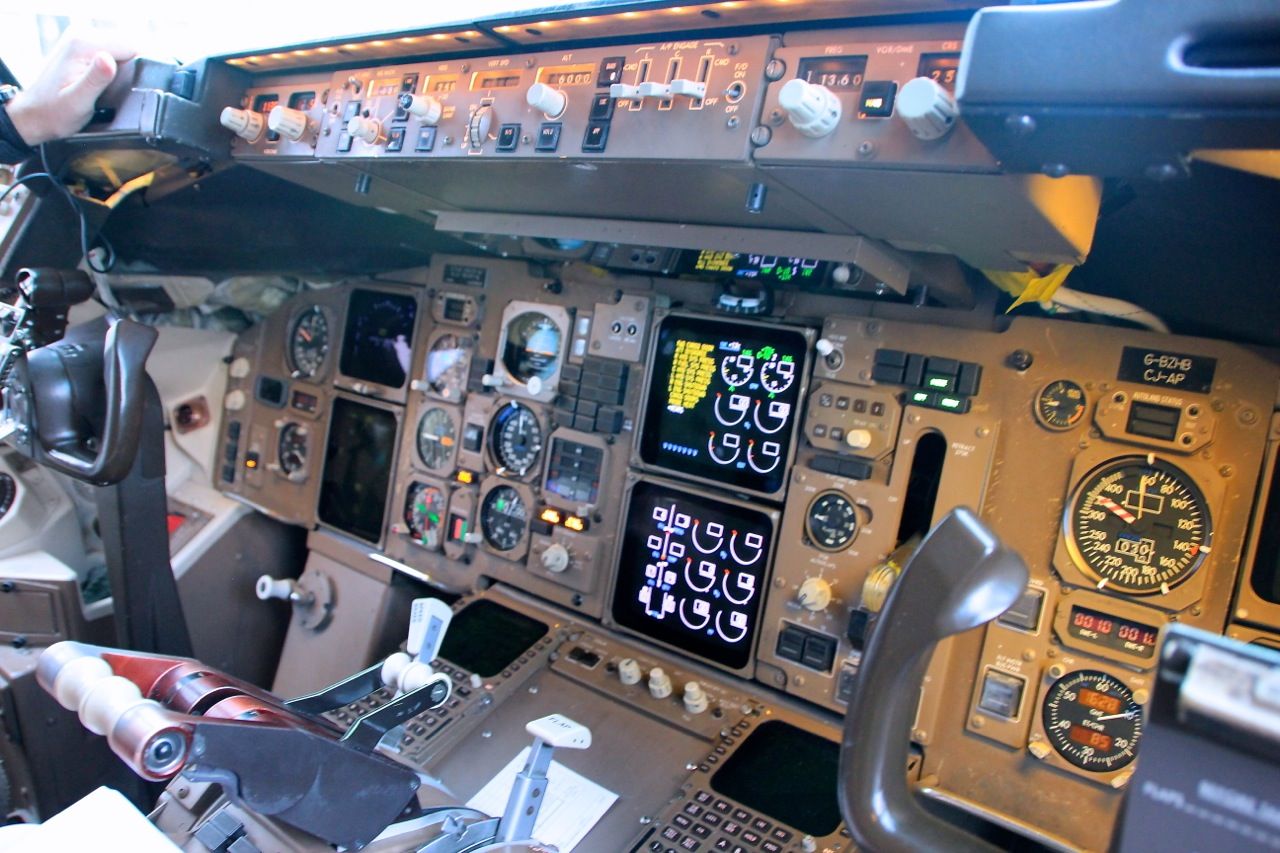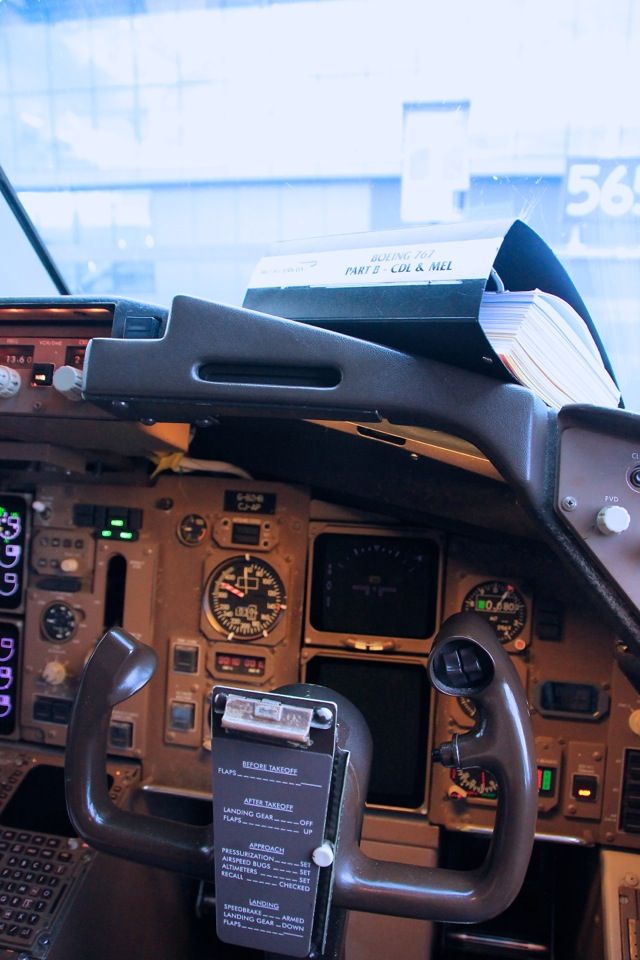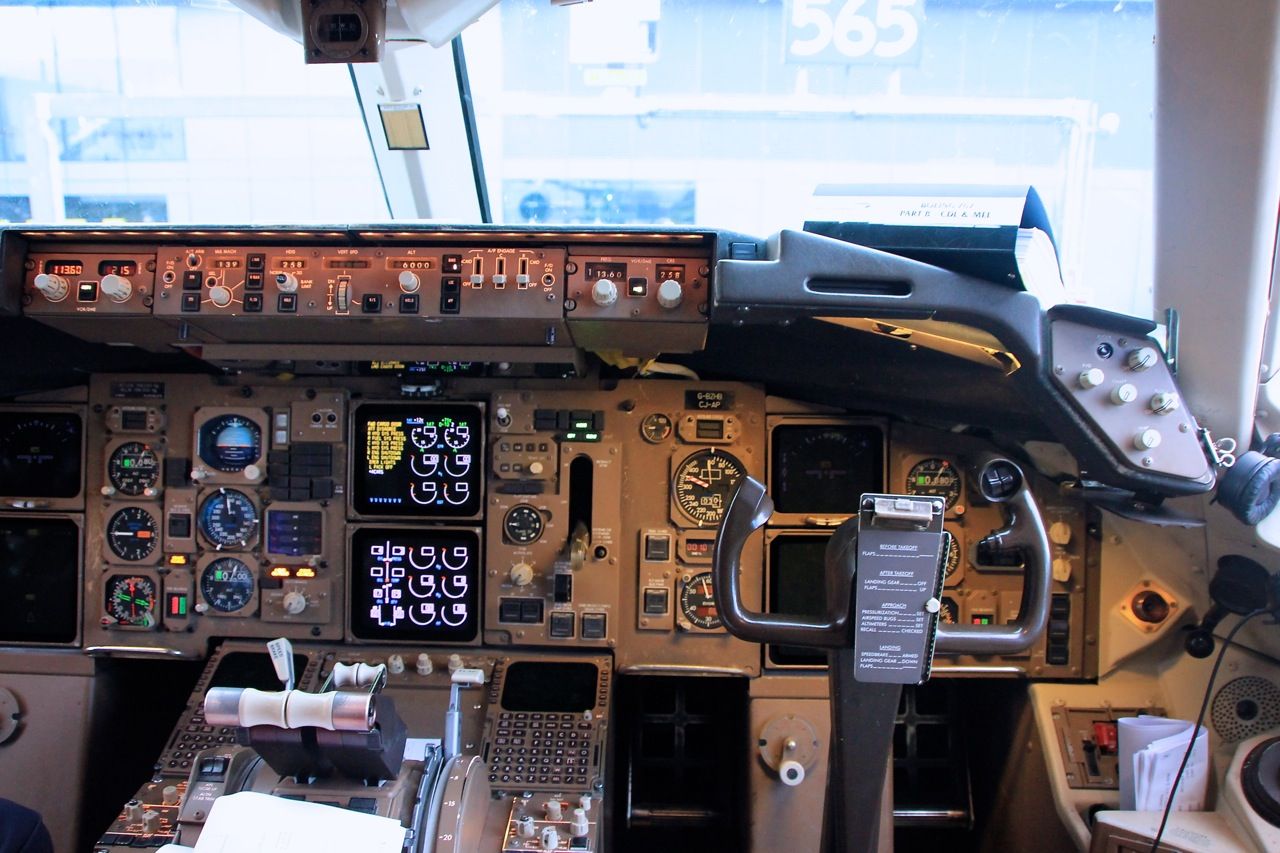 At 17:40, it was back into the lounge, and new boarding passes were issued.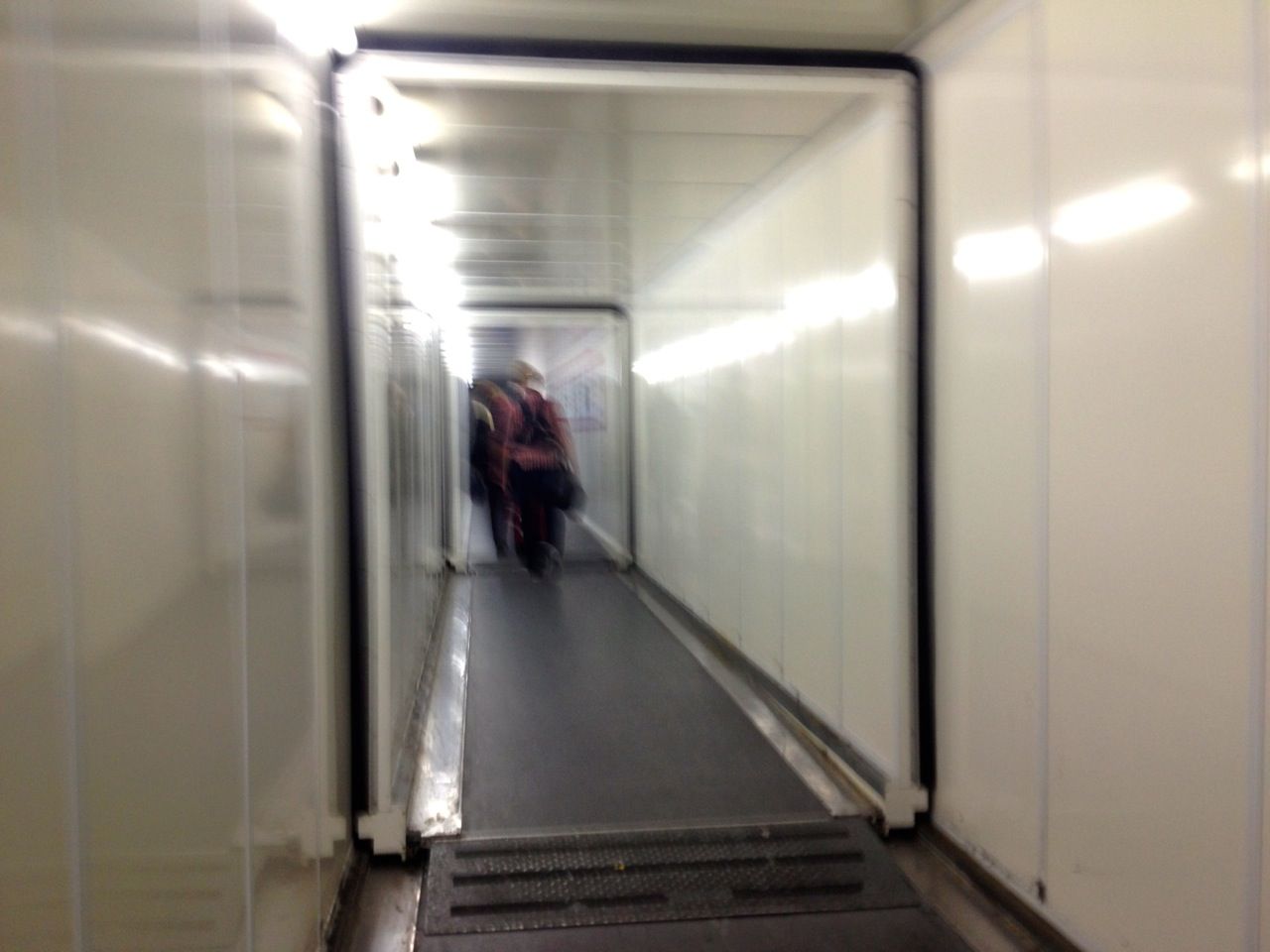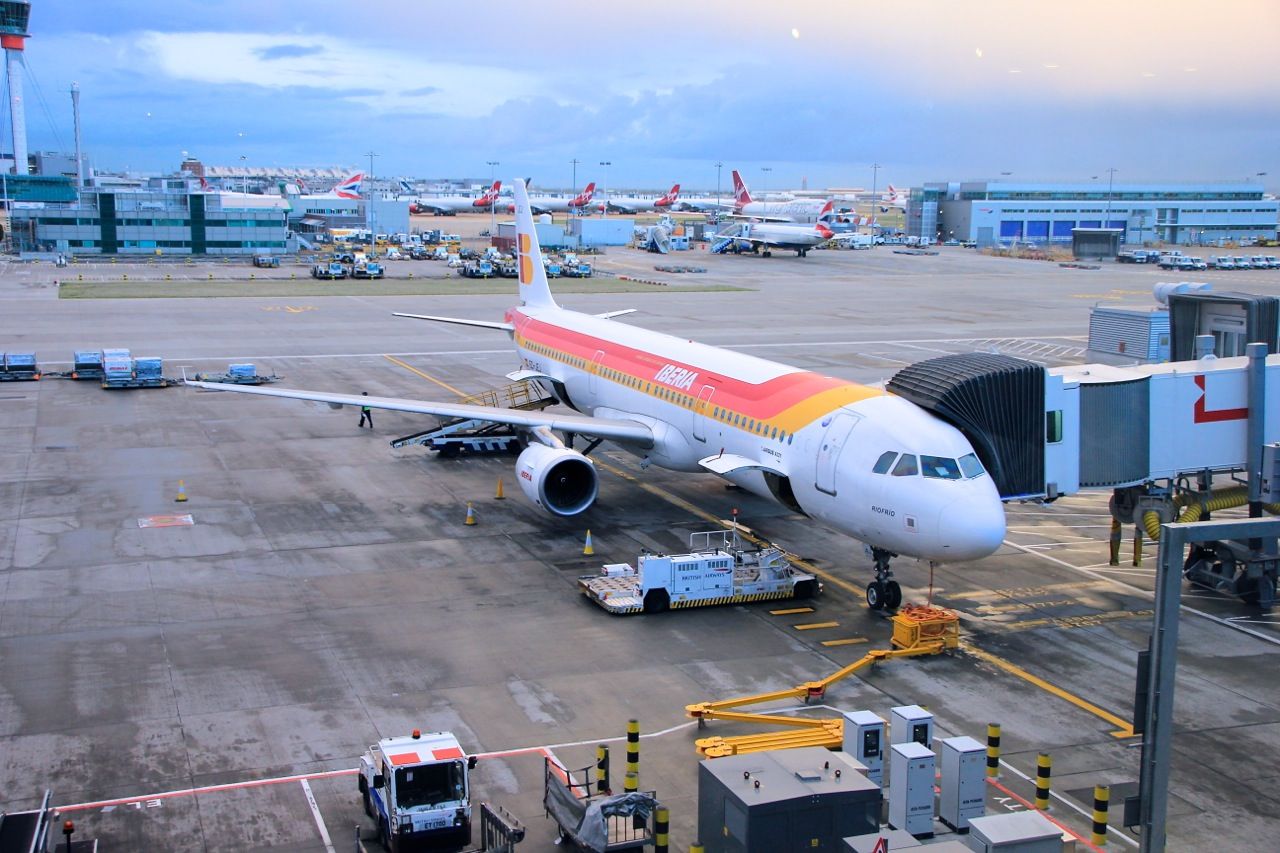 My new ride, although not as exciting as the first
Luckily I still had a window seat. The ground agent was also quite insistent that due to Iberia not serving any food, that I should go to Starbucks and top up. I told him I already had, although he said I should go again and tell them to bill it to BA! Also interesting to note was that there were only around 30 people on board the original flight. Including 7 in the Club World section so a very low load.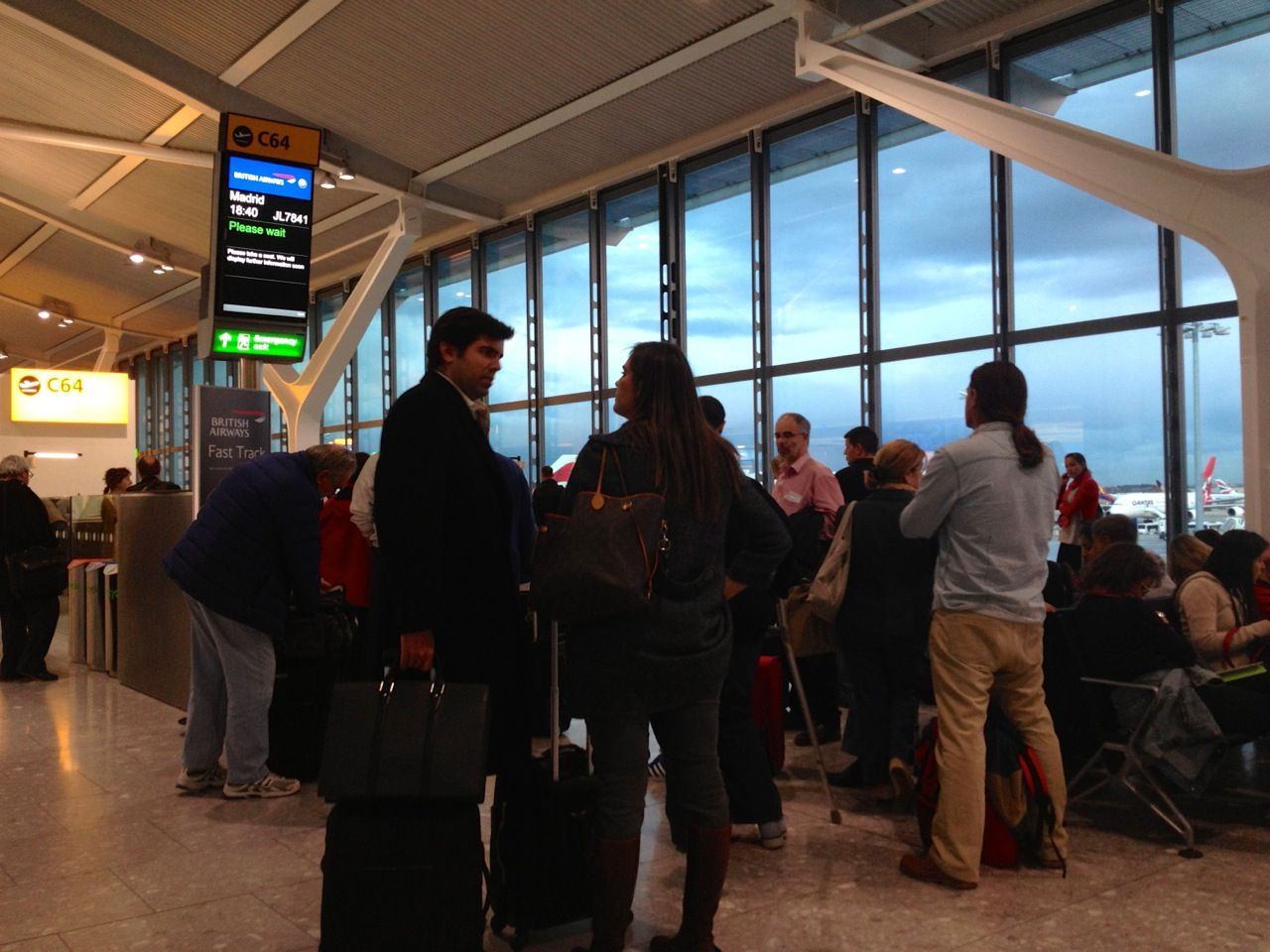 Clearly nobody can read the please take a seat sign.

IB3167
LHR-MAD
13th October 2012
A321/EC-JEJ Riofrio
Seat: 03F
Scheduled: 18:40/22:10
Off Stand: 18:53
On Stand: 22:13
Boarding started for the second time today at 18:20. Most people decided that they were going to use the fast track lane, despite a member of ground crew telling everybody it was for premium pax only.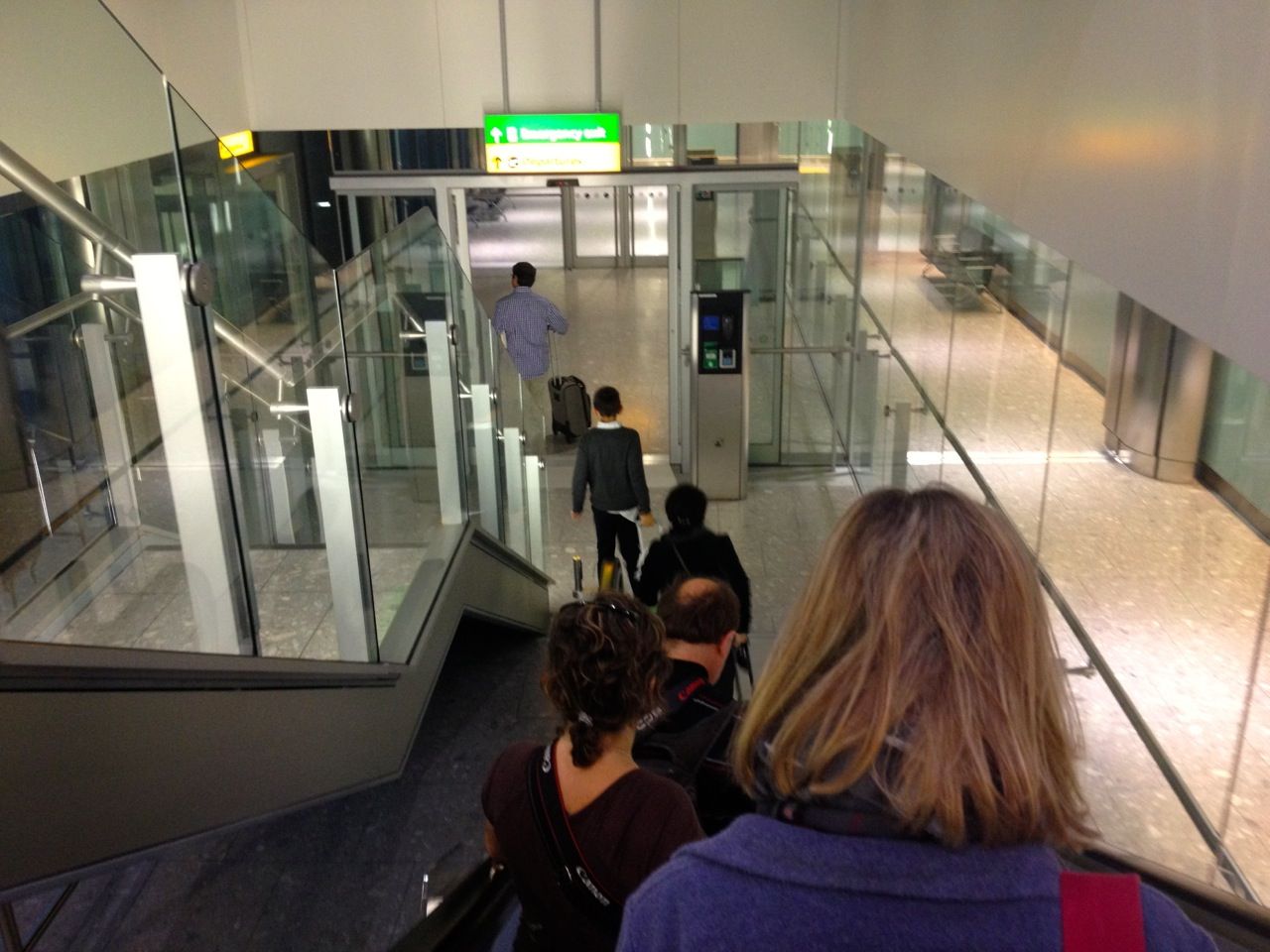 Déjà vu.
2nd legroom shot of the afternoon. Or fast becoming the evening.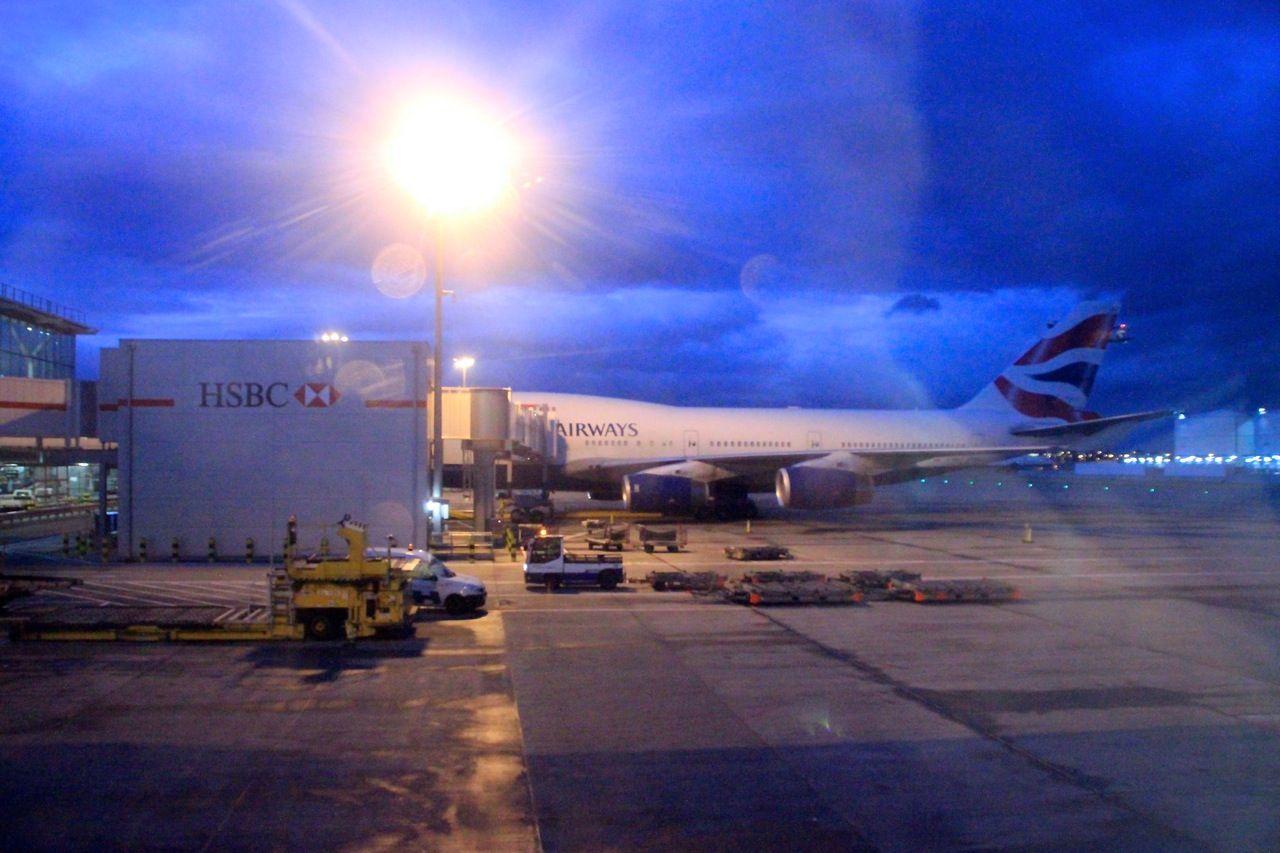 The business class cabin on this A321 was quite full. Hardly surprising really considering it had two flights worth of people in it now. Despite this I still didn't have a seatmate.
We pushed back and made our way out to runway 27R.


And finally, just before 19:10, we made it into the air, nearly four hours later than anticipated.


[youtube https://www.youtube.com/watch?v=cj_zFugzS6c]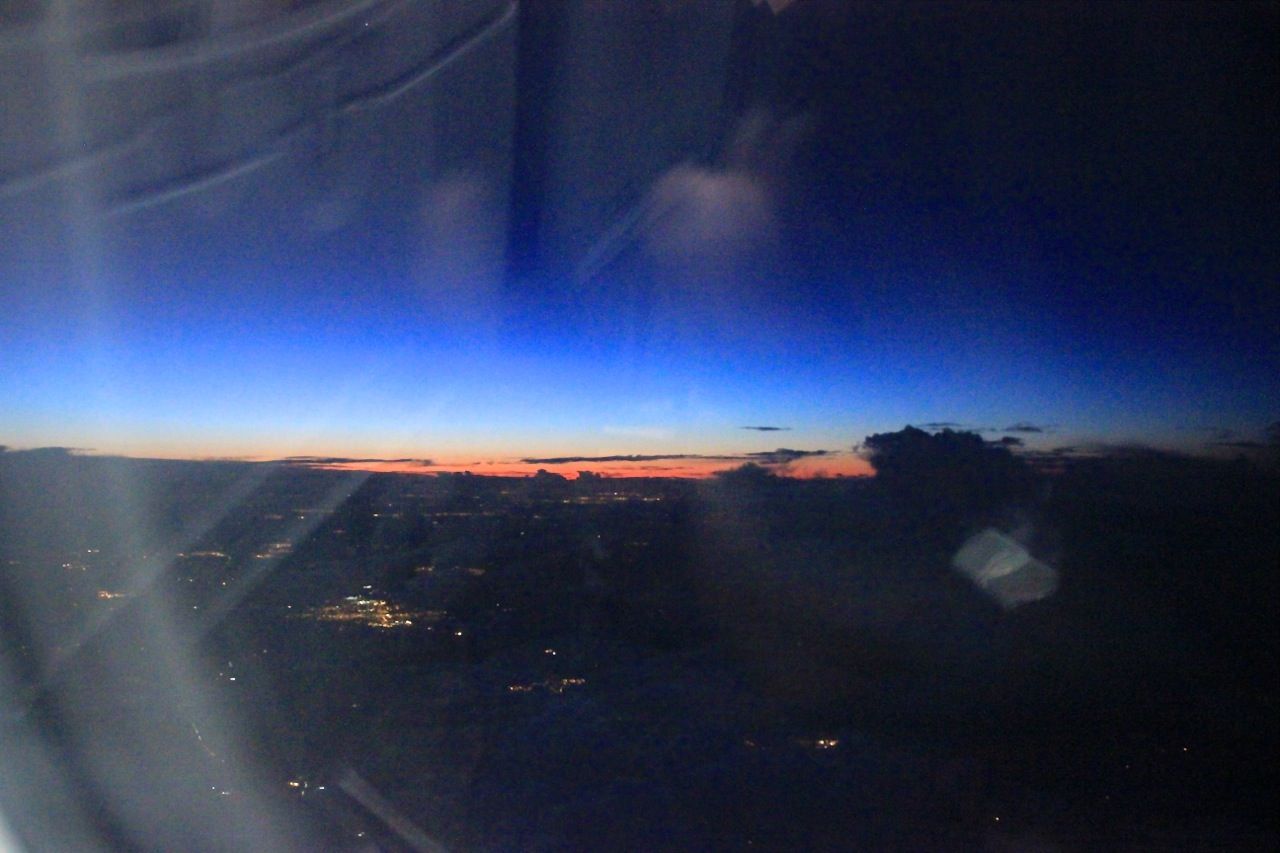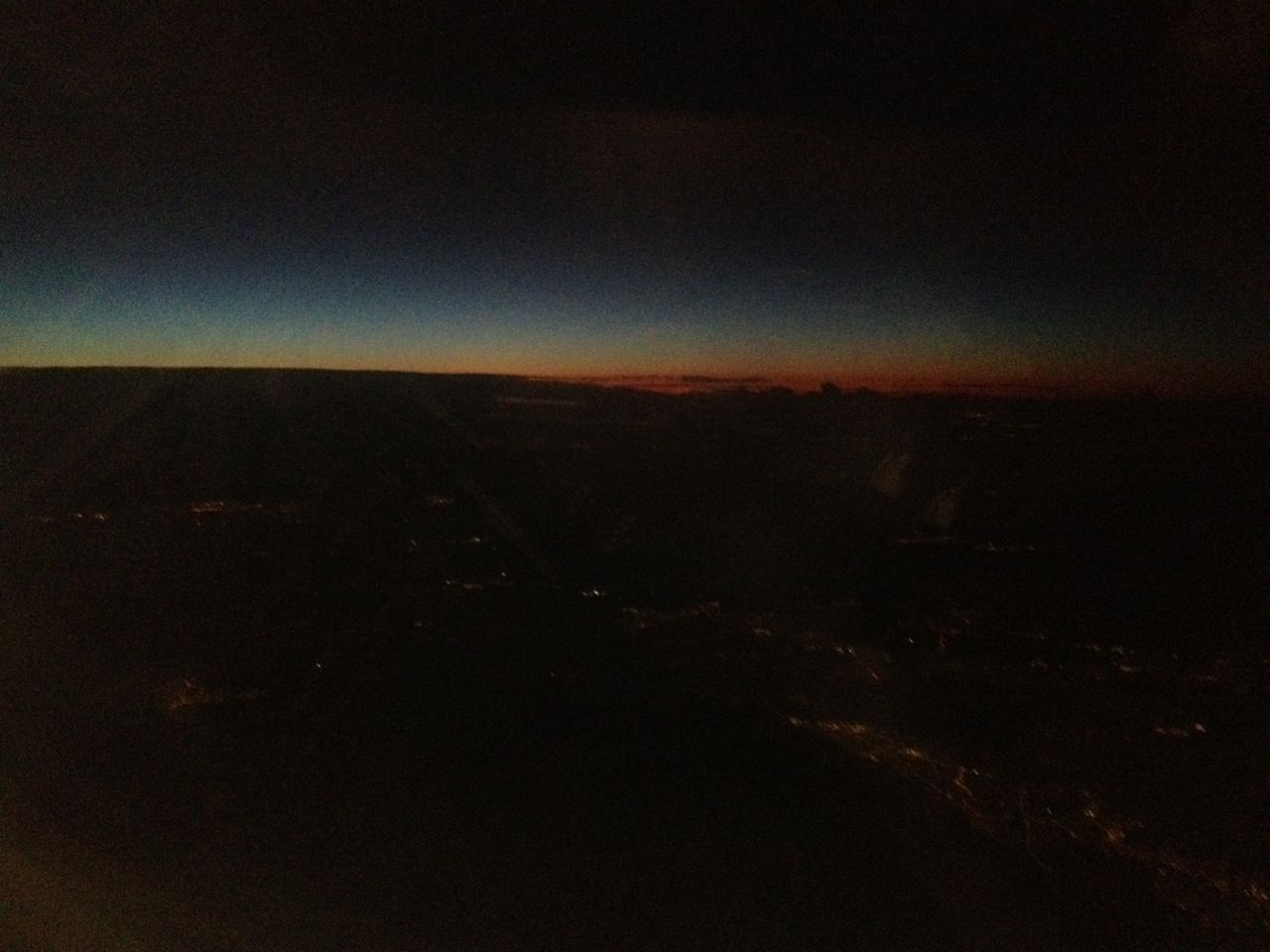 Last rays of the day.
It was interesting to note that there were no announcements from the flight deck. In fact the crew were a bit dis-interested in general I found. They weren't rude, but not overly friendly either. Certainly very different to the BA crew from earlier, who were very friendly and seemed like they couldn't do enough for you. At least they were quite good looking!!
Around twenty minutes after take off the cabin crew came round and took the dinner orders. After eating in the lounge twice, eating on the aborted BA flight and having a cinnamon bun after the ground staff told me there wasn't any food served on board, I think it was safe to say I made a profit on these flights purely by the amount of food I ate! Meal choices were fish or meat… A little bit ambiguous there. After giving a confused look, she elaborated a little more. The meat was a hamburger. So I went for that. Although it was more a lump of beef than a hamburger.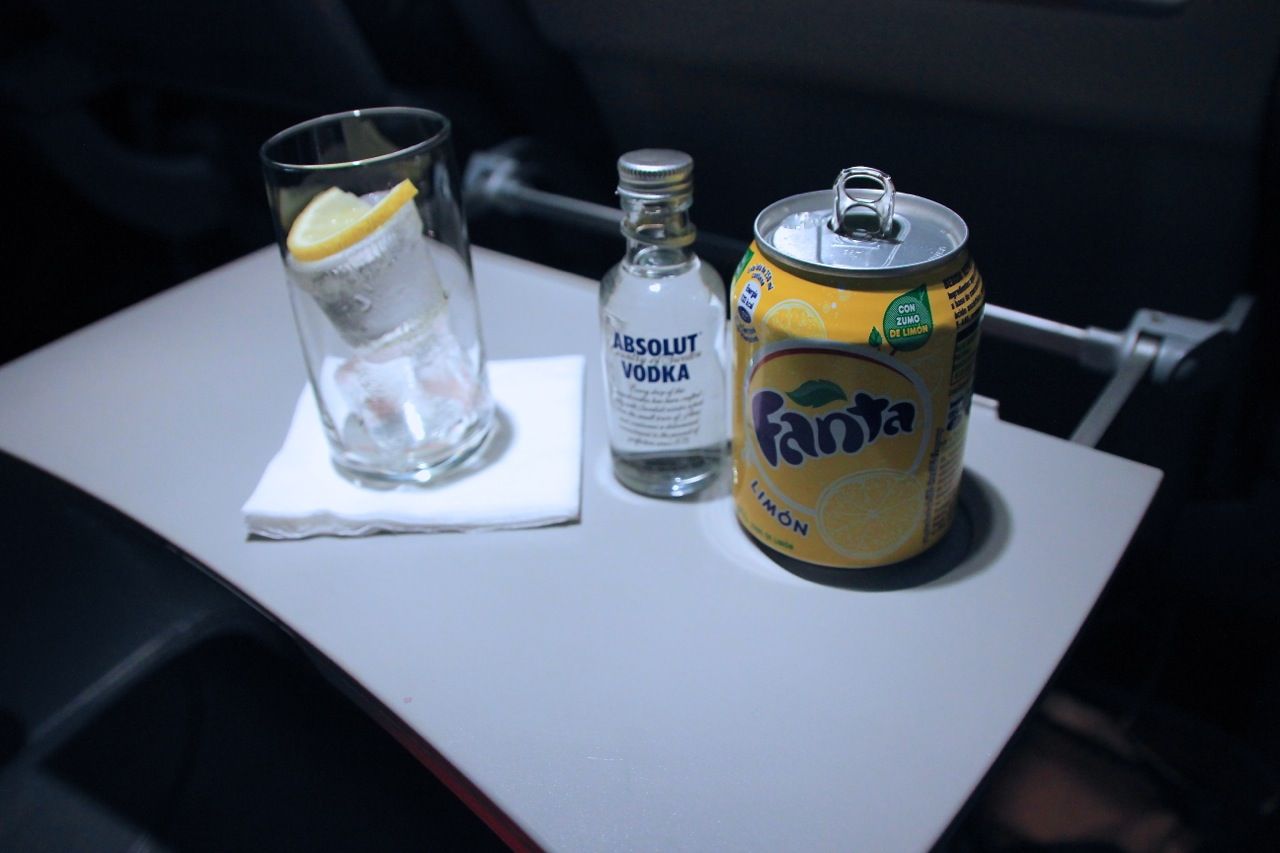 I don't normally drink that much, but after the afternoon I've had this went down nicely.
Not bad, although the meat was a little on the tough side.
As it was now nighttime, watching the world go by beneath us was a bit of a non-starter.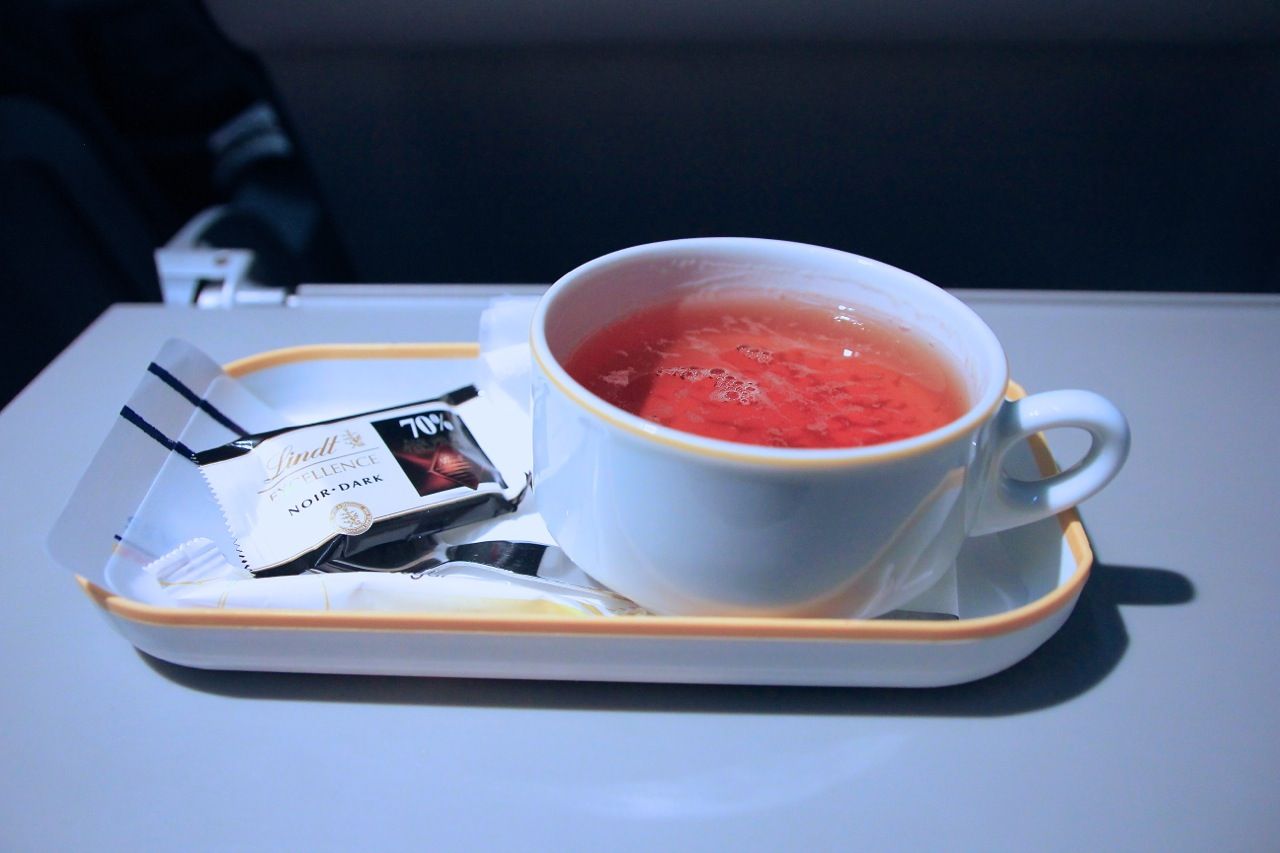 Therefore, the rest of the flight was spent browsing through the many newspapers I'd acquired throughout the day, and the inflight mag.

Hope my return goes to plan.

Oh and updating the trip report of course! I also asked the cabin crew what time we were due to arrive into Madrid. They said around 22:00 local, so the total flight time was around 1 hour 50 minutes. Interesting how the A321 could do the trip 10 minutes quicker than the 767. If it hadn't broken down of course.
Initial descent started just before 21:30 local, although there wasn't much to be seen tonight.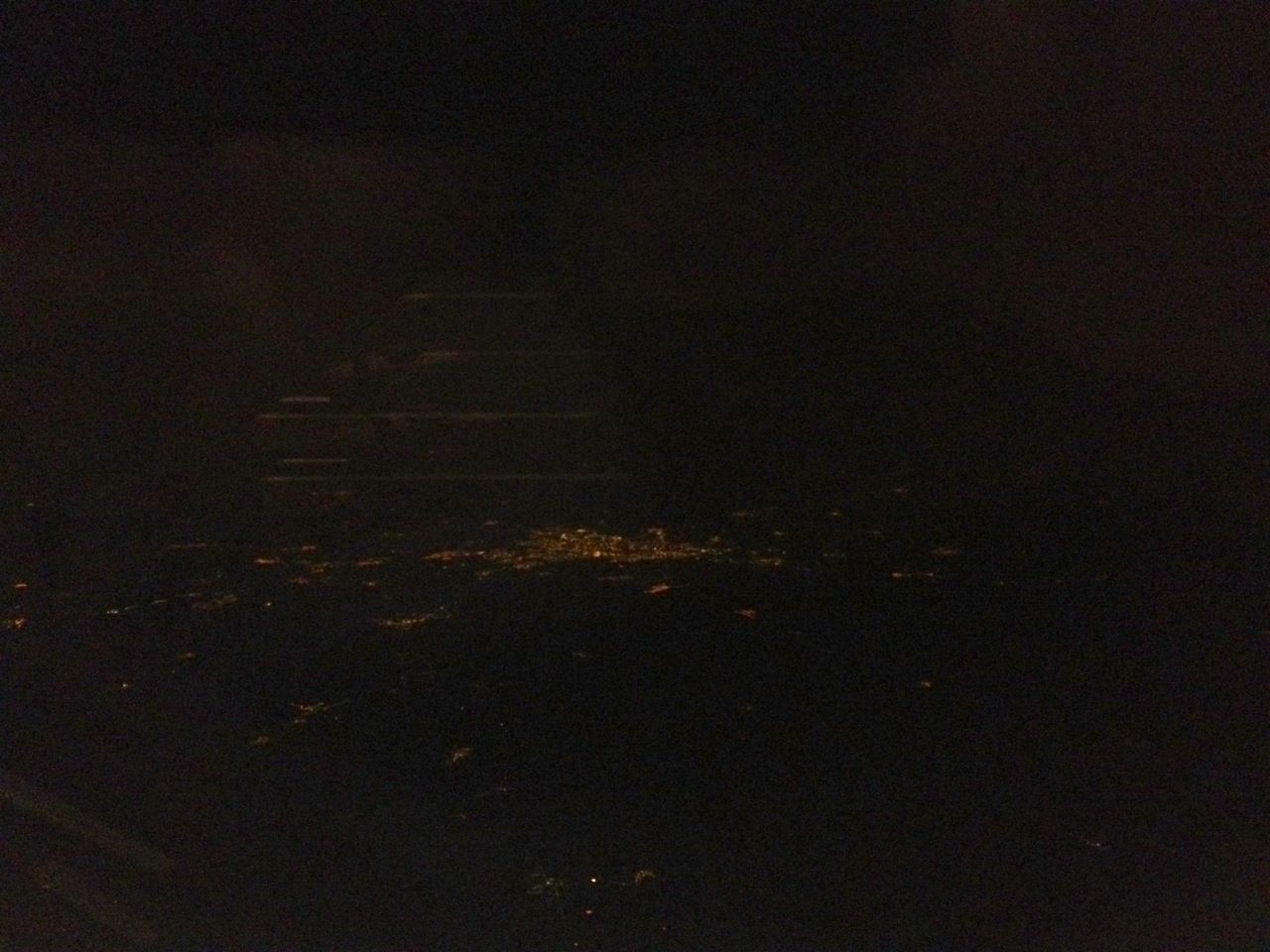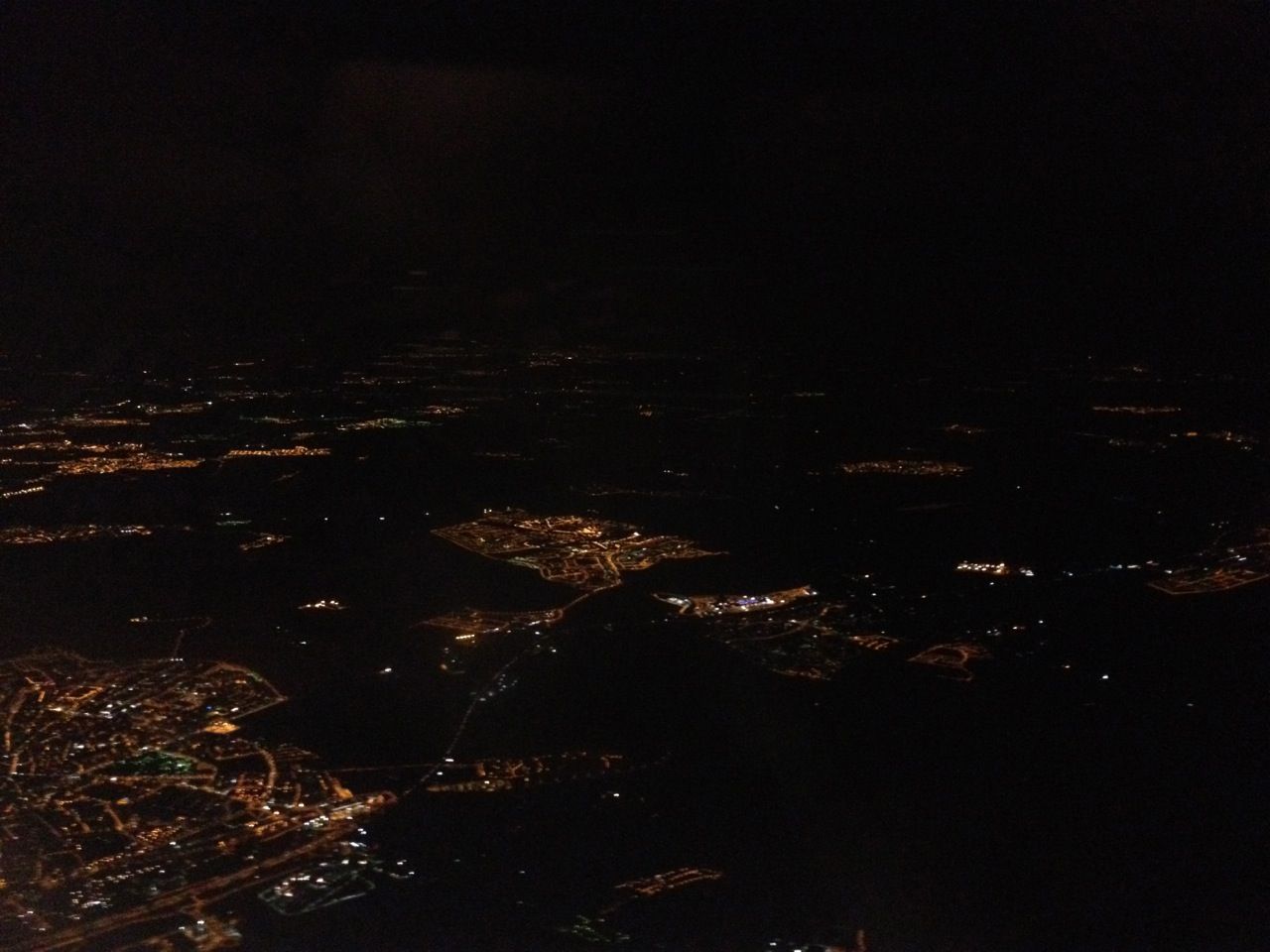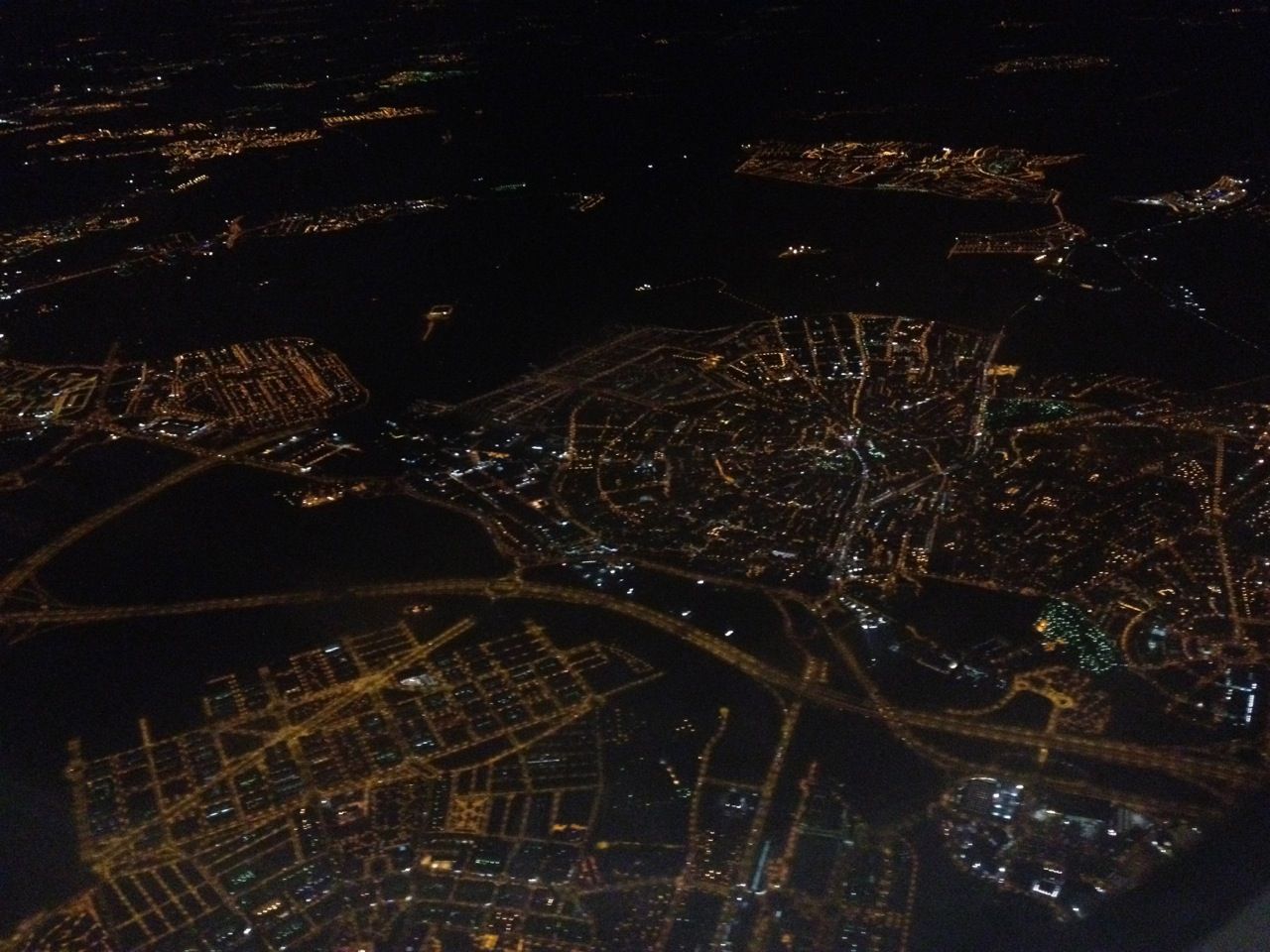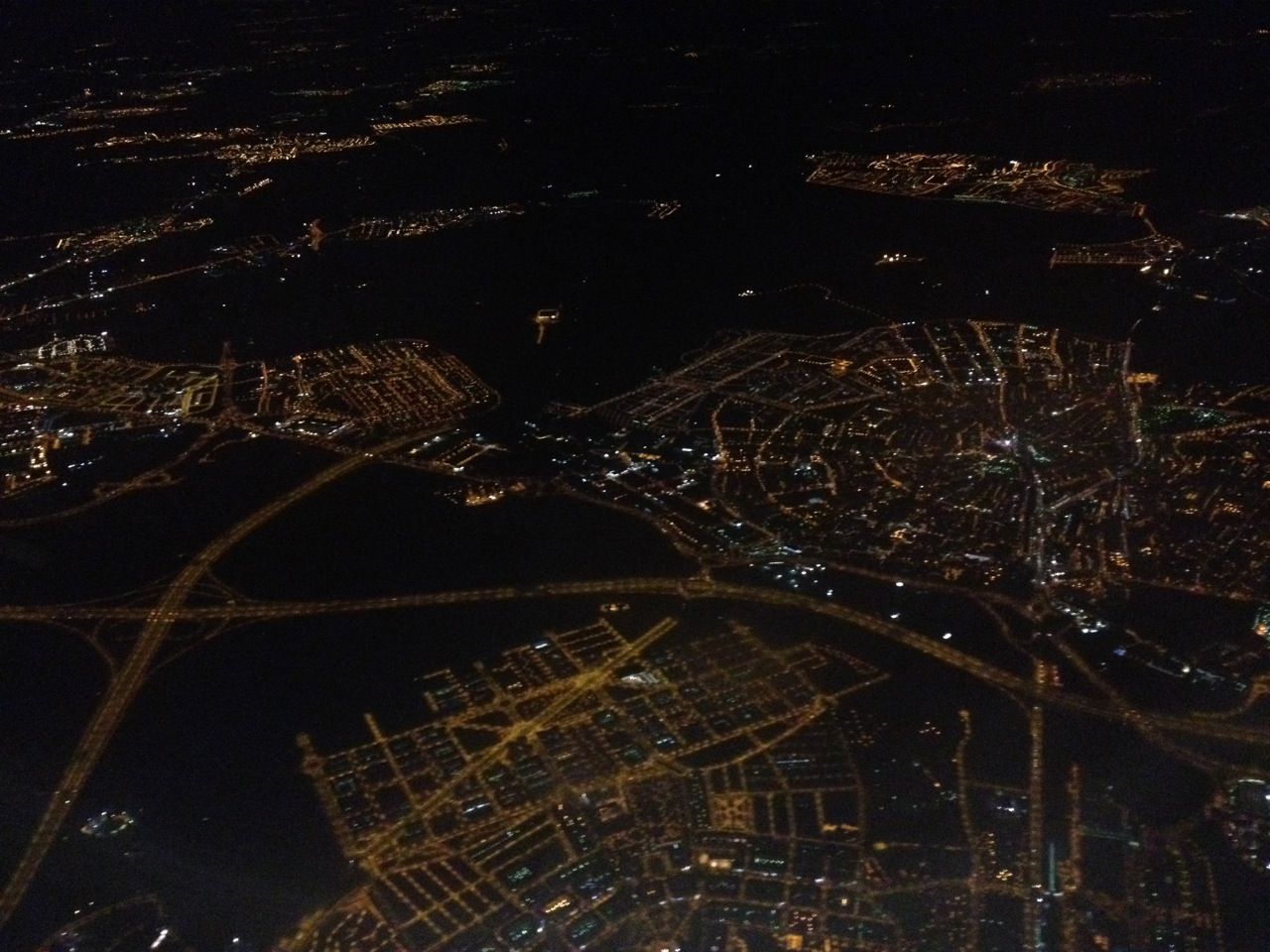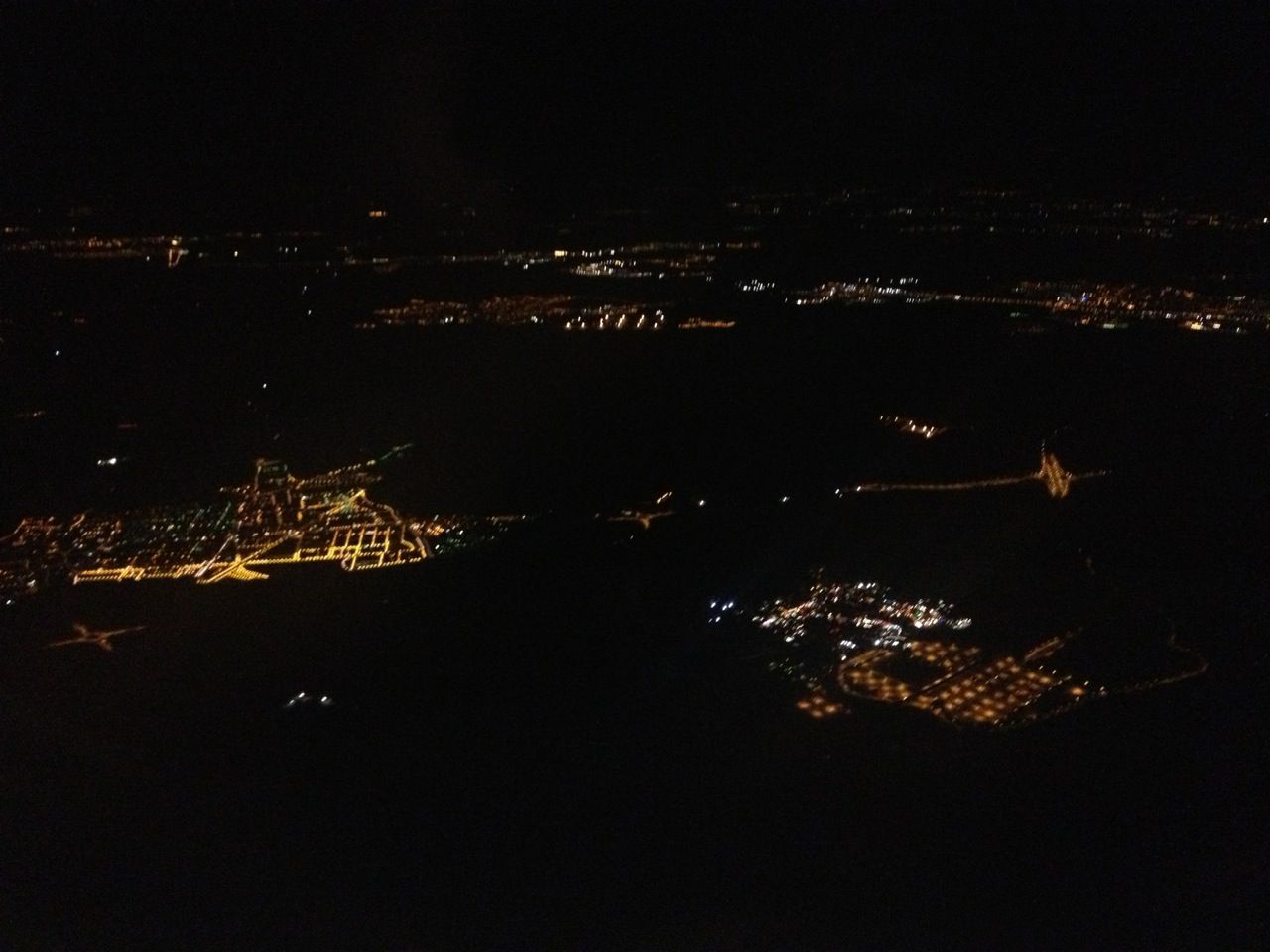 [youtube https://www.youtube.com/watch?v=saiGOzlcF3c]
We touched down at just before 22:05 local, around 4 hours behind schedule, and made our way over to an impressive, and quiet T4.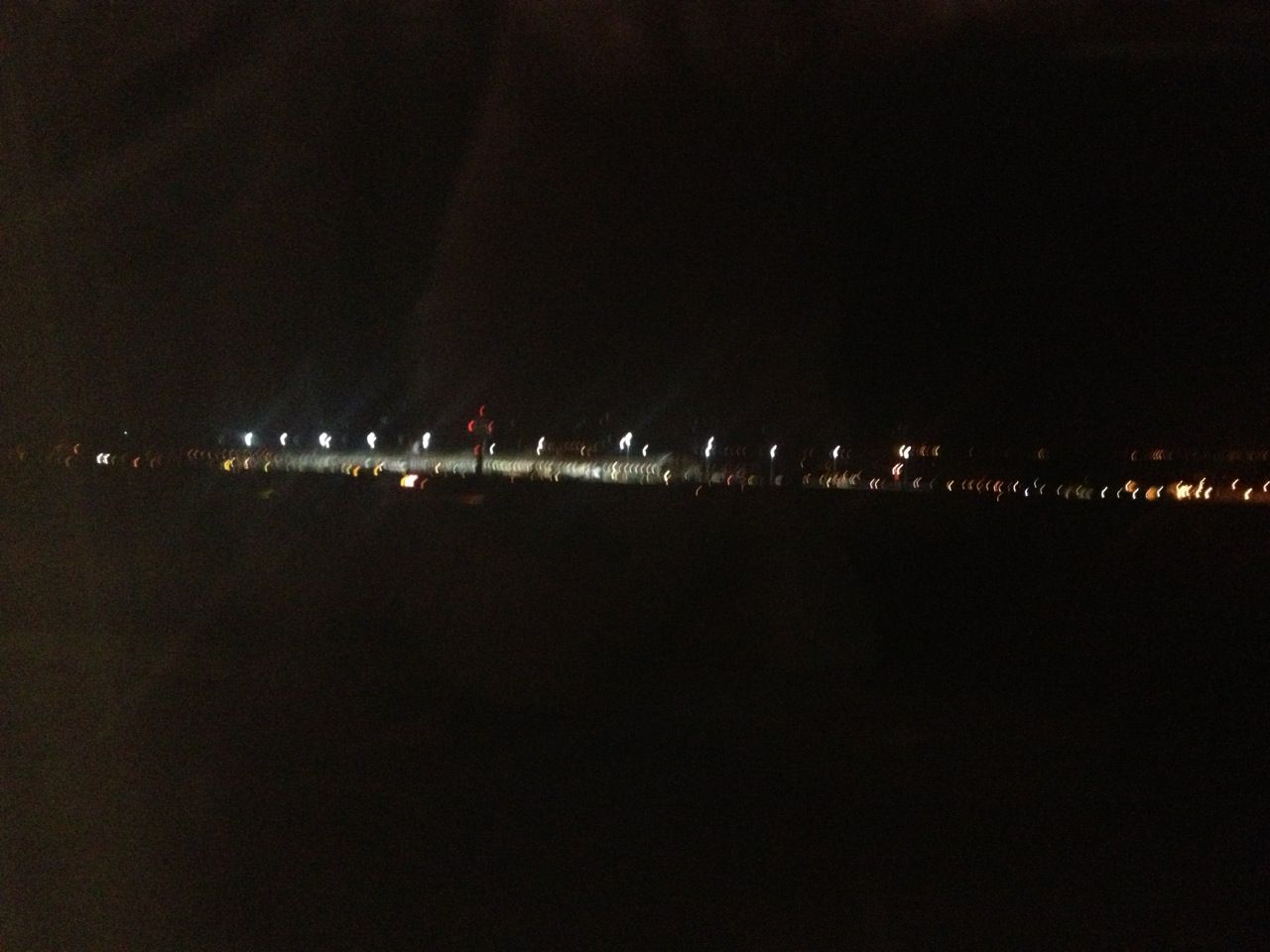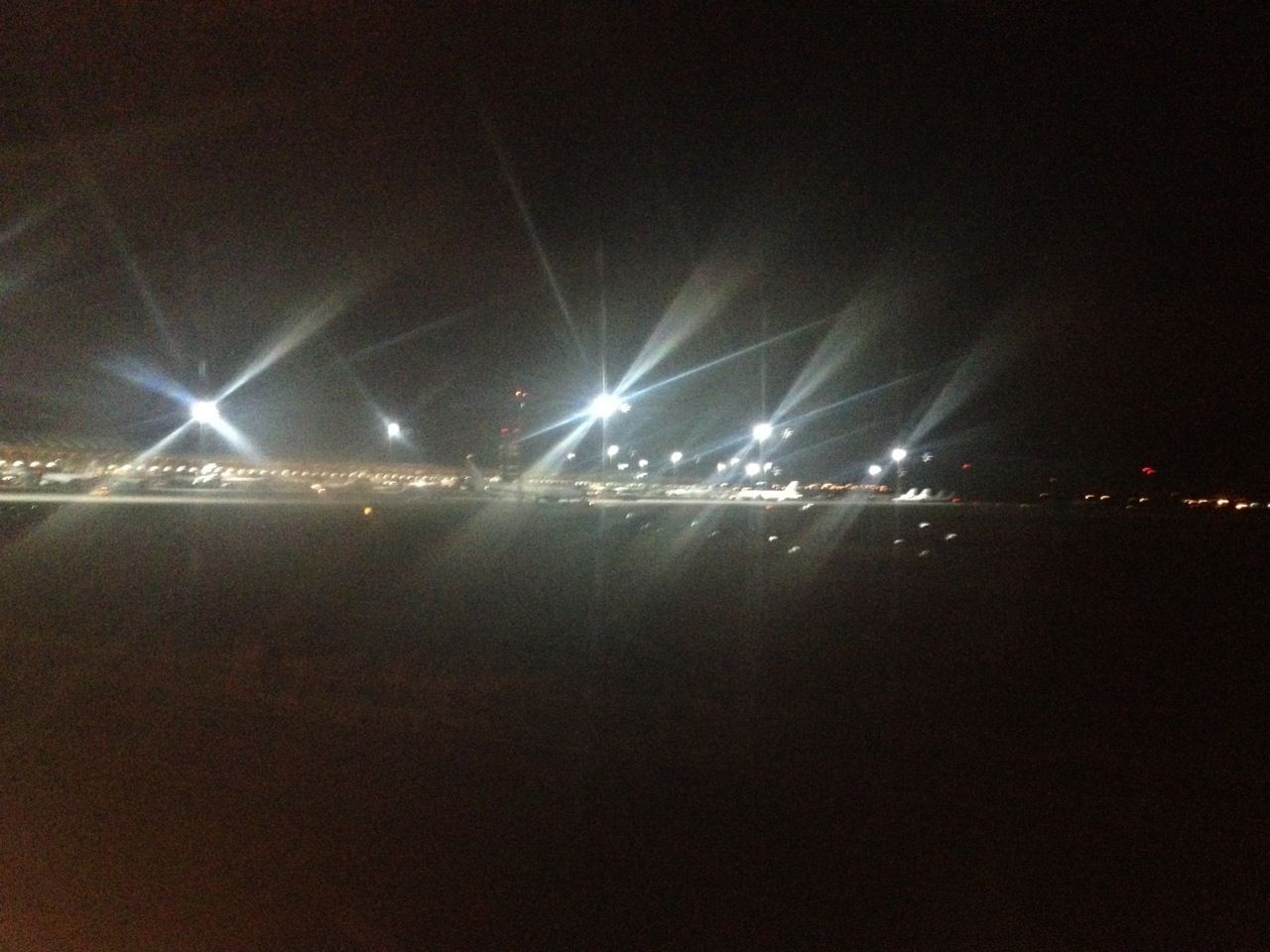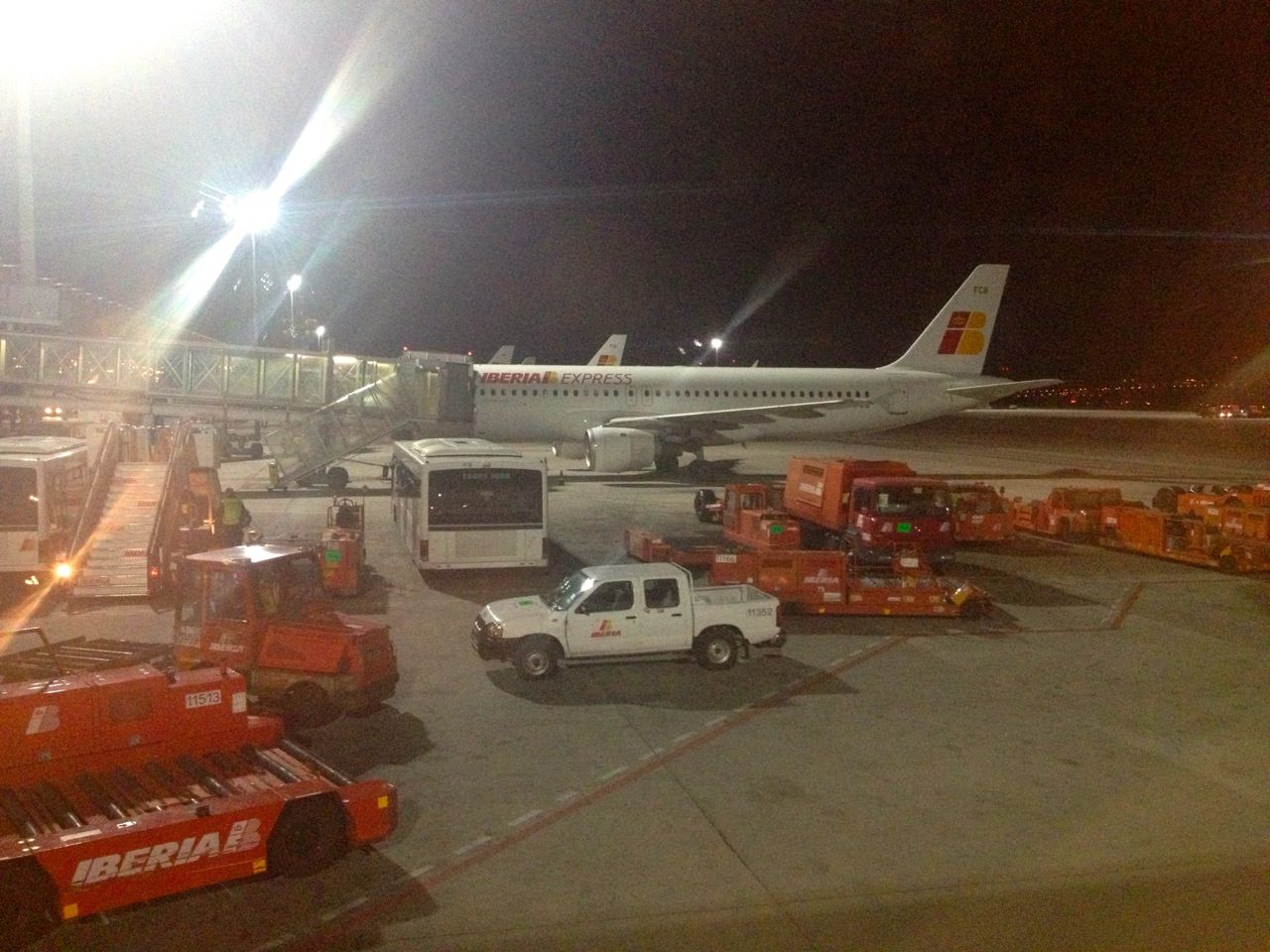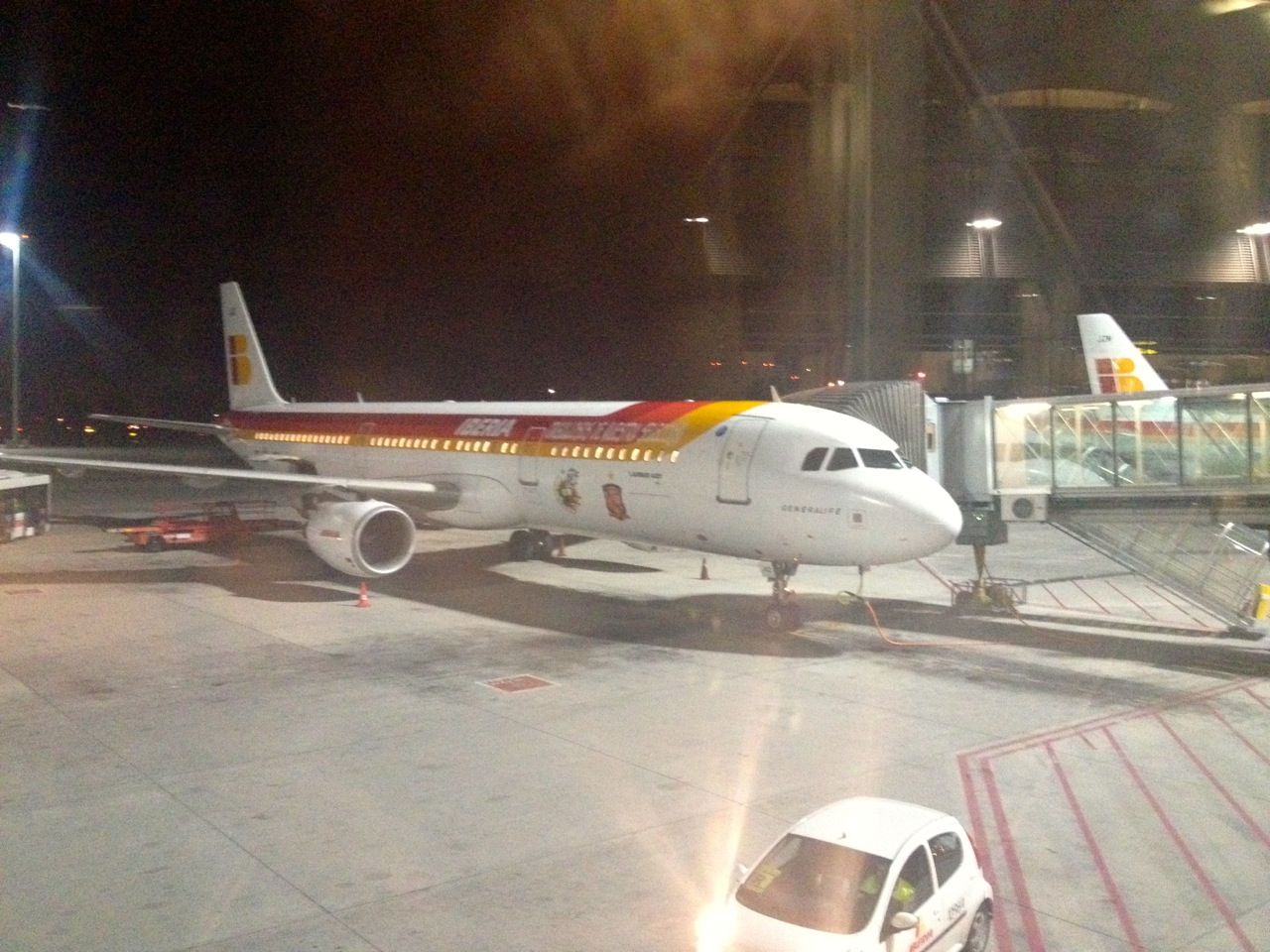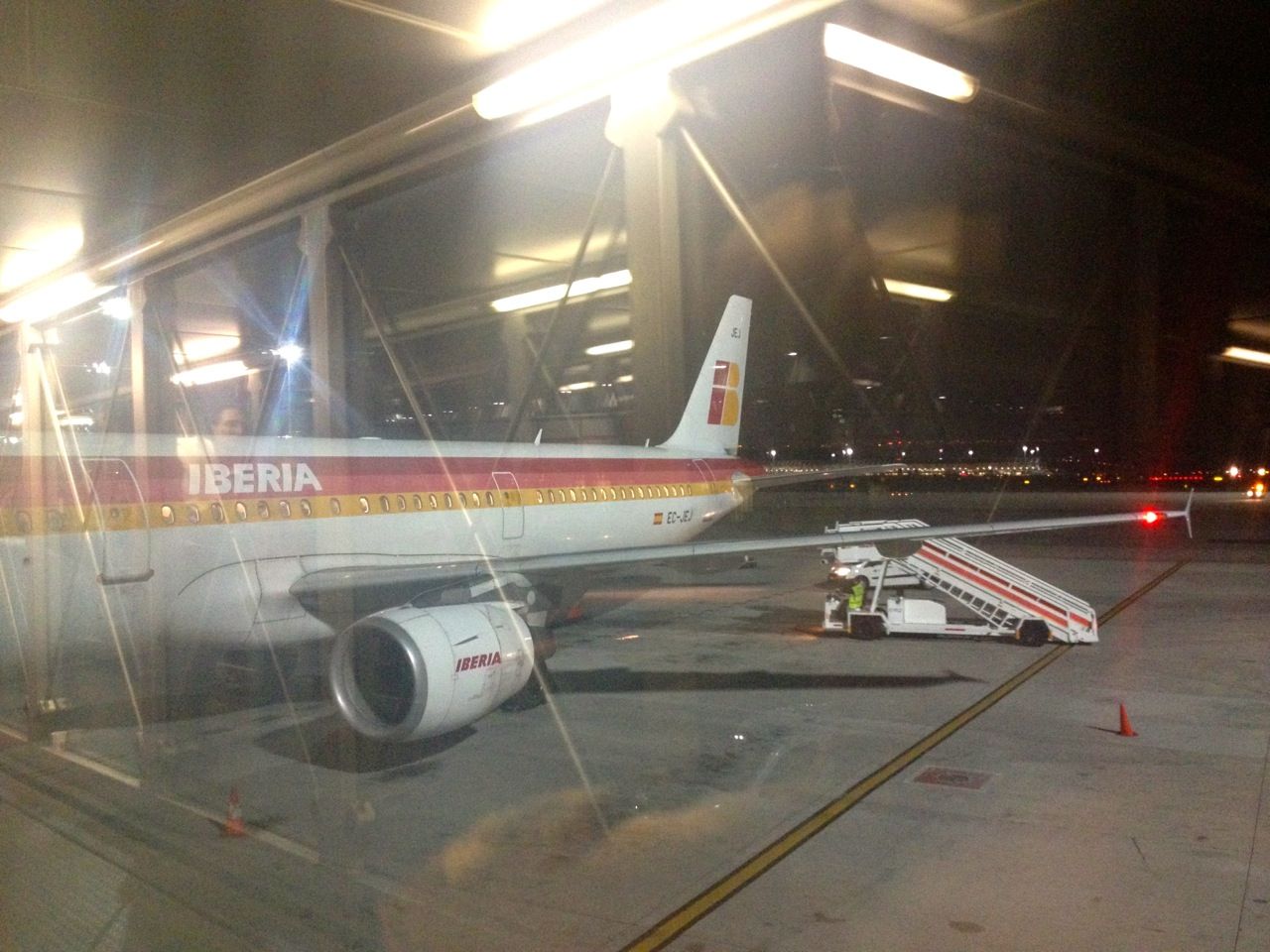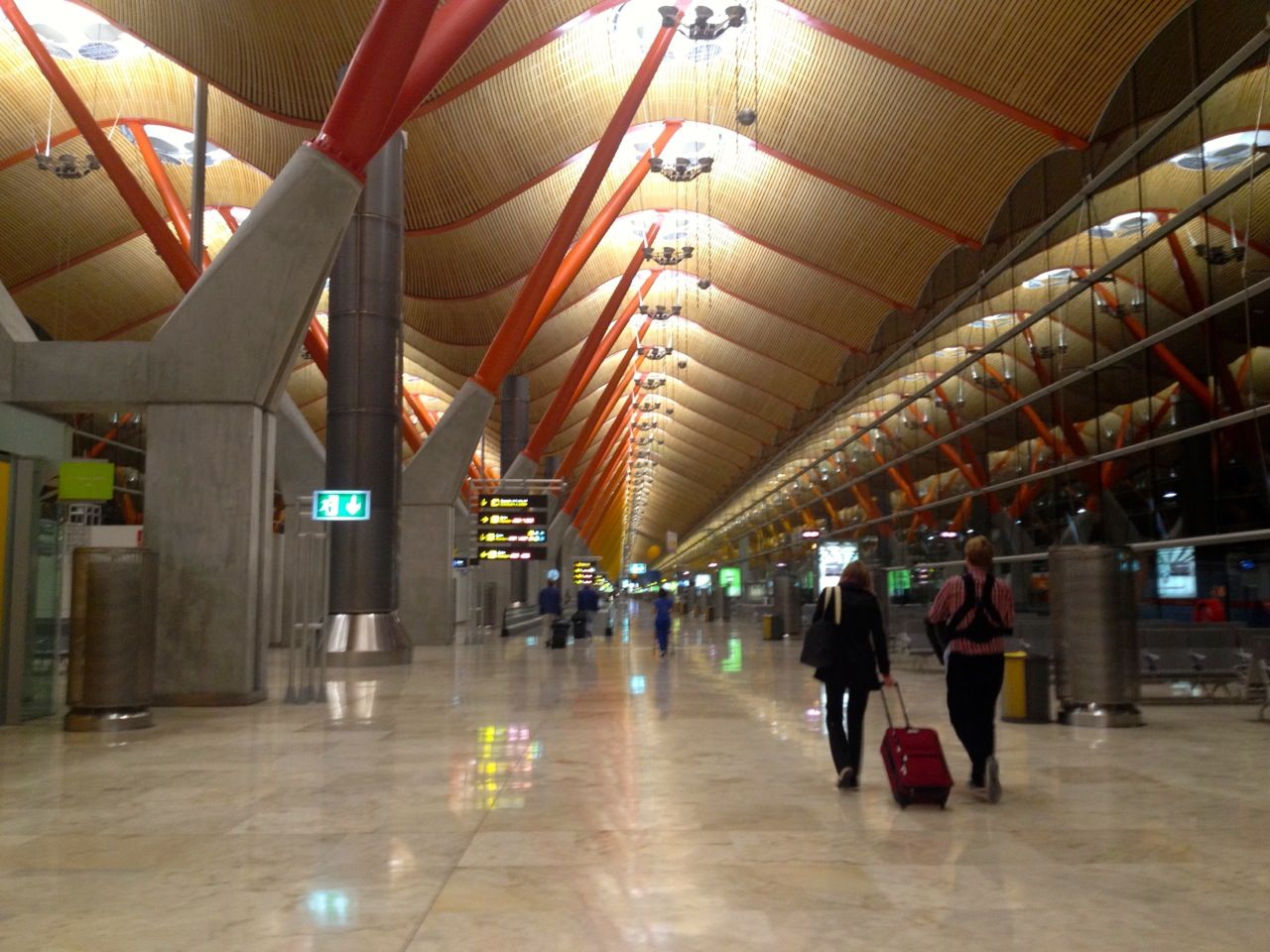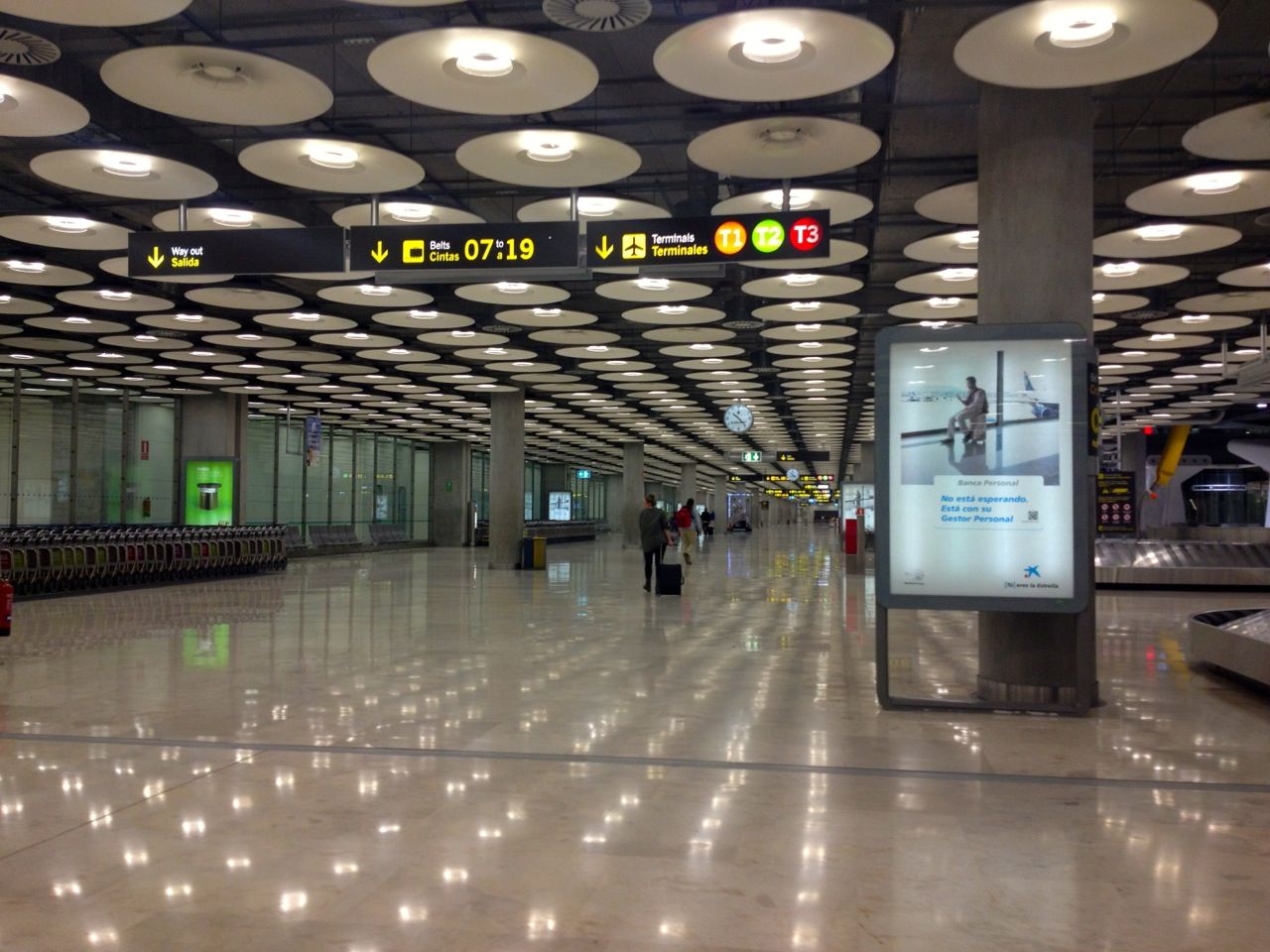 Then it was down on to the Metro for the 30 minute or so ride to the hotel.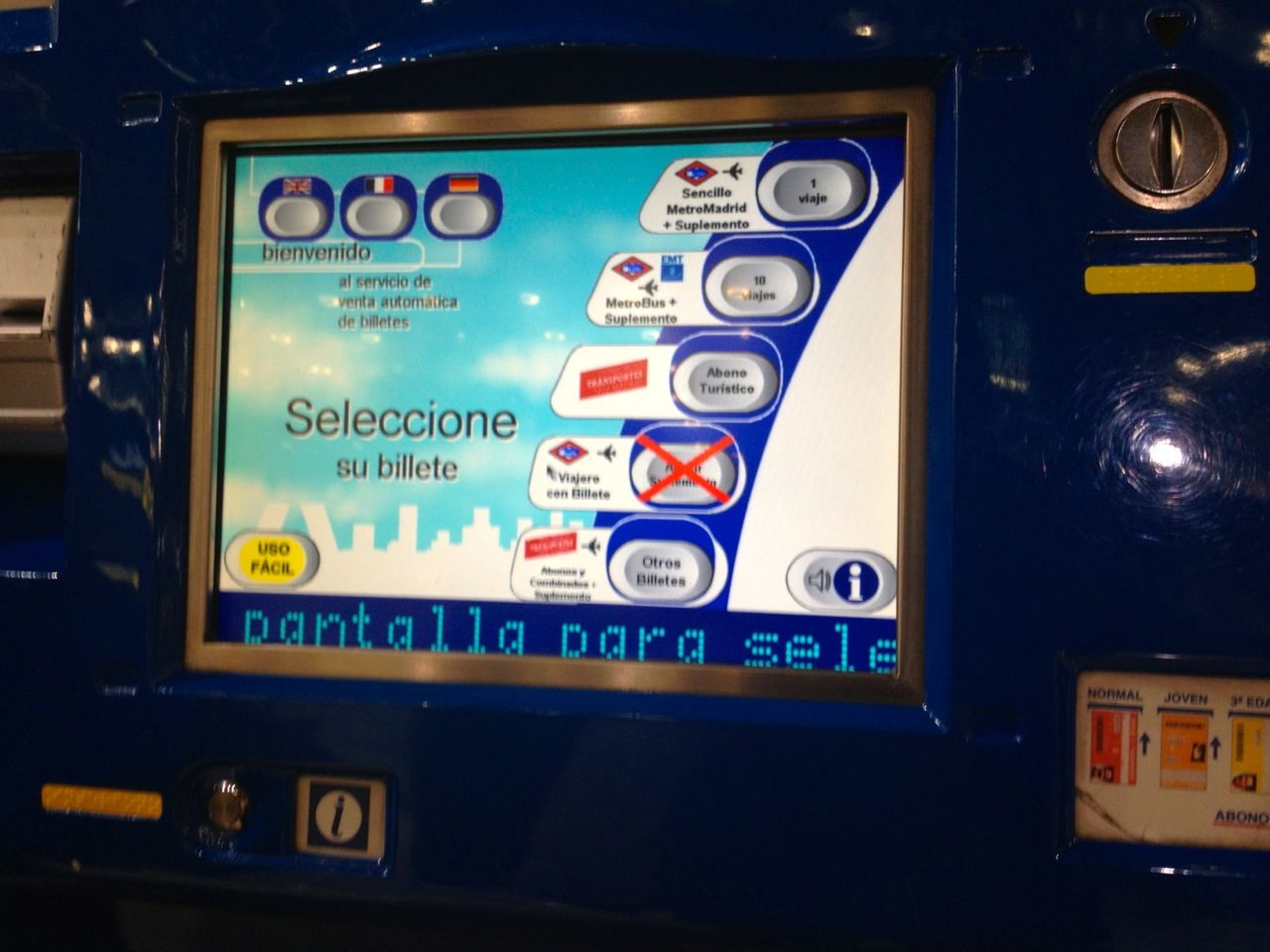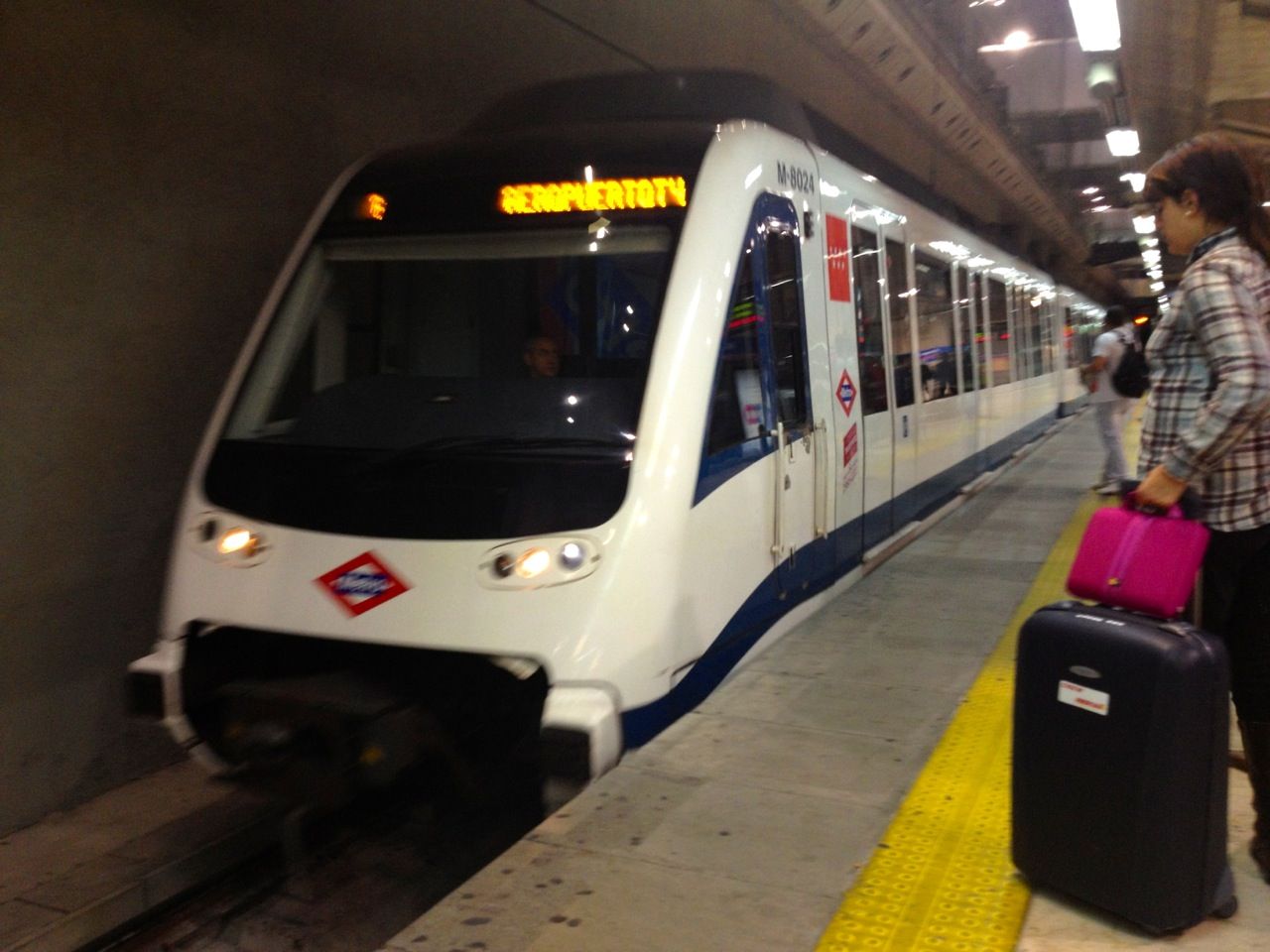 I arrived at the hotel just before 23:30 local.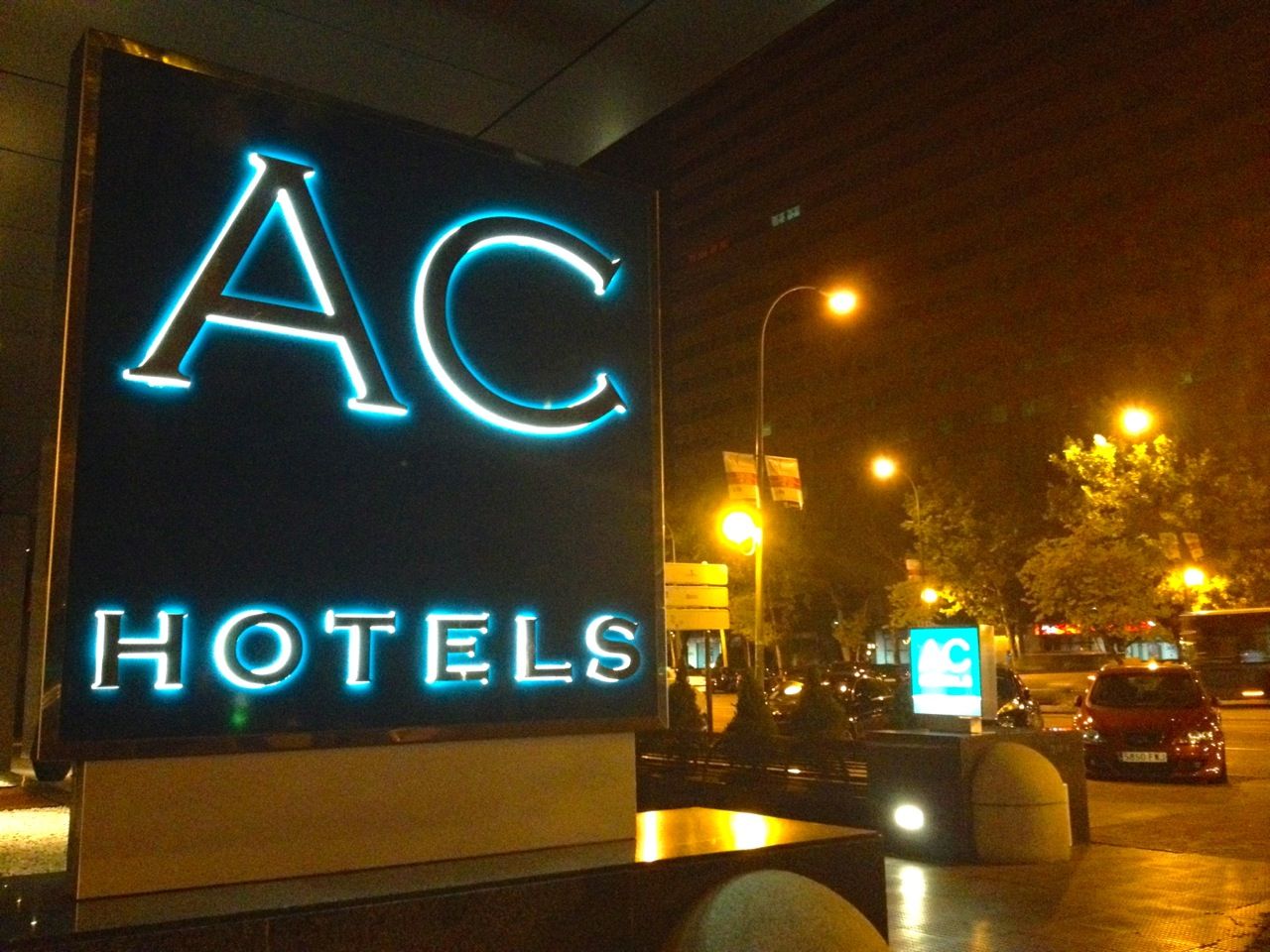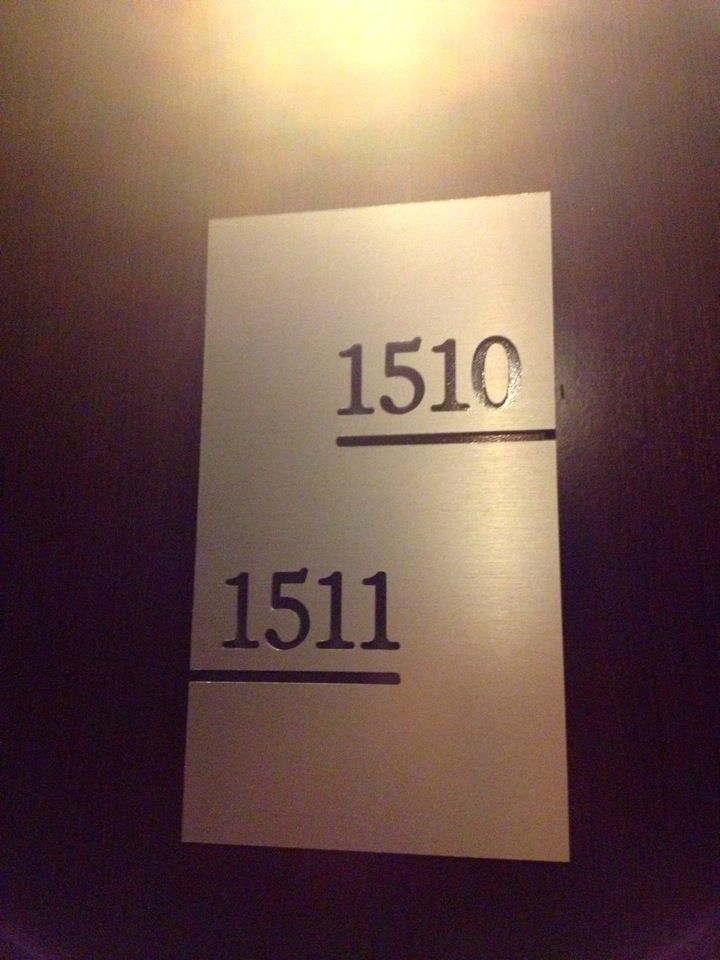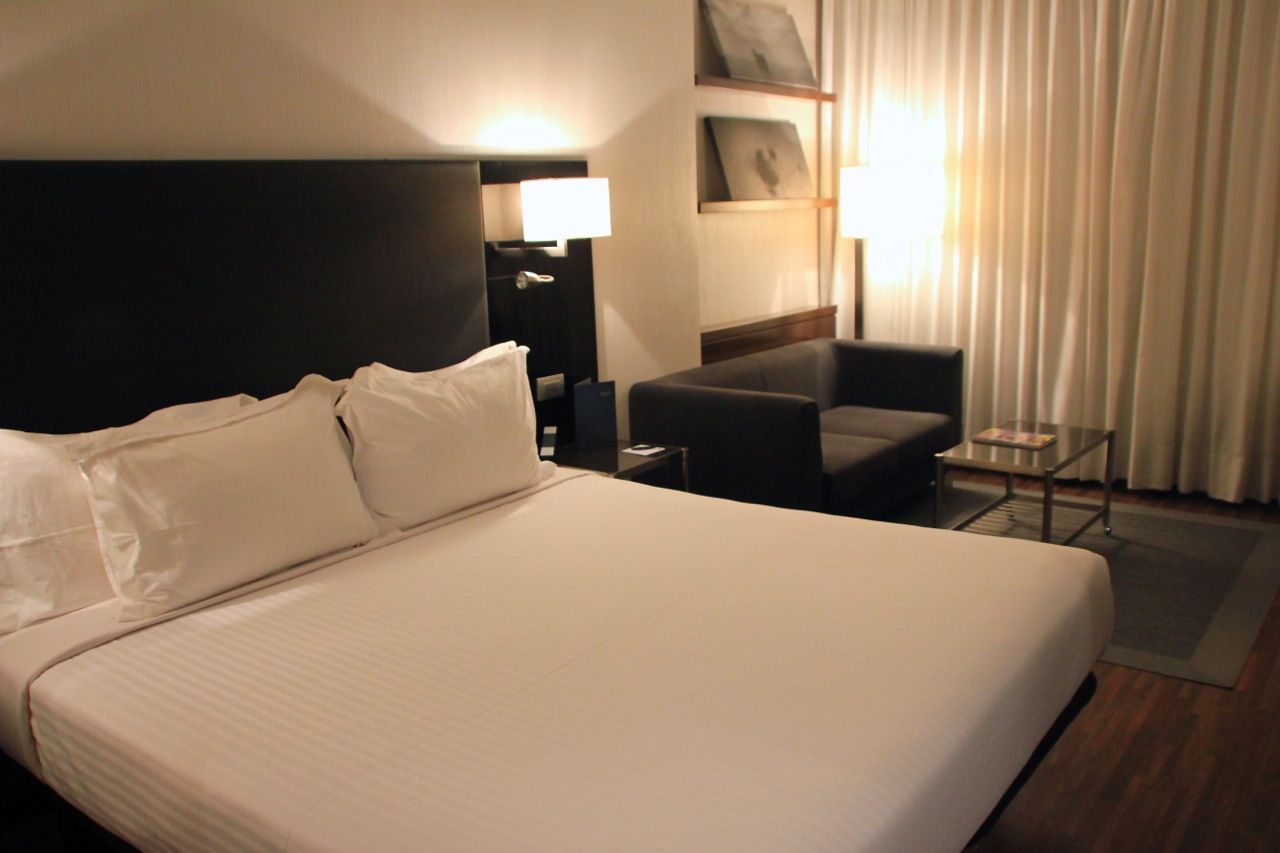 Phew made it!
Sunday morning started quite late due to being woken up by a load of people shouting outside my room at about 3:00am. As it was now daylight, I could admire the view from my 15th floor room properly.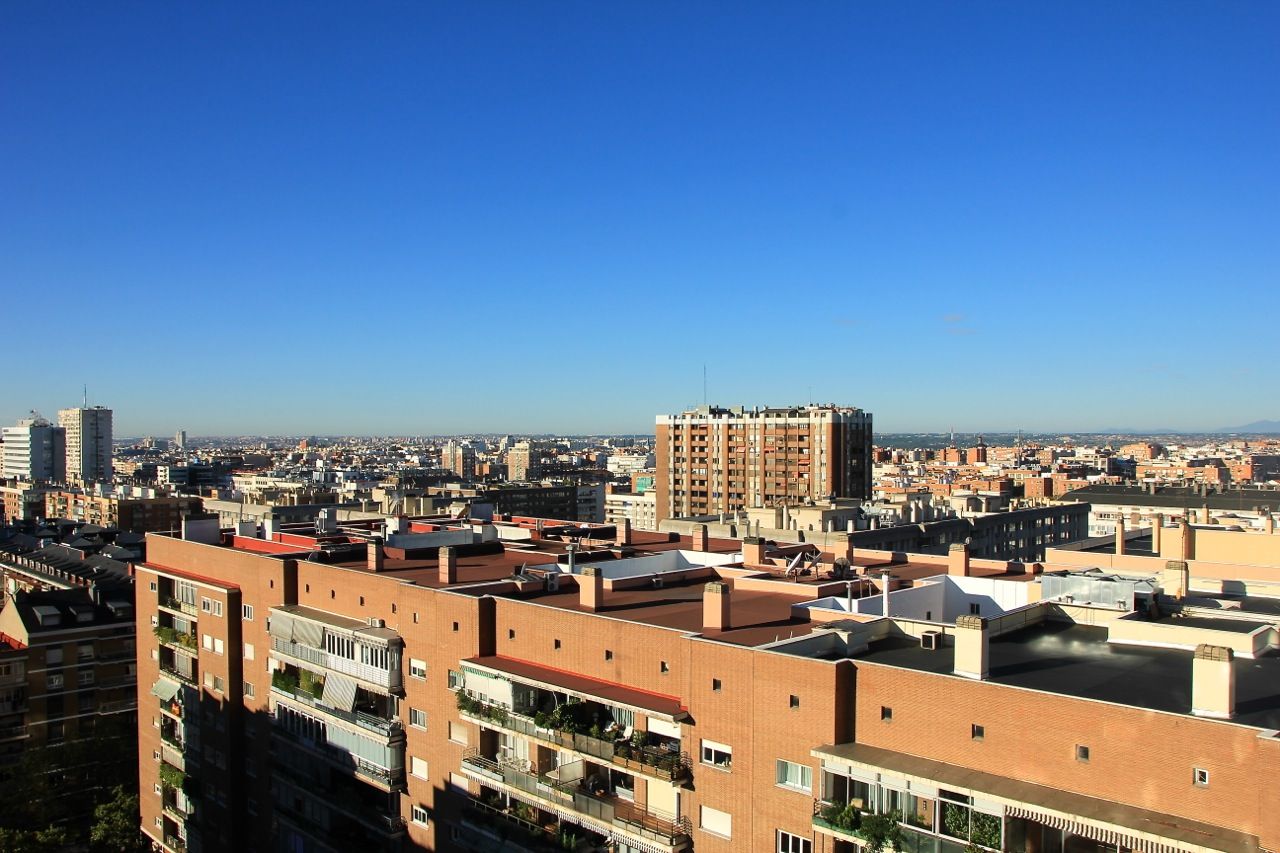 I got ready and went out to see what Madrid had to offer. First off was a short walk down the road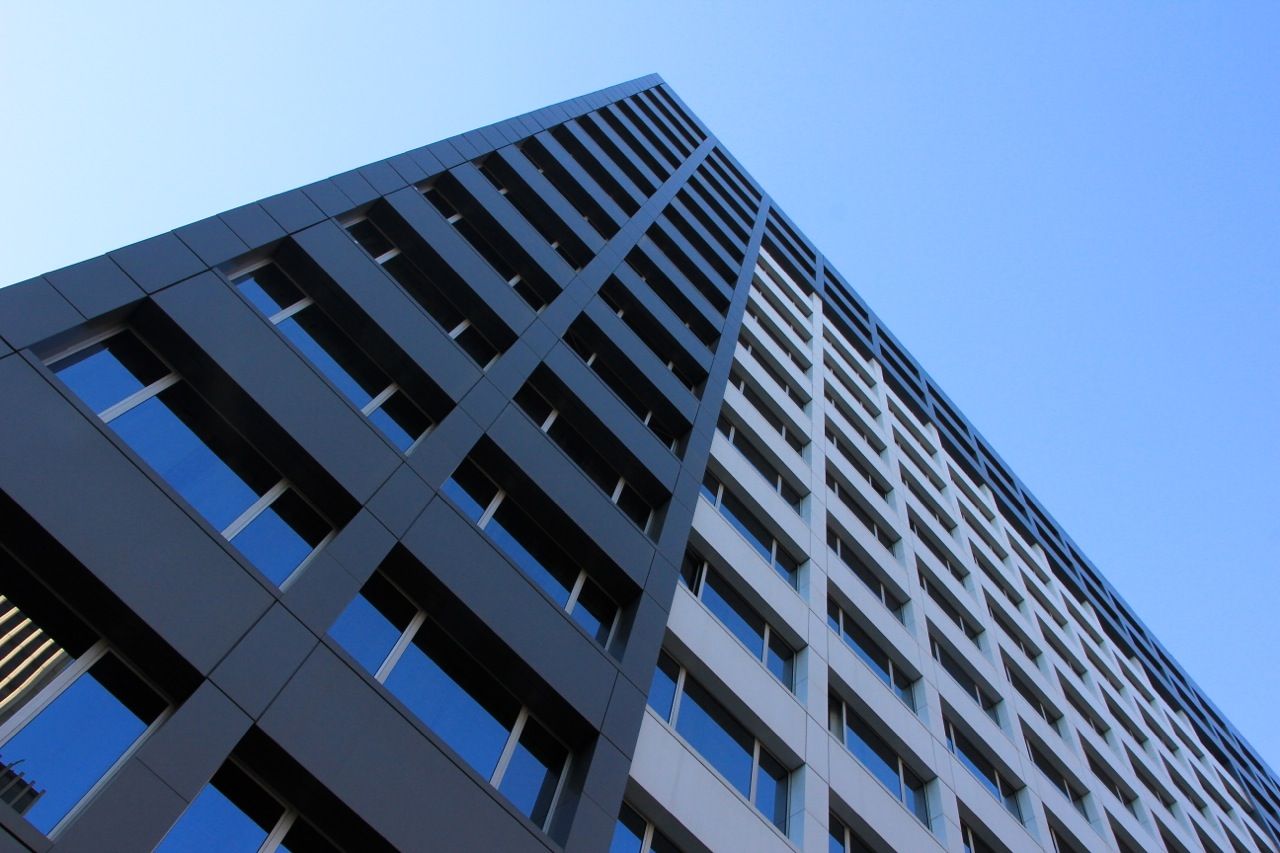 Outside view of the hotel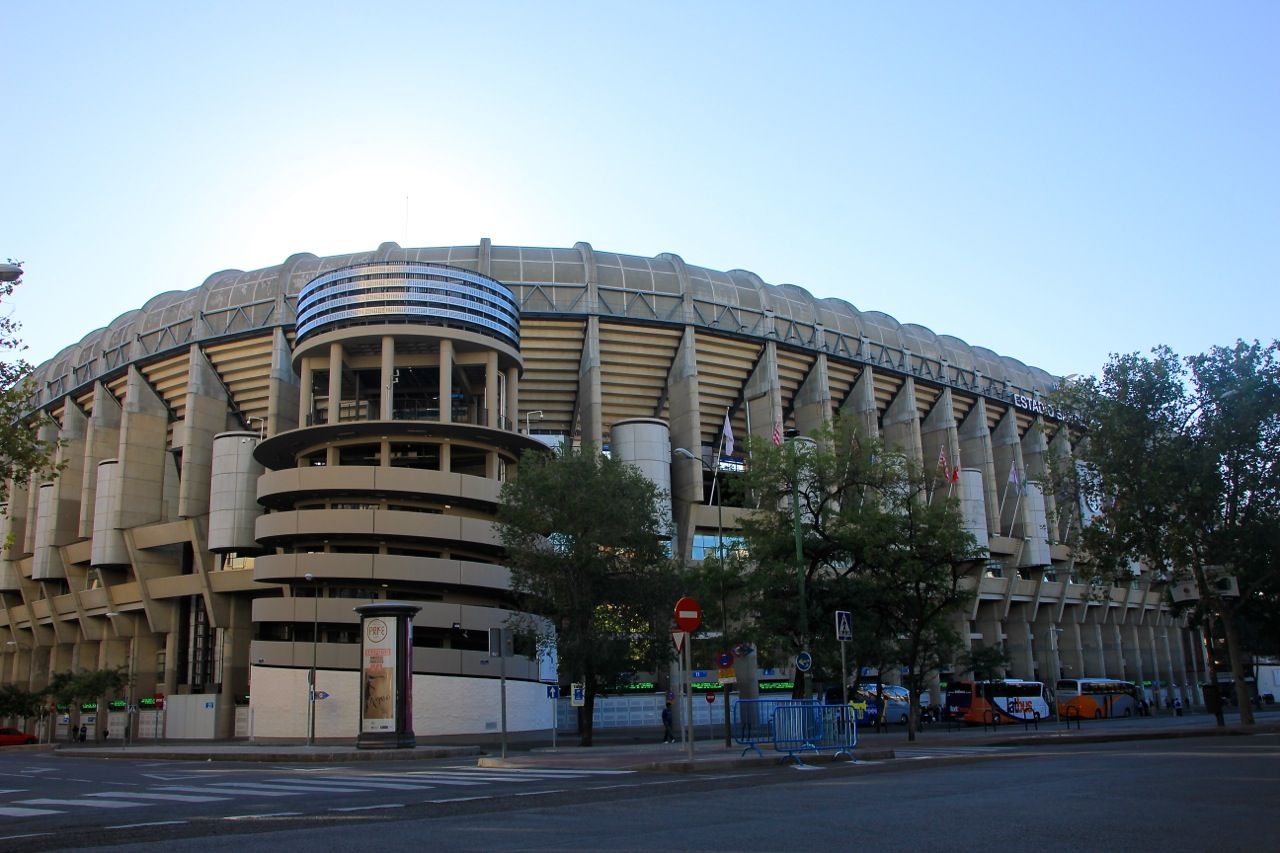 Santiago Bernabau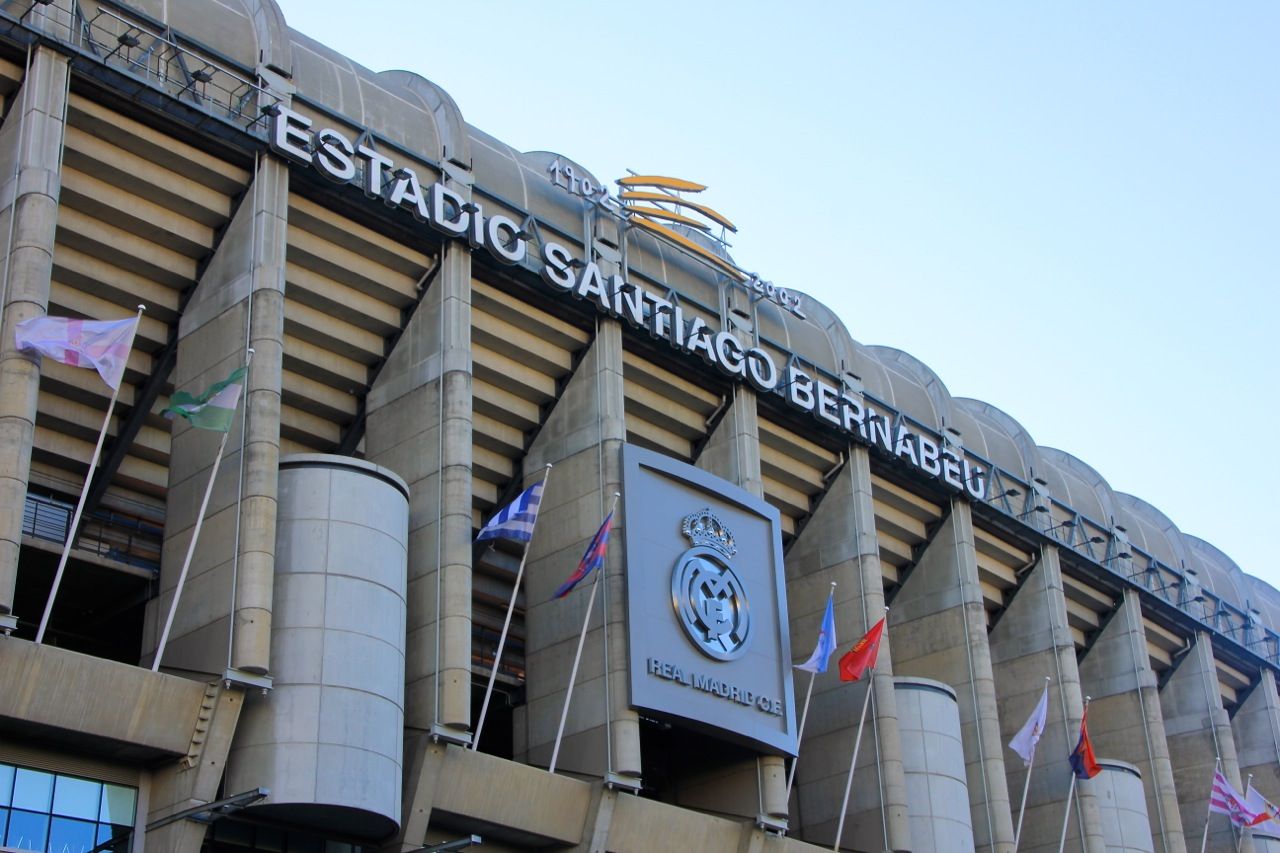 Then it was on to the very easy to use Metro into the city.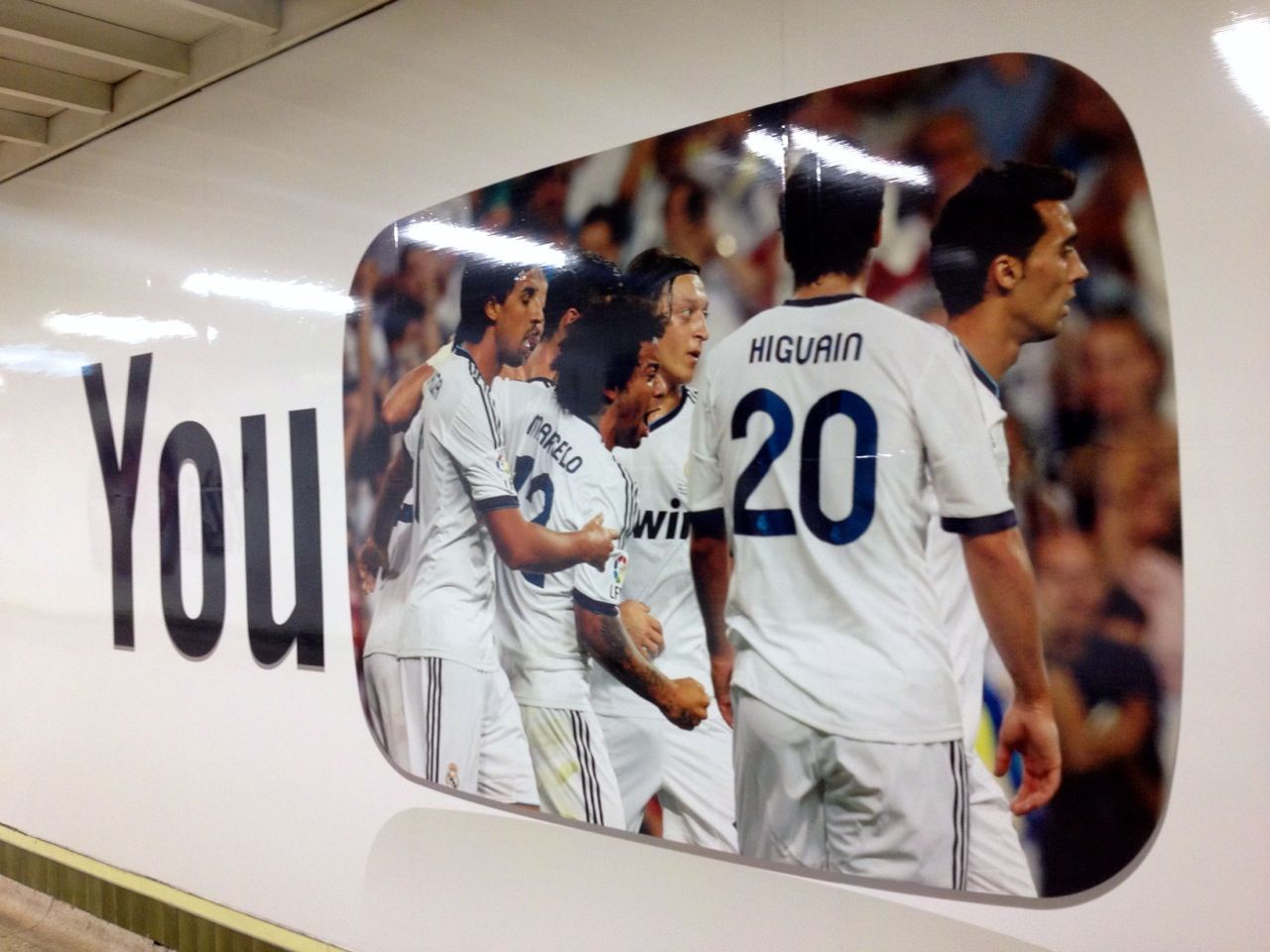 No question who the main team in town is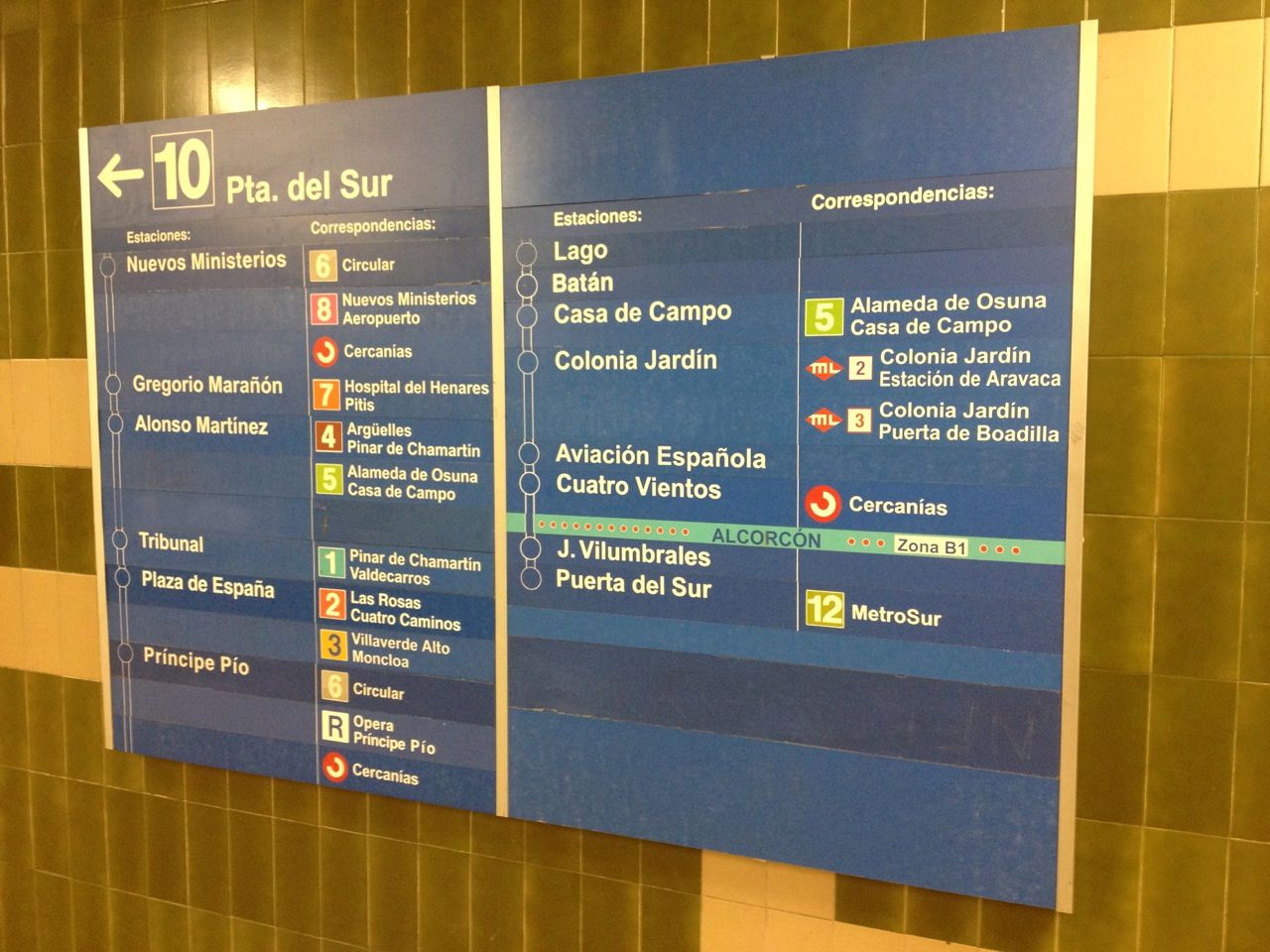 A short train ride later and I was in central Madrid.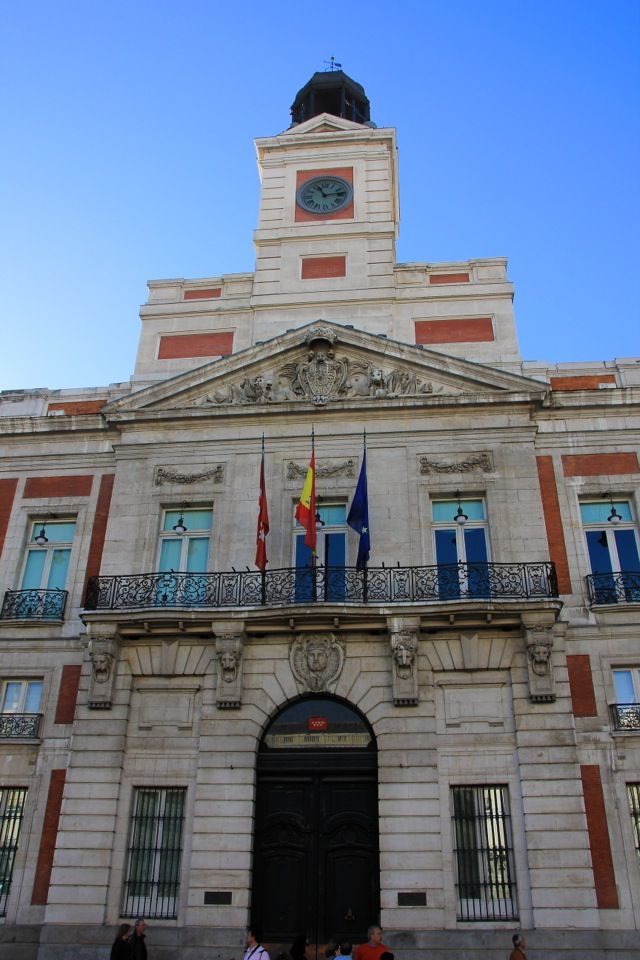 Plaza Mayor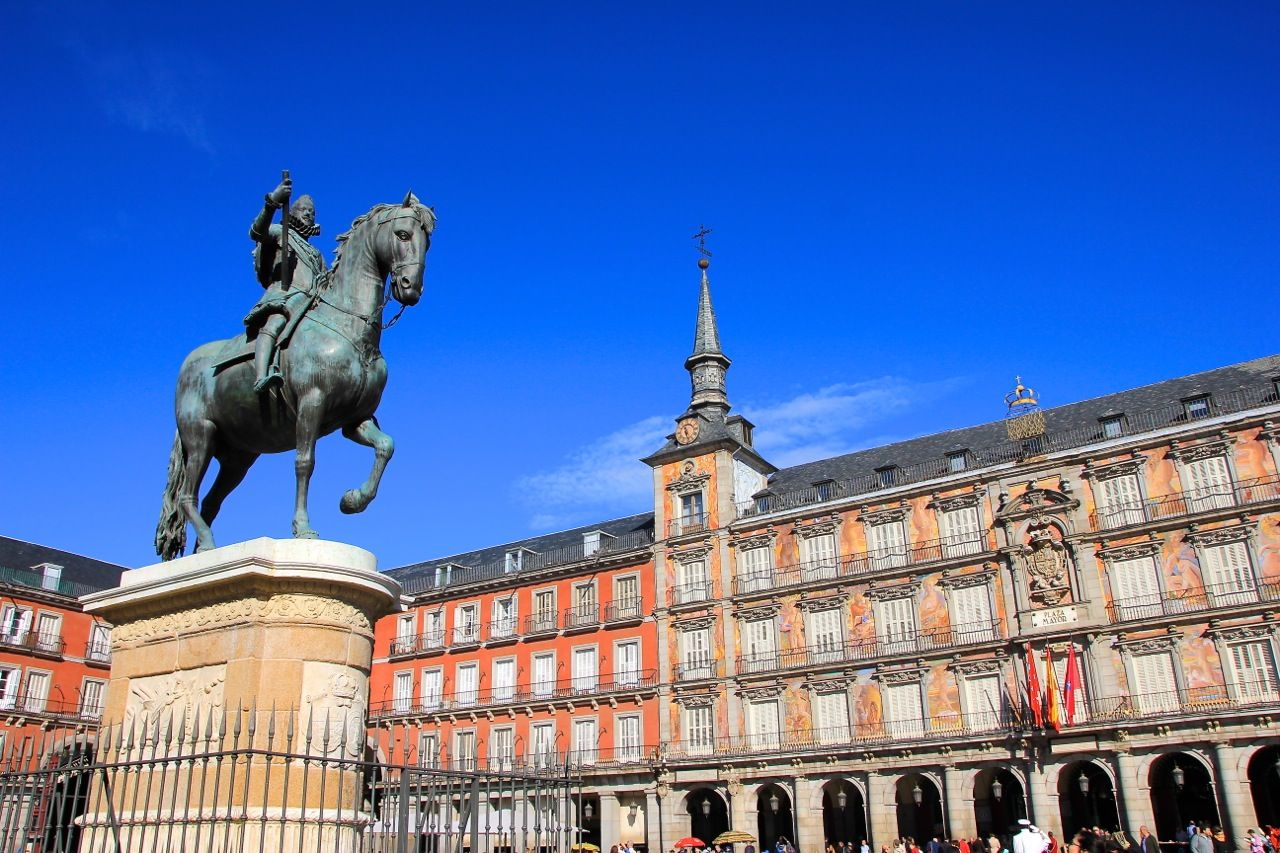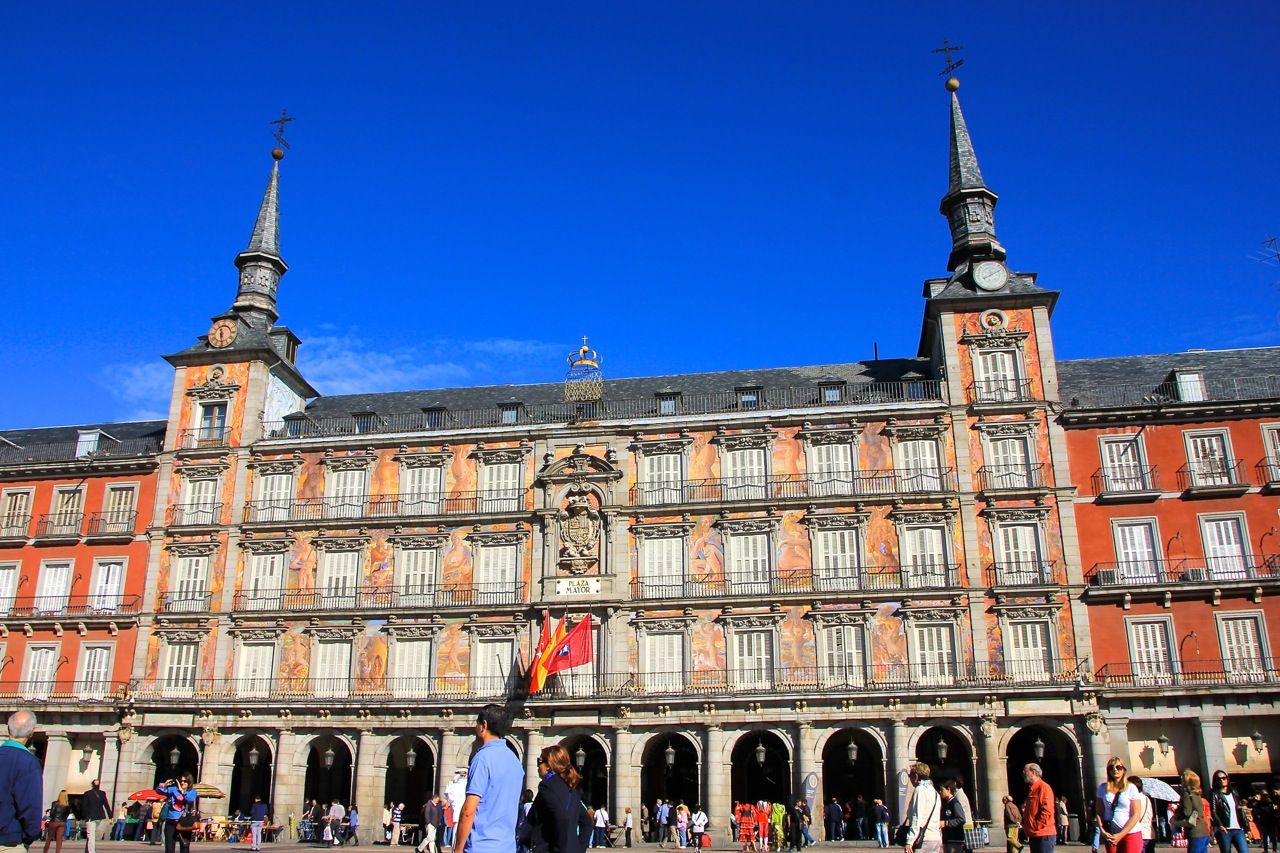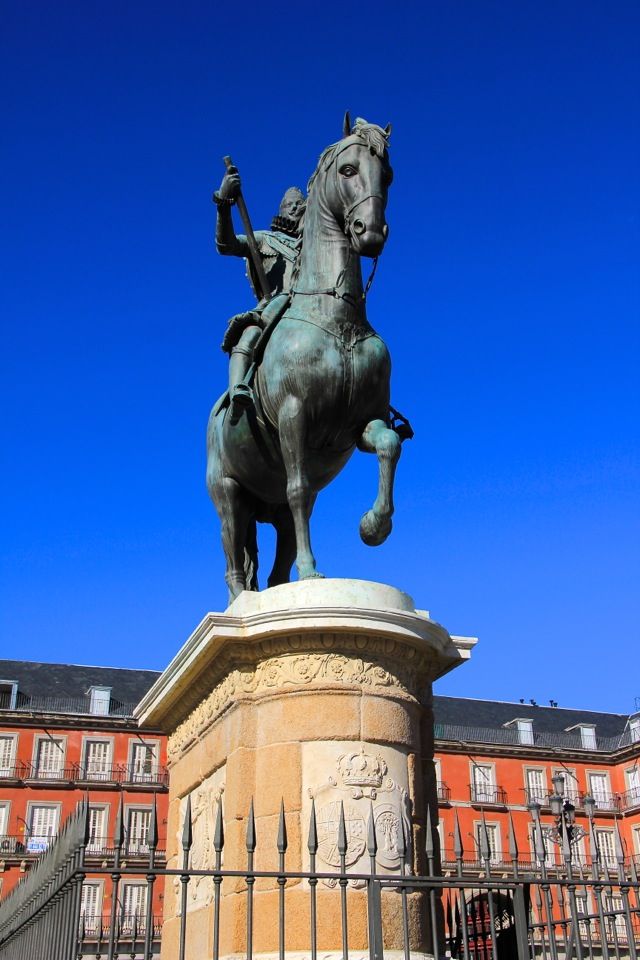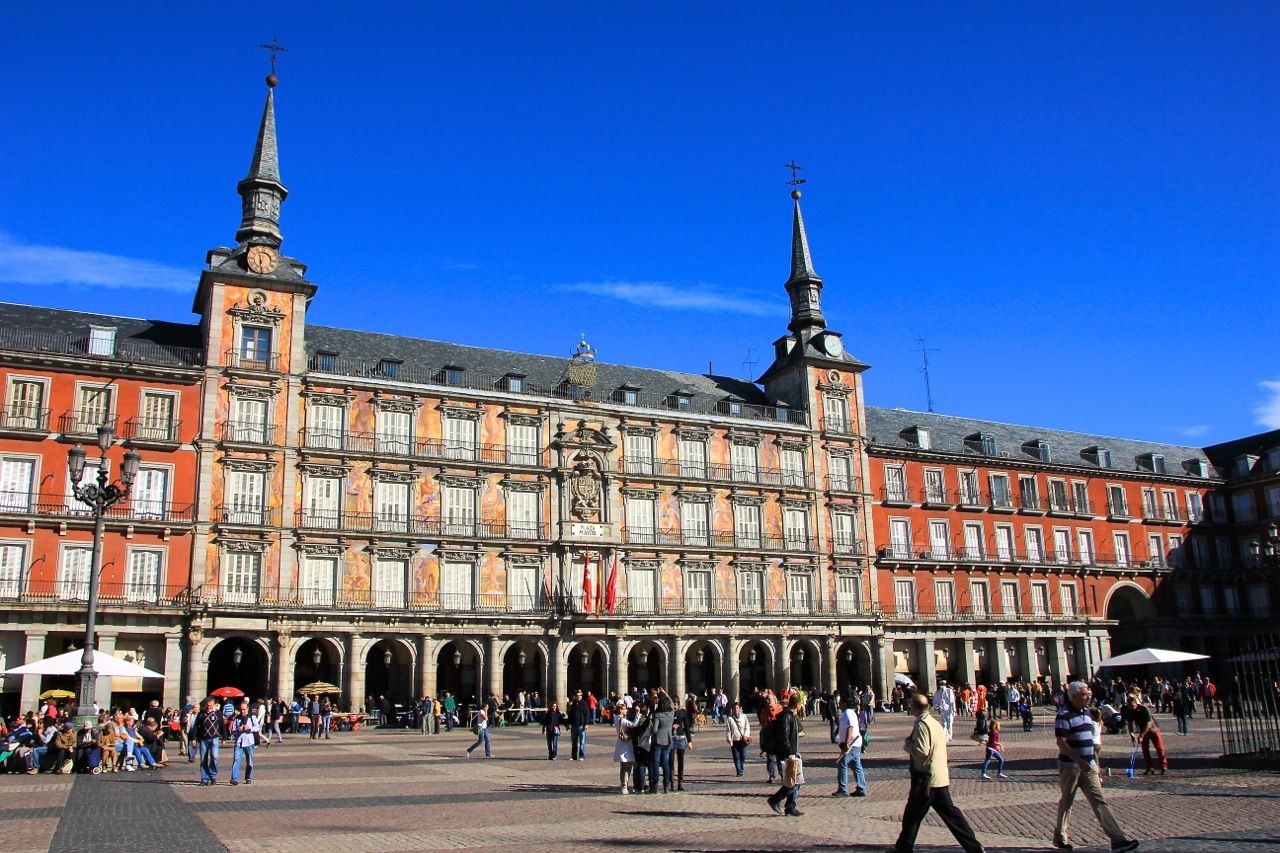 Then a bit of random wondering!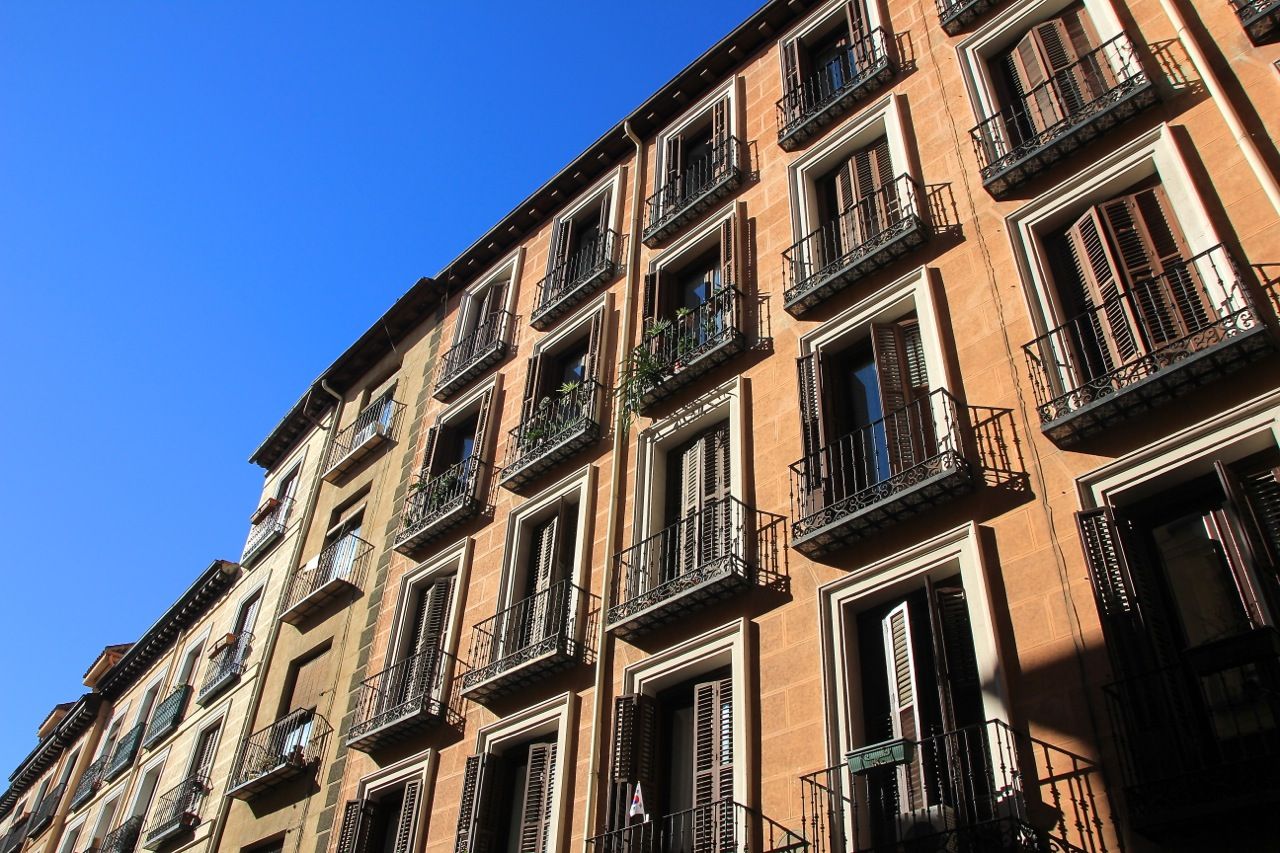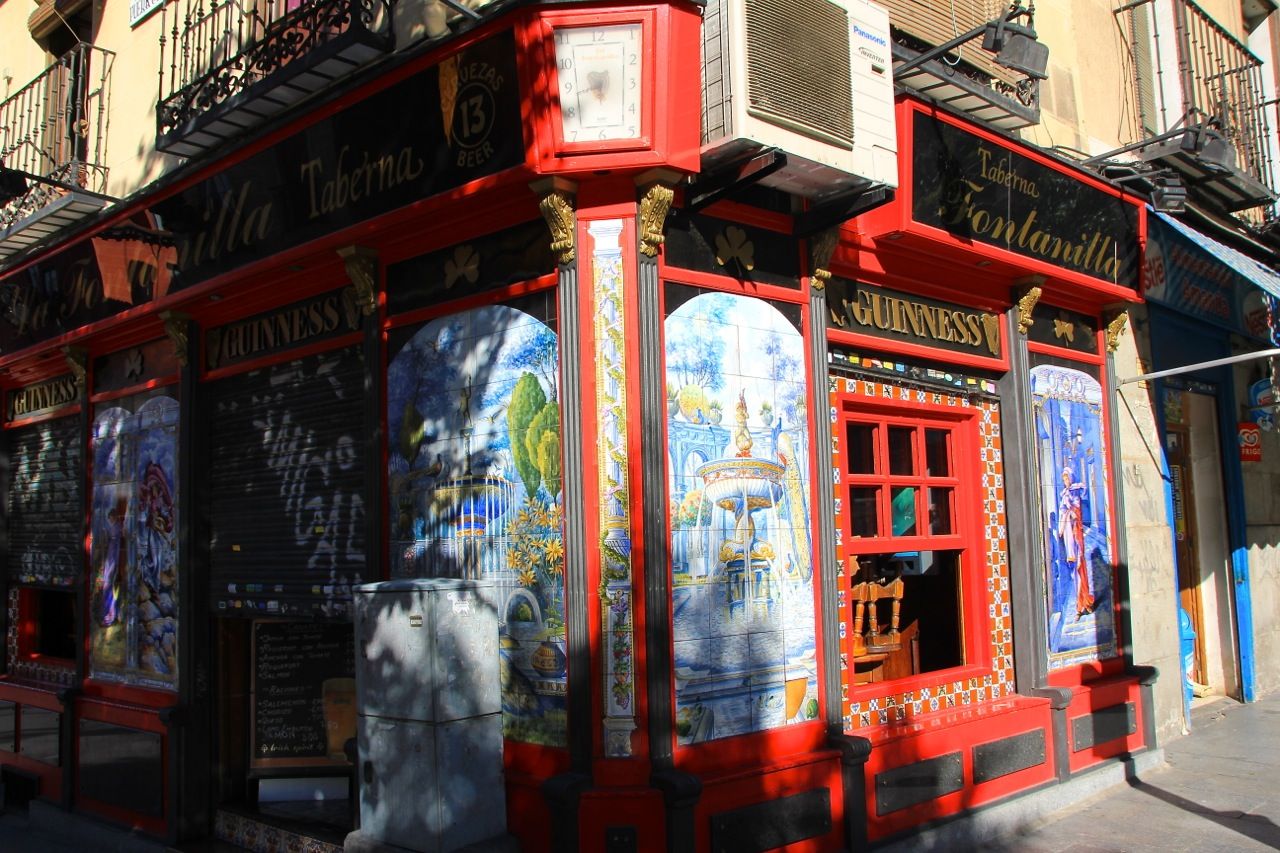 I'm sure I've seen a bar just like this somewhere else this year…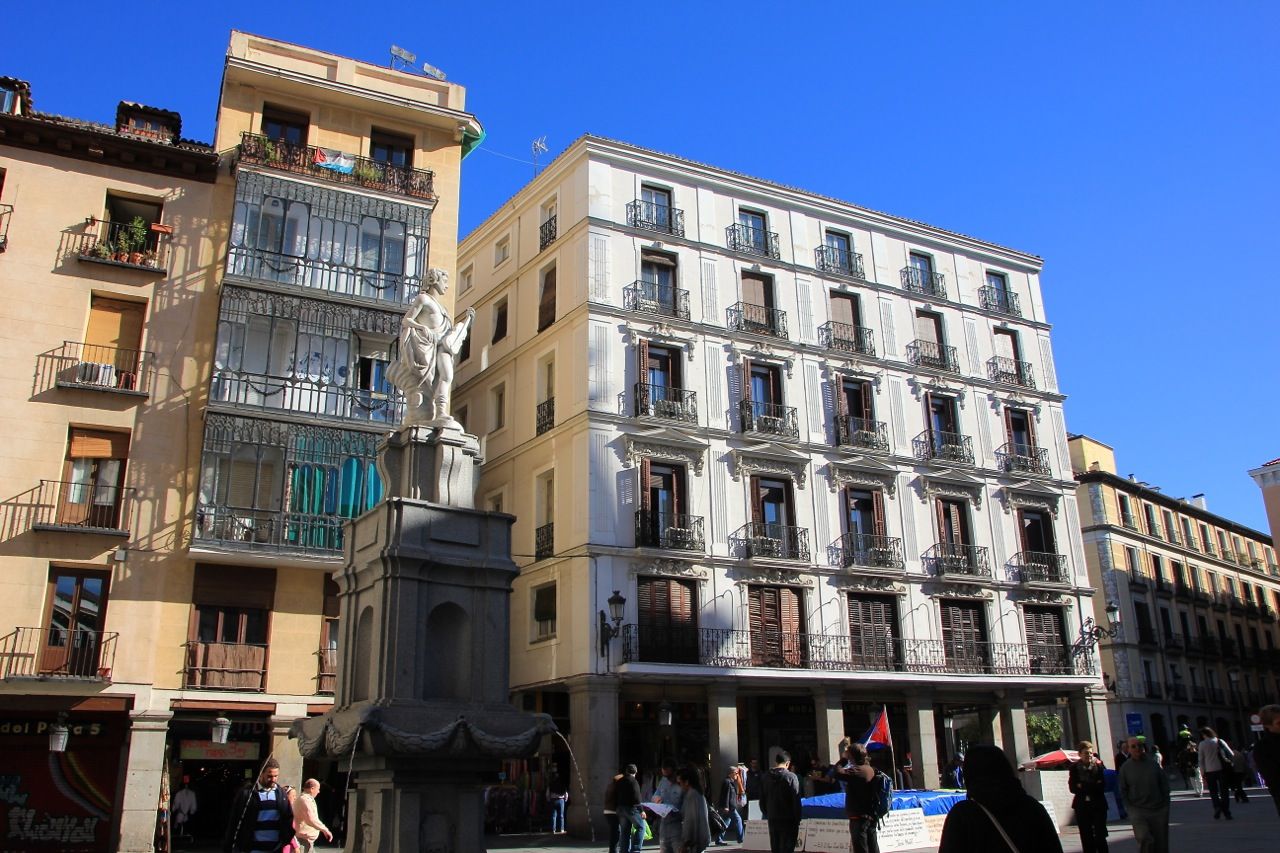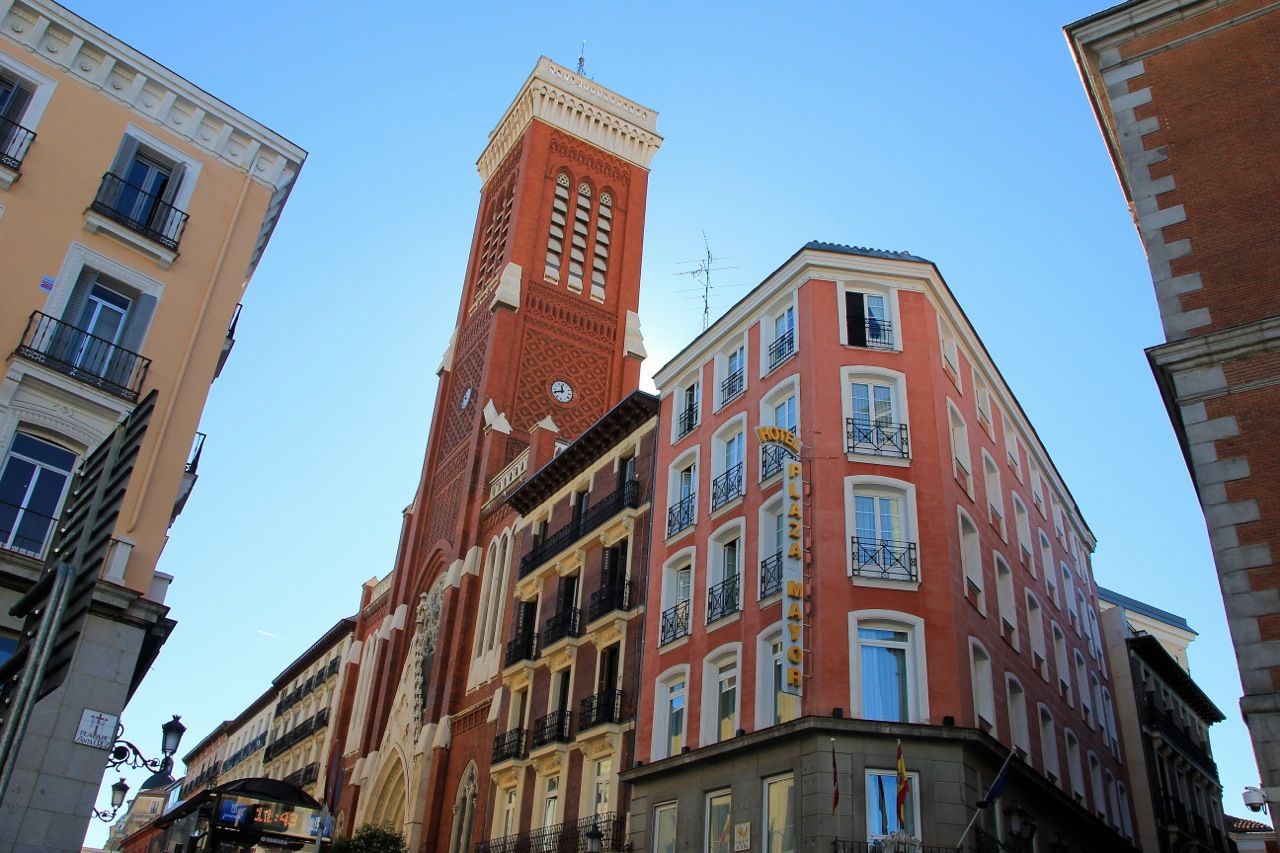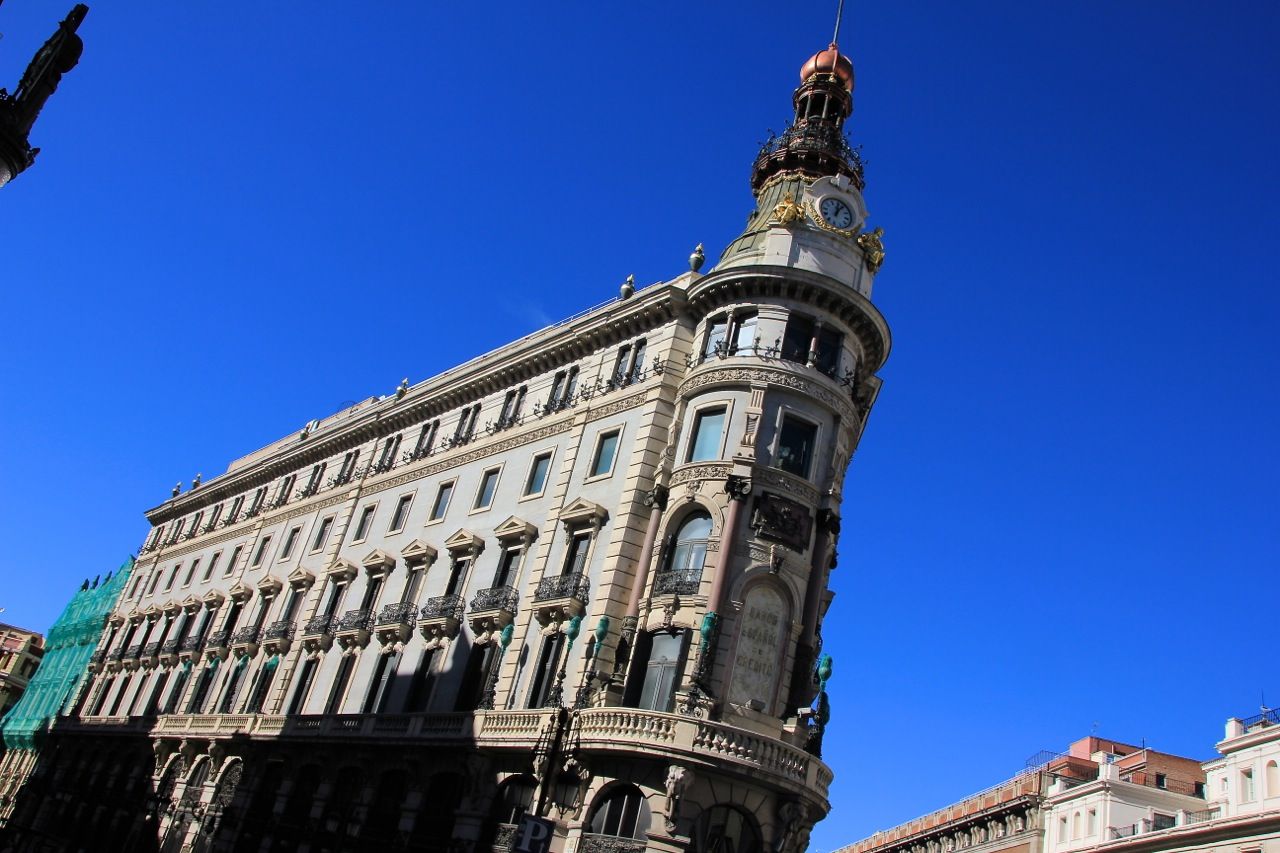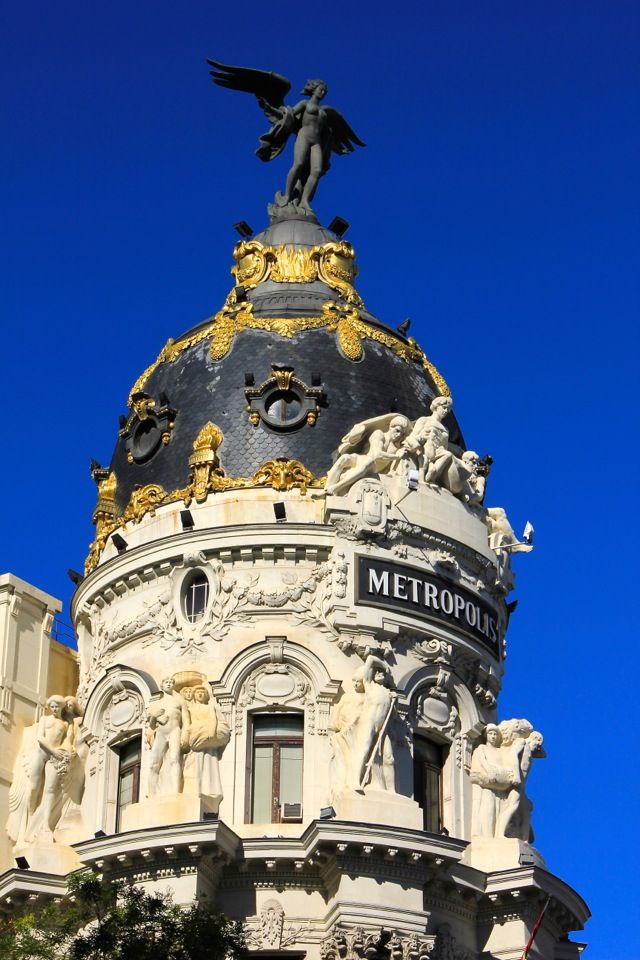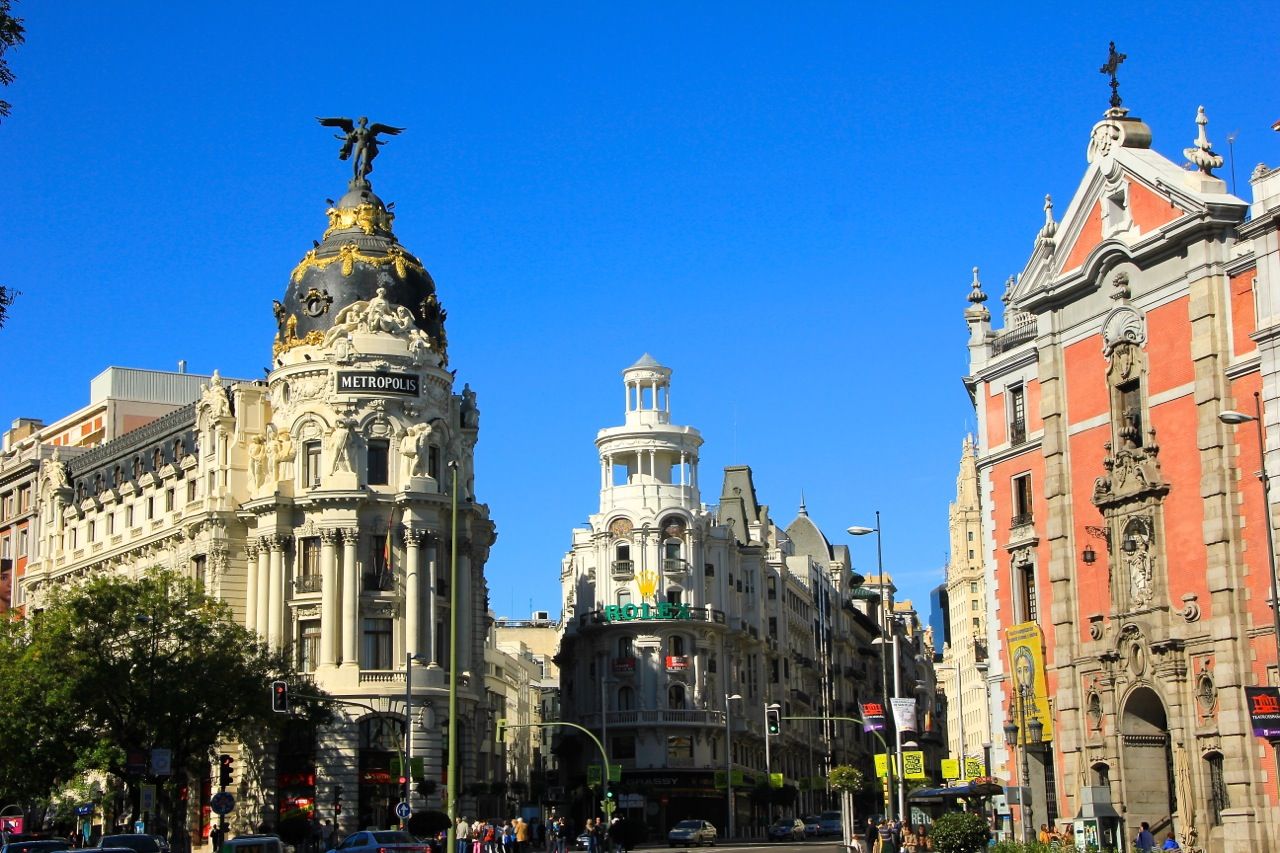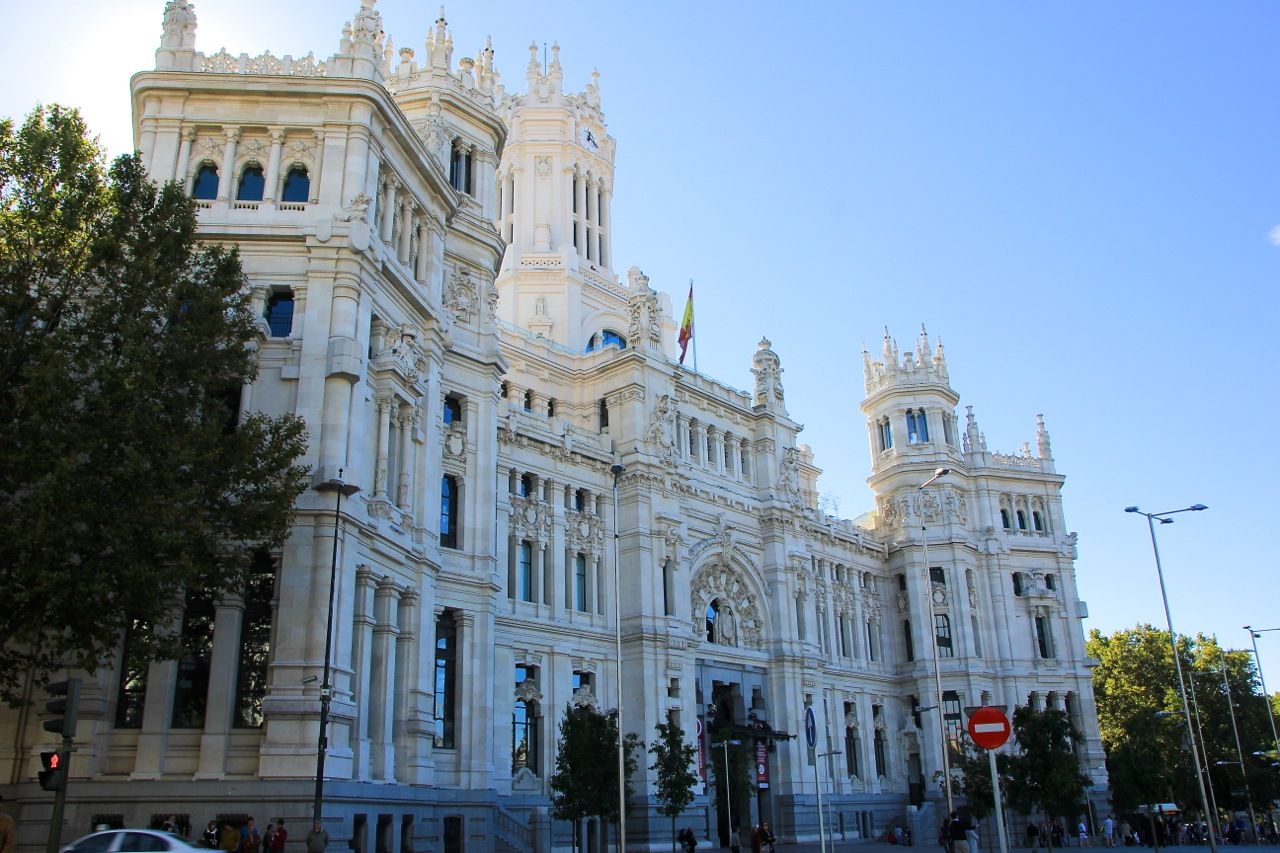 Puerta de Alcalá – built in the 1780's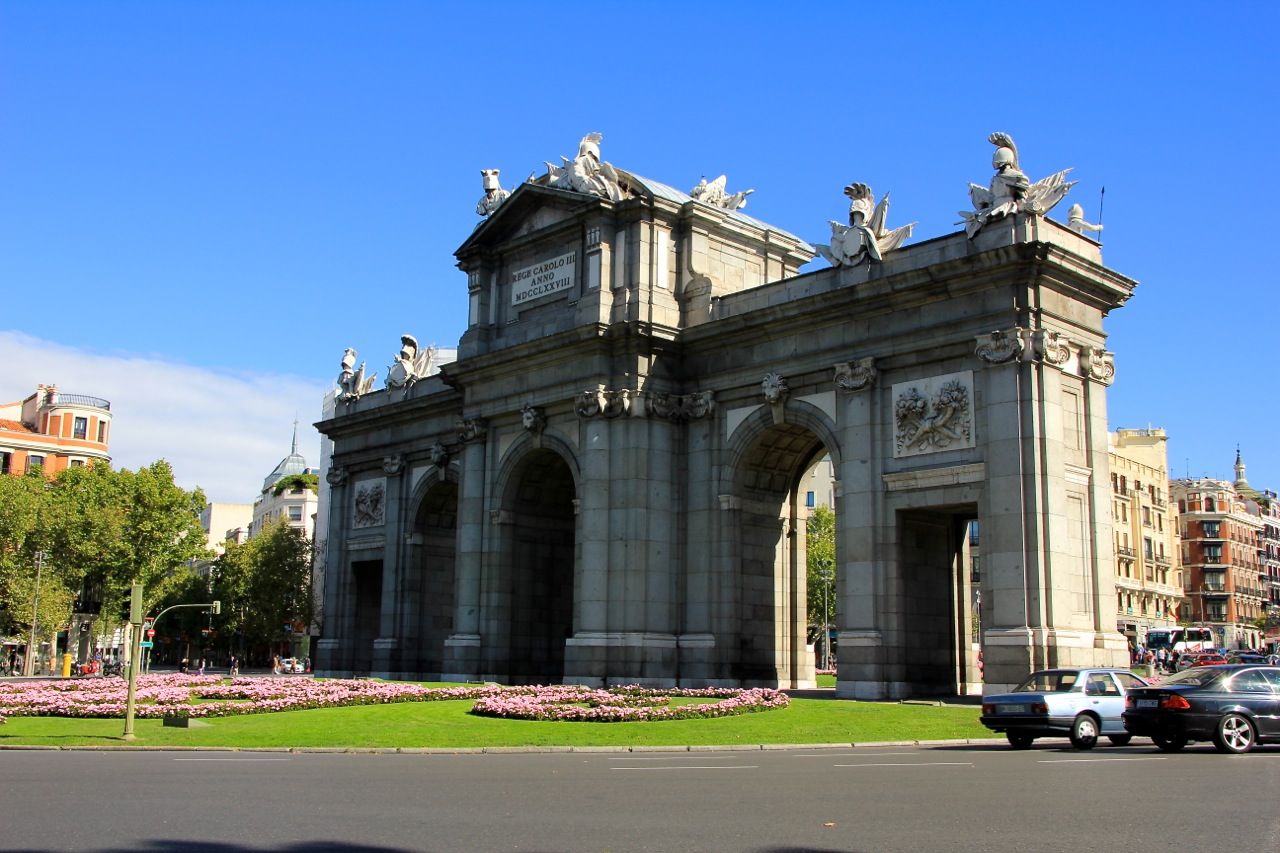 Then on to a very nice walk around the Buen Retiro Park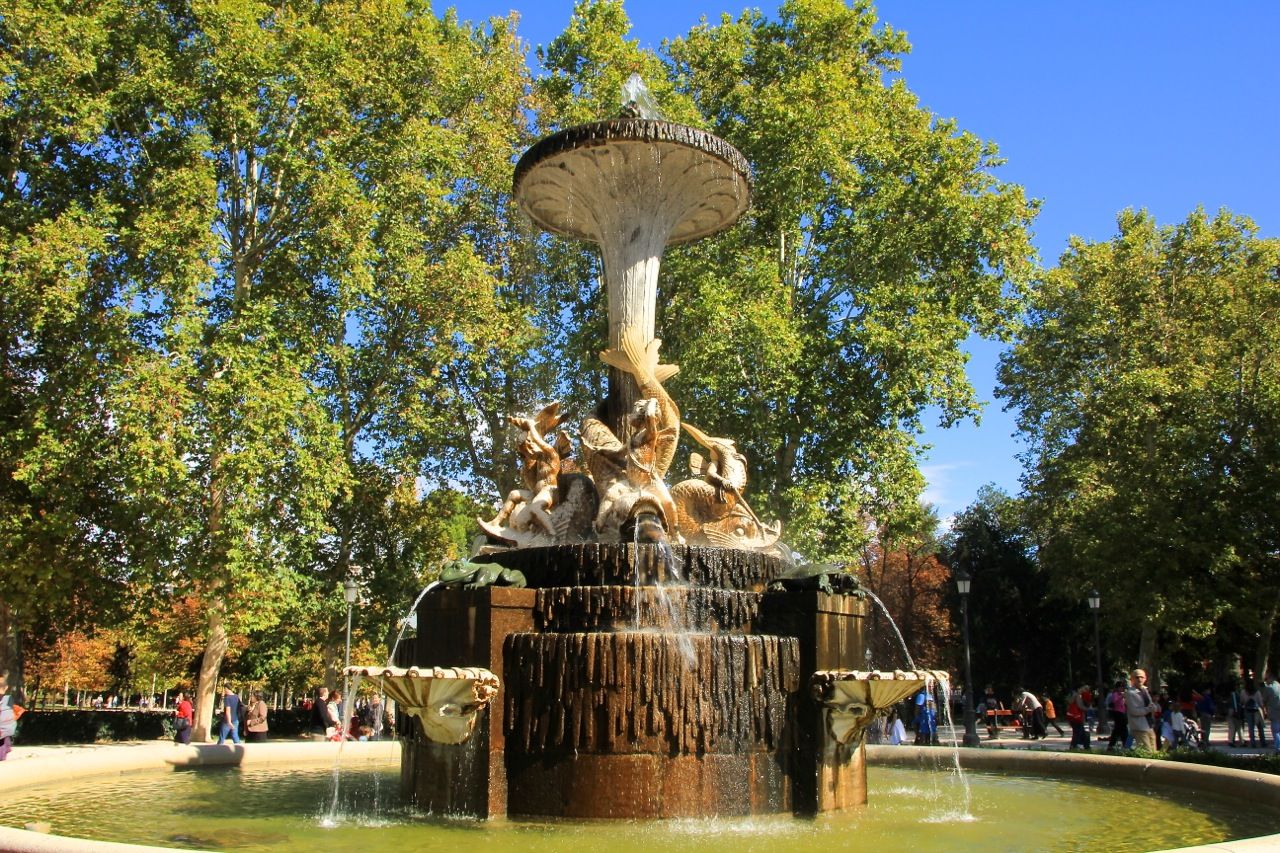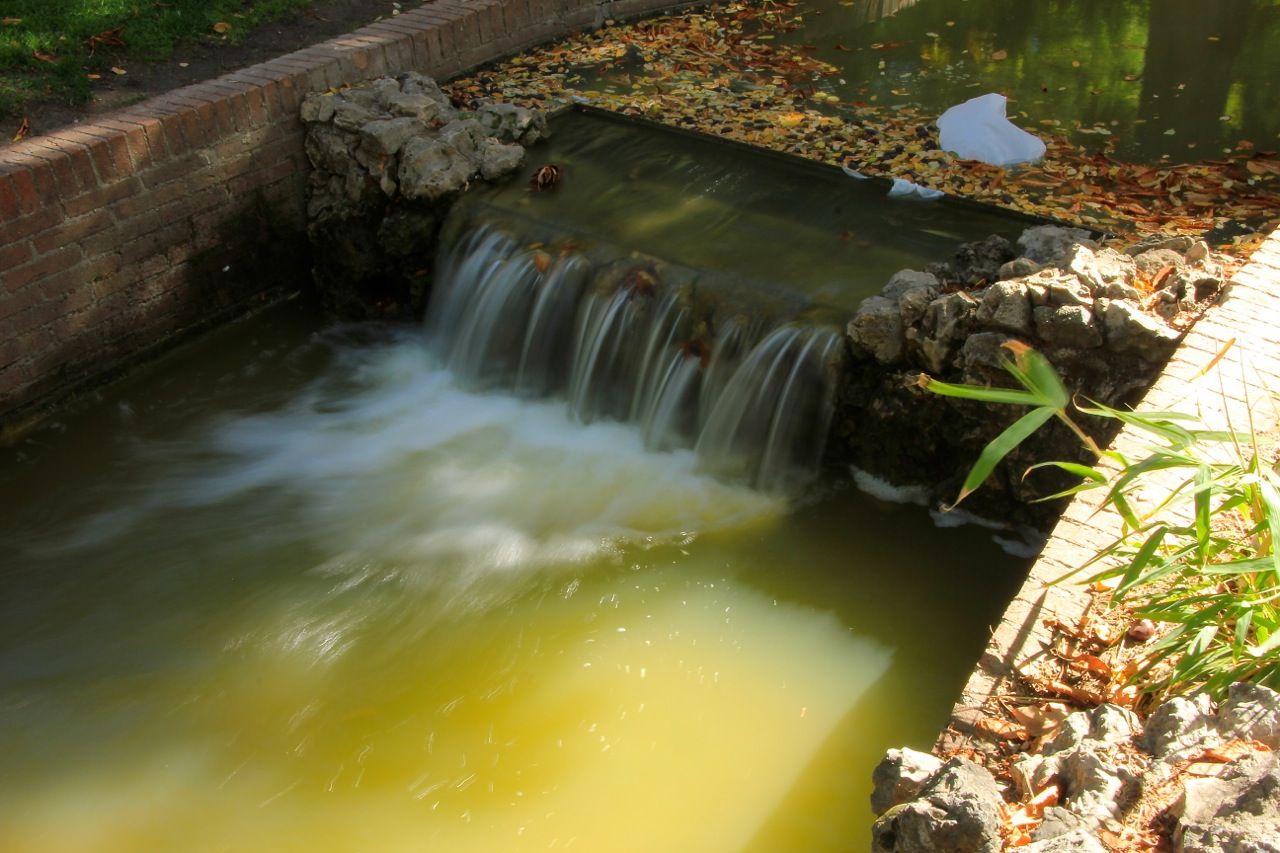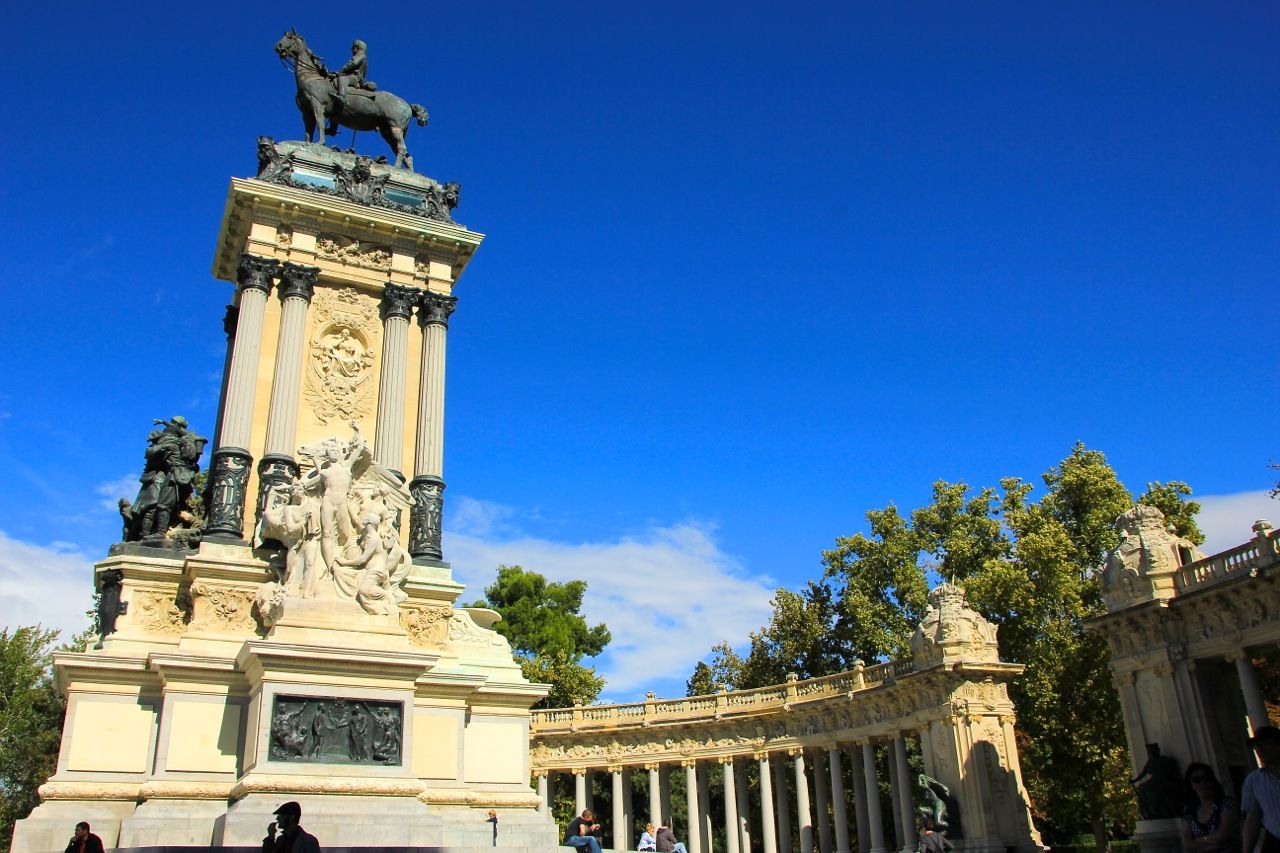 Monument to Alfonso XII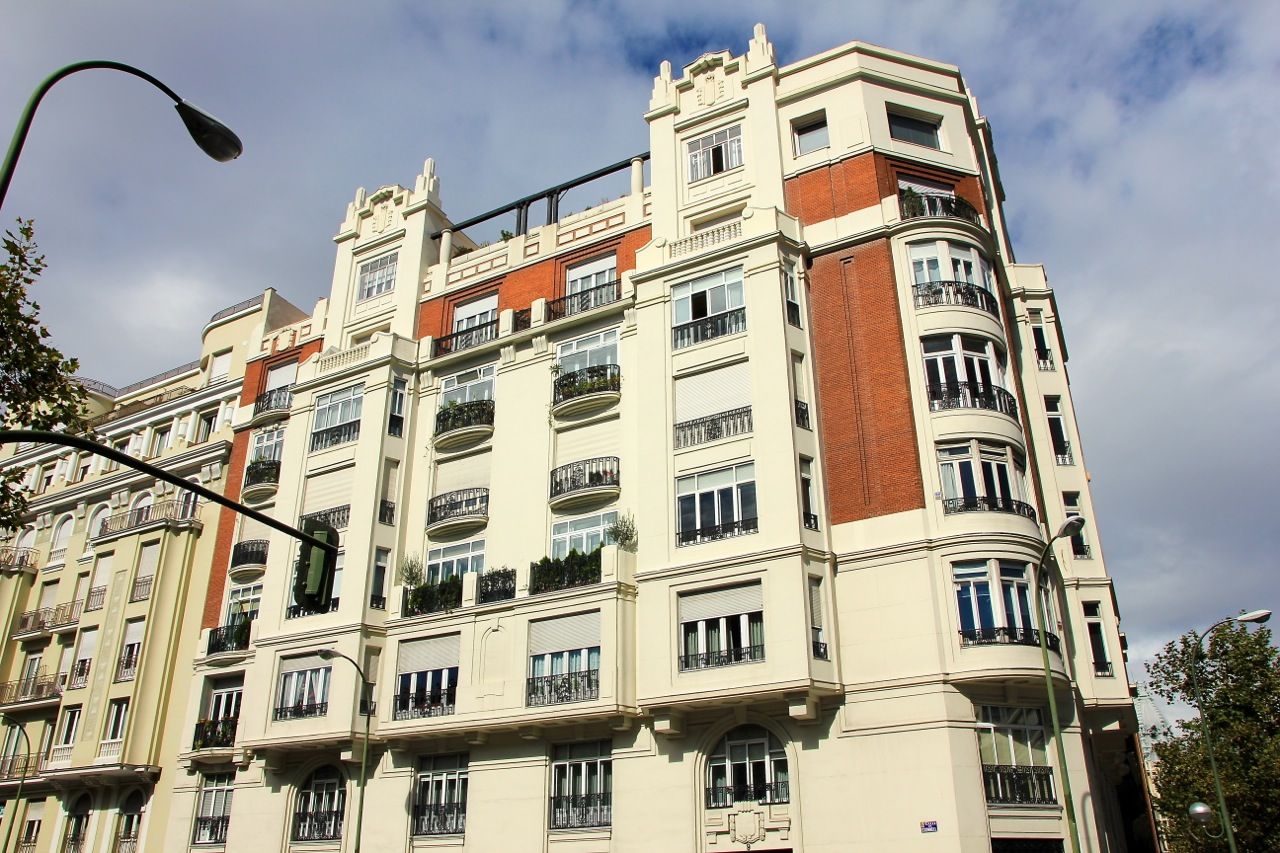 At around 13:30 local I made my way back to the airport.

Columbia Metro station
IB Check in area
I went about my usual trick of acquiring a souvenir boarding pass. I went up to the check in area indicated by the displays, only to be turned away and told to 'go round there'. I 'went round there' and all I could see we're self serve check in machines. Hmmm better than nothing I guess. Except this proved to be a problem too.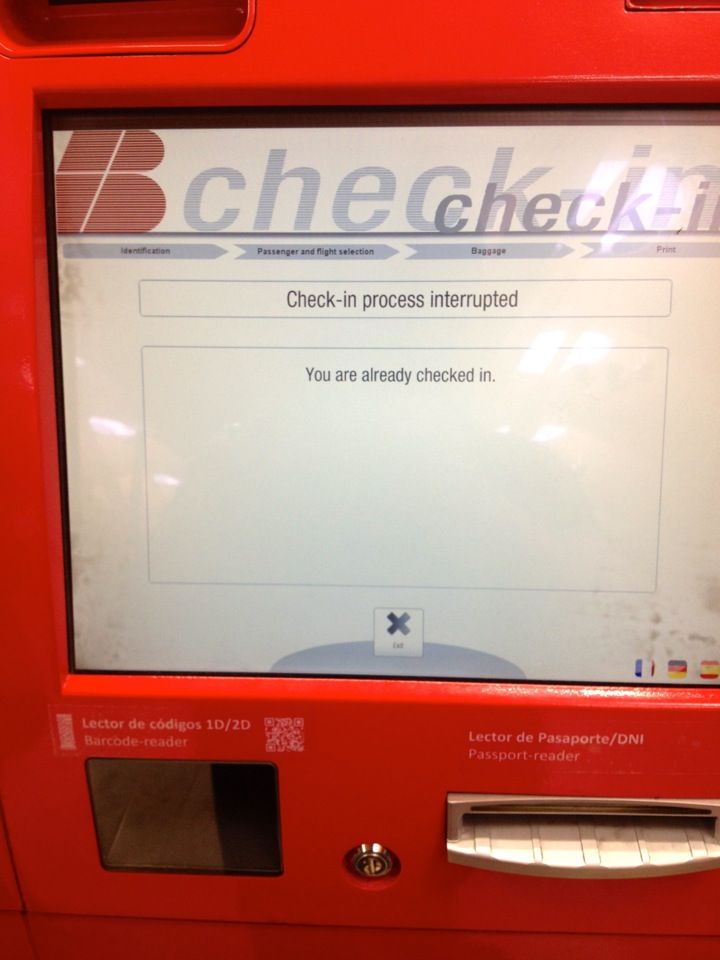 I then went to see customer services. Again, this was a no go as they were 'ticket sales only'. For my final attempt, I went to the bag drop area where there was more confusion. I clearly stated that I wasn't checking in any bags, all I needed was my boarding pass, to which the check in agent asked to see my boarding pass. When we were finally on the same wavelength, I asked if the flight was still due to be operated by the A340, however this request was totally ignored. Oh well. My patience in attempting to get a boarding pass was finally rewarded however.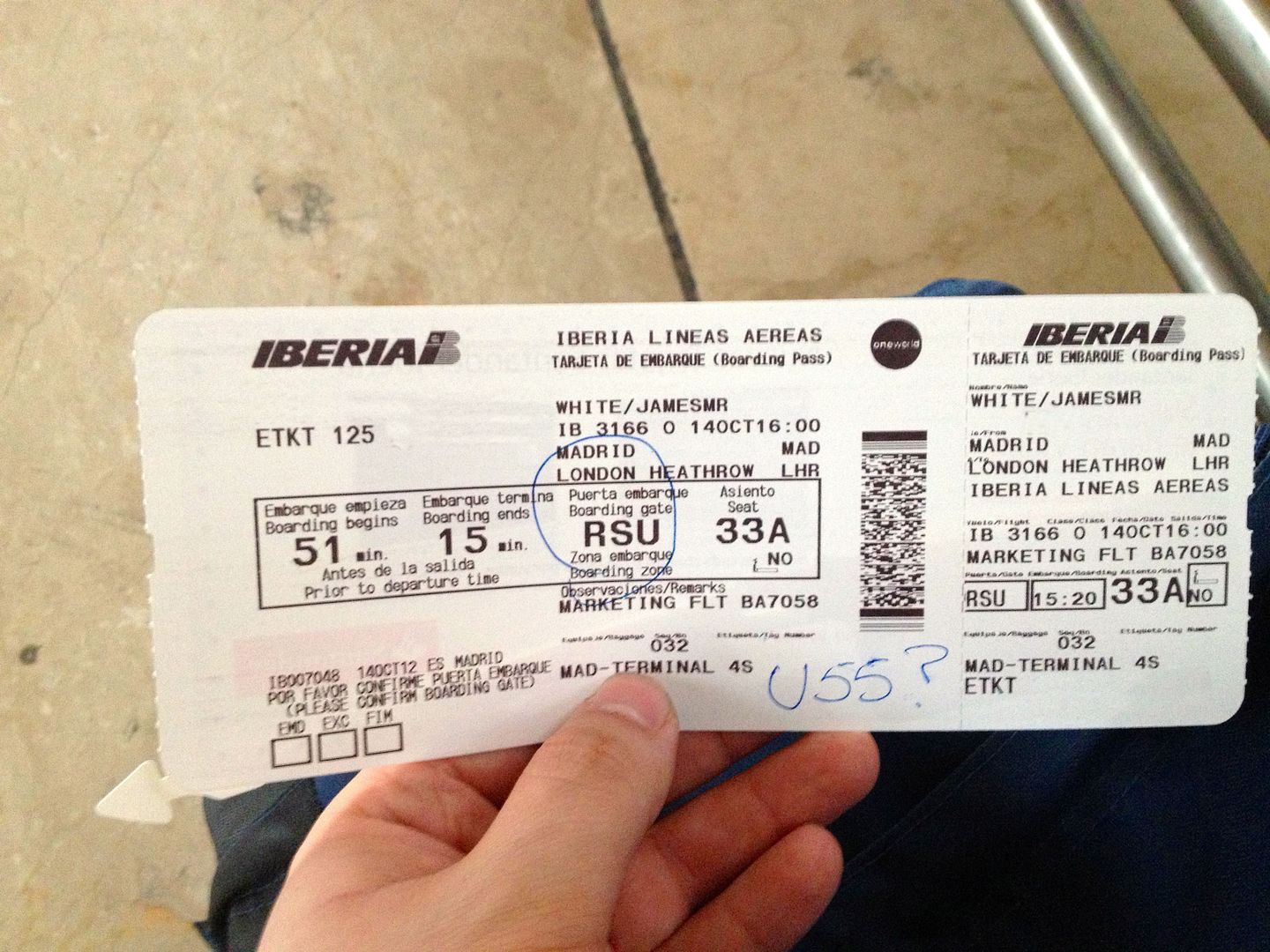 The next hour or so was spent looking round the very impressive terminal.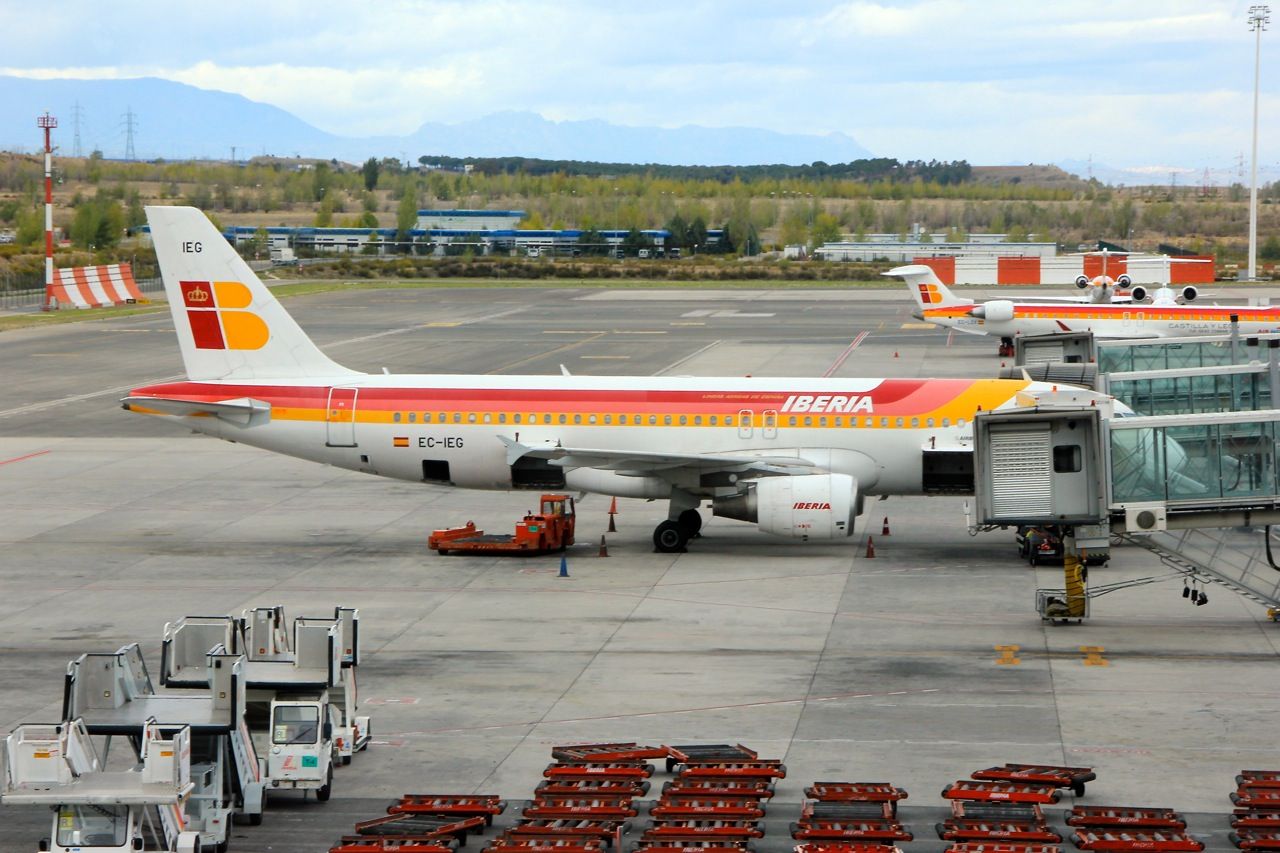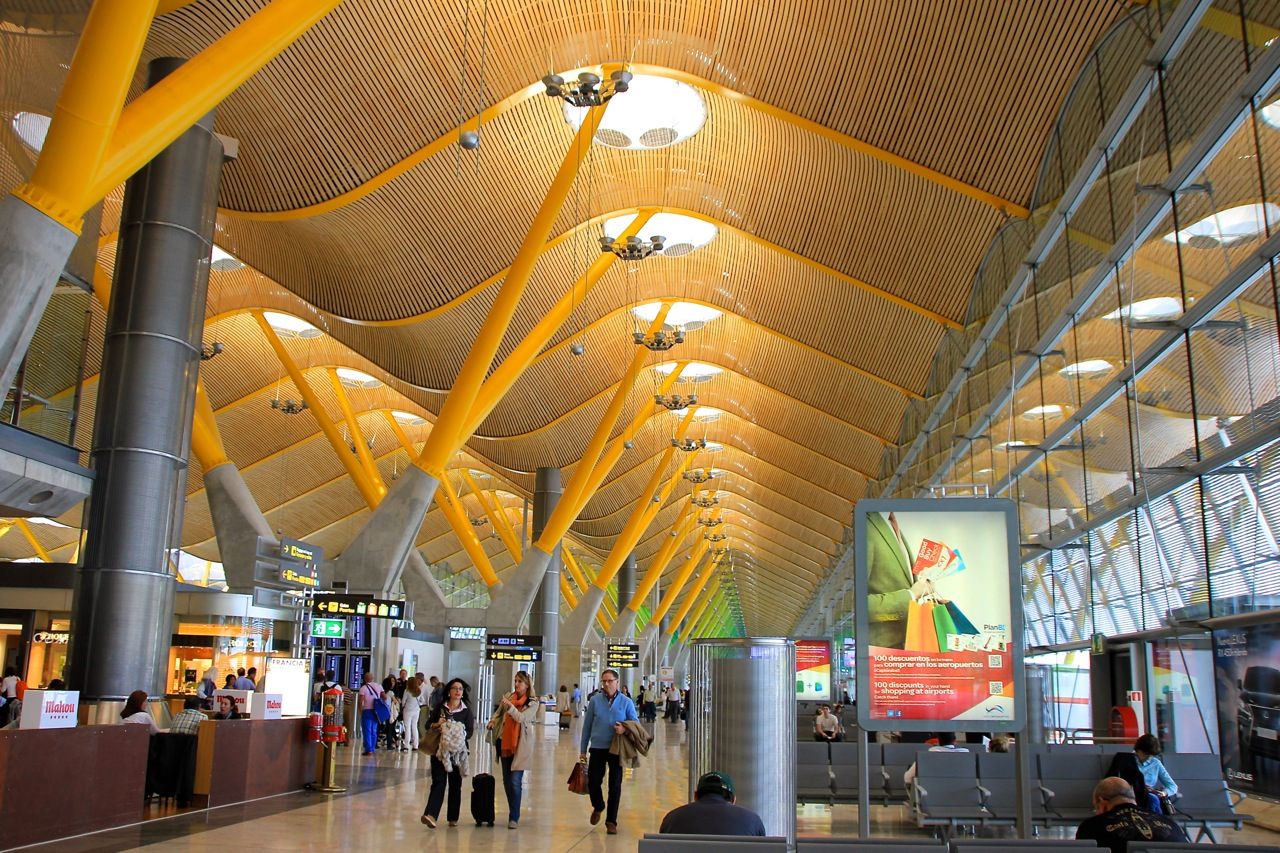 Then around 70 minutes before departure I made my way over to the RSU gates via the shuttle.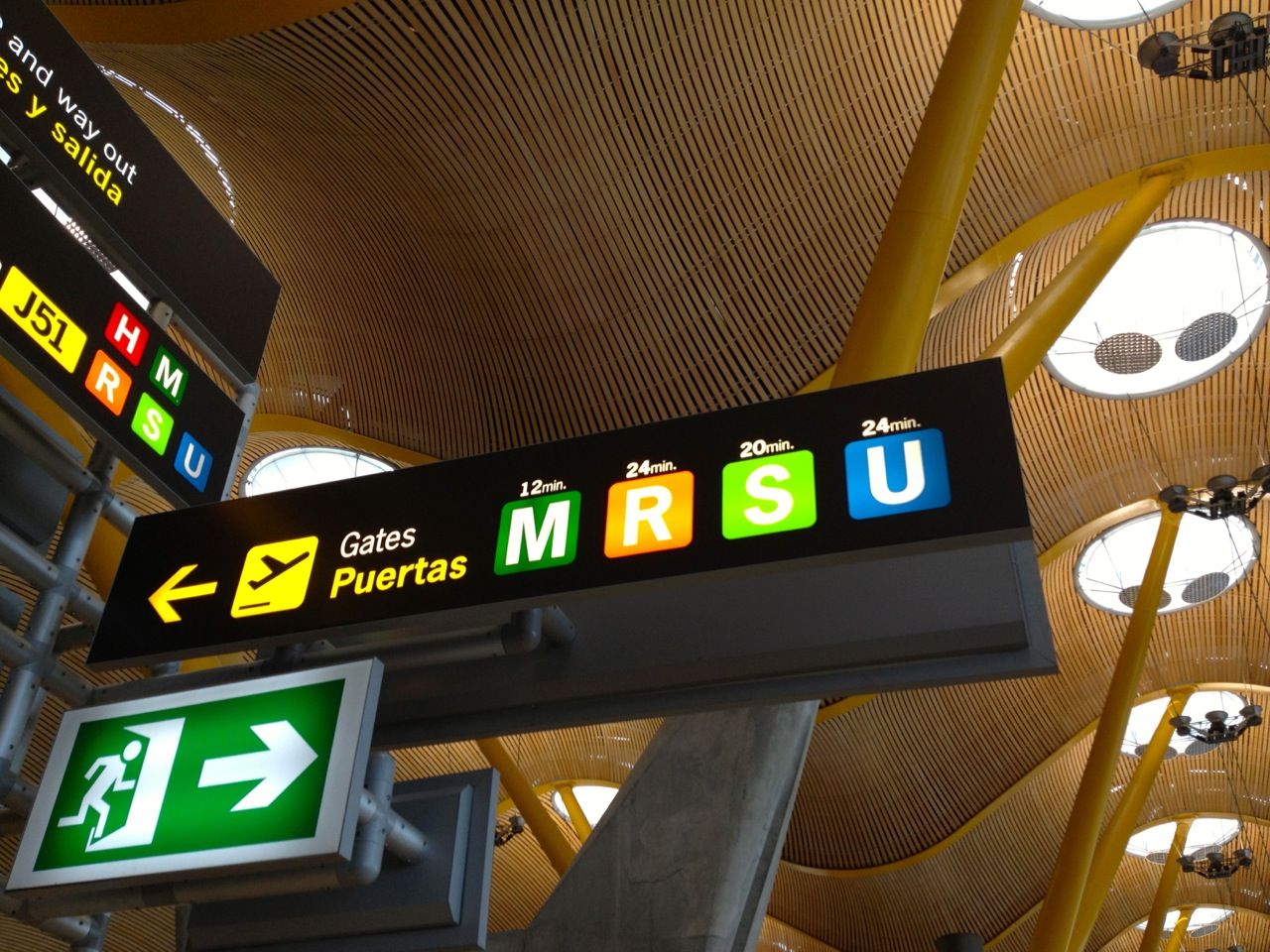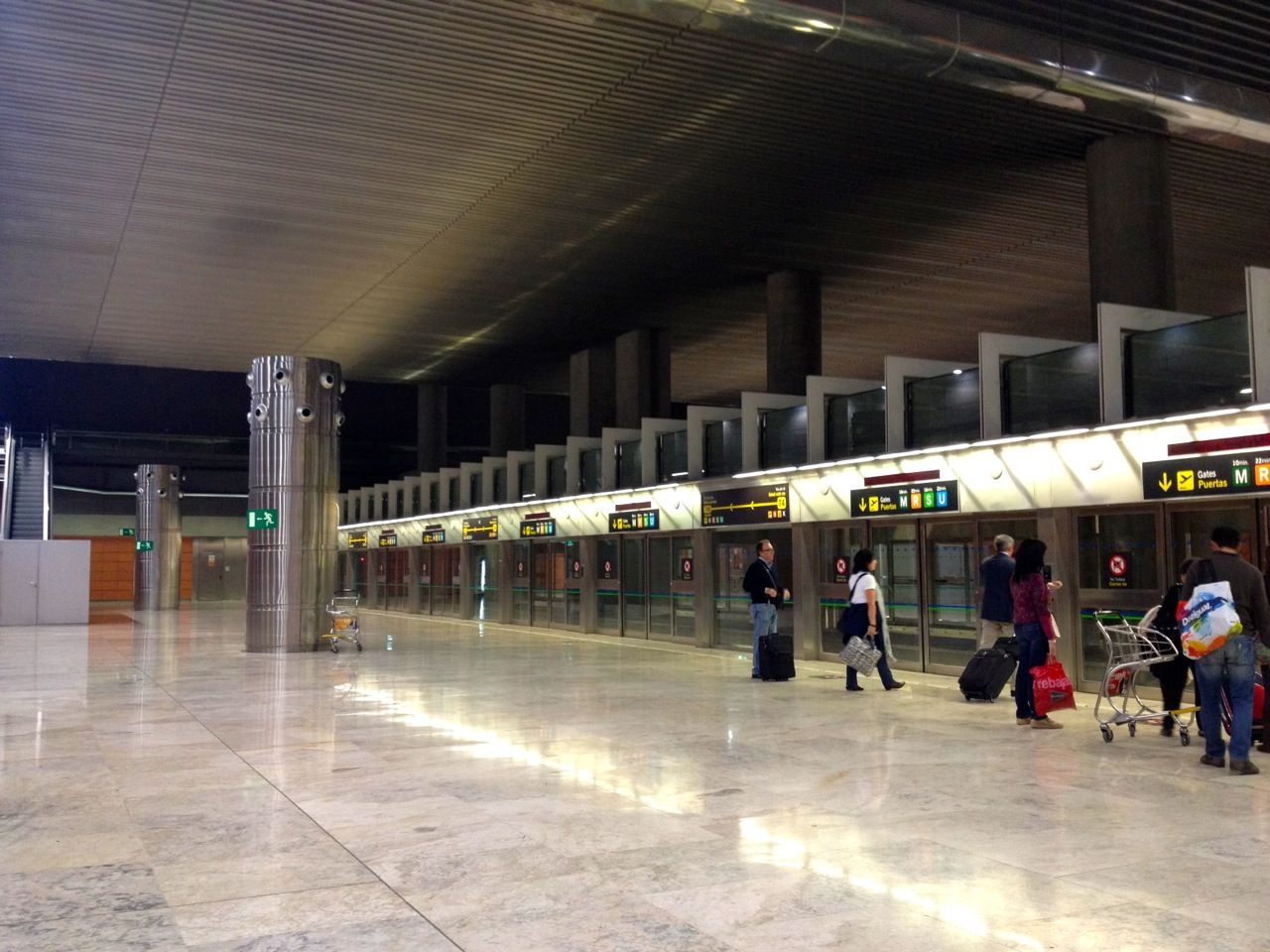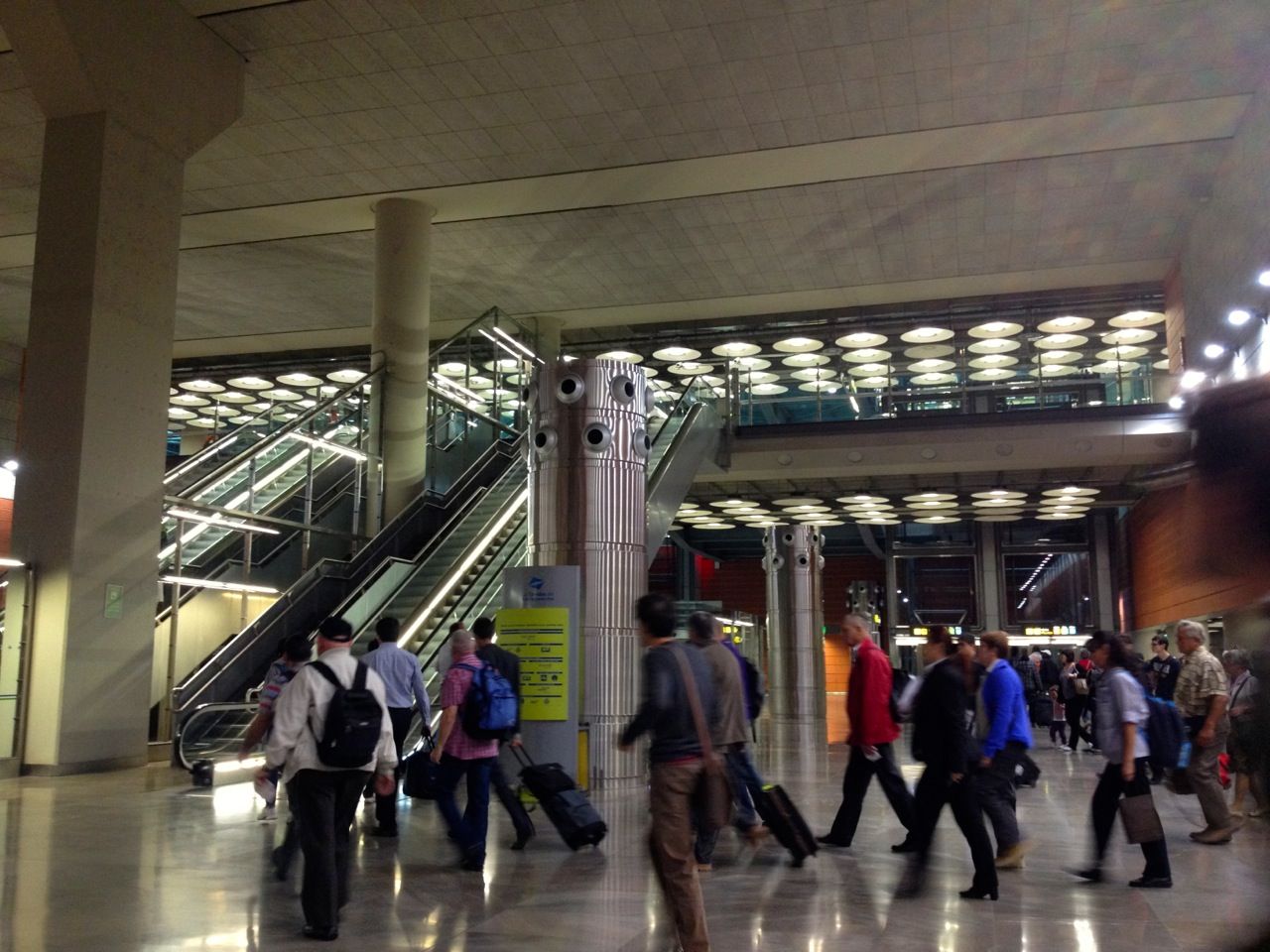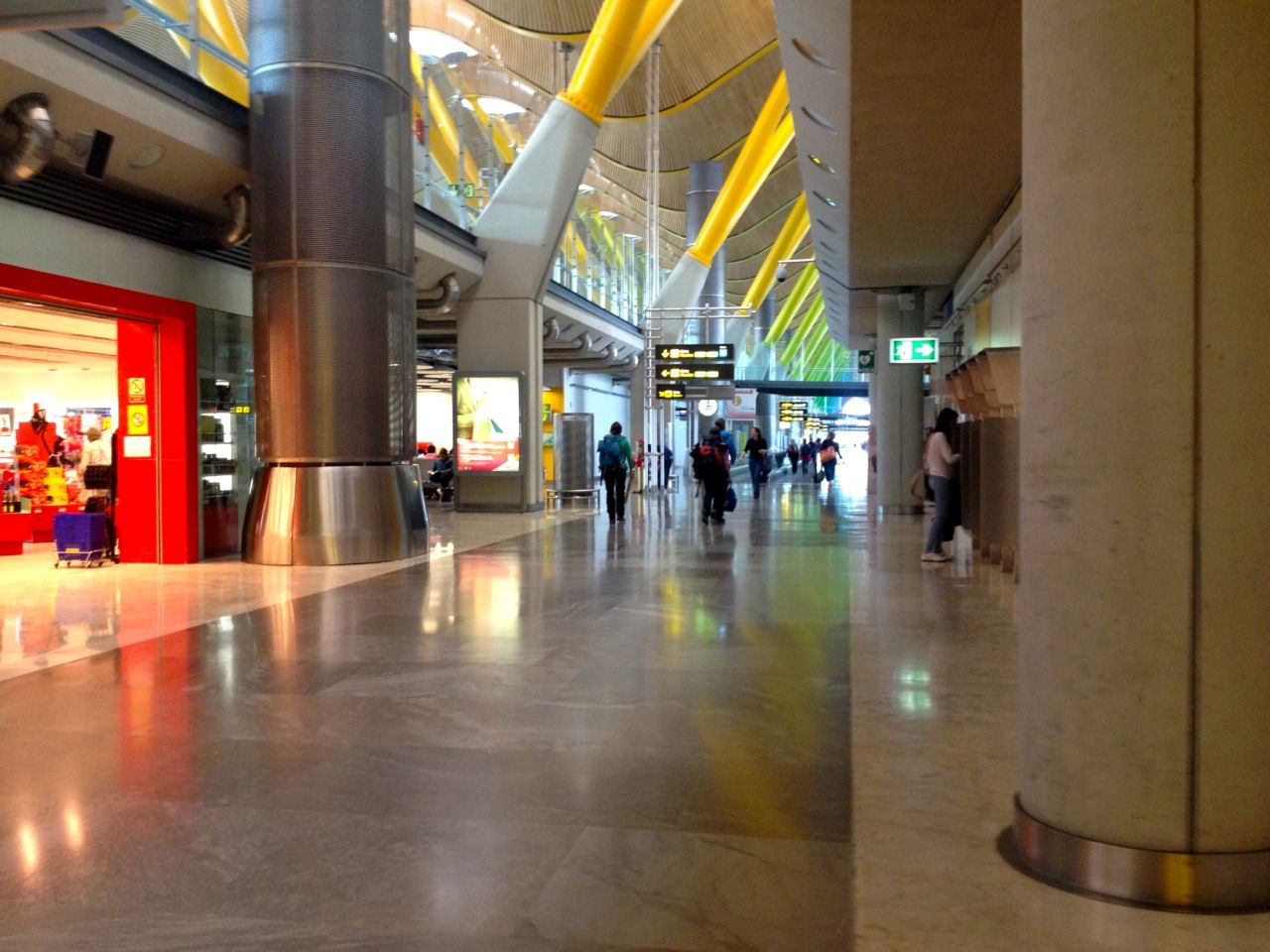 Not sure I've seen a LAN in the flesh before?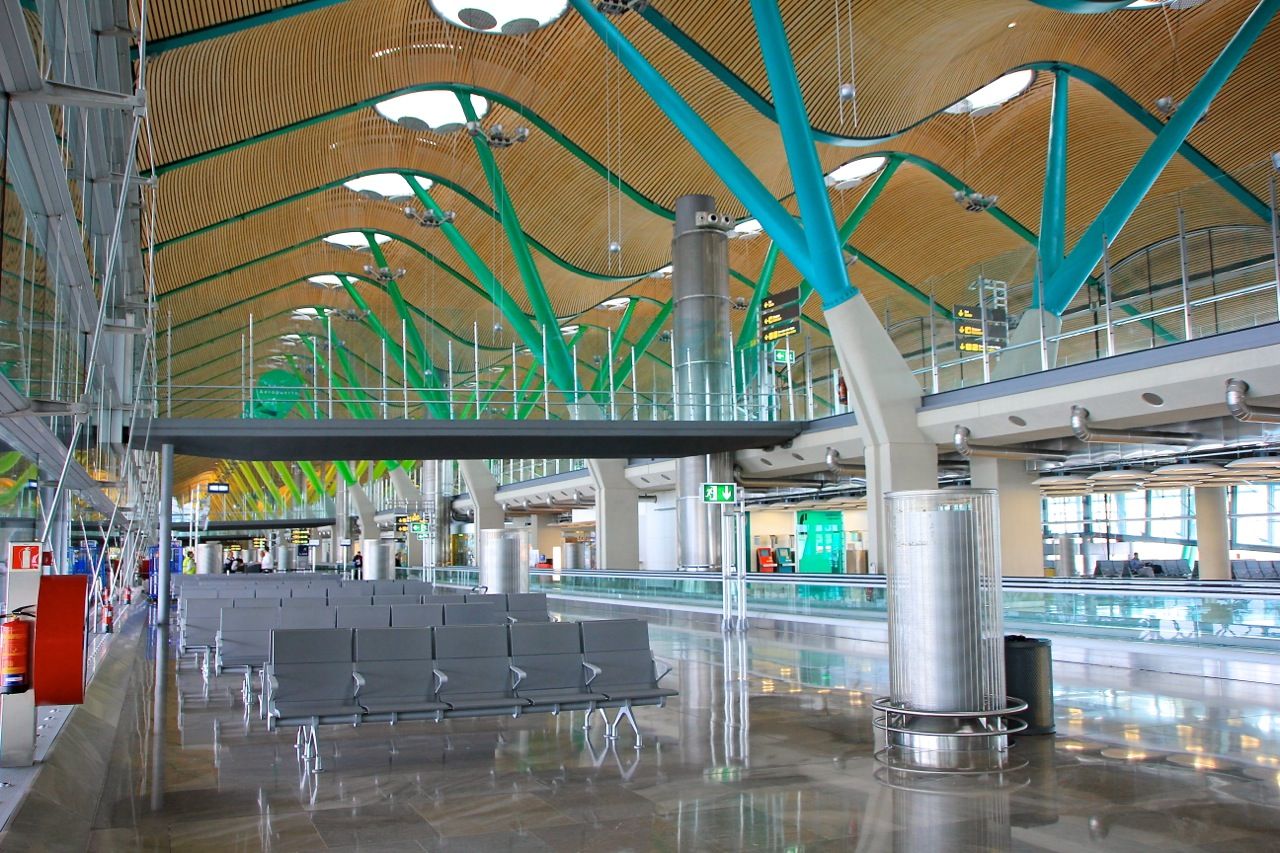 T4S Overview
Well it's still scheduled to be an A346, but as I found out yesterday anything can change that!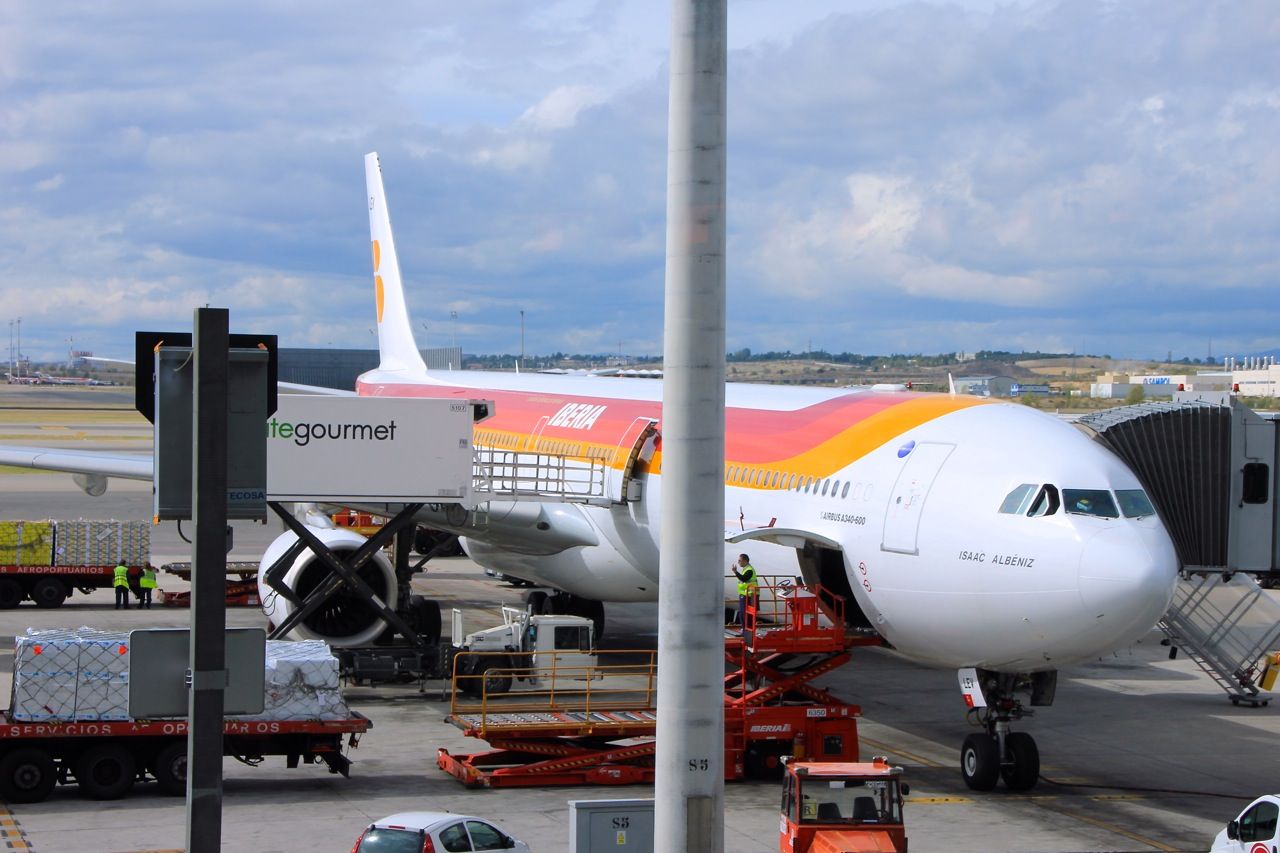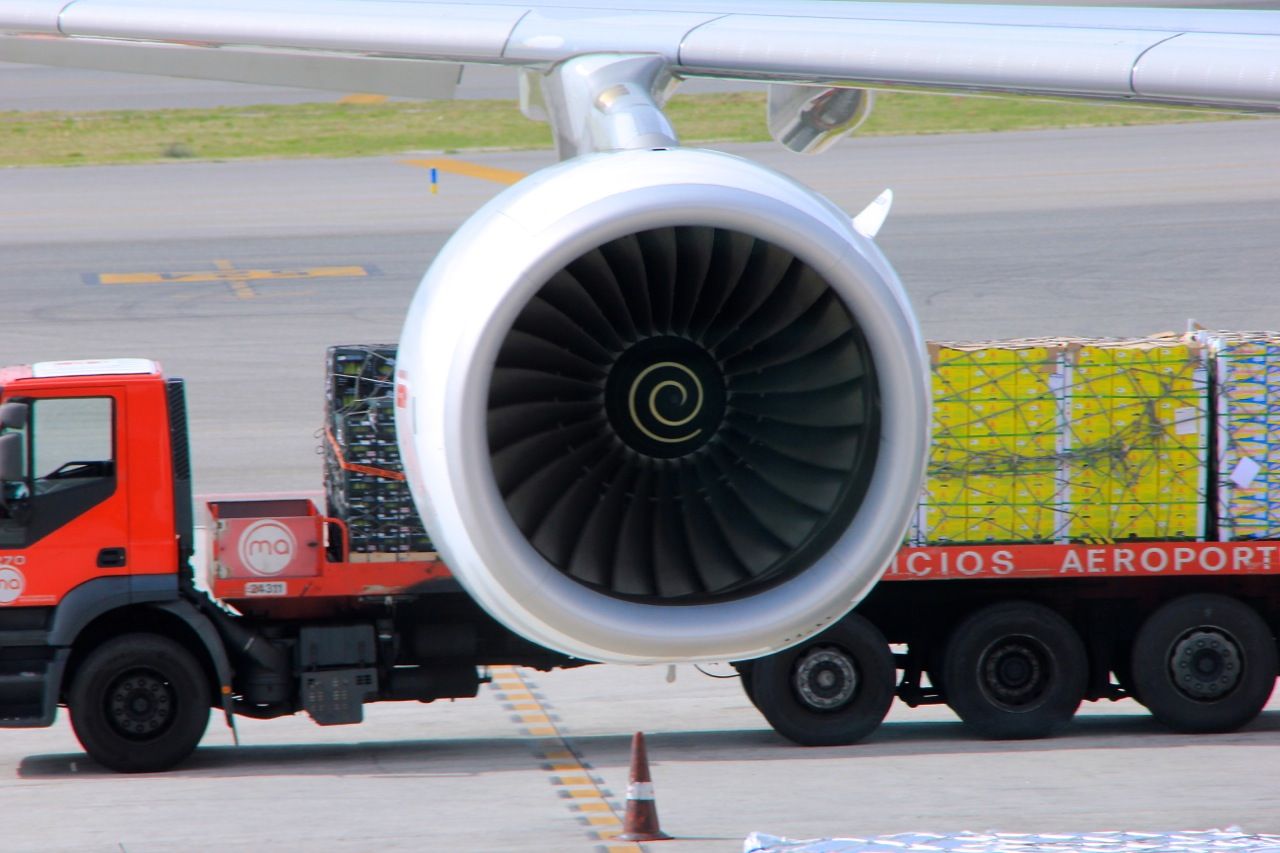 Slowly the gate area started filling up, before boarding was announced at 15:25


BA7058/IB3166
MAD-LHR
14th October 2012
A340-642/EC-LEV Isaac Albeniz
Seat: 33A Economy
Scheduled: 16:00/17:20
Off Stand: 16:04
On Stand: 17:30
Boarding was the usual disorderly chaos. At least the ground crew seemed to be enforcing the boarding by row number only rule, however people just crowded the gate area stopping people from getting through.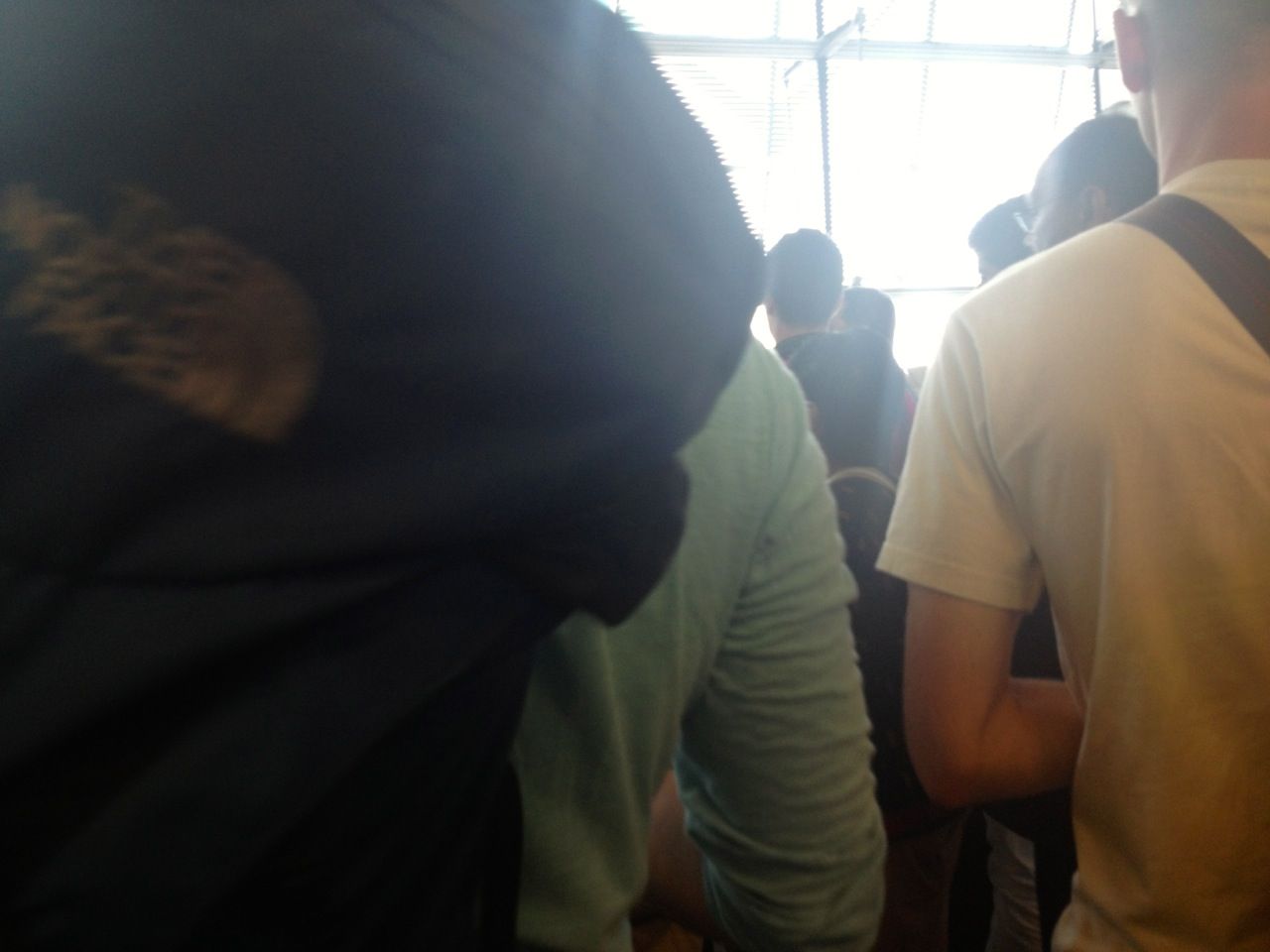 A bit of pushing and shoving later and I was on to the air bridge. There was a bit of a queue on the air bridge although I didn't see the reason for it.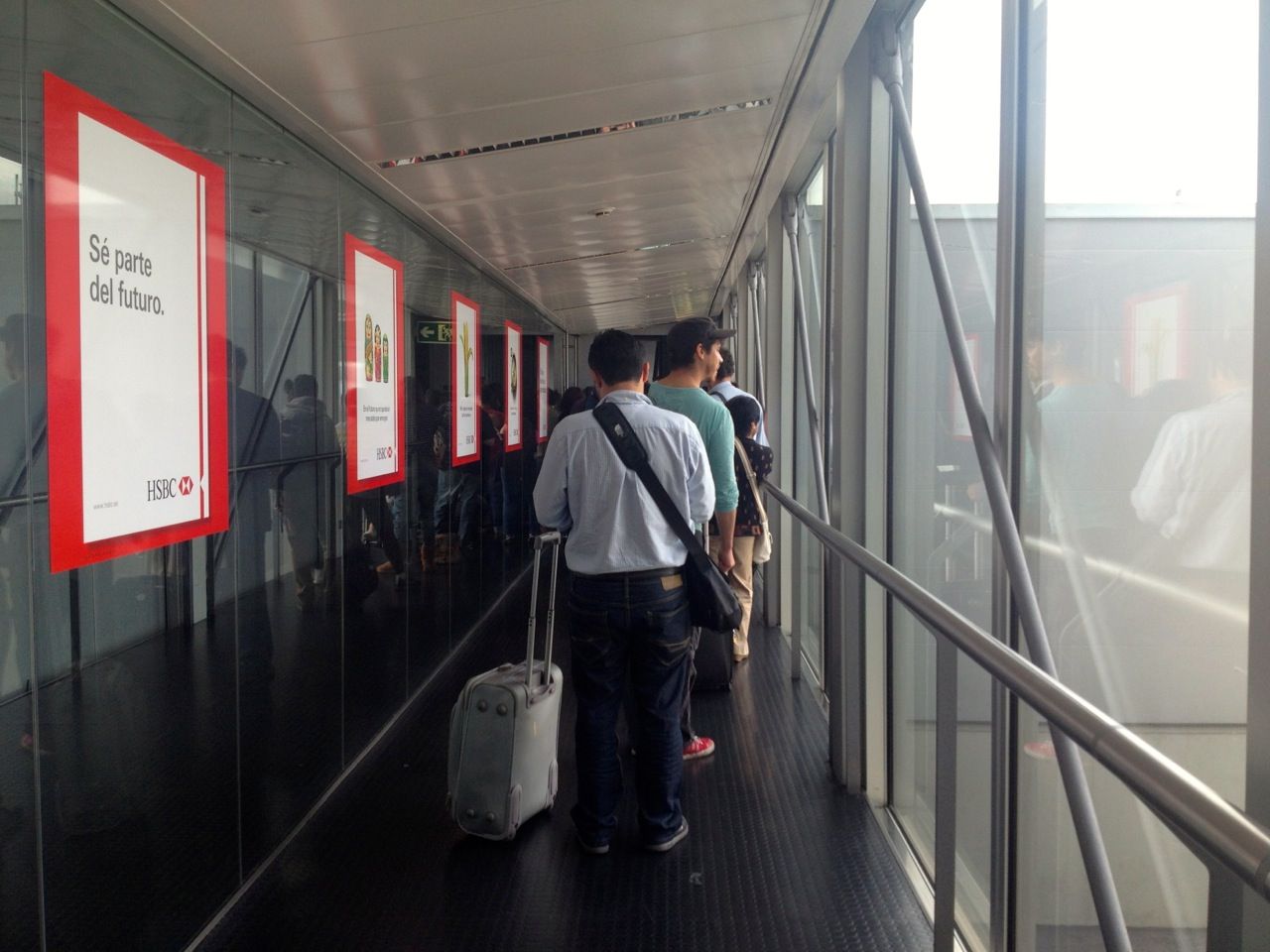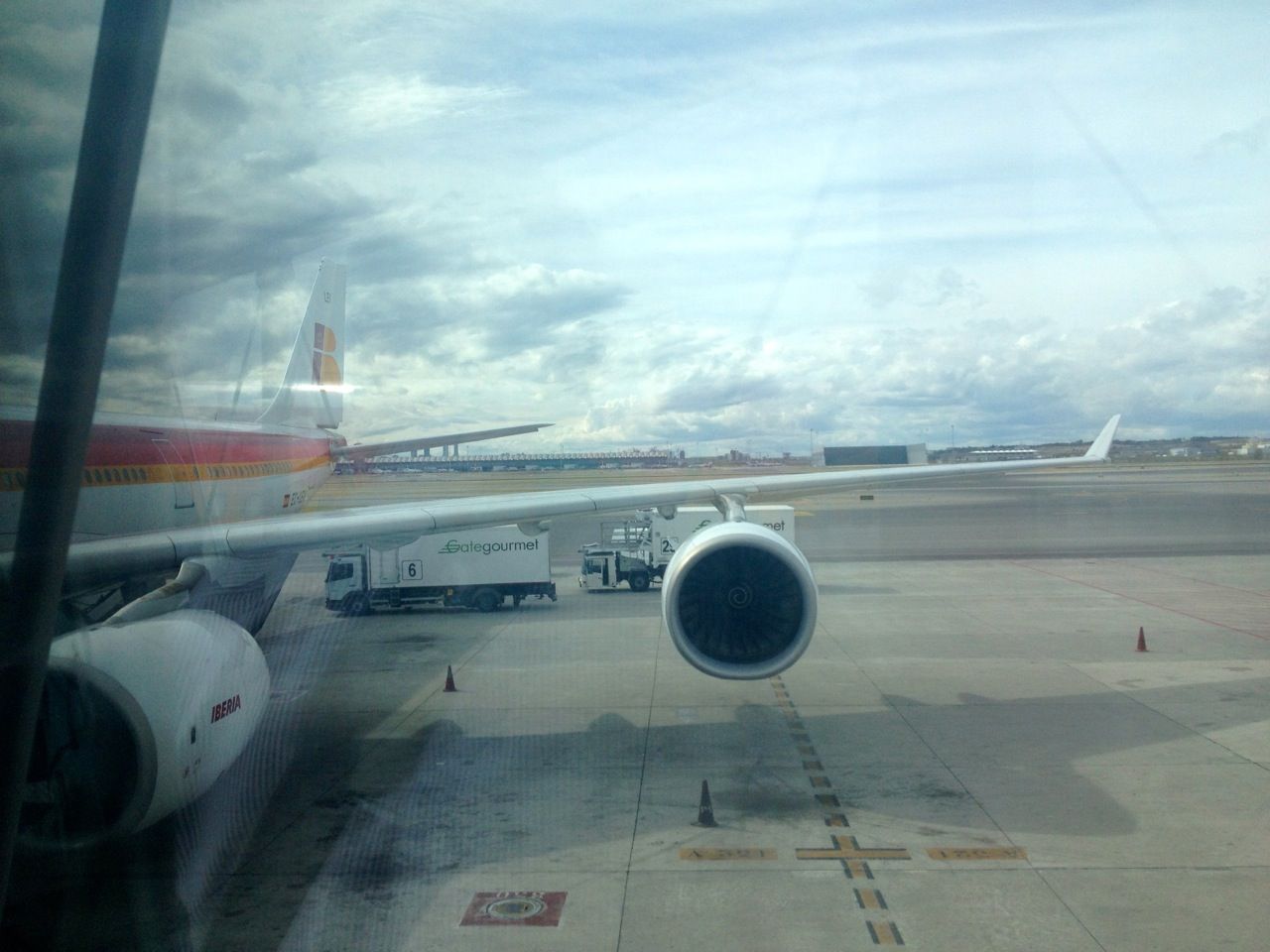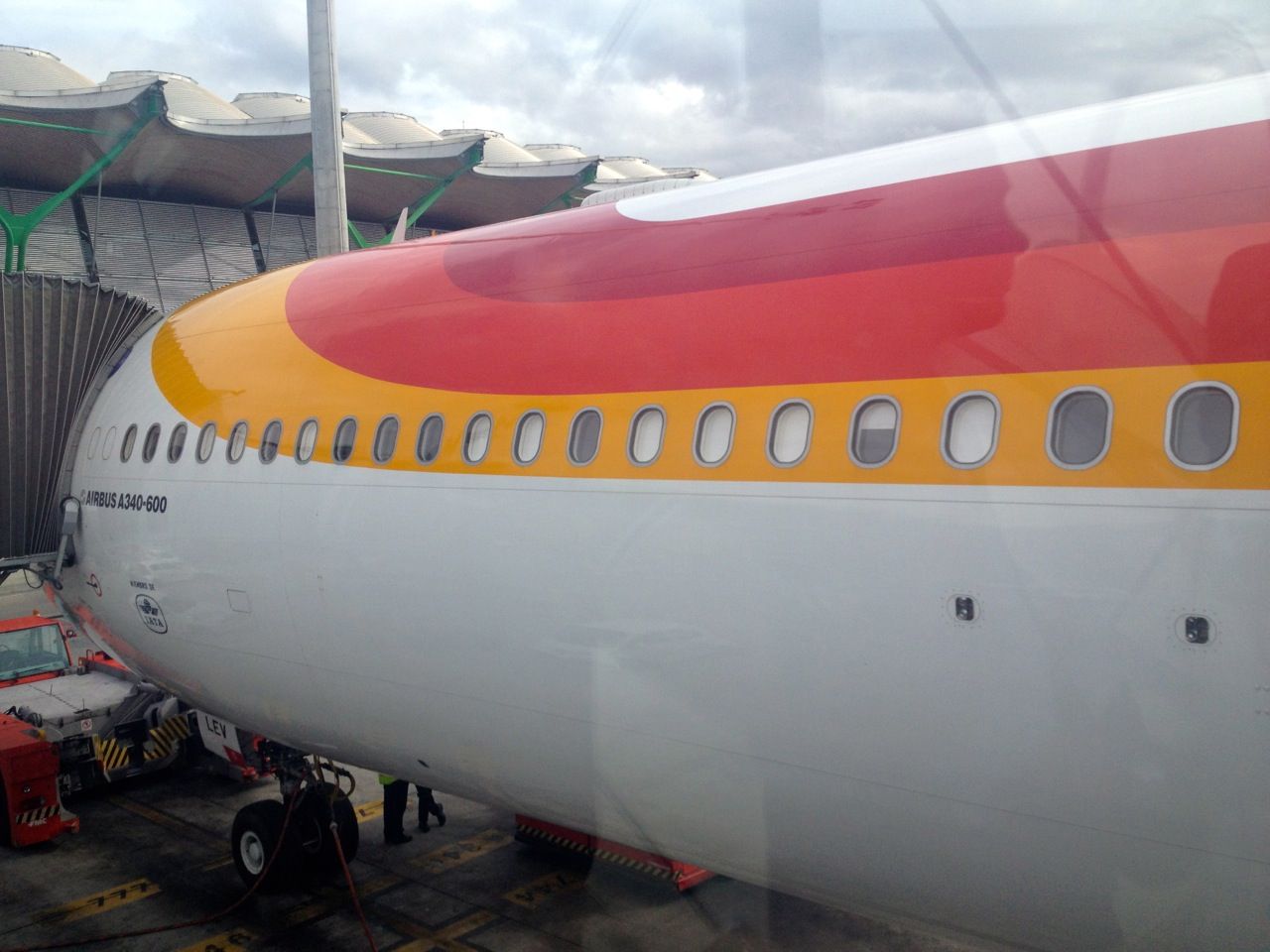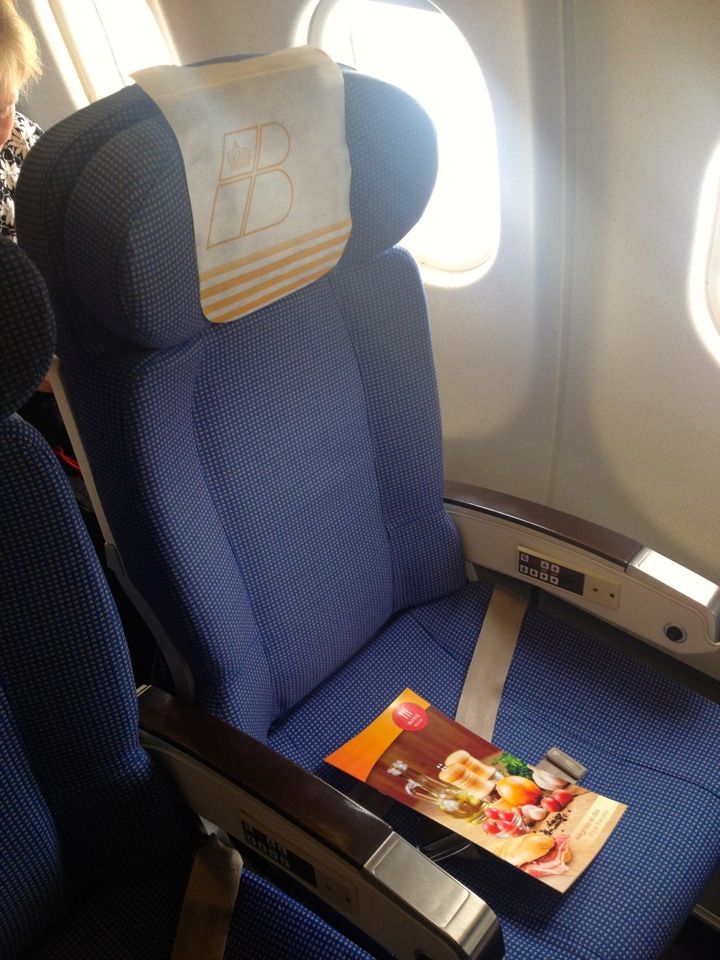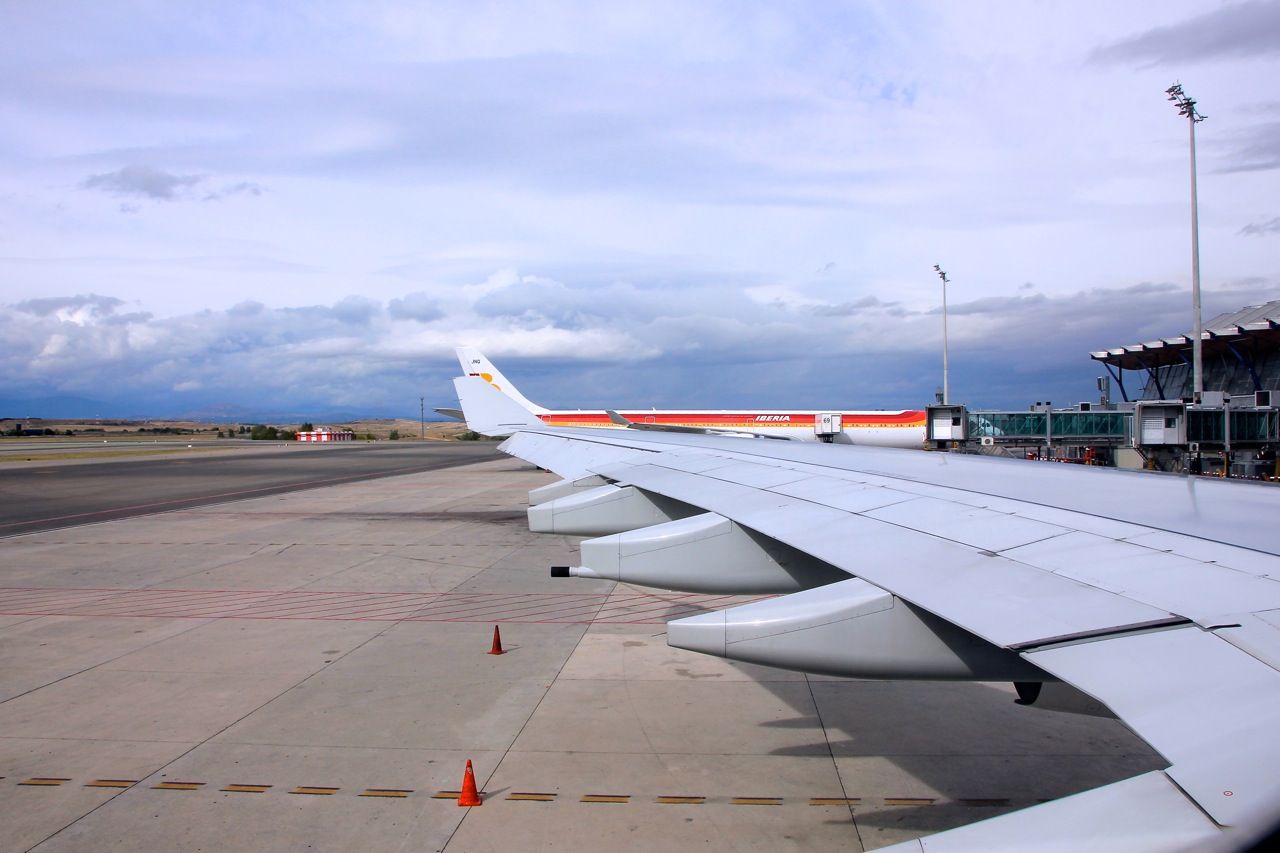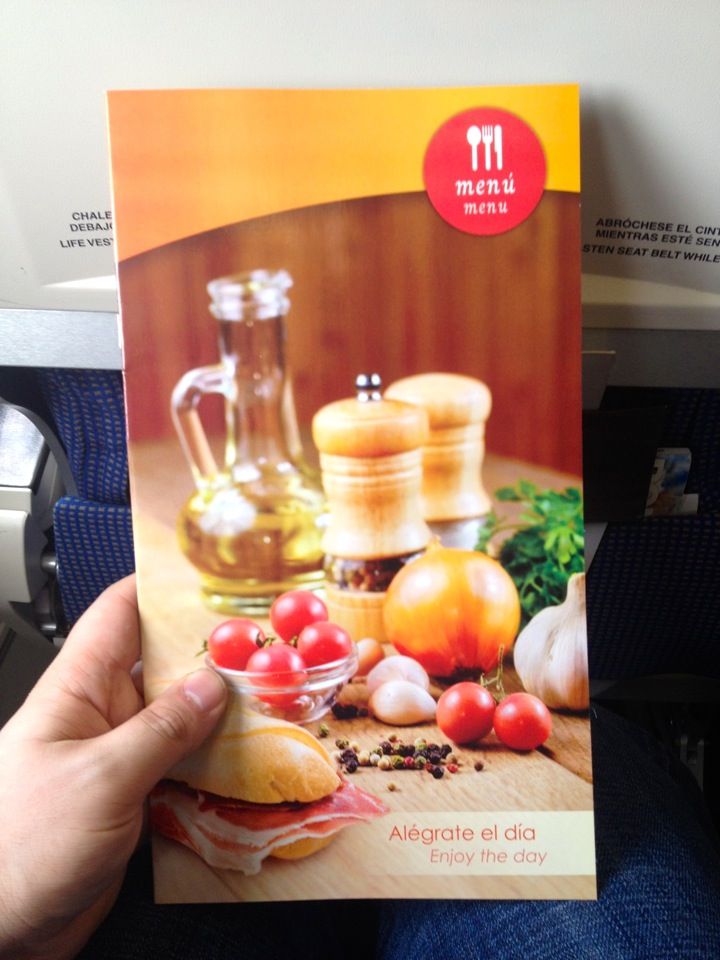 The legroom was about average.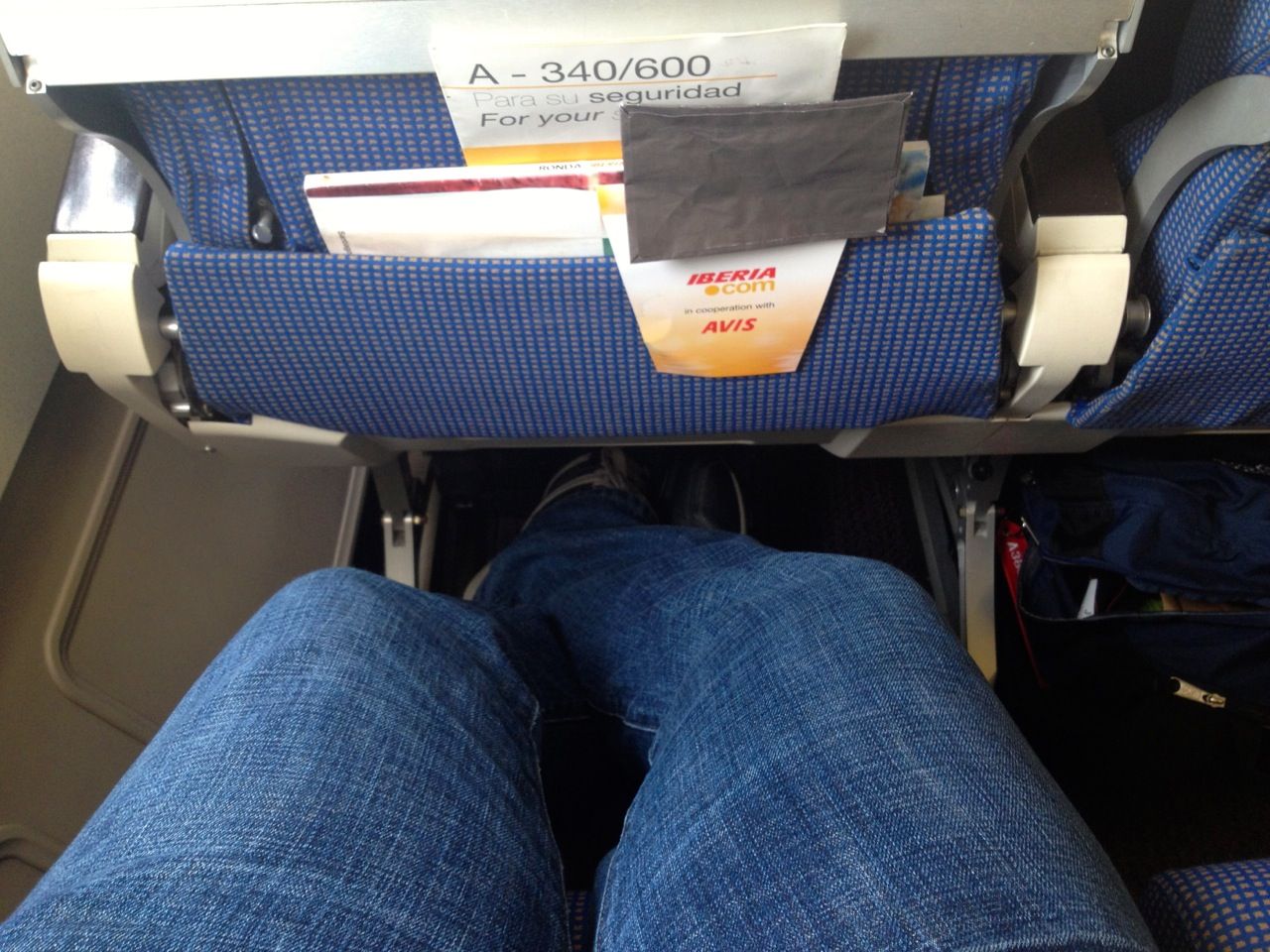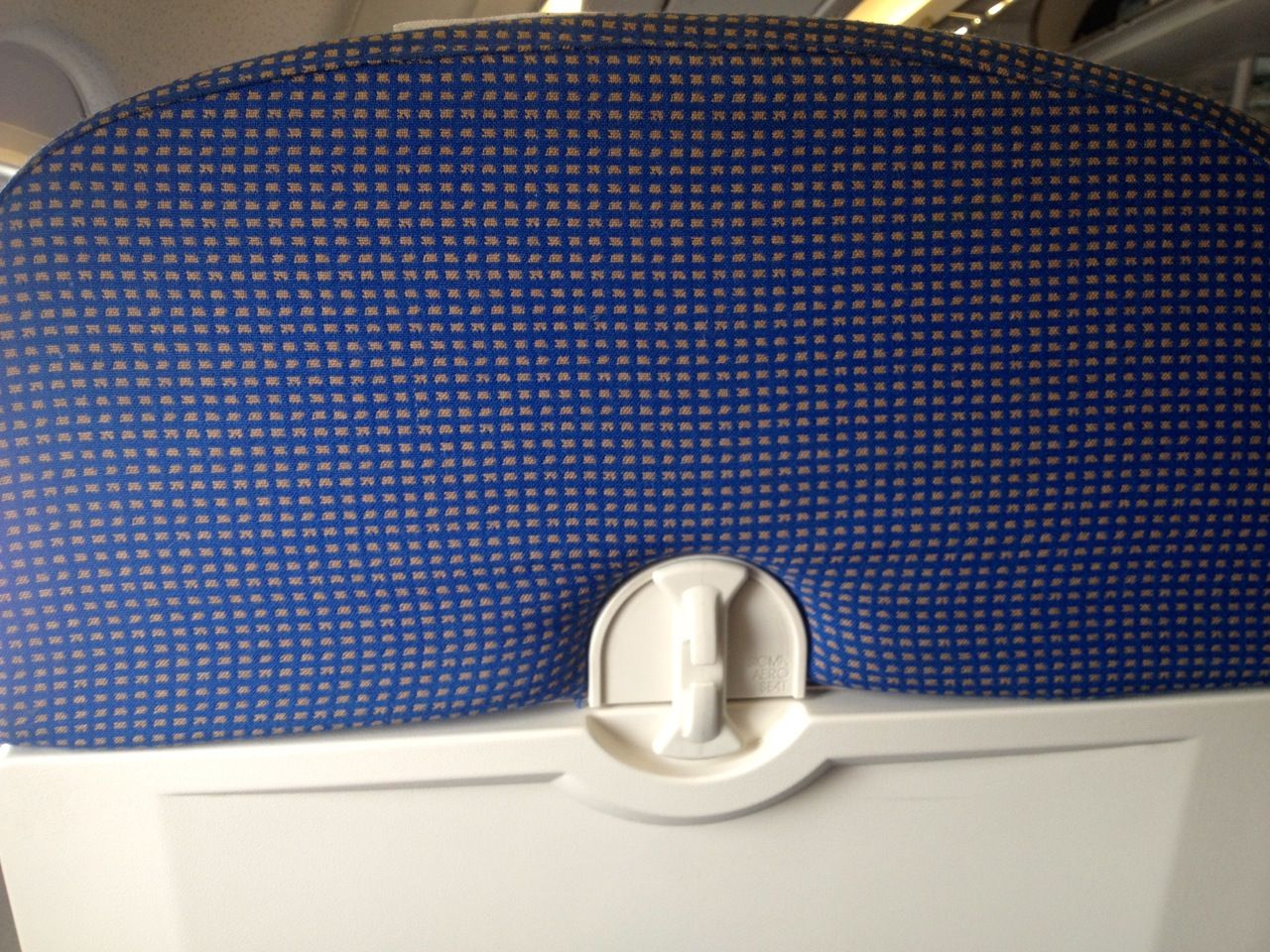 Hmm if I was going long haul on this one, I'd expect there to be something here…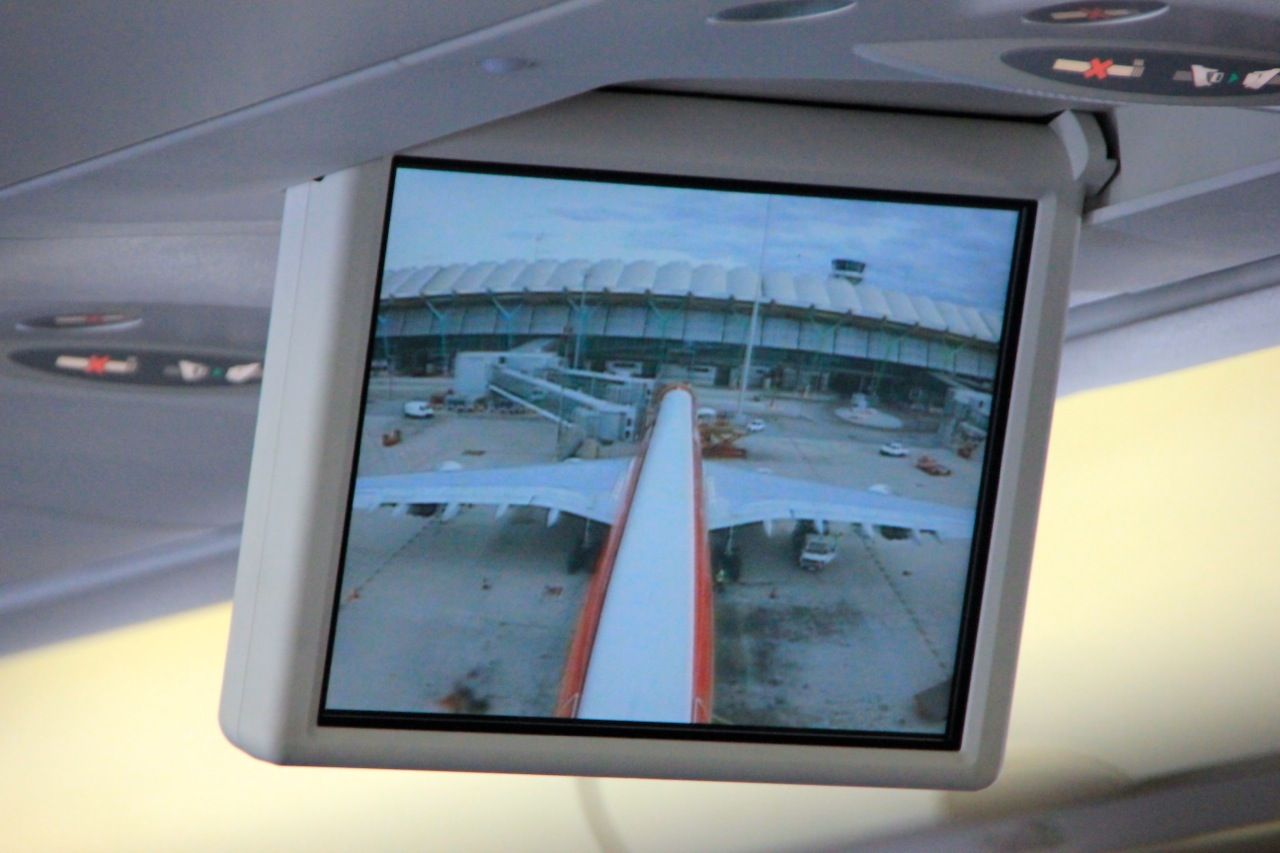 I'm pretty sure I was supposed to have a seatmate, but he looked around a bit confused, then sat across the aisle a row in front. Suited me and I wasn't about to help him out… Pushback was just past 16:00 local, and we made a pretty quick taxi out to 14L, however once we got there we had to wait for a while.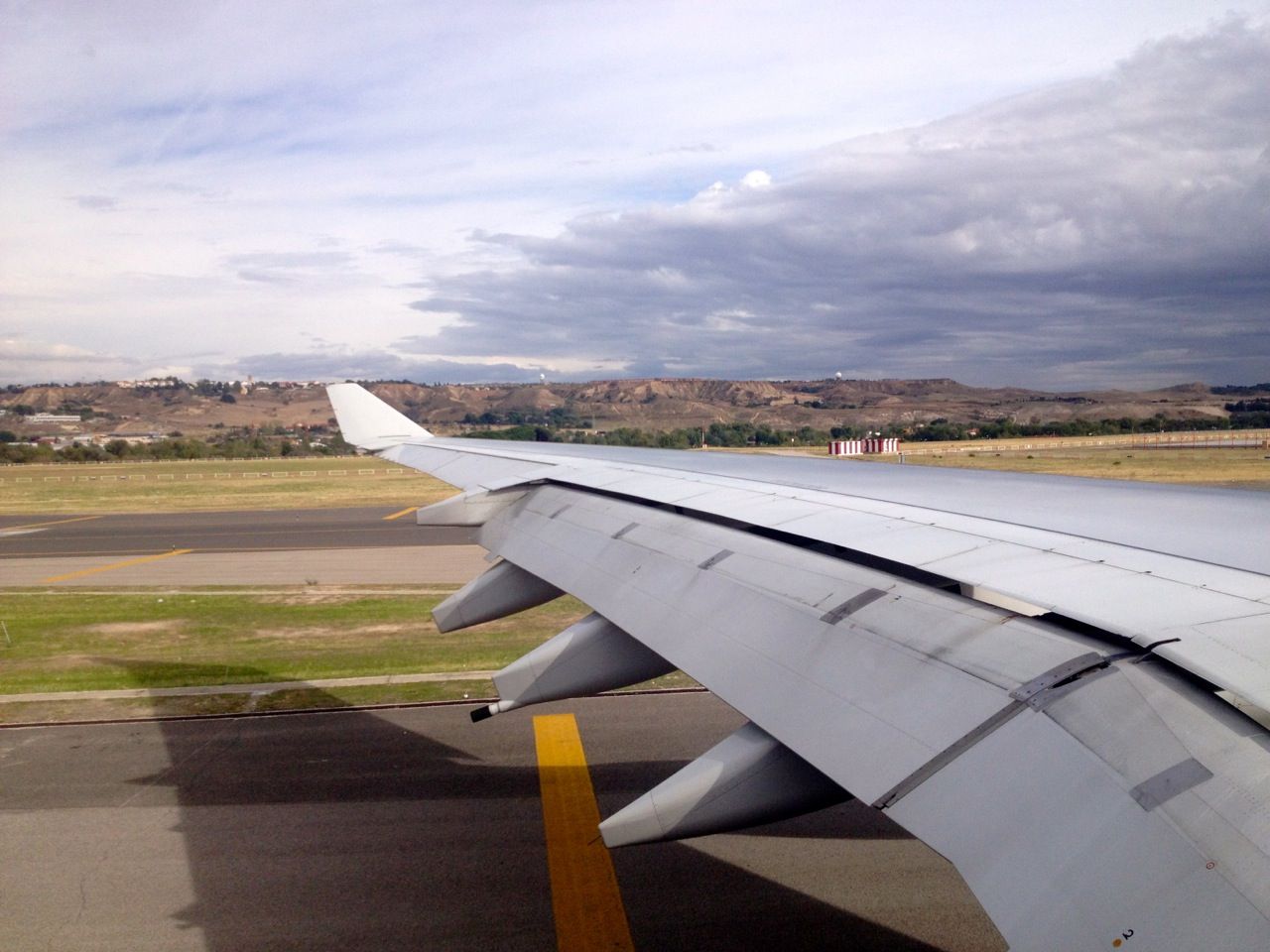 [youtube https://www.youtube.com/watch?v=NBJc03ZgzxE]
We took off at 16:25 into some quite cloudy skies. Once again there was no communication from the flight deck so no idea on how long the flight was due to take. The load was pretty reasonable for a big jet on a short route – around 70-80%.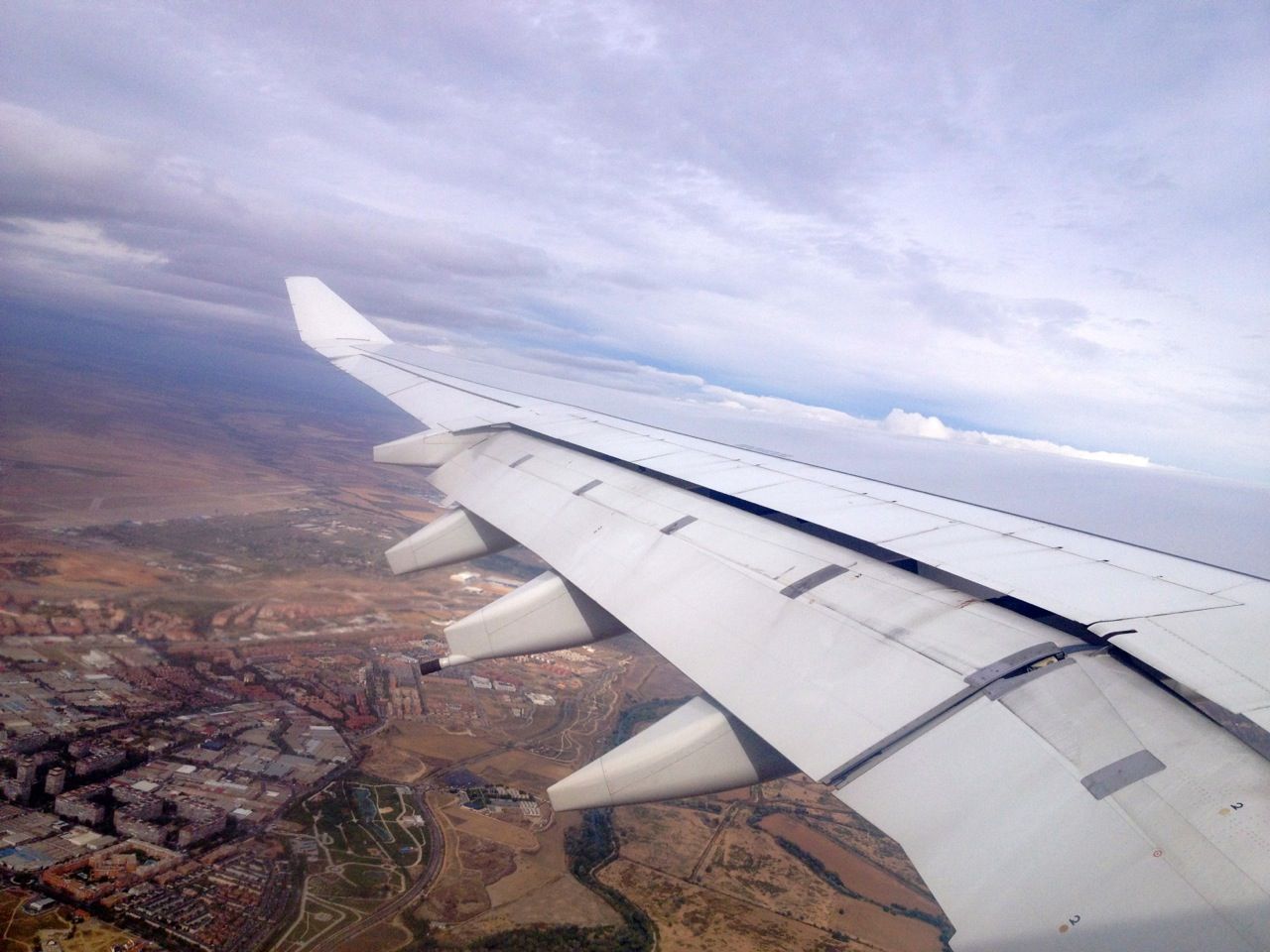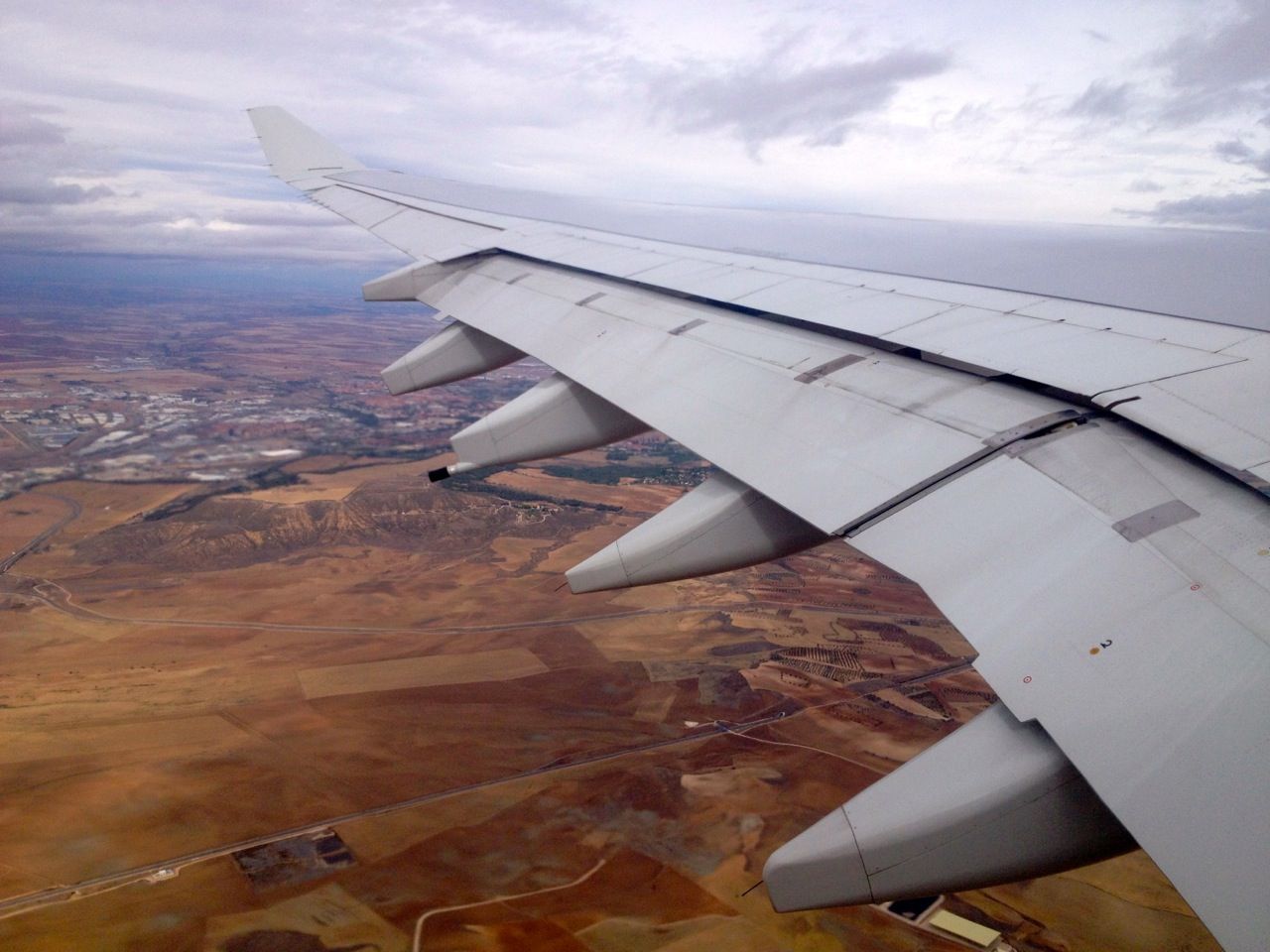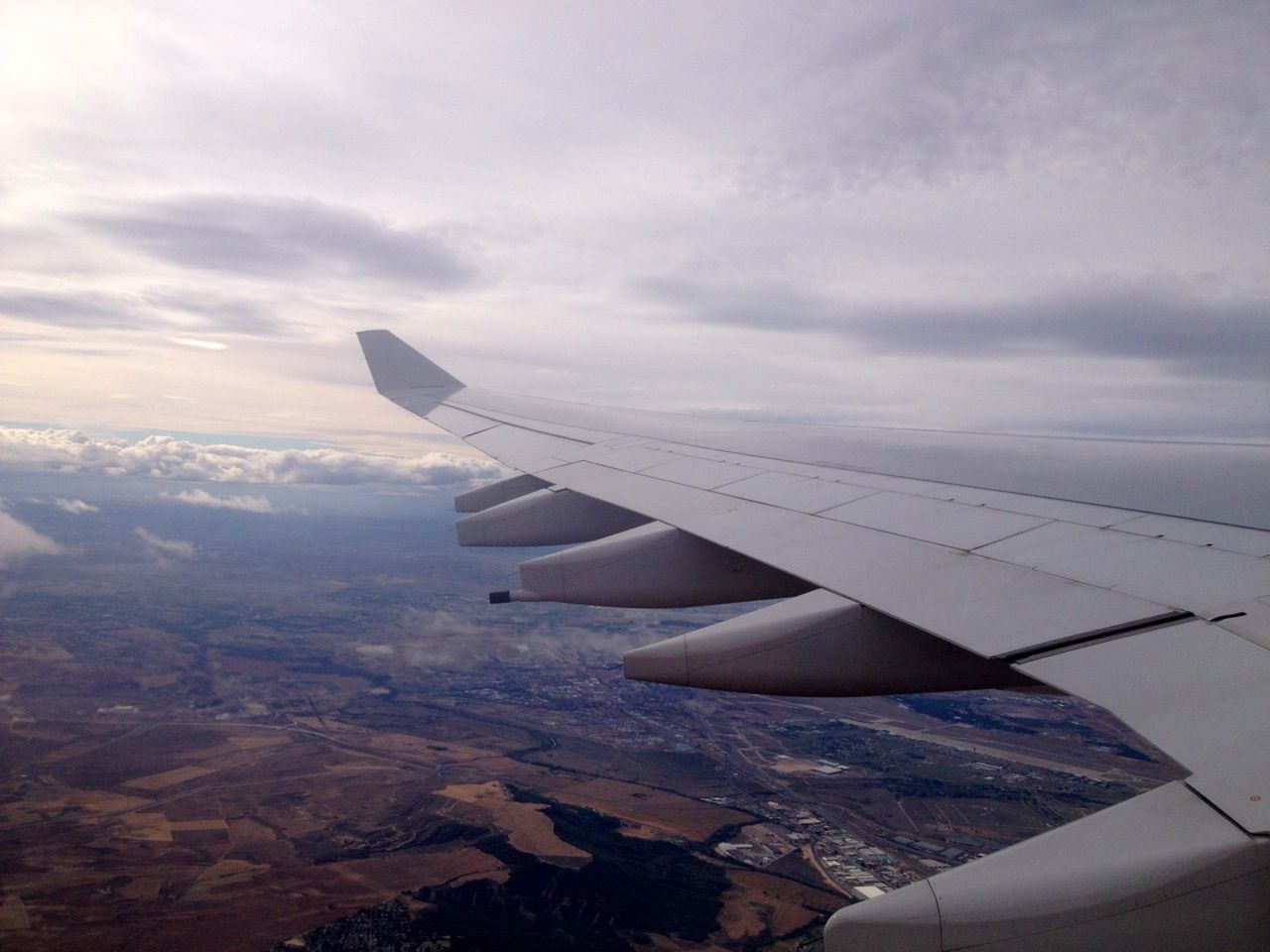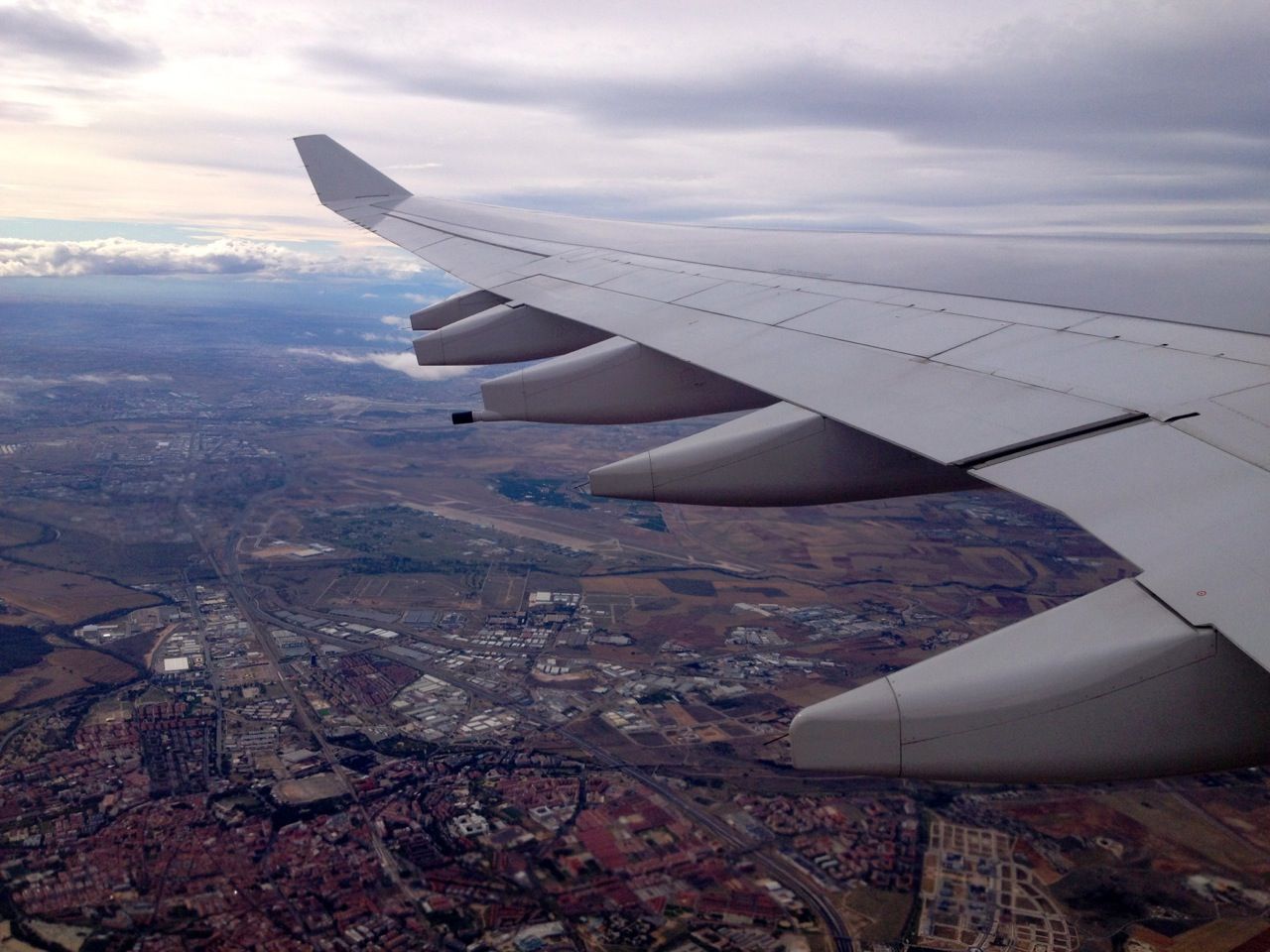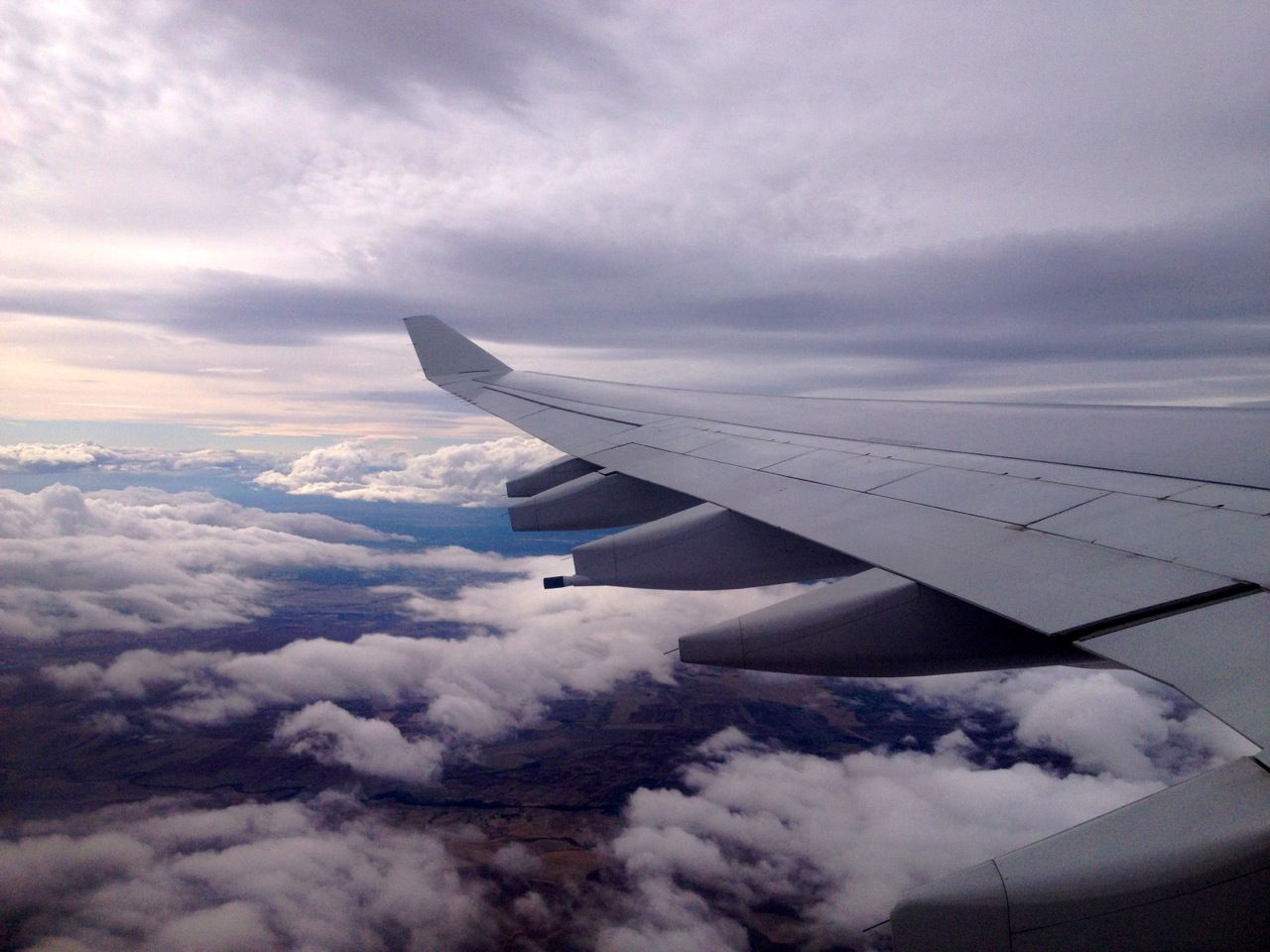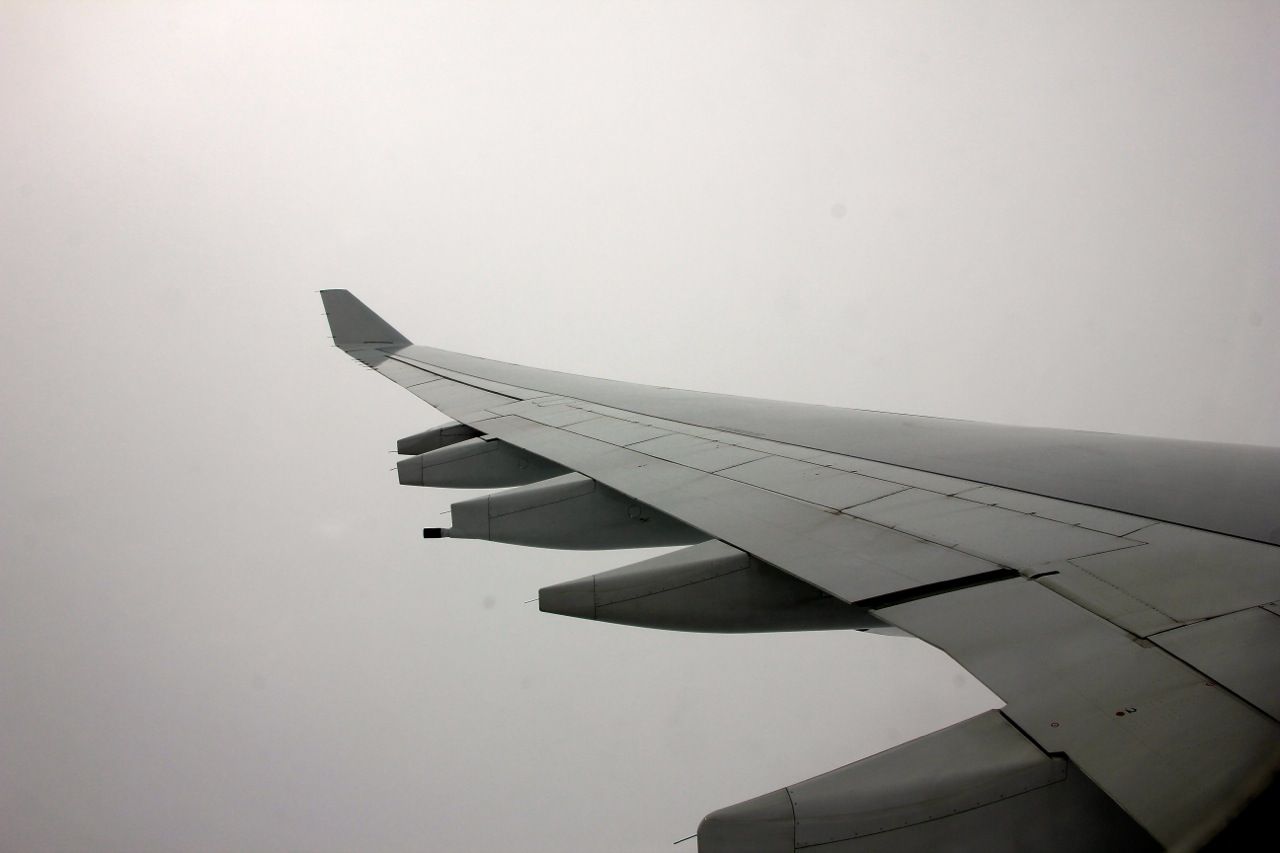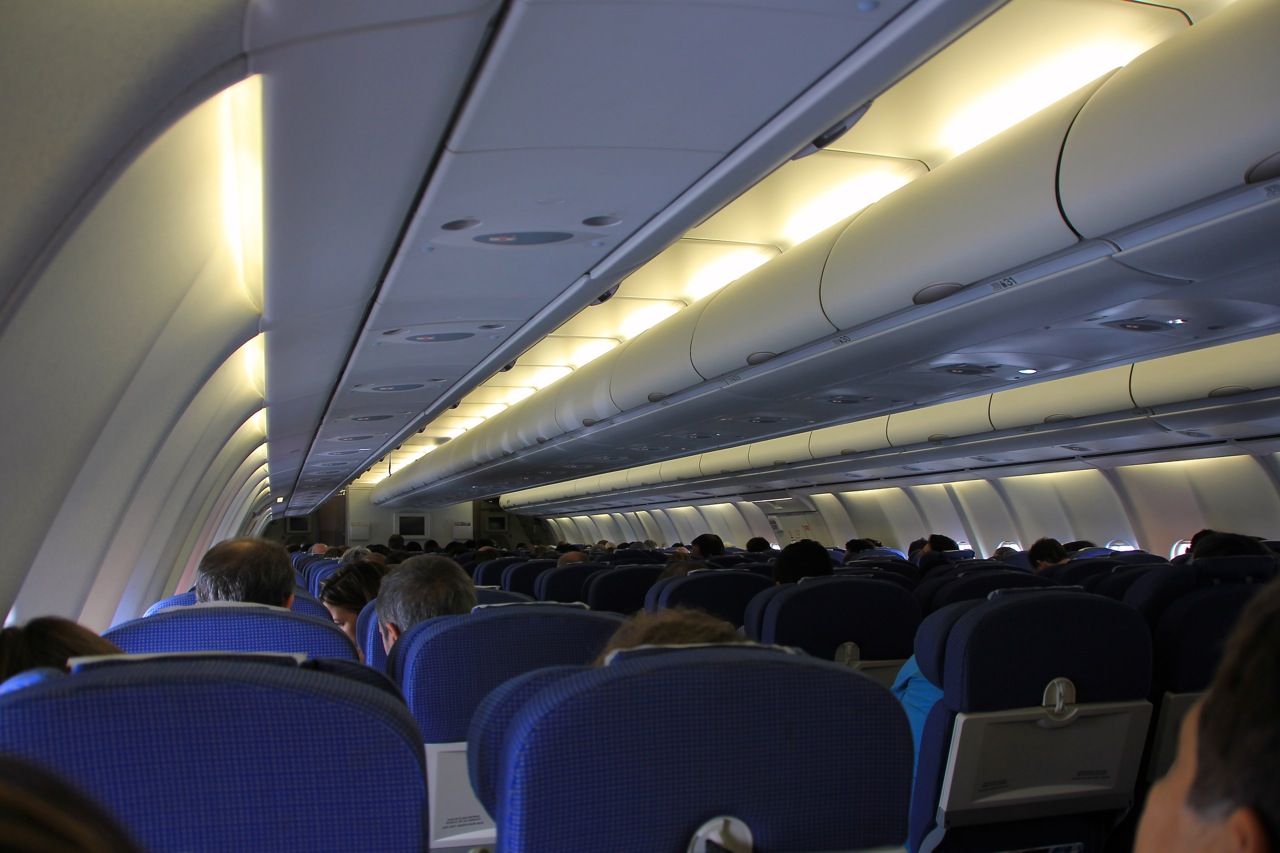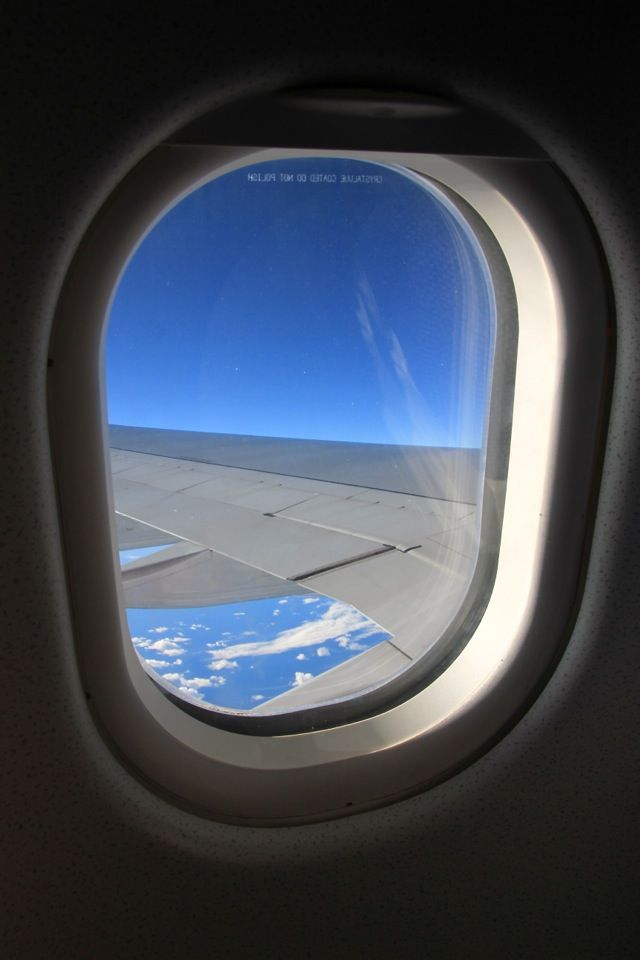 Watching the world go by. Fast becoming my favorite hobby!
Nearly home
Cabin service started around 20 minutes after take off. As I hadn't eaten all day, I decided to try out a sandwich for a hugely overpriced €7.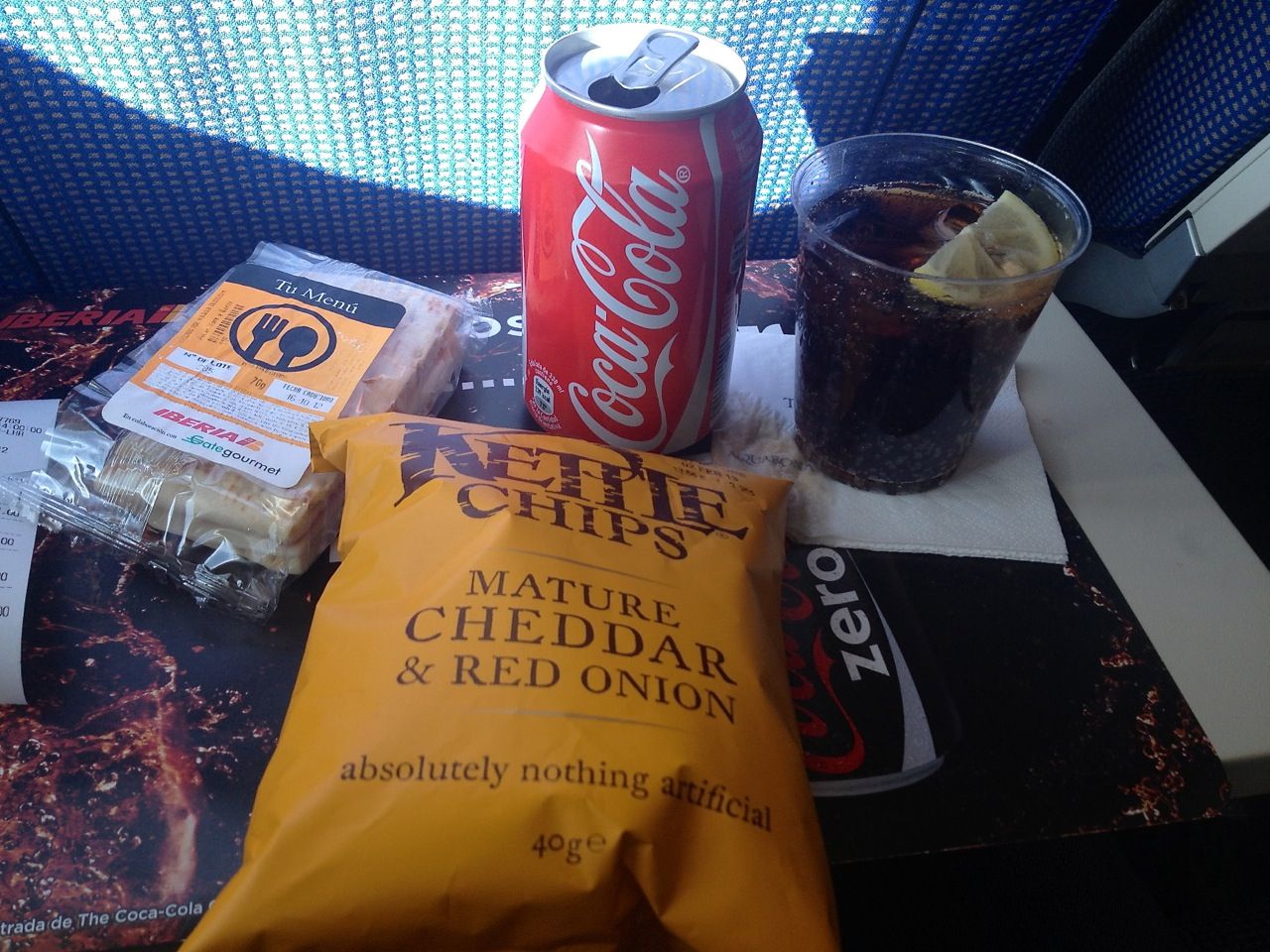 The crisps weren't included in the deal, they were some that I had 'borrowed' from the lounge yesterday.
As the crew were very slow at getting round to me, descent had already started by the time I was eating. As they reached the row behind, the lady sat there asked for a landing card. The response she got was 'they've already been given out', before walking off. I already had the impression that the Iberia staff weren't the most helpful bunch around after all the faffing trying to get my boarding card earlier, and this had now confirmed it.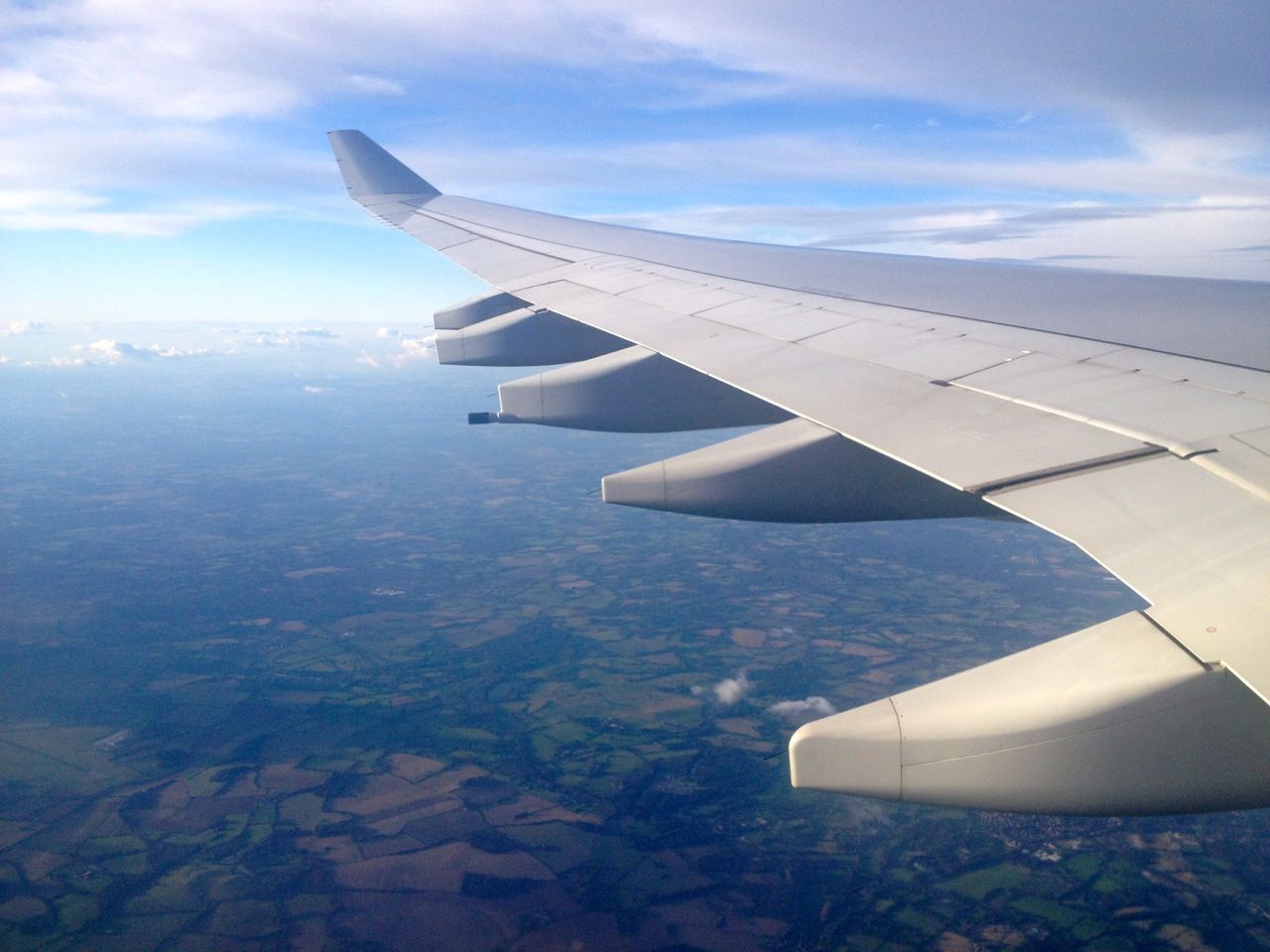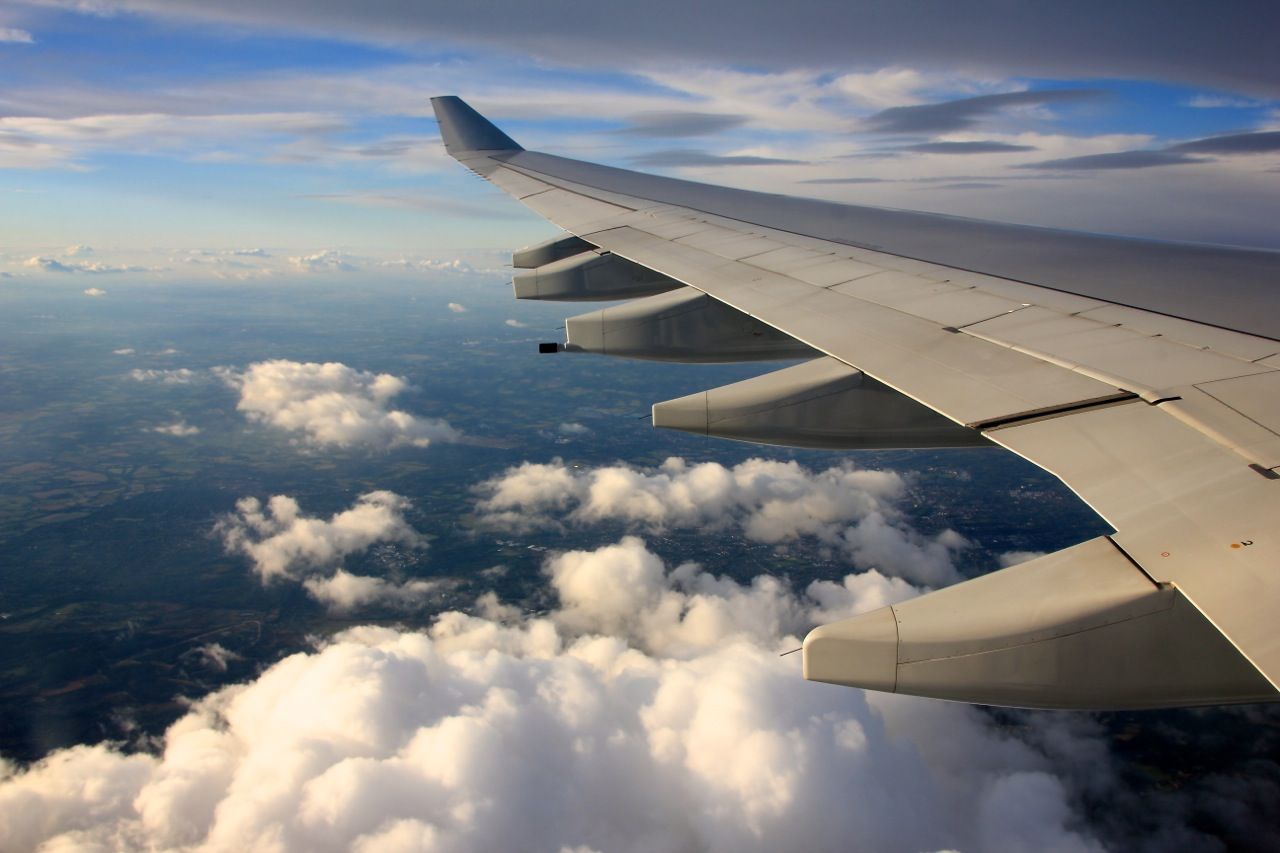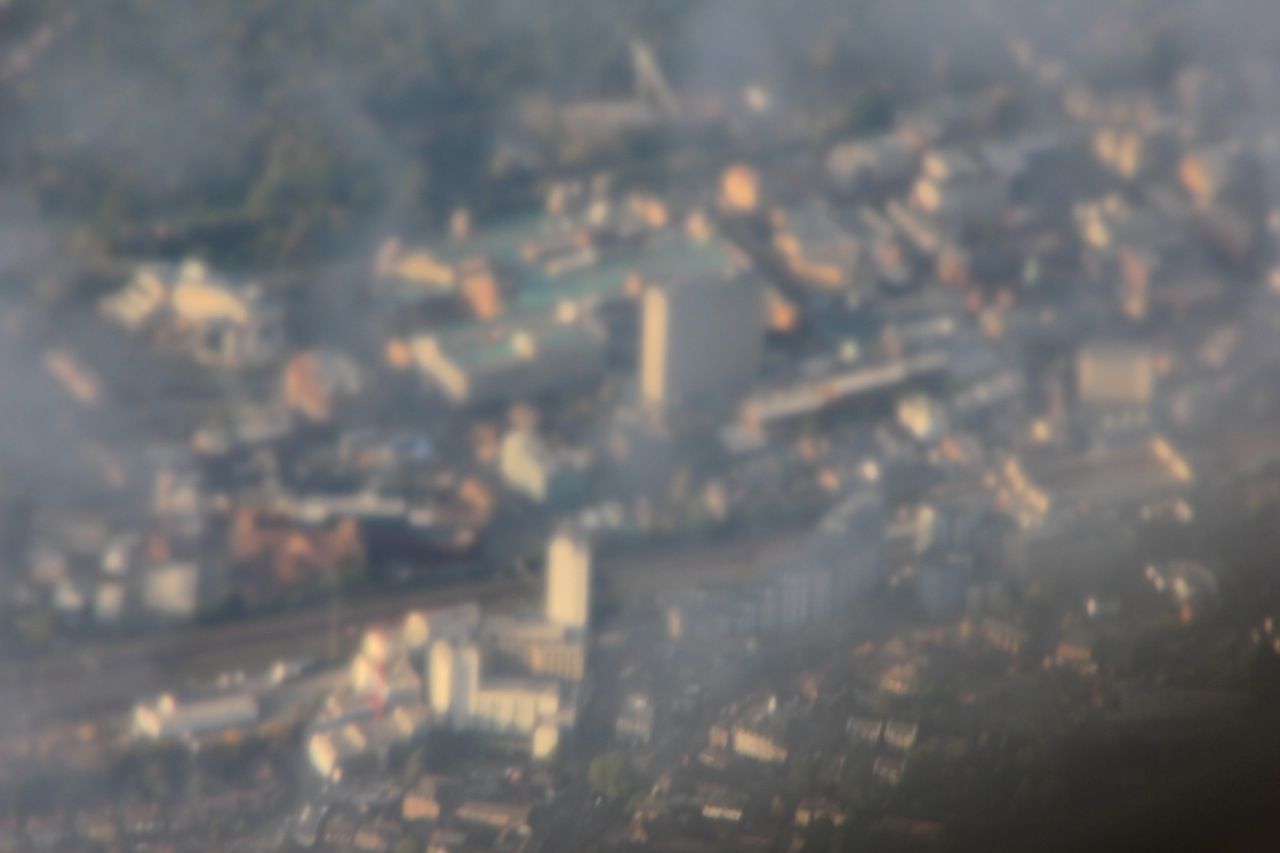 Overflying my home town for the third time! Poor pic though
The McLaren F1 team HQ a few miles from my house.
As I saw my home town more than a few times, I knew that we were in the Ockham hold. Not that the flight deck confirmed this. Once again they were pretty silent for the entire flight.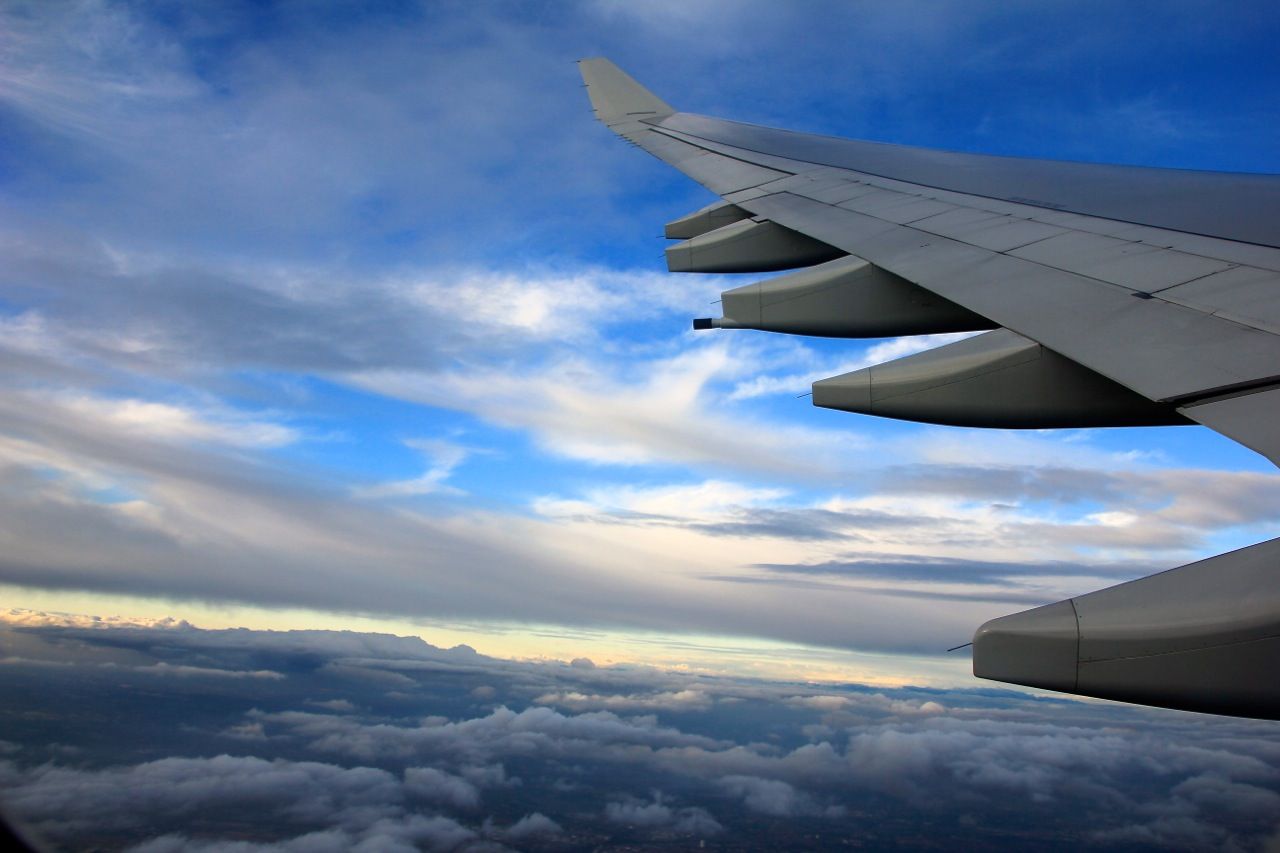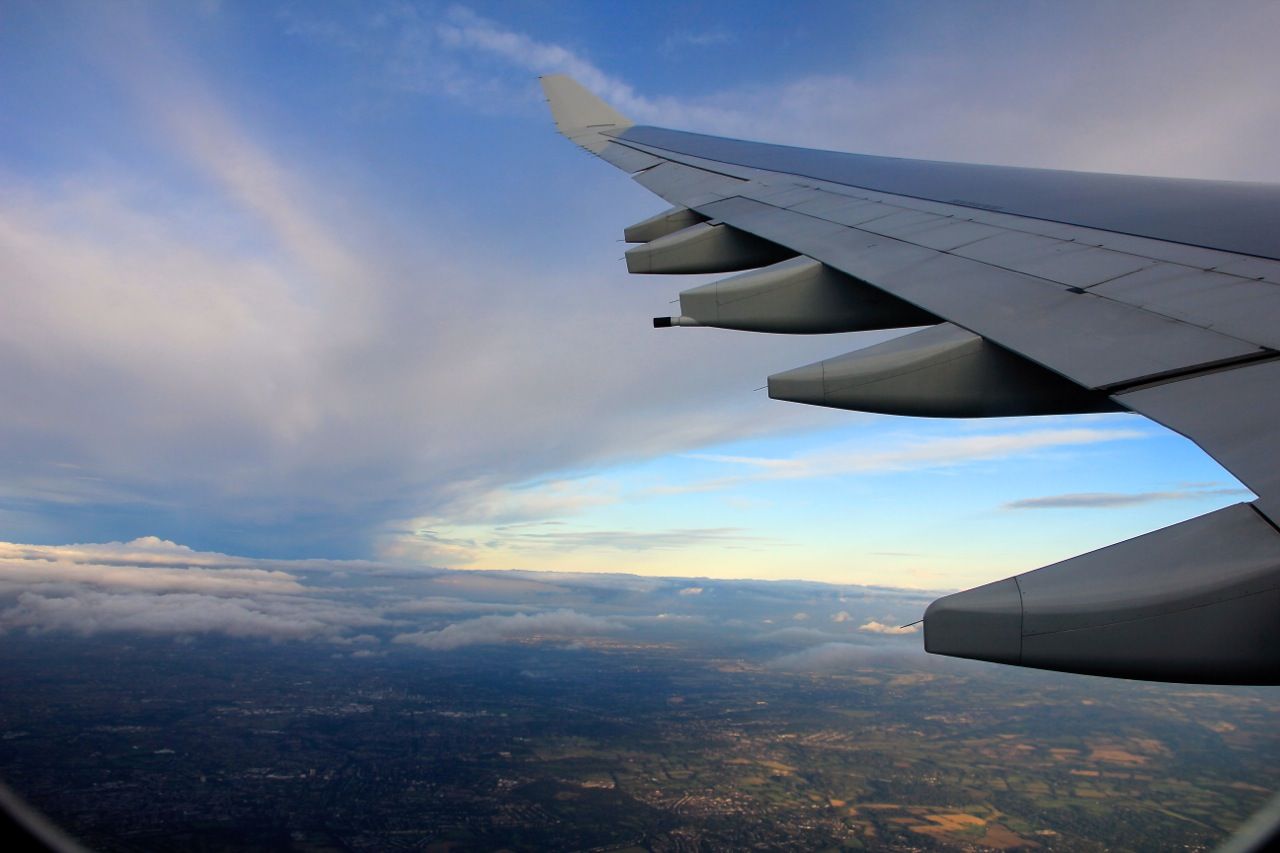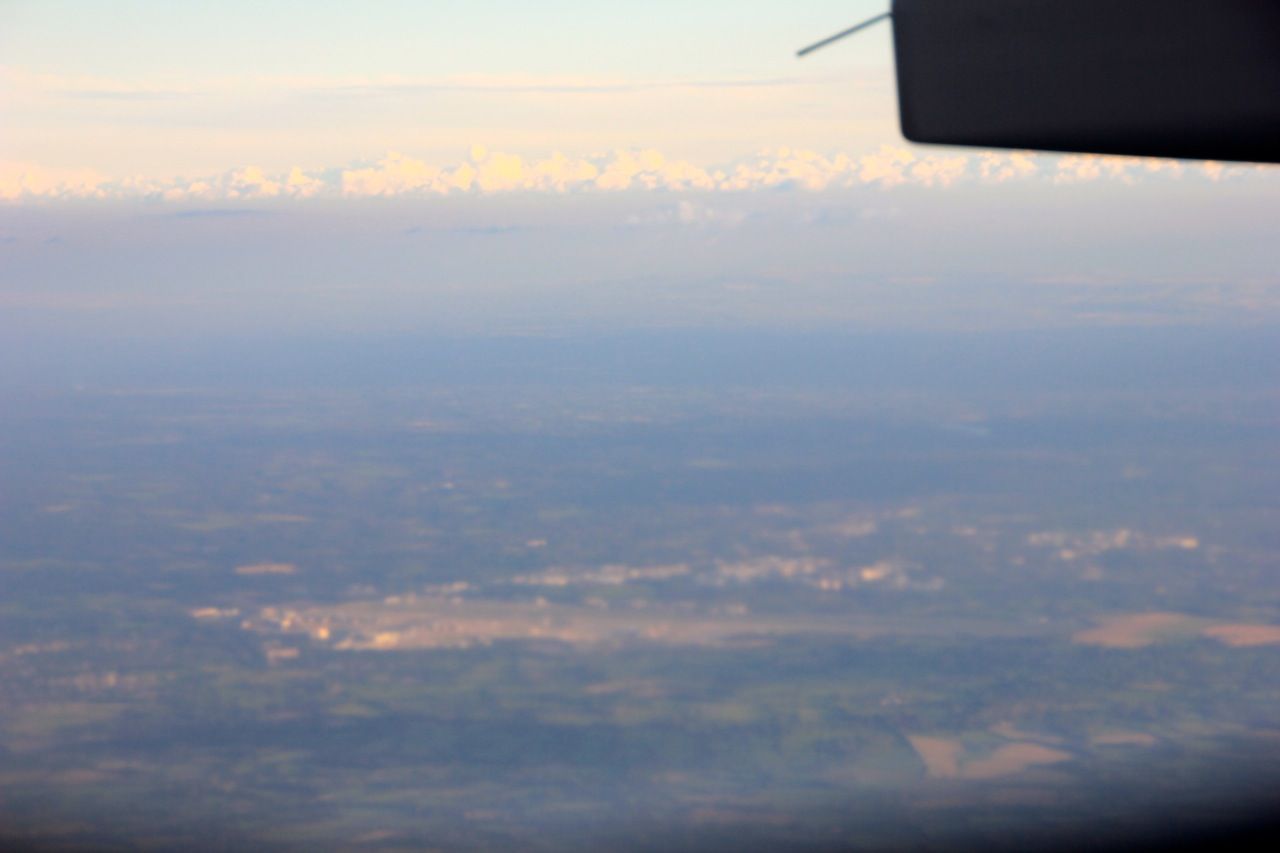 LGW in the distance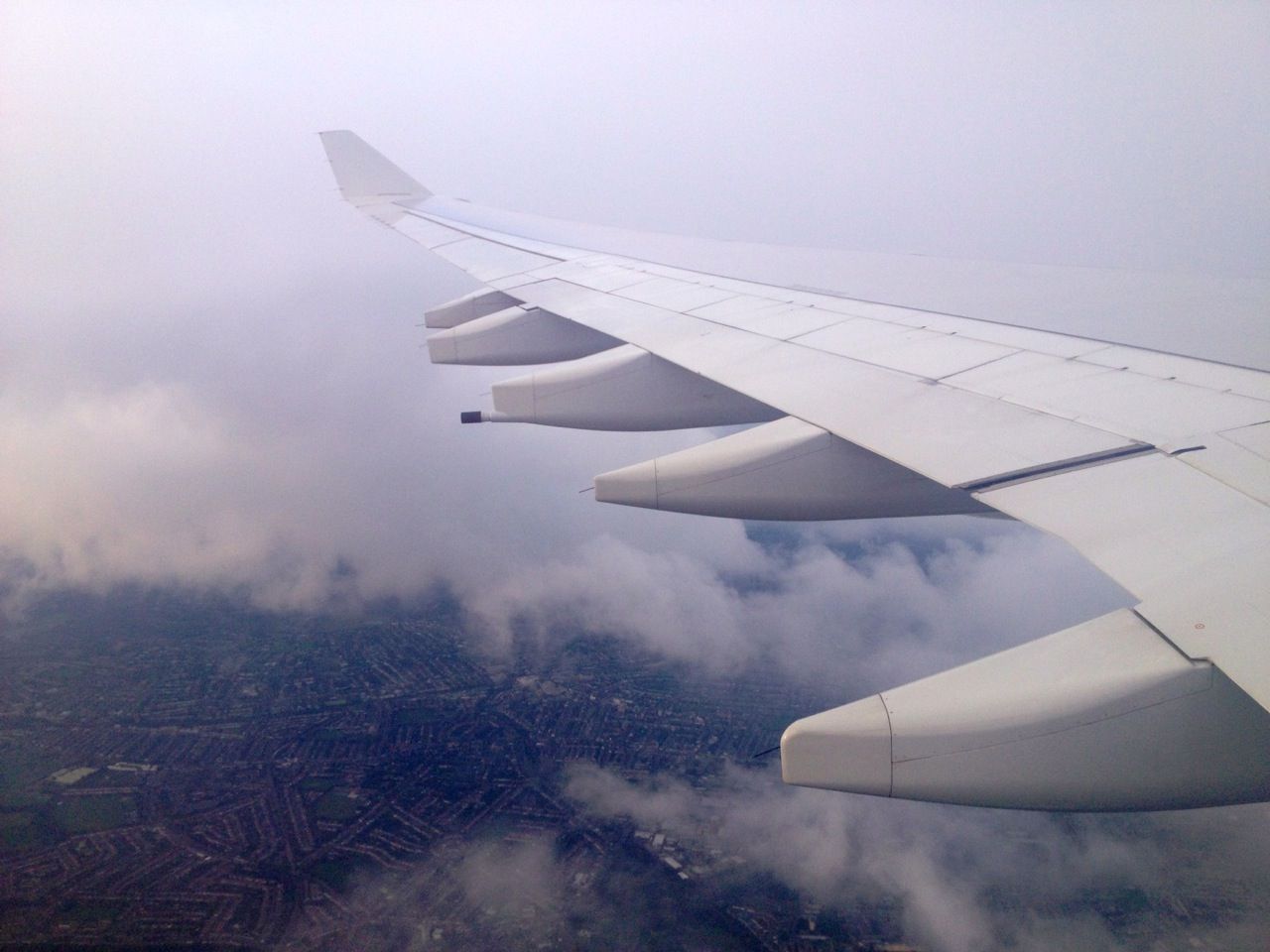 Then on to finals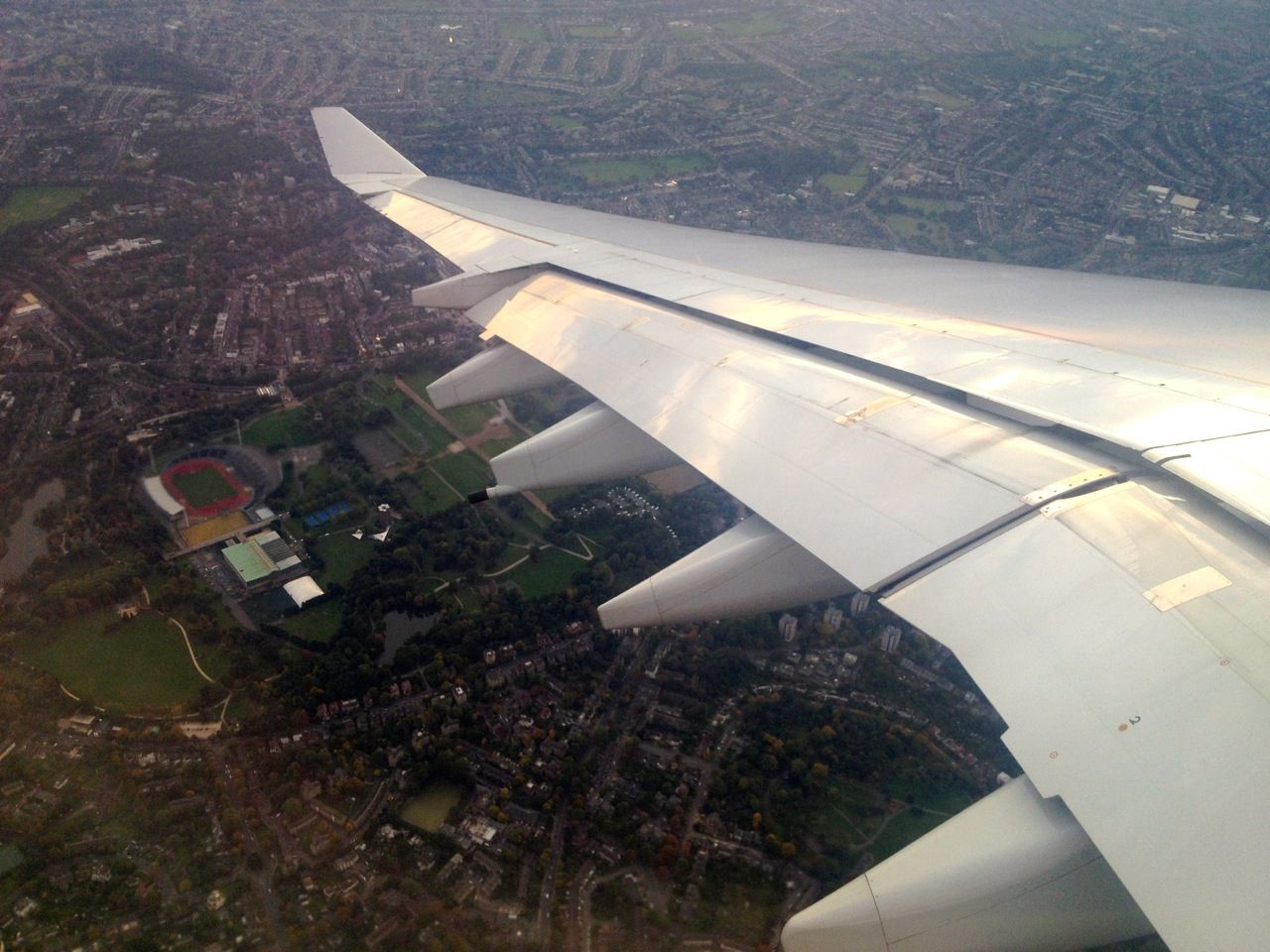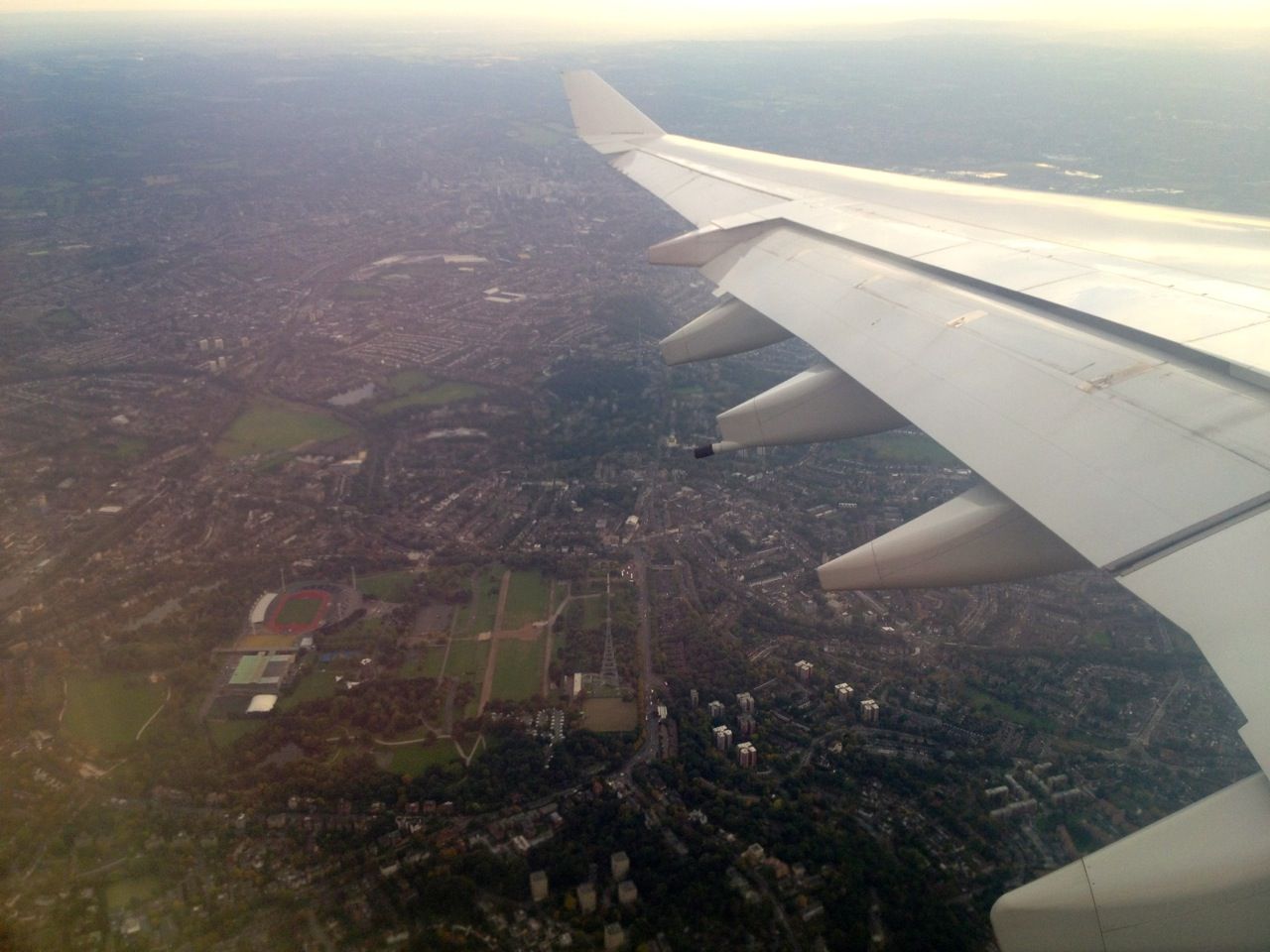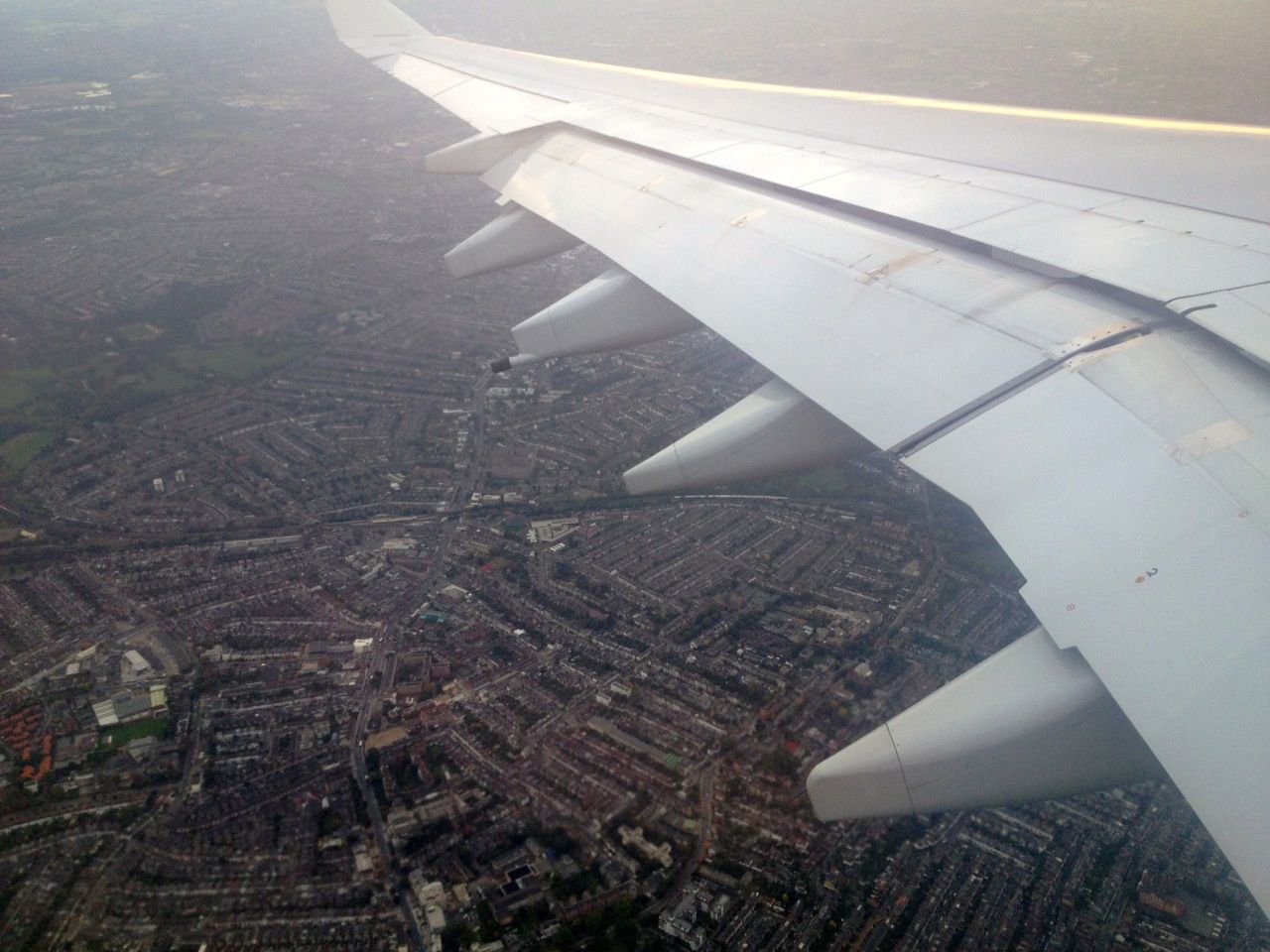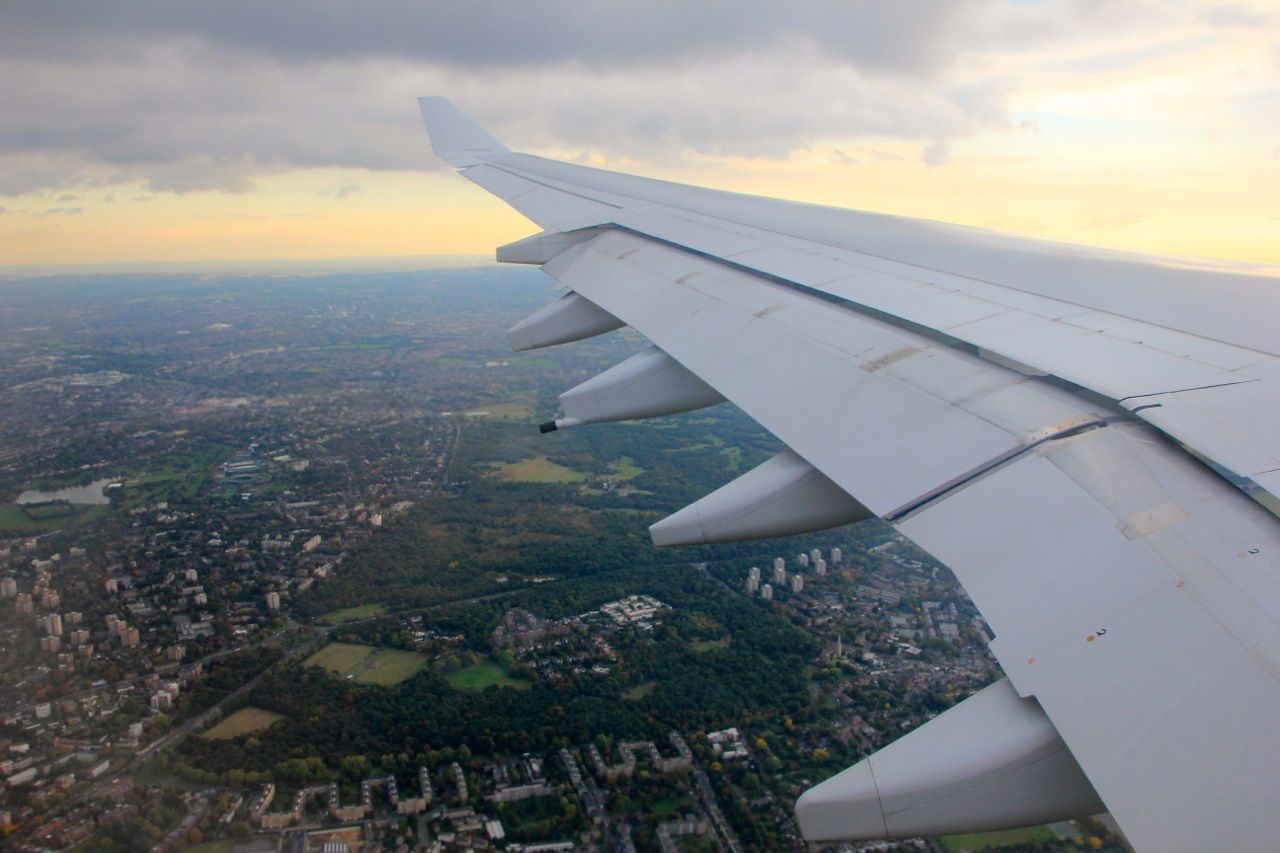 [youtube https://www.youtube.com/watch?v=2GEHpHyPJR8]
As we were rolling out on runway 27L, everybody decided that it would save them some time by getting their things together now – which was slightly unbelievable. But more shocking was that there were no announcements from the crew telling people to sit down either!

Pic taken just after landing.
It was then a pretty short taxi over to T5C.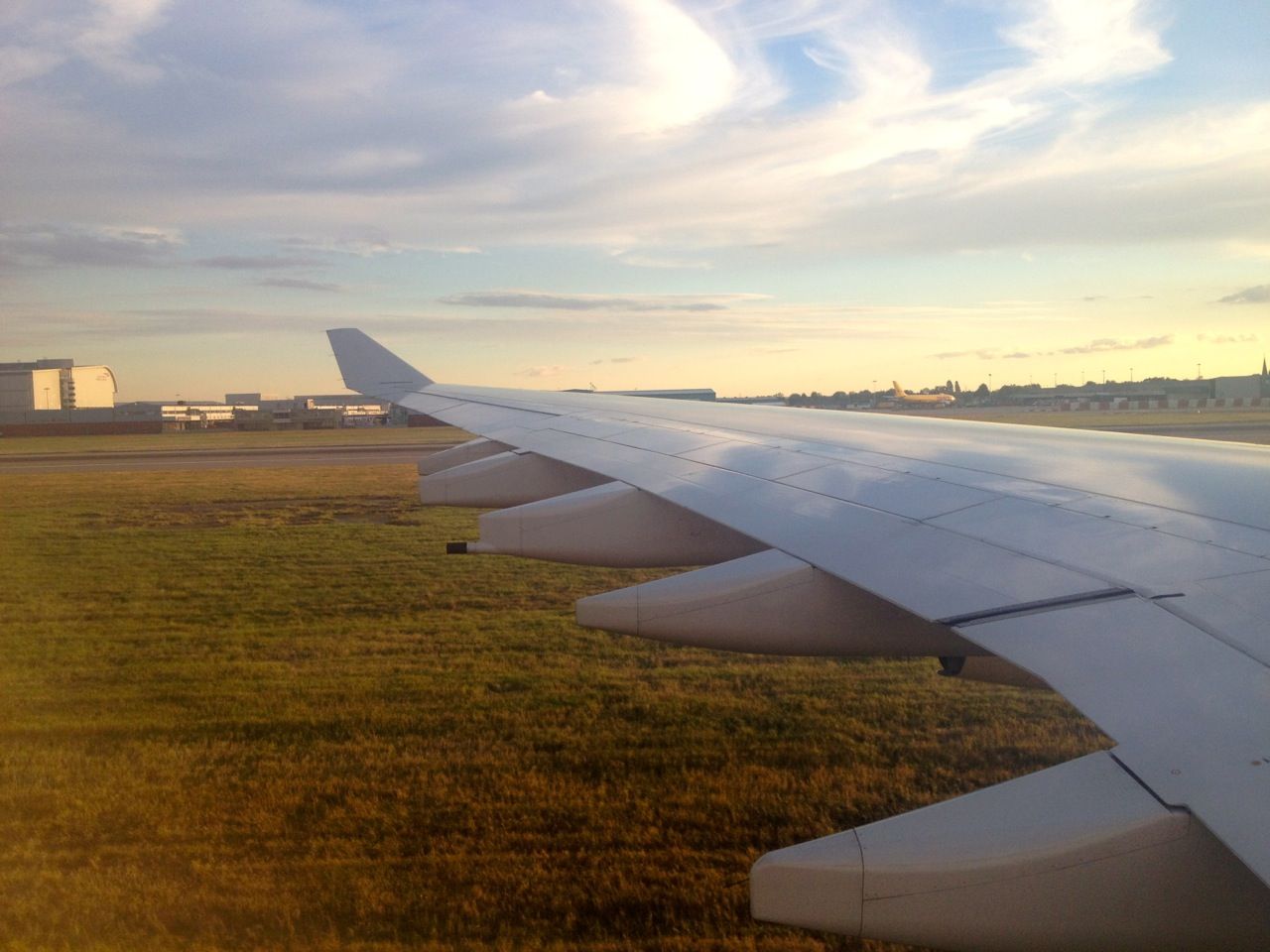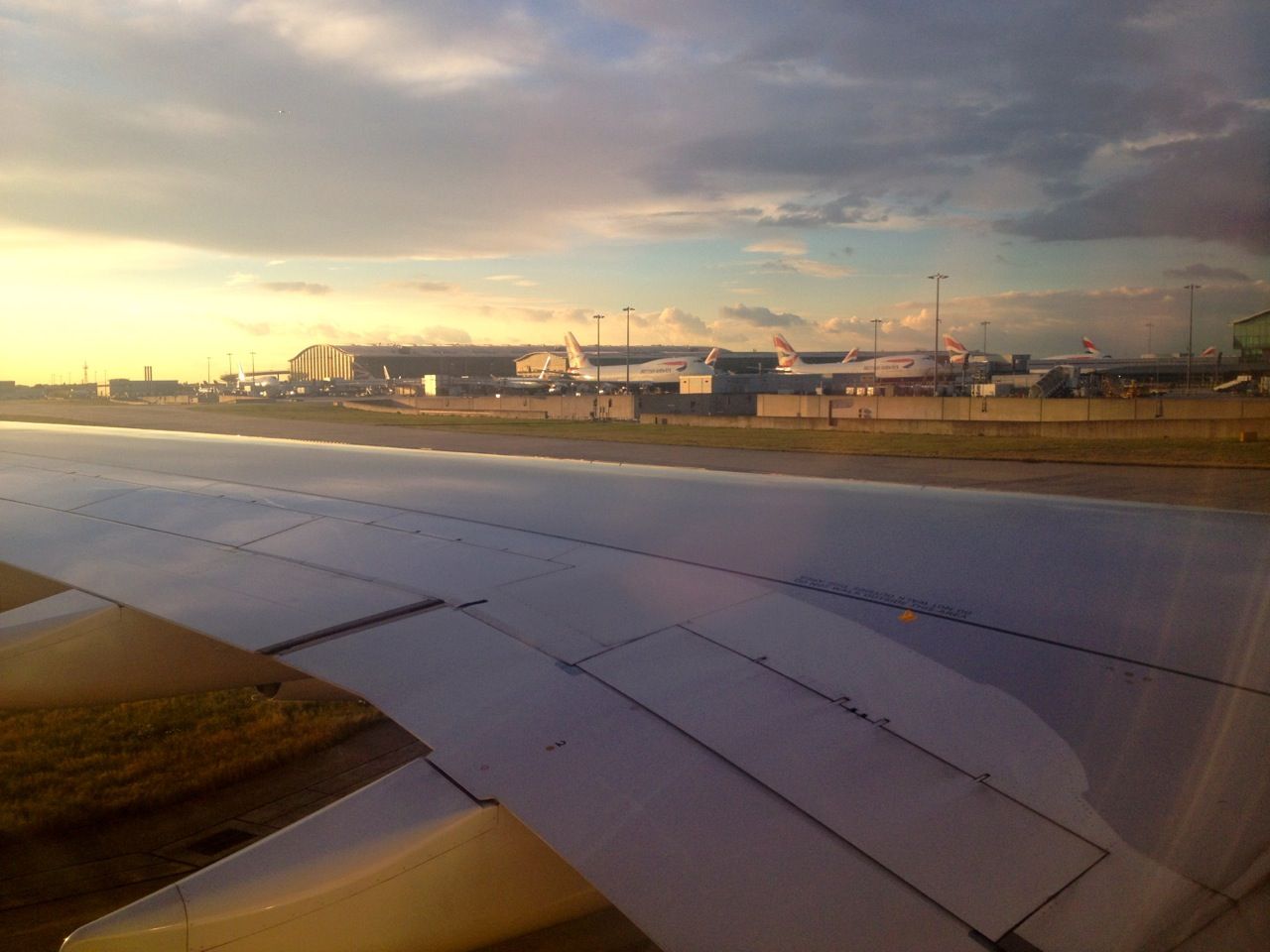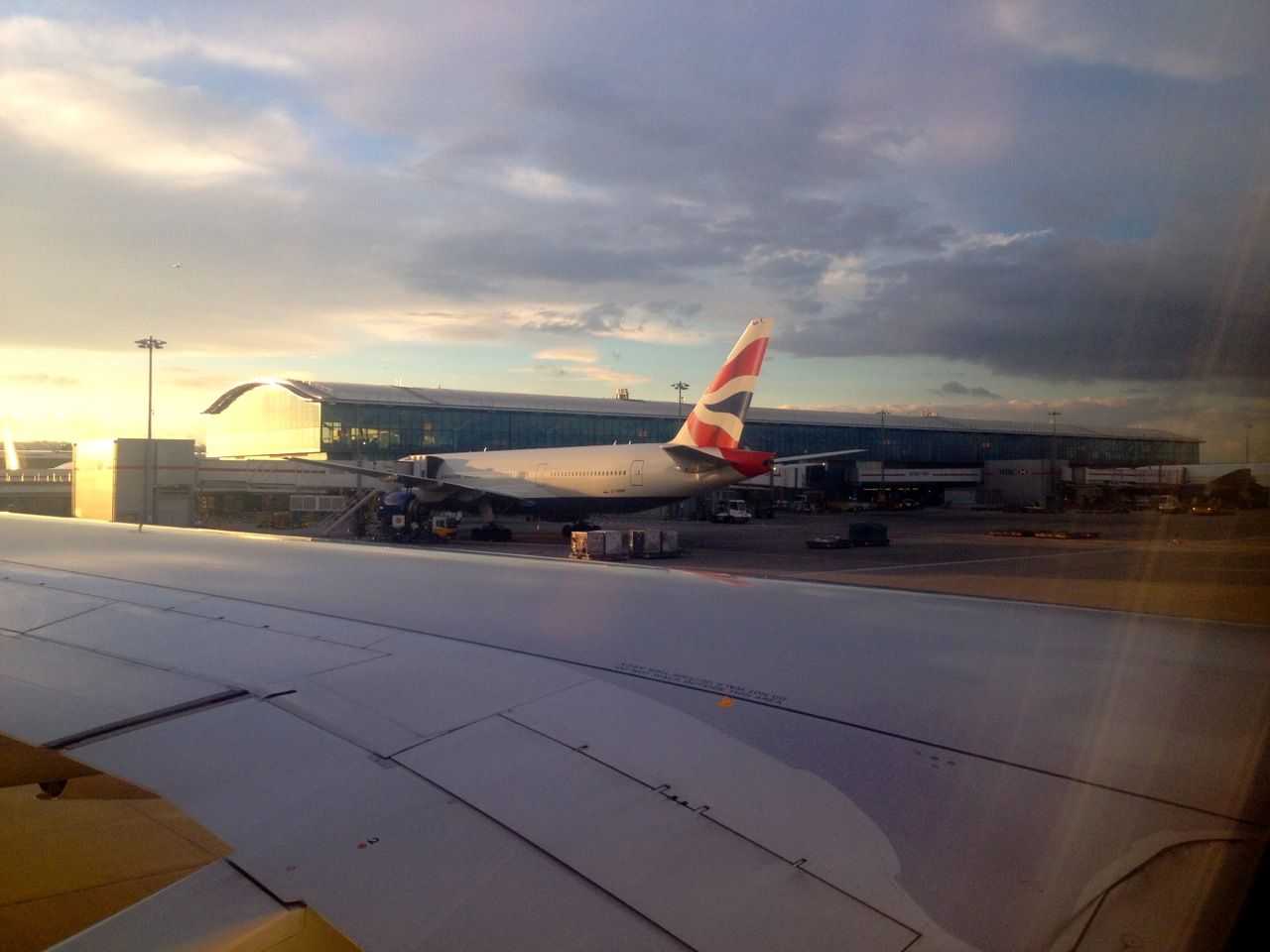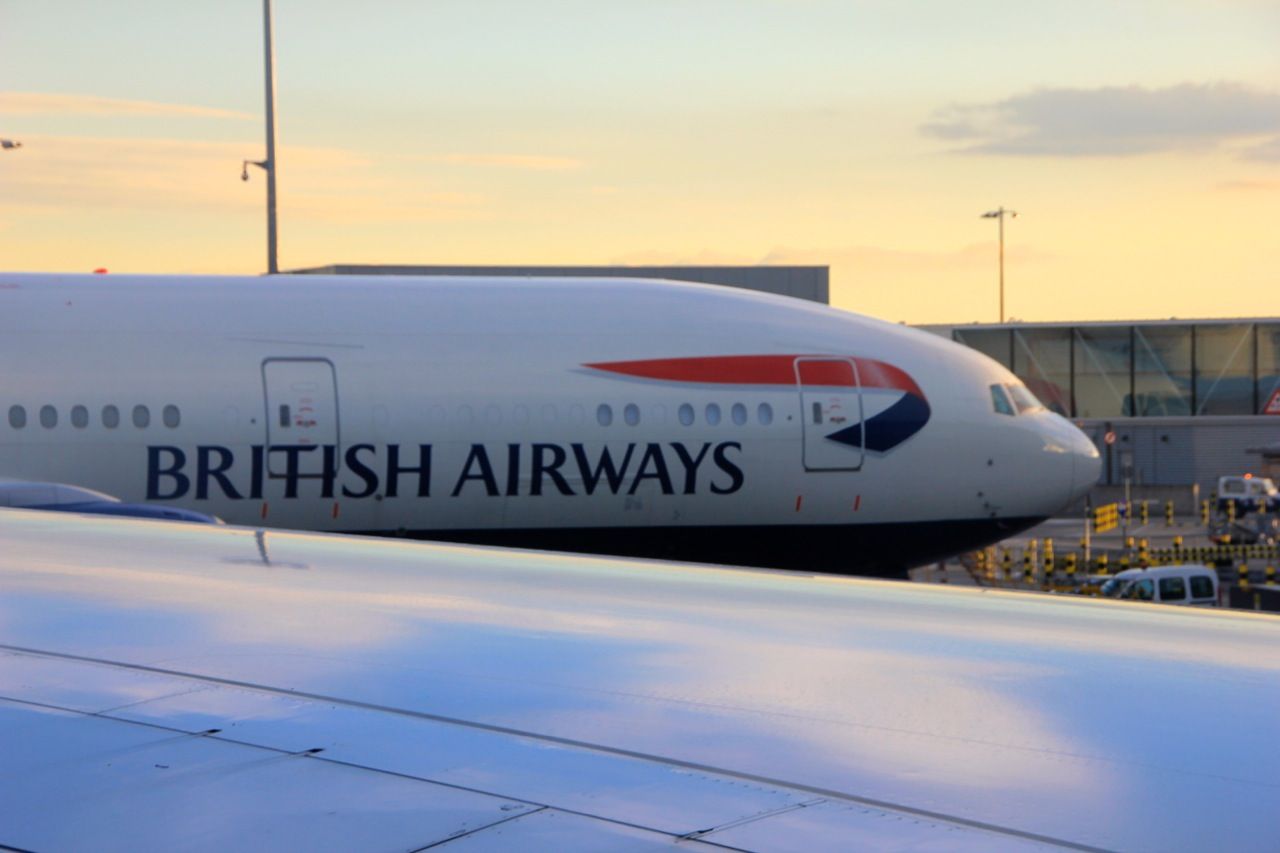 On Stand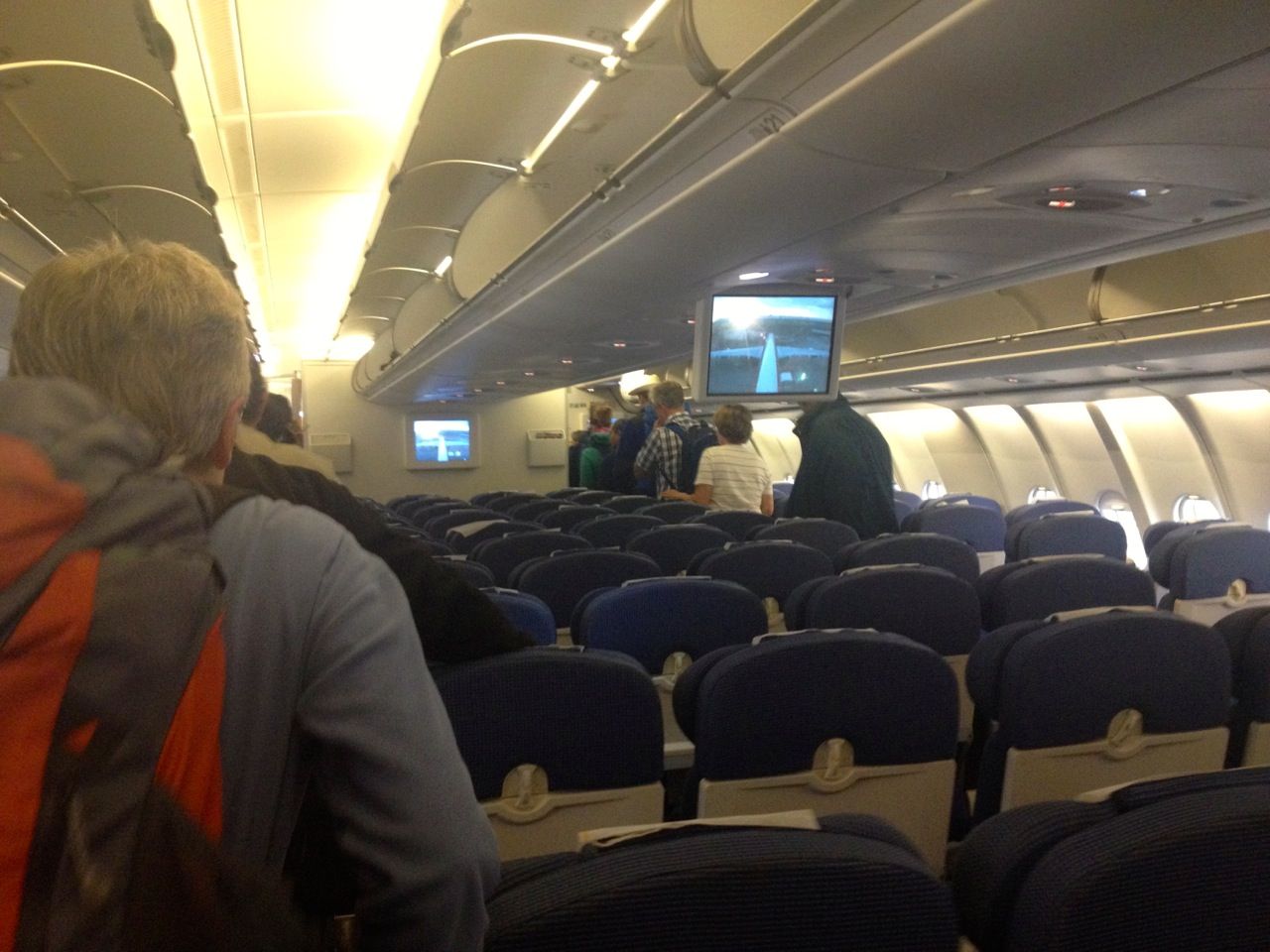 Passing through the business class section on the way out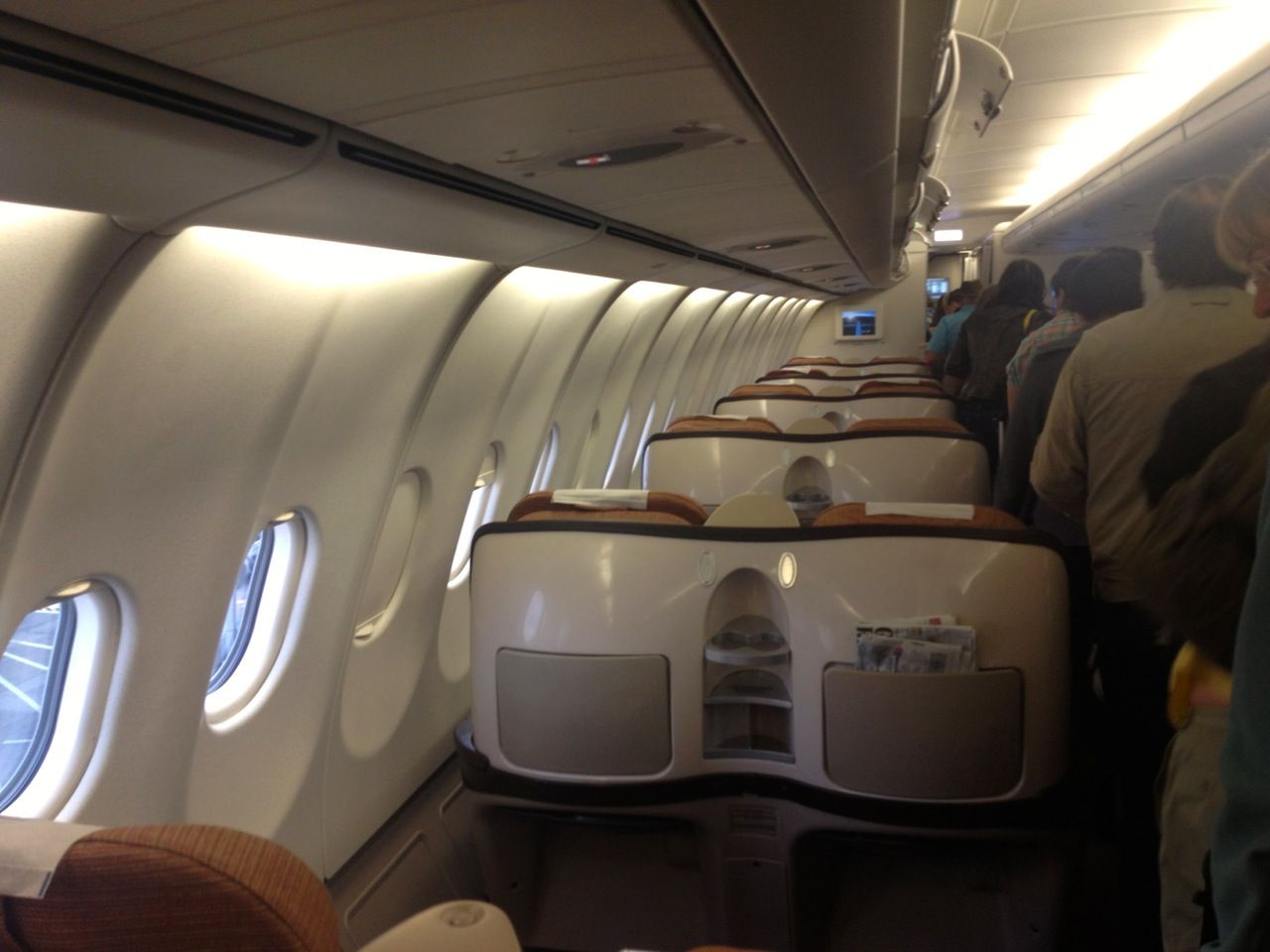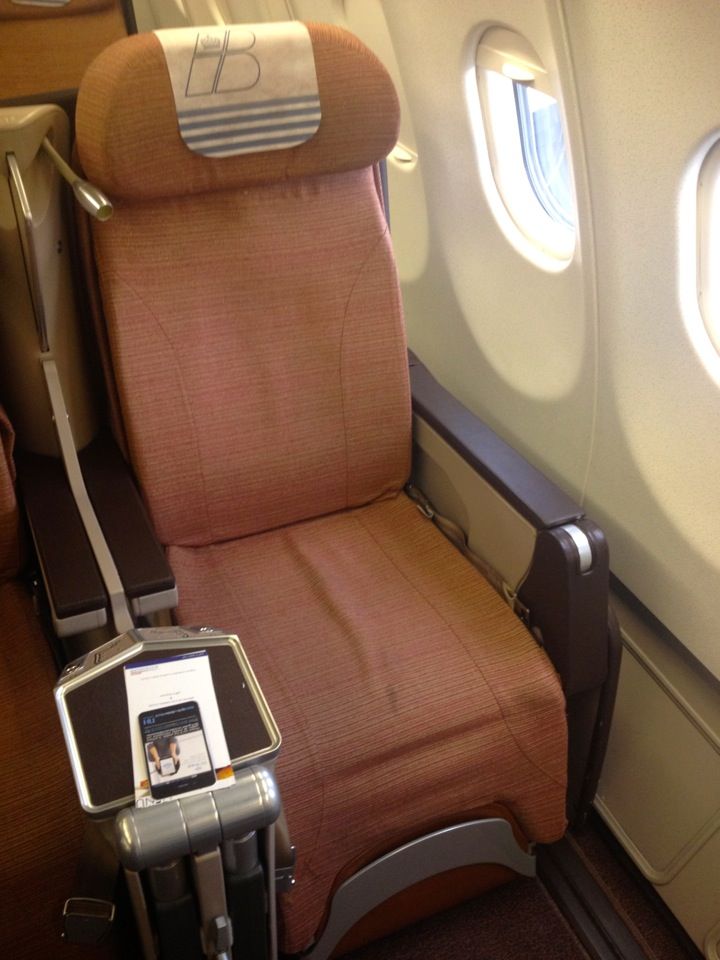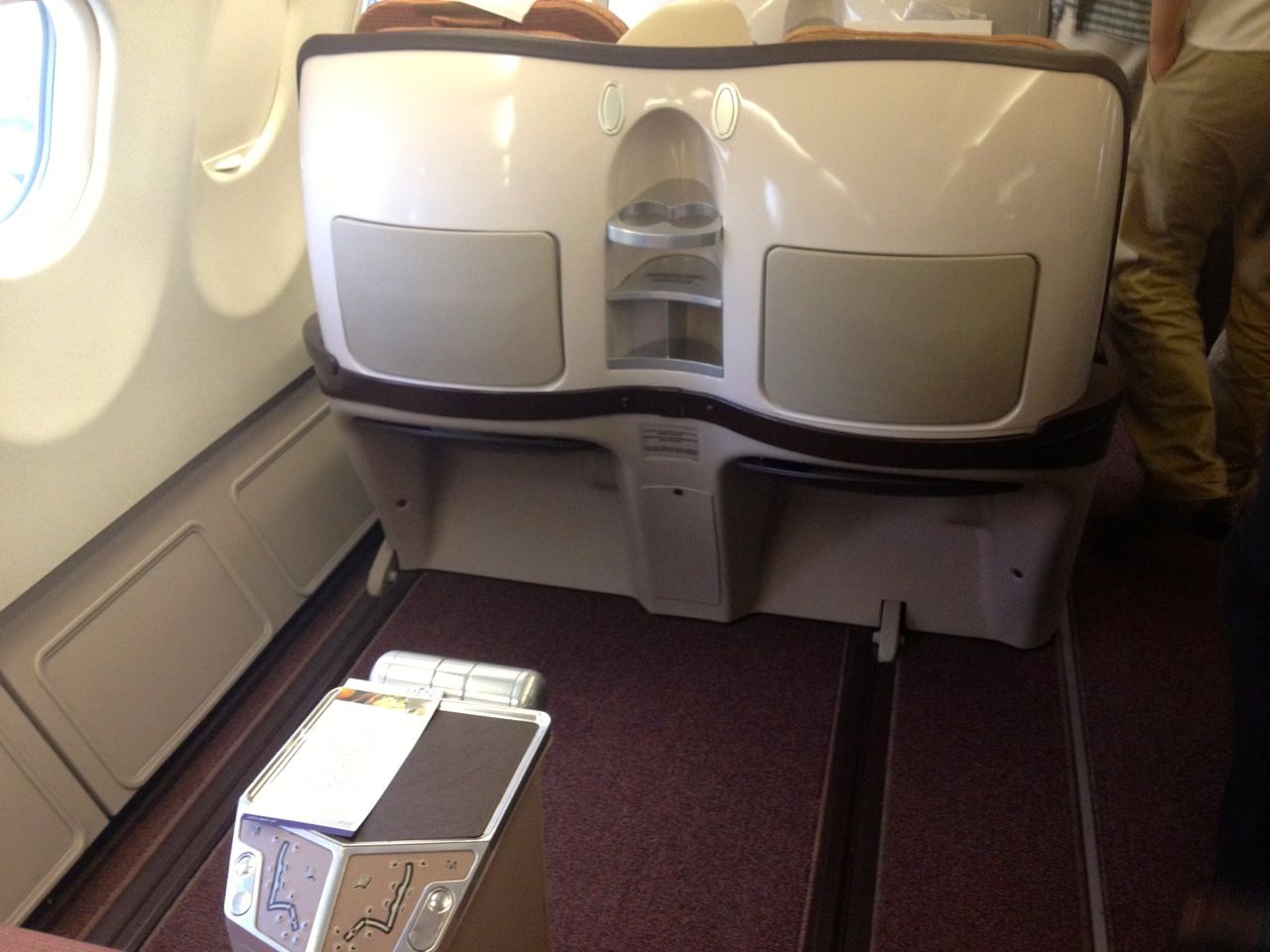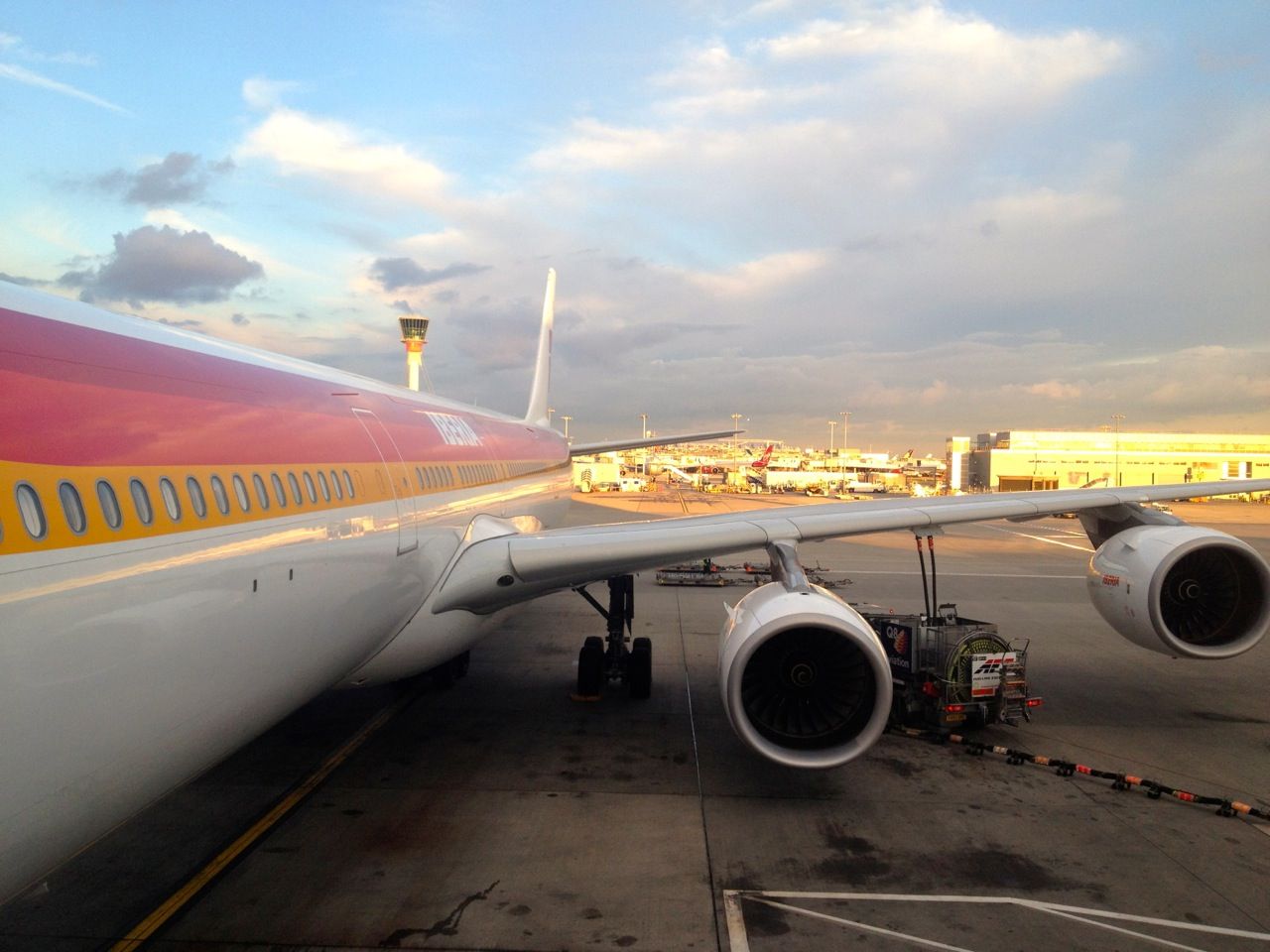 Then it was a case of following the signs to the exit, via the transit system.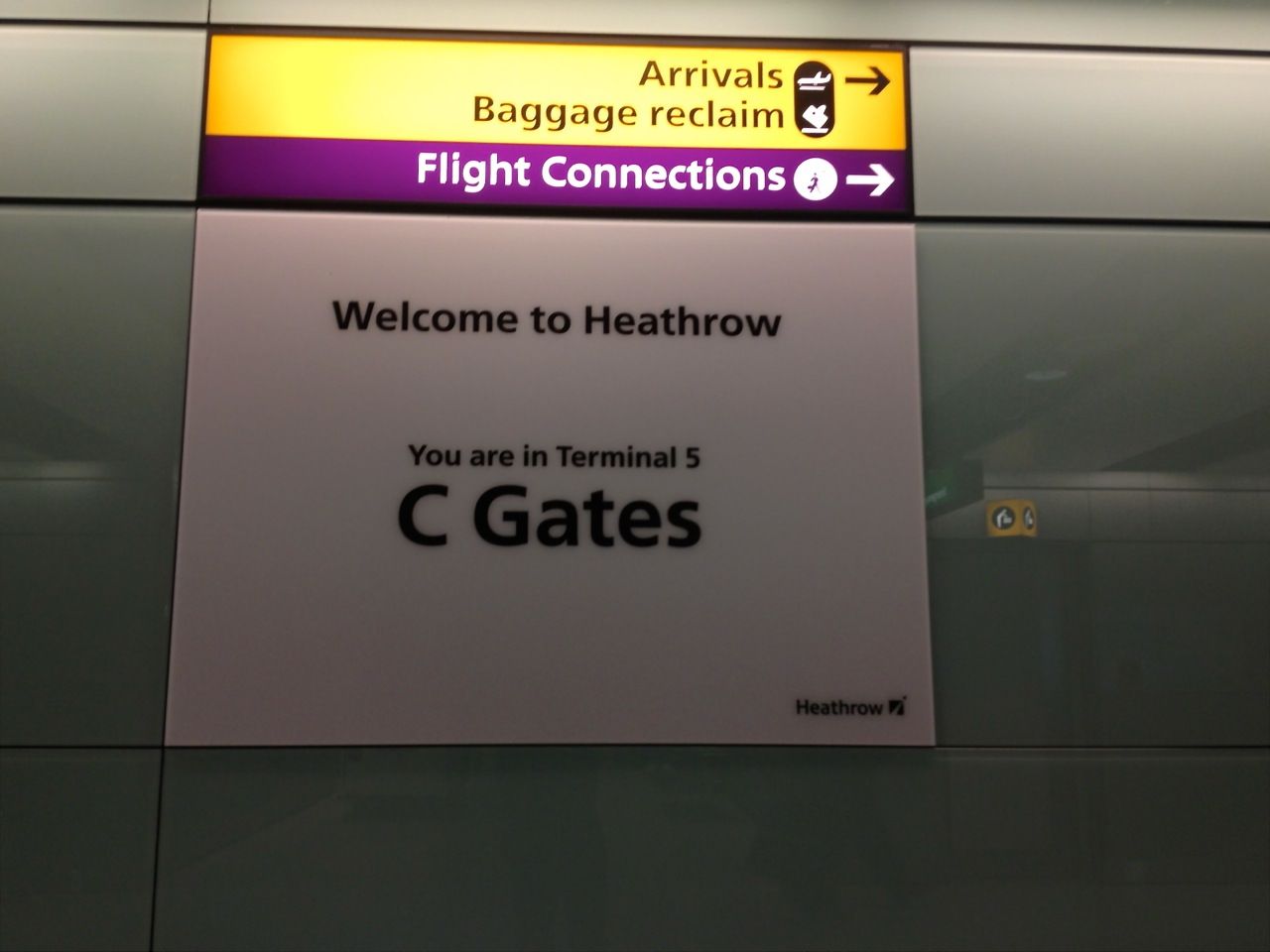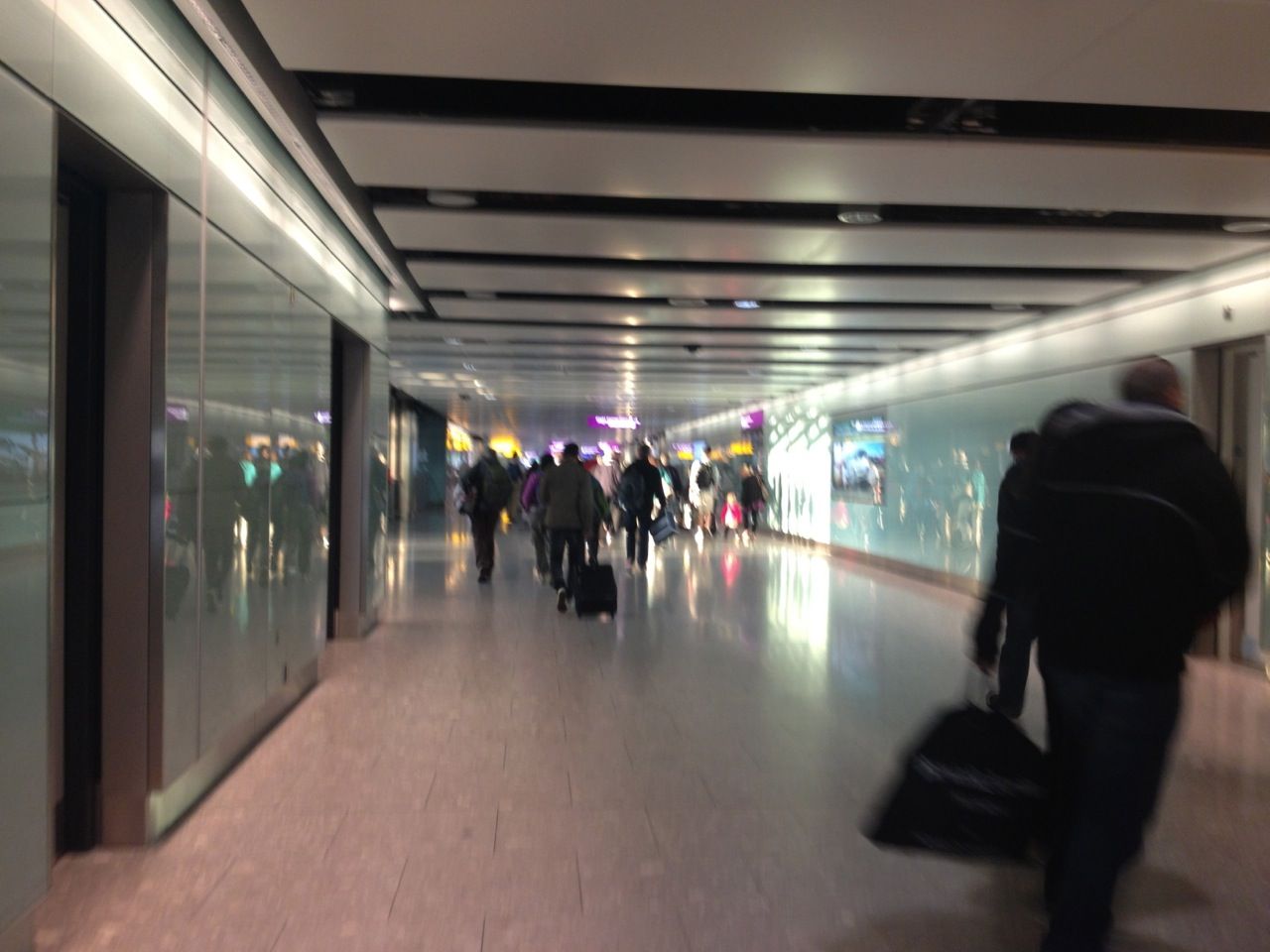 One last look at the A346
T5 arrivals – brings back memories of working here during the construction of T5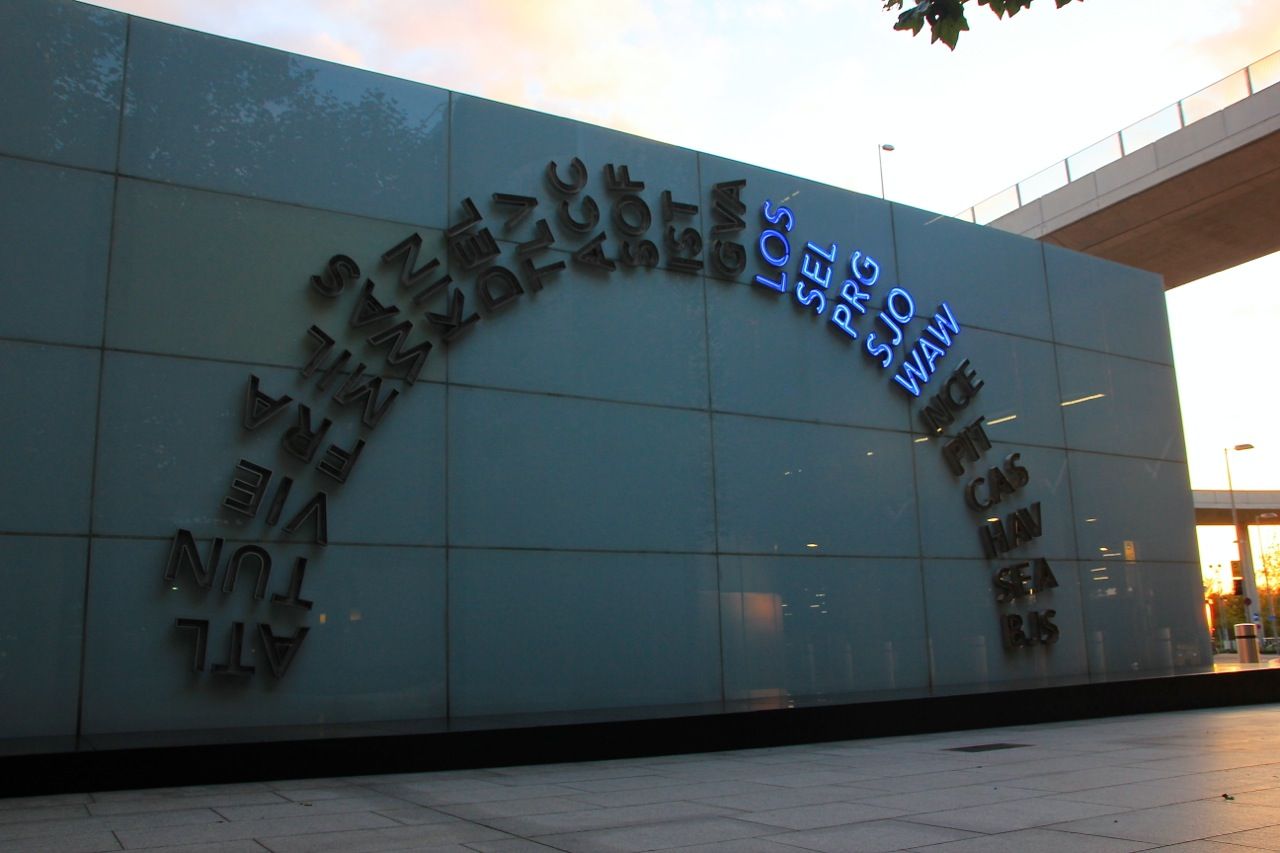 Then it was out to the coach station to wait for the coach home. Luckily it was one of the newer types this time.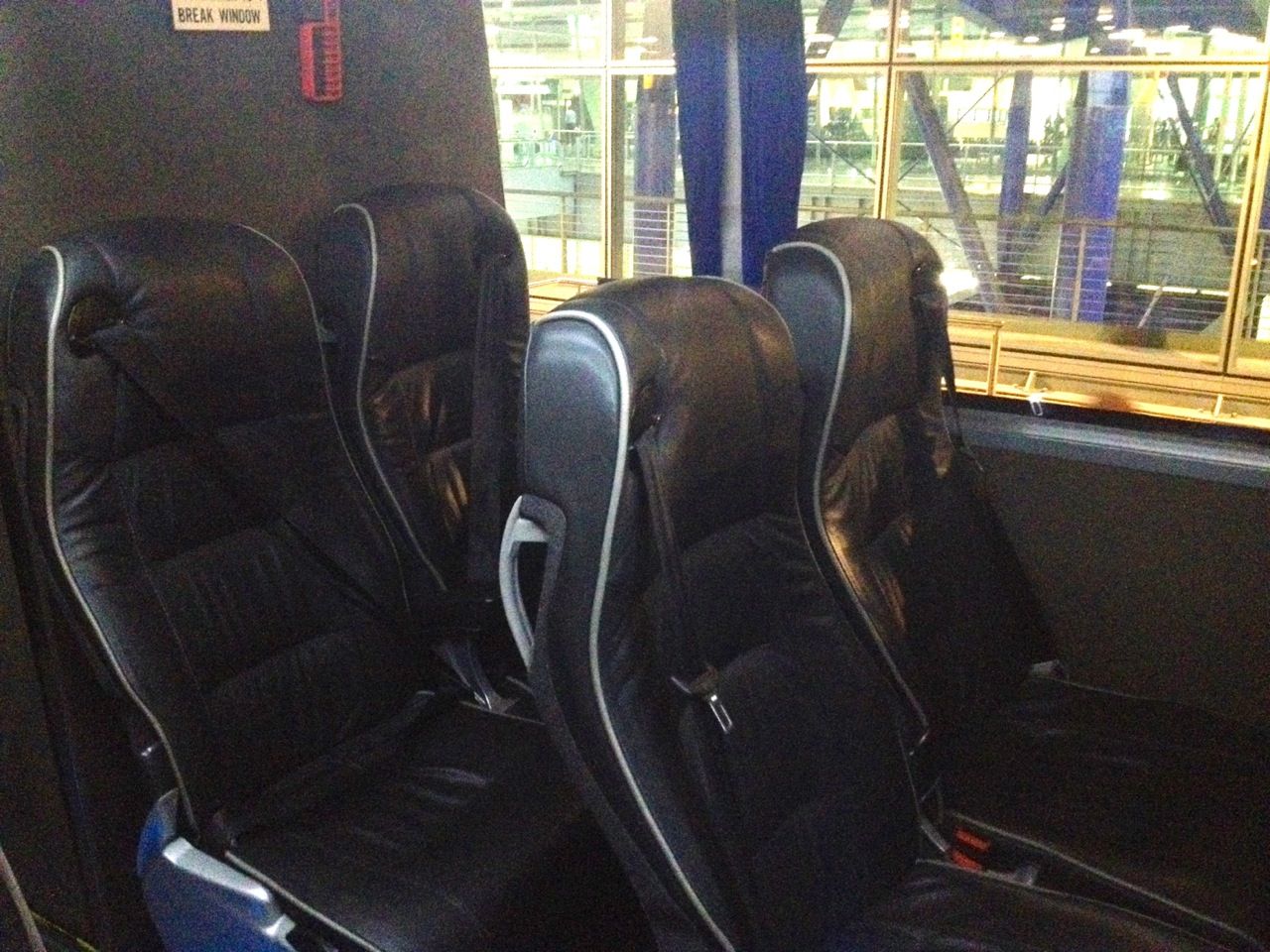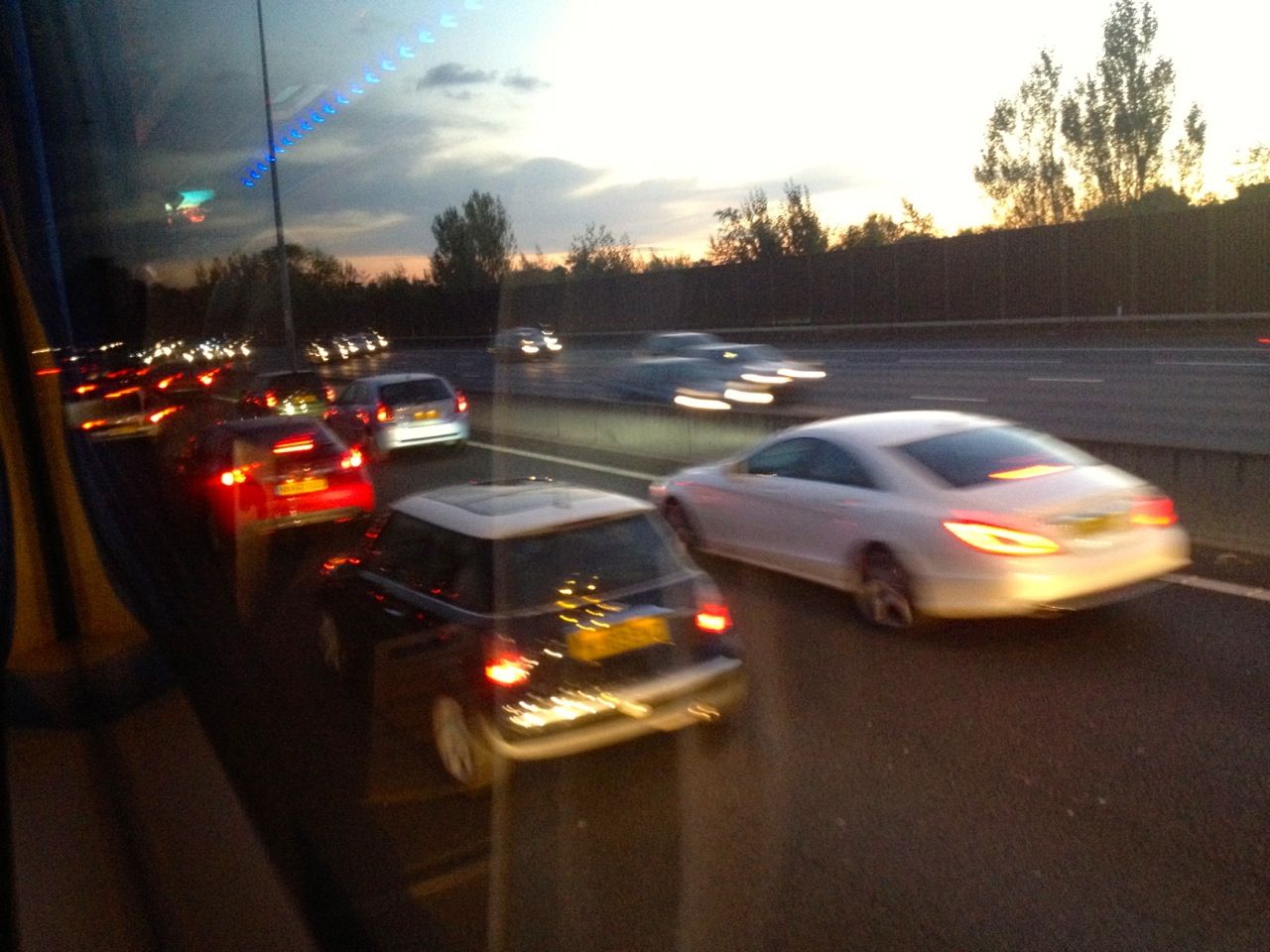 I hate the M25
Once the coach arrived, I took a walk back through town as I wanted to grab a bite to eat then headed off home.

Small bit of aviation in town.
And that concludes another trip. Very disappointed not to actually fly on the 767, although considering I sat on it for a couple of hours and the full service was given I guess I had a taste of BA Club World. Although as somebody pointed out to me at work the following day, it was more a case of the worlds most expensive restaurant than going away anywhere! Taking this into consideration, the Iberia Business experience was a bonus really, although I still think BA has them beaten by a long way. As I've mentioned previously in this report, I feel their staff at best are not interested and at worst just downright rude. Madrid seemed like an interesting city and it would of been good to have a few more hours there although I wouldn't rush back there any time soon. The metro system there is very good though, so easy to get around.