Emirates | Boeing 777-200LR | GIG-EZE

Maps generated by theGreat Circle Mapper -copyright © Karl L. Swartz.
The third part of this series will see me leave Brazil and move onwards into my 42nd country – Argentina. But first off, a few pics from a very enjoyable time in Rio de Janeiro.
Copacabana Beach: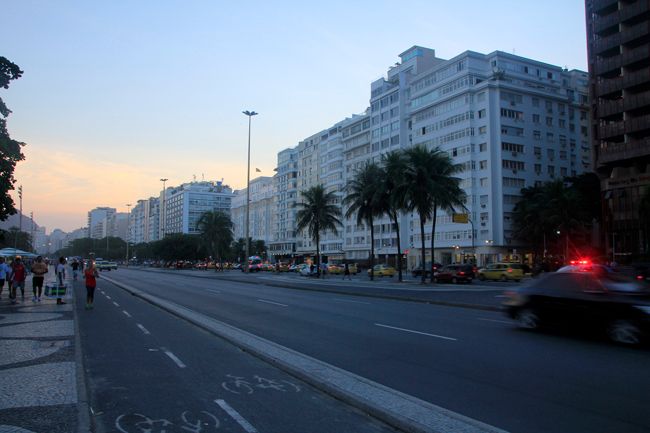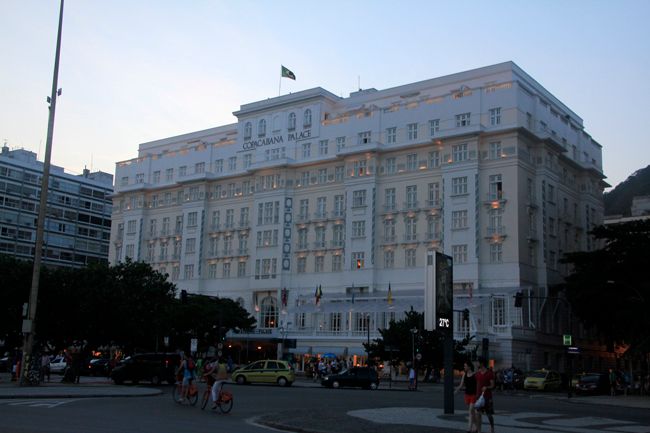 And then taking the cable car up to Morro da Urca and Sugar loaf mountain: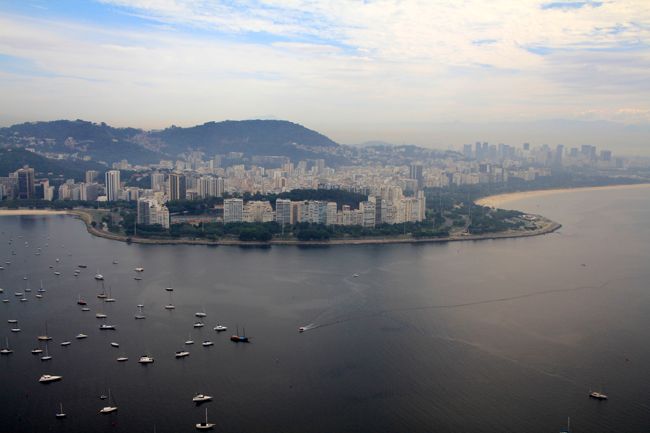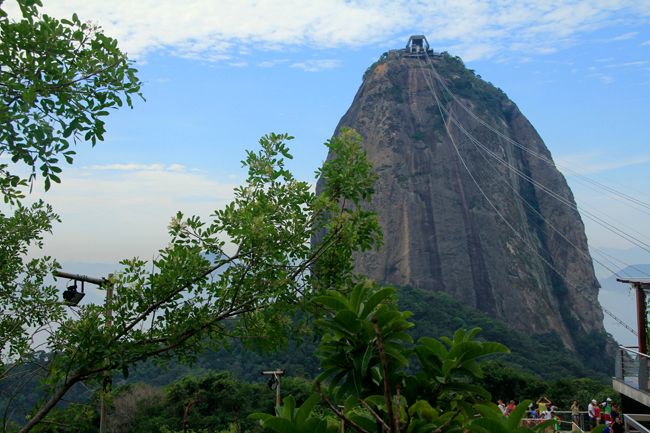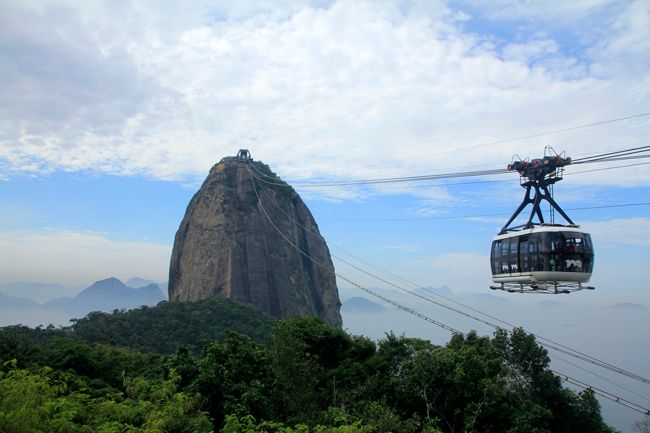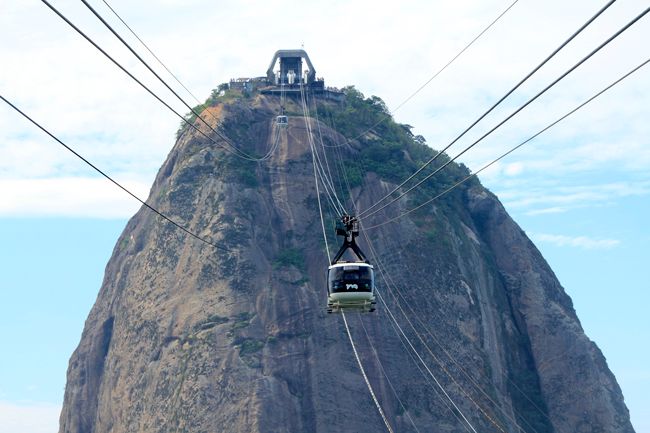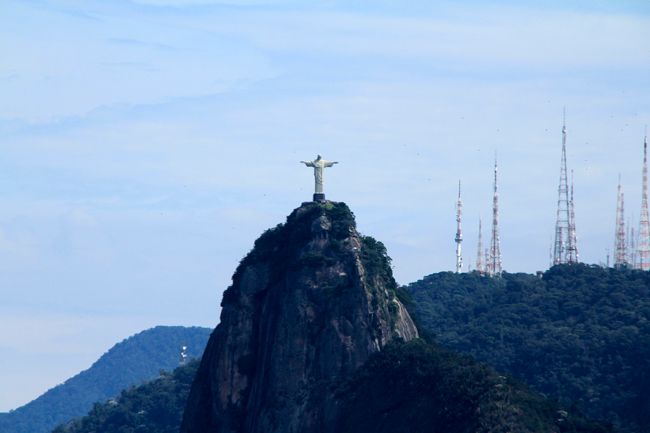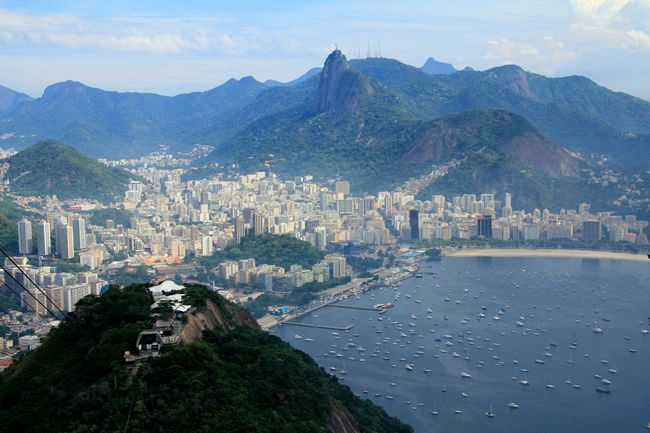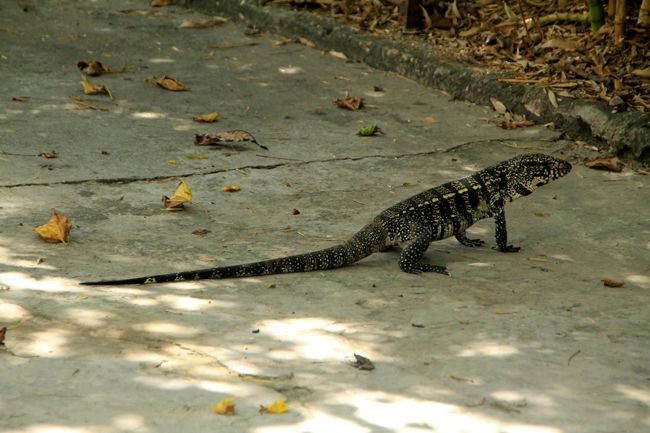 One of the locals hanging around.

The best part of the two mountains though was the view of the arrivals into SDU. Sunshine, warmth and a great overview of an airport – perfect!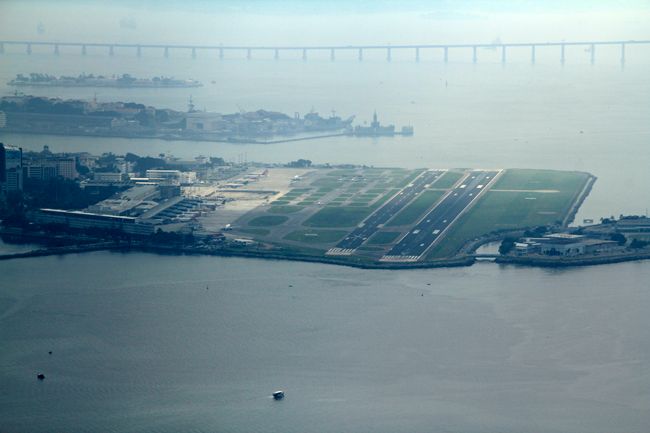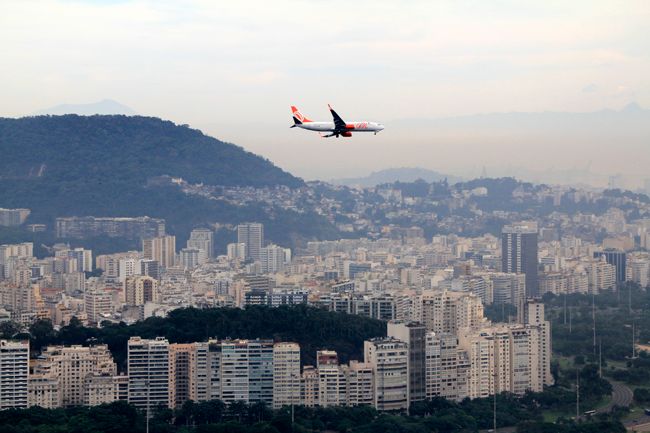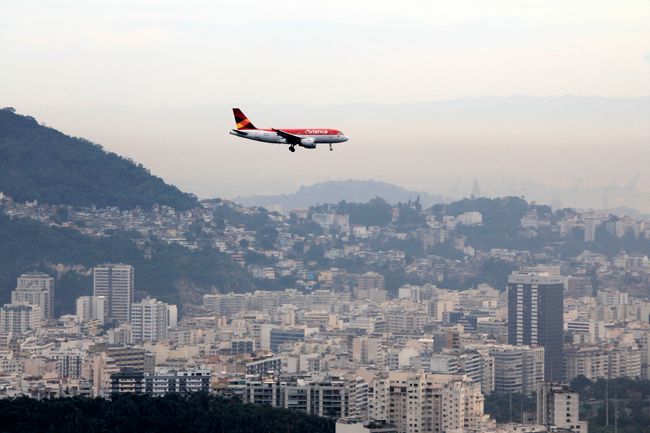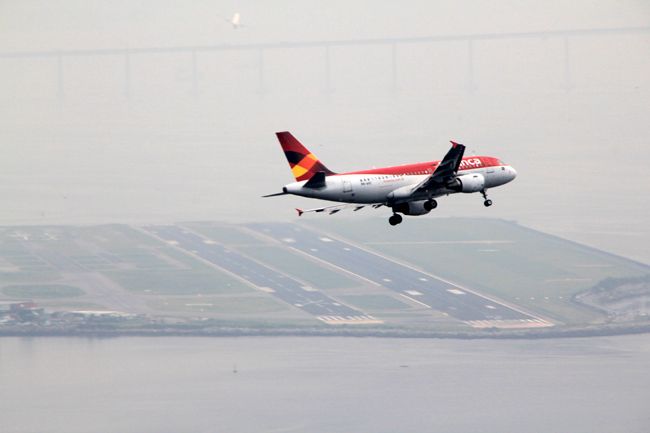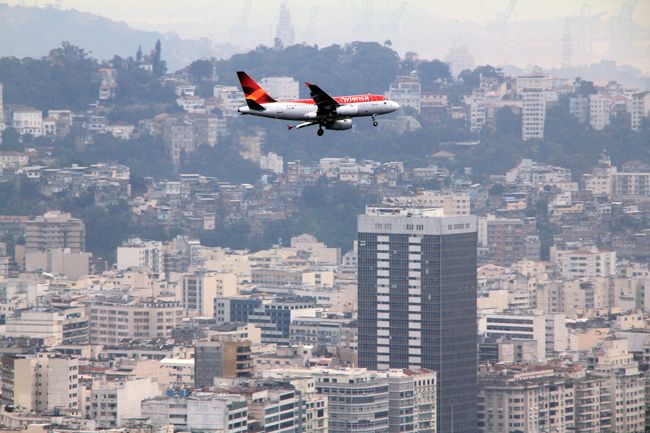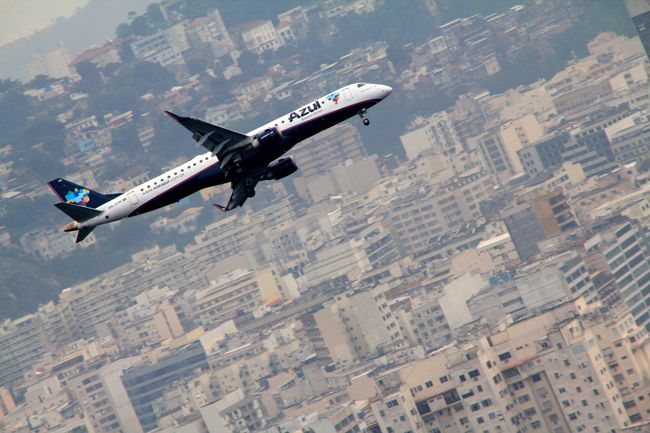 This one seems to be a regular at SDU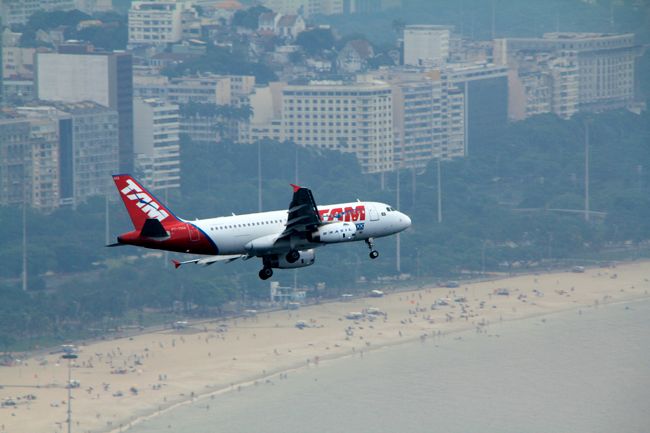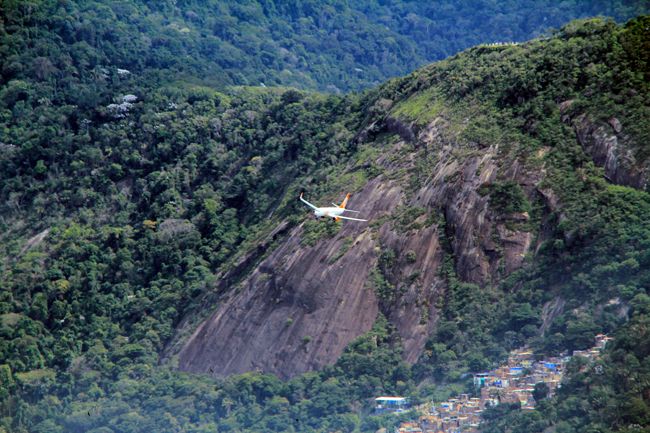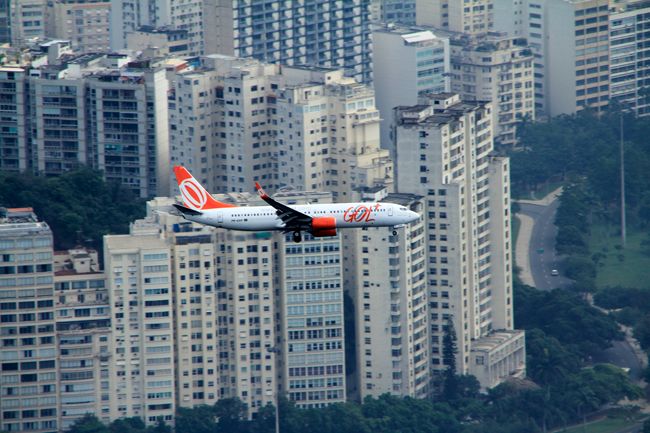 Next on the list was Christ the Redeemer. It involved quite an eventful mini bus ride from the Copacabana area though the favelas and up the mountain.


Unfortunately, the weather wasn't brilliant and within around ten minutes of arriving the top of the mountain was engulfed in cloud – therefore reducing the visibility of pretty much everything to zero. I only stayed around fifteen minutes or so before taking the hours journey back down the mountain again.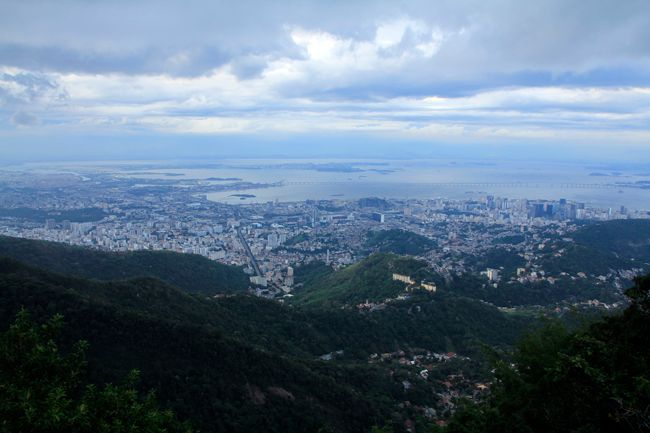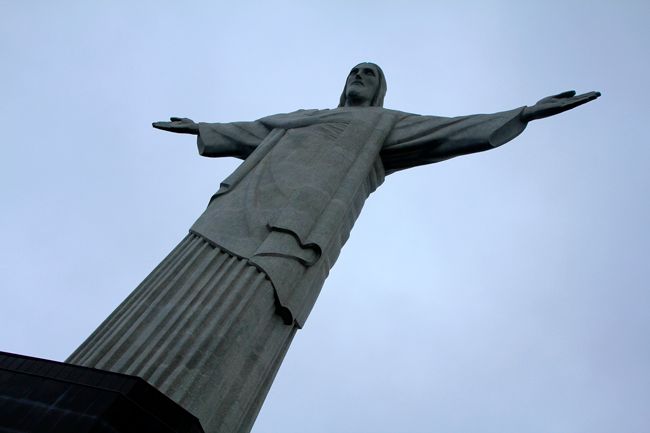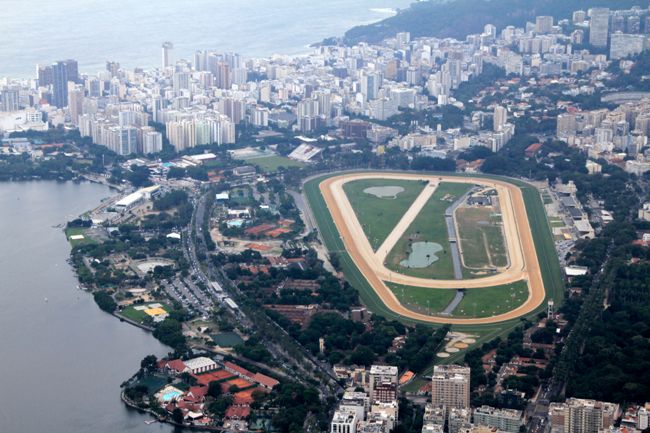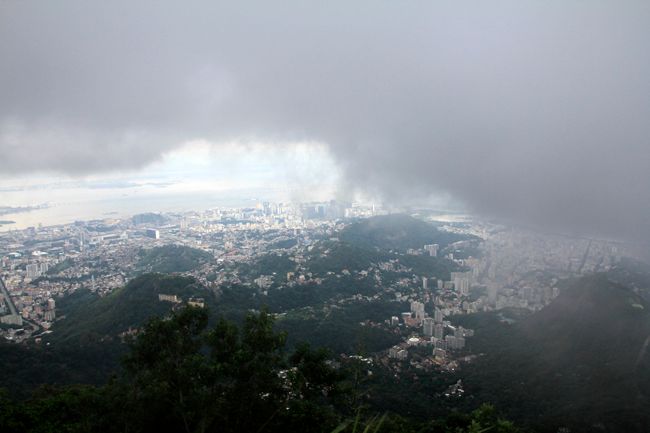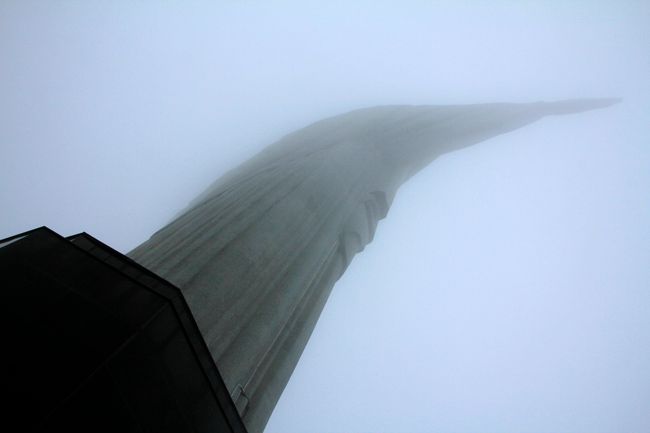 Once it was time to leave, there were a few options for getting between Rio and Buenos Aires, although the most interesting one, and by far the best priced, was on Emirates.



I logged on to the EK website to book, however it needed some sort of Brazilian ID number to proceed.



Being a Brit, I didn't have the required number. A bit of Googling later and I discovered that if I booked through an agent I wouldn't need the number. So I logged on to Expedia instead and was all set.


By inputting my locator on to the EK website, everything was in order – unlike with AV. More on that in the next part though.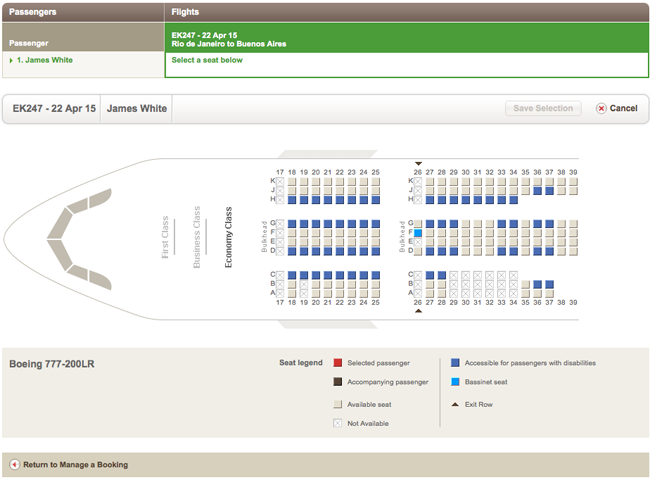 I checked in online the day before and was sent my mobile boarding pass.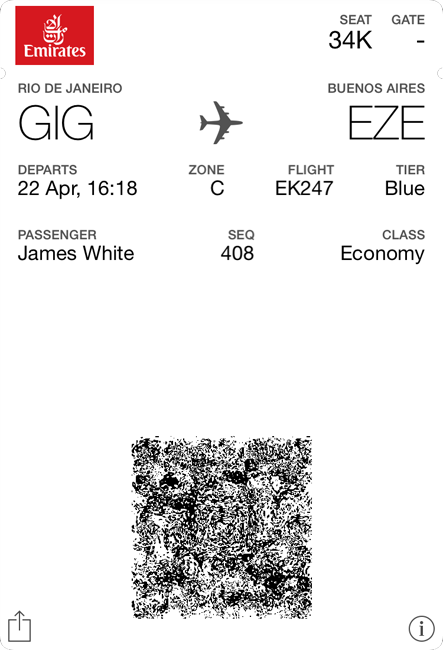 When it came to leaving, it turns out I'd picked the right moment – the weather had taken a turn for the worse.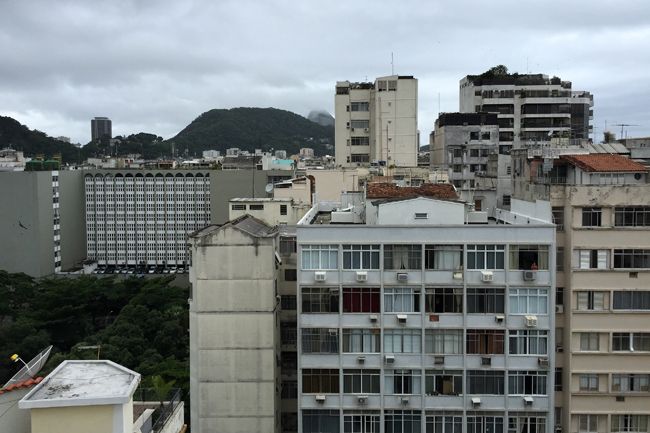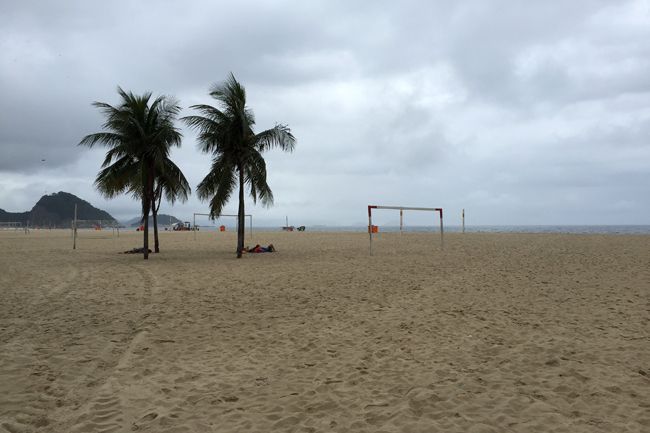 I did consider getting a taxi to the airport, but as I had plenty of time to spare, I took a bus instead.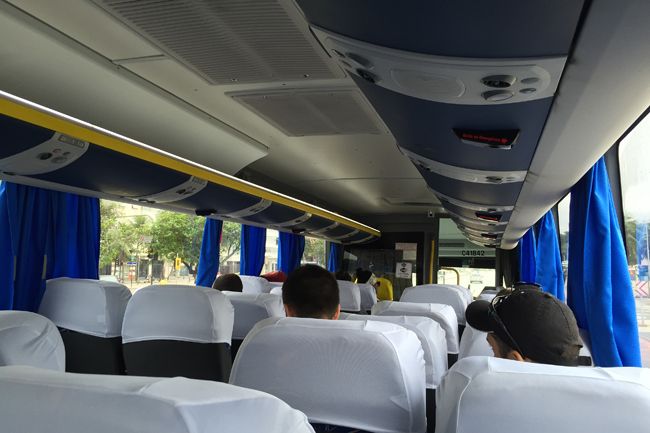 Upon arrival I made my way over to the EK check in area where there was a bit of a line.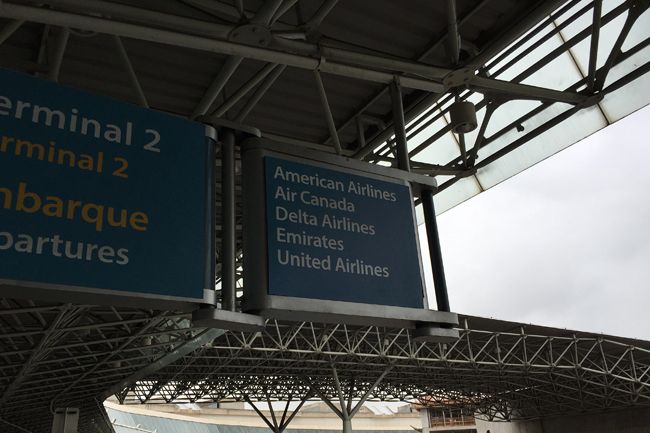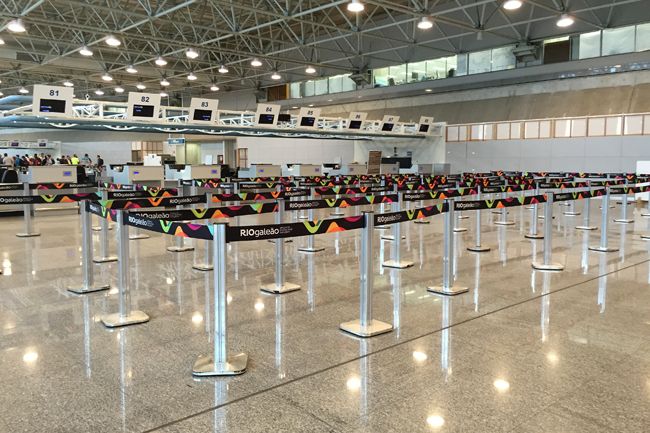 However as I'd checked in online I was able to jump the queue and head to a web check in desk instead.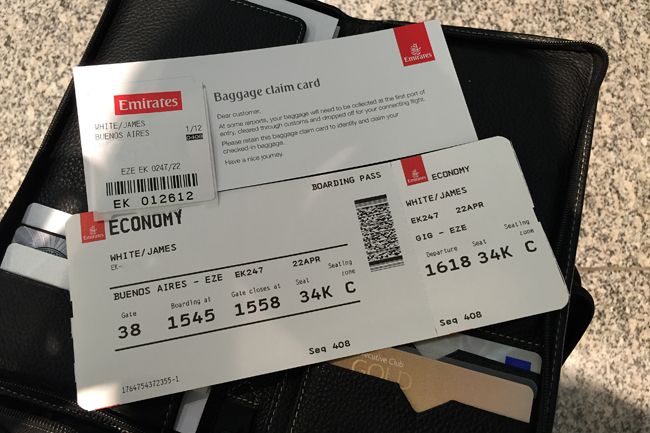 Once I was done, I made my way through a pretty quick security and immigration check and into the pretty basic departure lounge.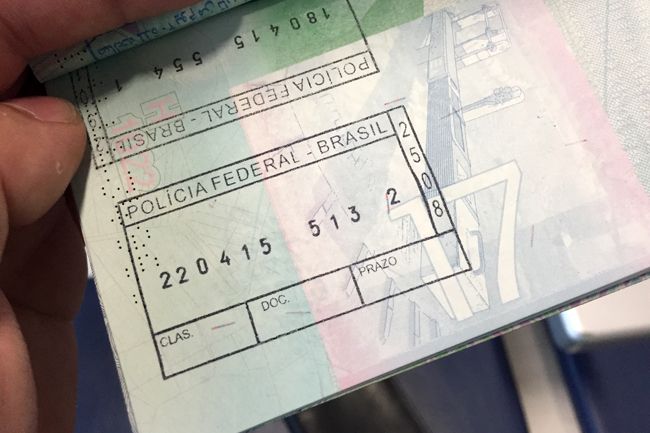 Brazil's exit stamp is just as dull as the entry one.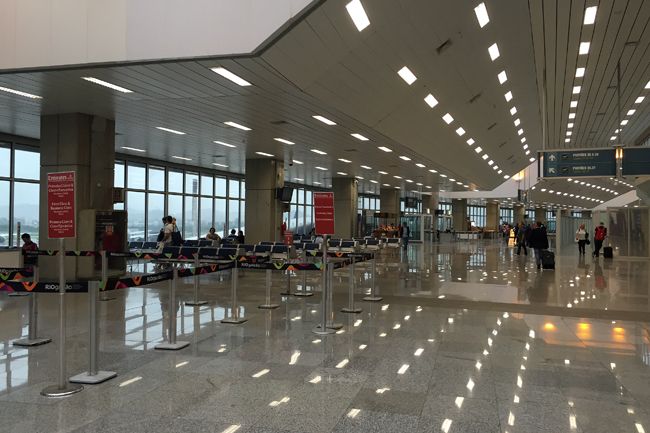 Luckily, I was able to access the one and only lounge in this part of the terminal (the GOL lounge) via my Airport Angel card. I can't say it was that brilliant – dark and pretty basic food and drink selections. However the wifi was pretty decent.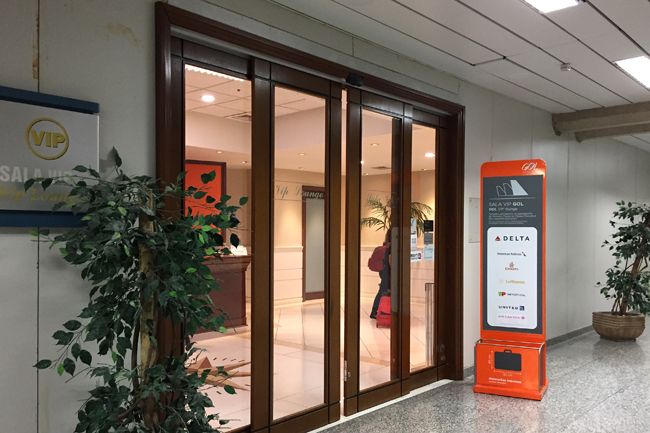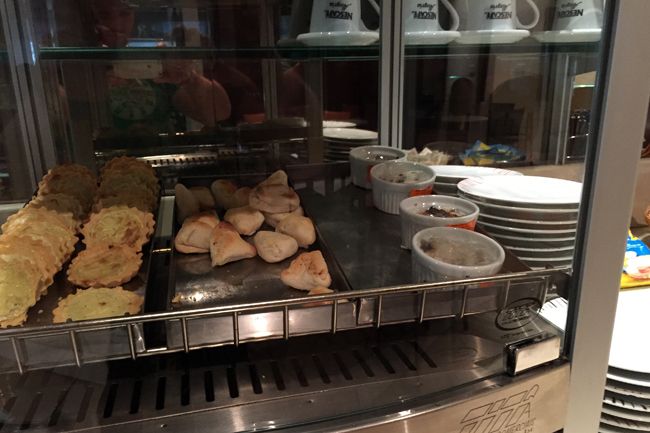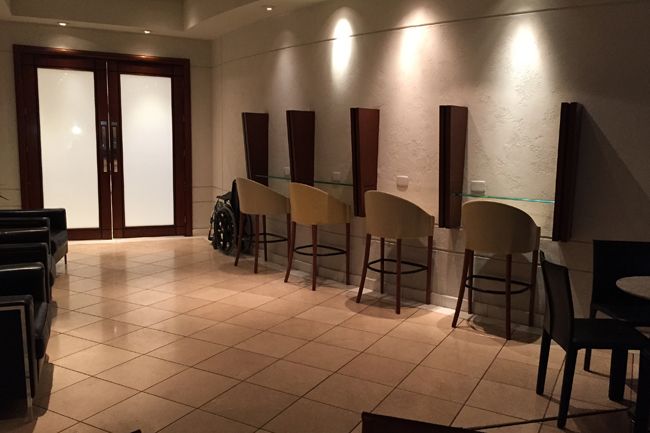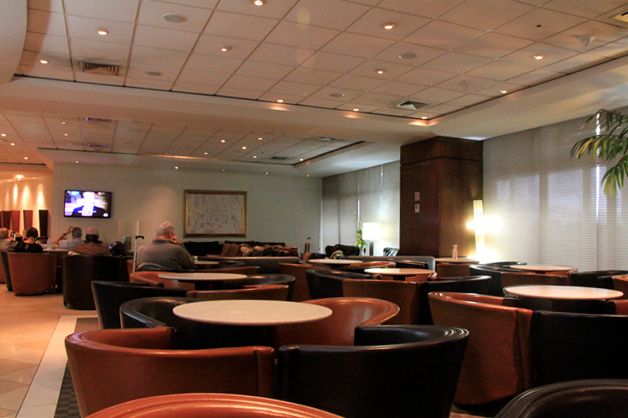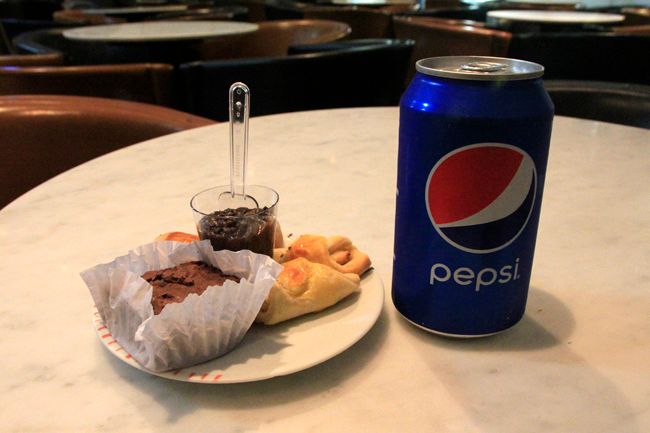 I stayed here until around an hour before departure. As I reached the gate, the aircraft was on stand and the crew were waiting to board.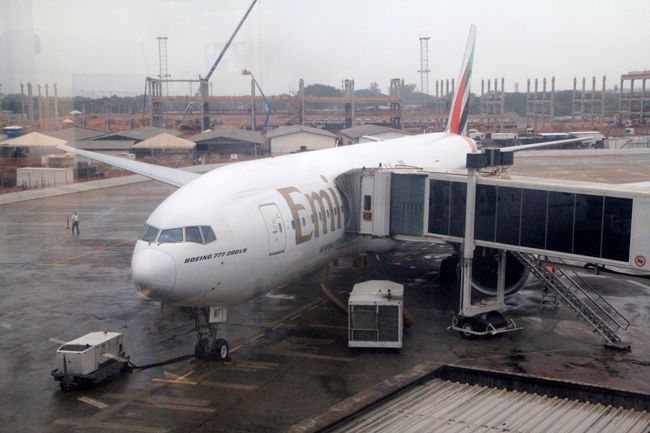 I took a walk around to see if there was anywhere to change my last few Brazilian Reai's into Argentine Pesos, but I was out of luck. So instead I took a look at what was around. The airport wasnt that busy – in fact the only other flight that was even showing signs of life was the TAP departure back to Lisbon.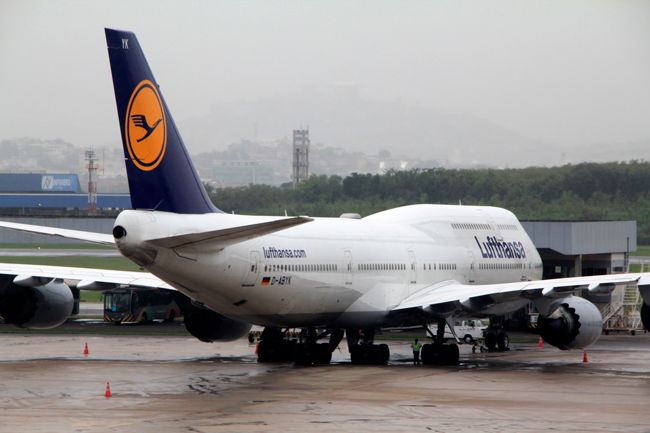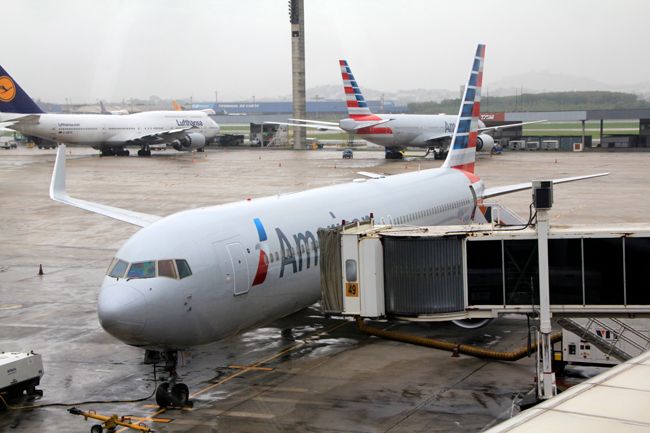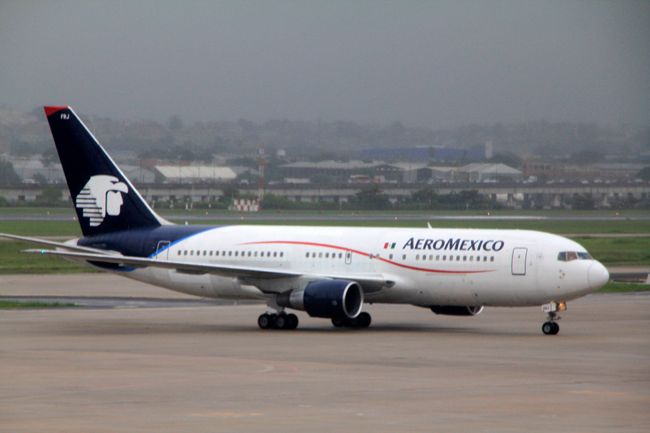 Boarding got underway around 20 minutes before departure. It was reasonably well organised, although for some reason the ground crew decided to put all the passengers who came from Dubai into a queue on one side of the gate area and all those originating in Rio into a queue on another. Once everything was in place they lifted the barriers and had four or five ground agents scanning boarding passes. It seemed to stay pretty civilised but I'm not sure it it worked out any quicker or not.


Next to the aircraft door, there was a pile of newspapers.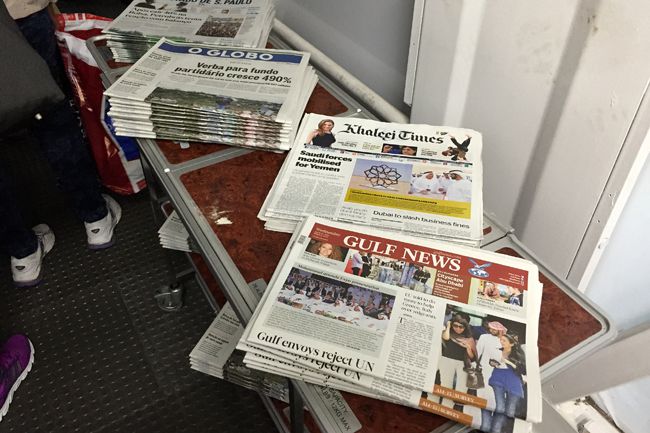 EK247
GIG-EZE
April 2015
Boeing 777-200LR / A6-EWF
Seat: 34K / Economy
Scheduled: 16:18/19:45
Off Stand: 16:27
On Stand: 19:44
I made my way onboard what seemed to be a pretty full flight. My two seat mates were firmly planted in place and the girl in 34J had already decided the arm rest was hers… As well as having the seat reclined.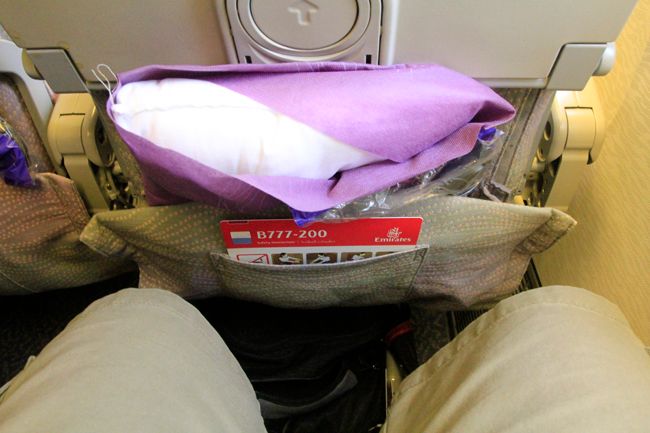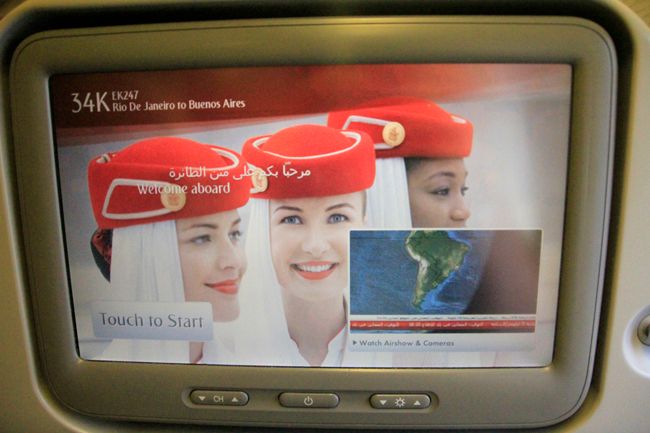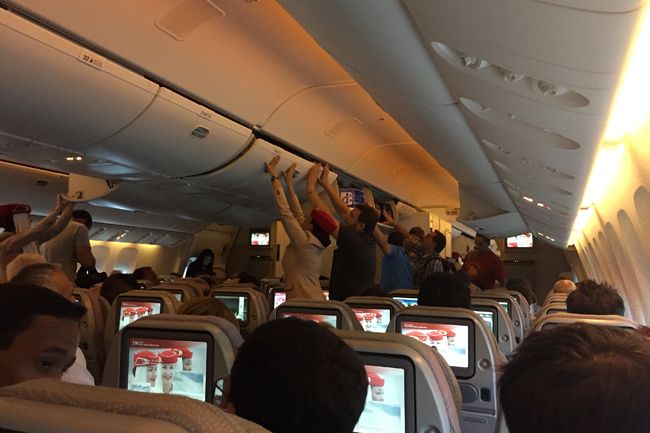 #Teamwork

The captain announced a 2h50 flying time, during which hot towels and menus were handed out. Much like on my very first flight with Emirates back in 2013, neither of the options appealed to me.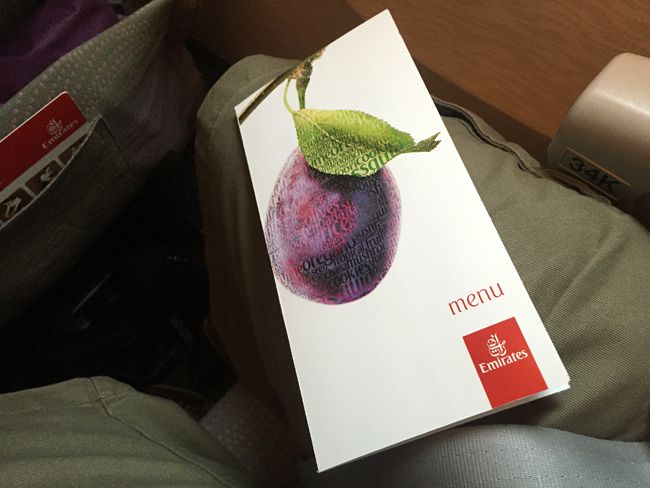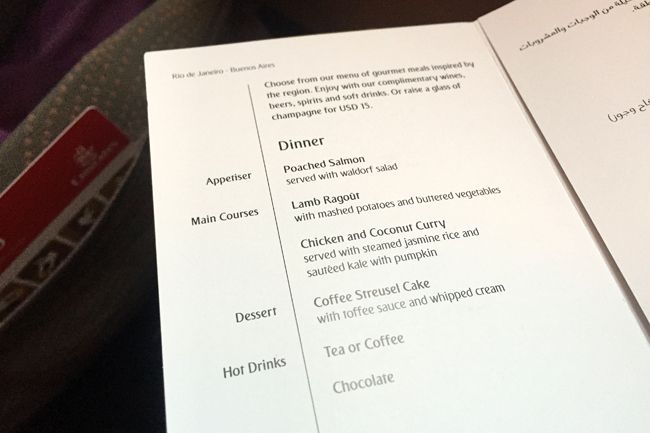 We made a very long pushback – at the end of which I got to hear the best noise in aviation – those massive GE90's firing into life.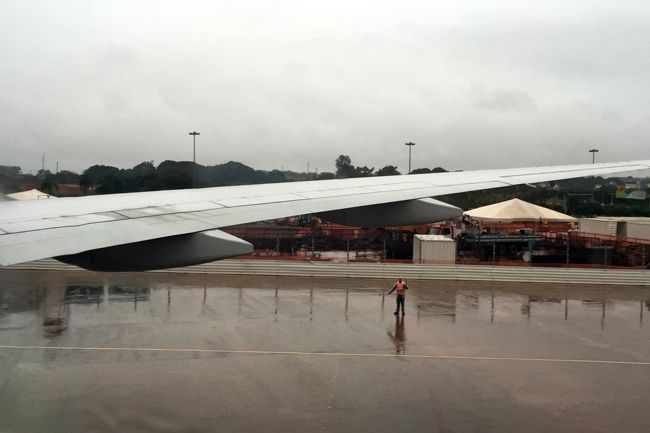 Following this came a reasonably long taxi over to the active.


Once there we hit the brakes pretty sharply and held for a minute or so before lifting off into the rain.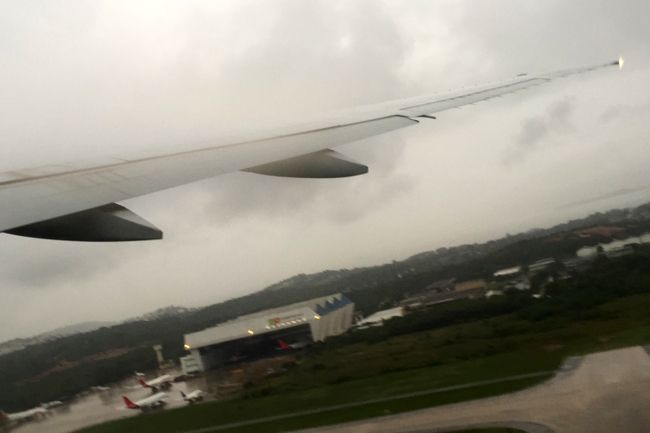 Unsurprisingly we were in the clouds for quite a while – during which time the crew had to shout from the rear galley no less than three time for people to sit down due to the seat belt signs still being on.


Around 45 minutes after departure, the meal service began. As mentioned, I wasn't a fan of either of the choices but I went for the lamb. It was surprisingly good actually.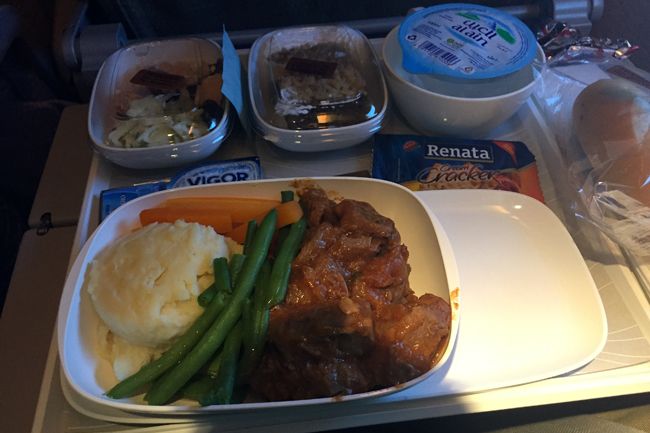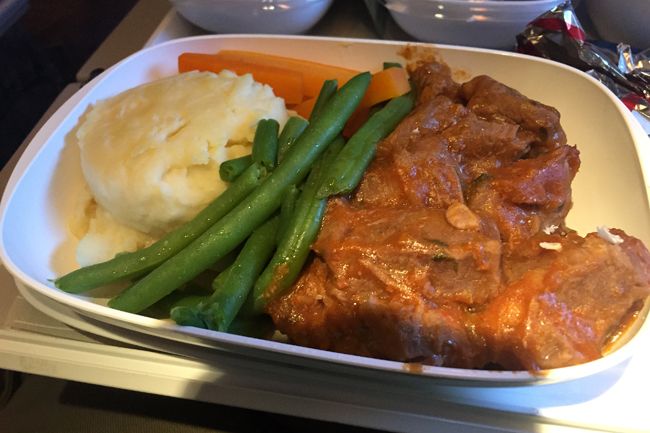 During the meal I put horrible bosses 2 on – not too bad for wasting a couple of hours.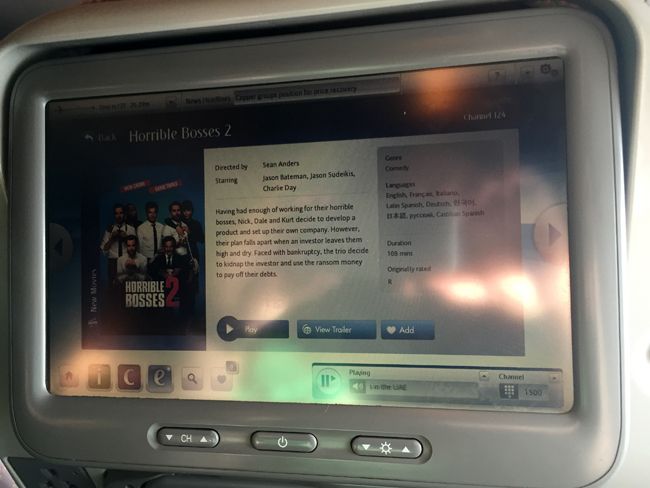 All the while watching the sun slowly set outside.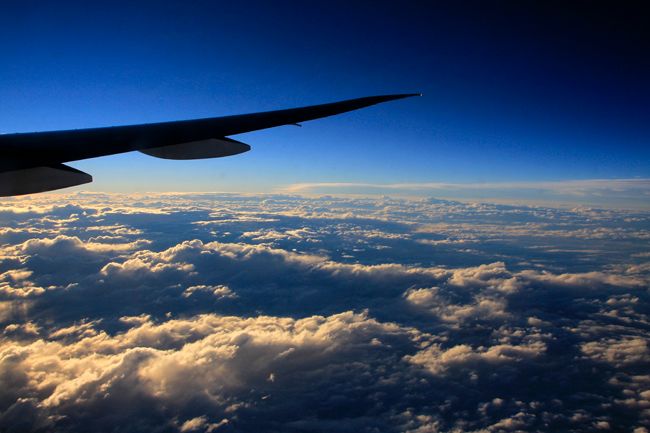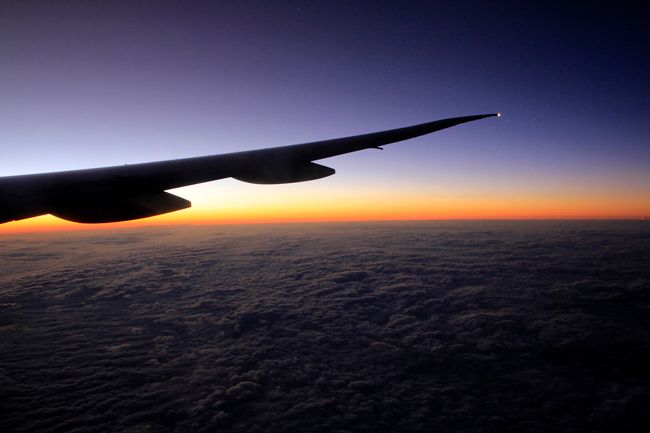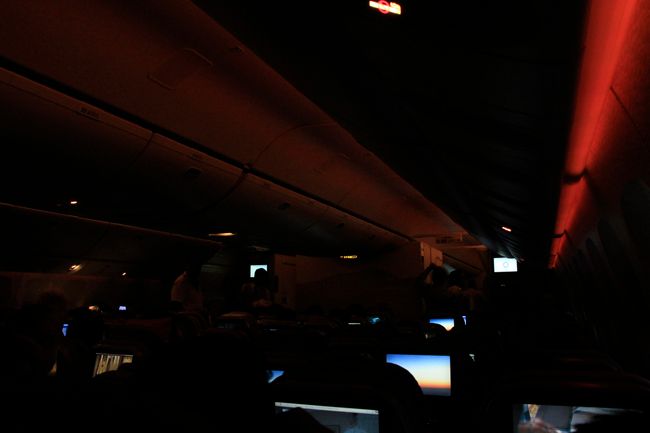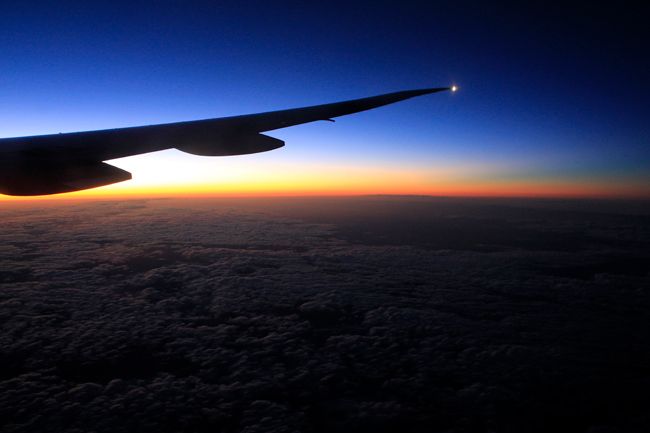 And the stars come out inside. A lot of people had their phones out and were taking pictures of this.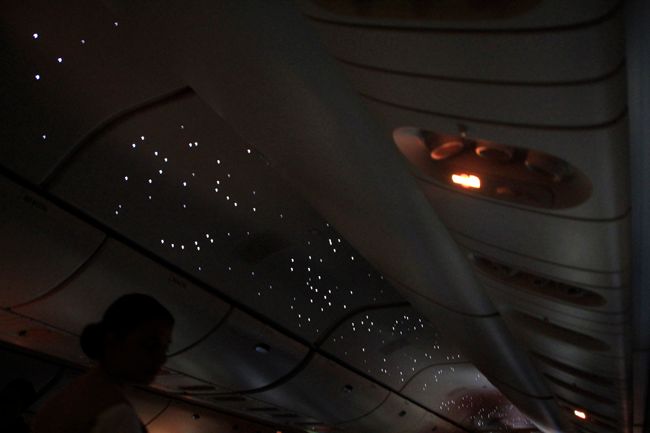 By the time the film had finished, descent was near.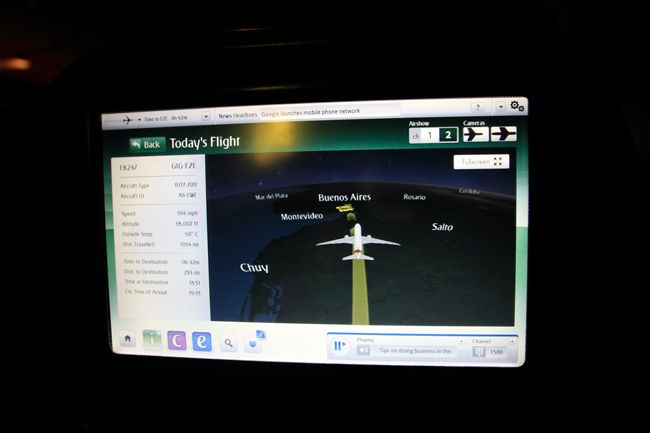 We passed over what I assume was a perfectly clear Buenos Aires.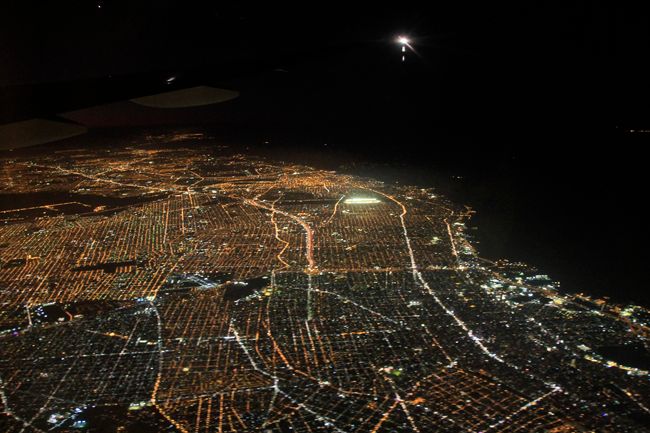 After which we turned out towards the wilderness and touched down. A brief taxi followed and we pulled on to stand alongside and AA 772 shortly to depart to MIA.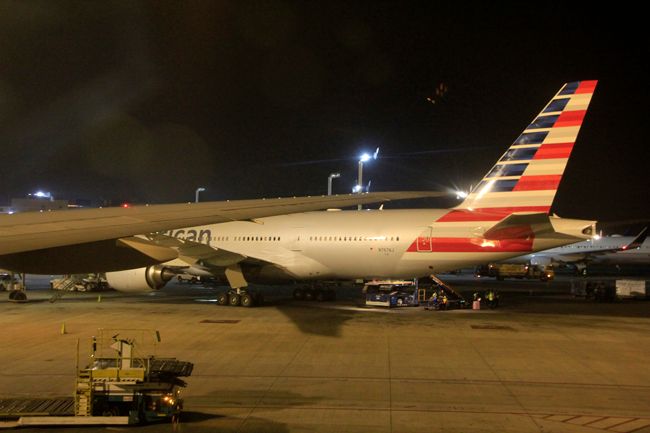 There was a bit of a wait to leave but I was soon in my way through the surprisingly modern terminal.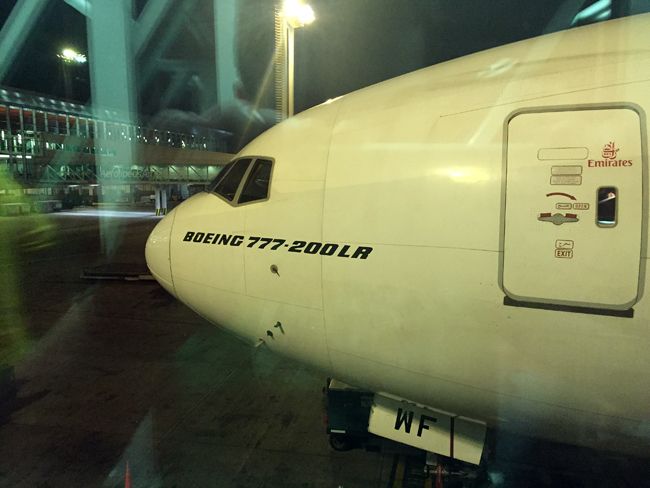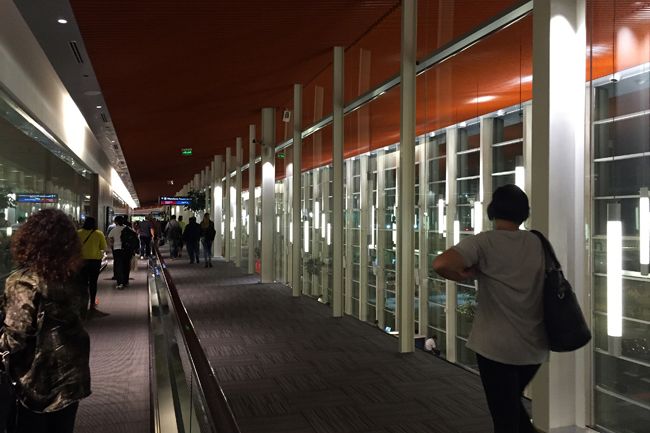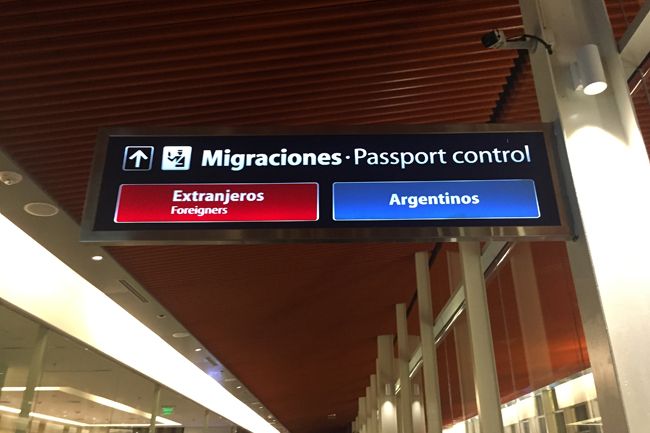 Once I reached immigration there was a bit of a wait but I was processed quickly and out into another country. Somewhat surprisingly, there were no landing cards to fill out – and the only question that was asked was where I'd be staying. I reached baggage claim and my bag was already on its way around – meaning I was waiting no more than about thirty seconds. Yet with all the times my bag has had priority handling with OneWorld I've had to wait for longer.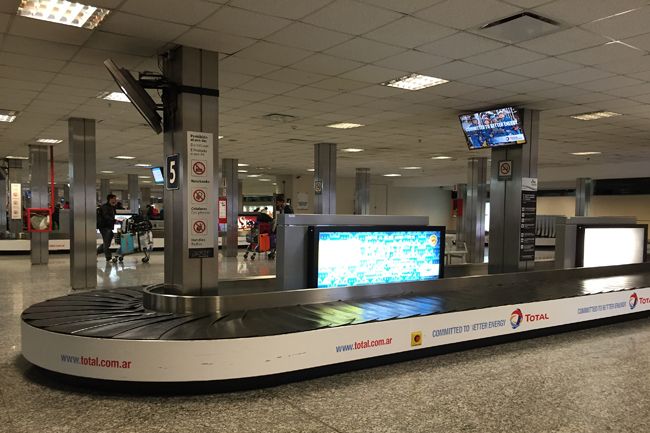 Once I reached customs, there were three separate lanes: one for crew, one for hand baggage and the third, which was packed for everybody else. I quickly disposed of the tags on my bag and headed for the empty hand baggage lane – and was through pretty quickly. After this, it was past all the taxi agencies. As time was getting on – and I couldn't be bothered to mess about with the buses I pre paid for a taxi for the thirty minute or so journey to my hotel, the NH Latino. A little on the pricey side – and despite being advertised an executive transfer, I ended up in a clapped out Fiesta but I couldn't fault the door to door service. Far less hassle than trying to figure out the buses, then figuring out where my hotel was in relation to the bus station – probably a thirty minute walk as I later found out.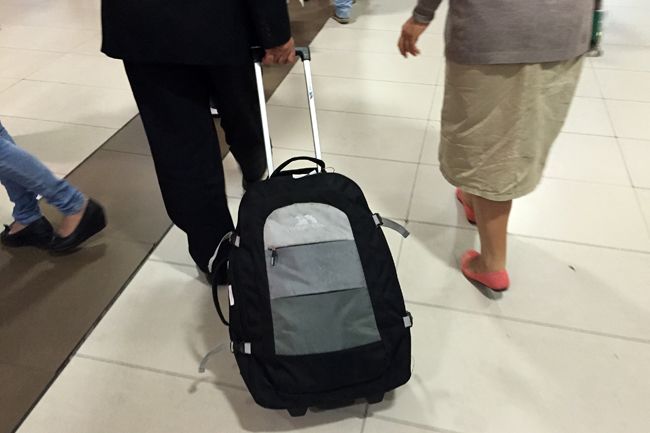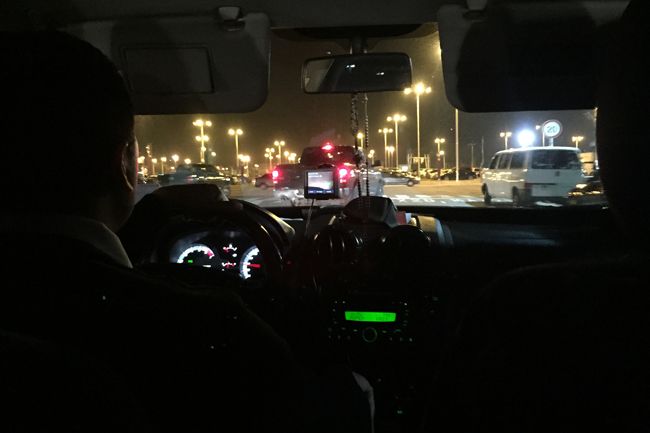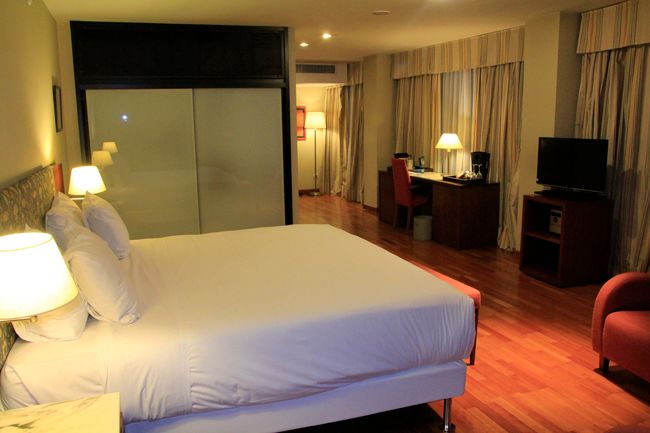 And with that, I'll leave this somewhat brief report.
Emirates weren't too bad I suppose. The ground staff I encountered were all pretty good but the cabin crew seemed a little robotic. This was also the first time I'd experienced the 10 abreast Y seating on the 777 with somebody in the seat next to me. And I must admit I'm not a fan – in fact I'm pretty sure I would have had more room if I'd taken an AR flight on a 737 on the same route. Its also the reason why quite a few of the on board photos are phone pics – there just wasn't enough room to get my SLR out when the meal trans were down. As experienced on my previous flights with EK the food was of pretty high quality too. Considering I'm not a fan of lamb at all, I did enjoy it on this occasion.
Stay tuned for part 4 which will follow my journey from Argentina up to Colombia with Avianca.