EasyJet/LAN/SAS | A319/B788/B736/B738 |LGW-MAD-FRA-ARN-LHR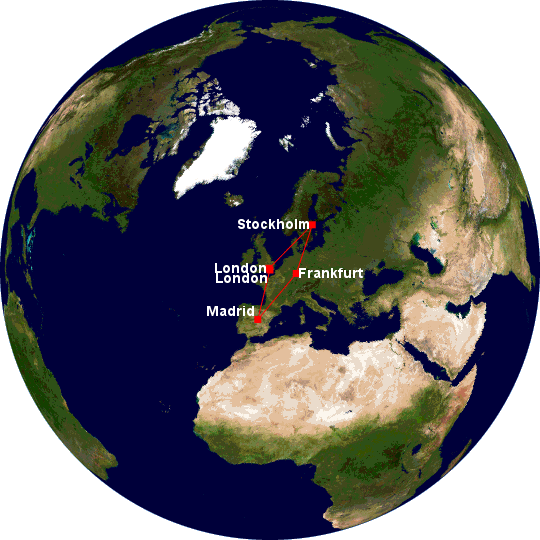 Maps generated by theGreat Circle Mapper -copyright © Karl L. Swartz.
The LAN flights between MAD-FRA have been quite a popular with a.netters over the years. Although admittedly, I hadn't really put much consideration into taking one. Then one day, Gabriel posted on Facebook that he would be taking one in November 2013 and asked if anybody wished to join him. His report can be seen here: http://www.airliners.net/aviation-forums/trip_reports/read.main/248640/
Now LAN has pushed their 787's on to the route, it sparked my interest somewhat, and being able to take a flight with a fellow a.netter sweetened the deal. I replied as a 'maybe' as I wanted to see how much money I had left after my trip to Asia. As it turned out, I spent far less than anticipated, so the day after my return I booked my flight via the LAN website: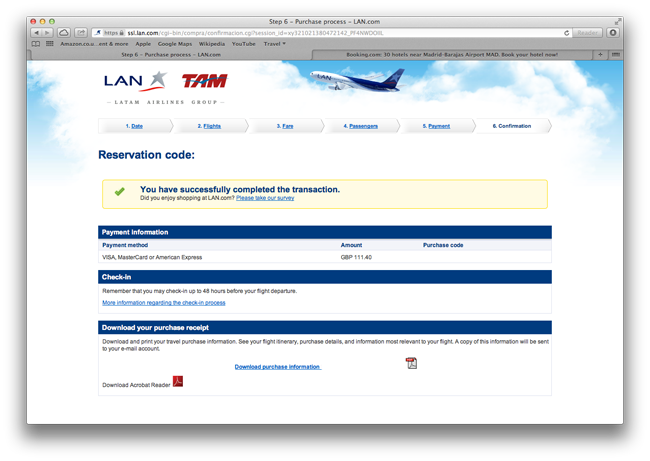 With the MAD-FRA sector sorted, it was now time to book a flight down to Madrid. Not wanting to risk missing the flight due to delays/cancellations etc. I looked at flying out on the Friday evening after work. As the BA rotations either left too early or too late I looked elsewhere. Air Europa came in at around £80 or EasyJet came in at £55, including a pre booked seat. Having been dead against flying EasyJet for many years, their new policies regarding their seating arrangements made me come around to the idea of flying them. The fact they were £30 cheaper than Air Europa and there wasn't much difference in service sealed the deal.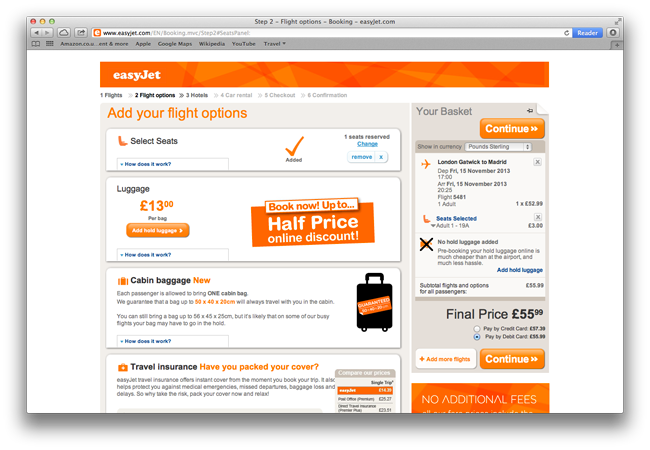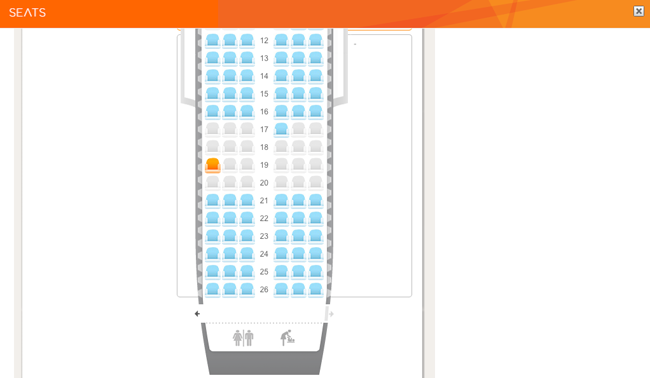 I could then use the money saved to take a more interesting route home. The cheapest option to get from FRA to London was with Lufthansa, however after flying that route just a few weeks previously on my way home from Zurich, this option really didn't appeal. I studied other options and the best one was SAS via Stockholm on a rare 737-600.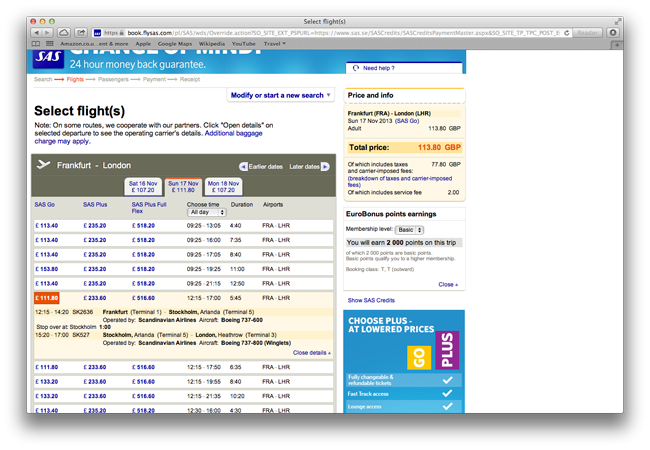 Pretty much from booking, despite everything online saying the LAN flight would be a 787, everything seemed to show a 767 seat map.


Finally at OLCI, the 787 seat map was showing up but unfortunately all but one window seat was taken. Being at the back, I figured it was probably the famous windowless row. Either way, I took my chances.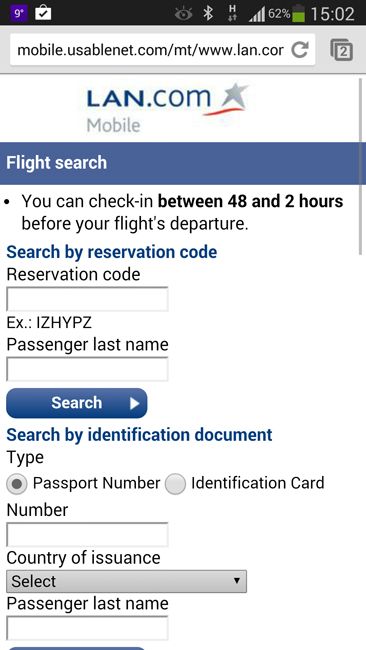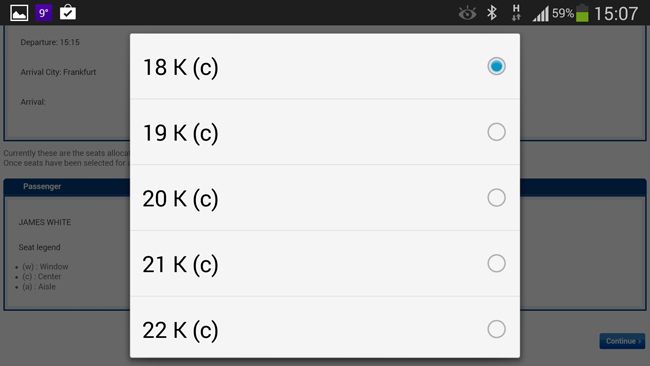 EasyJet check in was made online a massive 30 days in advance: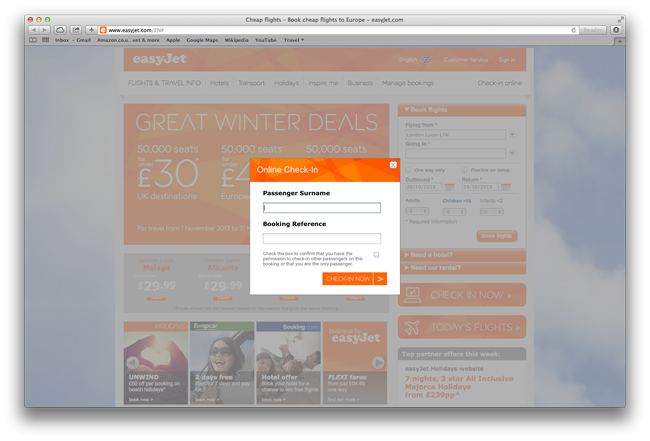 Despite the odd issue:


Everything worked out at the second attempt: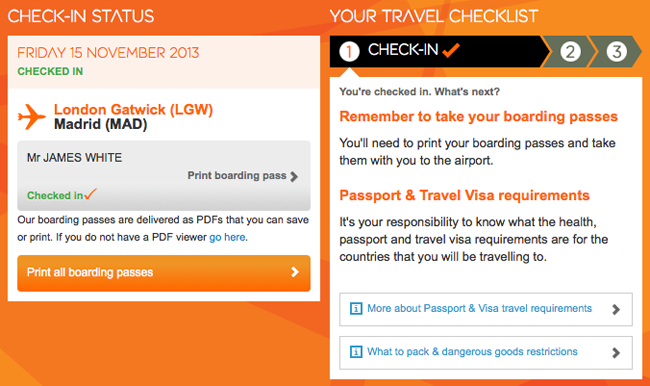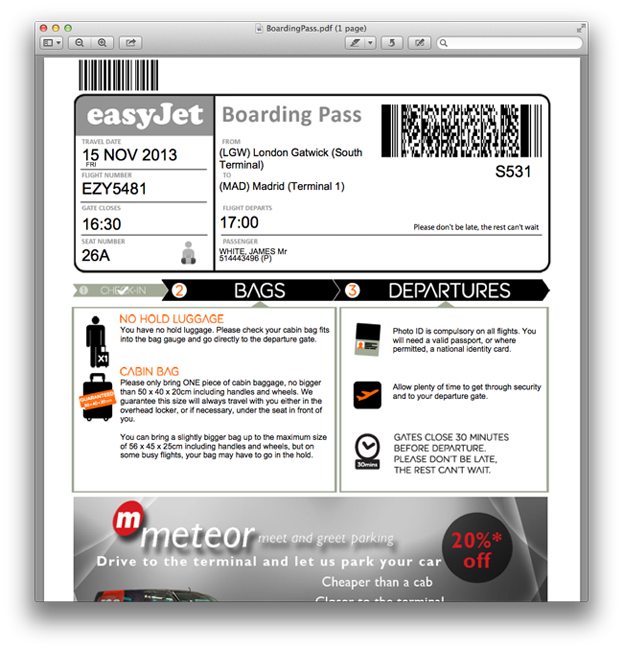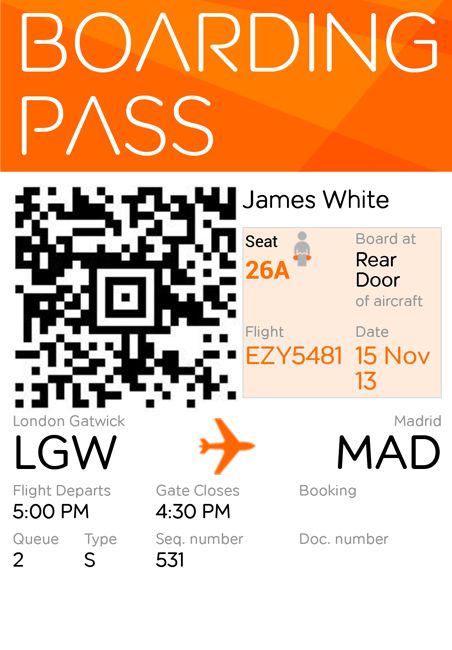 I later moved forward to seat 7A

On the day of departure, I rushed home from work, got changed and was out the door within ten minutes, catching a pretty packed train to Clapham Junction at 13:45.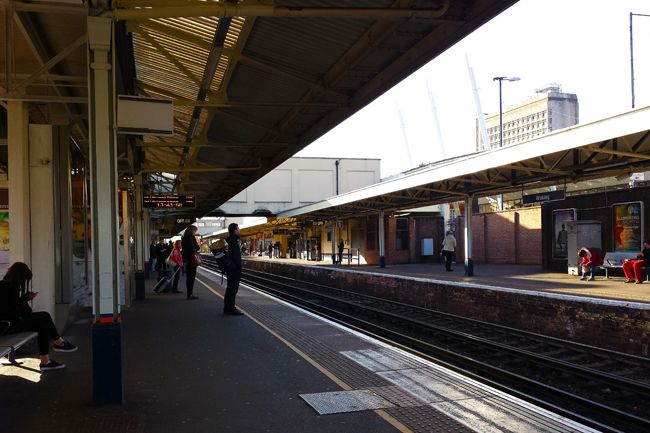 I made my connection at Clapham, and was then on to an even busier train for the hop down to Gatwick, arriving at just before 3pm. I made a pass of the EZY check in, but as I suspected there wasn't any way to grab a souvenir boarding pass.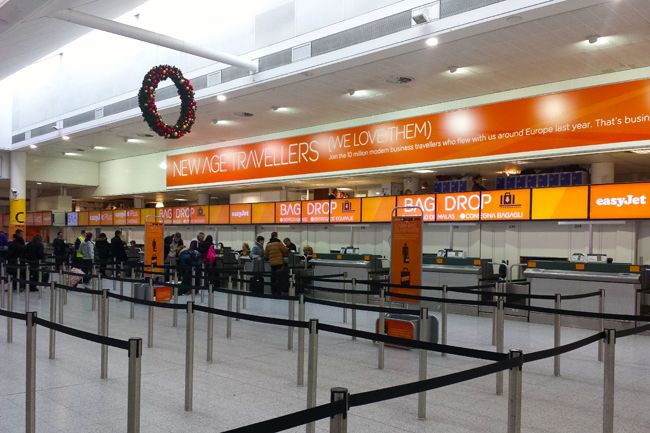 I did notice that VS have replaced their ticket sales counter with a pretty unimpressive Upper Class check in area though.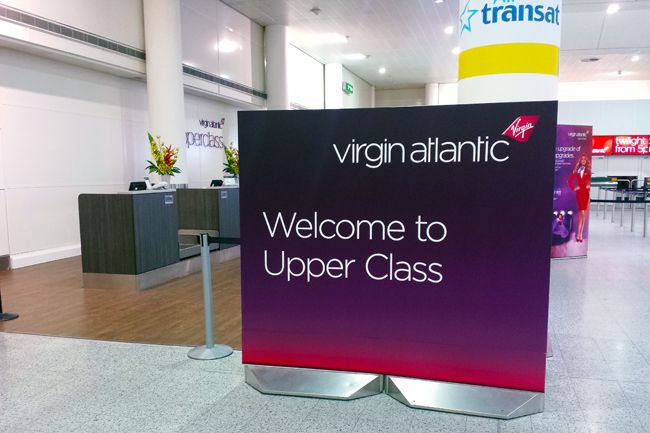 Following this I made my way up to security, where I was invited to use the fast track – which pleased me for all of twenty seconds until I made my way in and realized there was a pretty big queue. Hmmm. Around fifteen minutes later I was through – probably the longest it's taken me to clear security at LGW in a good few years.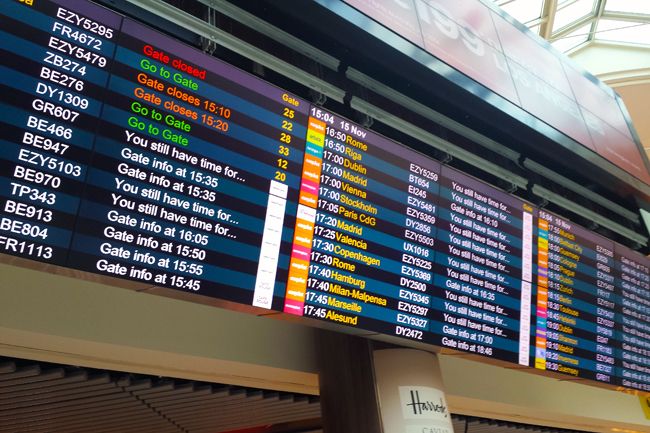 I was amazed at how much this place has changed since February when I was last here. Luckily, due to not having any lounge access for this flight, my favourite spot at LGW, The Bridge Bar was still in tact.


I grabbed a drink and took a seat over by the window, however there wasn't a huge amount around.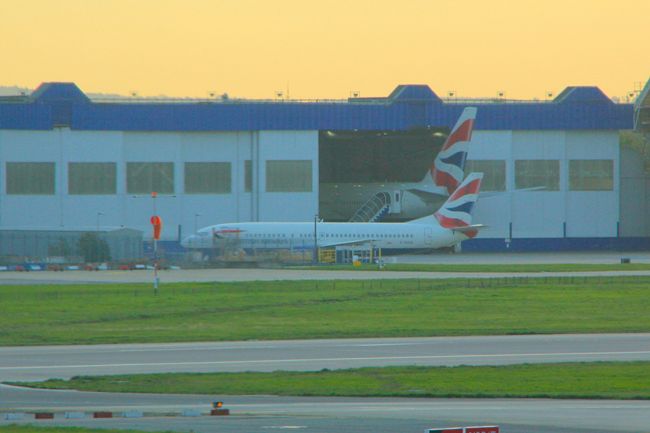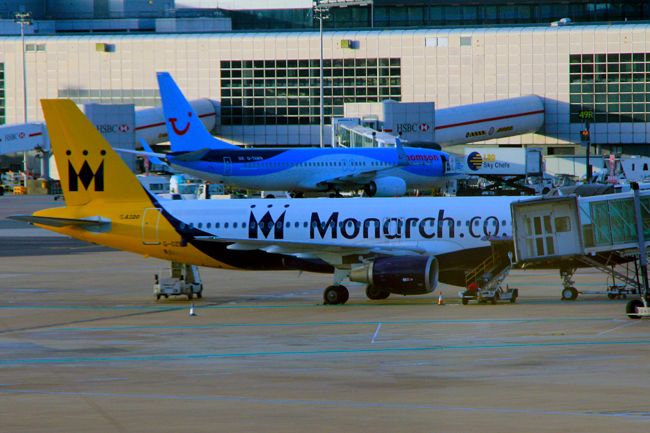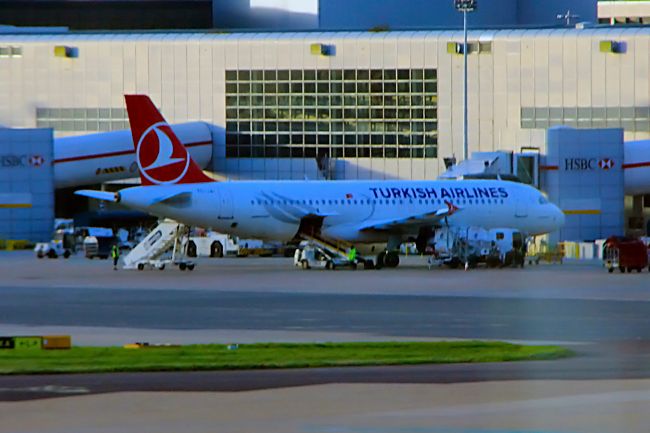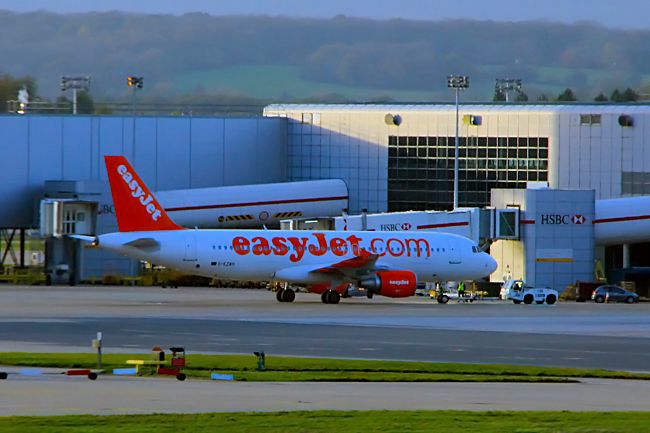 I stayed here for around an hour or so – despite there not being much going on outside, it was still ore interesting than being in the shopping mall of a terminal. At around ten to four, I left the bar and went for a walk. I noticed that the airport had installed iPad type devices around the balcony.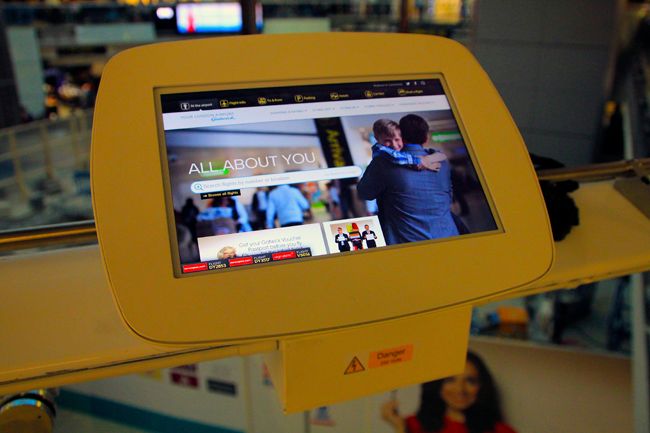 I headed downstairs and had a quick look through the new shopping area, before my gate was called a couple of minutes early – which was a first for Gatwick!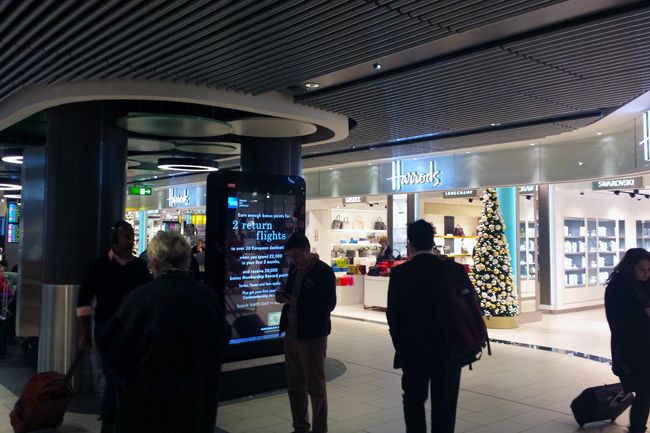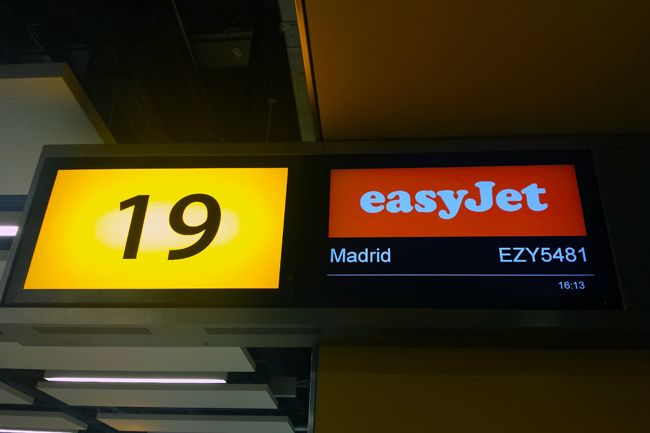 So I made my way down to gate 19, where it wasn't actually open but there was a queue. A few moments later all the speedy boarders were called forward. There were quite a few of them, which ended up leaving me at the front of the normal queue. Unusually, there wasn't any waiting around in the holding pen – instead it was straight down on to the jetway – and instead waited around for fifteen minuets there instead – great planning there. Is this an EZY thing or the Spanish (of which there seemed to be many on this flight) being too eager to board?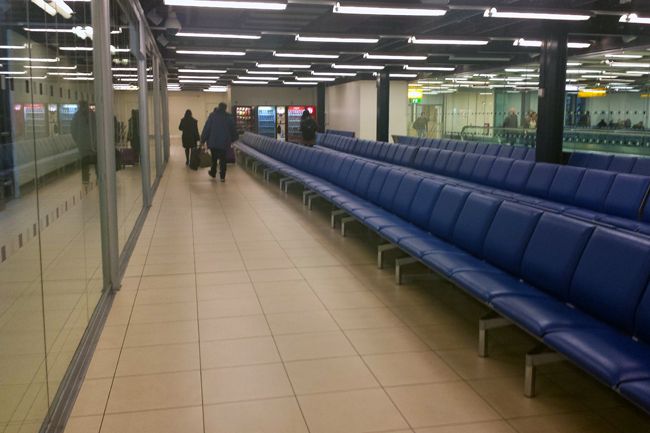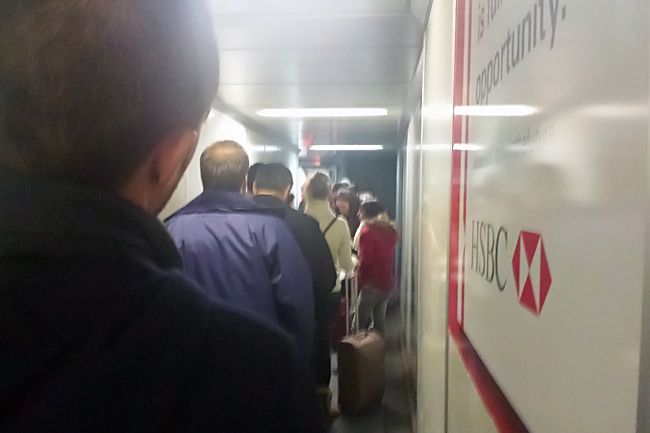 Whilst on the jetway, one of the ground crew decided to move it slightly to align it with the aircraft a little better – hope there weren't any Health and Safety execs around… Once I was finally on board, I was given a very warm welcome on board by an elder purser. I took my assigned seat, and watched the seemingly endless masses make their way onboard – this evenings flight seemed pretty full to me.



EZY5481
LGW-MAD
November 2013
A319-100 / G-EZFS
Seat: 7A / Economy
Scheduled: 17:00 / 20:25
Off Stand: 17:04
On Stand: 20:17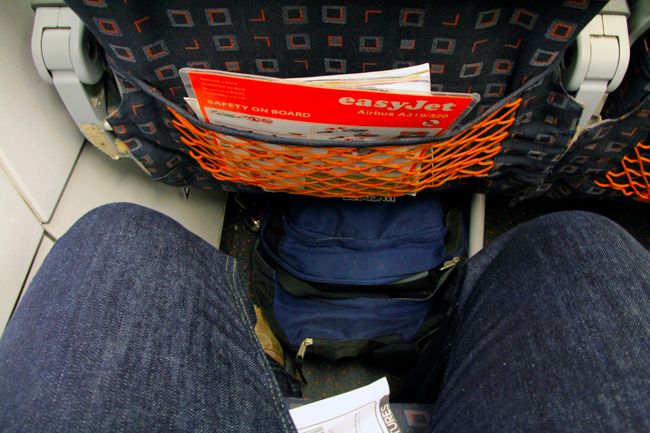 Decent enough legroom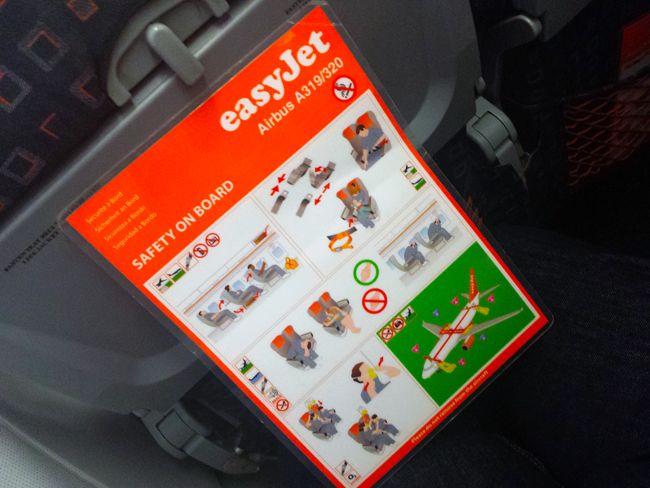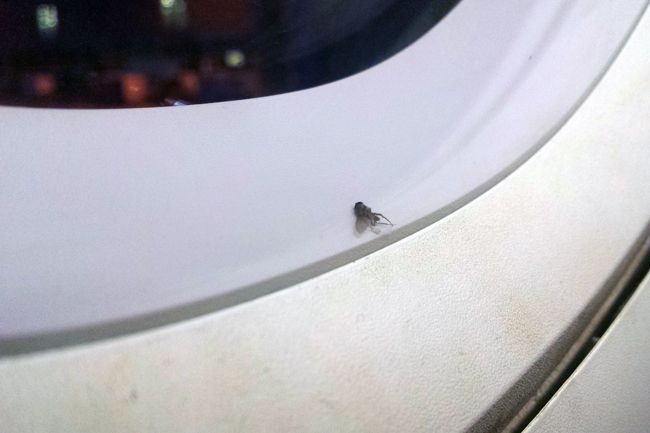 Wonder how long this has been here?

Boarding was completed around fifteen to twenty minutes later, however there wasn't a chance to leave early, so we just sat and waited.


During this time, the captain came over the PA and announced a flying time of an hour and fifty minutes and that it would be a little bumpy over the Bay of Biscay. We pushed off stand and made our way down to 08R a few moment behind schedule, following the Aer Lingus retro jet, and being followed by a trio of company Airbuses.


We made our way into the air at 17:25 and made a 180 degree turn to the left to fly back past LGW.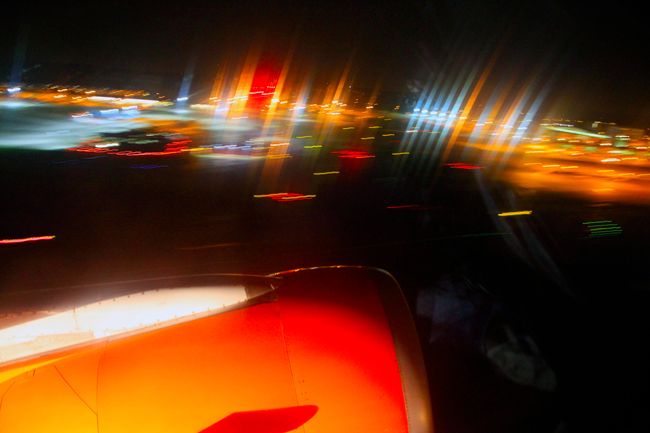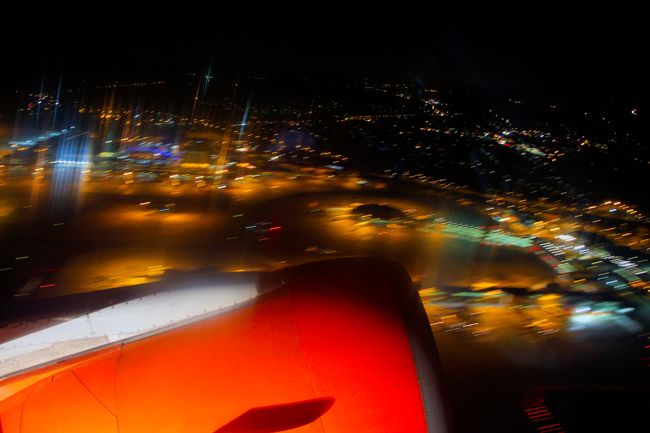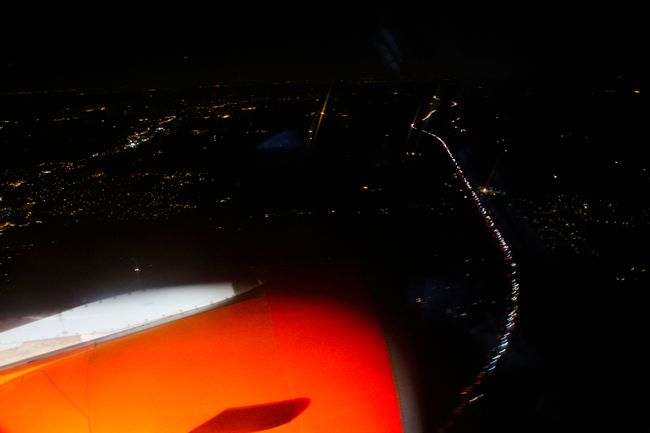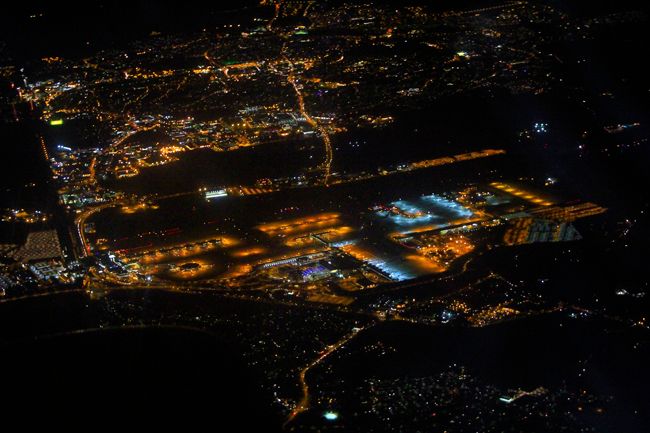 It was then darkness for the duration of the flight. Shortly after departure, the crew started their service – I'll take a cappuccino and a brownie thanks! Delivered with a friendly smile, and an 'ooohh, good choice'.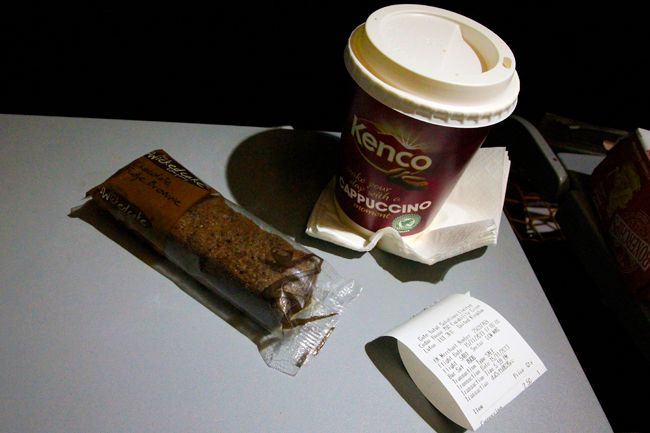 After I'd eaten I updated the TR and listened to some music.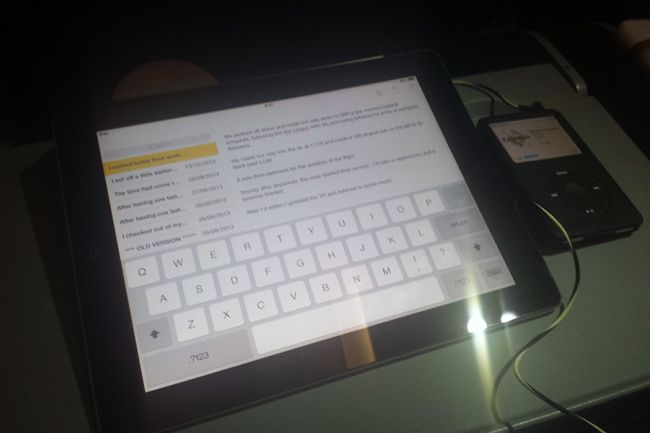 I did want to get a decent cabin shot, but I was still a little scarred from my Flybe experience, so I stuck to the subtle shots instead.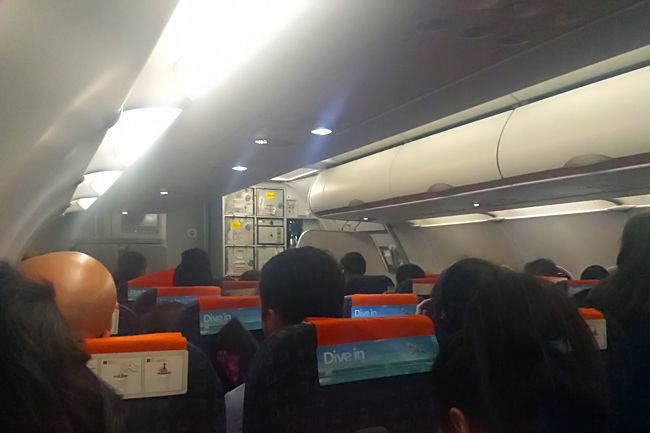 I stuck with the iPod until descent started at 19:40 local. It was a little on the bumpy side, but nothing too serious. We seemed to descent to a pretty low altitude fairly quickly, before flying around for a good fifteen minutes. Almost like we were driving around a packed car park trying to find the one remaining space.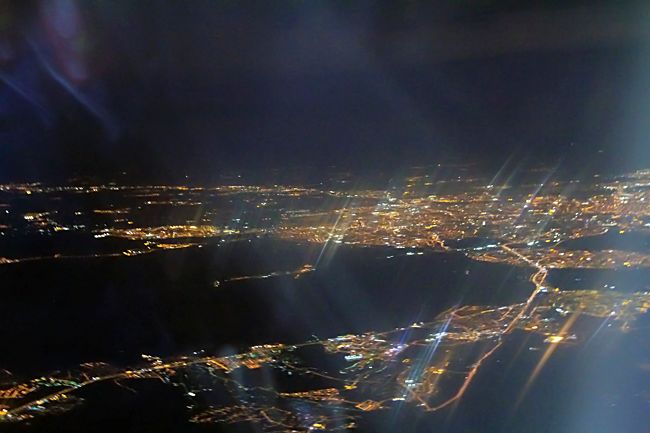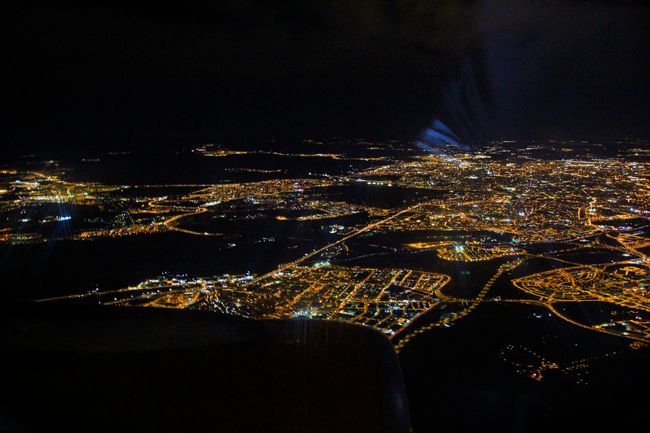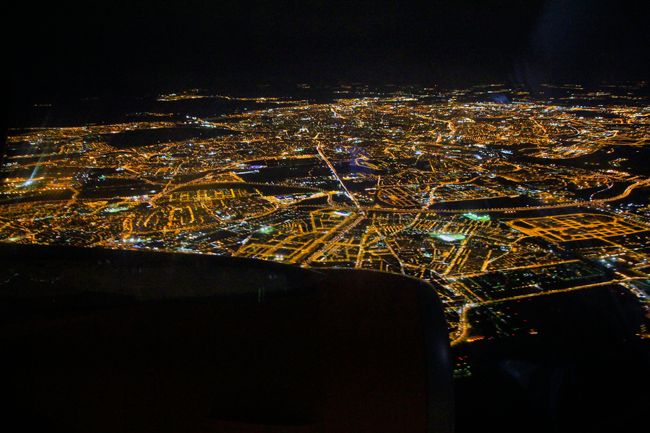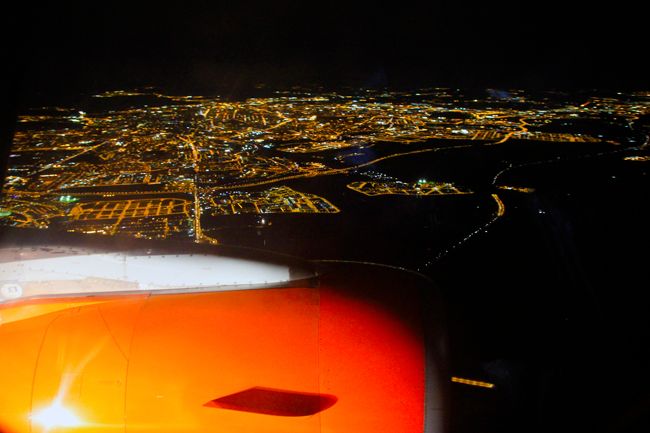 We touched down and made a pretty long taxi over to terminal 1.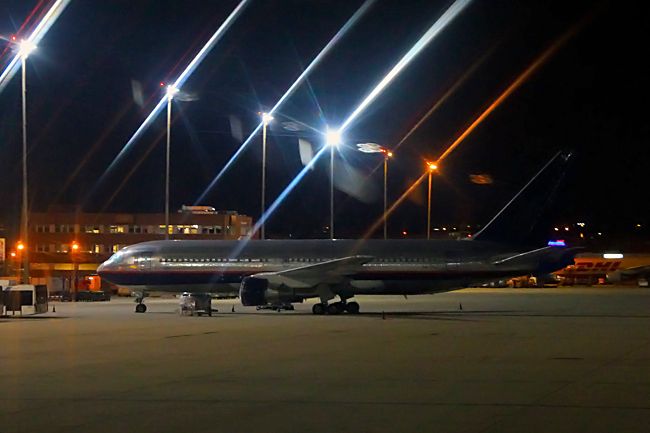 Ex AeroMexico by the look of it.

We arrived on to stand, and as usual, everybody was up immediately – not that anybody was going anywhere. Around ten minutes later the captain was on the PA saying that the ground crew couldn't find any chocks, therefore the jet bridge couldn't be attached. A further five minutes later he was on again, and said that 'the last set of chocks in Madrid had now been found, therefore we should all be away shortly.' Over ten minutes later, the engines were finally shut down. As I exited, I asked the crew at the front what the full reg of the aircraft was as I hadn't been able to see it at LGW, and they were more than happy to inform me. EasyJet had made a pretty good impression on me.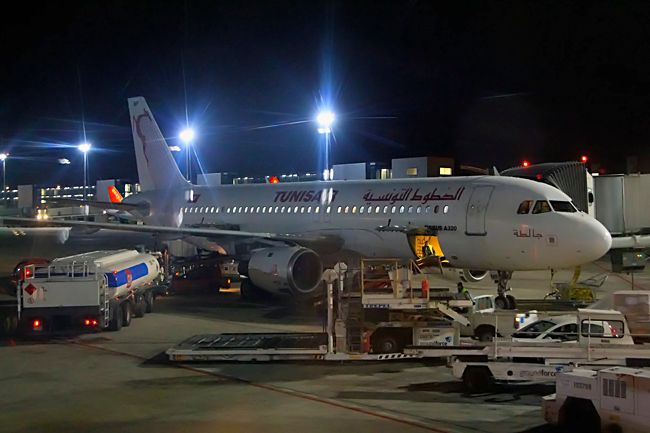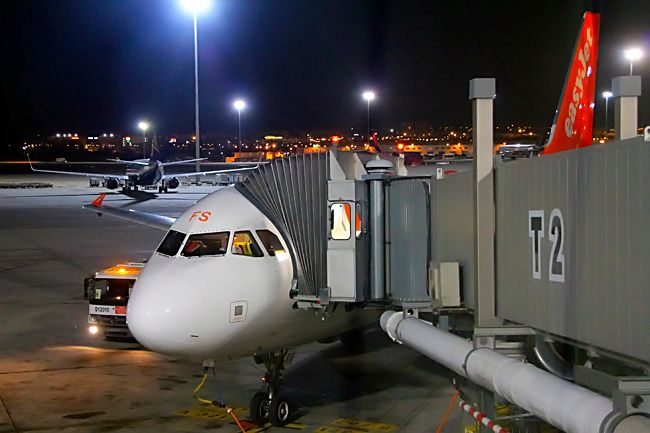 I made my way down to passport control, and asked for a stamp in my passport – this was met with a cheerful 'of course sir'. Strange how some countries see it as such a problem, yet others seem to do it without question.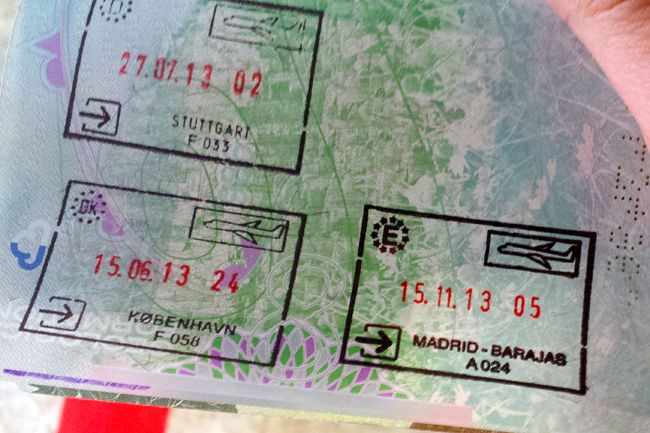 I then made the very long walk – around twenty minutes or so – down to the metro.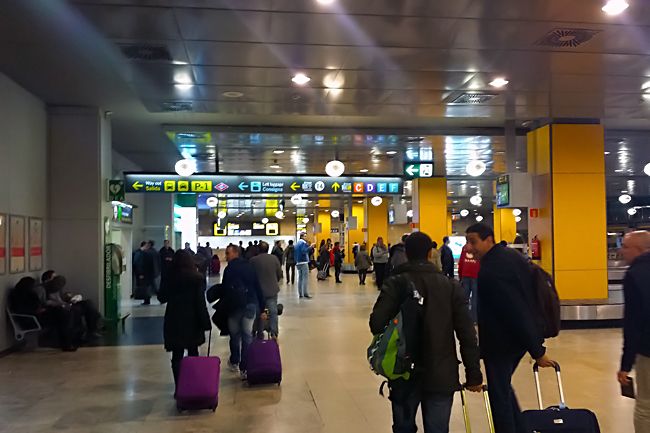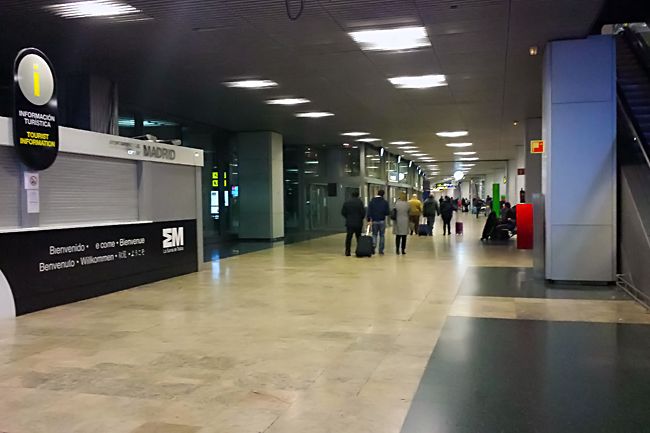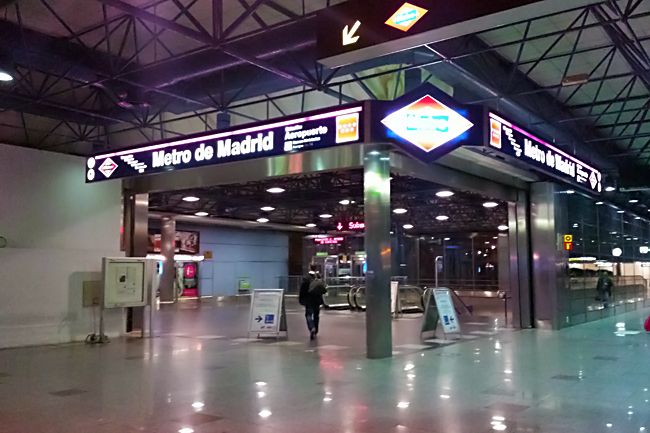 Once I arrived, it took a while to buy a ticket due to a group of American tourists refusing to use the machine in English as they had to practice their Spanish… Fair enough, but do you really have to practice it when there's people waiting and you have absolutely no idea, so have to translate every word on your iPhone?! I eventually made it on to a train to Alfonso XIII where my hotel was located, arriving around twenty minutes later.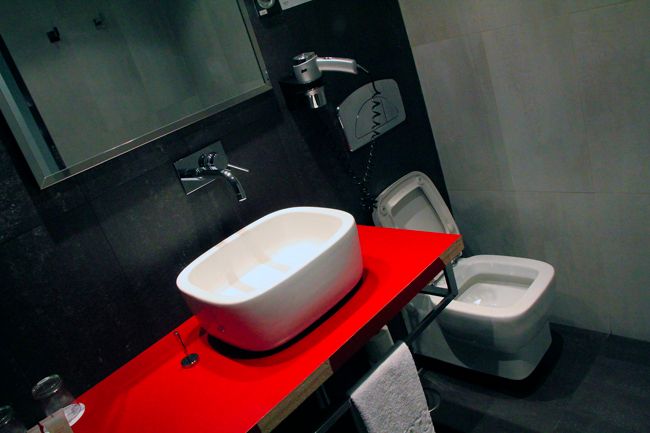 I dumped my bag and made my way back out again on to the Metro to meet Gabriel at his hotel in the Centre of Madrid.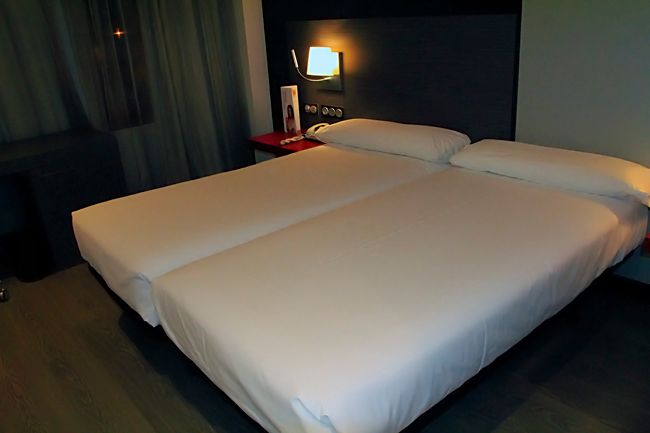 We had a great dinner, shared a few of our stories and followed up with a drink in a bar before I had to make my way back due to the metro closing at 1:30AM.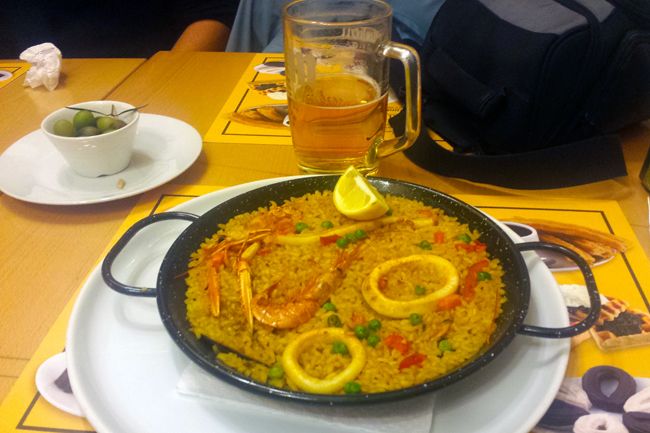 The following morning, I headed out for a walk around the area where my hotel was, taking in a few of the local parks before inadvertently ending up in the same area I stayed on my previous visit, around where Real Madrid's stadium was.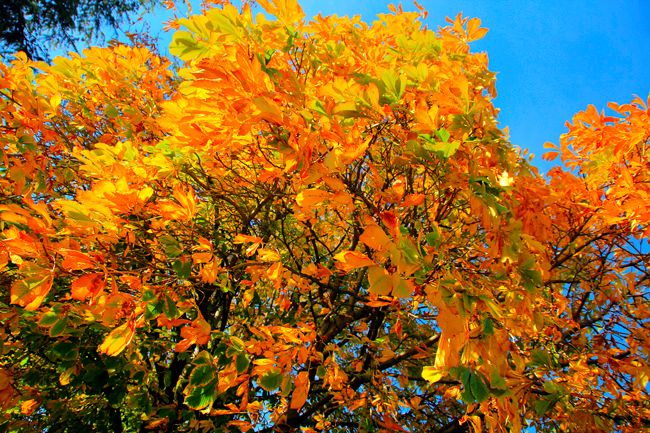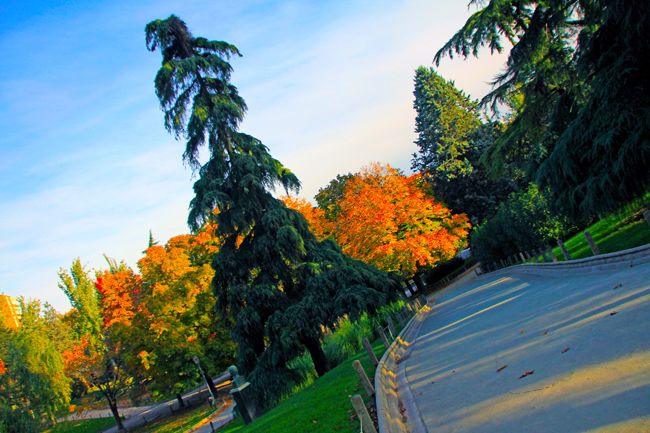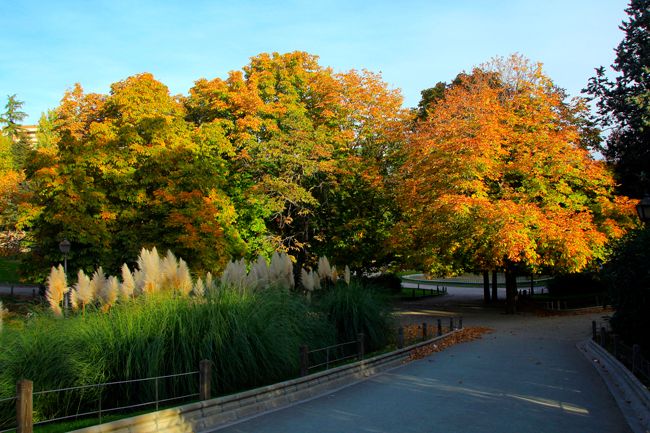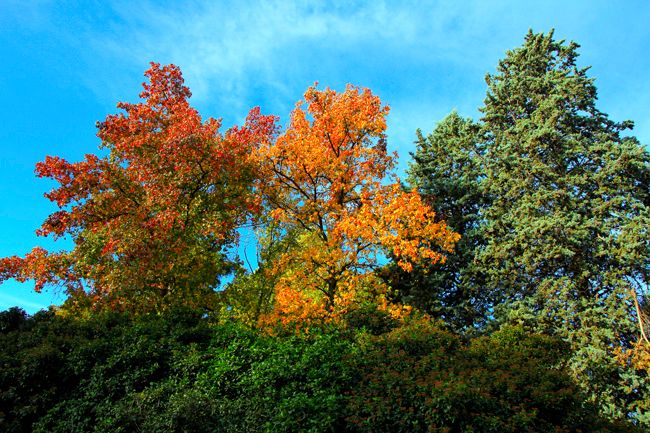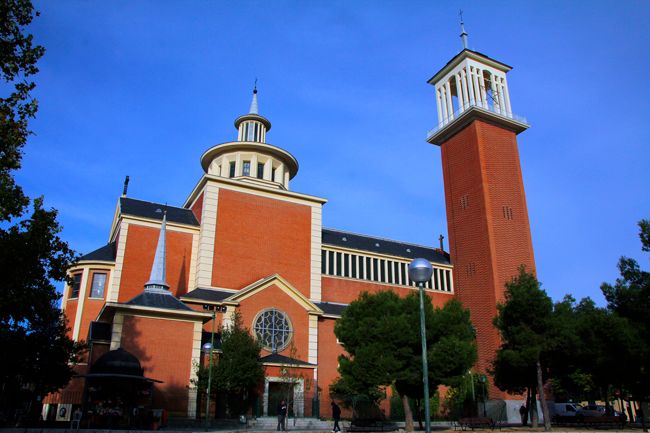 Around 11ish, I decided to head back to the airport on the metro.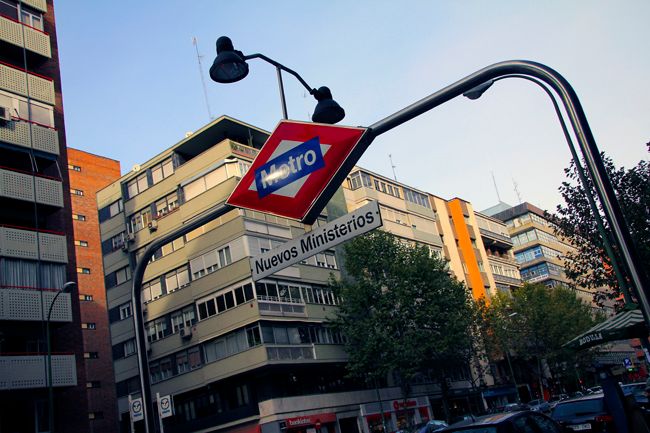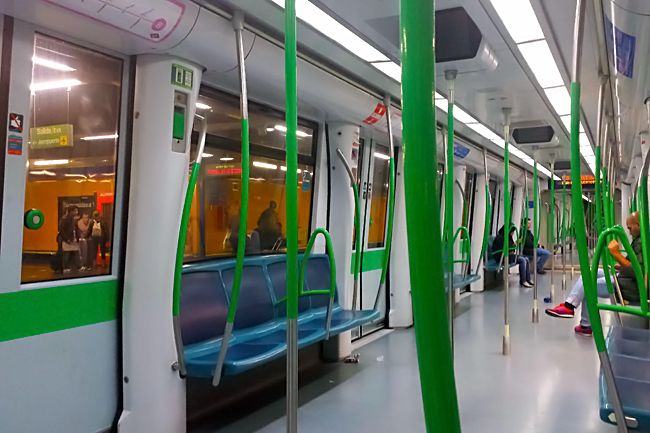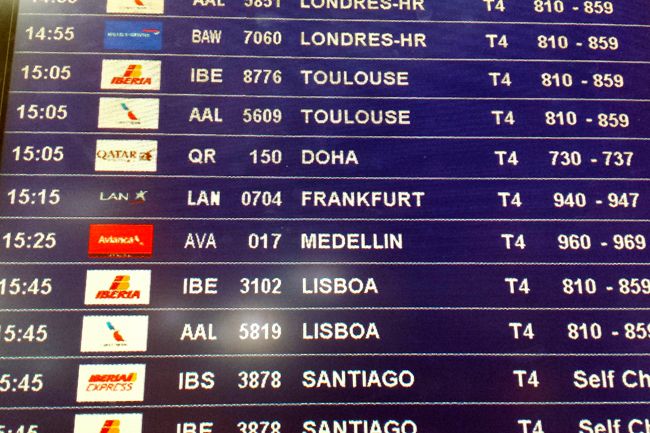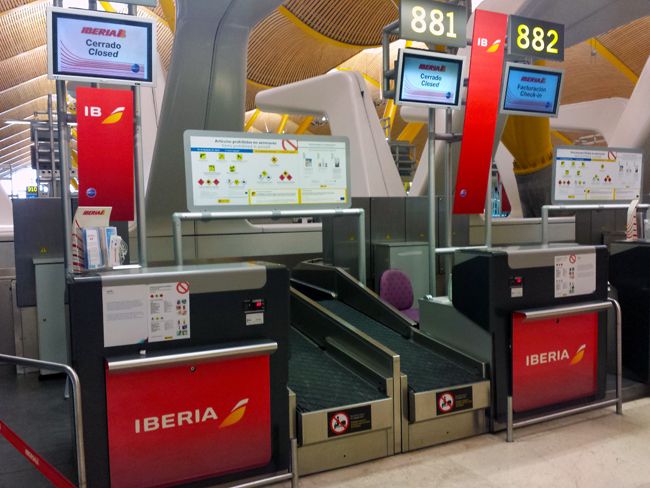 The new IB branding has sprung up pretty quickly.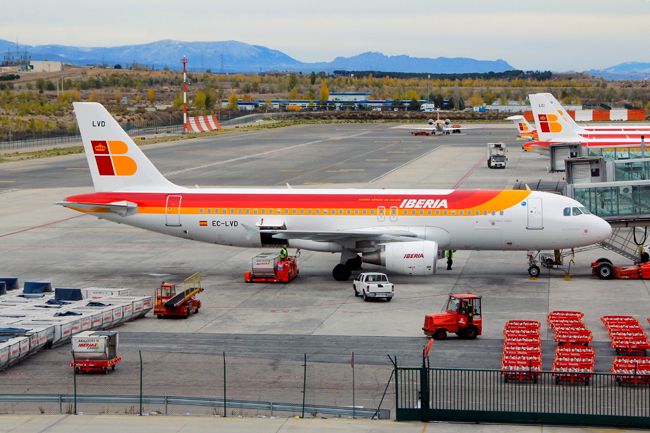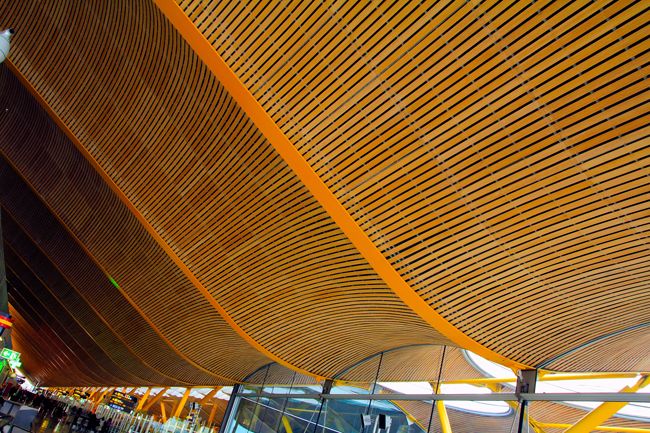 Nice terminal, shame about the main inhabitants.

I met Gabriel at the LAN check in. I asked if there were any window seats further forwards available (so I could sit nearer to my friend – or at least that was the story) and he said no, before disappearing off to chat to the agent next to him in Spanish. I had wondered if he was going to upgrade me so we could sit together, but it wasn't to be.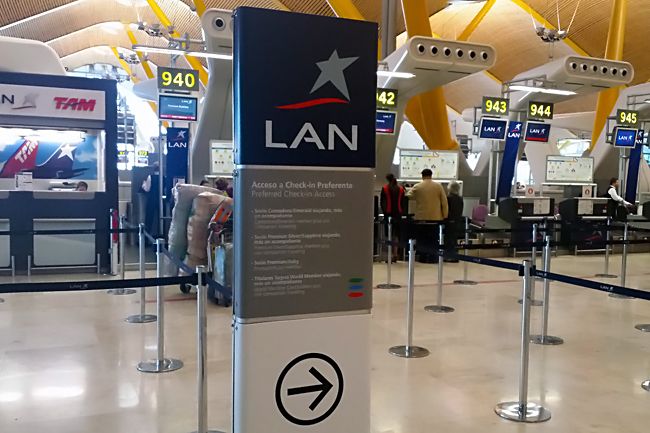 We then unsuccessfully attempted to use the fast track security, so we made our way through the regular channel instead. Odd how this is basically a One World terminal, yet neither a Business Class passenger or a One World status holder are entitled. We then immediately made our way into the Iberia lounge.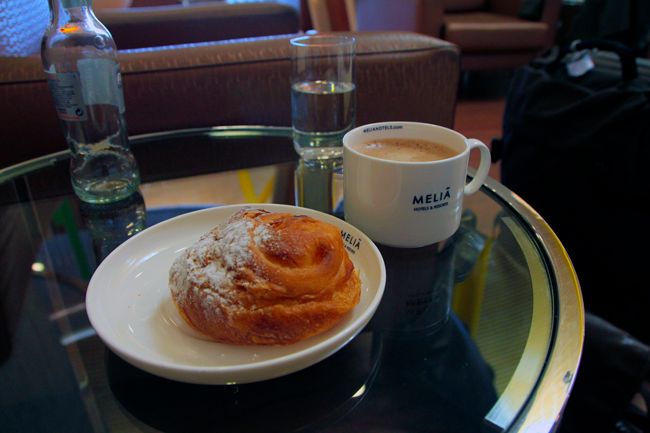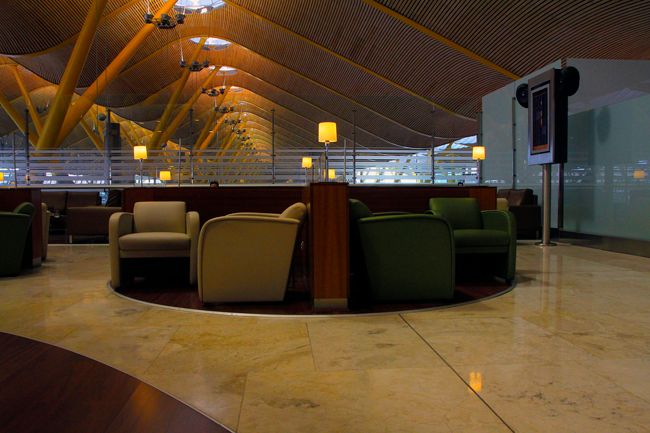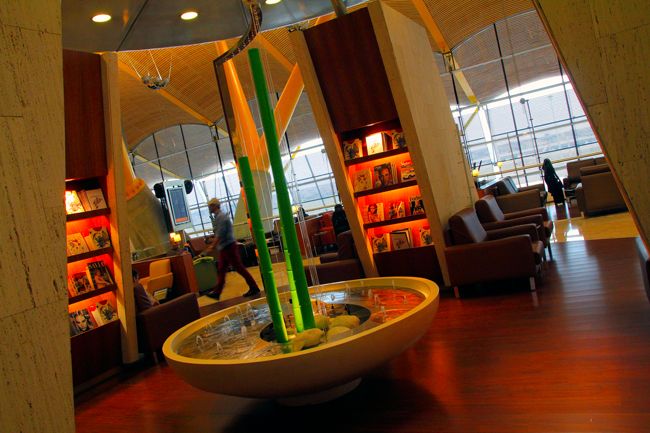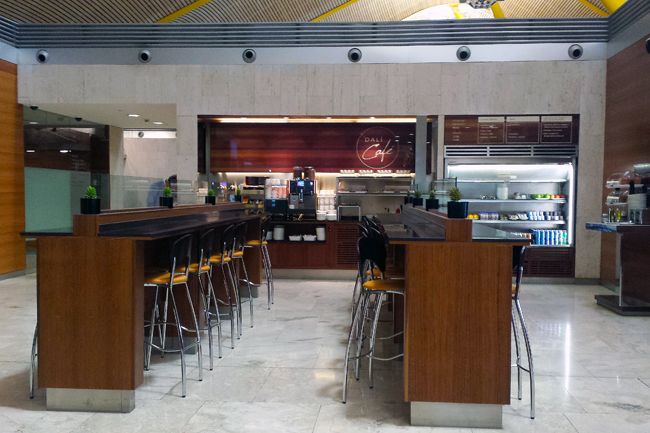 After a few minutes we made our way to the third party airport lounge, accessed via Gabriel's Priority Pass. Let's just say, this was a short visit… we didn't want to disturb the hordes of sleeping passengers!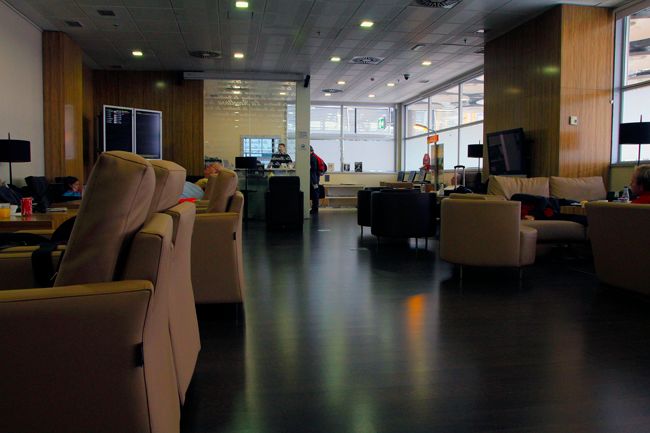 It was then down on to the monorail and through passport control for the third lounge visit of the day – another Iberia lounge. Probably the best one of the day as it wasn't too busy, had a decent food and drink selection and better views of the taxiway. The only niggle was that there was only thirty minutes of free Wi-Fi. Guess Wi-Fi rationing is alive and kicking in Spain?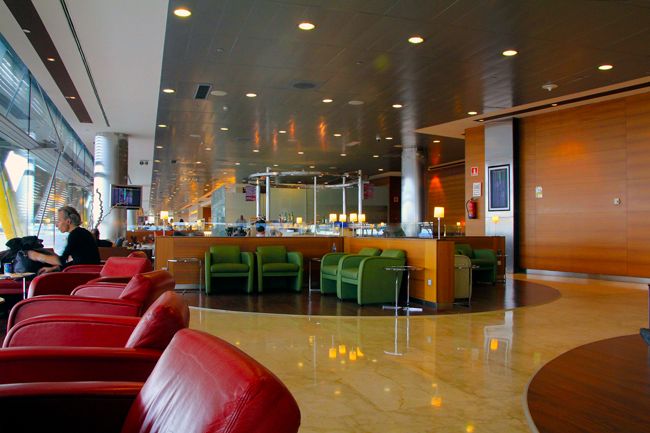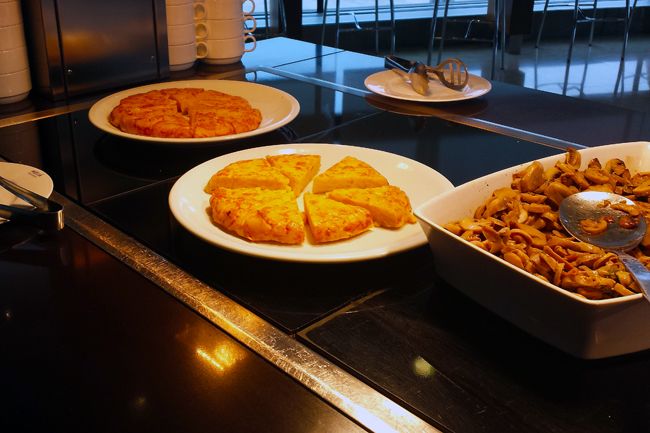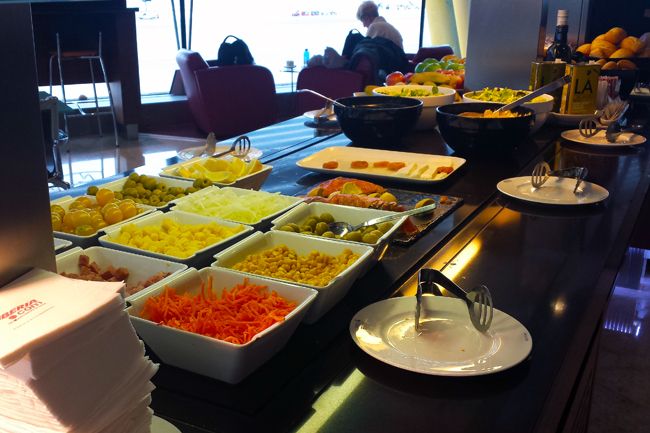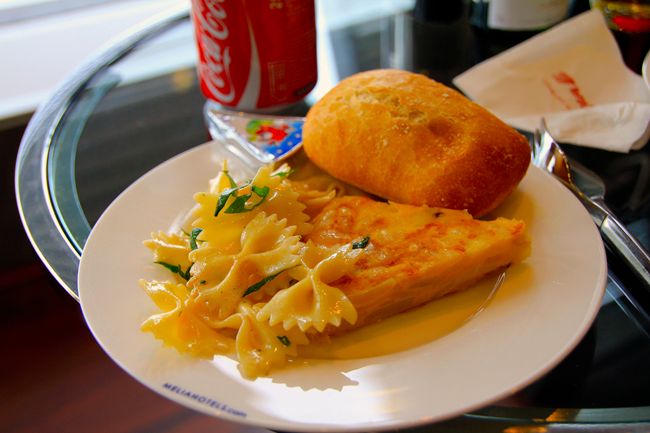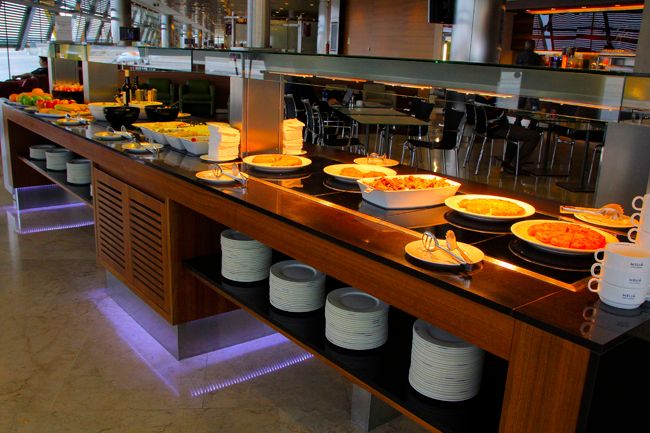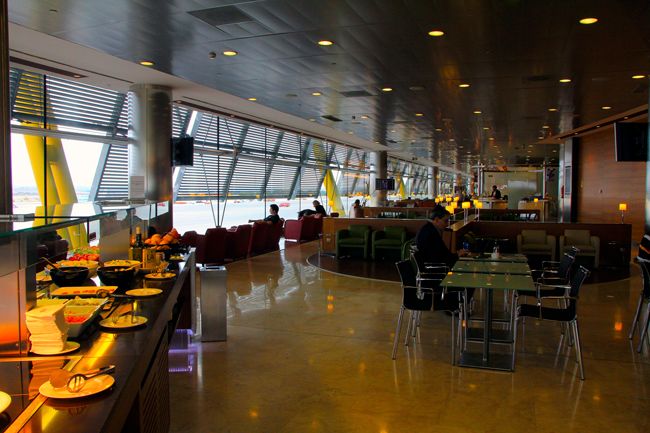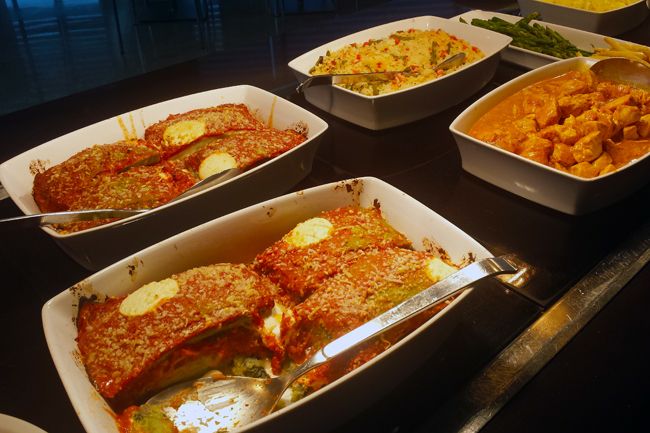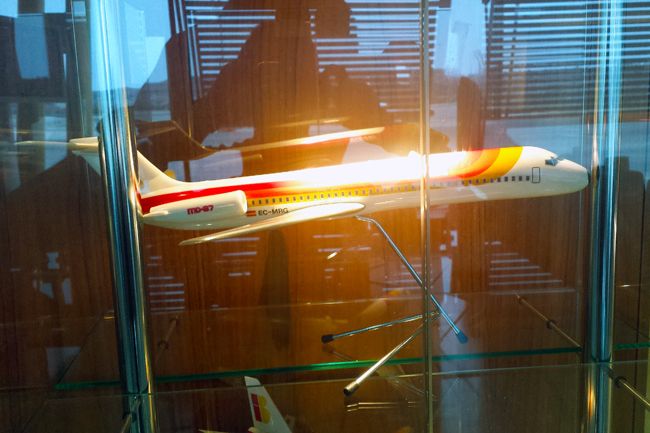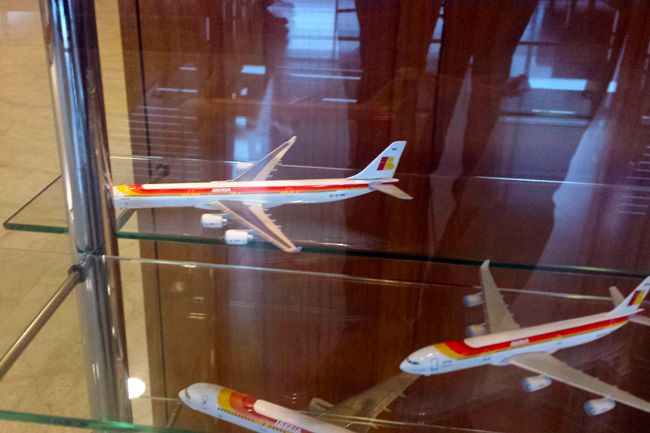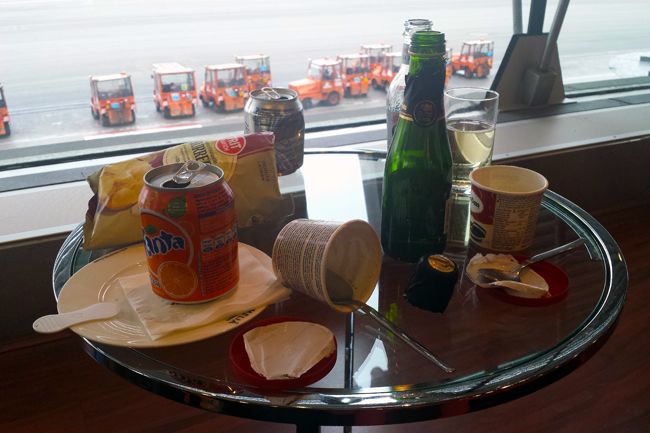 This is the result of 2 a.netters being let loose in a lounge.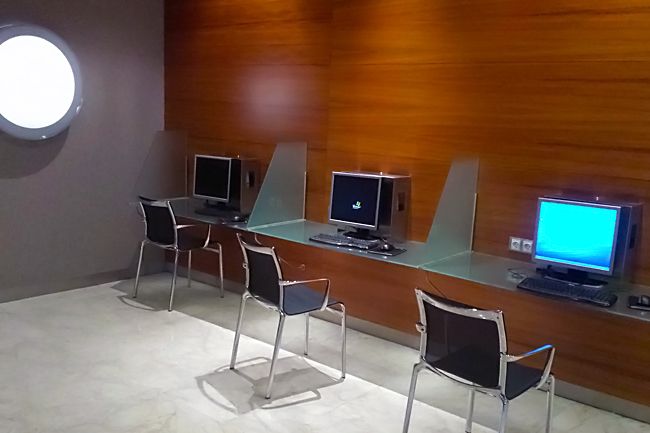 Gabriel spent quite a while here contemplating a future adventure.

Of course, the previously mentioned views made for some good photo opportunities too.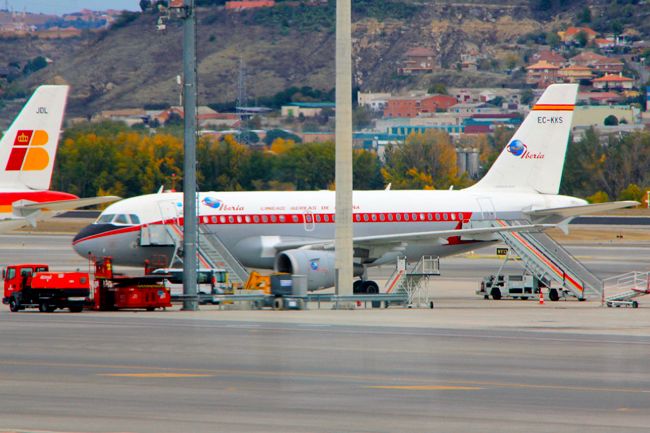 Bloody lamp posts…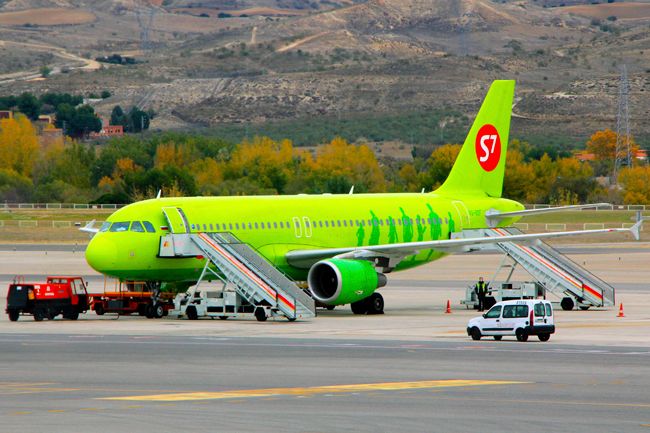 After a while, our ride up to FRA made its way past: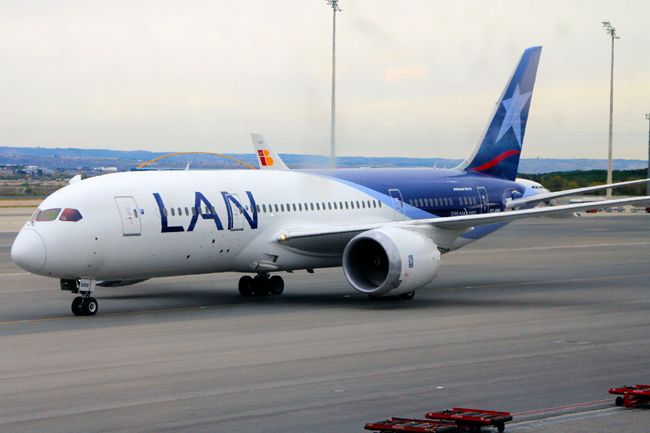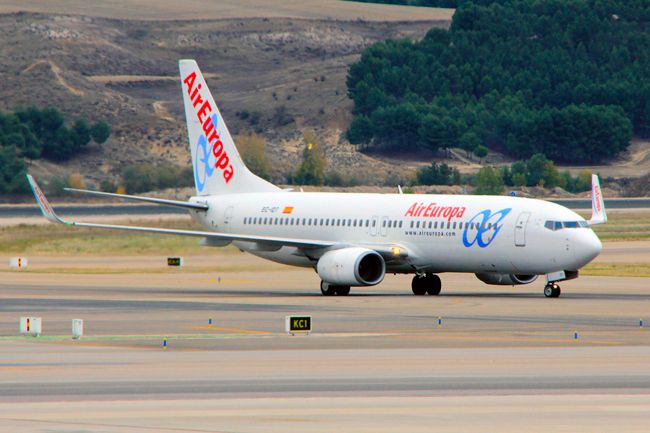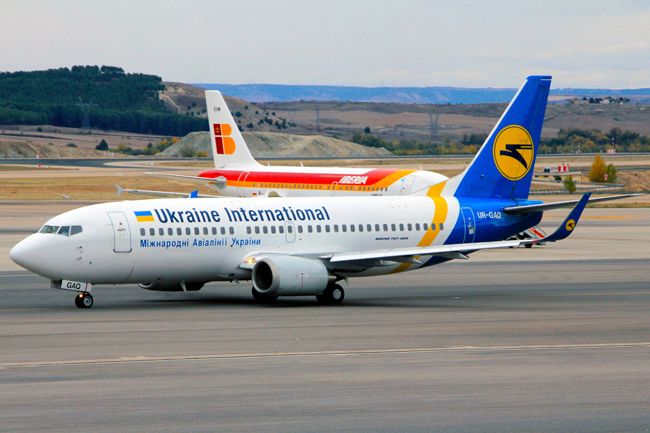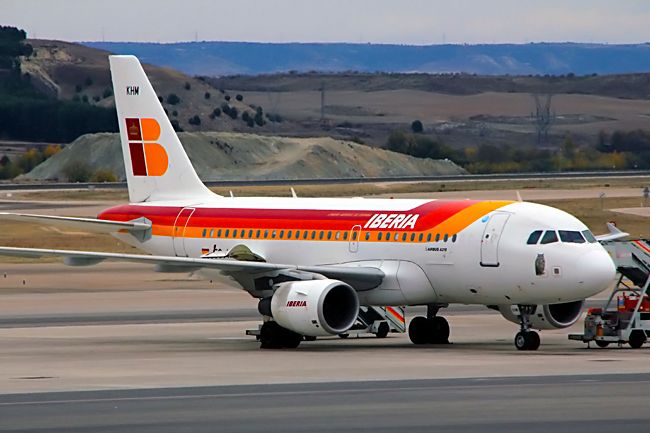 We stayed here for the next hour or two, before making our way down to the gate at around 14:30, where pre boarding was under way – so we were able to go straight from the lounge to plane with no stop in-between – except for a picture or two: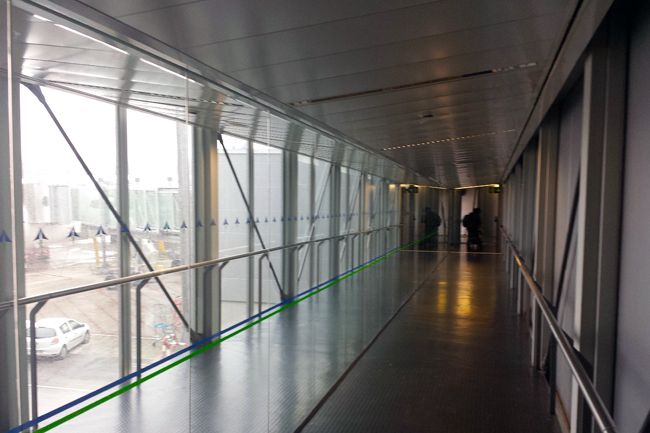 LA704
MAD-FRA
November 2013
Boeing 787-8 / CC-BBB
Seat: 33A / Economy
Scheduled: 15:15 / 18:05
Off Stand: 15:16
On Stand: 17:38
Once onboard, Gabriel turned left and I turned right towards the back. I was glad to see that I had just missed the missing window row, although the layout on this one means that neither row is completely missing a window.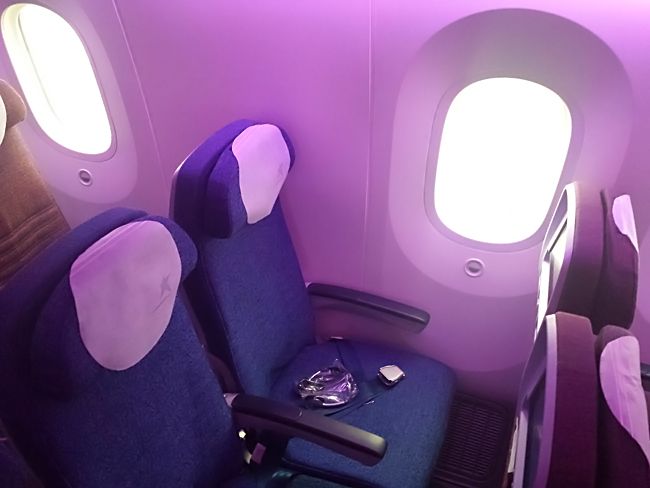 The flow of people boarding stopped and the middle seat remained free, which was good as the legroom wasn't overly generous I found.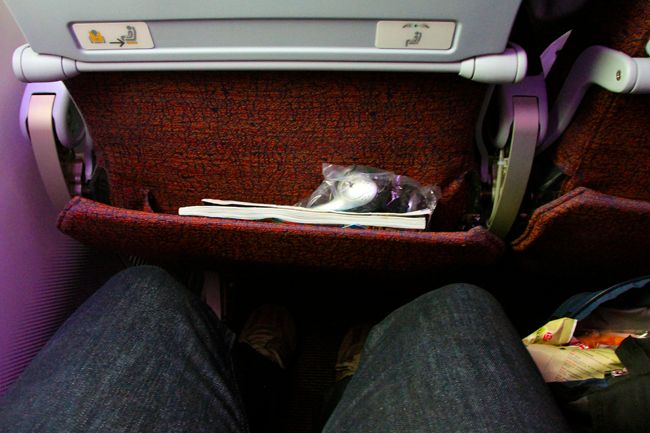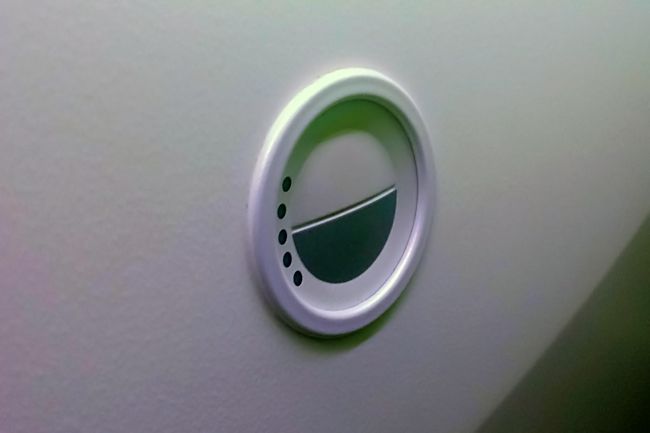 The button.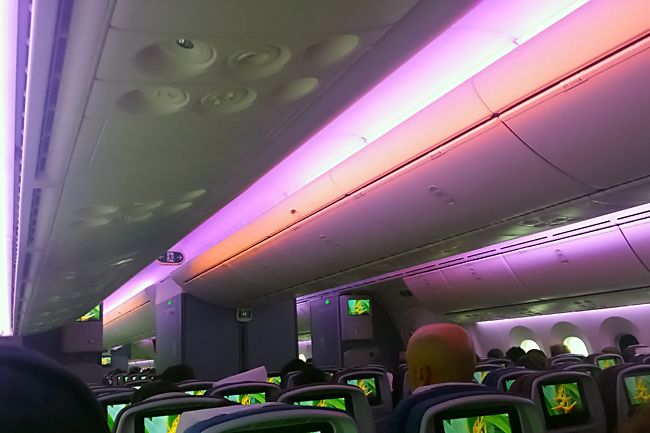 Mood lighting in boarding mode

The captain gave a brief update, stating that our flight time would be 2 hours 20 minutes.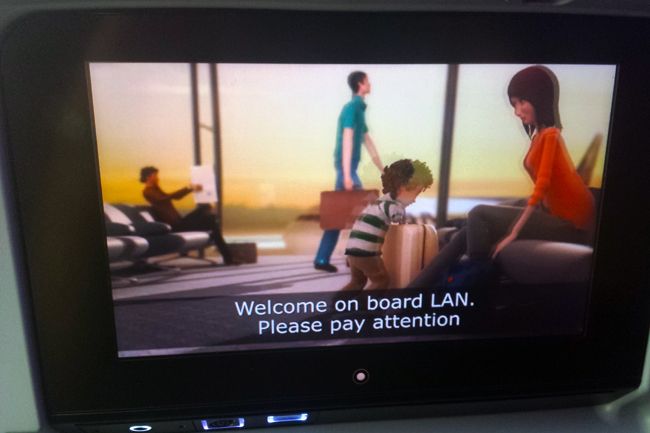 We pushed back pretty much on schedule and made a slow taxi out to the runway. During taxi, the crew moved everybody in the last few rows forward – I was hoping I wouldn't be included in this, seeing as there weren't any more window seats available. Luckily, their quest was cut short by takeoff so I was able to stay put.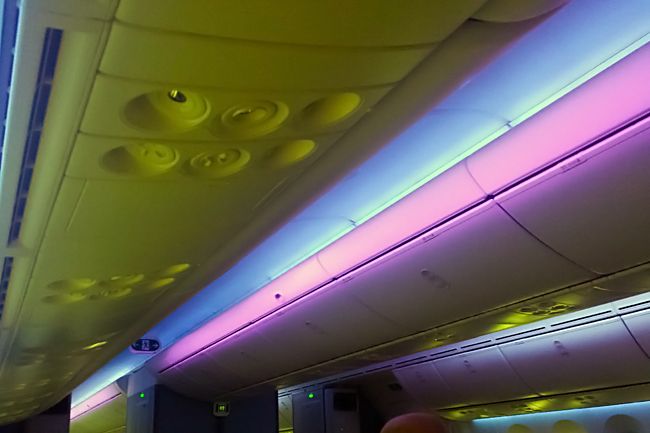 Lighting now in taxi mode

It was typically quiet, and untypically (by Spanish standards) wet.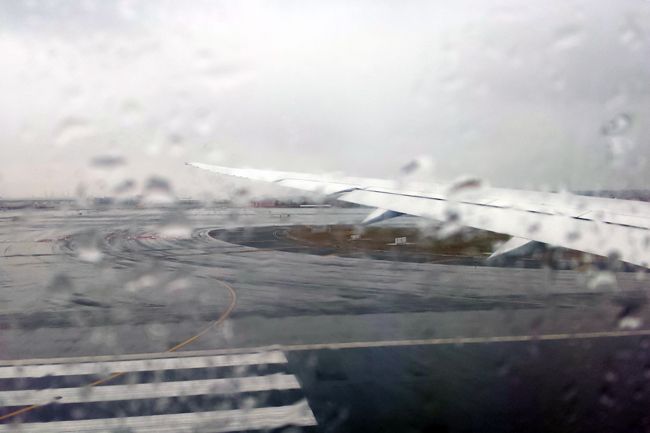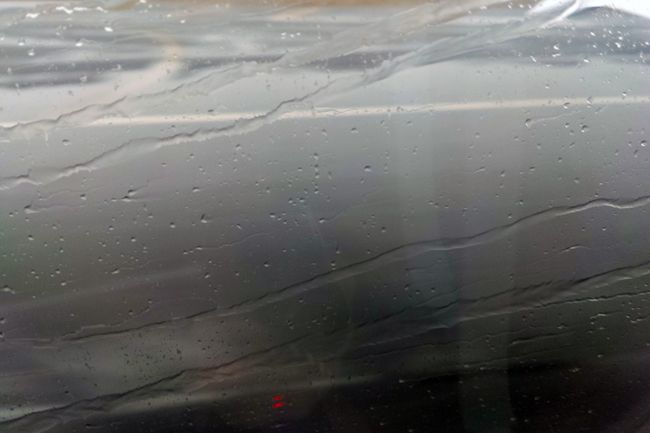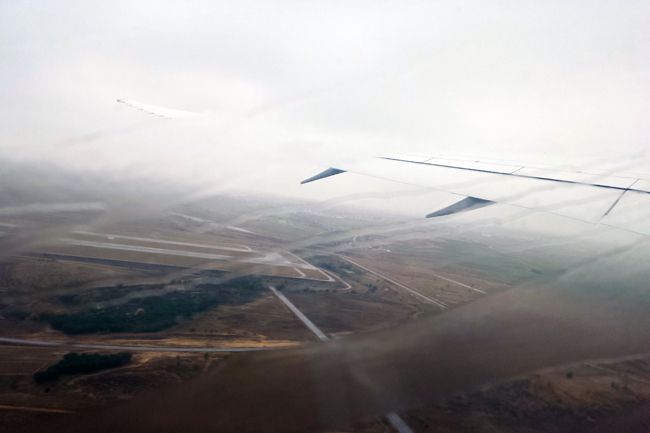 A good few minutes later we broke through the clouds.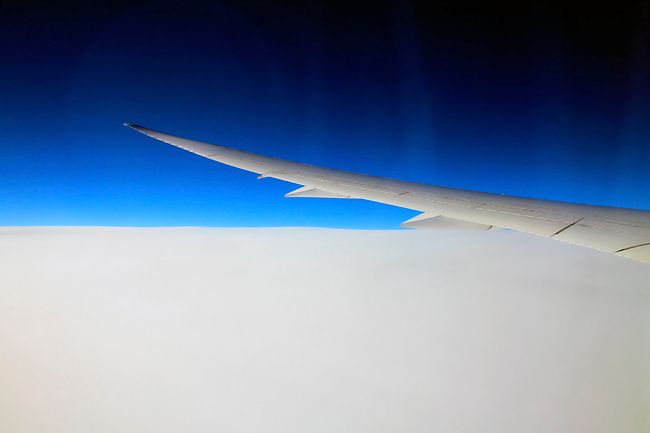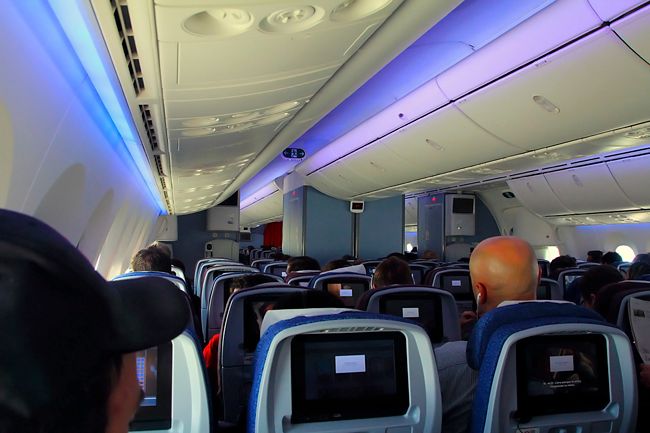 Cruise mode

I decided to check out the IFE however nothing really jumped out at me so I stuck with the tried and tested sky map and iPod. This system was completely touchscreen – no controller in sight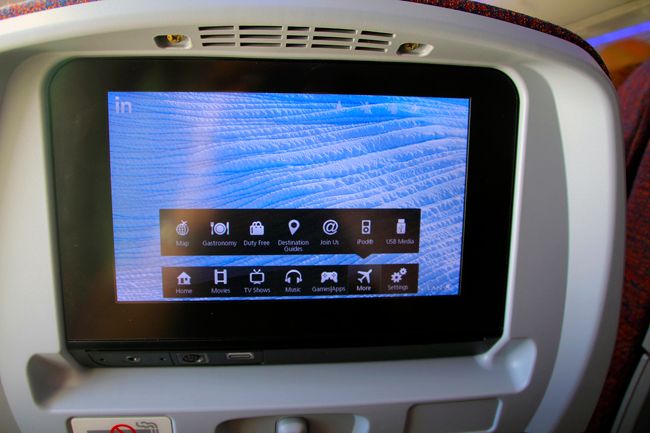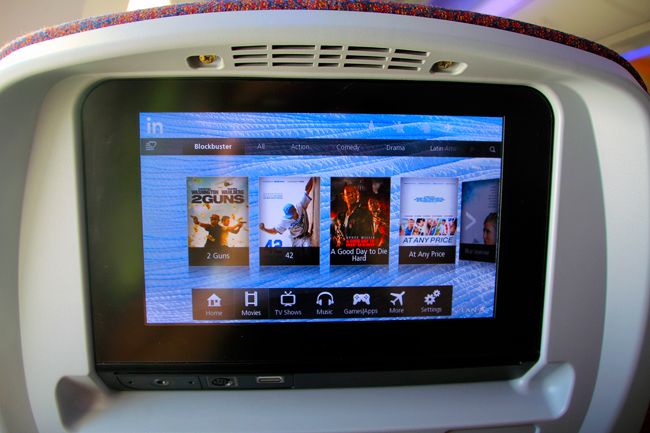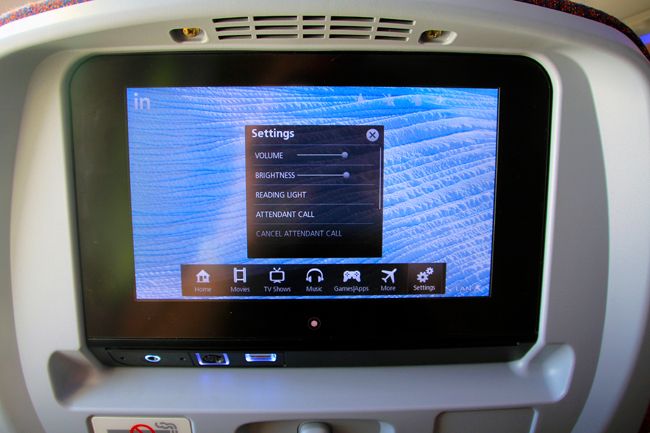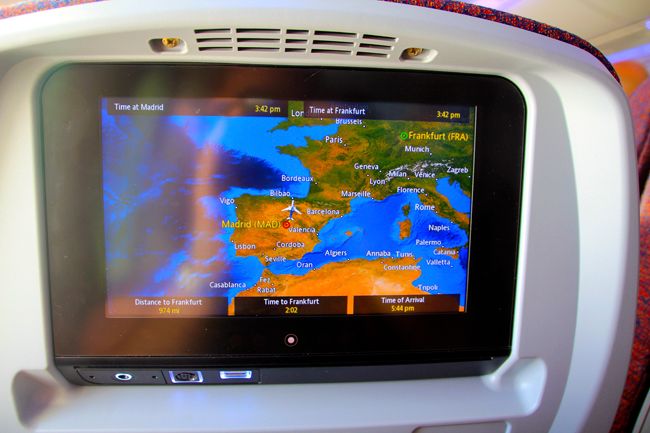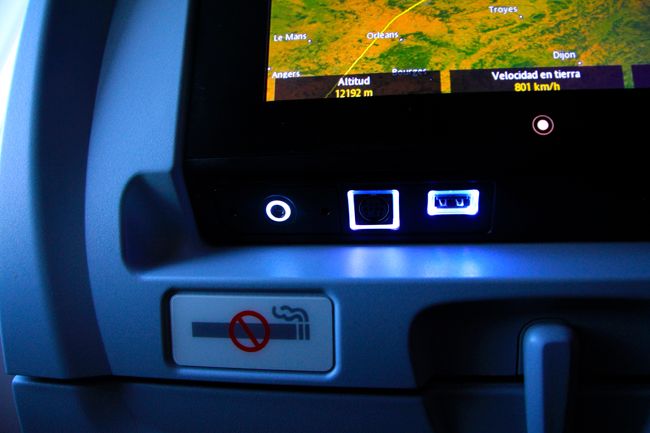 Around twenty minutes after departure, the service carts were rolled forward. The meal was a cheese, ham and mustard roll and a kitkat.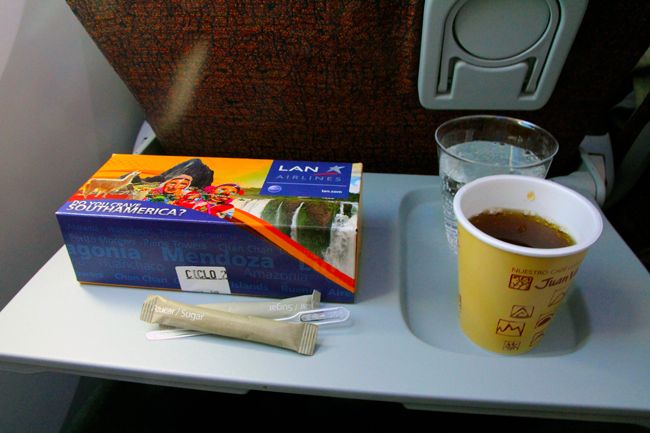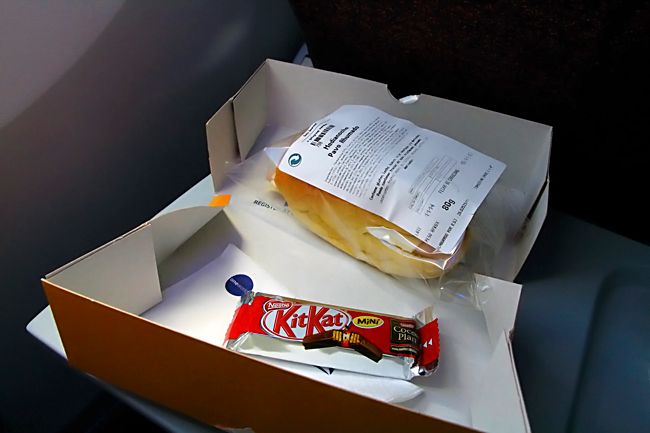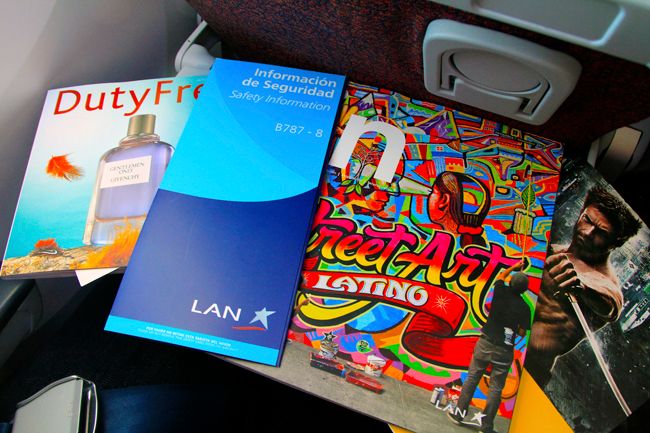 Following this, I took a walk to the rear galley, although I might as well have been invisible. Except for one crew member giving me a few shifty looks for daring to have my camera in hand. They then pretty much disappeared for the rest of the flight.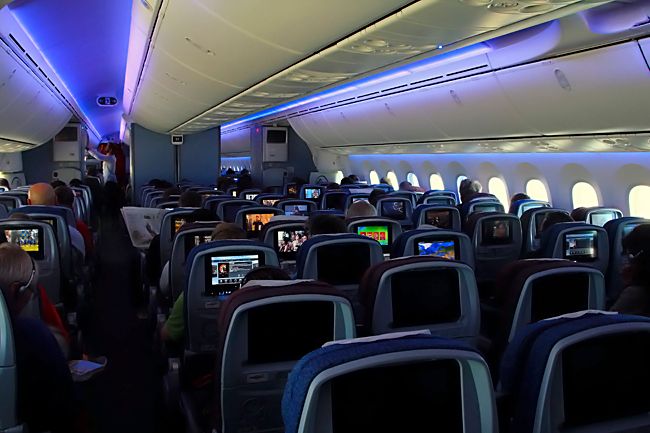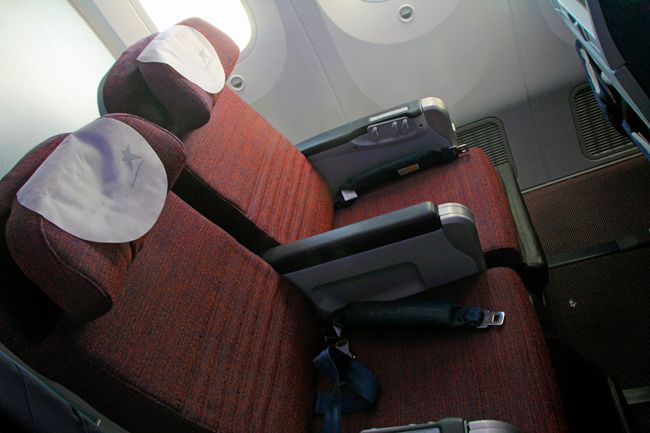 Crew rest seats, complete with leg rest.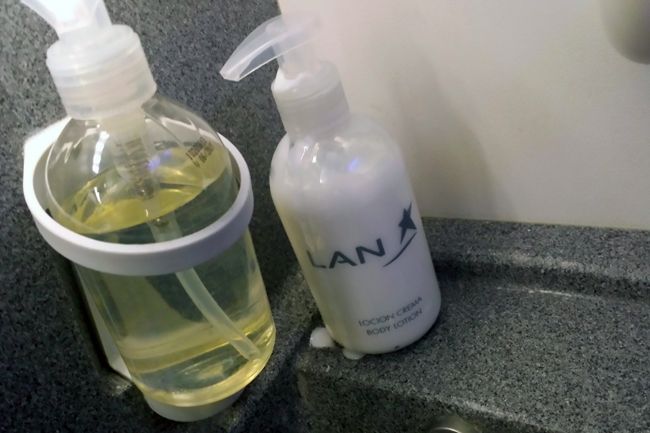 LAN branded toiletries in the washroom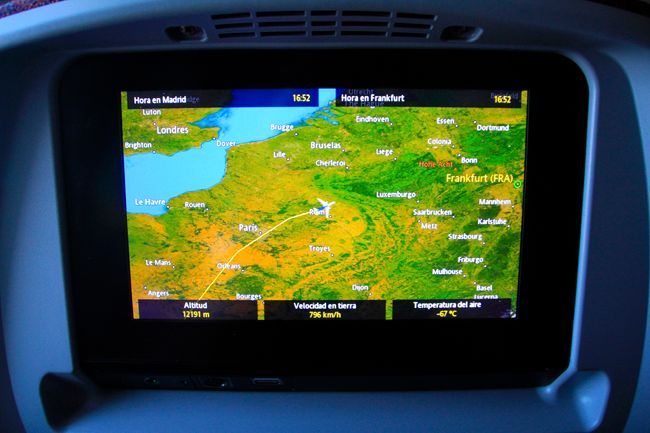 Descent started as it was getting dark outside.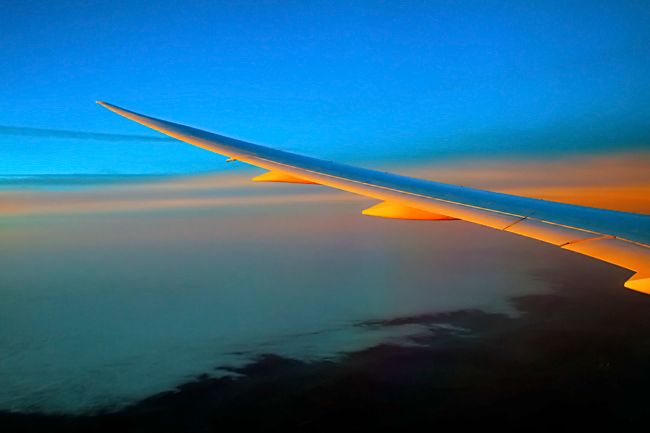 The mood lights in the cabin couldn't seem to make their mind up which colour they wanted to be, but they seemed to settle on dark orange and navy on finals.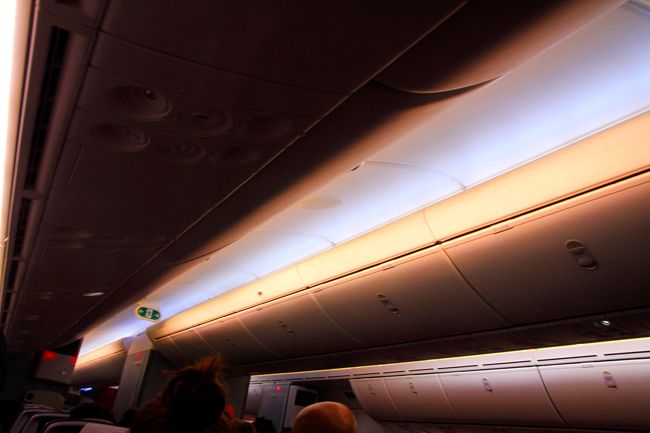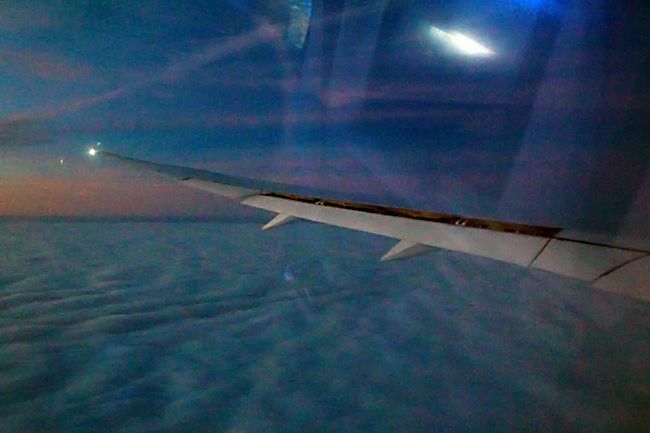 We touched down on to the new runway at 17:25 and made the long taxi over to terminal 1.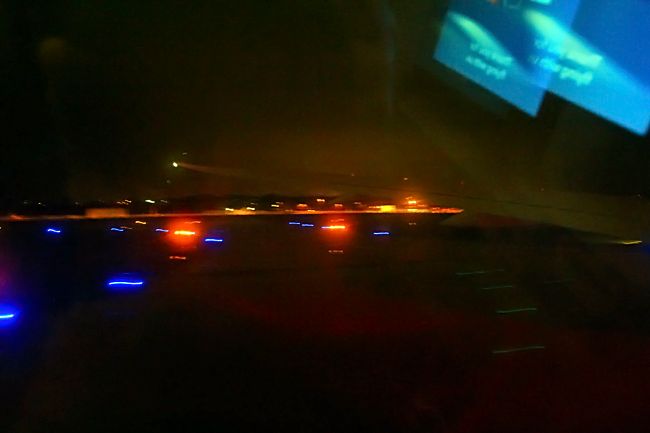 After we arrived on stand, I made my way forward and met Gabriel.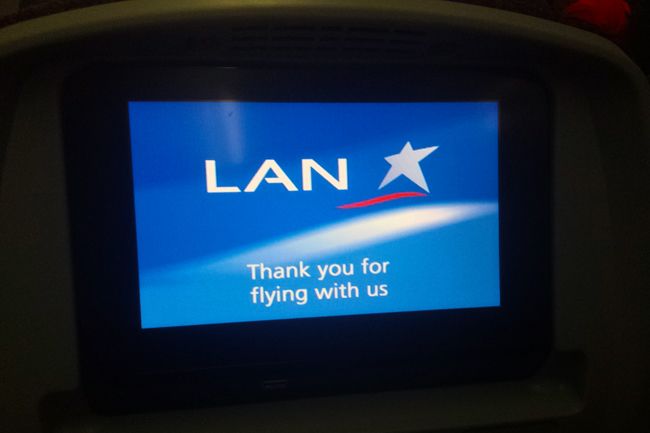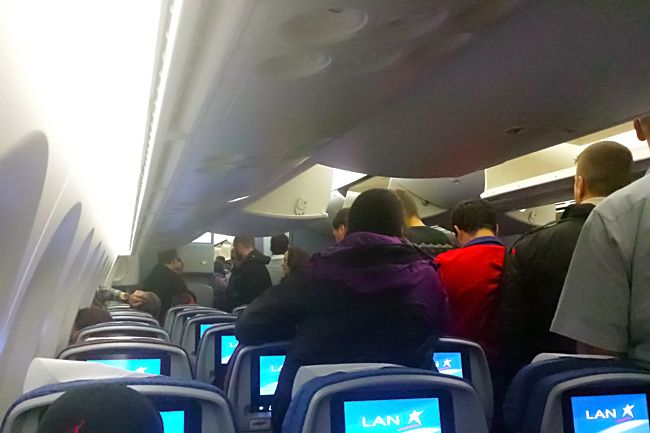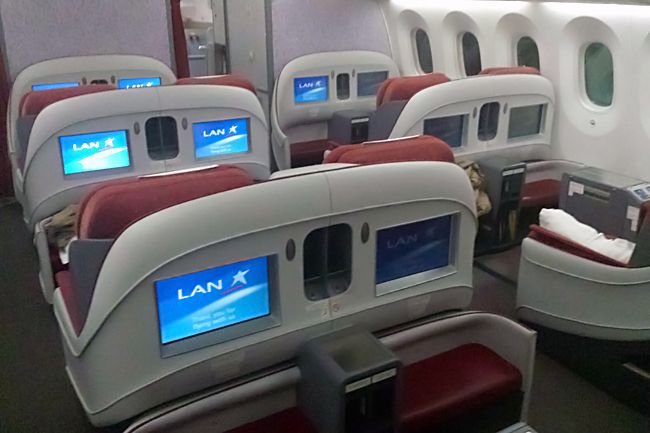 We made our way through to a busy passport control and then out to arrivals.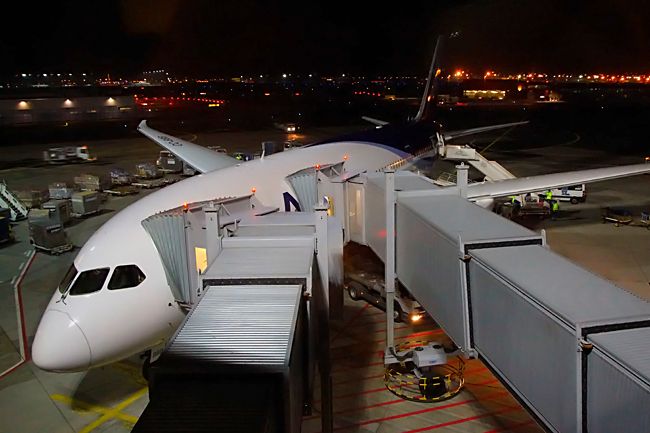 I also used one of the LH machines to check in for my flights the following day. Although I wasn't too pleased with the seats I had been given so later changed them via online check in.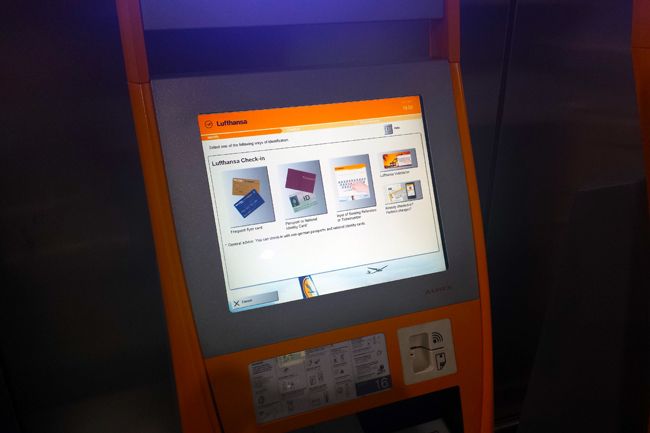 We then met LH4532 (Daniel) and then went to the DB lounge for a couple of hours for a chat.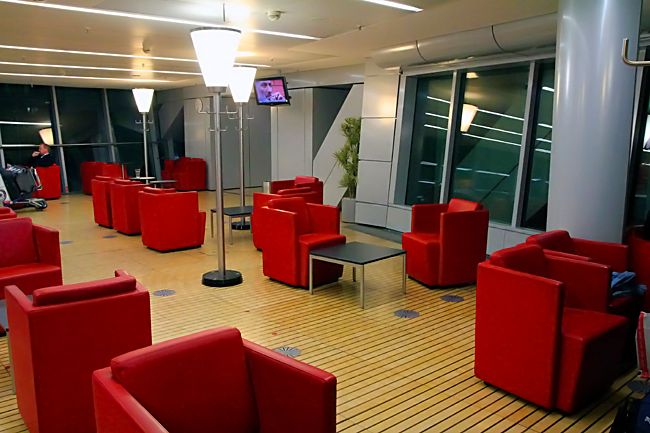 When Daniels train came, we all left the lounge, Gabriel and myself bid Daniel farewell and then made the short walk to my hotel. Once again the Hilton Garden Inn would be my residence for the night.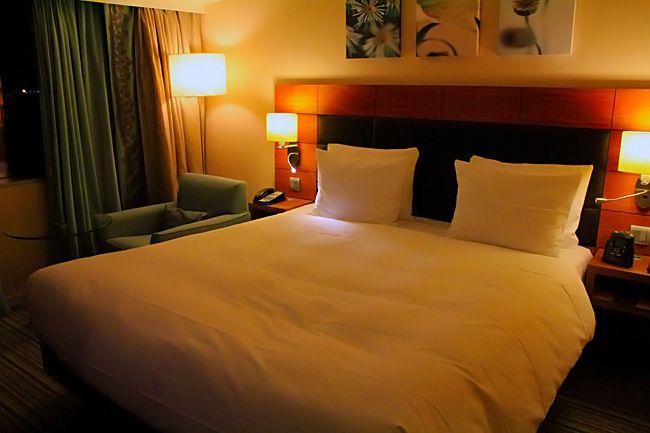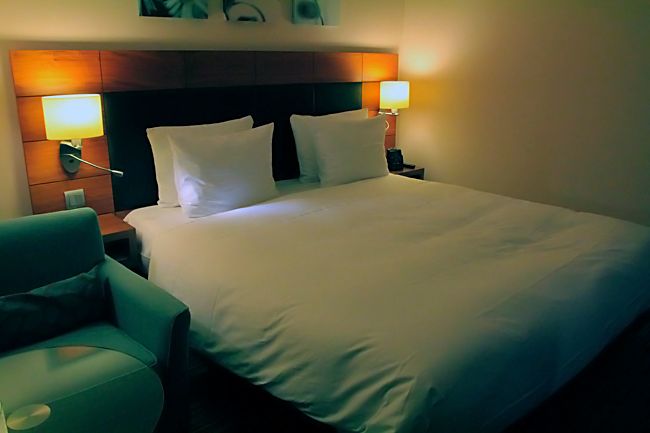 As Gabriel still had over an hour until his train, we made our way to the supermarket and brought a couple of beers and chatted about aviation… And the trip that Gabriel had been contemplating booking pretty much all day!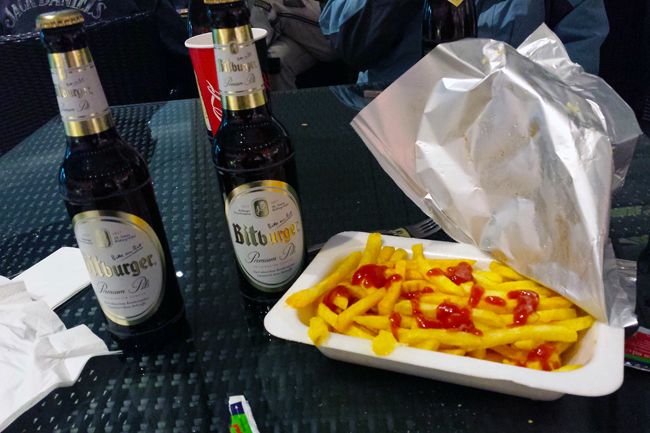 After around an hour, it was time to go our separate ways – Gabriel on the ICE, and me to bed for the night before continuing my journey the following lunchtime. The following morning the weather didn't look all that great.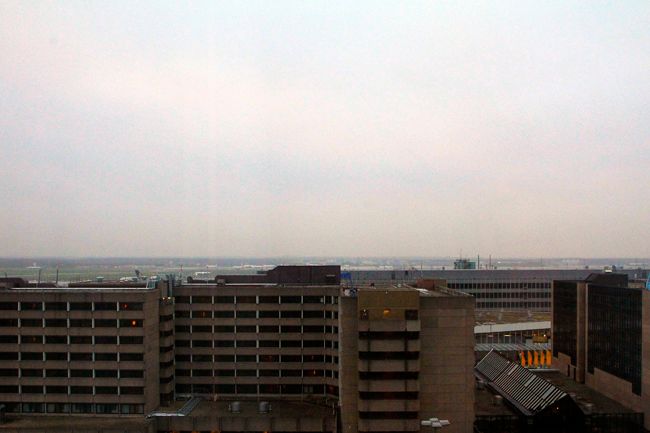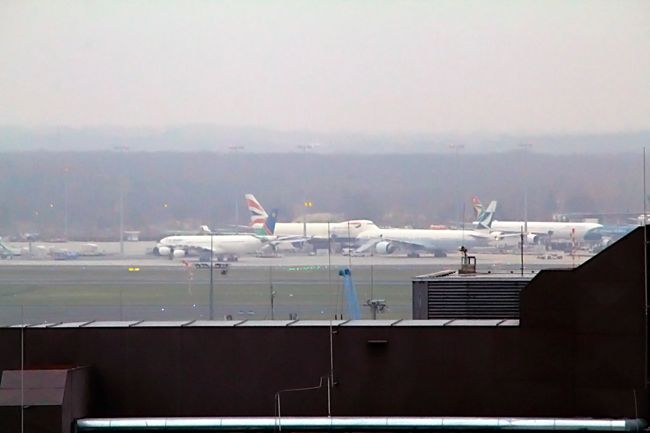 I checked out of my hotel and grabbed some breakfast from a stand on the Squaire.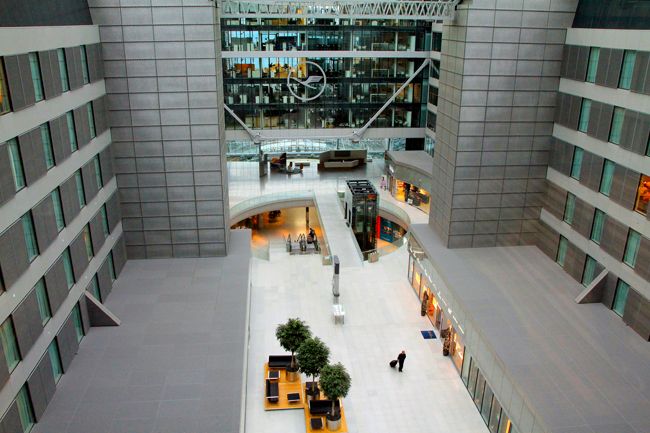 I then made my away across to the terminal, taking a brief look around the shops landslide.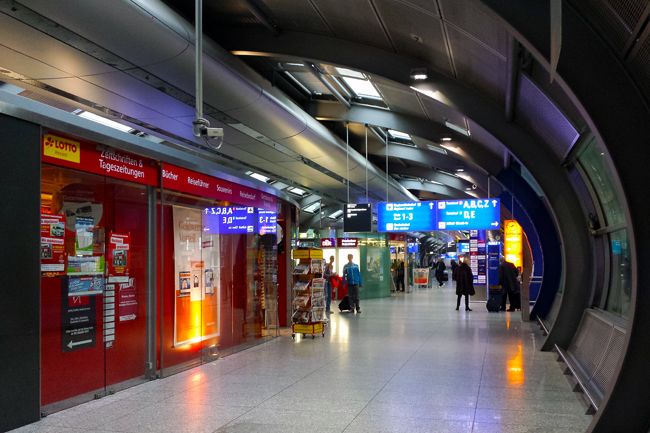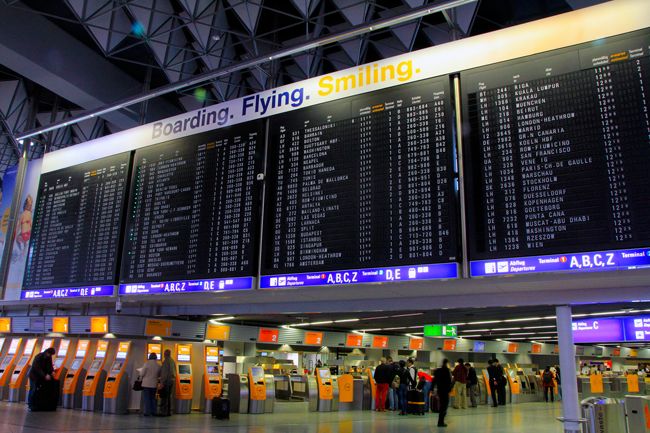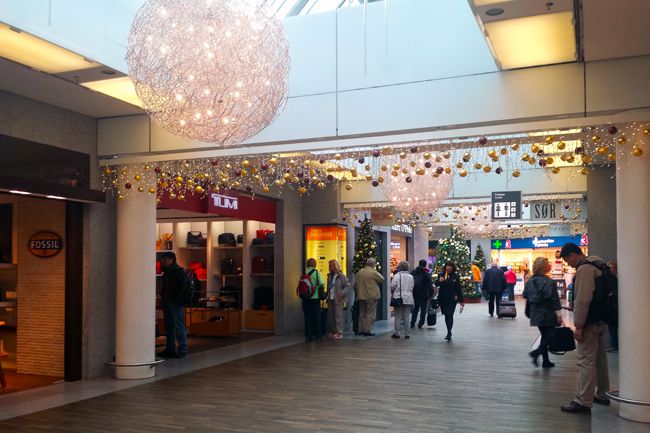 Before heading through security. It was a little slow due to a shift change taking place, but nothing major. I spent the next hour or so wandering the A + pier and seeing what was around – mostly heavies.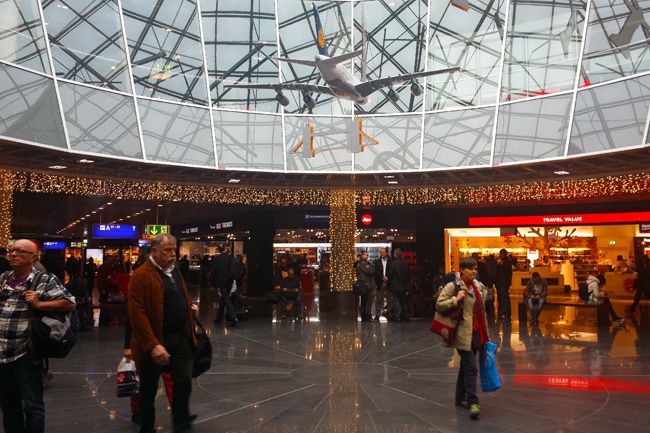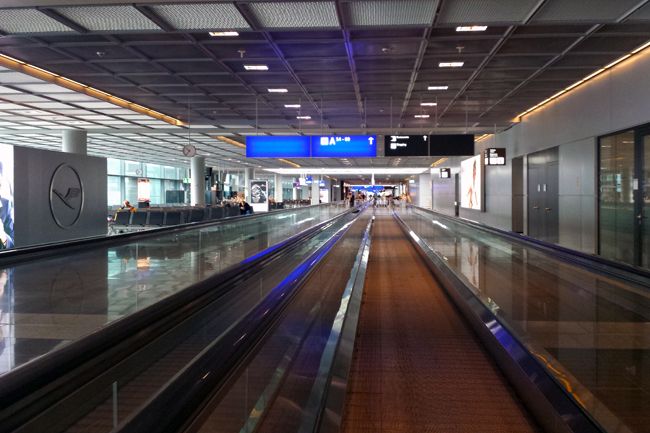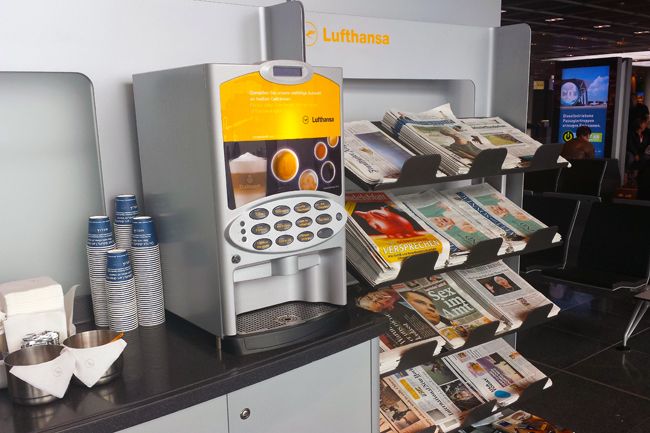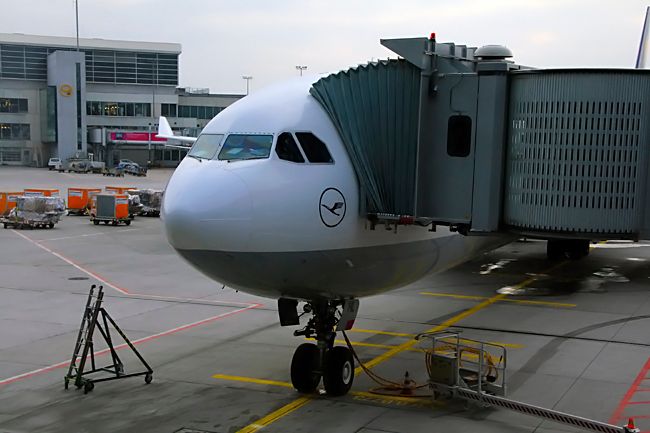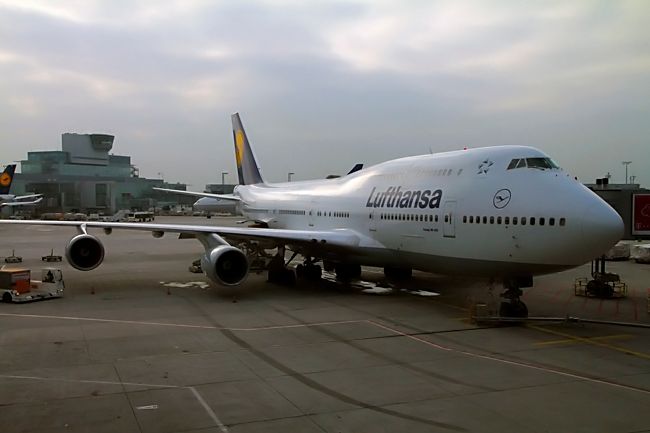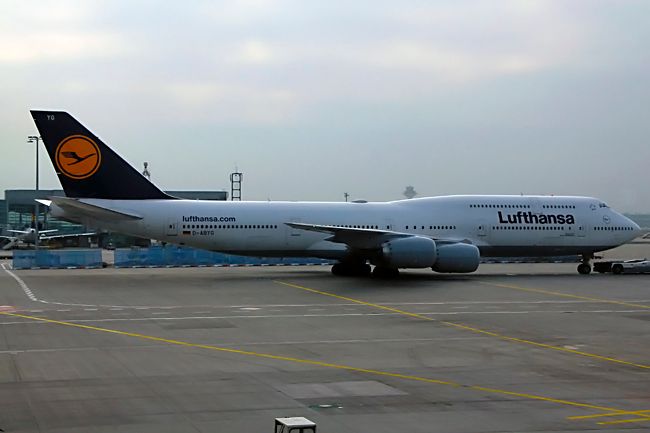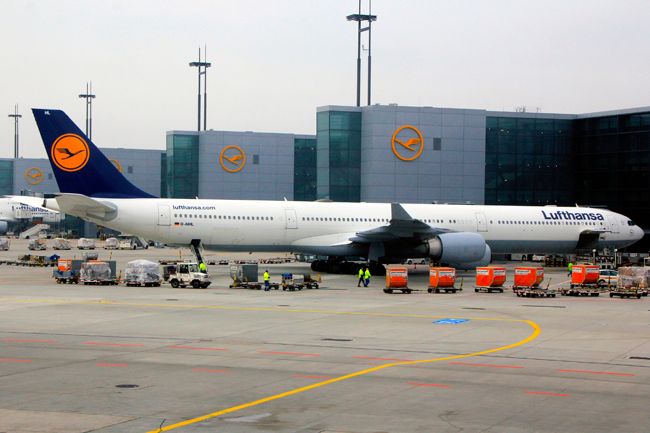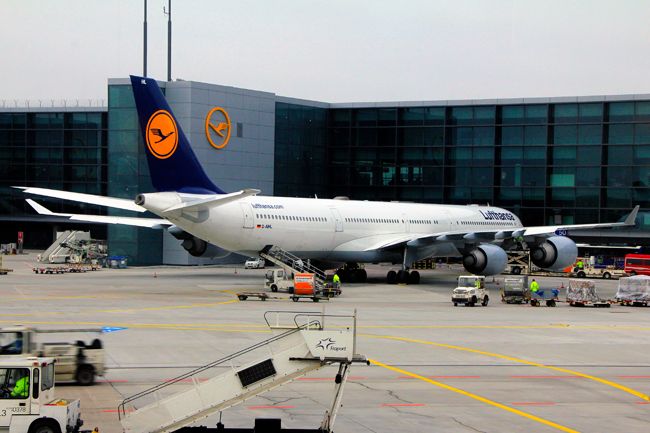 At 11:30 I made my way down to the gate. I was pretty confident it would be a bus gate as it was the same area I left from when I flew FRA-BRU.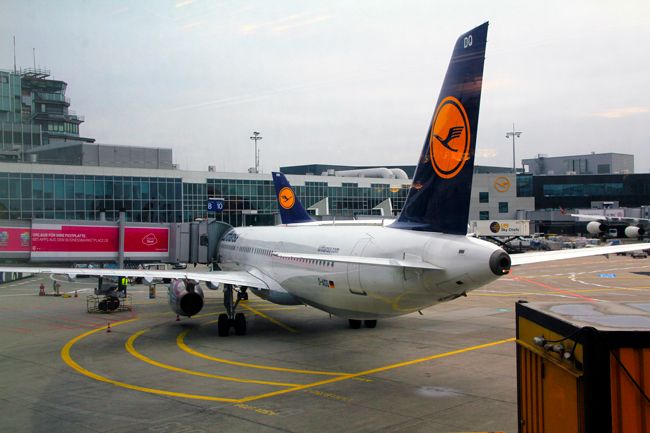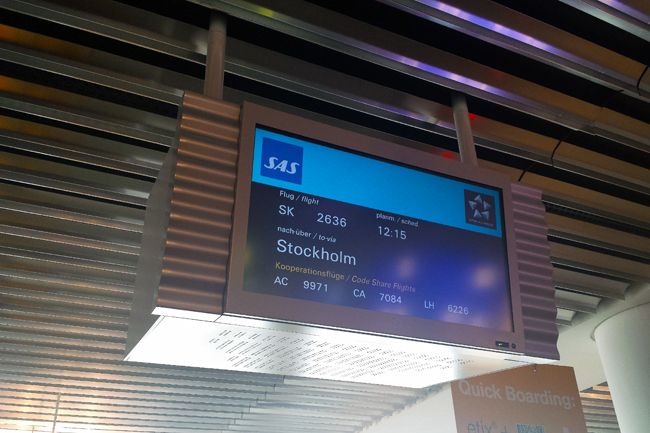 At 11:40, boarding was called although due to a problem with the electronic gates, nobody was going anywhere. A few minutes later, the problem was rectified and it was down on to a waiting bus, as expected. Before the bus had reached full capacity, it was off on a tour of the apron.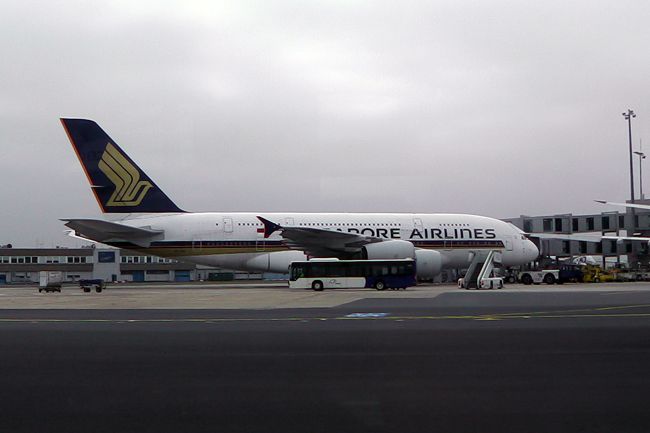 There were a couple of SAS jets parked opposite T2, and for a moment it looked like we were headed for the adjacent A320, until we swung around the back of LN-RPG. Phew!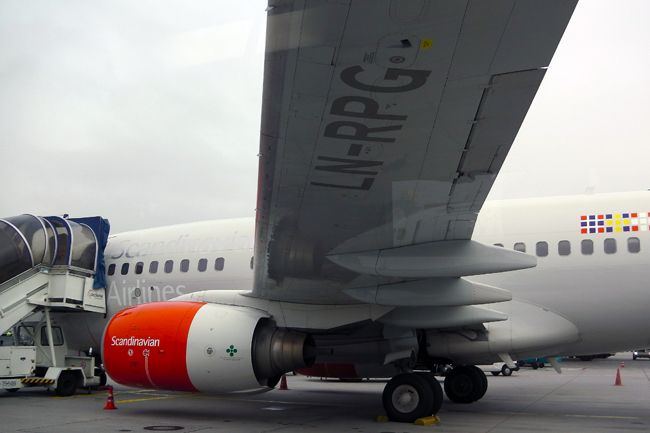 I think we all know the saying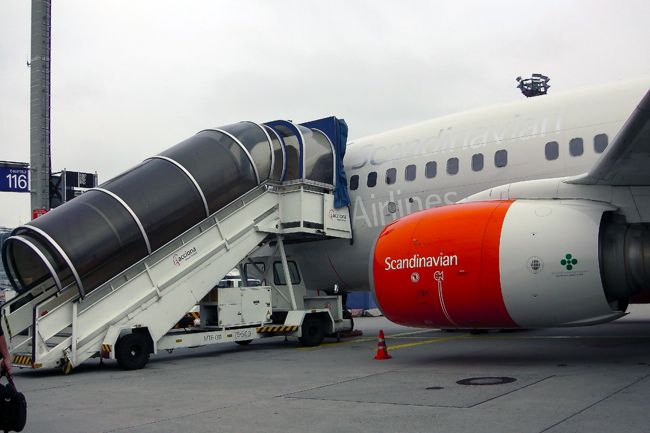 SK2636
FRA-ARN
November 2013
Boeing 737-600 / LN-RPG
Seat: 18F / SAS Go
Scheduled: 12:15 / 14:20
Off Stand: 12:22
On Stand: 14:20
I made my way onboard and down to the rear section where my seat was. It appeared that boarding was completed with quite a few spare seats around, however another bus turned up and the crew announced a full flight – so I'm glad the 736 wasn't substituted.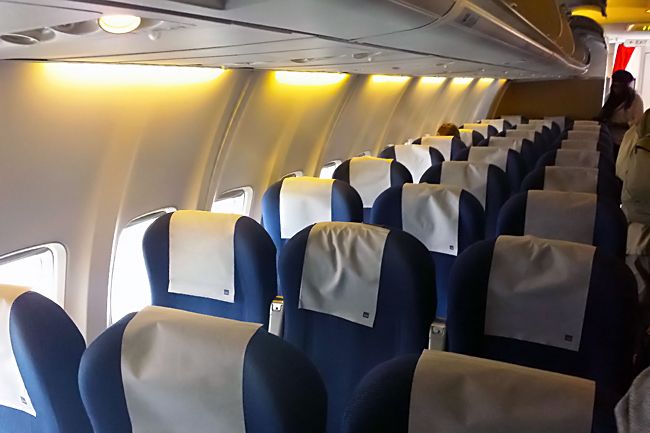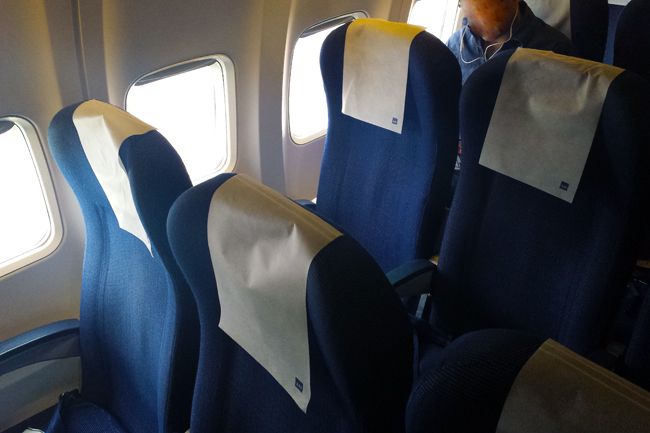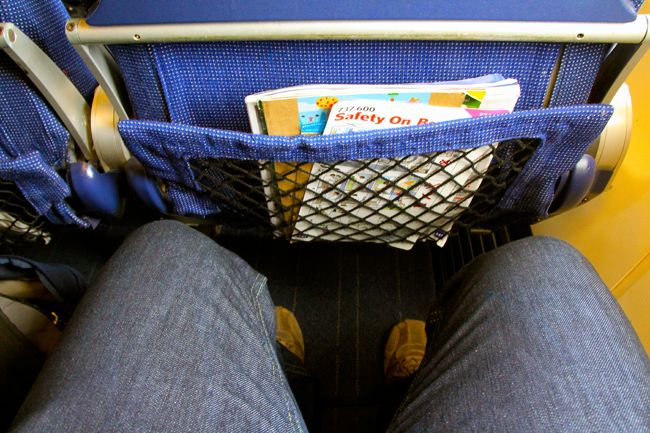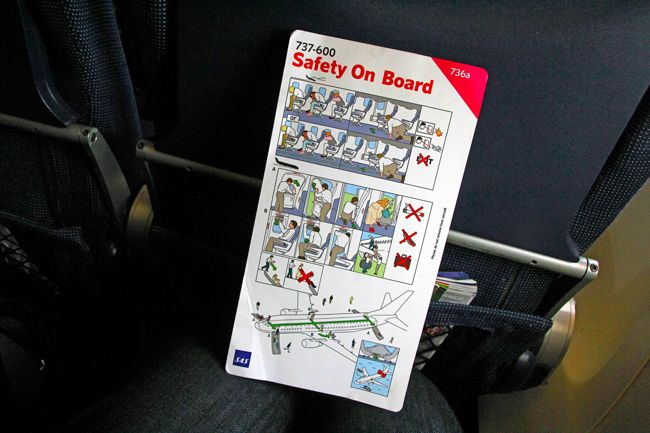 Once boarding was completed, we pushed back and made the long taxi down to the runway. For the first time on my few visits to FRA, departure wasn't made from the startbahn.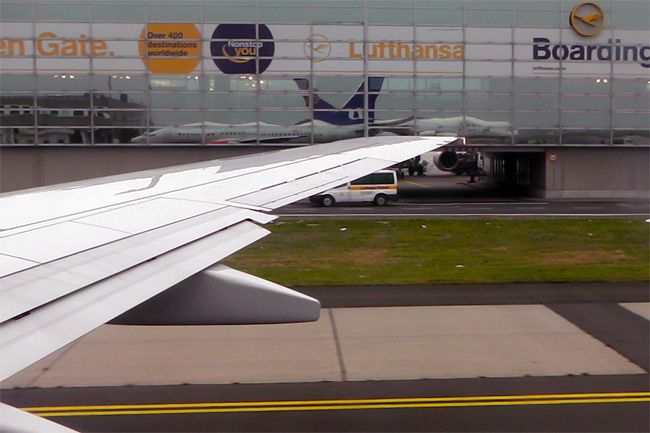 We made it I to the air at 12:35 and much like yesterday, cleared the initial cloud layer pretty quickly.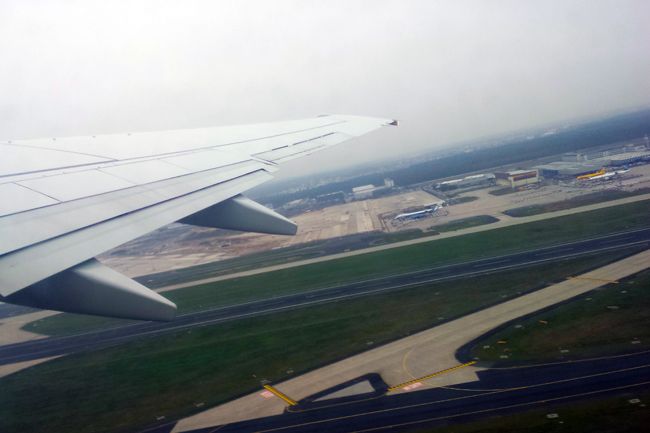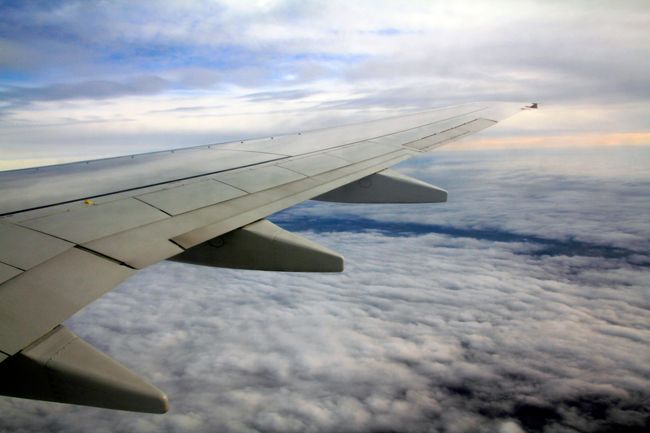 Once the seatbelt signs were switched off the crew came over the PA announcing a service of complimentary drinks, salads, hot wraps or a sandwich…. But only for those in business class. Everybody else gets free tea or coffee. Nice way to encourage people to fly business there… I grabbed a tea and grabbed my iPod. My choice of entertainment for this sector would be Oasis' final album from 2008.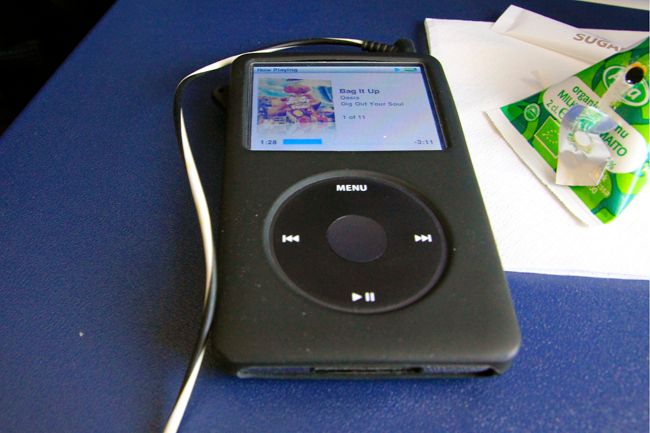 Once the cabin had been served, the crew came around offering refills, which was something I didn't experience on my SAS flights back in June, despite being a similar flight time.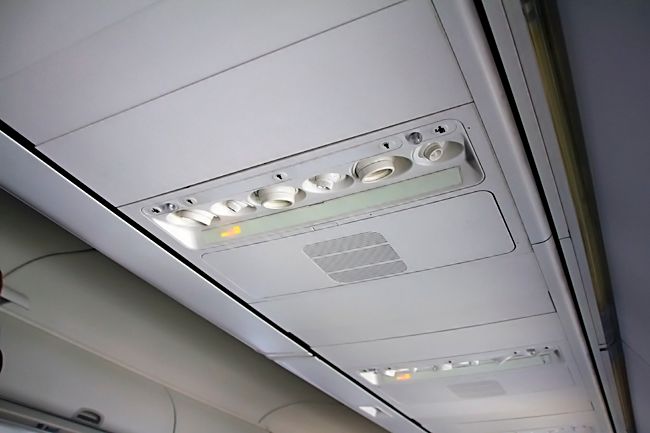 Due to there not being a sky map, I relied on the live, but less detailed version instead.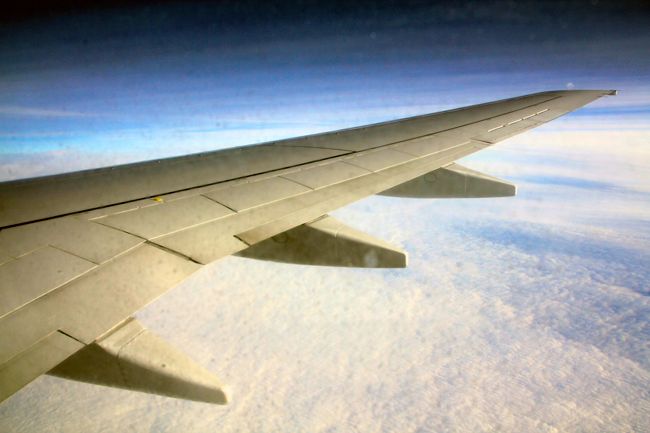 As the album I was listening to was finishing, I felt the nose dip. So I took my earphones out and started paying attention again. The sun was getting pretty low in the sky, despite it only being around 2pm.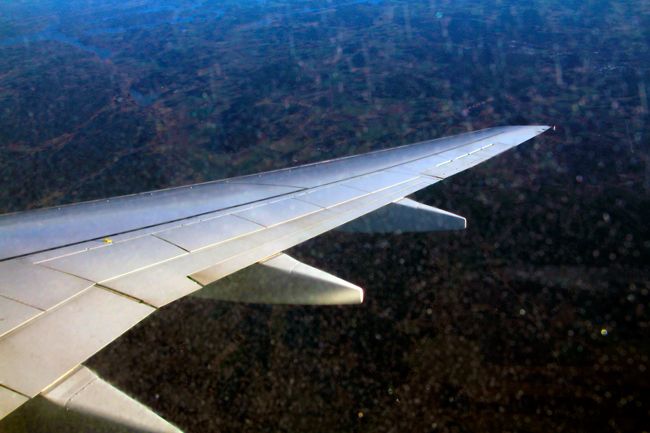 We flew past Arlanda before making a 180 degree turn on to finals.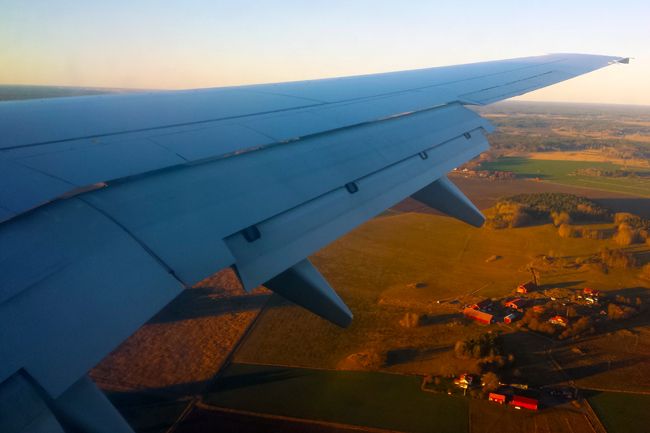 We touched down at around 14:15, and made a short taxi over to the terminal.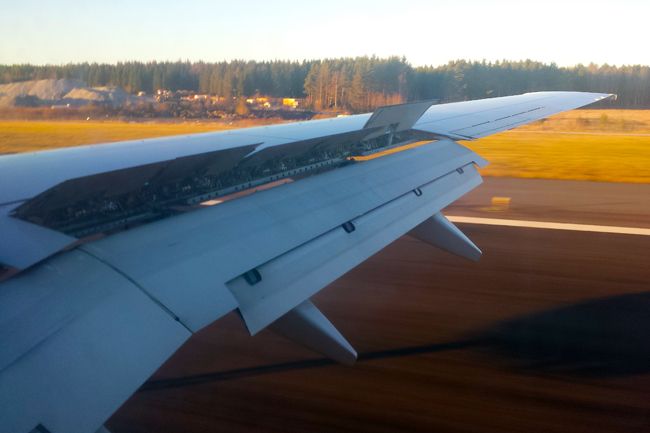 There was the usual wait to disembark, the usual thanks on leaving and then out into terminal 5. What an improvement this place is over T2!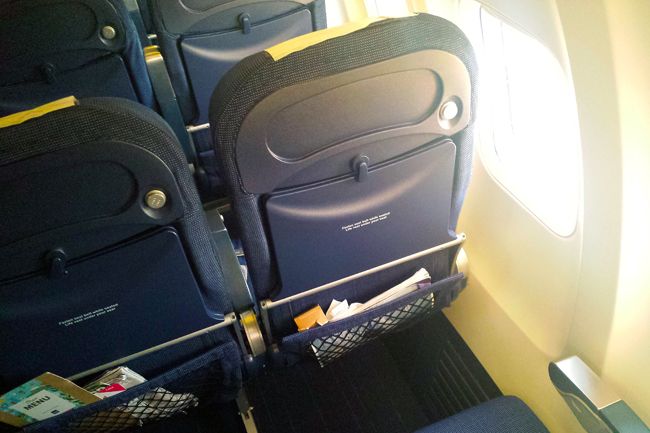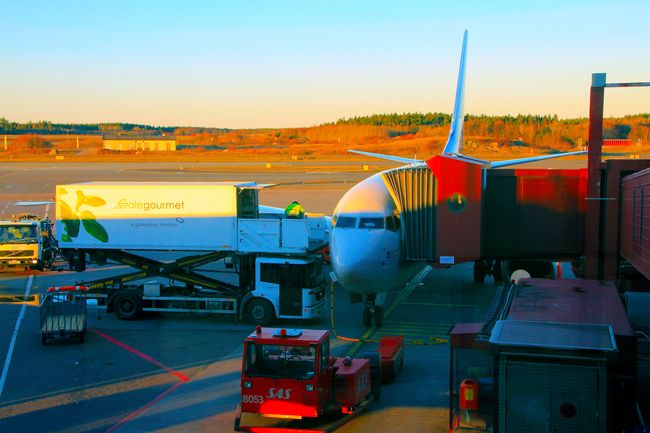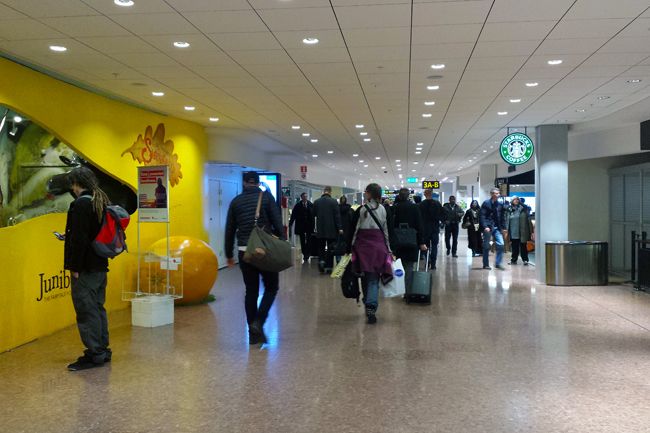 First stop was to find a transfer desk to get a SAS branded boarding pass, but I was stopped in my tracks along the way.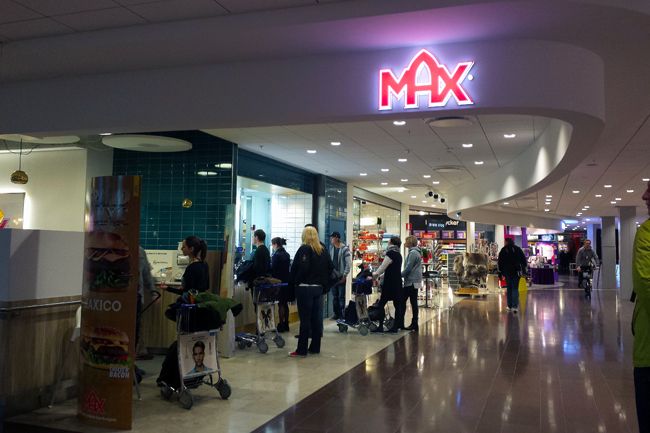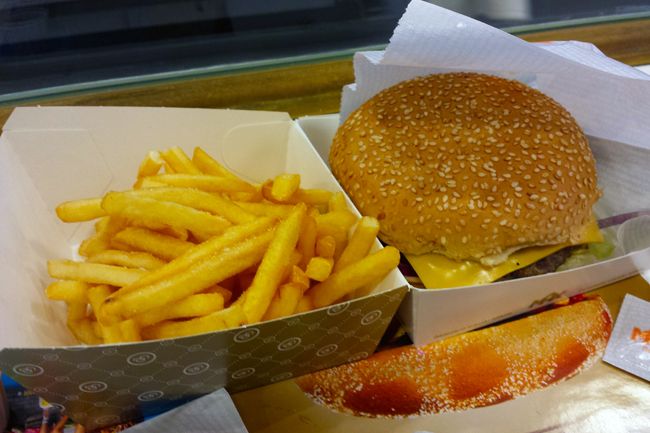 Once lunch was over, with a heavier stomach but a lighter wallet, I carried on my way. The agent swiped my passport, gave me my boarding pass and directed me in the direction of gate F58, saying I would be best to head over there a.s.a.p. as it was quite a walk. I did exactly that, stopping for a few pics along the way.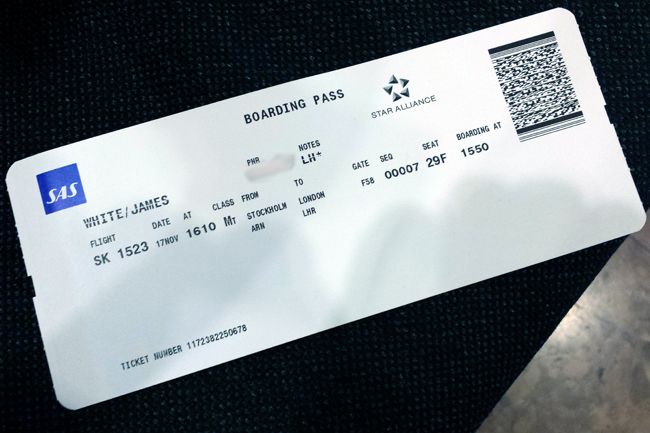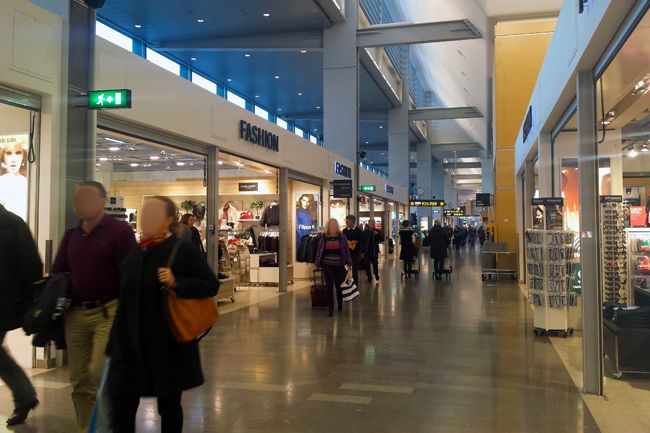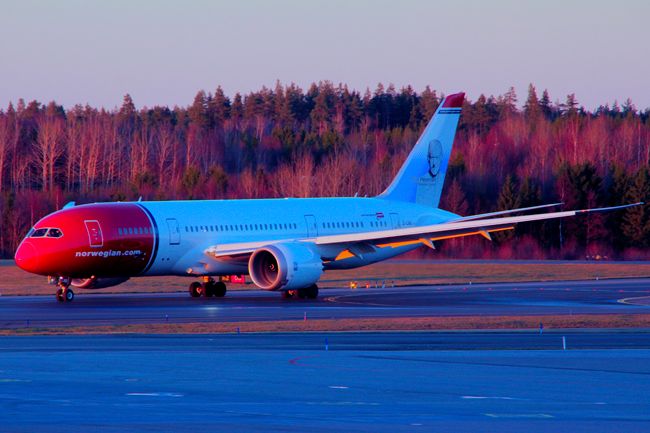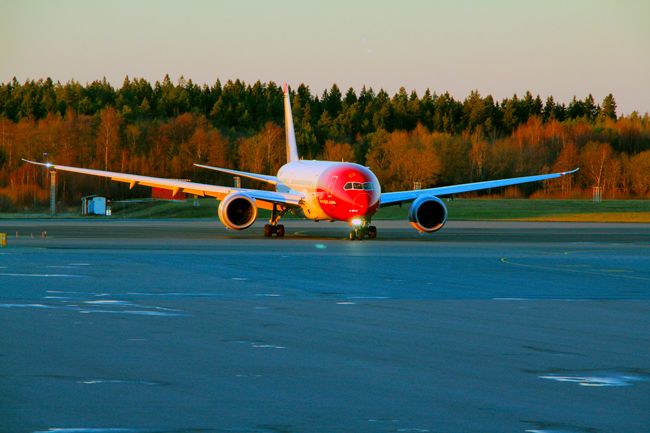 Still wish I'd taken one of the promo flights on one of these…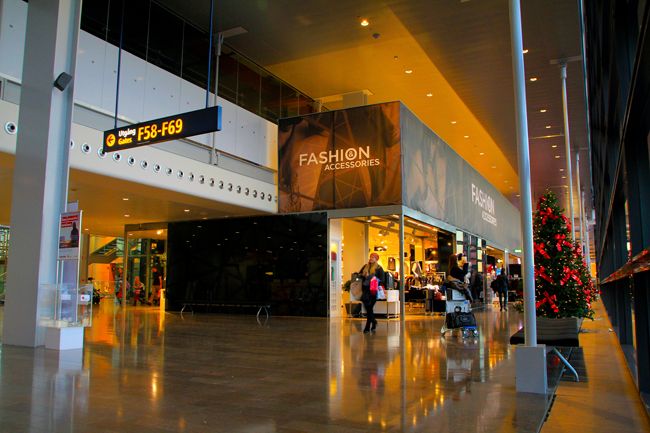 I made my way through passport control and into a ghost town it seemed! I was quite literally the only person in this part of the terminal, due to being the only non-Schengen flight at this time, and as it later turned out the flight was barely half full. The only sign of life came from a radio at a distant bar. Other than that, it was complete silence. How relaxing!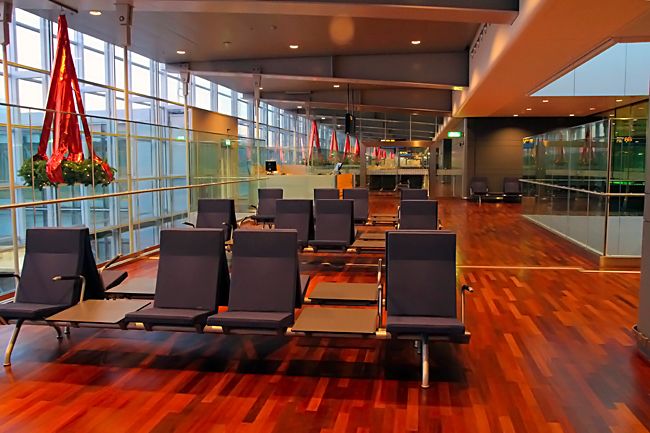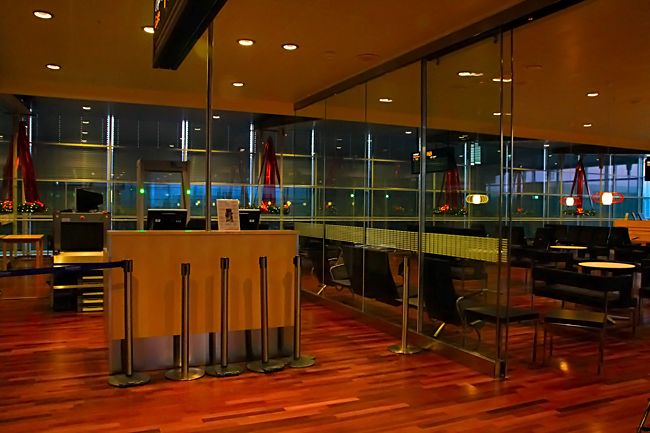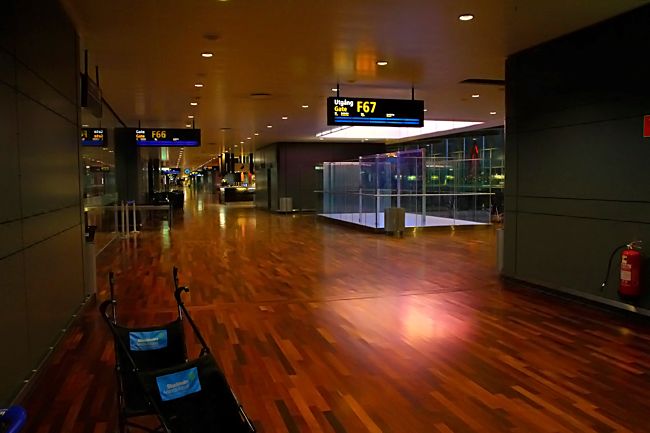 I made my way back to the gate area where a few people had come along and a pretty lonely looking 738 was on stand. Boarding wasn't really announced. More a case of people just coming forward. I hung back a while, as I wasn't sure if there was any kind of preboarding in progress, before making my way on board.


SK1523
ARN-LHR
November 2013
Boeing 737-800 / LN-RGE
Seat: 29F / SAS Go
Scheduled: 16:10 / 17:50
Off Stand: 16:06
On Stand: 17:55


No sooner as I had taken my seat it seemed, the boarding complete announcement was given – meaning I not only had my row to myself, but also the row in front and behind too. I overheard one of the crew mention that there were 63 passengers onboard.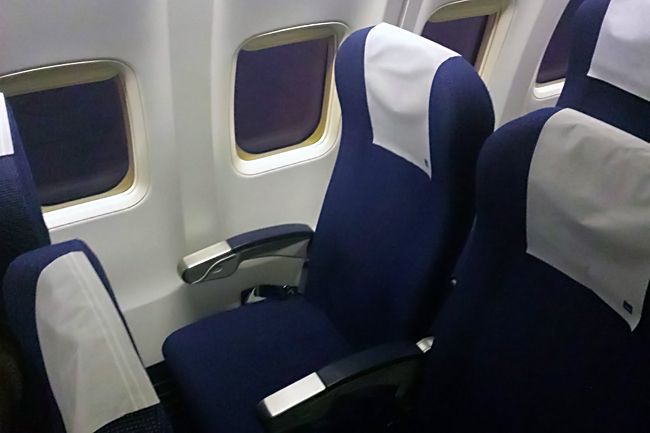 Better legroom than on the 736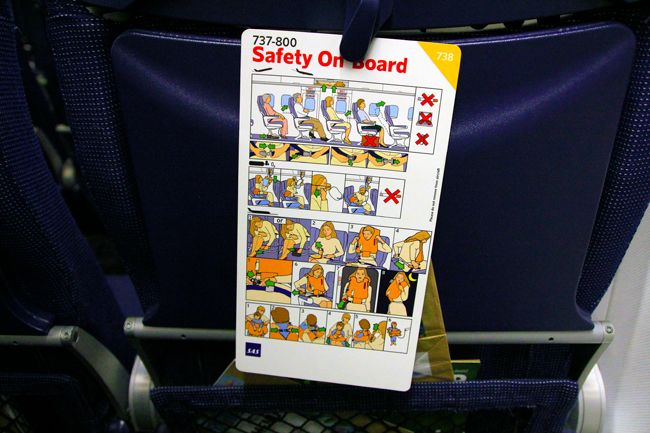 The captain welcomed everybody on board and said we would be leaving early – and it was a good thing we were as there was quite a heavy headwind, giving us a flight time of 2 hours 20. We pushed back a few minutes ahead of schedule and made our way out to the runway, departing at 16:15.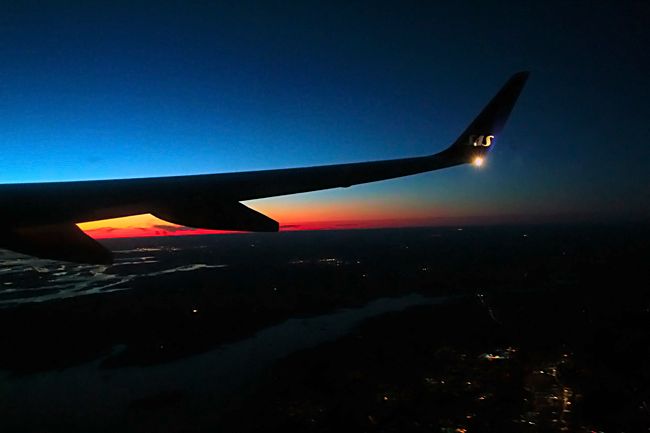 Shortly after departure, the crew once again announced what business passengers would be having for their service, followed by what the rest of us would be having. As soon as the seatbelt sign went off, I took advantage of not having anybody behind and reclined fully, not that the seat went back too far. The captain announced we were climbing to 40,000ft and currently had a headwind of 200kph.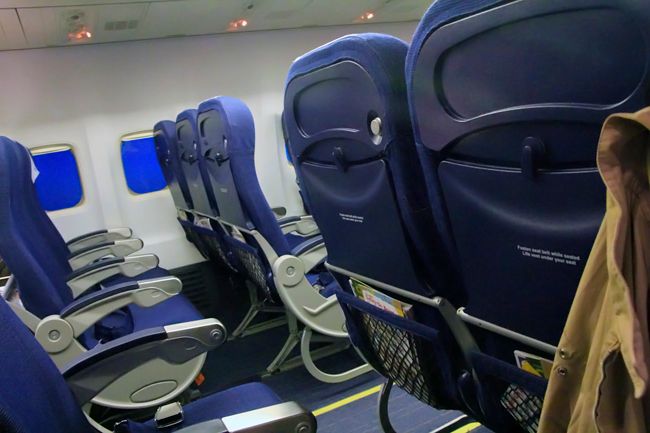 For this sector I went with Curb Your Enthusiasm on iPad for my entertainment, over a tea.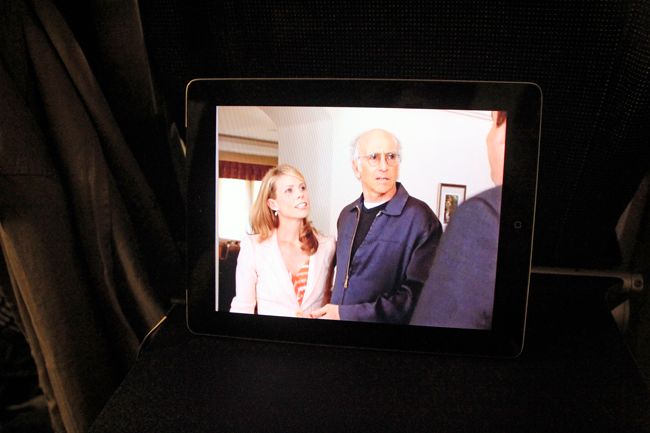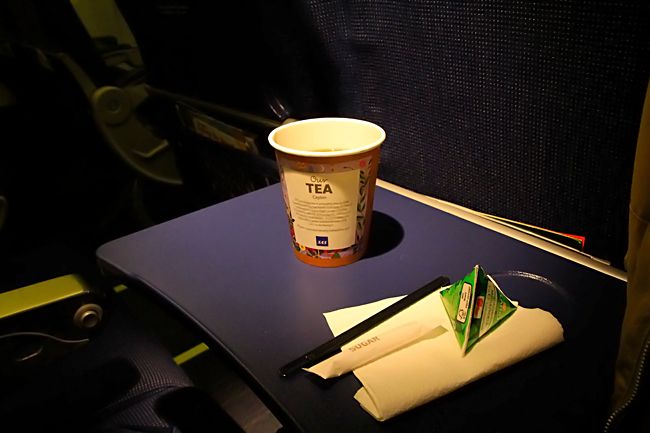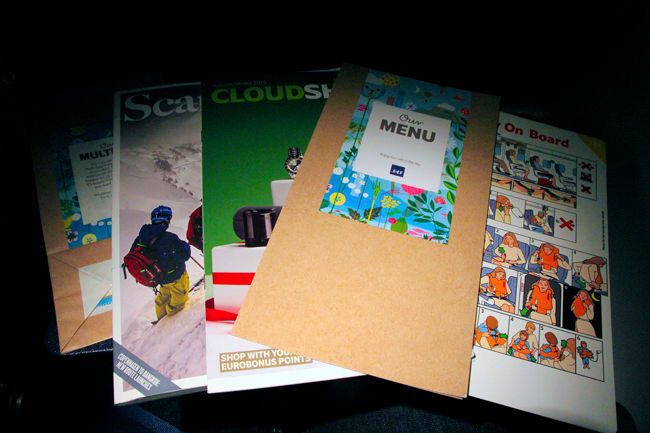 Two of the crew offered refills on the drinks no less than four times before collecting the rubbish. The other three sat in the rear galley chatting. I guess it's a little pointless getting all carts out when just the one is enough to serve everybody.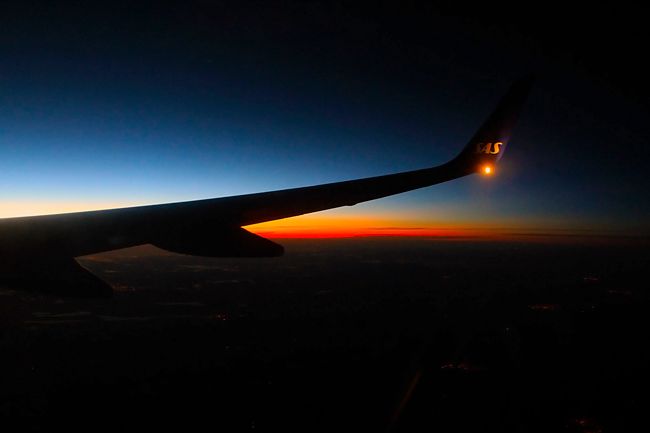 After a while I started chatting to the flight attendant in the rear galley. He seemed pretty interested in the future plans of Heathrow. He also seemed to know nothing about the other airports in the London area so I filled him in about those, as well as telling him about my weekend.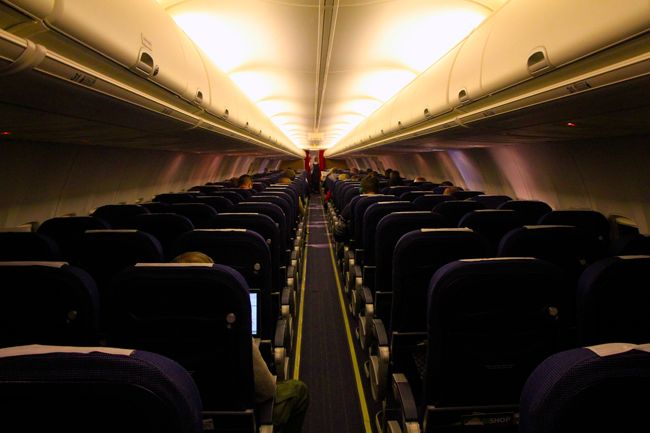 As I returned to my seat, the cabin lights were switched off. First time I'd experienced almost complete darkness on a euro hop. Although most people had their reading lights on.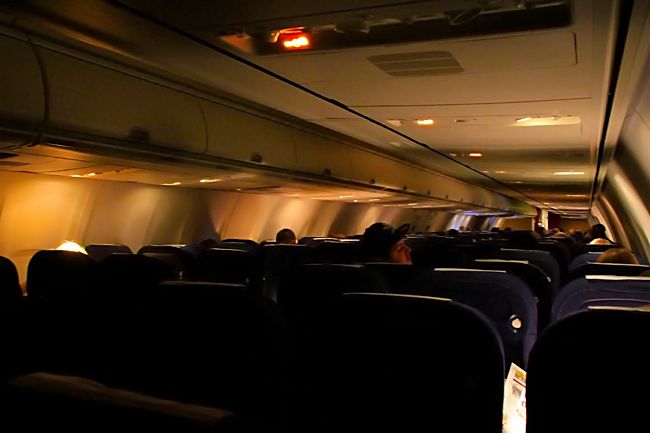 I sat and listened to the rumble of the engines until descent started at around 17:10 local. Almost immediately, there were a few bumps as we made our way into some high level cloud. The captain gave a brief update – saying that unusually, we didn't have to hold this evening. Due to the cloud and darkness there wasn't an awful lot to be seen on descent apart from the odd flicker of lights from other aircraft in the area. That was until we descended into the clouds and there was a bit of a light show.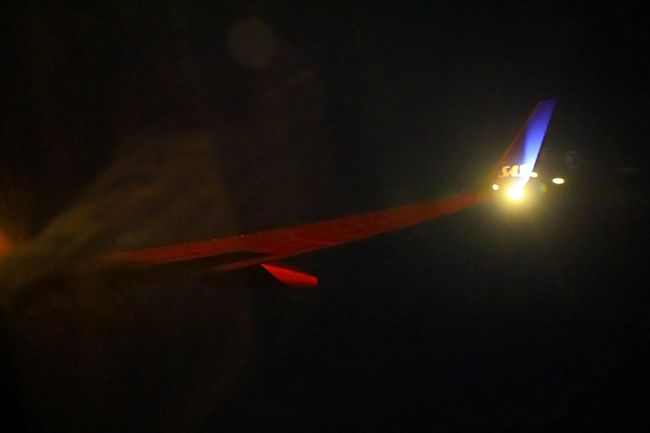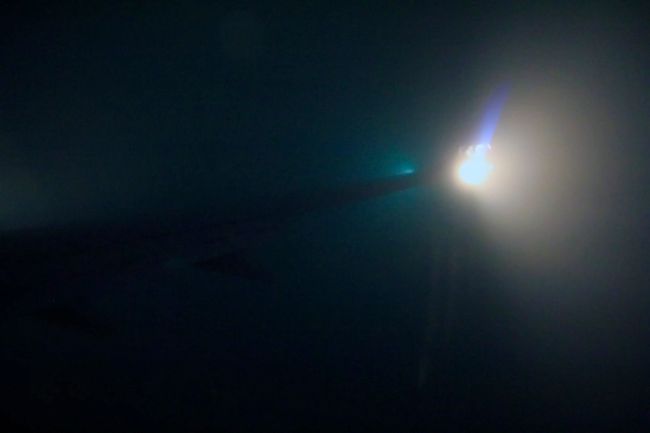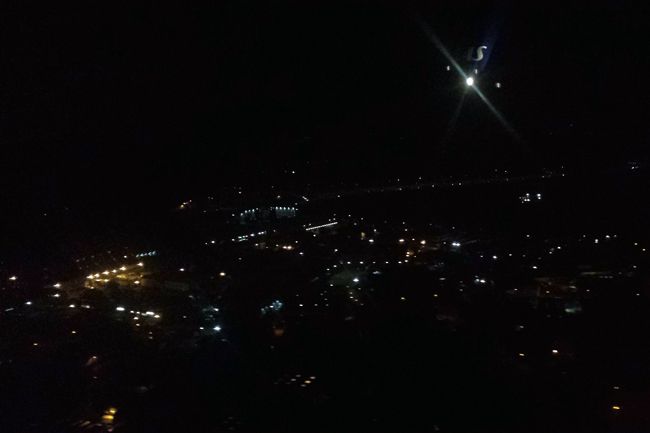 We touched down at around 17:50 and headed off to the other side of T3, docking at gate 11 alongside a company 737.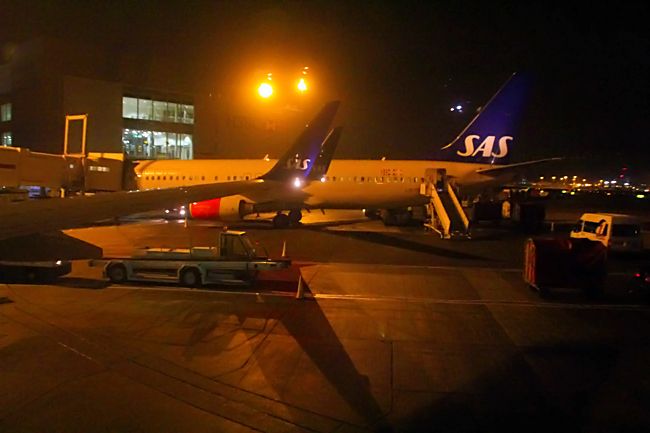 As I disembarked, I asked for a flight deck visit which was granted. I had a brief chat with the flight crew, who agreed that it was rare not to have to hold, and the first officer mentioned she had transferred over from the MD80 fleet.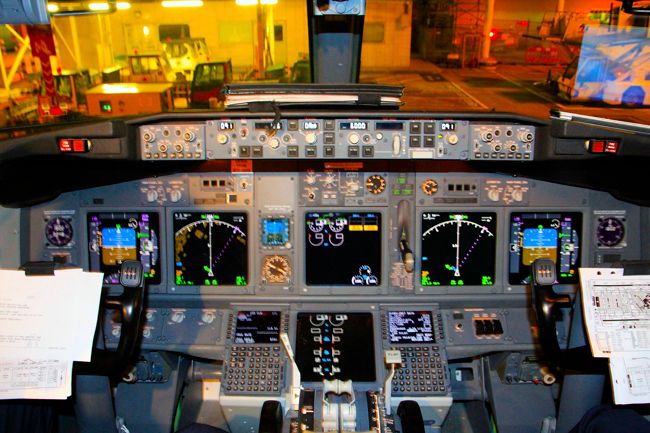 It was then through a series of nondescript corridors to UK border control – which took longer than needed due to nearly everybody in the E-passport lane not having an EU passport.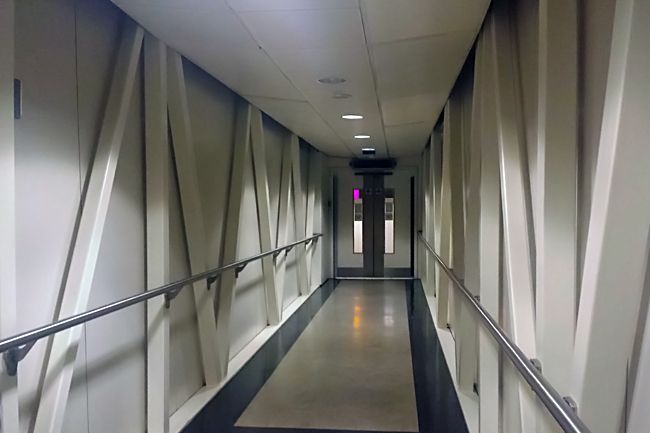 Once through, it was customs. I used the blue lane (as I'd come from the EU) which took me through a corridor, around and then spat me back out at the entrance to the green lane – how pointless. I made my way over to the central station, fighting my way through the London Underground ticket salesman who were generally being a nuisance and on to my now familiar ride home, £10.50 poorer.


In conclusion then, I was pretty impressed with EasyJet. I'd resisted flying any LCC in the last few years. I'd tried out FlyBe a couple of times and was left massively underwhelmed. I figured I'd give U2 a go as they probably couldn't be much worse and they were much better than expected.
LAN were an interesting bunch. Decent enough service but the crew could have been a little more outgoing.
SAS were decent enough. Sure, they may lack service but the crew were good – basically the complete opposite of LAN. If they were to merge, they would have themselves a pretty decent airline!