British Airways/Titan | Boeing 767 | LHR-LCA | Club Europe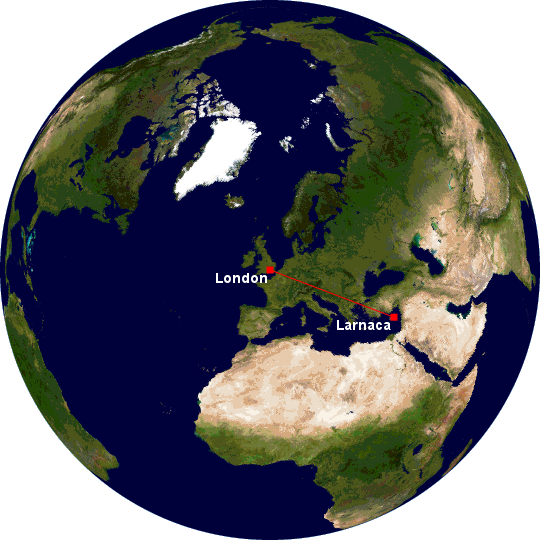 Maps generated by theGreat Circle Mapper -copyright © Karl L. Swartz.
This trip came about after reading a report by PalmJet ( Going Retro, Chasing The Sun: BA B763 To Cyprus (by palmjet May 21 2012 in Trip Reports) ) earlier in the year. I had a rough plan of where I wanted to go throughout the year – roughly one trip a month, but I was struggling to think of somewhere to go in December. I considered Manchester but considering the month the proposed trip was due to take place, this wasn't the most attractive option. Also the fact I had already made my annual trip made this only an option if I was really stuck. Luckily, PalmJet's report provided the inspiration I needed and my December schedule was set. I would later add another trip for December, but that's a story for another time.
There were quite a few options to get my to Cyprus. EasyJet was the cheapest, however spending in the region of five hours on one didn't appeal too much. Same goes for Monarch, although the A300 was attractive. The third option was Aegean, however their prices were ridiculous! The timings weren't great either.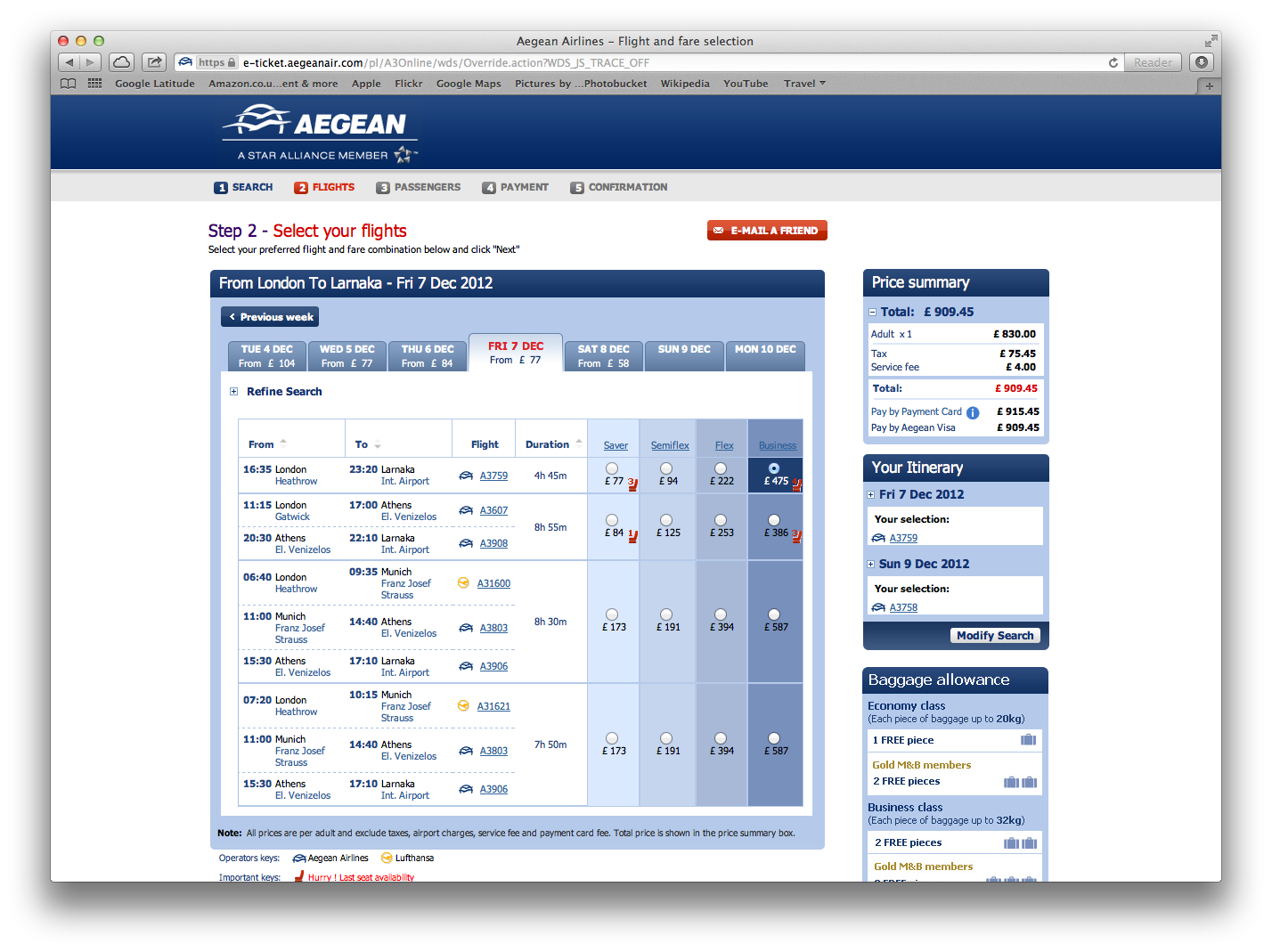 So the final option was the tried and tested British Airways. The widebody appealed, but more attractive was the fact if I flew in Club Europe I'd reach the Bronze tier of their executive club. After coming so close to trying out the BA 767 on my trip to Madrid in October, I was later glad I selected this option. I was also close to booking a 767 flight to Frankfurt earlier in the year until I realized that particular flight left Heathrow earlier than the first coach could get me there.
When the time came to book, I decided to use the British Airways App on my phone, as it seemed a pretty novel way of booking a flight. The process went much better than expected – My PNR wasn't immediately available, however in the bookings section of the app, everything was there and in the end I received the eticket receipt a few hours later.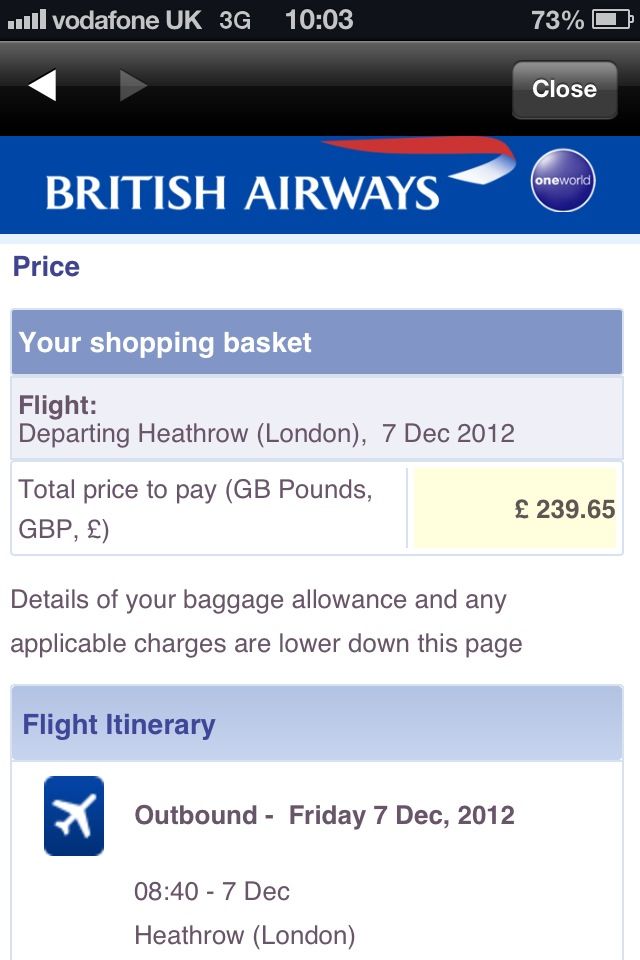 Job done – with ease.
Next up was a hotel. I saw explored a few options, but once again I turned to PalmJets report for inspiration and booked the Flamingo Beach Hotel, just a few minutes from the airport for a bargain price of £23 a night.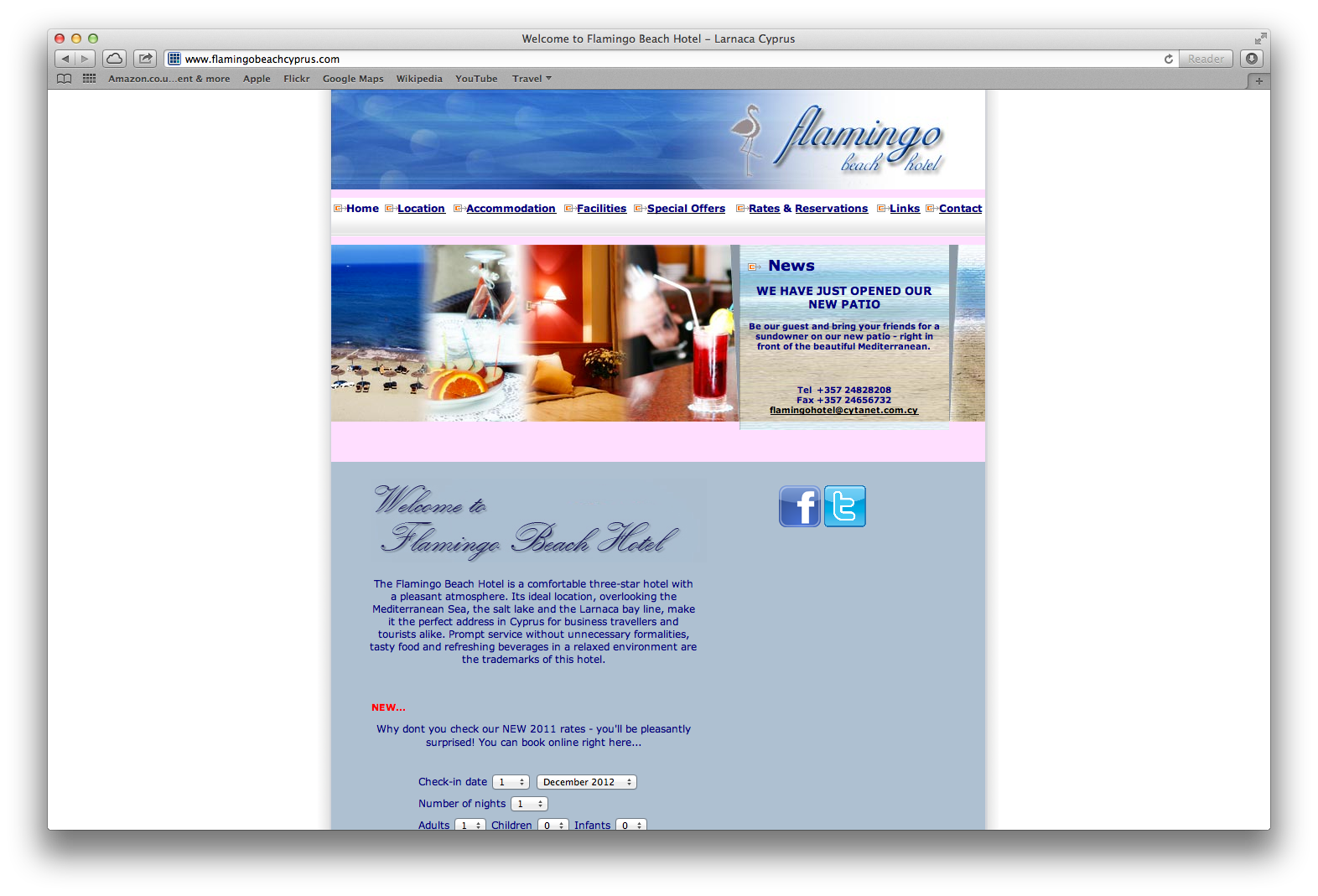 Upon arriving at work the morning before departure, I was pretty glad that I would soon be somewhere a bit warmer!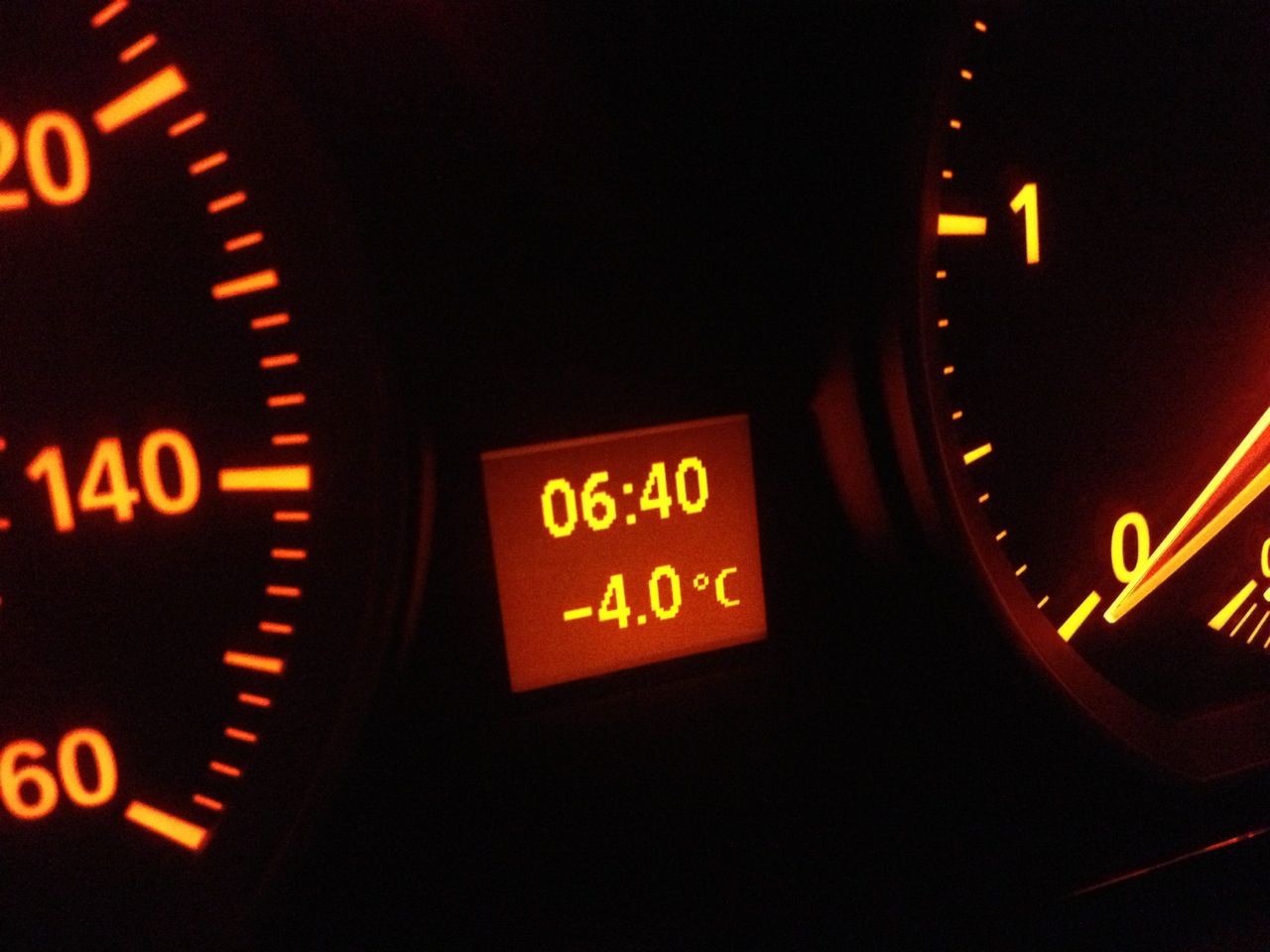 Transfer to LHR was the usual National Express coach from my local station. I had actually booked the 06:20 coach, but I later realised that there was one at 05:50. I decided to try my luck with the earlier one and after a bit of a triple take at my ticket I was let on to the earlier one without any questions.
Arrival at the central station was at 06:30, and I headed off to the BA check in area in T3, which was a new experience for me. Not anywhere near as Bling as the VS check in area, but that was to be expected really.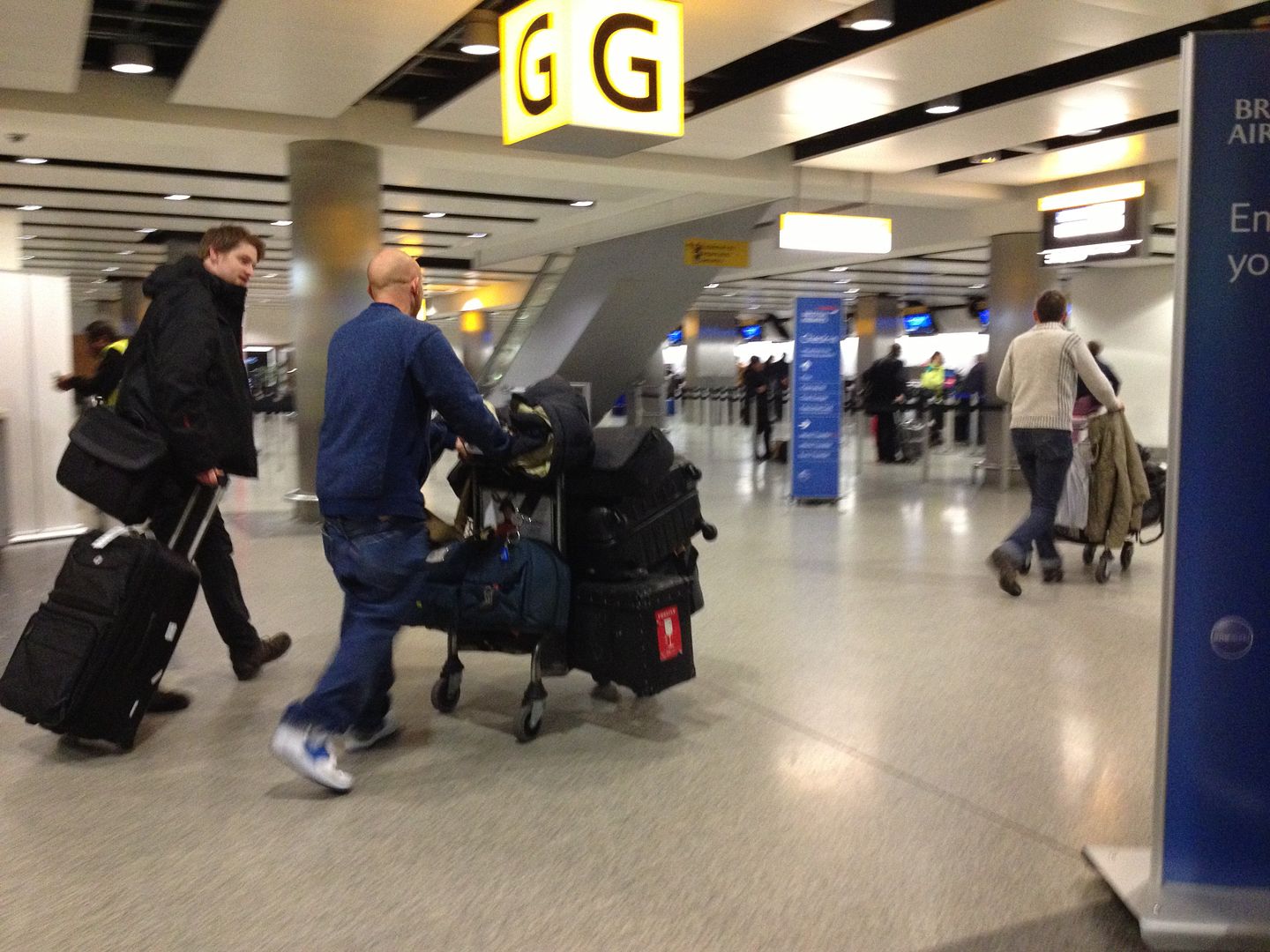 As I'd had a good look round T3 back in September, I made my way straight to the lounge. The fast track security was a little busy, bust as one of the operators saw me with liquids/iPad etc. in hand they signaled me to go to the front and I was through in seconds – see people that's how its done – Prepare before you get to the x-ray machine and its quicker for everybody! And the advantage of using fast track was that I wasn't directed through the duty free shop straight after – just through some non descript corridor between shops.

Pretty much where the non VS fast track comes out

The lounge wasn't too bad – and had some good views too although it was still a bit dark outside. The breakfast offerings were better than at Gatwick too.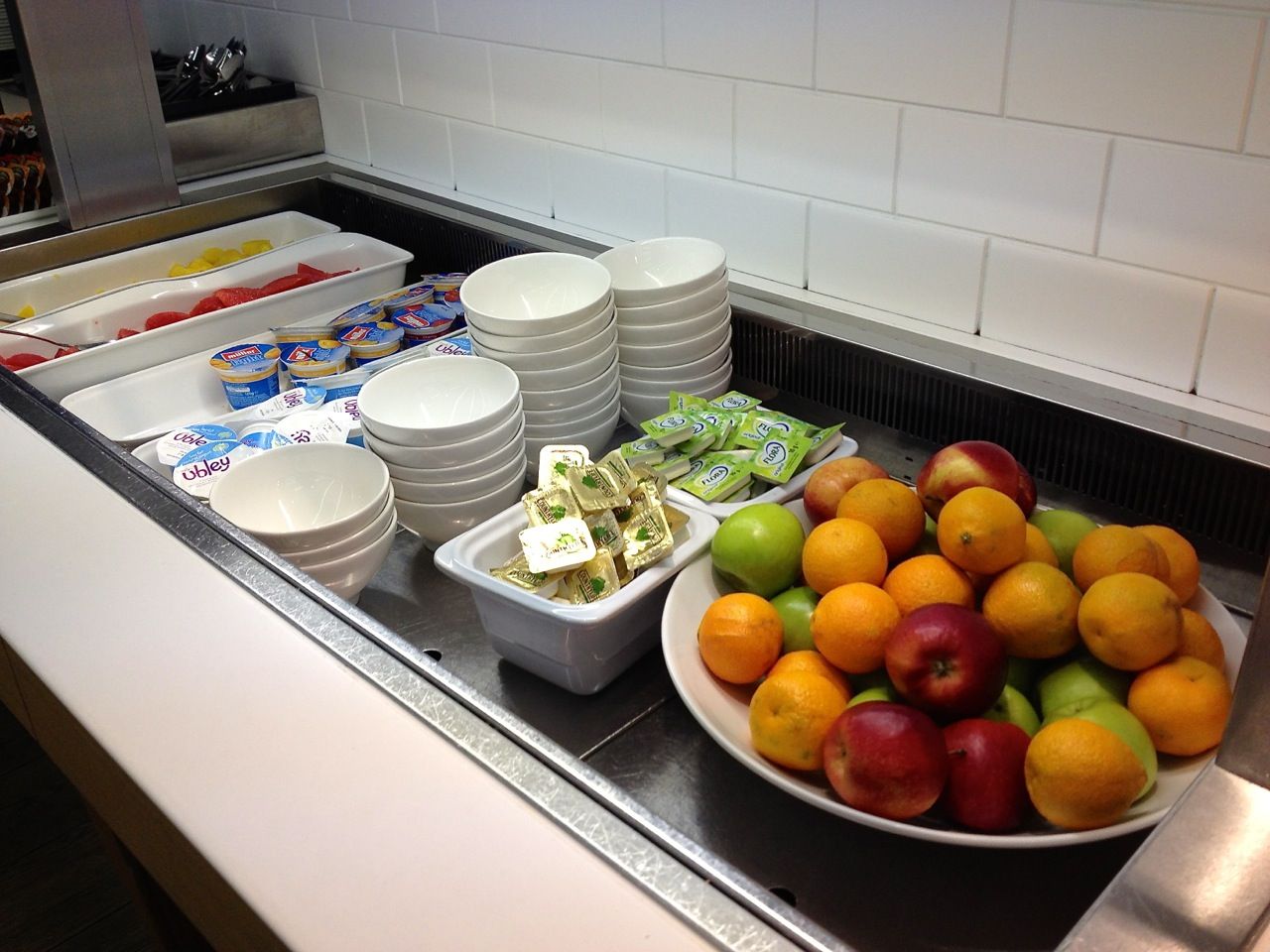 Breakfast
Pretty good business centre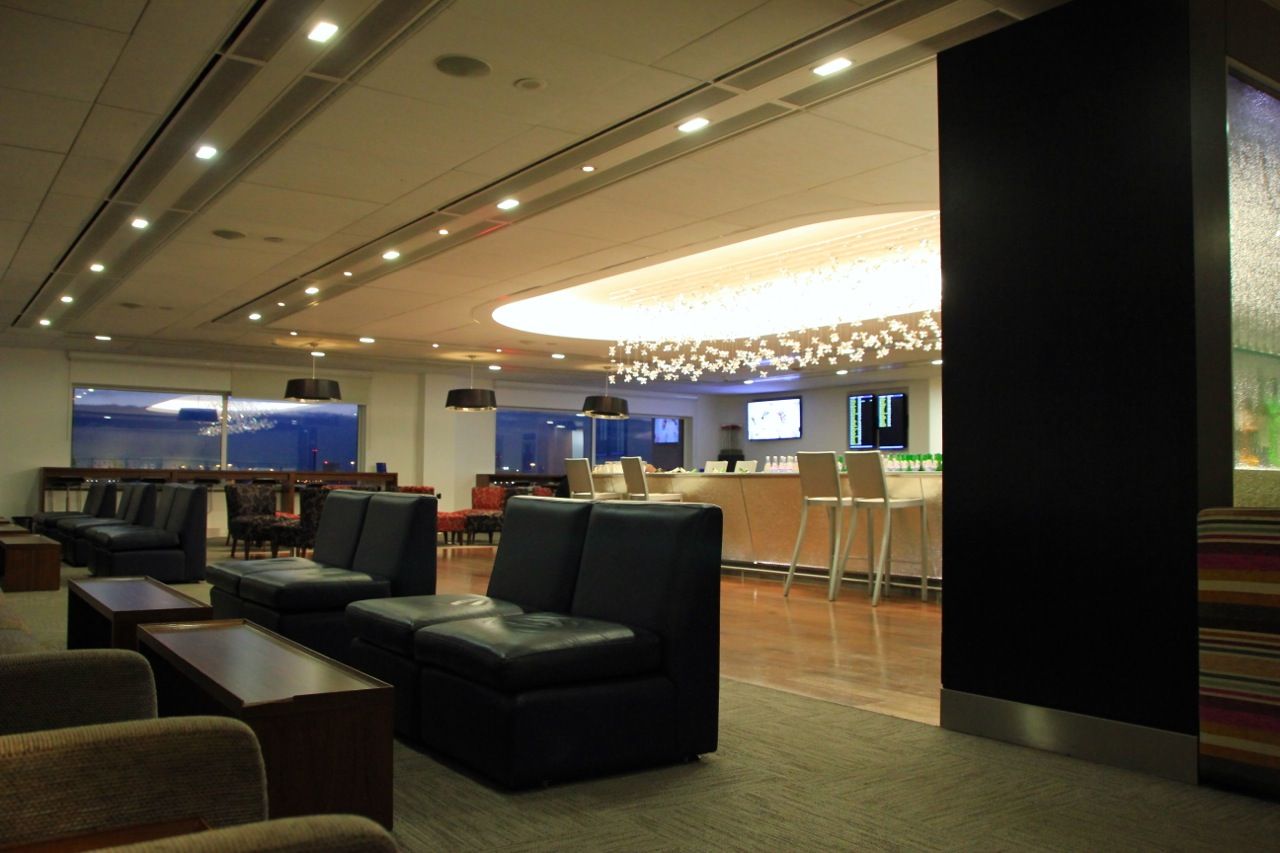 Eventually I found a comfortable sofa where I could watch TV….


Keep a check on my flight…


And follow what was going on outside, without moving. Perfect!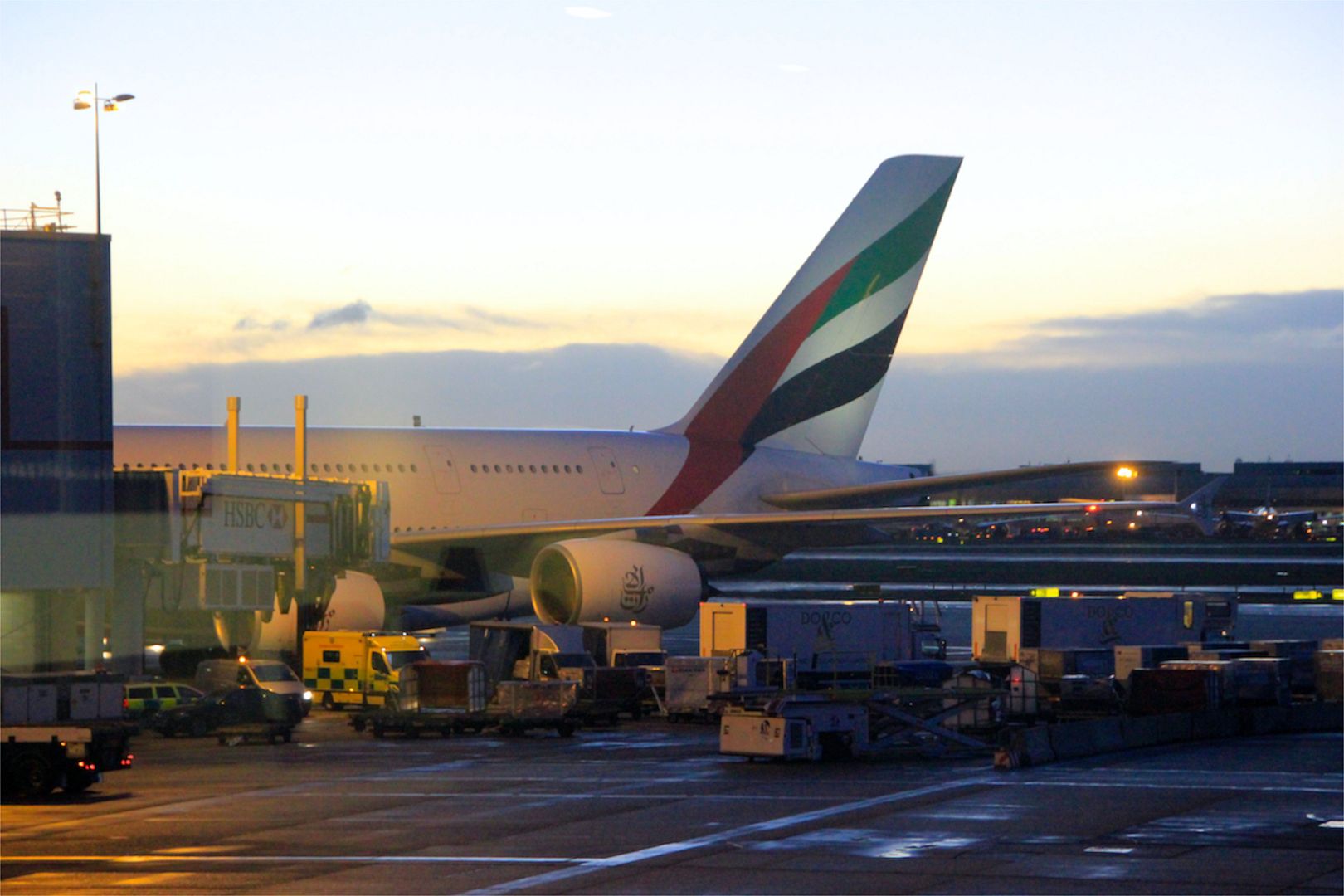 At 07:50 it was time to head down to gate 24B – via Dixons to look for a new lens cap as mine had decided to wedge itself into my UV filter, rendering both useless.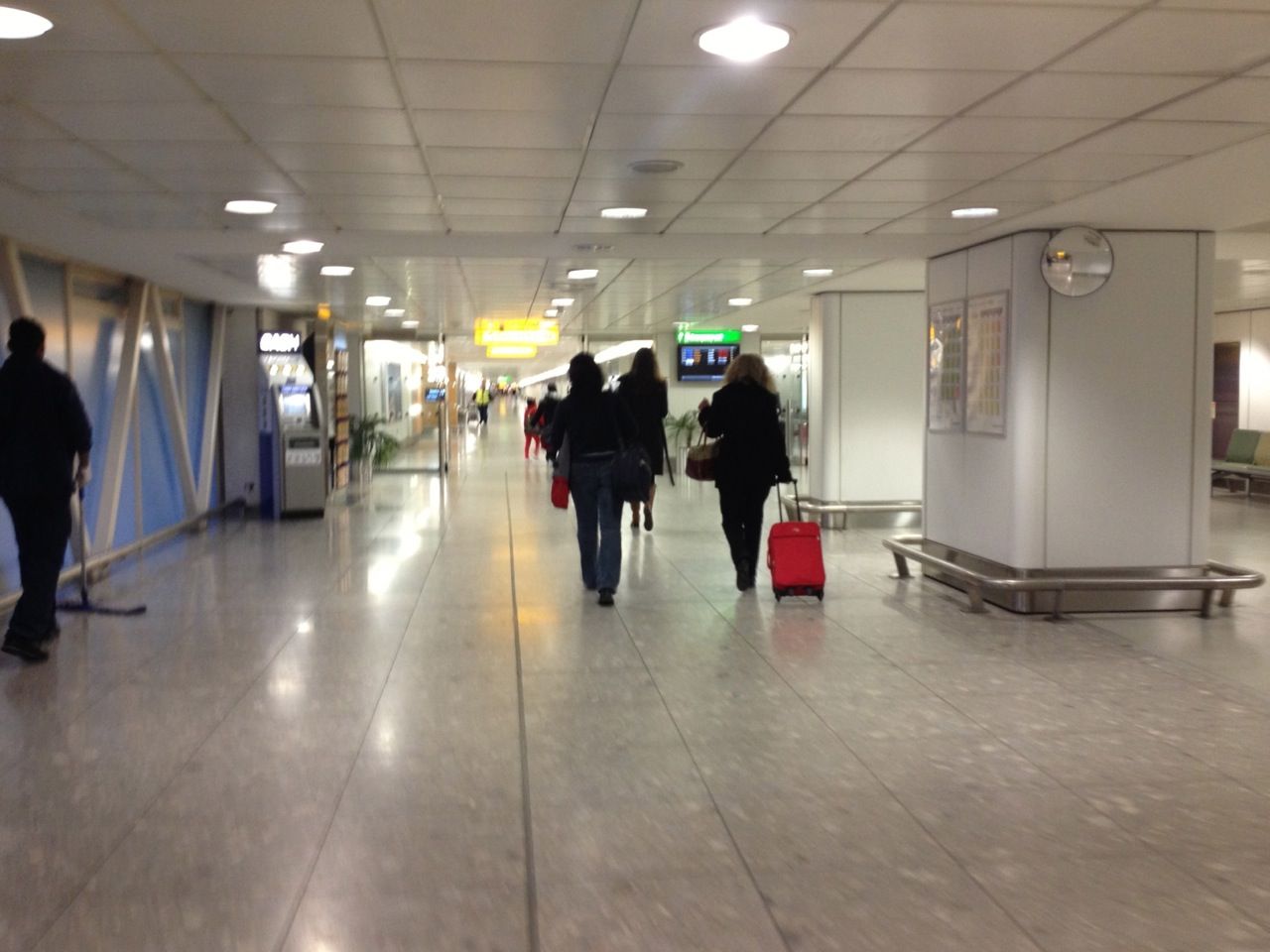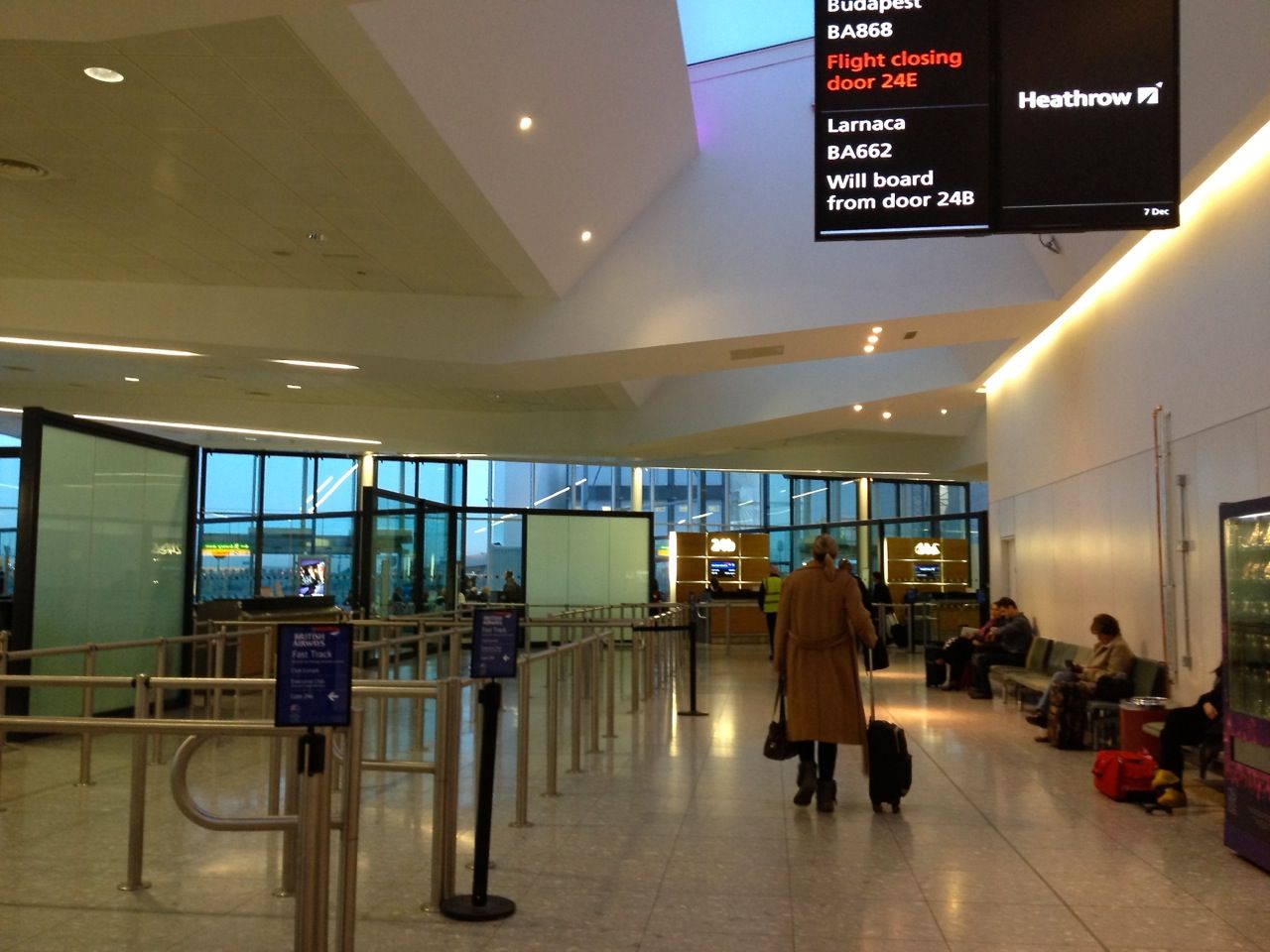 Once into the holding pen, it looked like G-BZHB would be doing the honours. I'd sat on this one before, but didn't actually get to fly on it ( Cancellations, Widebodies And Iberia LHR-MAD-LHR (by jwhite9185 Oct 17 2012 in Trip Reports) ). At least now there was no grey areas in the flight log!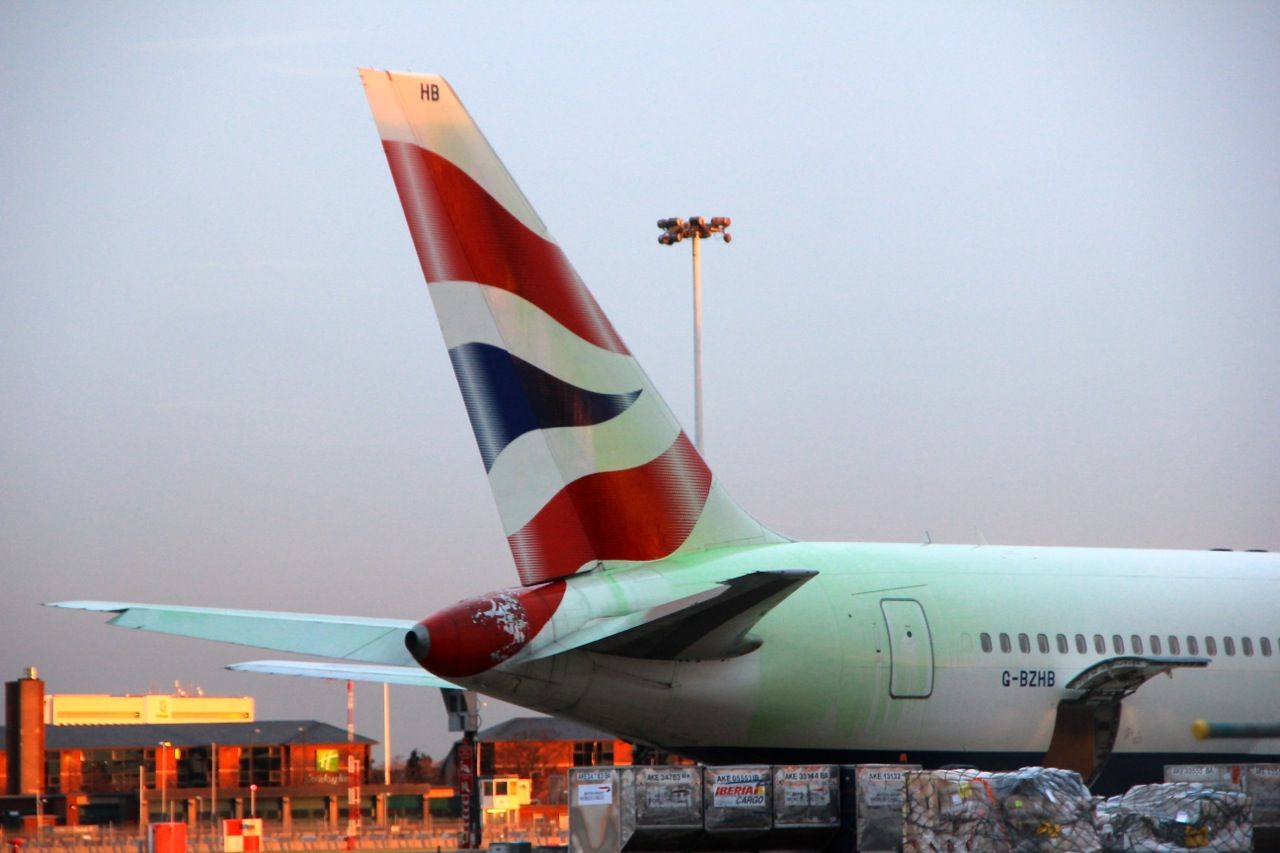 G-BZHB with a fresh dose of de icer.
As per usual, as soon as the bus turned up, everybody decided they would get to their destination just that bit quicker if they formed a nice long queue at the exit door.
Boarding was called at 08:15, and as usual everybody was travelling in Club Europe. One guy shoved his way past me – "Erm excuse me?!" He came back with "I'm in business class" – to which I replied, "yeah, so am I!" He then backed off and let me go ahead – a little annoying that he just assumed I was in economy, however if the ground crew enforced the boarding rules, it wouldn't have been an issue. There was a brief wait on the bus while the driver checked with the crew if we were ok to board, but a few moments later he re appeared and said he had bribed them with newspapers and we were all let on.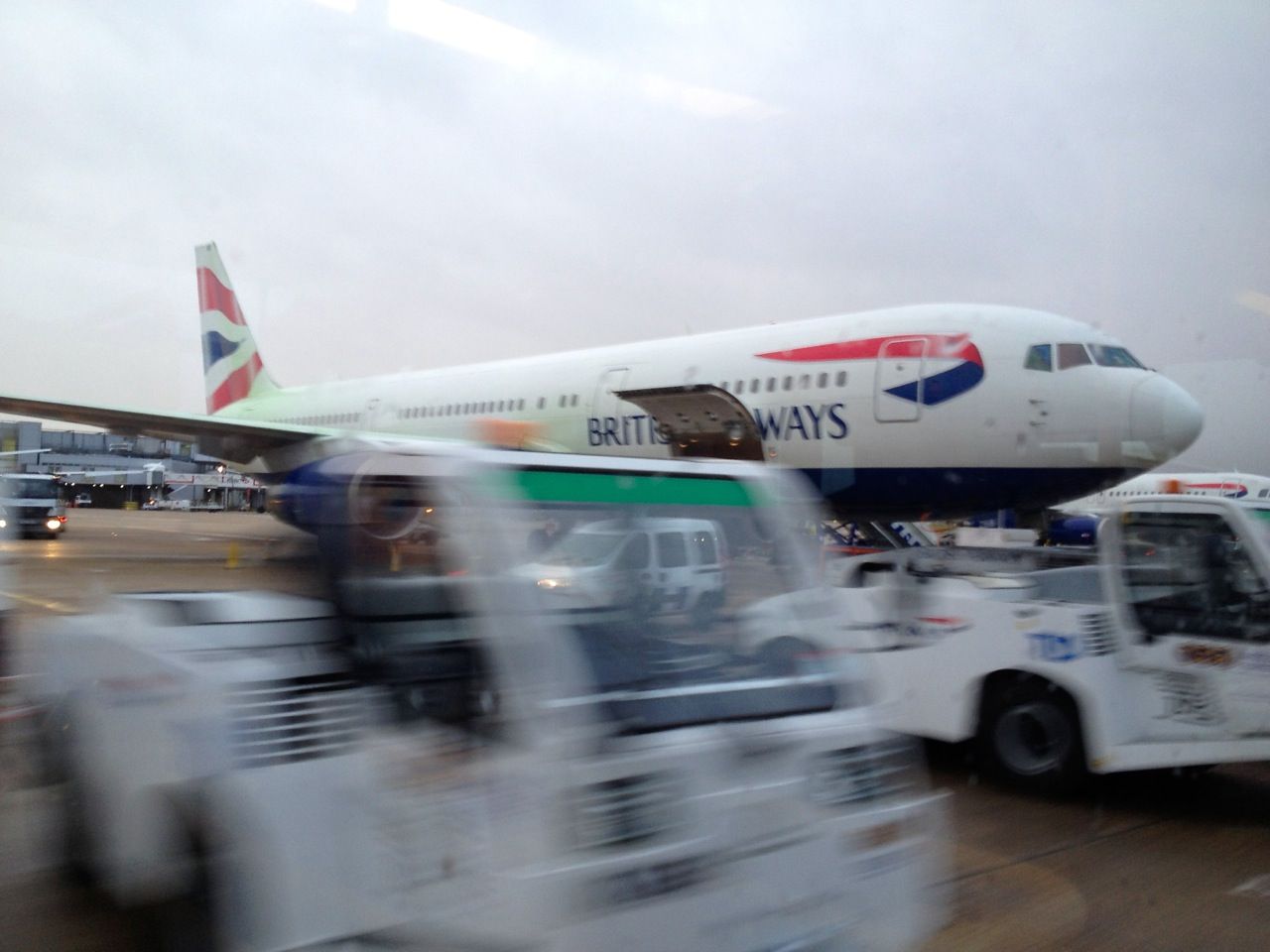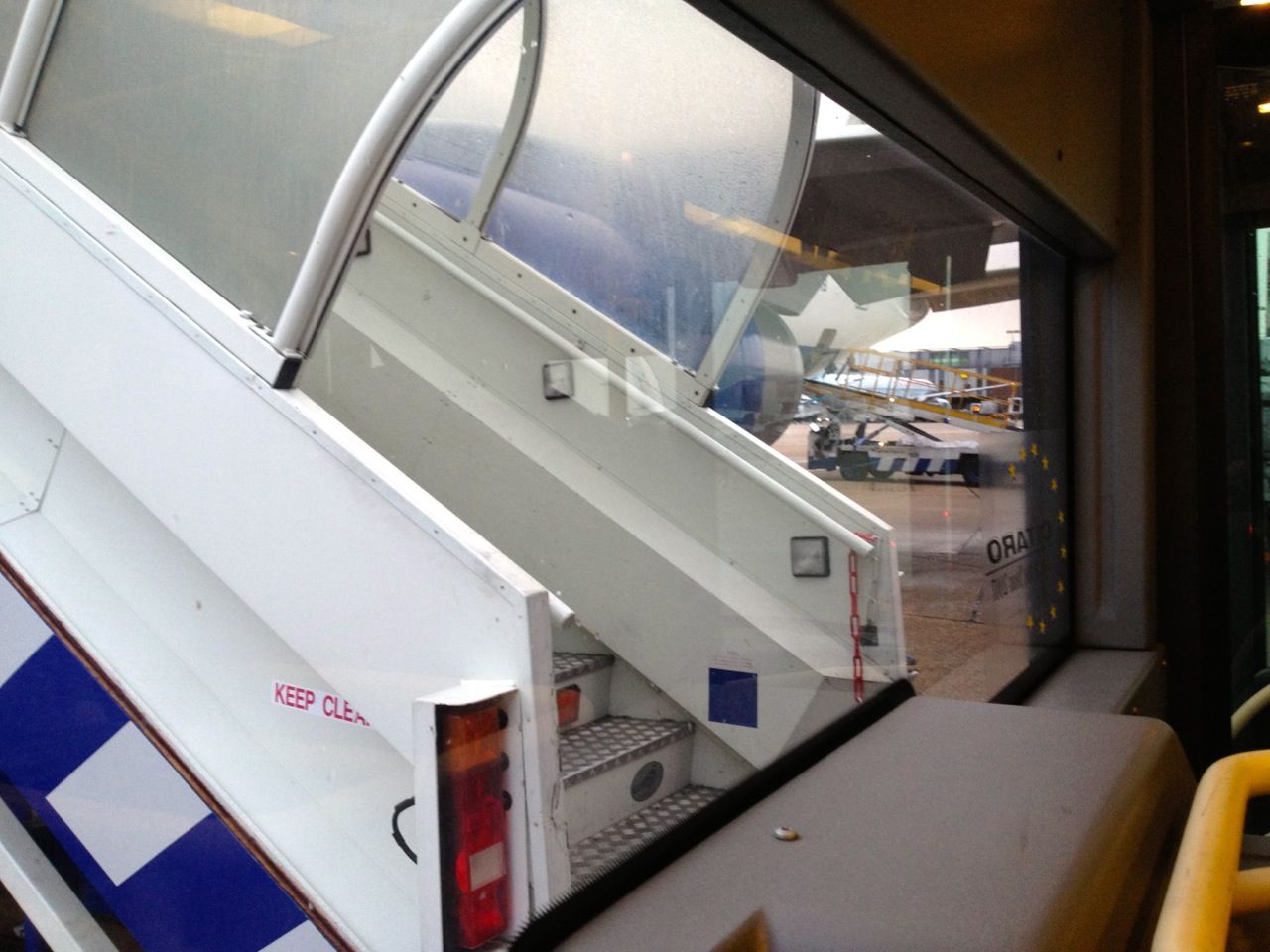 BA662
LHR-LCA
7th December 2012
767-336ER/G-BZHB
Seat: 8F / Club Europe
Scheduled: 08:40/15:10
Off Stand: 08:51
On Stand: 15:12
At the door, I was welcomed by name and took my assigned seat of 8K.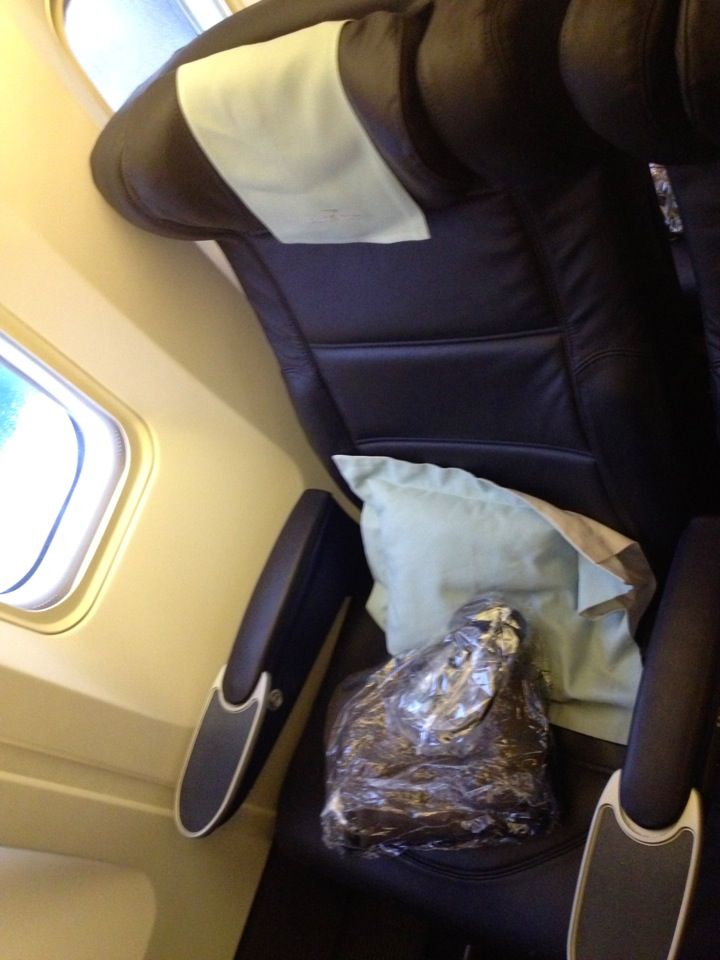 First time I've had an amenity kit on an intra Europe flight.
Not much of a view to be had thanks to all the de icing.
During boarding, I asked if I had a seatmate and they said there were only 20 passengers booked into club, so even if there was there would be an opportunity to move. He also mentioned that this aircraft had just come out of maintenance that morning as it was getting a cabin refurb – hmm not too sure about that as it had the new cabin on my previous encounter with this jet back in October.
The captain announced a bit of a delay due to a passenger not showing up, but due to a reasonable flying time of 4 hours, we should still arrive on time. He also said we had a long ish "drive" out to the runway. Love how the BA flight crew use non-technical terms, after the crew on my previous flight mentioned the "Southwesty" runway!
I was having a slight feeling of déjà vu at this point… G-BZHB – check. Club Europe – check. Specifically chosen flight for the 767 – check. Hopefully the pitot heater (and all the other parts for that matter) stay fully functioning this time.
During boarding, the cabin crew came around offering magazines, and then menus and hot towels.


The Menu consisted of:
Chilled fruit Juice
Fresh fruit appetizer
Blueberry birchermuseli
Traditional English breakfast
or
Omelette with mozzarella and basil pesto
or
Selection of could cuts and cheese
Selection of warm pastries and rolls
Choice of tea or coffee


Once everybody was on board, pushback commenced and we made our way out to runway 27L. There was a bit of a wait outside the new T2 area for around 10 minutes or so, but once we got underway again, we didn't stop and were straight up into the air at 09:15.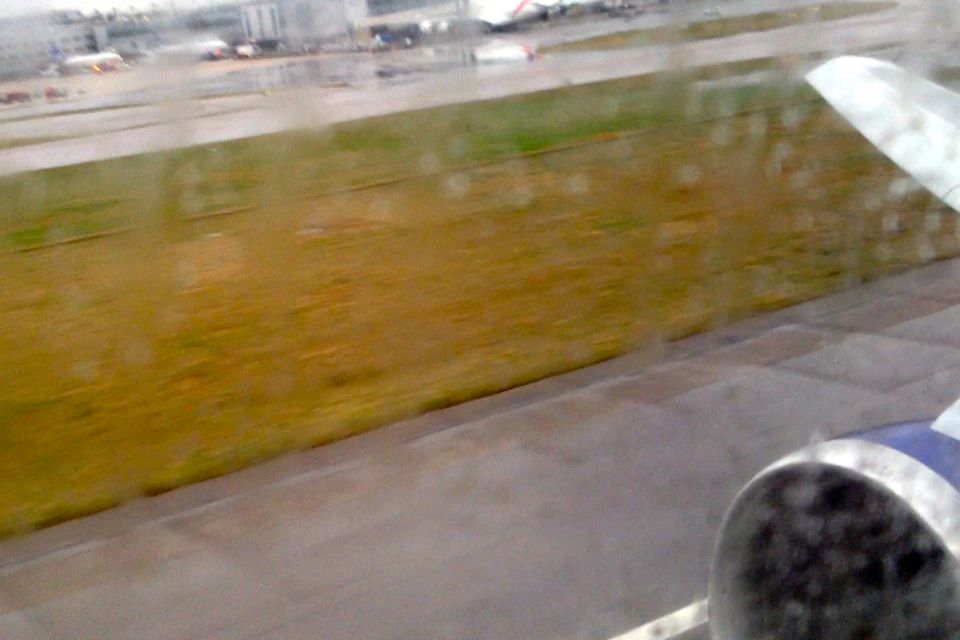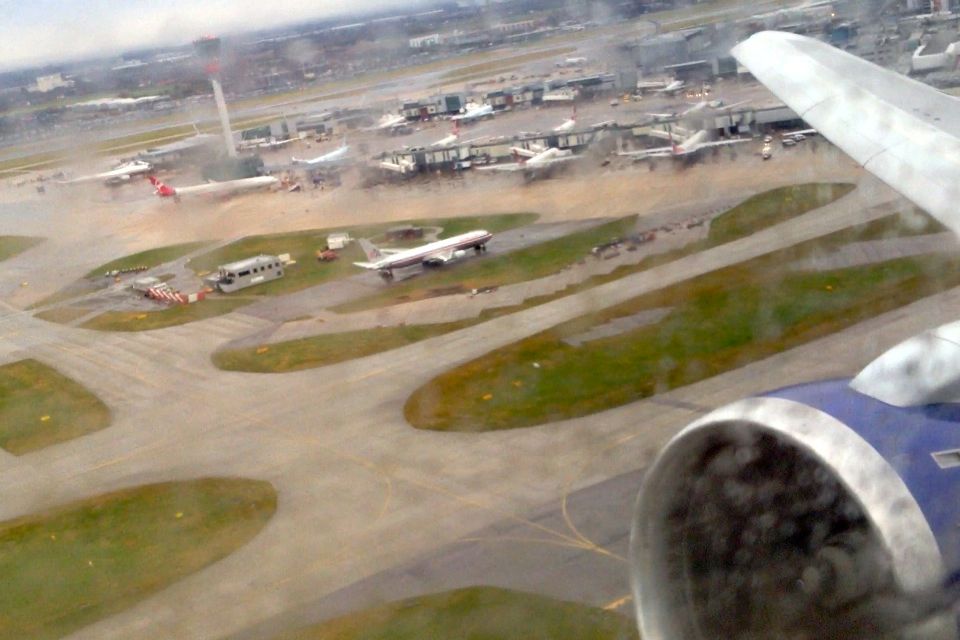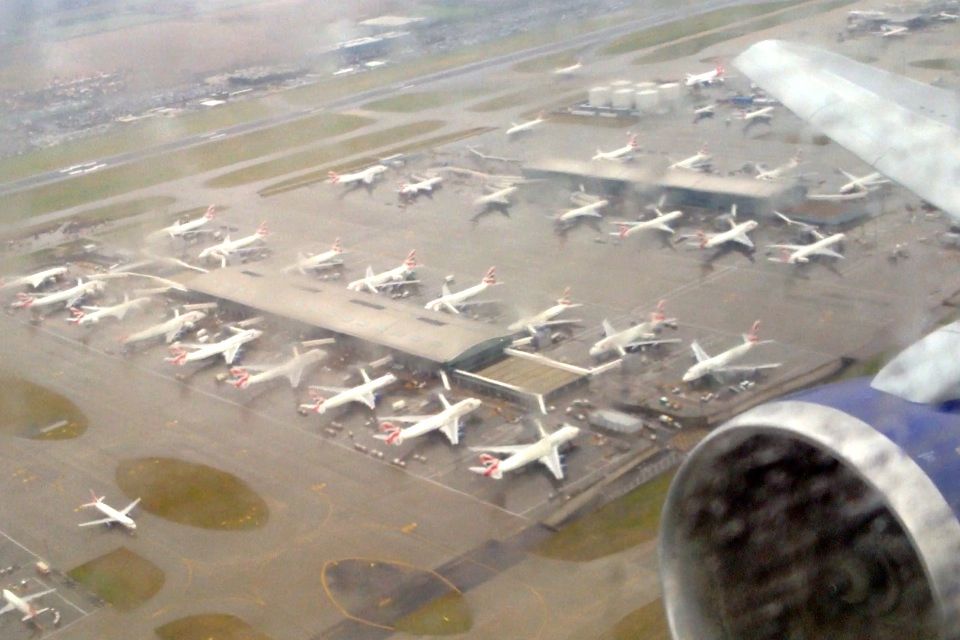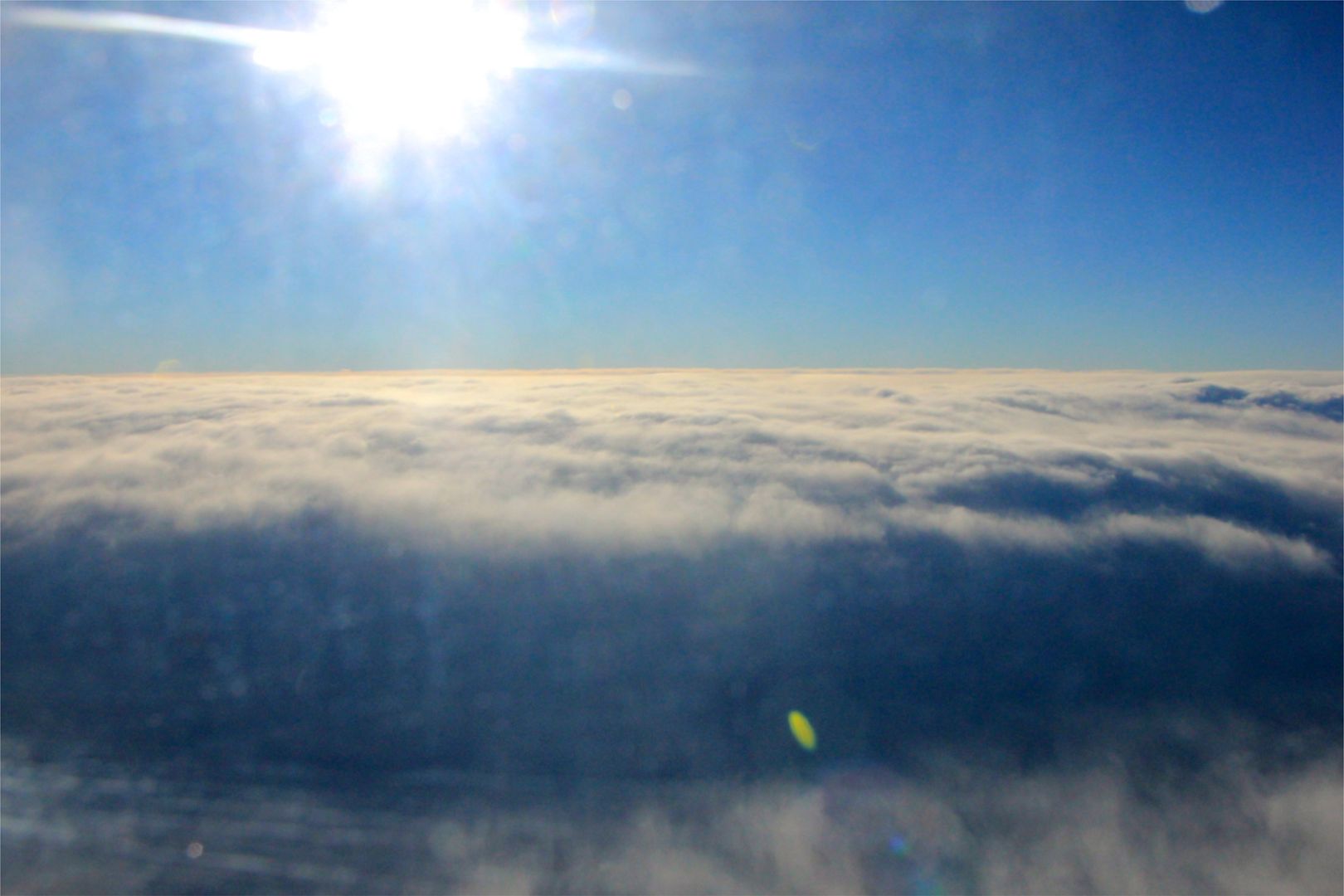 [youtube https://www.youtube.com/watch?v=_VkLa9EjFVY]
Once again a friend of mine tracked my progress on FlightRadar24


Shortly after takeoff the entertainment service began


Followed shortly after by quite a few rounds of breakfast, dished up by the once again friendly and attentive crew. Whilst the main course was cooking, one of the crewmembers came around offering refills of drinks – very pro active. I opted for another tea, and a few moments later he returned with a fresh cup. There was a bit too much milk in it for my liking, but can't fault the personalized service one bit.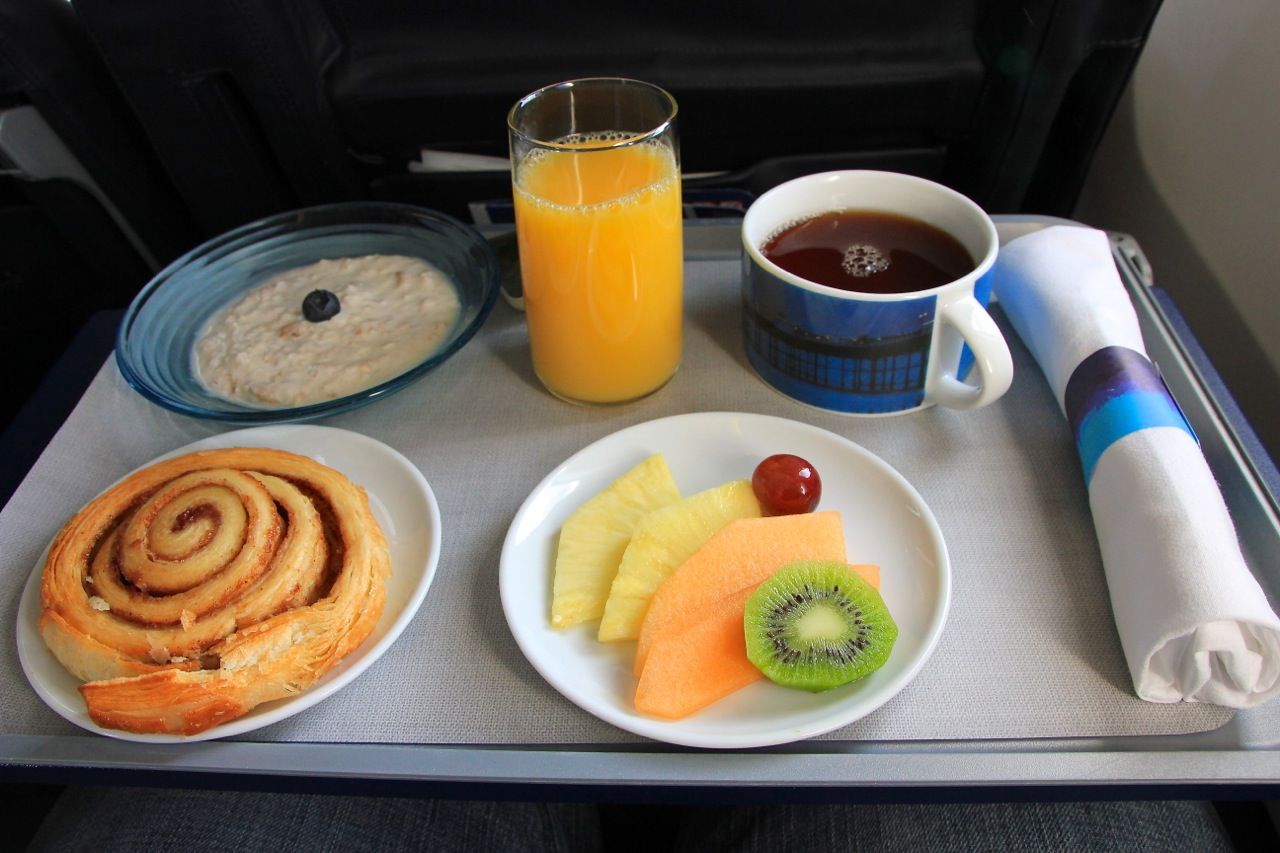 More bread sir? Sure!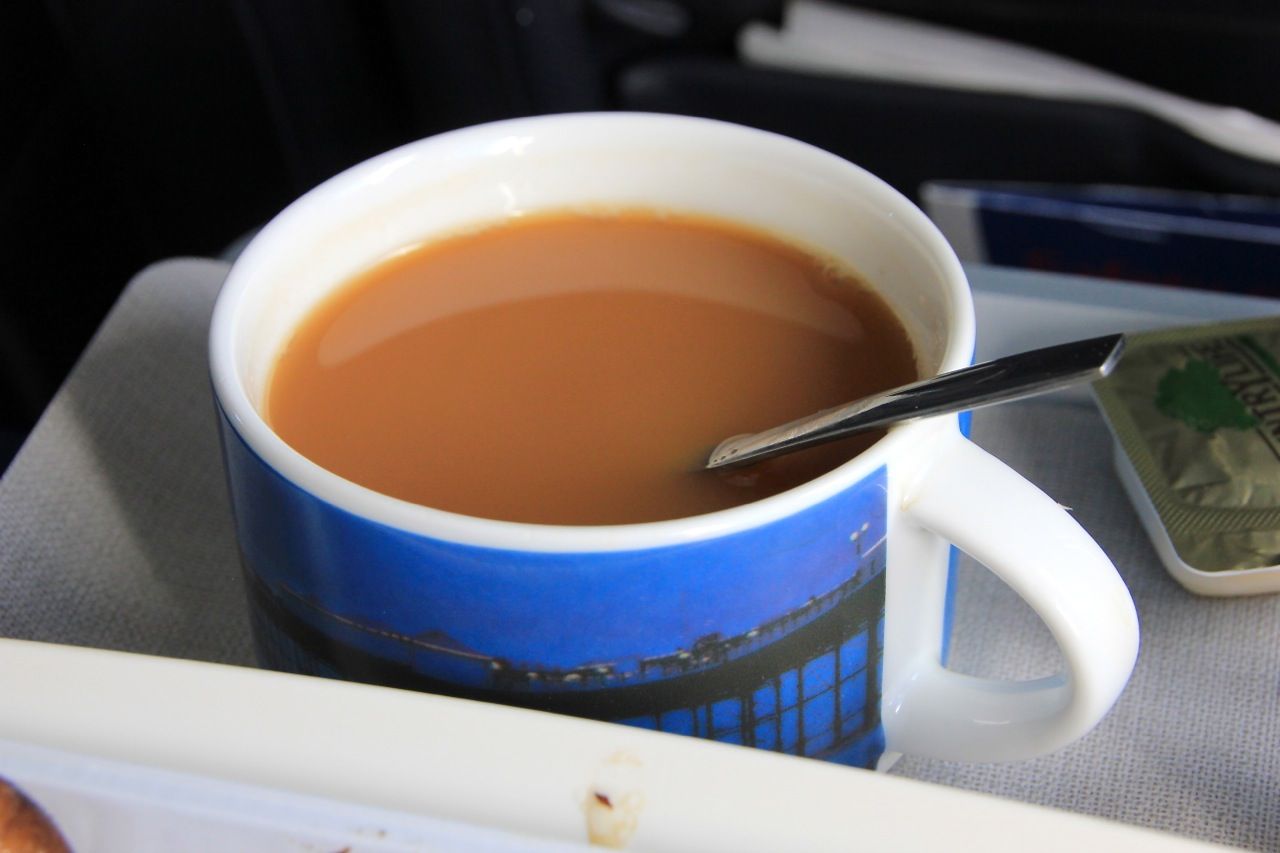 How about another cup of tea?
Although that final cup of tea had to go down pretty fast as the ride got slightly rough after!

Not too much spilt
Once the many rounds of breakfast had finished, and the bumps had stopped, it was time to watch the world go by for a bit. It looked pretty cold over most of Europe.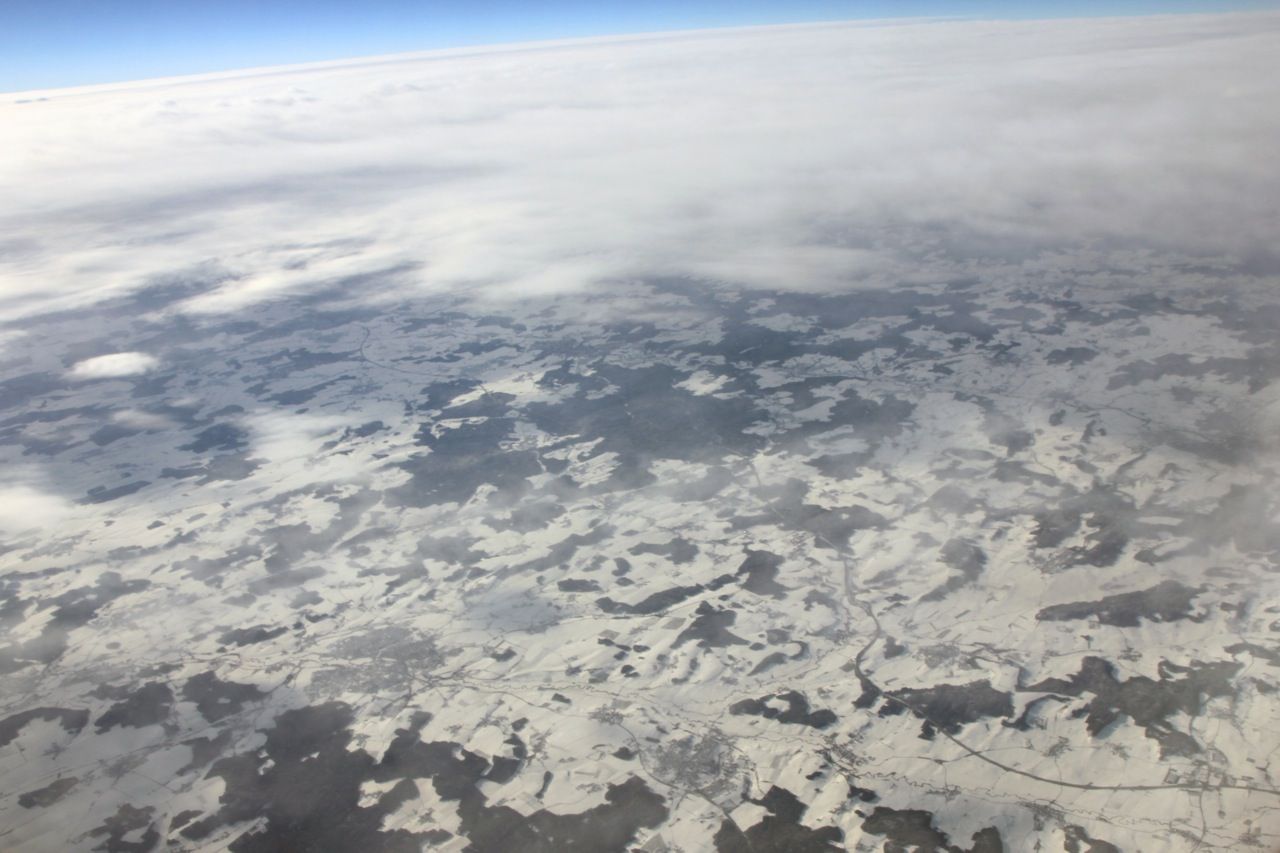 Just after the movie started, there was a slight heart in mouth moment. The crew came over the PA and started off with "unfortunately there's been a slight problem…" Uh oh, not again. Luckily the slight problem was that the wrong movie had been loaded and it now wouldn't be the advertised selection. Phew!

the views over the Alps weren't quite as good as on my MXP-ZRH trip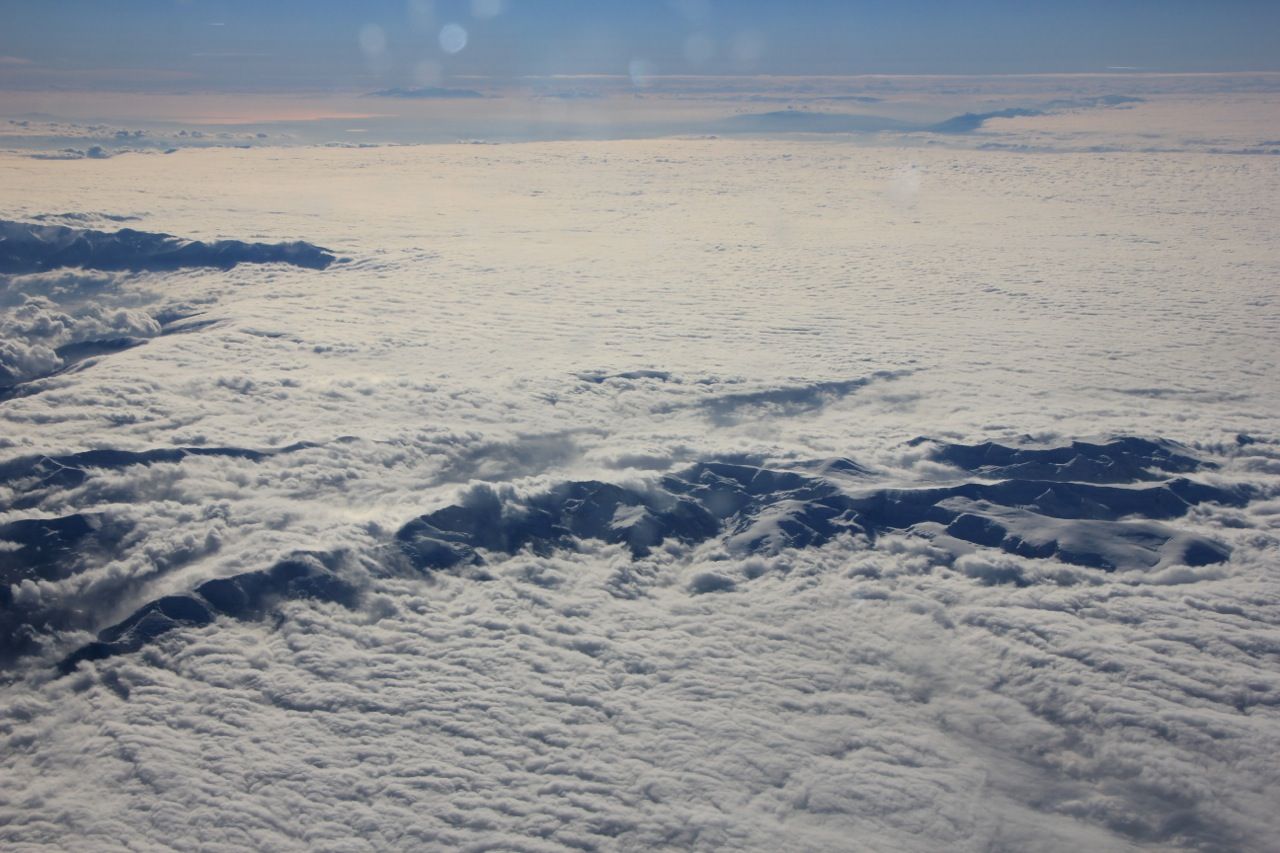 Unfortunately there wasn't an awful lot to be seen outside during the latter stages of the flight.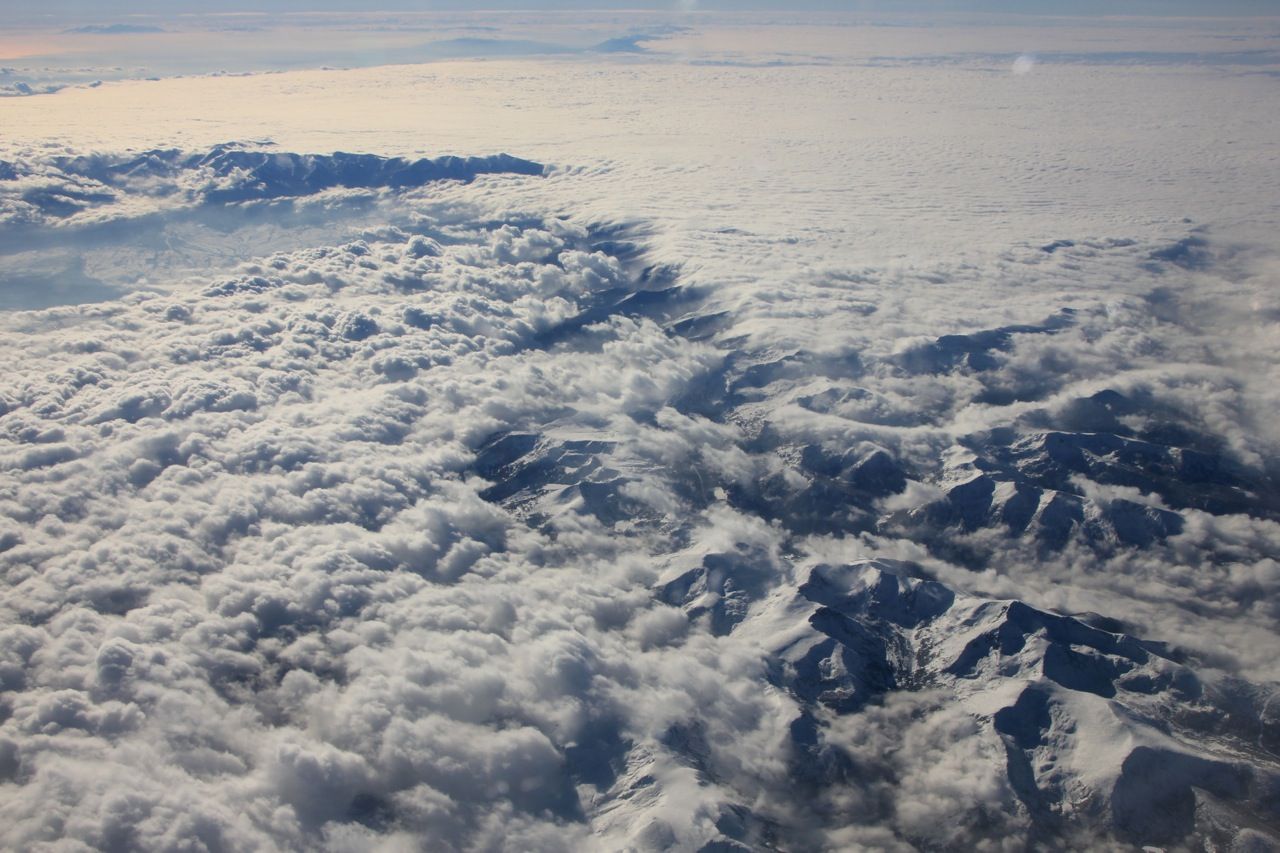 After this, I decided to read Gabriel's final part of his Asia trip ( Asia 10: Take Me Home Saudia! DEL-RUH-LHR B777 (by gabrielchew Dec 5 2012 in Trip Reports) )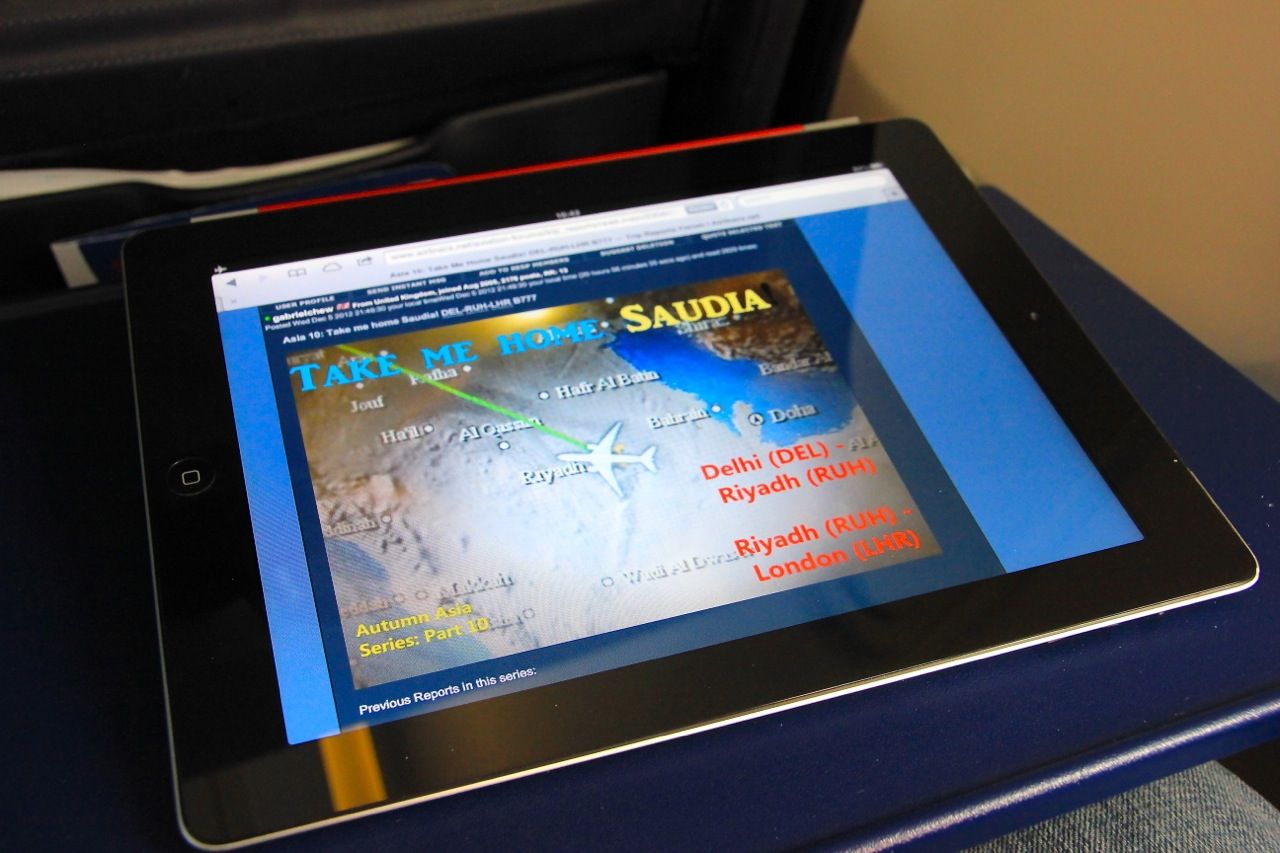 Catch up with a bit of Curb Your Enthusiasm.


And finally listen to a bit of music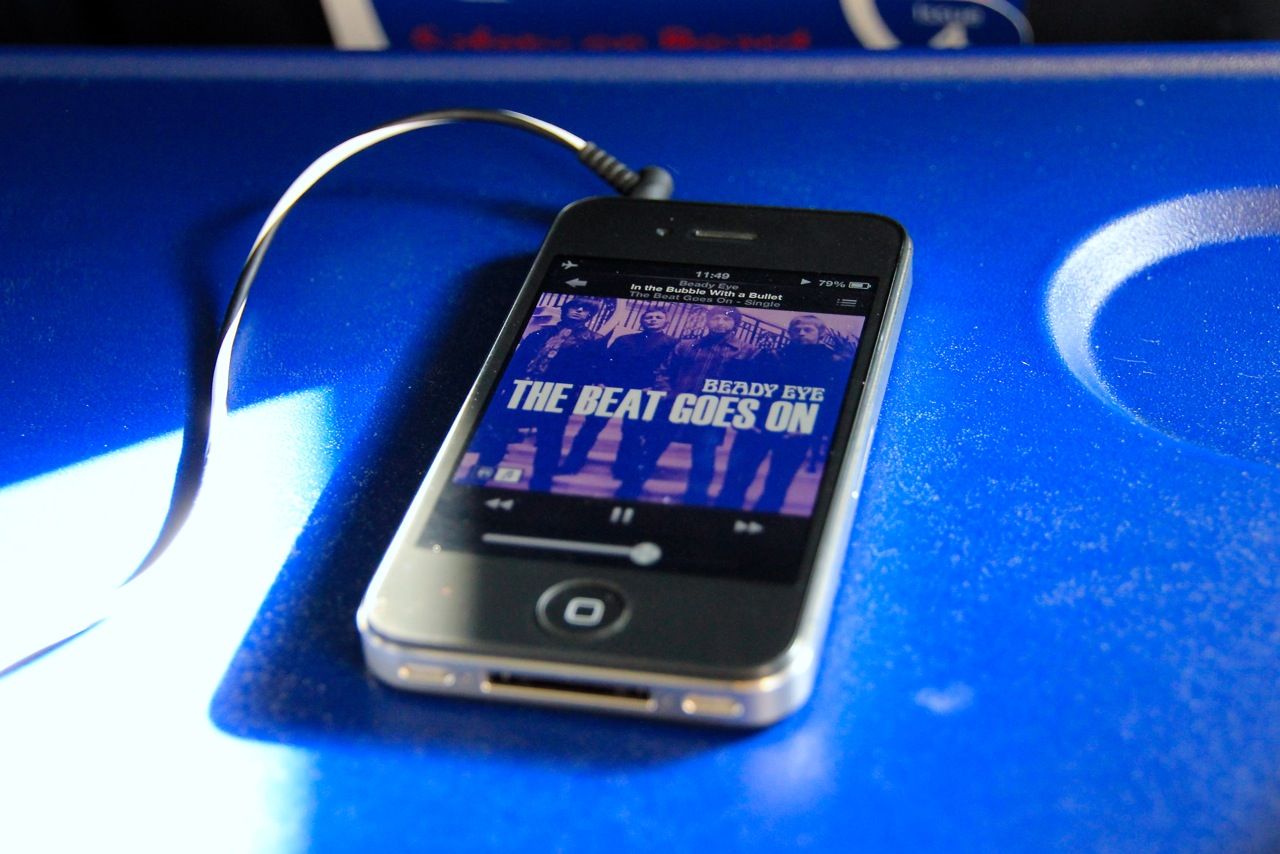 Around an hour or so before landing, the rolling bar was brought round. Thought I'd try some champagne as it was on the house!


After all the liquids I had taken on during the flight, I headed down the back to use the washroom, taking a couple of pics of the new economy cabin. And unusually for me, I grabbed a pic of the refurbished washroom too.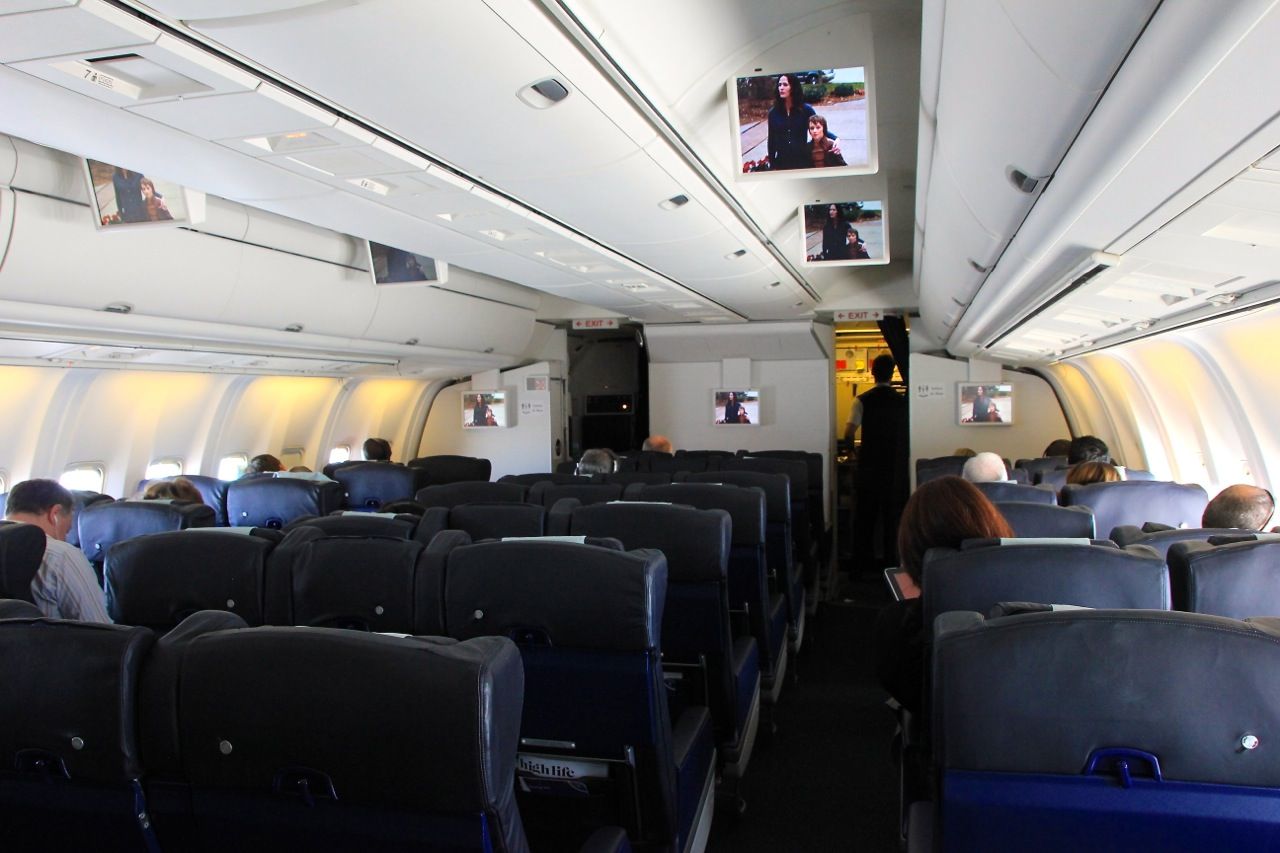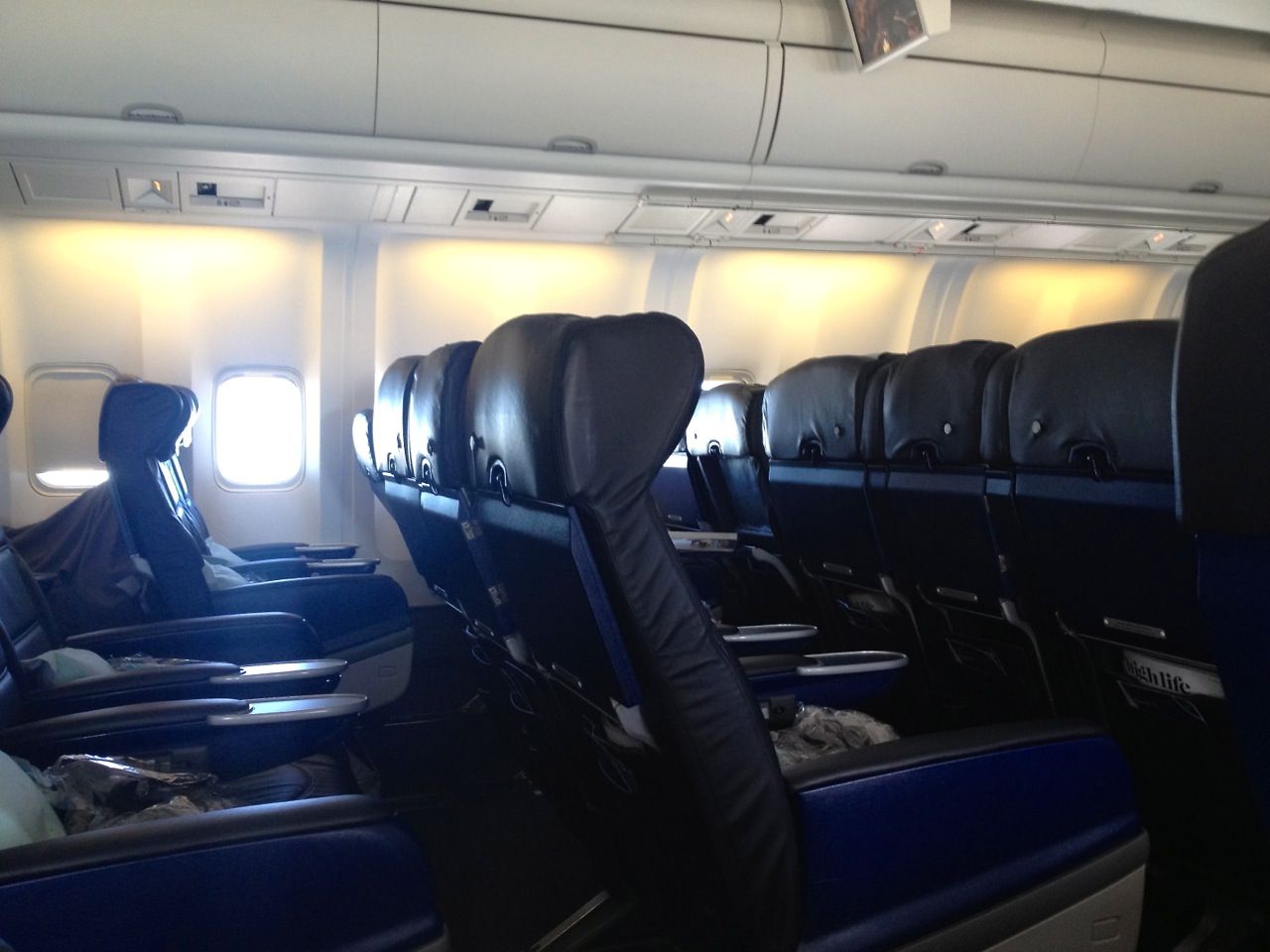 Not too busy today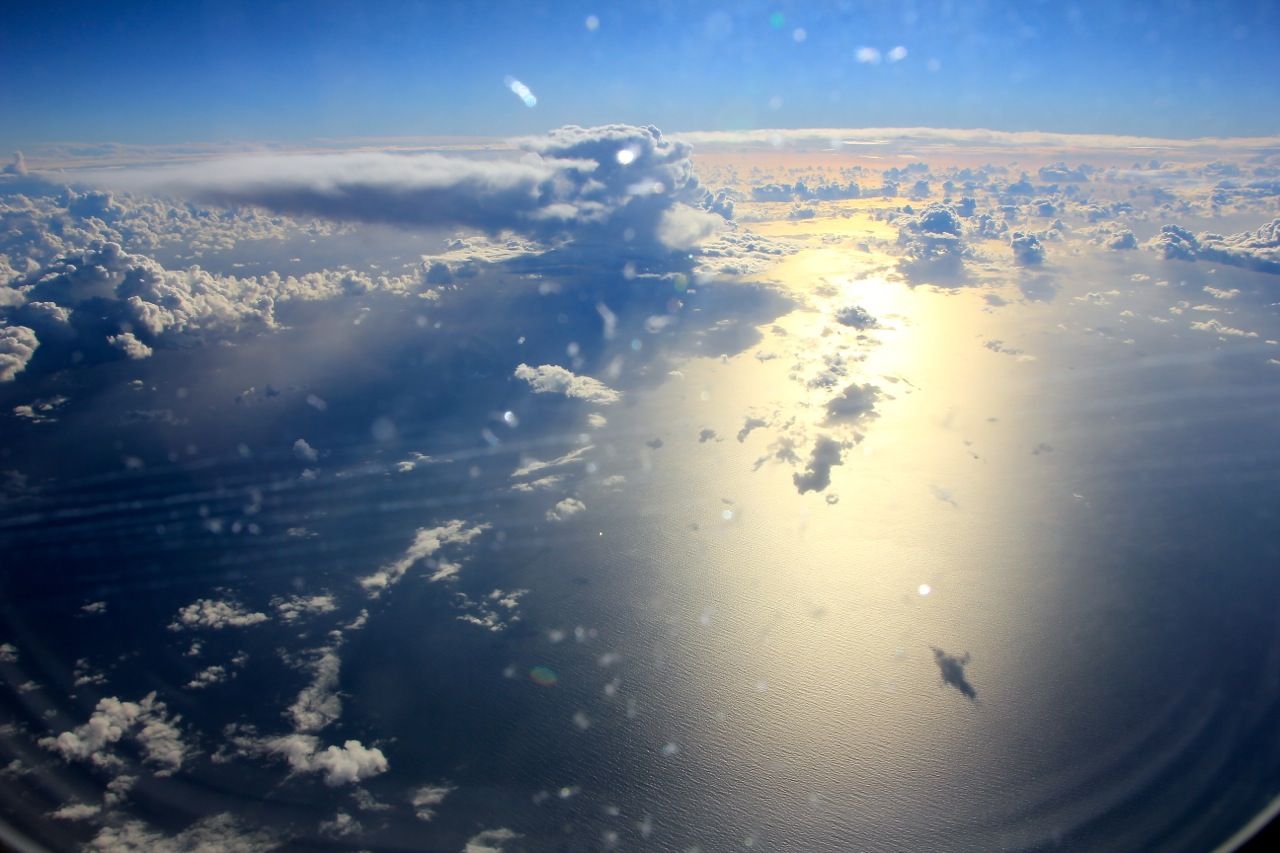 The next land we would see would be Cyprus
Around 20 minutes before landing the first officer came over the PA giving in update, stating that "he could see a few potholes out the windscreen", and that he expected arrival pretty much on time. Descent was made to the North of the airport then a pretty sharp right turn over the sea just passing Larnaca and on to finals.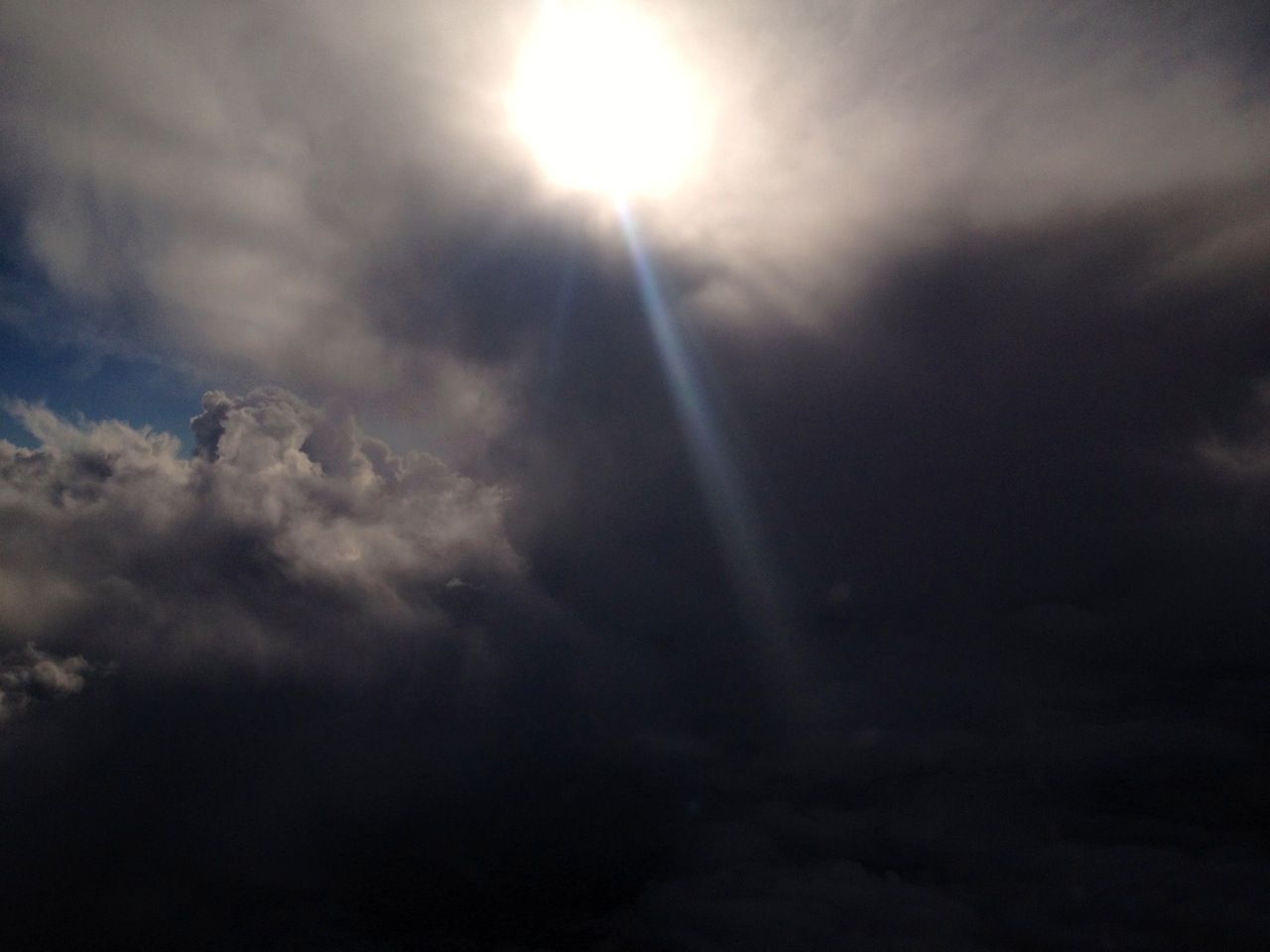 Potholes?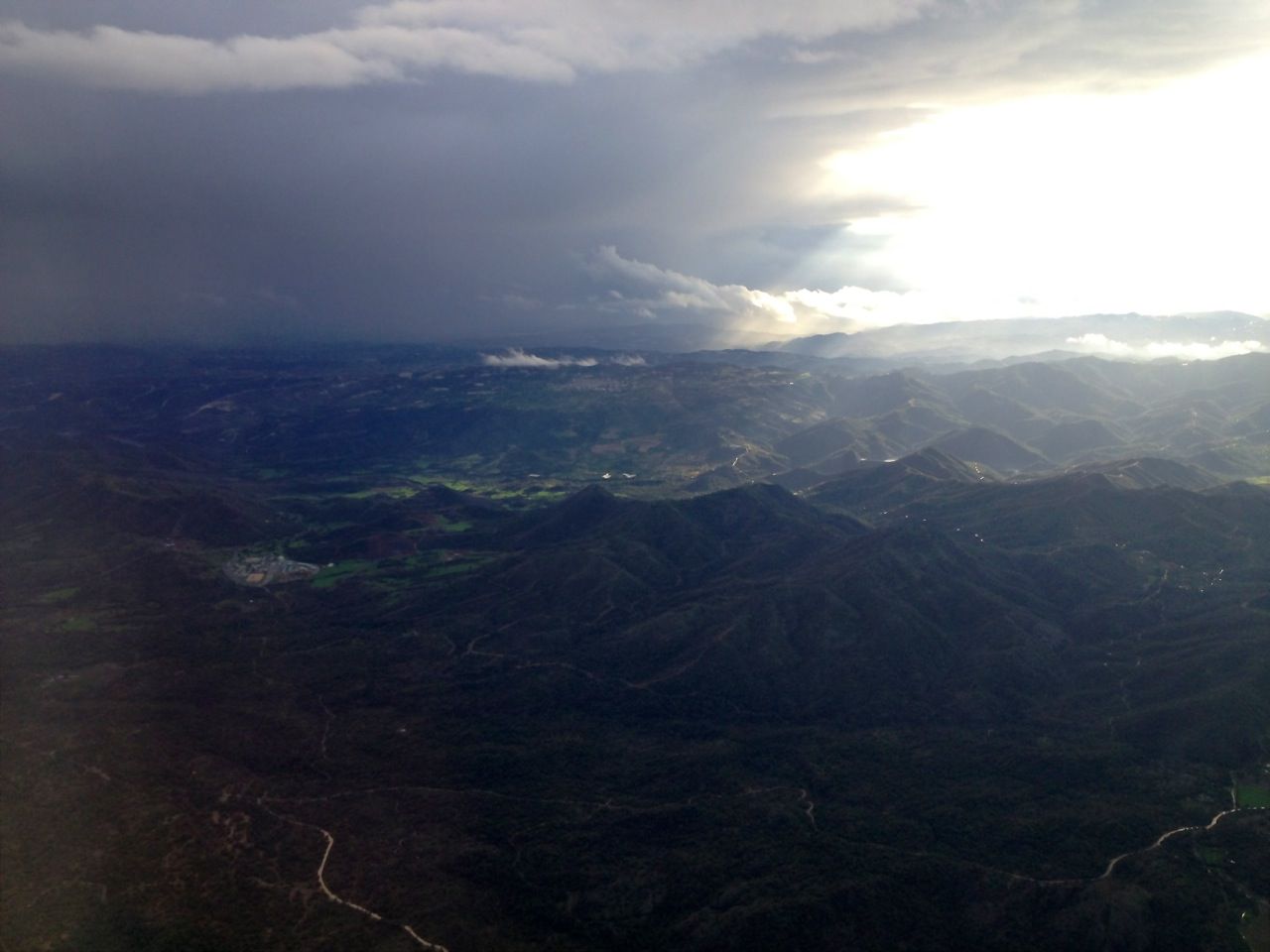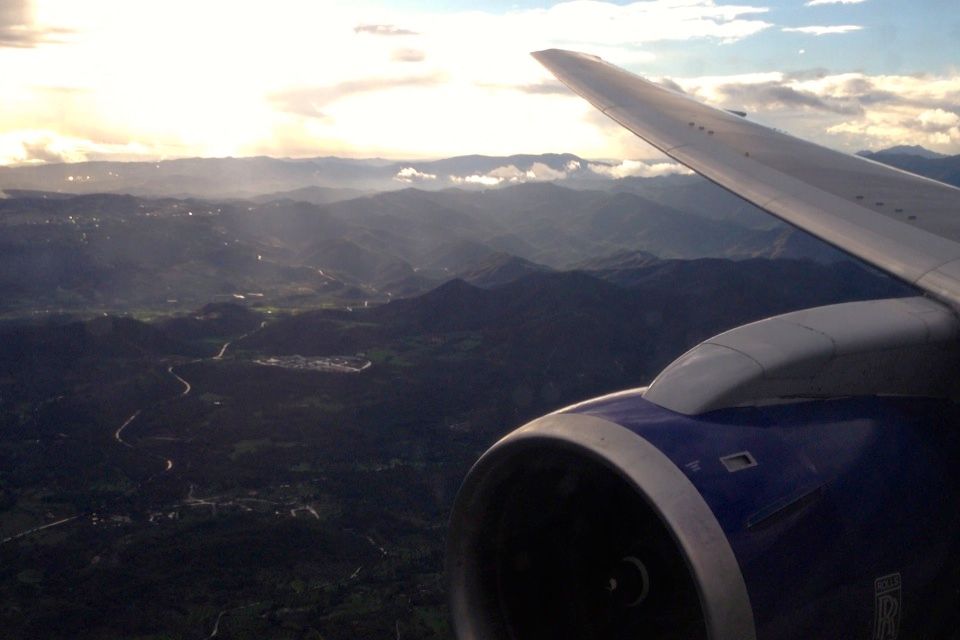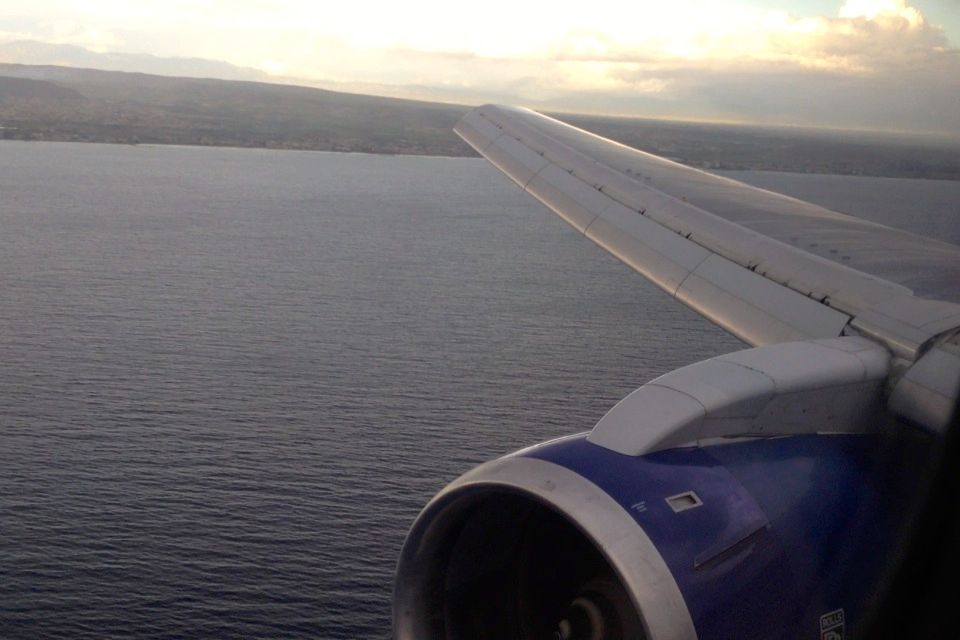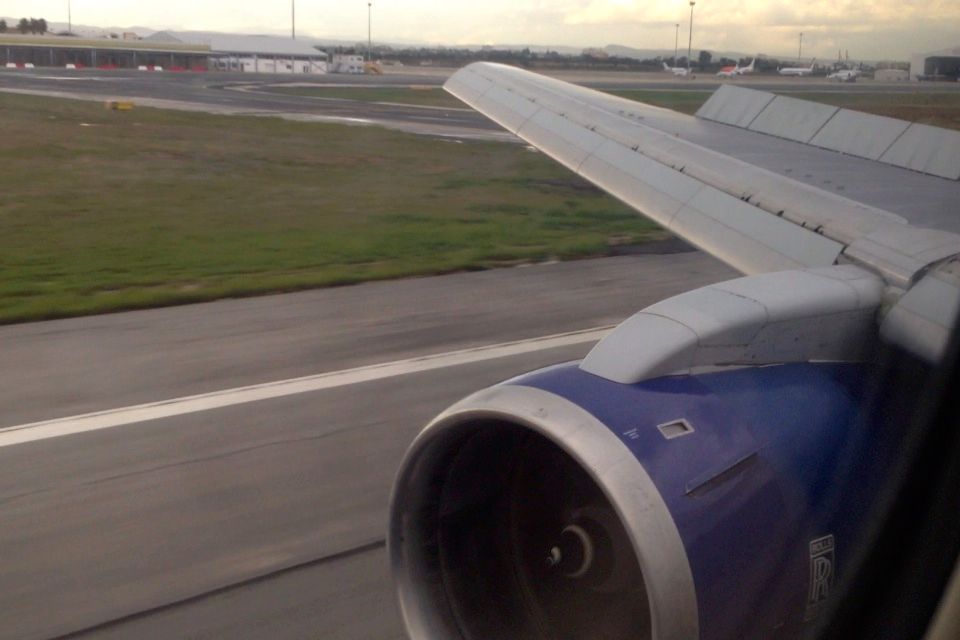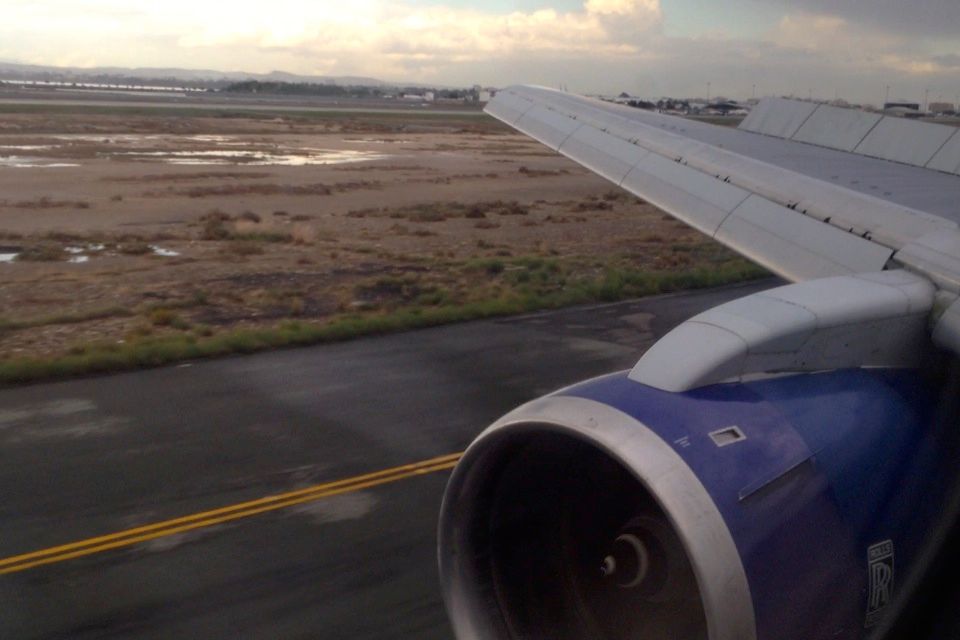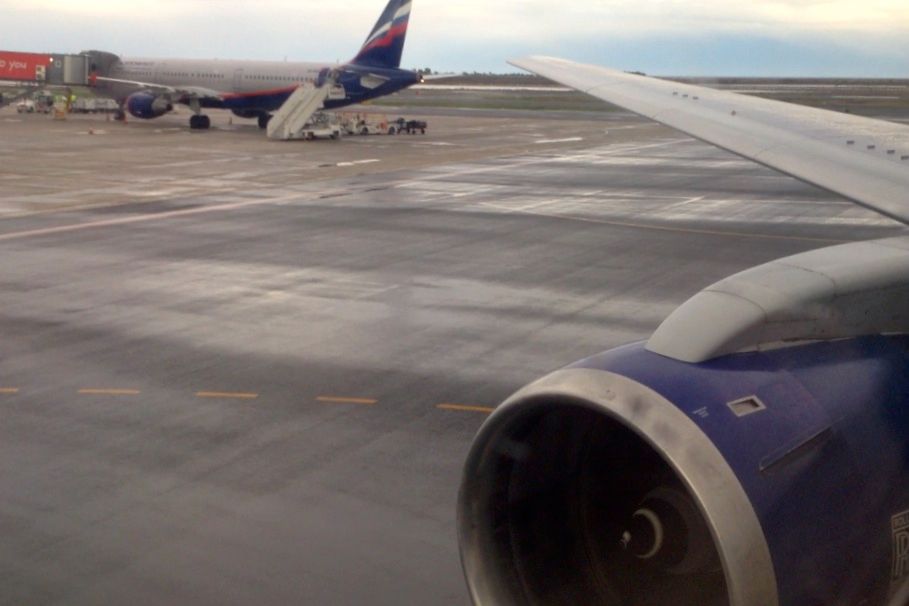 [youtube https://www.youtube.com/watch?v=MKfb30o9iOE]
Touchdown was at just before 15:10 local and a few minutes later we were on stand alongside an Austrian A321. Due to the dual jet bridge, Club Europe disembarked within a couple of minutes, and then it was off to passport control.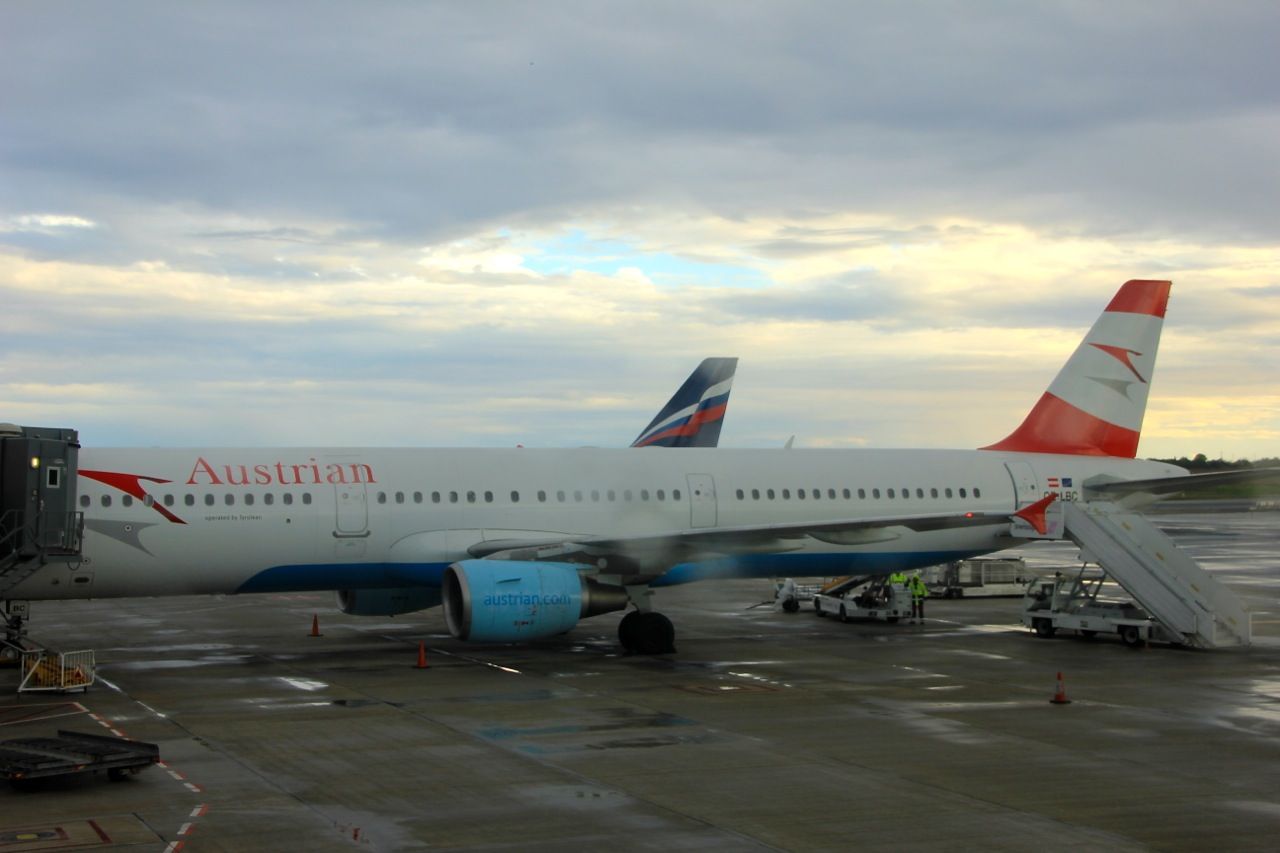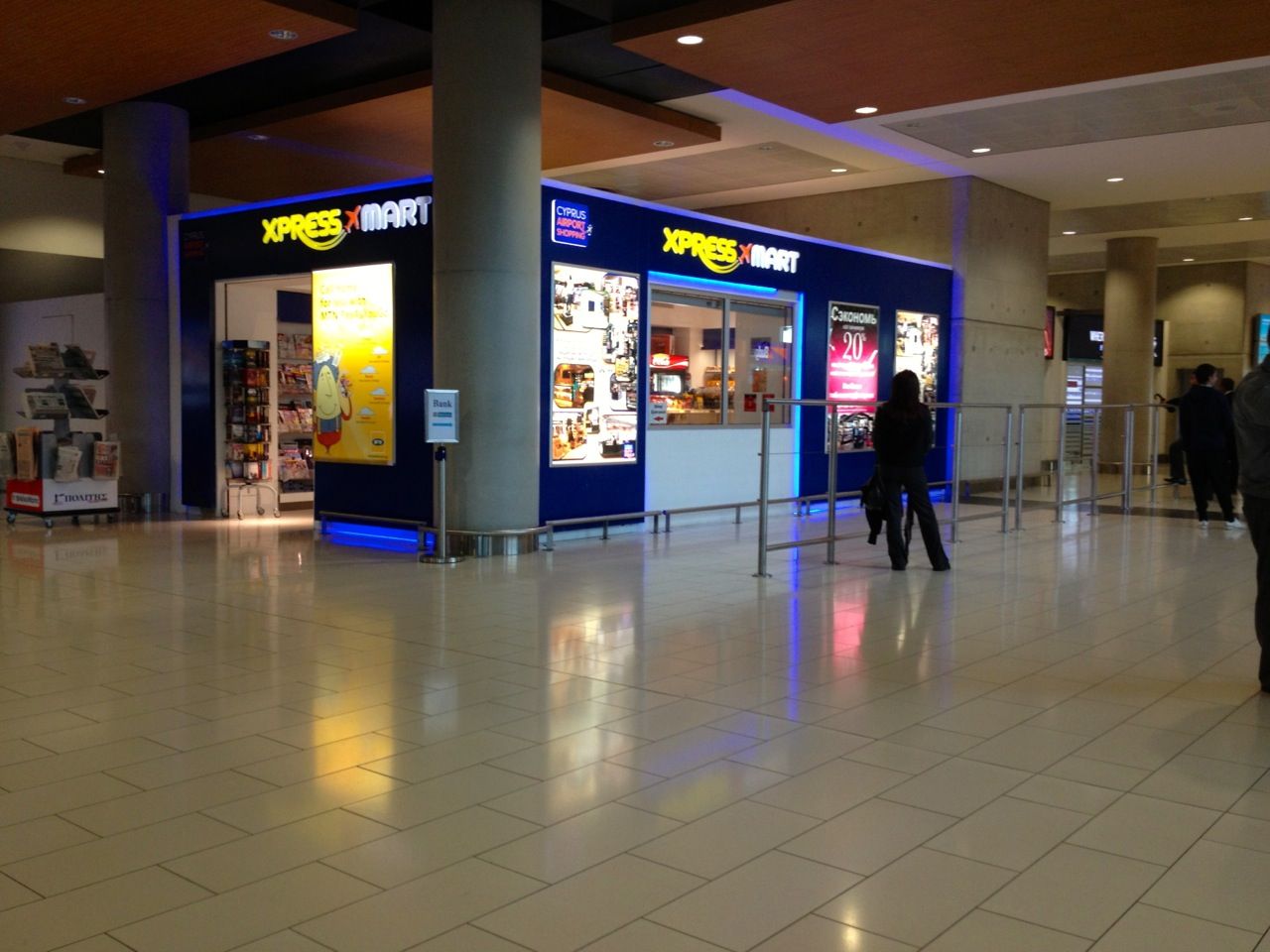 Once the formalities had been completed, it was out to the shambles that was a taxi rank, with drivers pretty much fighting over my custom… Until they found out I was only going about a mile or so. I eventually found a driver willing to take me on the 10 minute or so journey for €15. Pricey, but the only option available.


A few moments later I was at the Flamingo Beach Hotel. I had previously asked PalmJet what his opinions were on the place – he said good but basic. I have to say I'm in agreement, but I did like the fact I was in my room within 30 minutes of landing!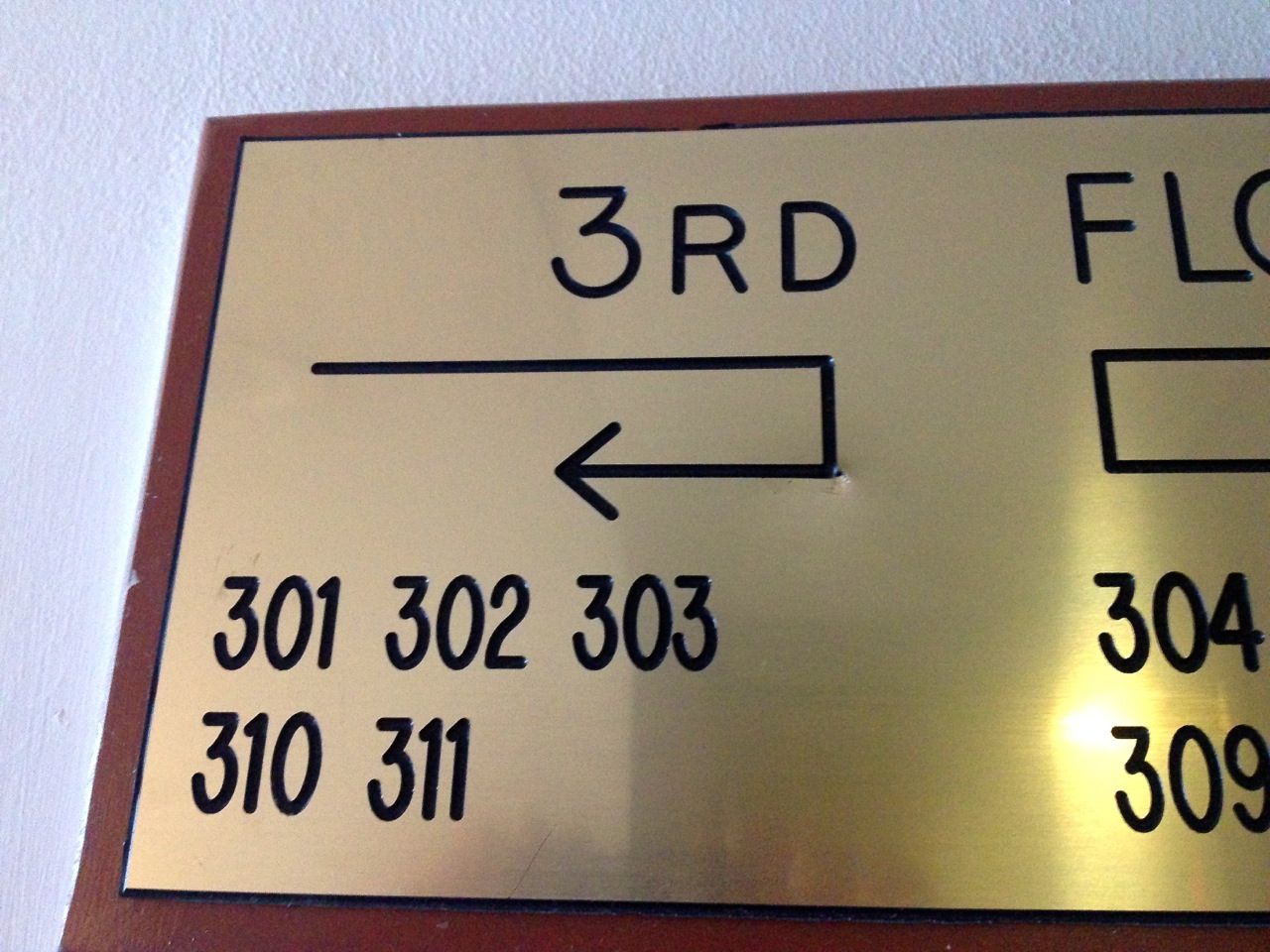 So do I go left or right?
Not bad for the price I guess.
Good view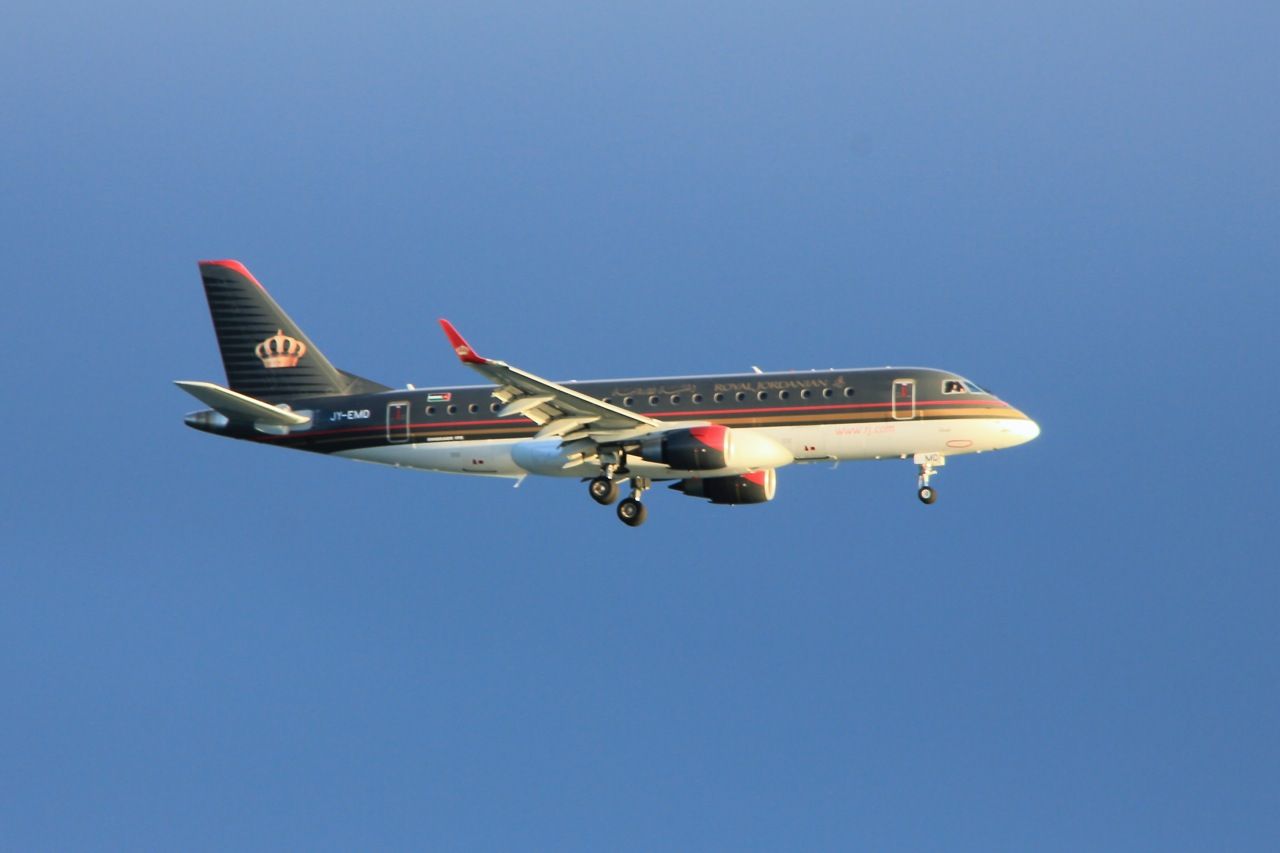 Better scenery!
The next couple of hours were spent relaxing on the balcony. Despite my numerous trips this year, they've all been pretty rushed affairs so I was treating this as my holiday.
Eventually I did venture down into Larnaca to grab some dinner. It was around a 30 minute walk along a dark road that was undergoing maintenance. Not the best of experiences but at least it was flat and straight.


The following morning I made my way back into Larnaca along the sea to catch a bus to Nicosia.


Along the way I spotted a couple of arrivals into LCA.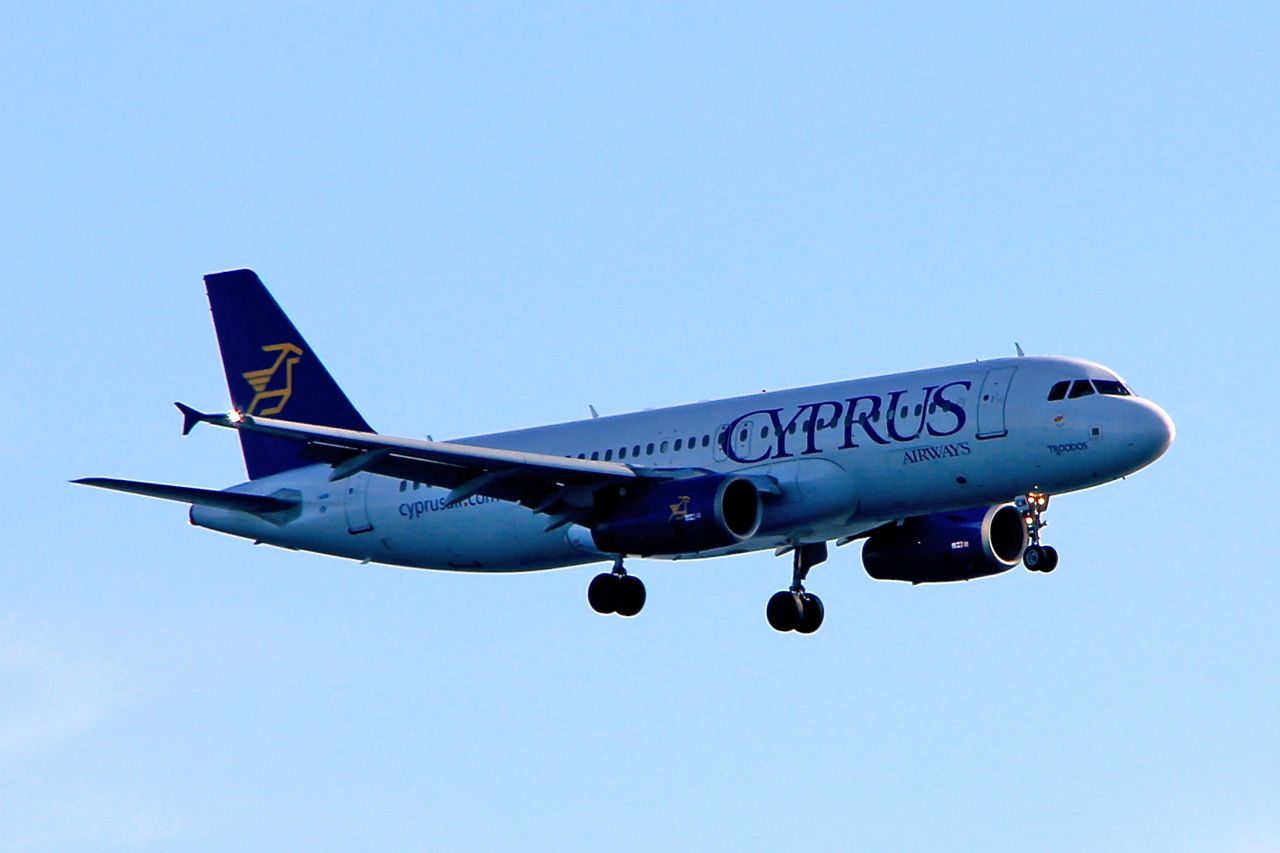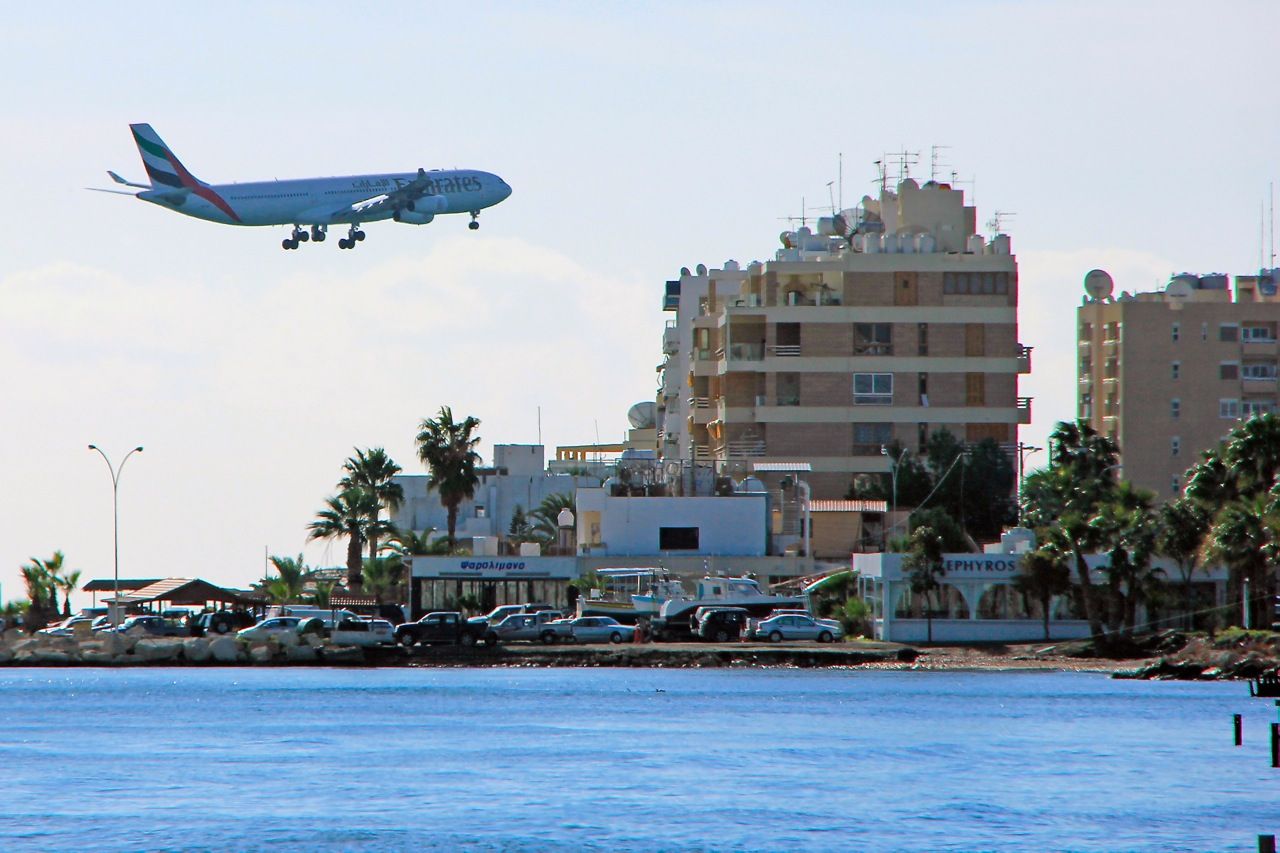 And once I arrived in Larnaca, I saw a couple of photo opportunities.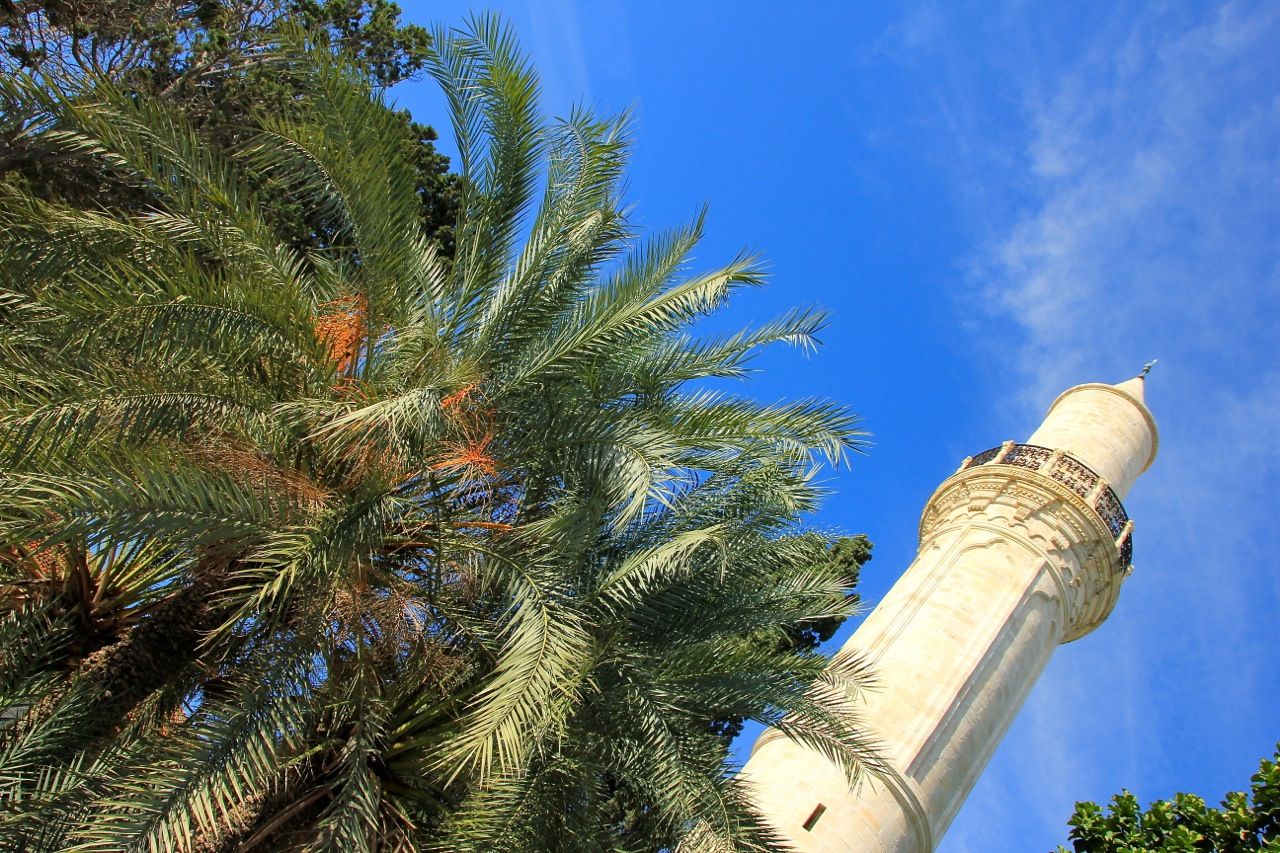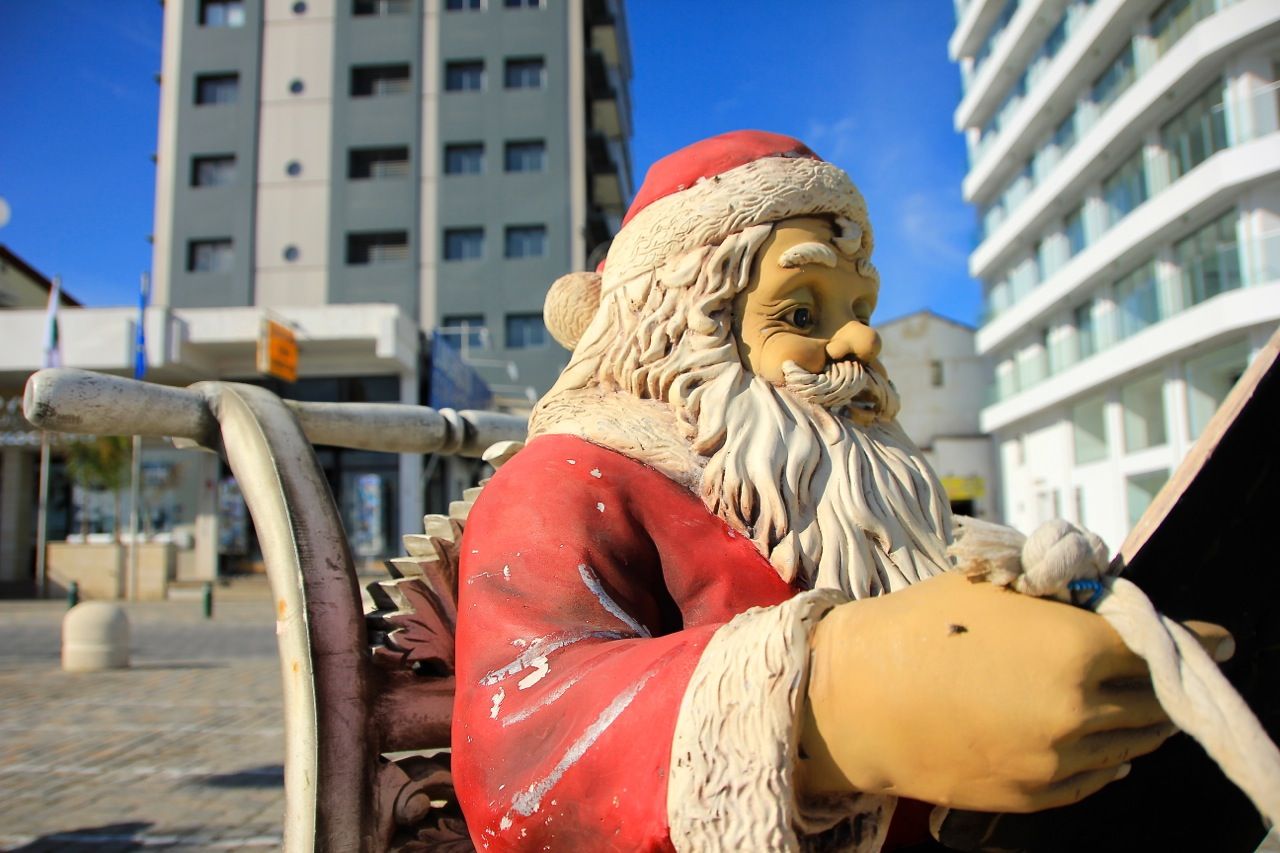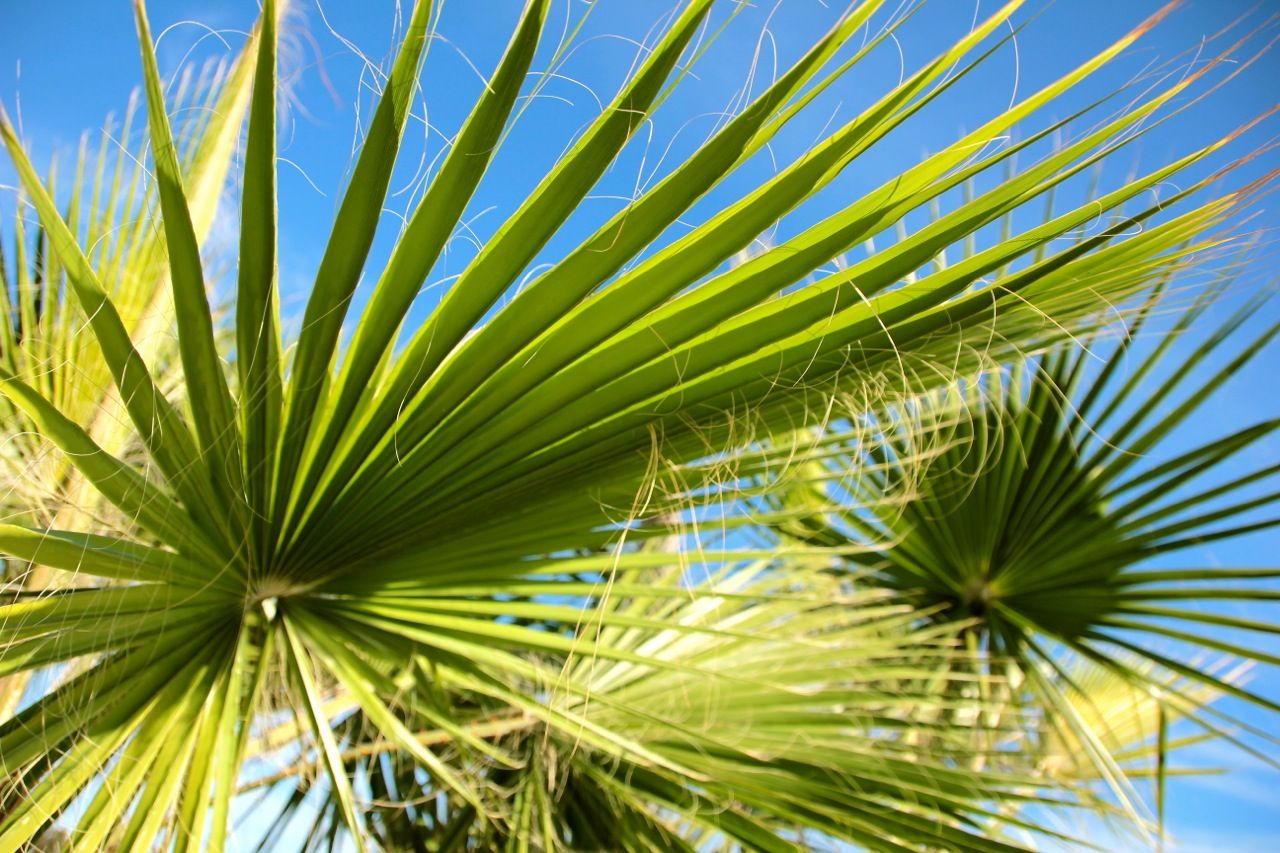 Whist waiting for the (hour late) bus I received the following message.


Oh. Interesting. So once again it would seem a planned trip on a Speedbird 767 had gone out the window.
Onwards to Nicosia however. After the 11am bus hadn't shown up by 11:30 I was starting to think of other options. I went for a brief wonder around Larnaca and by pure chance I happened to be passing the bus stop again at around 12:00 and spotted a bus heading for Nicosia. What an interesting place – glad I made it now! Pretty much the moment I stepped off the bus I had somebody trying to flog me a 2 hour guided tour of the city for just €20. Hmmm no thanks sounds a little too good to be true. I prefer exploring places on my terms anyway. In the southern part of the city, it could have been any town in the UK really. All the usual shops etc. and an observation deck at the top of Debenhams, which cost just €2 to enter.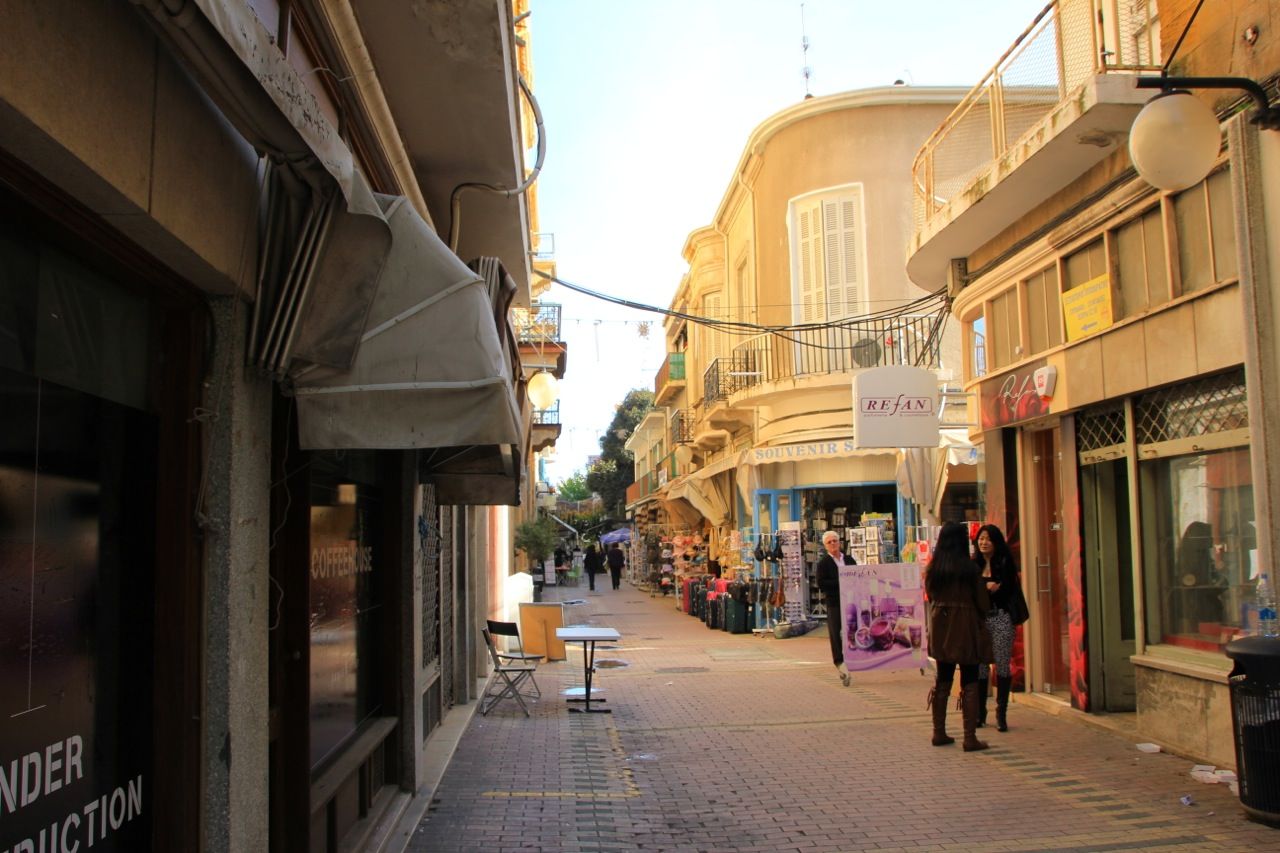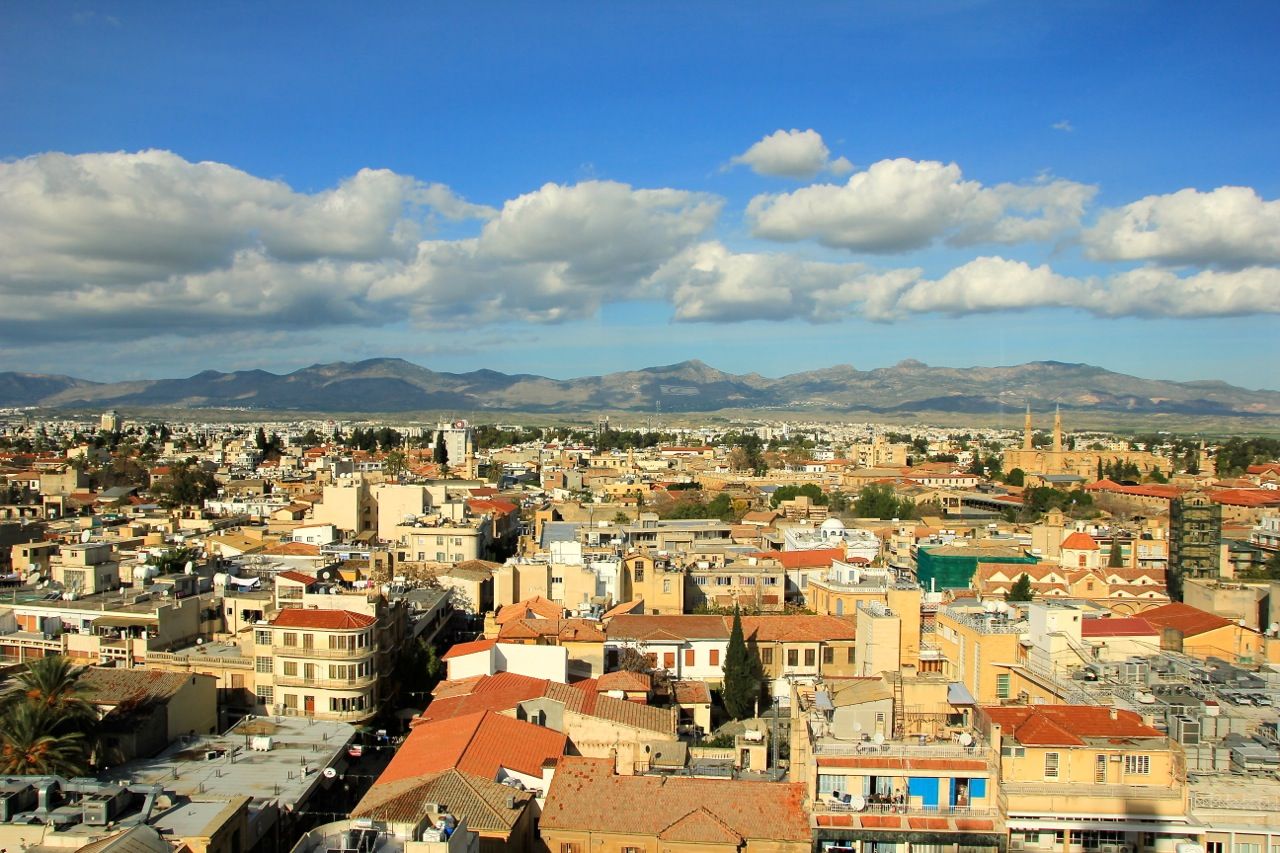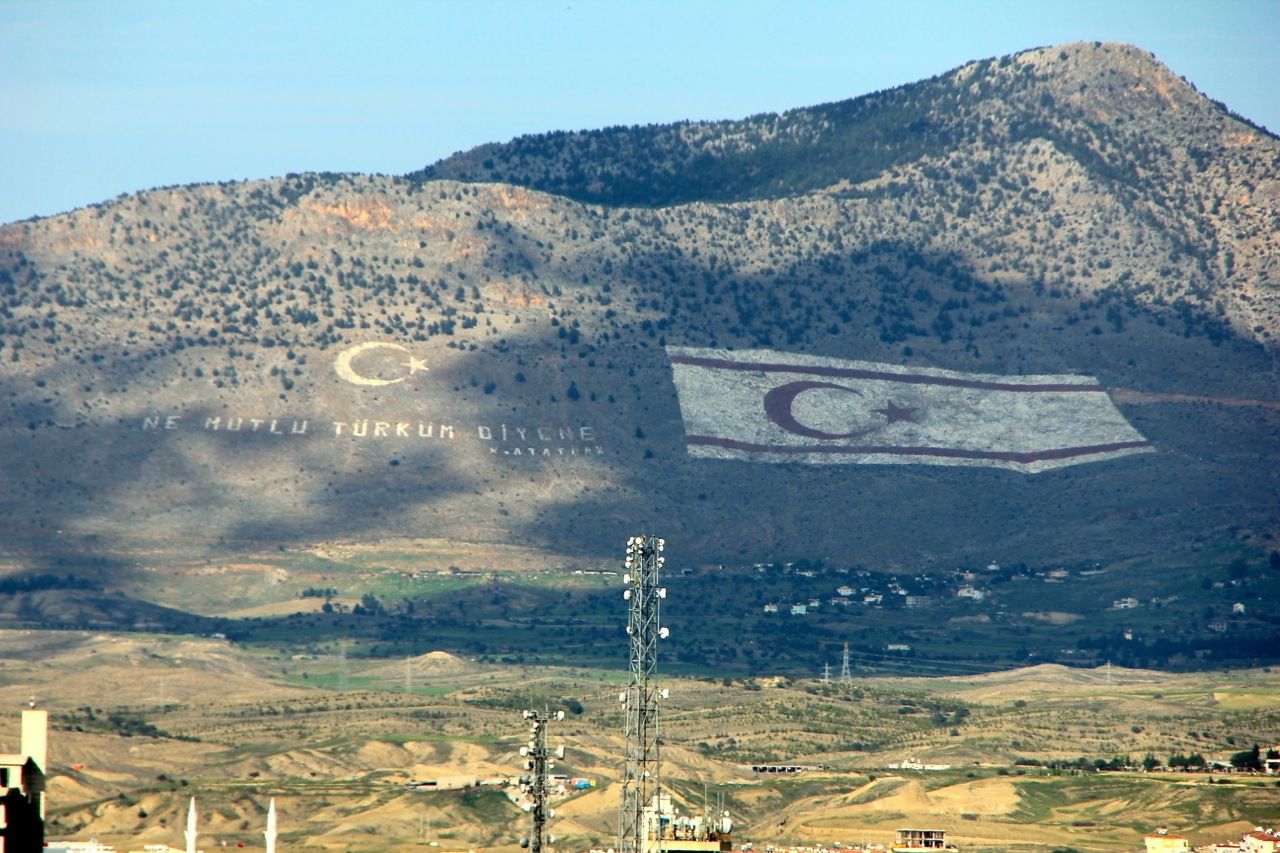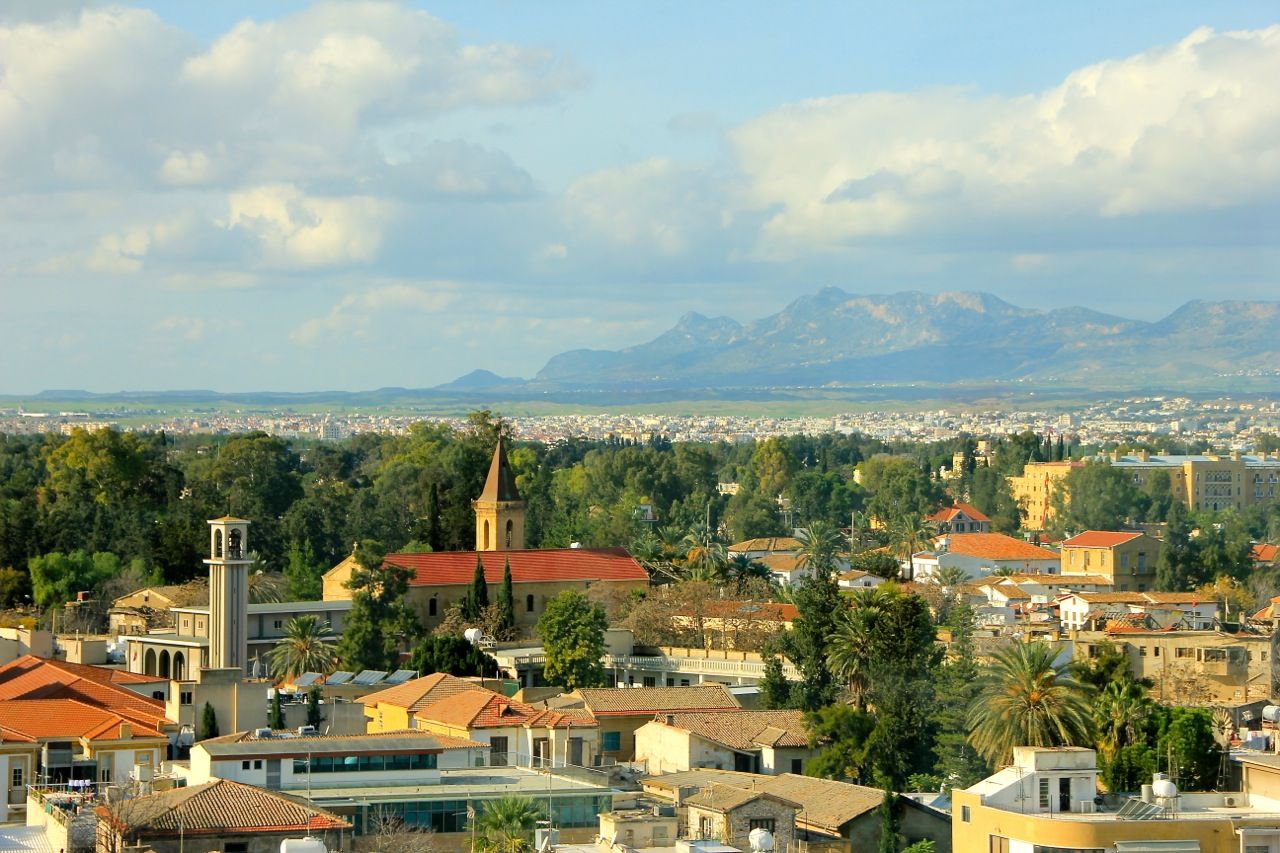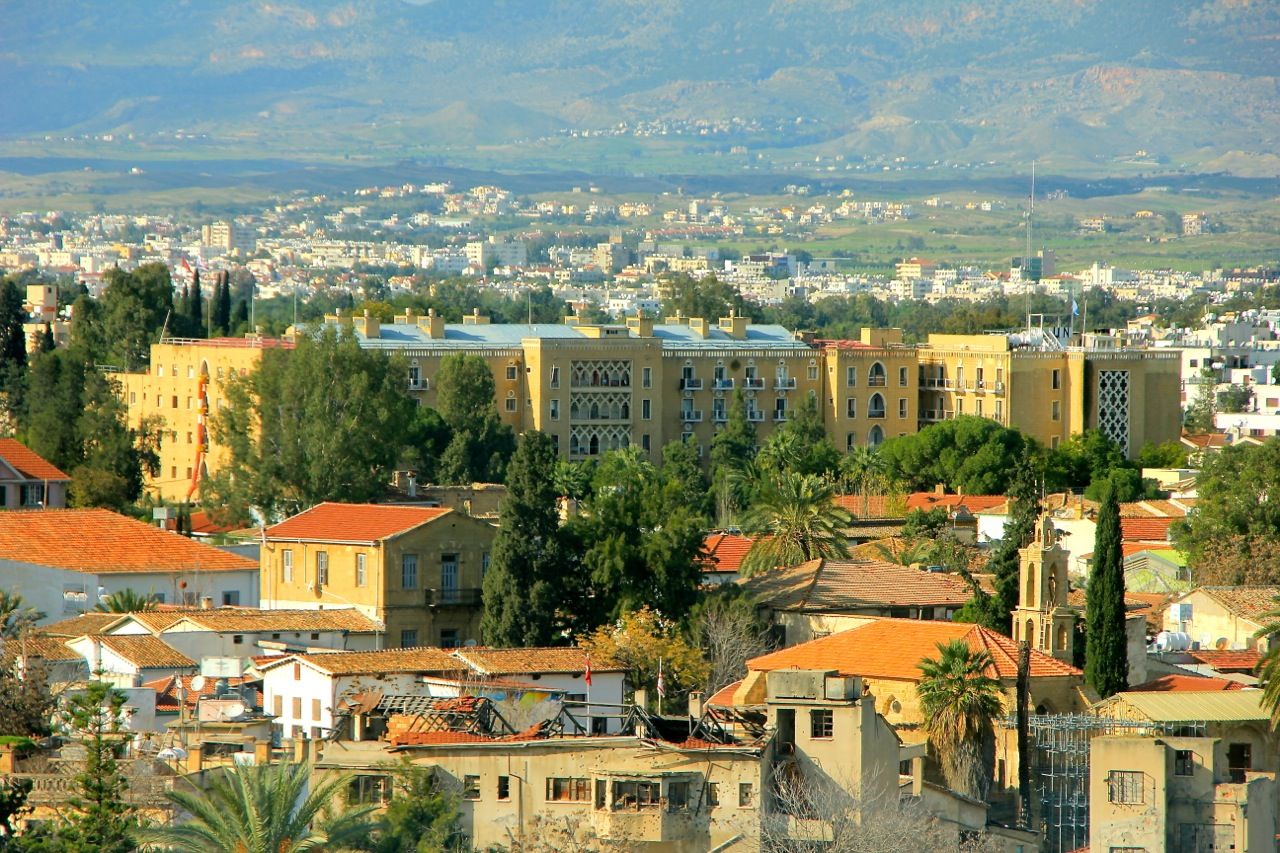 Ledra Palace Hotel – although no longer a hotel.
After which I made my way down to the border crossing to the Northern part.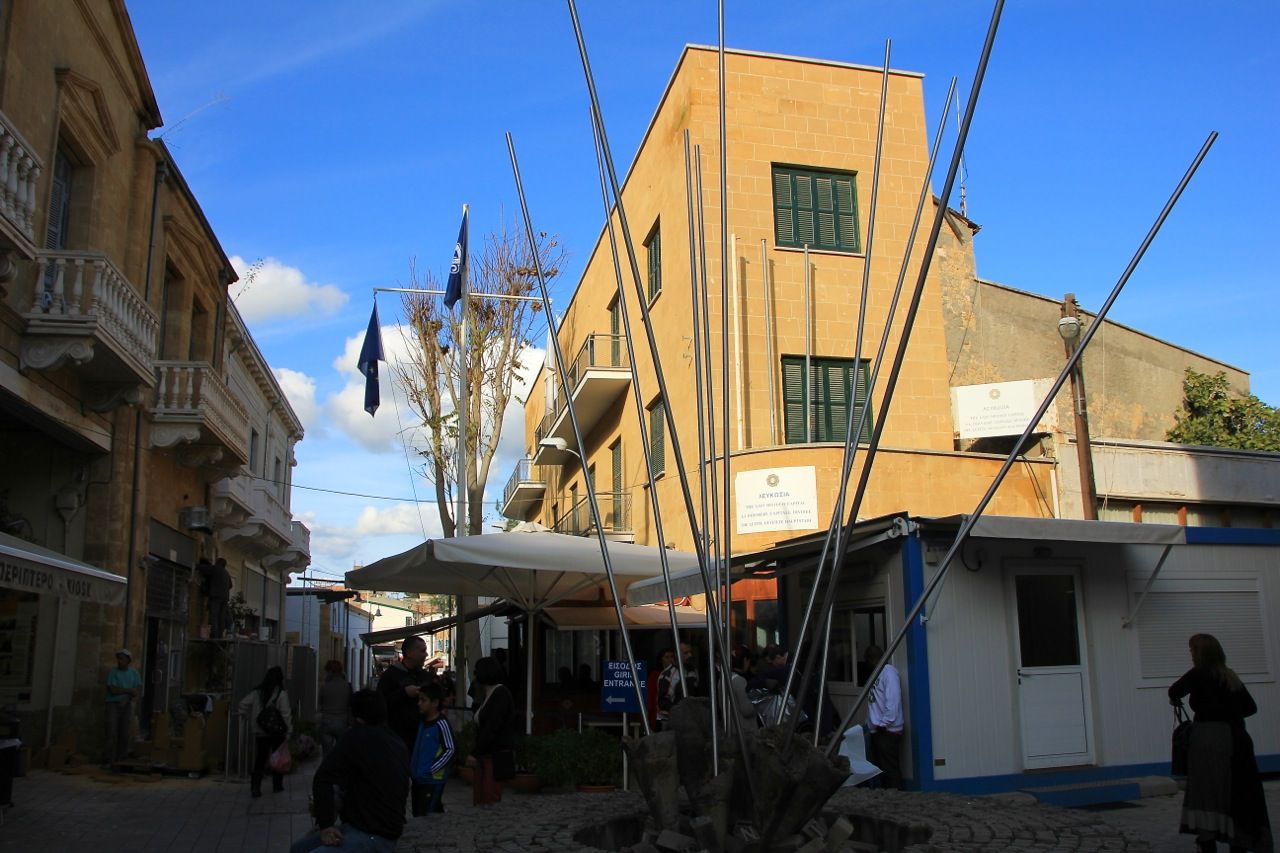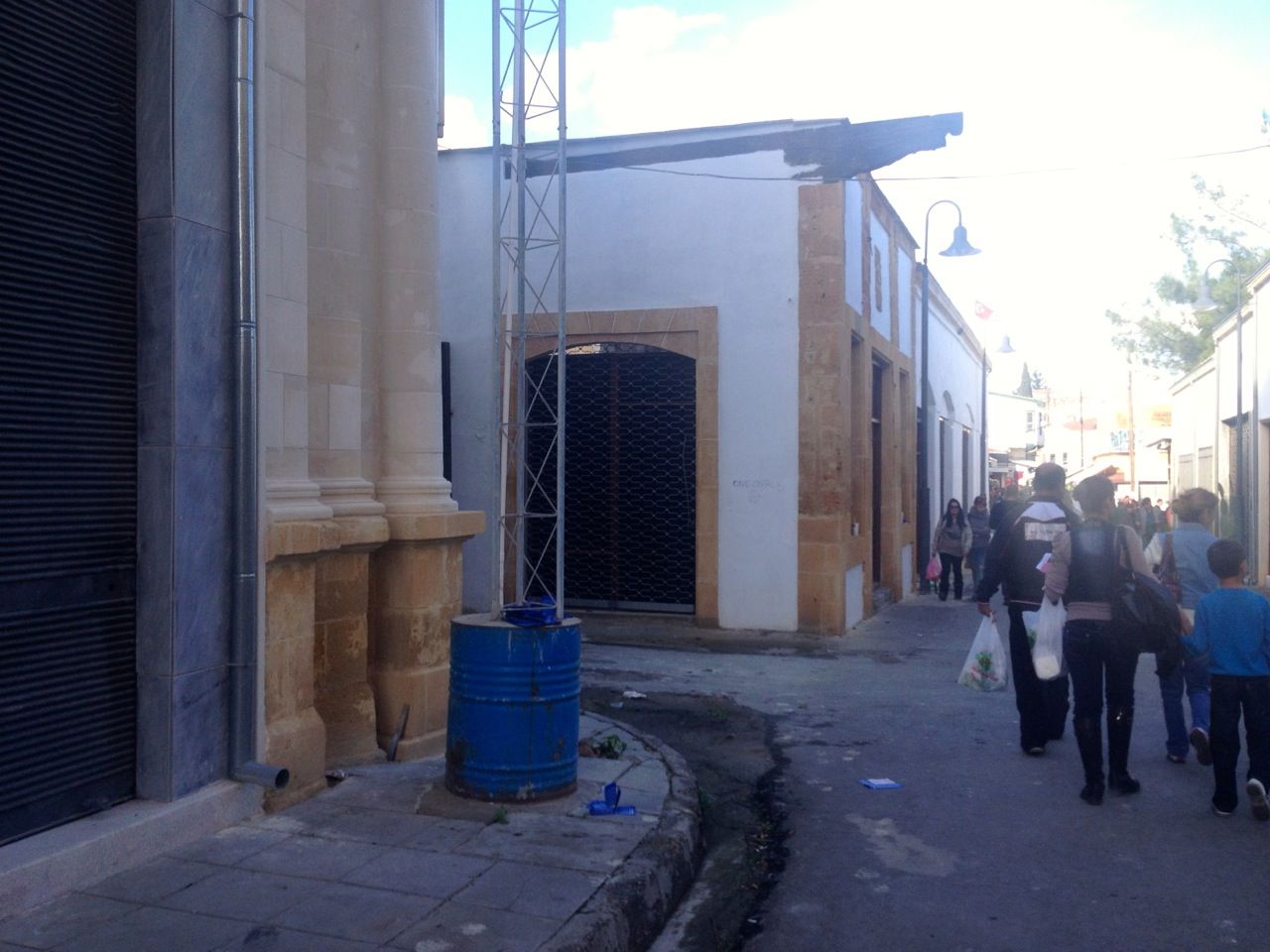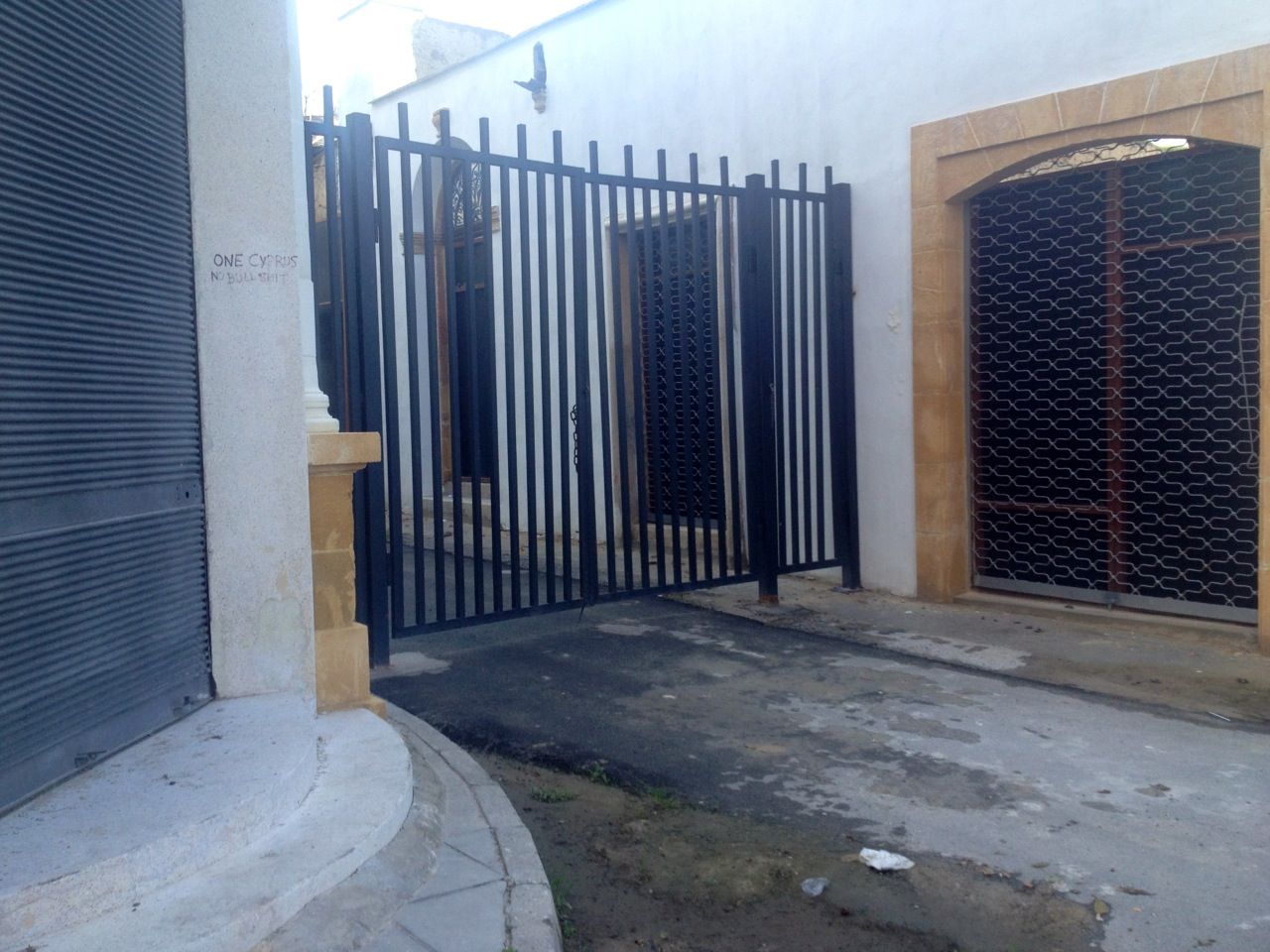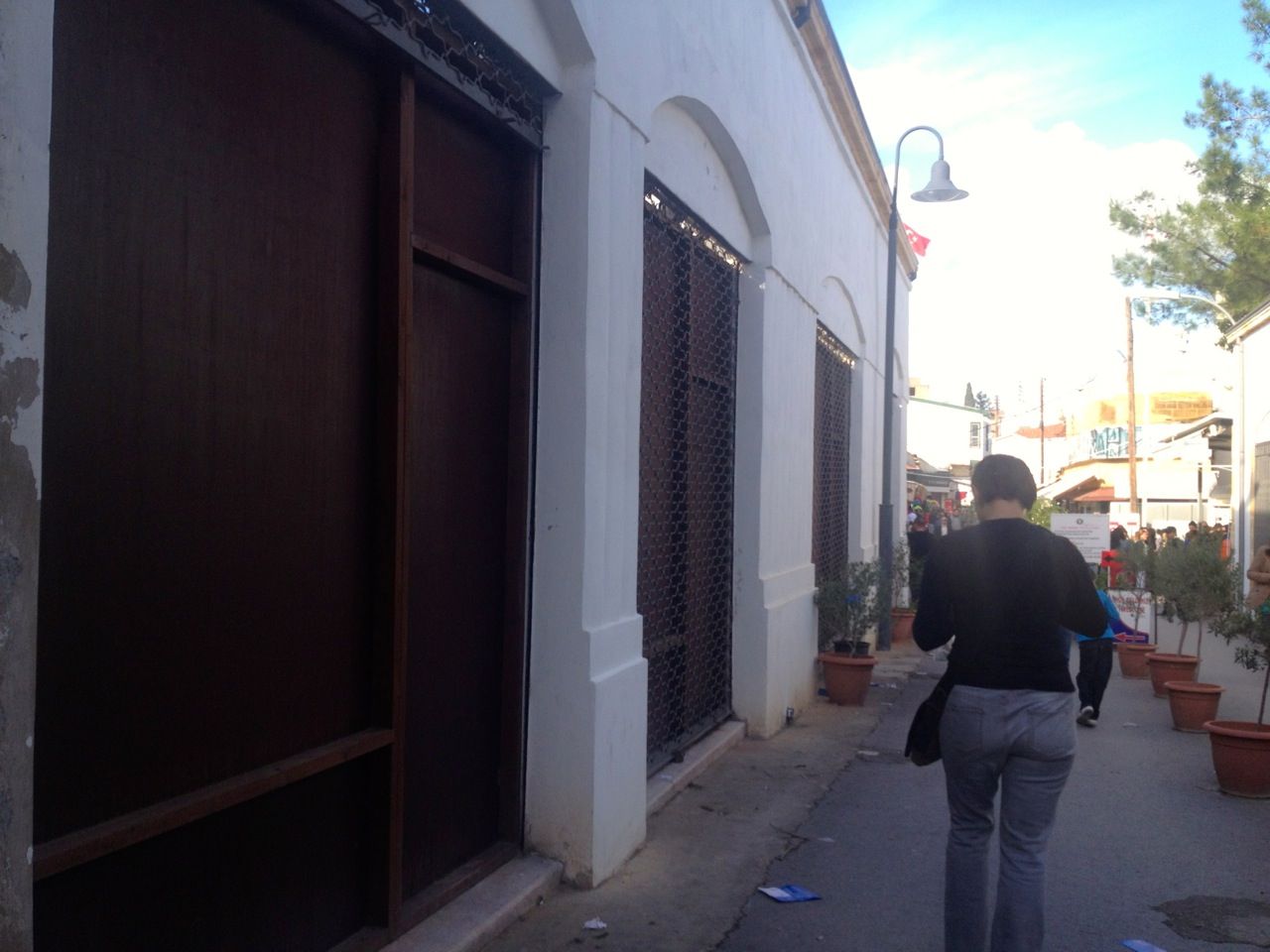 What a difference a few metres make. From being in relatively modern surroundings 10 seconds or so earlier, to being in a pretty run down area was a bit of an eye opener to say the least. I spent an interesting couple of hours or so looking around though.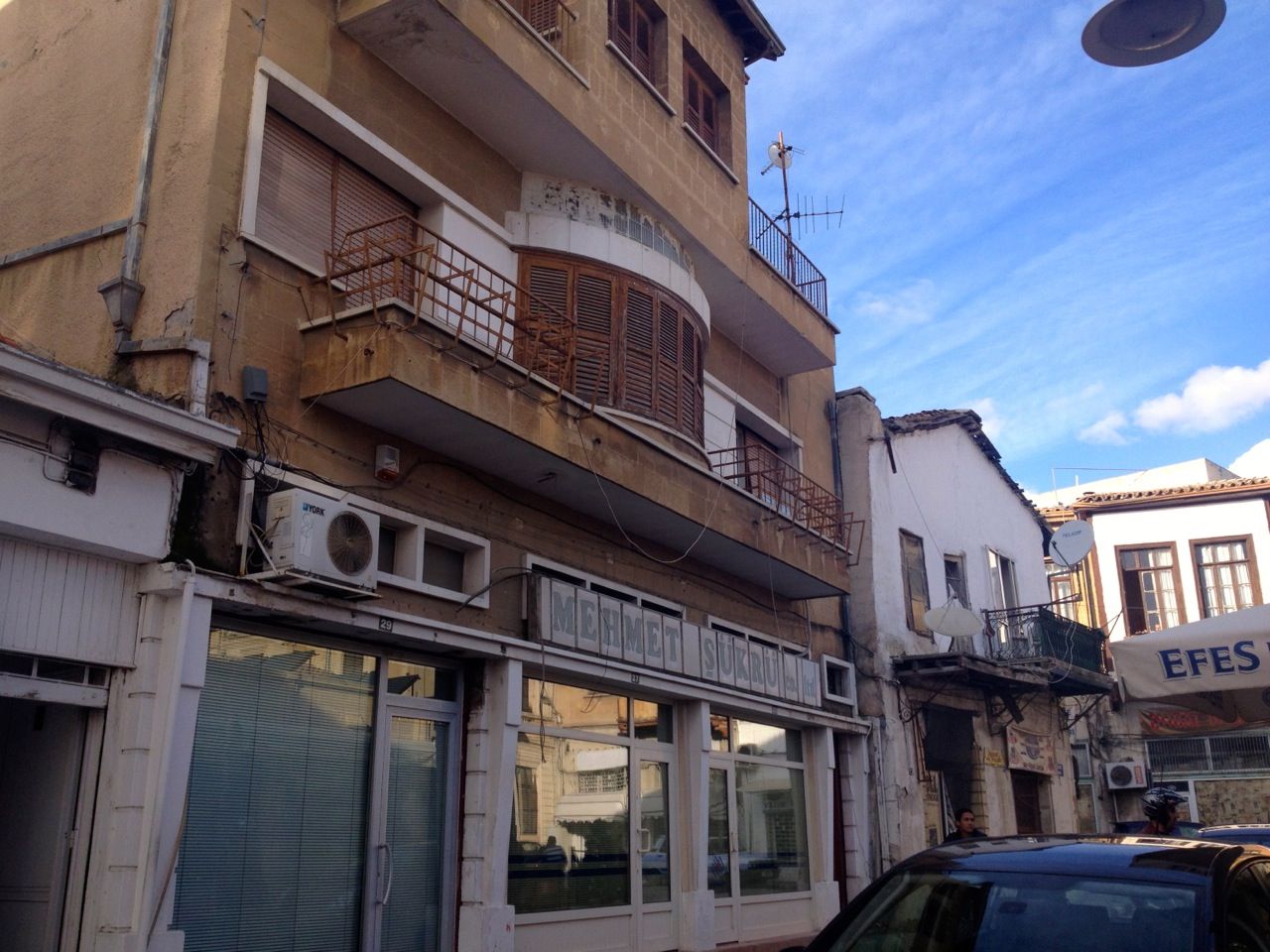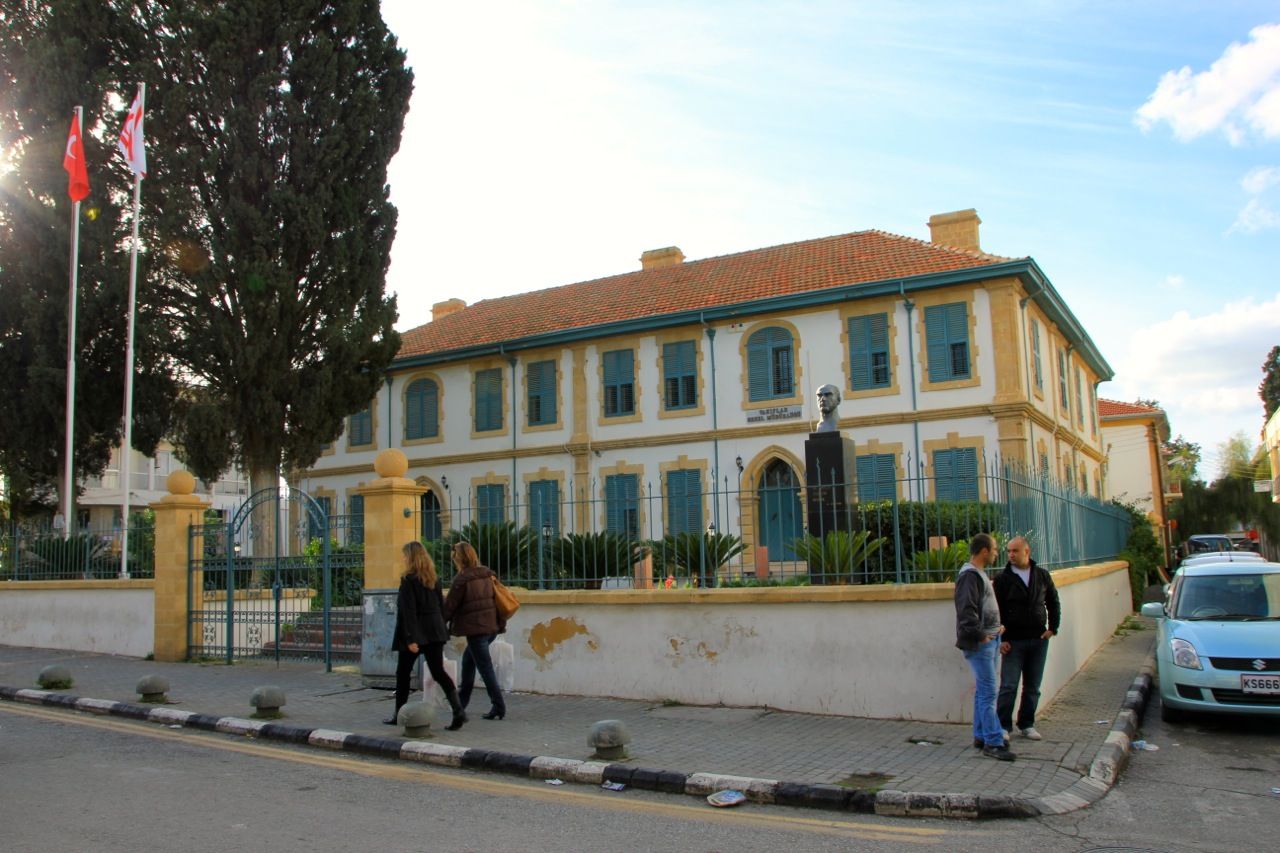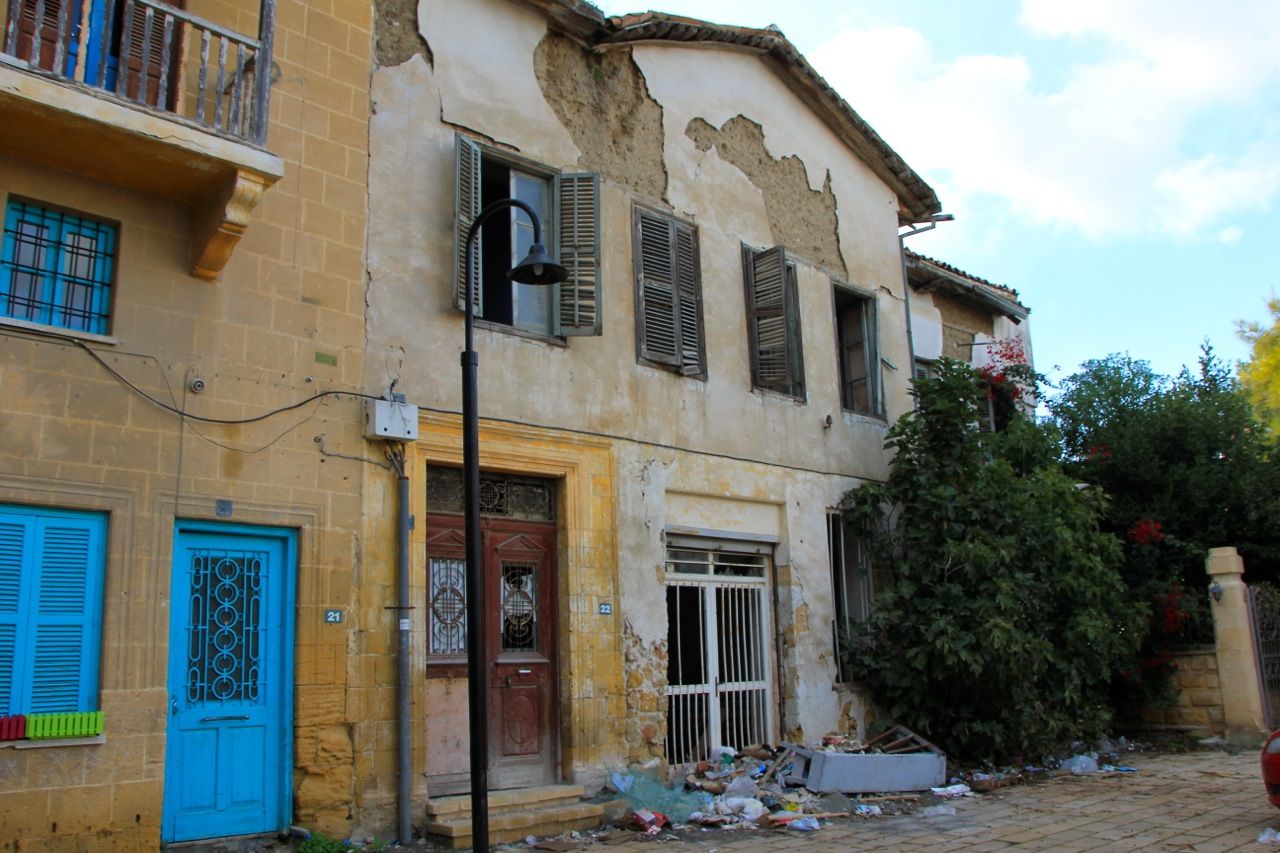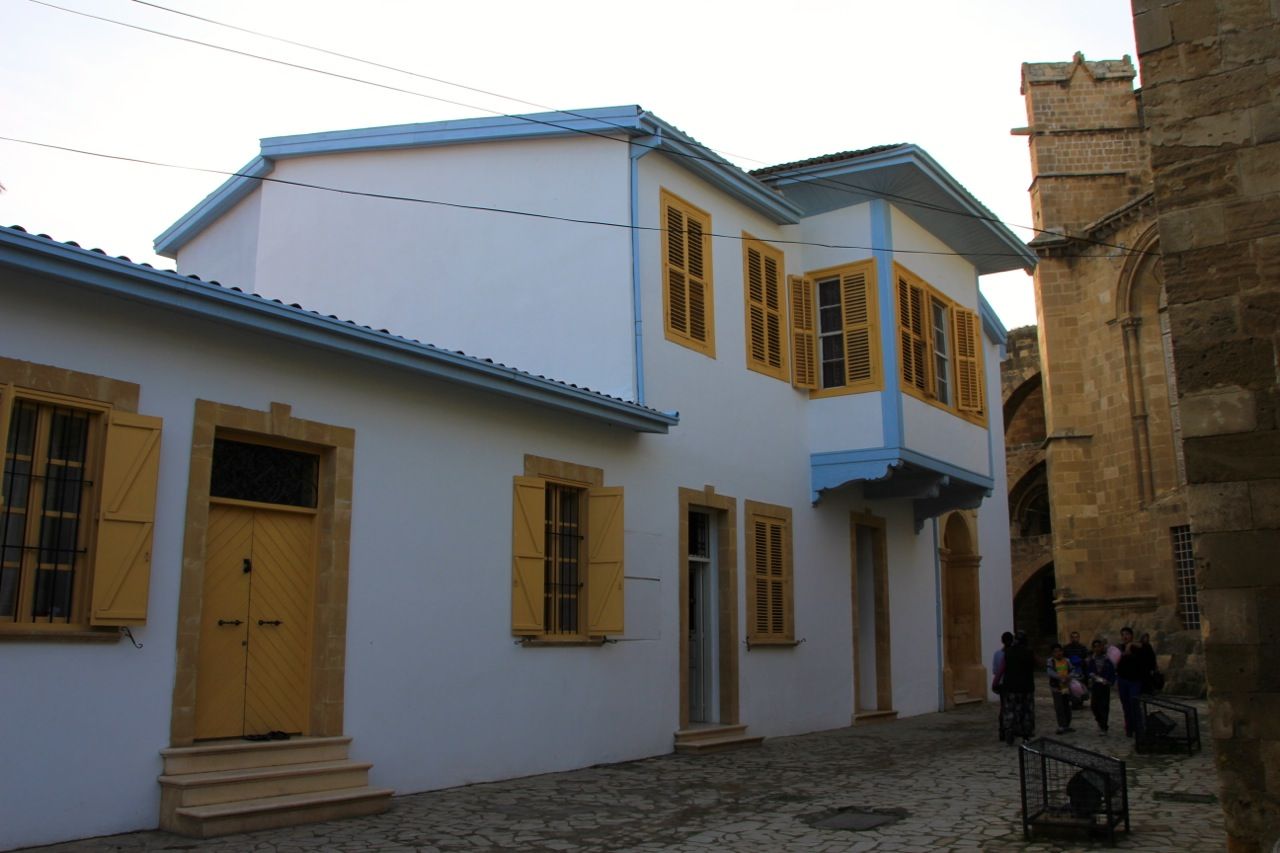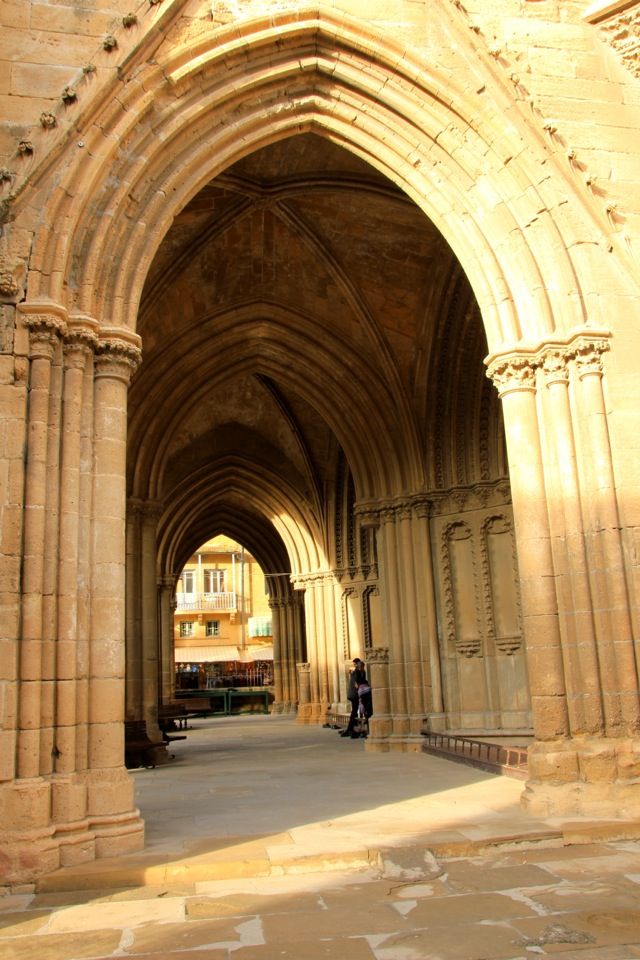 This used to be a cathedral until the takeover. Now it's a mosque.
Abandoned shopping centre
You don't have to tell me twice…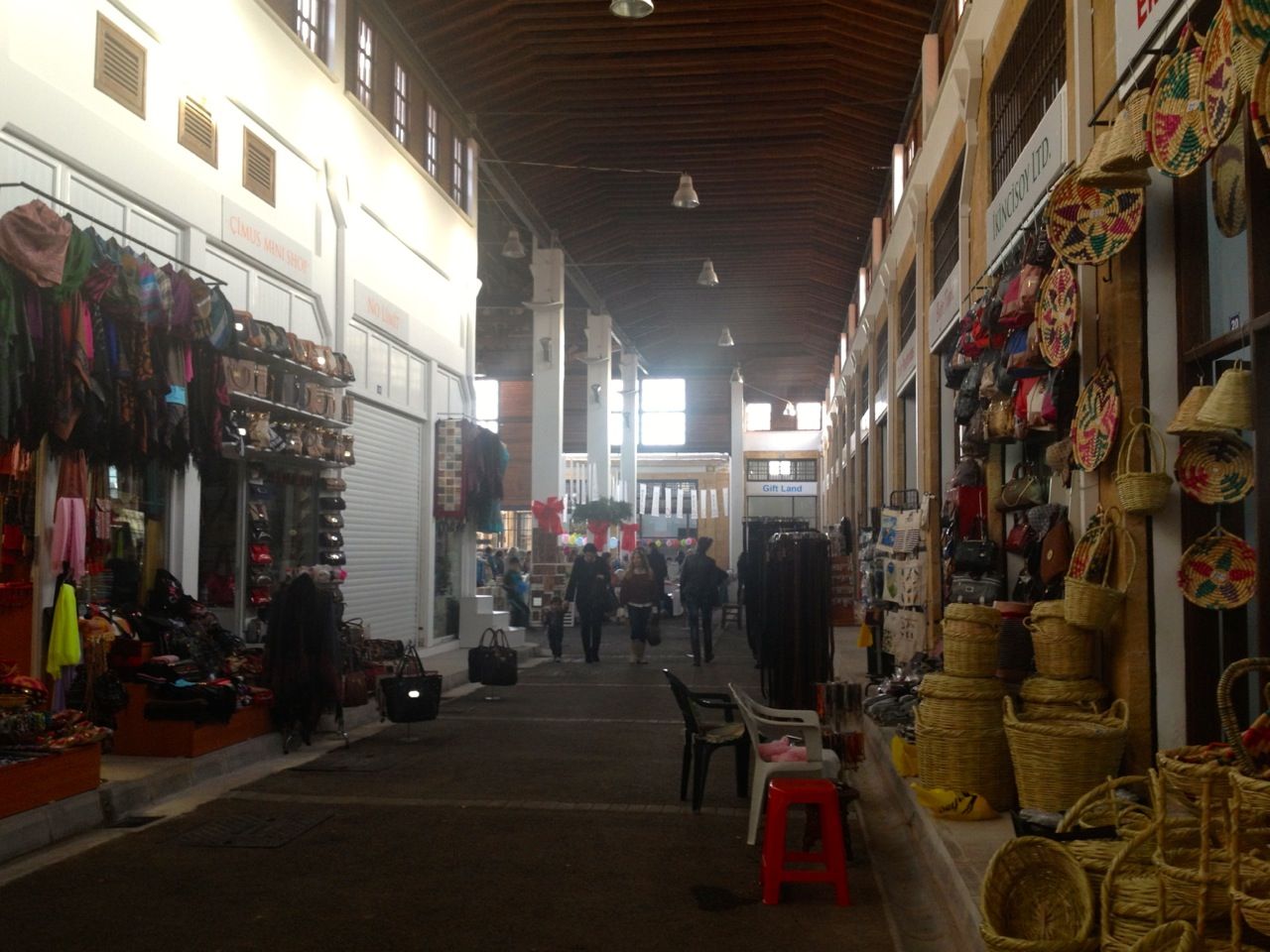 Interesting market
On the way out, I asked for one last stamp in my soon to be retired passport.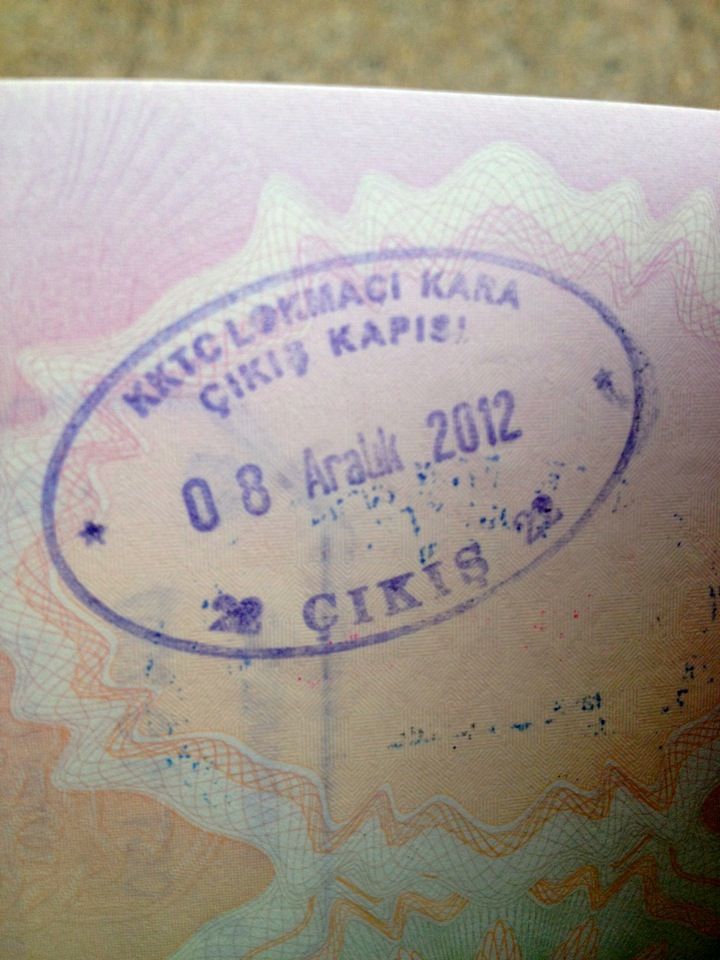 And I got to keep my visa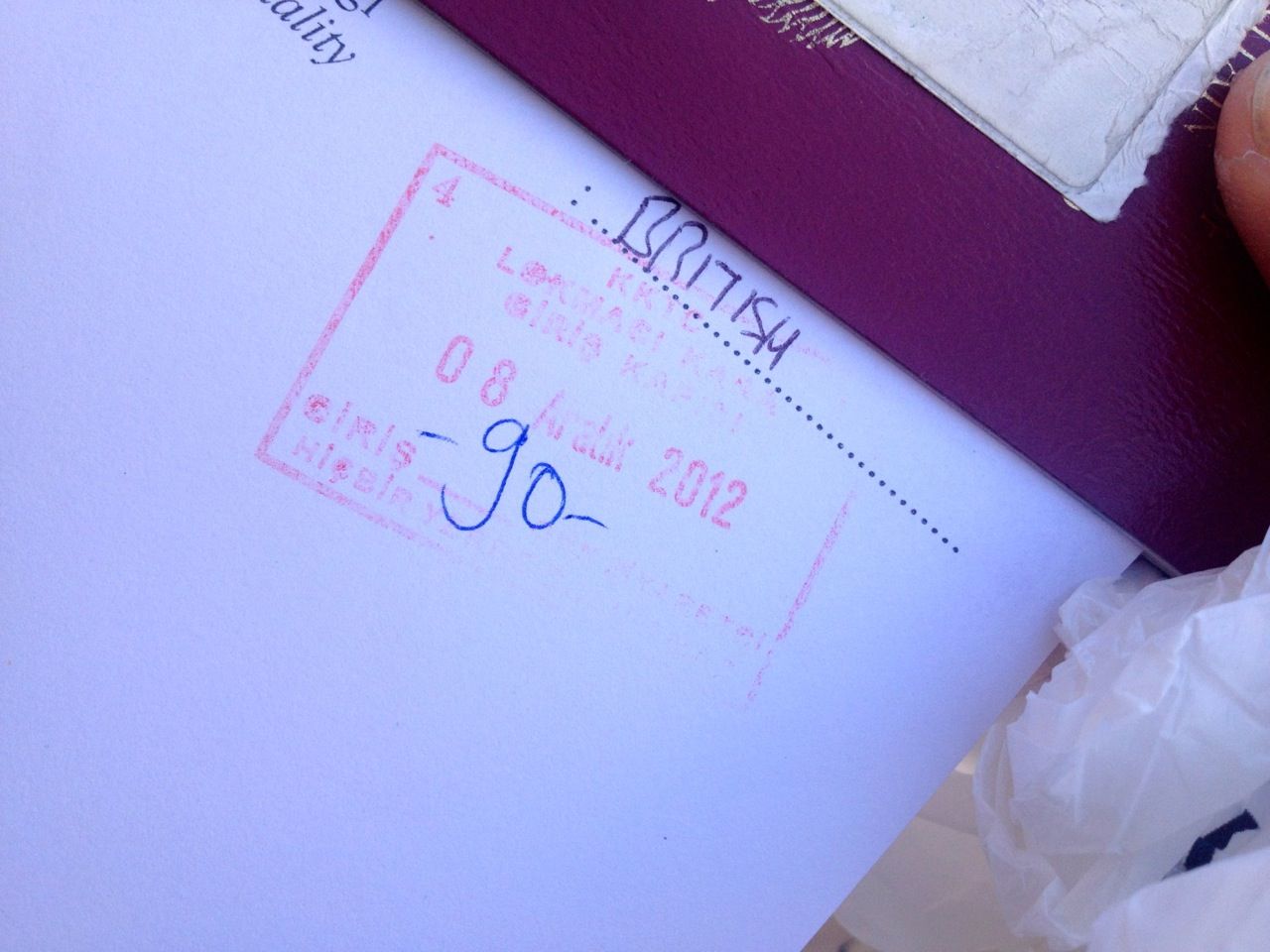 It was then a bit of a rushed walk for the bus. As much as I found Nicosia an interesting place, I'm not sure I could have spent another three hours there until the next bus back to Larnaca.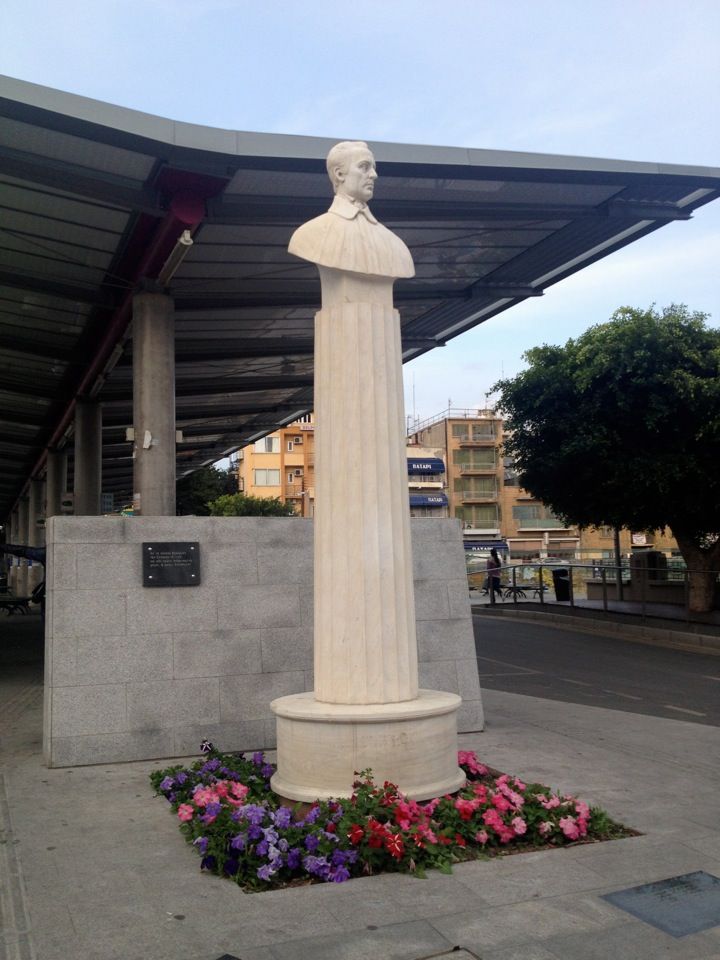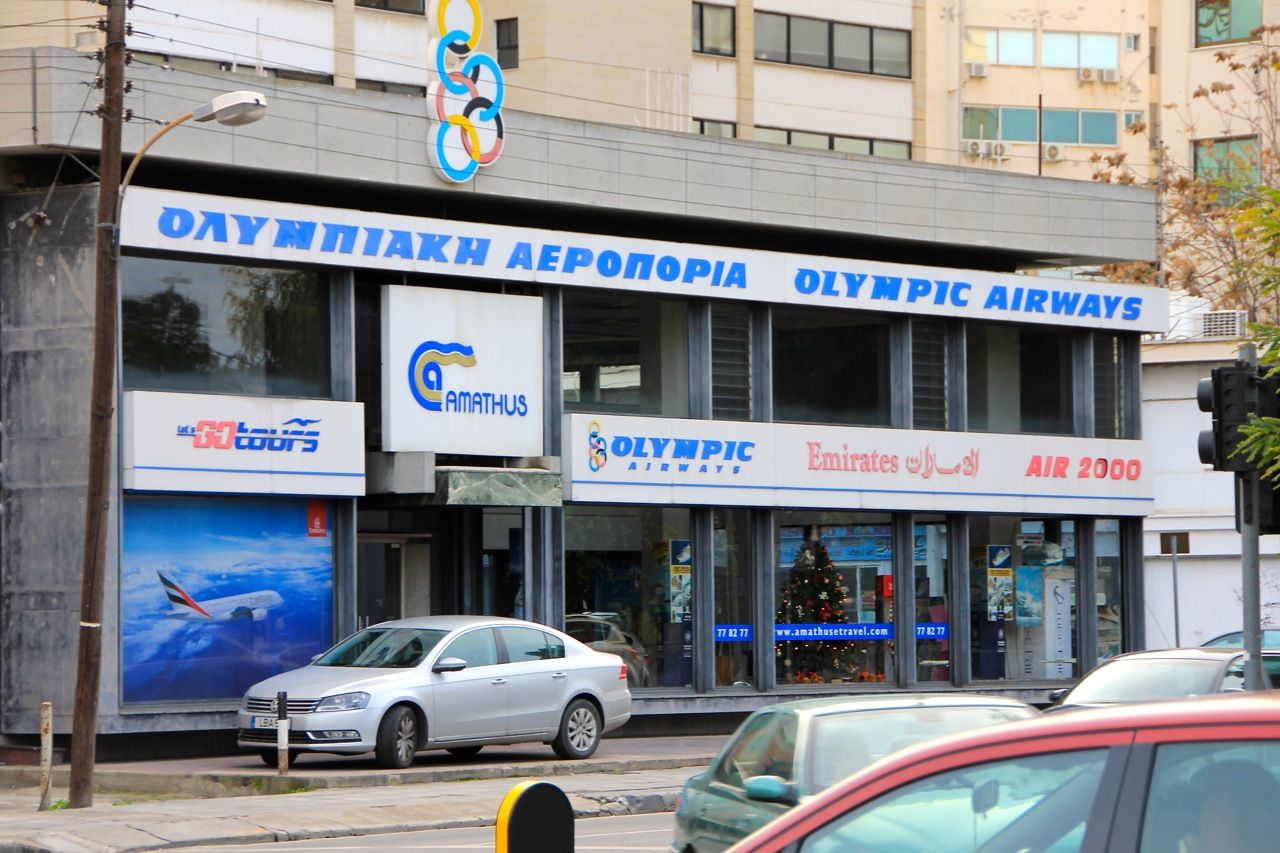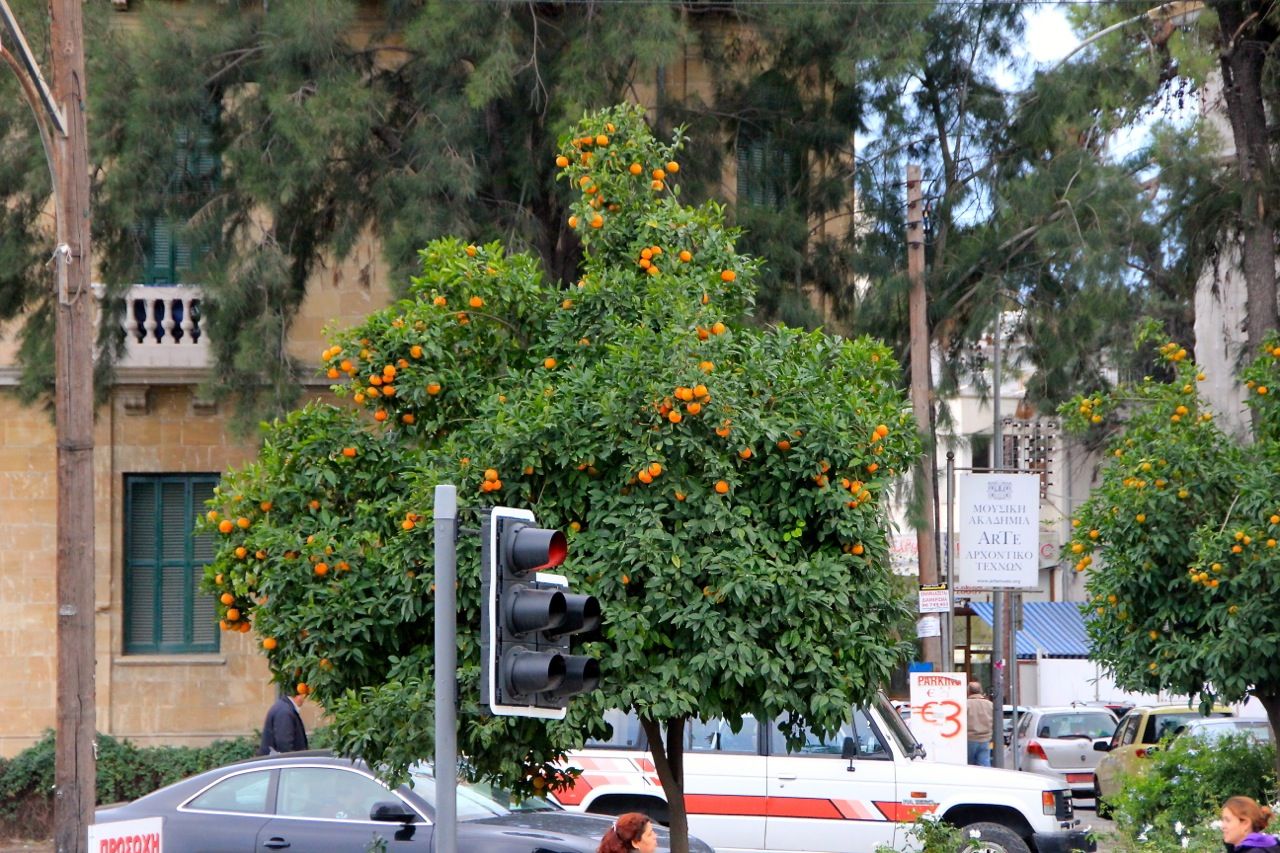 More oranges in winter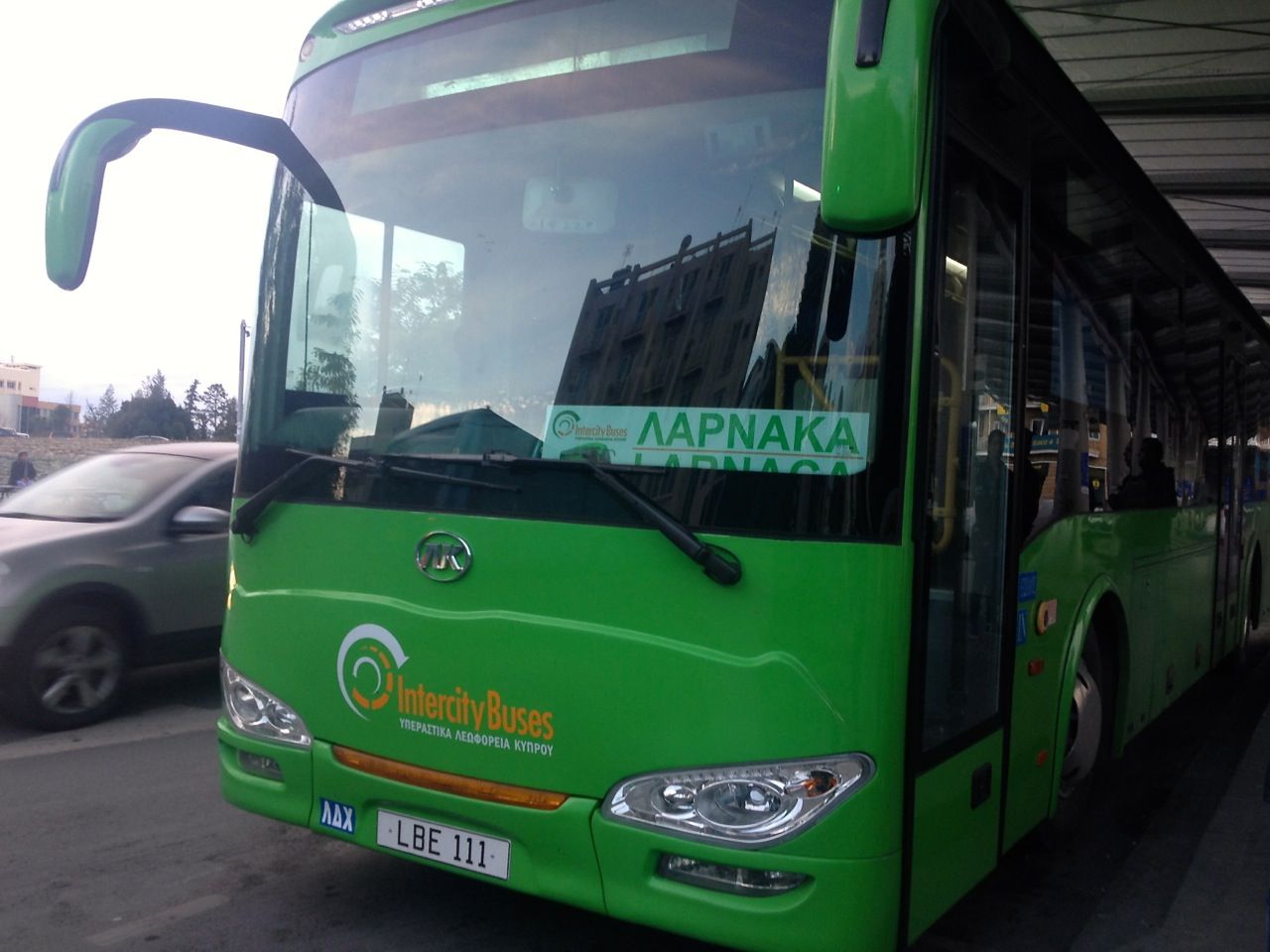 During the bus ride back, I tried to check in online for my flight, however somewhat unsurprisingly this was a no go.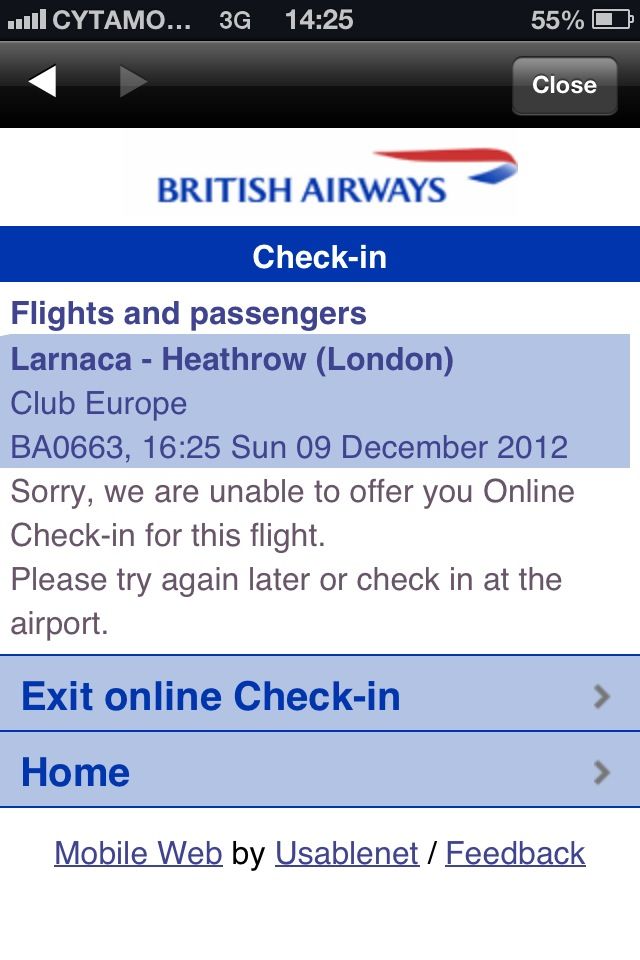 I received a phone call from the local British Airways office a few moments later, confirming the aircraft change and that they didn't know the reason. I did however – a BA 767 had gone tech in EDI the previous day so they were one short. They did however state that I would receive the full Club service, just in an economy seat – so the standard Club Europe service? This was also confirmed via twitter after I'd mentioned it earlier in the day. Although they said a similar thing when I was shoved on to Iberia a couple of months back… more on that later though.
After the bus arrived back in Larnaca (and not a moment too soon – the guy sat opposite threw up everywhere and it stunk), I went for a brief wonder but nothing much took my fancy. Despite my internal clock telling me it was only just past 3pm the local time was 5pm and it was dark and starting to get a little chilly. So I reluctantly made the 30 minute or so walk back to the hotel.
When I arrived, I sat out on the balcony and watched a few of the arrivals, ate the dinner I had leftover from last night and read a magazine.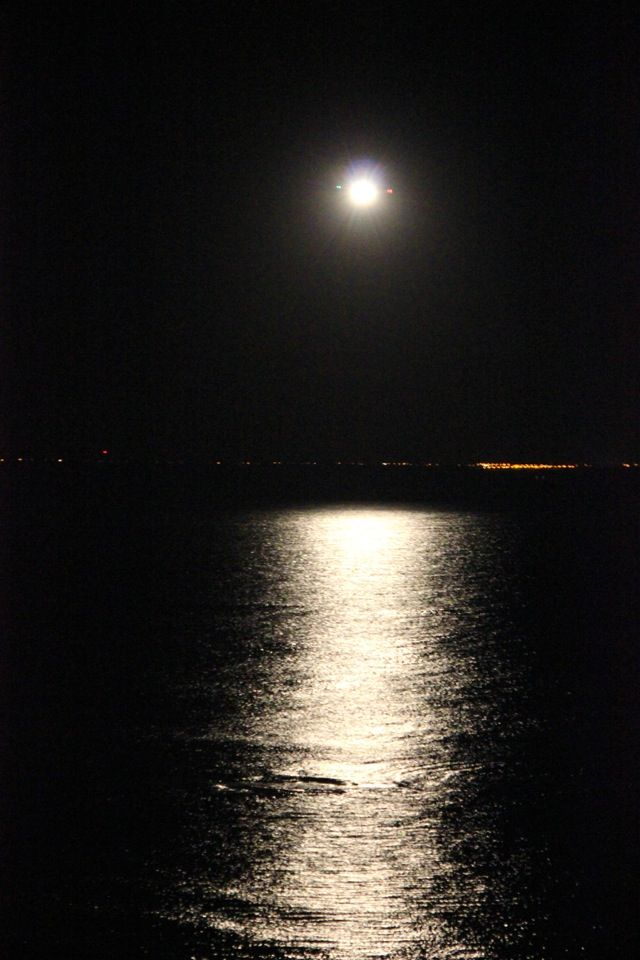 Olympic casting a lot of light on the sea.
Feast for one!
Sunday morning was spent wondering the beach and catching the very few arrivals into LCA. A couple of Cyprus Airways A320's, an Olympic A319, one Aegean A320 and the token Emirates A340 were pretty much it for the morning bar from a couple of private Cessna's. No doubt this was the quiet season!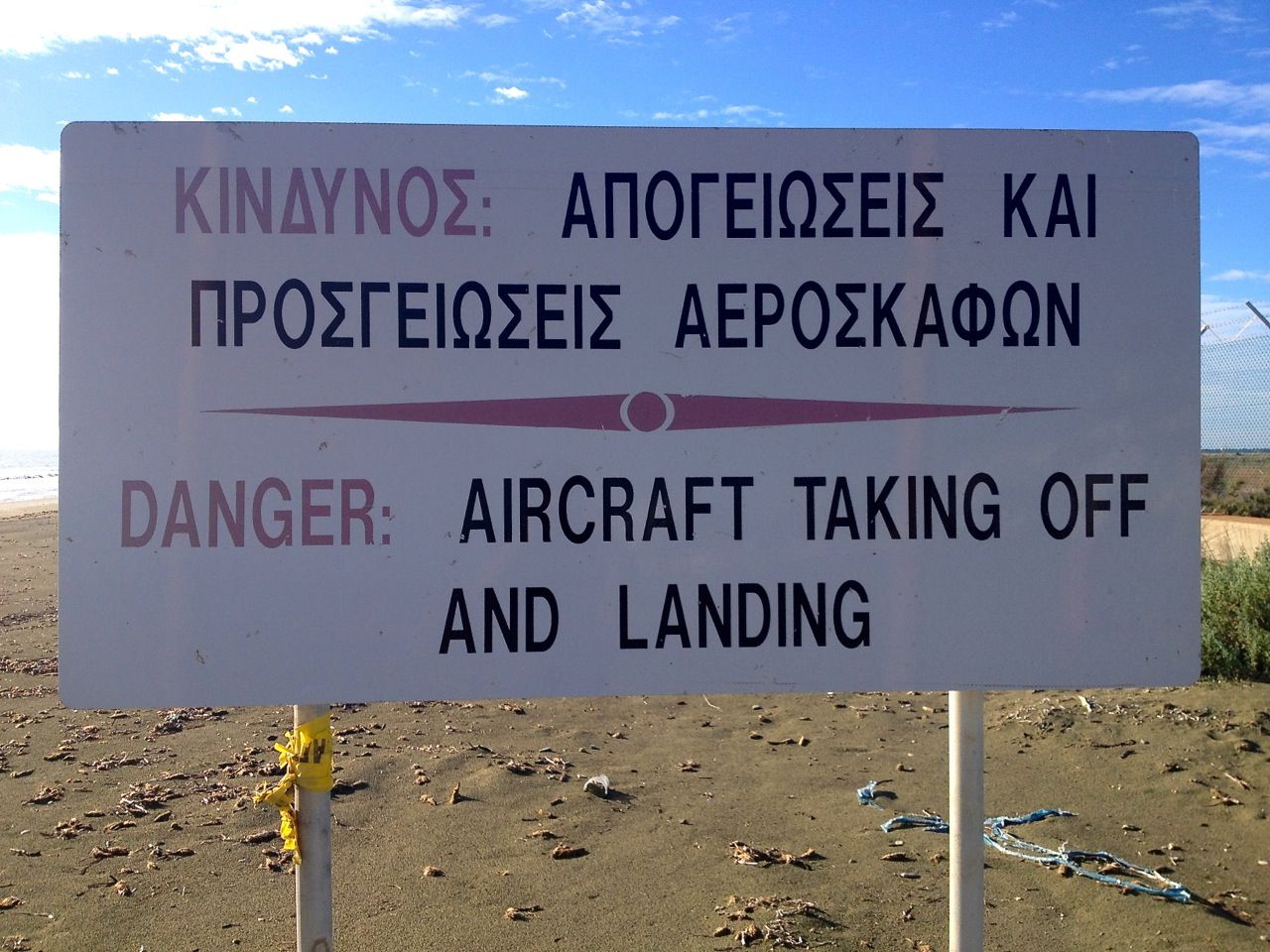 That's what we like to hear!
First time I'd seen this livery in the flesh – quite like it actually.
This was the one I was waiting for.

After which I wondered round to the salt lake, before heading back to the hotel again.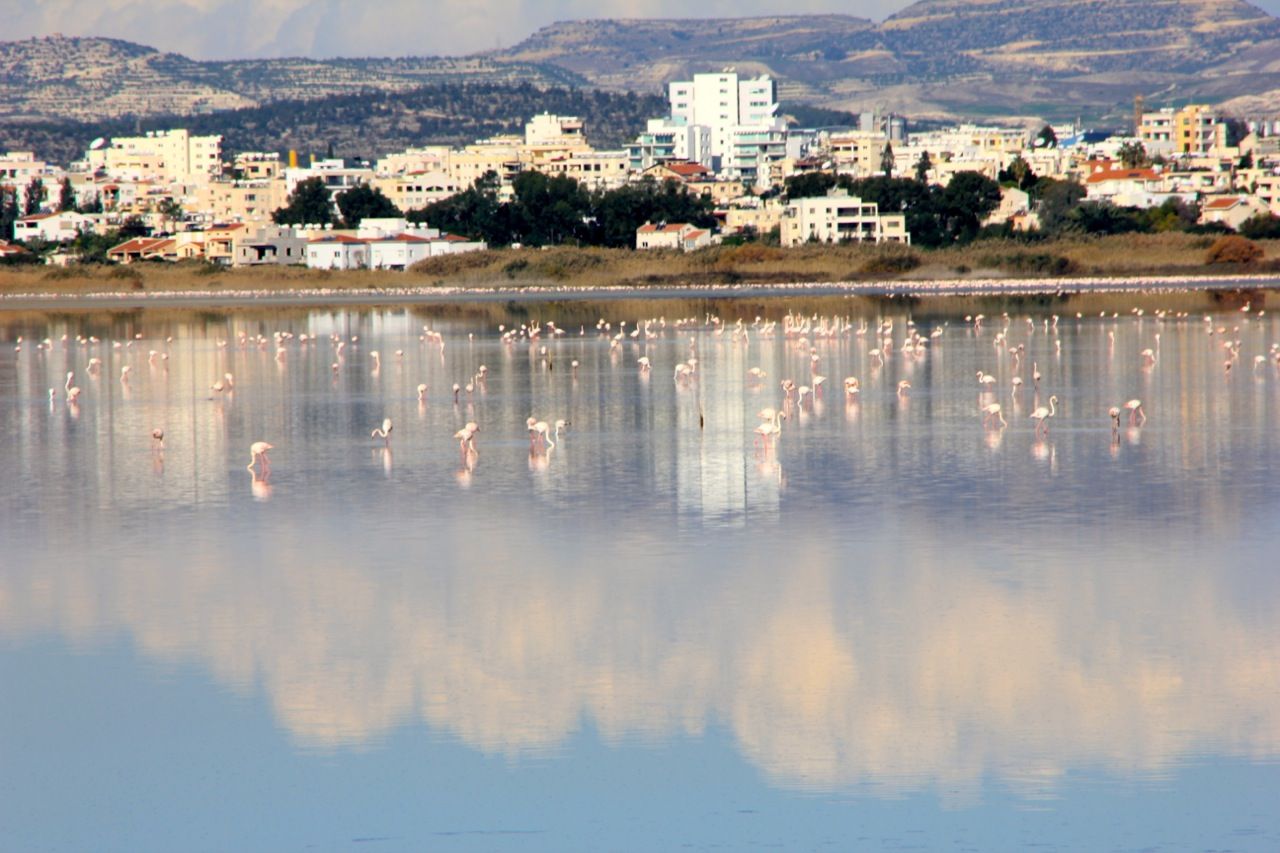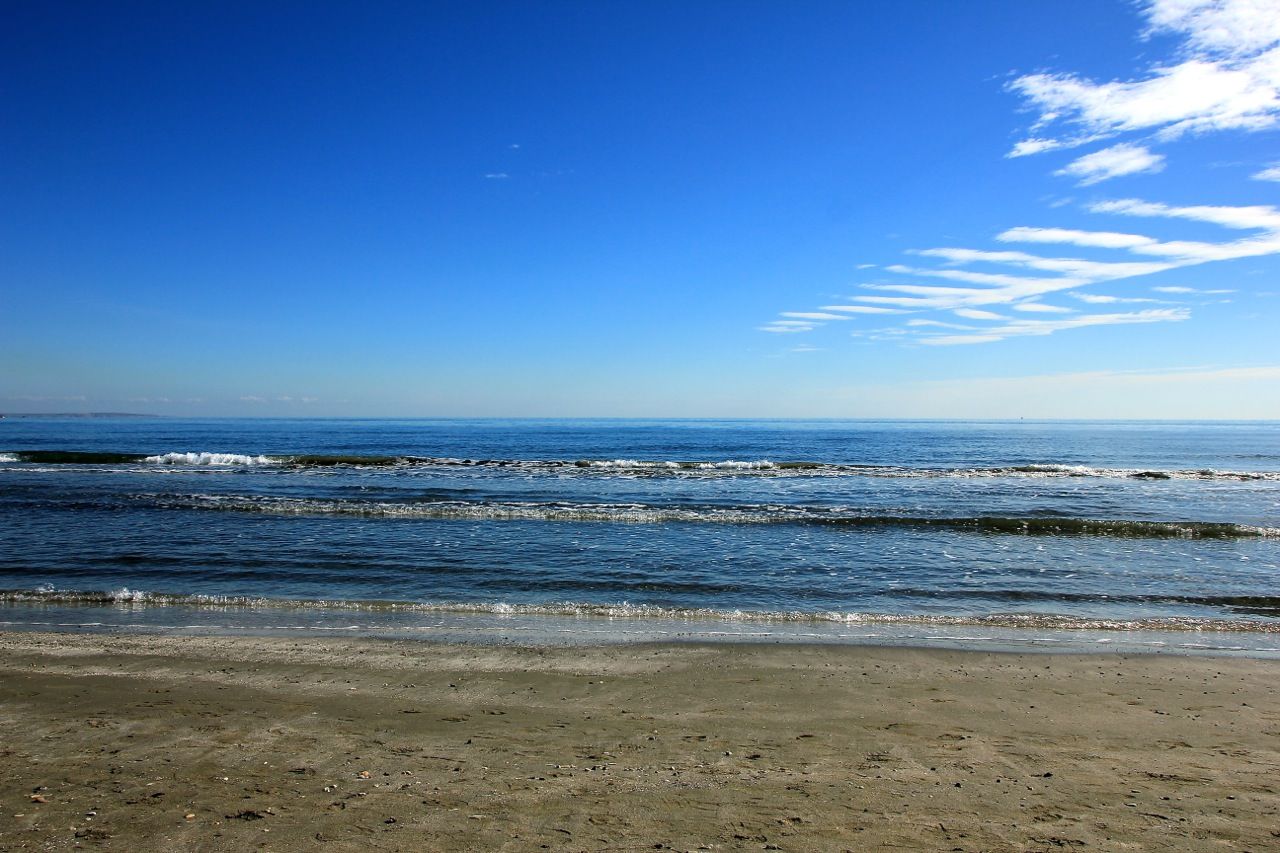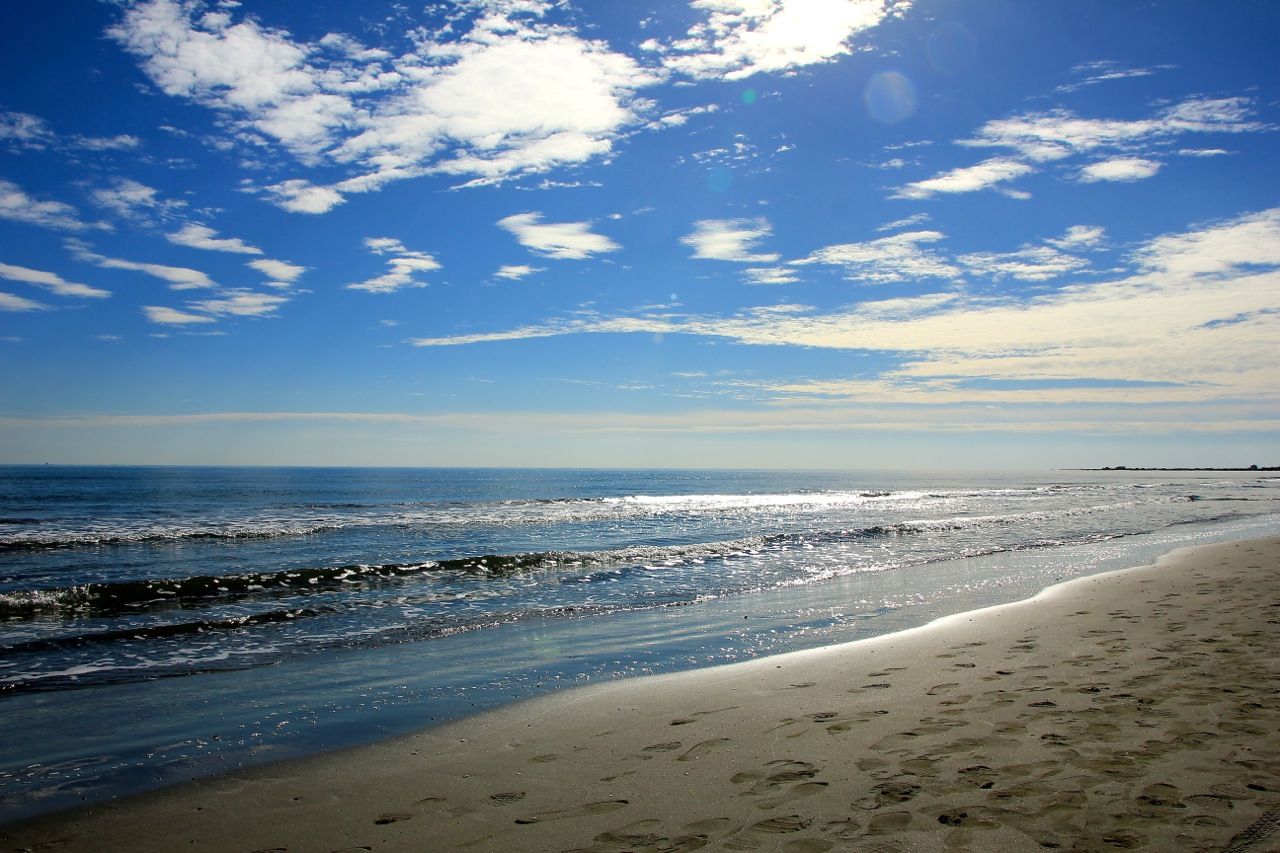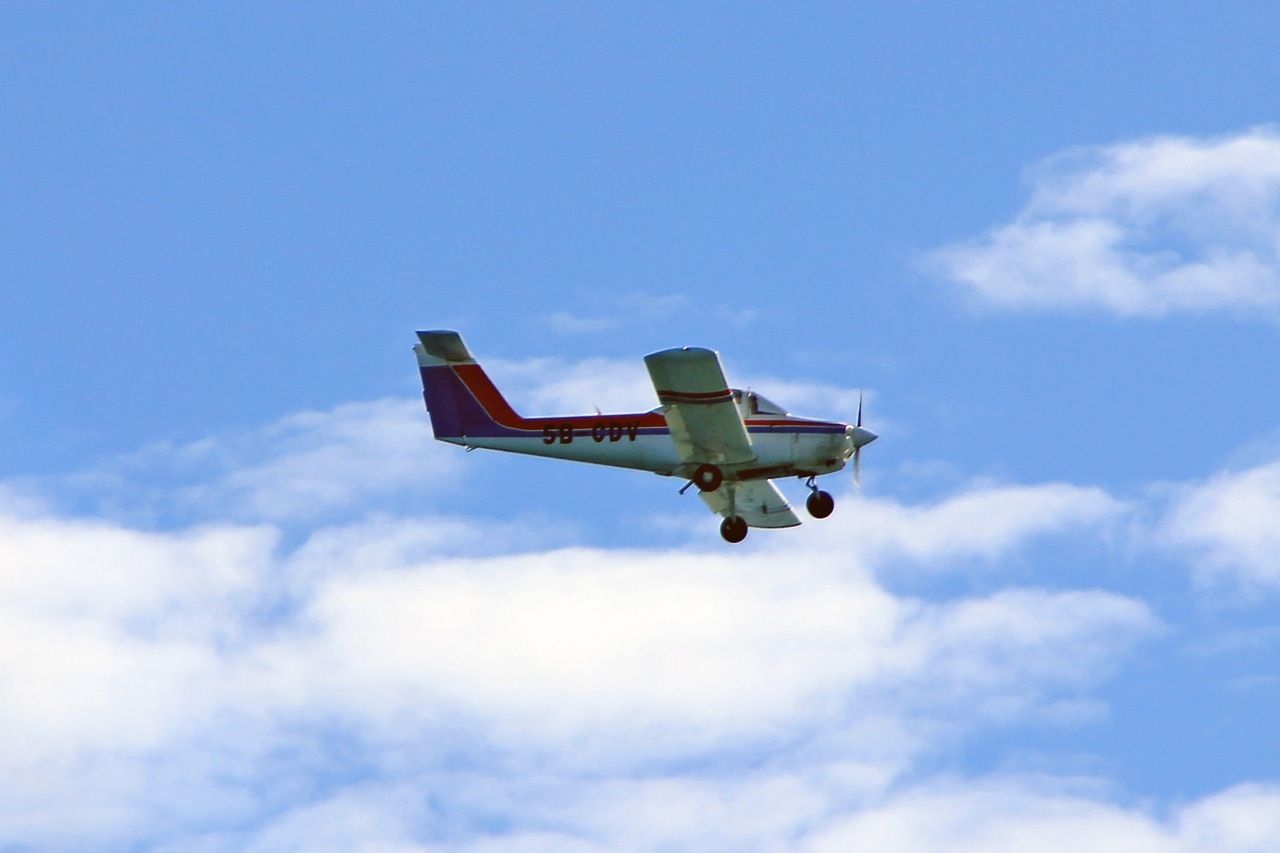 Hotel from the beach
Once back at the hotel, I checked the inbound status of my flight to try and see what type it would be, although all I could really find out was that it was delayed and due to arrive into LCA approx. 5 mins before my flight was due to due to depart.
After checking out of the hotel, I sat on the beach for a while before the hotel arranged to take me back to the airport at 13:00, again for €15 although I'm not totally sure this was above board – I suspect that money went straight into the drivers pocket as no mention was made of this at reception.

Updating the TR on the beach!
Whilst on the beach, I decided to do another check on my flight, and a delayed departure now seemed inevitable


Upon arriving at the airport, I found that check in was yet to open, so I took the opportunity to have a look at the departure area, used the free Wi-Fi to check what type was operating my flight and watched an Aeroflot A321 arrive. Shame it wasn't the IL96.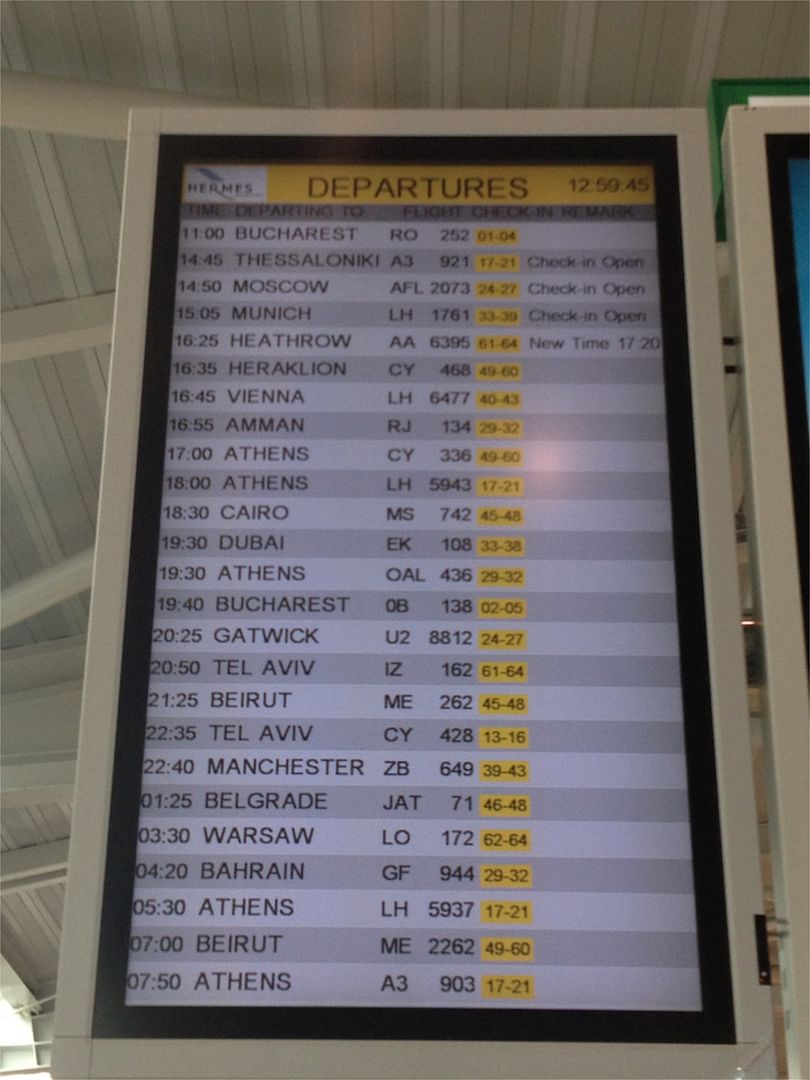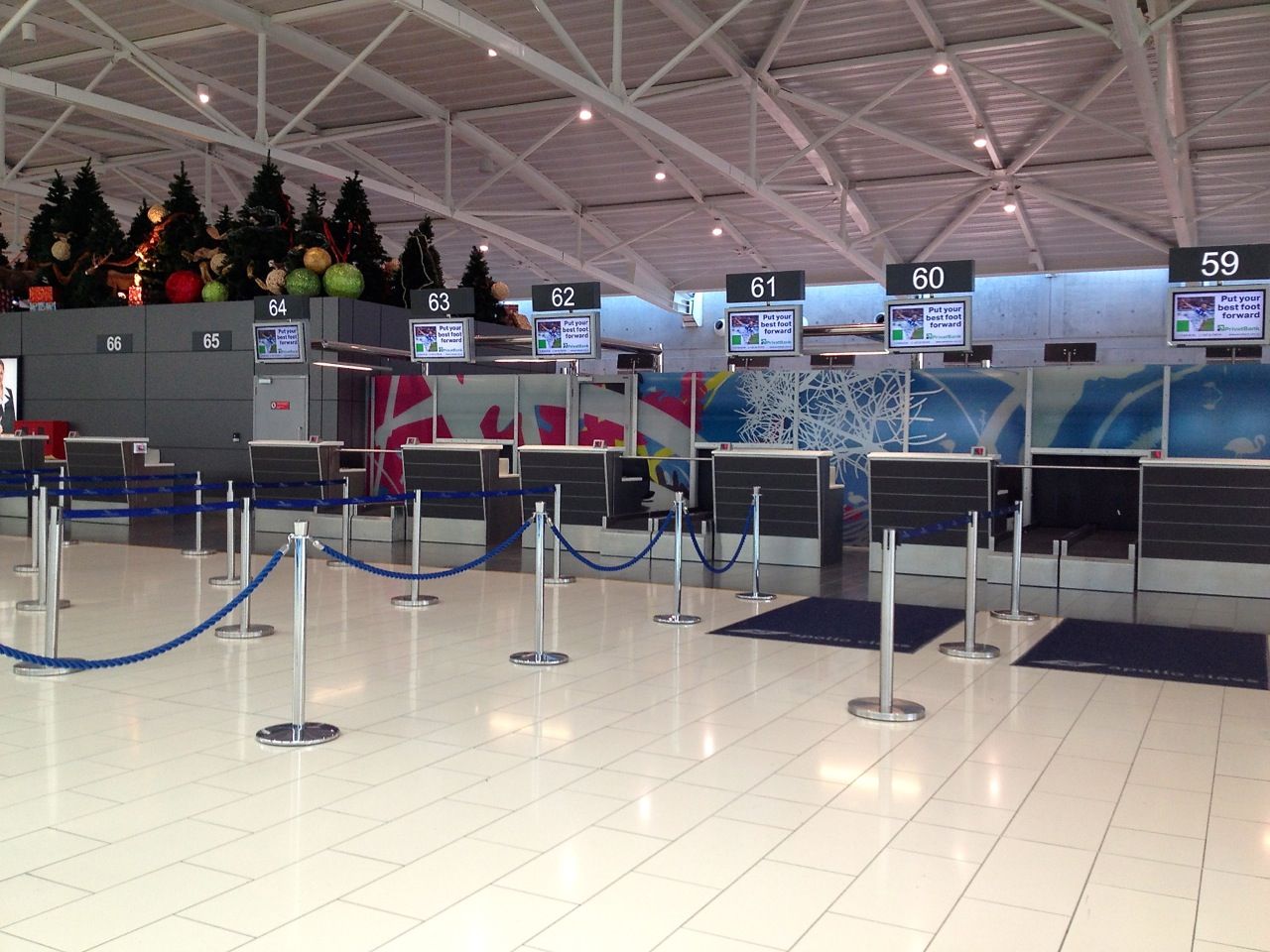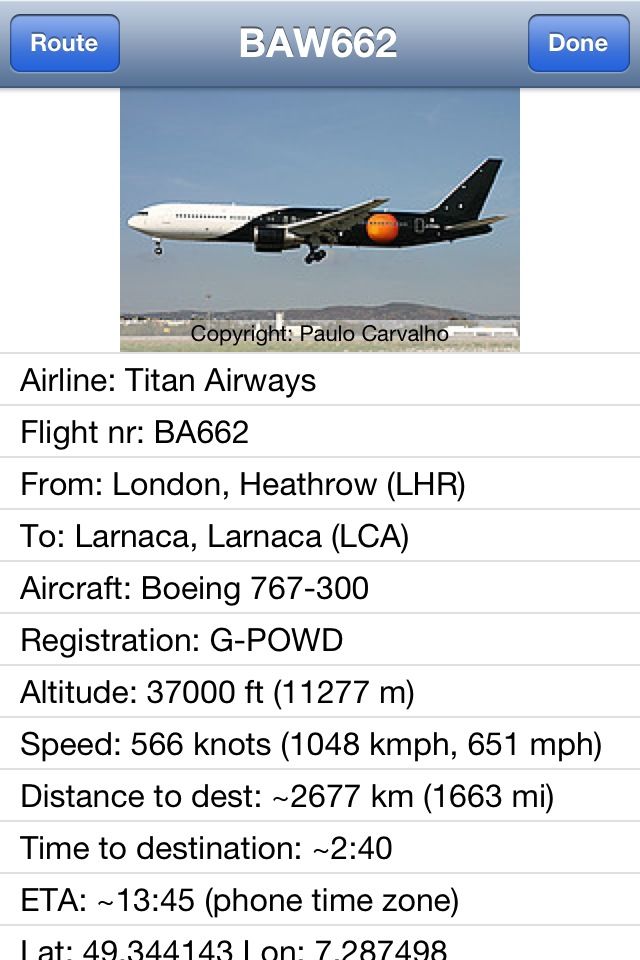 G-POWD it is then.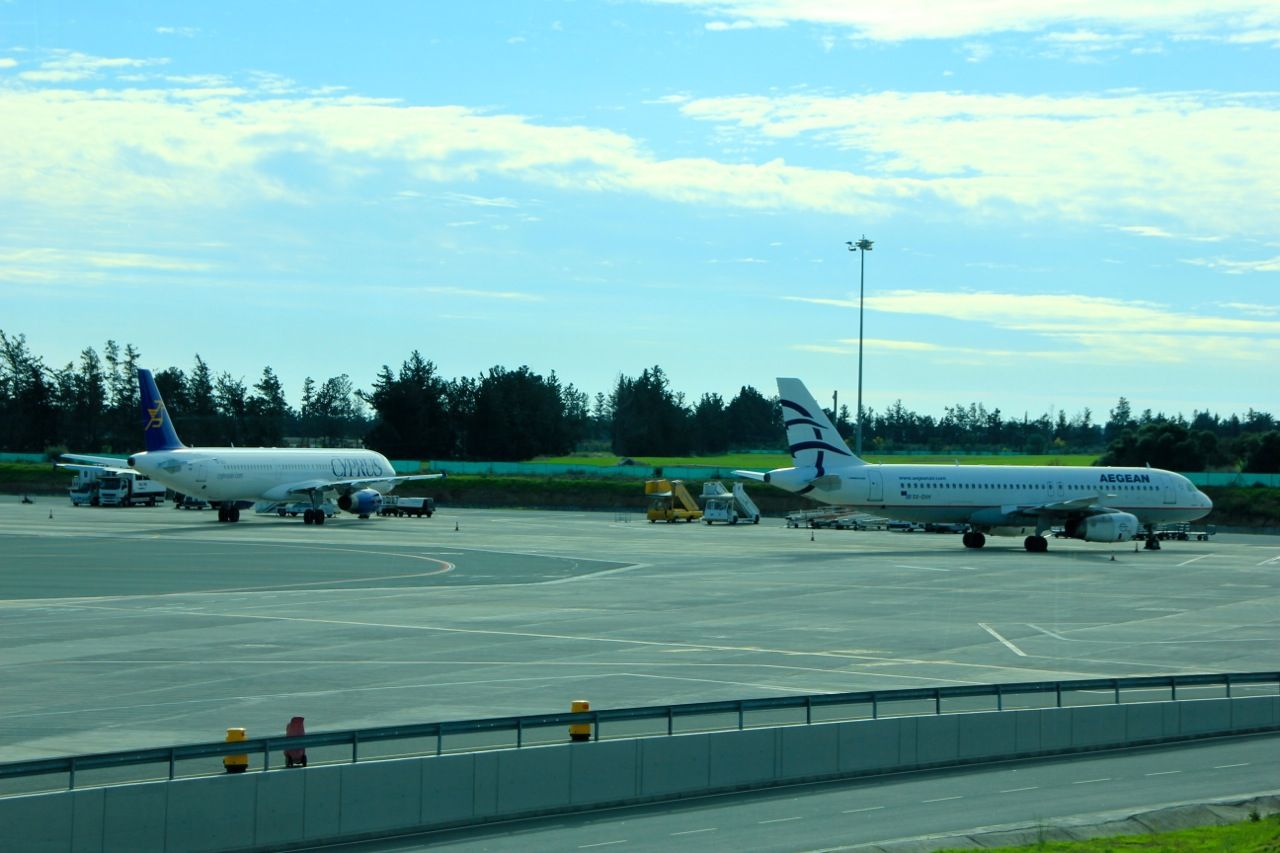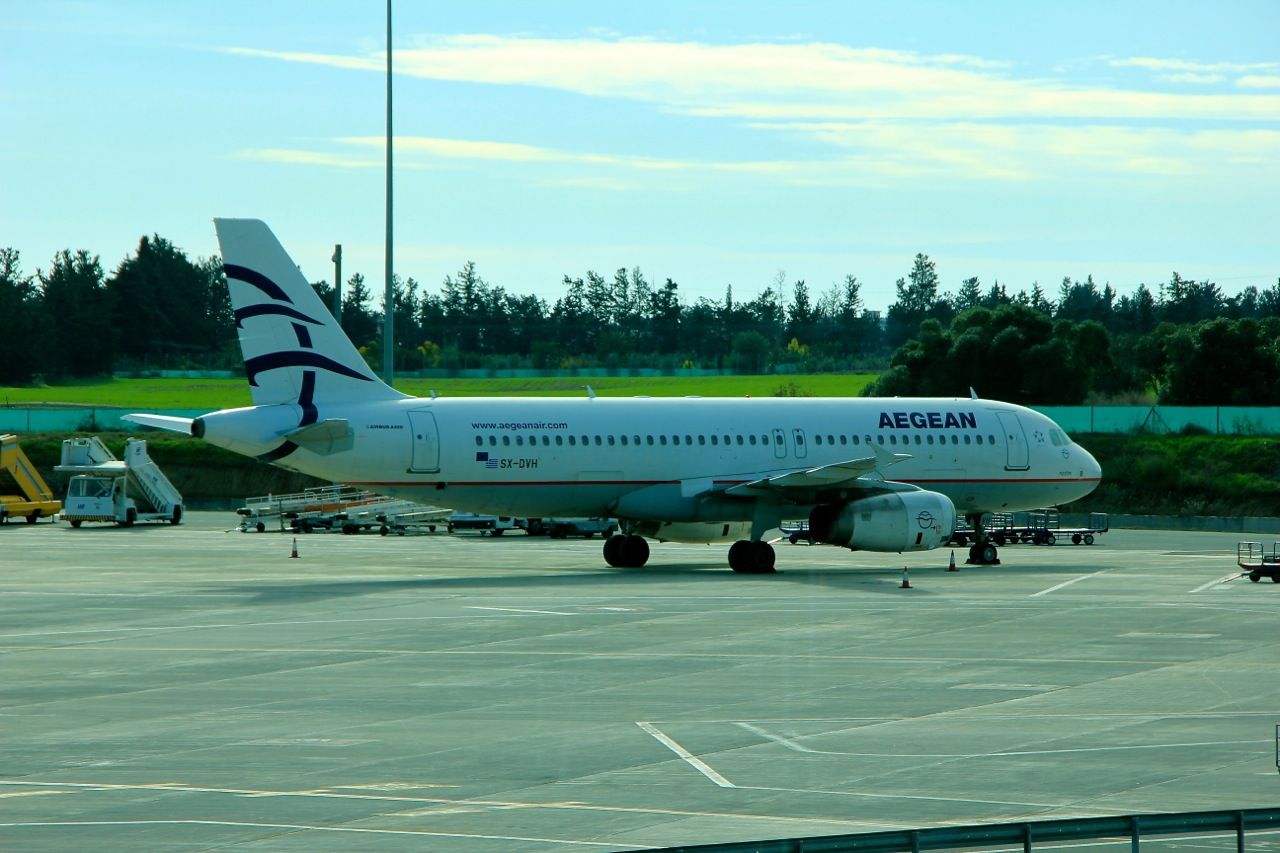 When check in finally did open, it was quite a drawn out process – 25 minutes in total – due to the fact I was the first person booked into club Europe to be checked in. I guess the hold up was understandable though. They were doing their best, although unfortunately not everybody saw it that way. Personally I don't see the point in shouting at screaming at somebody when they're doing everything within their control. In the end, I was treated far better as I was understanding about the situation, and they blocked the seat next to me. And the reason for the delay – all passengers booked into Club Europe got a rather fancy BA branded cash card pre loaded with £50/€60 as a gesture of good will. Also included was a letter with instructions on how to claim back the difference in price between an economy and Club fare. Worth waiting 25 minutes for in my opinion. The ground crew were very helpful throughout the process and even told me to draw the cash out from the card in one go as I'd be charged after that. Although as I mentioned, as I was one of the few people who weren't giving them issues, I'd imagine they would want to be kept busy with me rather then being given abuse by the others. I left with a bit of a haul of paperwork.


Following this was security – where unfortunately I did get a little angry. My bag was singled out for a search where the frankly quite rude security officer proceeded to unpack my entire bag, literally throwing my stuff into a tray – camera and iPad included then shoving it back at me because they couldn't be bothered to repack everything. Thanks. I did try and ask them to be a little more careful but they conveniently didn't speak any English and wondered off once they had finished.
After this it was a brief look airside before heading for the lounge.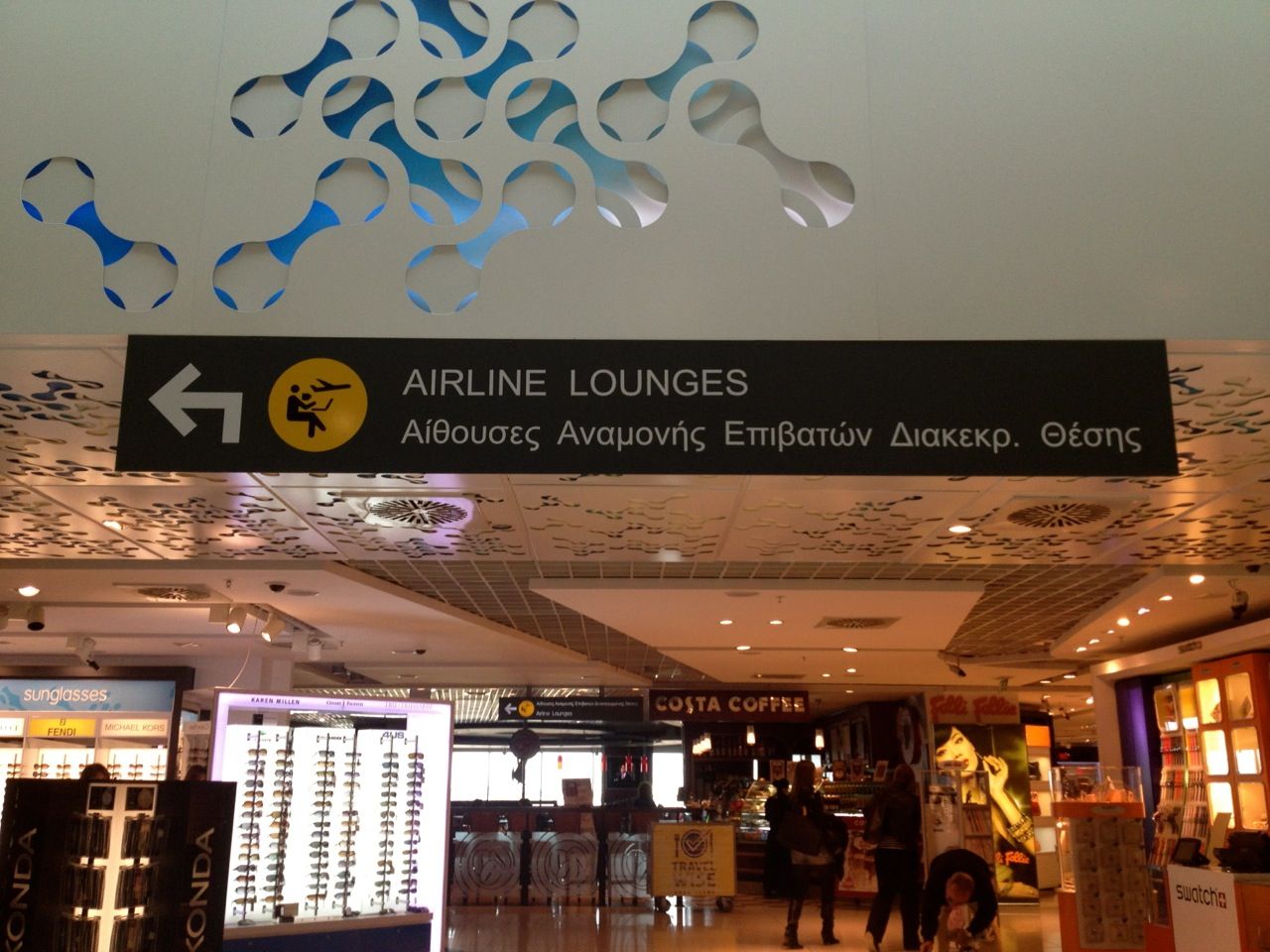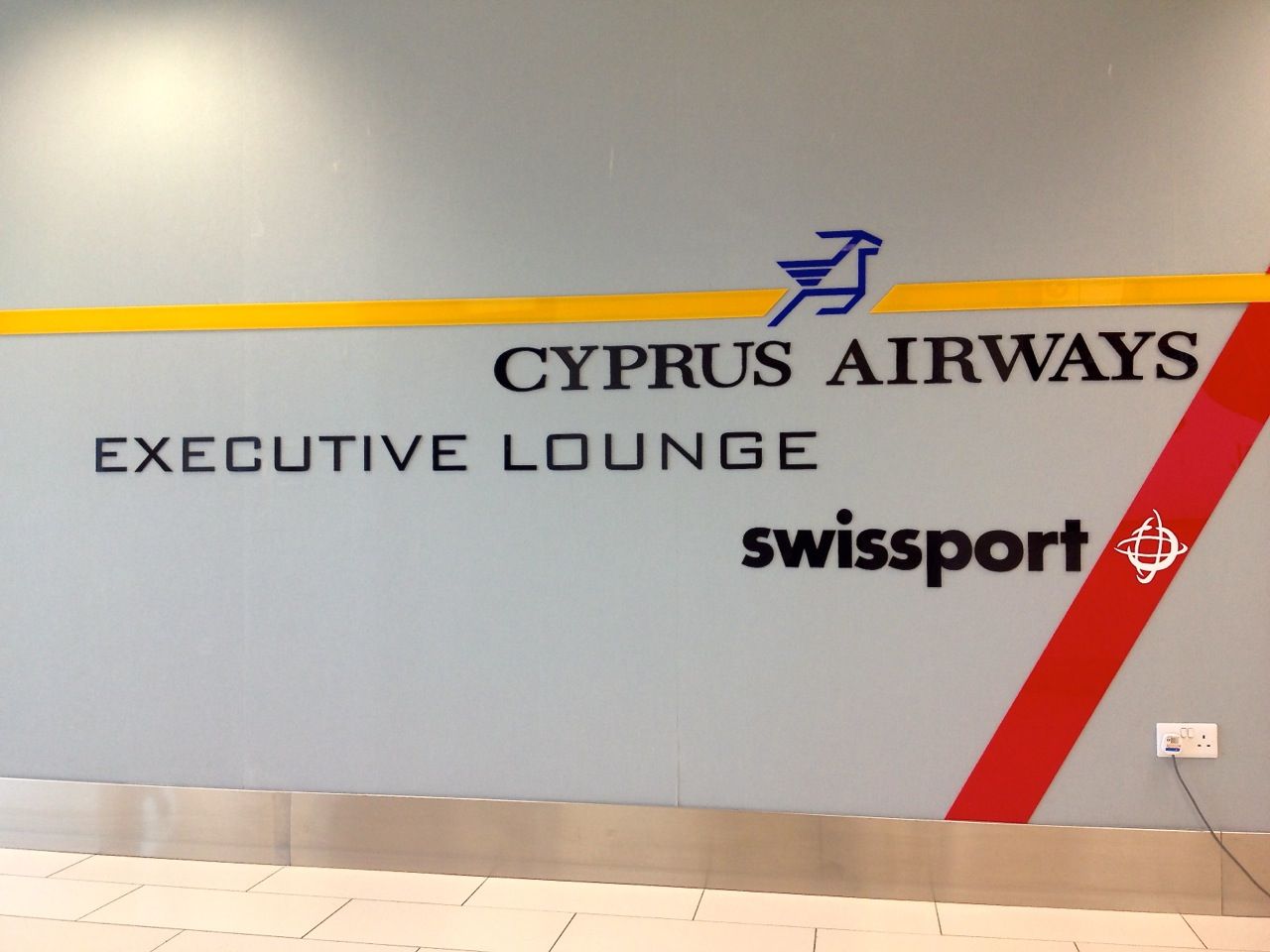 It was a little disappointing but pretty much as expected from a third party lounge. But still better than the one in Nice.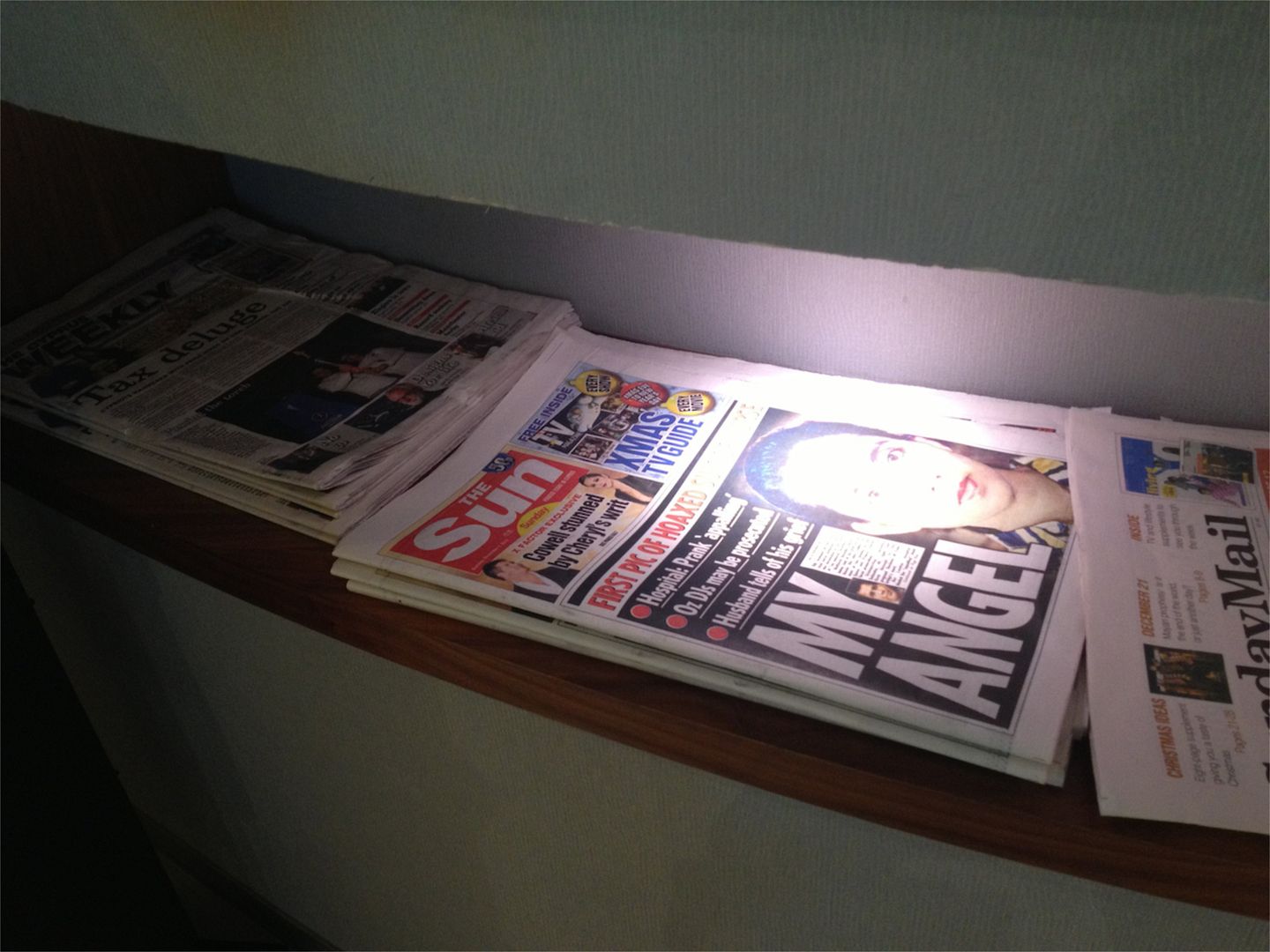 The only English newspaper available… I didn't bother.
Round 1
LH to MUC
Round 2
And the finale.
This would be where I'd spend the next few hours until my flight was ready for boarding.
Around the time my plane was due to arrive, I headed outside on to the terrace to grab a few pics.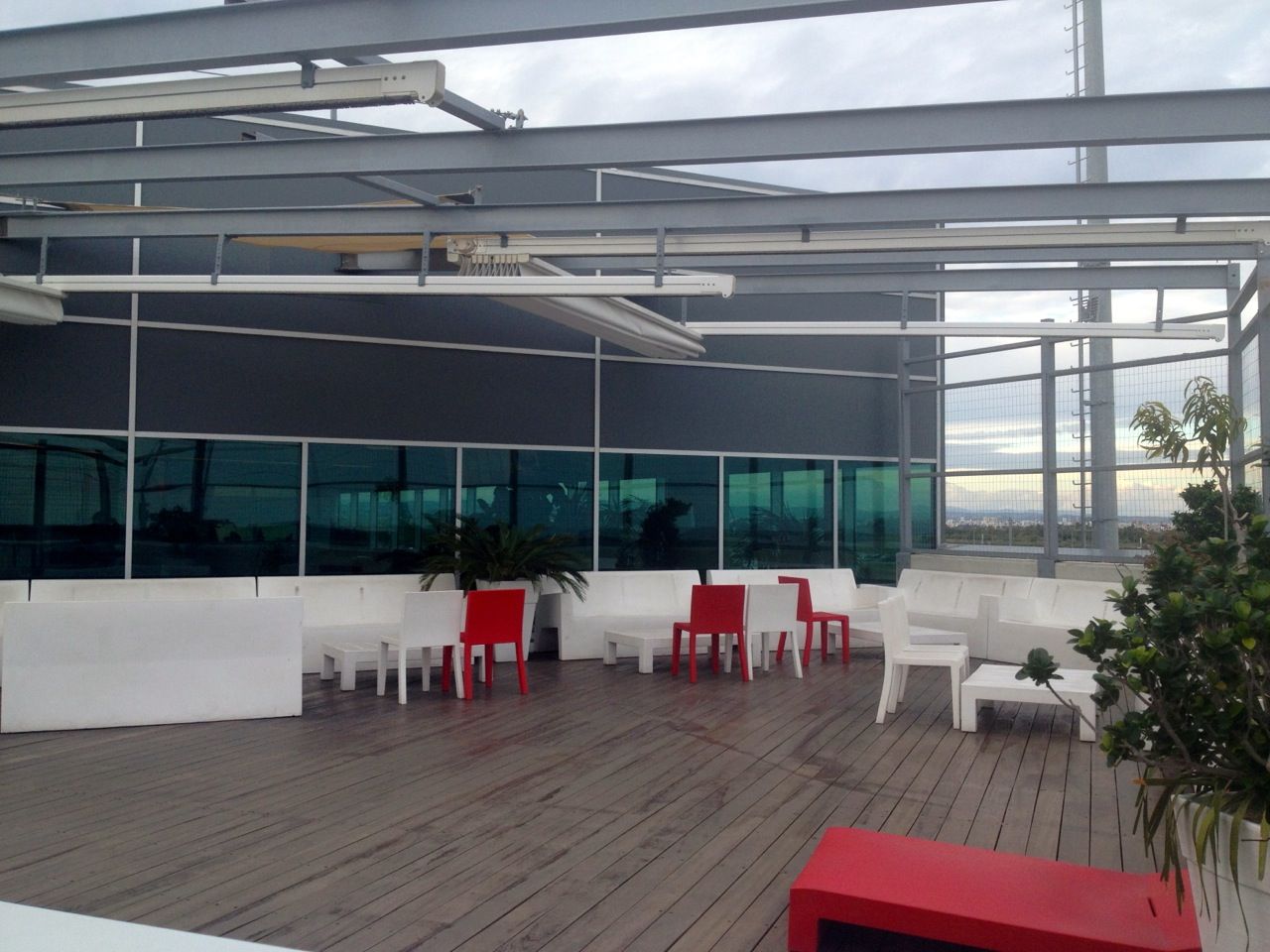 Pretty noisy little jet
Look what just flew overhead…
And then touchdown.
Then once inside, I grabbed a coffee and surfed the net. Then upon glancing up at the fid, I got a bit of a shock.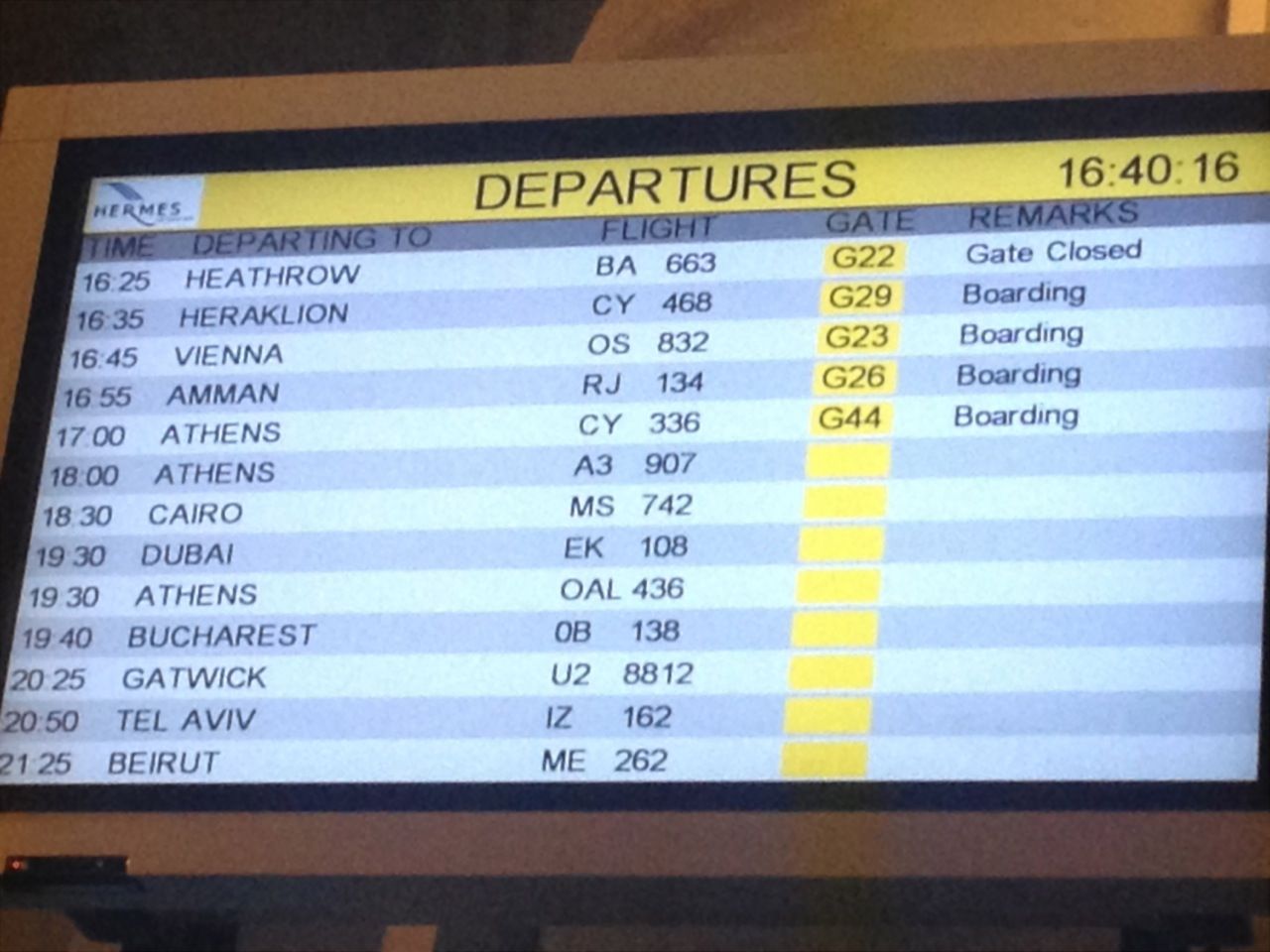 Luckily this was a false alarm, as a few moments later a porter arrived to take another passenger down to the gate. I asked him what was going on and he said I had plenty of time – I didn't take any chances though I made my way down.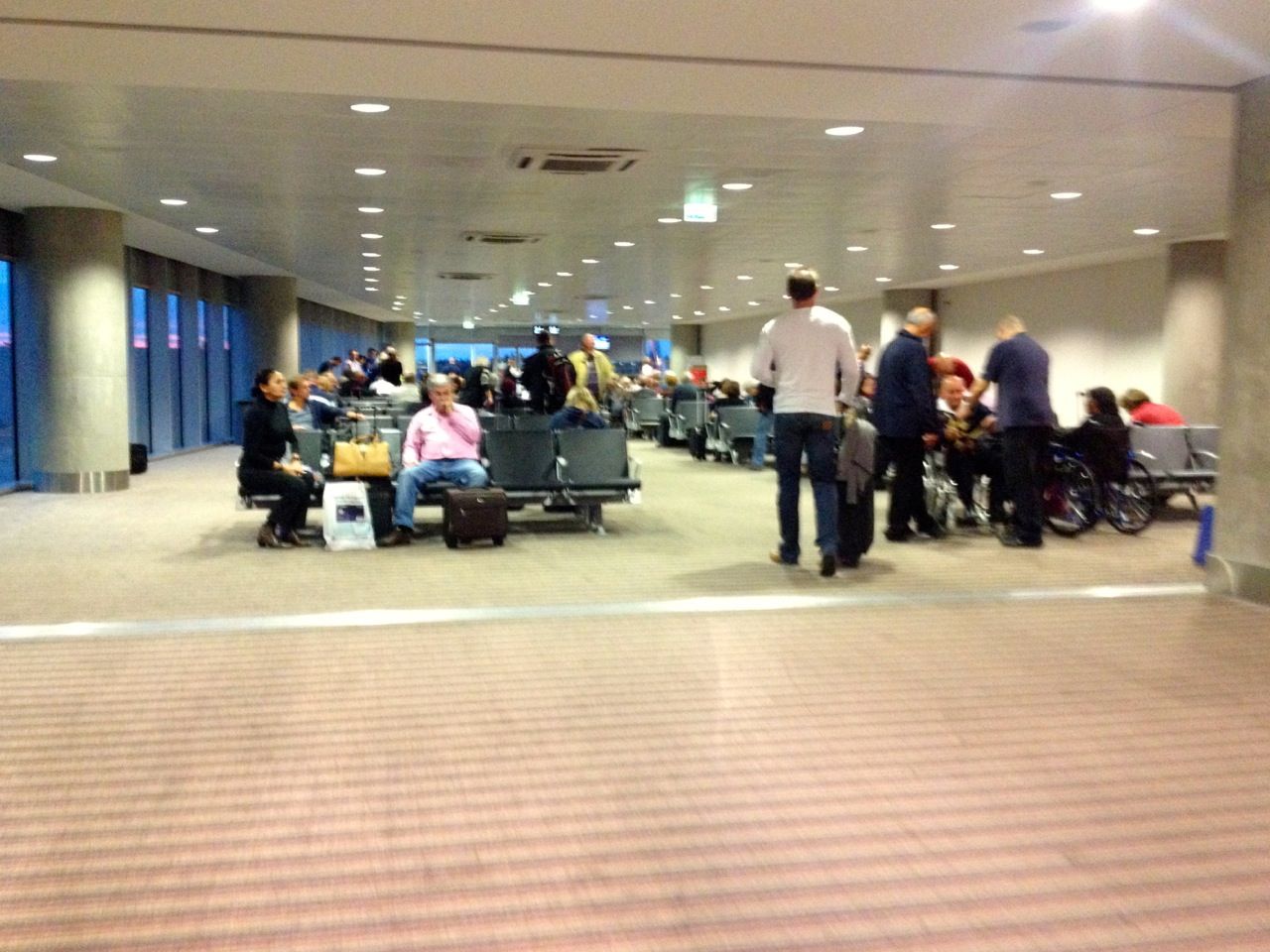 Boarding was announced at 17:00 and as usual it was chaos. Myself and another older guy who had been at check in and the lounge with me stood near the front of the queue. He told me to make sure I got on before that lot – yeah-fat chance I replied! By this time another few people from the lounge had appeared and formed a bit of a blockade! Although that still didn't stop many people from shoving their way through, claiming they were entitled to preboarding due to medical conditions. They looked fine to me though.
This was one of the very few times I was heading down a jet bridge and had almost no idea what to expect when I got to the other end.


BA663
LCA-LHR
9th December 2012
767-36NER / G-POWD
Seat: 4G / Economy
Scheduled: 16:25/19:40
Off: 17:45
On: 20:44
Once onboard, the cabin seemed pretty modern and clean although a little cramped. Basically your typical charter jet. The width of the seat wasn't brilliant, but as I had no seatmate this wasn't a problem as I could put the armrest up – after departure of course! And the legroom was quite poor – I'm not the tallest person by a long shot, yet when I put the seat into recline my knees were touching the seat in front. Wouldn't want to go trans Atlantic on this one.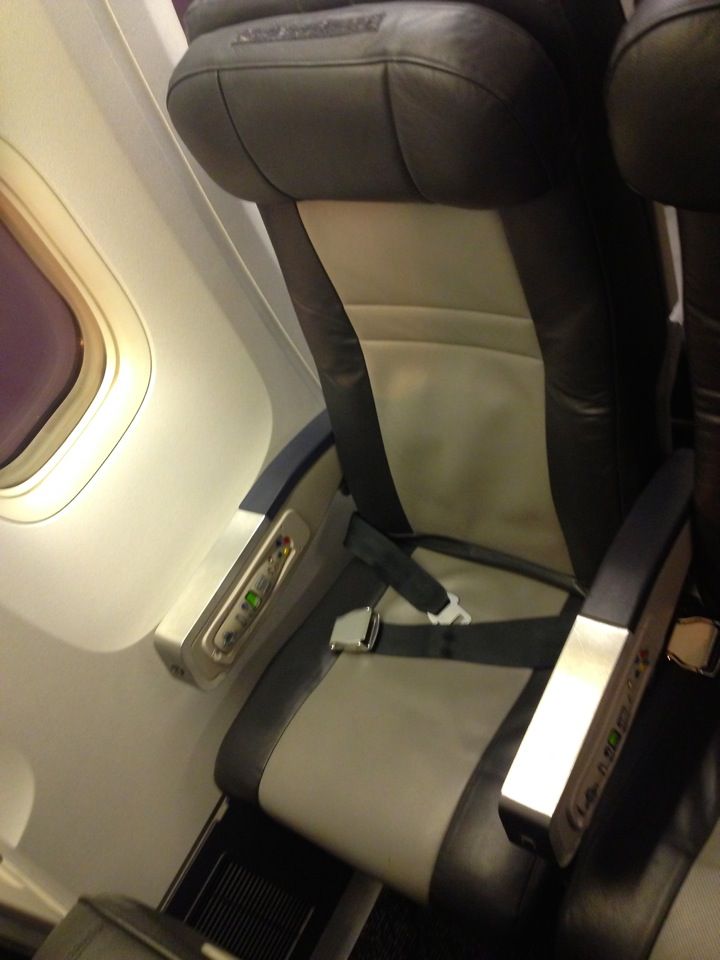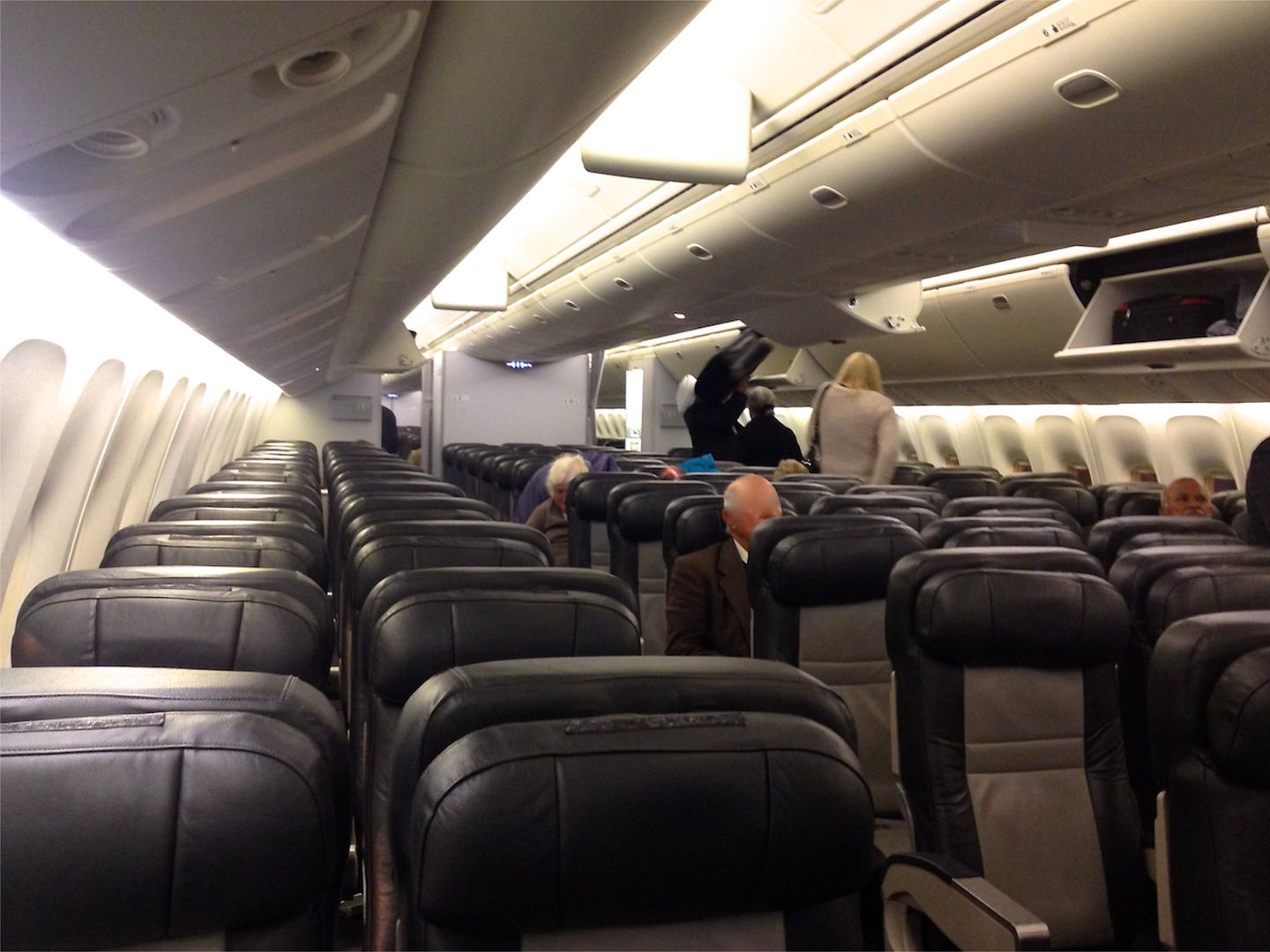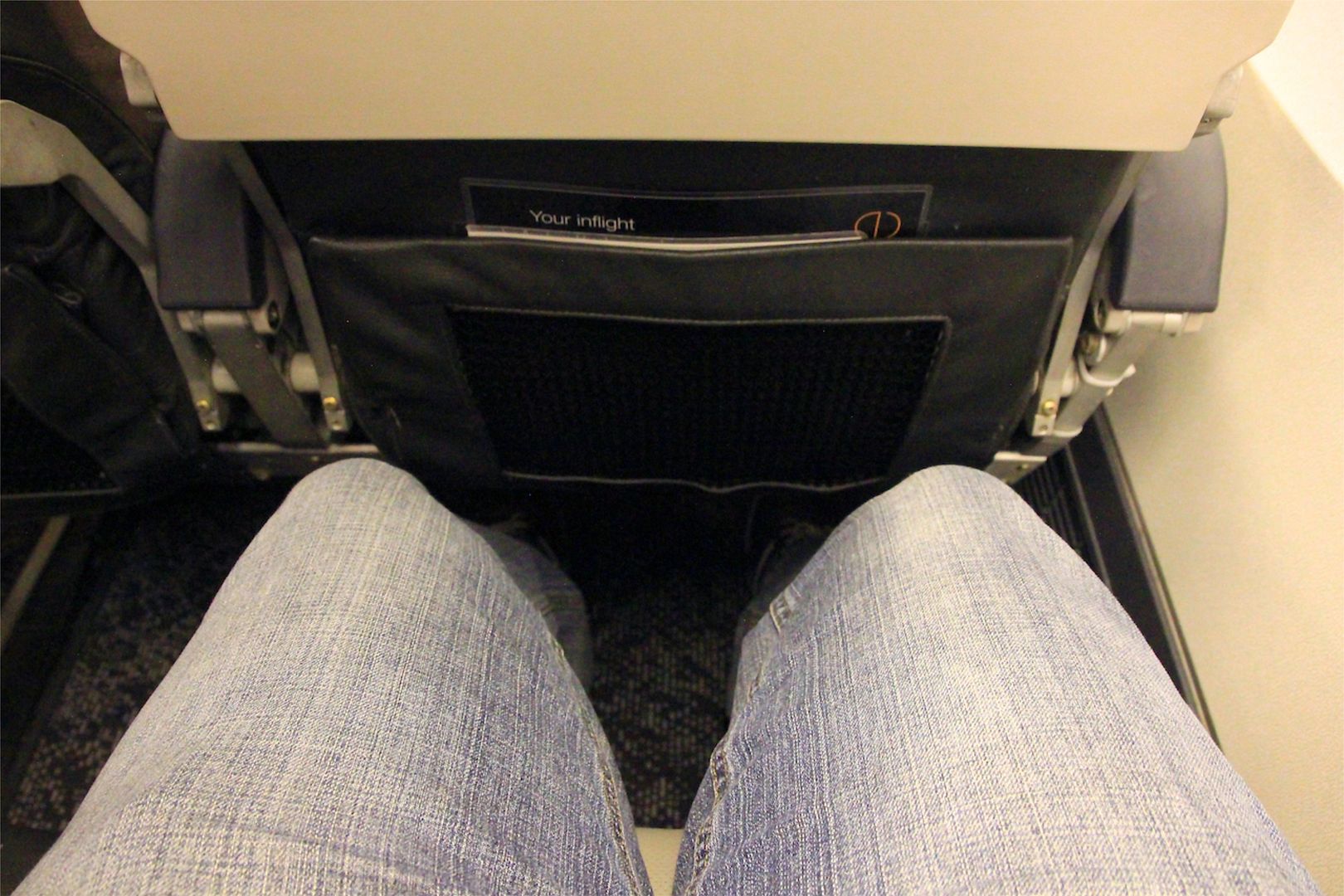 Standard legroom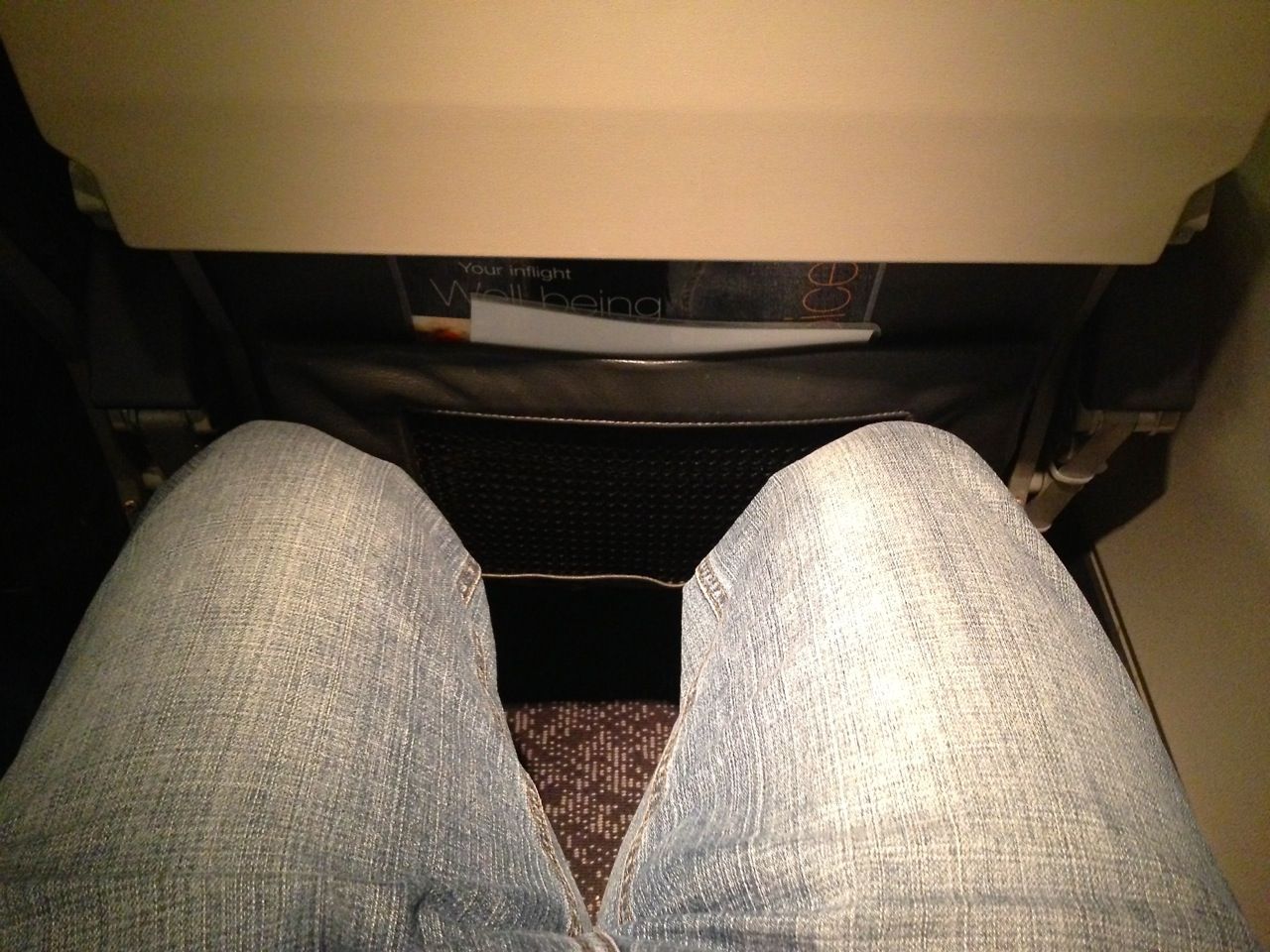 Reclined legroom (later in the flight)
One major advantage of this jet over the BA machine though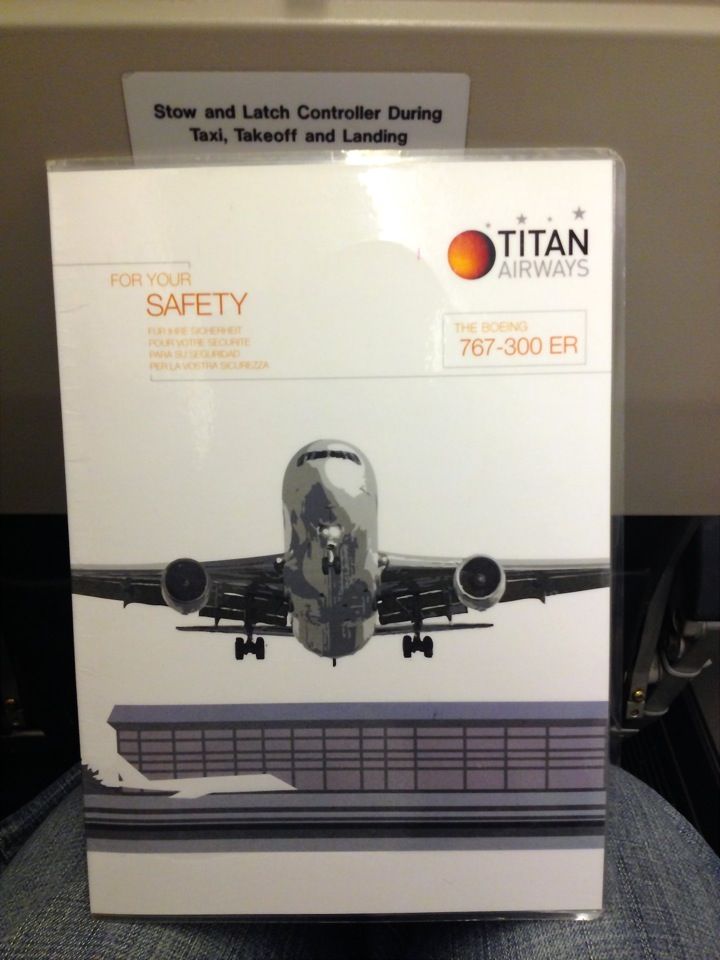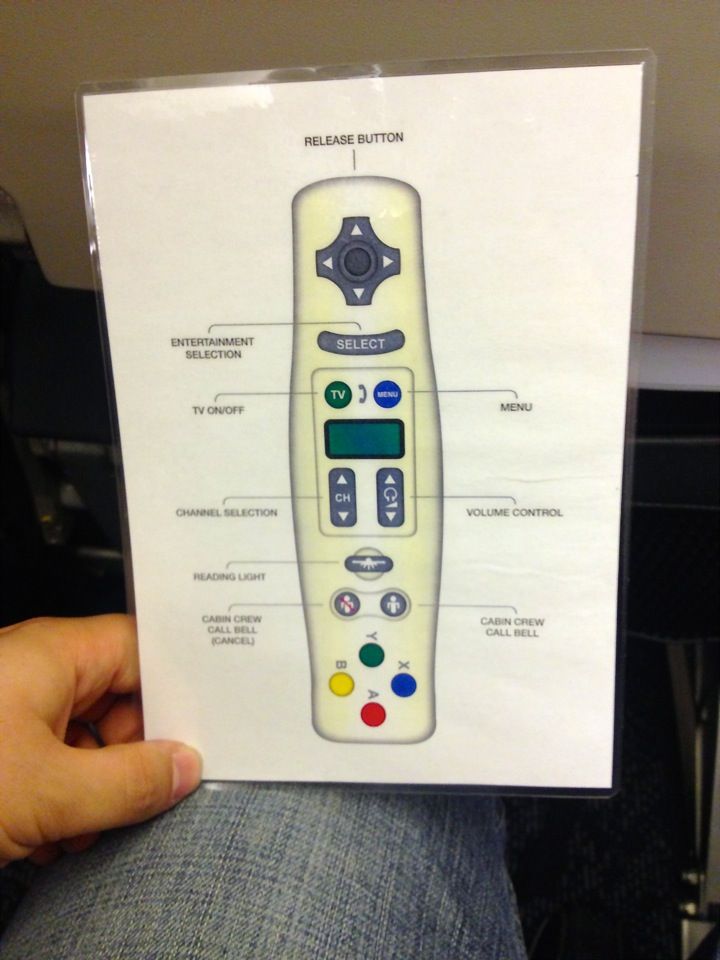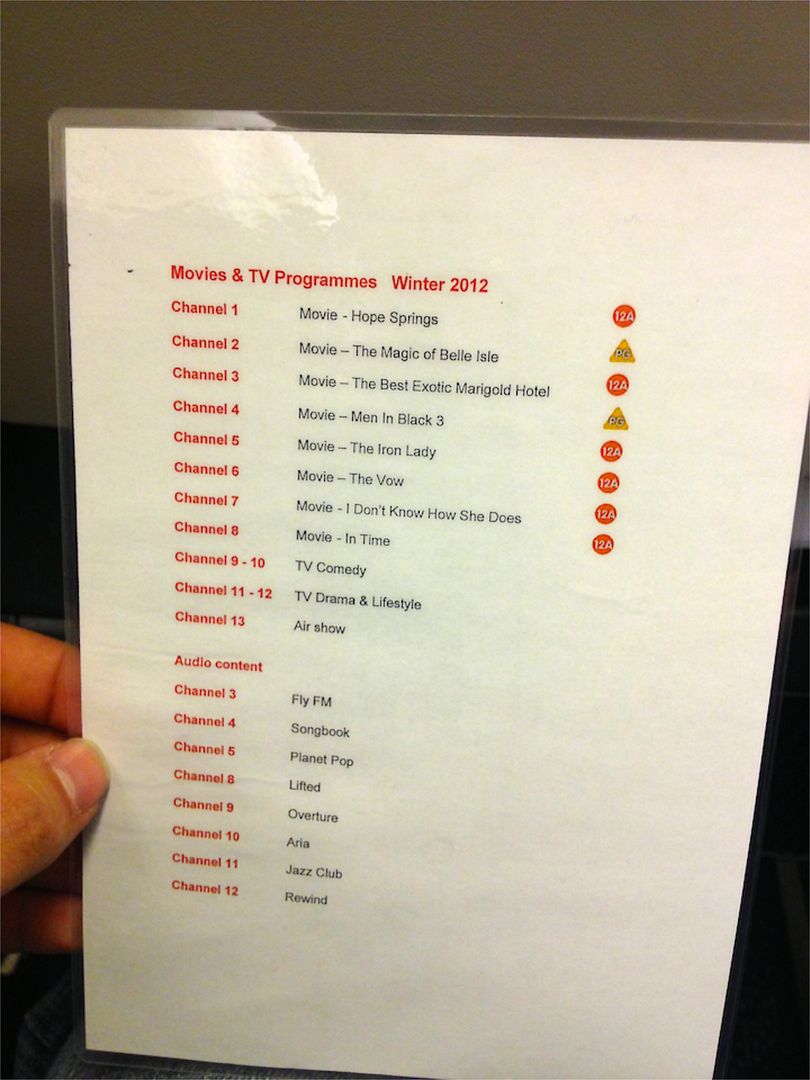 At 17:25 the captain introduced himself and Titan airways, giving a brief history of the airline and saying that our flight time will 4 hours and 50 minutes and that due to a headwind the first hour and a half of the flight would be a bit on the bumpy side. He also mentioned a further delay due to missing our slot so we now wouldn't be leaving until 52 minutes past the hour. A couple of minutes later he was back on saying that he had forgotten to mention a slightly different startup procedure – due to the APU not working one engine would have to be started on the stand. That would explain why it was uncomfortably hot onboard.
I noticed quite a few BA crew on board – I'm assuming they were due to operate the original planned aircraft back to LHR tonight.
[youtube https://www.youtube.com/watch?v=qnCrc63UWCQ]
Pushback came at 17:45 and we made our way out to the runway, departing at 17:55. Unfortunately there wasn't much to be seen due to the darkness and the low cloud cover. Shortly after takeoff the IFE was switched on. Although due to BA not providing Titan with any headsets only those with their own could use it. I chose the skymap.


The drinks service then began.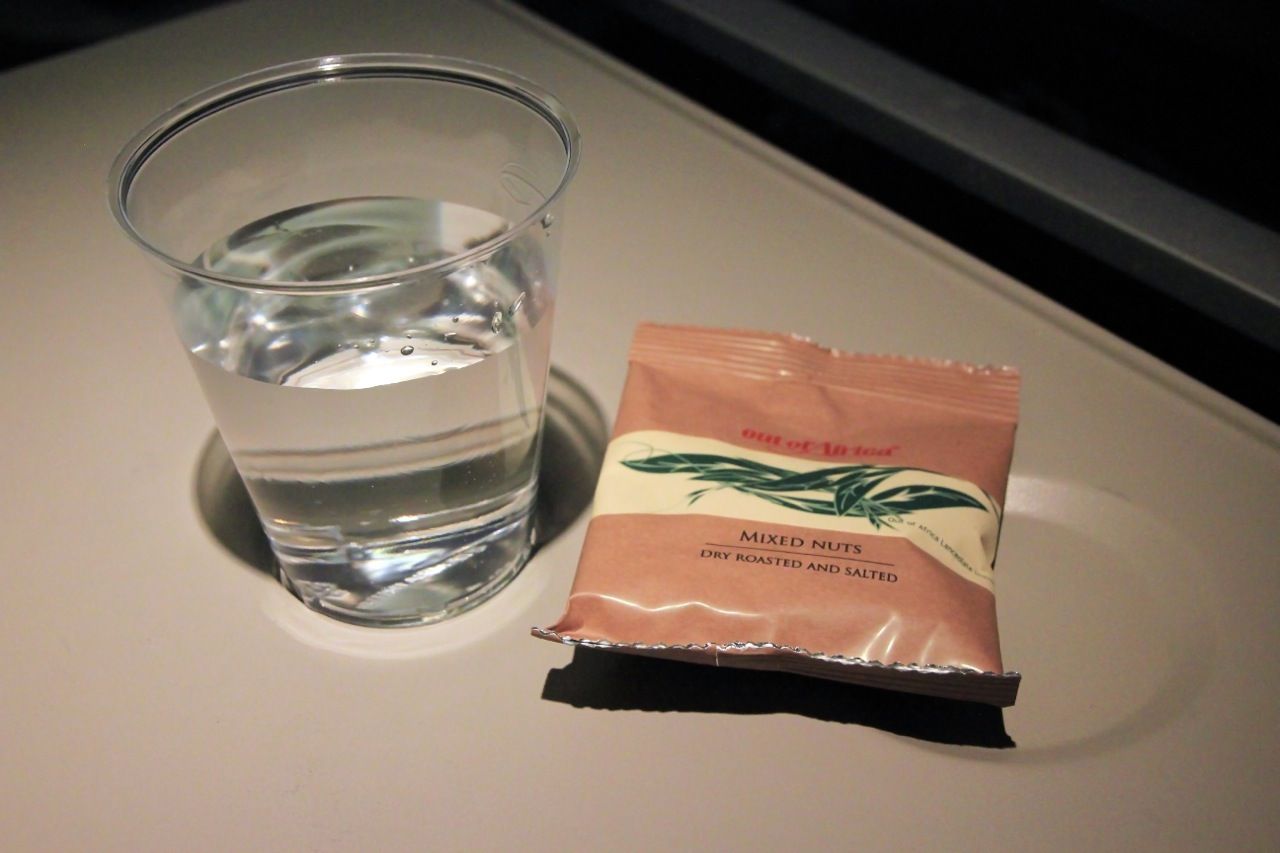 About the only thing BA related so far were the nuts.
The only other source of entertainment at this point was watching a thunderstorm over Greece.
Then it was the meal service – to be honest this was a little disappointing. Even in Economy I'd have expected a little more on a nearly 5-hour sector. So much for getting the full Club Europe service onboard.

A duck wrap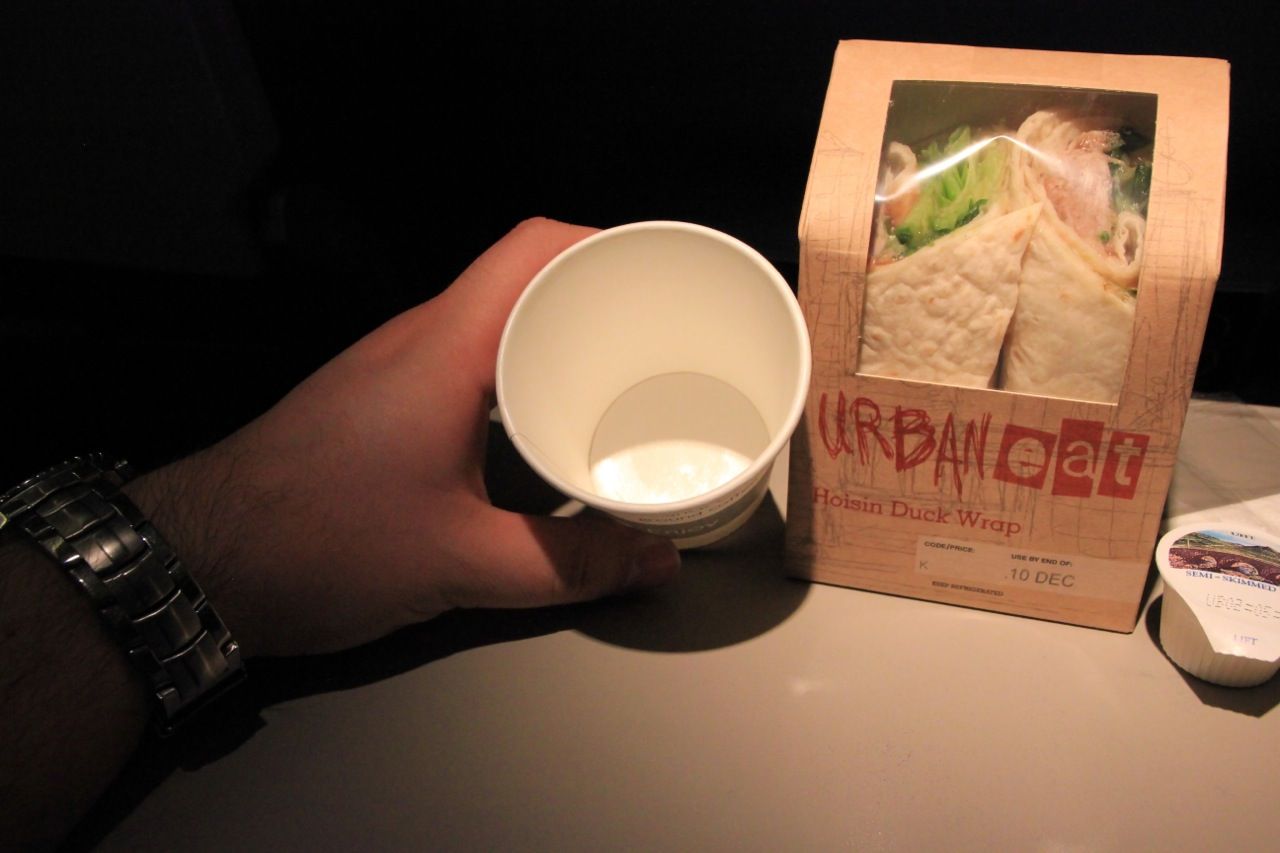 And a cup of…well nothing.
Luckily I still had some crisps that I'd borrowed from the lounge in LHR – so I didn't starve.
Around halfway through the flight, I decided to go for a walk down the back. Only for the seatbelt sign to be switched in the moment I reach the rear galley – typical! The load seemed around 50%.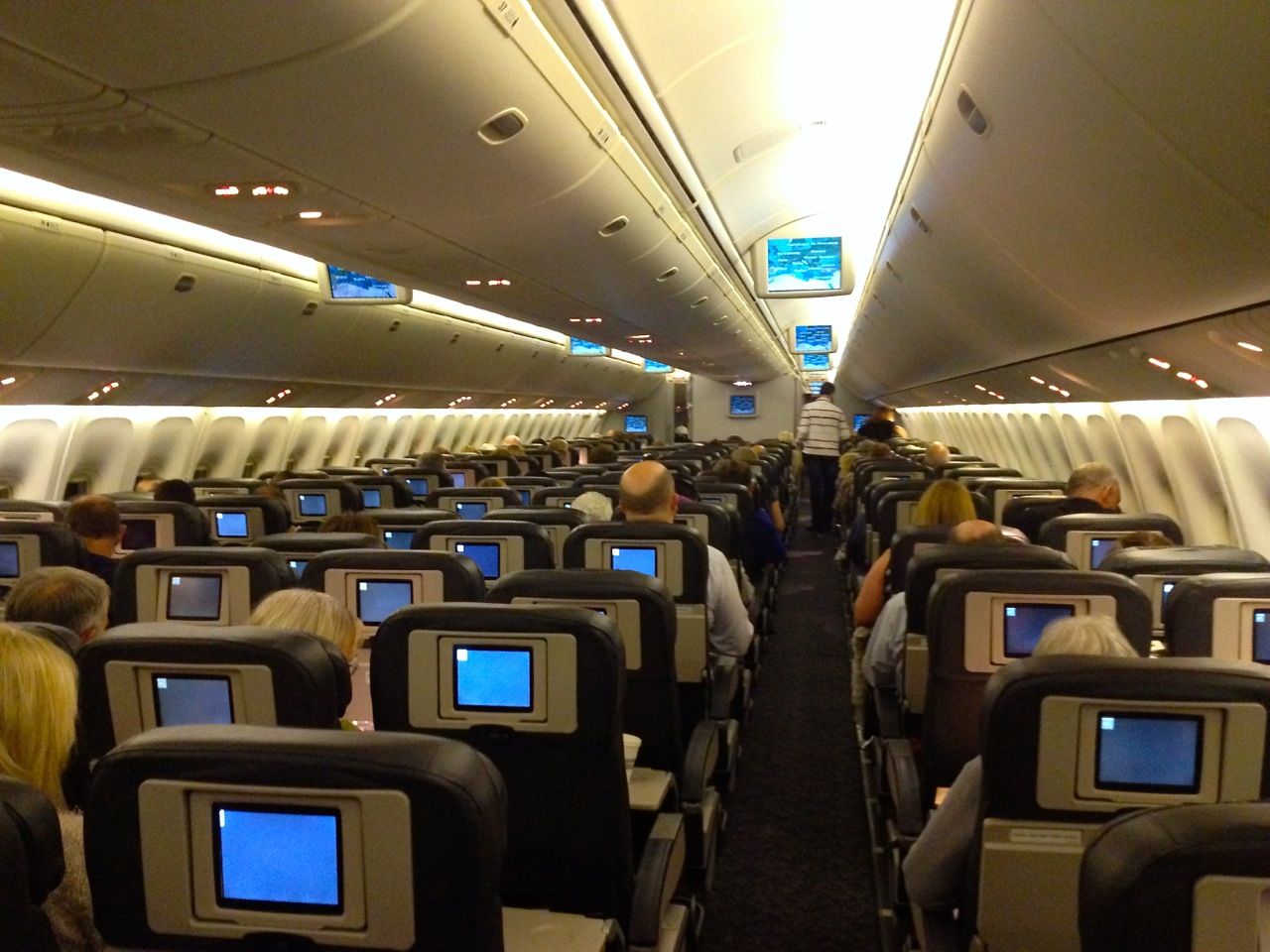 Taken on my way back to my seat.
As I returned to my seat, we passed Zagreb.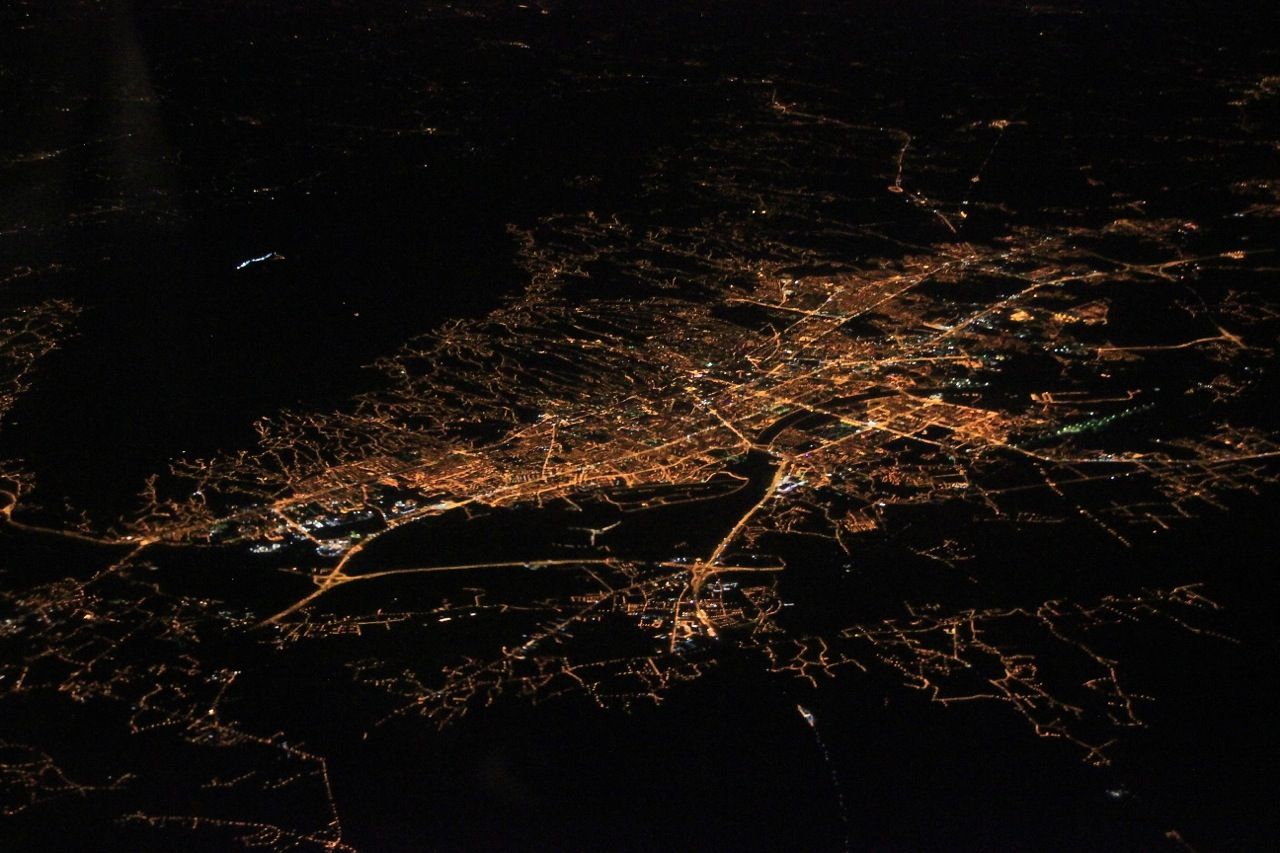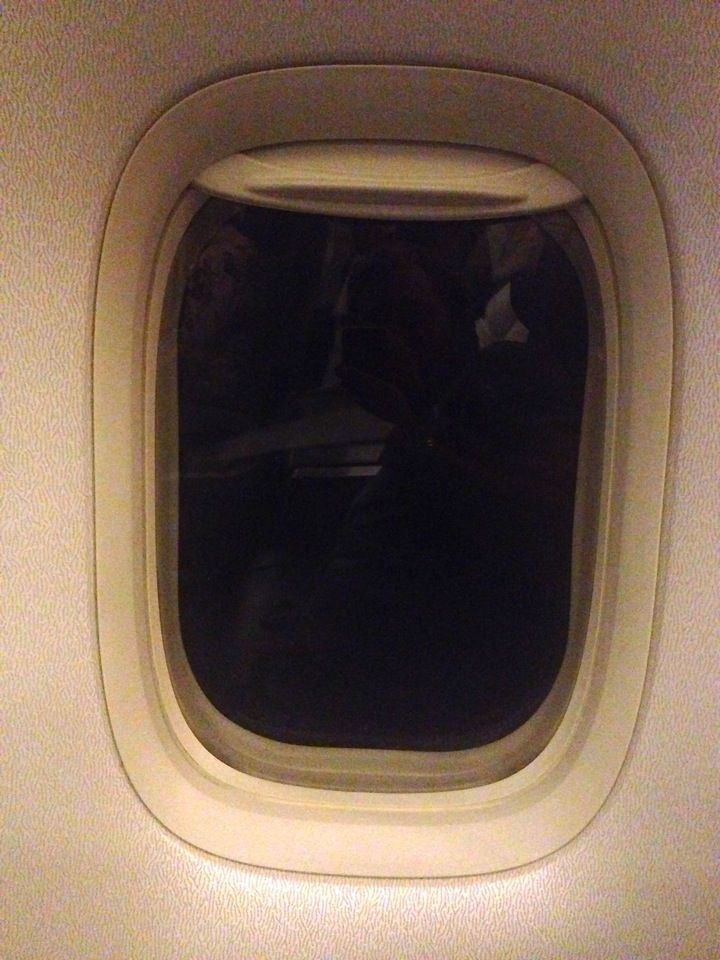 Interesting how this one has rounder windows than the BA example.
The seatbelt signs were then switched on again a few moments later – the captain made an announcement about the turbulence but as I was in the front galley talking Titan with one of the cabin crew I didn't really get to hear it, although I think the gist was that we were climbing above the bad weather. Annoying because we were having a good chat and I was finding the seat a bit uncomfortable by now.

Passing Brussels
At 20:05, after an uncomfortable few hours it was time to descend into London. Seemed as if we had left it a little late as the speedbrakes were deployed for much of the descent. We approached over London and as it was a clear night I had a pretty good view.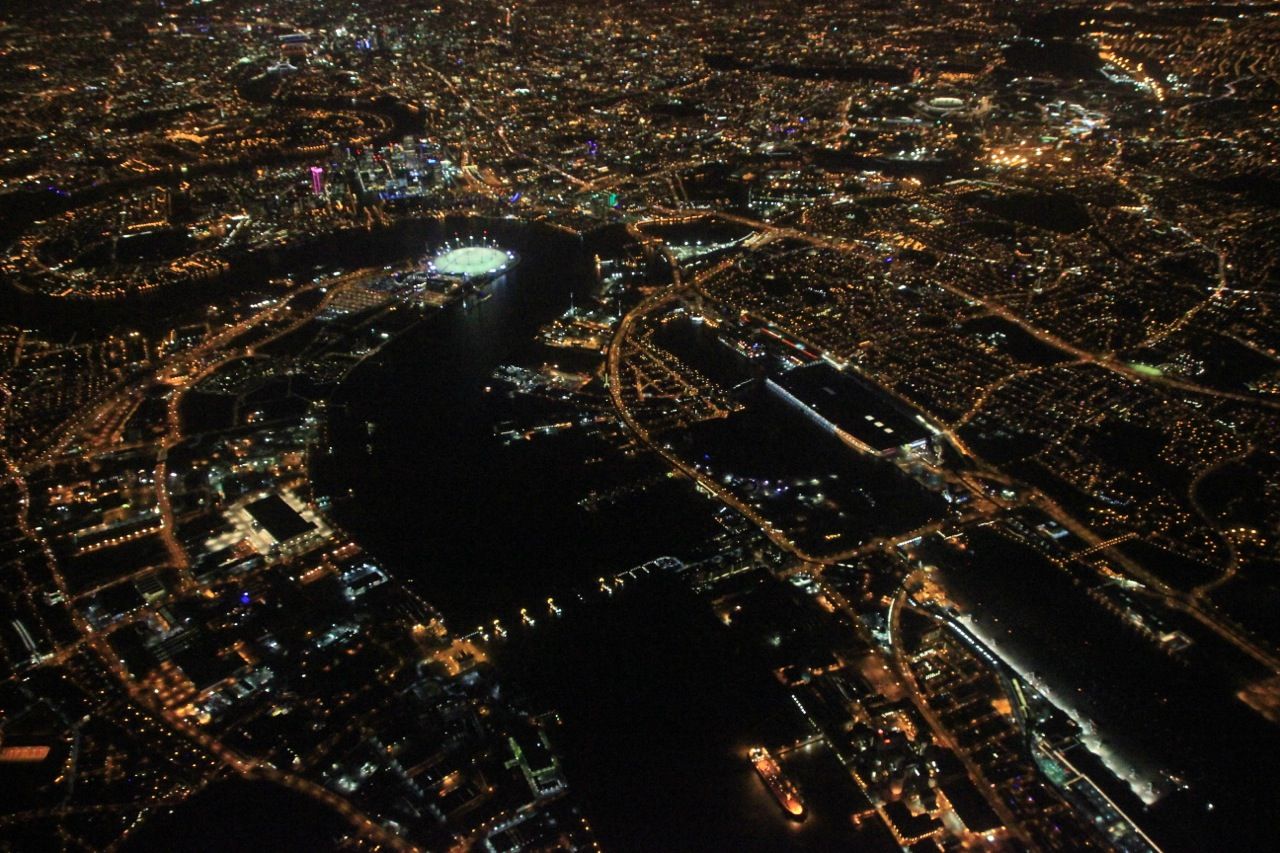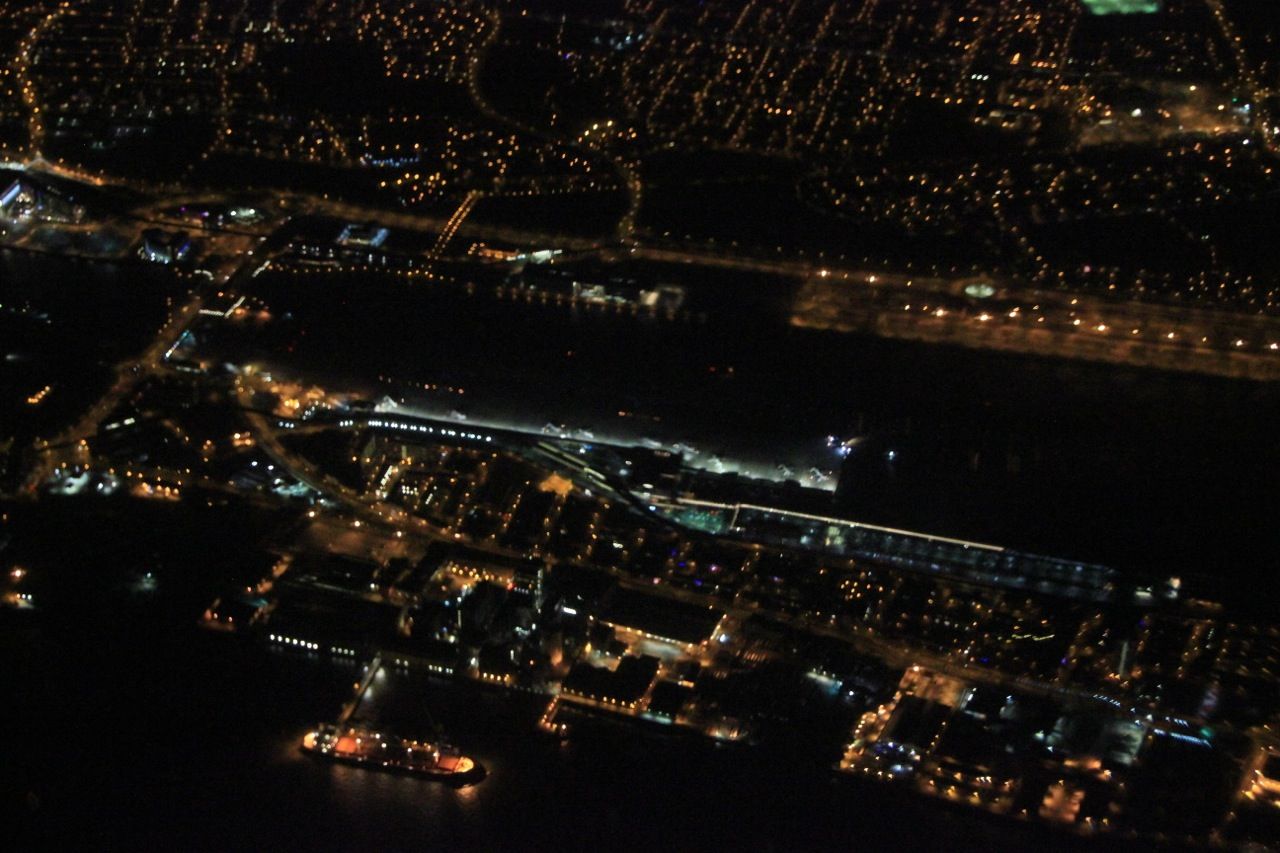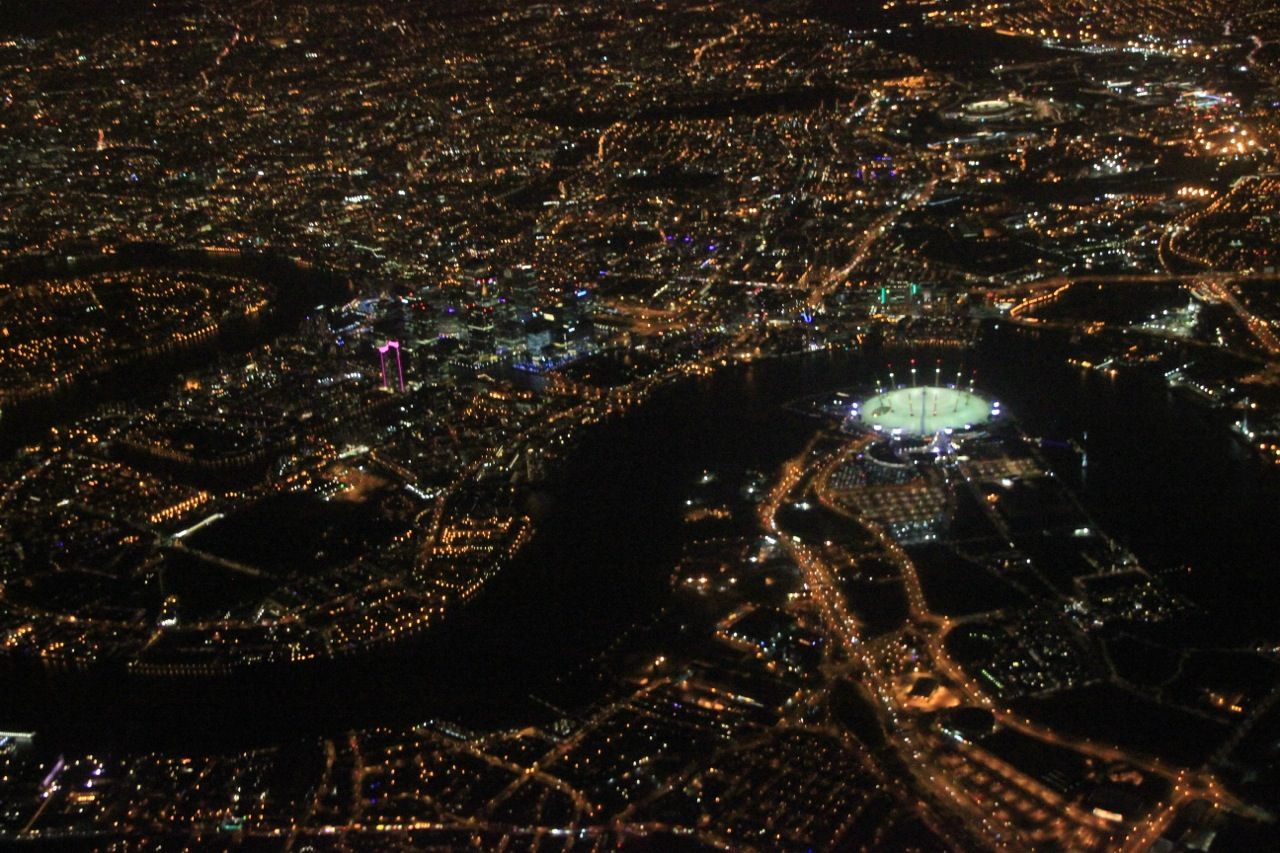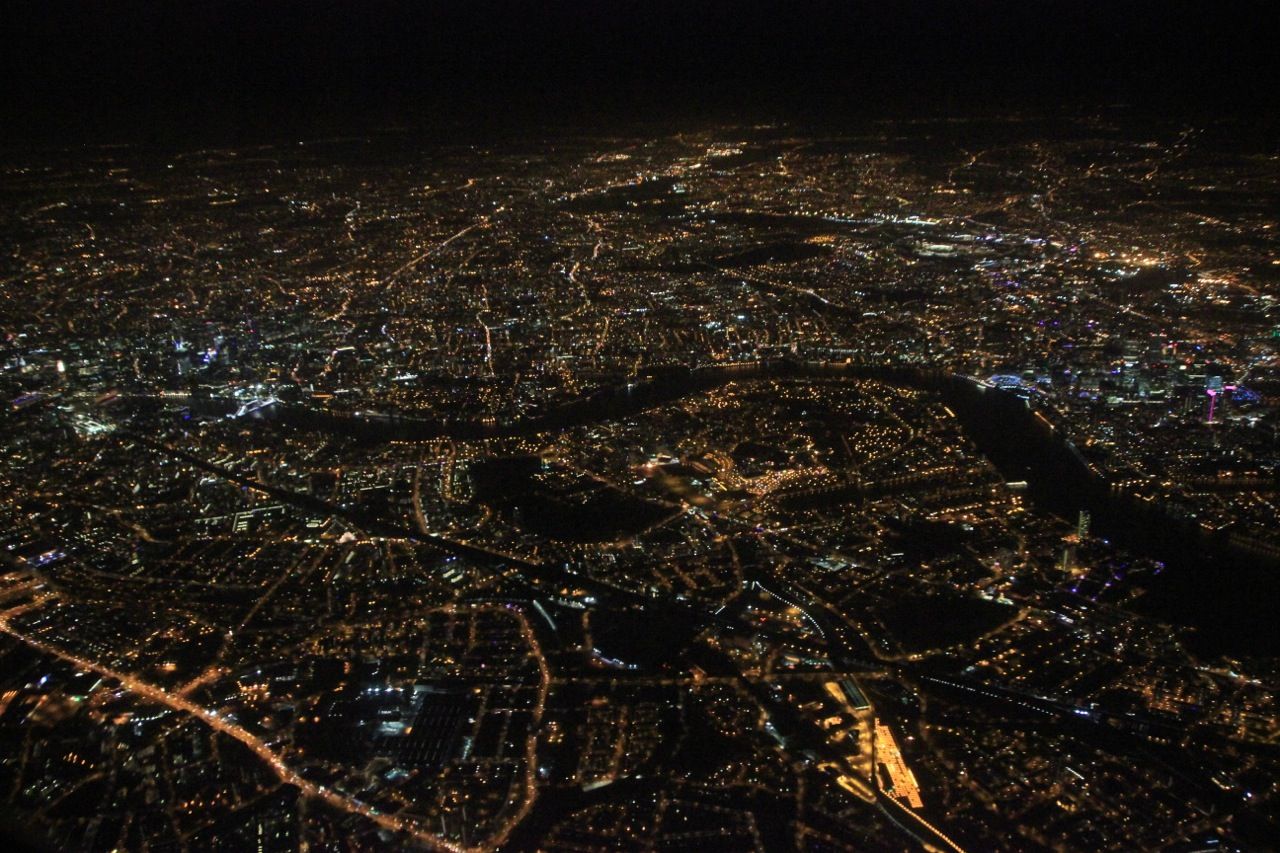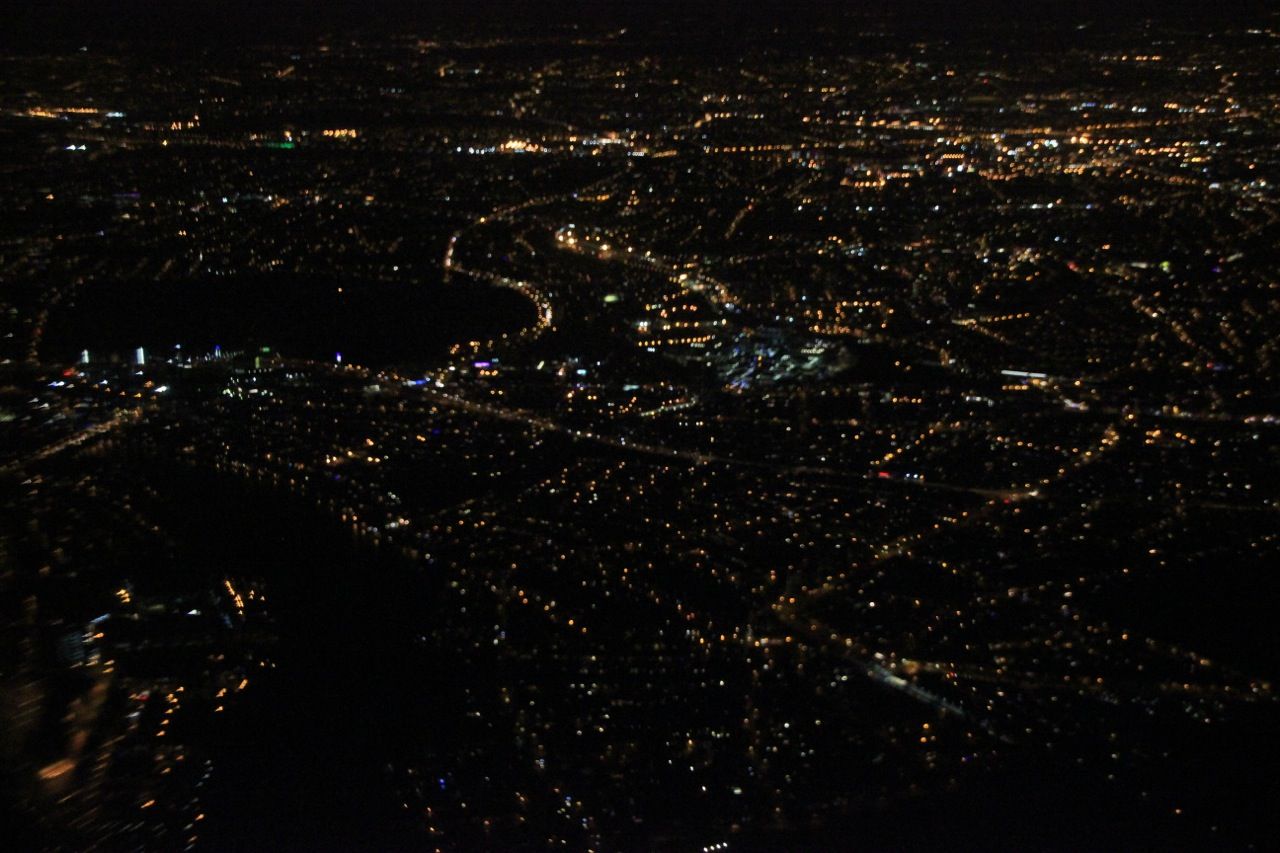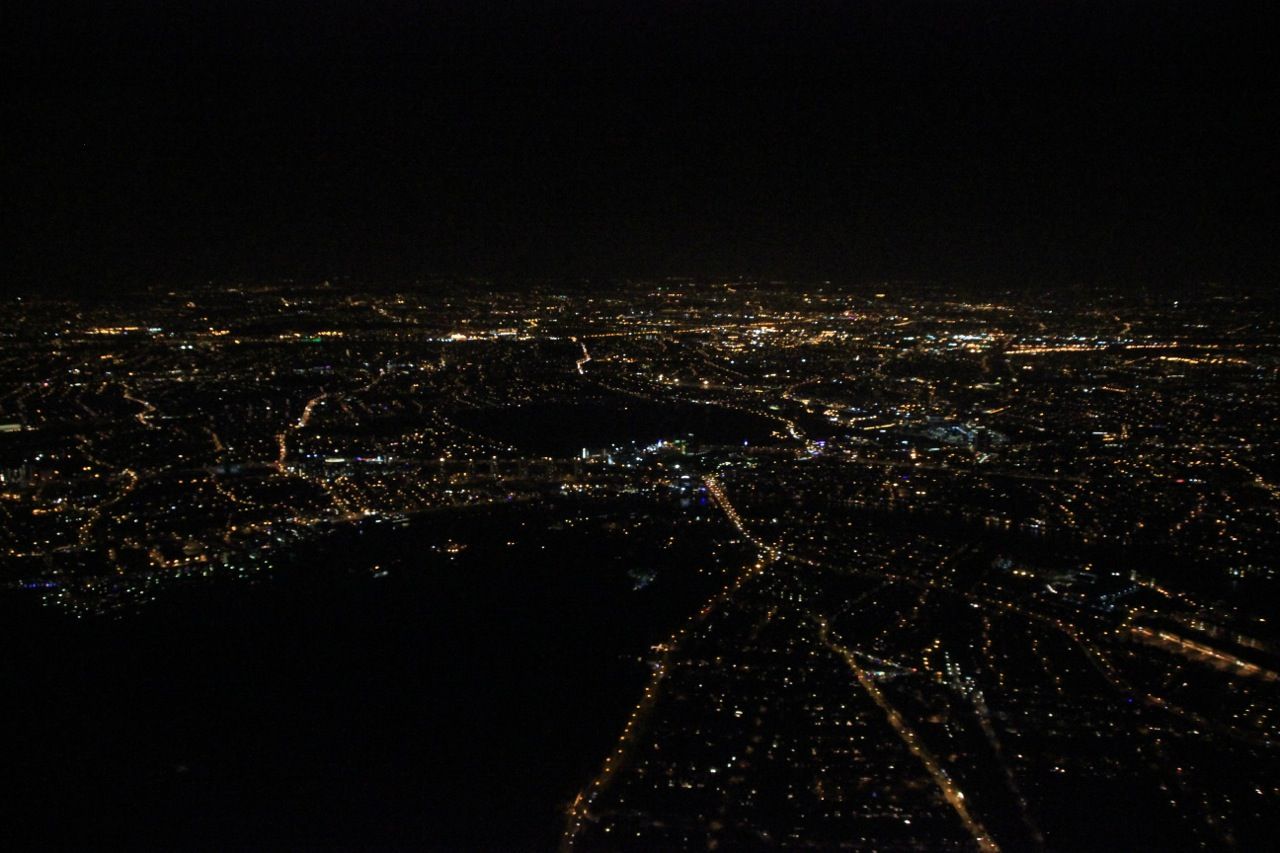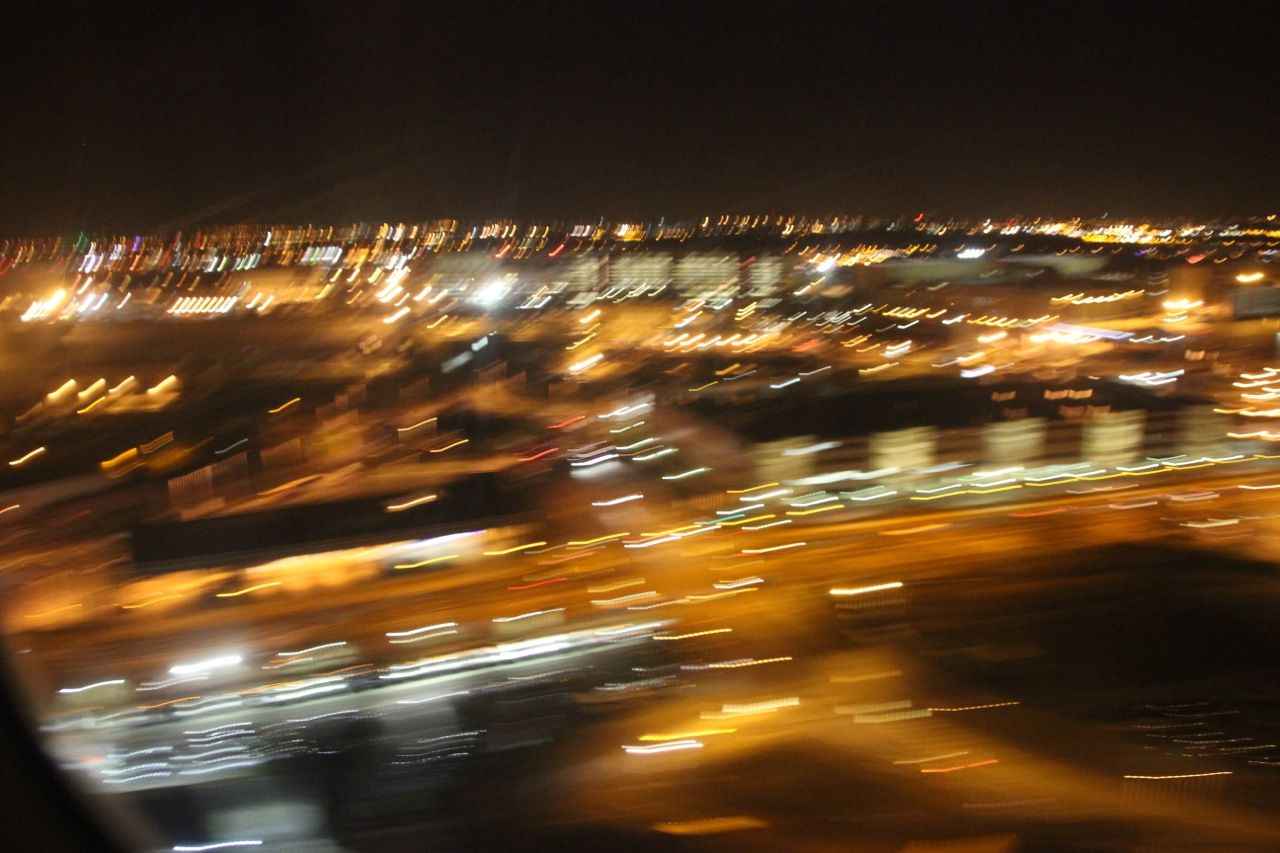 Unusually there was no holding this evening and we were straight in on runway 27L, touching down just after 20:35.
[youtube https://www.youtube.com/watch?v=38SPusoksz4]
Then it was a pretty speedy taxi over to T3, although at first we appeared to be heading for T5 – I wondered for a second if the flight deck had realized this flight was a T3 flight – or that we would even park at a remote T5 stand and be bussed to T3 so that the aircraft can be in the right place for its next mission. But we bypassed T5 and parked on one of the remote T3 stands.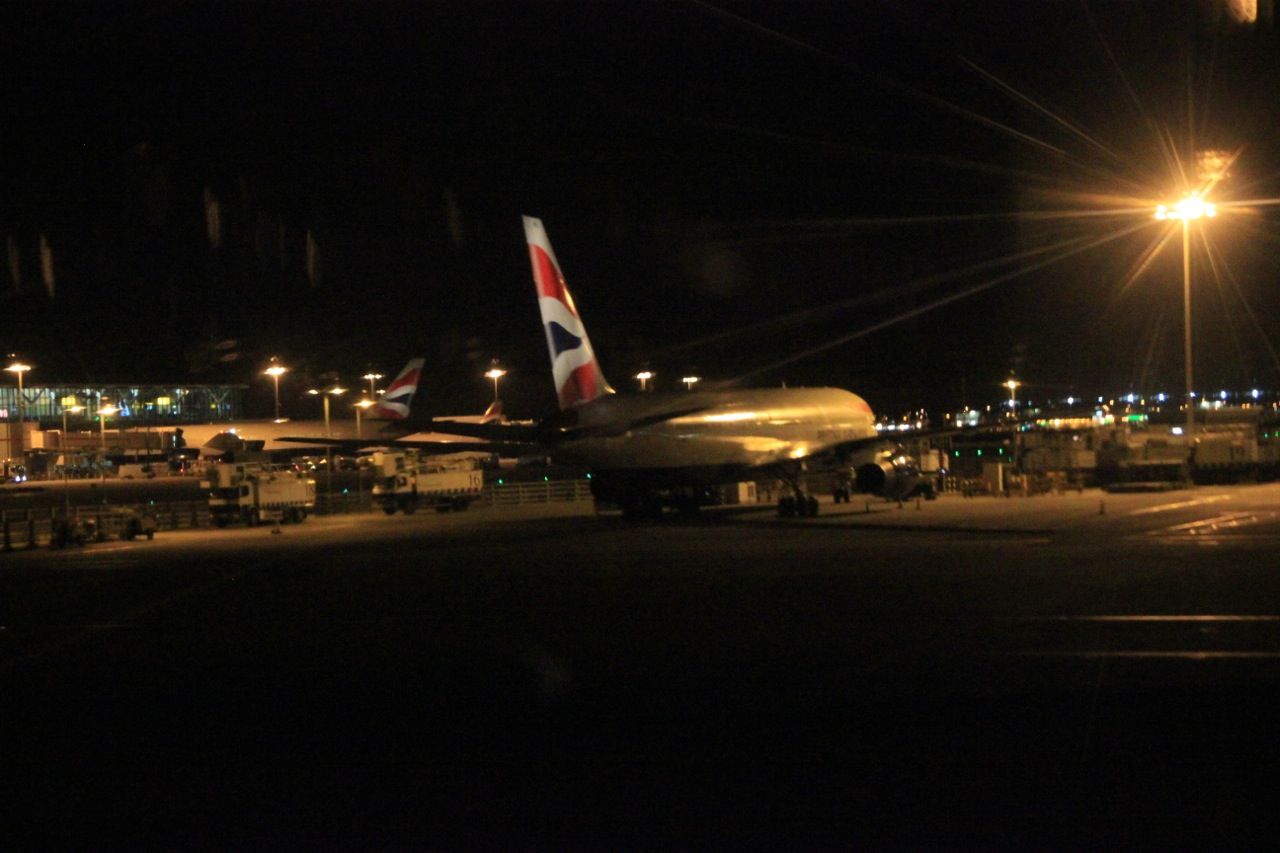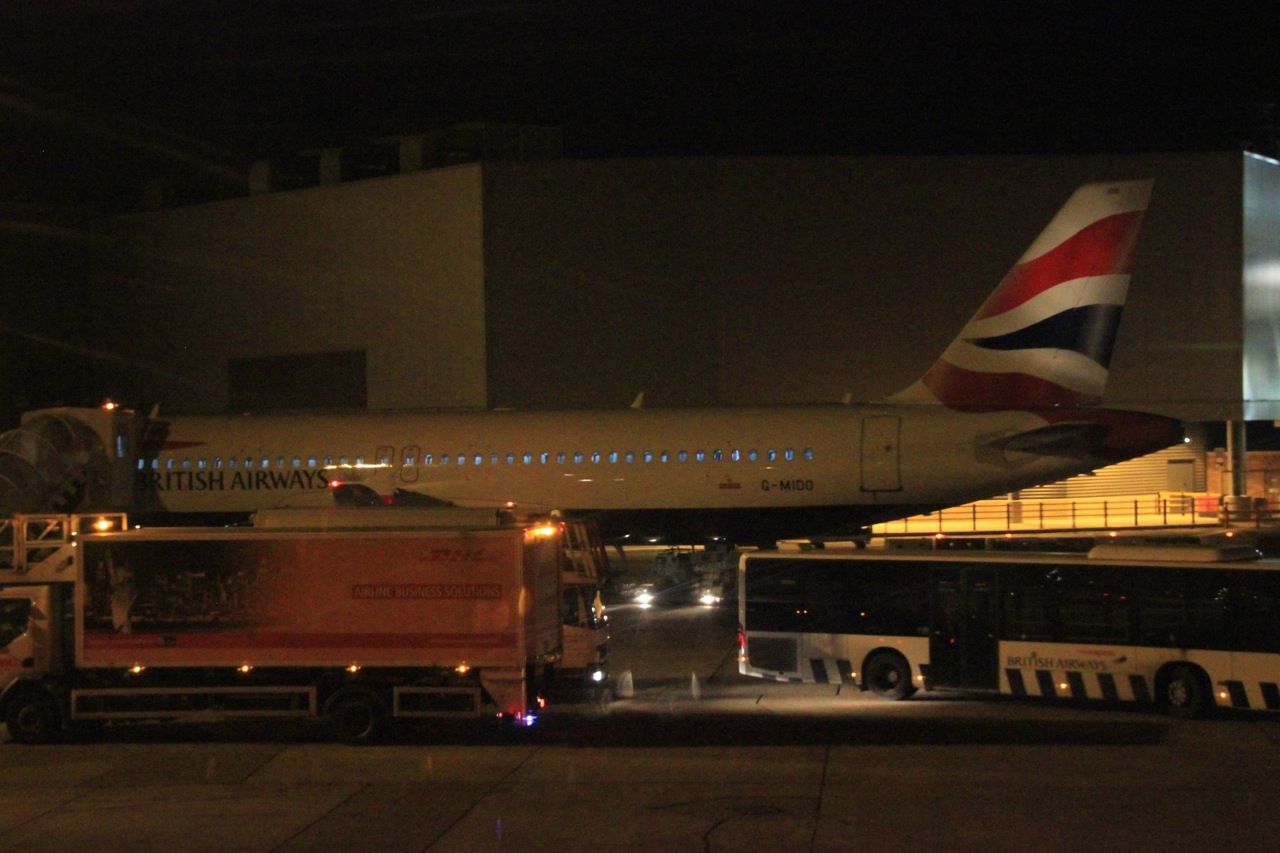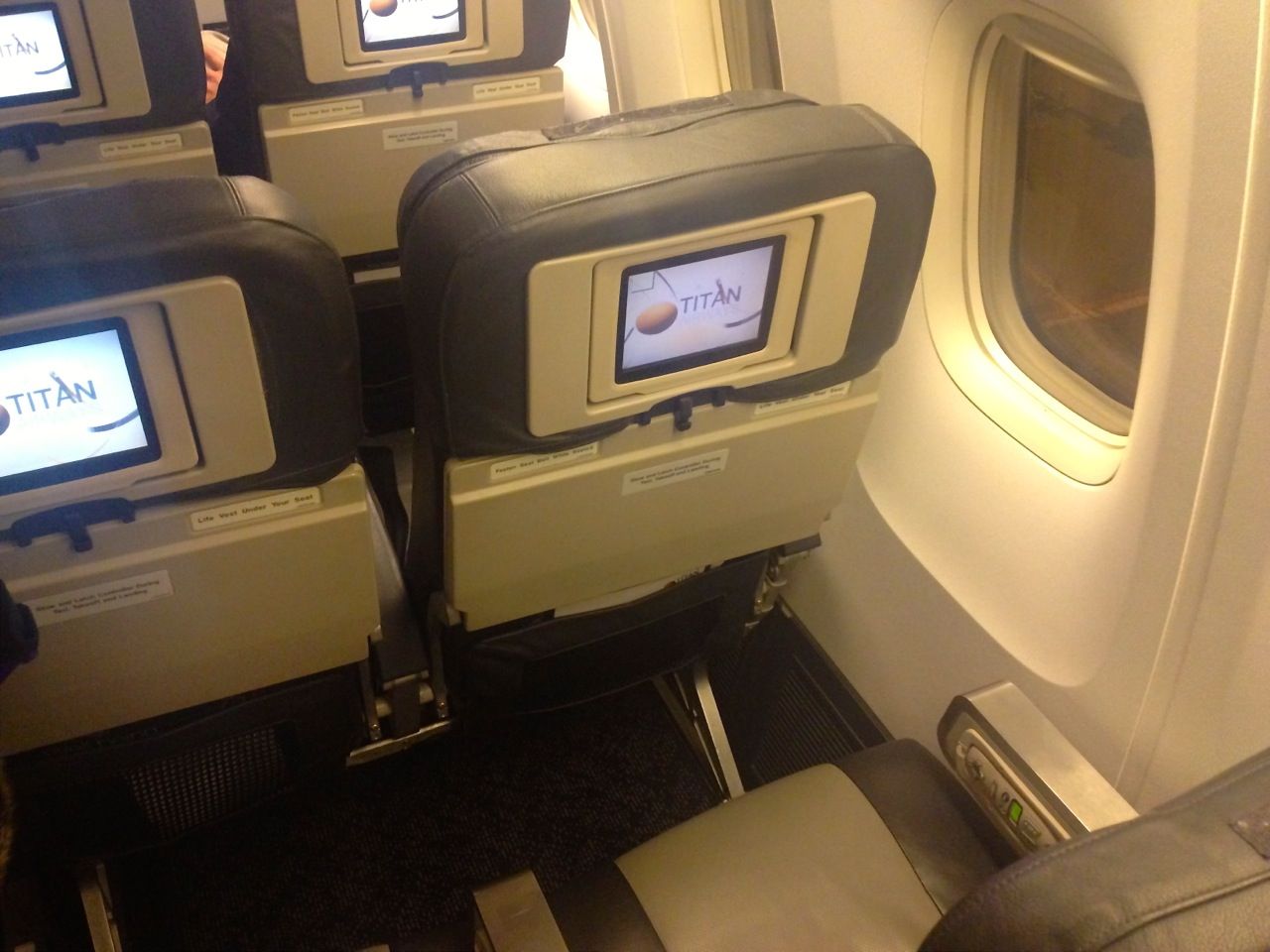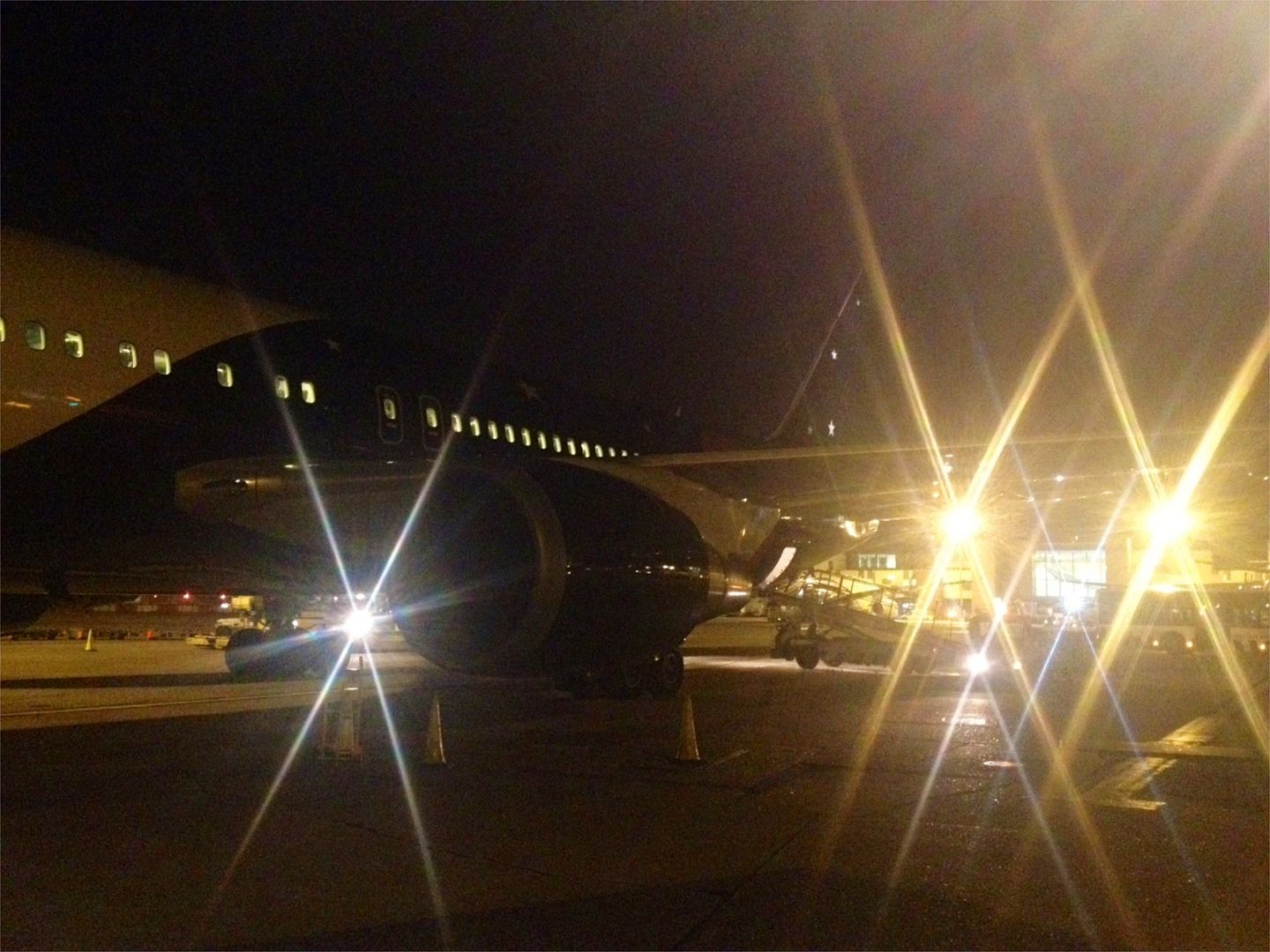 The second best livery out there – after Germanwings
After which it was on to a bus and through the corridors of a quiet Terminal 3.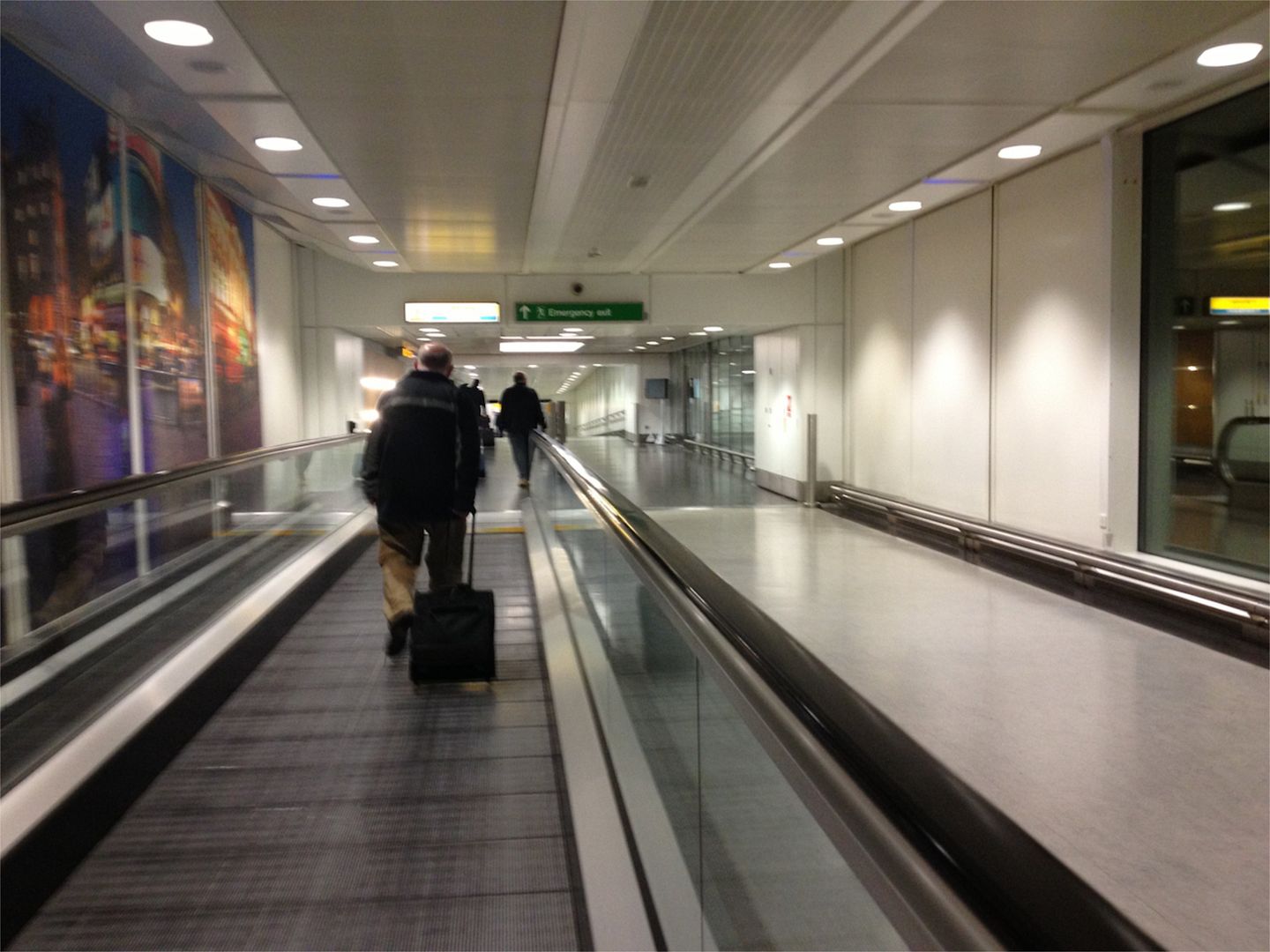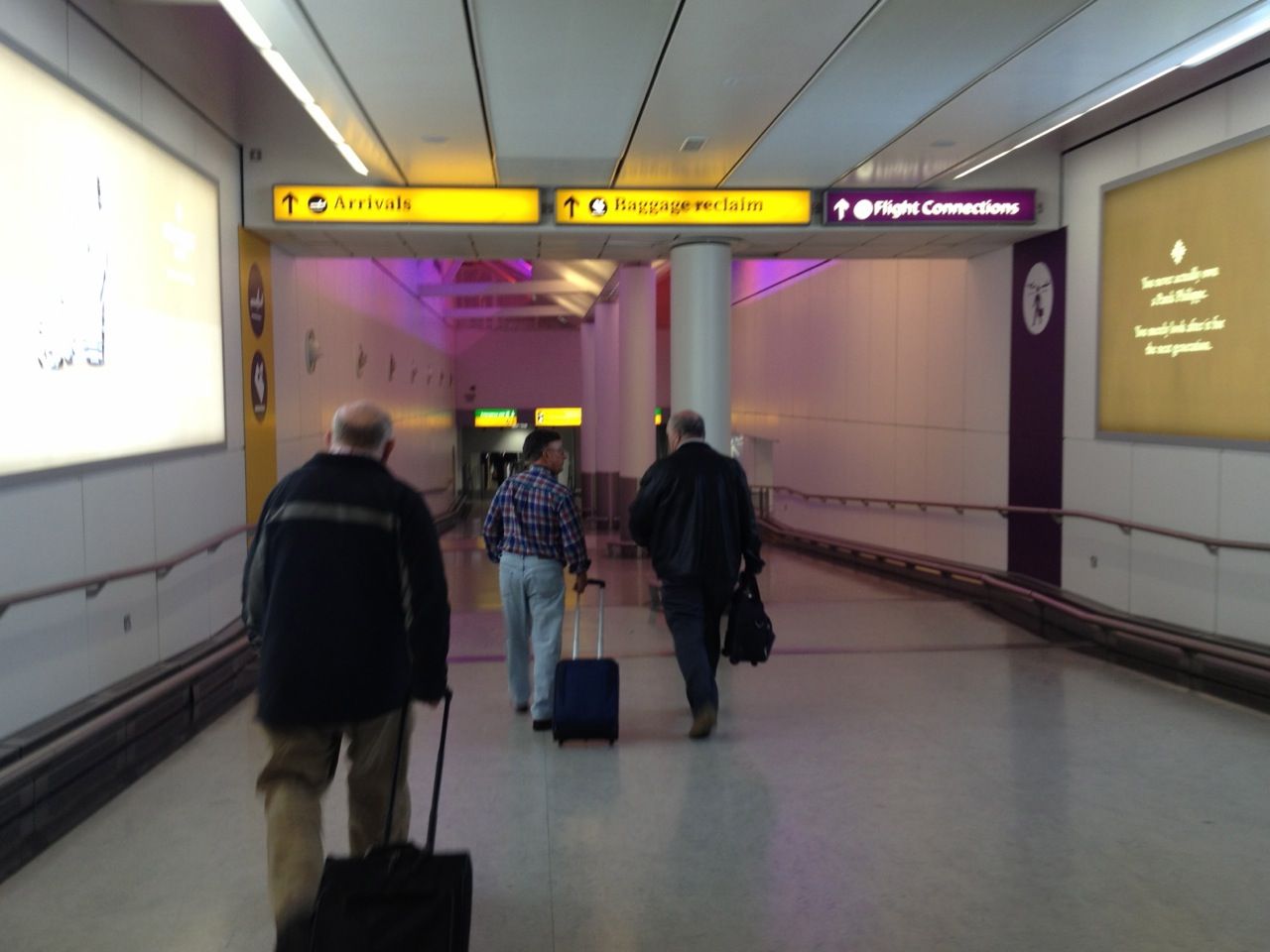 After being bussed to the terminal, I figured if I got a move on I might just be able to catch the 21:15 coach, so all thoughts then turned to making a speedy transition through immigration, T3 arrivals and the tunnel over to the Central bus station. And I made it with just a few moments to spare!


And so brings to an end my penultimate trip of 2012. Despite the trip on the rare bird home, I think I would still rather had flown BA club. I don't ever remember being so uncomfortable on a plane before. The plus side was that BA were very accommodating regarding the change of the aircraft. The €60 voucher was a decent gesture of goodwill although despite the letter stating I should visit ba.com to claim the refund I ended up having to phone them as the website only really related to either cancelled or delayed flights, of which mine was neither.