British Airways | B734/E190 | LGW-AGP-LCY | Club Europe/Euro Traveller

Maps generated by the Great Circle Mapper – copyright © Karl L. Swartz.
After reading reports from both Gabriel and Suryo on airliners.net almost a year ago, I decided that Malaga seemed to be a pretty good destination to visit during the UK's dark winter months – Sunlight, Beaches and an interesting city. I had originally wanted to go around March of this year, but the prices ended up being higher than my other planned trip at the time, so I headed off to Frankfurt instead. I still wanted to visit the Spanish city though, so I monitored the prices over the following months. Then one rainy Saturday in June, I was messing about with flight dates, prices etc. on ba.com and saw that if I went midweek in November the prices came down to a more reasonable £106.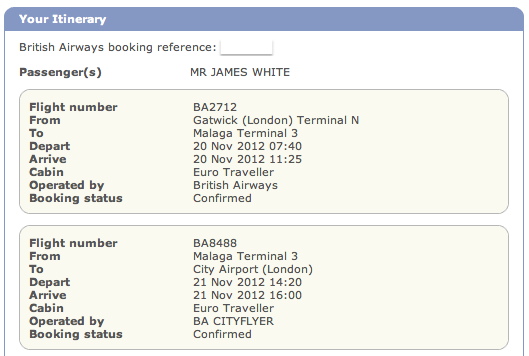 It said on the site that there were only 5 seats left at the price for the outbound sector so without much delay I booked. I was quite happy with this, as it was the cheapest I'd managed to get a flight for! The only downside was that the flight would depart LGW at 07:40, so unless I wanted to catch a train from my local station at 04:00 I'd be staying the night at LGW.


Not a major problem as I'd managed to get such a good deal on the flights and a reasonable deal on the Barceló Malaga hotel at the station.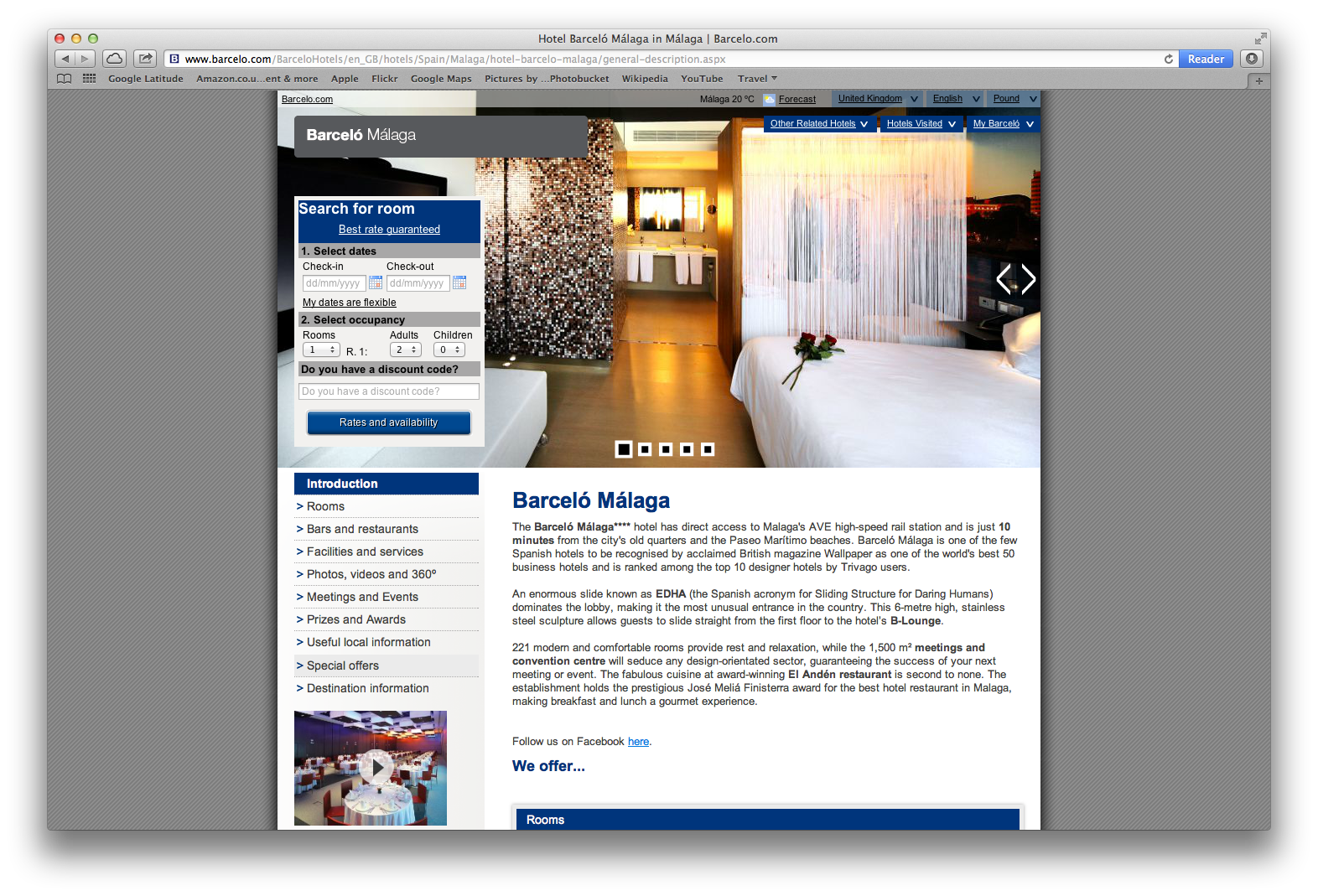 A couple of days after I returned from my trip to Madrid, I was feeling impressed with what I had experienced on the ground, and disappointed with what I had missed out on in the air. As BA had one of their standard Club Europe special offers on, I decided to upgrade.


Check in was done via the BA mobile app 24 hours before departure: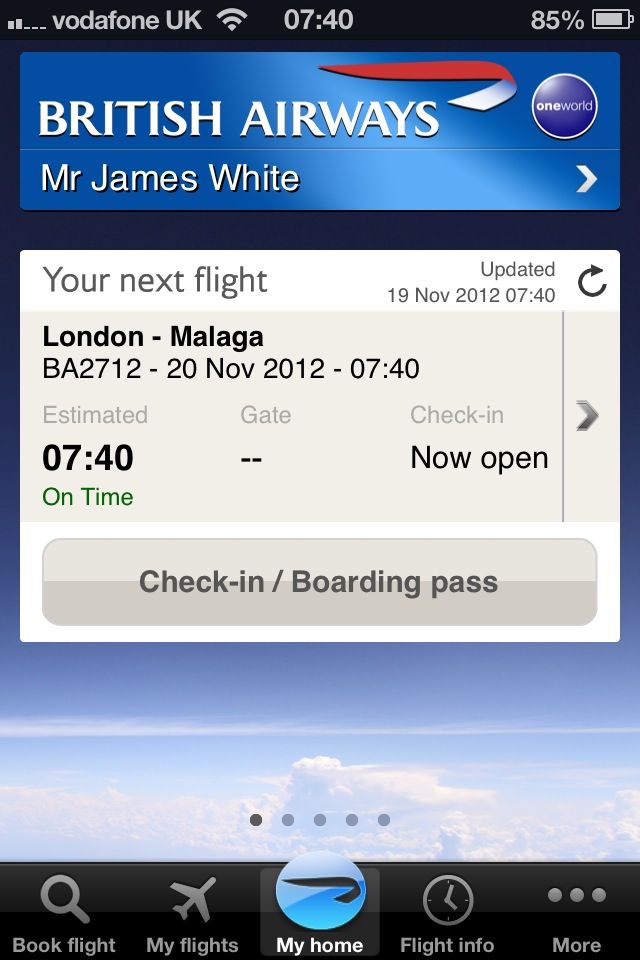 I was initially allocated seat 2A, but as it appeared I had a seatmate, I chose to move to 5A instead.


Unusually for me, I set off for the airport the night before departure and due to this I had no schedule to keep to. I decided to catch the train that went via Clapham Junction as I preferred this route over the one that goes through Guildford.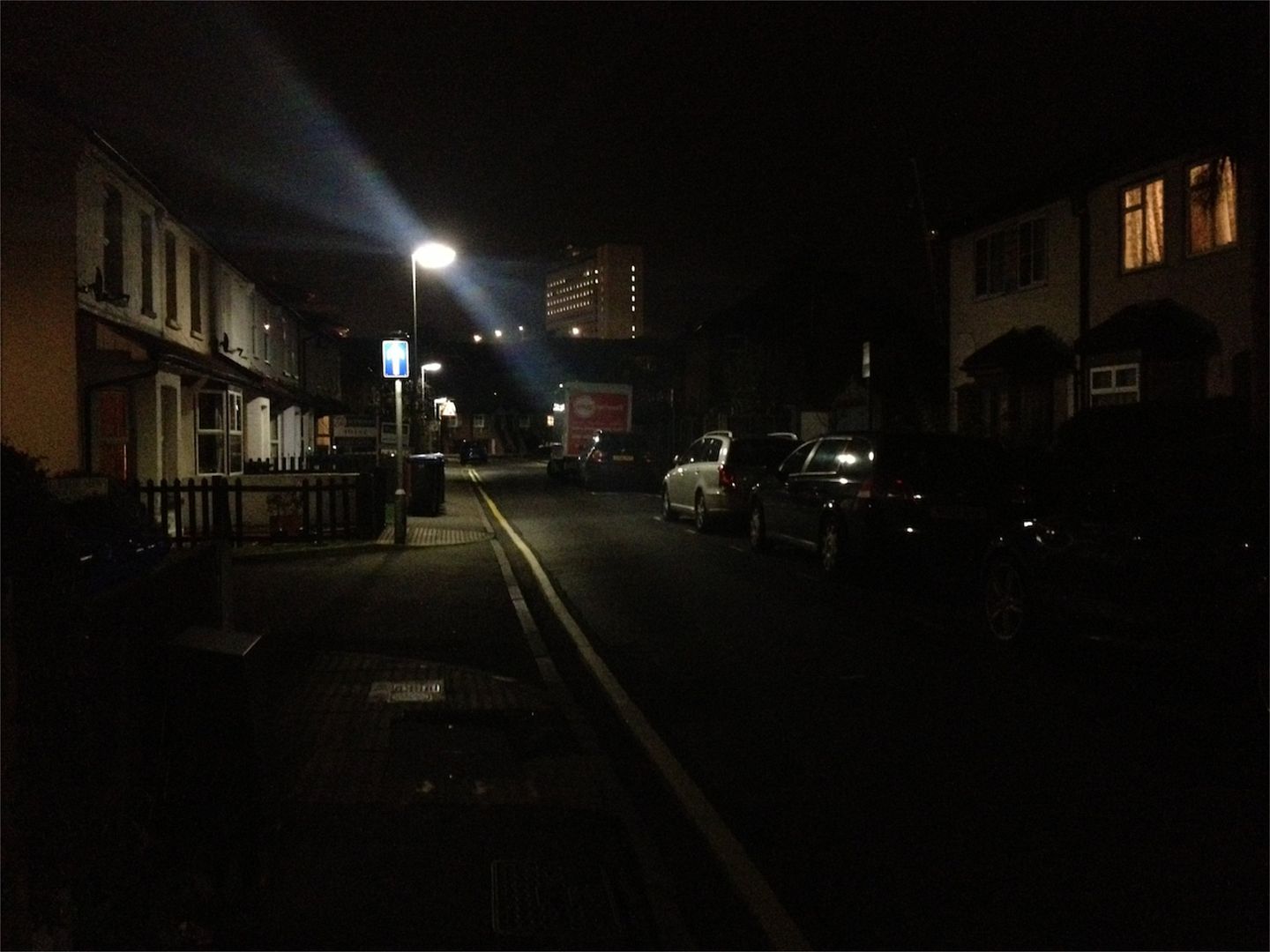 In hindsight maybe I should have taken the train through Guildford. There were a lot of problems at Clapham junction and an hour's journey ended up taking nearly 2. Although going by my last 2 trips, I'd be happy of this to be my now traditional delay!


Once at a very quiet Gatwick, I made my way over to the hotel. The route ended up going through the car park, which wasn't what I was expecting, especially from a Hilton, but once through the front doors it was perfectly acceptable.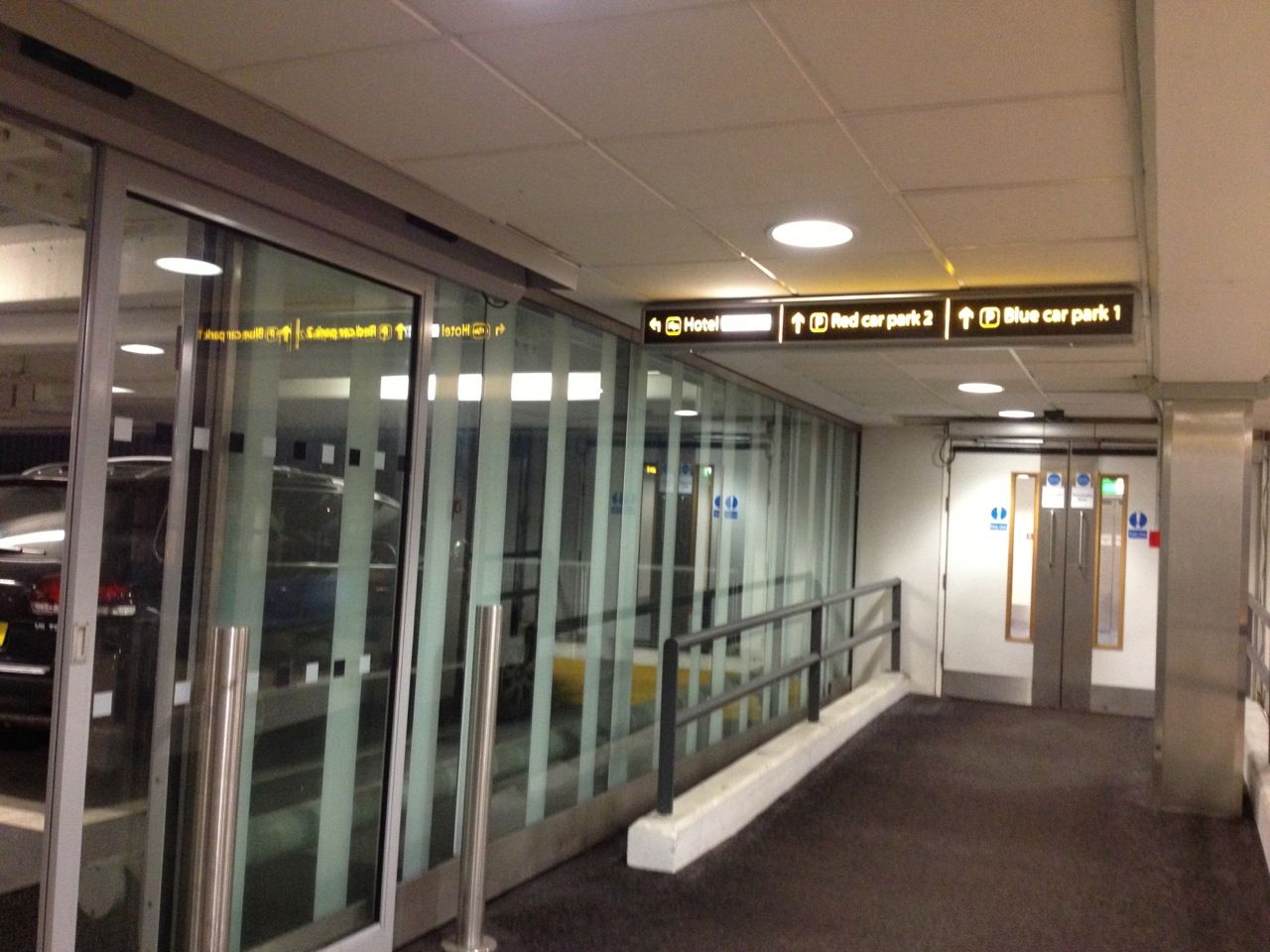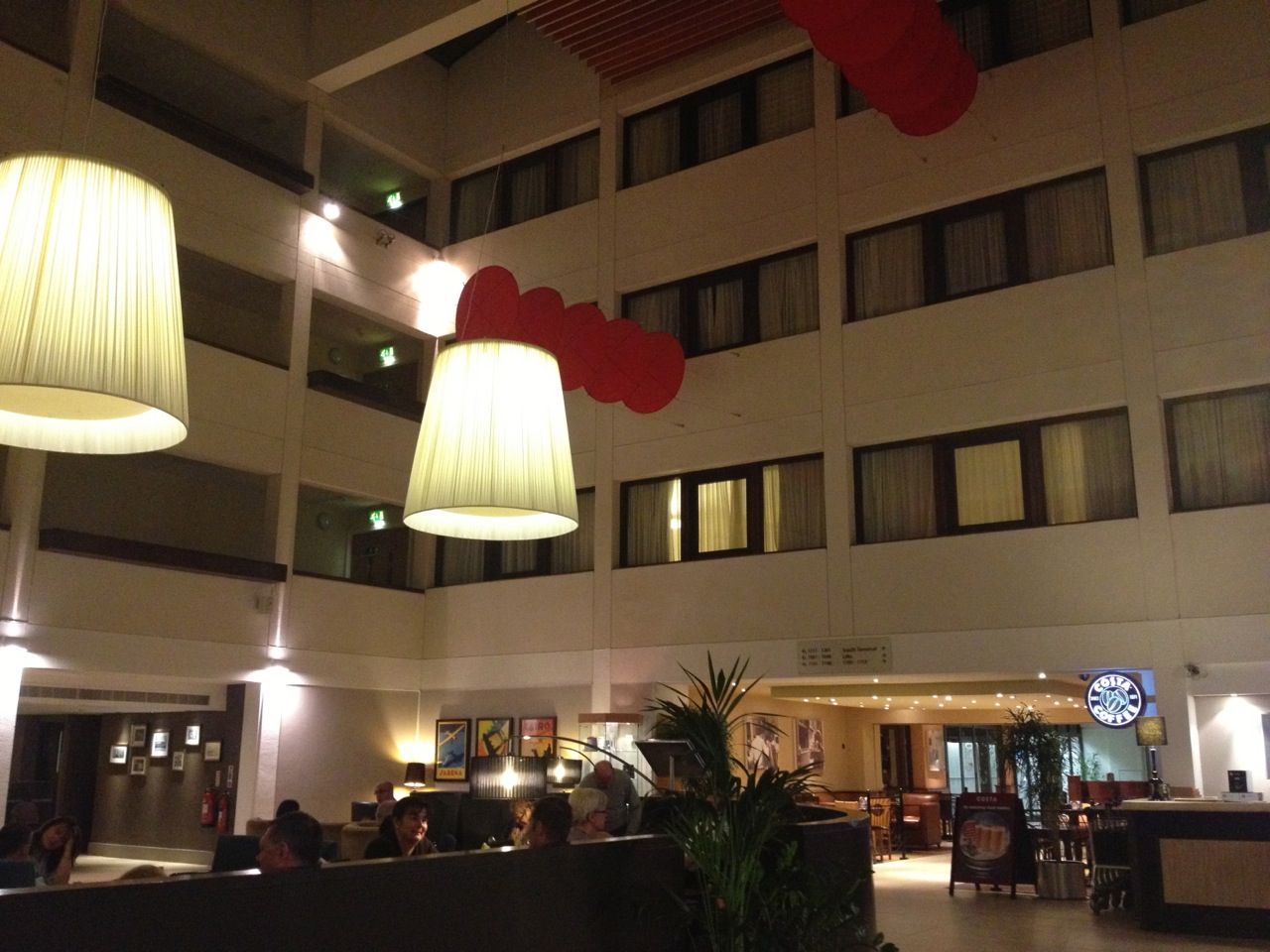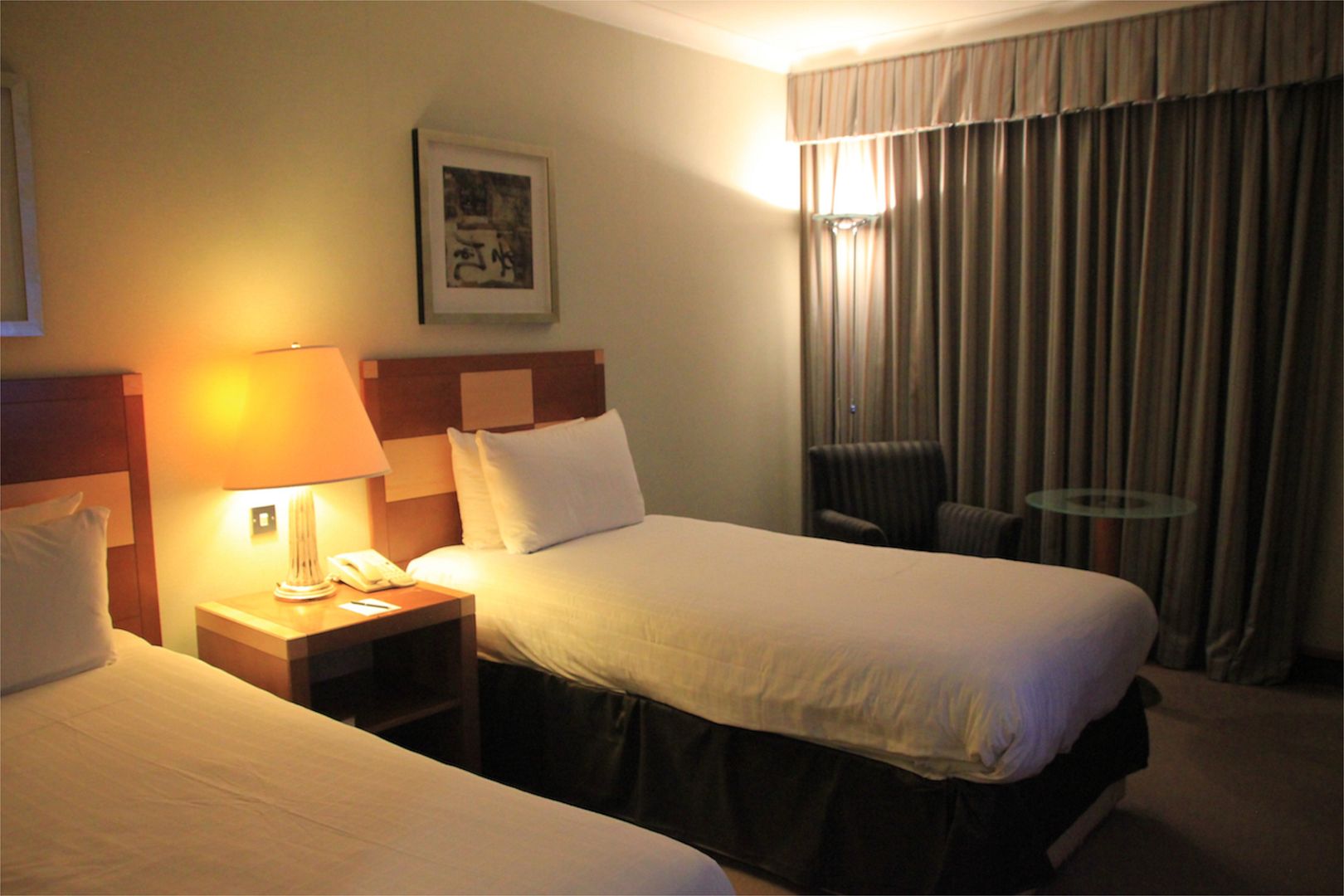 The following morning, my alarm went off at 05:00, and at 05:20 I made my way over to the North terminal via the transit system.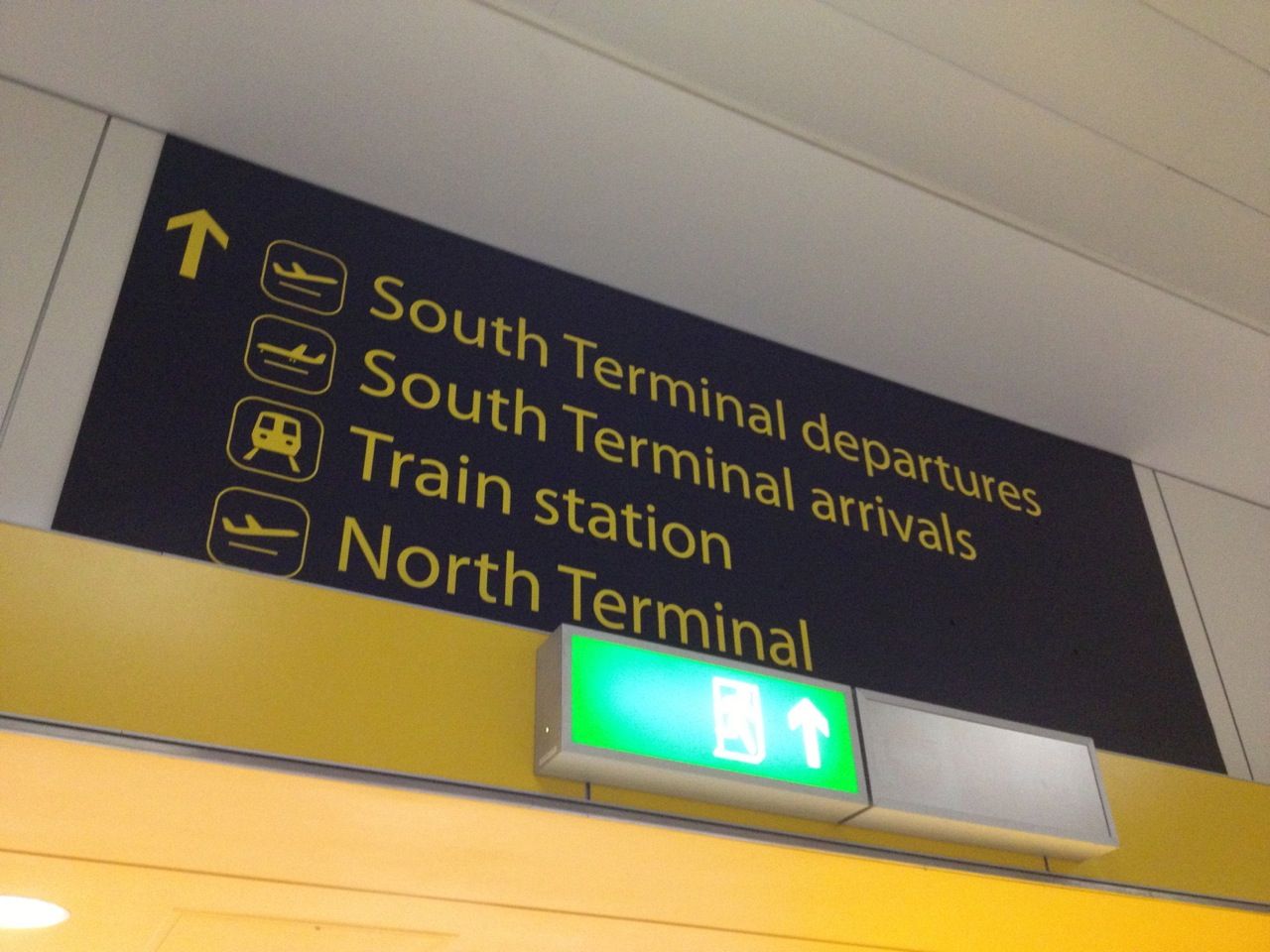 The check in area was pretty quiet as expected and I grabbed a souvenir boarding pass from a very chatty and helpful check in agent. She went the extra mile and invited me to use the fast track security and asking if I had been to the lounge before. After I said I'd only been to the one at LHR, she gave me directions on how to find it once through security. Once again excellent customer service from BA.


Once through security, I pretty much headed straight for the lounge, as the terminal seemed pretty much the standard affair. It had been 21 years since I last travelled from the North terminal and I must admit I didn't recognize any of it really, except the water fountain that has now dried up.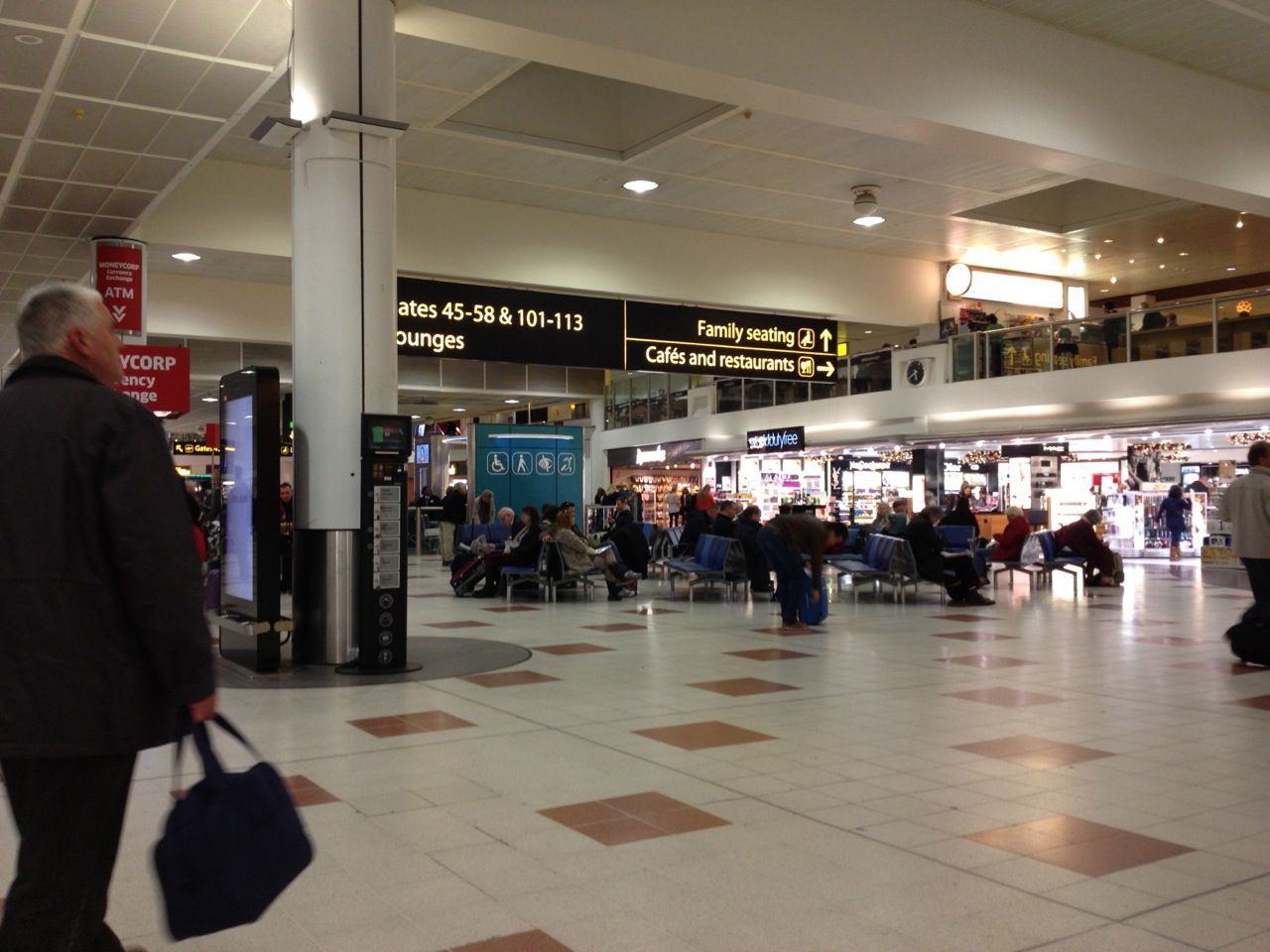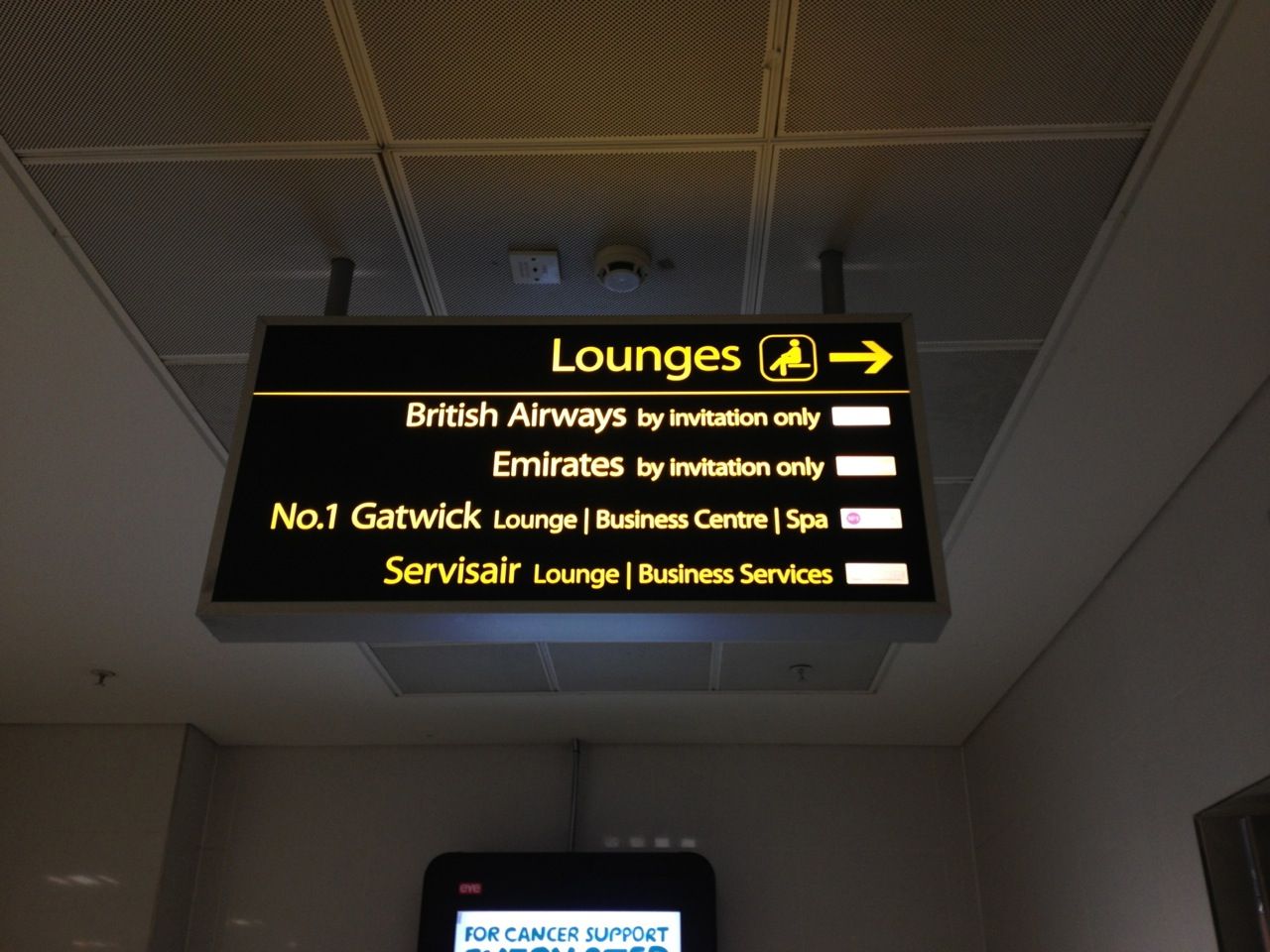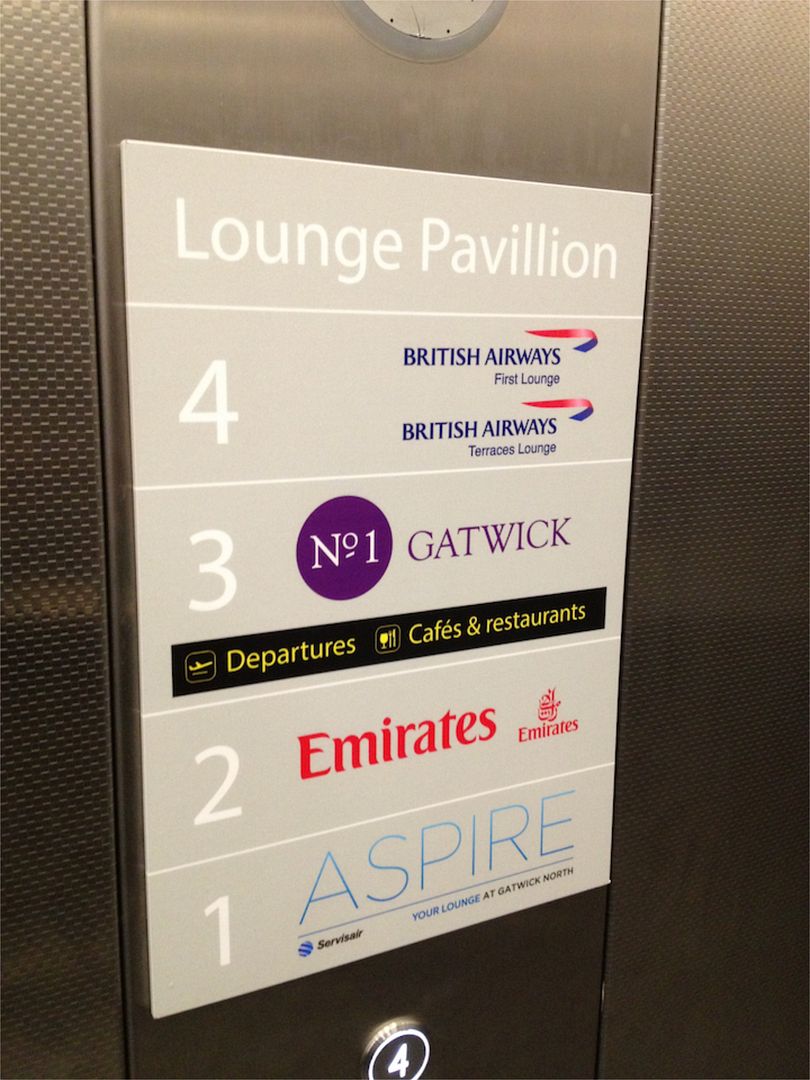 I spent the next hour or so reading the newspapers on offer, abusing the free Wi-Fi, which didn't work too well, grazing on the poor selection of food and trying to see what was happening outside. But as it was dark, this was a little difficult.

My choice of entertainment for the day ahead
About the best of the food offering's
The only hot food on offer

I must admit I was a little disappointed with the F&B offerings in this lounge. A few slices of toast and some beans were about the only hot food on offer and the rest were pastries or cereal. I had better in the No1 lounge back in April. The major plus side though was that it was nice and quiet. If BA could take the catering from the T5 lounge and put it into the LGW one, it would be perfect.
Boarding was announced at 07:10 from gate 53. I grabbed my bag and made the short walk down to the gate. There was a separate lane for Club, BA Gold/Silver cardholders however it was sealed off.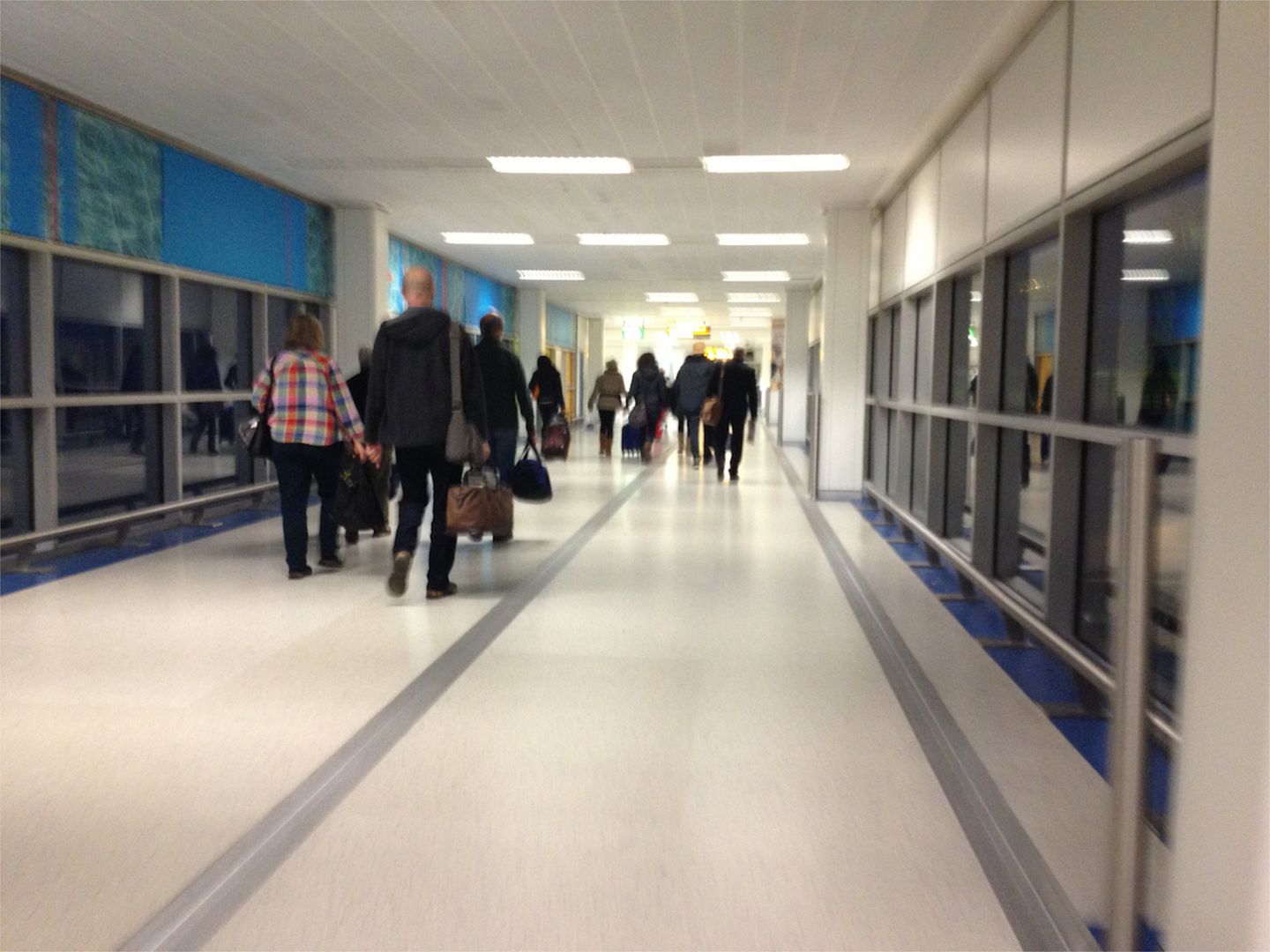 When I got to the gate I noticed one of the flight crew sat at the gate. So unless he was just deadheading, we wouldn't be going anywhere anytime soon. Turns out he was deadheading as boarding was called on time at 07:20. Despite being a jetbridge, an EasyJet A319 was using it, and our 737 was parked alongside – the ground crew mentioned this and told people to be careful on the wet tarmac.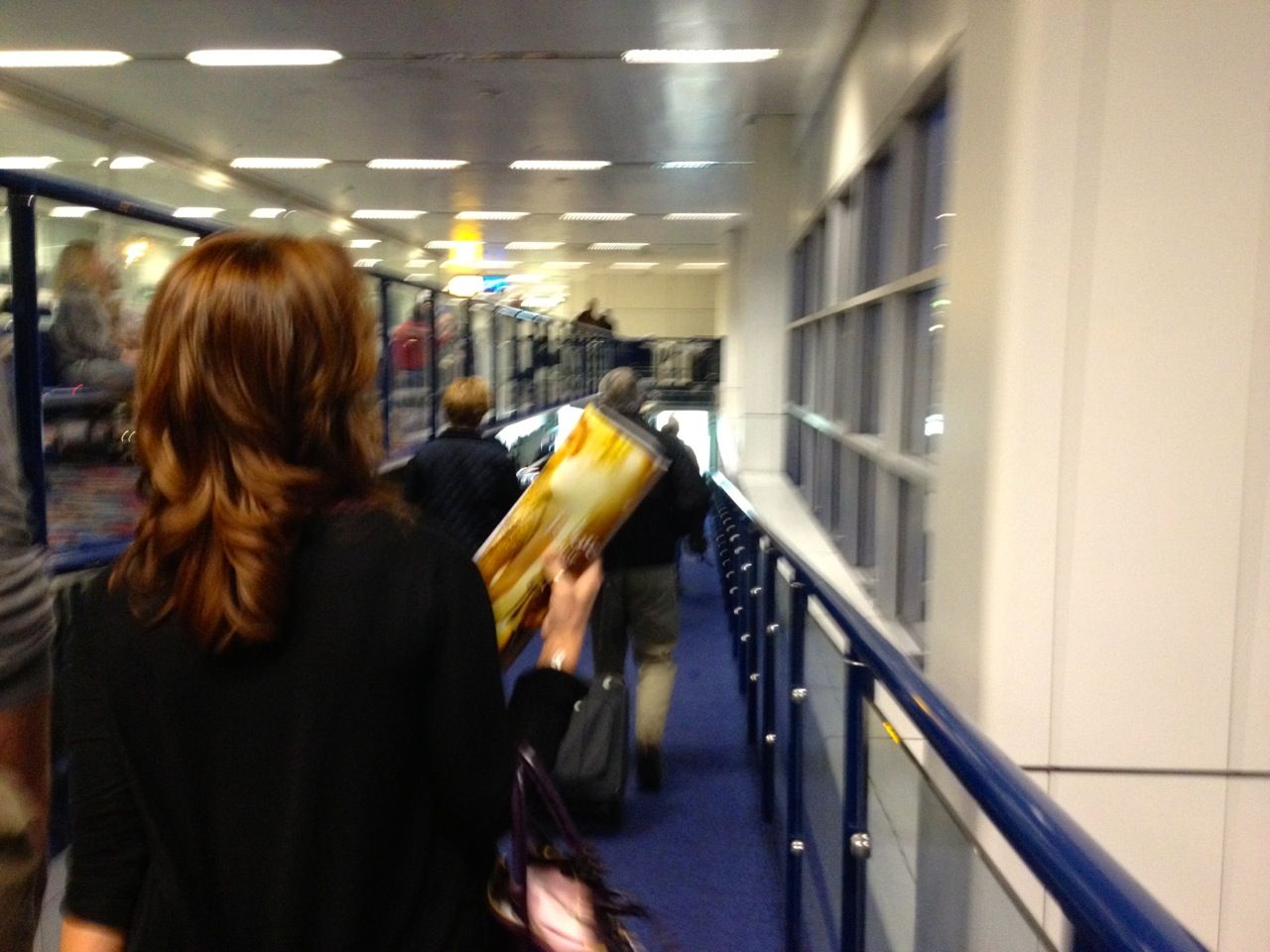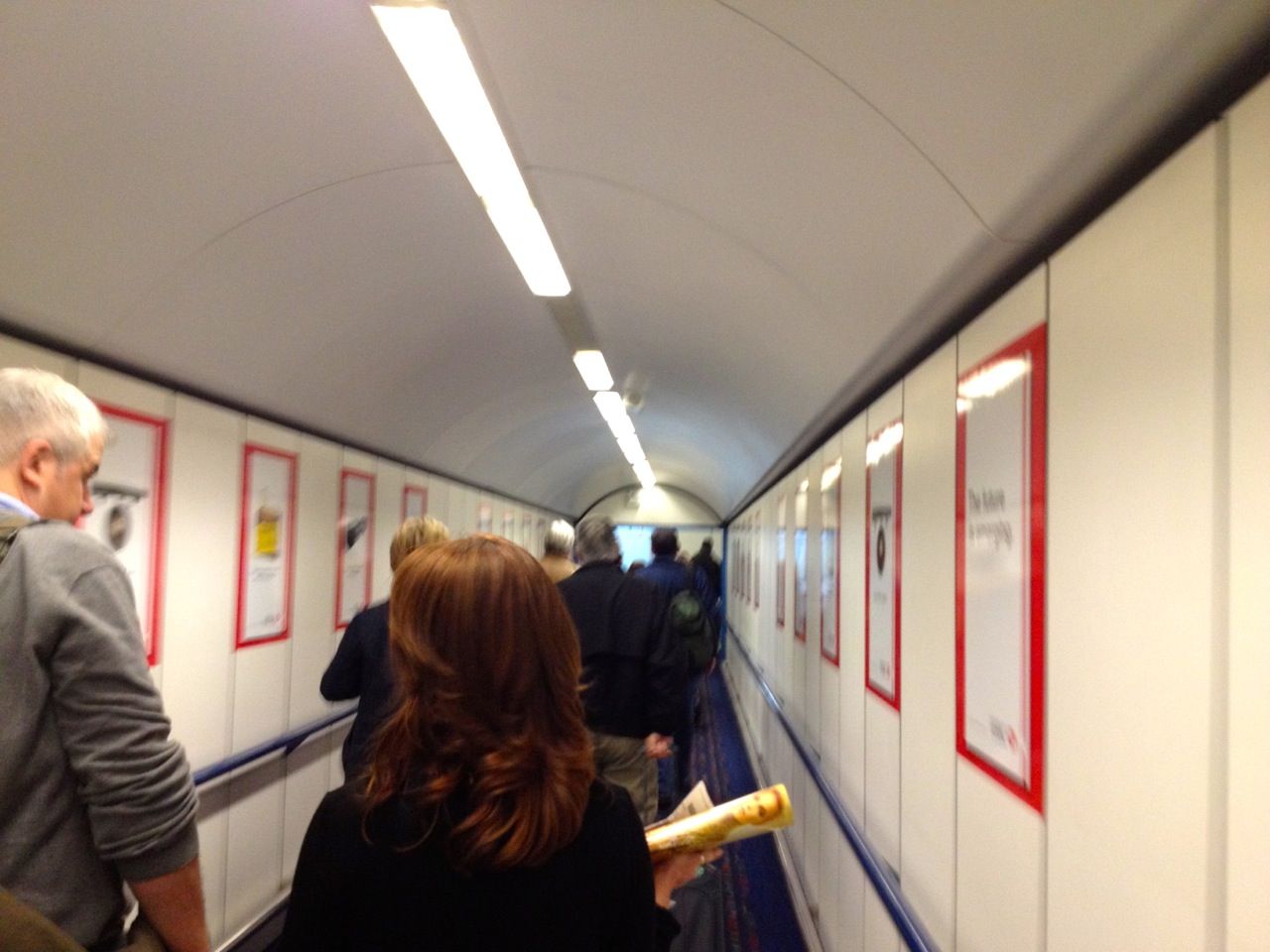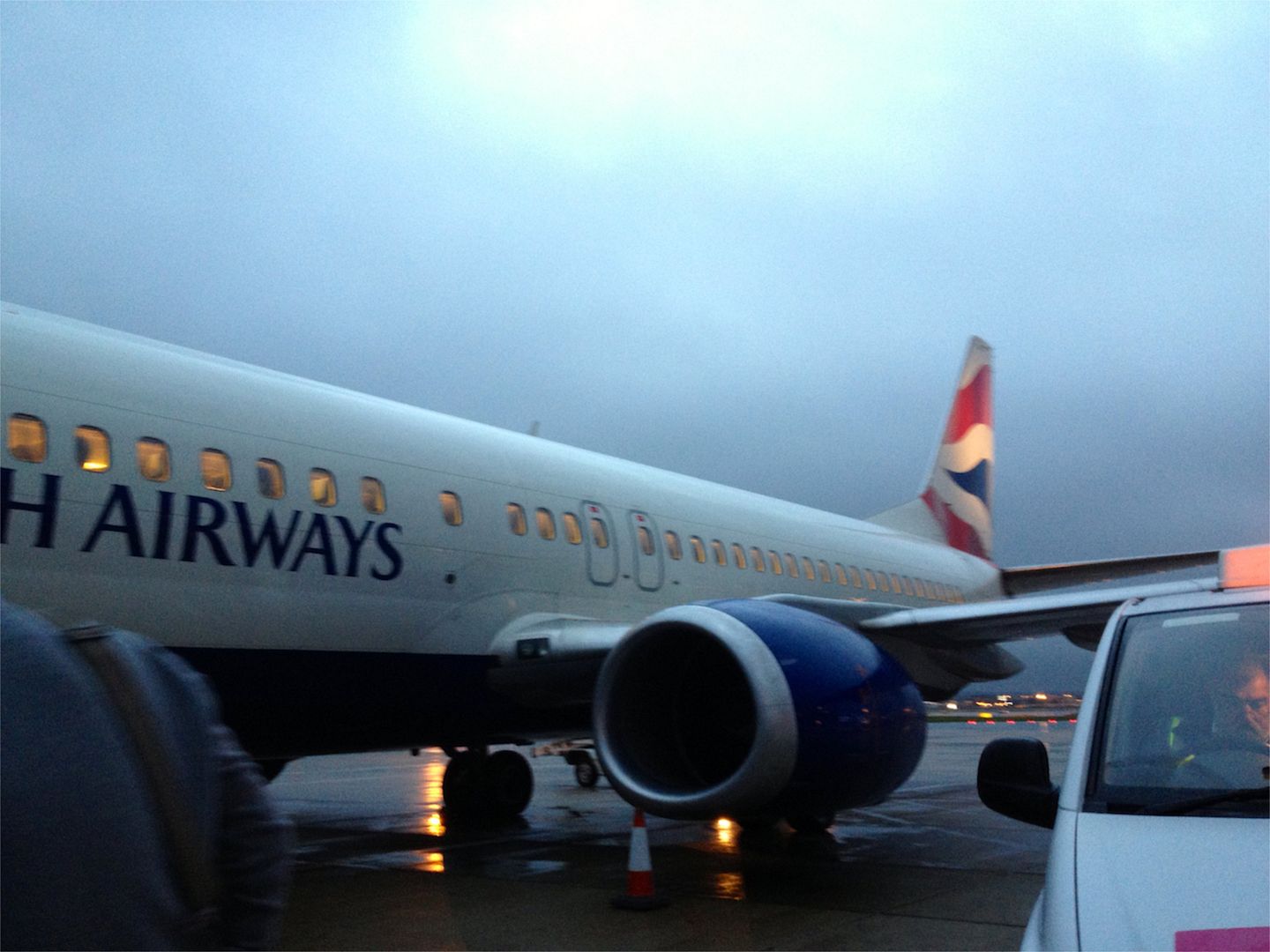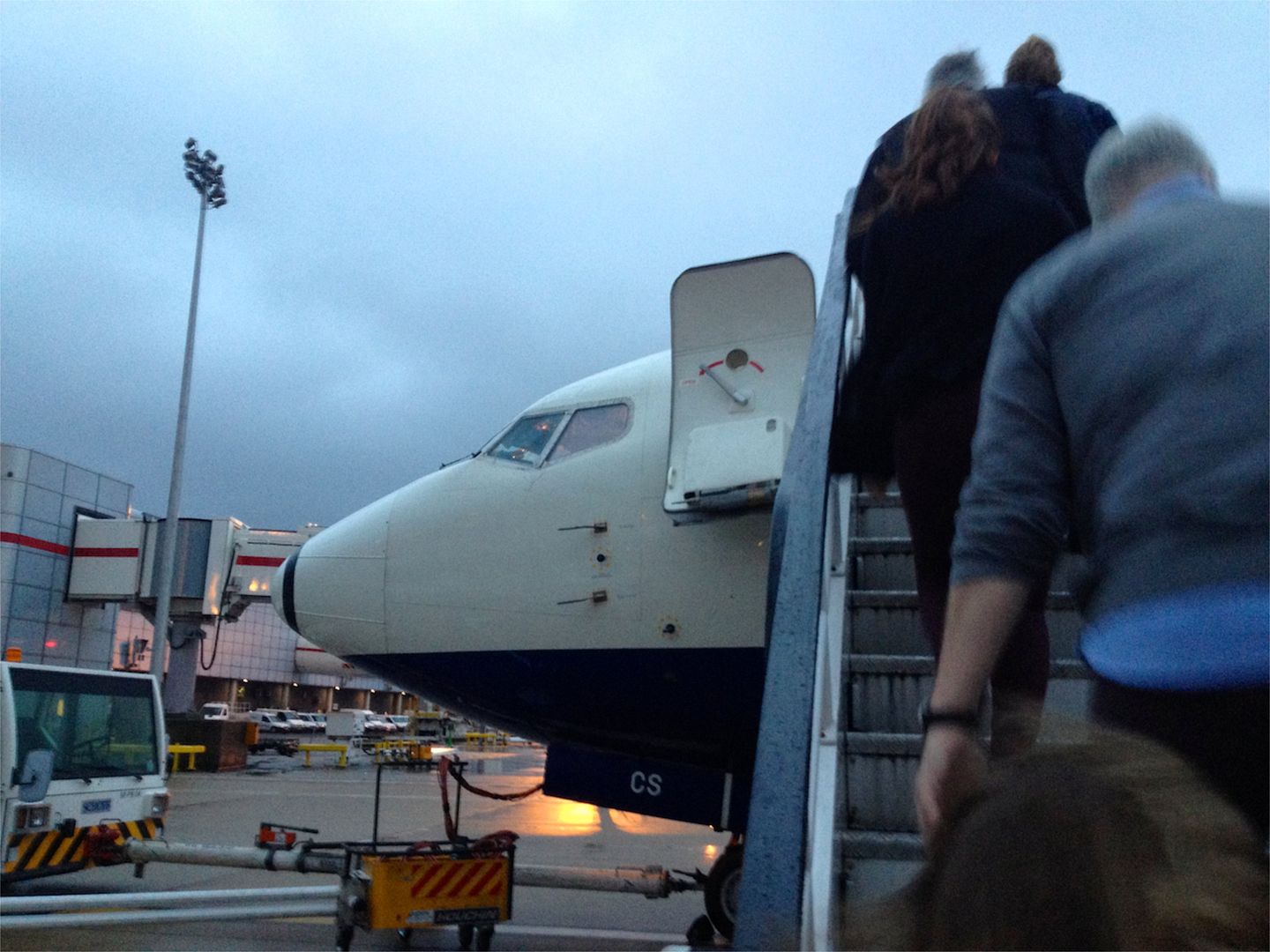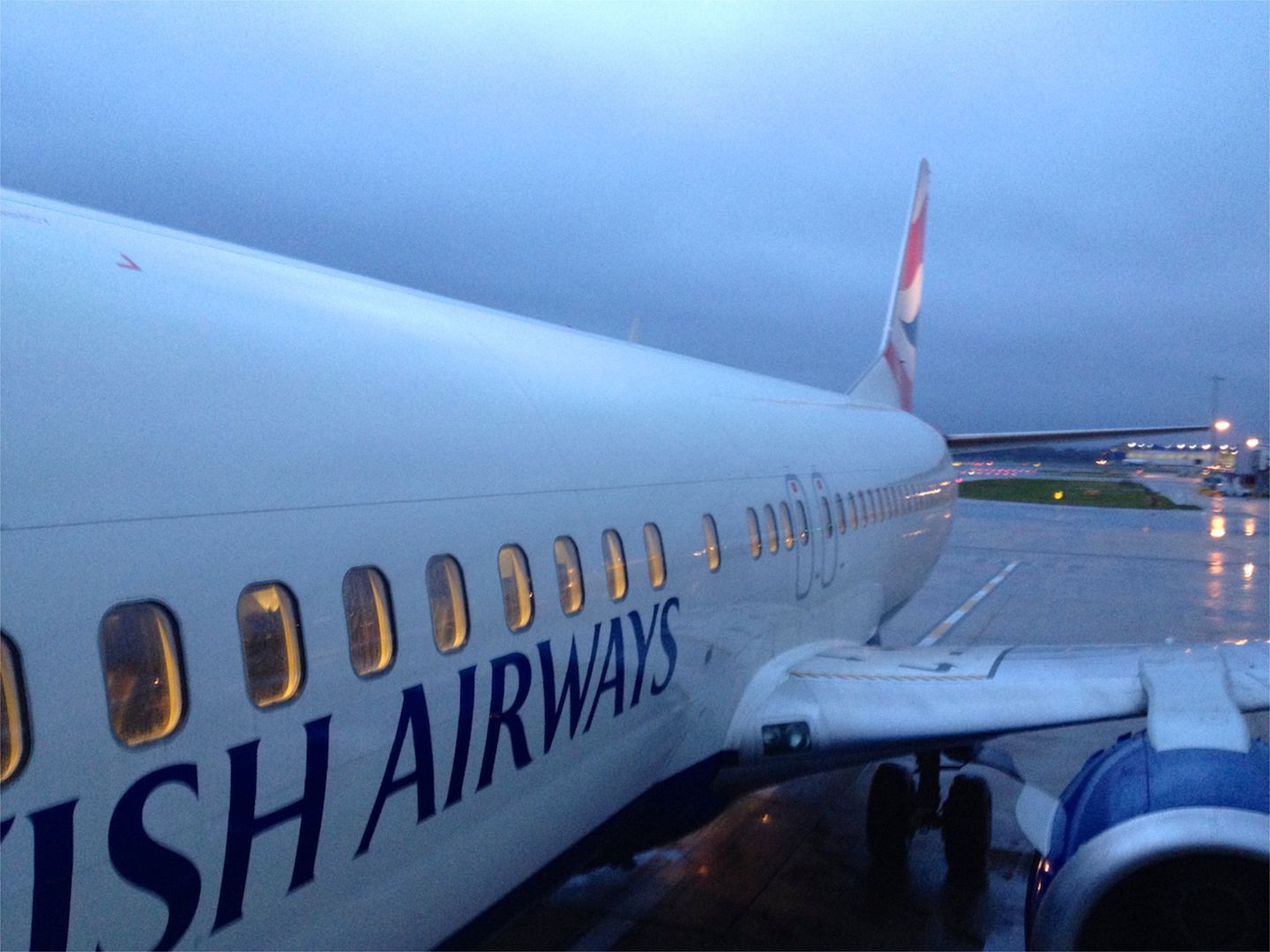 BA2712
LGW-AGP
20th November 2012
737-436/G-DOCS
Seat: 5A / Club Europe
Scheduled: 07:40/11:30
Off: 07:51
On: 11:45
Funny how there seemed to be a lot of people traveling in Club Europe when boarding was called, however once onboard there were only 11 passengers in the Club cabin. There seemed to be quite a few people heading towards the back though.


Legroom didn't seem that great, however I don't remember it being too brilliant the last time I travelled on a BA 737 back in 2001 either. It wasn't awful, I'd just had better. The cabin also seemed a little worn but I was expecting that really. Nothing major though – just well used. The only thing that was pretty poor that I later found out was the water pressure in the front washroom. To wash your hands, you had to hold either the blue or red button down, and even then it was a poor trickle that came out.

Our neighbor that was hogging the jetbridge
The flight crew came over the PA and made the usual announcements, mentioning the flight time was expected to be 2h25 and that there were pretty good flying conditions.
There were 3 cabin crew on board: one quite young and friendly, one who I never saw and the purser who seemed like they couldn't crack a smile if their life depended on it.
Pushback was delayed due to a couple of late passengers – the captain announcing that he was still deciding if they were going to travel or not. One of my pet hates is lateness and when I heard this announcement my first thought was "sod the potential delay, throw them off – that'll teach them!" Around 5 minutes later they turned up and sat themselves down in seats 1D and F.

Must nearly be time to go.
A few moments later we pushed back. Once we did set off it was over to runway 26L – the first time I had departed from that runway since 2002. During the taxi, I noticed the purser jump up from their seat and tell Mr. 1F to put his seat in the upright position – So he turns up late, then continues to annoy the crew by reclining his seat before takeoff.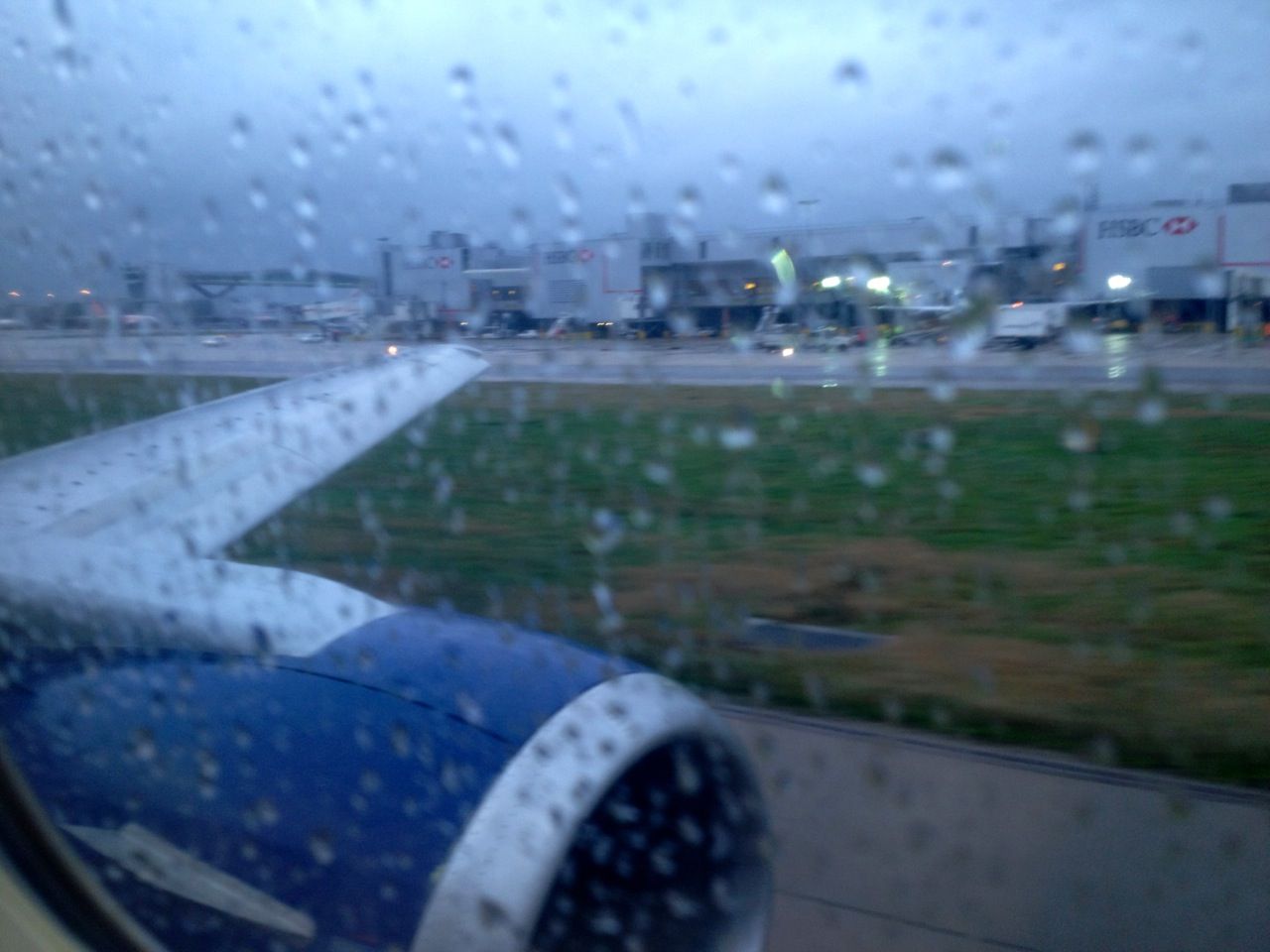 As we were running a little late, we got to push our way to the front of the queue. On takeoff, just before 08:10, we went past the BA hangars, where there was quite a mix outside – an open skies 757, a Cityflyer E190 and a mainline 767.
[youtube https://www.youtube.com/watch?v=o7nsNUGh3tY]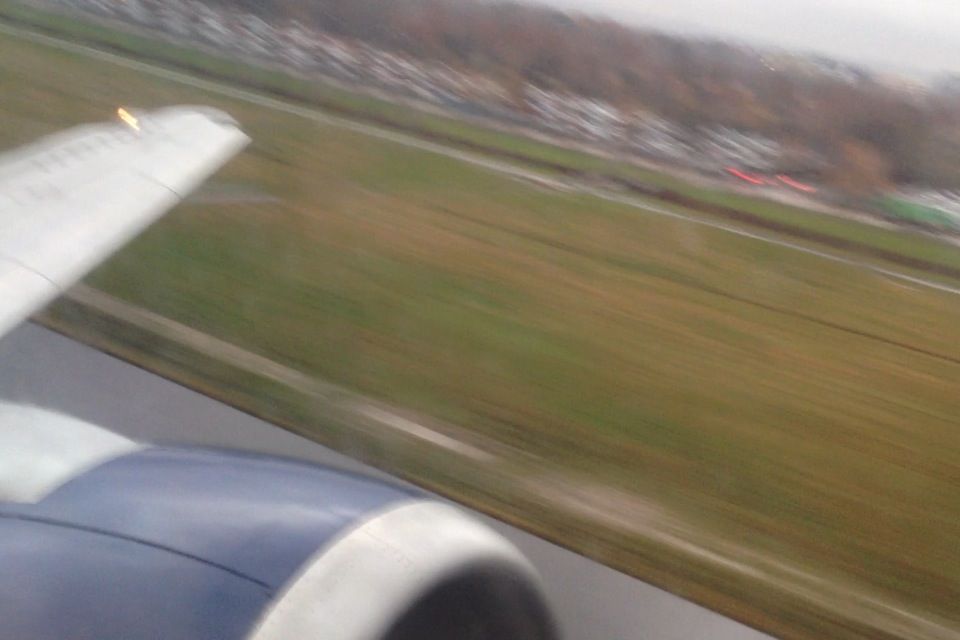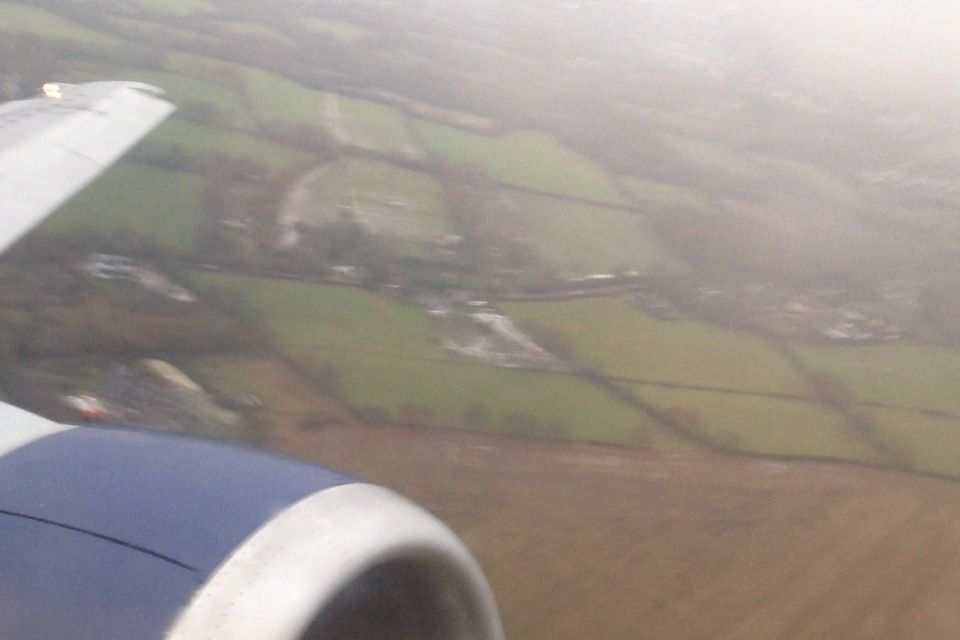 This was pretty much the last I would see of the UK today.

Due to the low cloud cover, I didn't get to see much. Around a minute after takeoff Mr. 1D decided he was bored and wanted his laptop – which meant another telling off from the purser. Not that he paid much attention as he continued to fiddle with his bag until he retrieved his laptop and then sat down again. I noticed a gold executive club tag on one of their bags, so they weren't new to flying… they obviously just didn't care!
Once the crew were released for duty, the hot towels were handed out. I remember back in the day, this was standard practice across all classes. Now it seems to only be reserved for premium passengers.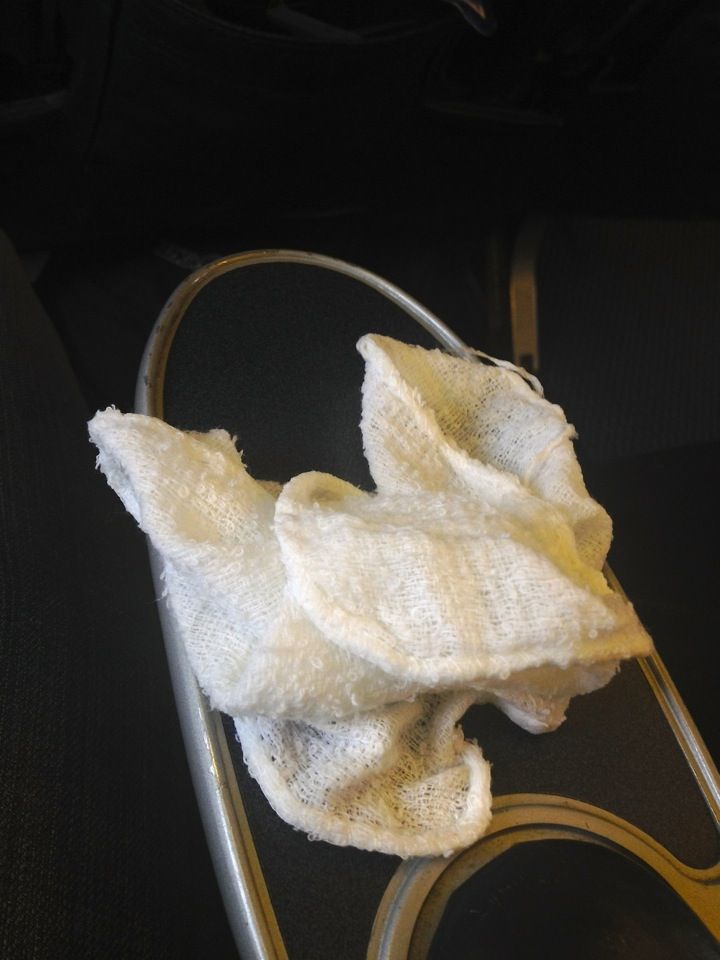 There still wasn't much to be seen outside.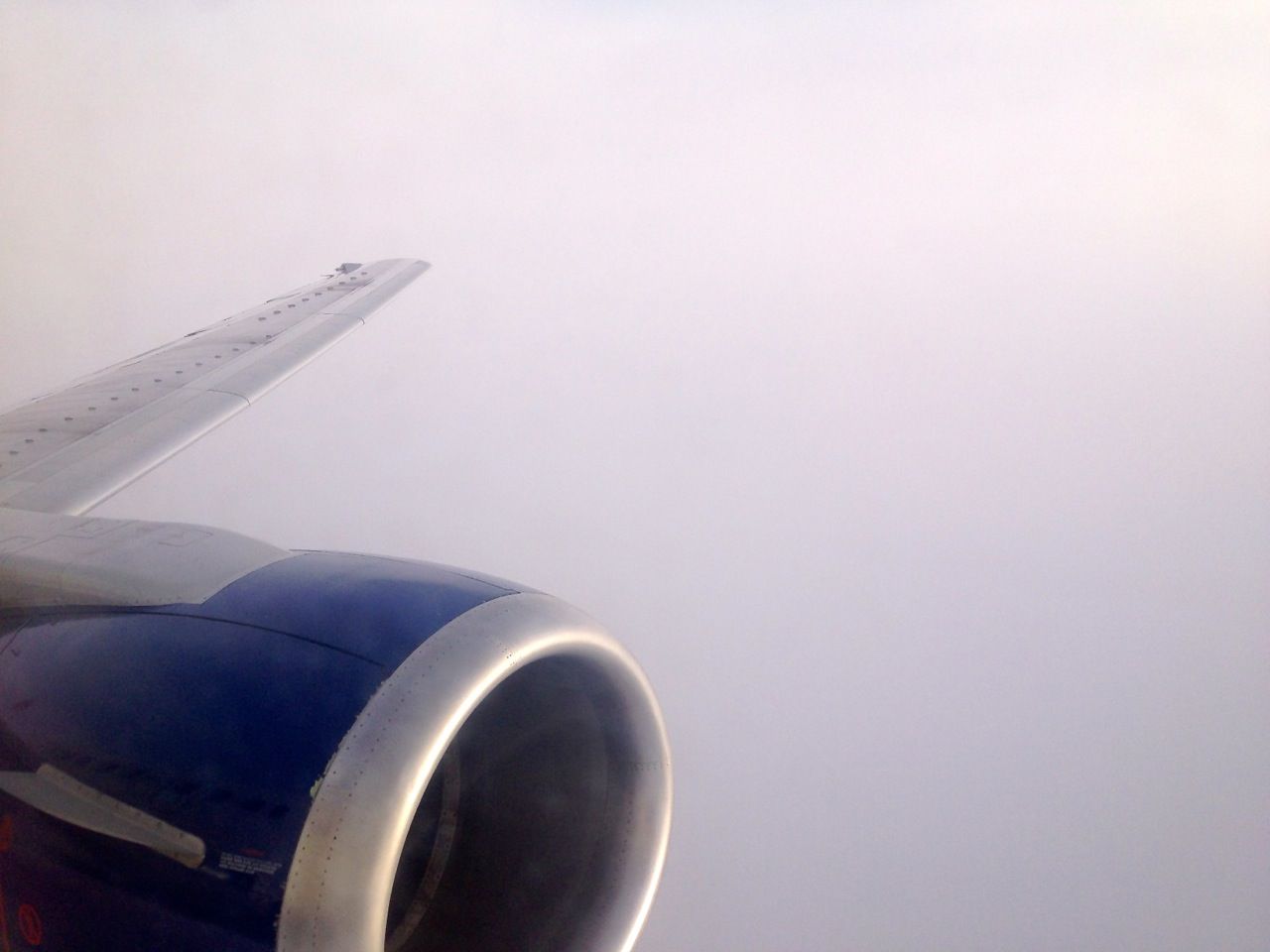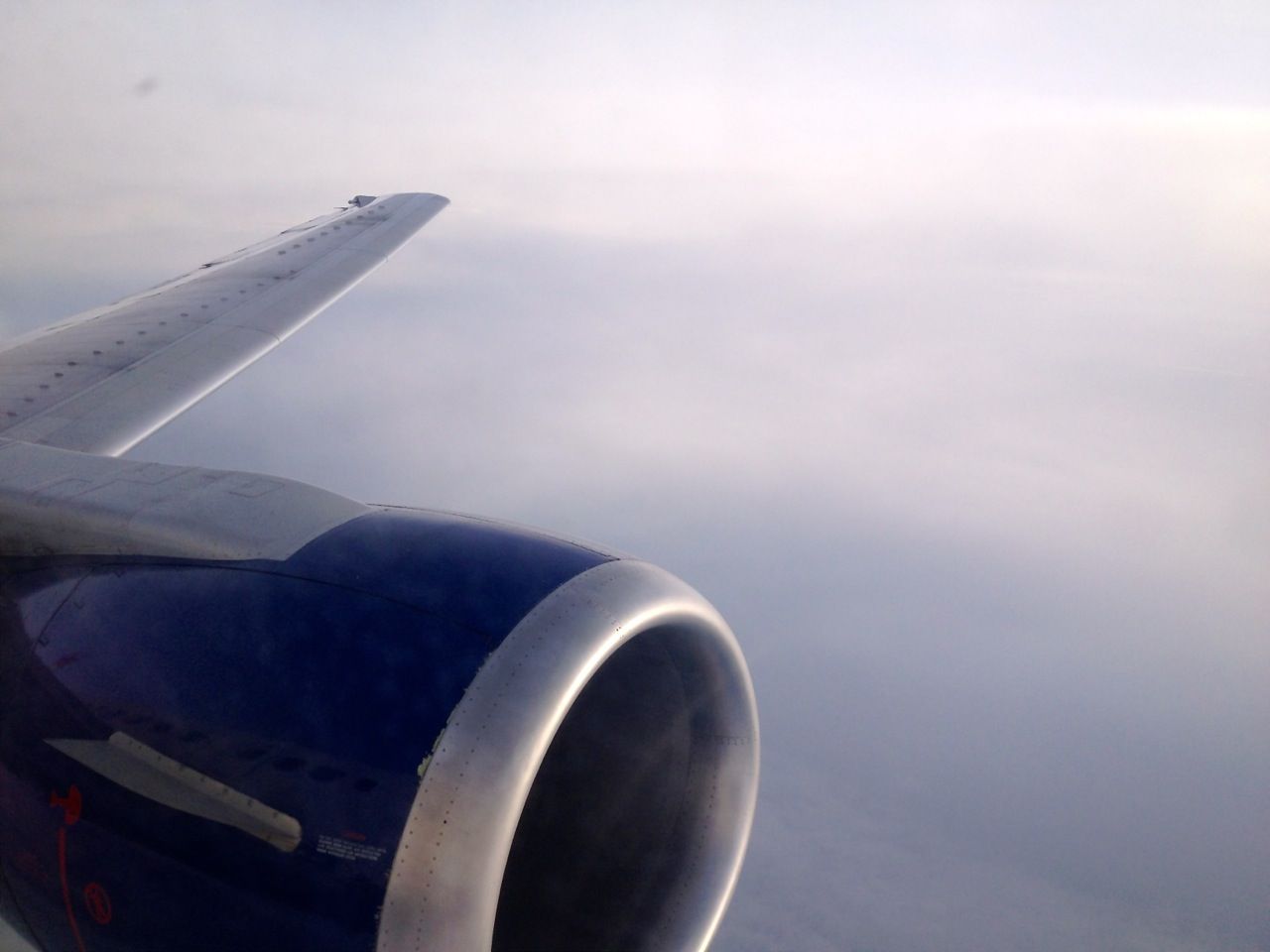 Around 20 minutes after takeoff, breakfast was served, still without a smile. It was actually pretty good – it didn't have a microwaved taste to it at all, although presentation was a bit lacking compared to the BD breakfast I had earlier in the year.


During breakfast, the first officer made a quick update, saying that we had reached our cruising altitude of 35,000 ft., we were due to land in Malaga at 11:45 local and that we were given an odd routing over Paris, Toulouse and the Pyrenees rather than straight over the Bay of Biscay.

The clouds had started clearing slightly once we had crossed into France
Once the trays were cleared, I turned to fellow trip reporter adamspotter (Brendan) for a bit of entertainment.


Or at least that was the theory. The 2 older guys sat in the row behind were talking and laughing very loudly, making it pretty difficult to concentrate on reading. At least I wasn't trying to sleep, like the deadheading captain who was sat opposite.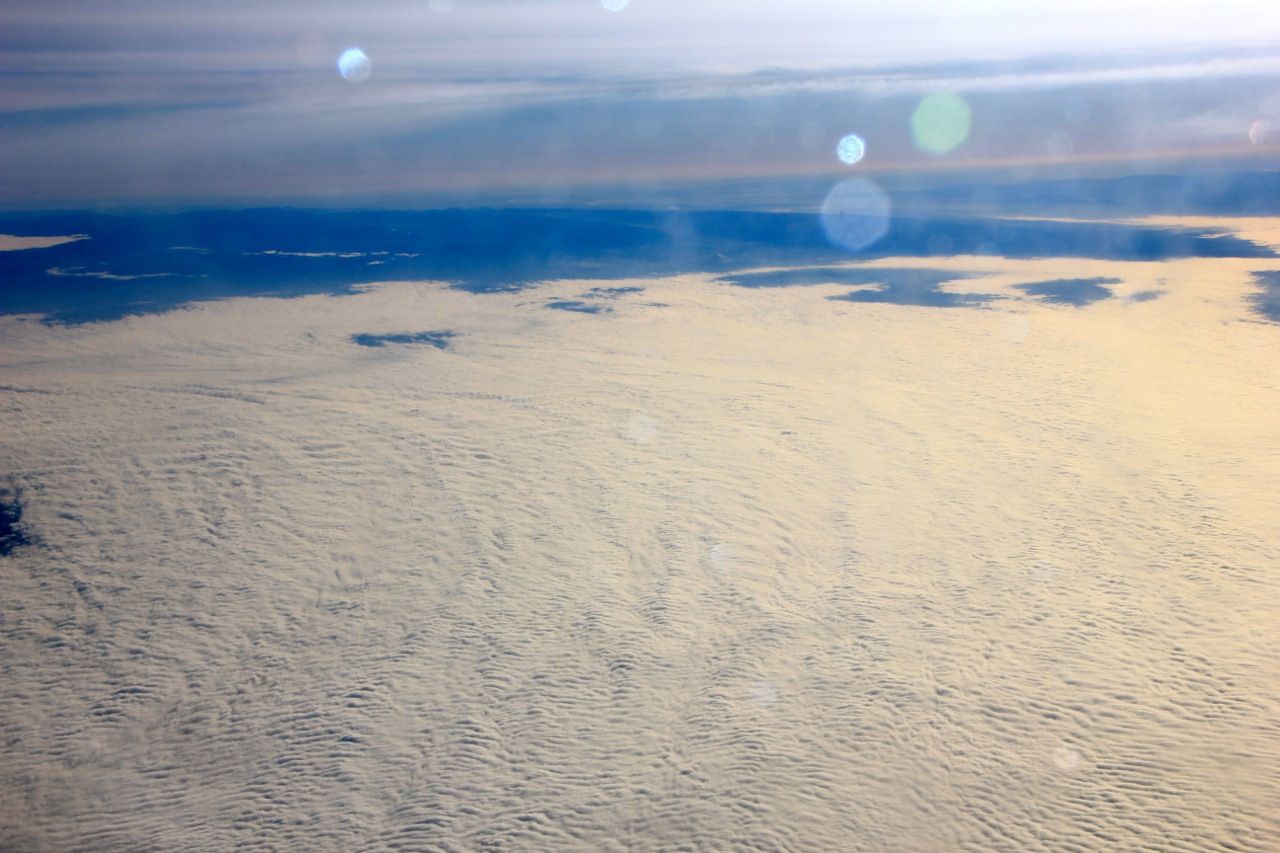 After finally managing to read Brendan's interesting report on his trip from RTM to MUC, I made an attempt to chat to the not so friendly purser. I asked about the fate of the 737's but the only reply I got was "who knows". She did mention that a couple of the ex BMI Airbuses might be coming over to LGW, but she was then distracted by and economy passenger trying to use the Club Europe toilet. I decided to cut my losses and return to my seat.


A short while later we crossed they Pyrenees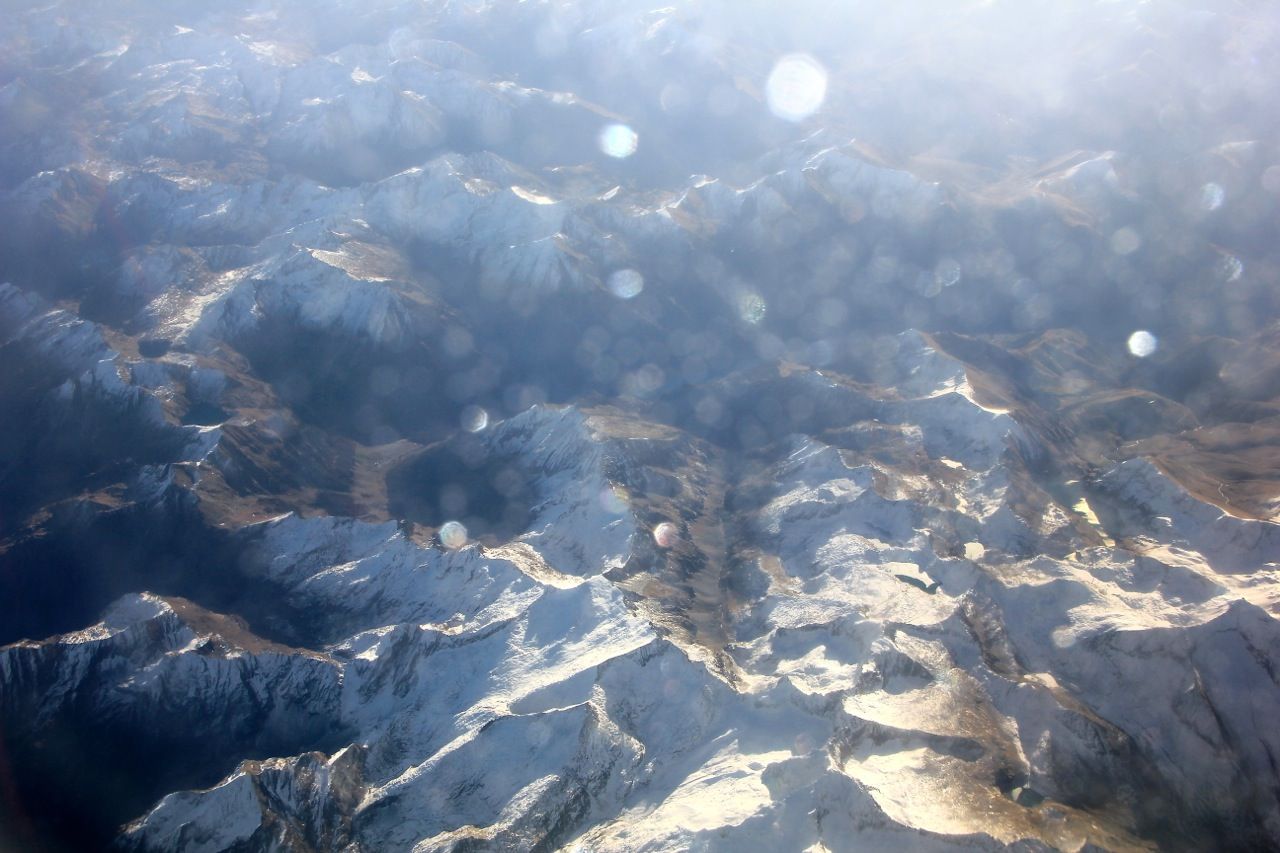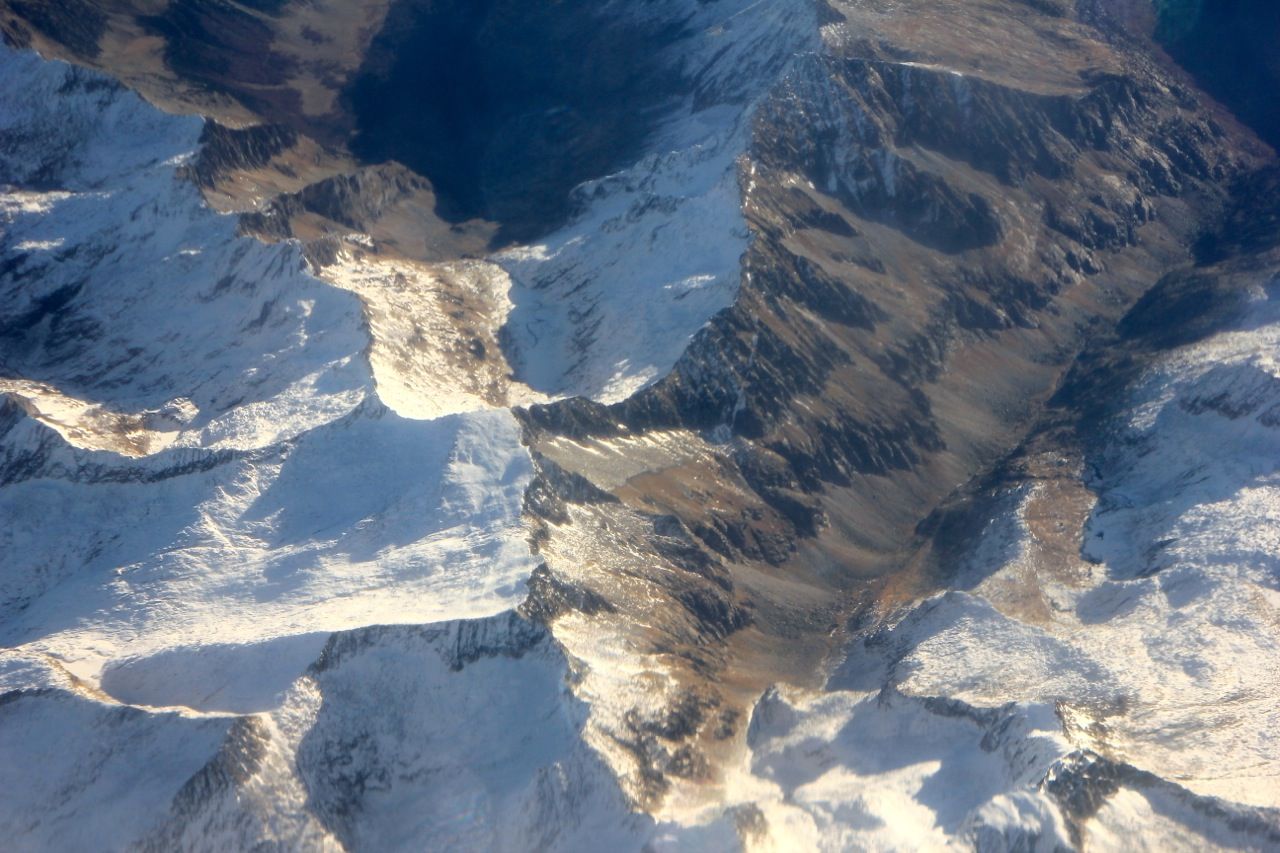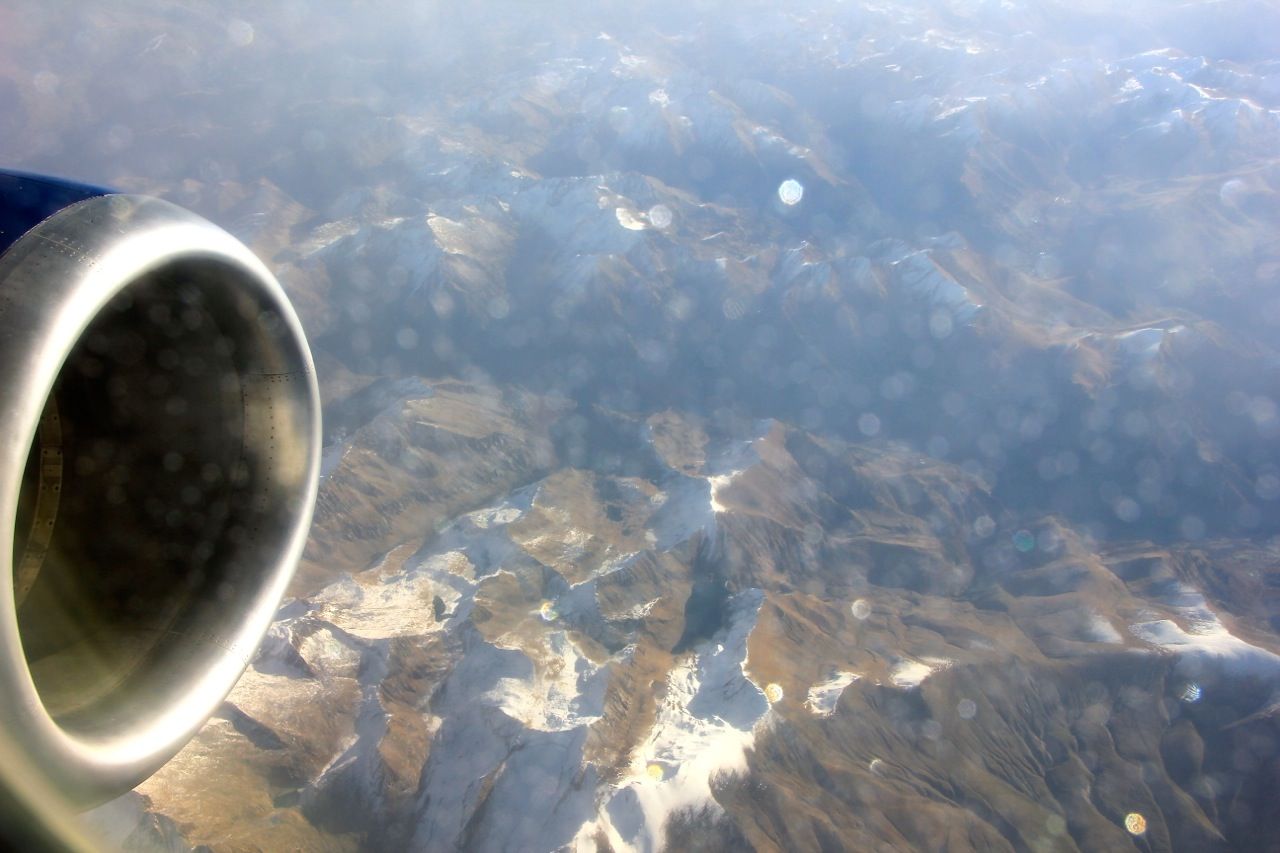 Not bad, but nowhere near as good as the view of the Alps I had on my previous trip!
The rest of the flight was pretty uneventful. The purser gave out glasses of water, which was a nice touch though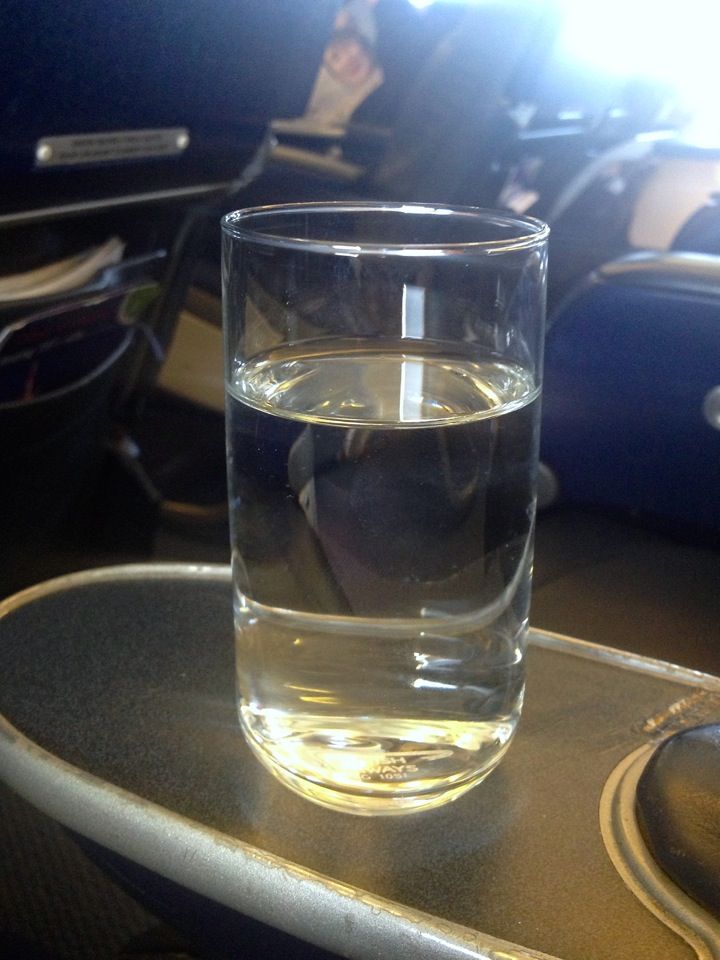 There were a few views of various cities down below.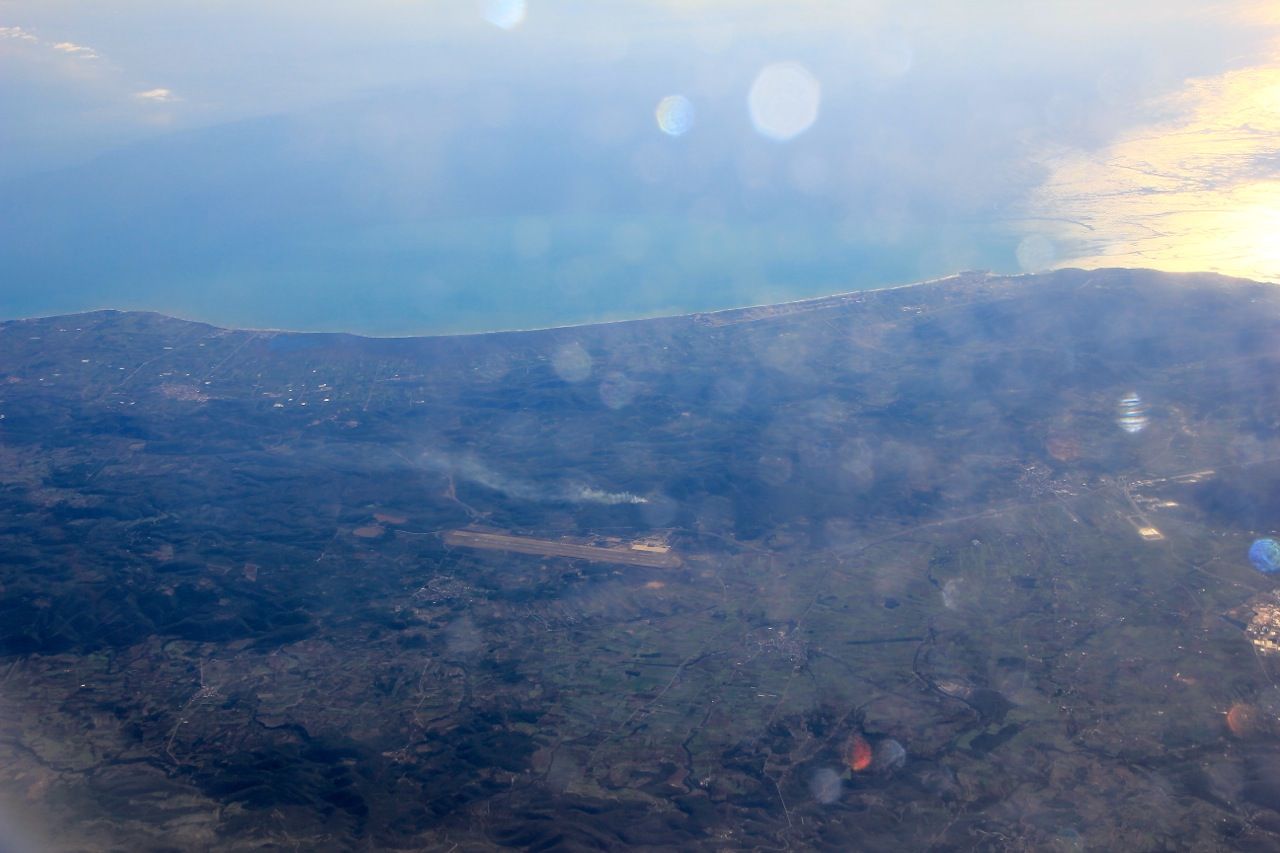 Alicante

I had a look through the new look high life magazine to kill some time. There wasn't much of interest though, apart from an interview with a 777 first officer.


Then it was time to descend at 11:17 local. Around 30 minutes before landing the captain came over the PA giving an update of our progress and saying that we would be landing on the southwesty runway (technical term?!) and that the weather was pretty good and 14 degrees. The routing took us out to sea before making a 180-degree turn to line us up with the runway. I noticed that the landing gear was extended very early – maybe around 5 minutes before touchdown. Of note, there was a Spanish woman with a baby in the cabin, who spent the entire flight wondering backwards and forwards, not even stopping during the meal service. Why pay extra for Club Europe, then not sit in the seat or eat the meal?! Might as well go in economy – least there would of been a bit further to walk!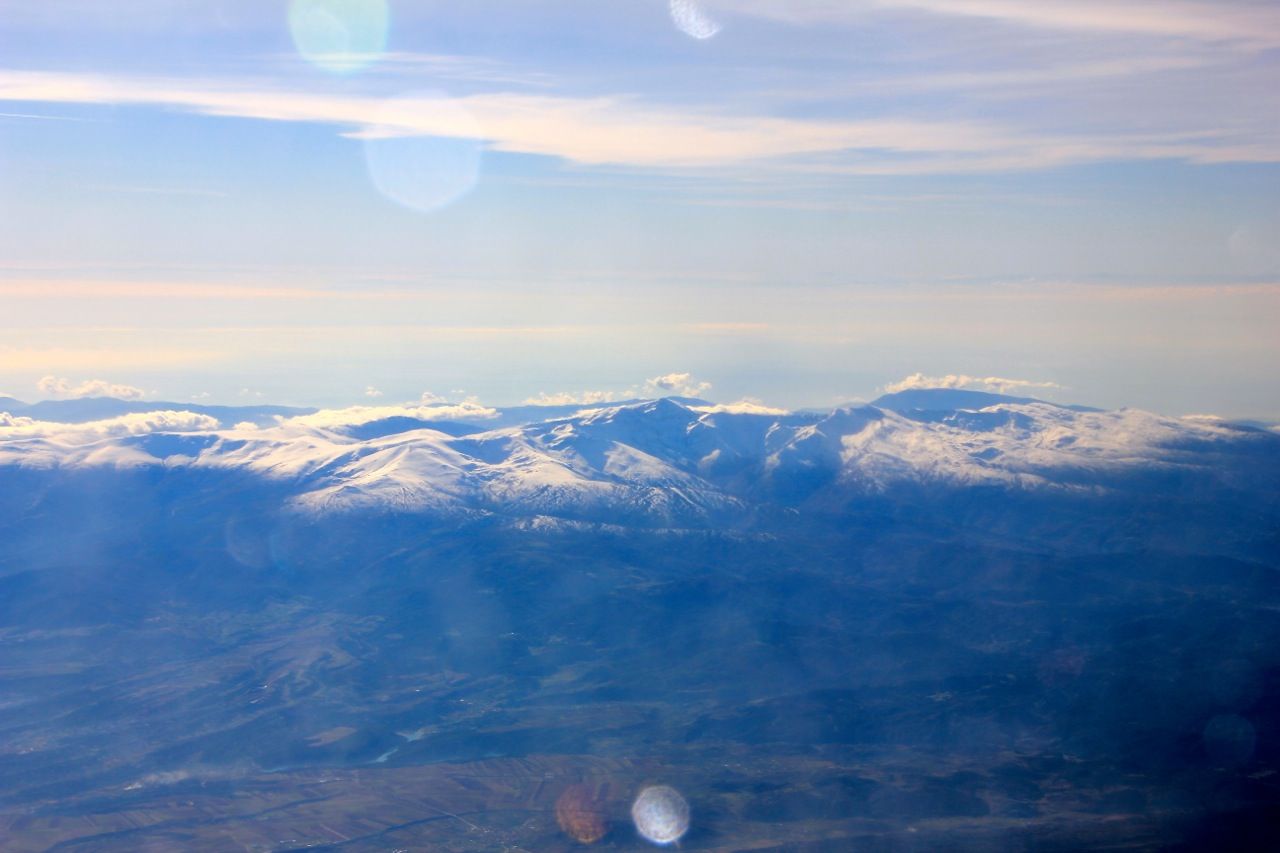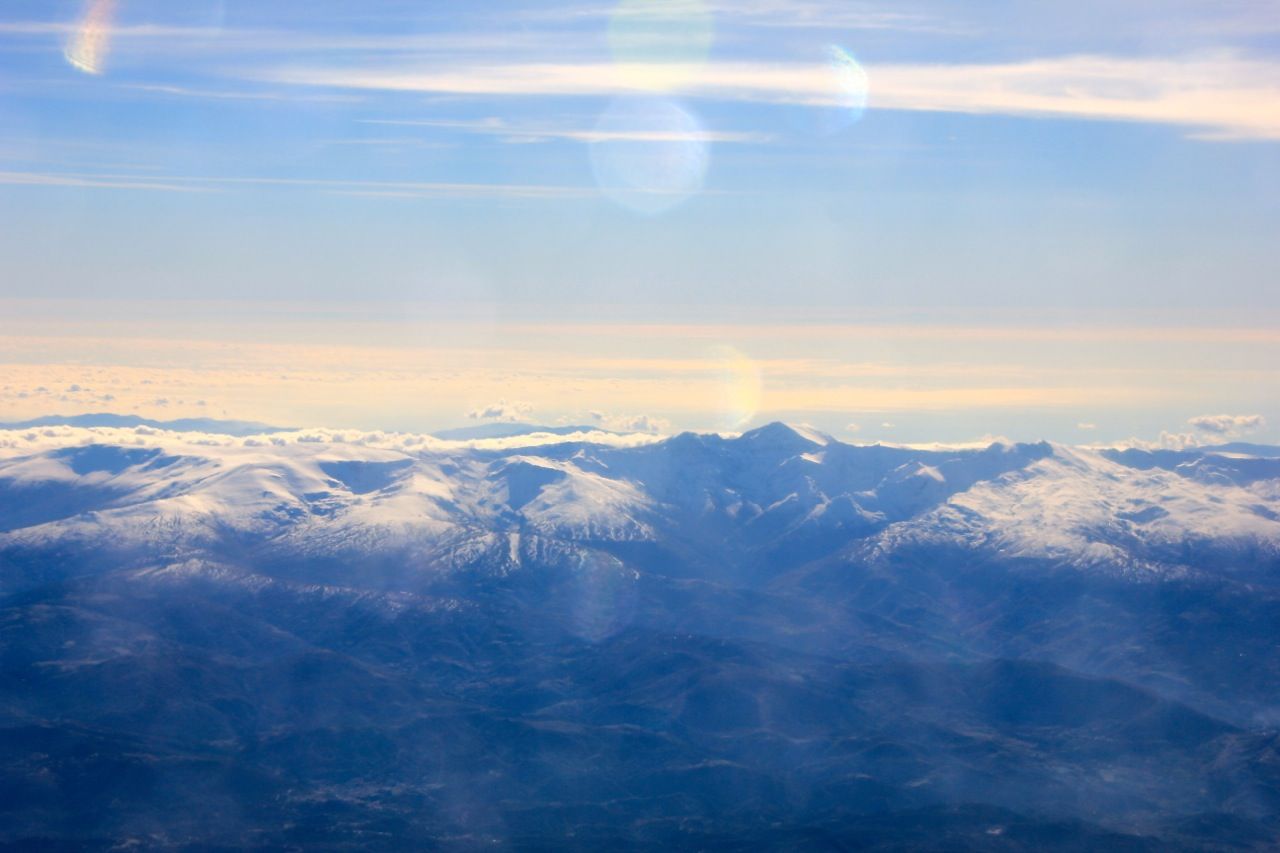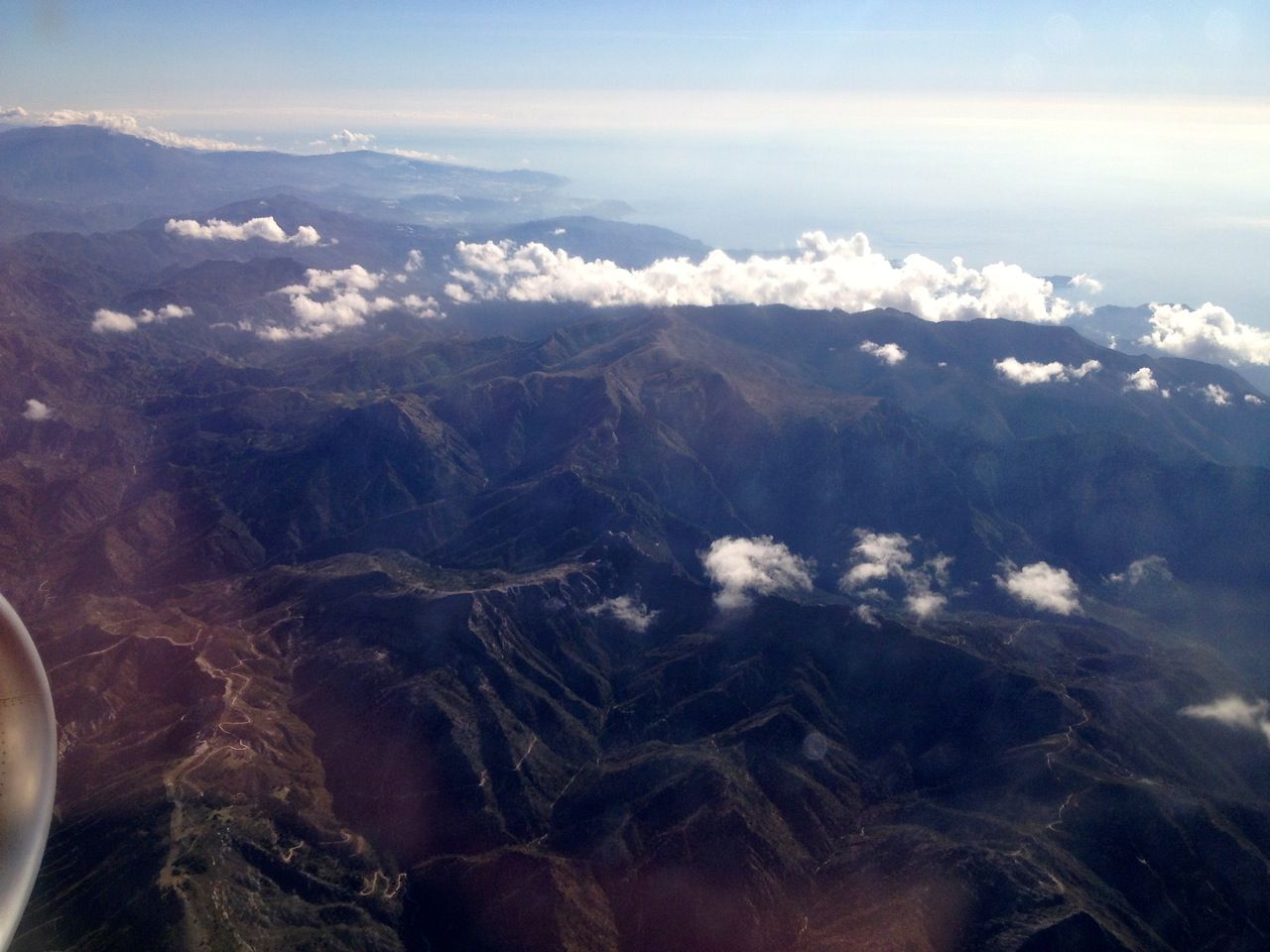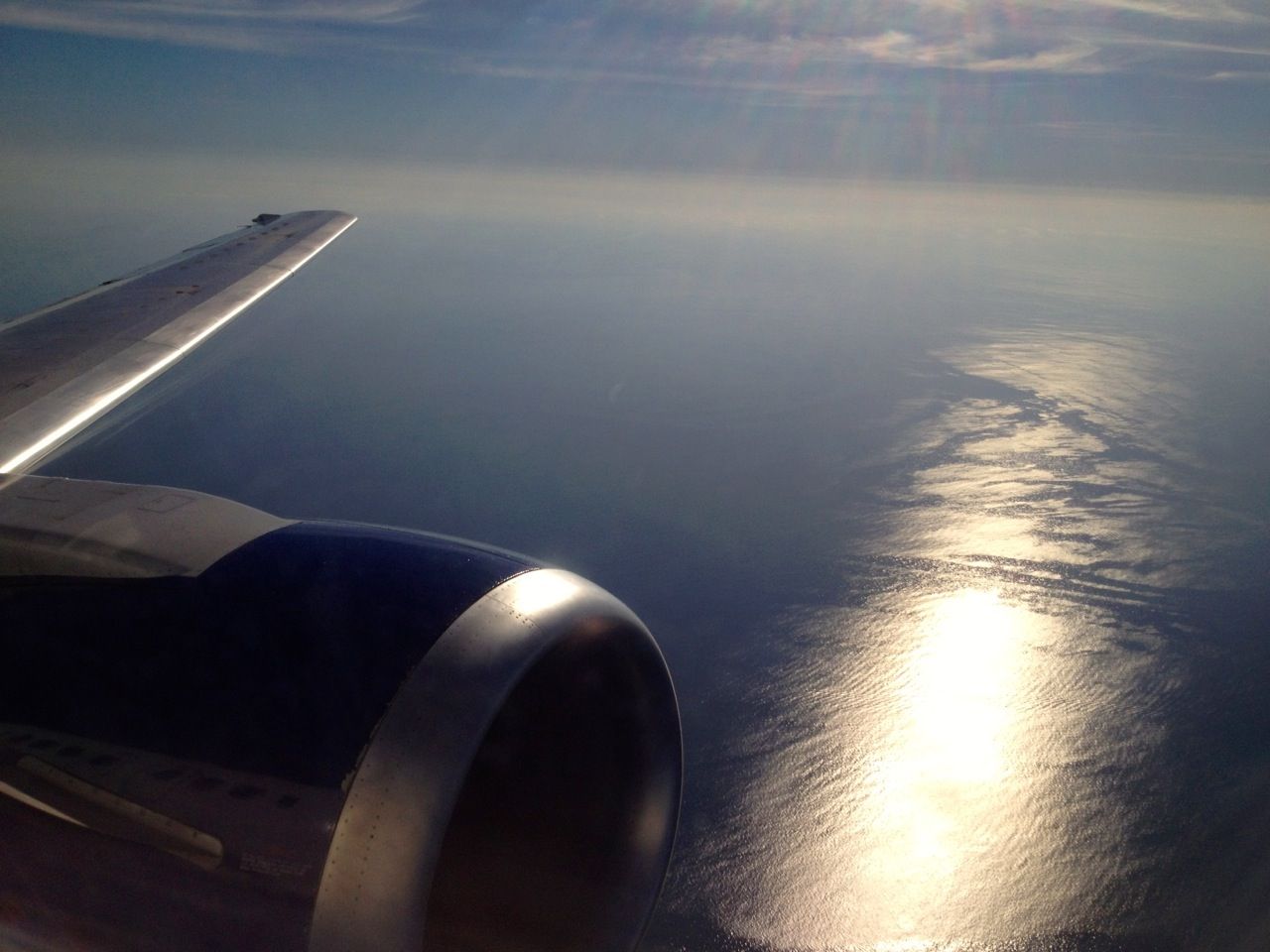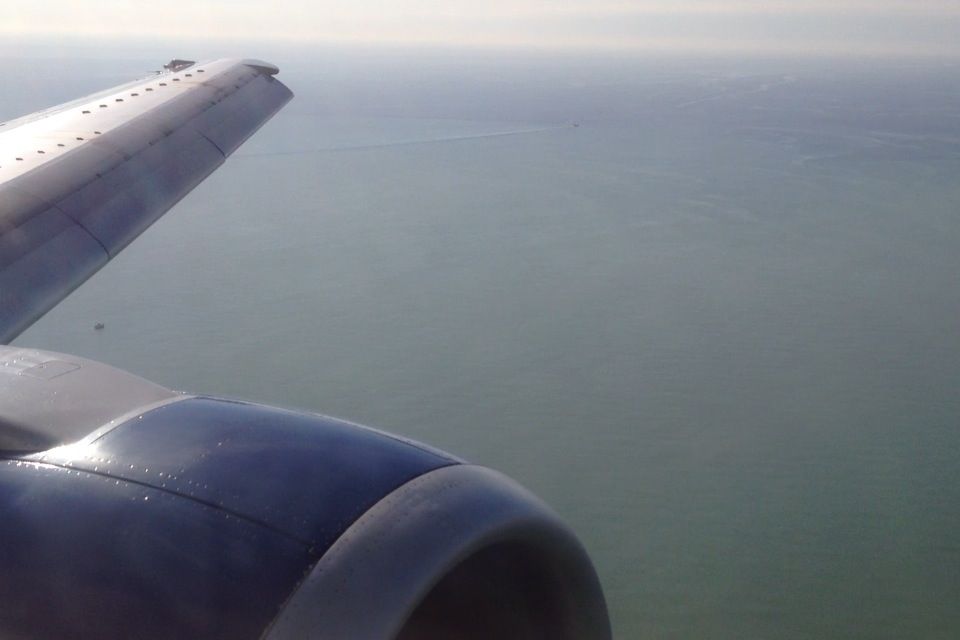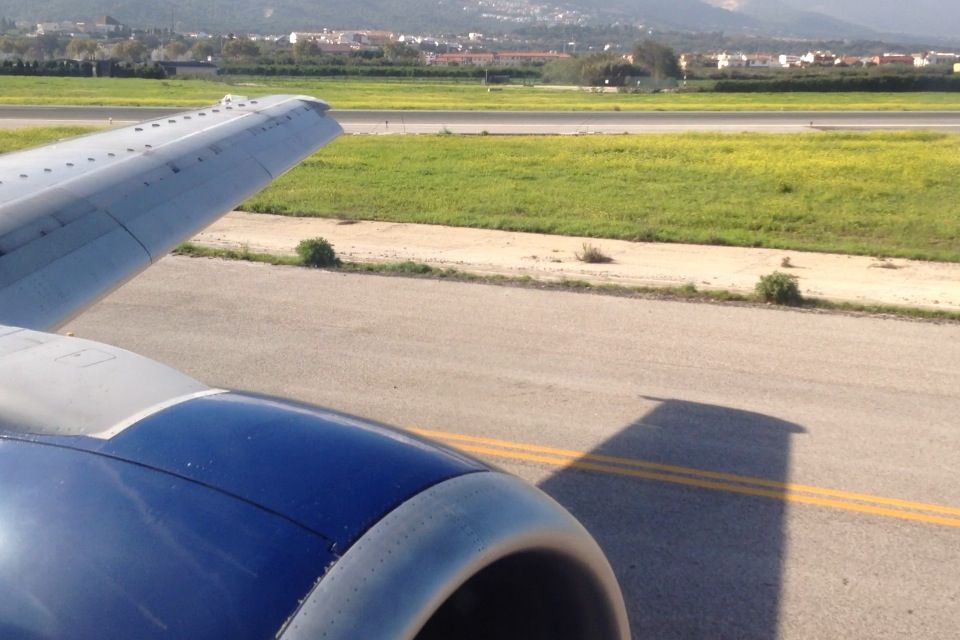 [youtube https://www.youtube.com/watch?v=l_QA2BFdUrg]
Touchdown was just before 11:45, and we made a short taxi over to the terminal. I noticed we were being guided in by a follow me van. Not noticed this before, but seemed to be common practice in AGP?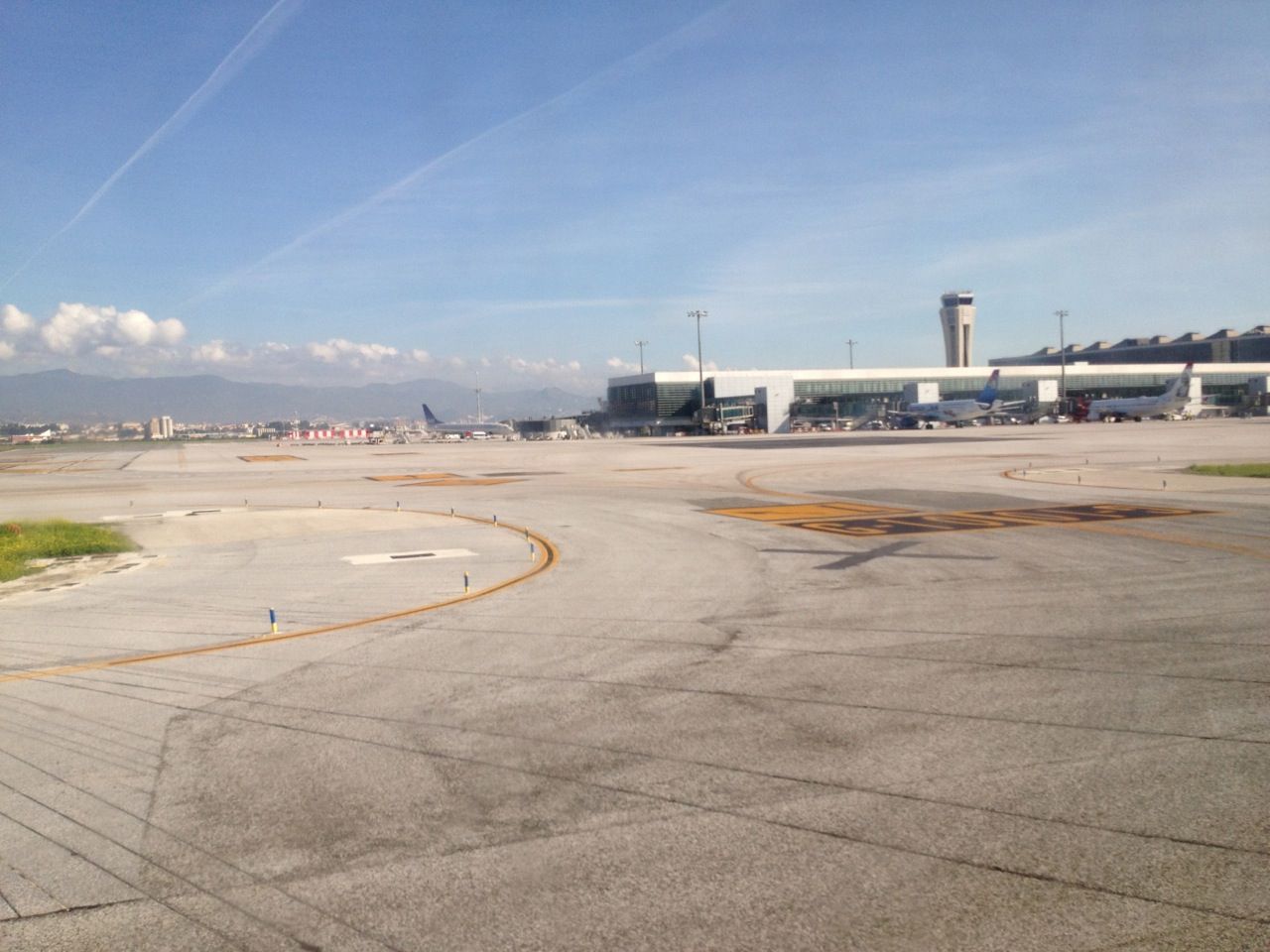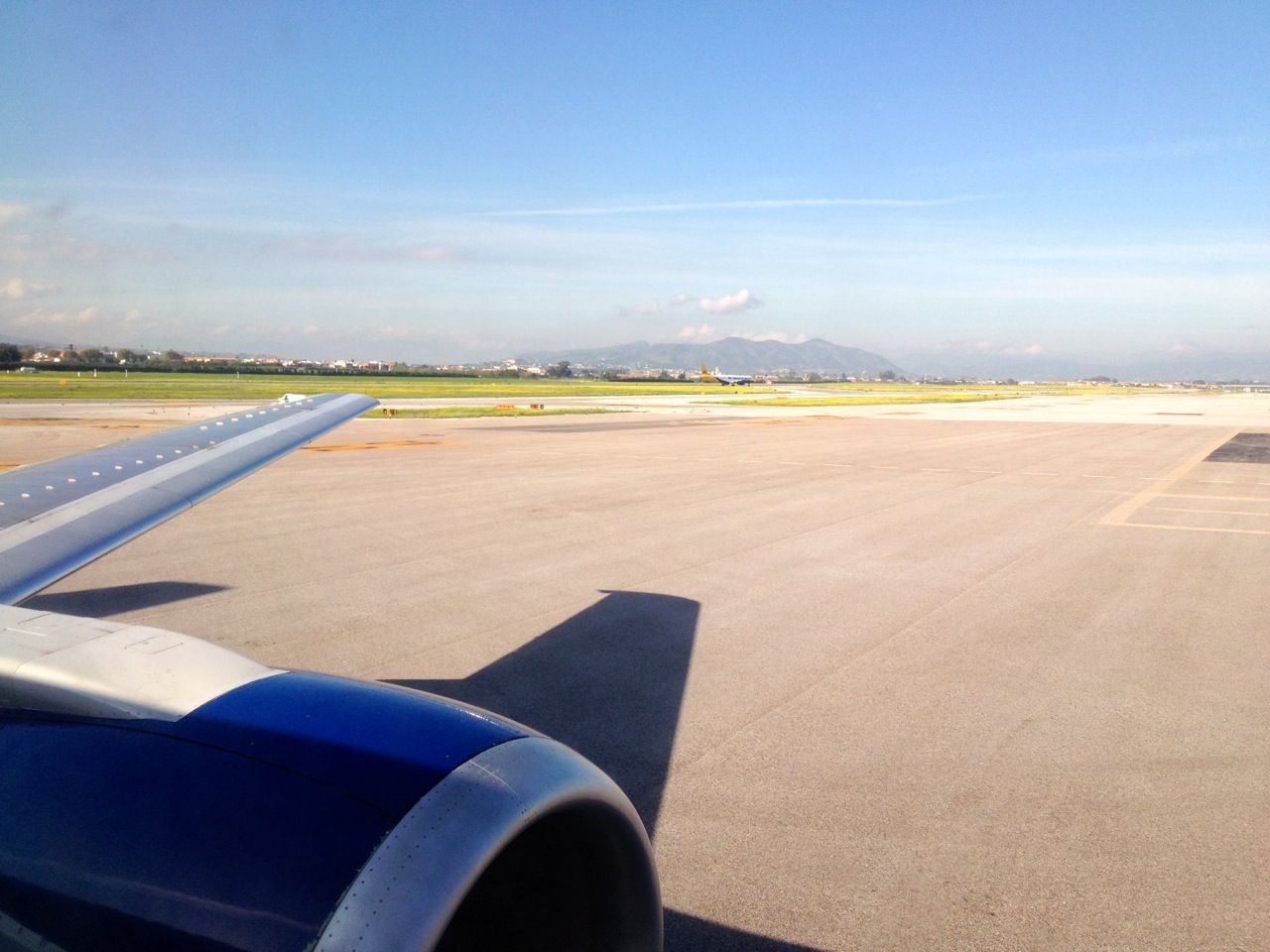 Shortly after we arrived on stand and it was out through quite an old looking part of the airport. During disembarking, the guys behind had a brief chat with the deadheading captain. Turns out he had flown in from BGI that morning and was off to finalize buying a property.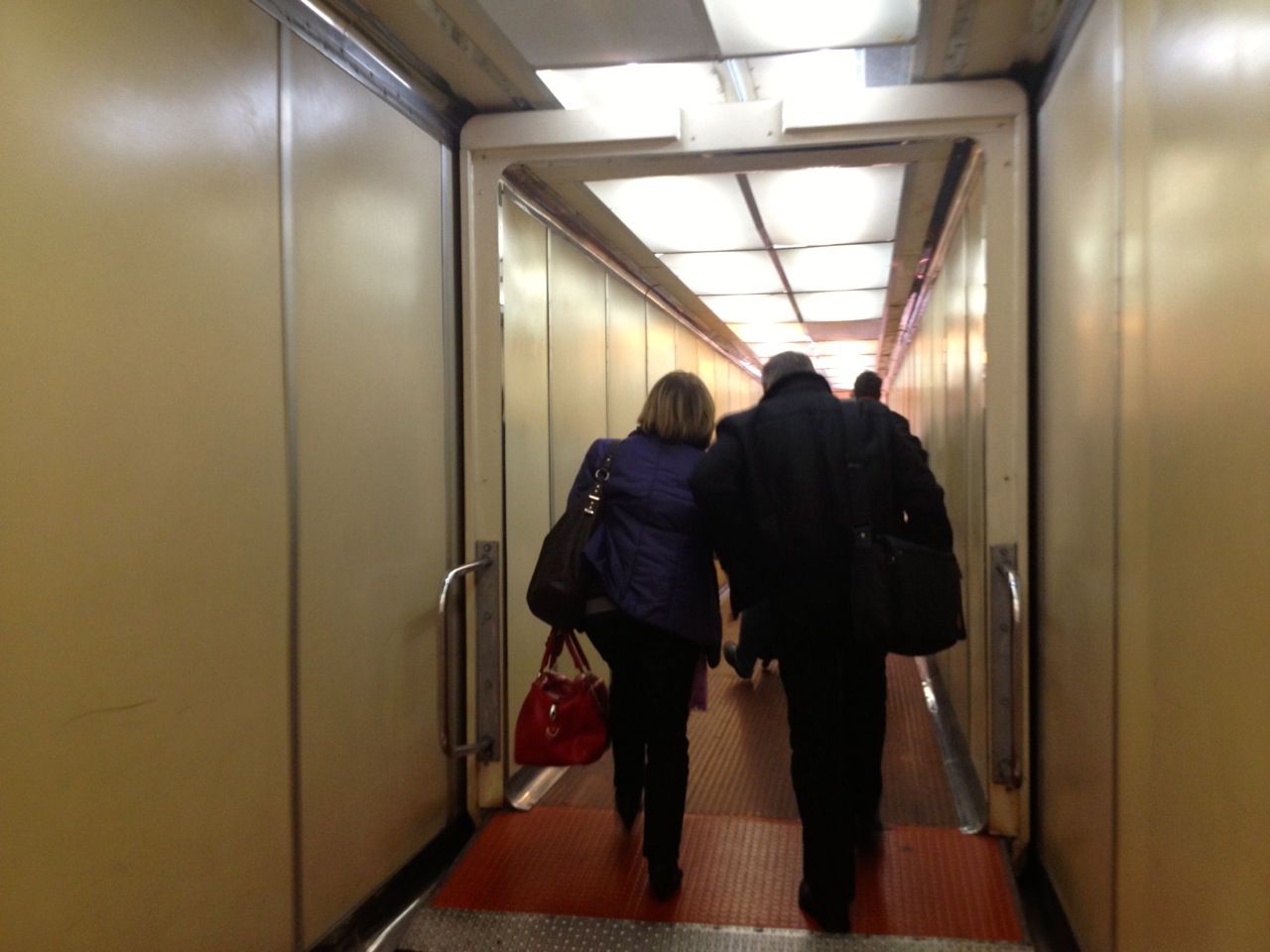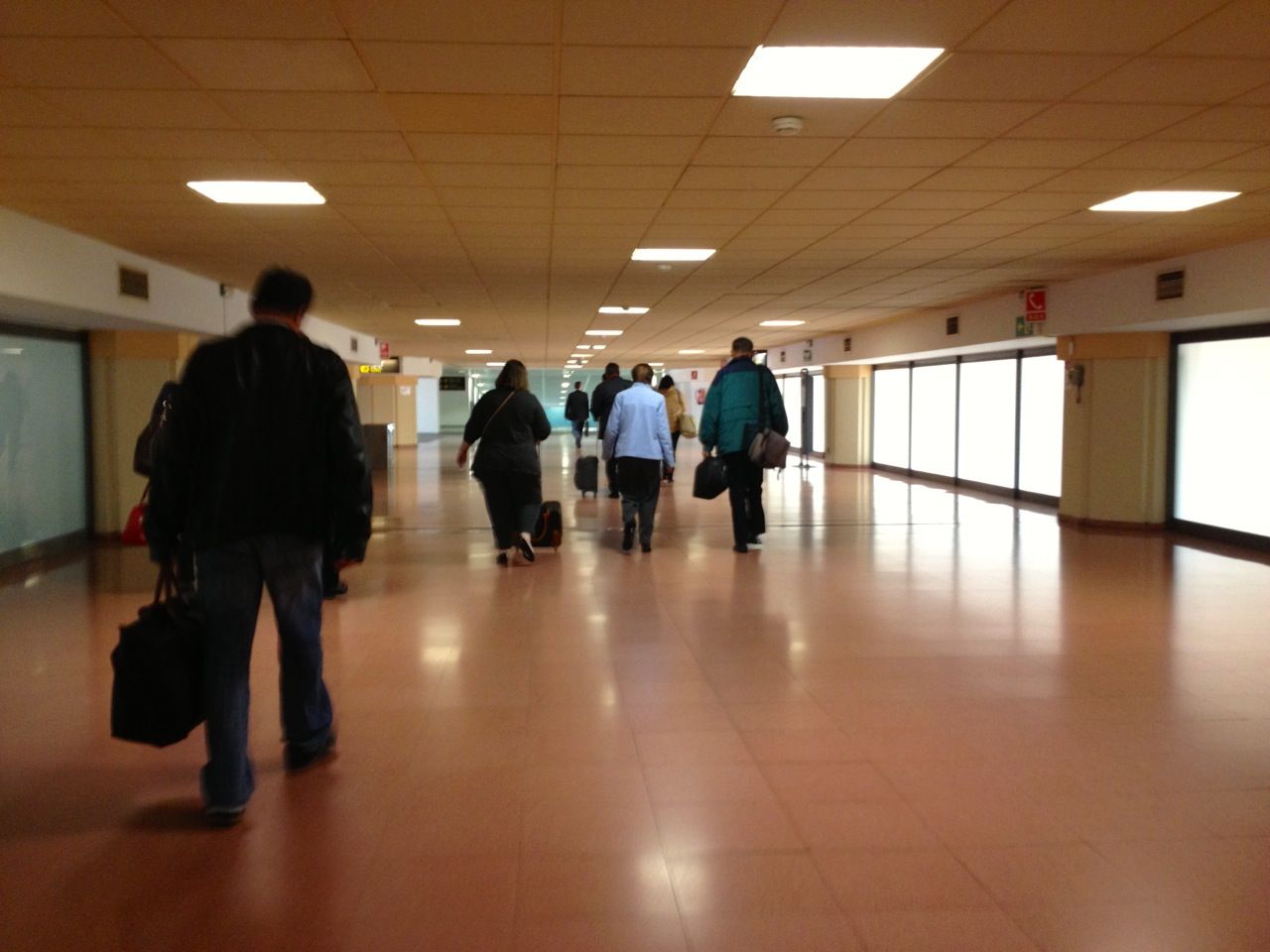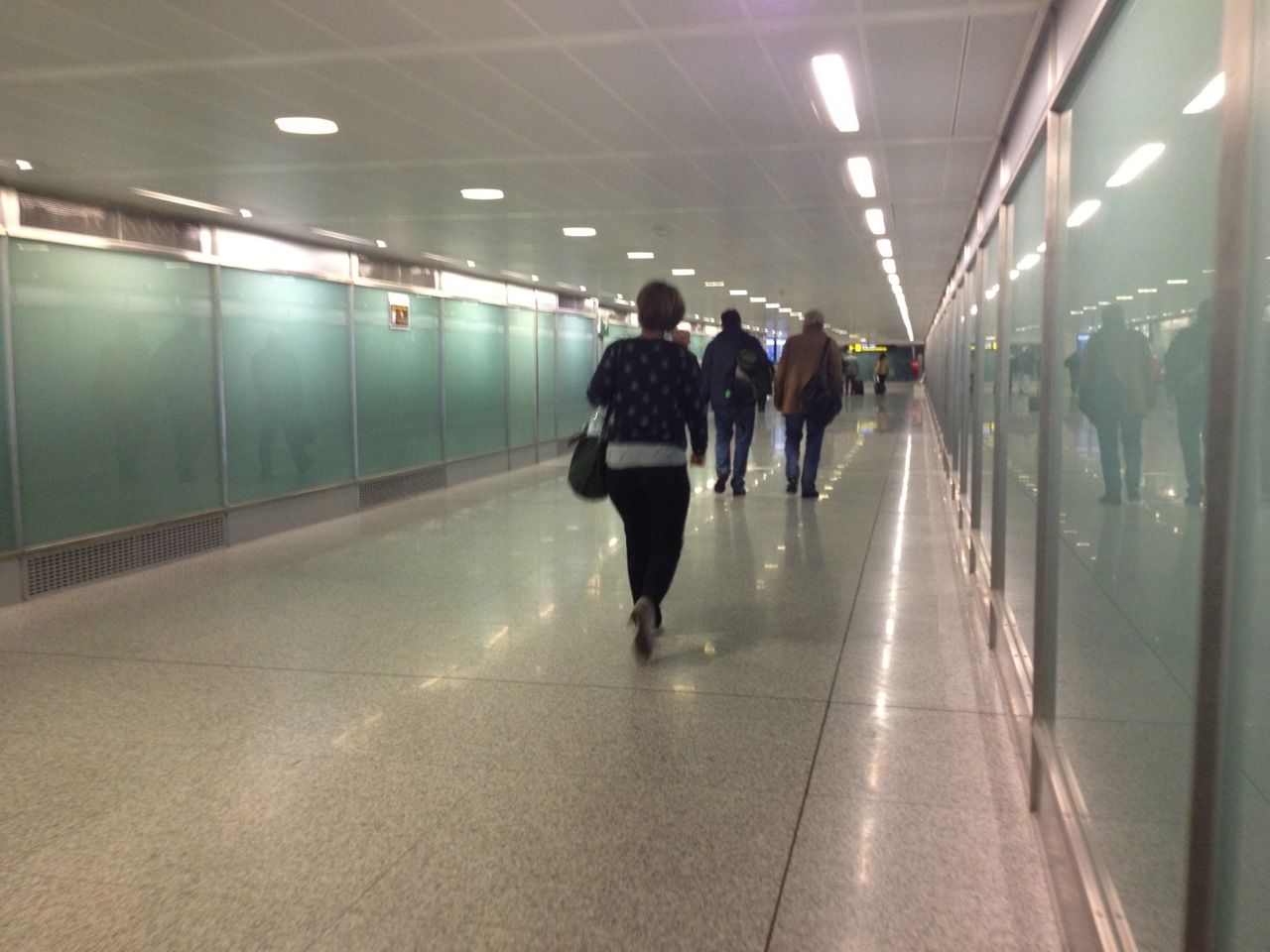 I saw another couple of visitors from the UK/Ireland along the way. The MON landed just after us – I was also unaware that there were any MON A321's were in the new livery. I'd get a few more pics of this one a bit later.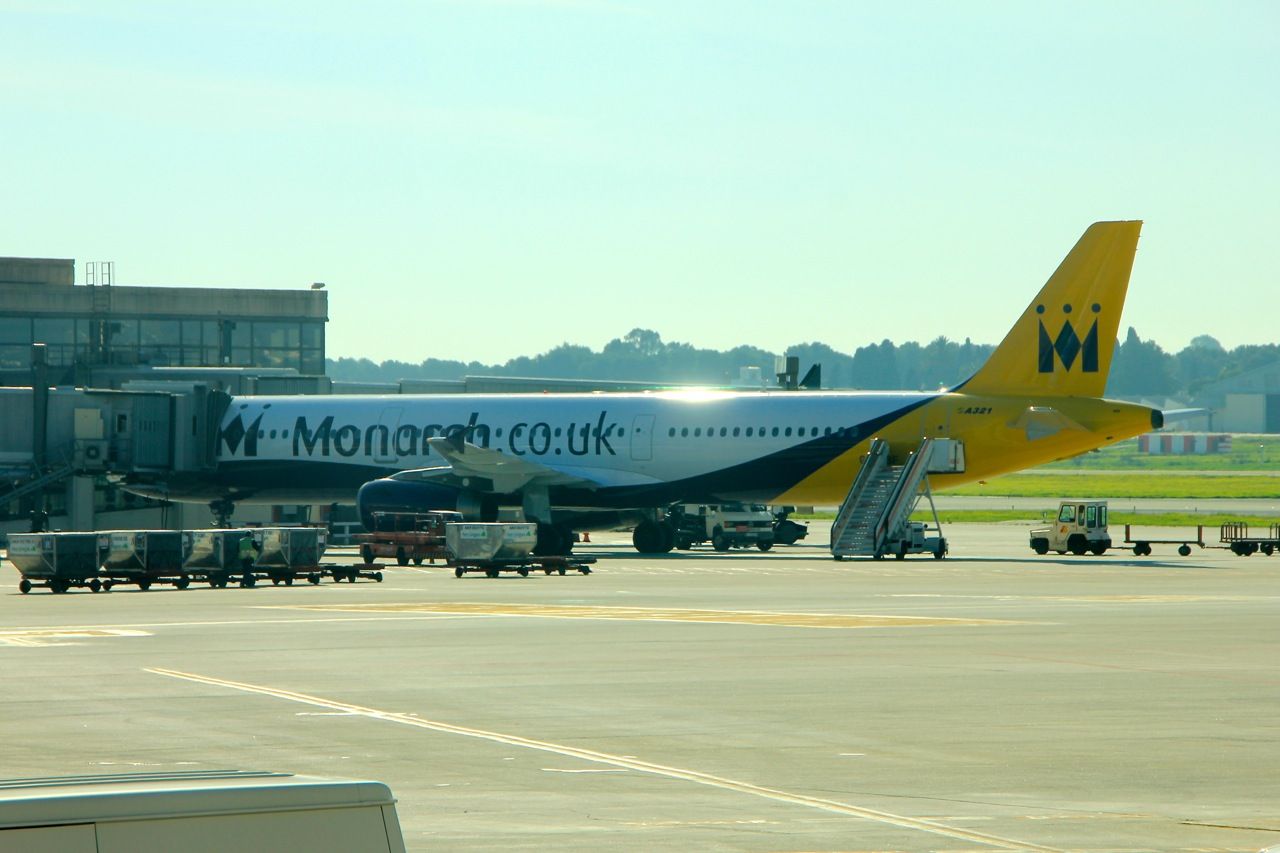 Passport control was the easiest I'd ever experienced – I went to give the officer my passport and he just waved me throughout without even taking it off me… Fair enough. After that it was out into arrivals.

Blue skies – Not experienced this in November for quite a few years!
Then I took a walk out to the aviation museum that was around 15/20 minutes away.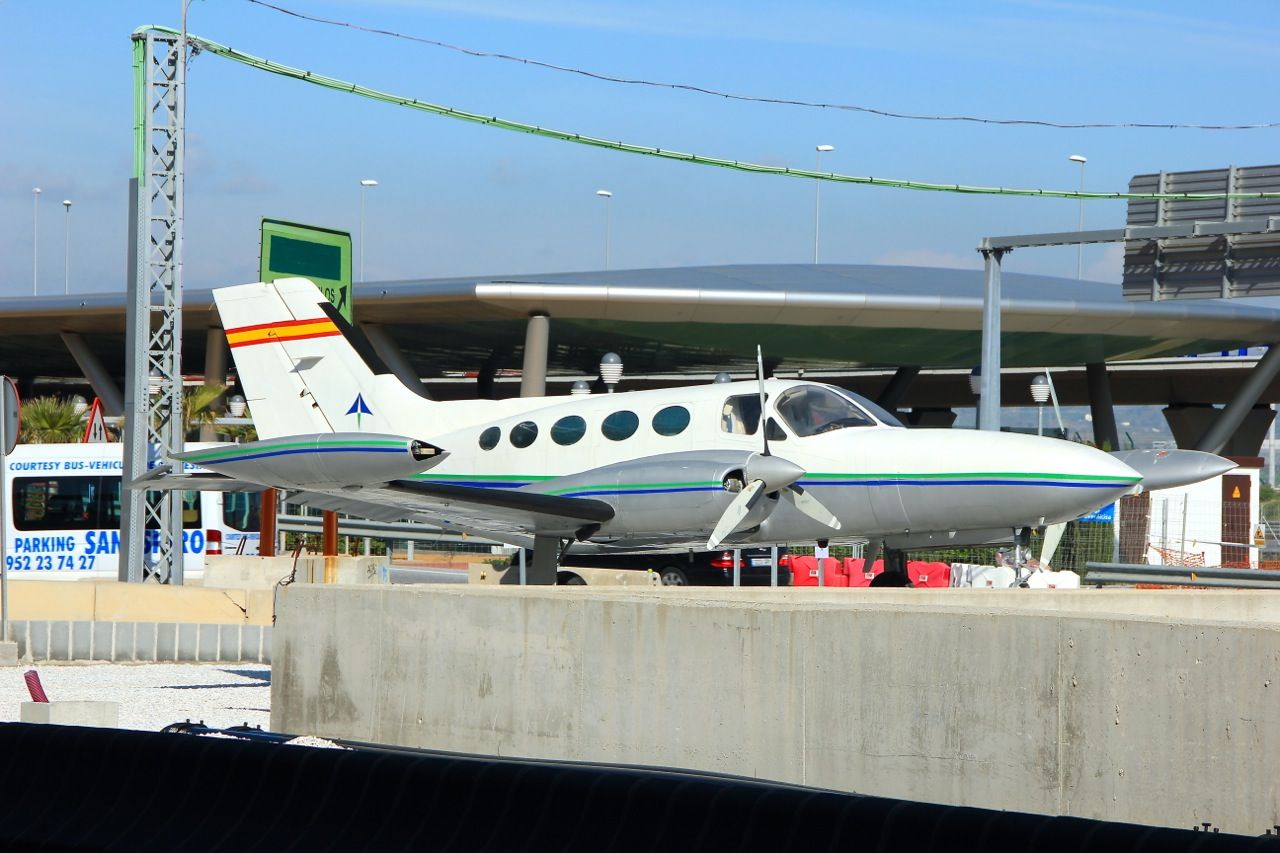 What a difference a couple of hours make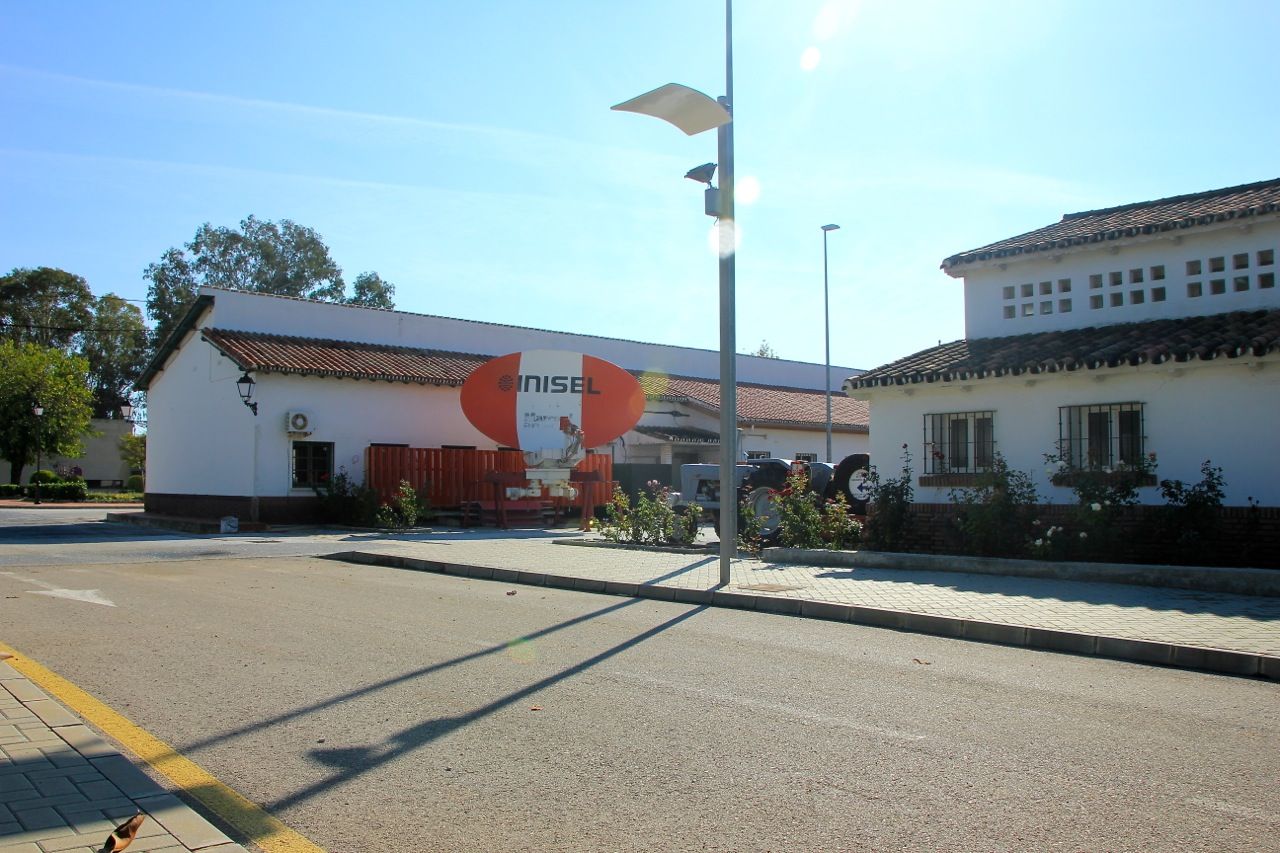 I was welcomed in by a friendly guy, and spent a good couple of hours or so looking around and watching the movements. I know Gabriel covered the museum in his report, so hopefully I haven't duplicated too much.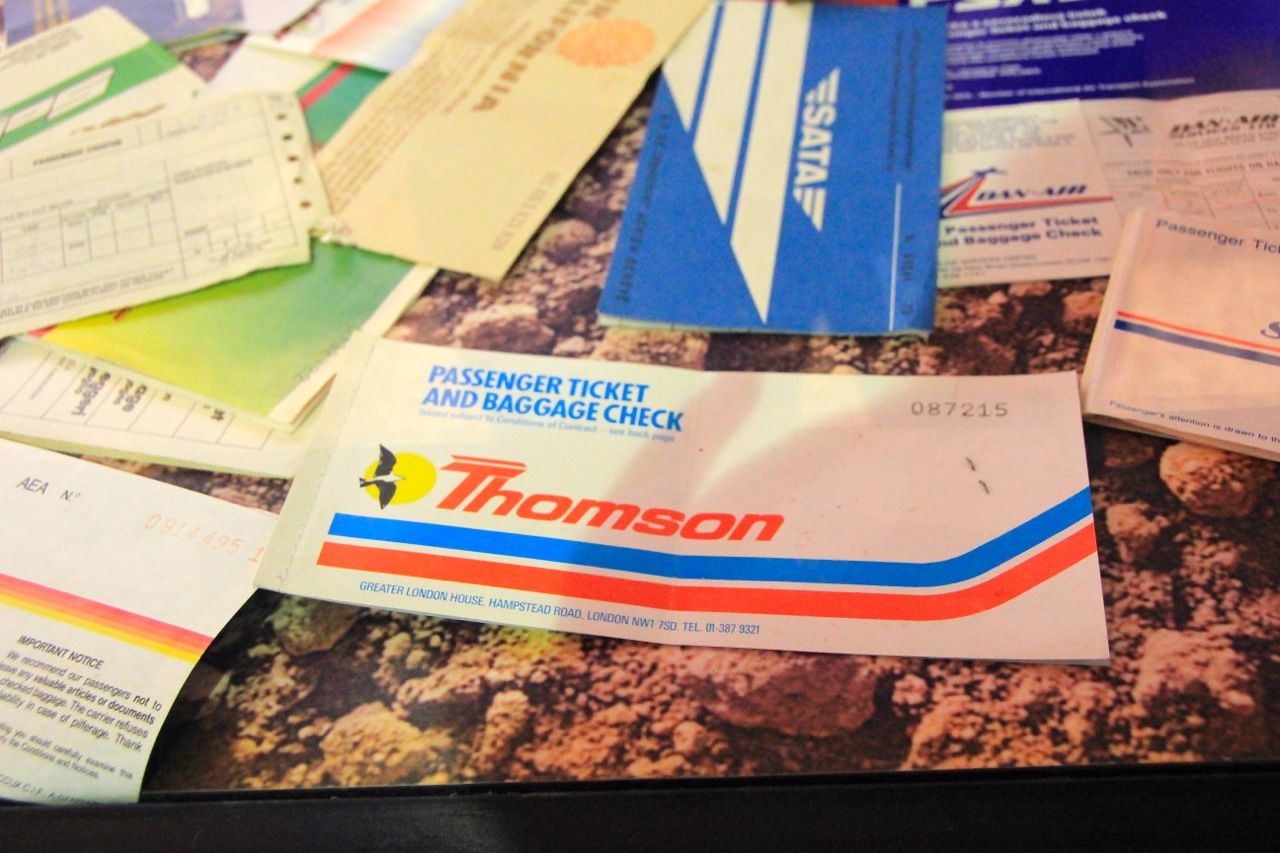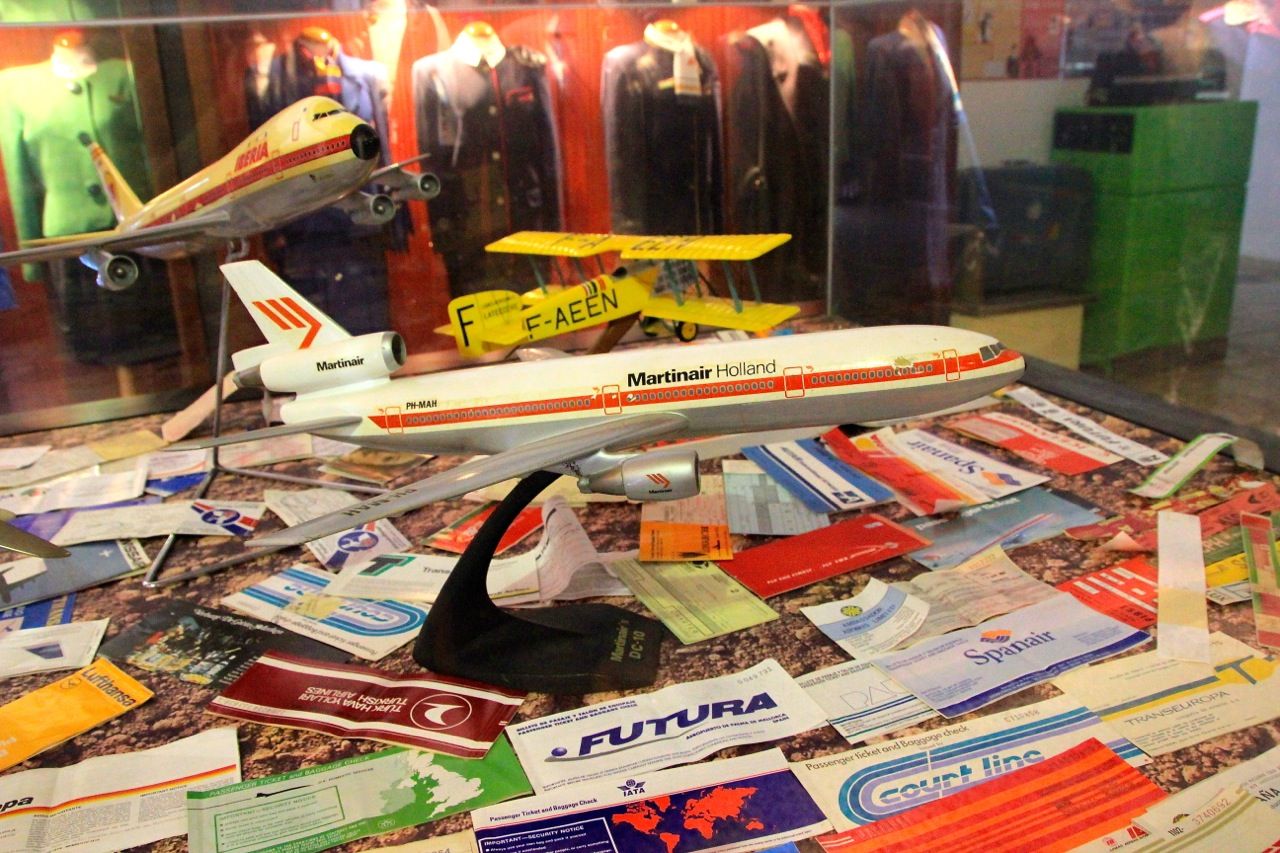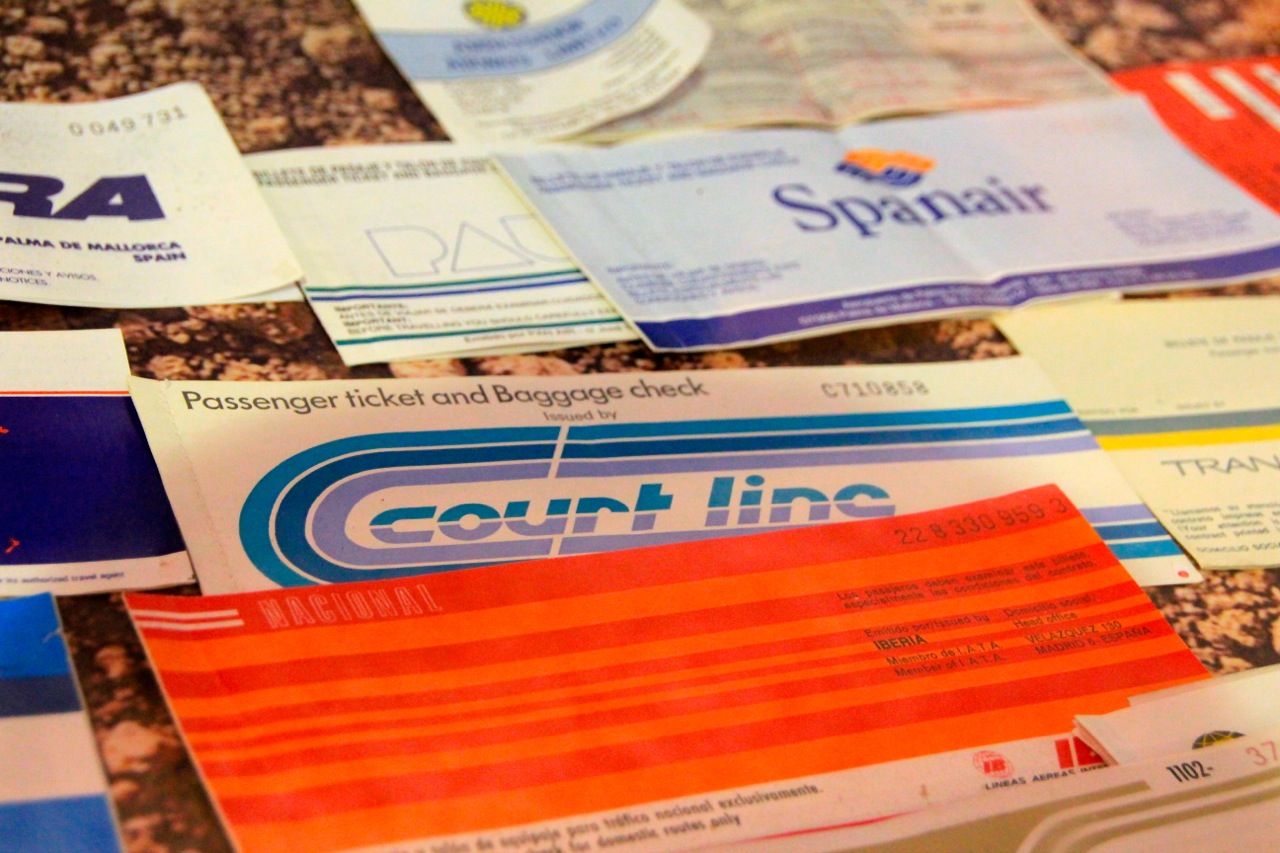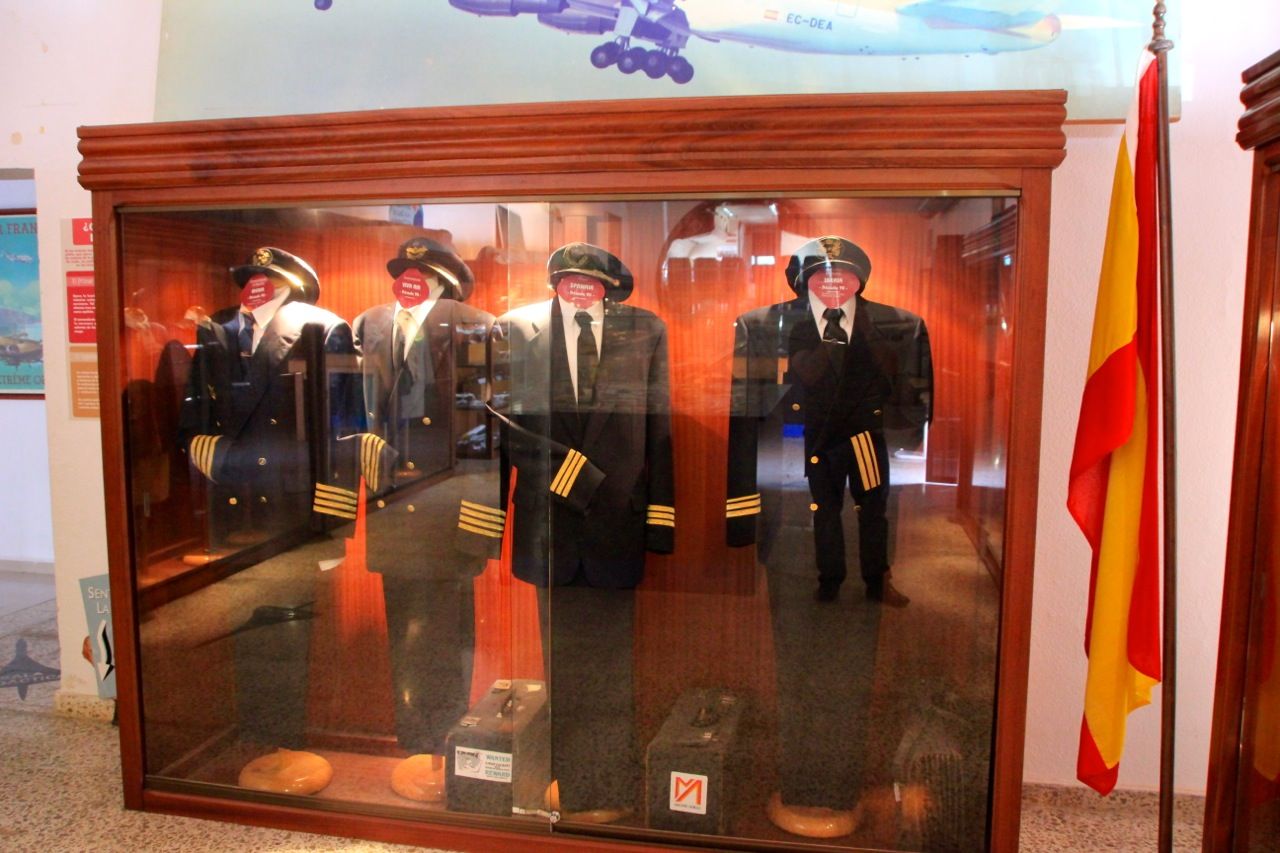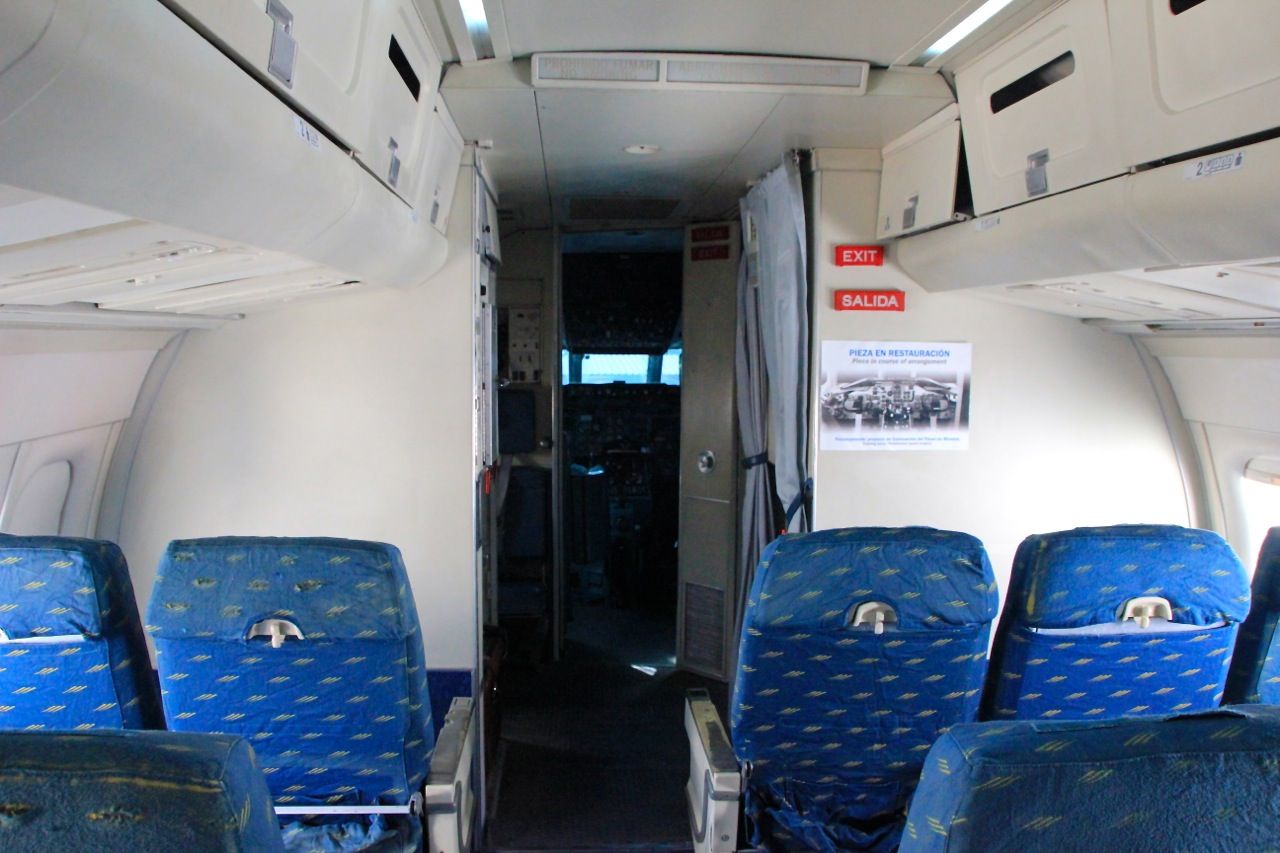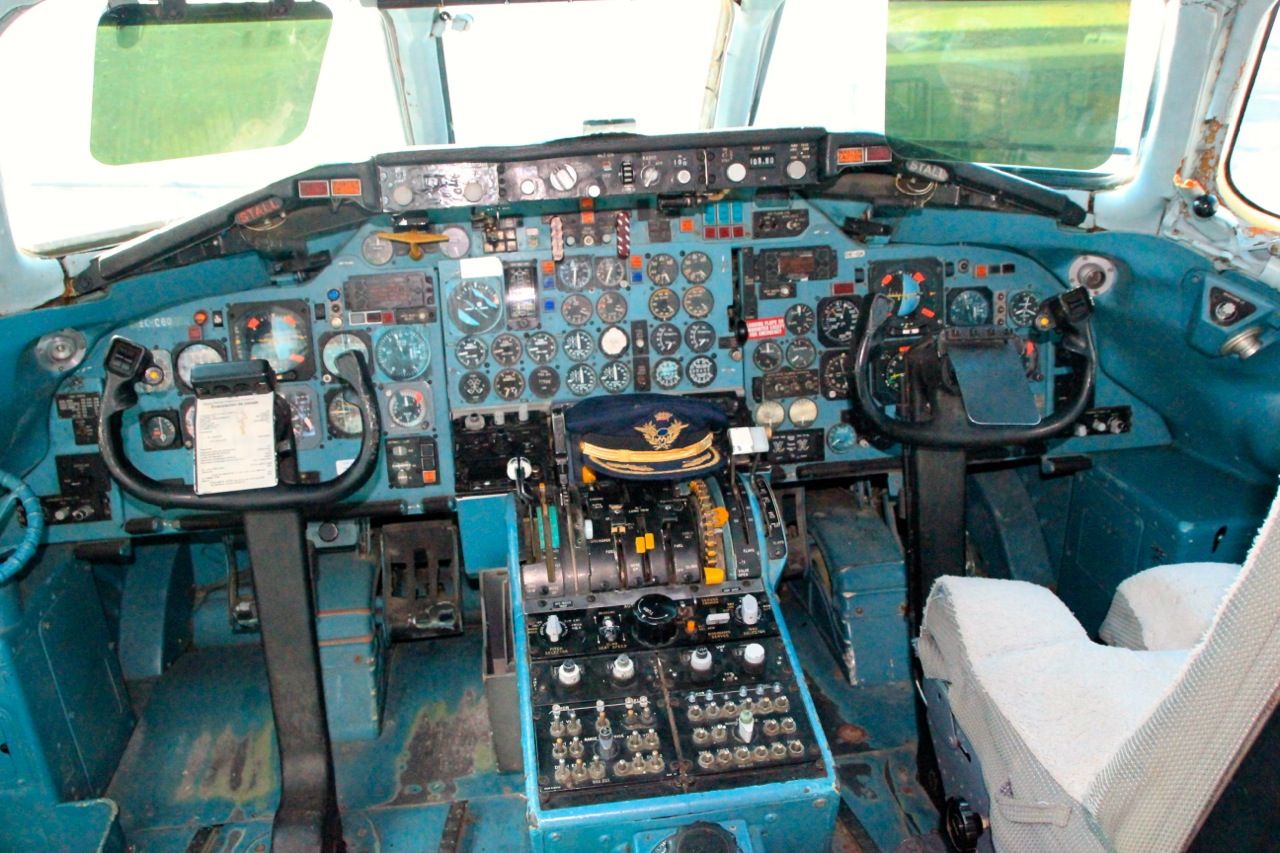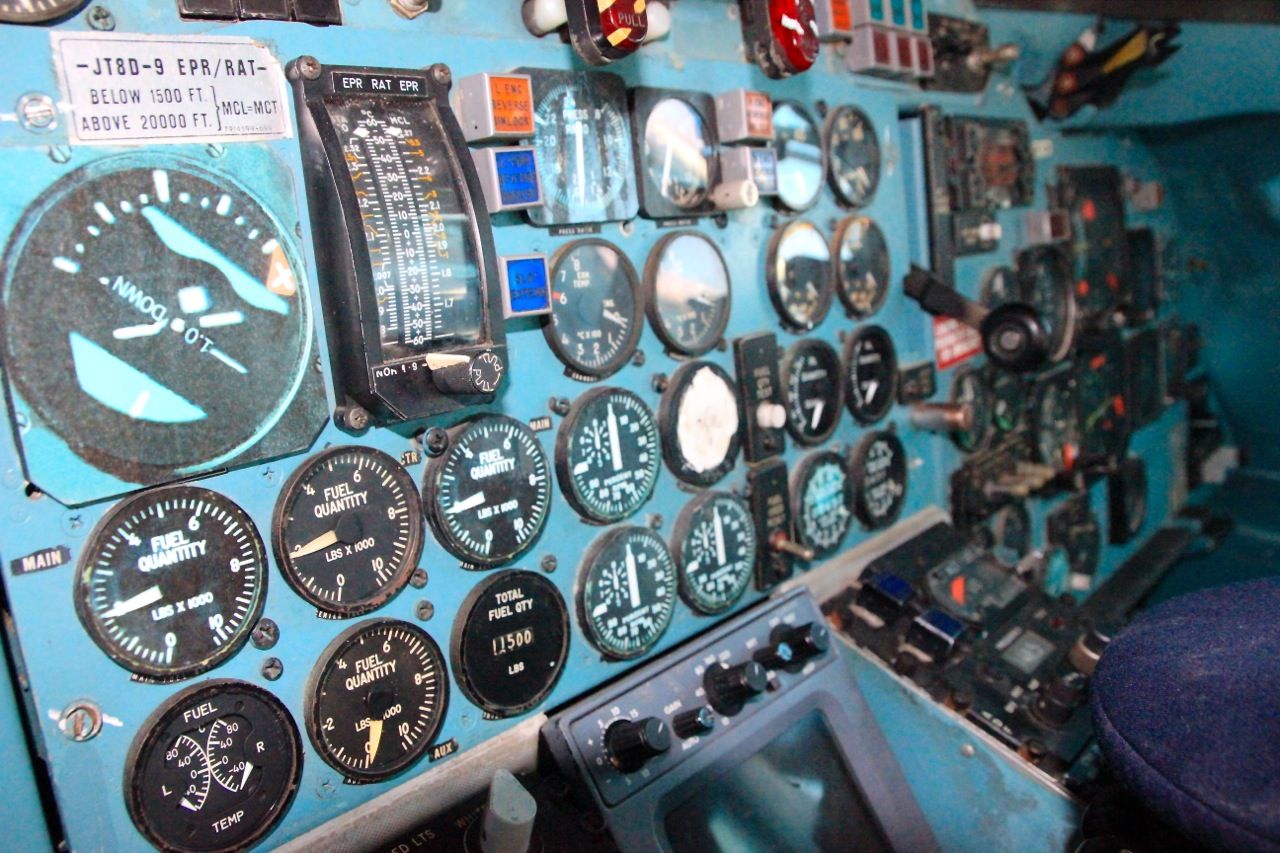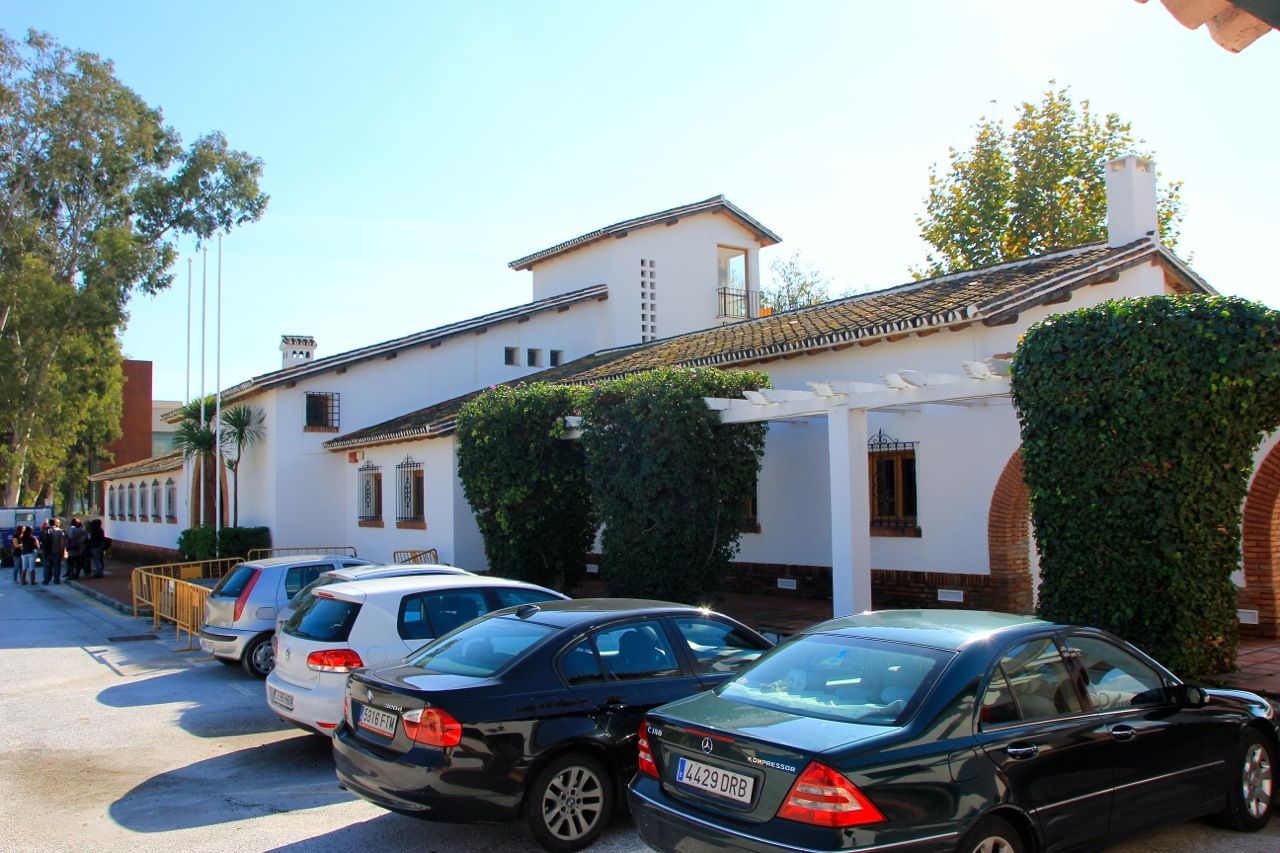 The original terminal at AGP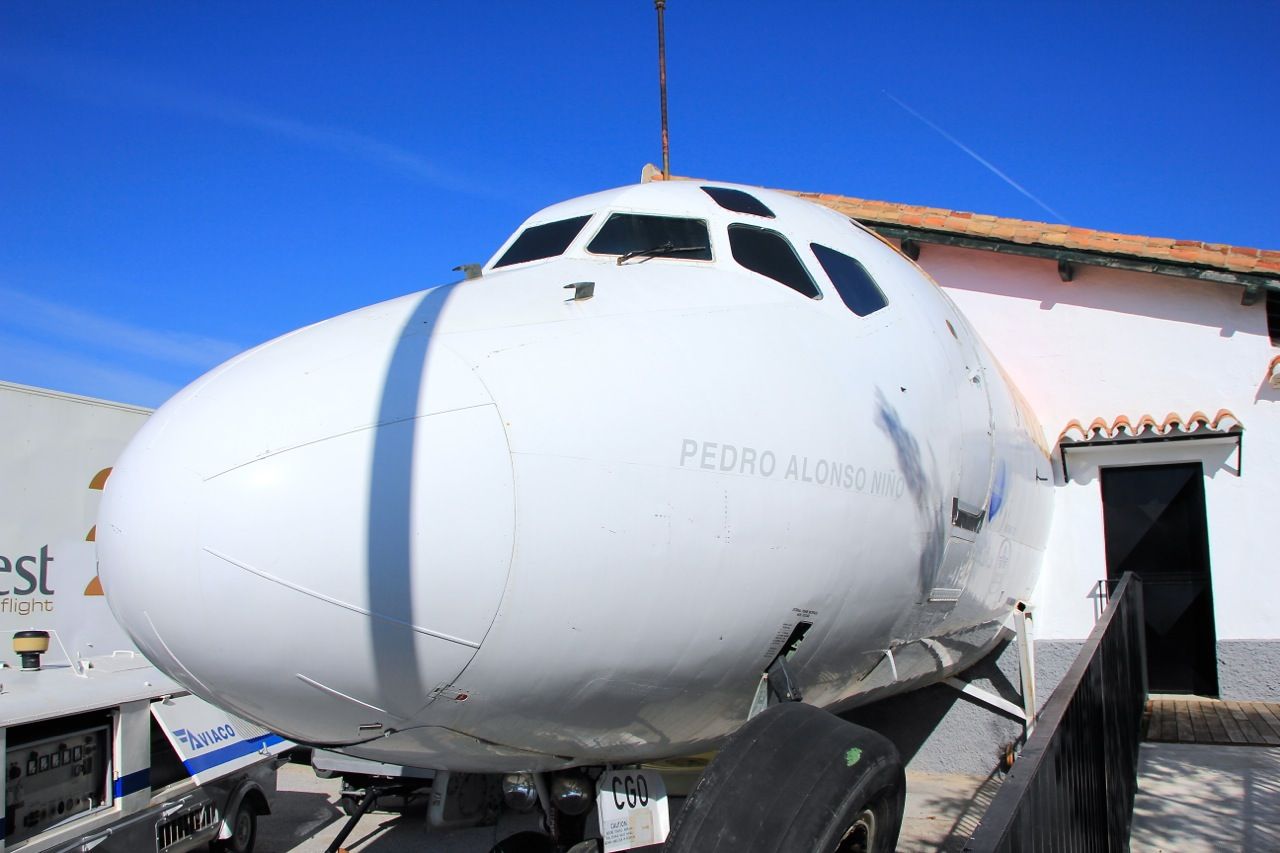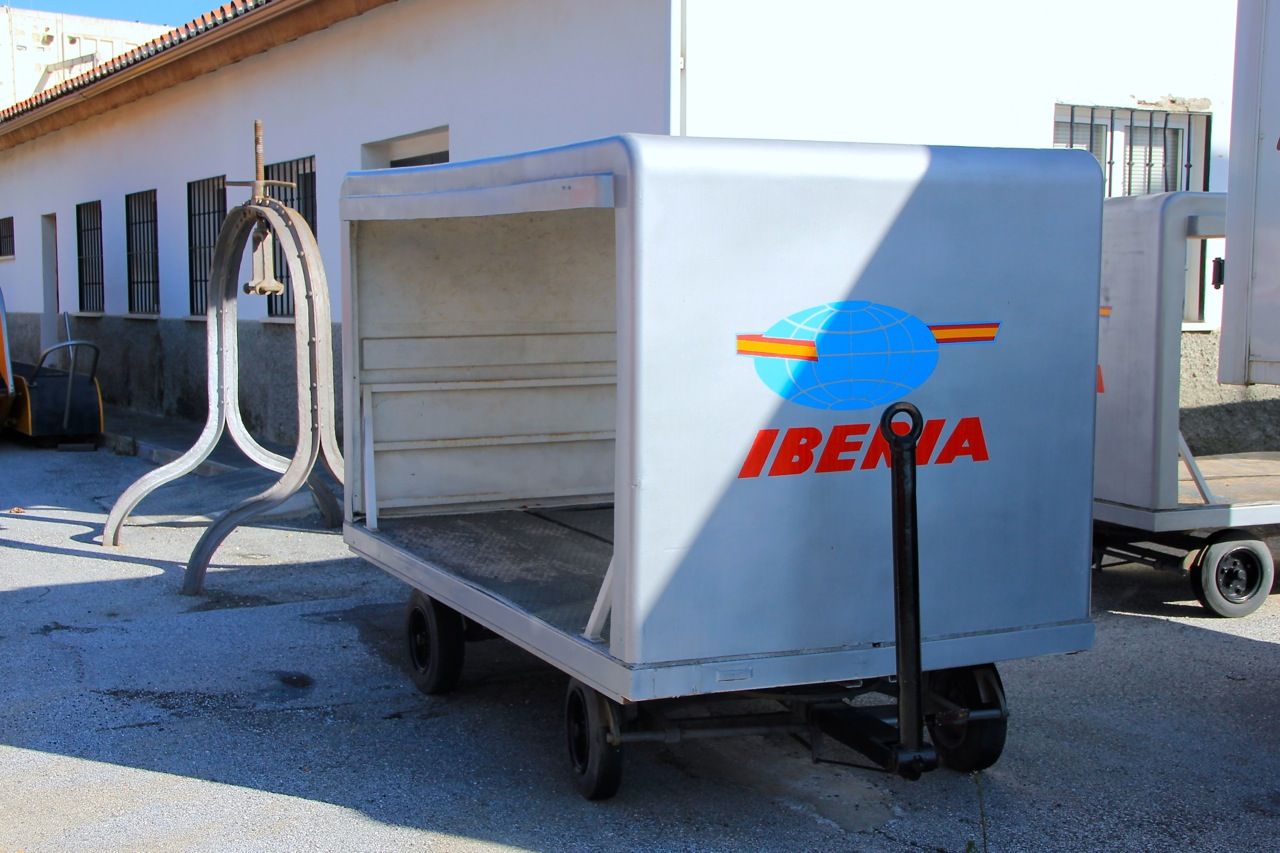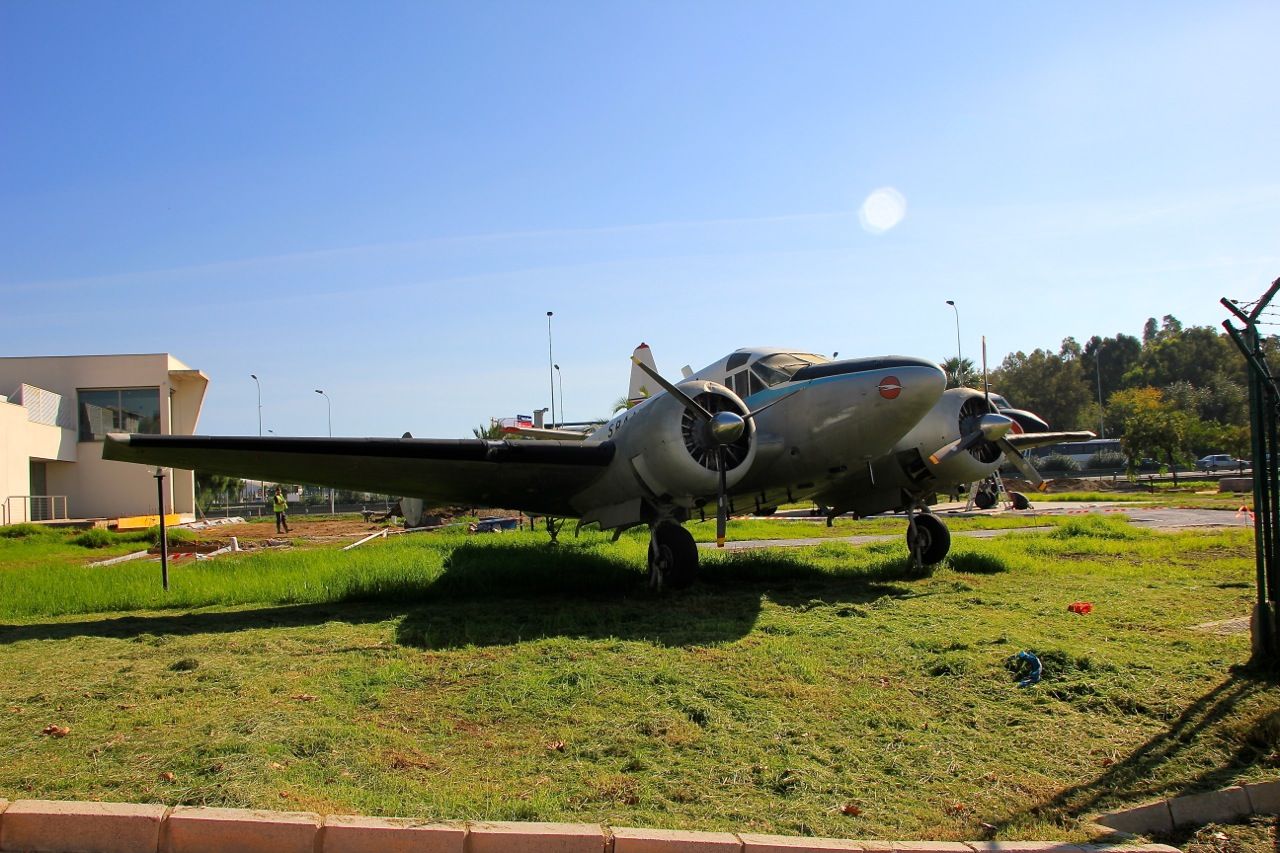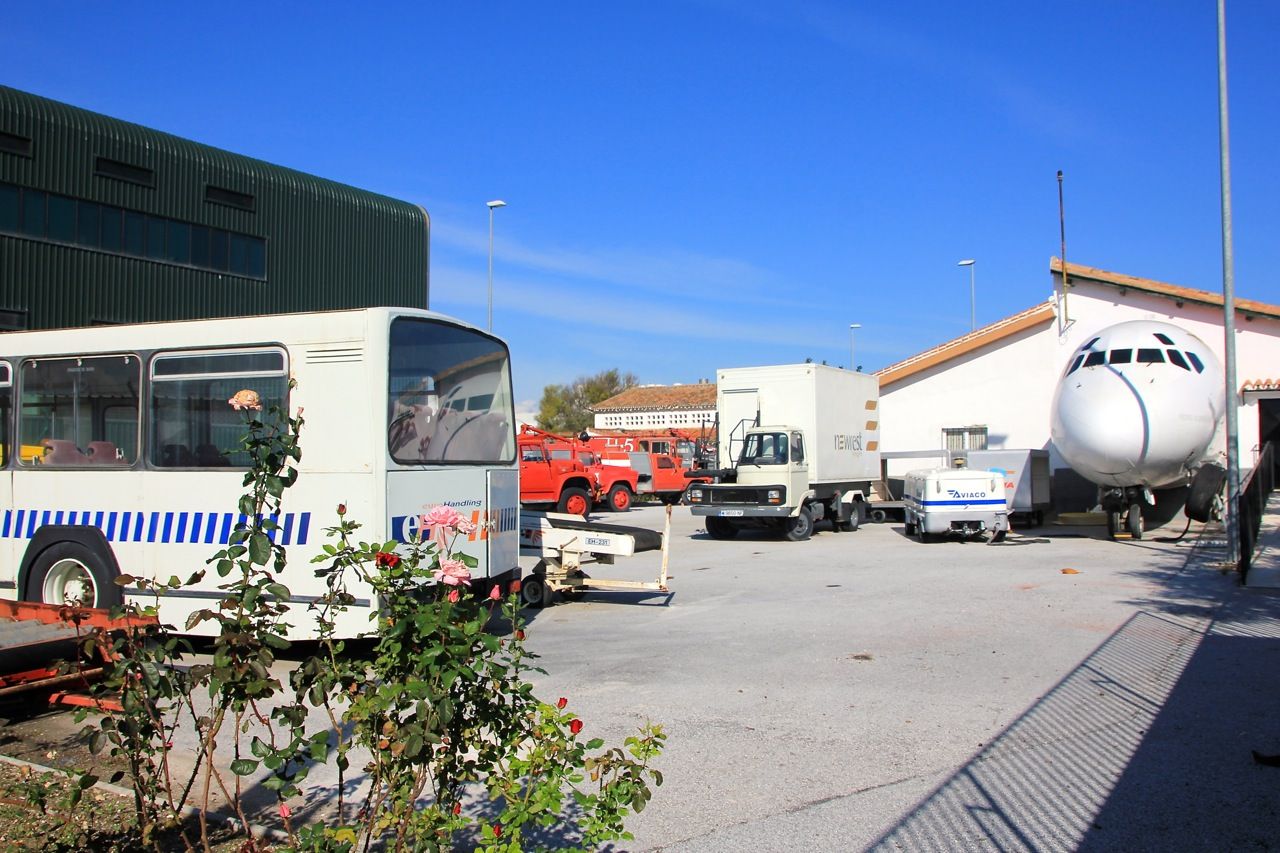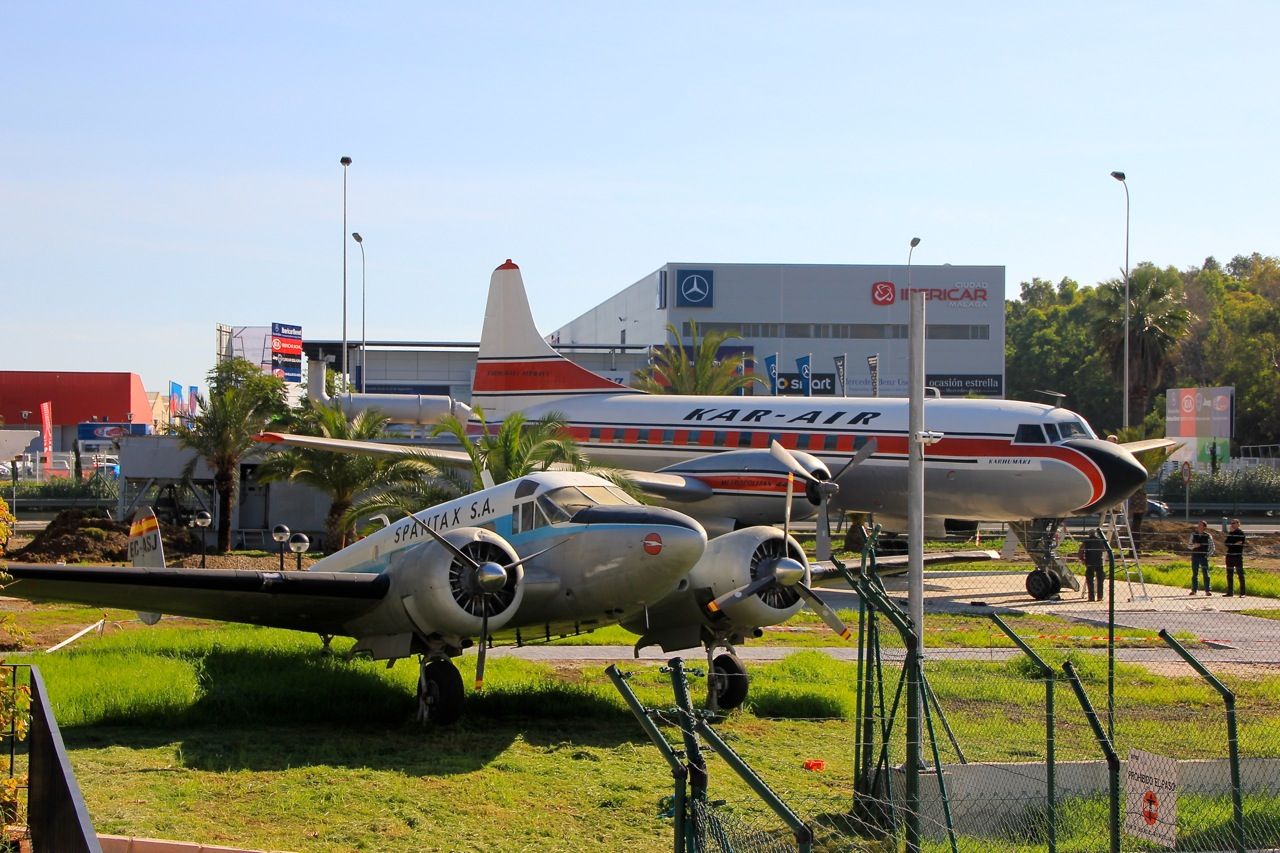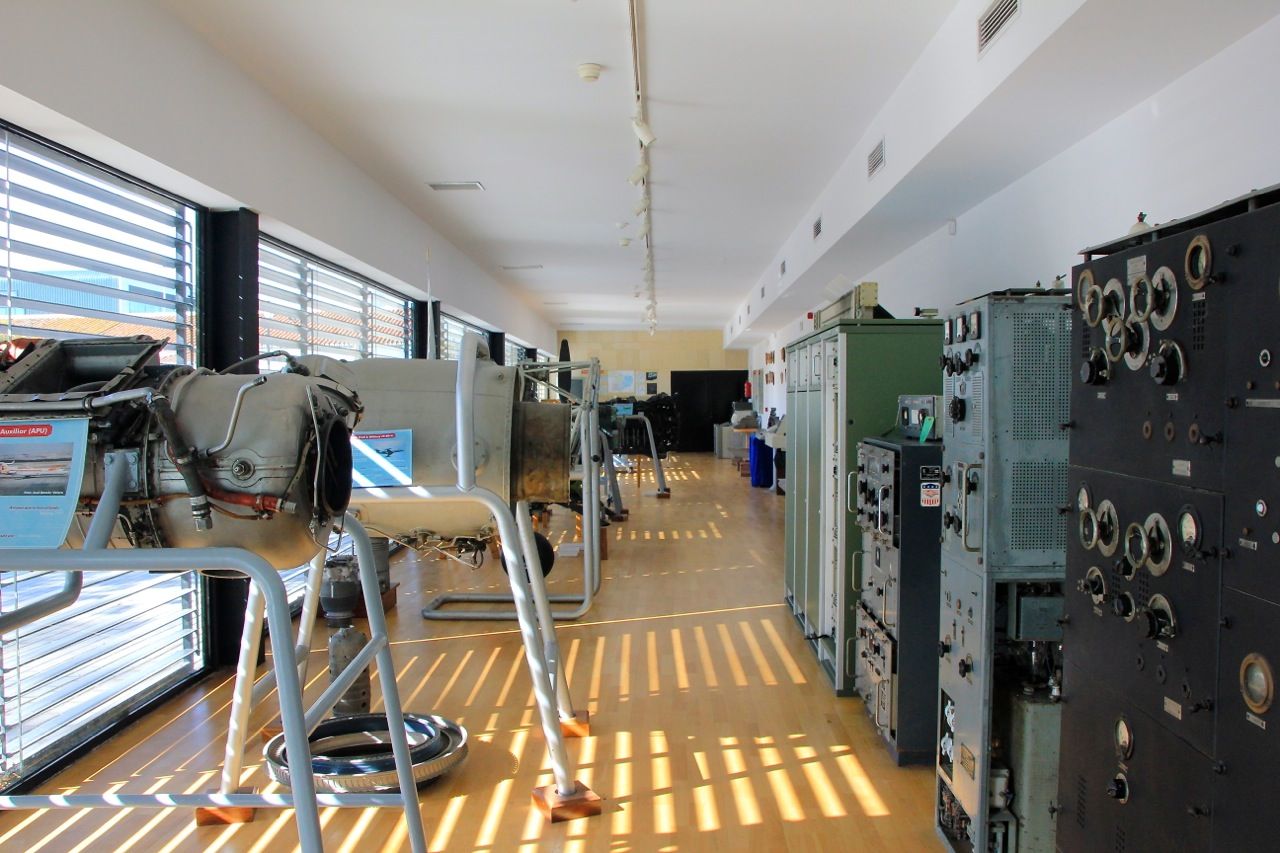 After I had seen the inside of the museum, I decided to wait around to watch the plane that brought me to AGP depart back to LGW from the viewing terrace.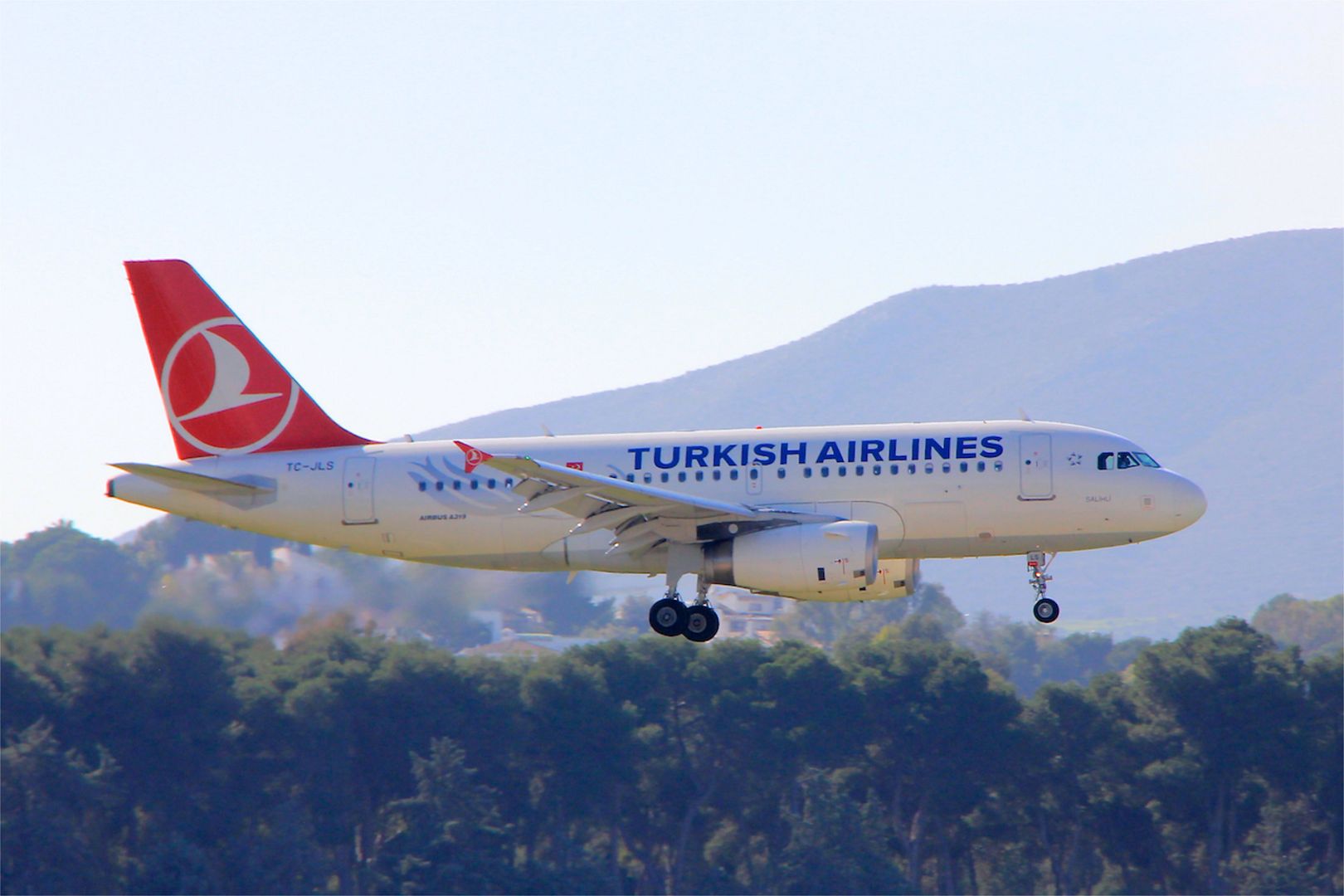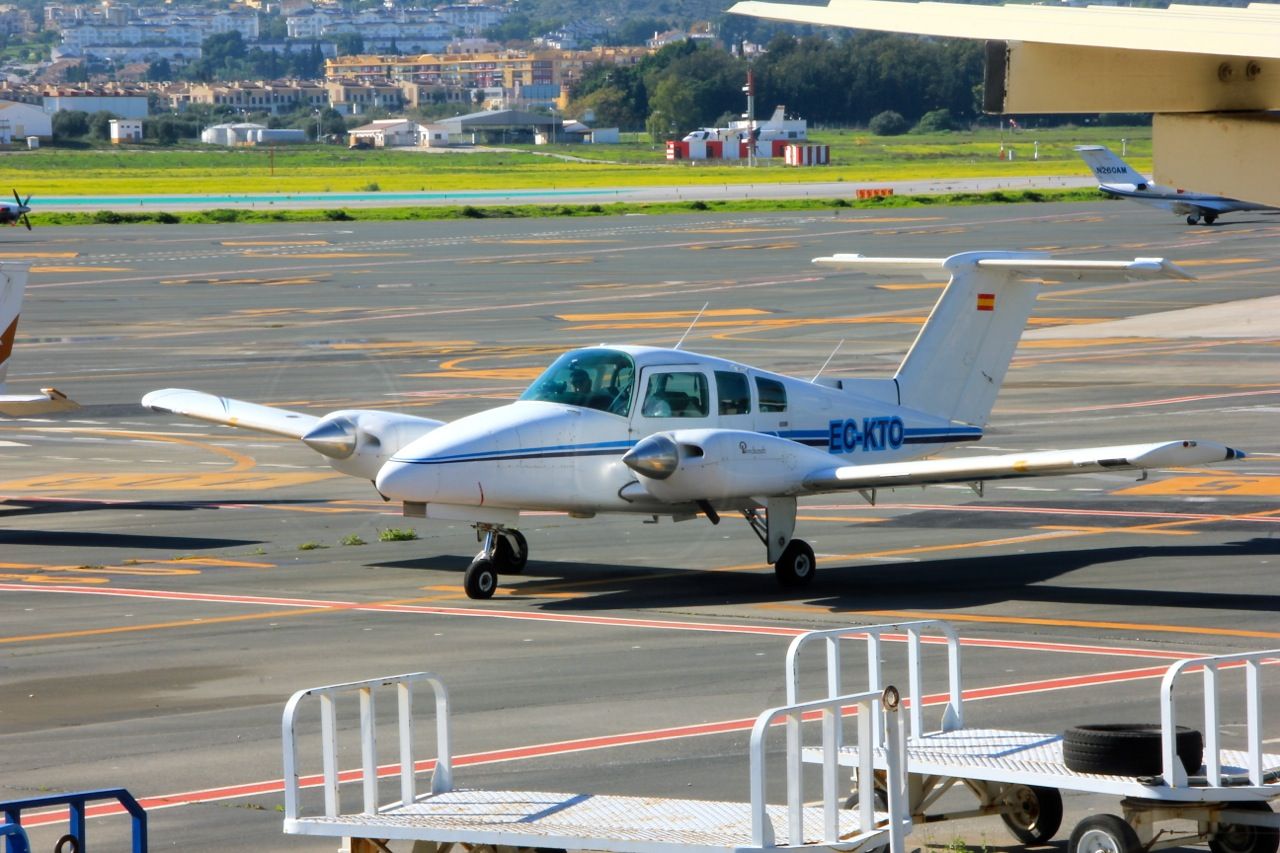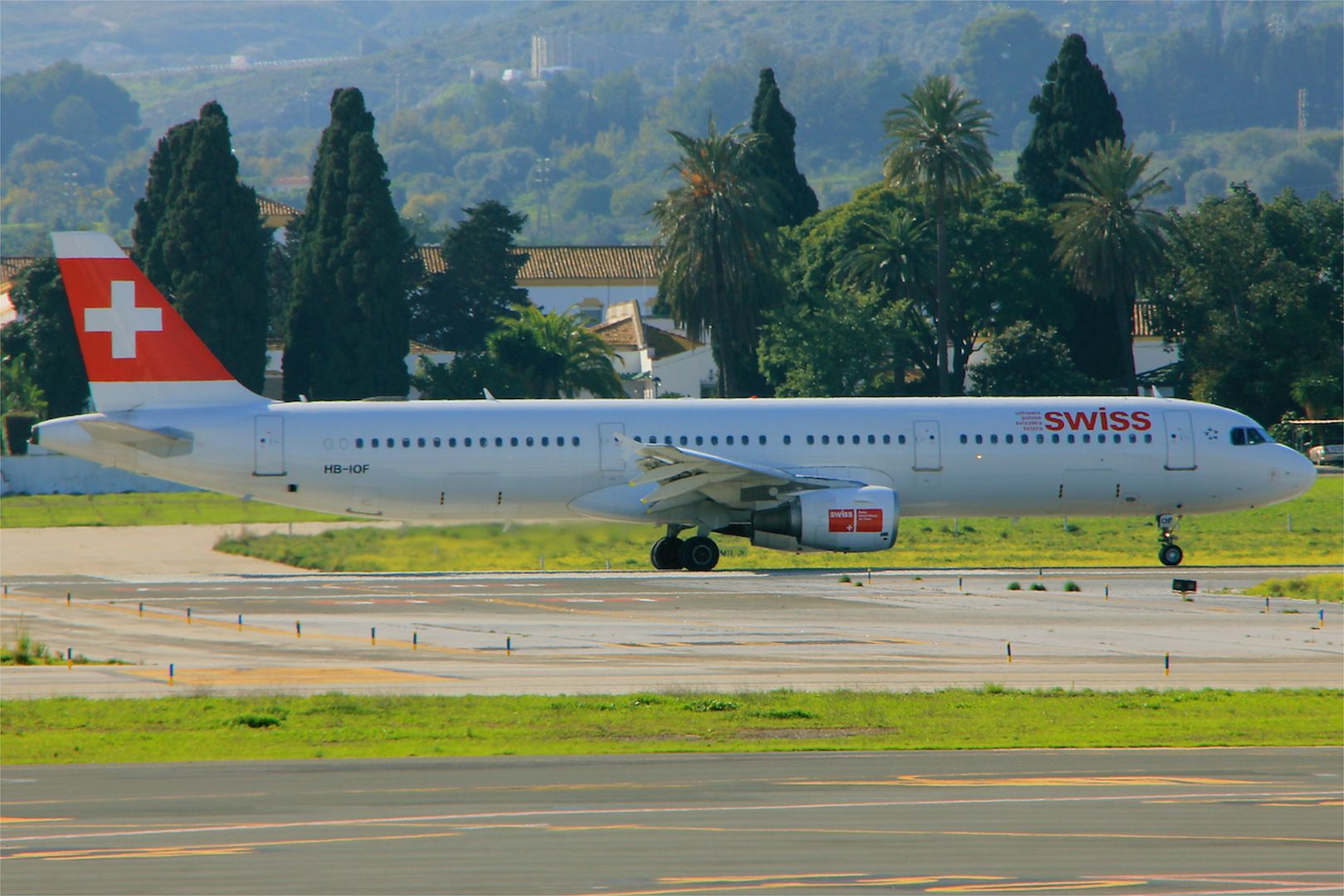 After around an hour or so, the BA flight hadn't shown up so I made the walk back to the terminal to grab a bite to eat as there wasn't a huge amount of movements.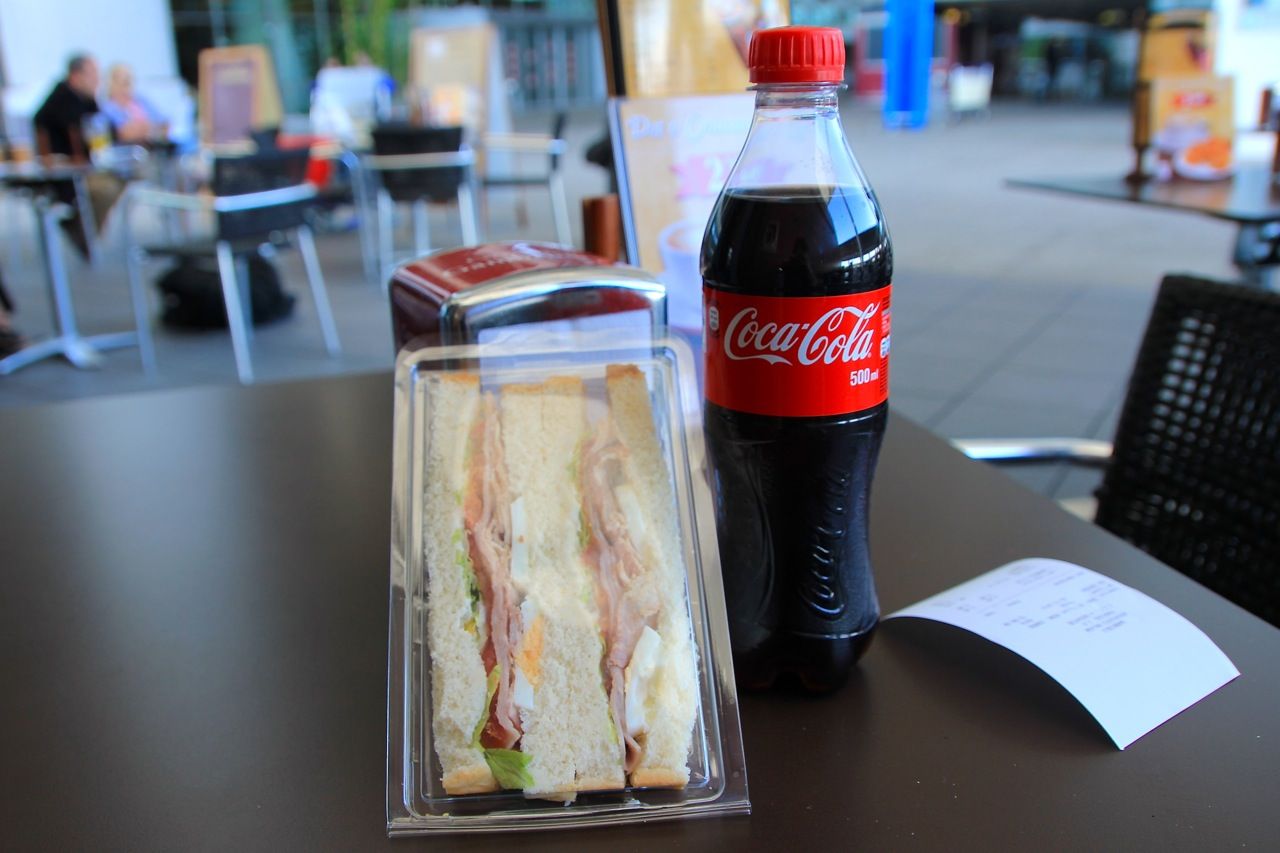 The menu showed a nice looking baguette – so I was a little disappointed with this!
After lunch I made my way to the hotel via the train. On my way I saw a departure board – looks like the return BA flight to LGW was having some problems.

New looking station at AGP

The train took around 10 minutes or so to reach the city, and it was straight to the hotel that was located at Maria Zambrano Station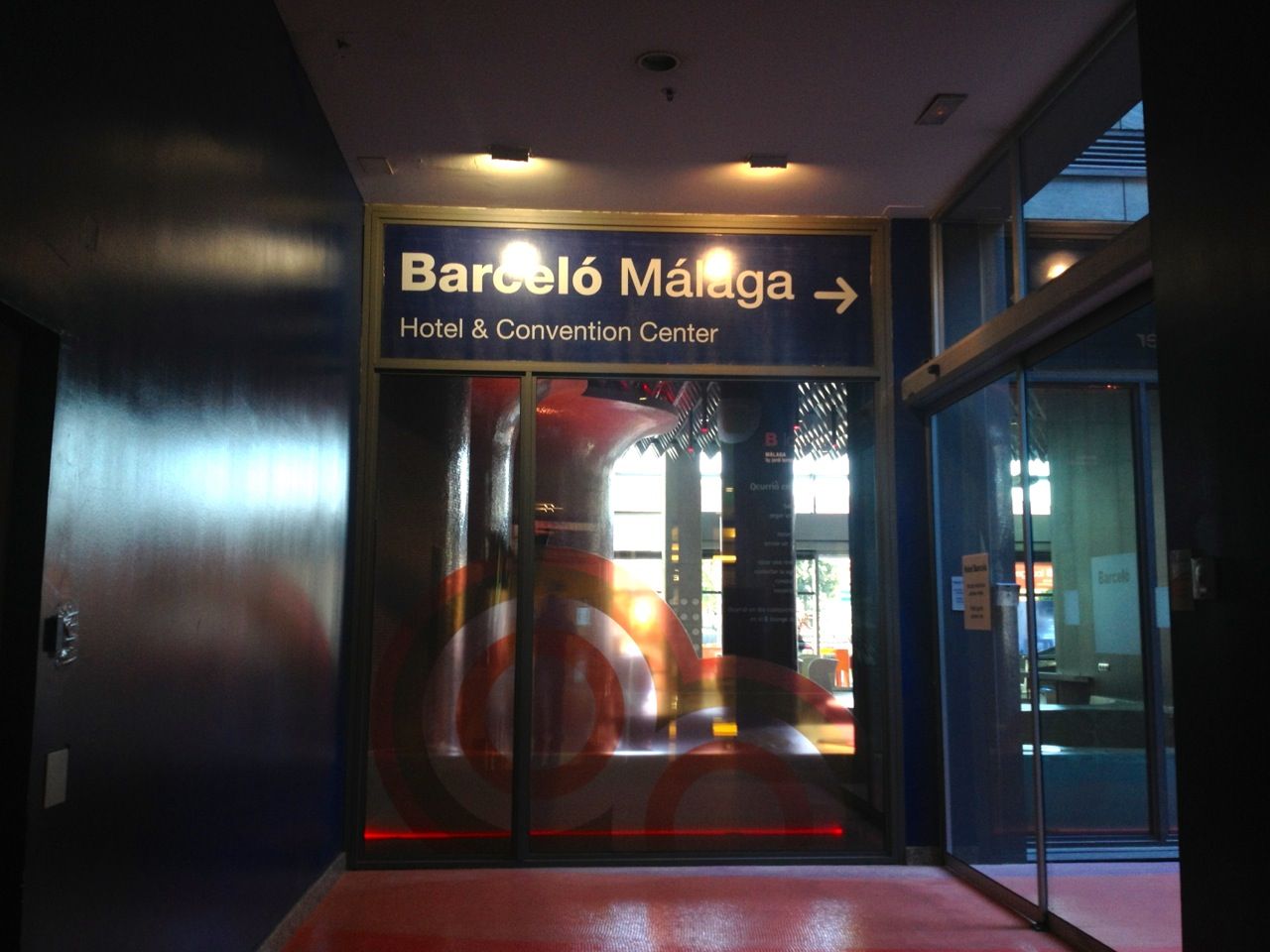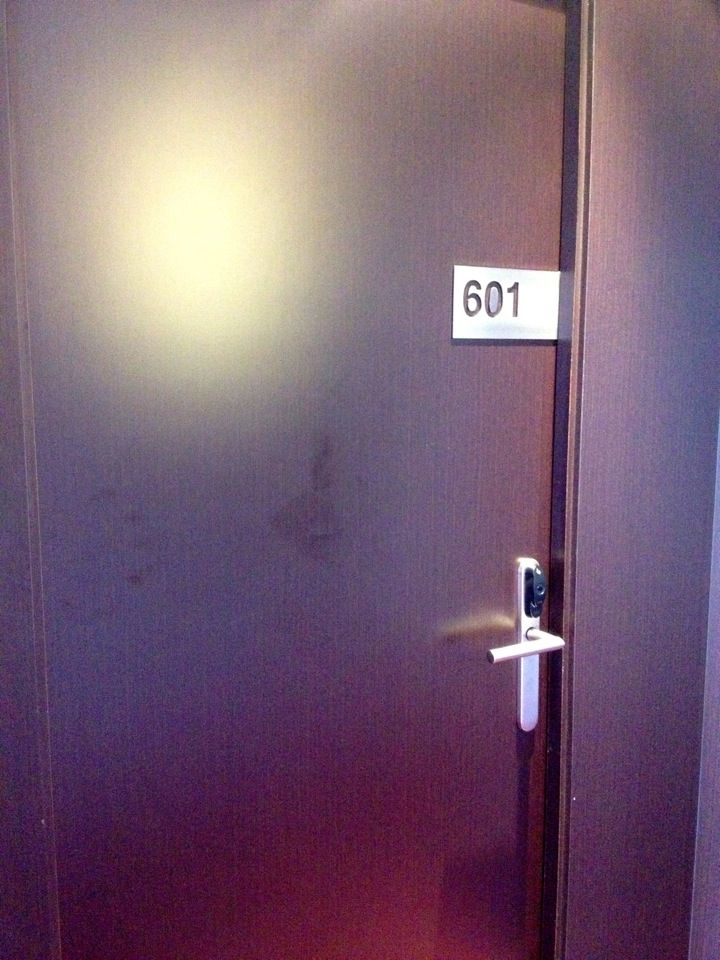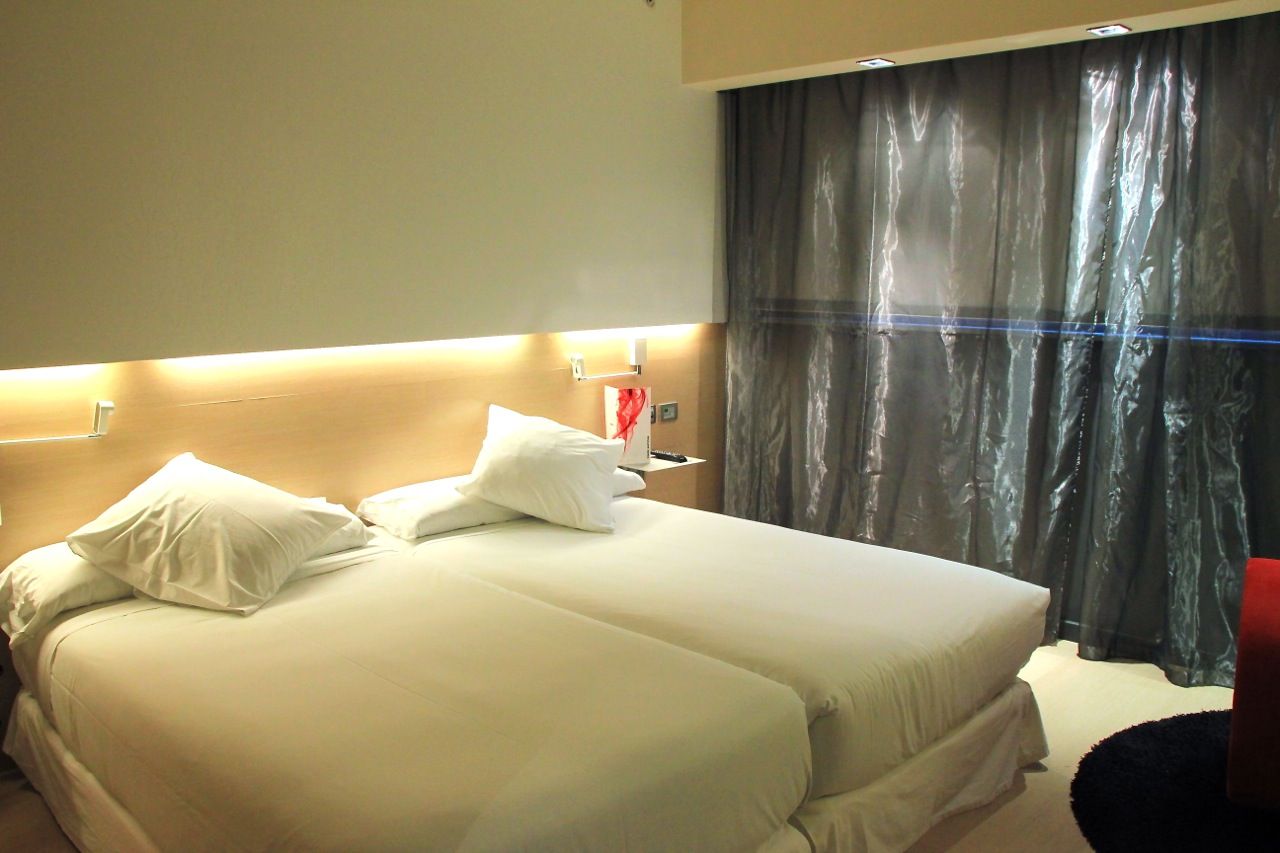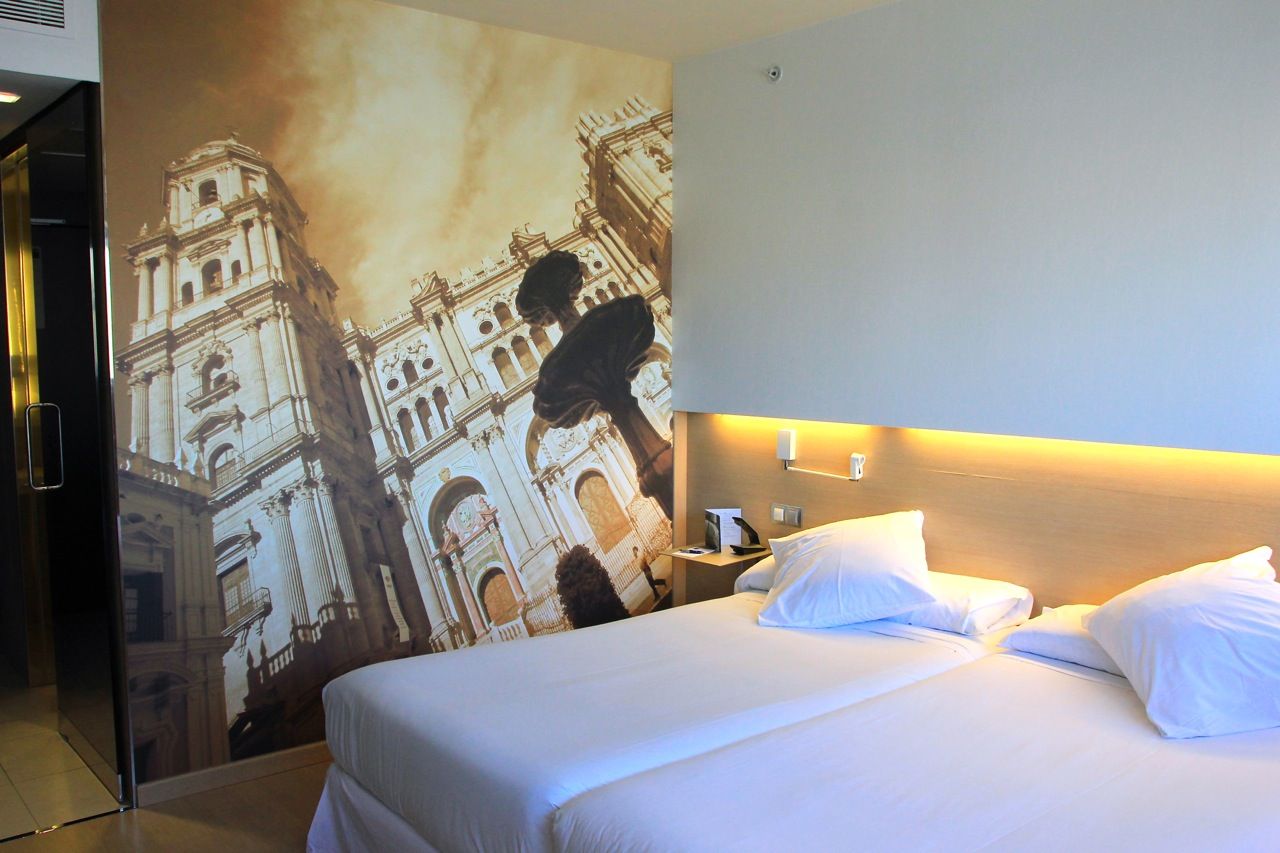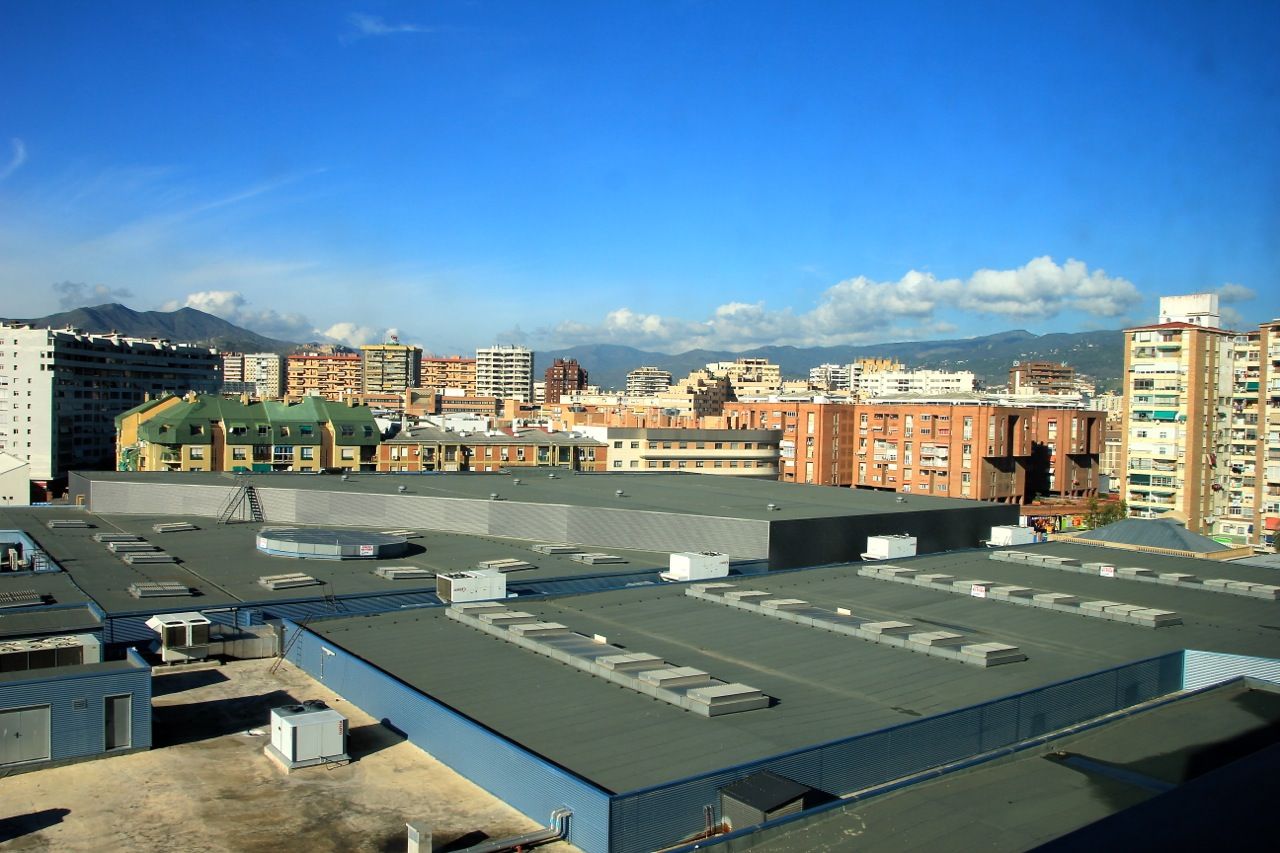 View from my room
I then made use of the Wi-Fi to check in for my return flight tomorrow.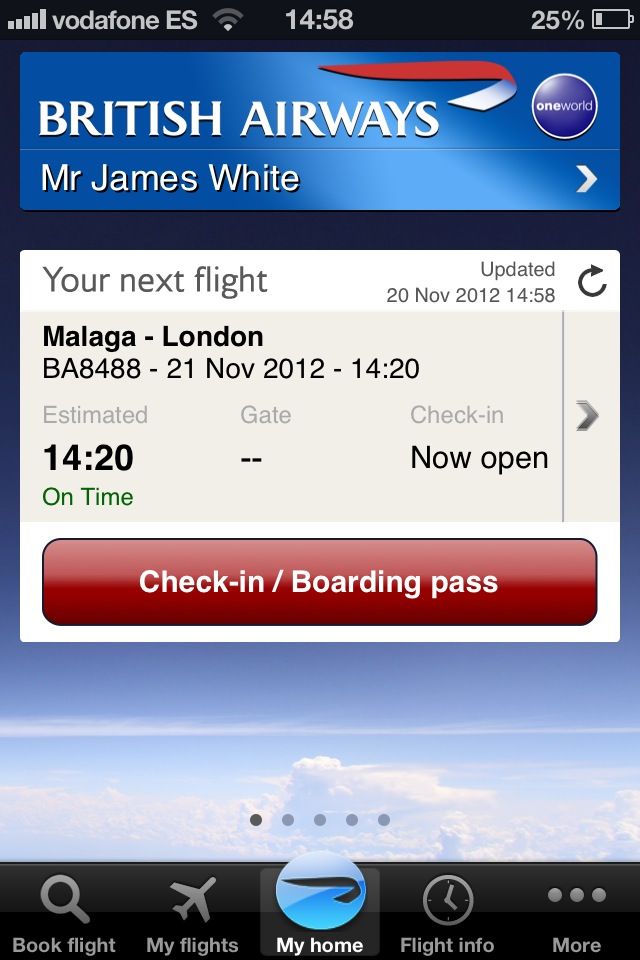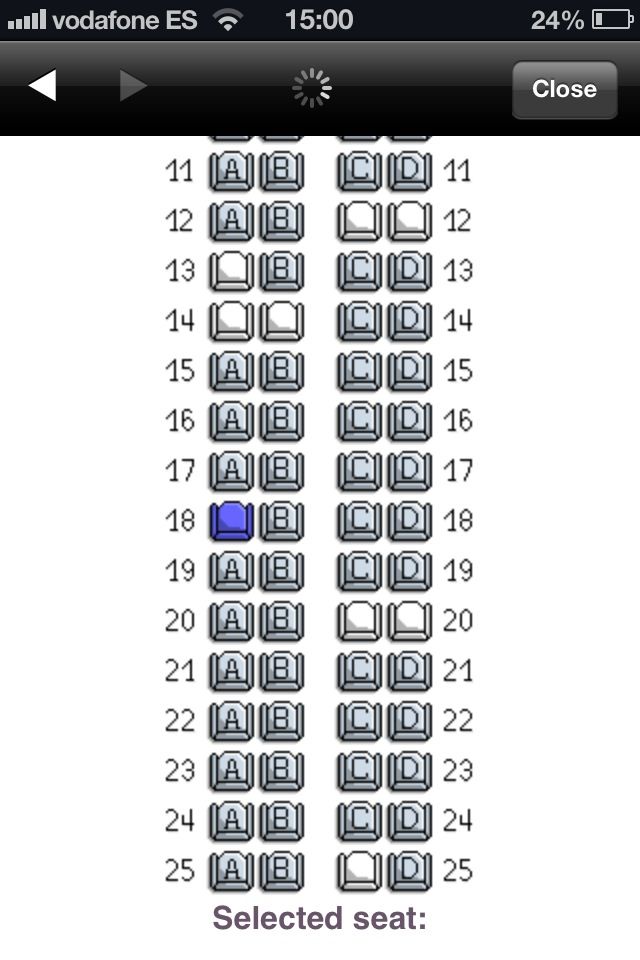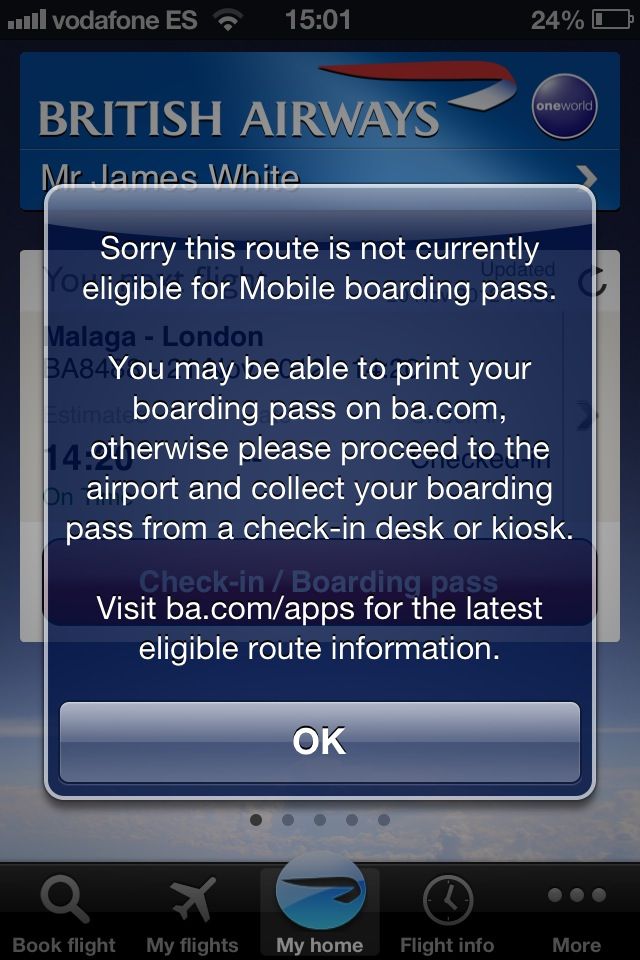 I also had a look at what was going on with the return flight to LGW. Looked as if it was having a few issues. Glad the delay came after I had got to my destination for once!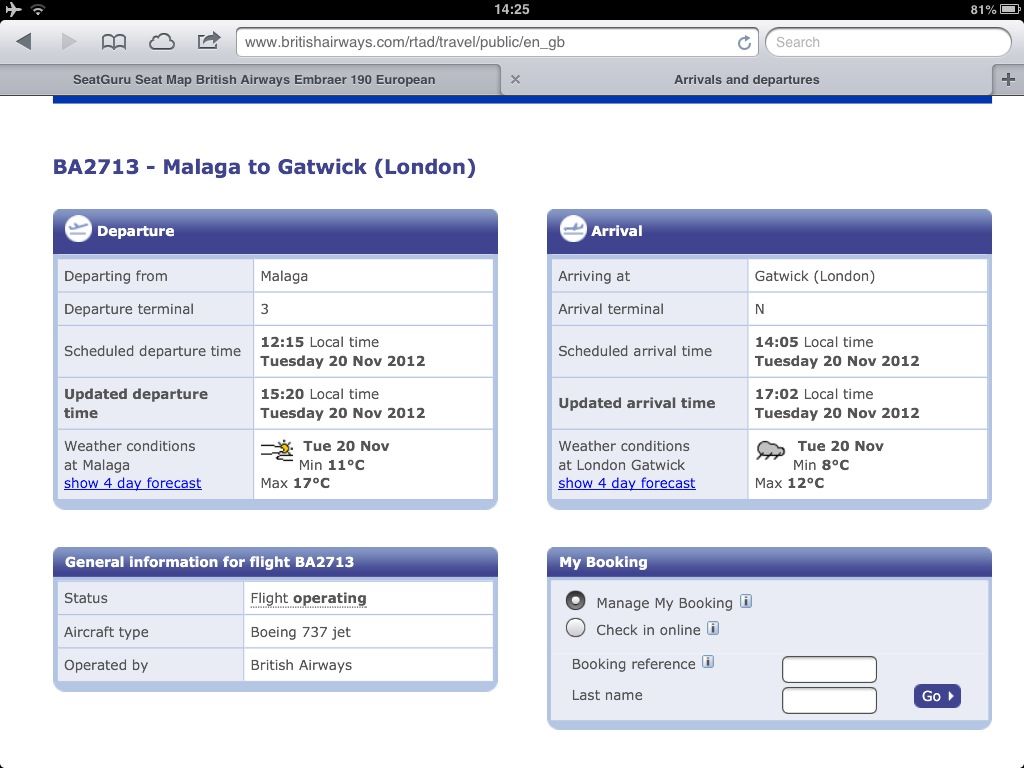 Once I had done this, I made my way out to see the city.

Not seen a slide in a hotel before!
One of the locals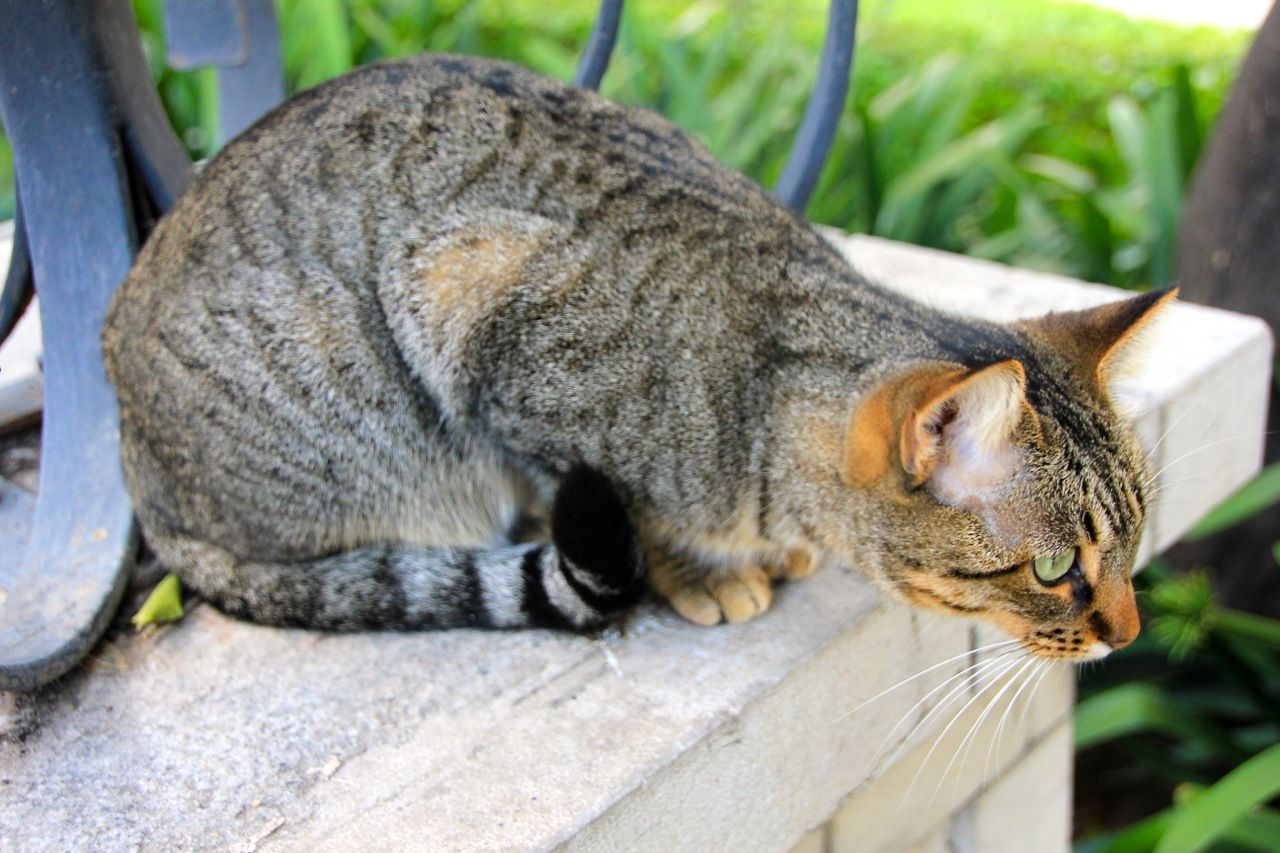 Another local – keeping a close eye on a nearby dog.
One for Philip!
Looking busy overhead
I then made my way down to the Port/Marina to grab some dinner and some more pics.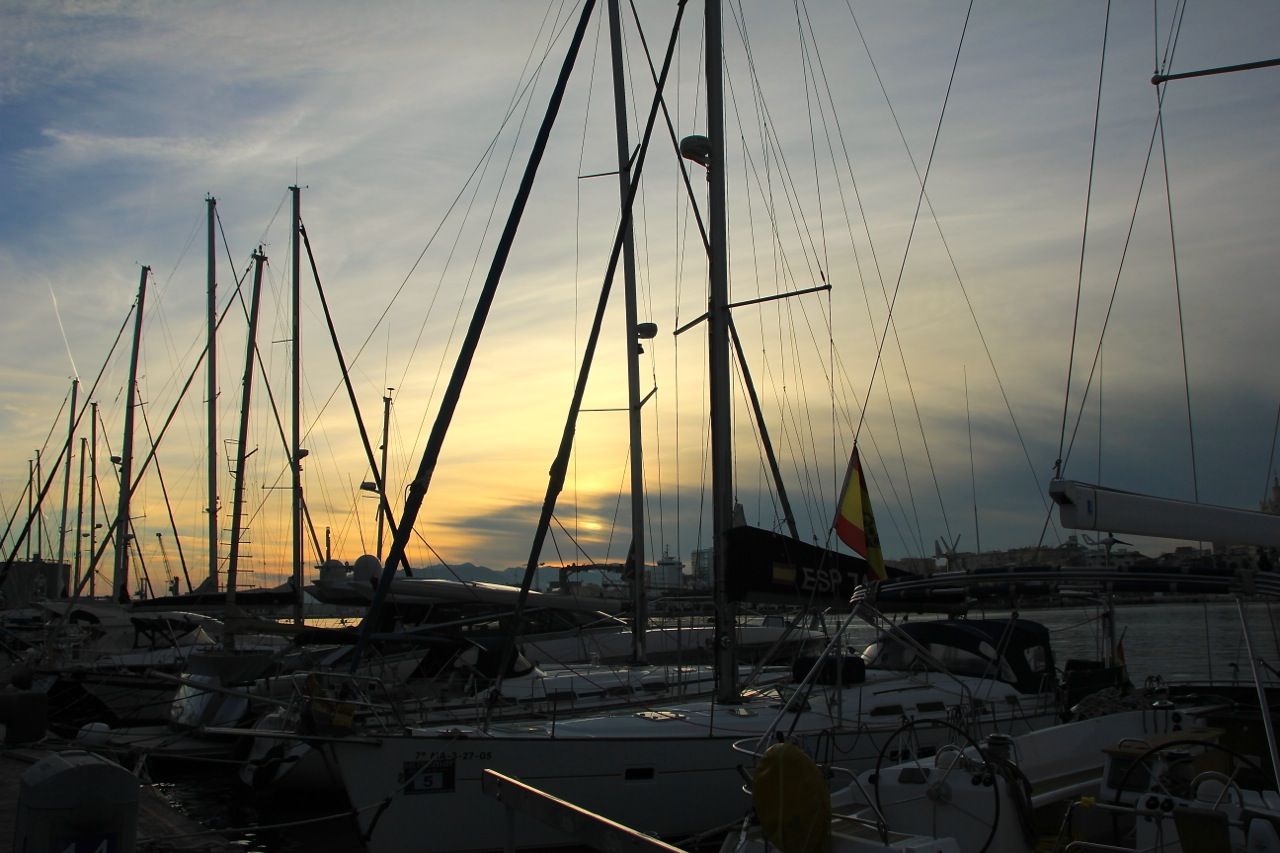 This entire meal was only €2 more than the sandwich I had at the airport!
Hotel by night
Once I returned from a tiring walk around the city, I watched a bit of TV, surfed the net on my iPad and got an early night. I'm not used to getting to my destination early enough to get a good look around the city when I arrive!
The following morning, I headed off in the direction of the beach, although I wouldn't really call it a beach myself…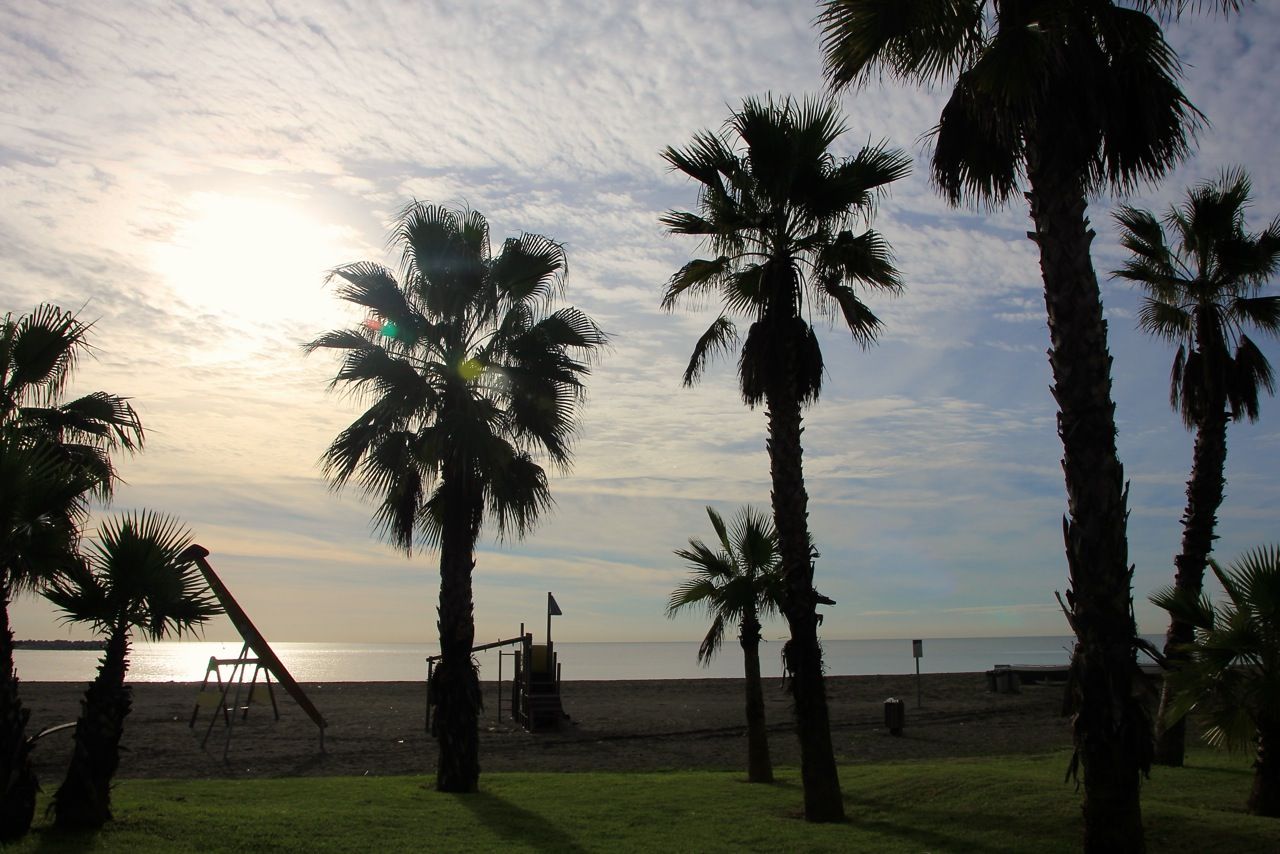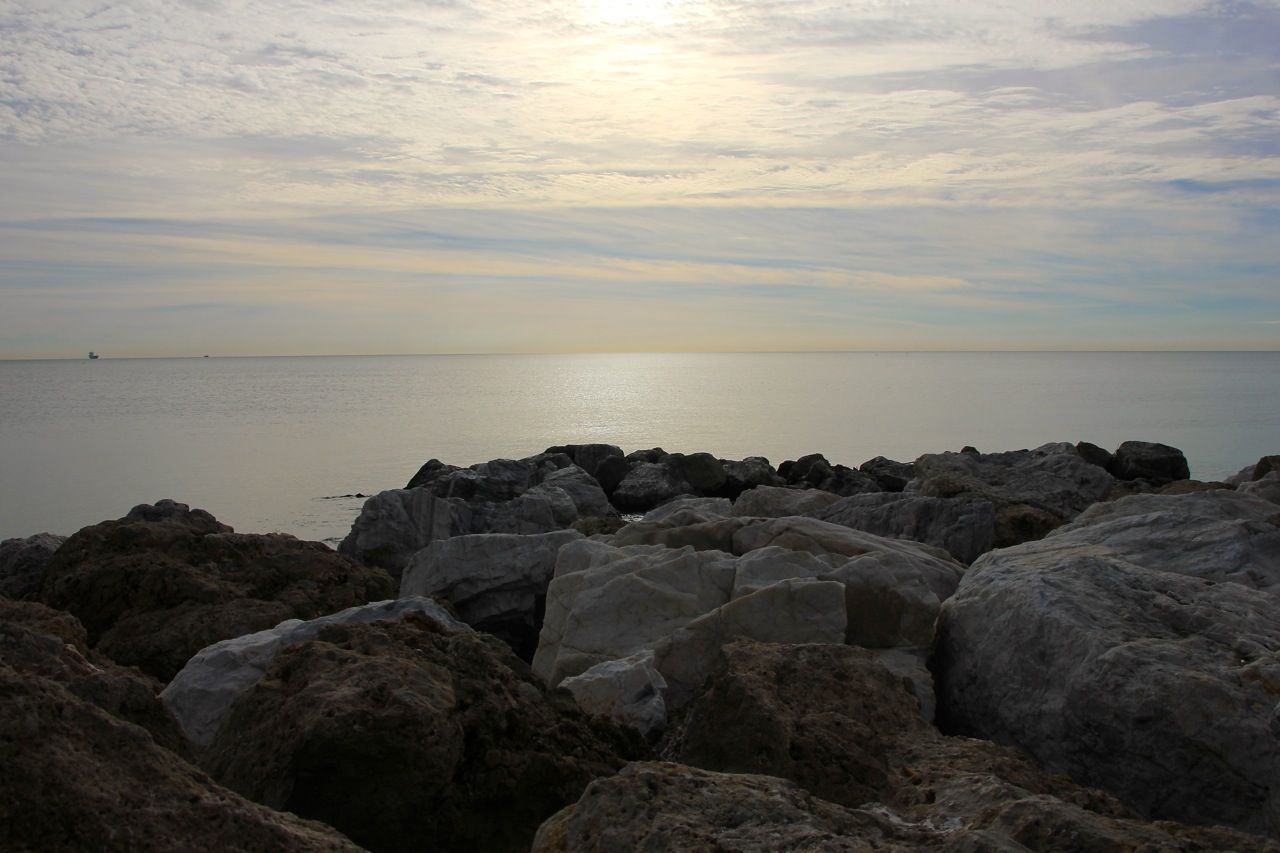 And on the way back I grabbed some breakfast. They seem to serve chips with everything out here – guess that's what all the British holidaymakers want!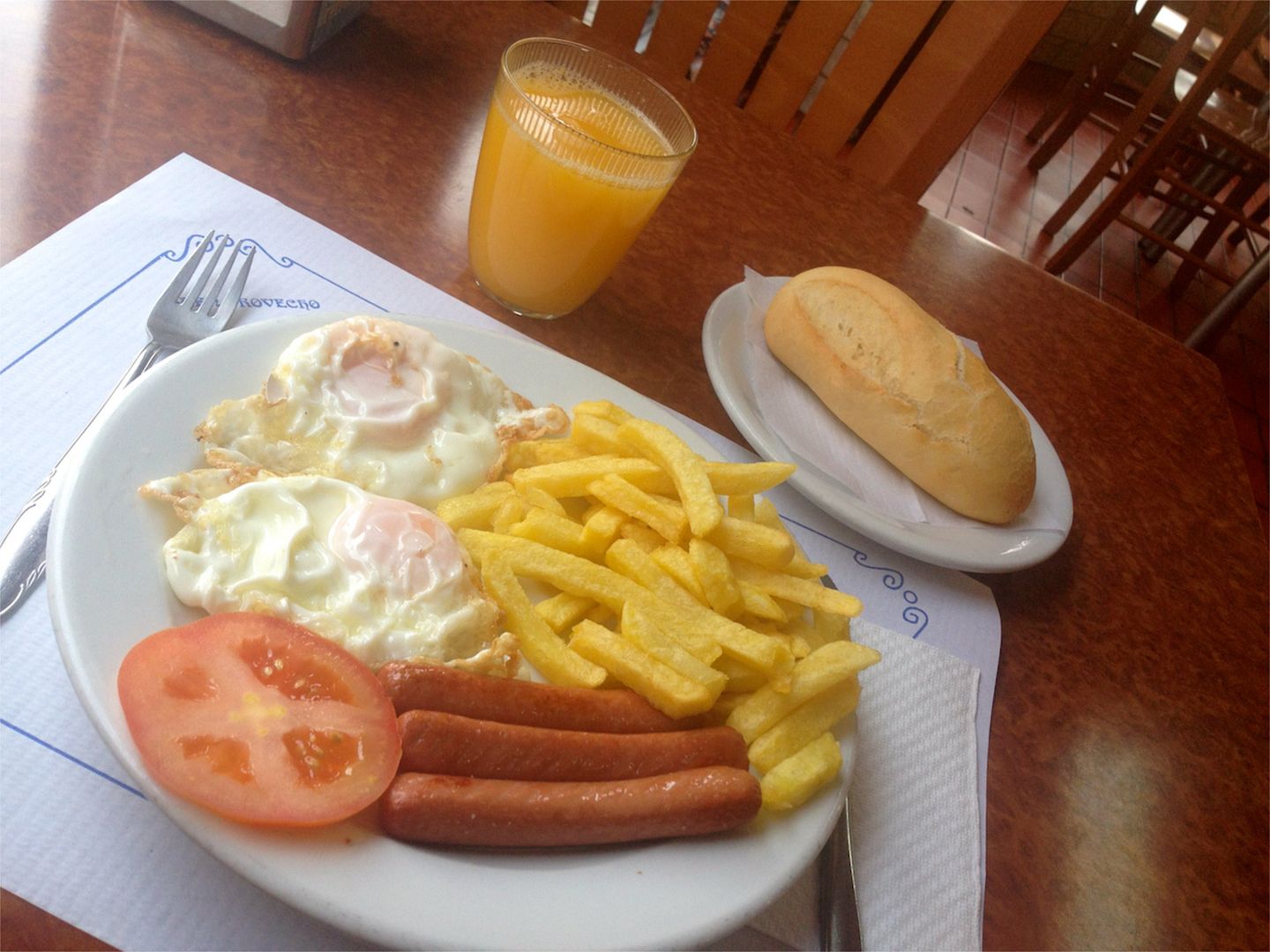 I spent the final hour in my hotel reading the paper.
At just before midday, I made my way downstairs to the train station to head back to the airport.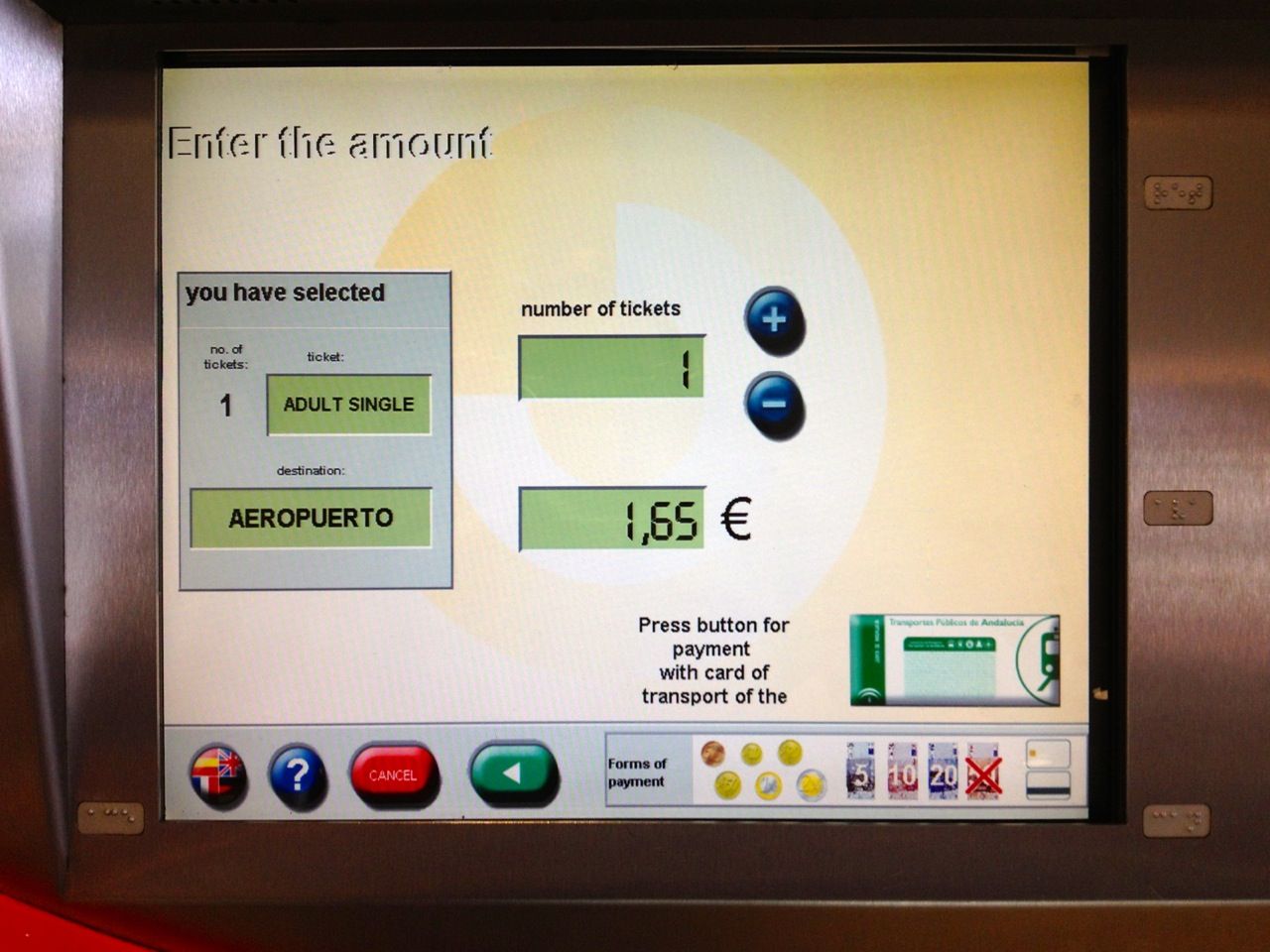 Compare this to the price of the ticket from LCY to Waterloo a bit later…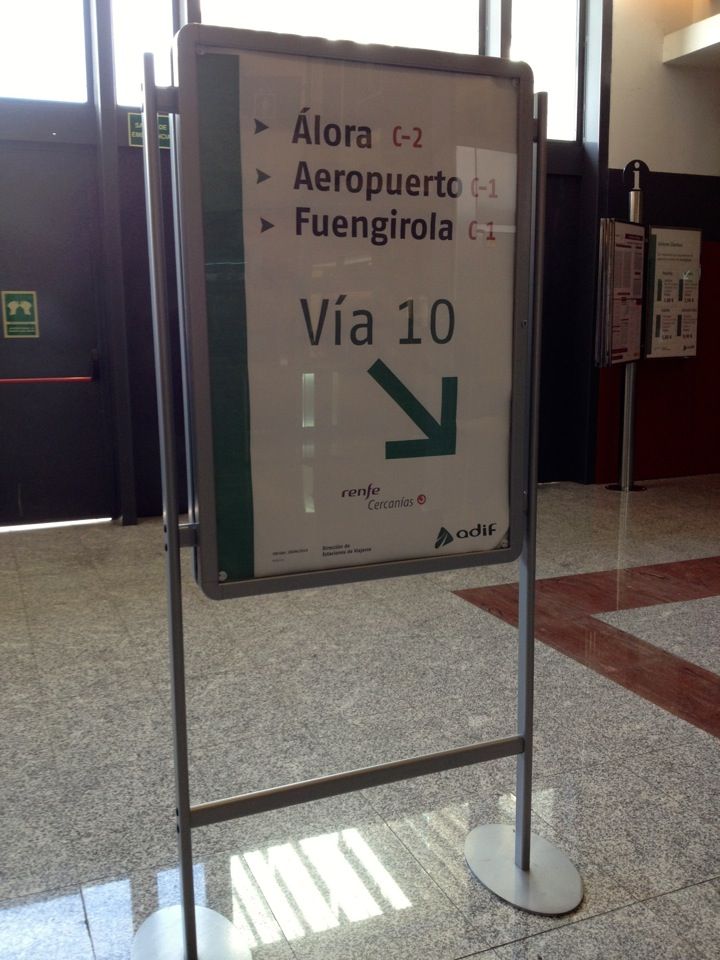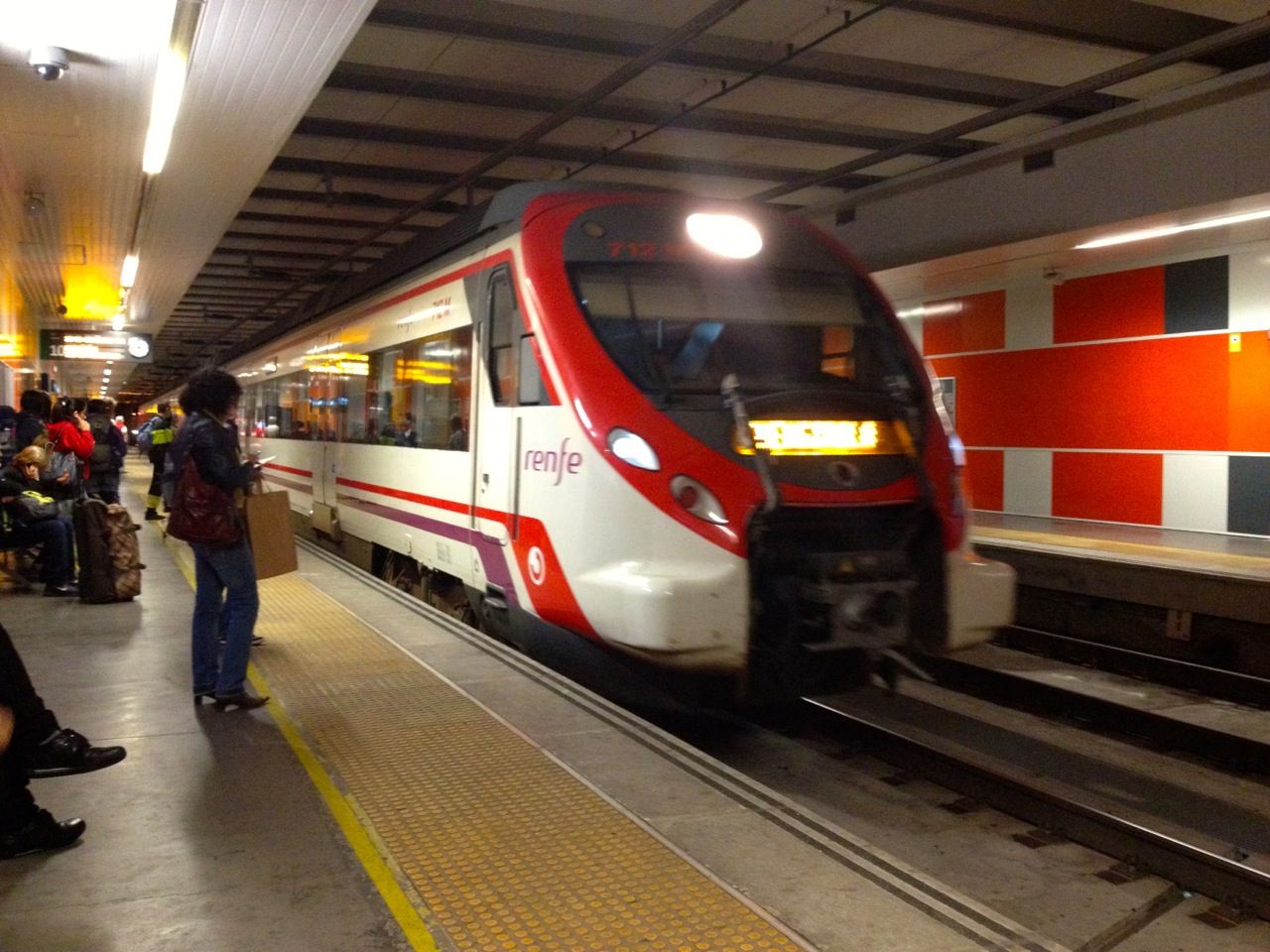 Once at the airport, I made my way up to check in to get a boarding pass.


I saw a couple of interesting things along the way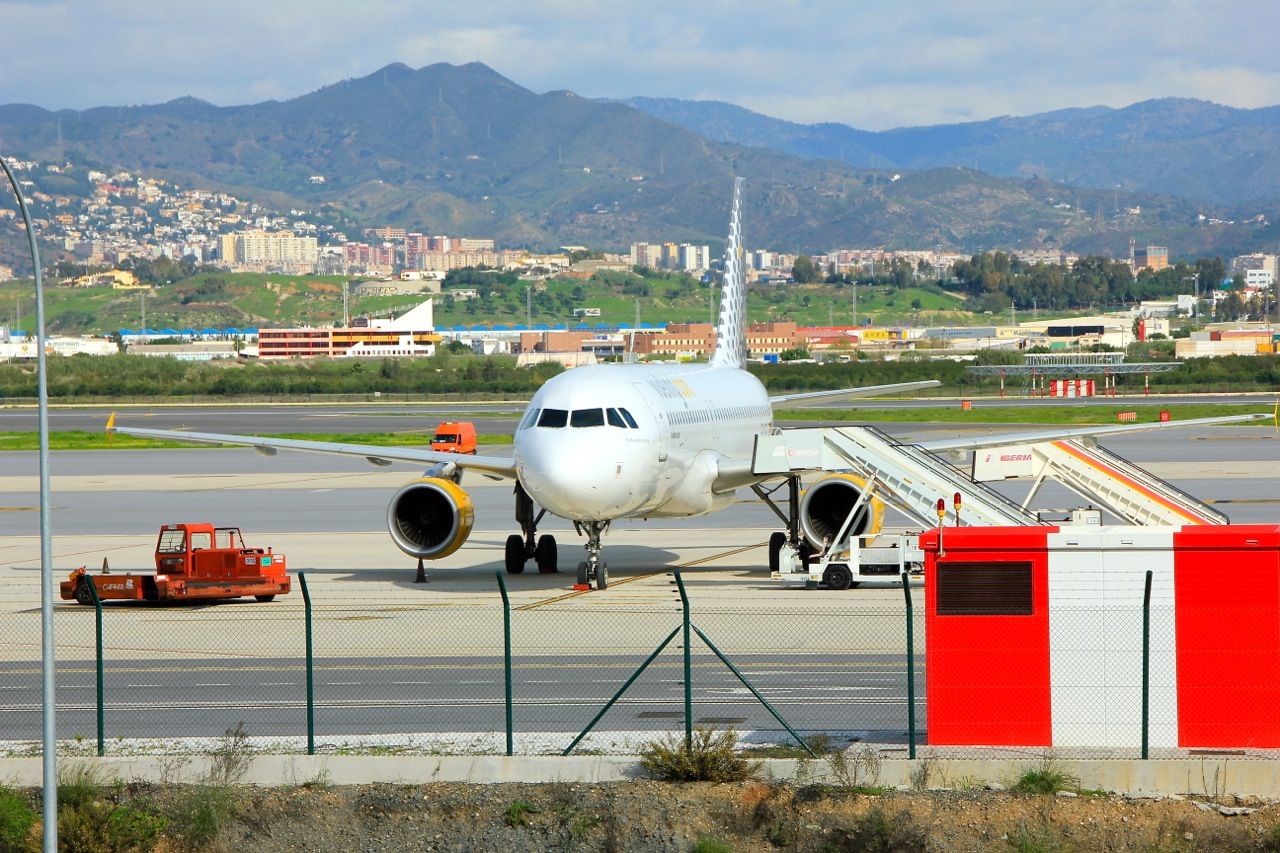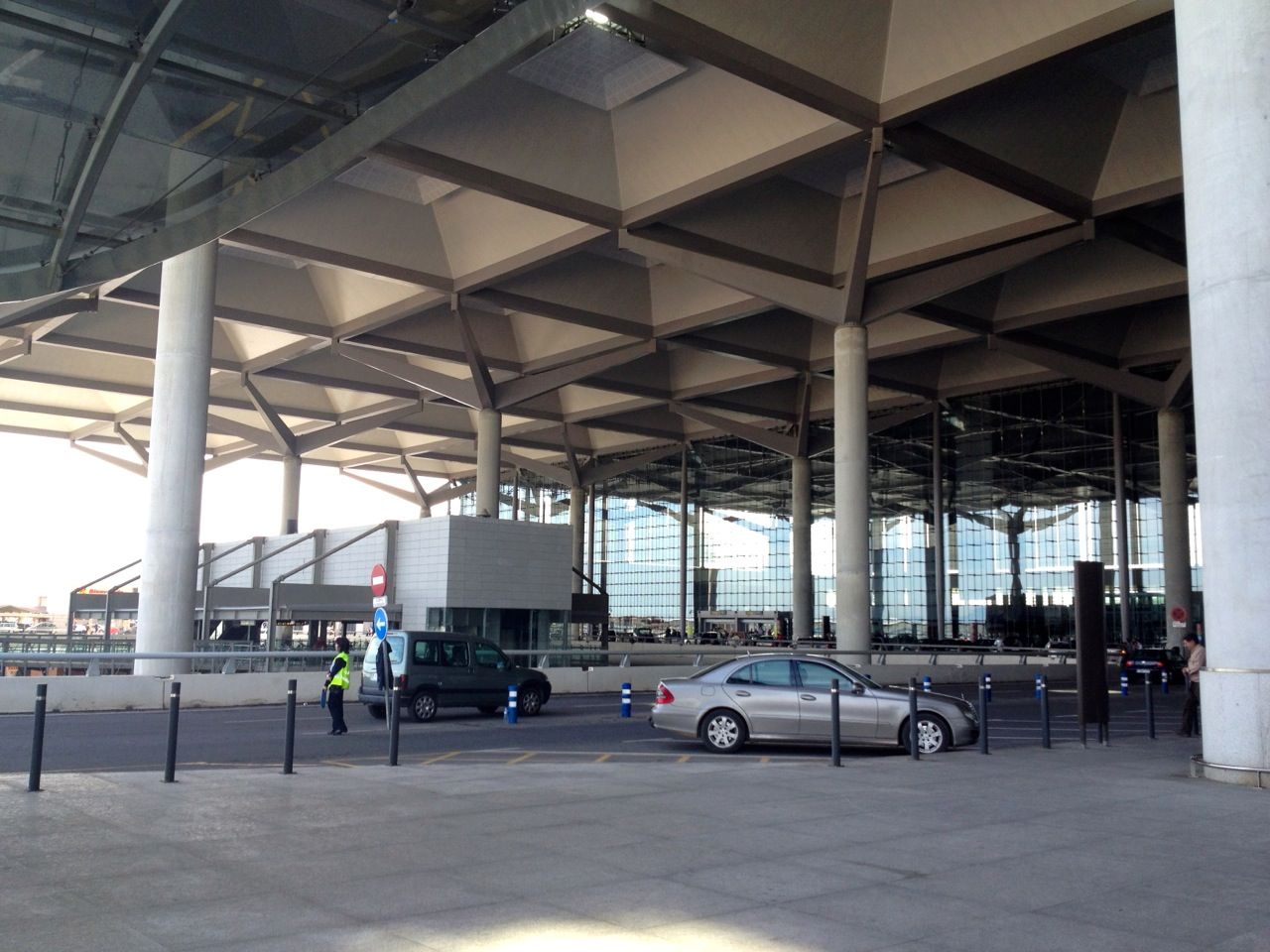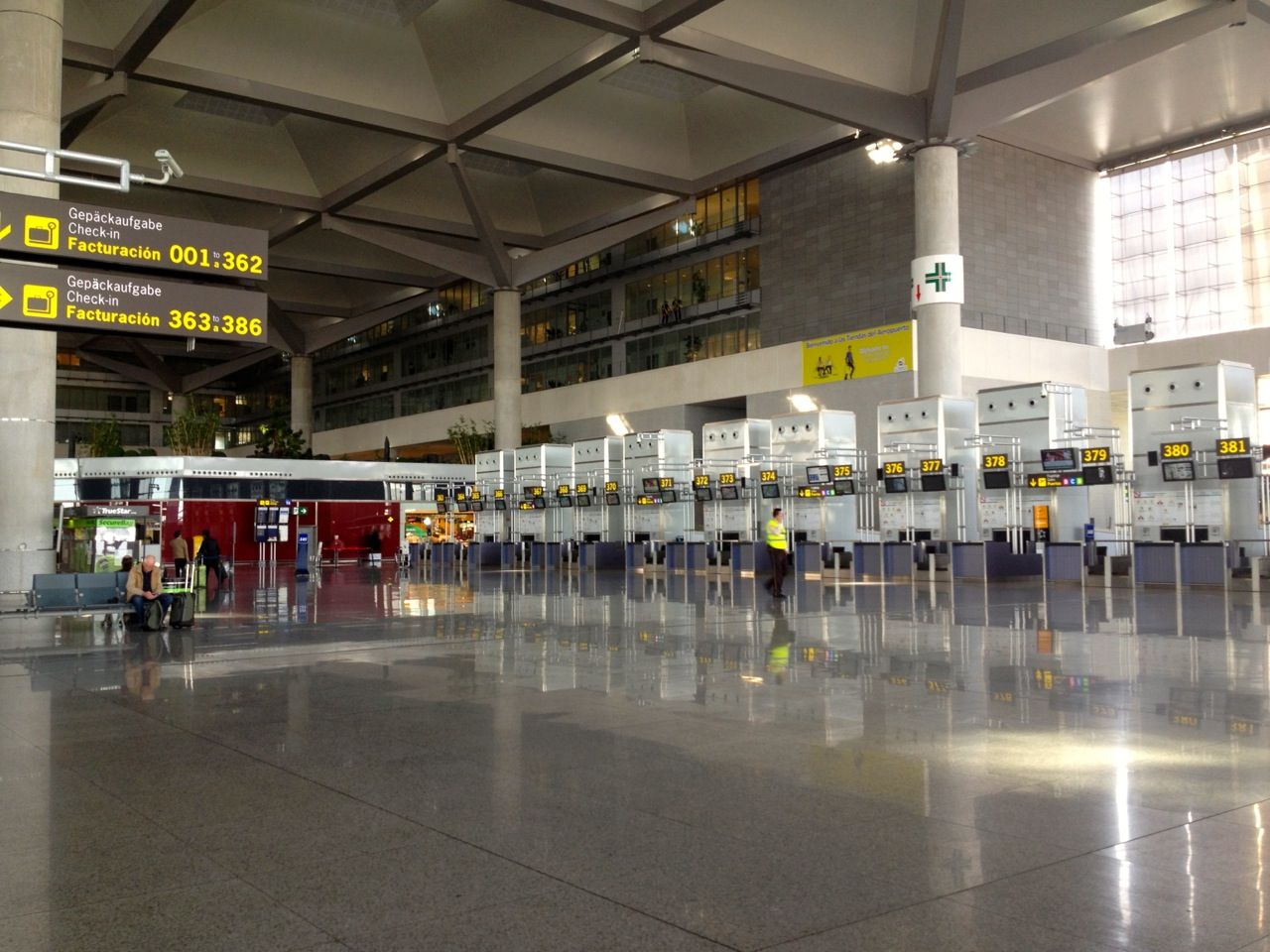 Once again, the LGW flight had a delay.


Once at check in I noticed that Iberia handled BA here. And it was a similar situation to in Madrid last month – ignored for a good couple of minutes then within 2 seconds of reaching the desk practically ignored due to there being a seemingly important phone call that required more attention than I did.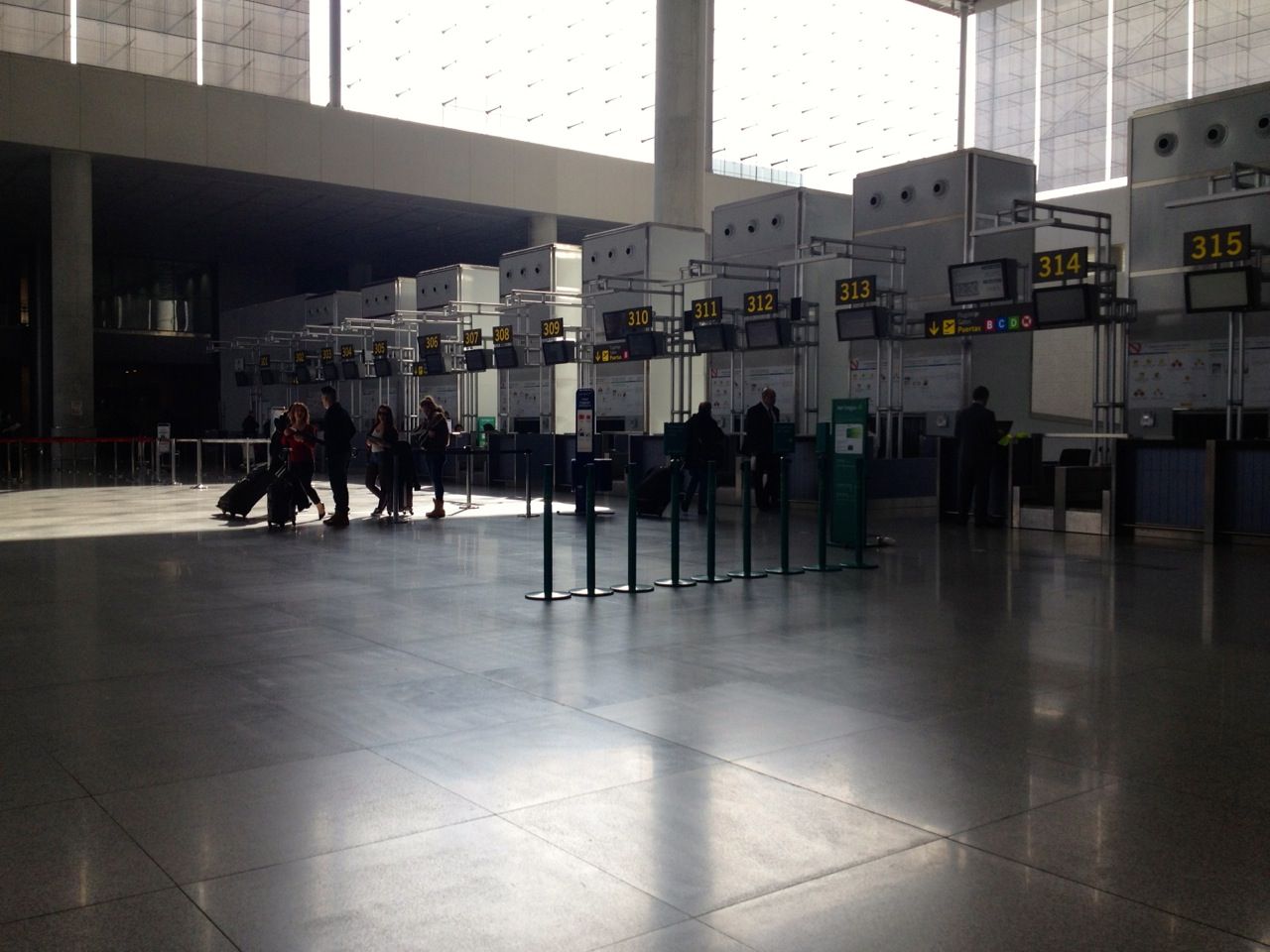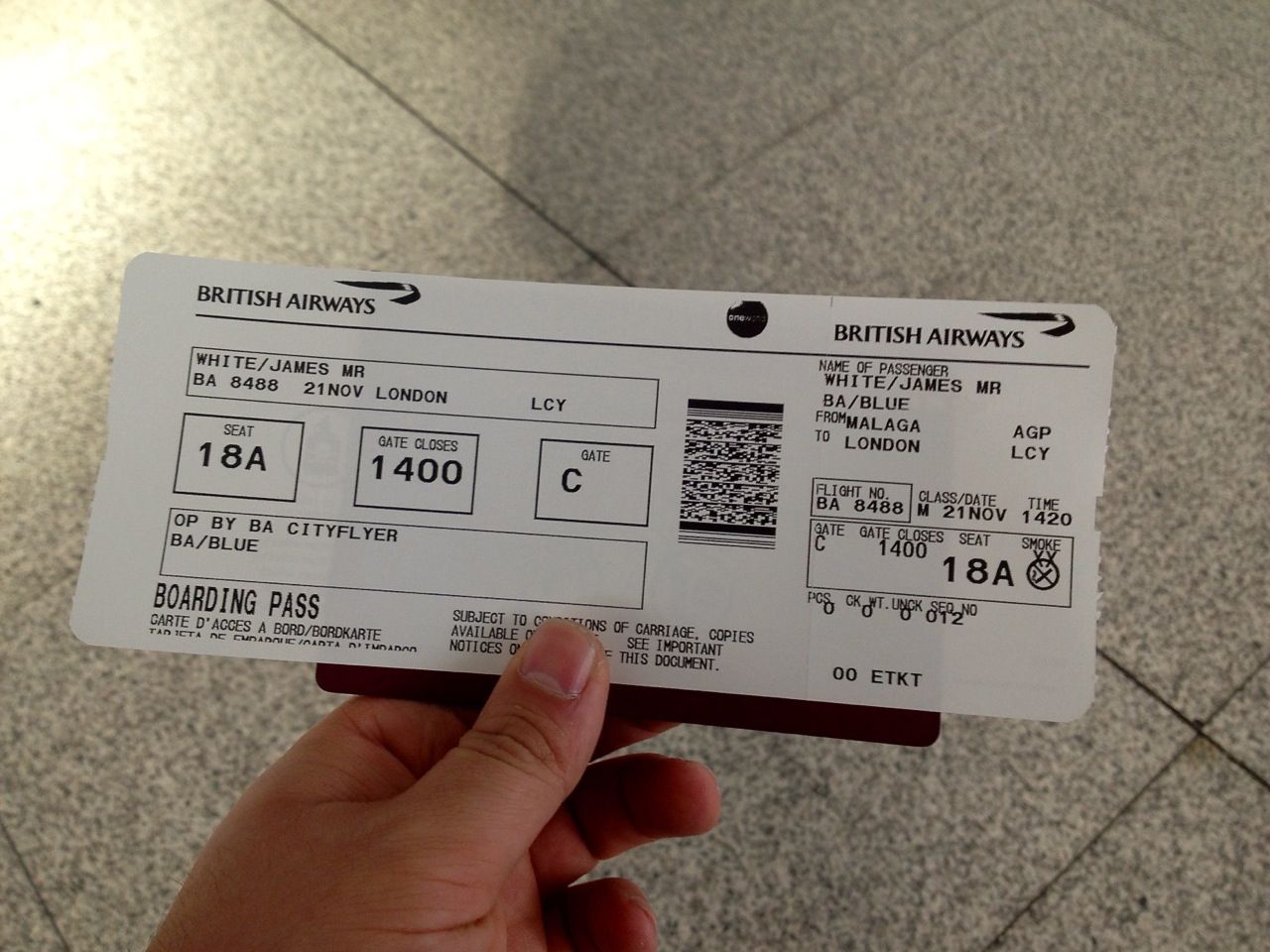 There didn't appear to be a huge amount landside so I headed through security. As usual there were plenty of people (mainly Brits) who didn't seem to think all the rules applied to them. But as it wasn't busy I was still thorough within a couple of minutes, despite the security agent wanting to take a closer look at my phone that was in my bag.
As my gate wasn't due to be announced for another 45 minutes, and my breakfast left me feeling pretty thirsty I grabbed a Starbucks.


I know a lot of people are pretty upset with them at the moment due to them not paying any tax in the UK, but
1: This is Spain and;
2: I don't care!
After that I went for a wonder, before heading off in the direction of gate C34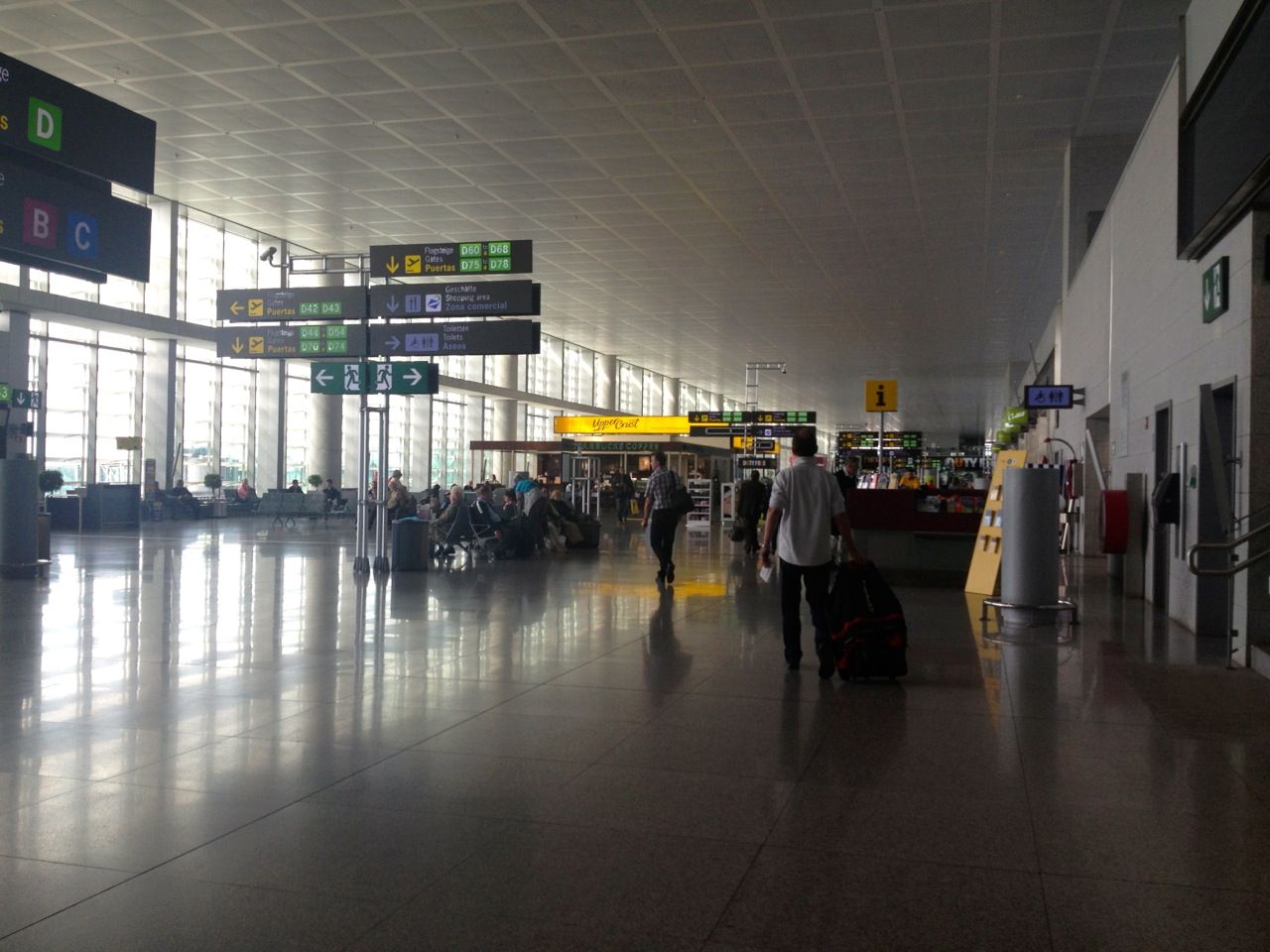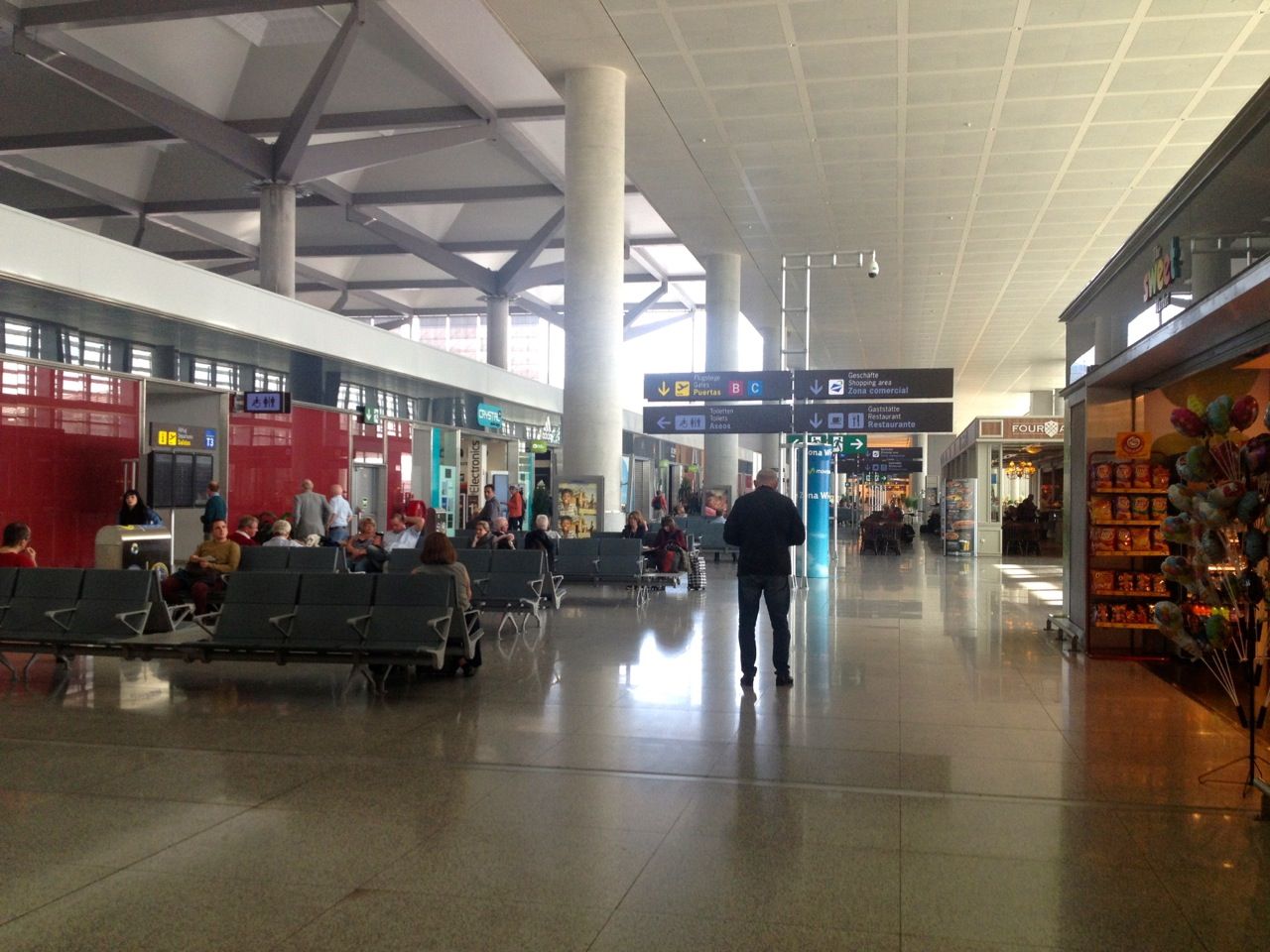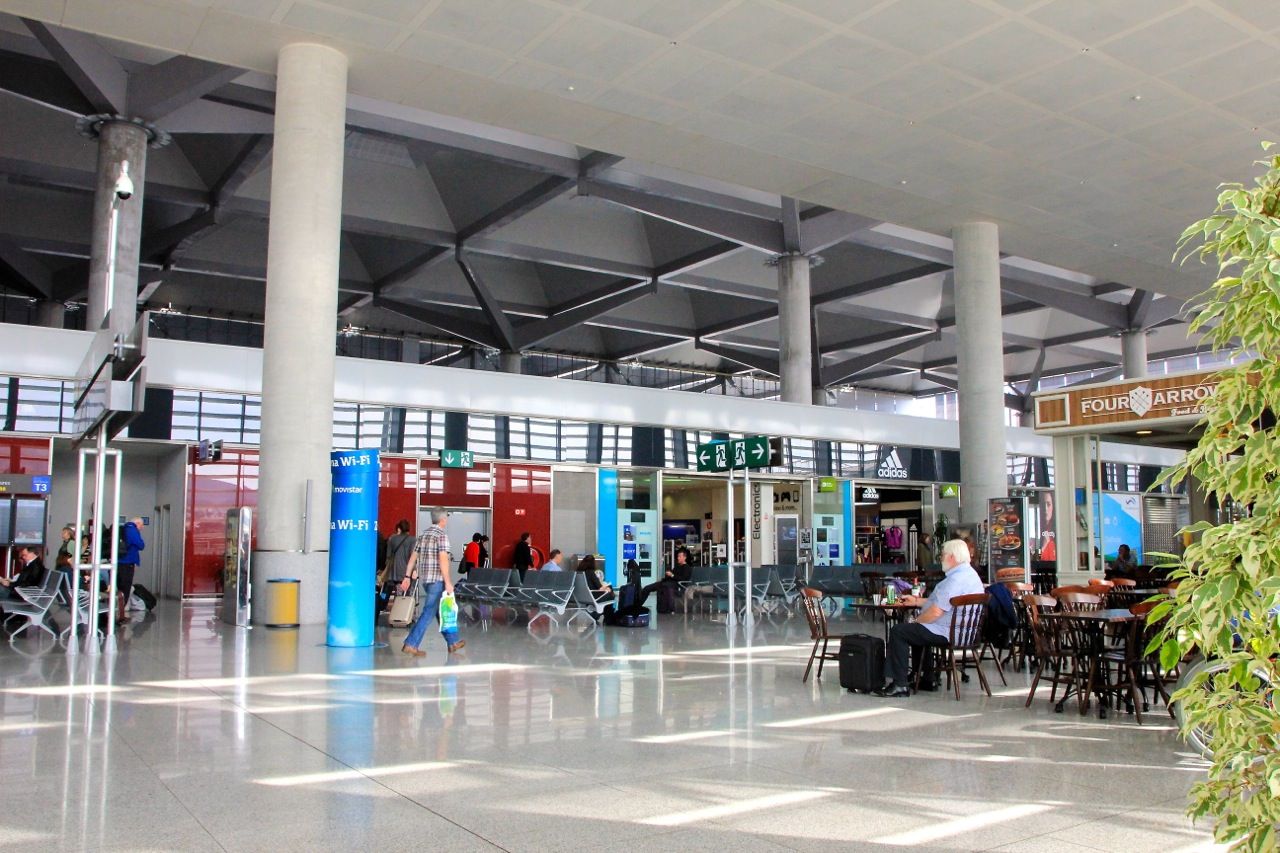 Whilst on my travels I saw the delayed flight from LGW arrive, along with a couple of others.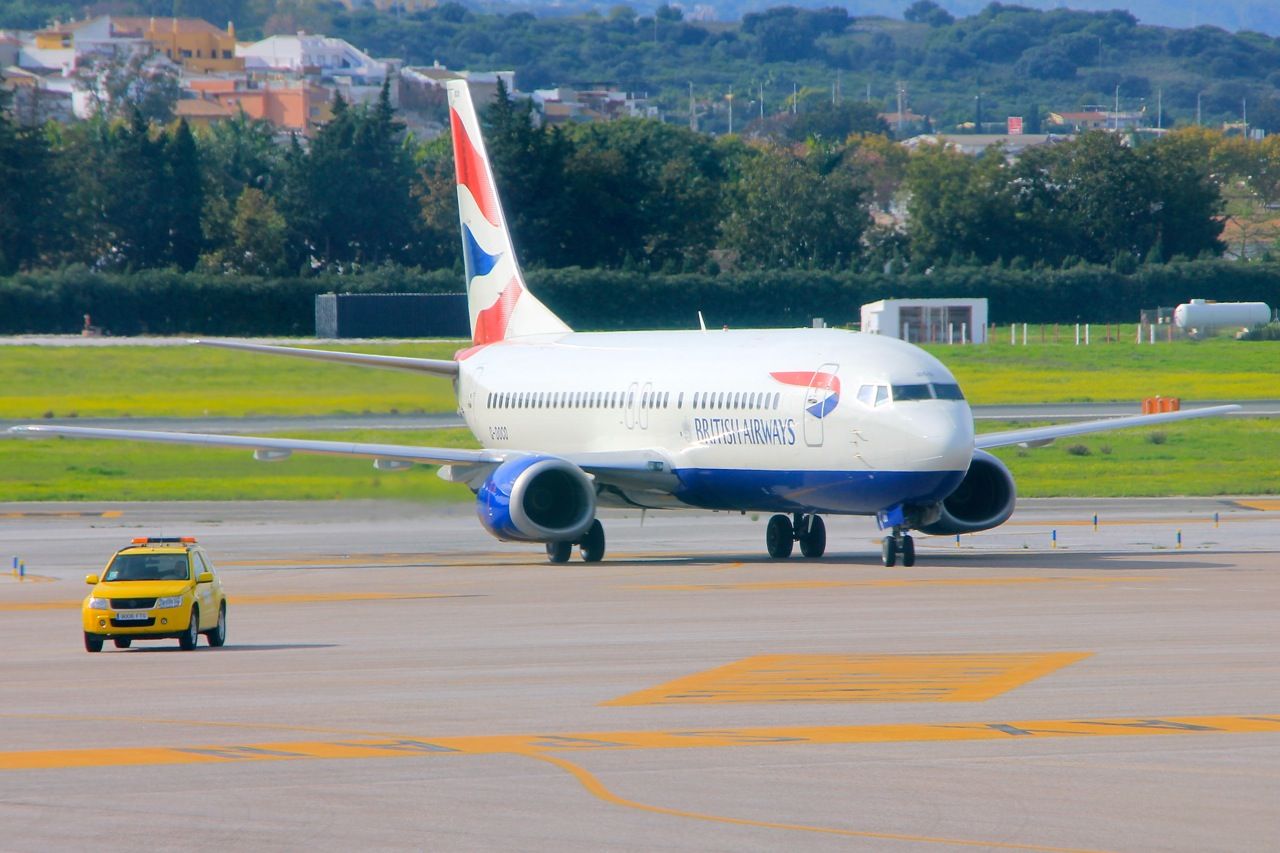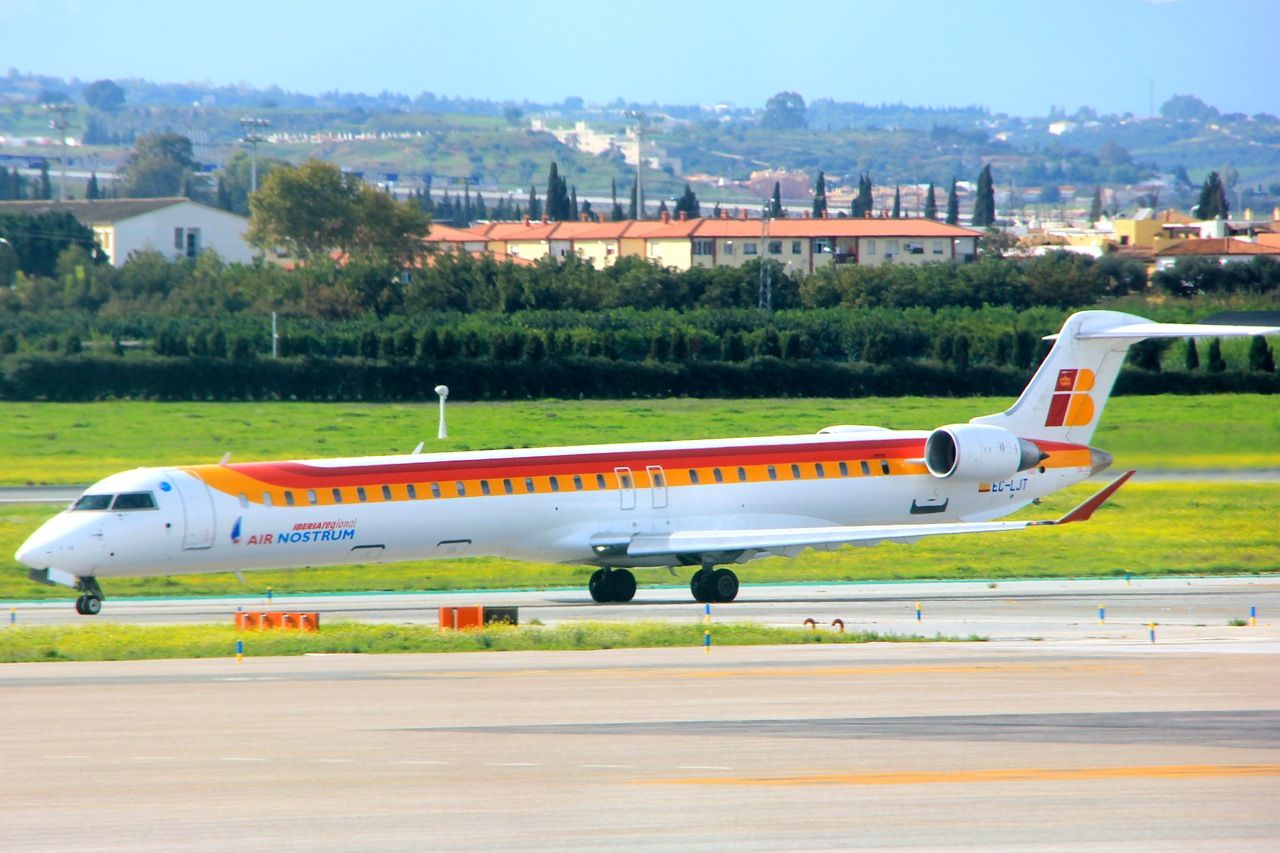 And then I saw my ride back to LCY arrive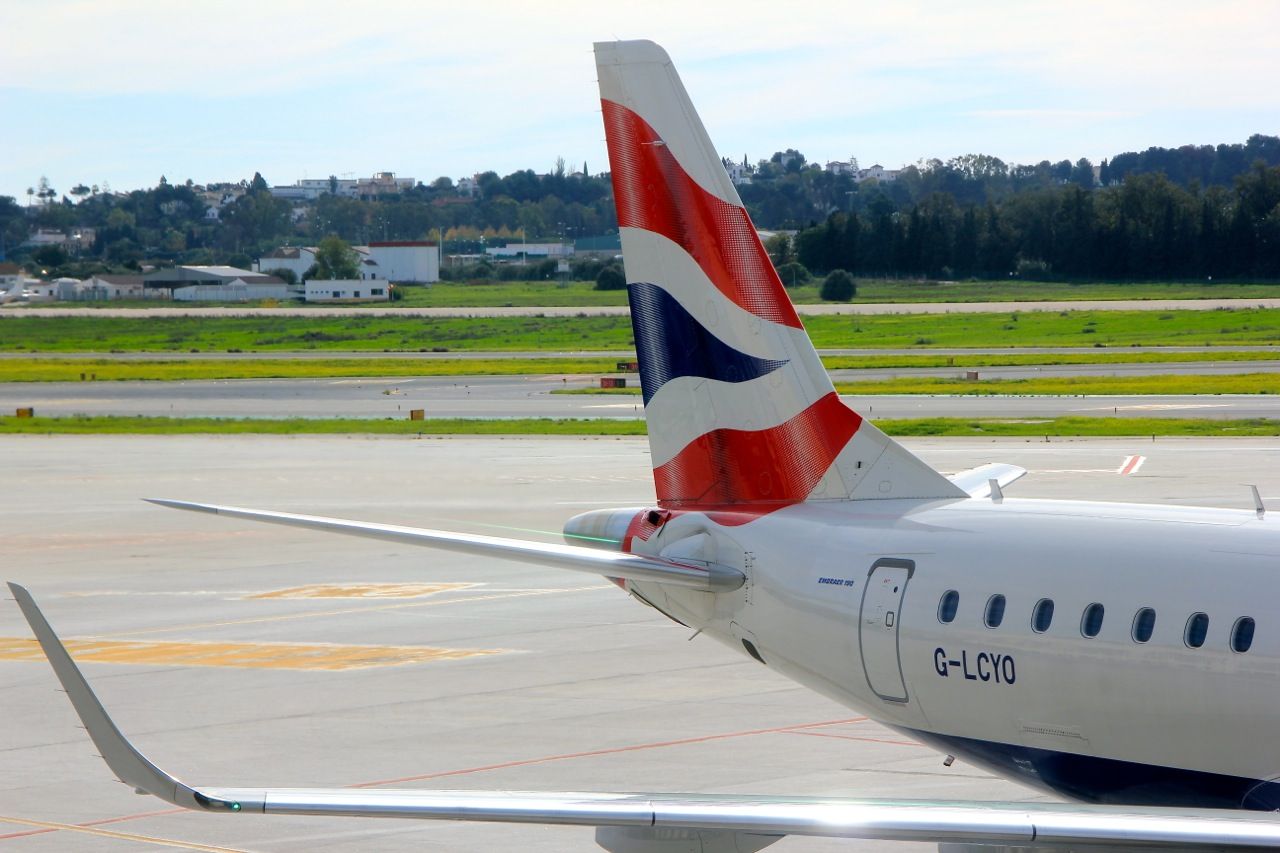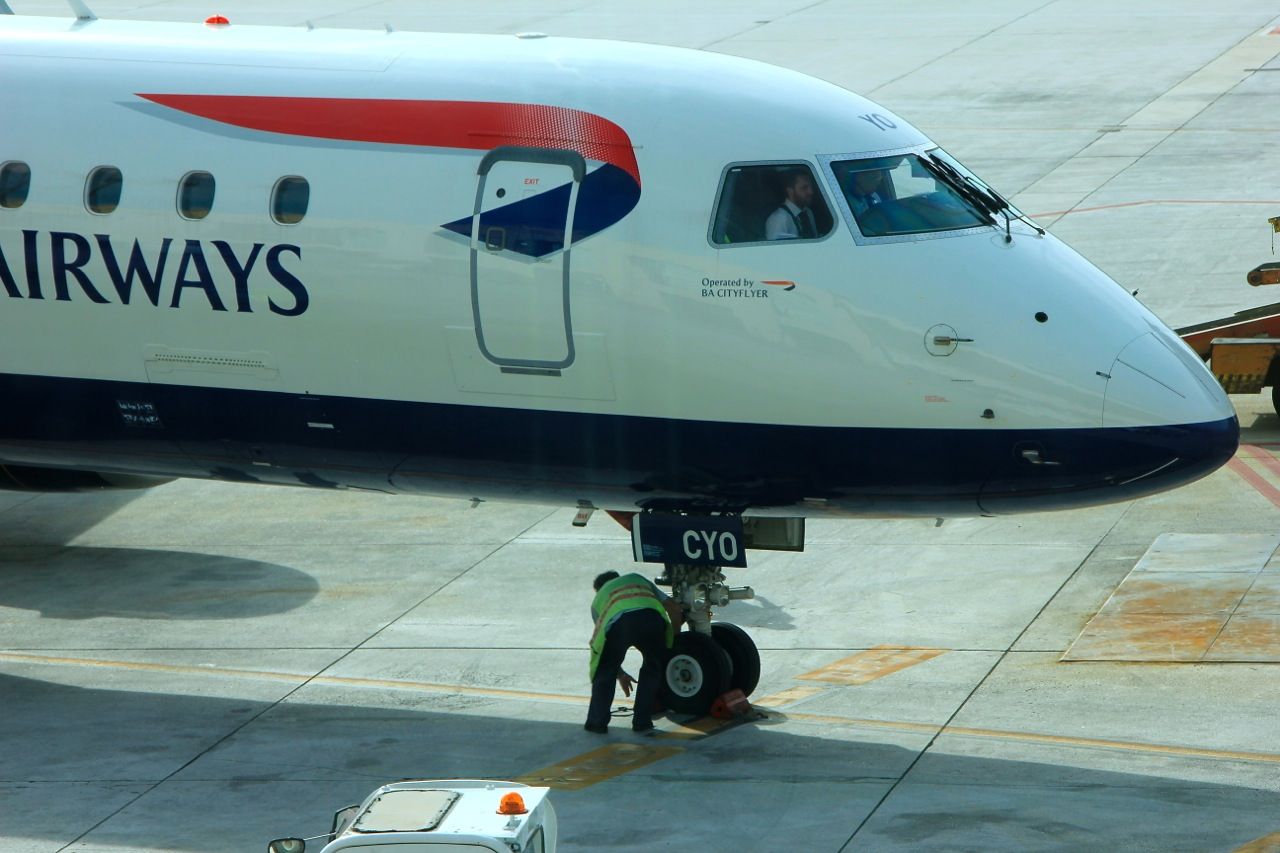 After this I headed through to gate C34, although I wish I hadn't bothered so soon, as there was also an EasyJet and the BA flight to contend with.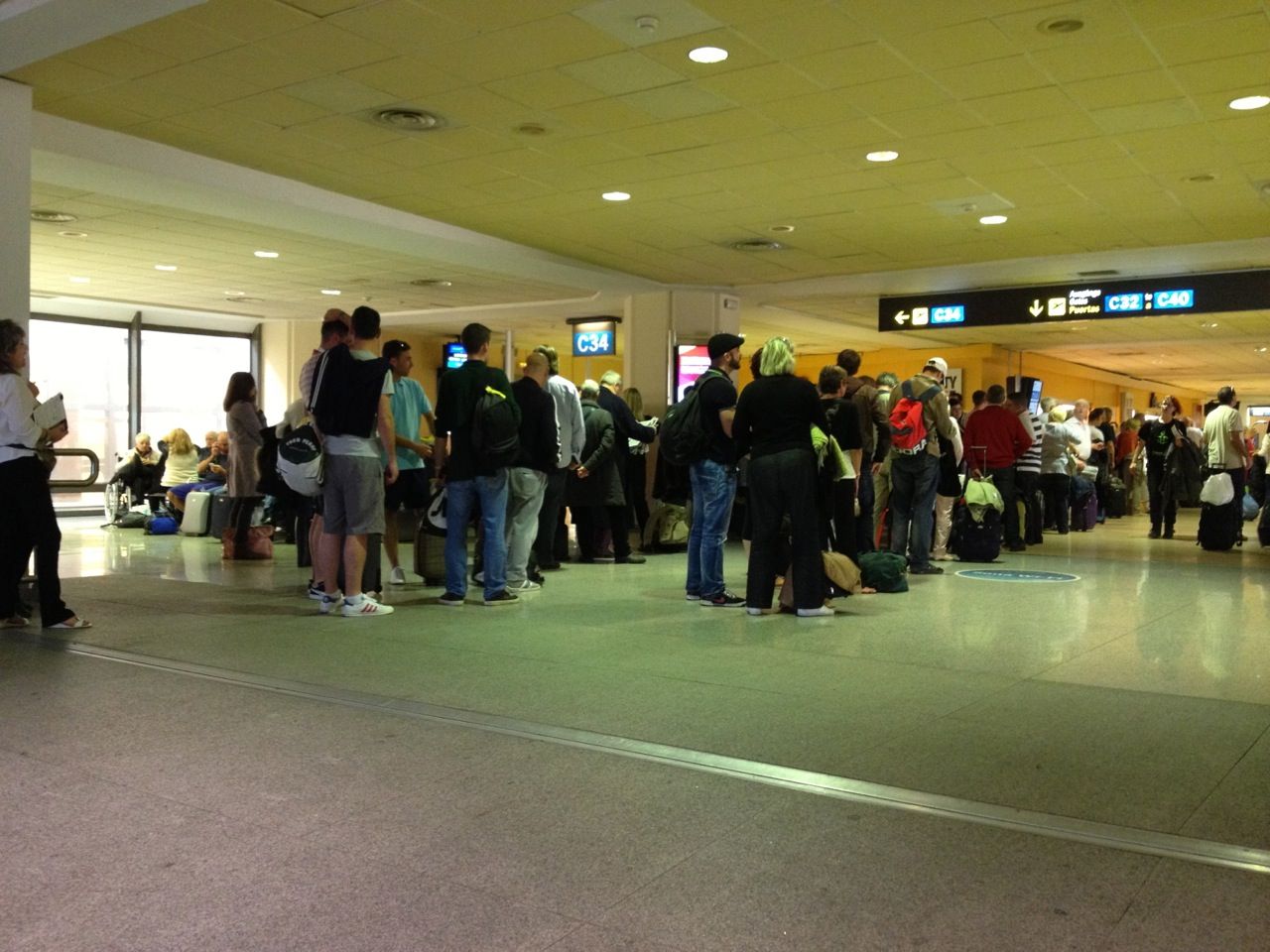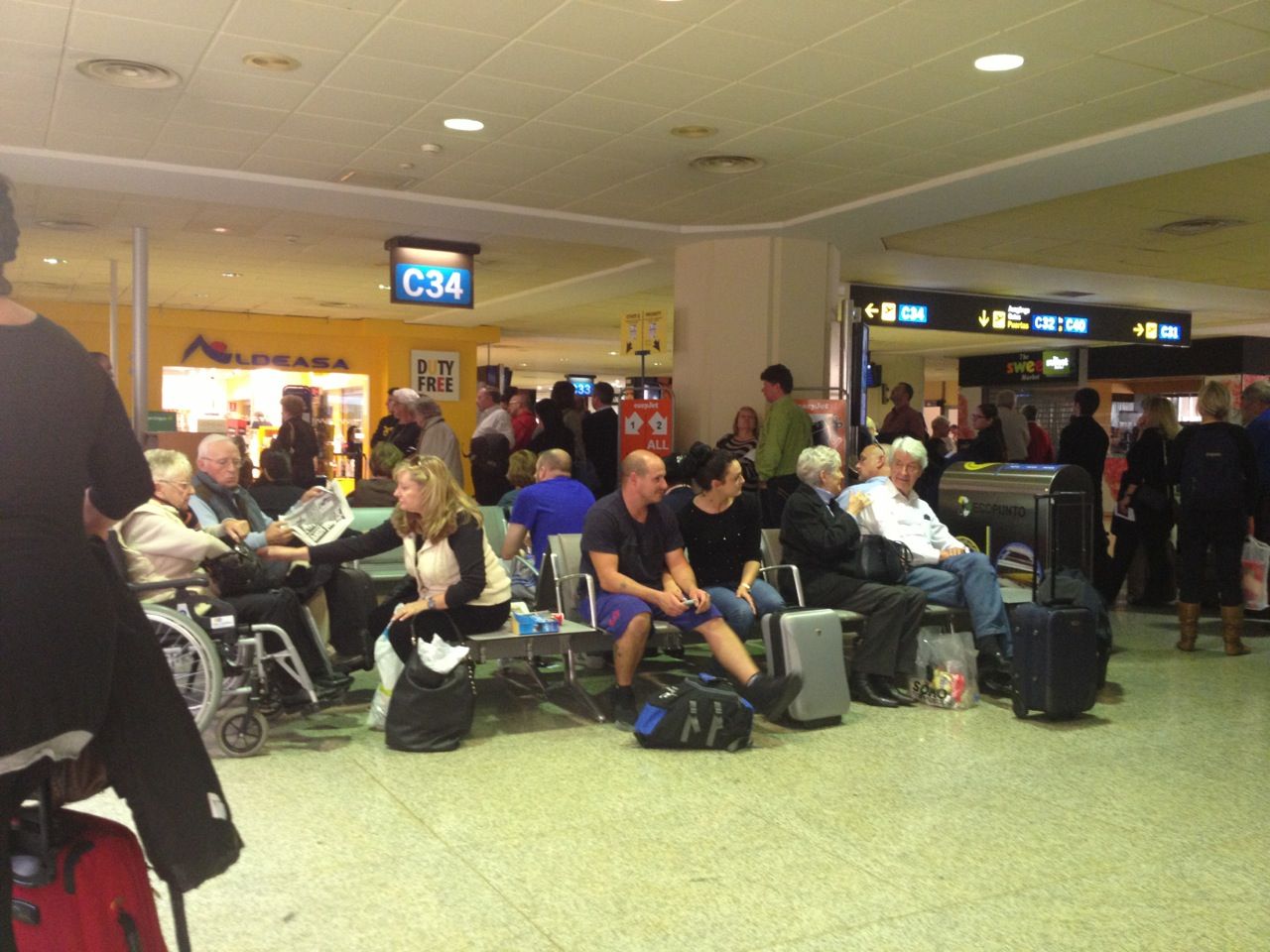 Annoyingly, there were a group of about 4-6 lads on the flight who thought that the entire airport were interested in what they were talking about… Shut up!! Seemed as if this flight would be slightly full.
Boarding was announced at just past 14:00 for rows 1-5. But of course, nobody paid any attention to this, much to the annoyance of the ground staff. Eventually they went though a selection of people in line checking boarding passes and anybody who didn't have the correct one was firmly told to sit down! Wish they could take such a stance at every airport.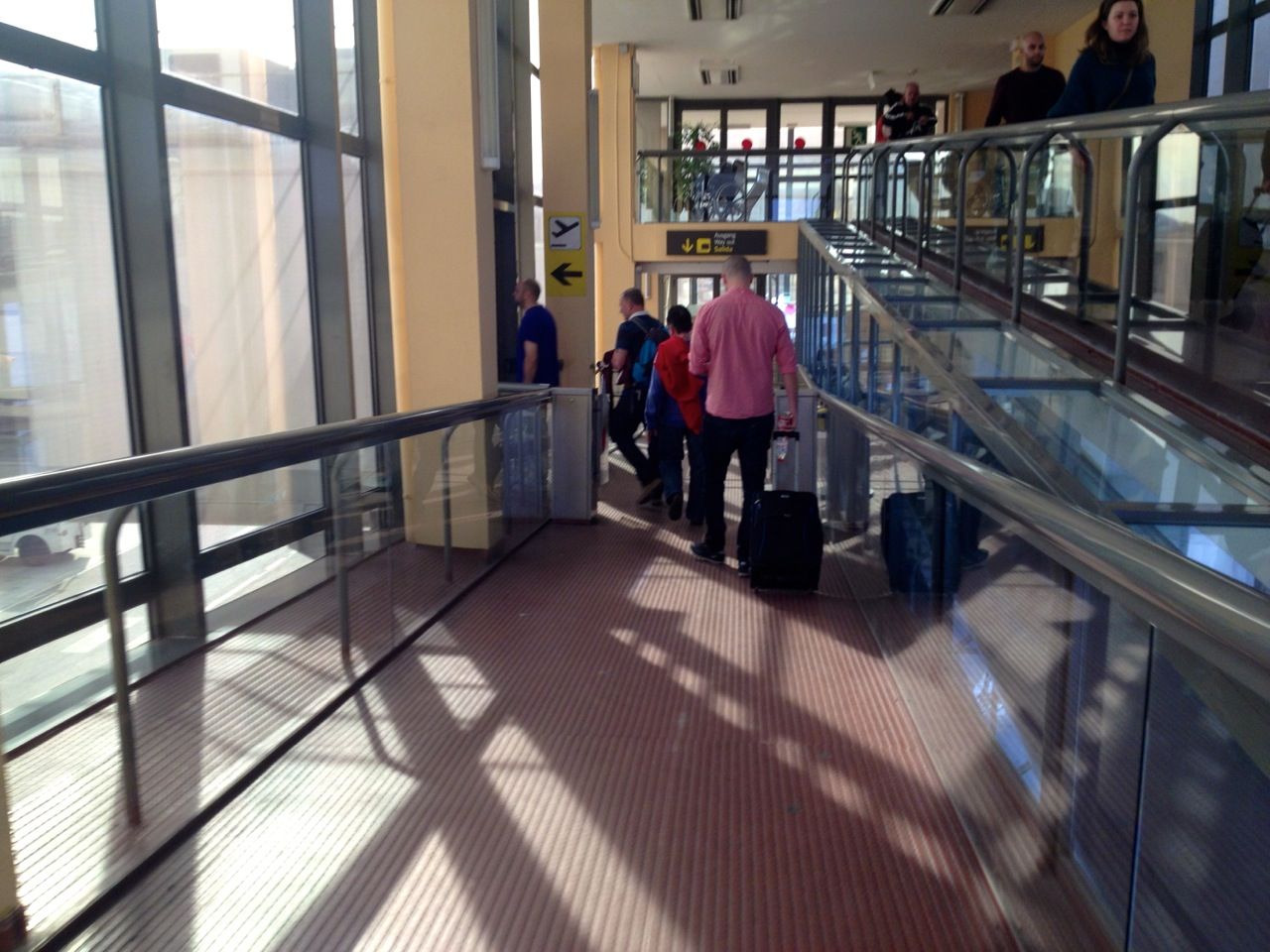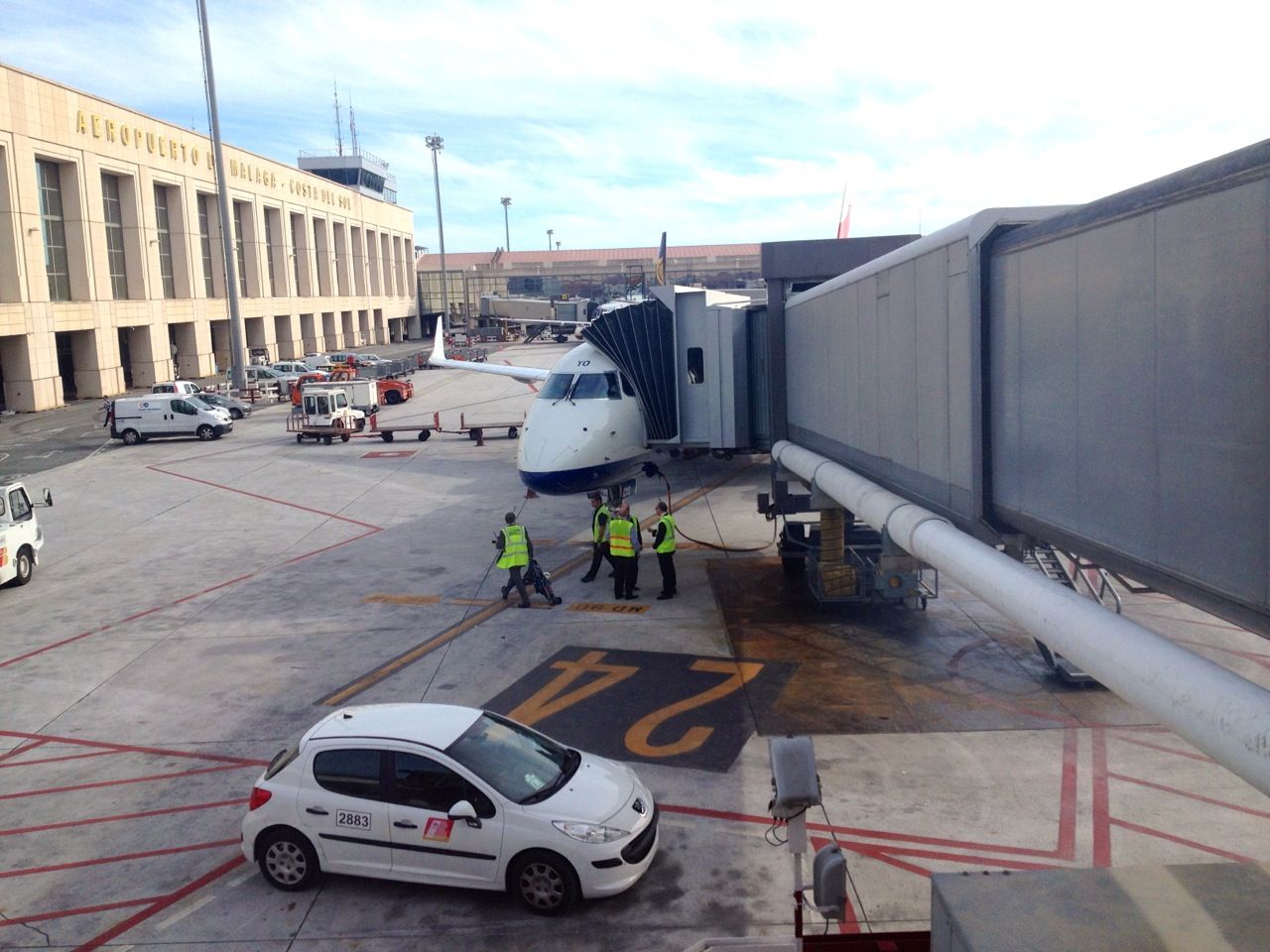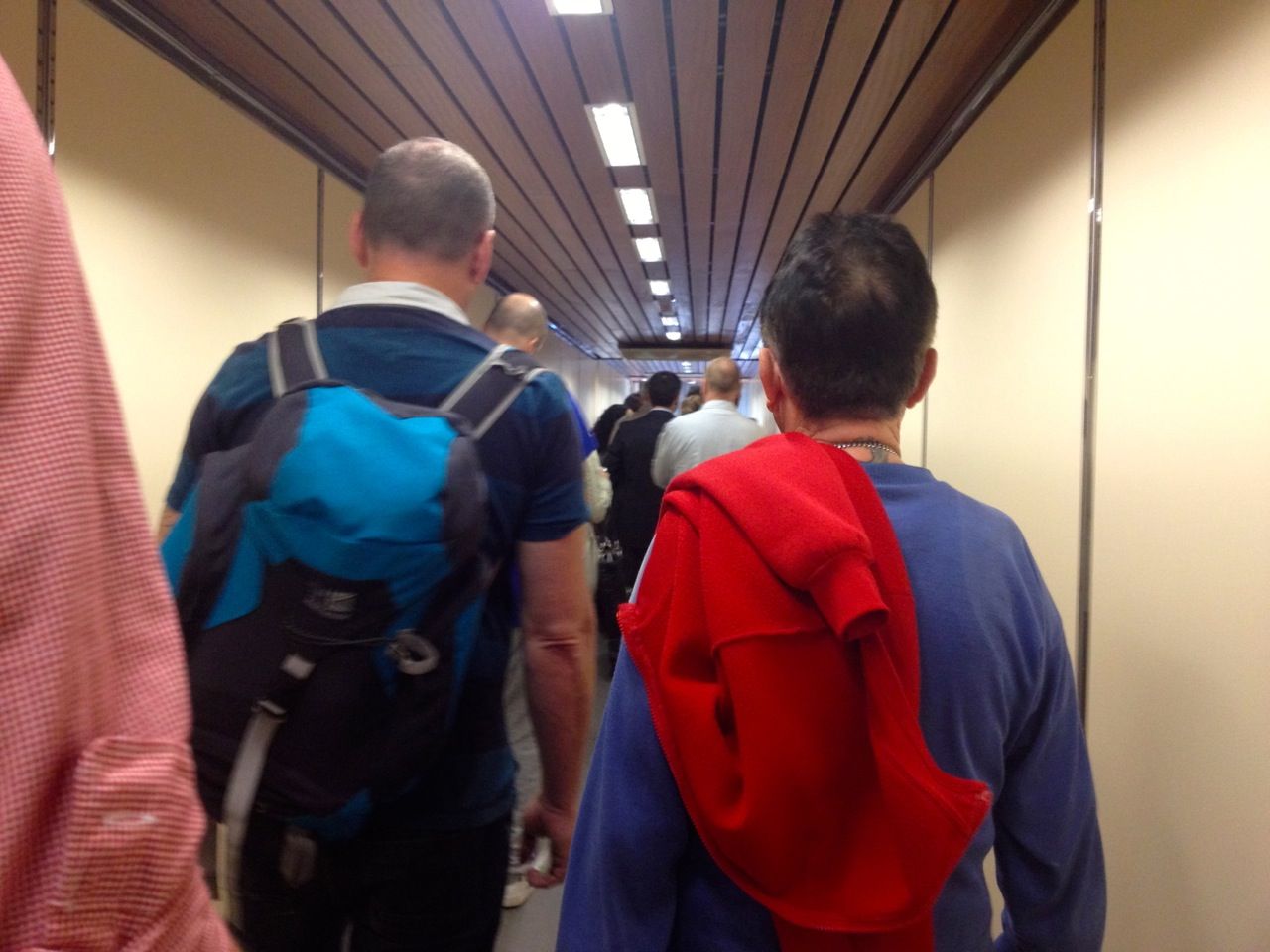 BA8488
AGP-LCY
21st November 2012
E-190 G-LCYO
Seat: 18A / Euro Traveller
Scheduled: 14:20/16:00
Off: 14:23
On: 15:57
Once on board, there were quite a few announcements saying that the flight was completely full. The captain also announced a flight time of 2hours 25 minutes and that we would be cruising at 38,000 ft.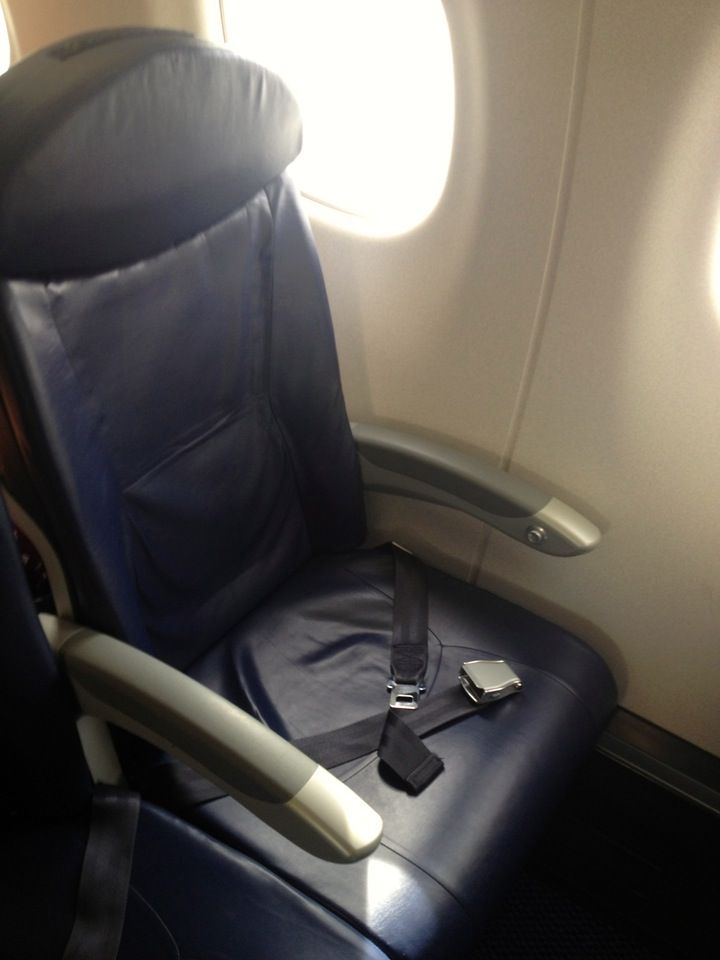 I did have a seatmate – one that thought the armrest was his and couldn't sit still for more than 20 seconds – until he fell asleep, taking up even more of my space.
The legroom on this E190 was quite a bit better than the E170 that brought me back from Frankfurt earlier in the year.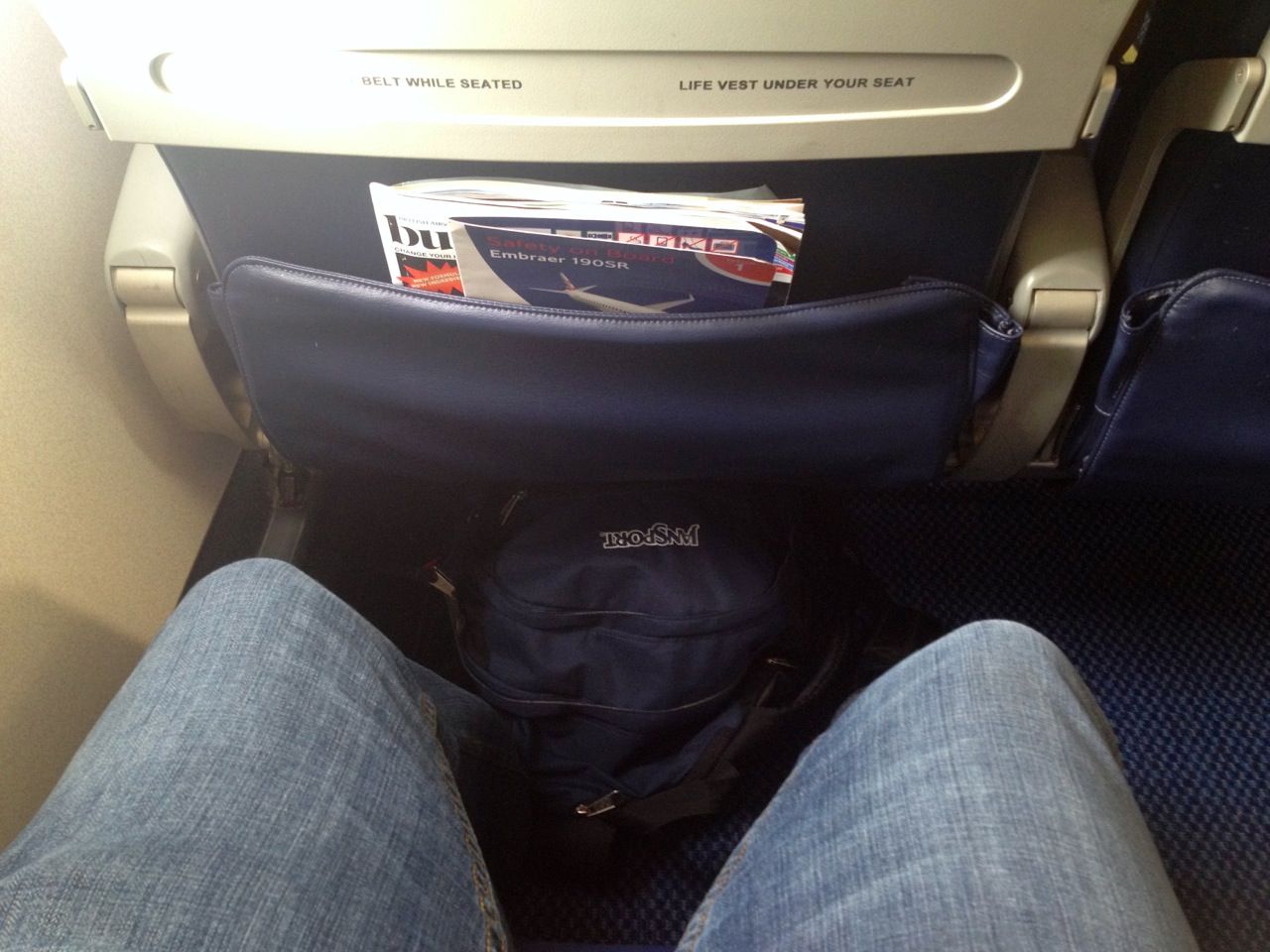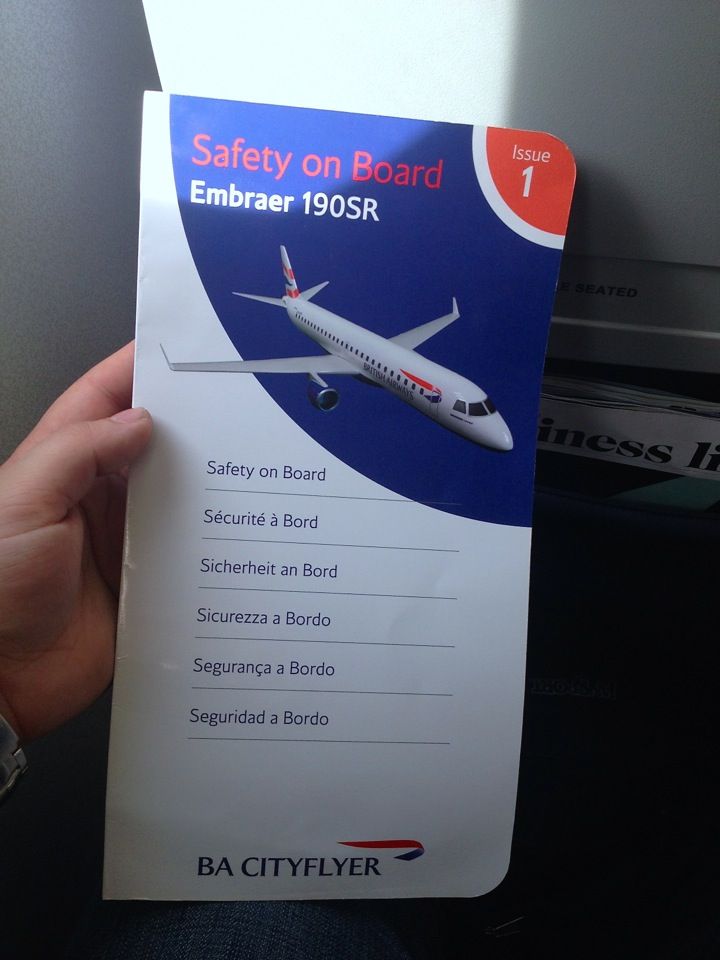 Spot the mistake!
Pushback was at 14:23 and we made our way out to the runway. Along the way we passed another stricken BA 737 – what's going on with these jets?!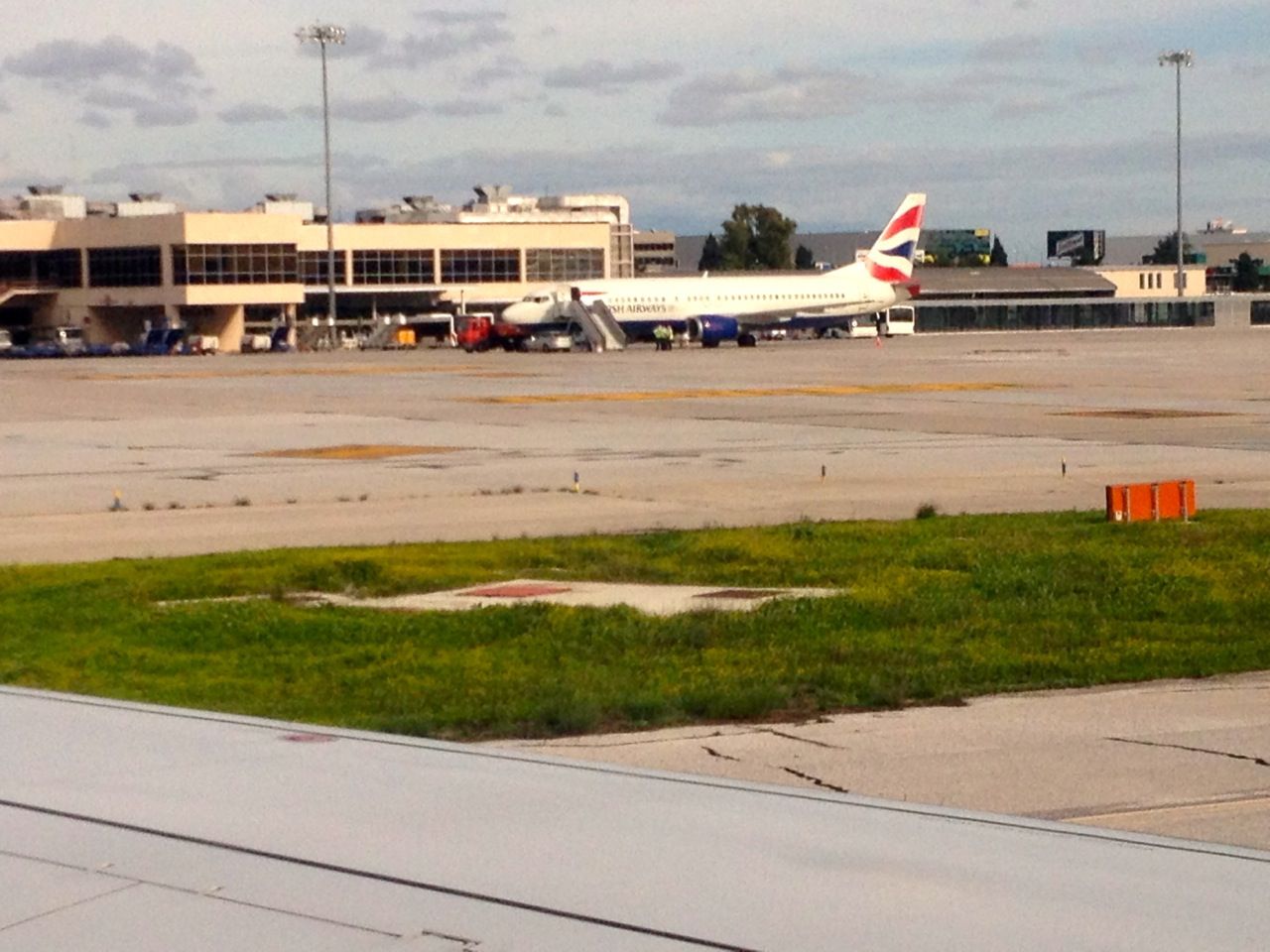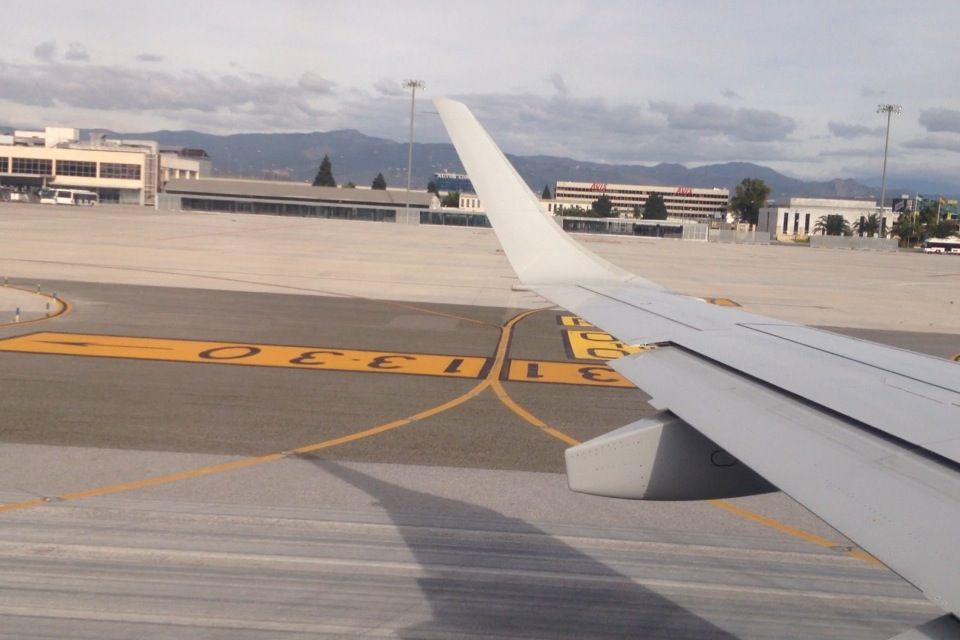 Once at the runway there was a bit of a wait for a landing Norwegian 737, but once that had passed we were off at approx. 14:37 local.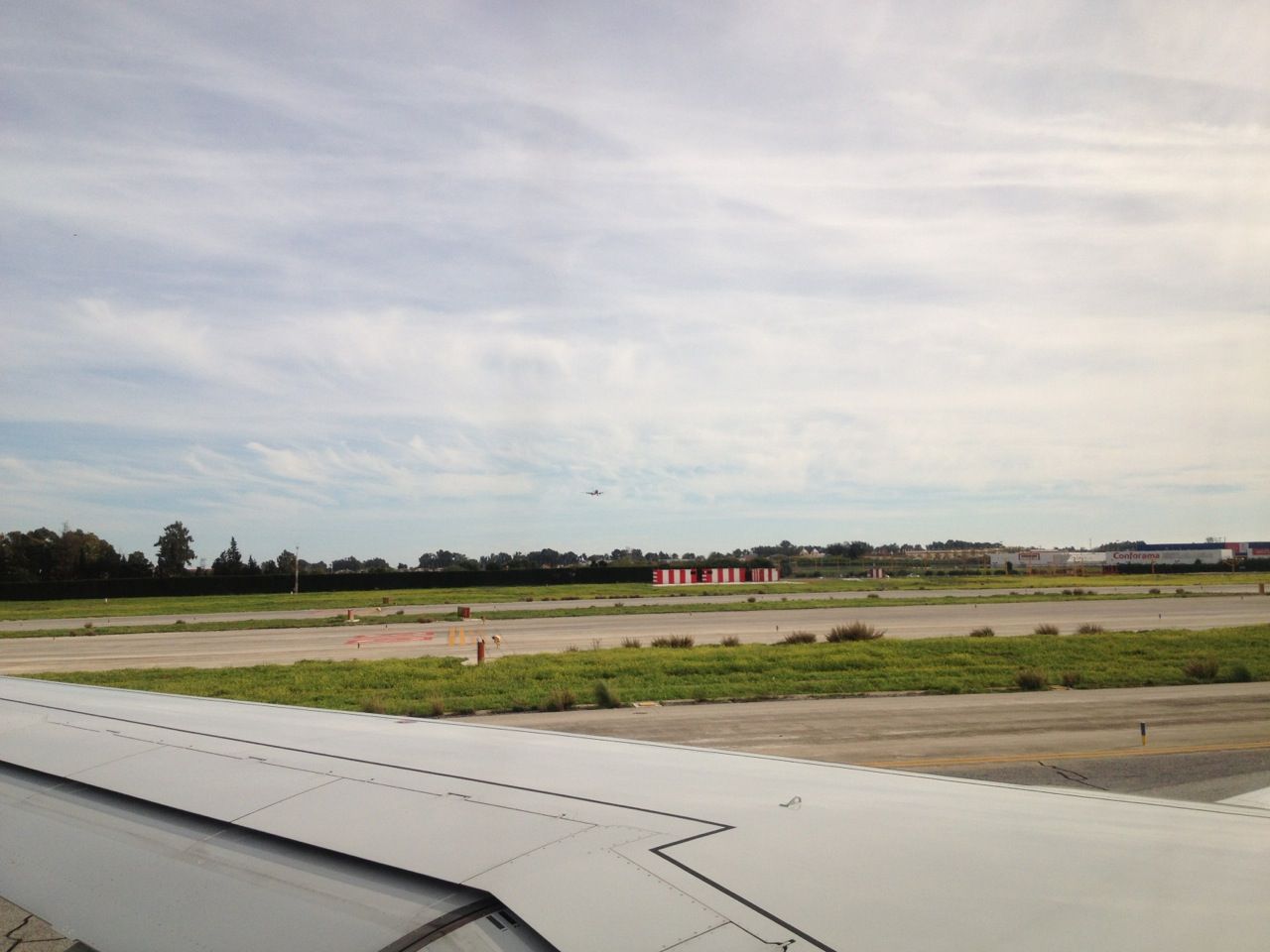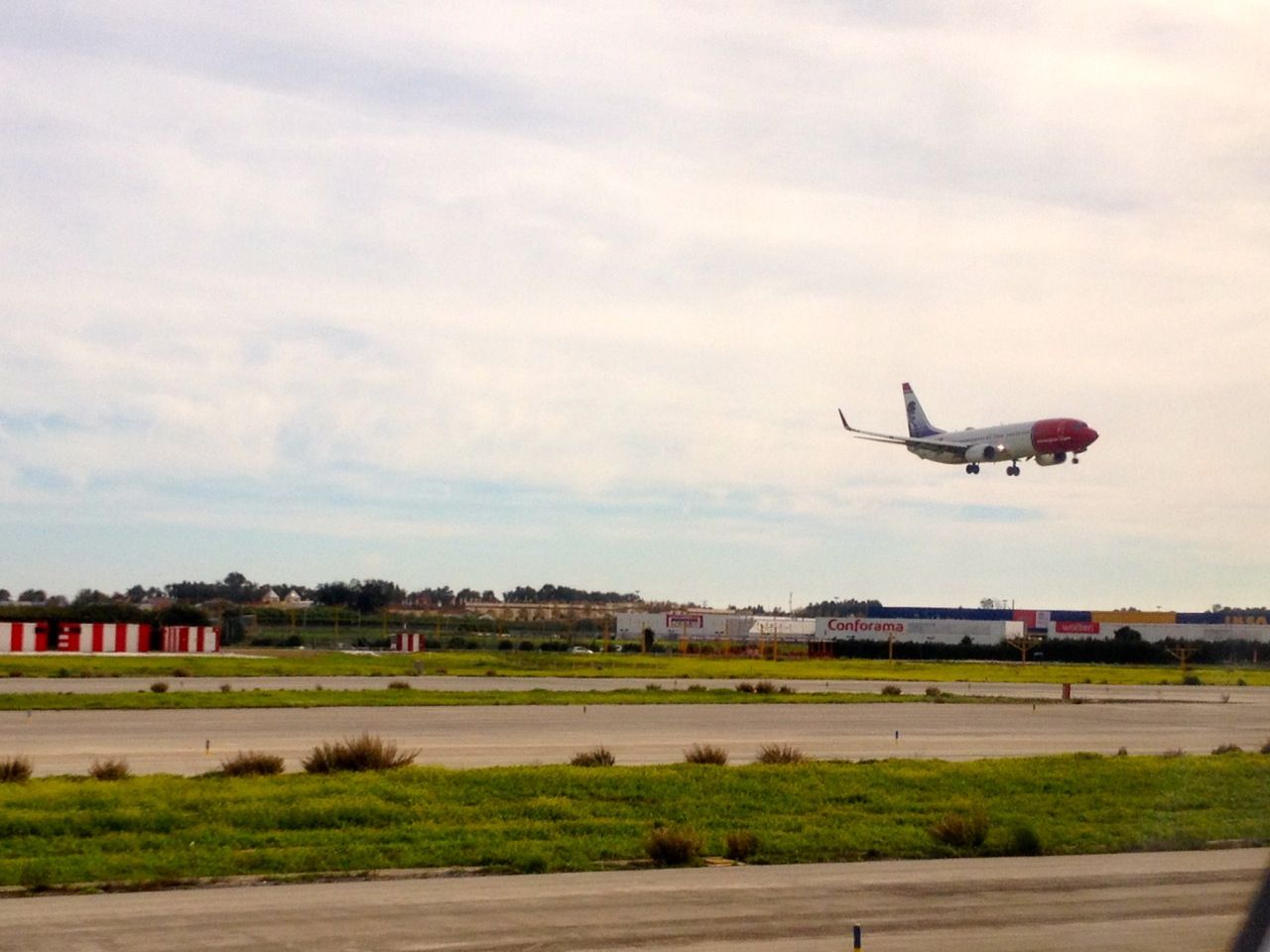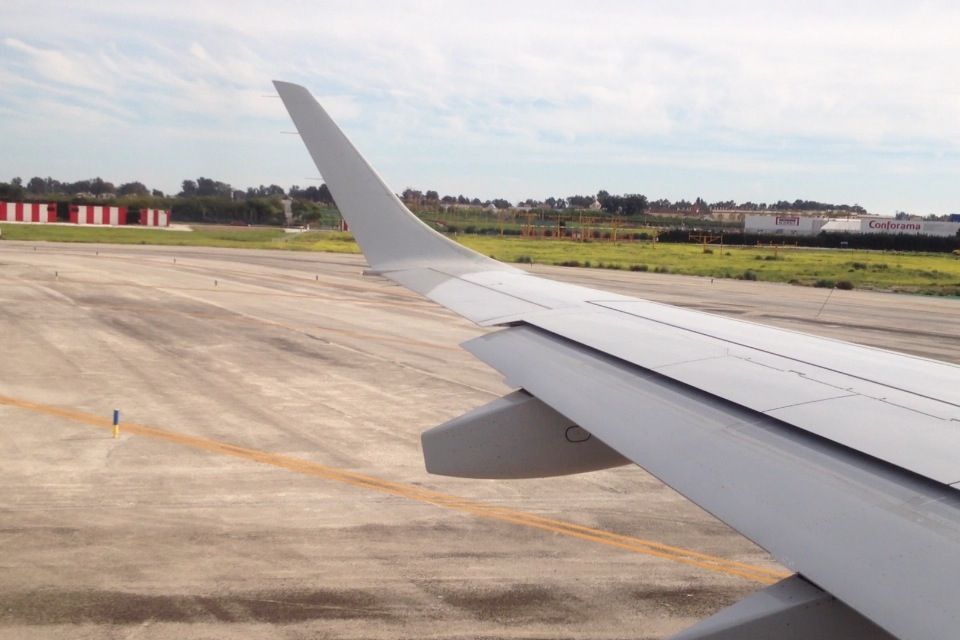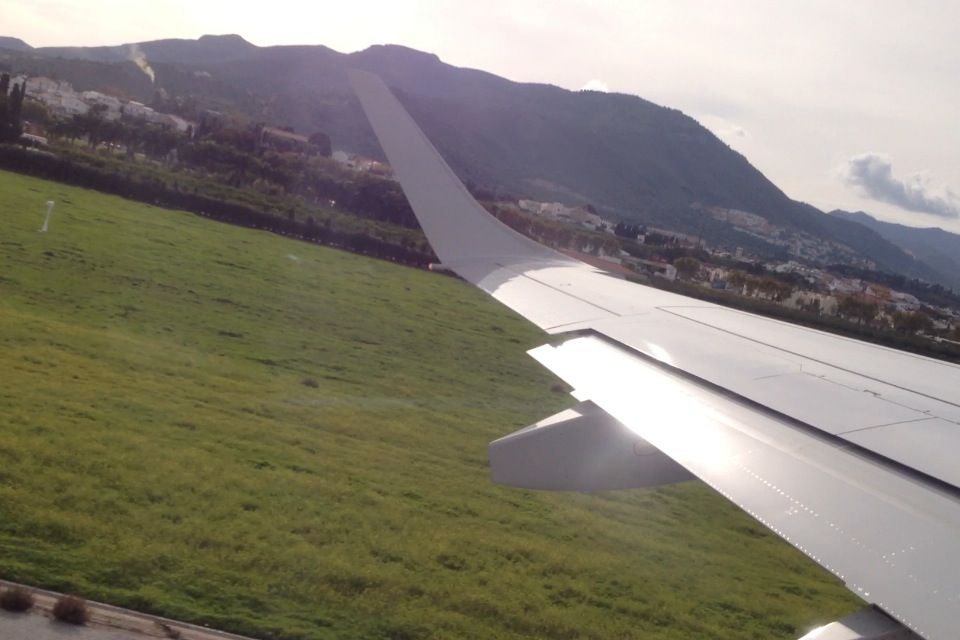 [youtube https://www.youtube.com/watch?v=jrgl2vpAxcw]
After departure it clouded over quite a bit, so the views weren't that great.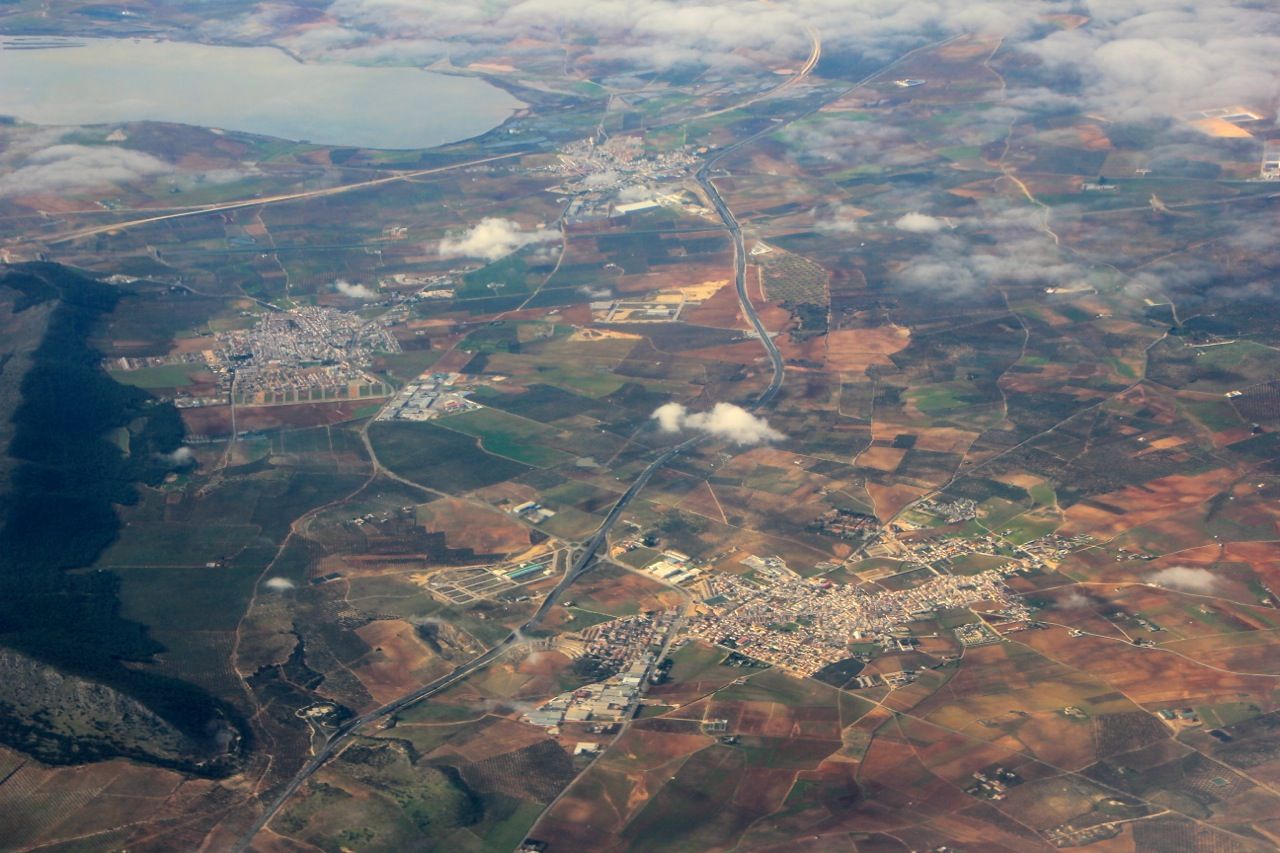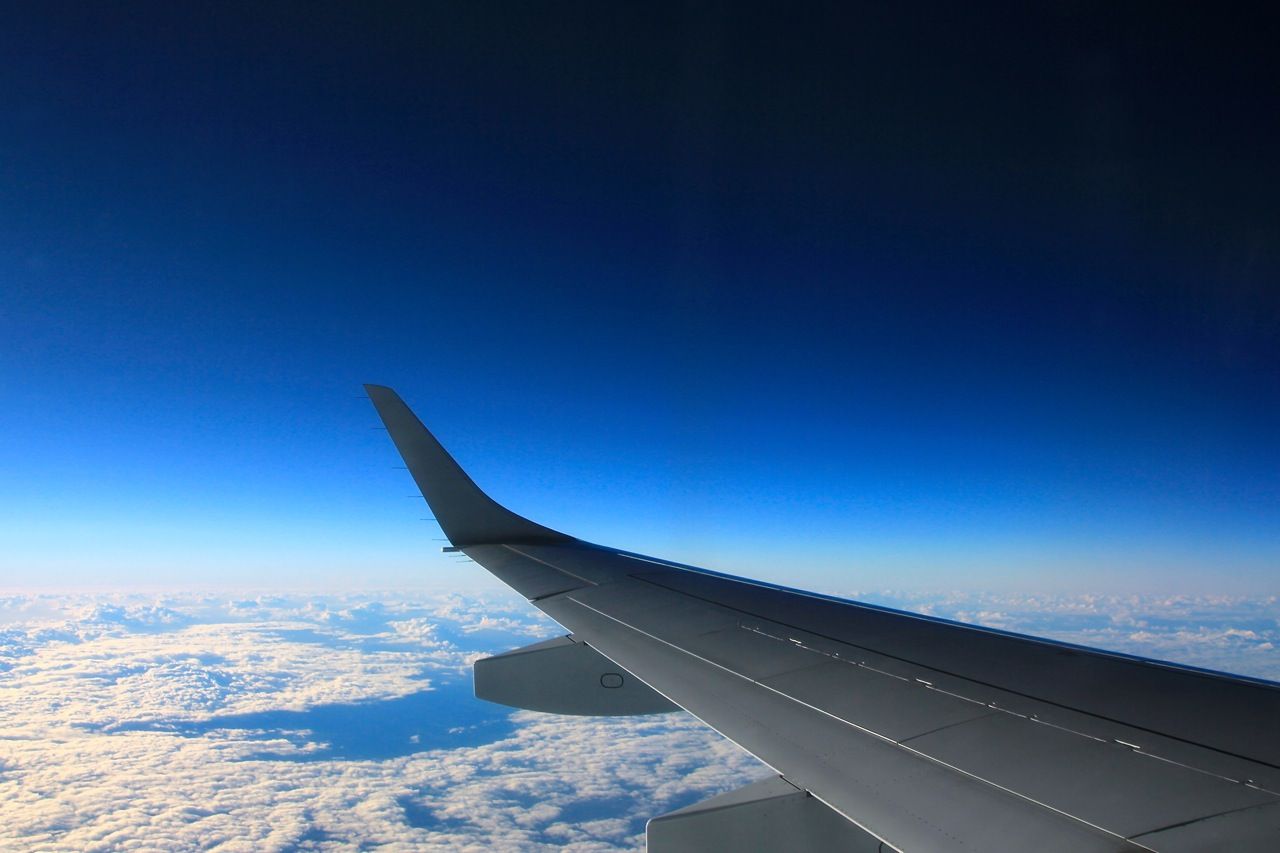 Shortly after, the meal service began. It was more than I was expecting to be honest. The crew of 2 on this flight were generally friendly. When asked my choice of sandwich, which was chicken and tuna or cheese and egg, I replied that I'd take whatever they had most of – this was met with a laugh and a reply of "we've got plenty of both!" I ended up with the chicken and tuna, although as they said they had plenty of both I should have asked for both. Then it was around a 15 minute wait for a drink which was a little annoying but no major deal really – its not like I had to be anywhere!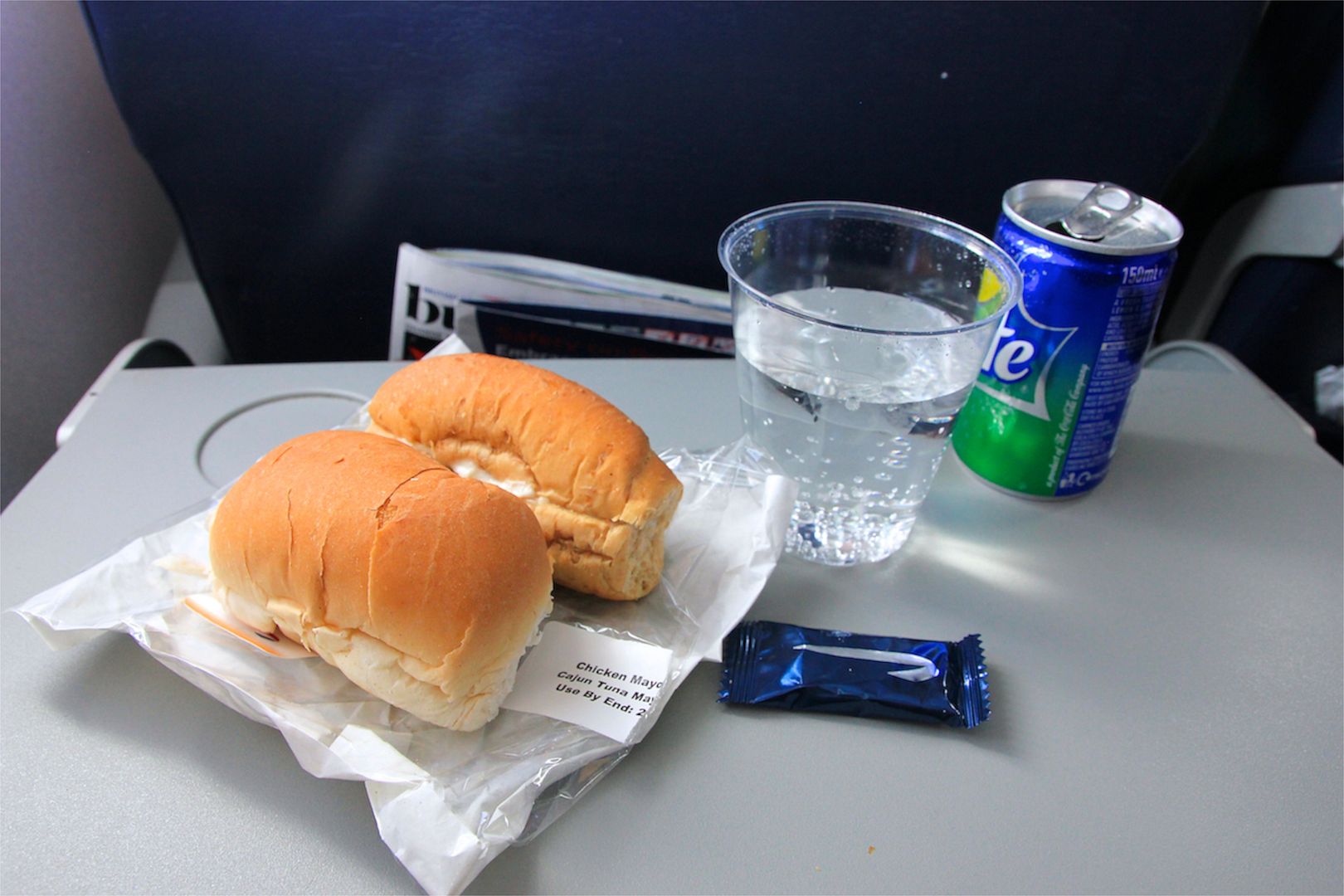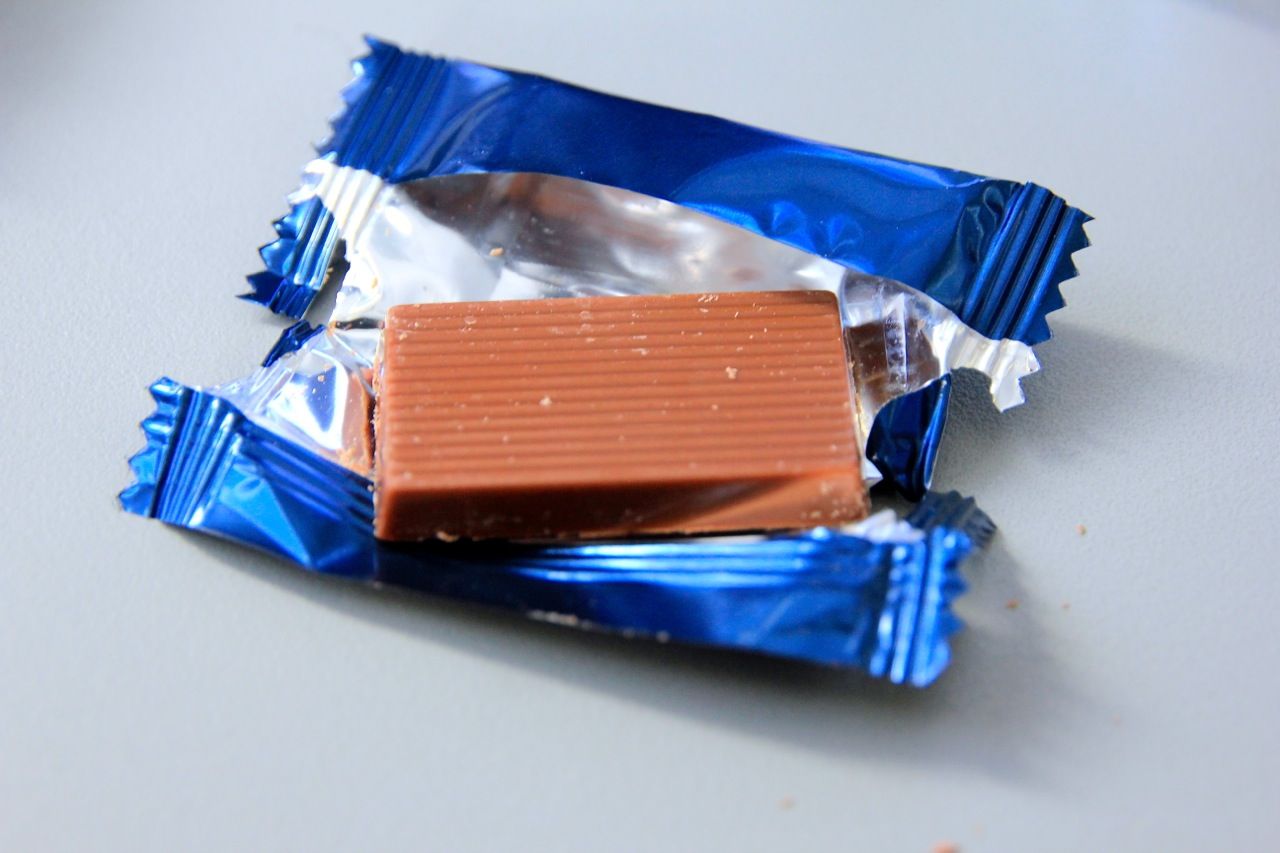 Trying to be Swiss?
The rest of the flight was uneventful. The previously mentioned lads kept pestering the younger Purser and ringing the call bell every 2 minutes until the other crewmember told them to "pack it in".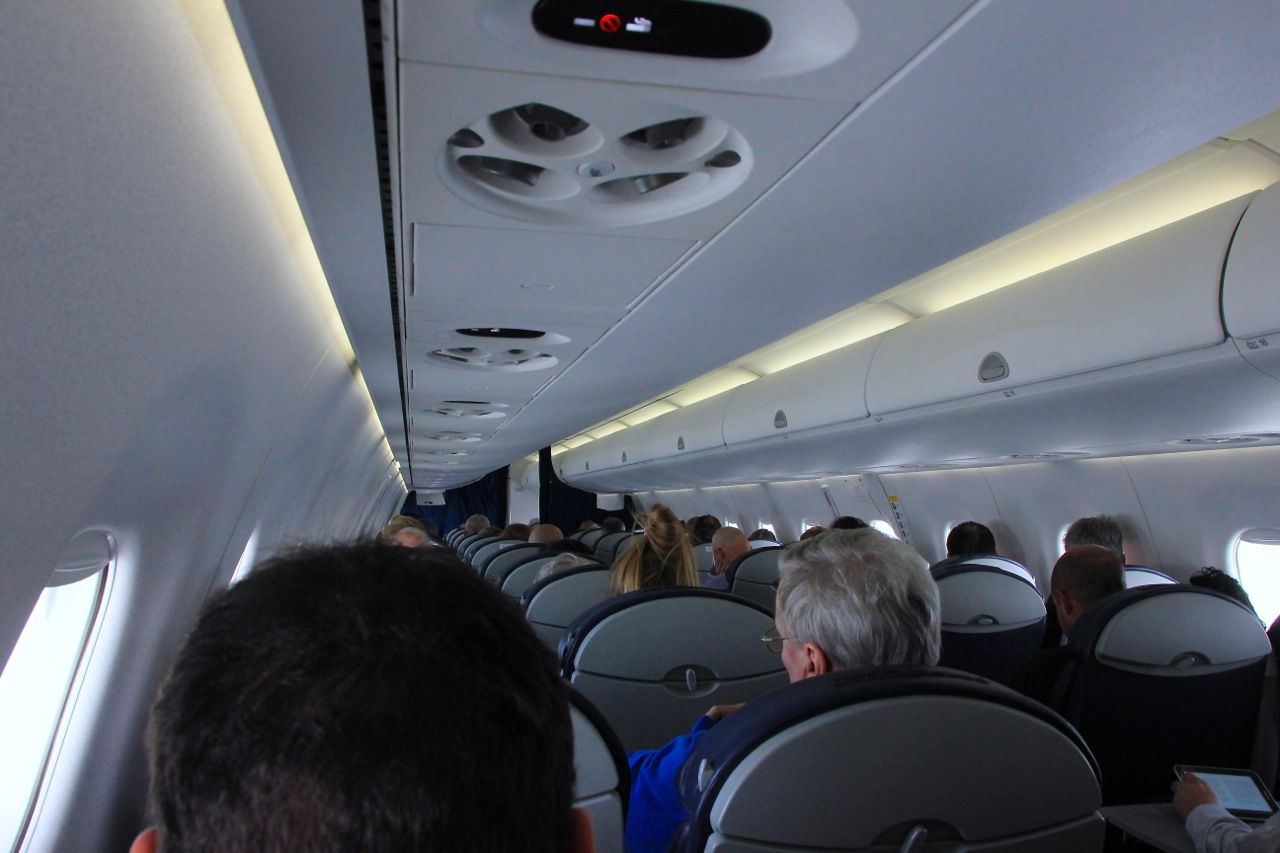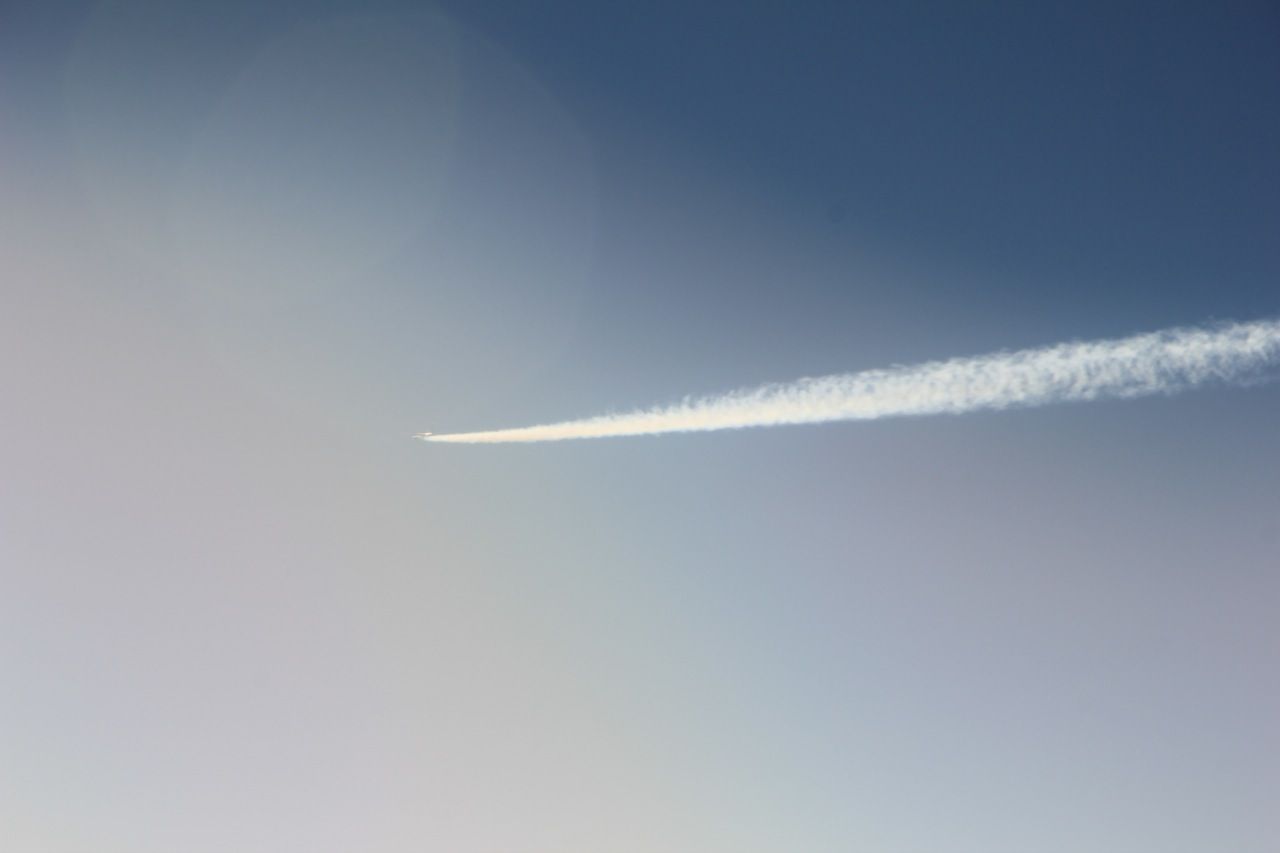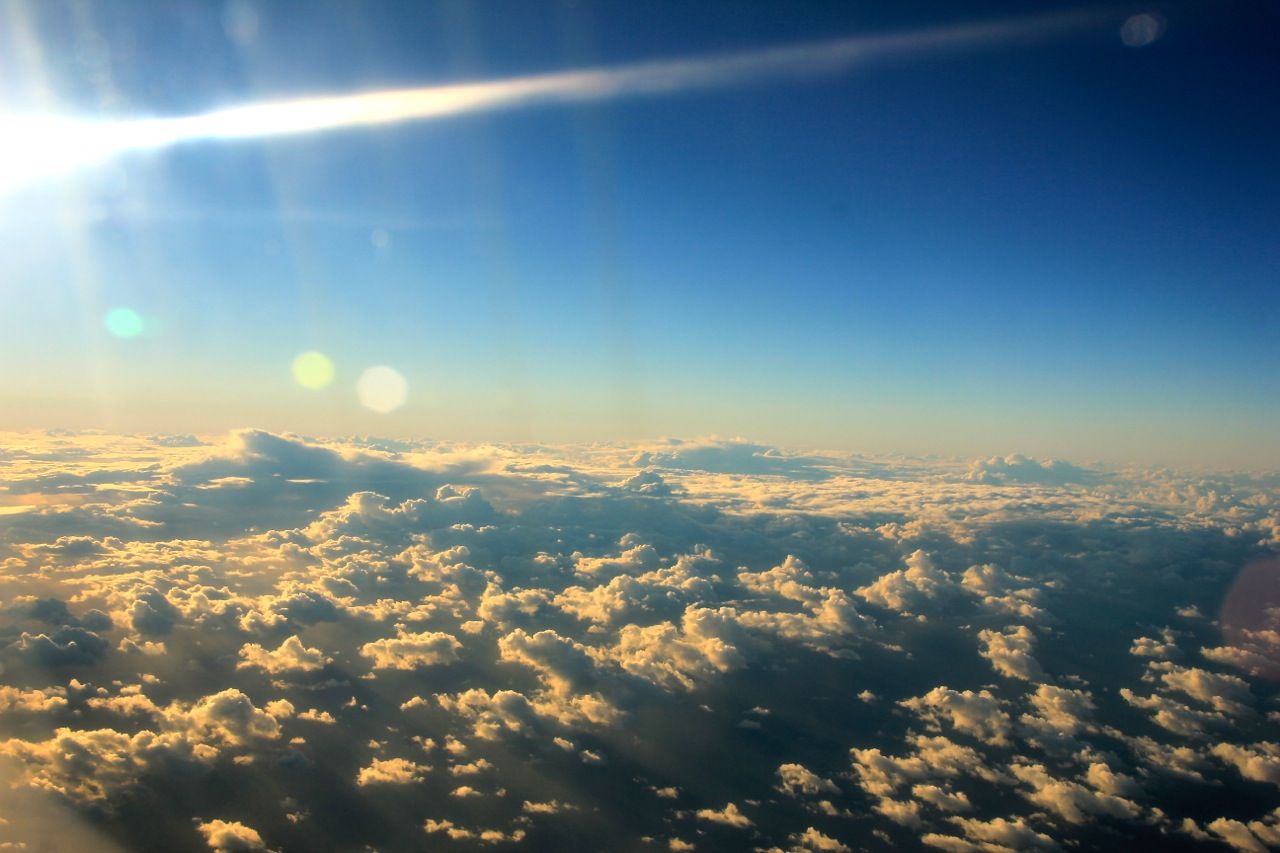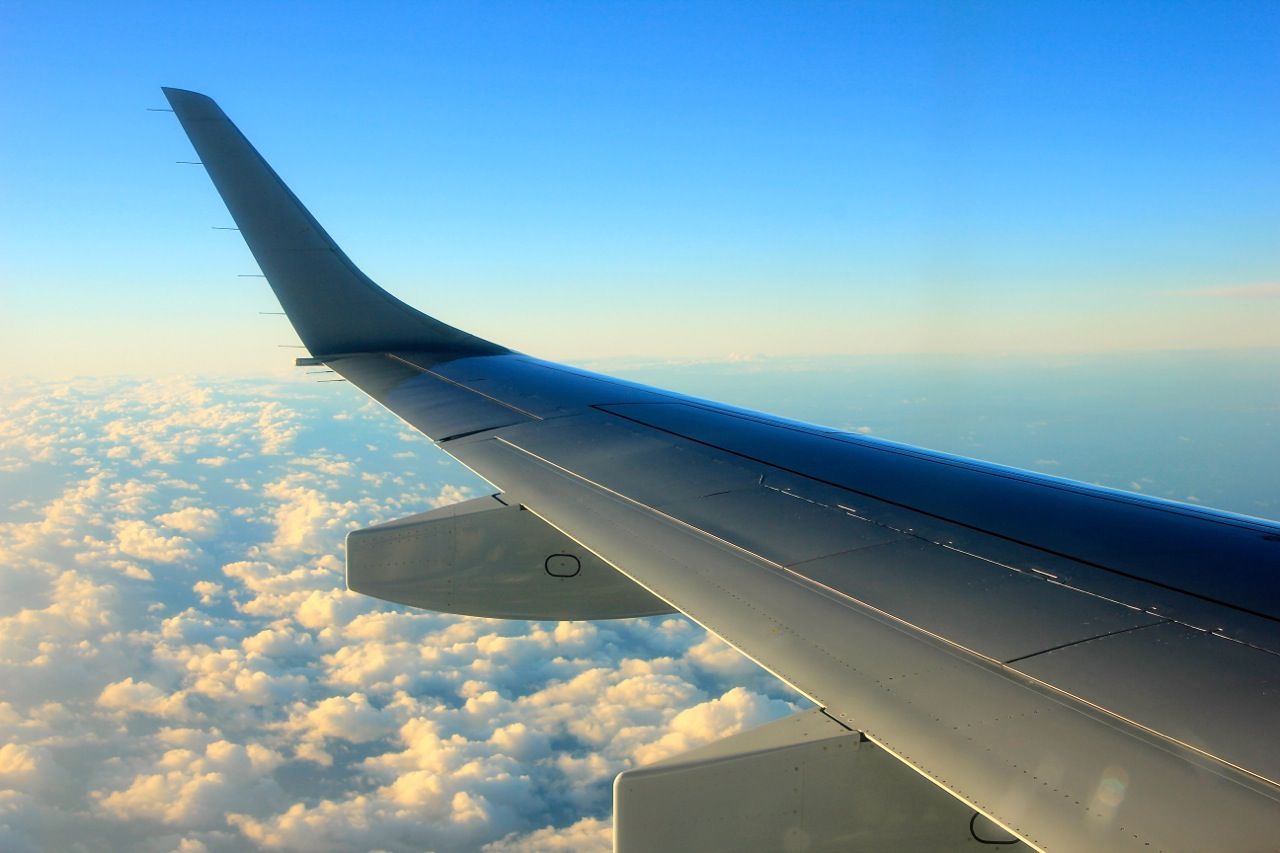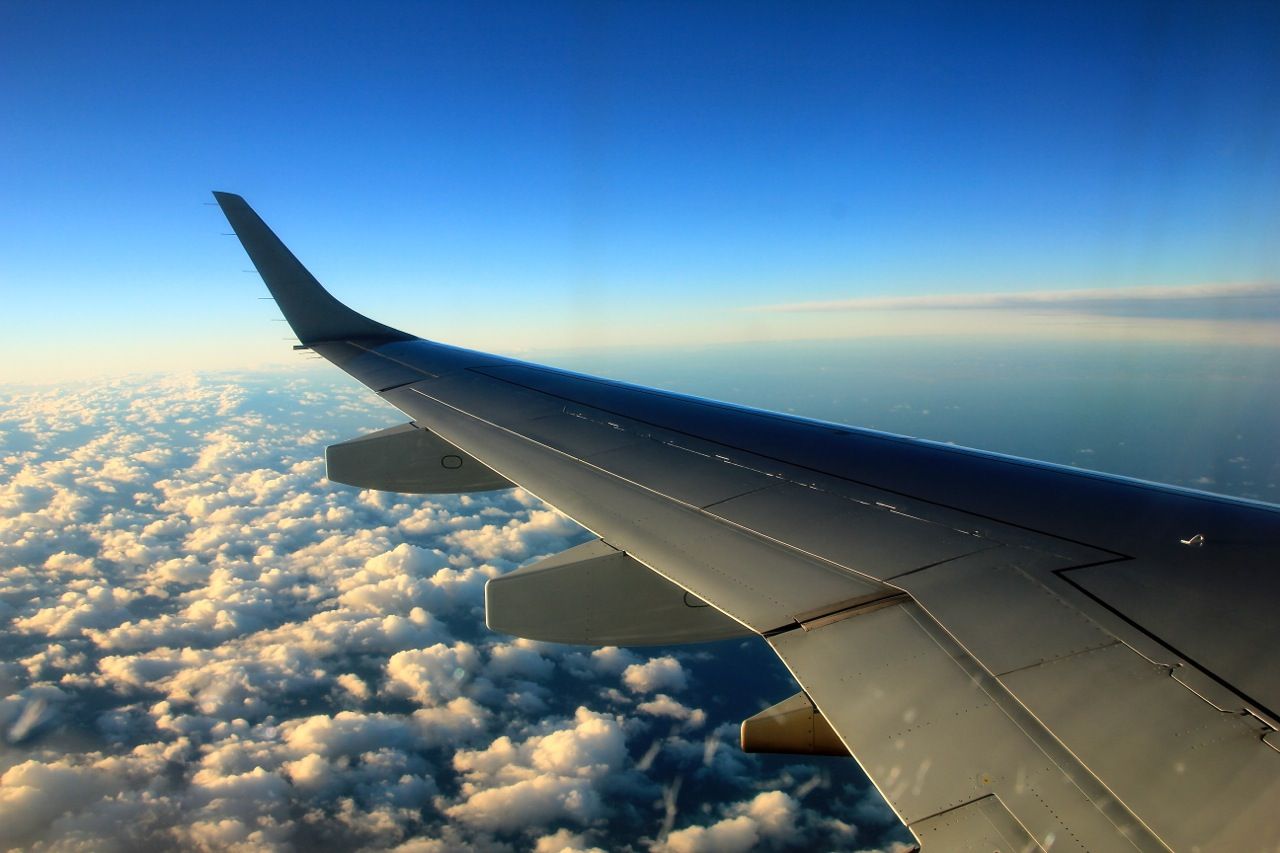 I kept myself amused by watching videos on my iPad and reading one of Hannah's (Infodesk) trip reports until the engines spooled back at 15:12 UK time, and then descent started properly at 15:19. So unfortunately the reading of the trip report only got half way through, as things on this flight were about to get interesting again!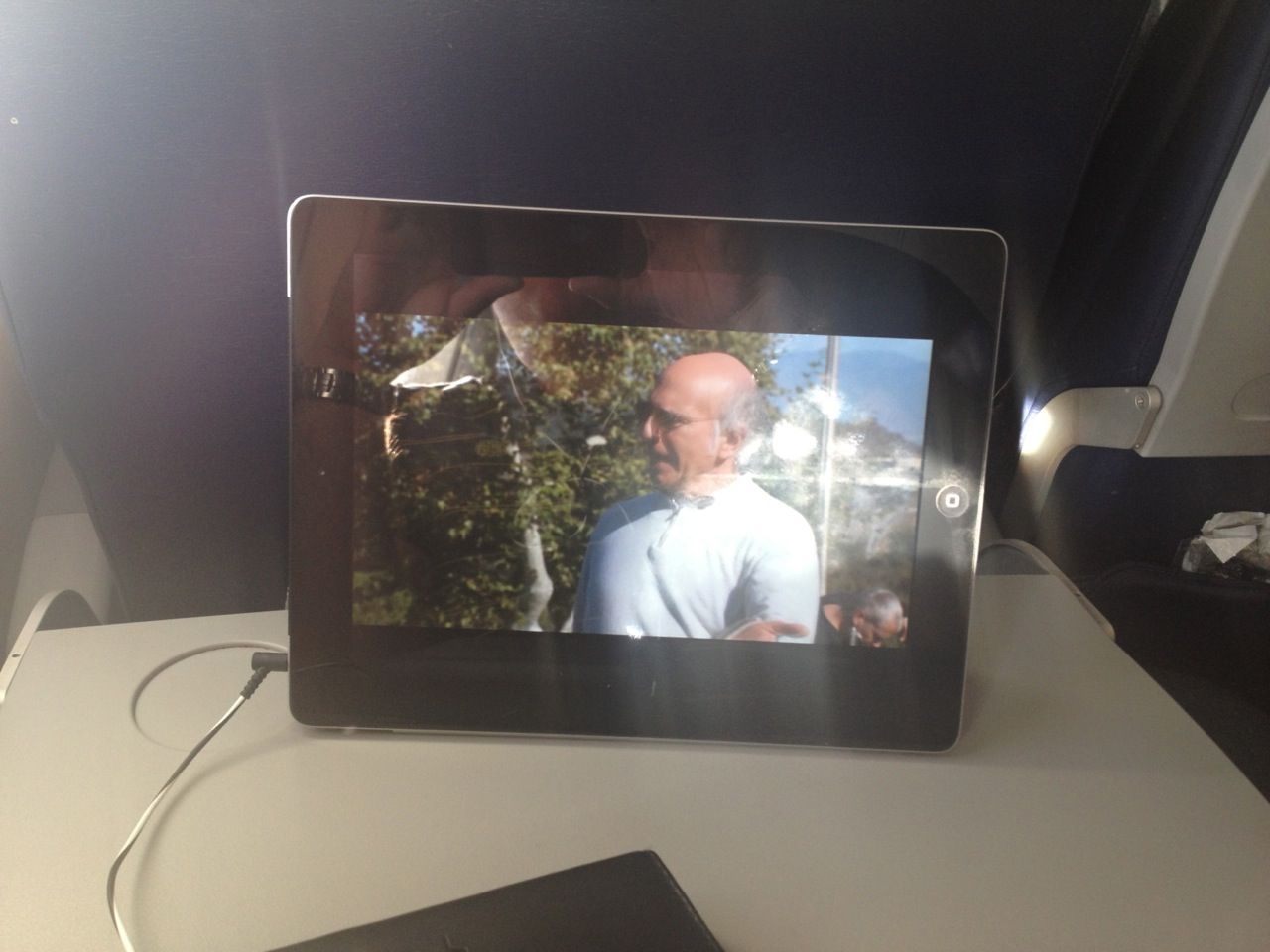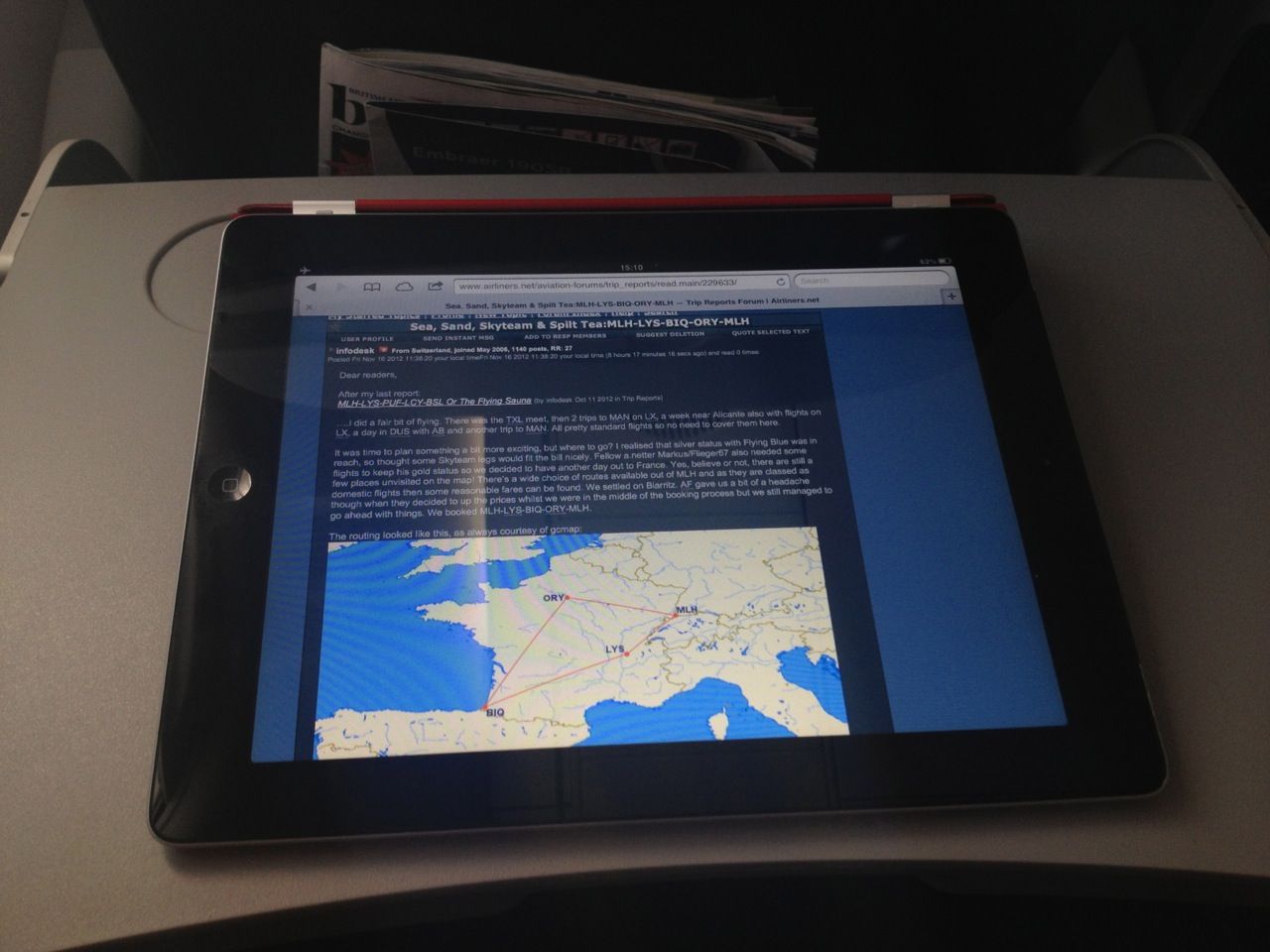 The captain once again came over the PA, giving an update on the status of the flight, saying that we were headed for Beachy head before heading North and saying that due to a front over London he expected a rough ride into LCY.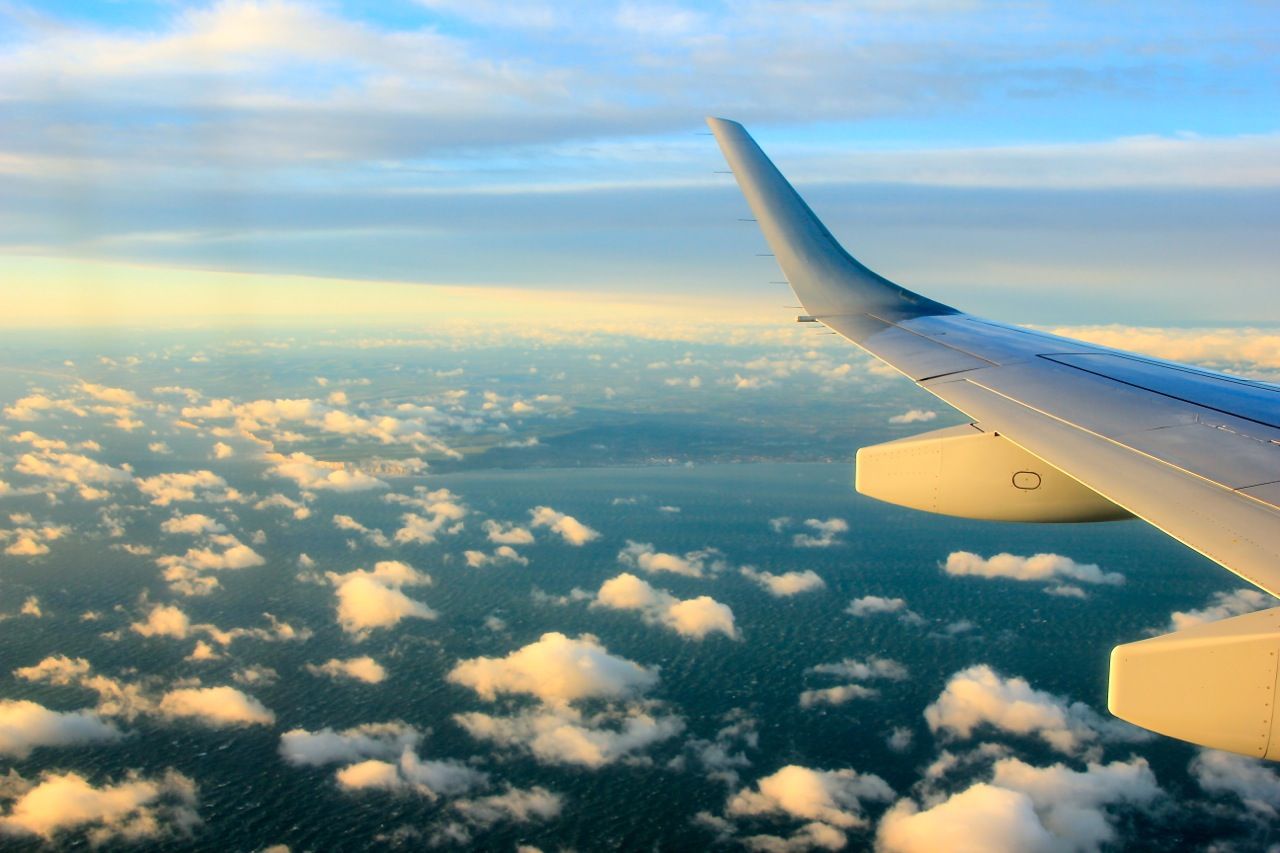 After passing the South coast and heading North the weather suddenly got very British. We were into some pretty heavy cloud, with quite a bit of turbulence. Coupled with the speedbrakes being deployed and the landing gear being lowered quite early – just as we passed the Dartford crossing – It seemed like the flight crew were fighting this one al the way down to the ground. Yet it was still a pretty smooth landing – much less of a hit than my last landing at LCY that was for sure!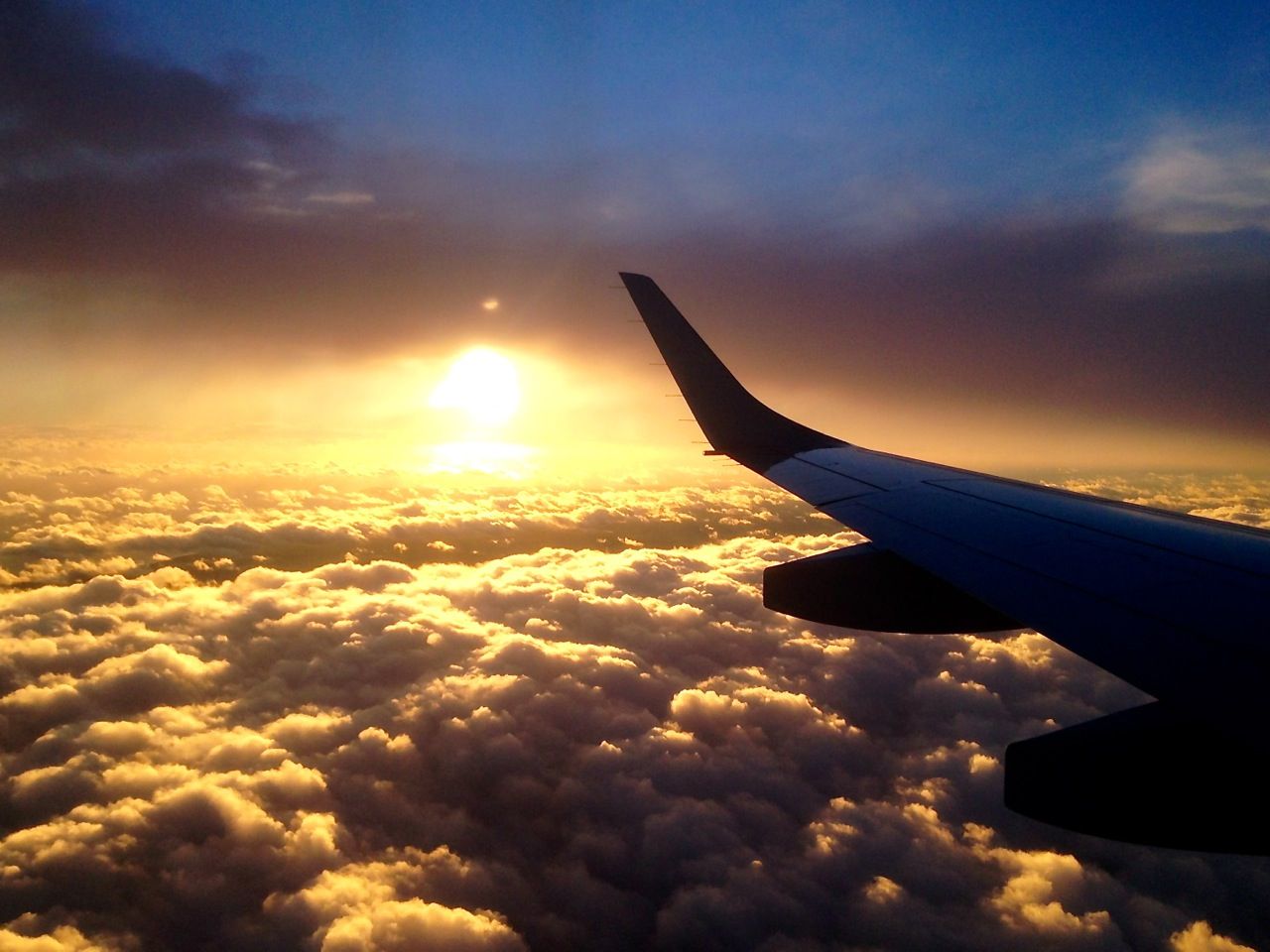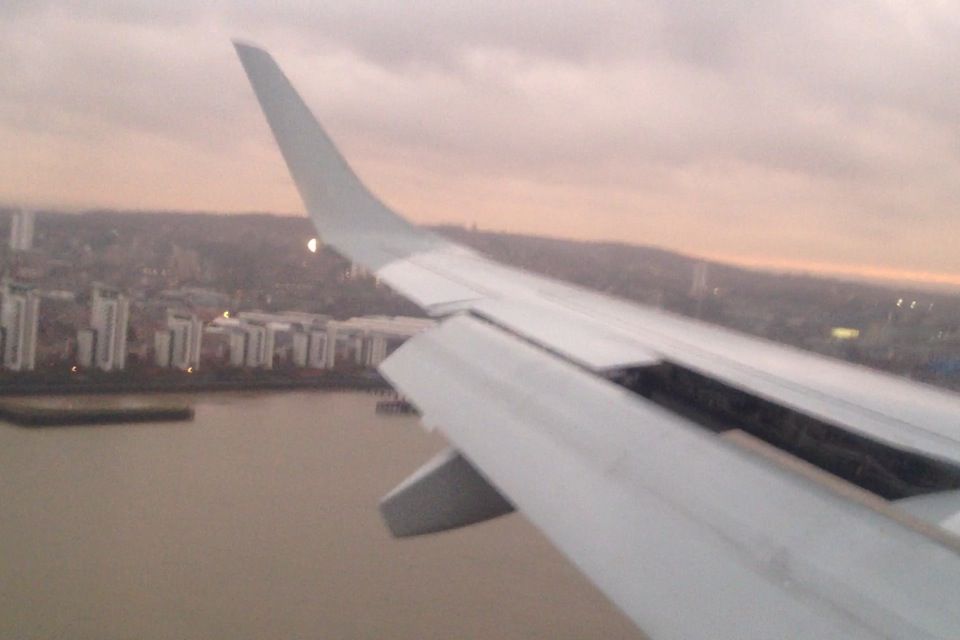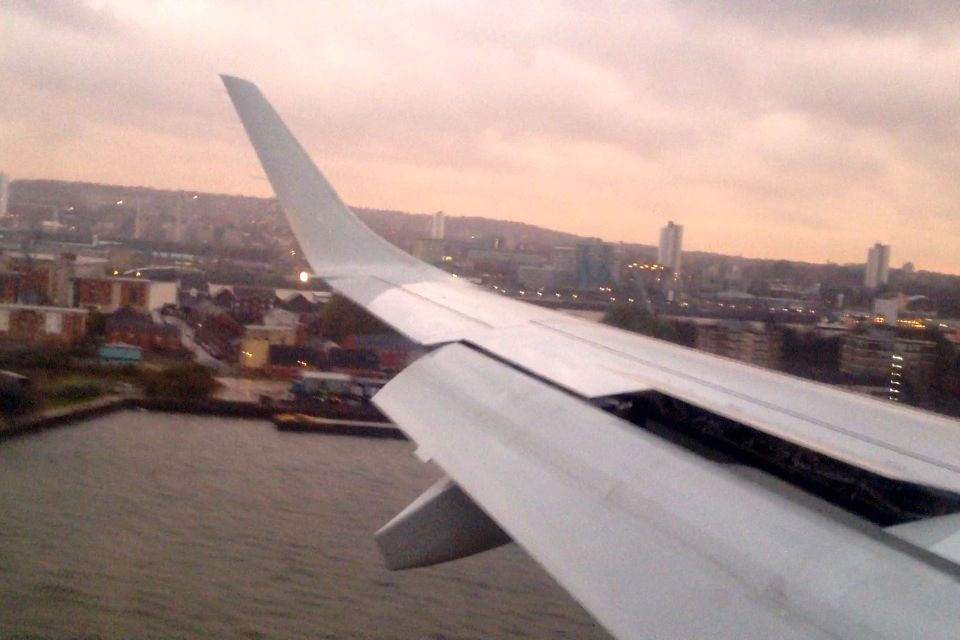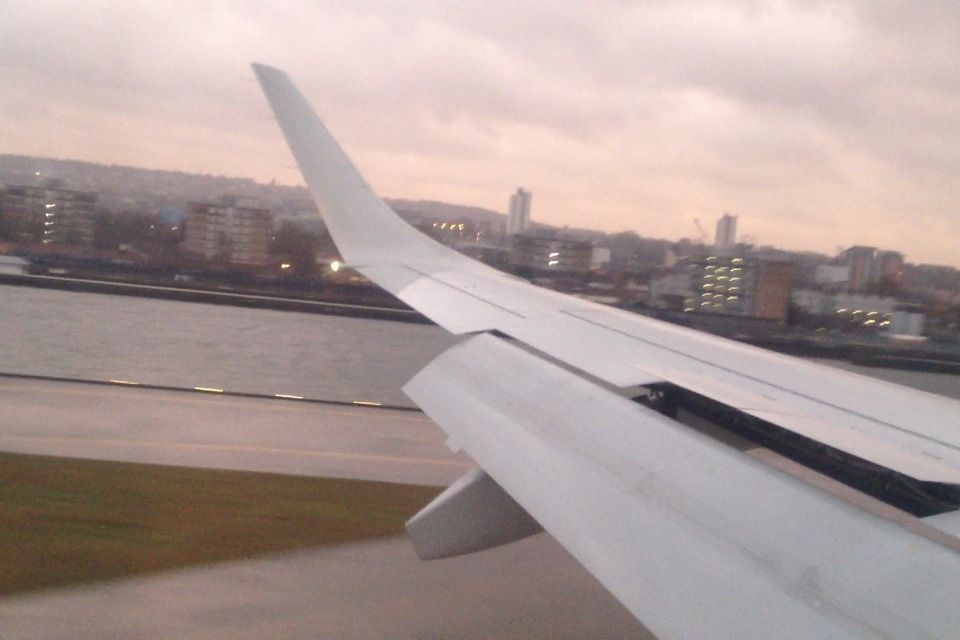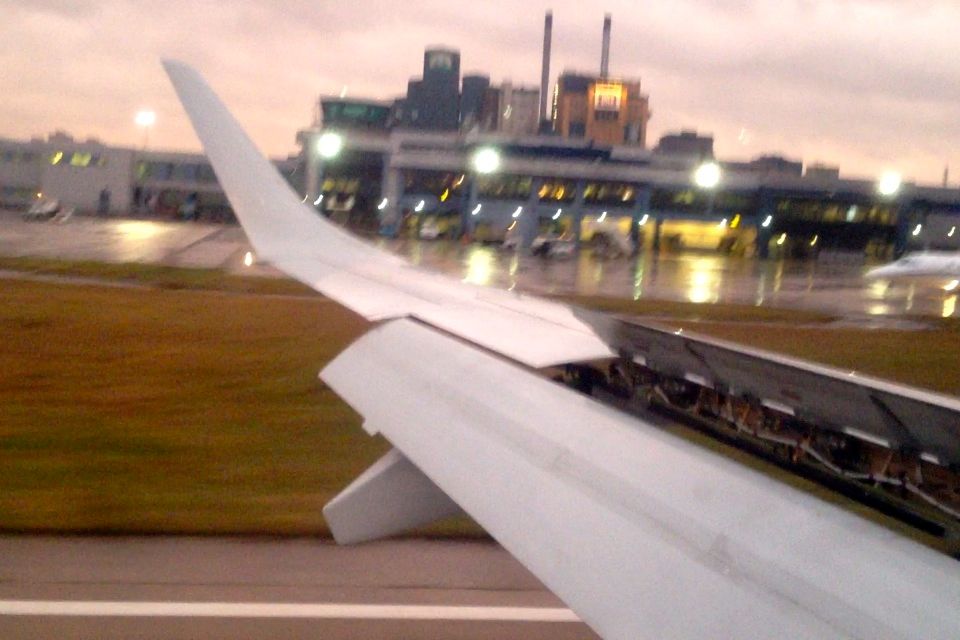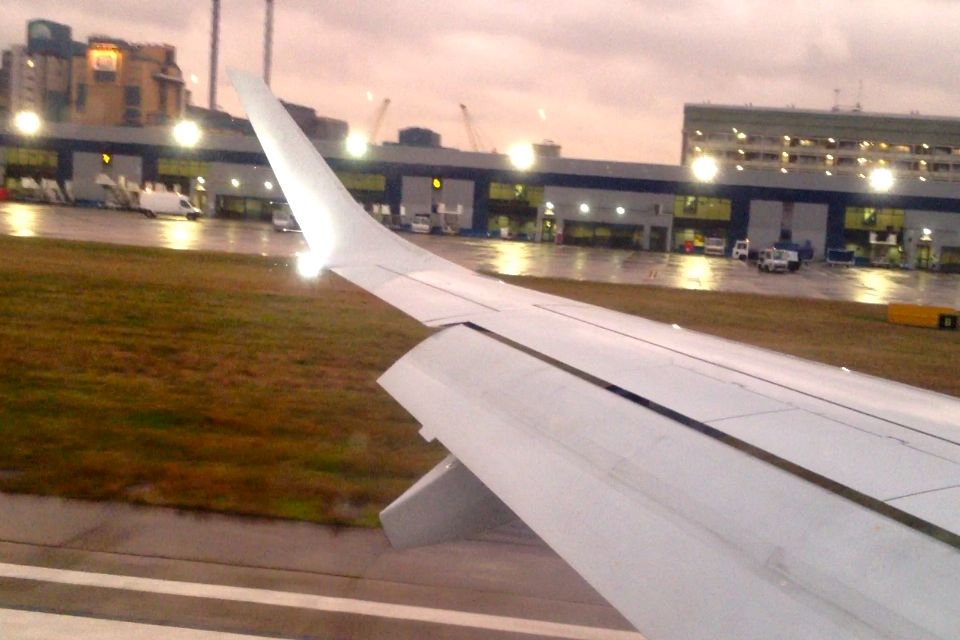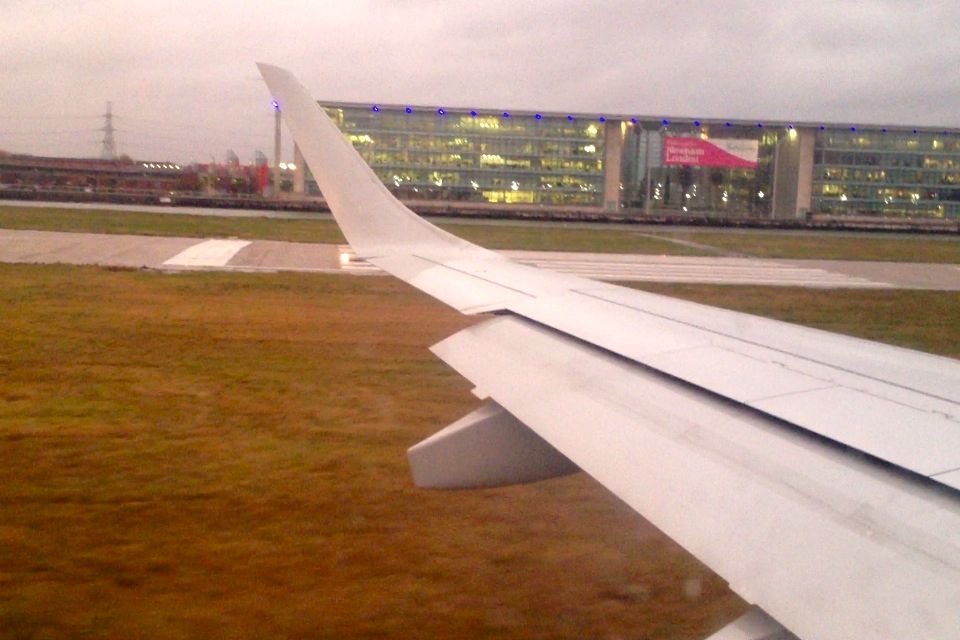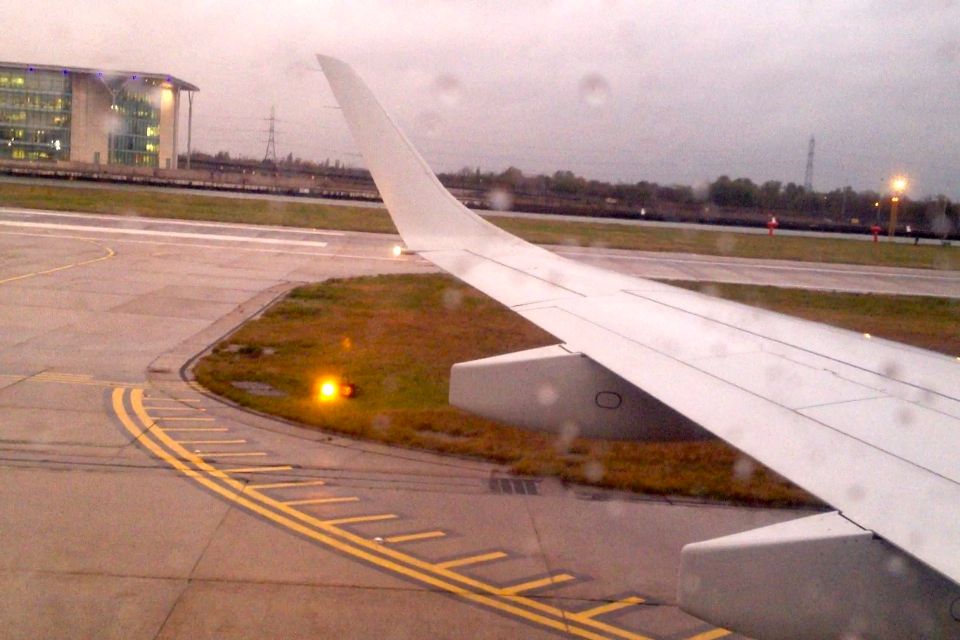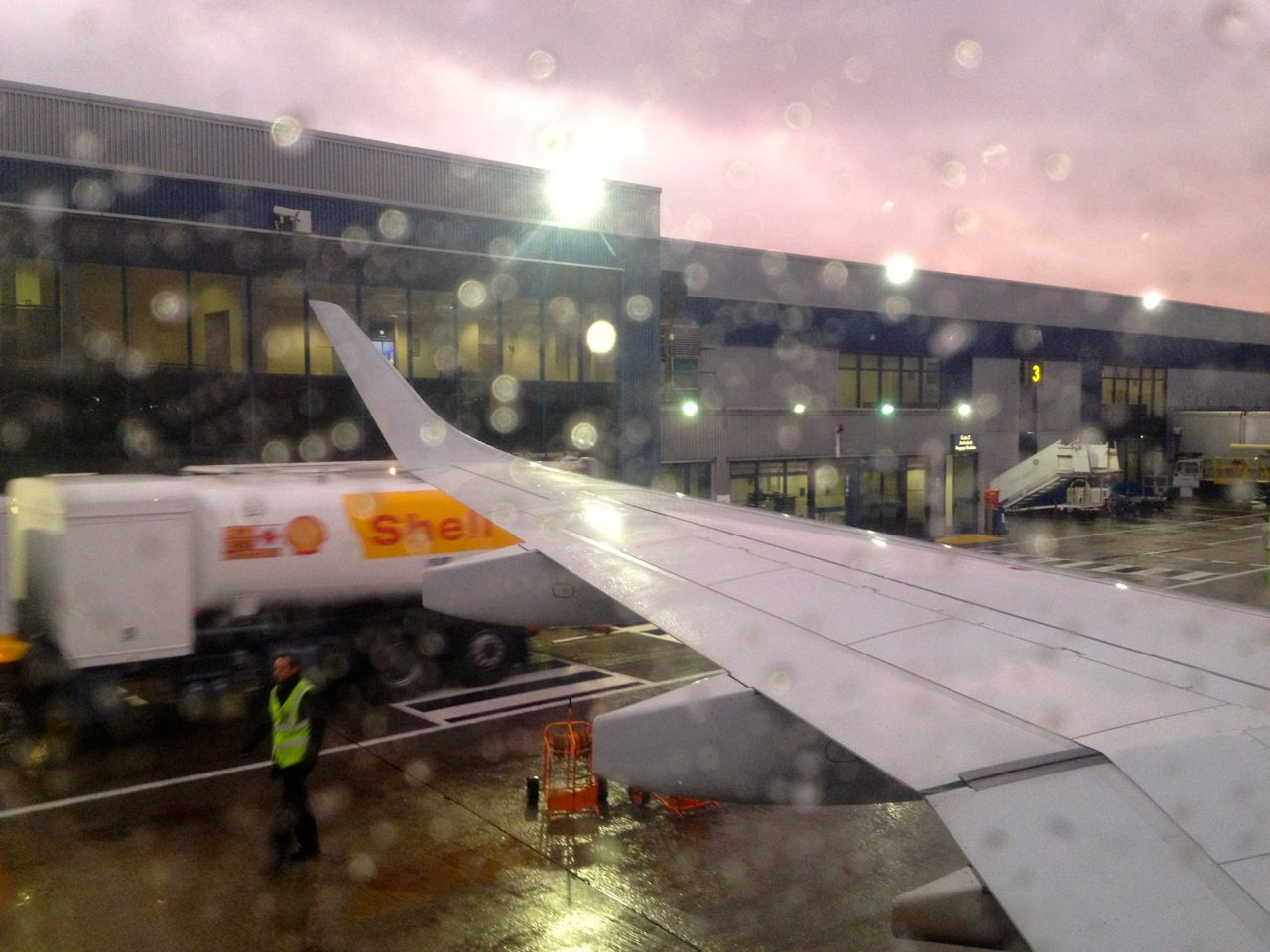 [youtube https://www.youtube.com/watch?v=3VM5BeHclVY]
On disembarking I had a quick chat with the crew. Turned out that the cabin crew were Edinburgh based and that they had to get back there after this flight, and the flight crew were done for the day.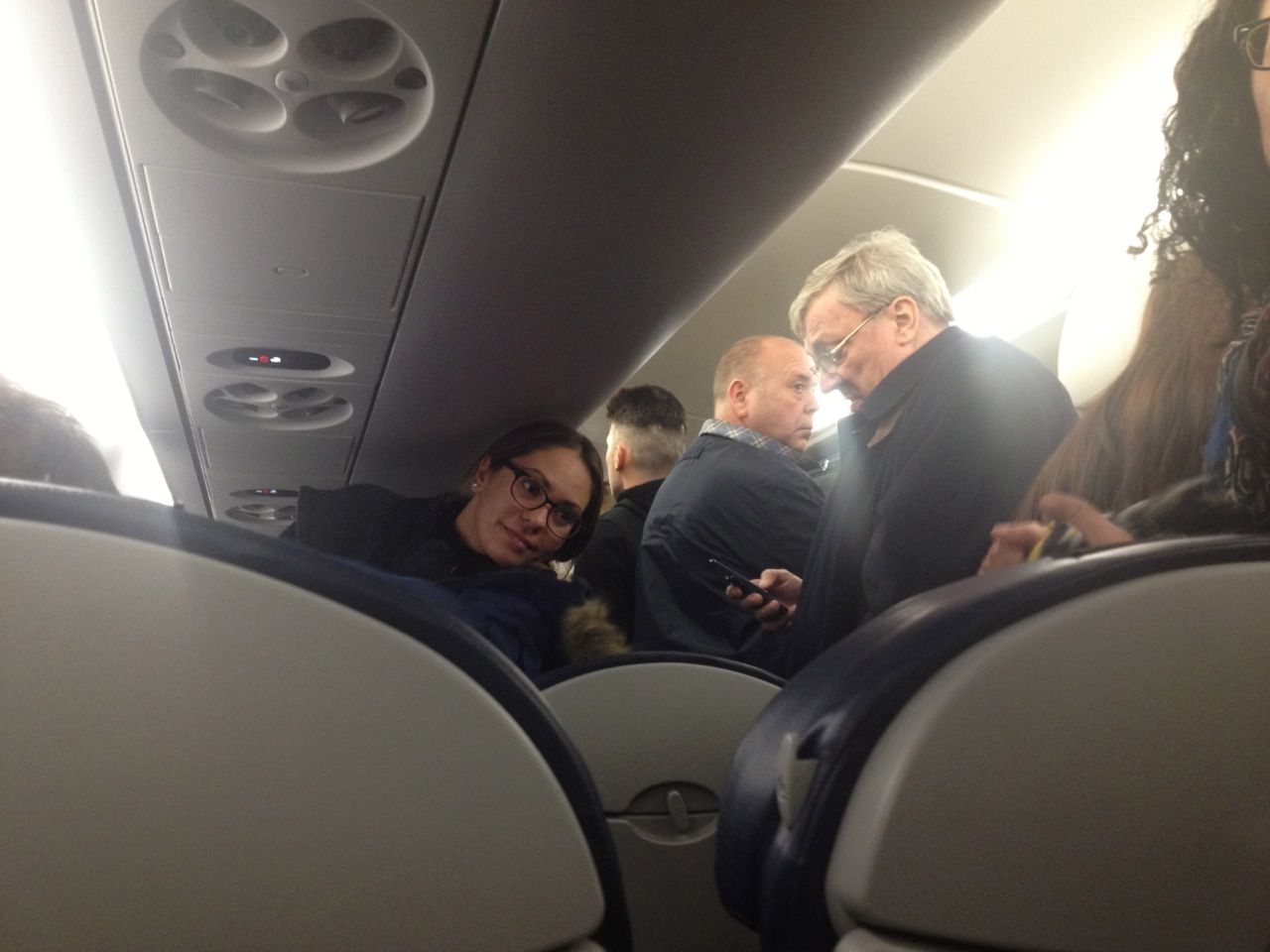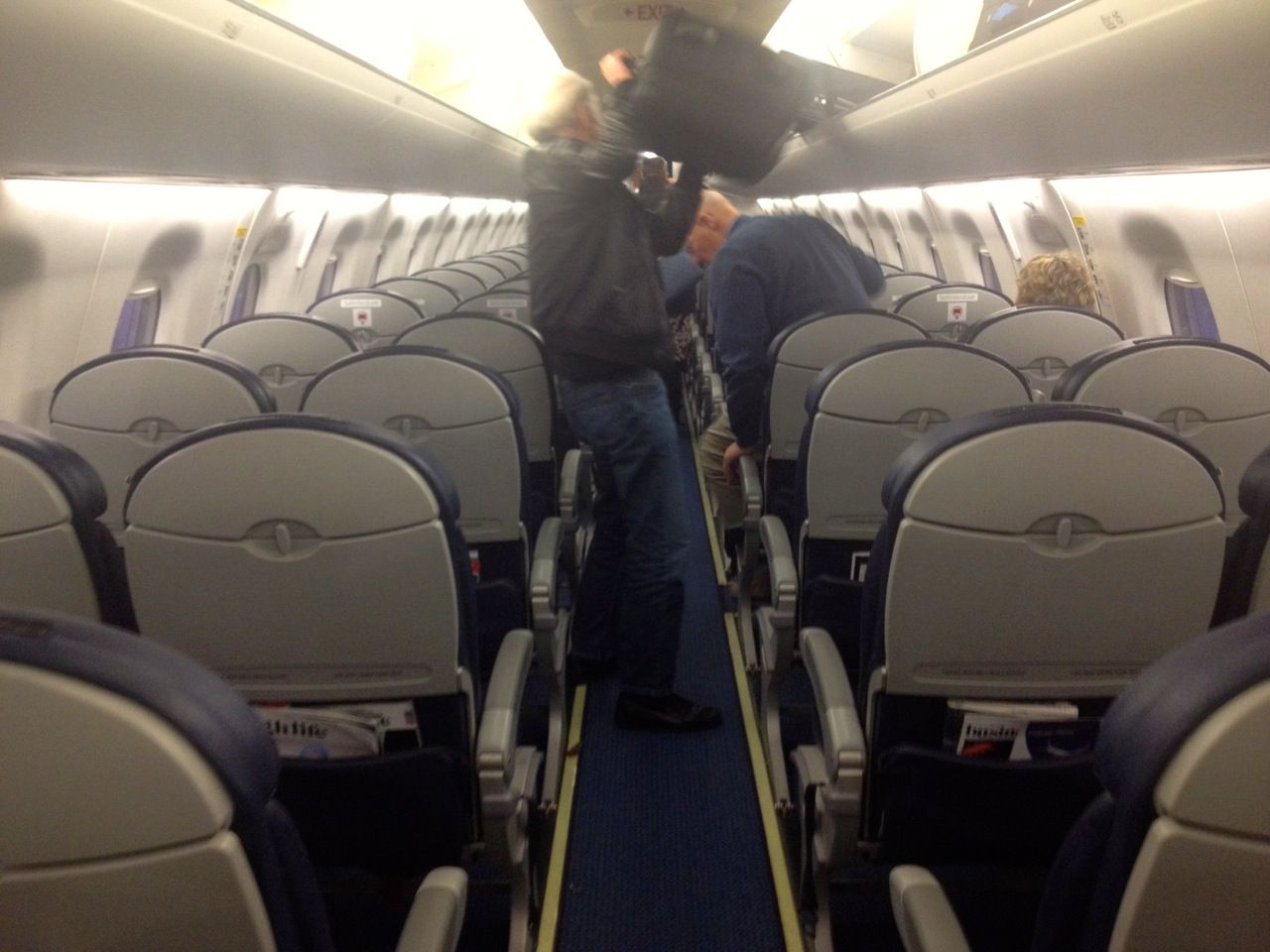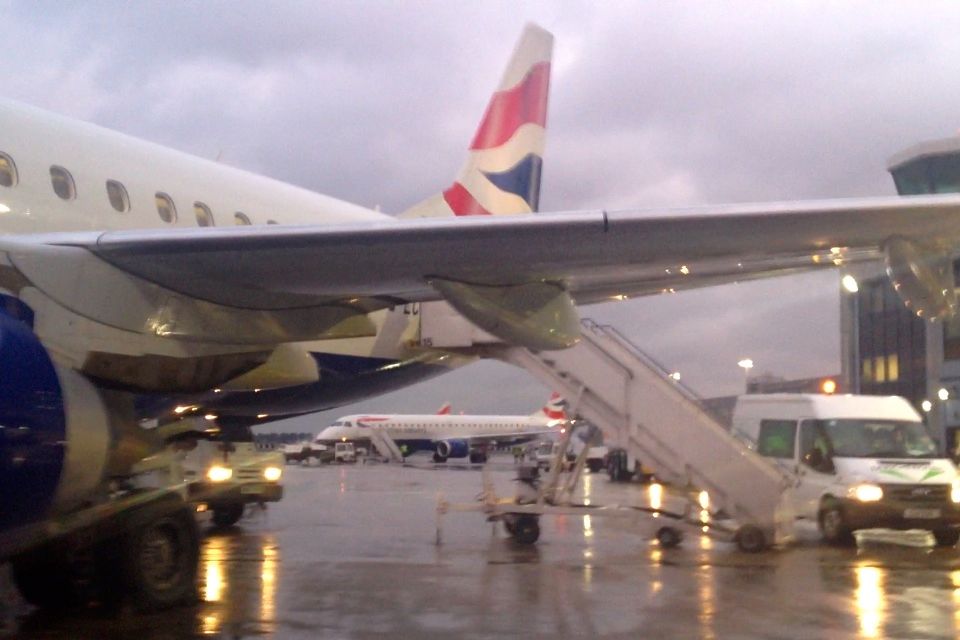 I did get a bit moaned at on the tarmac, although not for taking pictures. Instead it was for hanging around at the crossing for a fuel truck – he insisted it would stop, however I didn't fancy playing chicken.
Then it was off through LCY – which was hassle free. After this it was on to the DLR and the underground to Waterloo.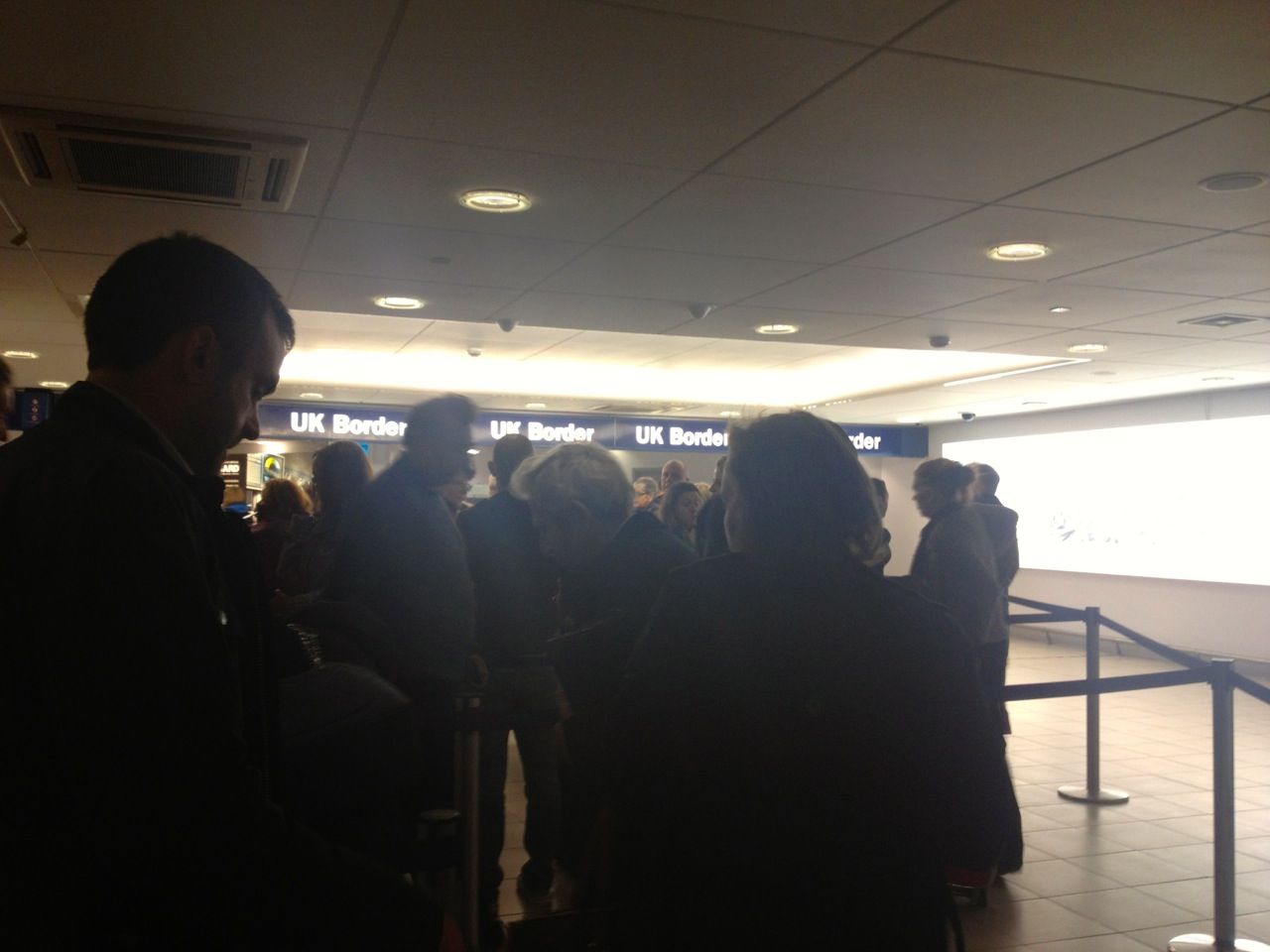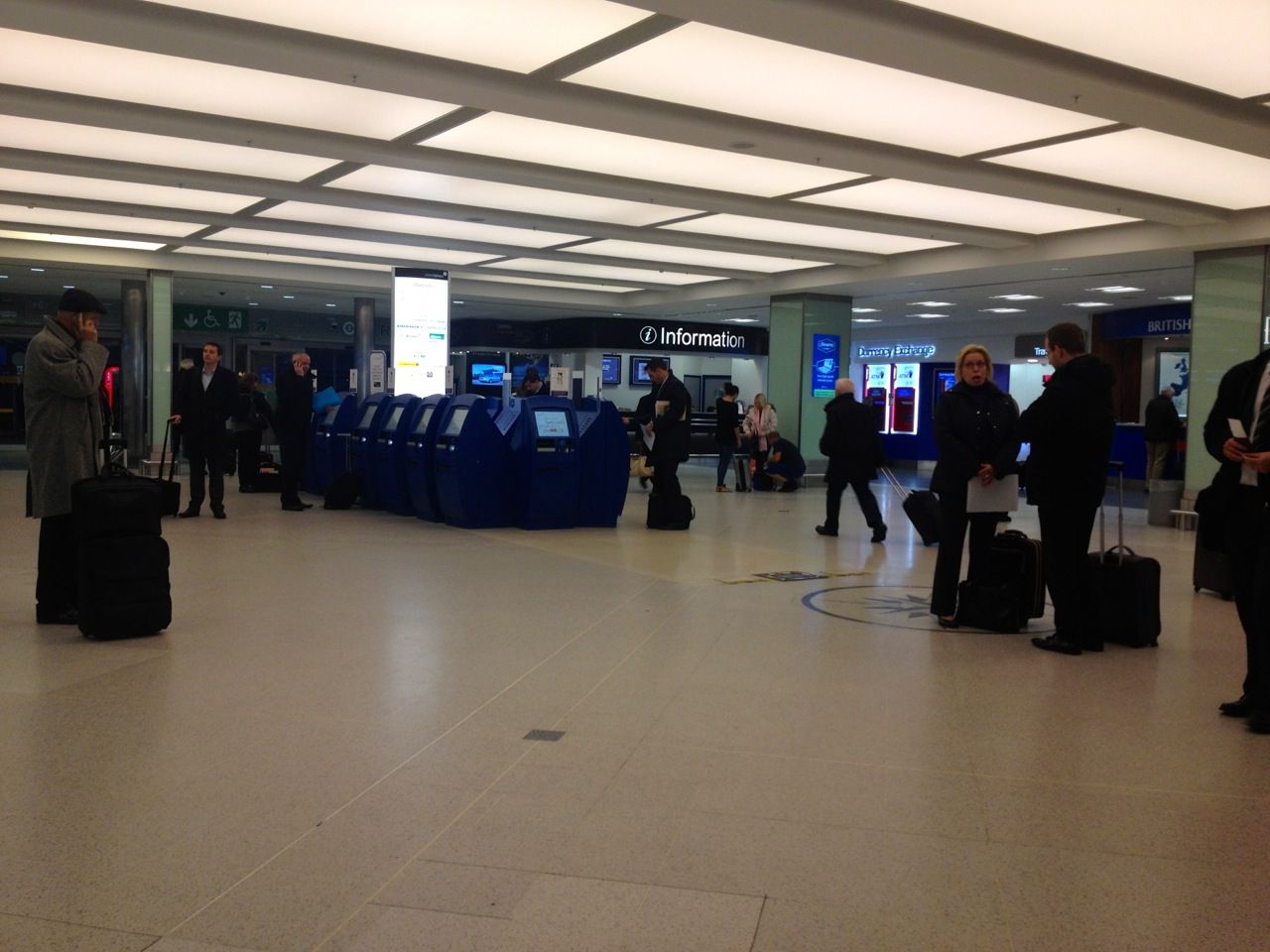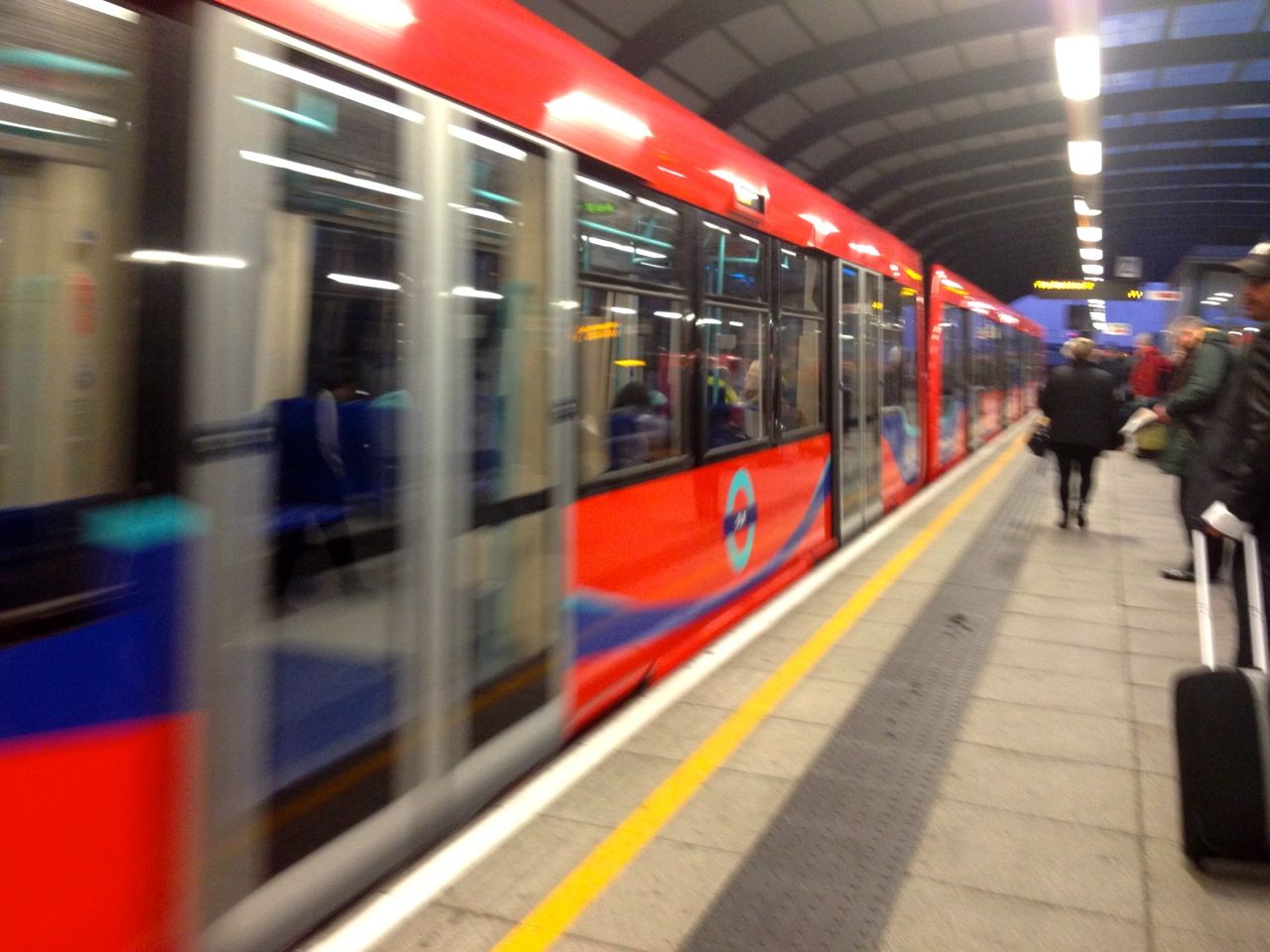 Once at Waterloo, I decided to head out to the river to grab a couple of pictures. I had wanted to get off at London Bridge an walk from there but that station was closed due to a fire alert.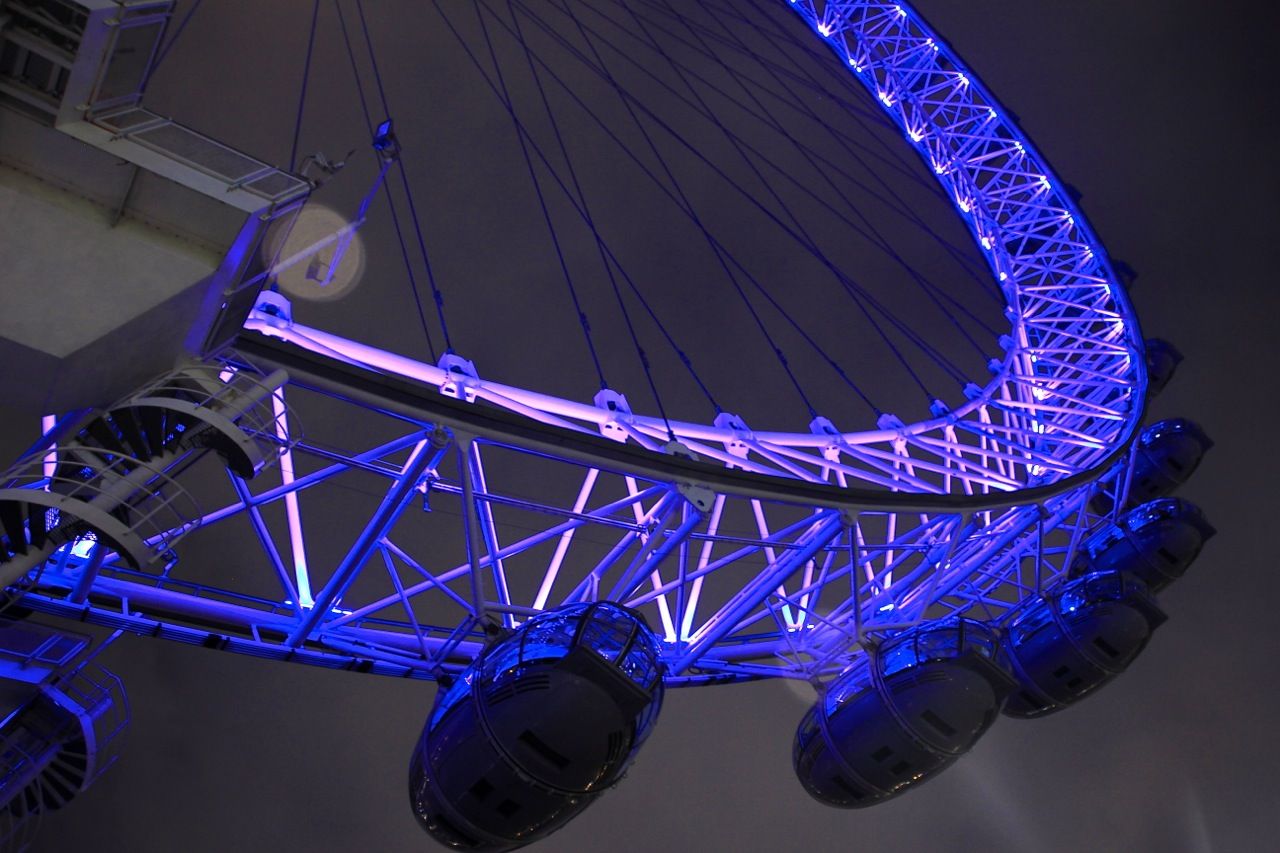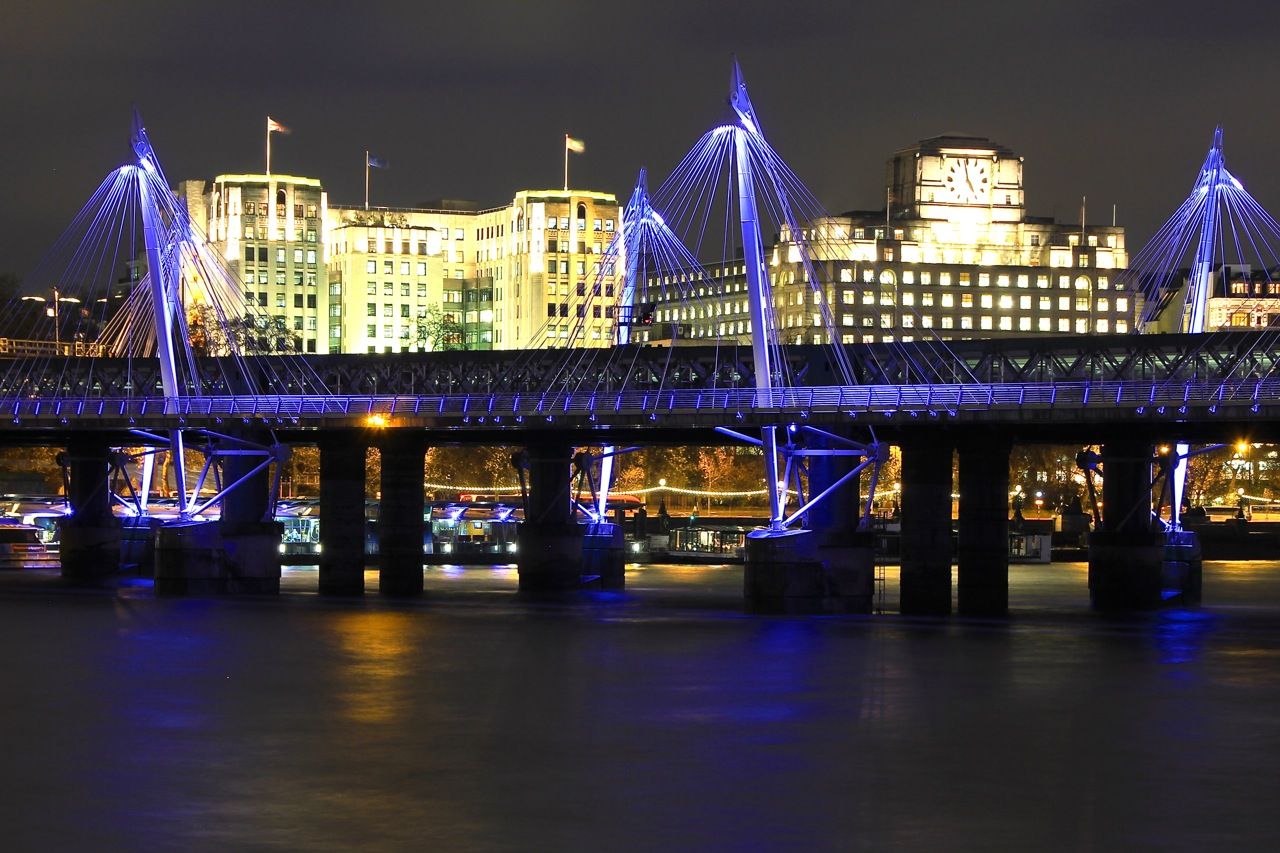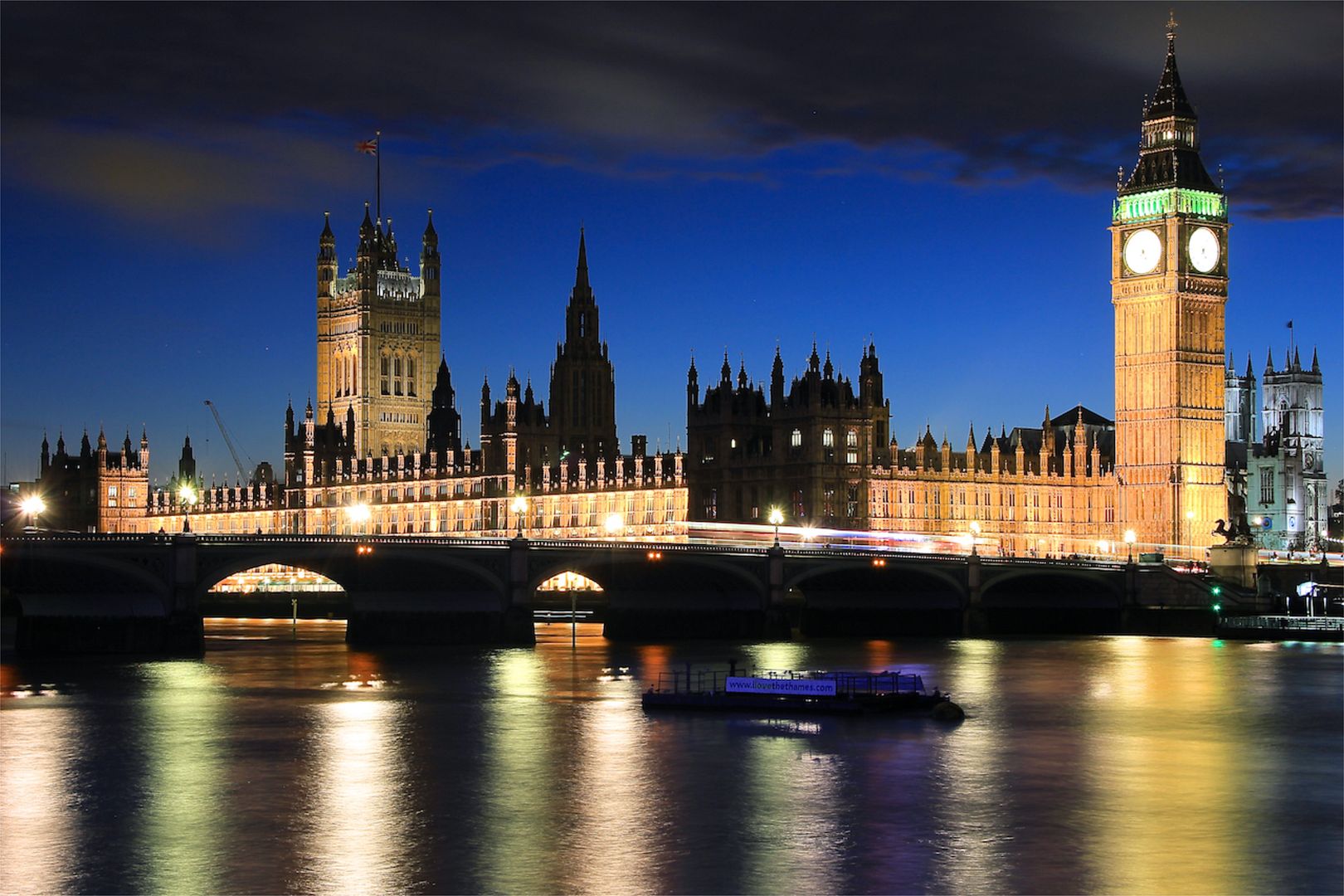 Then it was on to the train for the 20 minute journey home.