British Airways | Airbus A320 | LHR-ARN | Club Europe
This Trip
British Airways | Airbus A320 | LHR-ARN | Club Europe
Clarion, Stockholm Arlanda
Qatar Airways | Boeing 787 | ARN-DOH | Business
The Airport Hotel, Doha
Qatar Airways | Airbus A350 | DOH-SIN | Business
Crowne Plaza, Singapore Changi
Cathay Pacific | Boeing 777-200 | SIN-HKG | Business
Cathay Pacific | Boeing 747-400 | HKG-HND | First Class
Hilton, Tokyo Odaiba
ANA | Boeing 787 | HND-ITM | Premium Class
Courtyard by Marriott, Osaka
Asiana | Airbus A330 | KIX-ICN | Business
Four Points by Sheraton, Seoul
EVA Air | Airbus A330 | ICN-TPE | Business
Novotel, Taipei Taoyuan Airport
EVA Air | Boeing 777-300ER | TPE-SIN | Business
Conrad Centennial, Singapore
Qatar Airways | Airbus A330 | SIN-DOH | Business
Doubletree by Hilton, Doha Old Town
Qatar Airways | Boeing 787 | DOH-ARN | Business
Radisson Blu, SkyCity, Stockholm Arlanda
SAS | Boeing 737-600 | ARN-GOT | SAS Plus
Sun Air | Dornier 328 Jet | GOT-MAN | Euro Traveller
Hilton, Manchester Airport
British Airways | Airbus A319 | MAN-LHR | UK Domestic
Airline: British Airways
Aircraft: Airbus A320
Route: London Heathrow – Stockholm Arlanda
Flight number: BA784
Seat number: 1A
Cabin: Club Europe
Flight date: April 2016
Check In / Security
The standard British Airways Club check in at Heathrow really wasn't anything special. Just a standard bunch of check in desks, with a sign next to them. Blink and you'll miss it. Also due to the fact its available to BA Bronze, Silver, OneWorld Ruby, Sapphire, Club Europe and Club World passengers, it can get a little busy at times. Since my last time through T5, this appears to have changed. There is now an area thats separated by (some rather cheap looking) barriers.


Due to my British Airways Gold status however, I was entitled to use the First check in area, at the far end of the terminal.
Fast track security at Heathrow is somewhat hit and miss. Some times you're through in a couple of minutes, and other times the staff even tell you not to bother and use the standard lanes instead. This occasion I was through in around five minutes – pretty good going really. In fact the whole terminal was quite quiet.
Lounge
As previously mentioned, I was able to skip the BA Galleries Club lounge and instead use the Galleries First lounge. I have mixed feelings about this one. Despite it being far from the best First Class lounge out there, I've visited so many times over the years it's got a familiar, almost homely feel to it. The recent light refurbishment (new chairs, polished floors and new menus) have been a welcome addition.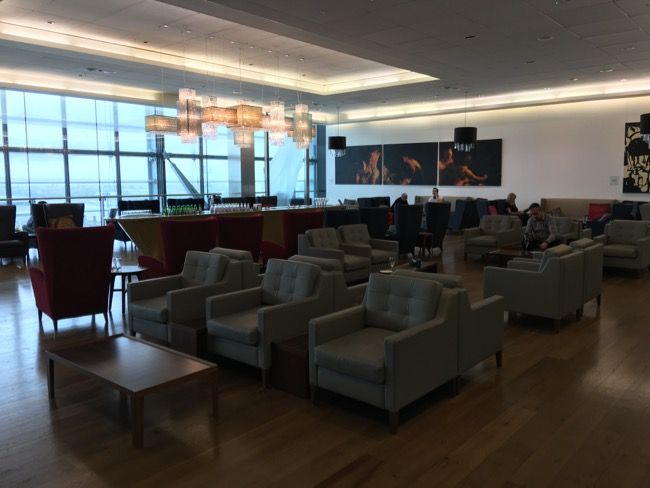 The food options are from either the buffet or menu. On this occasion, I visited the buffet.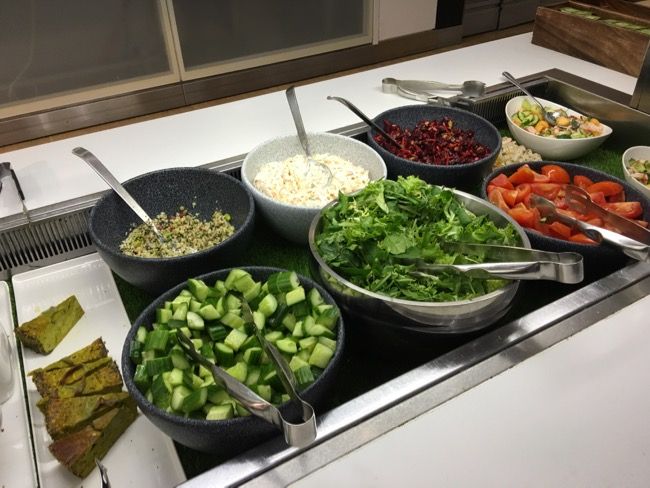 Boarding / Onboard
Todays gate was over in T5C – unusual, as most short haul flights depart from the main building rather than the satellites. Therefore a train journey was in order.


Last August, British Airways announced new boarding procedures. Out was the previous Bronze, Silver, Gold, OneWorld Elite's and Club Europe (plus First on flights where this cabin is operated) all in one go, the official line at least is: Club and BA Gold/ OneWorld Emerald first, then BA Silver/ OneWorld Sapphire, followed by BA Bronze (priority boarding isn't a published benefit of OneWorld Ruby) and finally everybody else. In reality however any mixture of the above has happened on my many BA flights since August, including the "all aboard" – which caused a mass scrum. On this flight, It seemed to have been done correctly. I say seemed, because for once, there wasn't a mass scrum so was therefore able to walk towards the podium without having to fight my way through the crowds.


Once on board, I was given the typical friendly "good evening" as i boarded and I took my seat in the recently (between Summer 2014 and Spring 2015) refurbished cabin.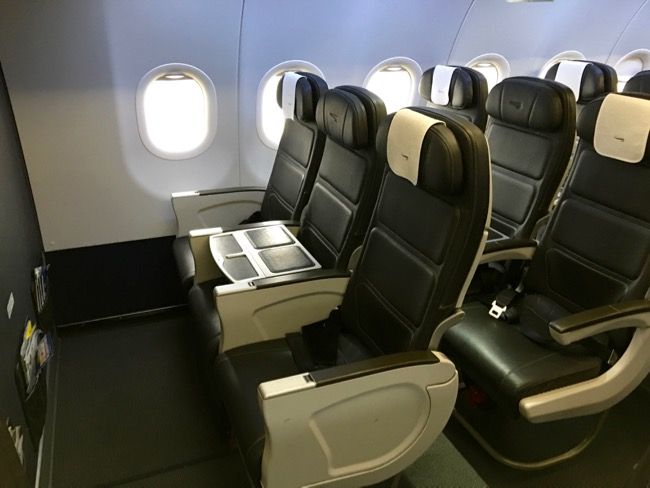 Service
The on board service started on the ground, with hot towels being handed out.


Once airborne, the initial drinks run began, along with packets of nuts.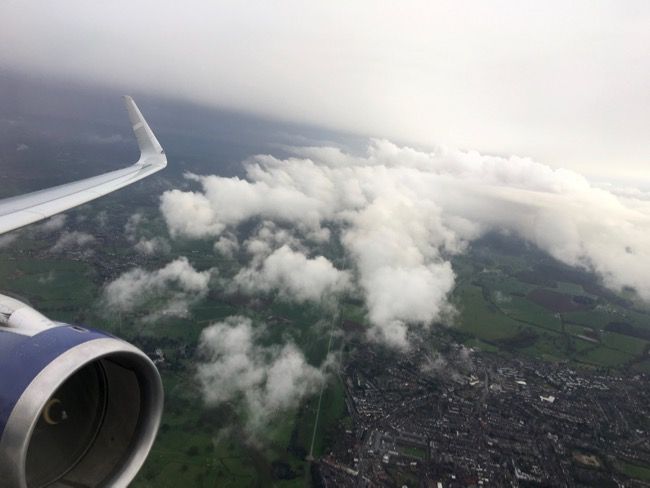 The main meal service began not too long after. The choices were Cod with minted pea mash or a chicken caesar salad. The cod proved to be popular as it ran out pretty quickly. This was also my option.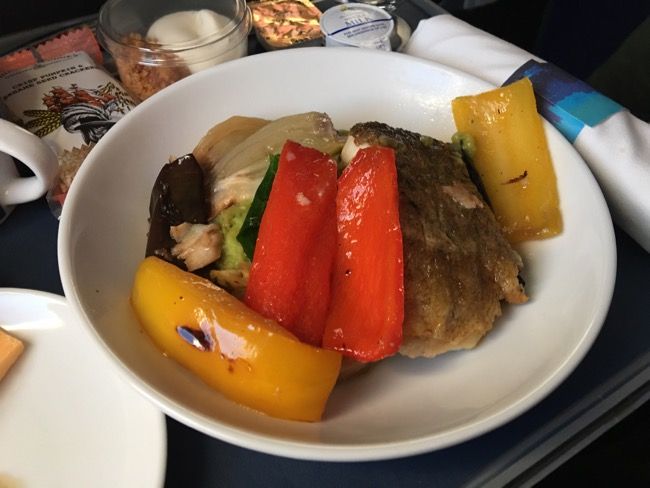 My dinner service finished with a Baileys… or two.


Arrival
Arrival into Stockholm Terminal 2 was made a little behind schedule. Due to the fact we were probably the last arrival for the evening, there was no queue at passport control. There was a bit of a wait at baggage claim however, but once the bags did arrive, mine was the fourth out and I was on my way to to the hotel for the night.
Conclusions
This was your standard British Airways flight really – friendly crew, tasty food and generally without any issues. It was good to see that the airline has made the Club check in experience at its home base a little more premium, and the fast track security is pretty decent when it works. The First lounge has seen some welcome improvements, however it does still get a little busy at peak times – I struggled to find a seat after I had eaten.
Questions? Comments? Come and Say Hi on Twitter!
Follow @mytripreport
Look out for the YouTube video soon!