British Airways | Airbus A319 | LHR-ORY | Euro Traveller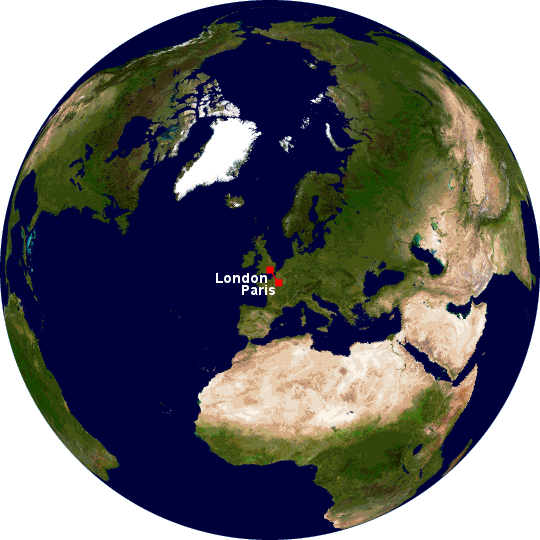 Maps generated by theGreat Circle Mapper -copyright © Karl L. Swartz.
For my first trip outside of Europe for of the year, I'll be heading off to the USA. But why does the map above show a flight between London and Paris? That's because I'll be heading across the English Channel the day before departure, and this will be the first of a five part series. The following parts will cover my journey back from Paris via London to Washington, then onwards from Reagan airport to Chicago, Chicago to Orlando and then back to London from Orlando via Miami and Atlanta. So the final journey and schedule will be as follows:


British Airways A319 LHR-ORY
British Airways A319 CDG-LHR
British Airways 747-400 LHR-IAD
American Eagle CRJ700 DCA-ORD
American Airlines MD-80 ORD-MCO
American Airlines 757-200 MCO-MIA
American Eagle ERJ145 MIA-ATL
British Airways 777-200 ATL-LHR
But why head off to Paris only to come straight back to the UK? The reason for that is by starting the journey outside the UK, I could fly the Trans Atlantic sectors in BA's World Traveller Plus (premium economy) cabin for around £100 more than World Traveller (economy) due to paying the French taxes rather than the UK taxes, which go up in price the higher the cabin class. I could have chosen any European city, but Paris was the main one that stuck out as it was relatively near by and I'd not been there for a good ten years or so.
The thought process of this trip started back in the summer of 2012. I've got family down in Florida that I hadn't seen for a while now, so wanted to head back. Also despite seeing many cities in the US, I'd never been to Washington – so studied options to tie them both in. As my thinking went on, I remembered quite liking Chicago on my previous visits so that was added to the itinerary too.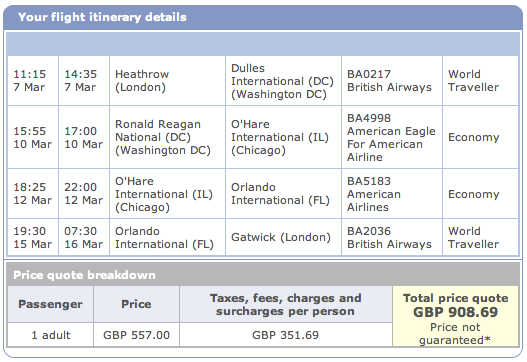 I then thought of the Euro cheating and this brought the price down considerably. Another thought I had was to fly down to Miami in order to gain another sector and more importantly avoid the 'toytown express' from MCO.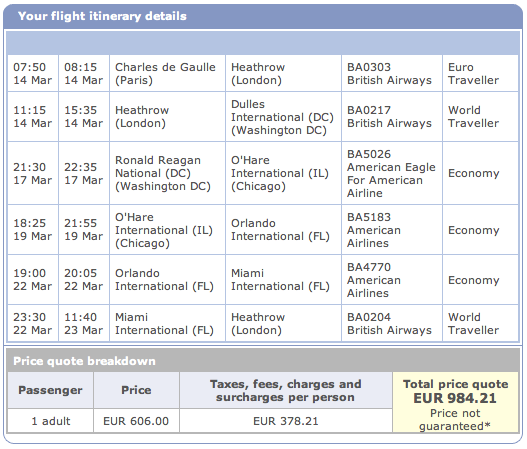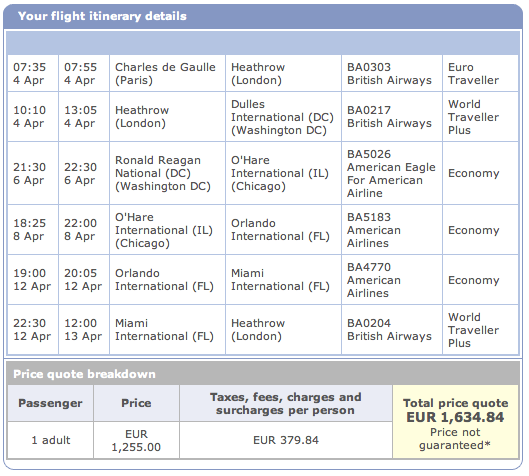 More investigating found the previously mentioned World Traveller Plus fares at a reasonable rate, and the final price came to around £1100. Of course, when I came to book a few weeks later my desired itinerary had shot up to £2500. Too much. How about flying out of MCO – as I'd now gone from World Traveller Plus, it should hopefully be away from most of the screaming kids that I'd experienced on VS flights to/from MCO. This brought the price down to £2000, which was still more than I was willing to shell out. So I tried all available combinations with connections before finally finding a price I was willing to pay, back down to around £1100 – connecting in Miami and Atlanta on the return leg.
Best of all was that the MIA-ATL sector was operated by an E145 that was missing from my log, and I had wanted to try one out for a while now.


That left the London – Paris sector and the Chicago – Orlando sectors to sort. The London – Paris sector had to be booked separately in order to take advantage of the Euro cheat, and the Chicago – Orlando sectors that BA gave me arrived into MCO a little bit too late – so didn't really suit either me or my family I'd be staying with.
The London – Paris sector was sorted with 4,500 Avios and £13.50. There was plenty of choice on flights, so I chose Orly as I'd not been to that airport before.
A week before departure I was able to pre select my seats. BA had put me in 10B – obviously this was no good, so I went for the very last row instead – 22A


I set of a little earlier than needed, as I wanted to stop at the shop to buy a sandwich to go with the birdseed BA will serve up on my flight. Although I still arrived a little early, and ended having to wait in the cold.


Luckily, today's coach ride was a lot less stressful – the coach actually started today as opposed to my previous trip a few days earlier – and I arrived at terminal 5 at just before 11am.


I headed off to grab my boarding pass at the club desks and was given a slightly forced welcome back sir.
After this, i went for a wonder landside, as I nearly always head straight through security. My initial plan was to head through north security, as I'd only ever used south before.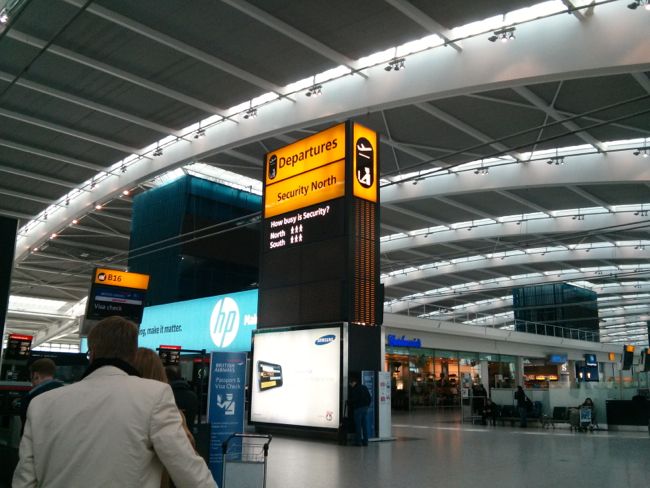 However it was only open to those who's flights departed before midday – so back down to south it was. It wasn't too busy, but a little slow. Once through, I went for a wonder airside.
After browsing a couple of shops, I headed down to the gates in the A23 area to take a few pictures. There were also a few other people in this area taking an interest in what was going on and taking a few pictures.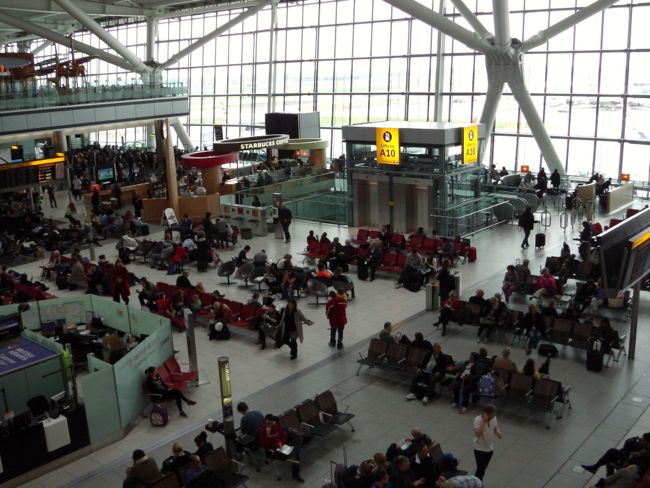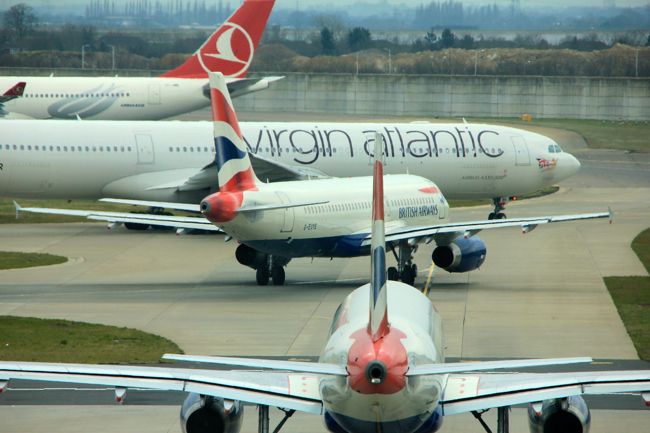 Pretty busy out there!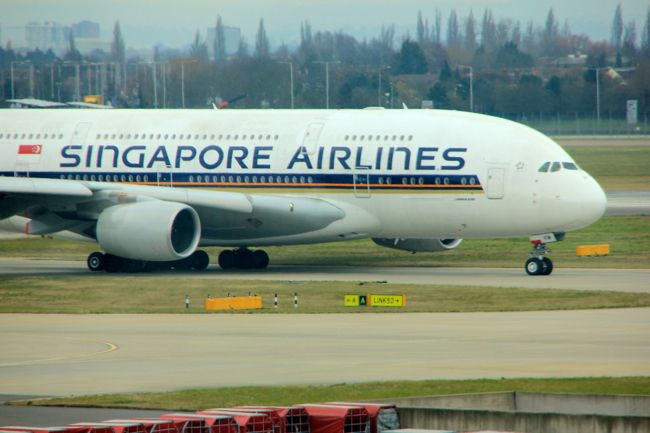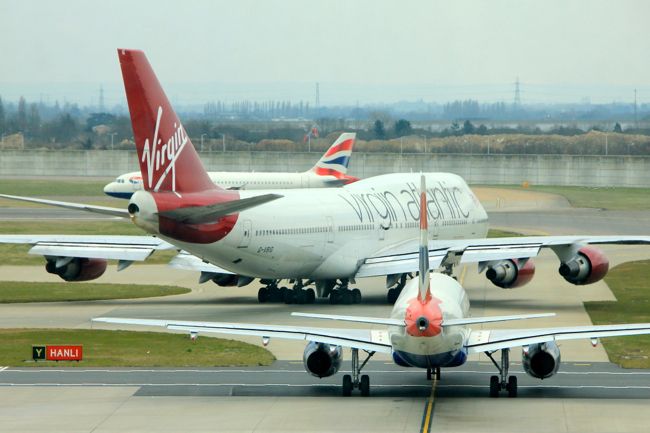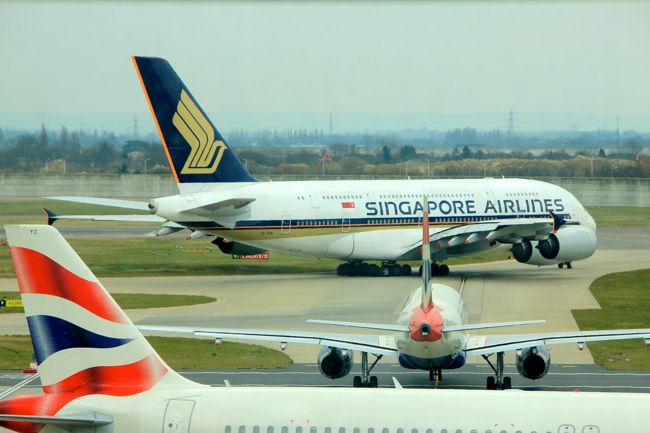 Shortly after, gate A17 was announced for my flight.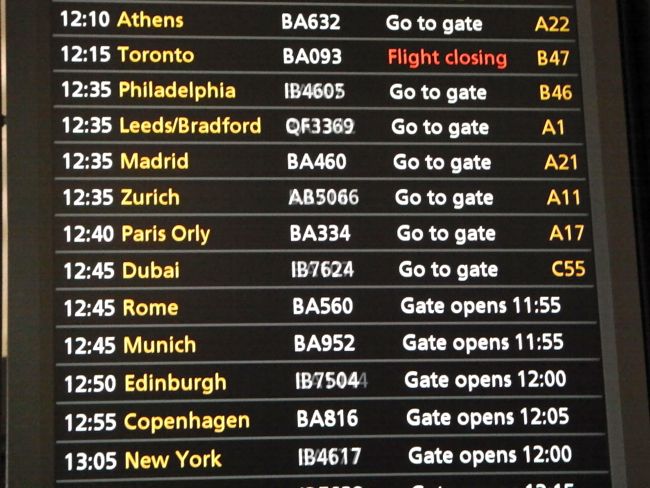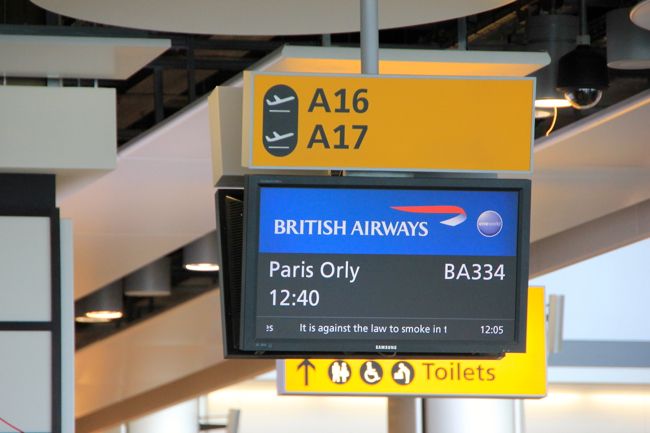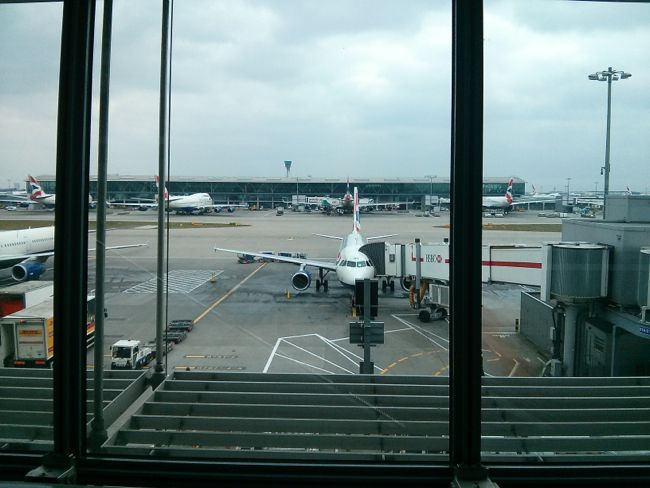 I made my way down, and the gate area seemed pretty busy, however this was mainly due to people on other flights sitting there. Guess that's the problem with general boarding areas rather than holding pens. Although I must admit I do prefer this layout. Shortly after at 12:10, general boarding was announced – with no mention about pre boarding for Executive club members or those travelling in club. It did seem to stop the mass stampede though, and I was one of the first on board, stopping to pick up a paper along the way. As a frequent flyer from T5 now, its handy to know not to bother buying one.



BA334
LHR-ORY
3rd April 2013
A319-131 / G-EUPW
Seat: 22A / Euro Traveller
Scheduled: 12:35/14:55
Off Stand: 12:38
On Stand: 14:46
Once onboard, I made my way towards the final row where my allocated seat was and watched the masses pile in. Most of the passengers seemed to be French. Eventually, the queue died down and it became apparent that I'd have the whole of row 22 to myself. Great start to the trip – shame this was only one of two flights I had this privilege on this trip though.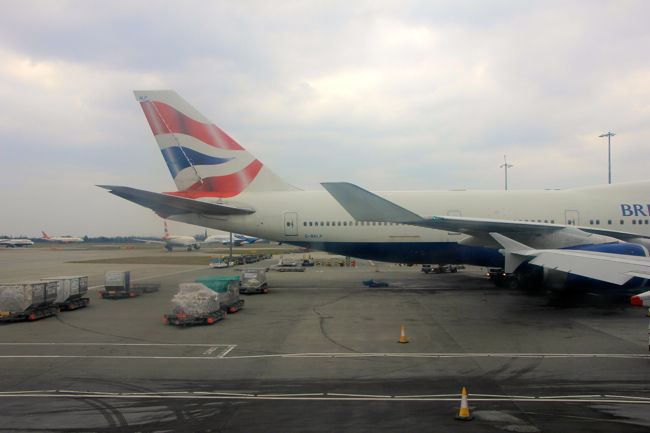 Unusual to see a heavy at this part of T5 – not sure where it was going.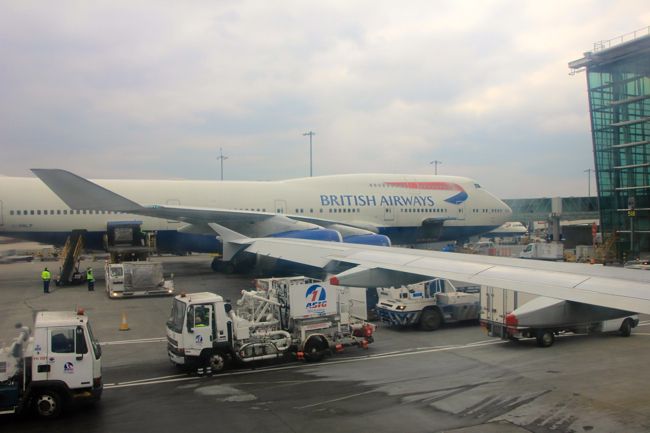 Pretty standard legroom.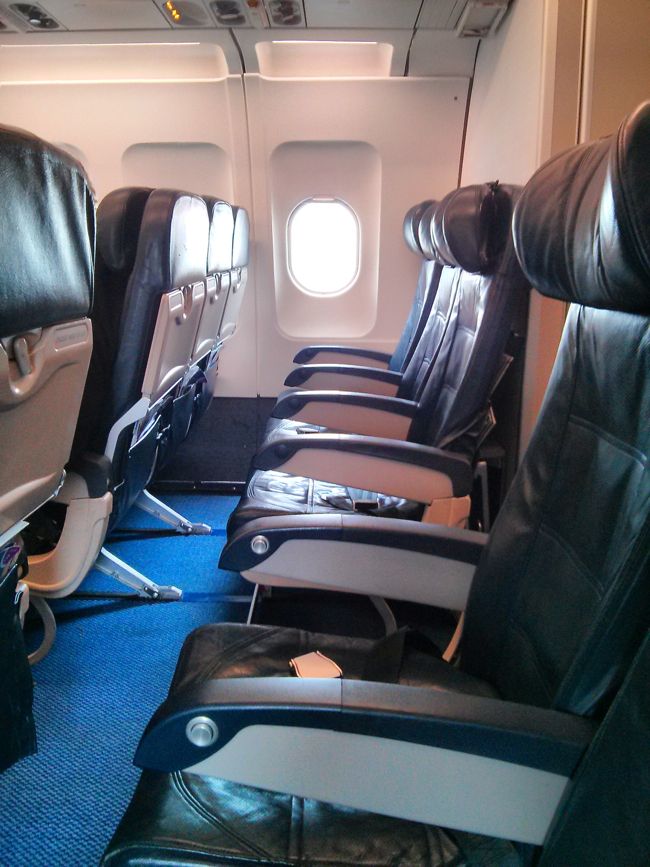 Both occasions I've sat in the back row on BA, I've had the entire row to myself.

Once all the passengers were on board, the captain appeared at the front of the cabin, and made his pre flight announcement from there – the only time I'd seen a captain make an announcement from the front if the cabin before was on my KLM flight last year, when it was all going slightly wrong! No flight time was given however. Due to being in the last row, my view of the event wasn't that brilliant either.
Pushback was a couple of minutes behind schedule and we made our way over to 09R, passing a VS 744 along the way. There was a brief hold up whilst a QR 77W landed, but once that had finished its business on the runway, it was our turn and we were off.
[youtube https://www.youtube.com/watch?v=B0CjqAi0WdU&w=650&h=488]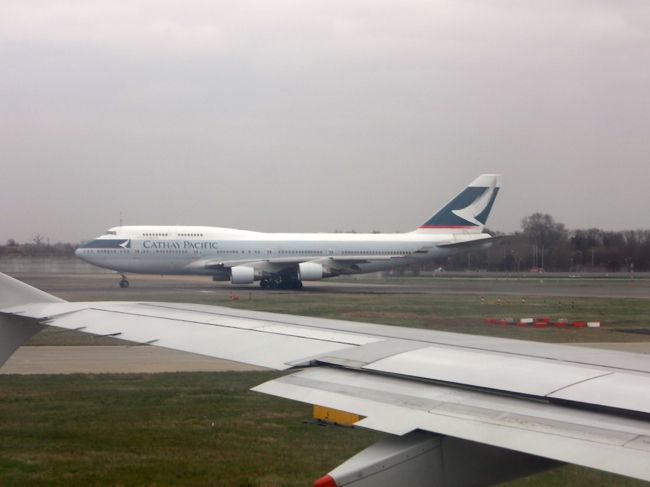 For a couple of a.netters from The Netherlands!
This one took me to LAX way back in 1998.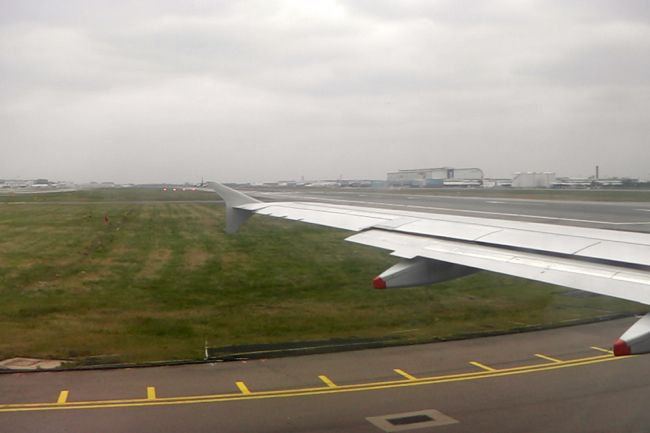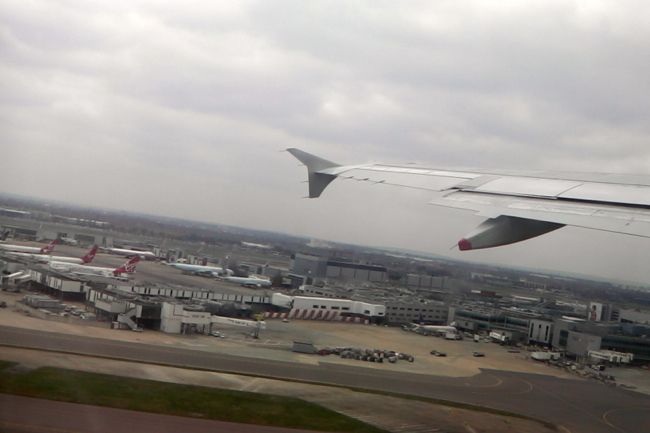 Start of the most comprehensive trip I've done… until May.

After take off we initially levelled off at 6000ft, which happened to be right in the cloud layer – therefore making for a bit of a rough ride but a few moments later we were cleared to climb again, to our cruising altitude of 23,000ft.

Quite a full seat pocket on this short flight

Shortly after departure the crew commenced their service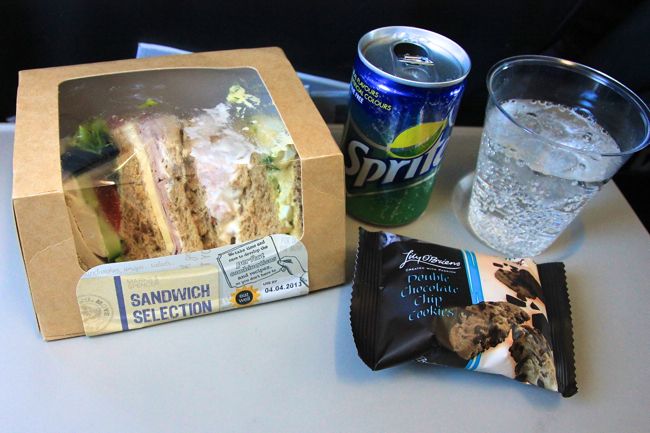 Once again, I provided the sandwich

Once we were across the channel and into French airspace, the weather cleared up a bit, but not too much.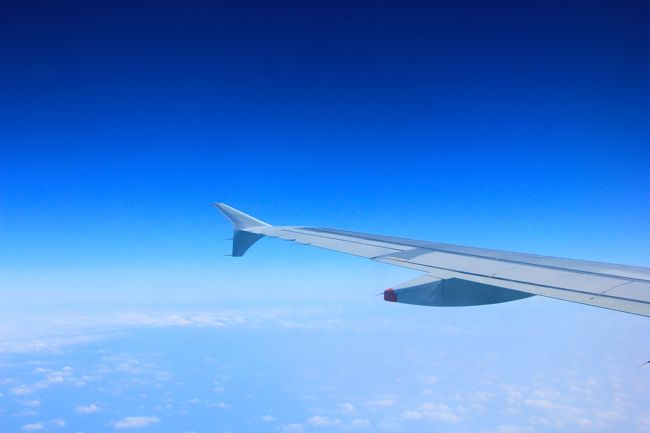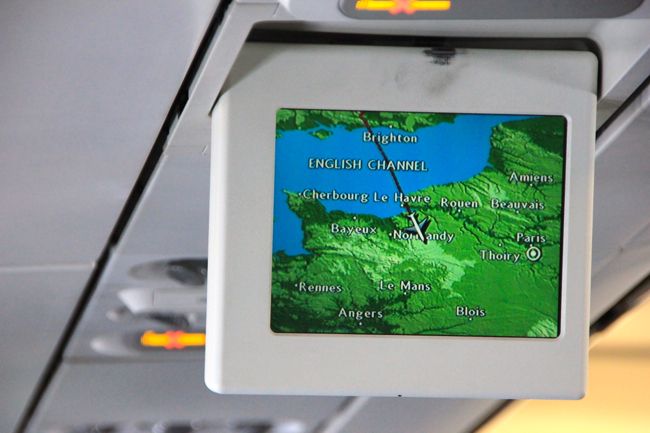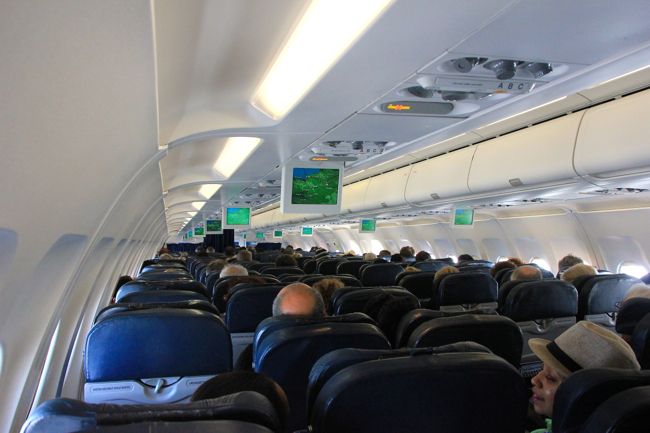 Descent started while I was still eating – so my guess of a flight time of around 40 minutes seemed about right.


There was quite a bit of cloud around and things got a little bumpy on the approach, but the first officer did a great job making a smooth landing. I made a point to compliment him on the way out.
[youtube https://www.youtube.com/watch?v=mDsiI1Yy64E&w=650&h=366]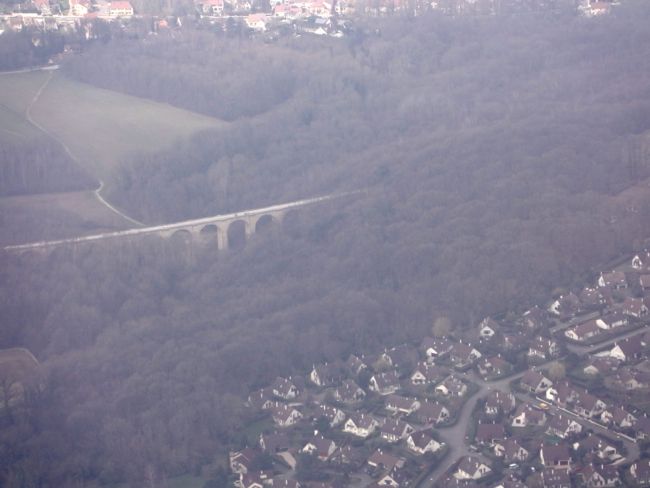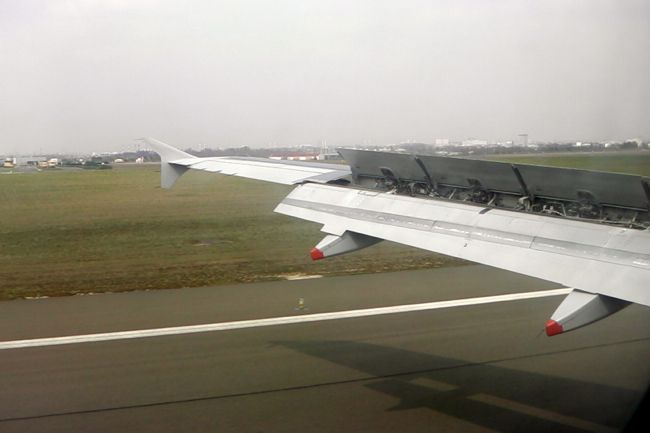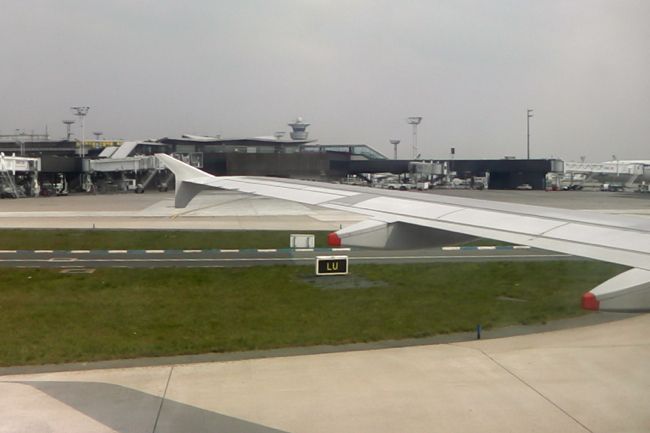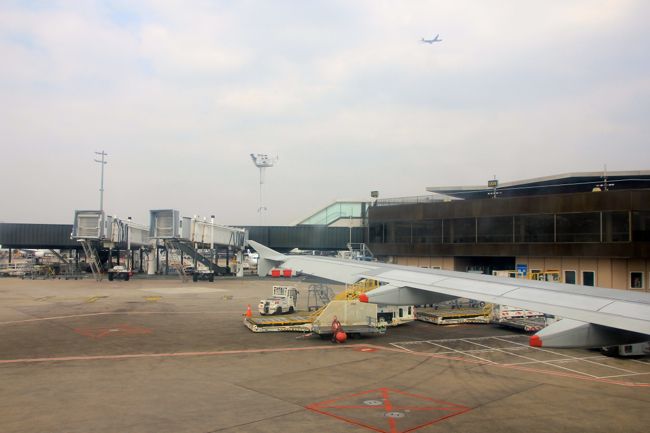 After this, it was out through the airy arrivals of Paris Orly.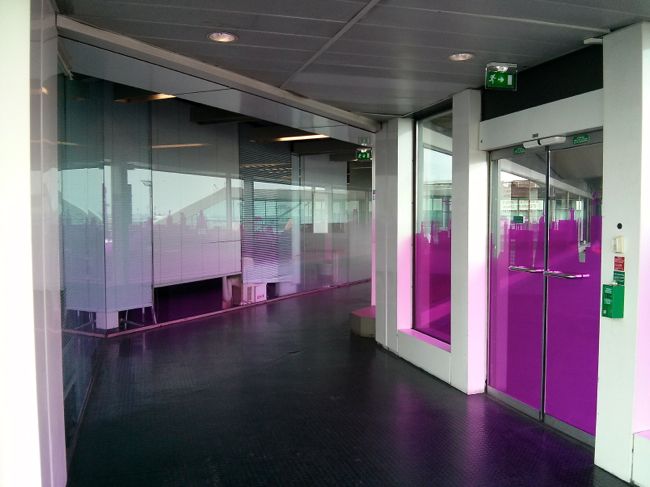 There were a couple of interesting jets around, including an Openskies 757 in the new livery. Good to see a 757 in BA livery again, but without RR engines, it just doesn't look quite right!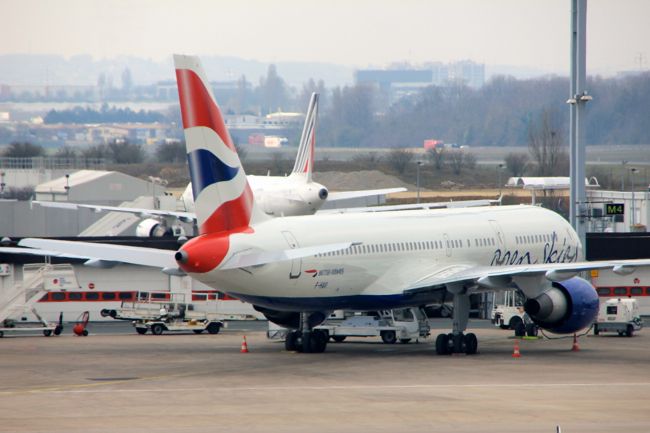 Alongside this was the old liveried version.


And something else quite new.


And my ride over from the UK.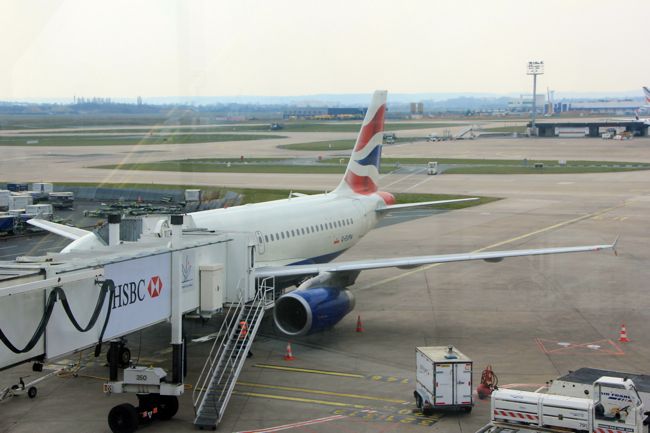 I reached passport control and asked for a stamp in my passport. The police officer didn't seem to understand, then asked the other officer. He didn't understand either. I then made the international sign for 'I'd like a stamp please' and it was understood straight away. After this, it was through to baggage claim, but as I travel extremely light I could bypass this. If I can be away for nearly 2 weeks and fit everything into a rucksack, then why do some people feel the need to have 2 rolling suitcases, rucksacks, handbags etc. for a 40 minute flight? Just check them in!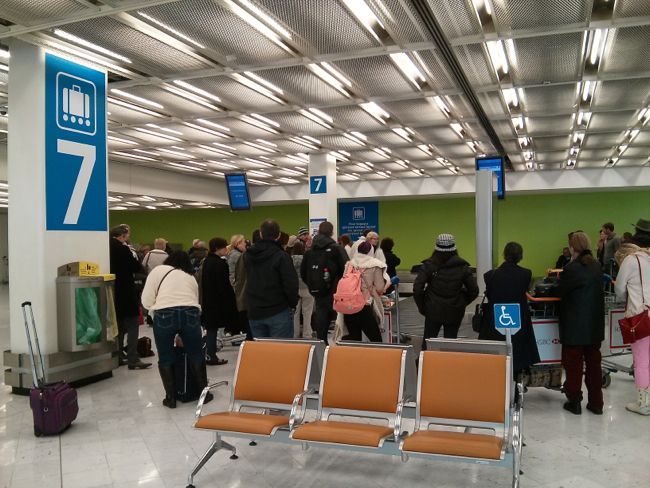 Once through customs, I followed the signs to the OrlyVal to connect to the RER into the city. Shame ticket machines weren't so easy to find, and I had to see an actual person to buy an expensive ticket.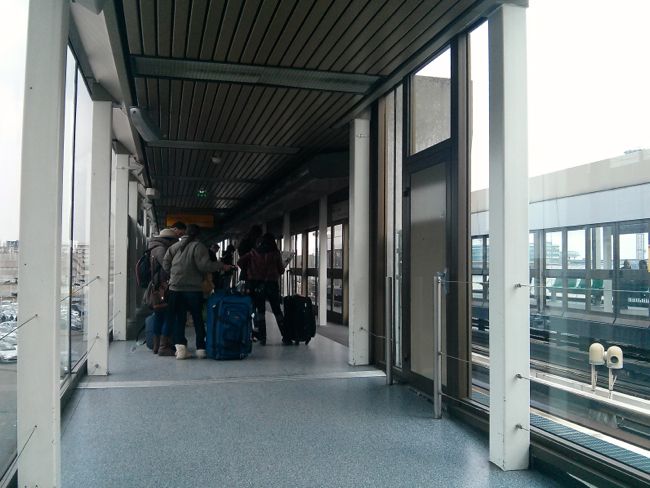 OrlyVal station which connects to the RER B line.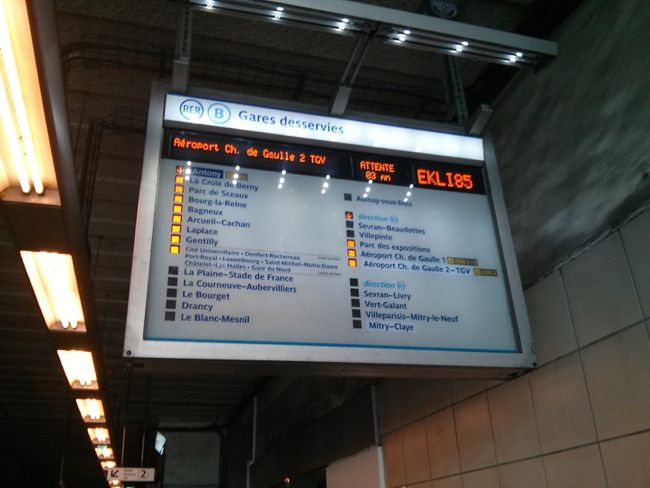 To those in the know I'm sure this makes perfect sense. It didn't to me though.

I exited the train somewhere near the Eiffel Tower and took in some of the sights of Paris for the next few hours before continuing my journey across the city to CDG.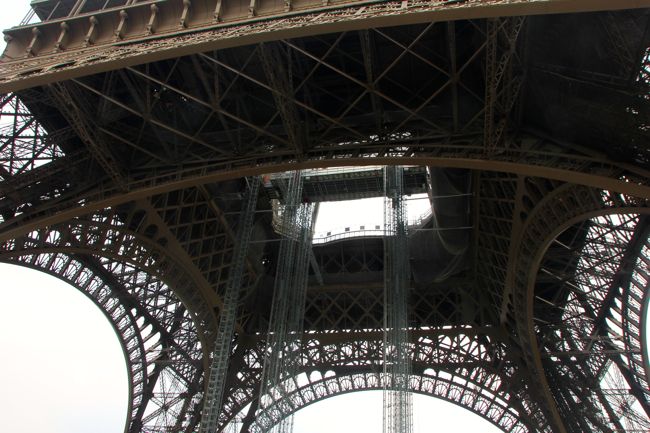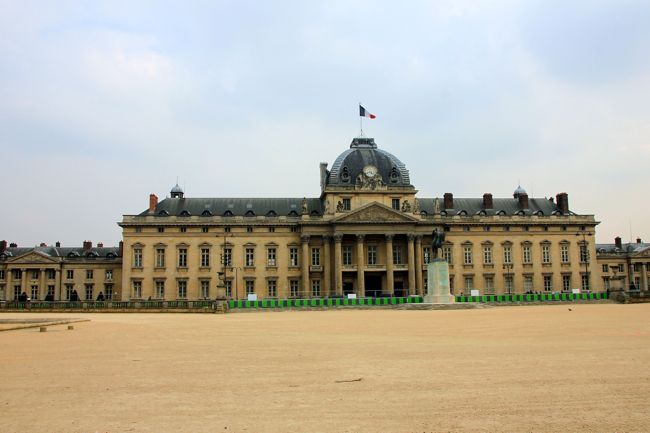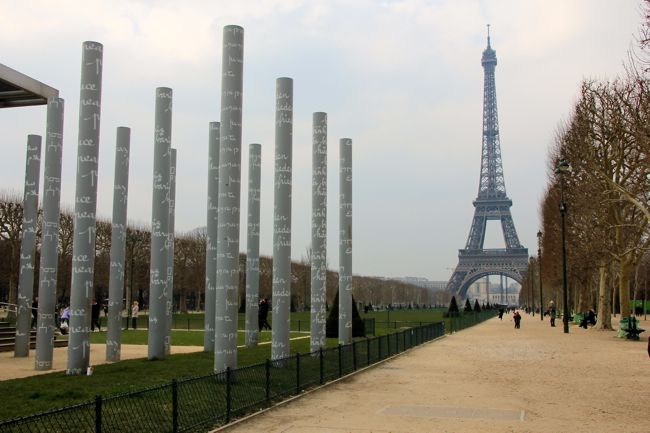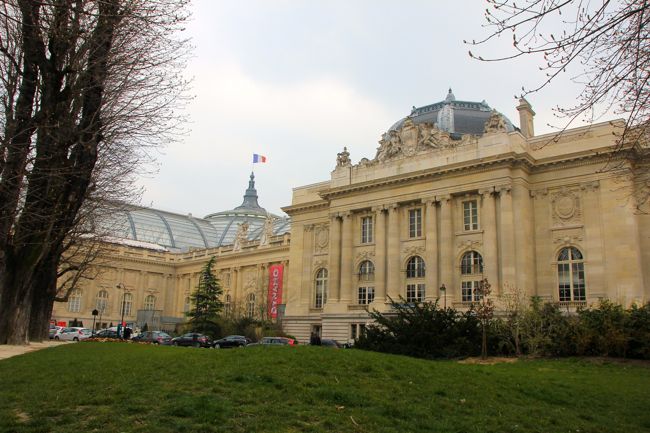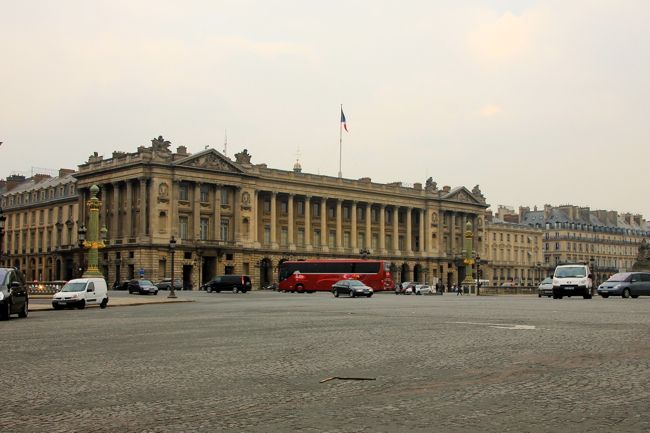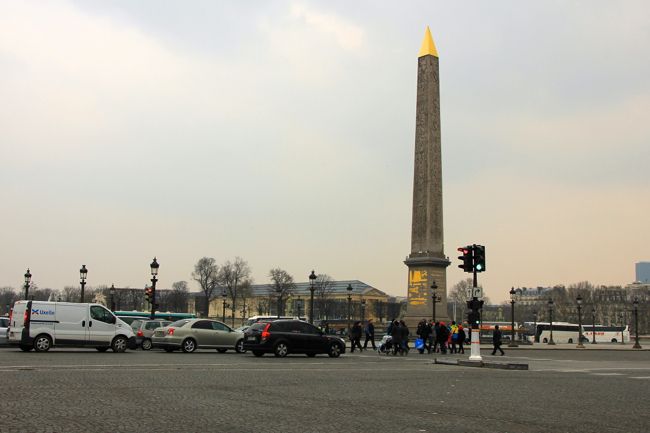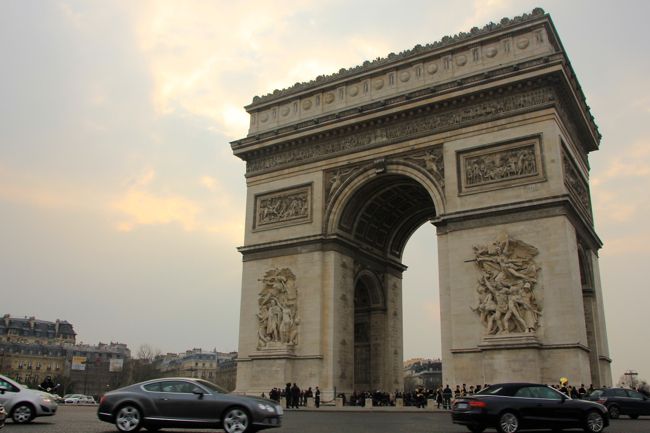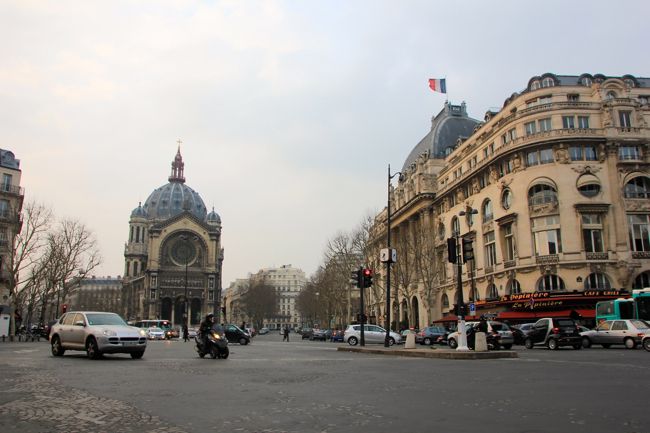 After a few hours of wondering, it was starting to get a bit cold and dark so time to head back to the airport on the Roissy bus. I wanted to take the train but the only station I could find didn't connect to the B line that I needed so I headed off in the general direction of Opera where the bus departs from instead. I normally have a pretty good sense of direction, but this was one of the few occasions where having Google maps on my phone really saved me a lot of aimless wondering. I arrived at the bus stop and attempted to pay the €10 fare with cash, but it was either change or card only – no paper money. So card it was annoyingly as I had a pretty big stash of Euro notes that I could have done with getting rid of rather than taking money out of my bank unnecissarrily.


Upon arrival at CDG T3 (or at least the tunnel that leads to it), it was a case of heading across the road to the Hilton. Quite a good hotel, but nothing special for the very pricey £130 I paid for the single night. It was only meant to be around £100 for the night when I booked (still a bit pricey) but due to the exchange rate taking a turn for the worse between booking and paying, it meant I ended up paying more than planned. If I had known this, I would have stayed at the cheaper Ibis across the road. Still, It was very comfortable so cant complain too much.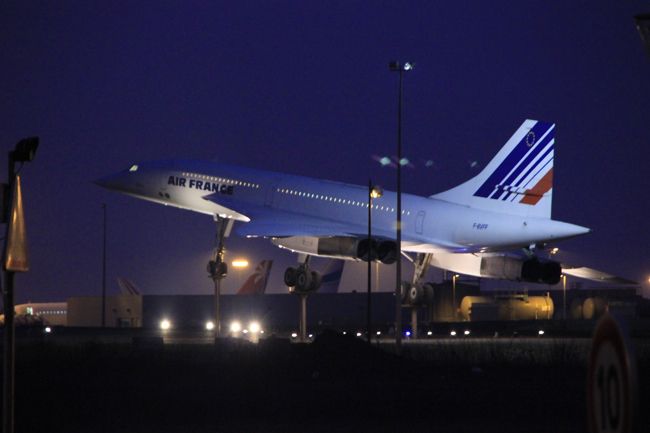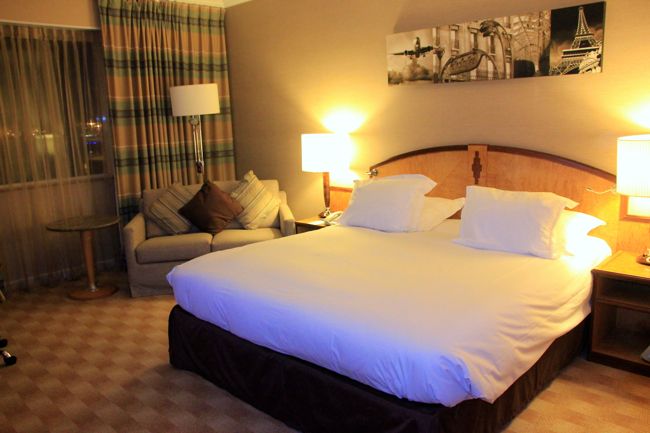 Not a bad view either.

As I'd not had a chance to grab I bite to eat in town, it was a case of grabbing some pretty expensive room service – Can you see a theme developing with this hotel here?! Again, I can't complain about the food apart from the fact it was a bit on the pricey side. Still, at least I managed to get rid of some of my Euros in the process.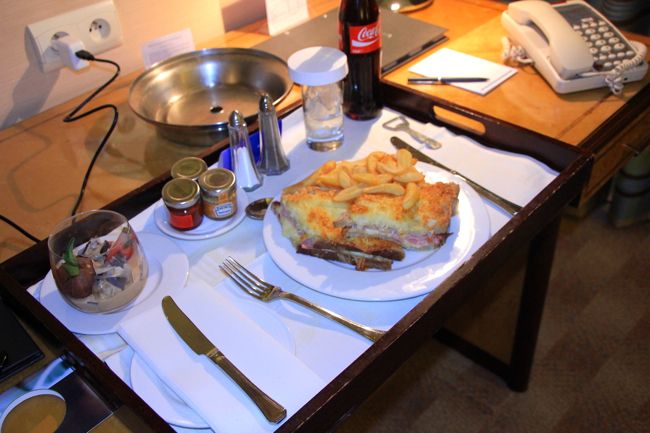 The rest of what was left of the evening was spent relaxing in front of the TV and listening to my iPod before grabbing an early-ish night, as I had to be up early the following morning.
Stay tuned for the following parts of this report covering my trip to the USA!