BA/US/AA |B788/A321/B738 | LHR-PHL-TPA-MIA-SXM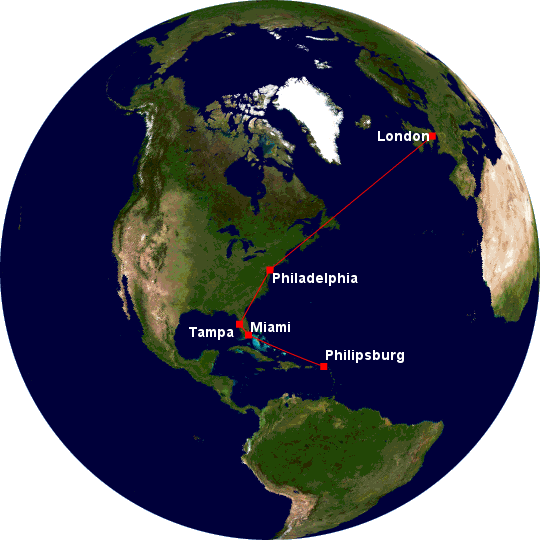 Maps generated by theGreat Circle Mapper -copyright © Karl L. Swartz.
My latest series will see me journey across the Atlantic once more, with a couple of days in St.Maarten thrown in for good measure. The series will be split into three parts, covering the following flights:
British Airways 787, Word Traveller Plus – LHR-PHL
US Airways A321, First Class – PHL-TPA
American Airlines 737-800, First Class – TPA-MIA
American Airlines 737-800, Business Class – MIA-SXM
American Airlines 737-800, Business Class – SXM-MIA
American Airlines 757-200, First Class – MIA-DFW
American Airlines MD83, First Class – DFW-LAS
American Airlines 737-800, First Class – LAS-LAX
British Airways A380, World Traveller Plus – LAX-LHR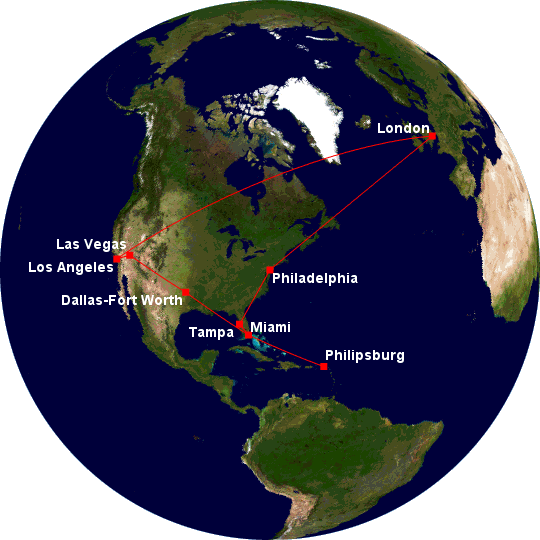 I had considered quite a few options for this time – either Asia or South America were high on the list. And after good look around the destinations travel show with fellow a.netters Gabriel and PalmJet back in February, Panama also featured highly. However various factors hindered these plans – cost and time (or lack of it) were the main two.
After much searching, the best option seemed to be to fly to the USA and go from there. This was sorted with a couple of BA flights. As there was a flight to PHL leaving at around 5PM, this meant I could travel on the Friday after work. It also happened that this flight was operated by the 787, rather than the 767 that had been used on the route previously. As I'd read nothing but bad things about this aircrafts economy cabin, I figured the best bet would be to shell out the extra and fly in the Word Traveller Plus cabin instead – which got far better reviews. The return sector was routed through Los Angeles, on one of the companies A380's – so both flights would feature the new World Traveller Plus cabin, which I sampled on my return from Atlanta last year.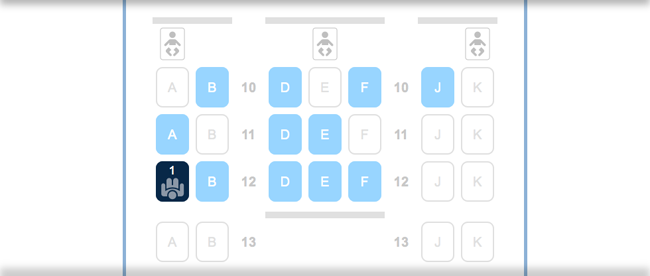 This parts other flights were booked through the American Airlines website. Initially I found a routing which included a flight on one of the companies 757's.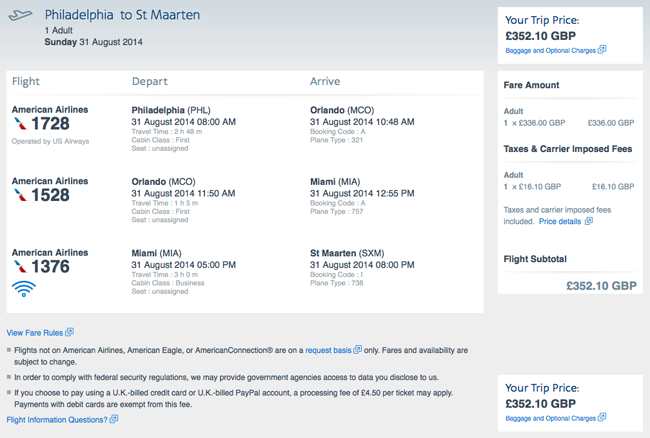 Annoyingly though, when I came to book a few days later, this option had vanished from existence. Instead then, I had to take a pair of flights on the 737-800. As the first class fares were pretty decent, I selected this option, as it would bag me a good haul of BA Tier points.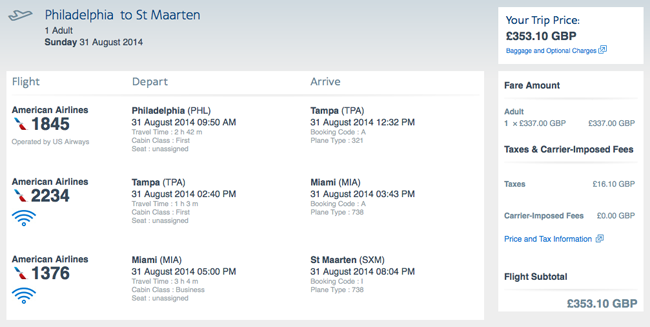 On the international sector with AA, there was also the option to pre order my meal.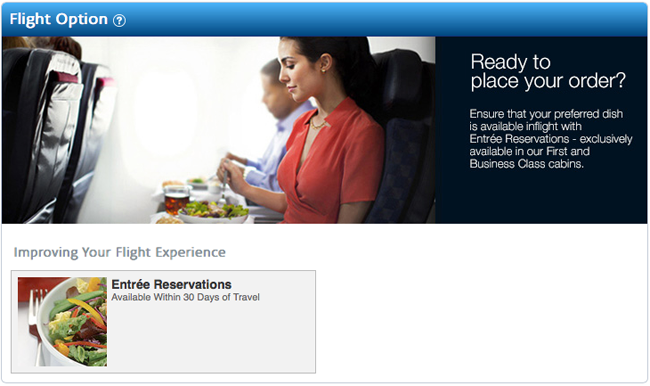 On to the interesting part then:
I set off to Heathrow T5 by my usual means. Despite there being quite a bit of traffic, the journey only took around twenty five minutes.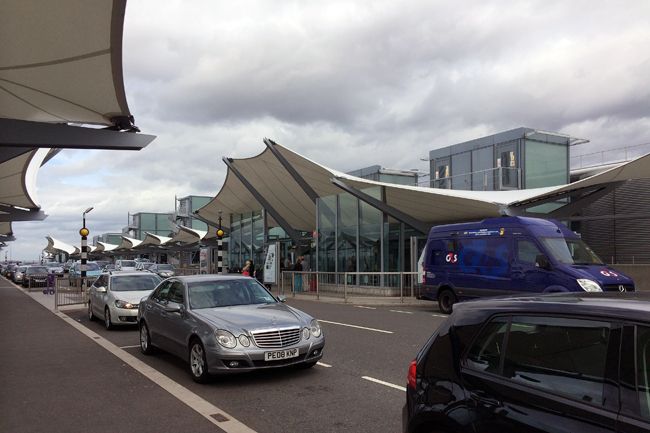 I made my way over to dump my bag and grab a souvenir boarding pass – this was met with "I'll see what I can do…"


It was then through security. Despite there only being four people in the line, it still took a good ten minutes to pass through. No bother though, as I was in plenty of time. I stopped off at Dixons to grab a case for my new laptop before heading up to the South lounge for some lunch.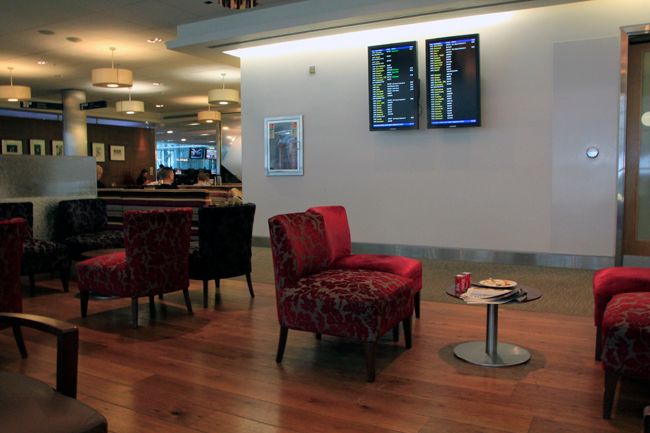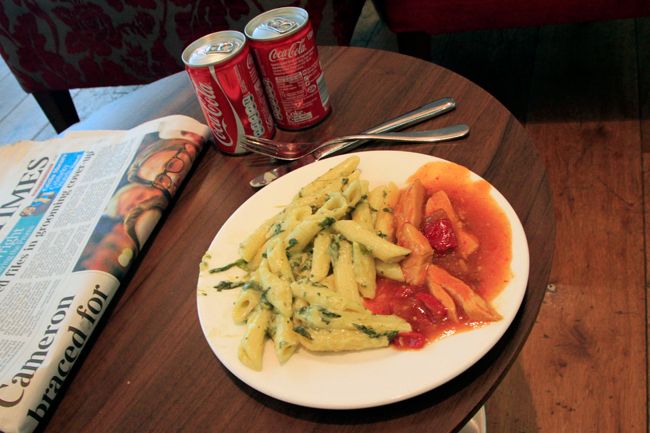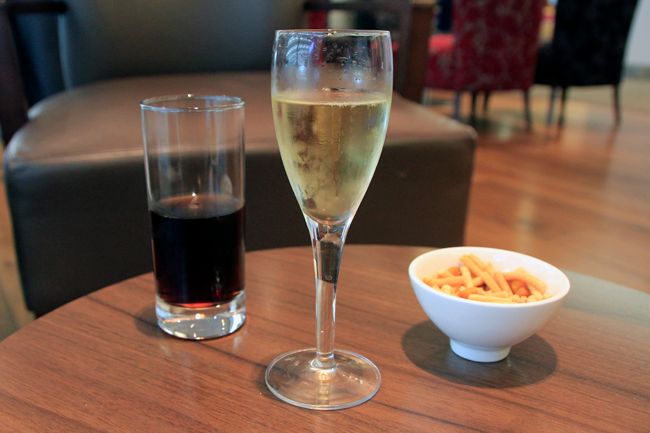 I must admit, it wasn't overly busy, which I find rare for the time of day. Although I still couldn't get into my favourite corner, so had to make do with another cubby hole! Although annoyingly there was a very loud guy sat there inducing not only his gang to his conversation, but almost half of the lounge. Luckily he left after around thirty minutes and things got much more peaceful. By this time, the lunch service had finished and had been replaced by the afternoon tea offerings.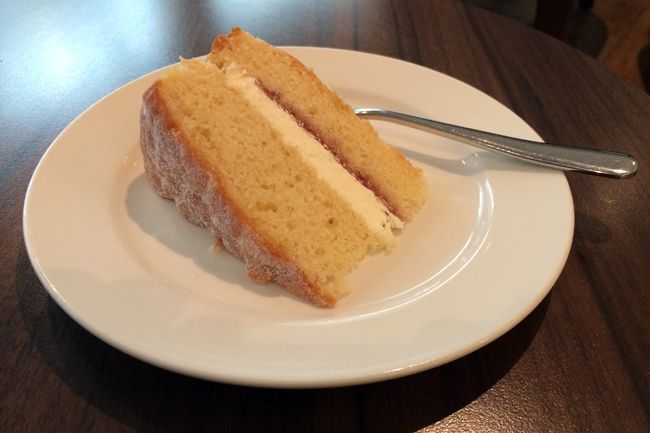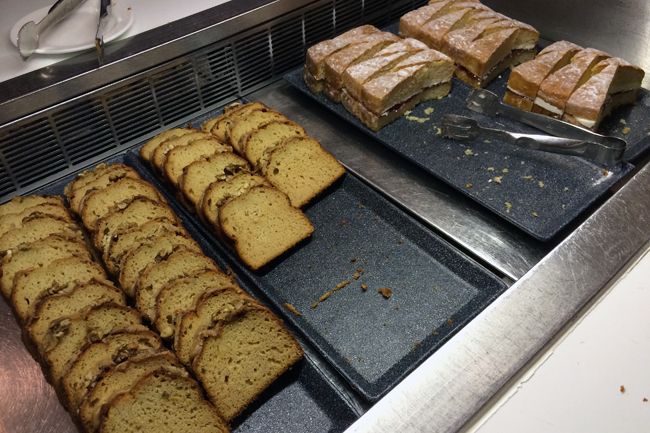 Around an hour before departure, I was glad to see that my flight would be departing from T5B – meaning I'd get another lounge visit, and also I'd get to try out one that I'd not been in before.


I must admit, I did prefer this lounge as it wasn't as busy and there are some much better views.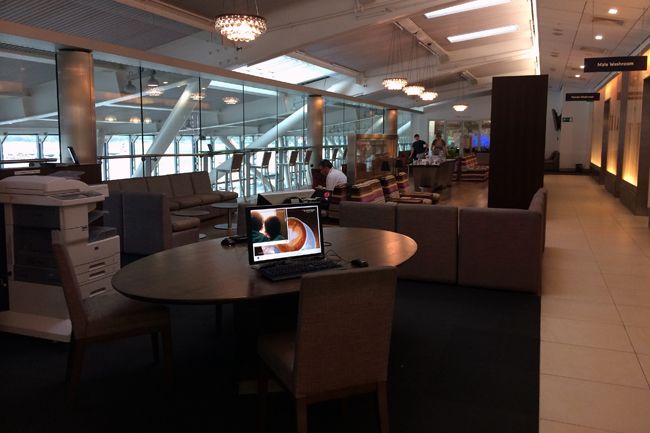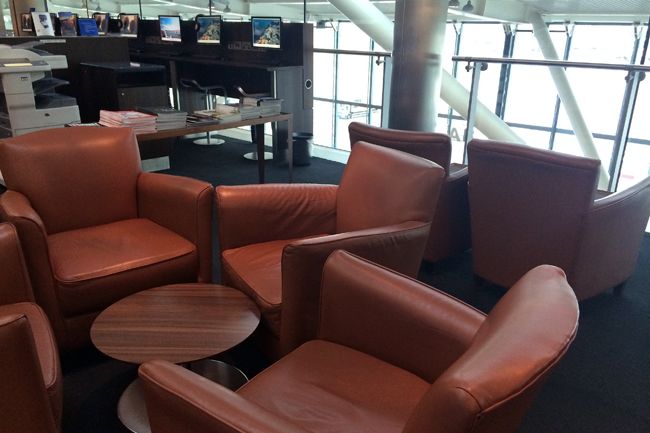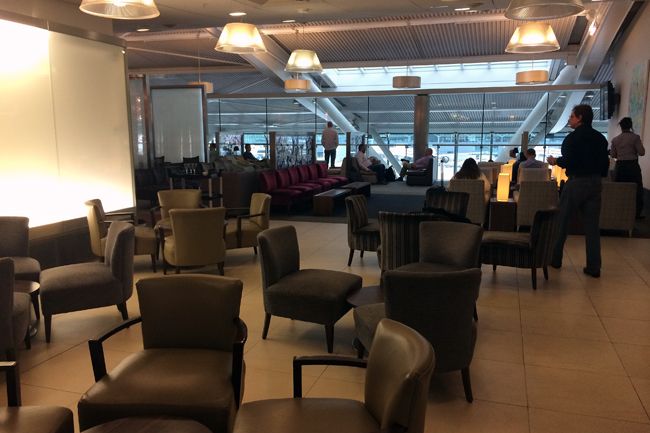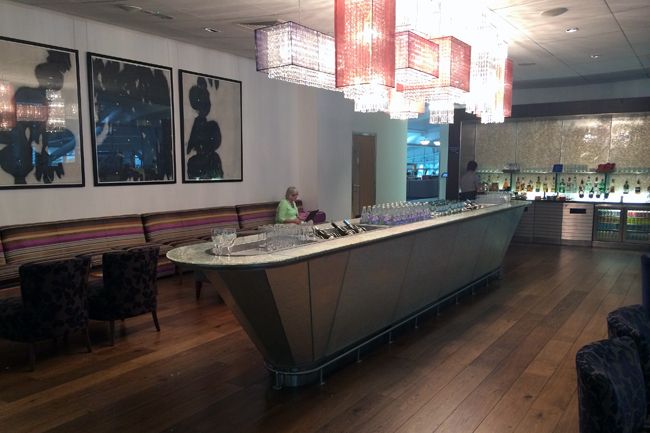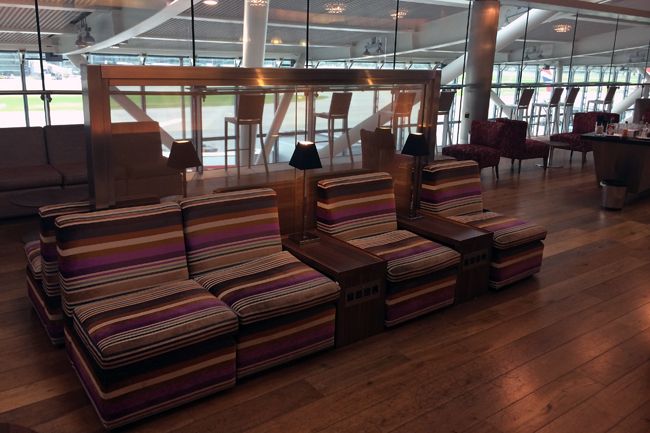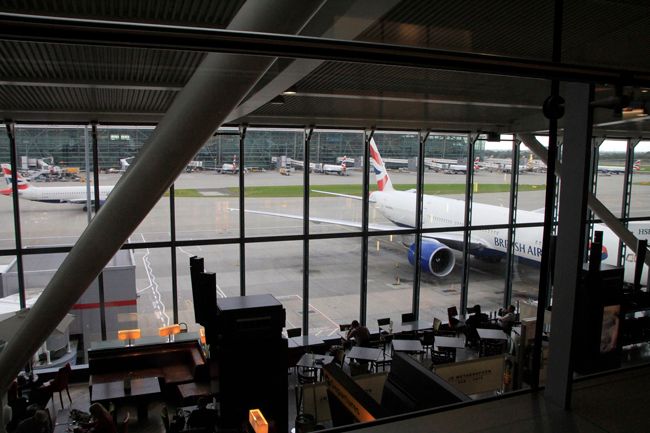 Around twenty minutes later, the board now signal was given. I then made my way down to gate B32 where boarding was already underway. There was nobody at all in the fast track lane, and I was through in just a few seconds. Although my advantage was short lived, as I was singled out for an extra security check.This only took a few moments however, and I was then on my way down one of the extra long jetways.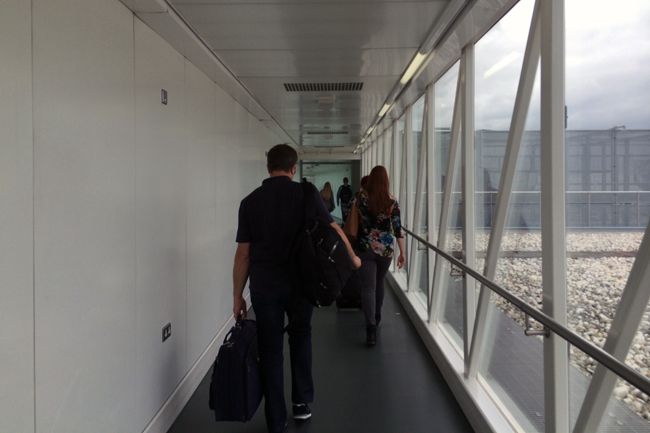 Along the way, I noticed something a little unexpected at stand 532.


I enquired about the aircraft type to one of the ground crew members at the end of the jetbridge, and he enthusiastically confirmed it was still at 787. Following which, I was ushered down the stairs and on to the ramp along side the previously mentioned 747 – great!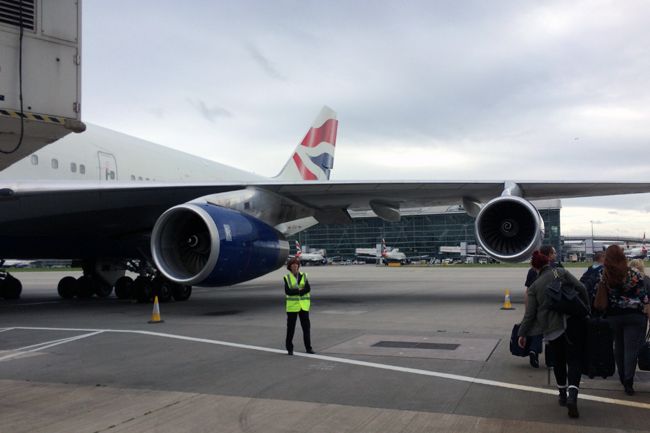 I made my way on to a bus and got a pretty good tour of T5C.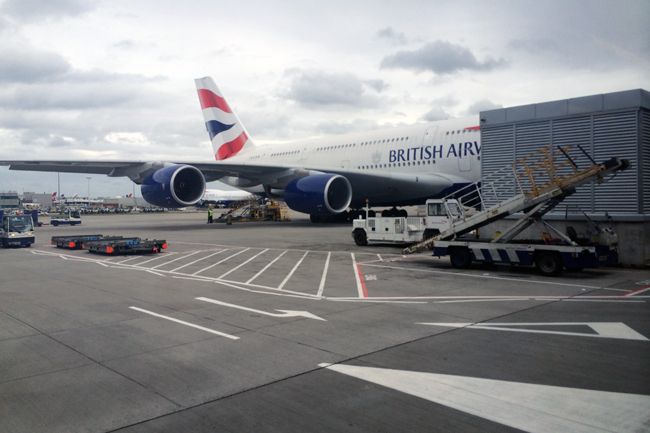 Before pulling up along side G-ZBJC, which would be another new reg for the log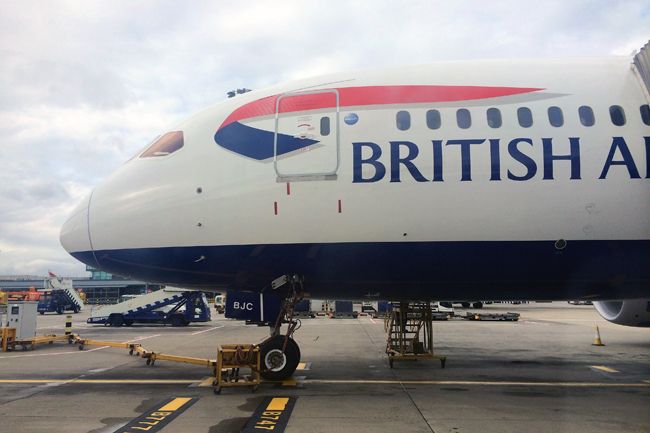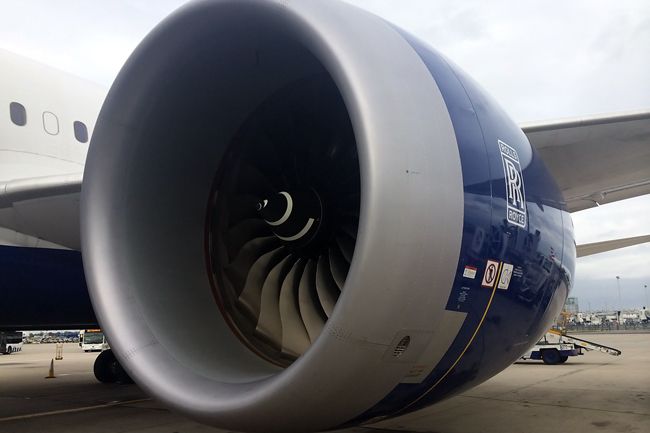 BA69
LHR-PHL
August 2014
Boeing 787-8 / G-ZBJC
Seat: 12A / World Traveller Plus
Scheduled: 16:55/19:40
Off Stand: 16:58
On Stand: 19:41
I was greeted at the door by the mixed fleet crew and made the few steps back to my seat.


Ready and waiting for me was a cushion, blanket and a pack containing some noise cancelling headphones and an amenity kit.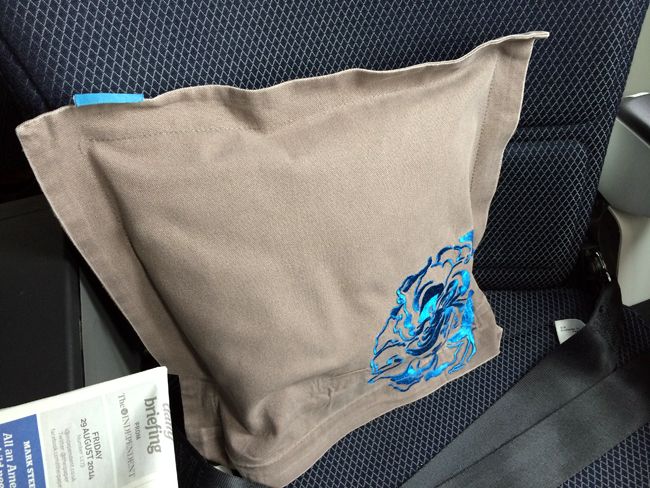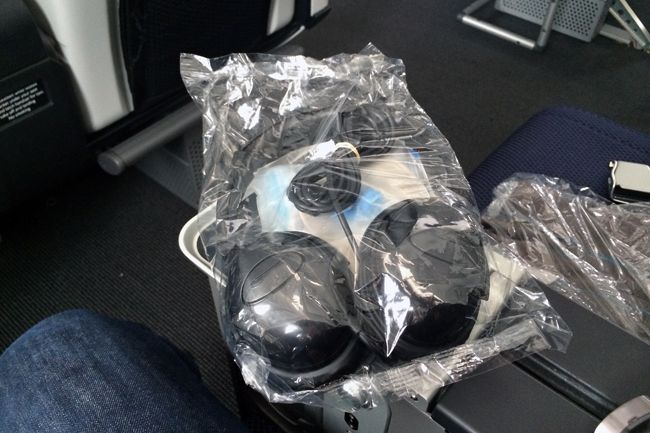 Before too many more passengers turned up, I was offered a welcome drink of OJ or water. I don't remember this on my previous BA WTP flight.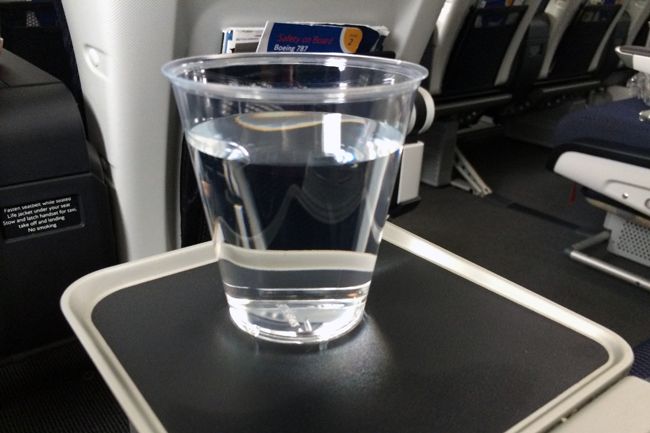 Another coach load of passengers turned up, and most of the comments were along the lines of, "wow, this is first class, this looks nice". Personally if I'd shelled out for a long haul flight in F and I'd got this, I'd feel slightly hard done by…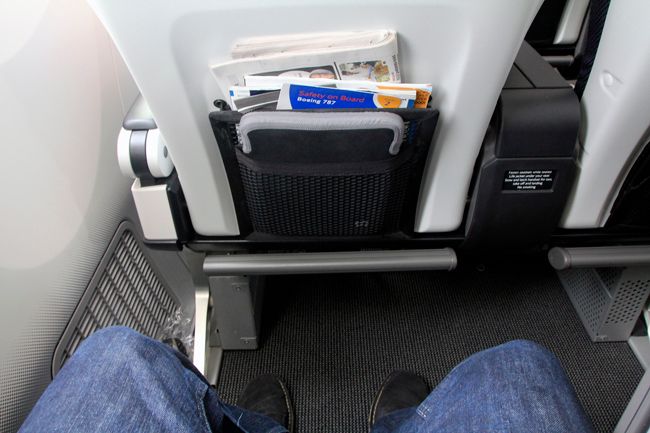 The captain announced a slightly longer flight time of seven hours and twenty and the current delay was caused by a passenger not turning up.


The crew offered the remaining few passengers ( and I mean literally a few – nice quiet cabin this evening) a menu.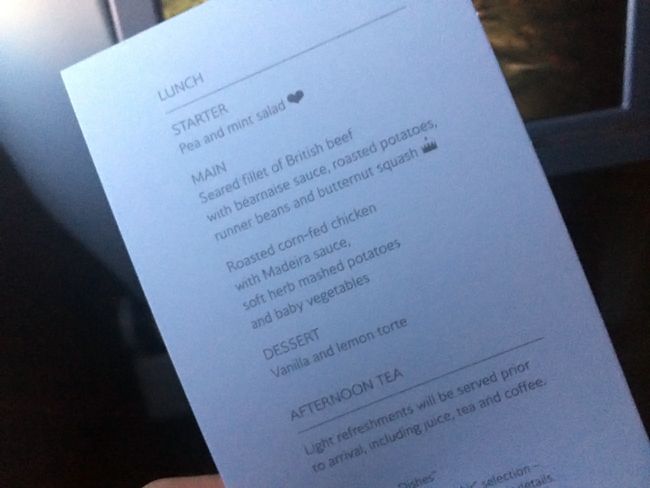 We did push back just a few minutes late and made a long taxi over to 27R.


There was a pretty quiet takeoff into some cloudy skies. Due to the WTP cabin being right over the wing, I couldn't see too much.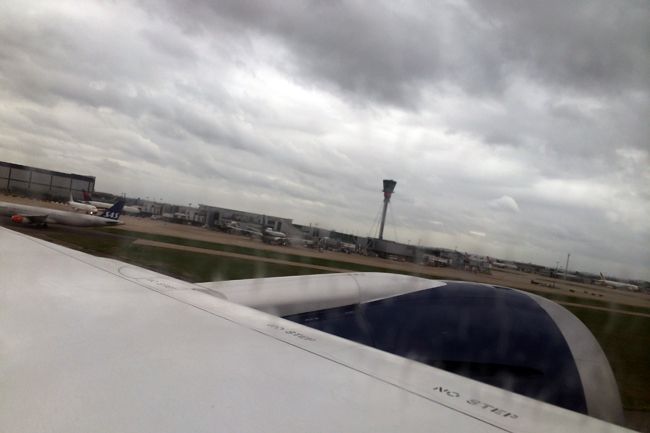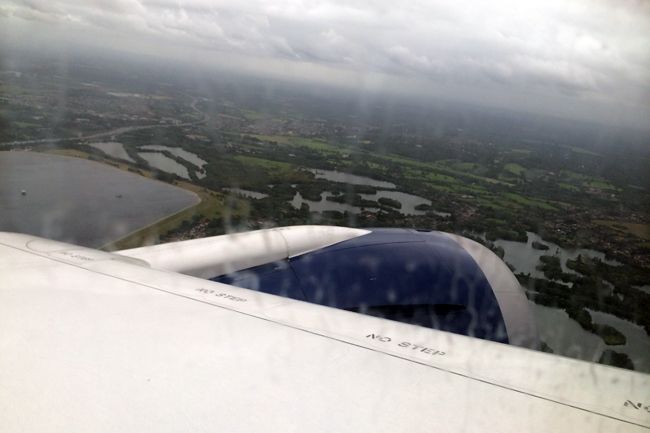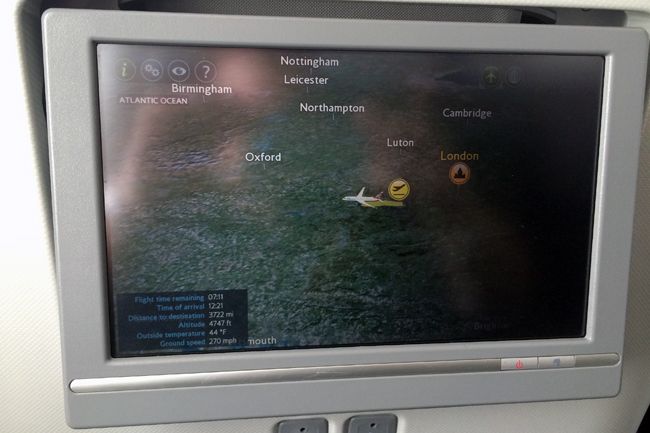 Shortly after departure, hot towels were distributed.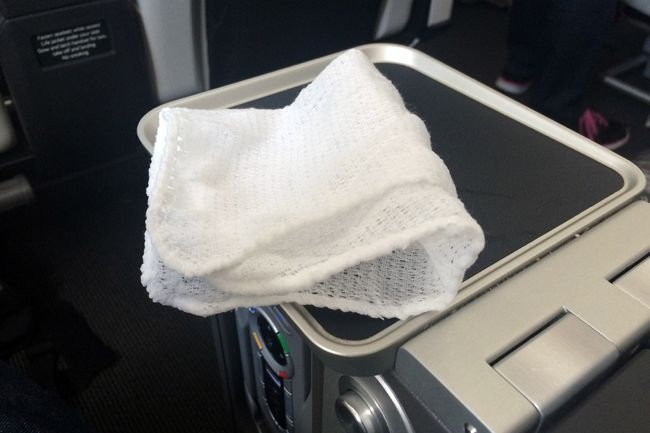 Some twenty minutes after departure the crew started the drinks round. I went for what is fast becoming one of my favourite airline drinks!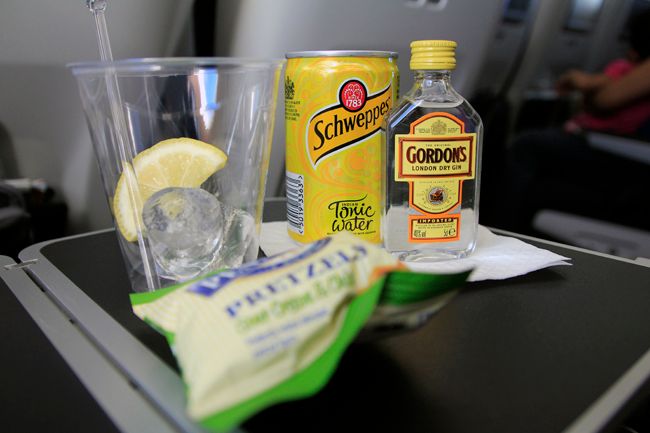 A few moments later, the purser came and personally welcomed me by name, shook my hand and asked how I was finding the Dreamliner experience so far. Must admit, this was the first, and so far only time I've experienced this.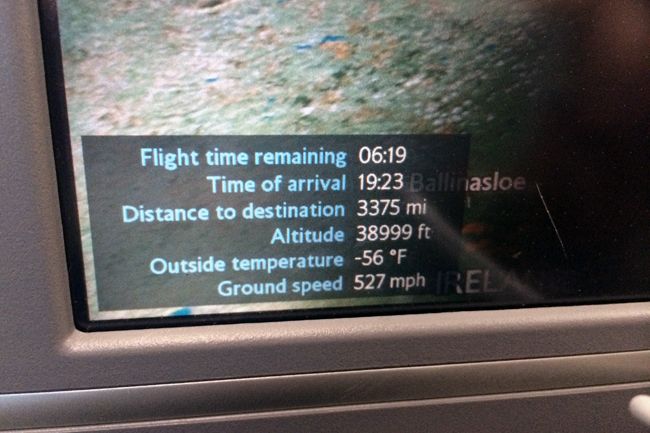 One of the features of the 787 is that it can climb high almost straight away
After this the meal service began. I went for the chicken, and it tasted great.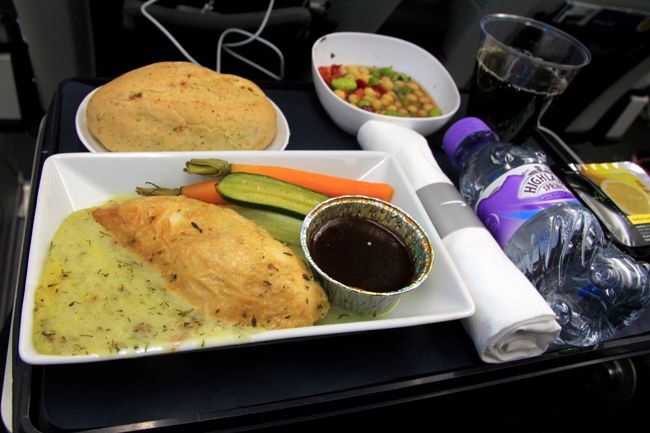 The only complaint I had with the crew were that they were a little slow to collect the trays in – it took around an hour from dinner being first dished up to handing the tray back again. After the meal the lights were dimmed, and the cabin was put into night mode – despite it being daylight outside.


I paid a visit to the washroom, before settling down in front of the second best film ever made (at least in my opinion) – The Life of Brian.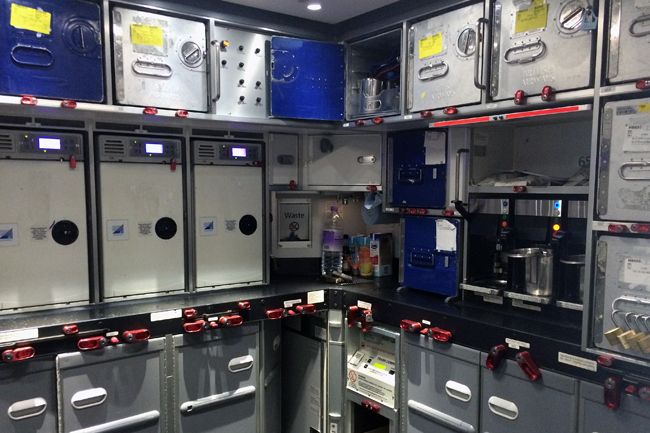 Pretty big galley at the rear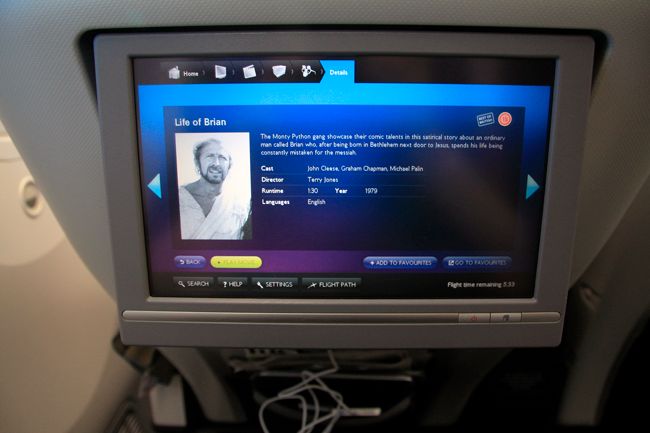 The next few hours were spent watching BA's IFE, plus my own. And listening to the baby opposite repeatedly scream its lungs out…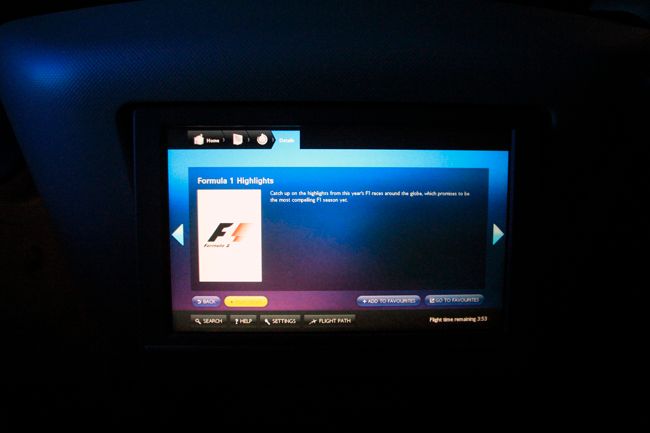 One of the few drinks runs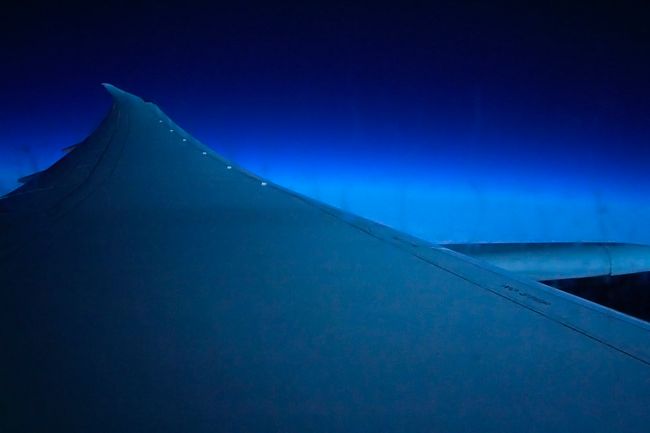 The outside world through a dimmed window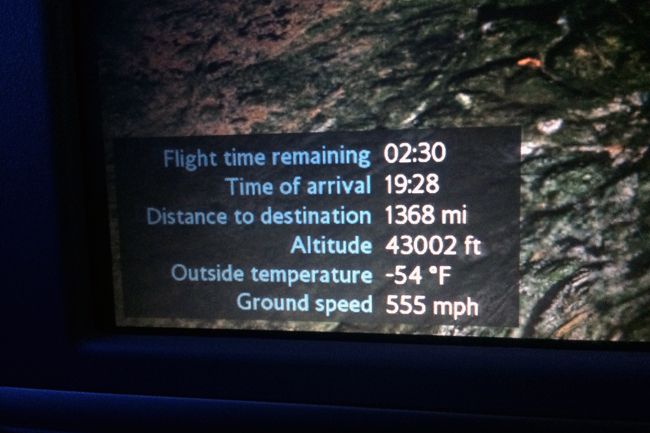 Flying high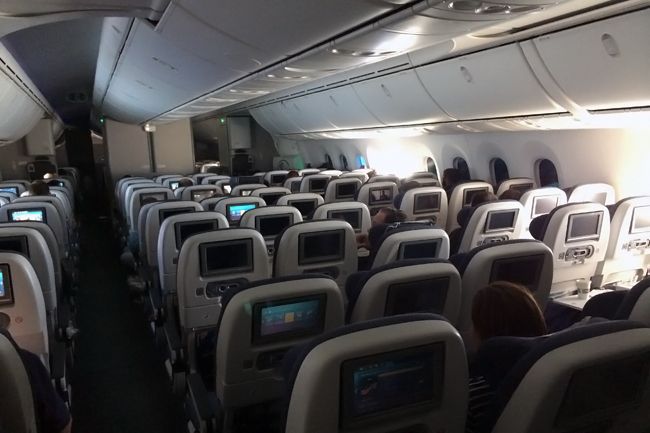 Economy cabin
With just over an hour of the flight remaining, the lights were put back into day mode and the snack service was dished out – a coronation chicken sandwich, a KitKat and some tea.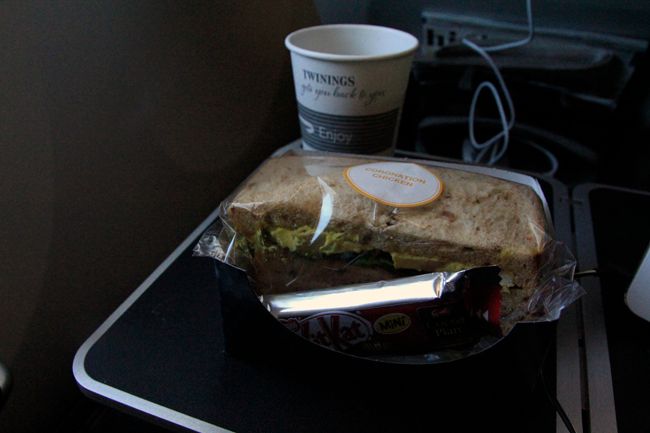 The first officer announced our arrival details and the weather, but not much more with around forty minutes remaining.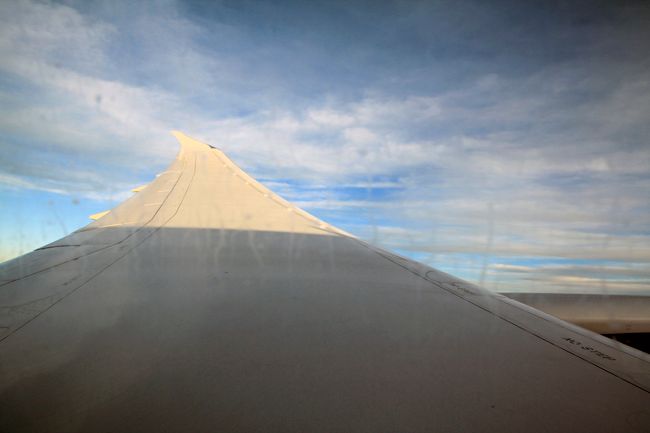 We descended into the sunset, touching down more or less on schedule.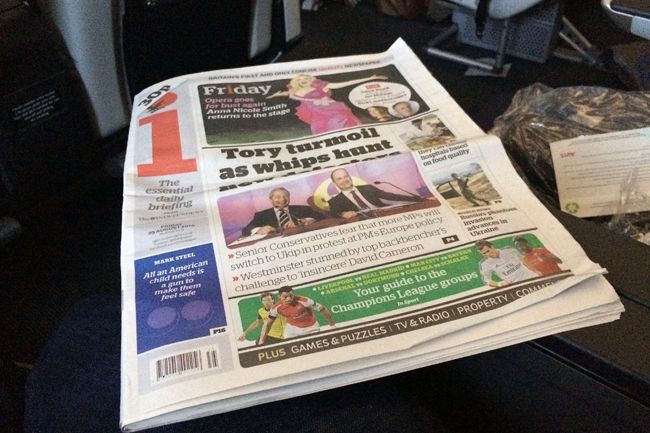 Reading the paper on descent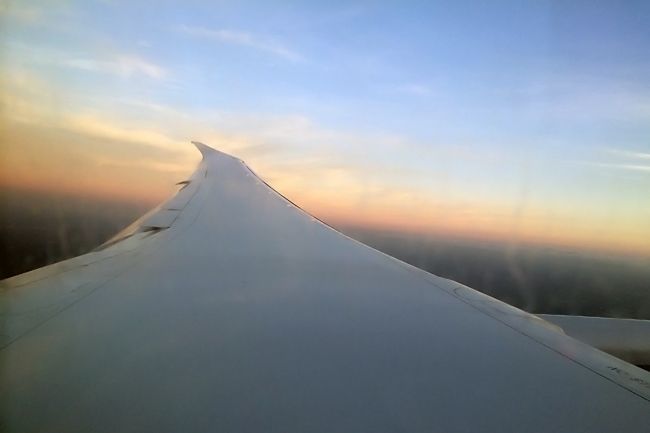 As everybody was disembarking, the captain wished everybody farewell and apologised for arriving a minute or two late, explaining it was due to being put at the back of a queue of local traffic. I was one of the first off, and due to the few people ahead of me heading for the resident line, I was the one and only person at the visitor lane, despite stopping for a pic along the way.


The whole process took the grand total of about three minutes – probably the quickest and easiest entry to the USA I've had. My advantage was short lived though, due to then having to wait around thirty minutes for my bag to appear.


After this, it was through some bland looking corridors to wait for a bus to my hotel, the Hilton.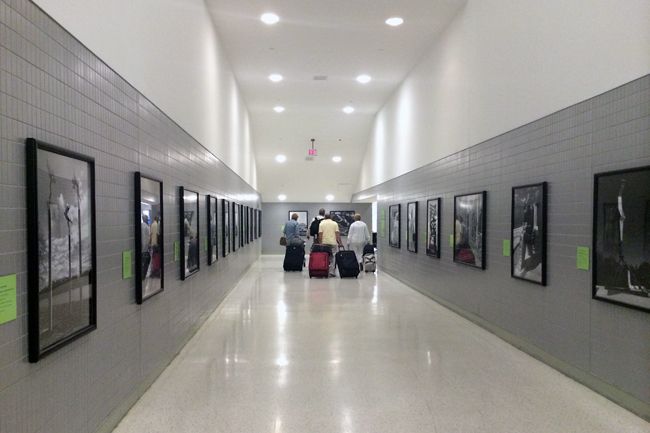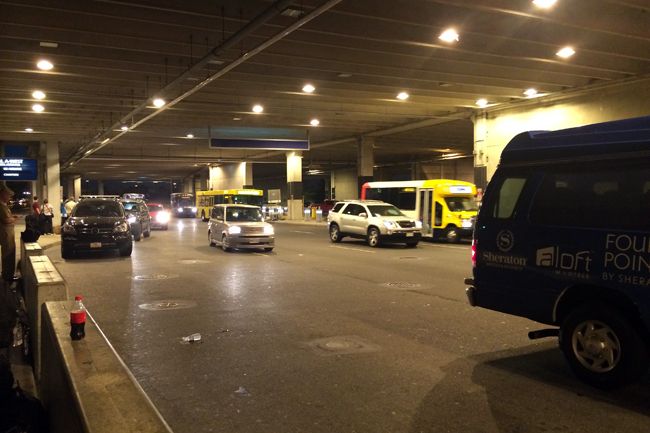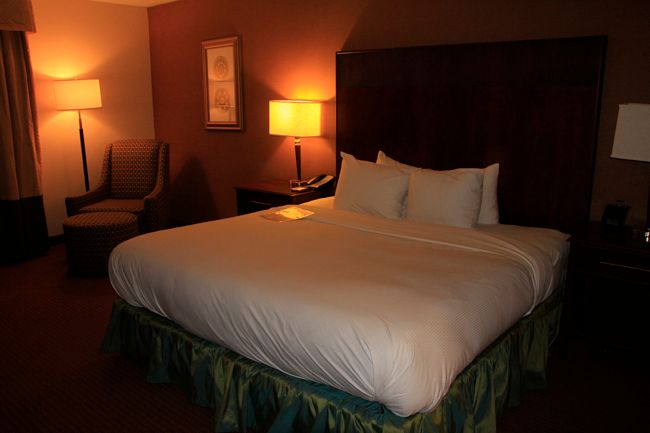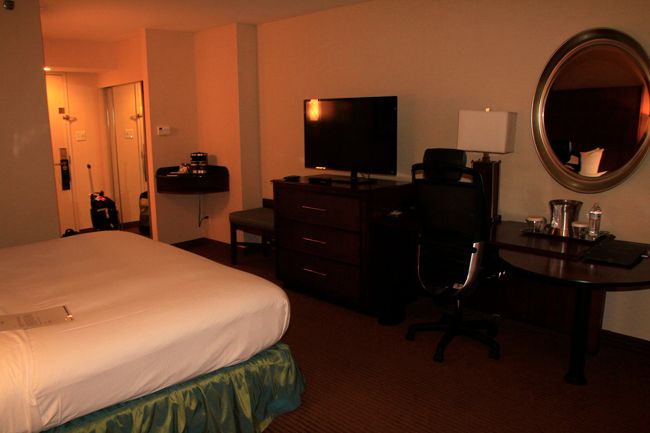 And when in Philly, you just have to get a cheesesteak!


The following morning, I was able to appreciate the view from my room.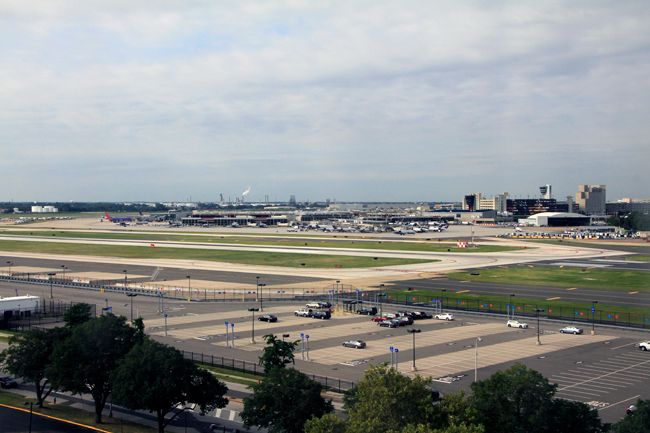 A few pics from my time in Philadelphia: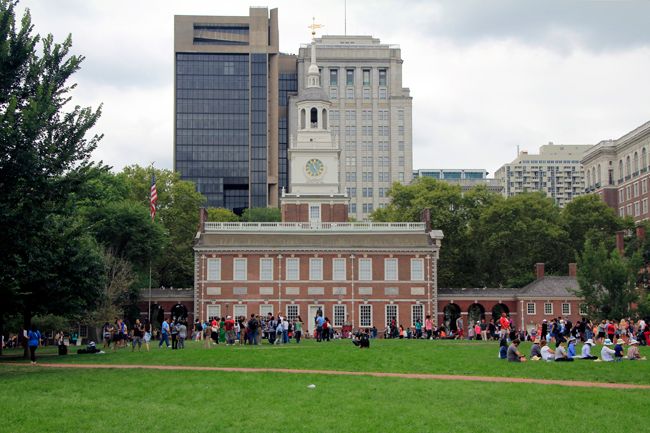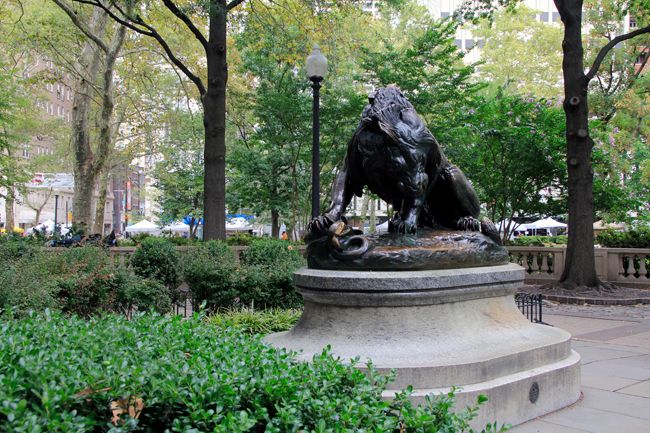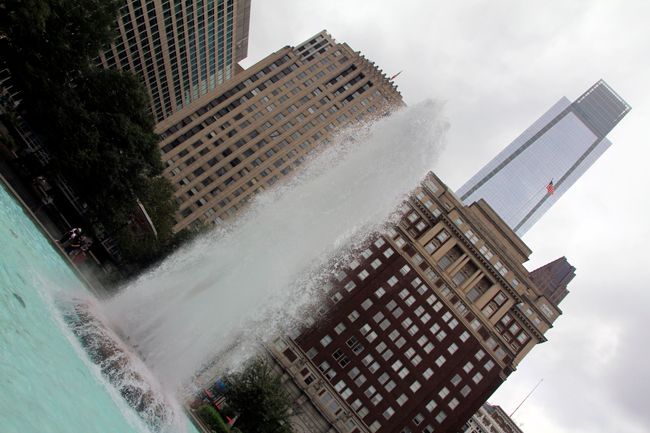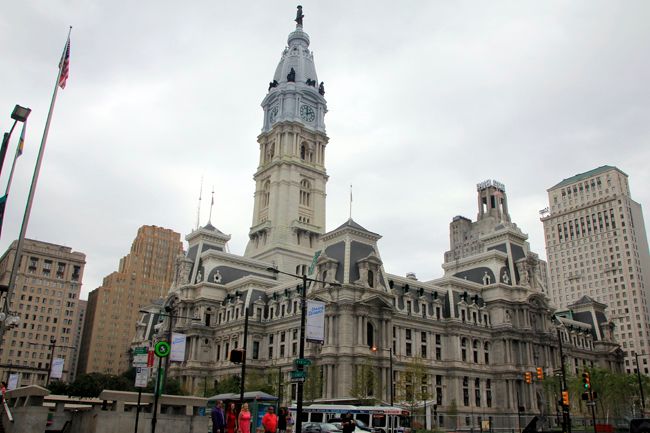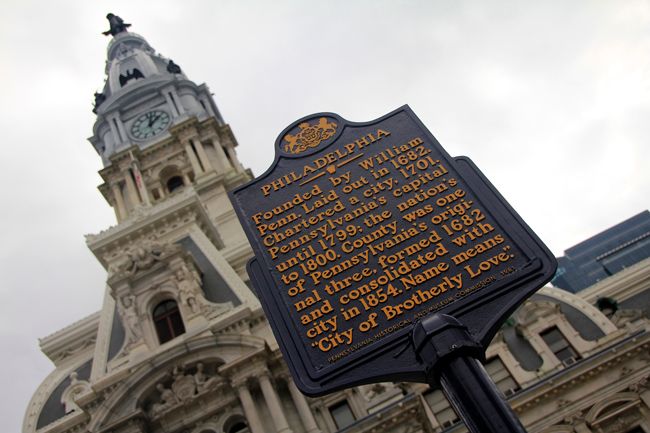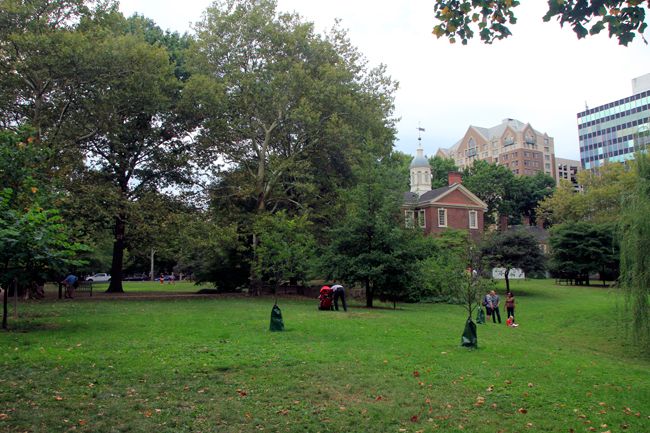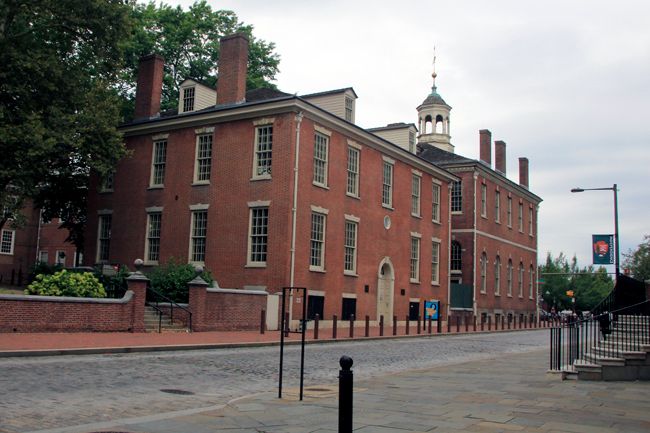 I do like visiting local markets – and this was a great one!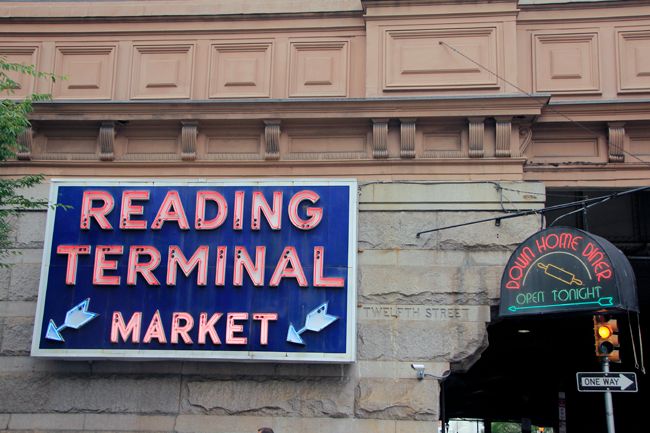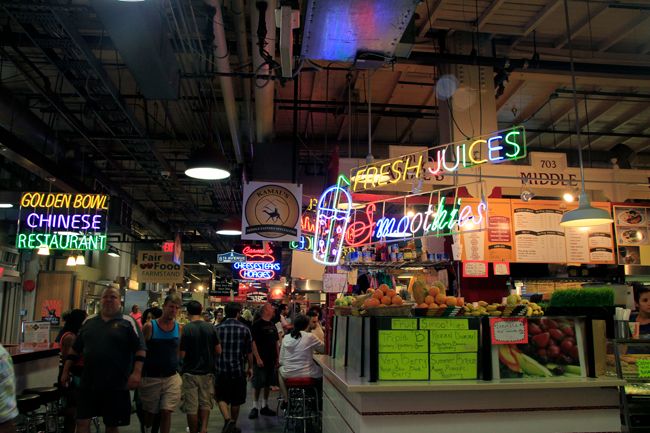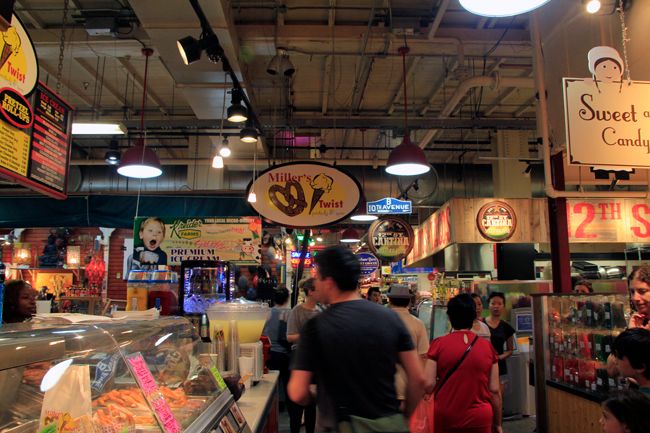 Down by the river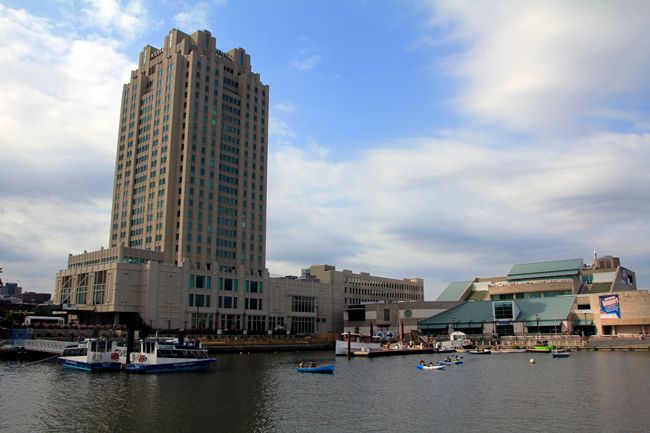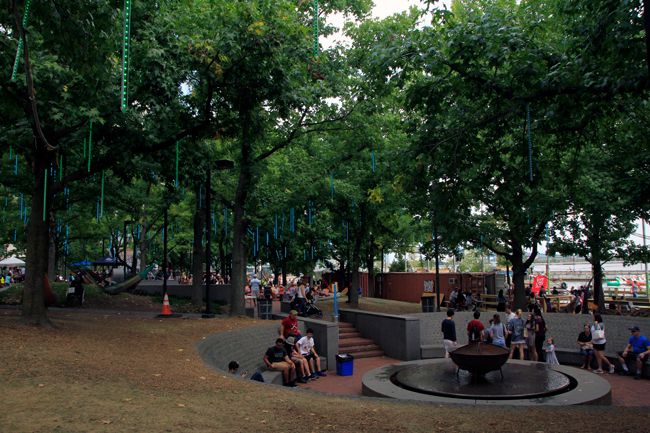 After an interesting time in Philadelphia, it was time to move on. I caught a shuttle back to the airport and was greeted by the friendly US ground staff at check in.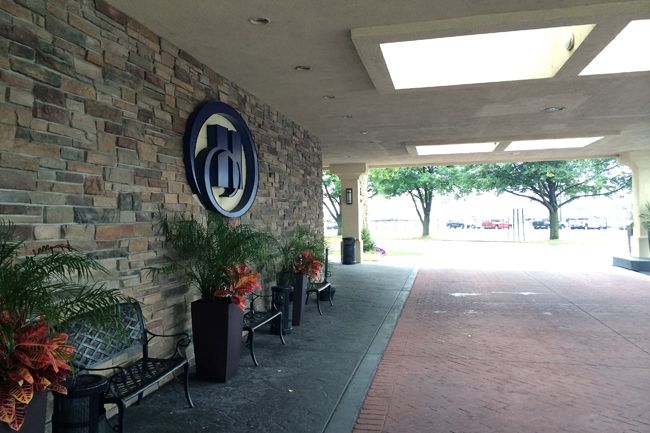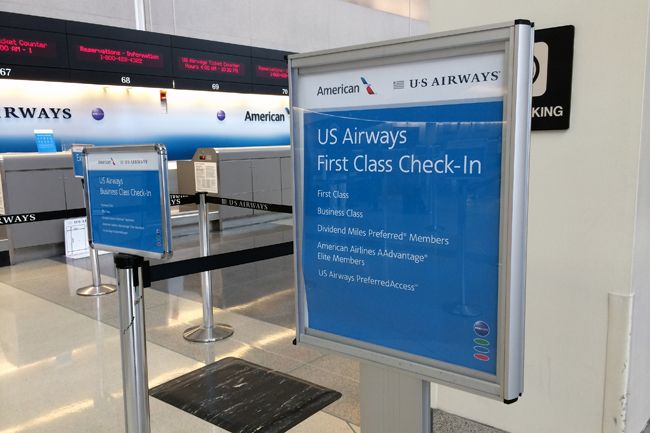 When it came to passport check, the agent admitted she'd never seen a European passport before and seemed to struggle finding my photo page – not being able to bear the pain of watching her struggle, I eventually showed her! As there's next to nothing landside at PHL, I headed straight through security. Still, nobody asked to see if my battery powered devices would fire up though?


It was then up to the US Airways club lounge, where I was swiped in without much of a word said. As it was still only just 8 AM, I pretty much had the place to myself.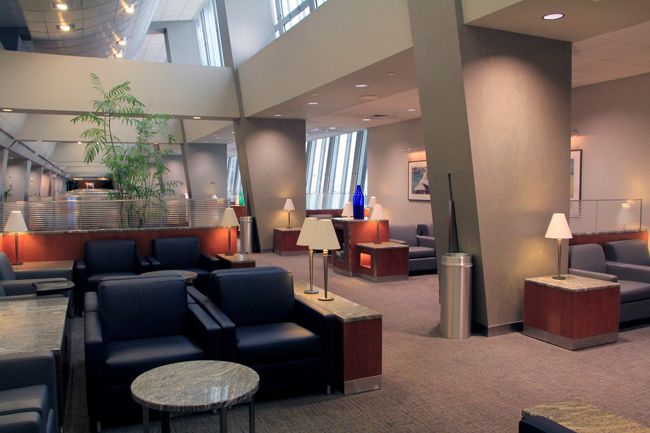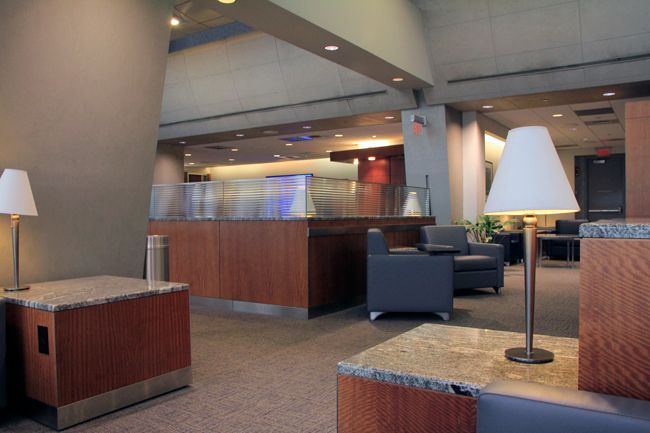 It was more or less your standard stateside lounge in regards to the food offerings.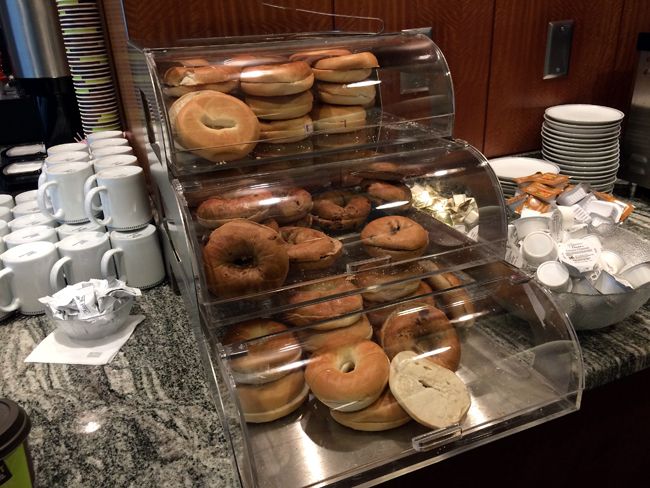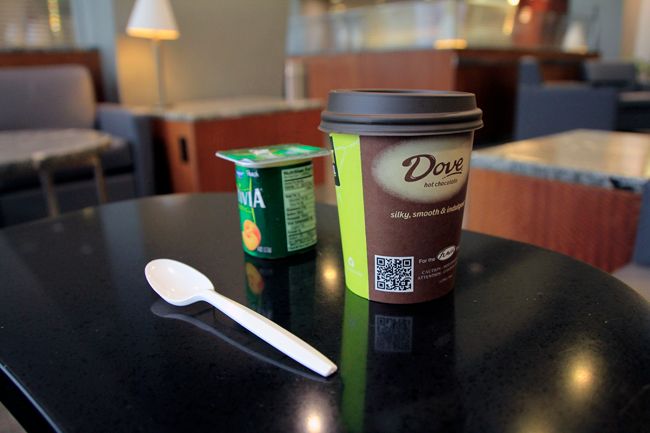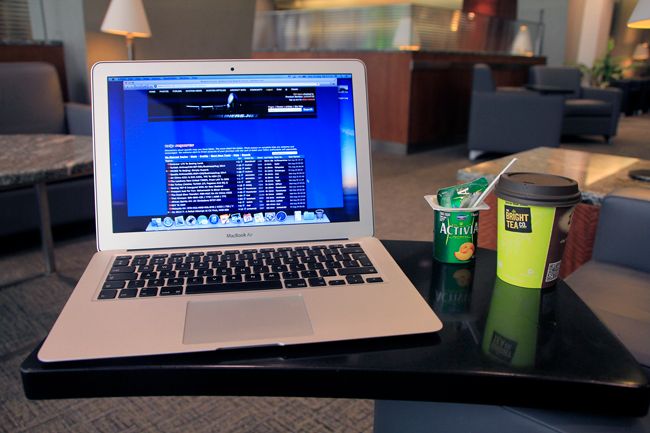 There was a decent view though.


After around thirty minutes, I figured I'd be better off heading down to the lounge nearer to where my flight was departing from. Along the way, I though I'd lucked in…


Until I was denied entry – as apparently it's not a BA lounge until 3PM. Until then, it's a QR lounge. I argued that QR were also part of OneWorld, but the agent was having none of it, despite the fact I could see there was just the one person in there.
So I headed up to the US Envoy club instead.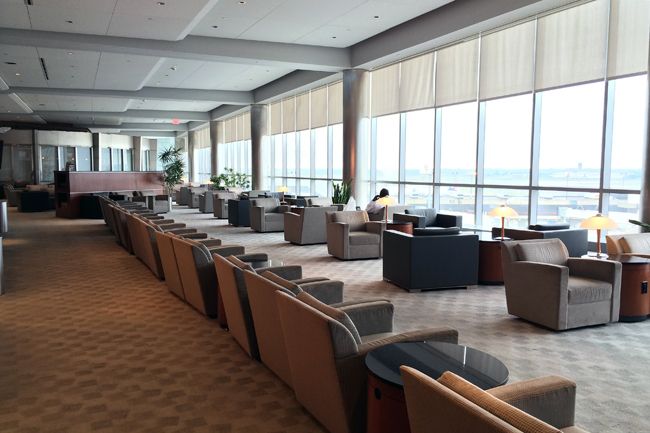 From here, I got a glimpse of this mornings ride.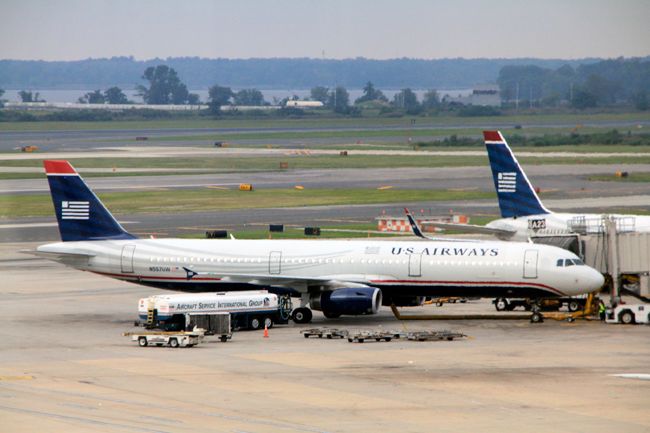 Around ten minutes before boarding, I headed down to the gate.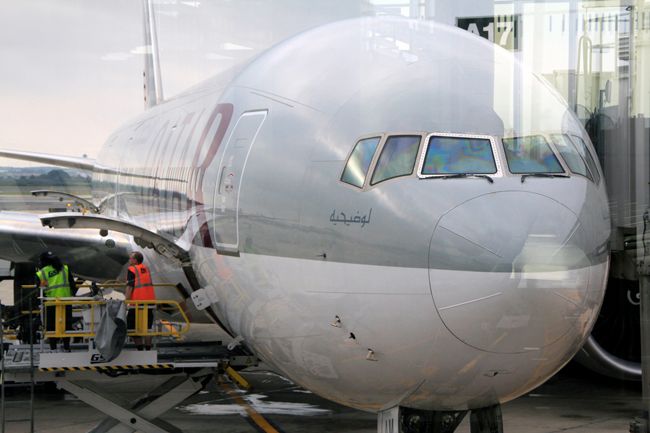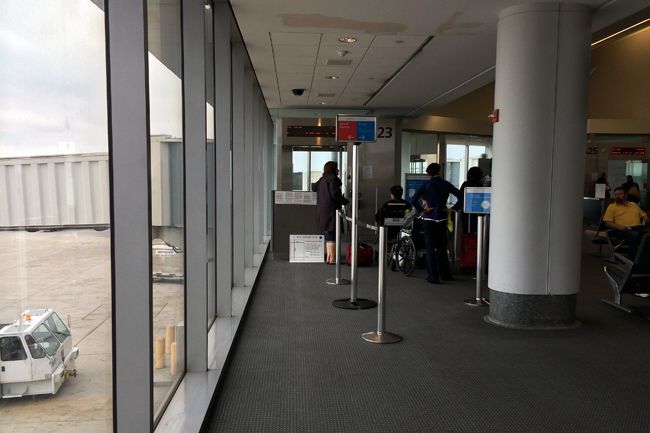 My 200th logged flight



US1845
PHL-TPA
August 2014
Airbus A321 / N557UW
Seat: 2A / First Class
Scheduled: 09:50/12:32 (yes, :32 – thats not a typo!)
Off Stand: 09:47
On Stand: 12:09
I was the second person on board this pretty dark cabin… The first thing I did was open up the window shades!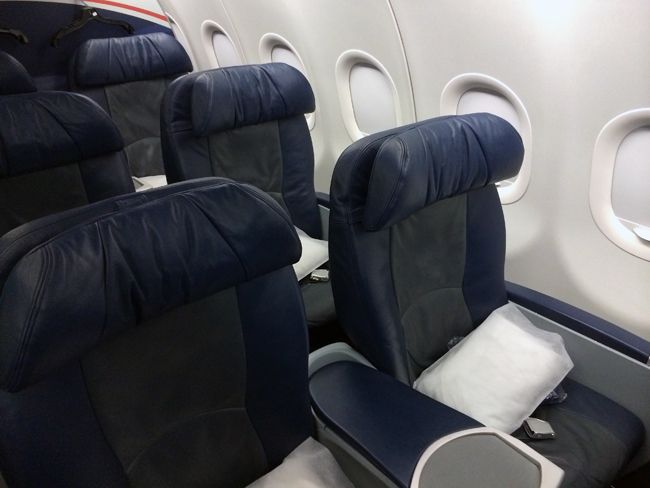 During boarding, the crew offered everybody in first a drink of their choice. I went with water, although the rest of the cabin seemed to go with coke – at 9:30AM – not for me thanks!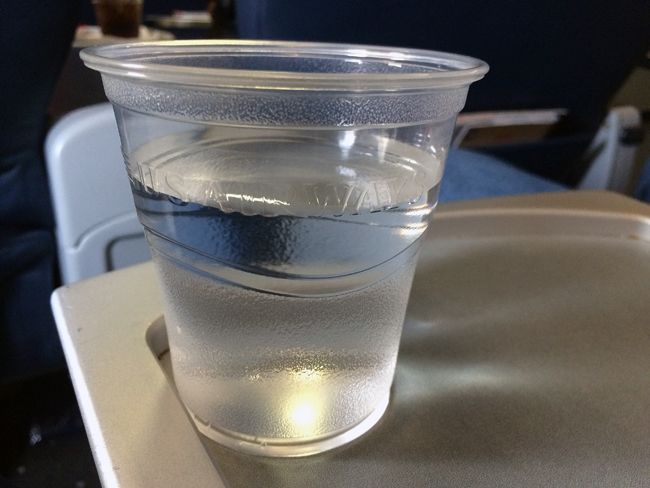 The captain gave a very brief welcome whilst still on stand. And a few moments later, we pushed back. Once the engines were started,he gave a more thorough briefing, mentioning a flight time of two hours and five minutes, and the hold up we were currently experiencing was due to another aircraft having just pushed back and blocking us.
A few seconds later, we were on our way over to the active, with the cabin in almost complete darkness apart from my two open window shades.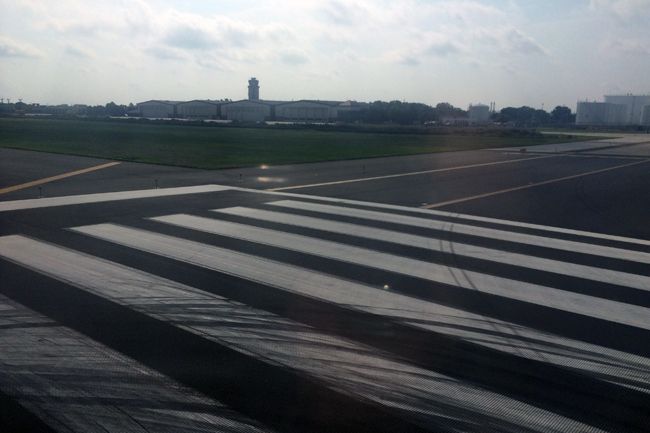 Following departure, a further drinks round was done – more coke for pretty much everybody… I elected to go with an orange juice however.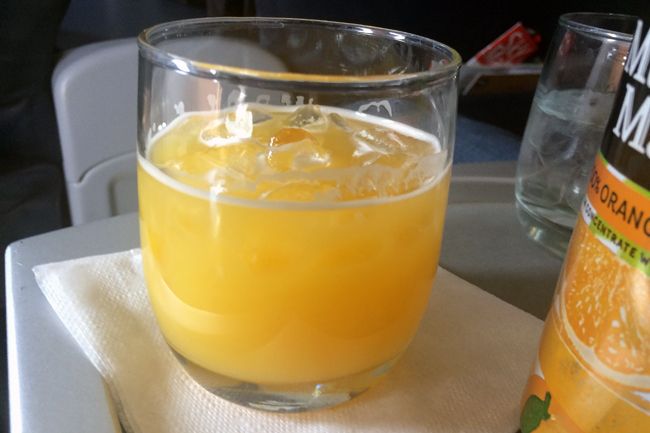 A few moments later, the "meal" service began. Basically a select few snacks from a basket. Understandable on a flight of under an hour, but over two? Really? I grabbed a pretty small sandwich and a couple of biscuits before it was yanked away again.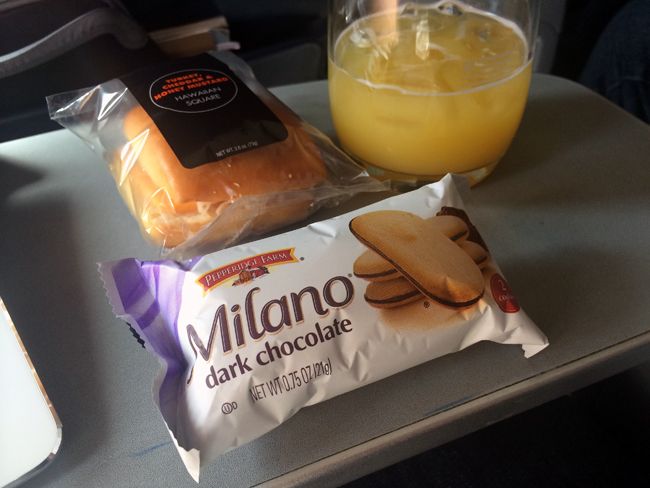 I spent the rest of the flight listening to my iPod and browsing the pretty uninteresting inflight mag.


Towards the latter part of the flight, there were some particularly nasty cloud formations around – making for a bumpy ride, despite the flight crew doing their best to steer around them.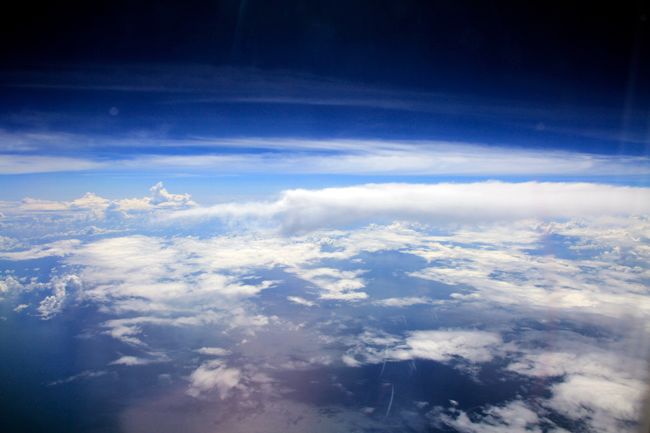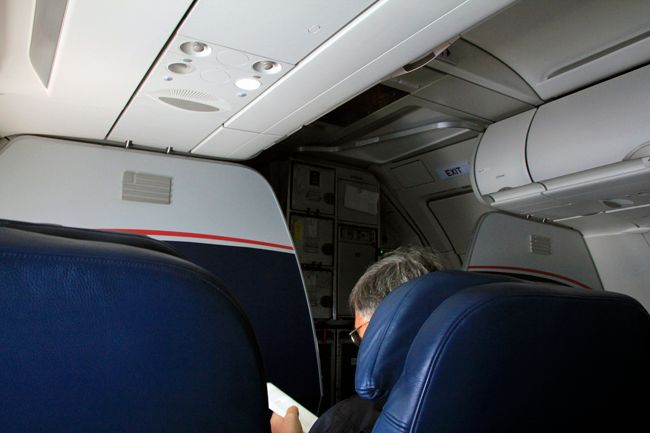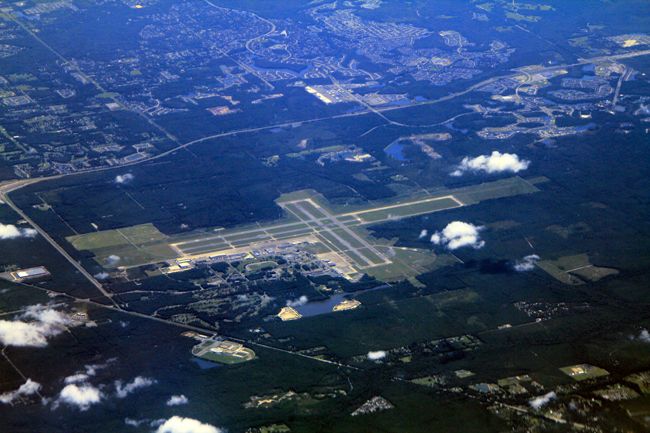 The captain announced descent and we continued to weave around the clouds until at quite a low altitude.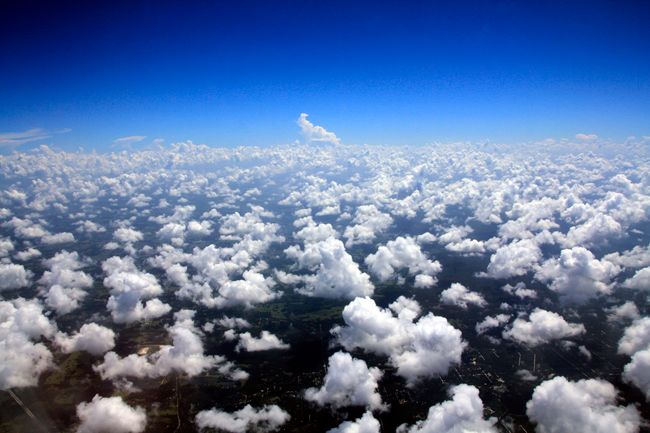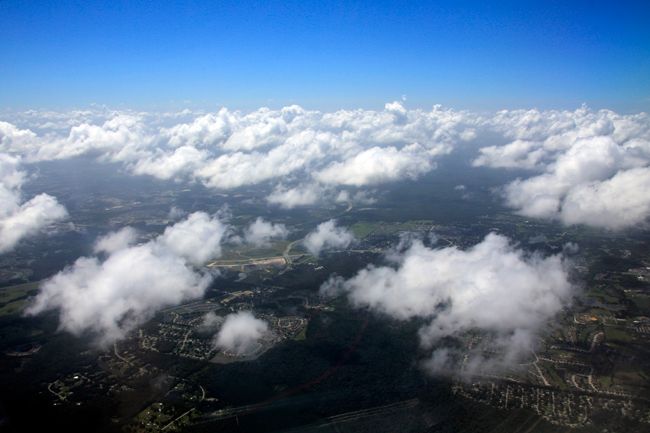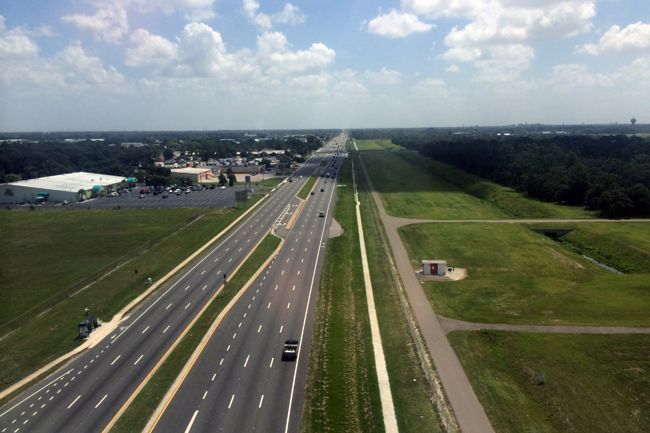 We touched down ahead of schedule and made quite a noisy rollout. I must admit, I never knew an A32X could make so much noise. It was a quick roll over to the terminal and within a minute or so, the door was opened and I was making my way into the terminal.

Not often Gatwick is the second most exotic destination
I went for a brief walk around this concourse, before submitting to the US Airways Club lounge.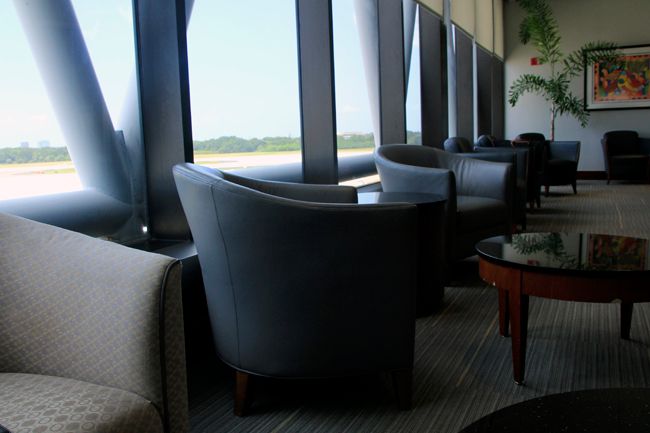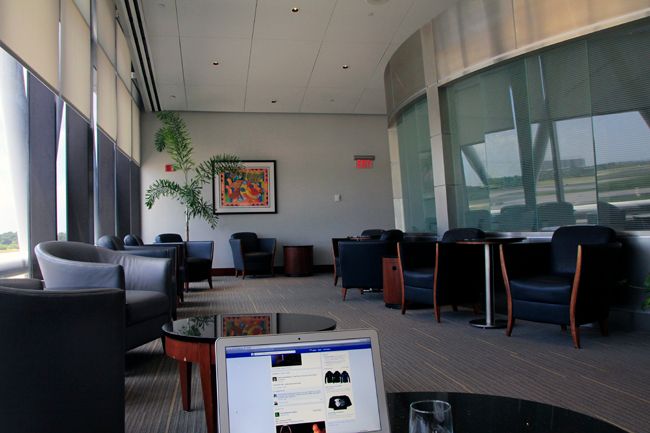 There was a great view of the ramp from here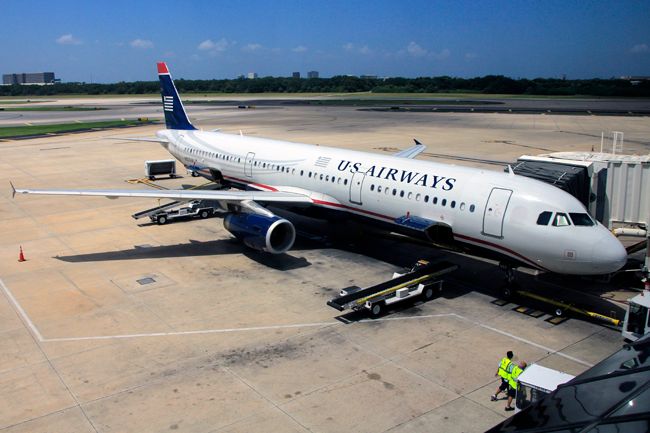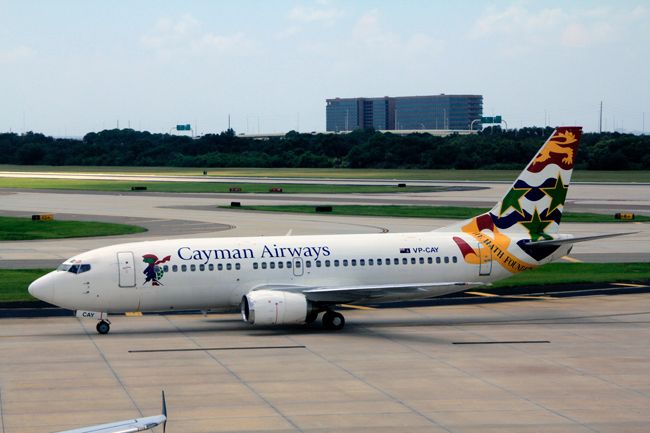 For PalmJet
Again, there were hardly any food or drink options, although there were a few bar snacks available. I didn't indulge though. Instead I took some very salty peanut butter bites.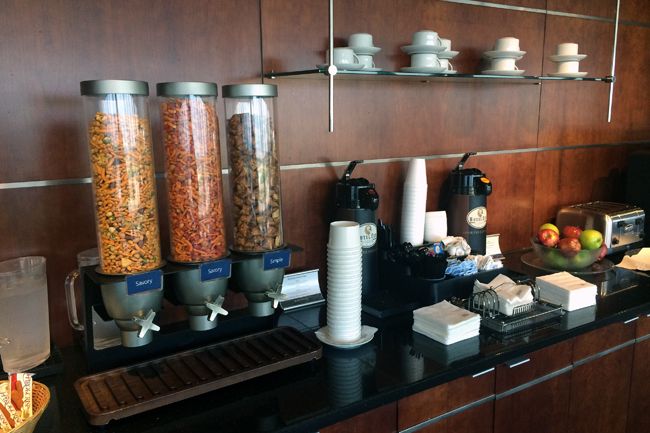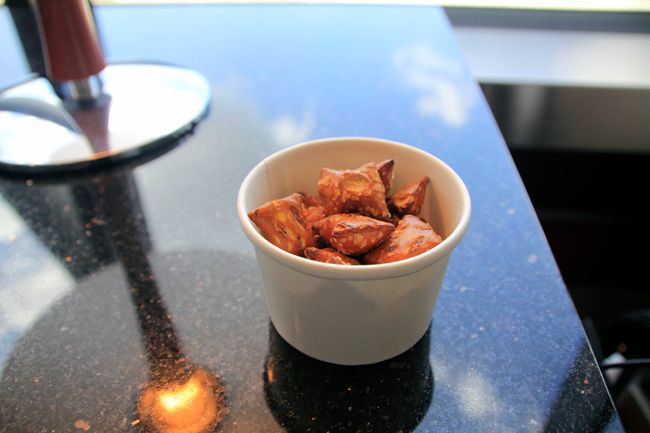 During which time, I tracked my inbound flight:


And then watched it arrive, as the A321 that brought me here pushed back.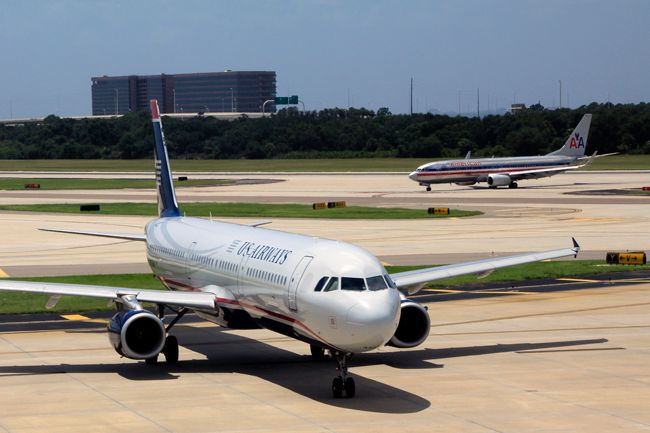 More or less as the incoming flight arrived, I headed back downstairs to the gate.
Boarding began around twenty minutes later.


AA2234
TPA-MIA
August 2014
Boeing 737-800 / N860NN
Seat: 4F/ First Class
Scheduled: 14:40/15:43
Off Stand: 14:40
On Stand: 15:41
I took my seat, and almost immediately the First class cabin was full. It seemed a little more spacious than the US Airways example. Once more, virtually all the window shades were closed.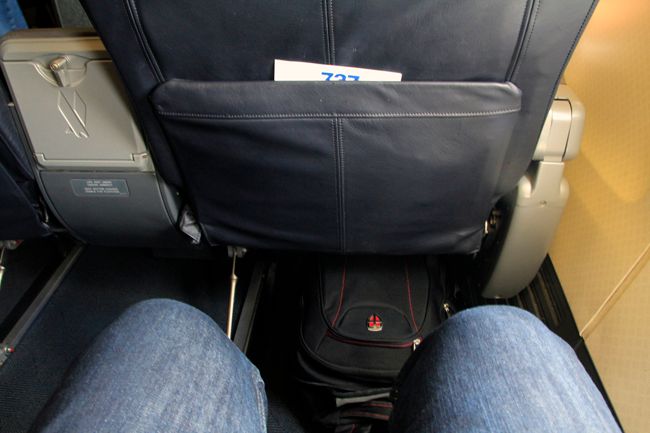 The captain announced a flying time of 41 minutes and a cruising altitude of 25,000ft. During boarding, I saw my bag being loaded onboard below me. This would later prove to be some useful information.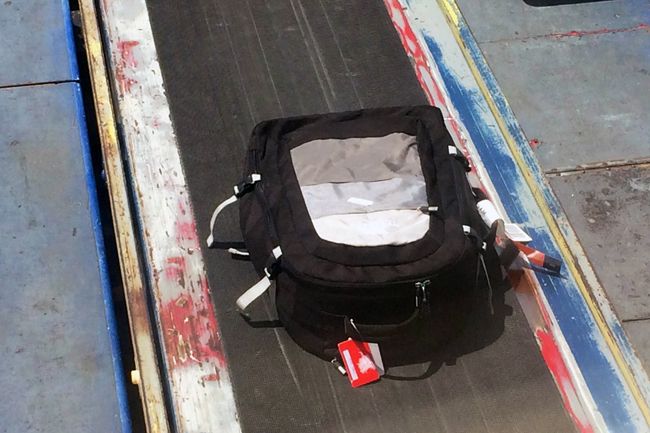 Pushback occurred exactly on schedule. Then we sat on the taxiway with the engines running for more then a few minutes. Luckily, we pulled away and made our way over to the active.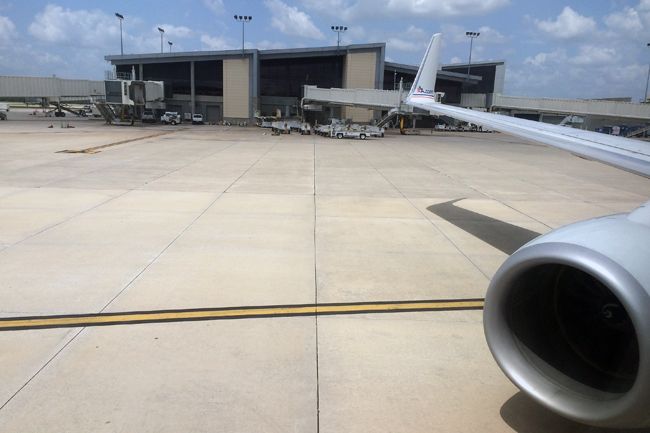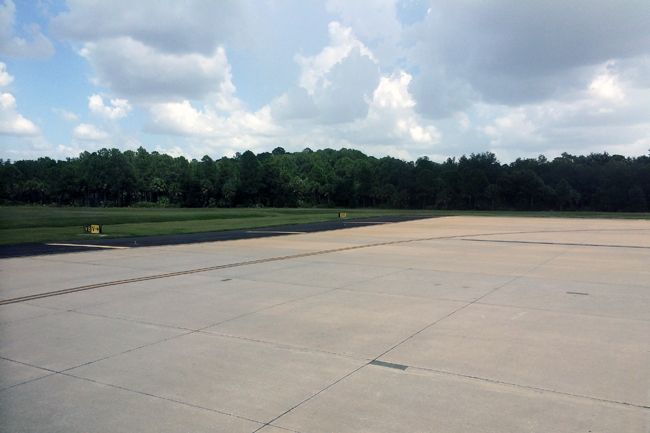 We then got going and were more or less straight out over the water and St. Petersburg.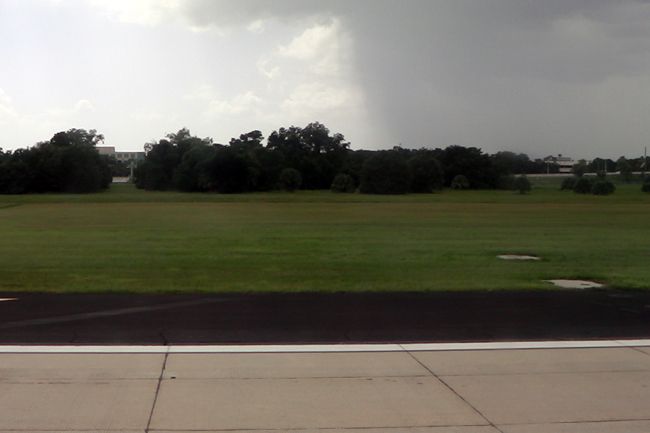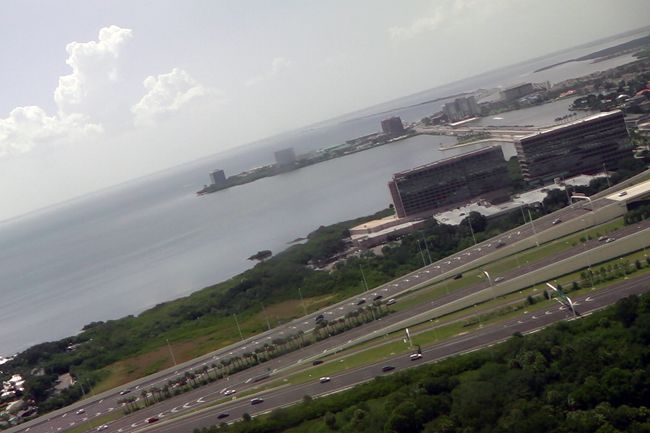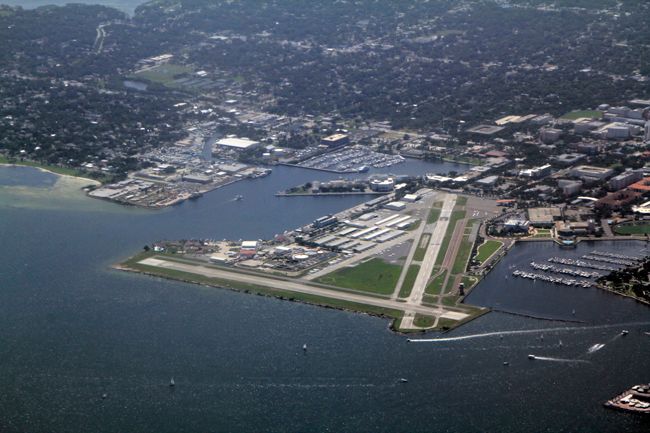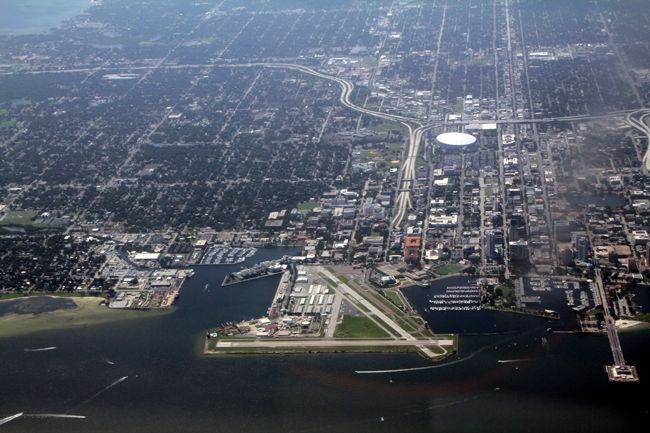 After a few bumps due to some nasty looking clouds the onboard service began. It was more or less identical to the one this morning, however on a flight of this length it was more expected.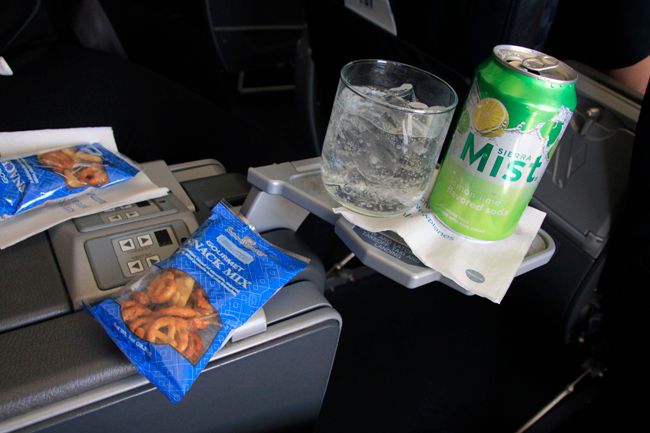 And that was pretty much that as far as this flight was concerned. Descent began over the swamps of the Everglades, before the suburbs of Miami were upon us and we landed into Miami more or less on schedule.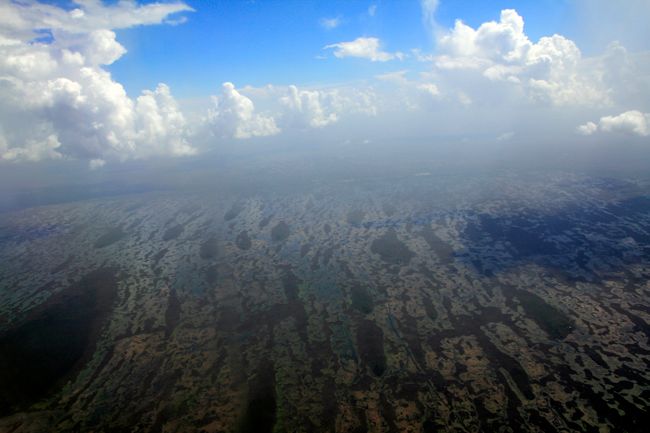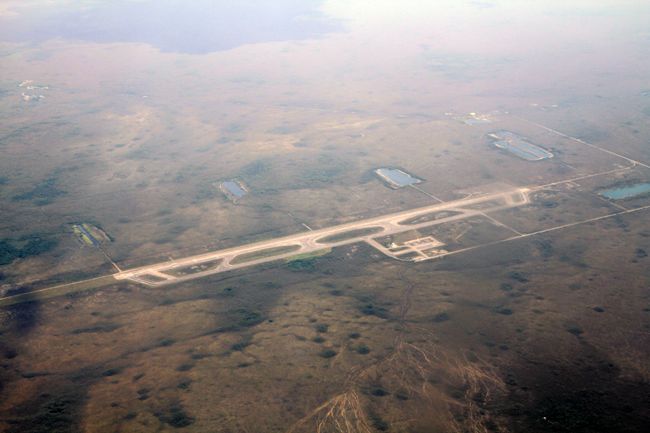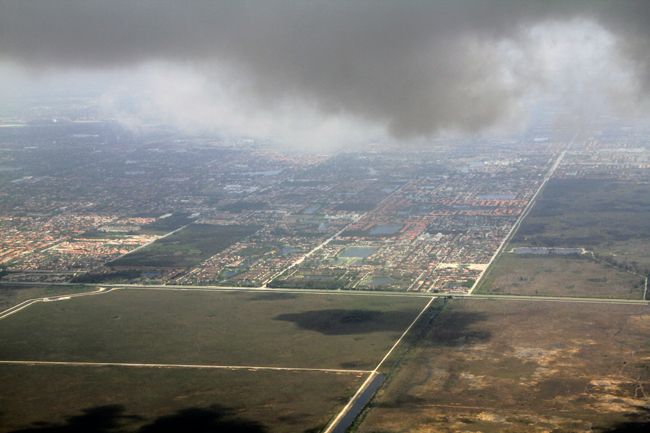 Due to a reasonably short connection time, I either had the choice of taking a long walk to the next gate, which was at the opposite end of the terminal, or making another lounge visit. I figured I didn't really have much to gain by making another lounge visit, so I took the long walk instead.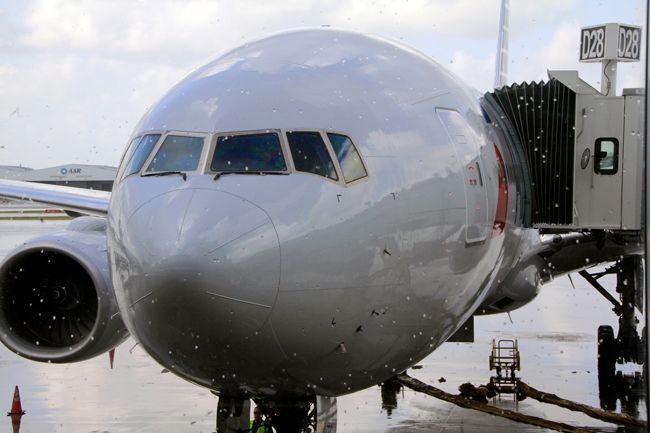 I arrived at the gate just a few minutes before boarding was due to begin.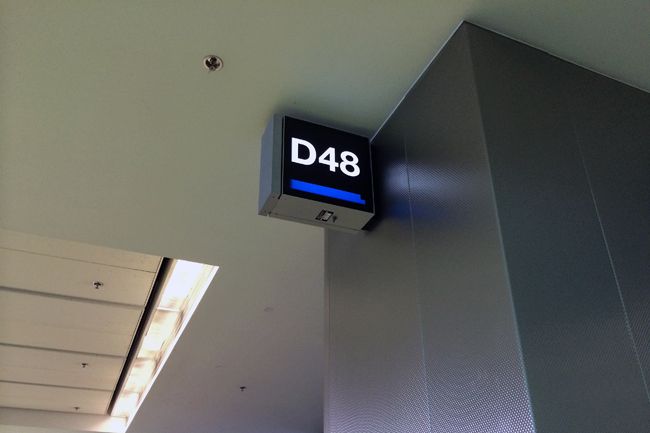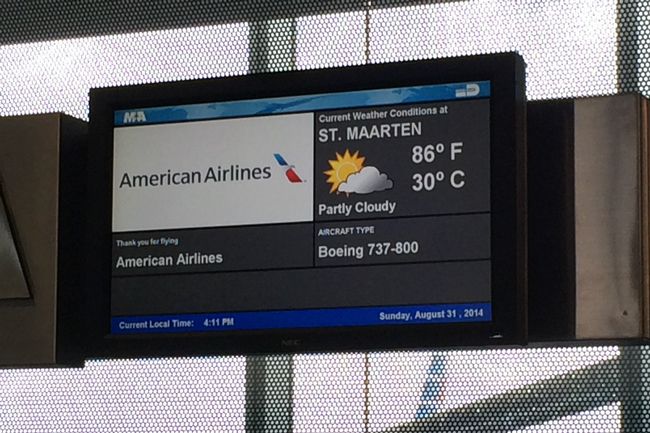 AA1376
MIA-SXM
August 2014
Boeing 737-800 / N832NN
Seat: 6A / Business Class
Scheduled: 17:00/20:04
Off Stand: 16:58
On Stand: 19:53
I settled into 6A – despite this aircraft still having the old style cabin, I'm guessing it had recently got new light bulbs as the cabin seemed much brighter than the previous one. Once again, it was a full flight. And once again, both window shades were closed.
Pushback came a couple of minutes ahead of schedule.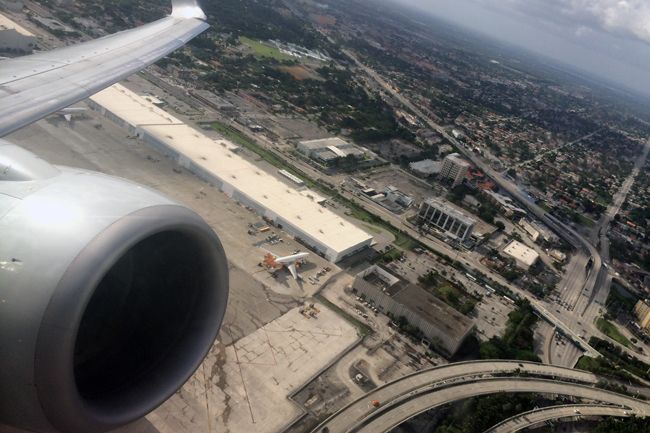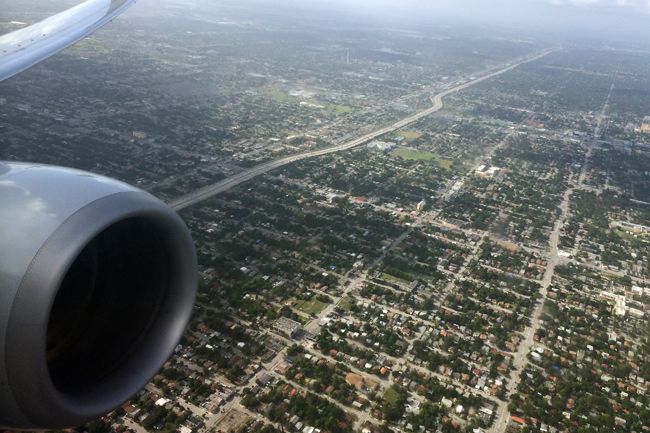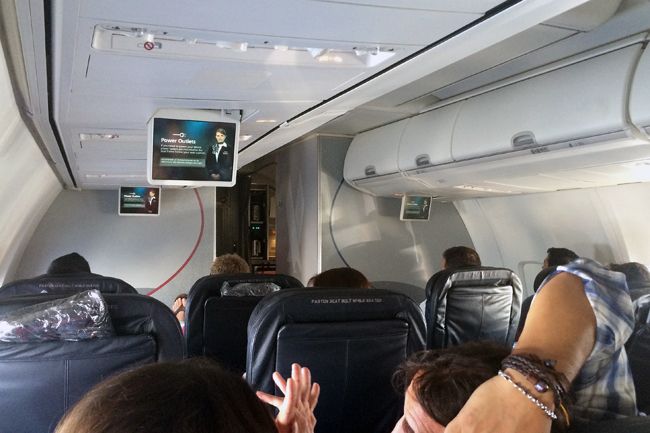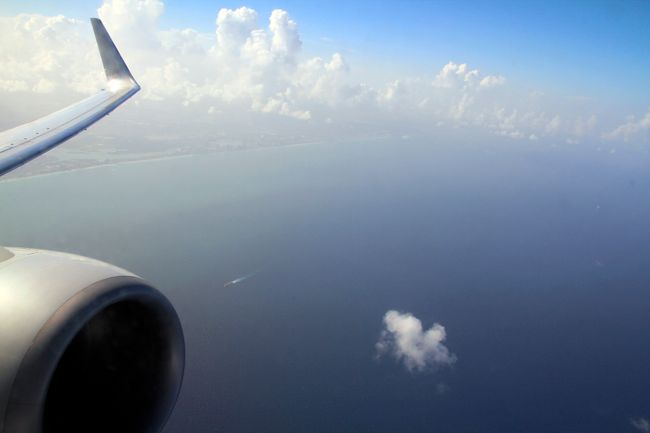 Once we had reached a decent enough altitude, the customs forms were given out. Not that I could fill it in, due to my pen being in the overhead and my seatmate being the type of seatmate that falls asleep the second they're seated…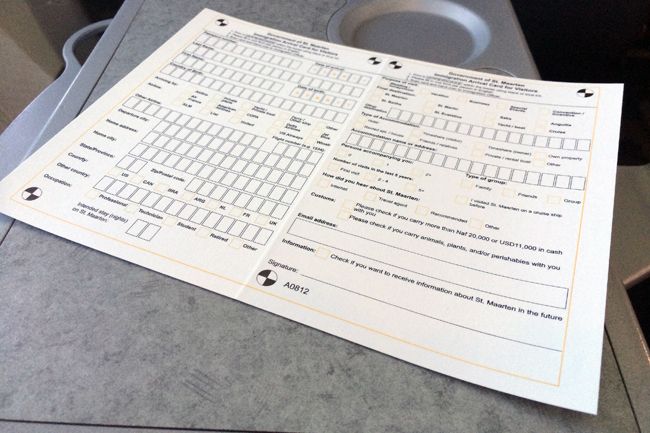 A few moments later, the very cheerful purser came around, welcomed me by name and took the dinner orders. Or in my case, confirmed my dinner order. And a drink order of a G&T. She also apologised saying that they had forgotten to load the bread and nuts after a "crazy day". Instead I got some "fake nuts" – more or less what I'd been surviving on all day. Urgh.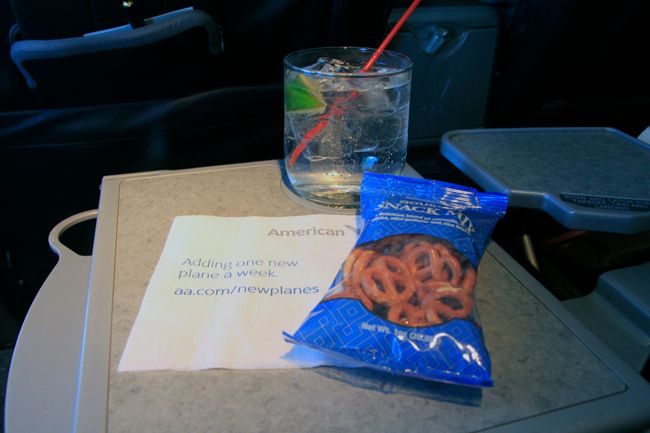 Following this, the dinner service began – finally a proper meal! And it went down a treat. Very tasty indeed.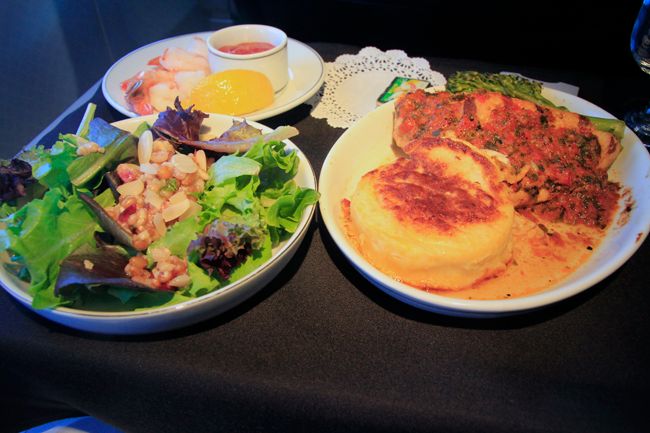 Once I had finished, the ever jocular purser appeared to collect my tray, and noticed I hadn't touched the salad. "If you don't eat your greens, you don't get any ice cream…" Before bursting into laughter. Luckily for me she was joking and I was treated to a great dessert.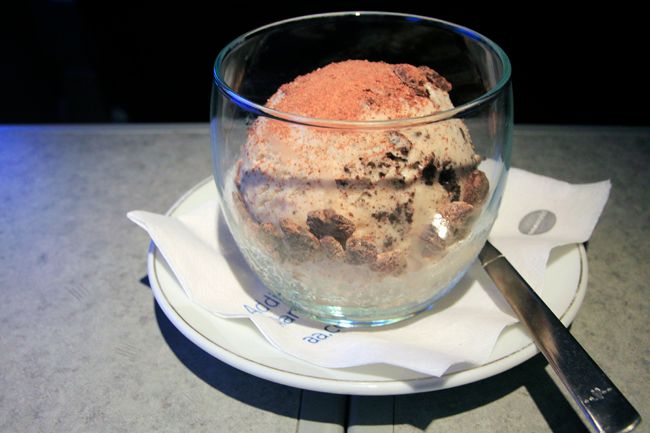 Once everything was cleared away, the sun had gone down, and there were only a couple of minutes until descent, which occurred in complete darkness.


We flew over the famous beach at low altitude, touched down and hit the breaks long and hard. Upon reaching the end of the runway, we spun around and headed back in the direction of the terminal.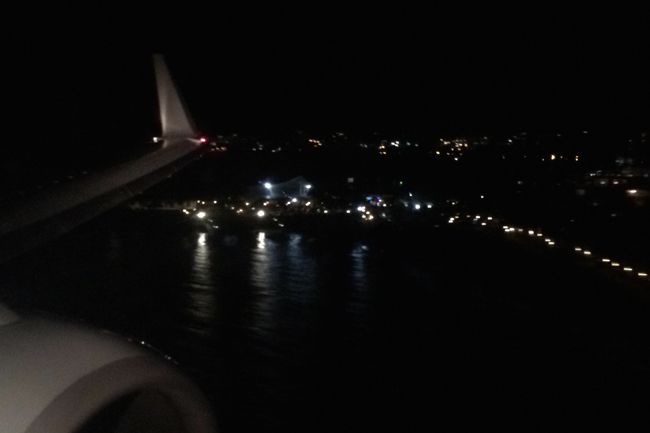 Passing a dark Maho Beach

It was then off through to a pretty quick immigration process.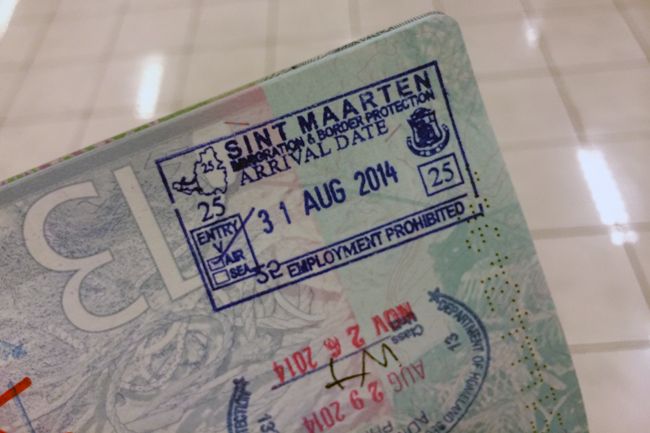 And finally on to baggage claim. One by one, it got emptier and emptier until I was one of just a few people left in the baggage hall.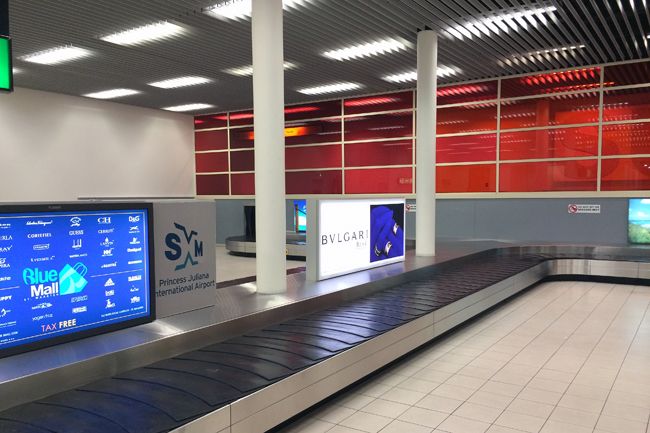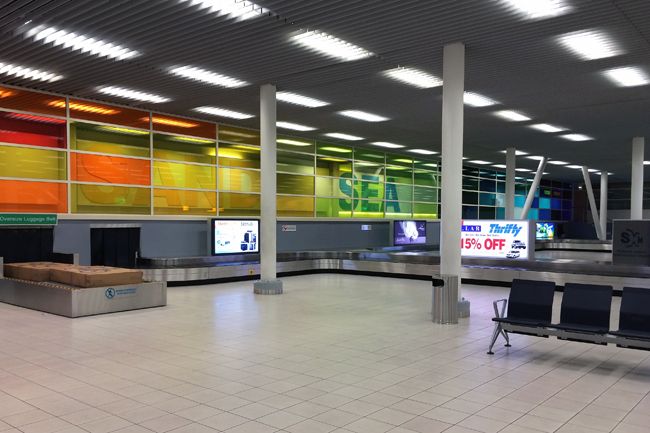 Some thirty minutes later, an announcement came out saying that the last bag had been delivered… Yet I was still without mine. A bit of furious typing by the agent later and it was determined that my bag was still in Miami. Although I had photographic evidence of that. And with that, I was sent on my way. What, no overnight kit? Eventually they did cough up.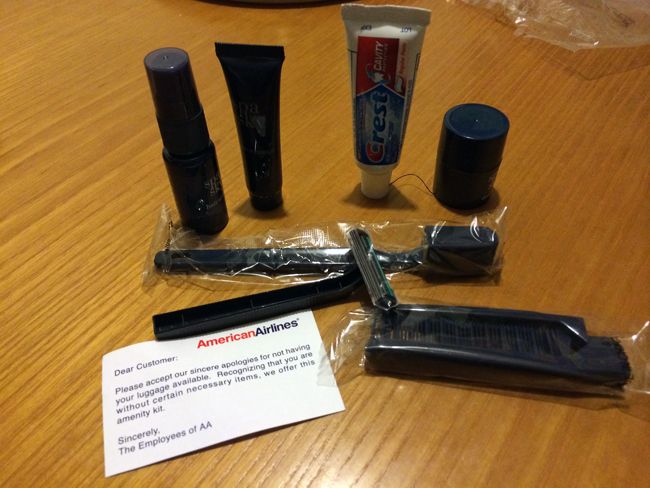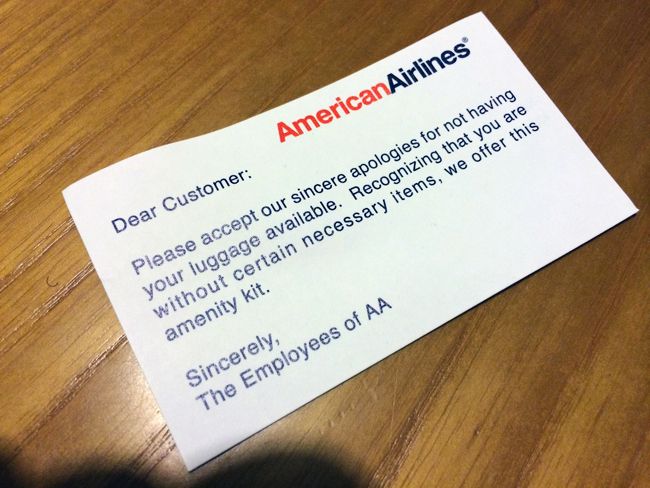 So I made my way into a taxi and off to the Sonesta Maho Beach. To add insult to injury, despite specifying a room that overlooked the beach and the airport, I was given a pool view room instead. However, the room wasn't too bad – despite the extremely high price. And I did have an appropriate room number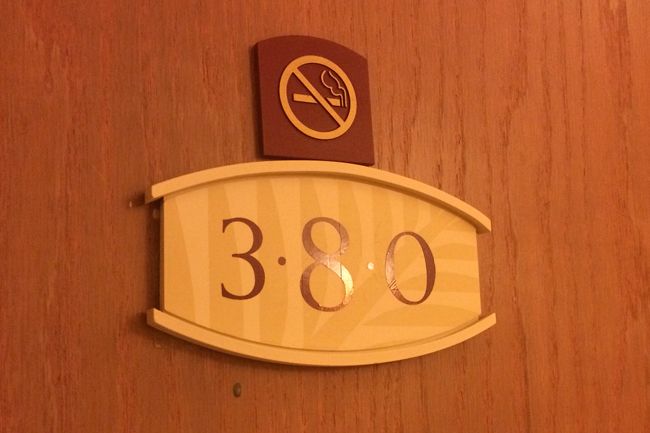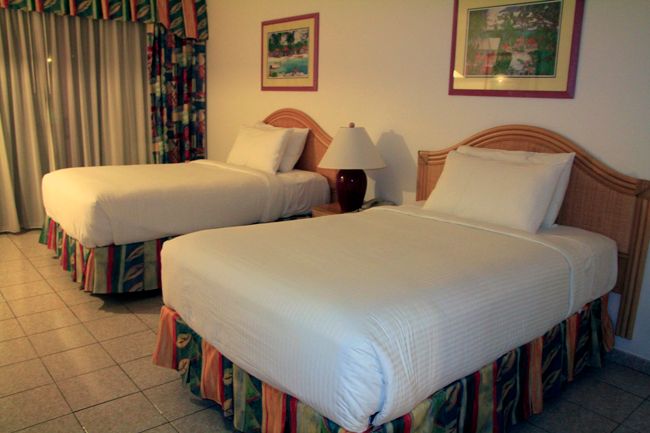 British Airways were good enough. The slight enhancement of the catering in the lounge was a welcome change and being welcomed personally by the purser was a nice touch. Although the crew in general needed to be a bit more polished I think. Taking an hour to clear away the meal trays was a bit much. And there was an occasion where I went to use the rear washroom and I couldn't see a single member of the crew either in the cabin or the galley.
US Airways failed to leave an impression on me. Dishing up what was basically a BA domestic snack service on a two and a half hour flight in First class was slightly pathetic. About the only good thing was the BA Avios and Tier points.
American, once again, were really tough to judge. The onboard staff were great, as well as the service I received on the international sector. However, losing my bag put a big dent in my impression of them. Trying to get it back was a bit of a hassle too. Nobody seemed to know what was going on, or where it was. And there was no apology either – just plenty of "I don't know". They're an airline I'm genuinely trying to like, but they just keep making silly little mistakes which puts a bad mark against them!
Stay tuned for Part 2 which will cover my time in St. Maarten and my journey up to Las Vegas.