American | Boeing 737-800 | DCA-ORD | Main Cabin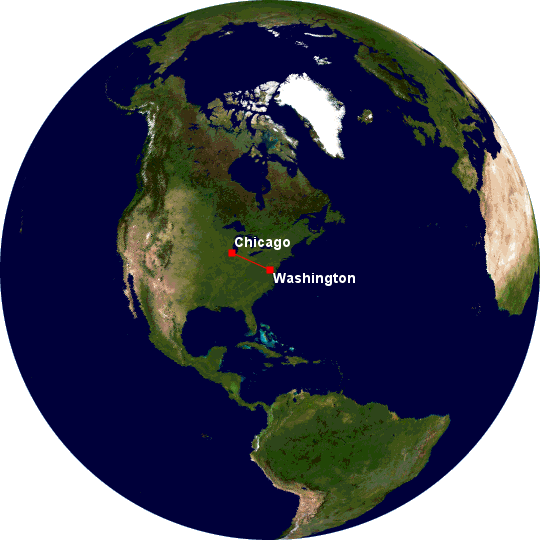 Maps generated by theGreat Circle Mapper -copyright © Karl L. Swartz.
This is the third part of my USA series from April 2013. The previous parts have seen me fly from London to Paris, and then onwards from Paris, back to London and then to Washington. They can be found here:
USA 2013 Pt 1: The Beginning BA LHR-ORY
USA 2013 Pt 2: BA A320/744 WTP CDG-LHR-IAD
This third part is a bit lacking in the picture department, although as you read on it should hopefully become clear why.
The check in process for today's flight was a bit if a hassle. BA.com wouldn't let me do it, which was understandable and upon being forwarded to the AA website, this was also a no go as it said it couldn't check me in as I had no seats allocated – and no option to allocate them either.

Hopefully this seatmap from expert flyer wasn't too accurate:


After a lot if backwards and forwards between BA and AA, it was determined I needed to be reticketed and therefore had to go to the airport to do this.
I set off from pretty much where part 2 left off in Arlington cemetery at around 4pm, arriving around fifteen minutes later so giving plenty of time to resolve any potential issues before my 19:20 flight.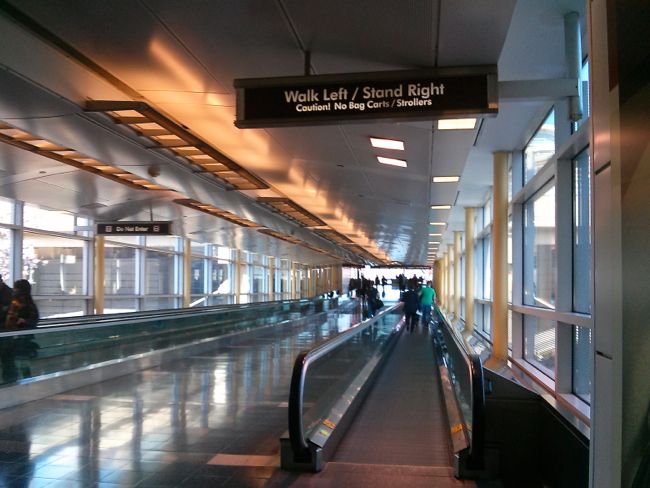 Once inside the terminal, I was surprised to see how airy it was compared to most terminals in the US.


And also the fact it had landside windows!


Unfortunately, when I got to check in a few moments later I was faced with some pretty major issues. I put my AA booking reference in to a self service kiosk and it didn't recognize it. So I swiped my payment card and came up with somebody else completely. I got the attention of one of the check in agents and she tried too but without success. I was then sent over to see somebody else. After trying the locator and the debit card trick, this too came up with somebody else, although initially they didn't realize and handed me a boarding pass. Upon checking it and seeing that once again it had somebody else's name on it, I handed it back and said this wasn't me. Then the agent did a manual search for me and it appeared, as far as AA were concerned, I was supposed to be on a flight that left at around 15:00. It was now 16:30. I said that I was supposed to be on the 19:20, but she replied that I had been moved on to the previous flight – Great thanks for telling me! She just shrugged and said I had to go to the ticketing desk to be rebooked. I then made my way over to the ticketing desk, which had a long line. Luckily the priority AAccess line was empty and I saw yet another person, explained the situation, and without really saying much she put me on standby for the flight that I was supposed to go on and that was that. I asked why I was now on standby for a flight I had a confirmed seat on but was given a rather vague answer in not the best English. I didn't really like the fact I was being treated like I had turned up an hour late, so therefore given no sympathy, yet as far as I was concerned, I was three hours early.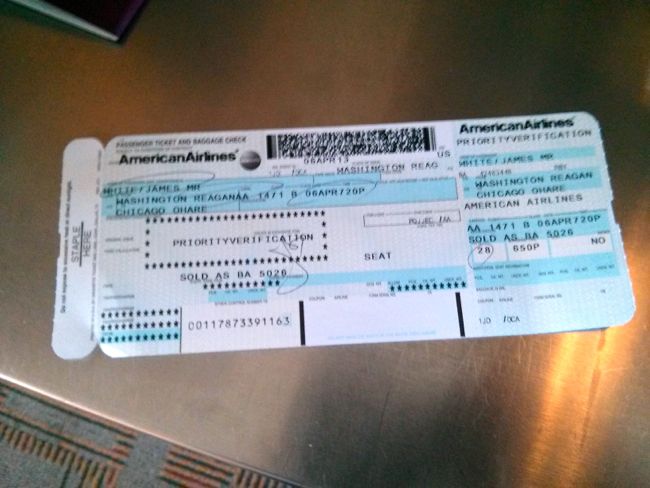 Feeling more than a little stressed, I reluctantly headed through security. I was asked for ID and handed the TSA agent my driving license. He looked at it confused and asked for my passport. He then gave that a confused look and said he had never seen one of these before and then let me proceed, but not before giving my standby ticket a strange look also. Guessing not many foreign travellers come through DCA. I also had my first experience of a nudiscope – worked well to as I'd accidently left something in my pocket, but when I showed them it was just some chapstick, they let me carry on my way without issue.
After security, I made a beeline for the first phone I could see and got on the phone to BA reservations. After being told by an automated machine I had called the wrong number and then phoning family in the UK (where it was getting late) and asking them to look online and get the right number, I explained the situation and they confirmed what I already knew and said I was on the 19:20, and that they didn't know why AA thought otherwise. The guy on the end of the phone didn't really know what was going on as BA had me confirmed on the 19:20, yet AA had me down on one that departed at around 14:00 and the check in staff thought I was on one at around 15:00 – what was going on?!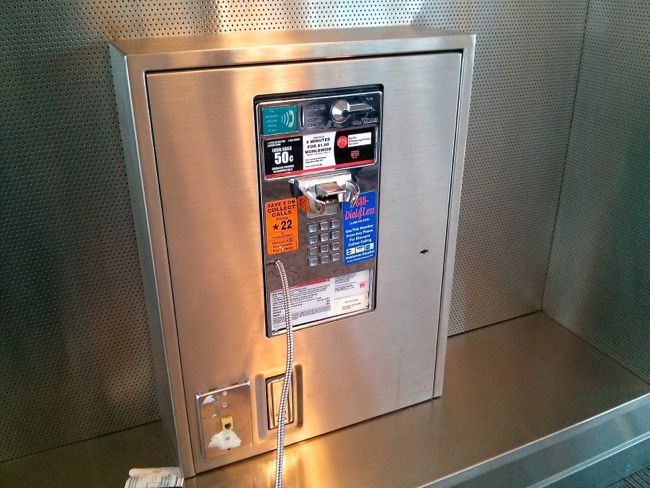 My view of DCA for the best part of an hour.
After nearly an hour on the phone (and most of that being on hold while they tried to figure out what AA were playing at), it was left as – "well just try your luck and call back if you don't get on the flight… but we close at 8 PM so you'd better hope there isn't a delay". I mentioned this was a pretty appalling way to treat a frequent flyer, and then he suddenly had one final idea, and I spent another good few minutes on hold- although I never found out what this bright idea was.
Now I had to contemplate what my next move would be if I didn't get on the flight. I'd have paid for a hotel in Chicago that I wouldn't be able to use, no doubt I'd have to shell out again for one in Washington and then make a new booking in Chicago for the Sunday night. All with barely any research as to what is best and where the best prices are.
I then headed to the gate and explained the situation once more. Slightly amusingly one guy had a look on his face as if to say, "wow, I don't want any part of this mess" and walked off, but luckily the staff that were left generally seemed a lot more sympathetic. She seemed confident I would get on, as there were seats available and not many people on standby. And then a few moments later, just as I was once again on the phone back home updating them on the situation, I was waved over and handed something very useful:


And all without a word being said, other than thank you from me many times – phew! It was an exit seat, however 14E meant it would be a middle seat – although to be honest a seat on the toilet would have suited me, just as long as I was on the flight.
Now that was sorted, I went for a wonder to see what was around at DCA, and grabbed a donut – I had planned to eat something more substantial, but after fighting my way on to the flight I was reluctant to let my boarding pass out of my grip or even leave the gate area.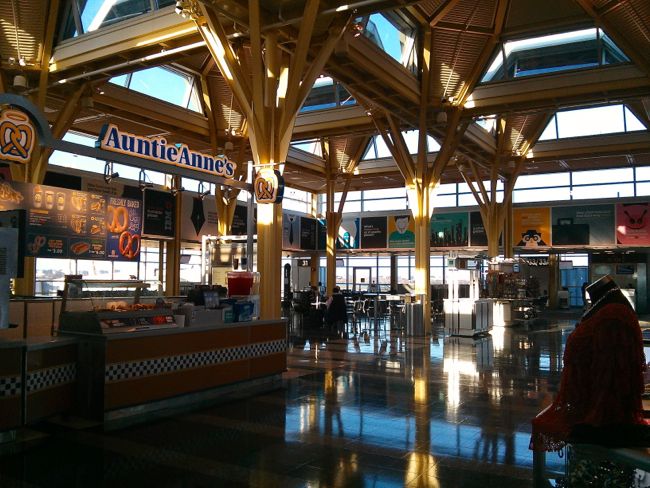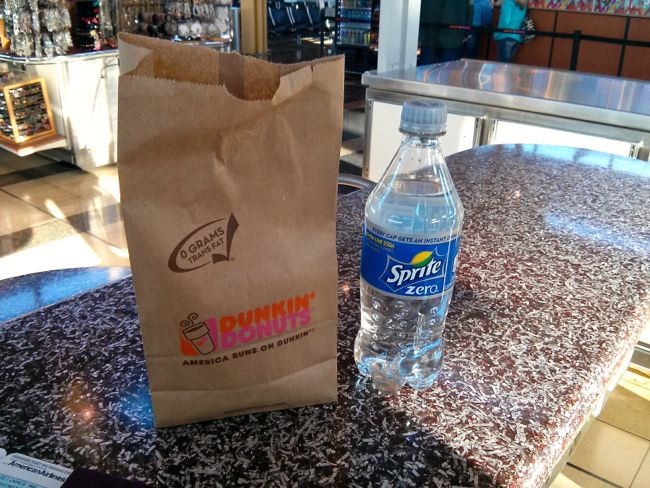 After this I hung around one of the adjacent gates to see my jet pull in.


Then I went back to my own gate. After struggling to get on the flight, I now didn't want to miss it for the sake of a couple of photos!

So relieved my name wasn't on this list!
Boarding was called at 18:50, and due to my BA status, I had priority access, therefore I was the first onboard in economy. Ironic how not so long ago I wasn't even on this flight, yet ended up being one of the first to board. Interesting how AA let OneWorld ruby status passenger's pre board, but BA don't.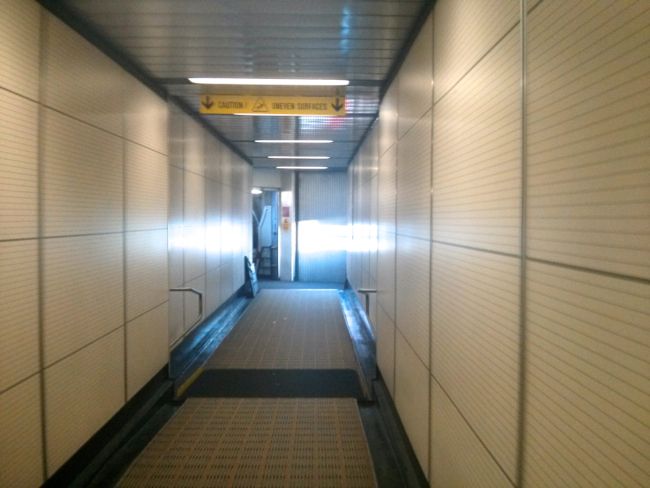 AA1471
DCA-ORD
6th April 2013
737-823 / N854NN
Seat: 14E / Main Cabin Extra
Scheduled: 19:20/20:25
Off Stand: 19:23
On Stand: 20:19
Once onboard there were no cabin attendants to be seen anywhere – unusual coming from Europe! The flight was completely full, therefore no opportunity to move. Strange how the ground staff said the flight was empty. Glad I did end up with a confirmed ticket. As mentioned though, I was just glad to be getting to Chicago this evening. Due to being in the middle seat, there weren't too many opportunities for pictures so apologies if they're a bit lacking from this part. Also my SLR was in the overhead, so had to make do with phone cam pics.


Legroom, as expected was pretty good.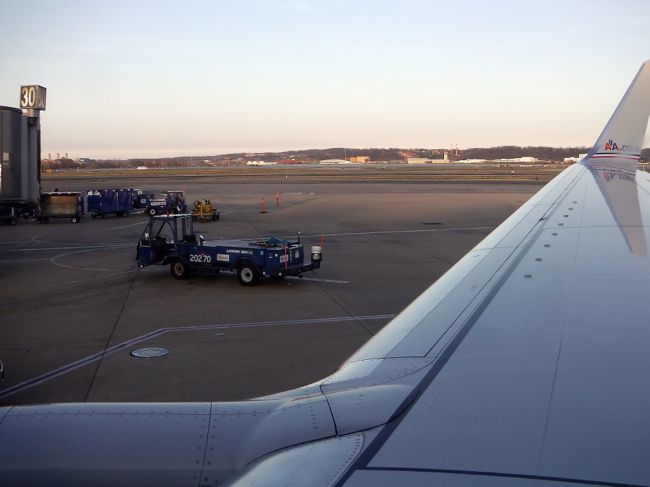 Quick view out of the window before Miss 14F showed up
The seat width wasn't overly brilliant though. During boarding near enough all the announcements were automated – were there actually any crew onboard?! Eventually some did show up to ask if everybody sat in the exit row was ok with helping out in an emergency.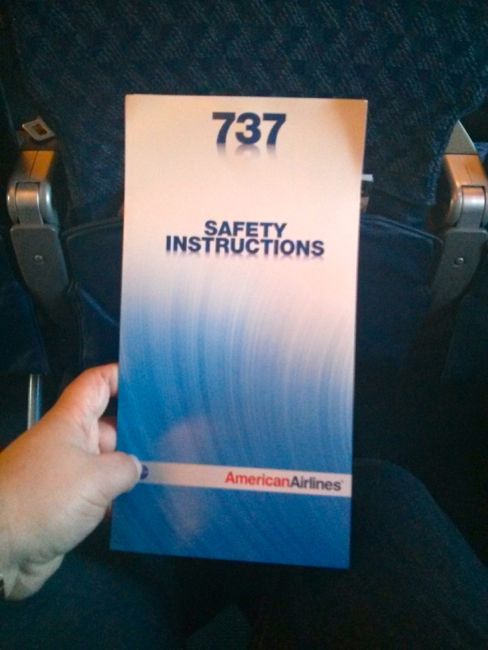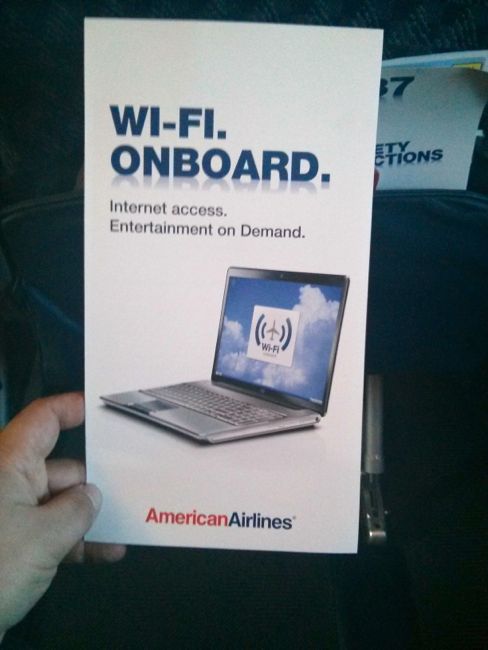 Proved to be handy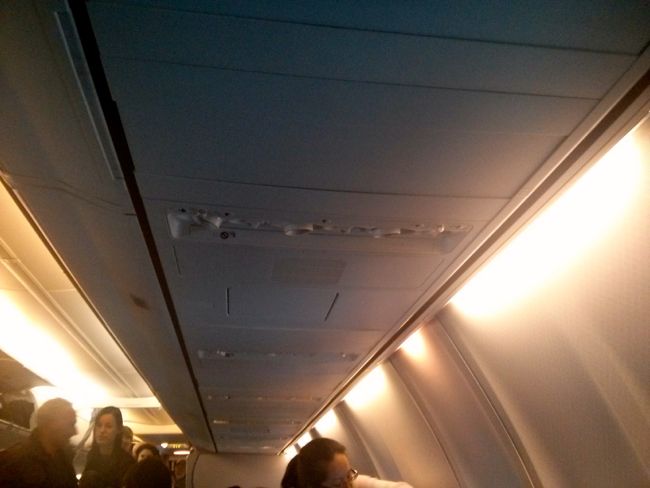 The captain came over the PA shortly after and gave a very brief welcome. A couple of minutes behind schedule we pushed back and made our way over to the runway, during which one of the flight attendants gave a flying time of an hour and thirty nine minutes and a cruising altitude of 32,000 ft.
Once at the threshold the captain announced we were just waiting for a few final figures, then we would be off. Why not do this at the gate? Guess the airlines in the US are paranoid about on time departures, so pushback and finish up their work along the way. At just past 19:35, we made a long takeoff roll into the dusk. Shortly after the IFE was started. I didn't pay much attention to it though – I was just happy to sit and calm down for the next hour or so.

No idea what it was, nor did I have much interest.
Climb was pretty fast, reaching our cruising altitude in just over fifteen minutes.
To pass the time, I purchased the GoGo in flight Internet – pretty reasonable for $4.95 for the duration of the flight.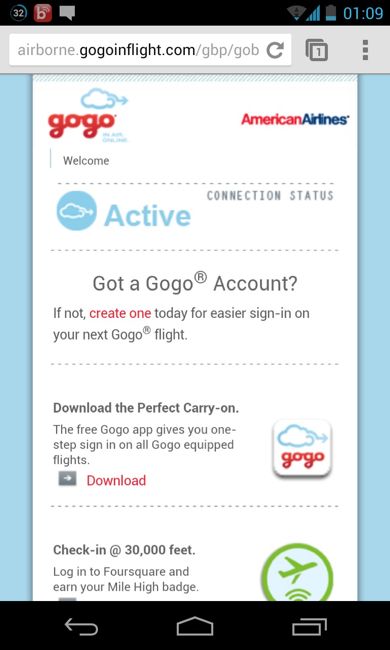 The drinks service started shortly after and I was pretty impressed to see full sized cans distributed. I was temped to have a beer after the previous few hours I'd had, but as I'd barely eaten all day due to planning on eating at the airport, and then having those plans ruined (and the fact it was a pricey $6) decided it would be better to stick to a soft drink.


Annoyingly, the seatmate that had the window seat spent the entire flight – pretty much right from boarding to disembarking reading her book. What a waste of a window!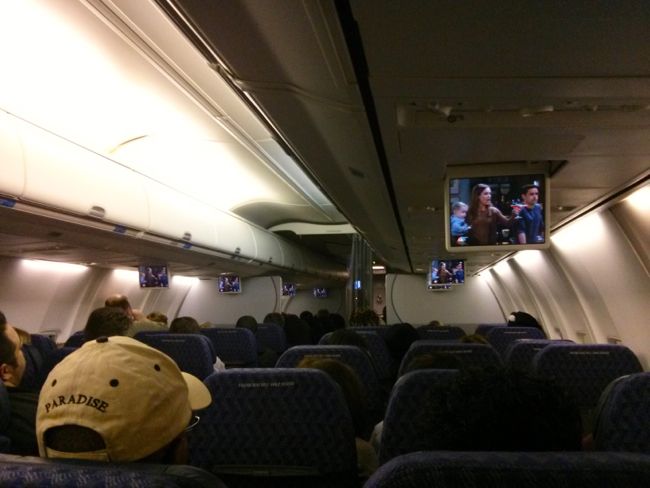 The remainder of the flight was spent following our progress on flightradar24, although it wasn't overly accurate.


Google was more accurate but was lacking in detail


At around 19:45 descent started into Chicago. As it was dark and cloudy, there wasn't a huge amount to be seen. The captain announced that it was windy and rainy in Chicago, and this definitely made for a rough ride in. Out of the other side of the aircraft, I could just about make out the city of Chicago, before turning away and seeing a great light show on our side – how I wish I had the window!
Touchdown was made at 20:12 and we made a lengthy taxi over to terminal 3. The crew thanked everybody for flying with American and mentioned that they were based out of San Francisco.
Once on stand, it was a case of following the signs over to the bus station, stopping for a McDonald's cheeseburger along the way – and it went down a treat! It was actually a pretty long walk to the station, through car parks, corridors etc.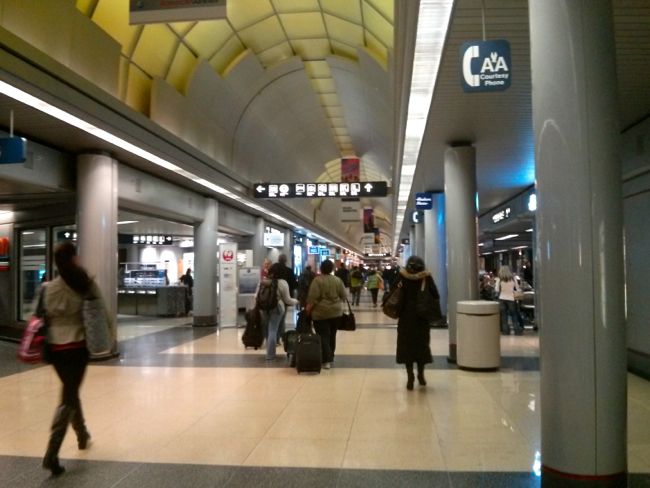 Once through the exit to landside, it was baggage claim – seems so strange to see baggage claim in the arrivals hall where just anybody could walk up!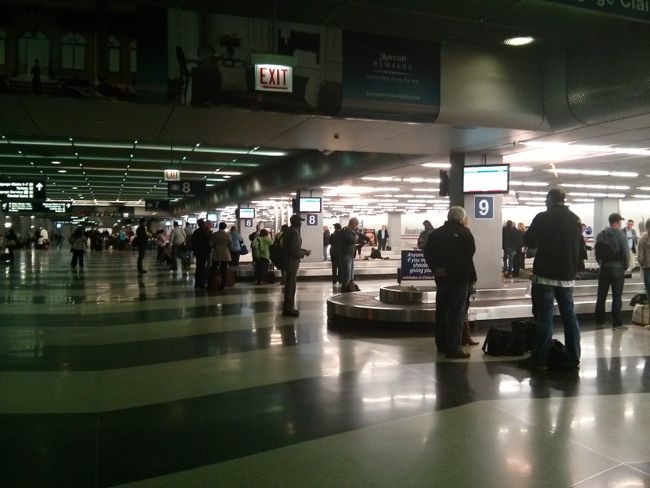 It was still a long walk to the bus station however. At least it was well signposted which is more than can be said for other places around the world.


Once at the bus station, I phoned the hotel for the shuttle and before I had even hung up, the driver was there. He was a friendly guy, letting me know how long the journey would take, and telling me about the hotel – the Hilton garden inn. And introducing himself at least half a dozen times!
Upon arrival, it was up to my room and settling down for the evening.


The following morning, the first thing I wanted to do was phone both AA and BA to try and sort the problem with my booking out, ensuring that I wouldn't have the same issue again on the next sector of my trip. Both BA and AA confirmed that the details I had matched up with theirs, so who knows what yesterday's problem was. After this it was out to the train station via the free hotel shuttle to head off into the city.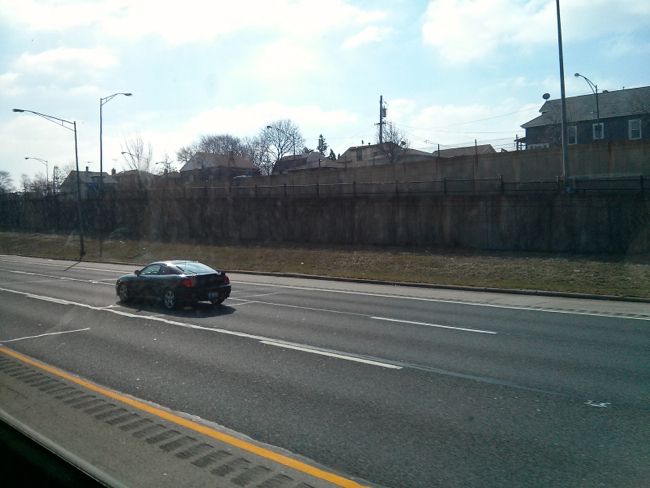 A train along the middle of the motorway!
Upon arrival in a chilly Chicago, the place seemed pretty deserted. Mainly due to a marathon going on. First place I headed off to was Union station to grab some breakfast.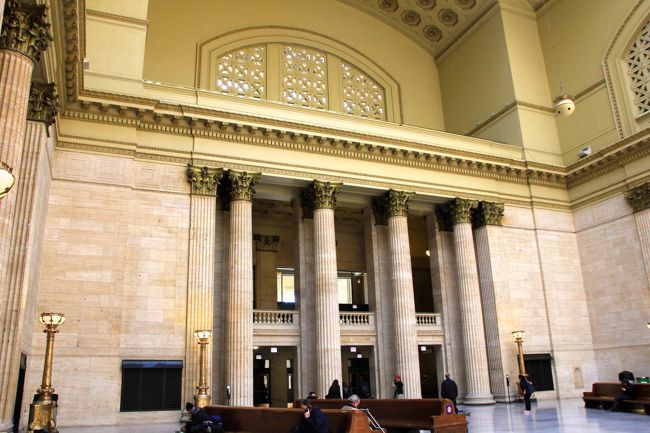 After this it was on to the Willis tower.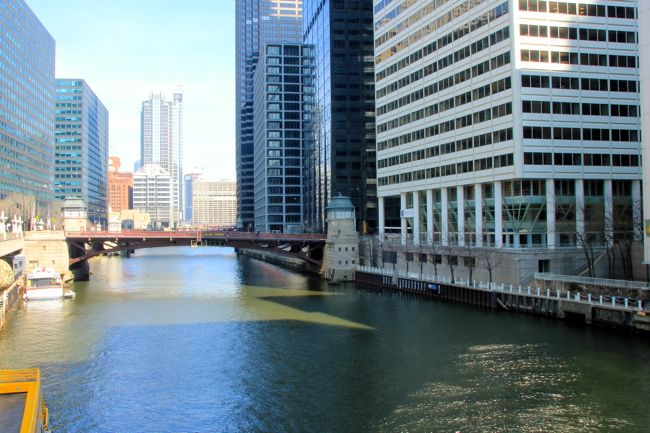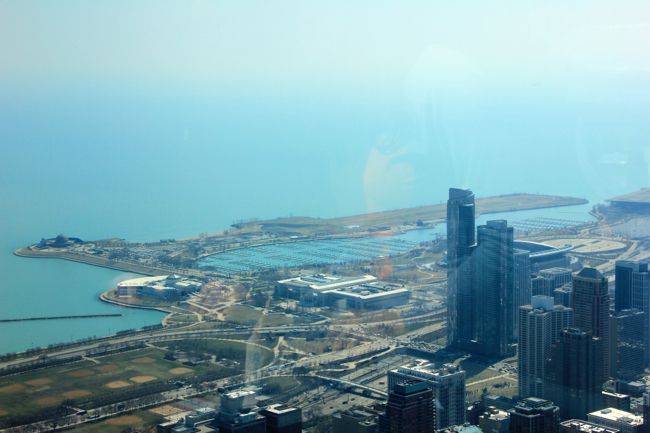 Formely Meigs field
And currently Midway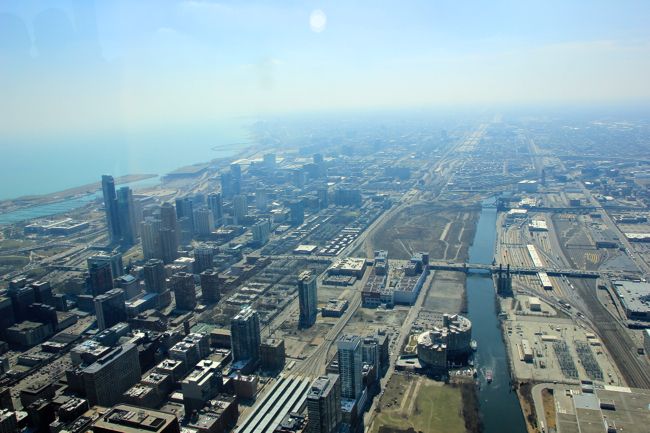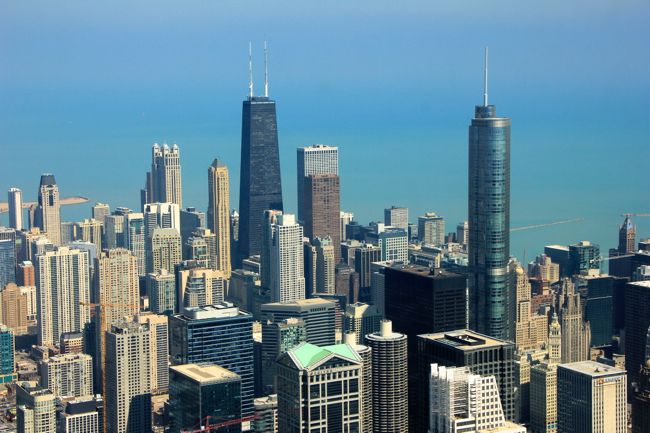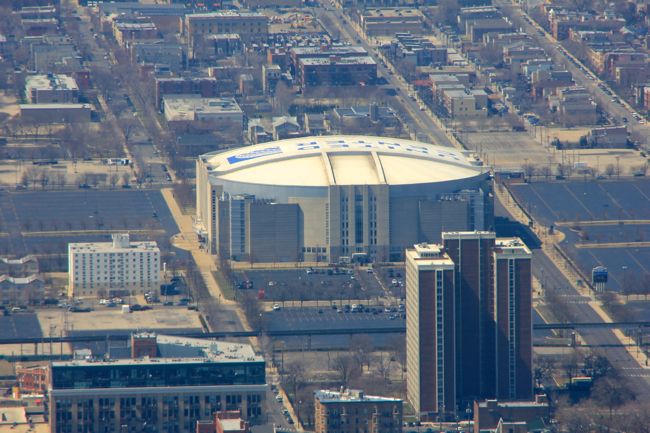 Once of the favorite features of the Willis tower is the skyledge – this was new since I was last here back in 2000. I'm absolutely fine with heights, but I still had a bit of an interesting feeling in my stomach being stood on it… especially when a group of kids turned up and started jumping up and down as hard as they could!

Seem to remember PalmJet taking a particular liking to this one when I posted it on Facebook…
Once back on solid ground, I made my way to the Navy pier via the magnificent mile and the Millennium park – also new since I was last in town.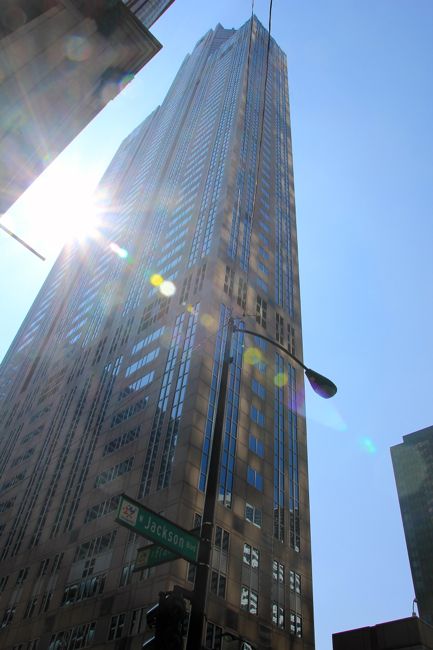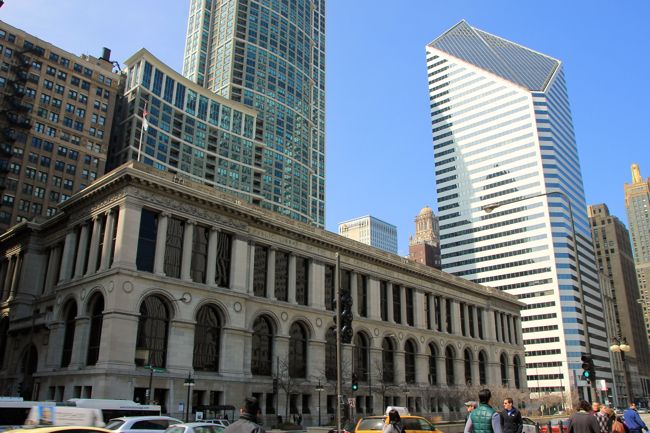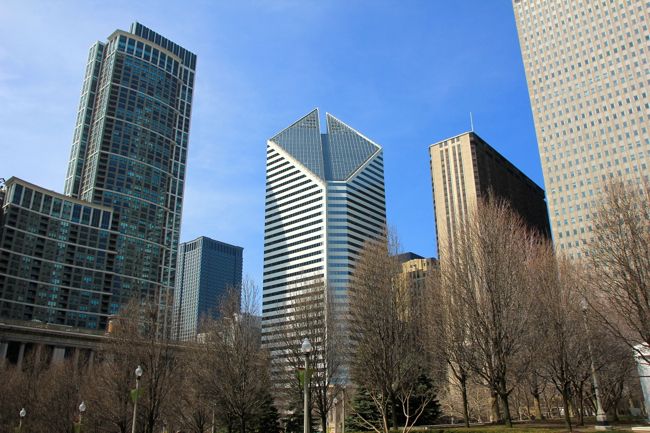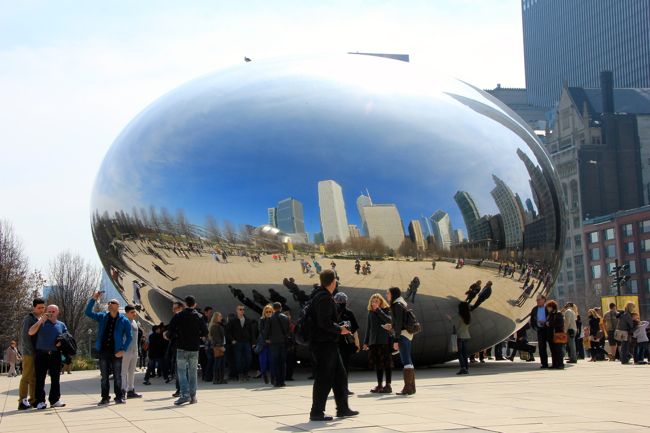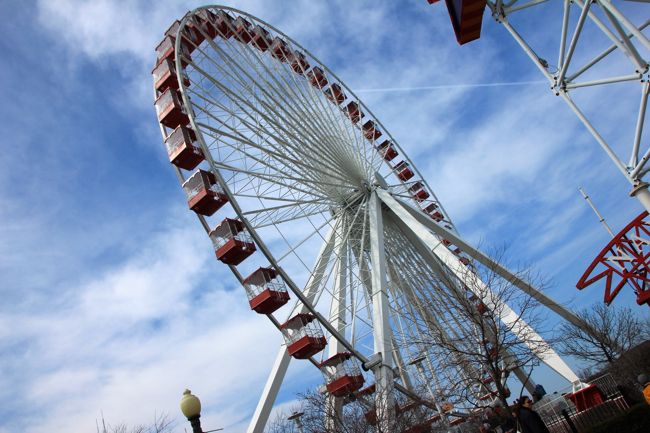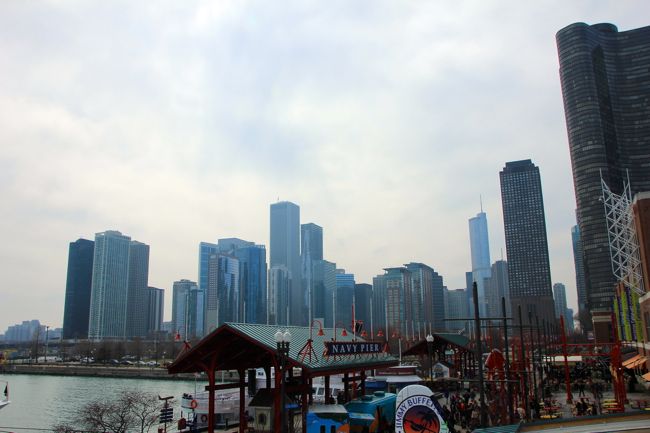 Once at the navy Pier, I grabbed some dinner at Bubba Gumps – pretty busy, but well worth the wait – I love shrimp!


After which, it was back through the city to the train station. It was getting a bit chilly and for reasons unknown, I thought it would be a good idea to come out without a jacket.


I arrived back at the hotel at around 6pm, pretty tired. I spent the evening listening to some music, chatting to a friend back at home and watching TV
That's where this part of the report will end. Tune in next time for my trip down to a warm Florida on a Mad Dog. Once again, things don't go overly smoothly, but not a patch on the issues encountered in this report.
And as a final comment, I filed a complaint to American Airlines upon my return to the UK about the issues encountered on this sector, and the general attitude with their ground staff. A few days later I received a pretty long winded email:
Dear Mr. White:
Thank you for contacting American Airlines Customer Relations.
Please forgive our delay in not meeting your expectations for an instant reply. We appreciate hearing our customers perspective about any issue pertaining to our business, and we thank you for taking the time to share yours.
Firstly, please accept our apologies for the lack of courtesy and inexpert behavior displayed by our Reservations personnel when you called to have your questions clarified. Our customers should always experience polite and professional service from our employees regardless of the circumstances. We are truly sorry that you have perceived a lessening of the warm, friendly and professional attitude we expect our people to project.
We provide a service in an industry largely dependent on the performance of individual employees. To each customer, the employee helping him or her is American Airlines. Our success depends upon every employee understanding the importance of making a positive impression with every customer. When hiring employees who will serve our customers, we work hard to look for those applicants who demonstrate a friendly, courteous and professional attitude. Our employees regularly attend recurrent training sessions to reinforce the importance of an individualized, caring approach even in the face of the unique difficulties that only an airline can experience. The behavior issues you described will be addressed with our Reservations Department. Thank you for giving us this opportunity to improve our service.
We understand that our apology does not change the inconveniences you endured. However, we would like to make amends in a tangible way and encourage you to give us another opportunity to prove that you can rely on American Airlines. As a gesture of goodwill, we have made arrangements to send a Transportation Voucher valued at 250.00USD under separate cover, to the address provided in your email to use toward the purchase of a ticket. Please allow six weeks for the Transportation Vouchers to arrive at your destination.
The Transportation Voucher may be used toward the purchase of your tickets for future travel on American Airlines, American Eagle or any of the airlines in our oneworld® alliance, provided American Airlines is the international carrier (international flights are defined as transatlantic, transpacific and flights to and from South America). The redemption of the voucher and subsequent ticketing must be handled by American Airlines personnel, or an authorized agent. The Transportation Voucher is valid for 12 months from the date of issue.
When you're ready to apply your Transportation Voucher towards the purchase of a ticket, please contact our Reservations Department. You may click on the URL below to determine the Reservation center or General Sales Agent nearest you. www.aa.com/i18n/utility/internationalReservationsPhoneContact.jsp
You will be required to mail in the Transportation Voucher 20 days prior to departure by registered post (AA will not replace Lost Vouchers as they are treated similar to handling cash) to our Ticketing Department at the address below to be applied towards full or partial payment.
American Airlines
Mr. White, we hope this one unfortunate experience will not discourage you from travelling with us again. Thank you for the opportunity to express our apologies for what happened. Please continue to fly with us as we are eager to provide the dependable and friendly service you expect and deserve when travelling with American Airlines.
Well, I guess you cant argue with that, although I would rather things had just worked as they were supposed to, rather than causing me a great deal of stress for those couple of hours.