American | B772/B738/B77W | LHR-ORD-BOS-JFK-LHR | Business/Economy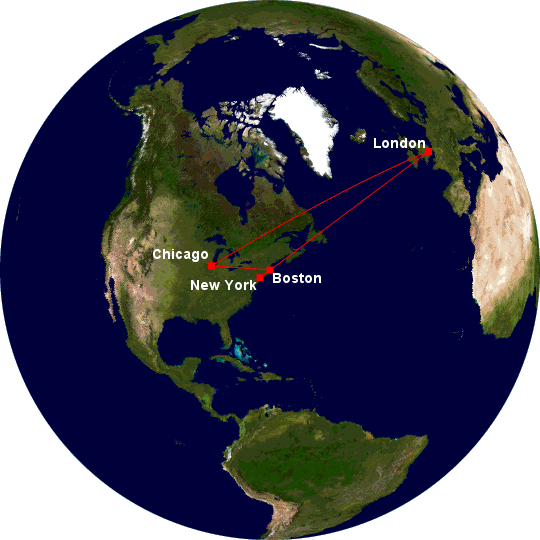 Maps generated by theGreat Circle Mapper -copyright © Karl L. Swartz.
This trip starts back in April of 2013. Some of my more diligent readers may remember that upon checking in for my American Airlines flight between DCA and ORD, things didn't exactly go to plan. To cut a long story short, as far as AA were concerned I had missed my flight. As far as BA and I were concerned, (whom I booked the flight with) I hadn't. For the more detailed version of events, see here:
http://www.airliners.net/aviation-forums/trip_reports/read.main/238578
Upon my return from the USA, I filed a complaint with AA and they issued me a $250 travel voucher as an apology, which I was amazed with, although as it only had a year's shelf life I was unsure if it would actually get used. In early December I was thinking it would be a bit of a waste to have over a week off work during Christmas and not actually go anywhere. I looked around at European destinations, however flight prices were through the roof – averaging around £350. Then I gazed up and saw the AA voucher hanging on my notice board a little unloved, and headed to aa.com. Most destinations were pretty pricey however Boston seemed pretty reasonable – and with the discount of the voucher, it actually worked out cheaper to head stateside than some European destinations. There were a few restrictions with the voucher however. The main one being that all sectors had to be operated by AA. Fine with me as I was getting a little bored of flying BA and there's no way I wanted to chance IB longhaul. One thing I did want to shoehorn into the deal was a flight on the AA 777-300ER, and this was achieved by having the return sector coming through JFK.
The way the voucher would be used was to prebook online, then call the reservation centre and get them to apply the discount before paying and sending off the voucher.



At least that was the theory. As it was only a couple of weeks before departure, the reservations team confirmed the booking, however I'd still have to pay a visit to LHR before the day of departure in order to submit my voucher and make payment. Lucky I only live around thirty minutes drive from LHR and had a day off due before then.
One thing that impressed me was that I was able to reserve seats in the Main Cabin Extra section on the JFK-LHR flight for free due to my One World status. This also applied to my domestic sectors, but they weren't so much of a big deal…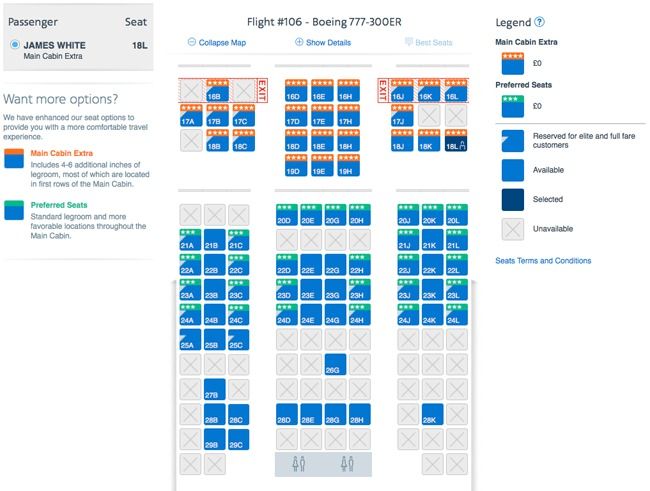 The outward sector to Chicago was looking a little full:


The day after I returned from Venice, I made the short drive up to Heathrow to make payment and submit my voucher to the AA sales desk. It seemed odd to be at an airport and not be flying anywhere!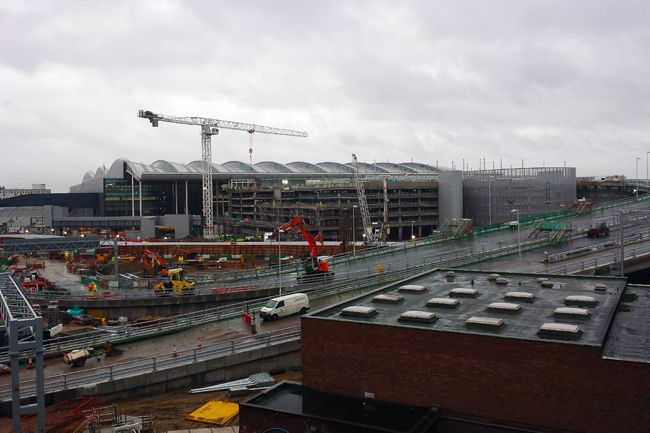 T2 coming along nicely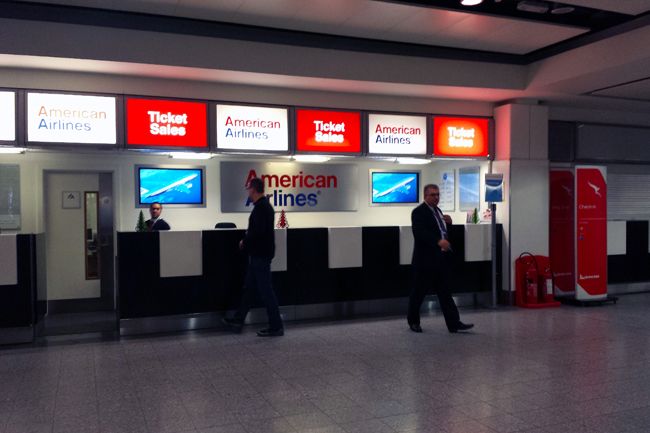 I was seen to quickly and after a bit of furious typing by the agent, I was handed a confirmation of my itinerary and asked a couple of times to double check that everything was as it should be before making payment and submitting my voucher. Everything was fine and within thirty minutes I was heading home again.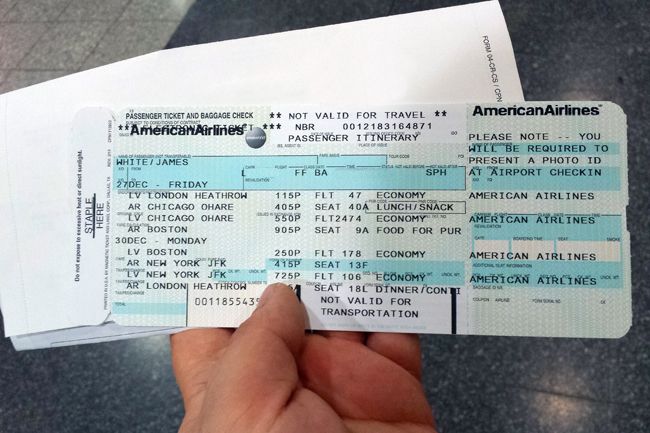 Check in was 24 hours before departure, and there was a good deal to be had.


I took advantage of this and everything was confirmed via the AA app.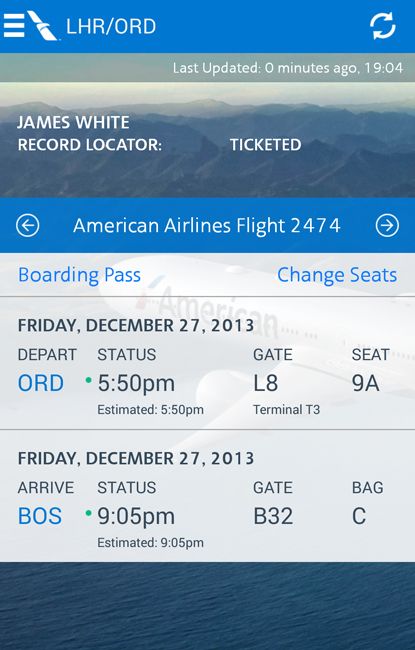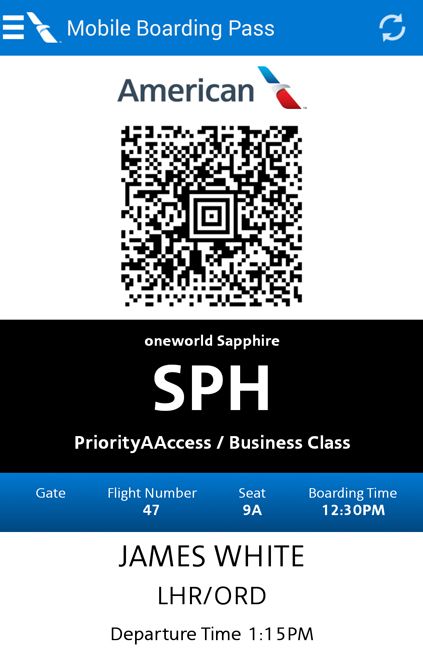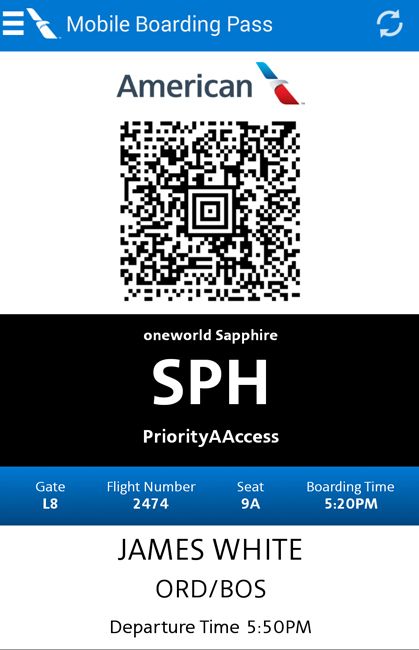 And of course, paper boarding passes were available too.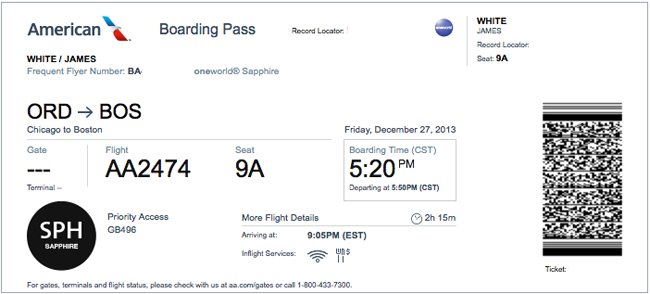 I set off for the airport by my now usual means…


…arriving at terminal 3 around thirty minutes later.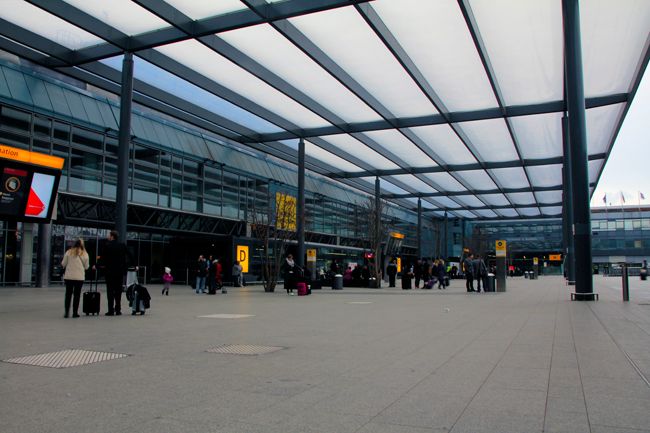 I headed off to check in to grab my souvenir boarding pass, where even the first class desk had a long queue. A few moments later, I was sent in the direction of the ticket desk, as I had no bags to check.


It was then up to security. And I was very glad to have access to the fast track lane, as the regular line stretched the length of the terminal.


Upon reaching the x-Ray machine, I was more than a little irritated by having to repack my liquids – because it wasn't in one of the LHR approved plastic bags. I protested that my bag had been through over 50 security checks this year fine the way it was, but he wasn't having any of it. Jobs worth.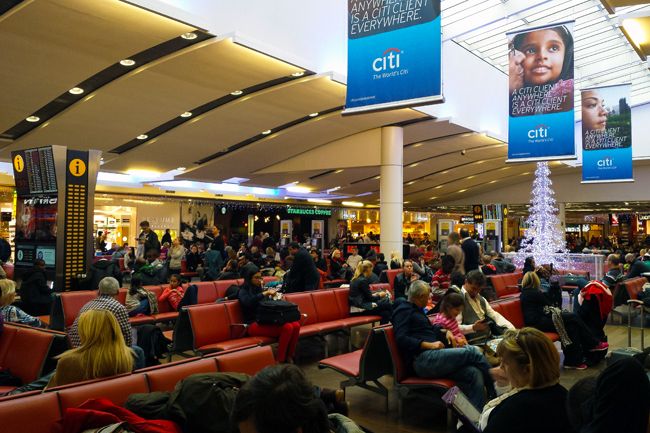 Once through, I had three lounges to choose from. First stop was the British Airways lounge as I fancied one of their bacon rolls – but I was out of luck.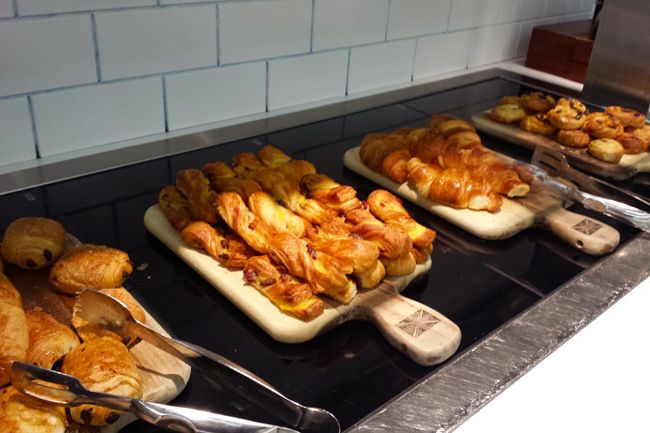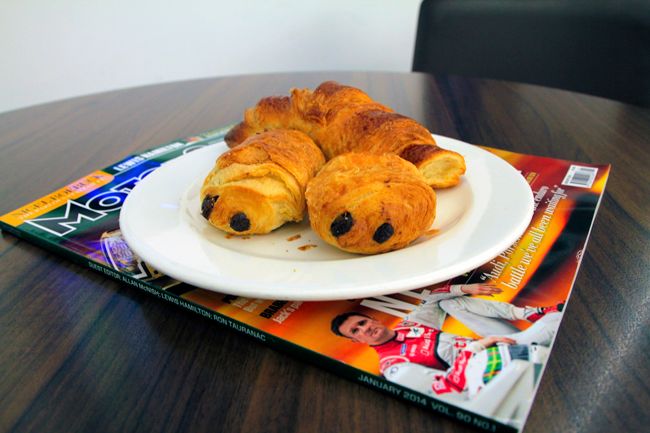 I guess this was one of the 'enhancements' they had made since my last visit to this lounge just over a year ago.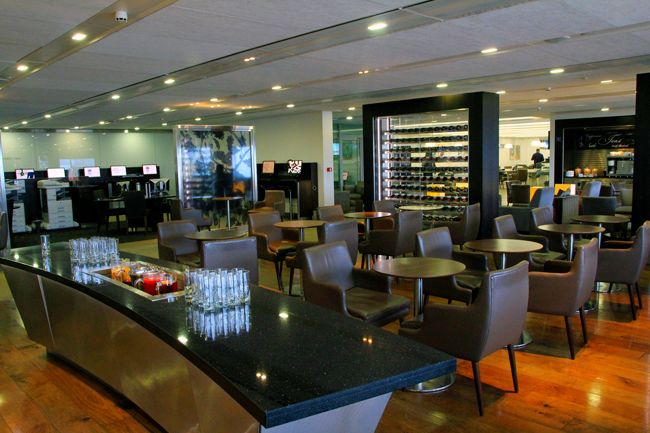 The plus side of this lounge is the great views on offer.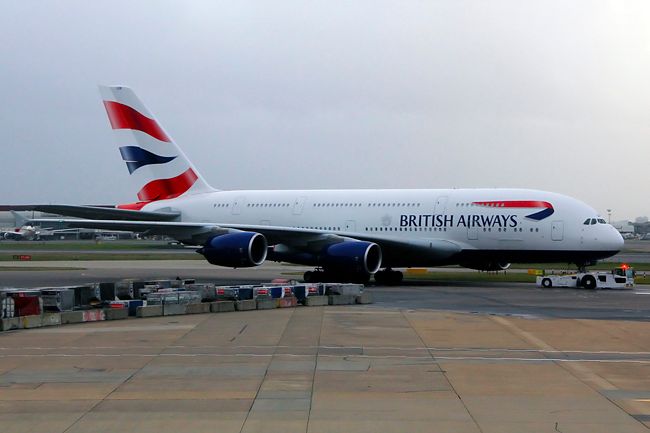 Around thirty minutes later, I made my way up to the second of three, the Cathay Pacific lounge. Which was absolutely deserted. The food options were slightly lacking also…


I could have had some noodles, but it was still a little early.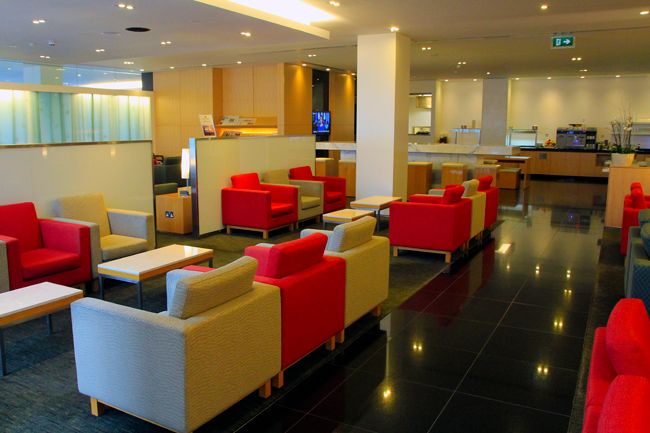 Calm away from the chaos outside.
The views from here weren't too bad.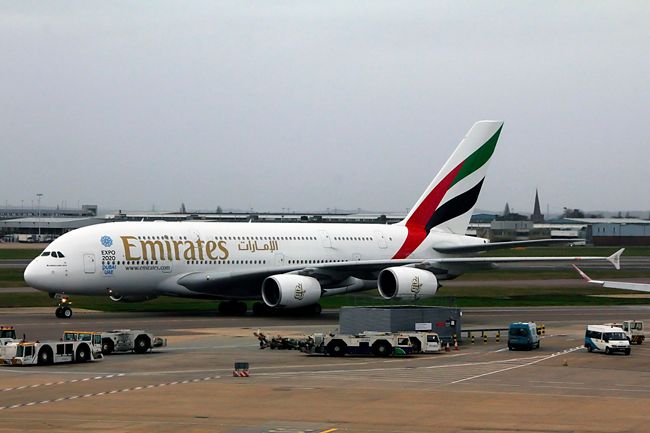 After around twenty minutes here, I made my way to the third and final lounge of the day, the American Airlines lounge. The food options here was the best of the three lounges, but having gone slightly mad in the CX lounge back in September and then feeling a little full on the flight, I decided to pace myself.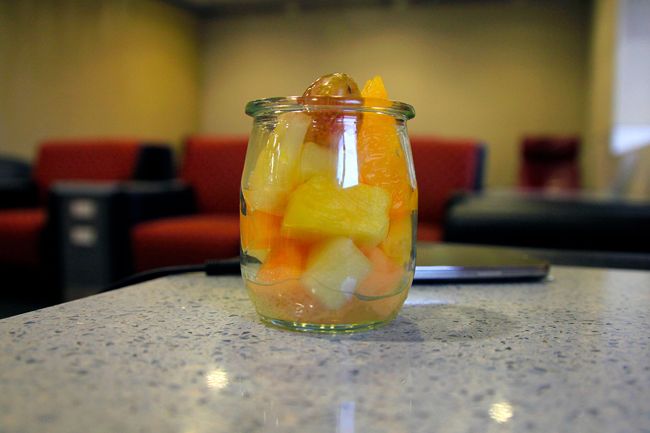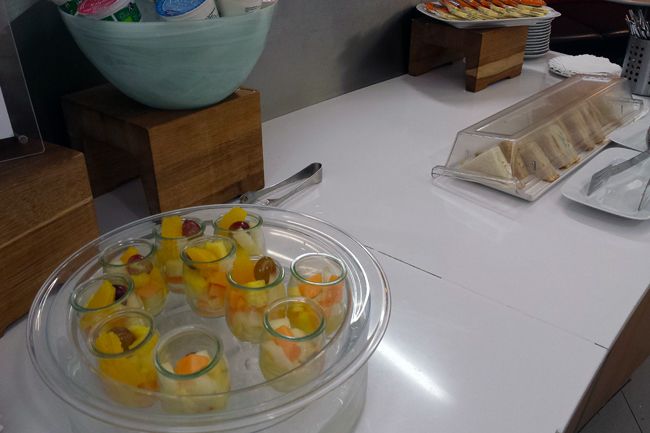 Unexpectedly, it was busier than the previous 2 lounges, however I managed to find a quiet haven hidden in the corner.


With a semi decent view of the ramp too.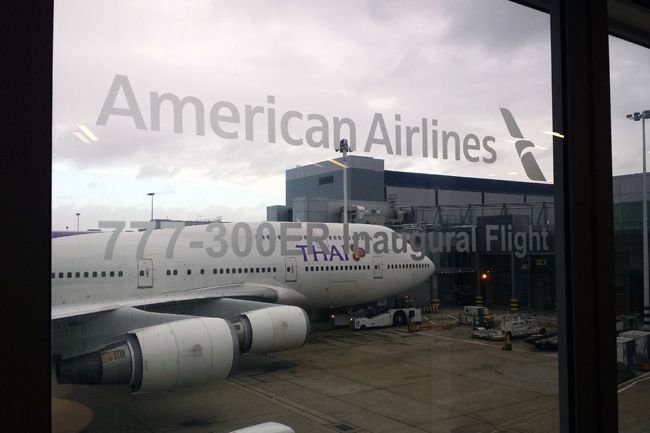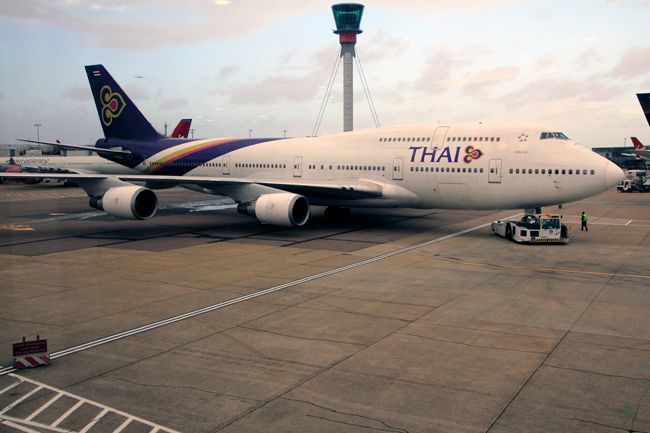 This one flew me HKT-BKK in May 2013.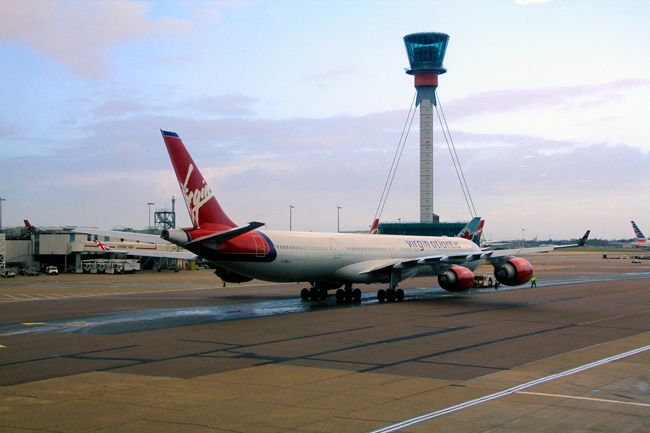 I stayed in this lounge until around ten minutes before boarding was called.
I took the walk down to gate 31, where I was the only person in the priority line. None of the staff acknowledged me however, and continued to deal with the economy passengers. Eventually I was seen to, and no sooner had I entered the holding pen boarding was announced for business and first passengers. I made my way up, but was stopped in my tracks pretty swiftly – I couldn't understand what the guy was saying, other than he was new and I had to wait. I replied that his colleague had just announced business class passengers could board, but it was still met with 'I'm very new'. A few moments later he let me board.



AA47
LHR-ORD
December 2013
777-223ER / N774AN
Seat: 9A / Business
Scheduled: 13:15/16:05
Off Stand: 13:13/13:57
On Stand: 13:35/16:18
Upon boarding I was met by an older female FA at the door and shown to my seat, 9A. It may not have been the most modern seat out there, but it was very comfortable. There was a pillow, duvet, amenity kit and slippers ready and waiting.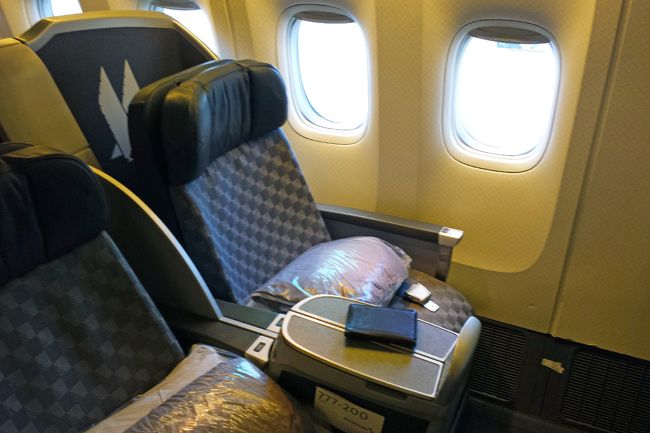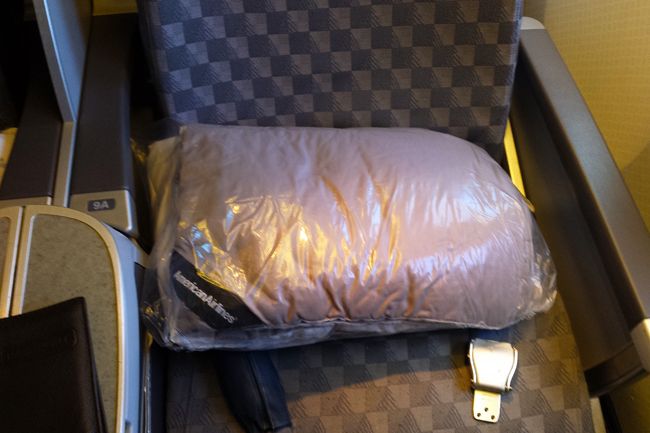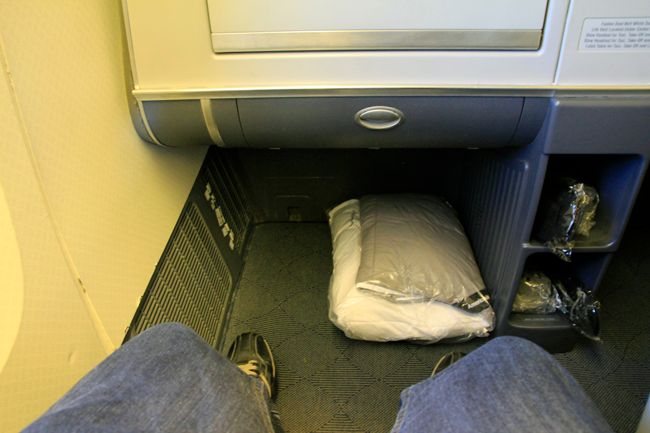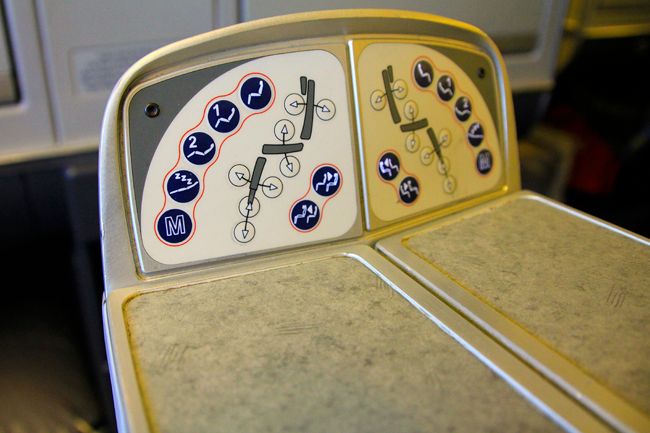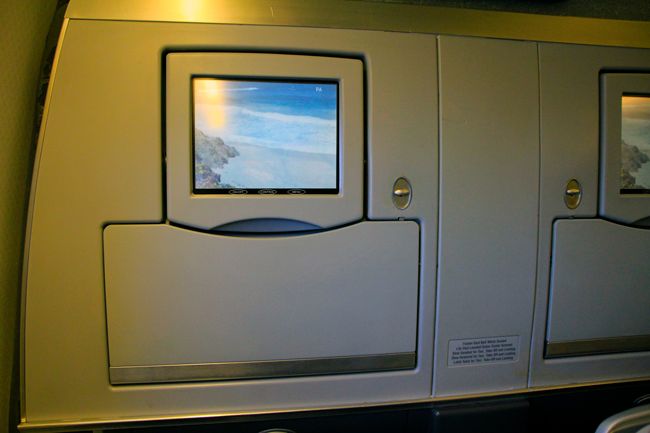 Shortly afterwards, welcome drinks were brought around – I opted for the champagne.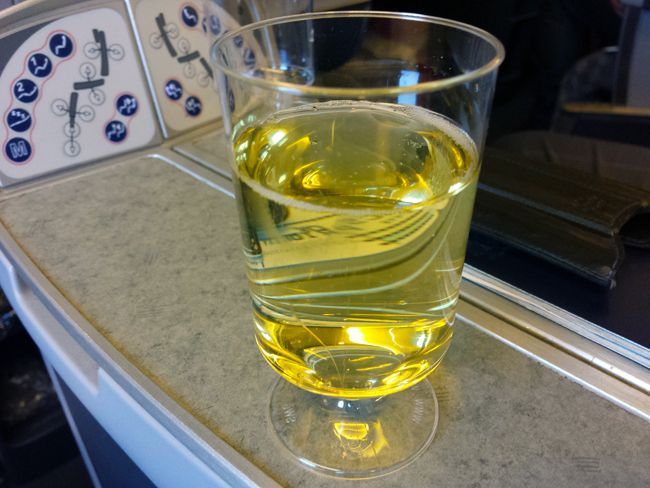 I did initially have a seat mate, however once boarding was complete, he took himself off to one of the free rows a bit further back. Great!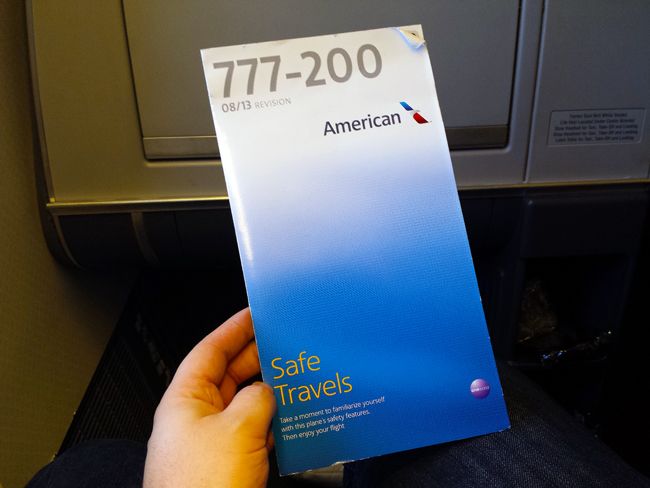 Menu's were handed out, shortly followed by the cabin crew coming around and taking dinner orders.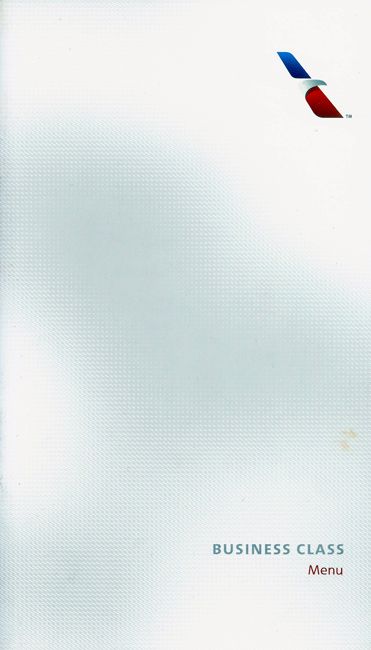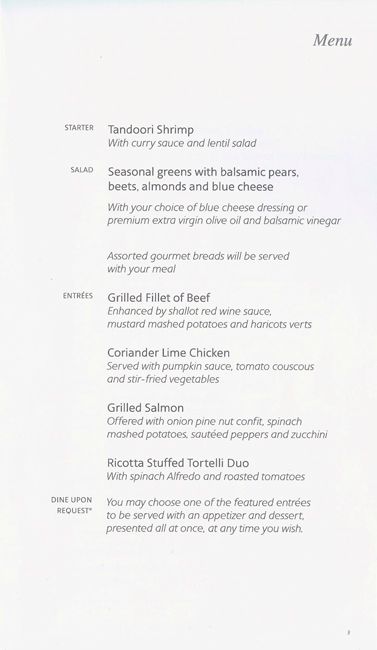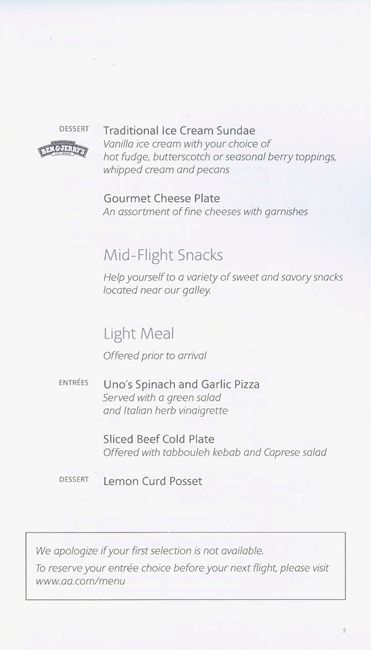 Newspapers were then distributed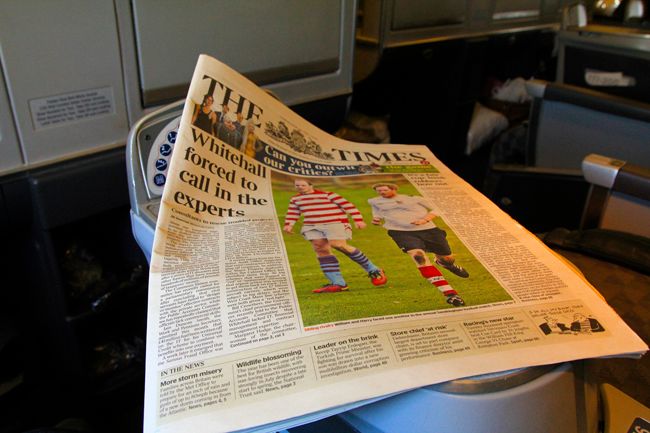 Followed by hot towels


The safety video was shown whilst still on stand.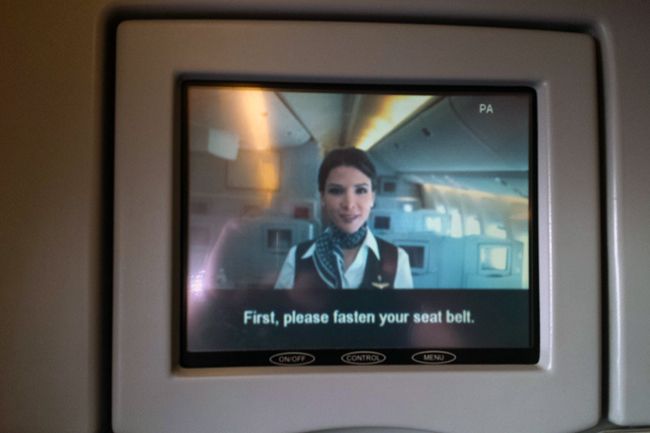 We pushed back a minute or two ahead of schedule, the engines were started and then we waited…and waited…and waited. Around fifteen minutes later, the flight deck came on, said there was a discrepancy with some of the paperwork, and that we would have to return to stand. It would appear my already tight connection, just got a little tighter.
A few moments later, we edged forwards and back to where we came from. A few guys in hi viz jackets boarded and made a beeline for the flight deck.
During the wait, the mostly Chinese crew distributed Bose noise cancelling head sets.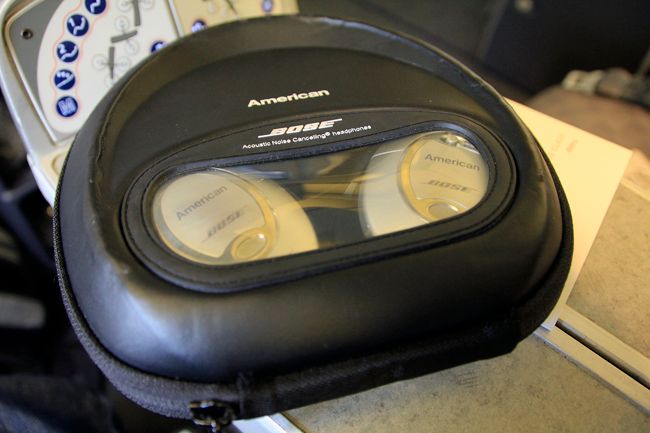 After around twenty five minutes, the door slammed shut and we were on our way again.


We arrived at 27R, waited for a couple of departures before it was our turn – lifting off at 14:15.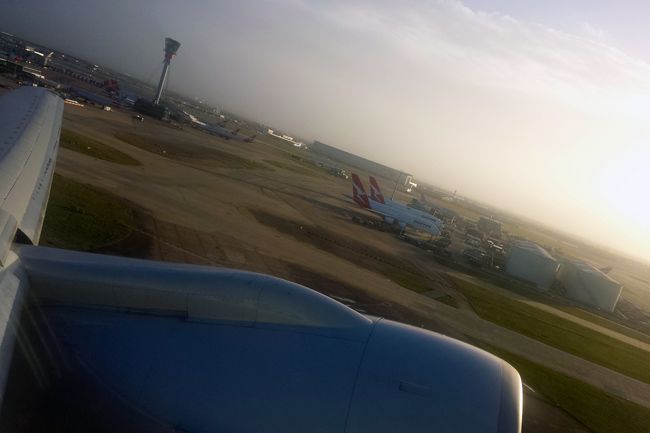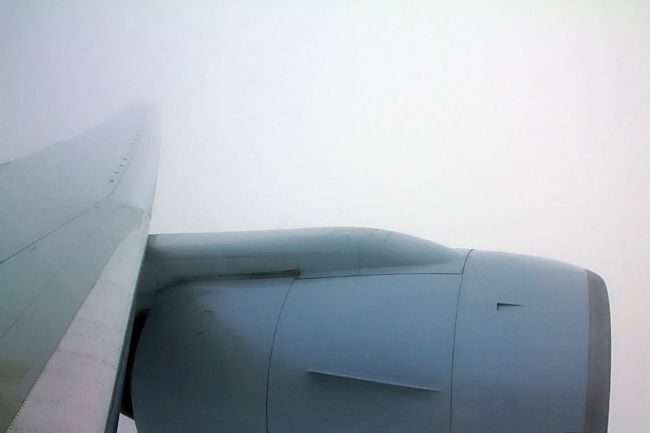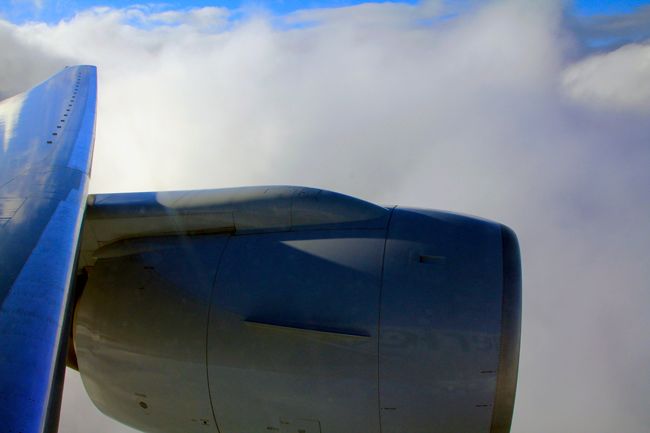 During the climb, and intro video was played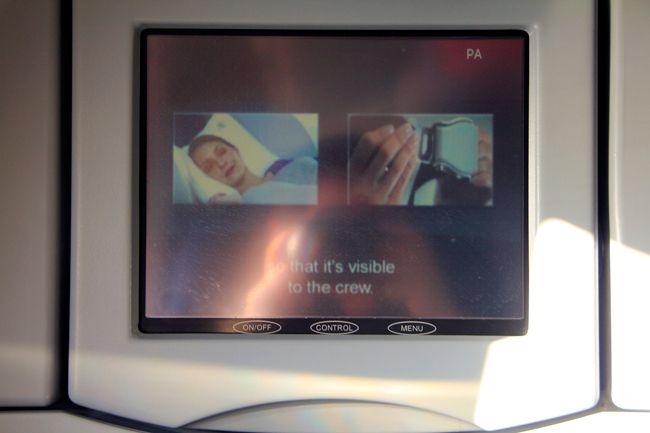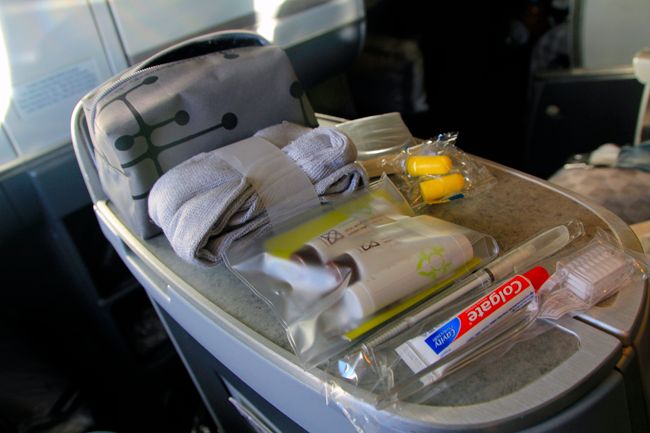 Amenity kit contents
Once we had reached our cruising altitude, the crew sprang into action distributing drinks and warm nuts, making a further pass through the cabin a few moments later offering refills of nuts from a carafe.


During this time, I got cracking on the trip report. One of the crew saw me typing away on my iPad, and said 'Mr White, may I extend the table for your convenience?' Very impressive! A few moments later, he returned to set the table for lunch. First off the starter. The prawns were very good indeed, although I didn't touch the salad.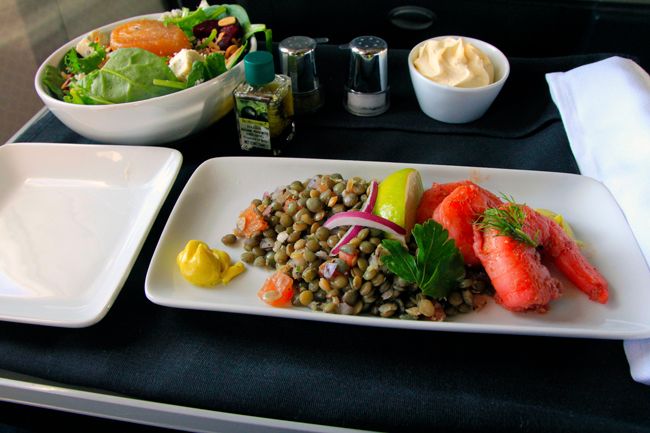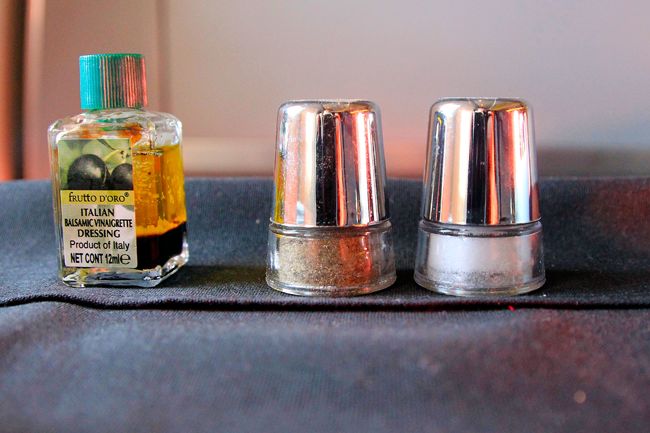 Followed around thirty minutes later by the main course of a very tender, melt in the mouth cut of beef. This really was good.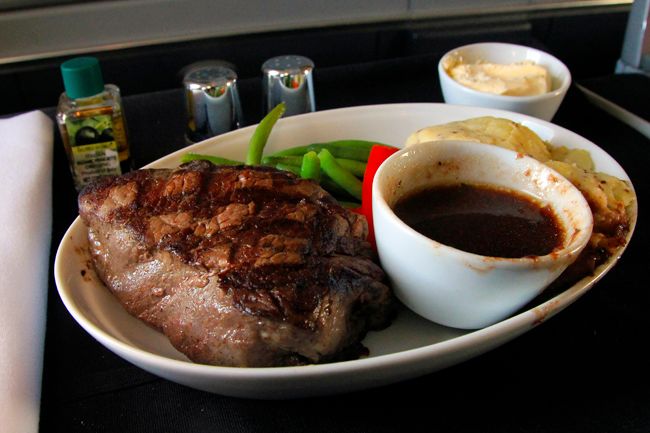 After this, it was American Airlines' signature ice cream sundae. Again, very good, and not a trolley in sight, at least on this side of the cabin. The crew member on the other side elected to use a trolley, where as the guy serving my side decided to prepare everything in the galley and hand deliver the meals on a tray.


Once the dishes were cleared, the ever-attentive crewmember delivered a bottle of water. He was also very pro active at delivering fresh bottles once the previous bottle was getting empty. Very impressive service.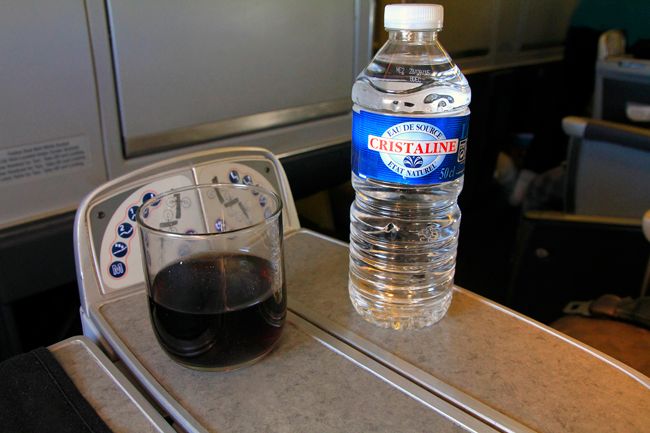 Much less paperwork required to enter the USA now.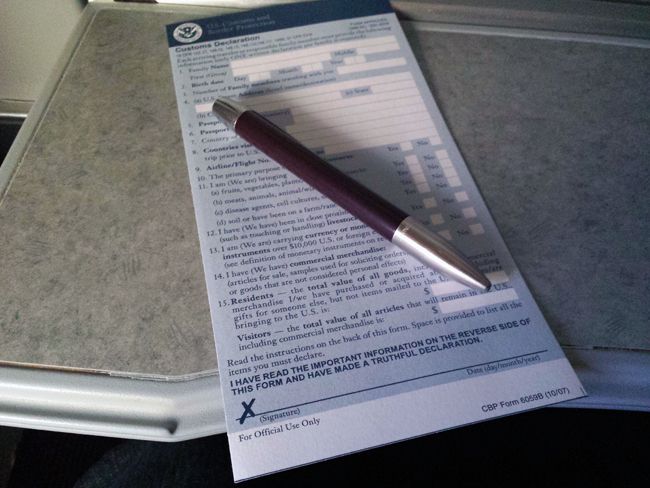 Seeing what the hardware can do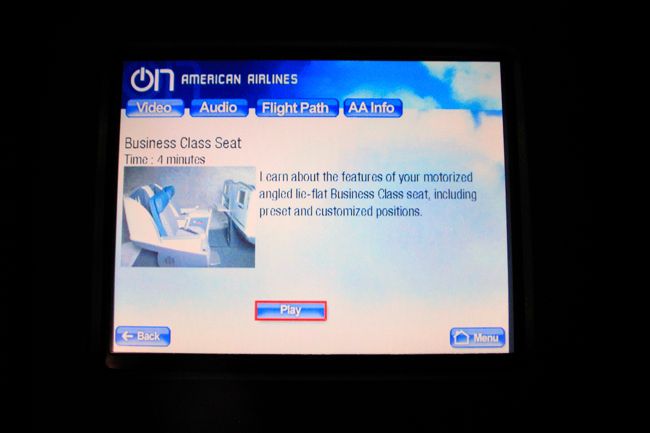 Once the meal service had finished, it was time to kick back in front of a movie – Disney's planes. Not the best one of the bunch I've seen – basically the same storyline as Cars, but the main cast were planes. The seat was still proving to be comfortable, even a few hours in and the pillow and duvet had a pretty high threat count, meaning they were nice and soft.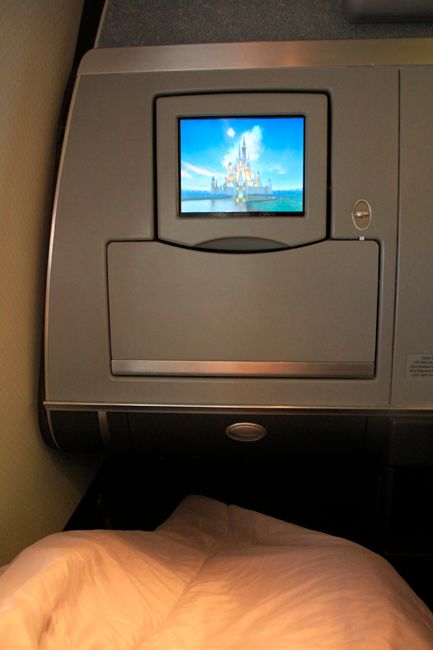 Following the film, I pulled out the iPod and put the seat into full recline. Despite it not being fully flat, I could no doubt get a few hours sleep on a night flight.


I came back to life when I noticed the cabin crew bringing round cheese plates. Again, very tasty.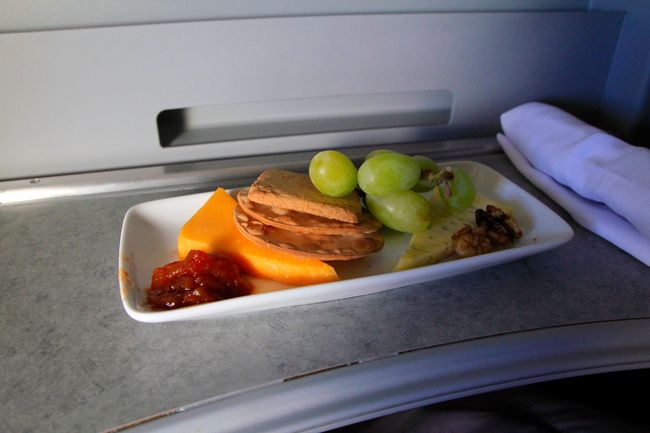 Followed up with an awful lukewarm cup of tea, made with creamer instead of milk – yuck!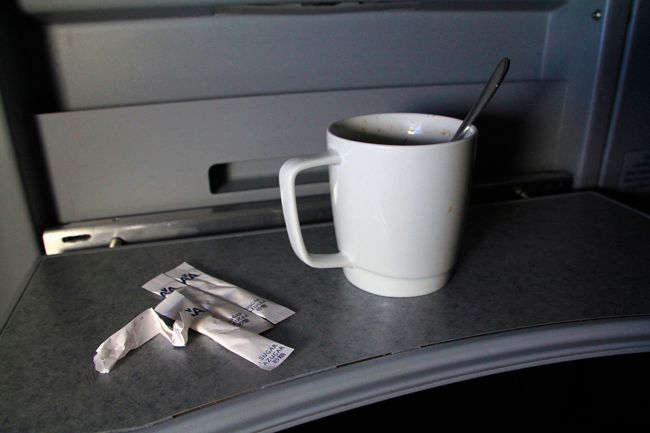 Hardly premium in the washroom department. Although at least it wasn't held together with duck tape like on BA. After all the liquid I drank, I paid a good few visits…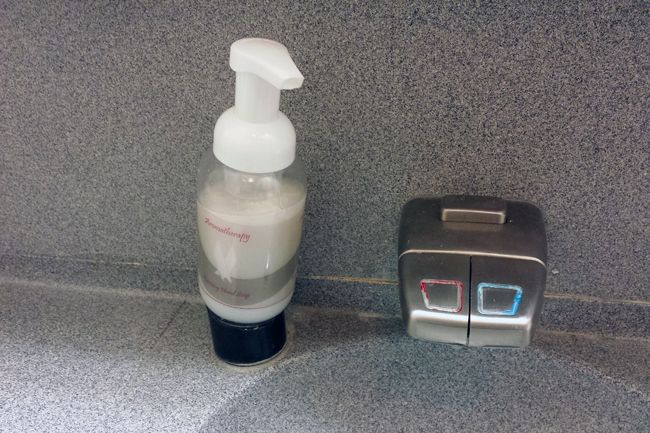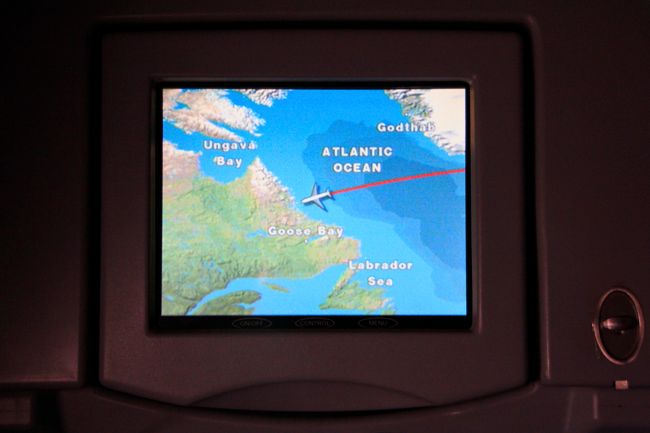 Luckily, the crewmember did replace my ¾ drunk bottle of water with a new one without being prompted.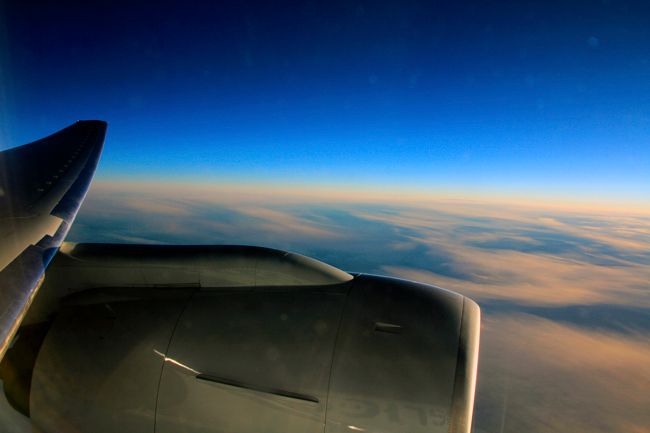 I then decided to stick another film on – We're the Millers. Pretty good actually – in fact I've recently invested in the Blu-Ray!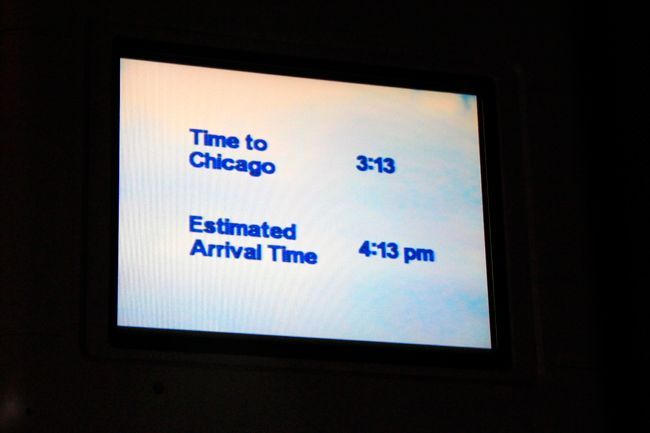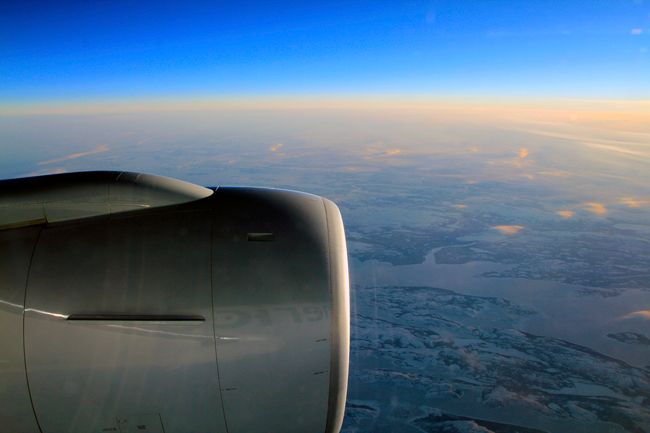 Just as the end credits were rolling, the crew member who had taken care of me pretty much throughout the flight appeared next to my seat: 'Mr White, may I offer you some pizza, or beef?' I chose the pizza, and like every other meal I'd had in this flight, it was great.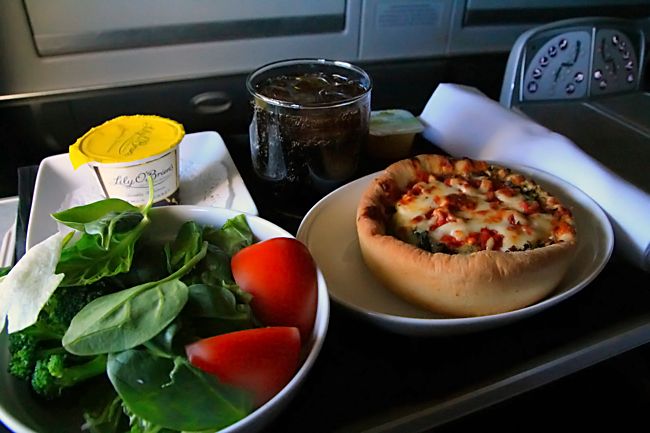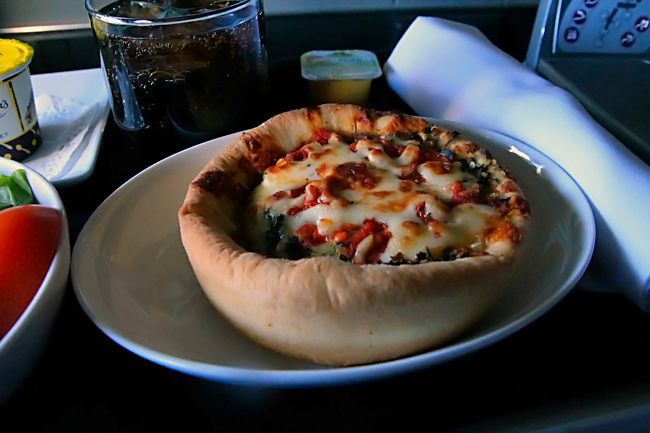 Once I had finished, he once again appeared to clear my tray away, asking if there was anything else he could get for me. Not for the moment thanks.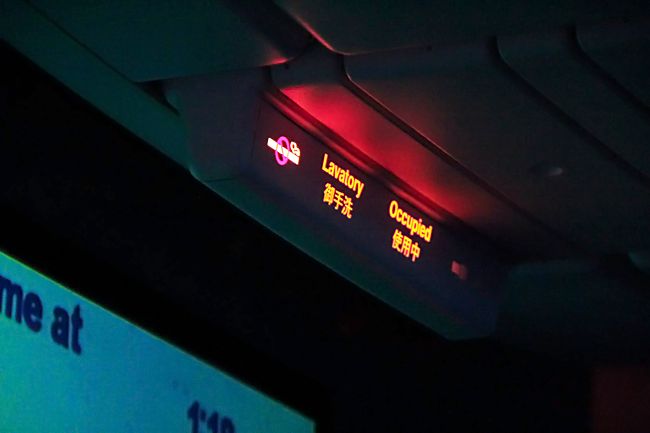 Interesting Japanese (?) signage.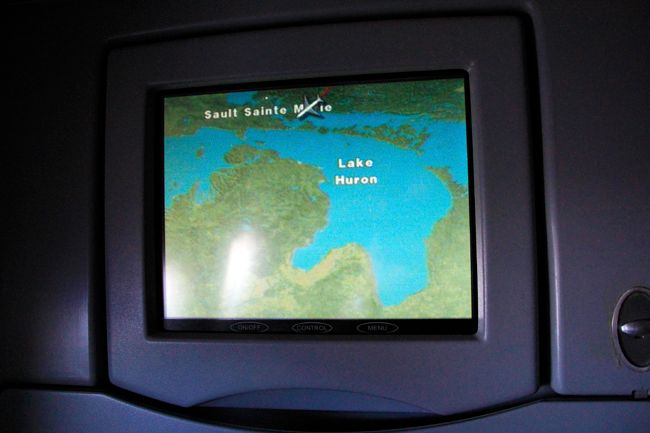 After this there was only around an hour remaining. I went to the galley and attempted a conversation with the crew but they weren't overly keen, as they were a little busy collecting in the premium headsets, so I returned to my seat and stuck my iPod on until descent started.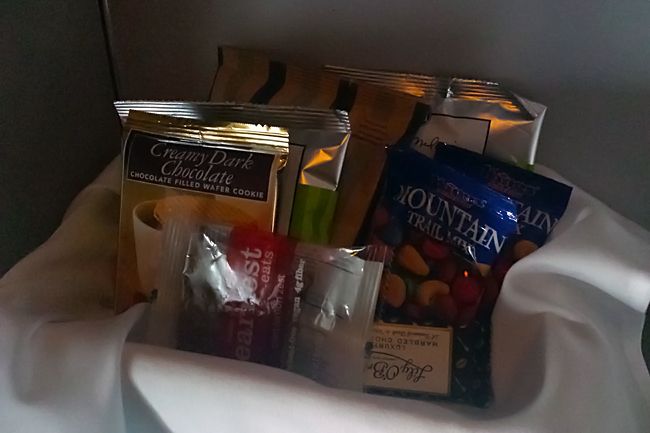 Snacks in the galley
During descent, the crew member who had served me pretty much throughout the flight, came over and thanked me by name for flying with American. I noticed a guy a few rows back got the same treatment, but not everybody, so I'm guessing it was only reserved for status passengers. Connecting flight info was shown on the IFE – which proved to be useless as my next gate wasn't L8 at all.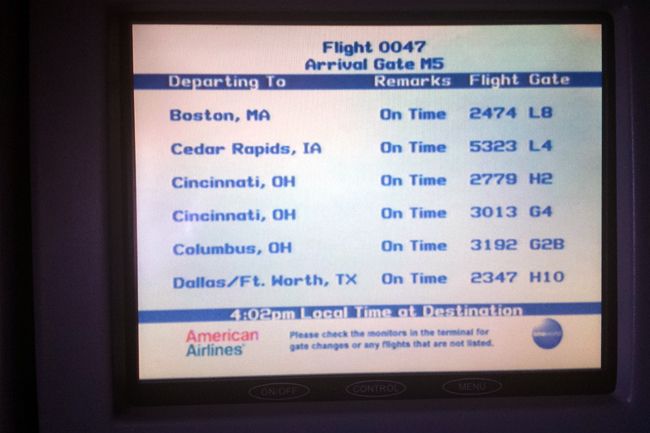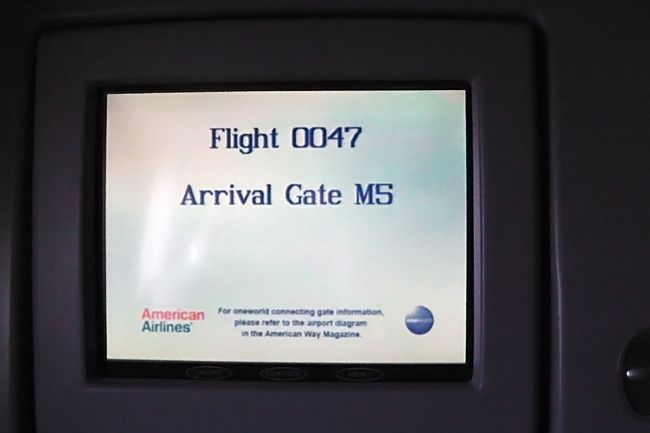 We made our way across a frozen Lake Michigan and were pretty much straight into ORD.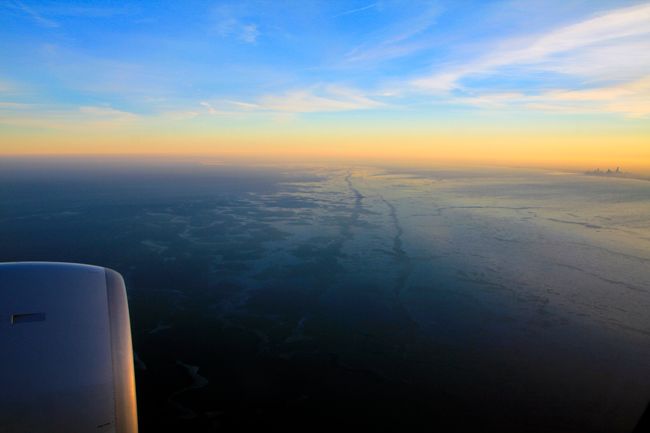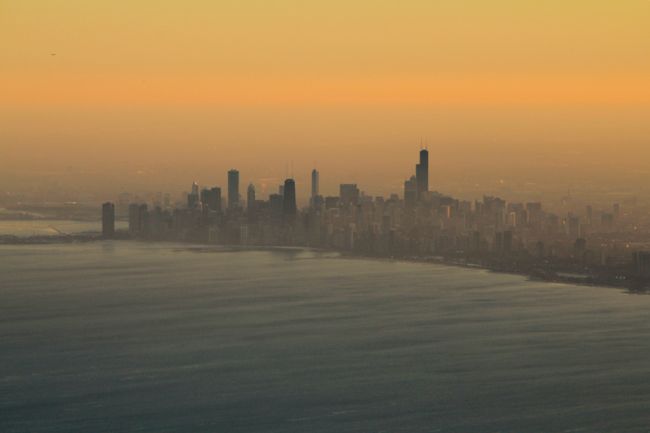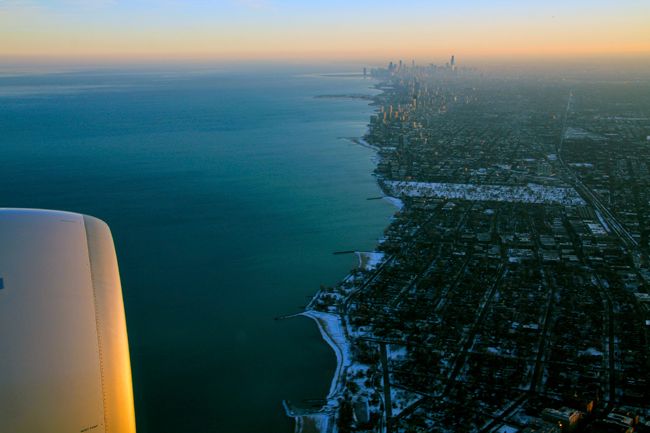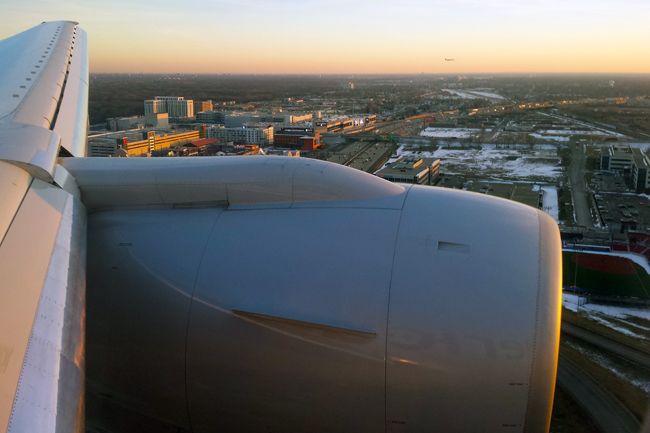 We made the taxi over to terminal 5, arriving just 12 minutes behind schedule. Pretty good going considering we eventually left the gate at Heathrow 45 behind schedule. Nicely padded. Pretty much as I exited, I found this stuck to the wall.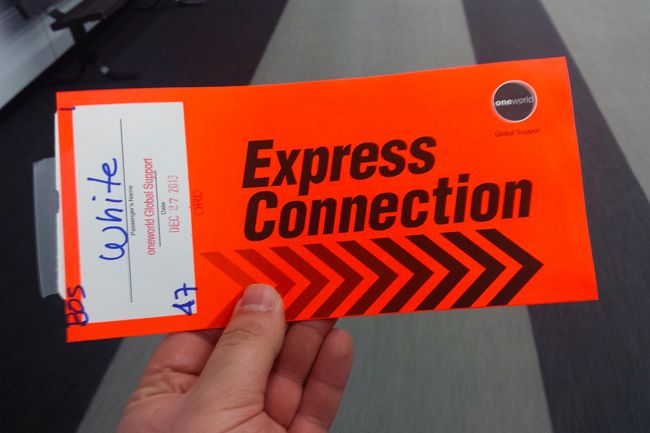 It was then a mission to clear immigration, customs, change terminal and clear security in less than 2 hours.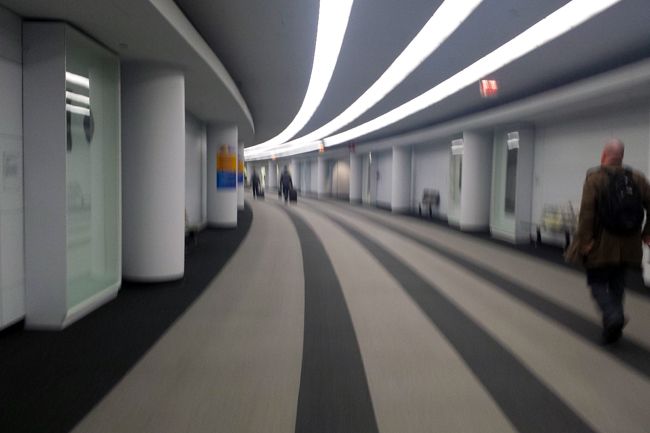 My bright orange pass meant I was put into a queue with just two people ahead of me at immigration. When I was processed, it wasn't like anything I'd experienced entering the US before. The officer sat scribbling out things in a leaflet before telling me the best joke he had… which wasn't overly funny, but I faked a laugh anyway to avoid him telling anymore and delaying me more than needed. He then stamped my passport and sent me on my way with none of the interrogation previously experienced when entering the US. Bizarre! Just when I thought my luck was in, I got to customs. The initial officer thought it was a bit odd that I was travelling alone for such a short time with just the one bag and sent me for further interrogation. It was a similar story when I reached the second officer, and he had a look through my bag to make sure everything was as it should be. He apologised, saying he knew I was in a rush but he had to do his job. Fair enough I guess, and at least he was being decent about it. He finally said he was satisfied with my intentions and I went on my way around ten minutes later and on to the shuttle to T3.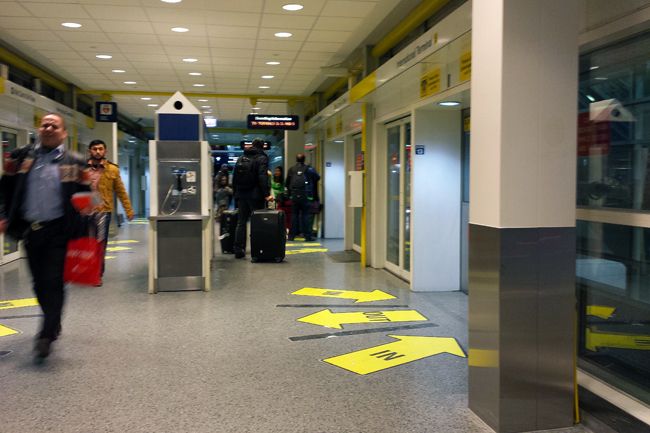 Upon arrival there, I flashed my bright orange wallet and was directed to a line with just a couple of people ahead of me. I was through by 17:00. Impressive, considering the delay to the outbound flight and being held up at customs, I'd almost written off making my connection. As I still had twenty minutes until boarding, I made a visit to the Admirals club. It was a decent enough place to wait, but I thought it was a bit off that you had to pay for most of the food and beverages. I was given one free drink chit though.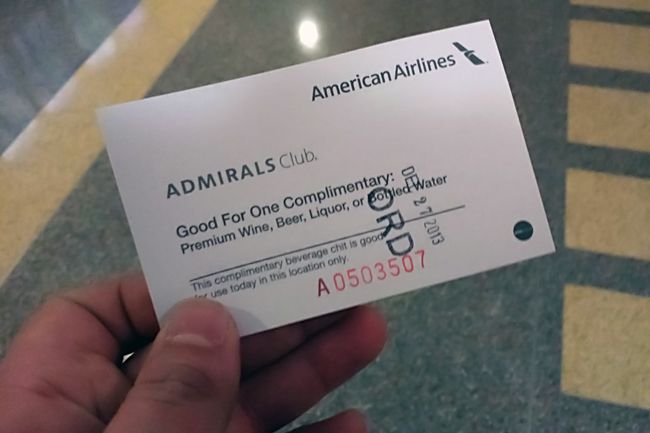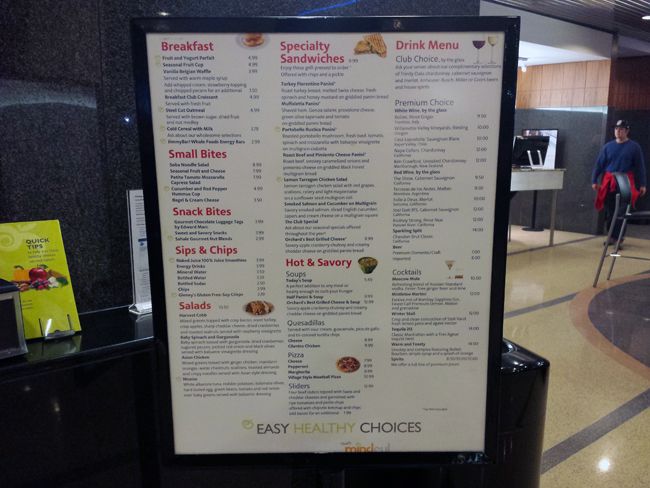 Price list – Yes, Price list.
My free premium drink and token free snacks
Just before boarding was due to start, I headed down to gate H16 and found an unidentified 737-800 waiting. Nice to see a plane here this time – I was due to depart from this gate in April 2013 and the plane never actually turned up. It ended up in Milwaukee instead!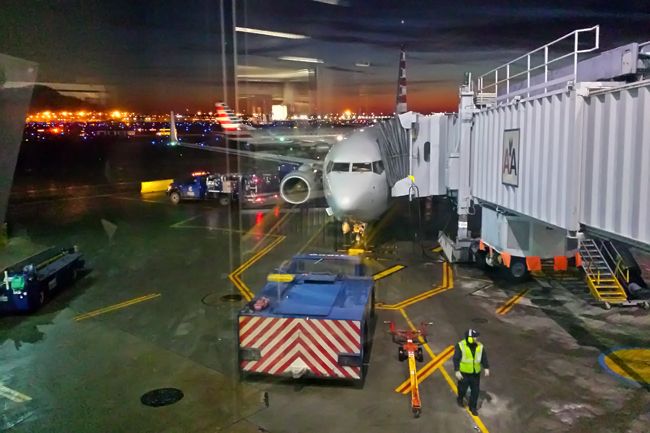 Boarding started and I made my way on board. One person in the queue noticed I had priority AAccess and signalled for me to go forward. Makes a change from the 'me first' attitude which is normally found. I noticed the screens above the gate were now showing a nine minute delay.



AA2474
ORD-BOS
December 2013
Boeing 737-823 / N805NN
Seat: 9A / Main Cabin Extra
Scheduled: 17:50 / 21:05
Off Stand: 17:52
On Stand: 20:52


Boarding was completed pretty quickly, and despite a reasonable load, the middle seat stayed free.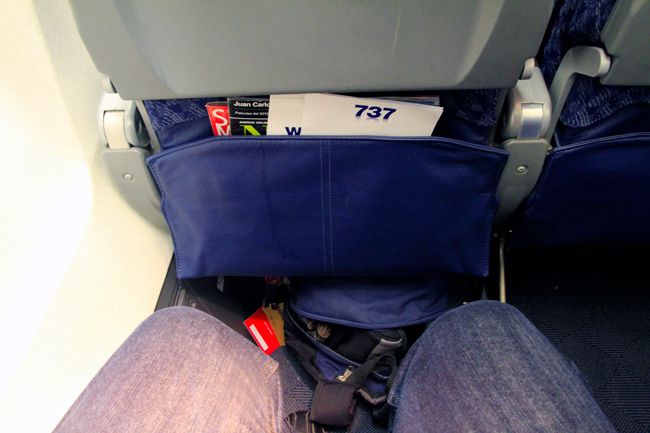 There was what I thought was a young guy in the aisle seat, although after later speaking to me, I realised it was actually a girl. Oops. Managing to catch a glimpse at her name on her boarding pass a little later on confirmed this. Bit of an odd setup all round really, as she just came and plonked herself down in the seat, with no checking if it was the right seat and not having any bags – much like somebody would sit themselves down on the first free seat on a bus/train. We pushed back a minute or two behind schedule and made a quick taxi over to the runway, during which the captain informed us of a flight time of 1 hour 43 minutes and that we were second in line for take-off. We made a speedy departure, had a brief tour of the suburbs of Chicago before heading into the darkness above Lake Michigan.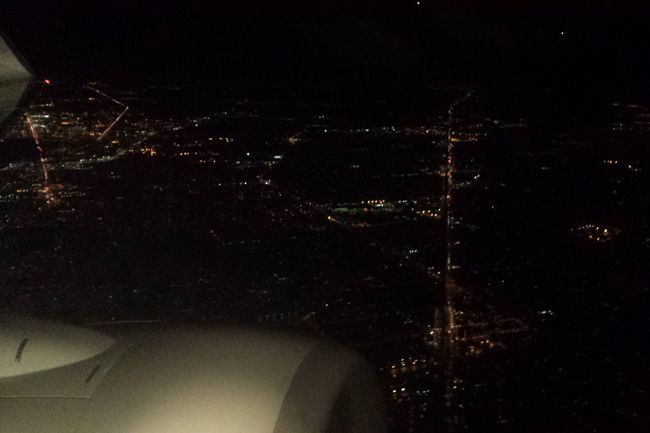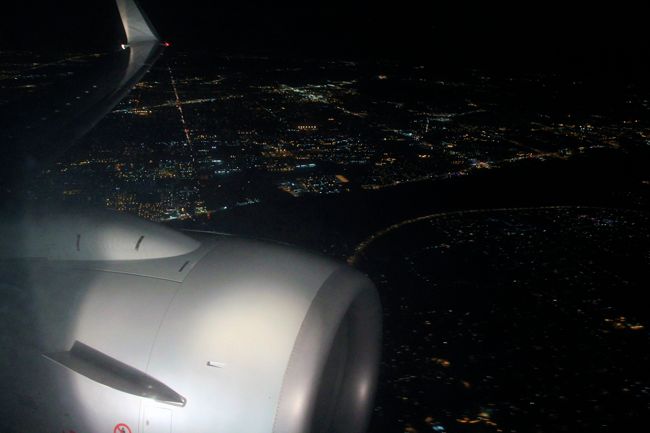 The drinks service started around thirty minutes later. Just a Dr Pepper this time. We have it in the UK, but it's not the same as the US version!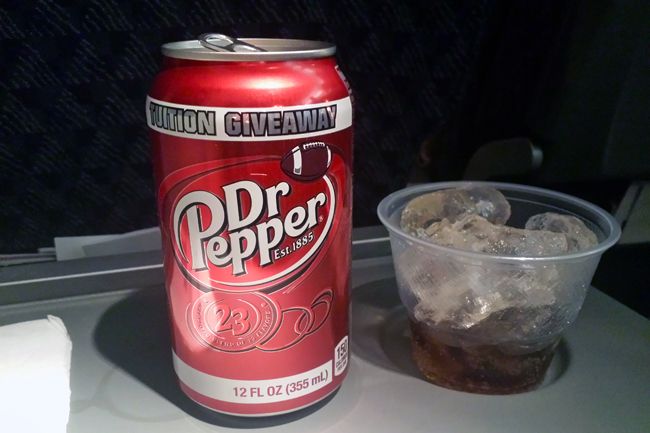 As I didn't manage to catch our reg at the gate, I put a request on Facebook (the only site available on the on board Wi-Fi for some reason) for somebody to track me and find out the reg. 817Dreamliner responded pretty quickly, saying I was on board N805NN. Thanks, much appreciated and a new reg for the log.


Much of the flight was spent nursing my drink and gazing at the various cities slowly passing beneath… And wondering why the landing lights were left on for the duration of the flight, before reading a few pages of an e-book on my iPad.


There was a program playing on the overhead screens, much like on my flight from DCA-ORD earlier in the year. And much like on that flight, I paid it no attention whatsoever!
I was starting to feel a little tired by now, but the flight deck came on and said that out of the left hand side, we there was a great view of Buffalo, and in the distance Toronto. For once, I was on the correct side!


Shortly before descent the flight deck updated us on our progress, saying we were due to land in around thirty minutes, and arrive on to stand fifteen ahead of schedule. We made a few twists and turns before landing at Logan.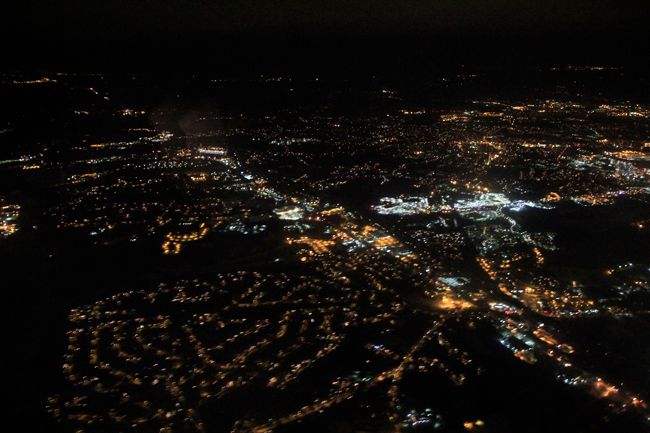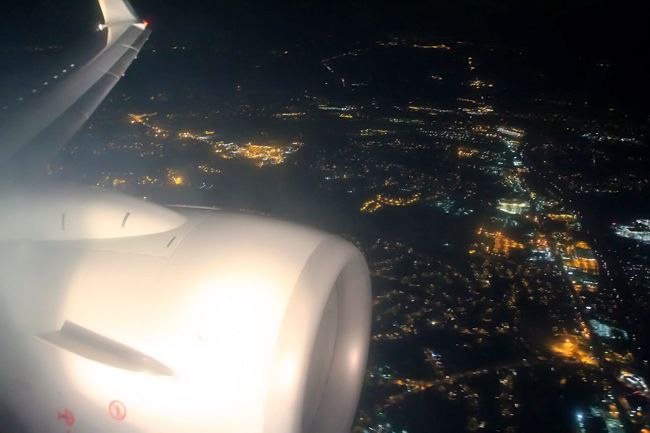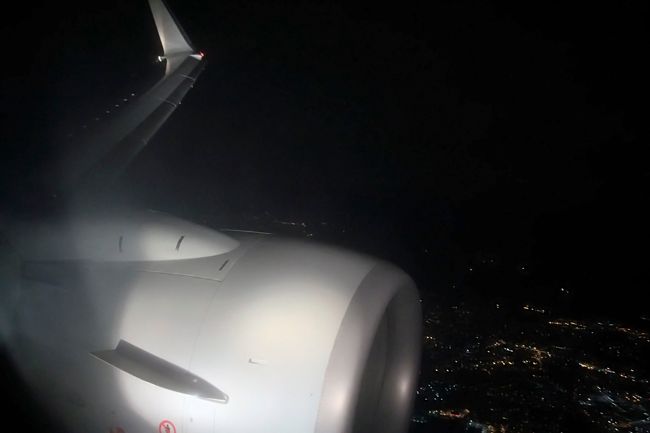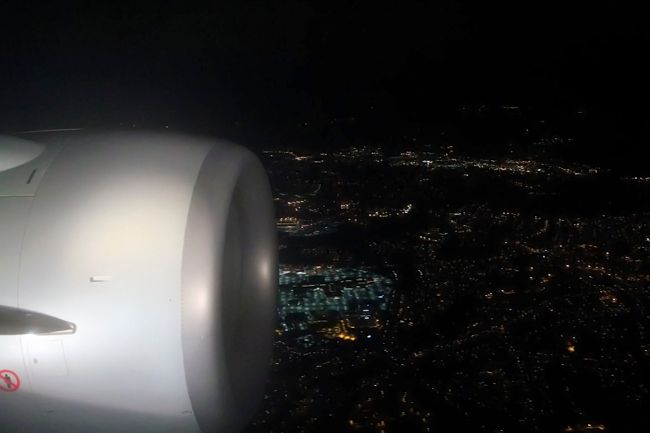 During decent the person in the aisle leant over and asked if I could see the beach. Um, well no as its dark? A few moments later, we were on to stand and I was out into arrivals, heading for a shuttle to the train station.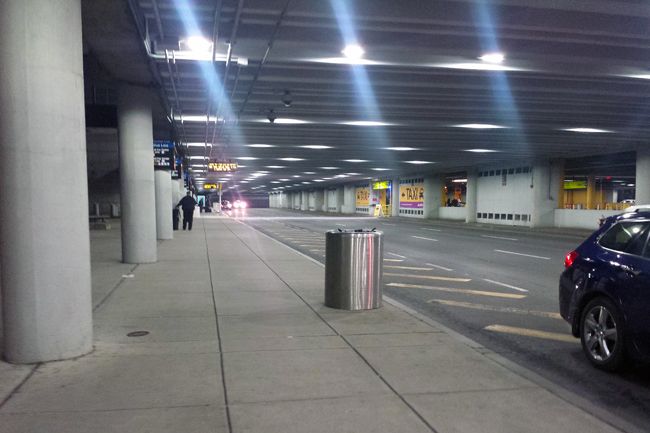 It was at this point the cold really hit me!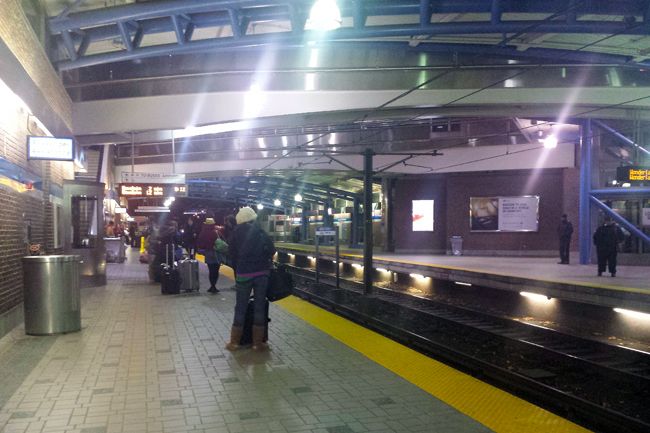 After a bus, two trains, a 500 metre walk and half an hour, I'd reached my hotel, the Hilton Back Bay. As my HHonours number wasn't in the system, I was given a free upgrade to a 'panoramic view room'. I would have settled for free Wi-Fi, but the room was pretty nice.

This wasn't in my room, but in the lounge like lobby

As it was now getting on for 3AM in the UK, it was pretty much a shower and bed. I woke up early the following morning and was now able to appreciate my upgraded view.


The next few days were spent seeing Boston's sights.

Prudential tower – Boston's highest I'm led to believe.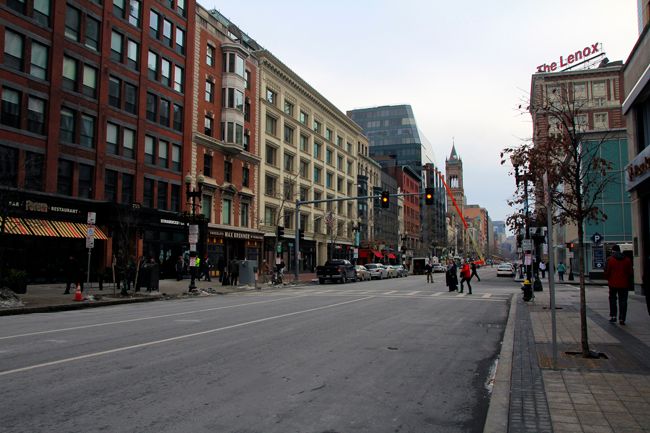 Boylston Street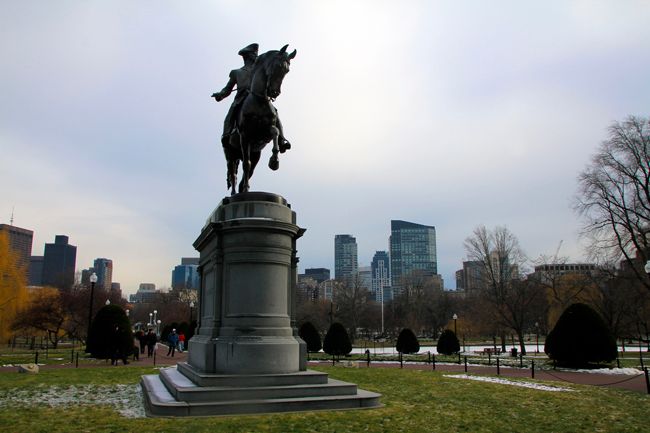 Most people took the bridge. Some decided to take a chance and walk on the ice.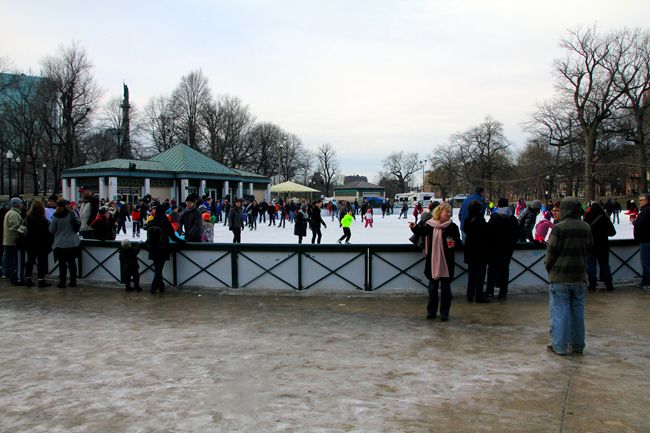 Following the freedom trail is a great way to see most of the major sights in Boston. And as it's a walking tour, you're able to deviate as and when you feel like.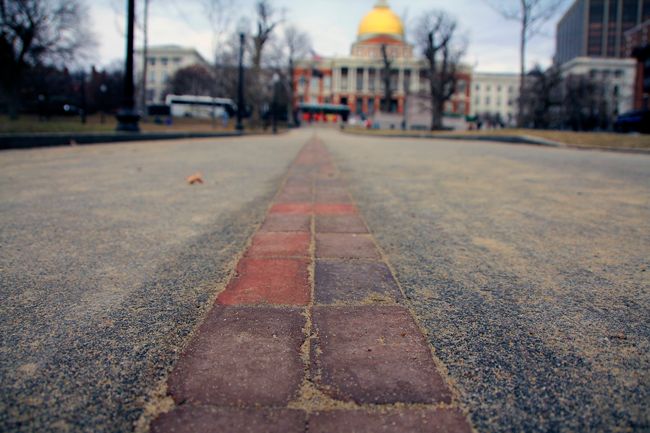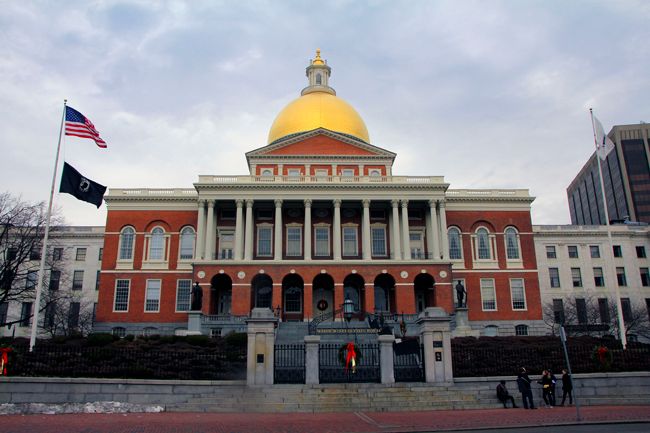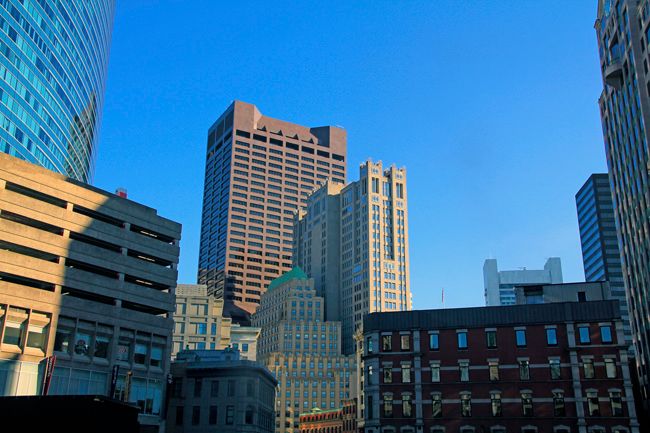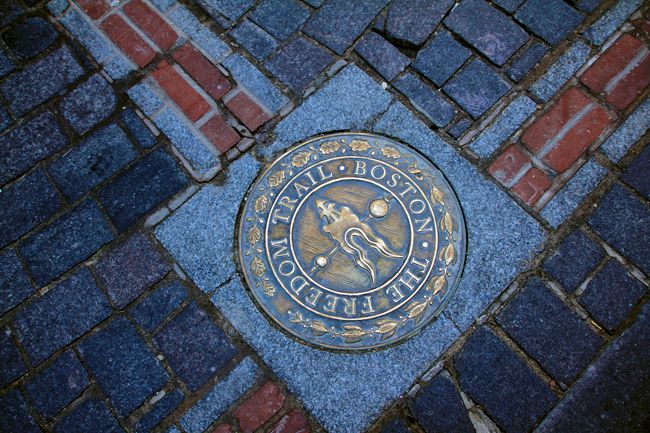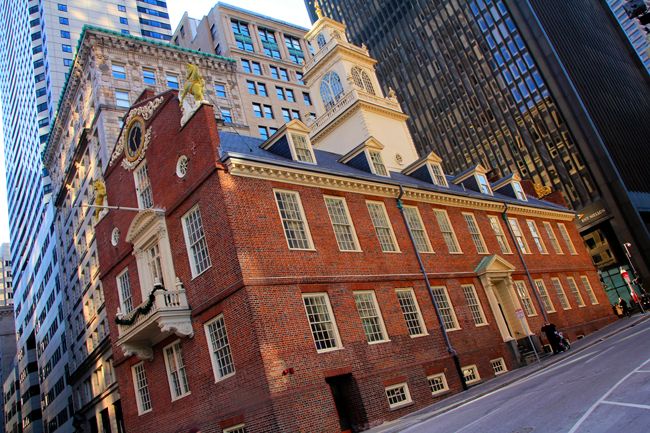 At the harbour.


Quincy Market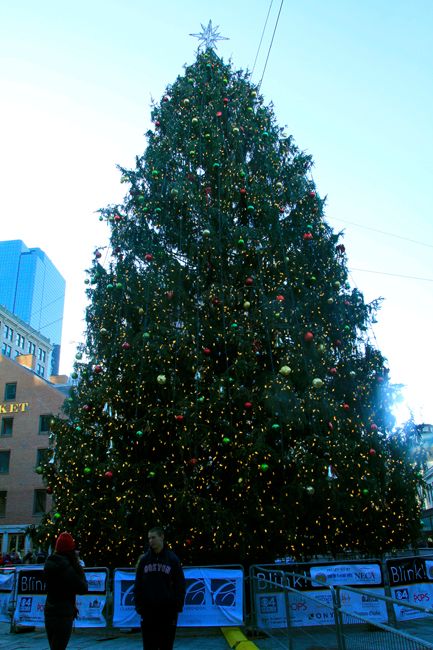 Back on the freedom trail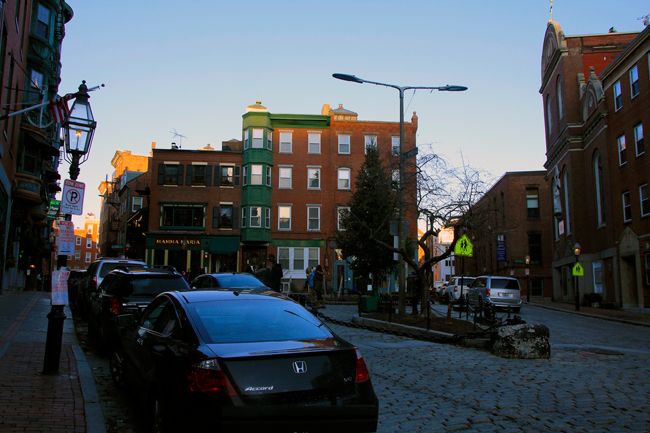 Sheltering from some nasty weather in a mall next to the hotel


The interesting looking building I could see from my window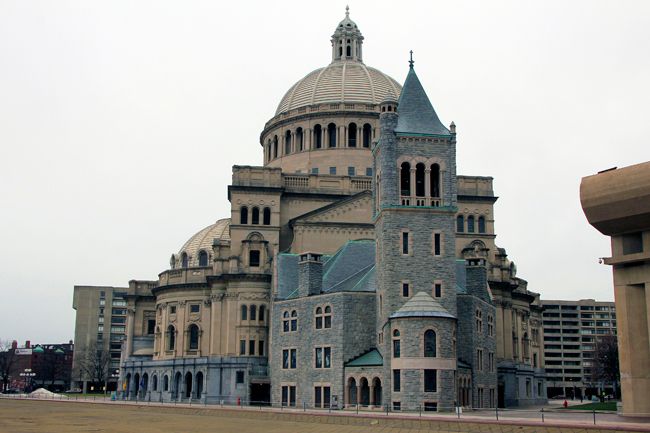 Fenway park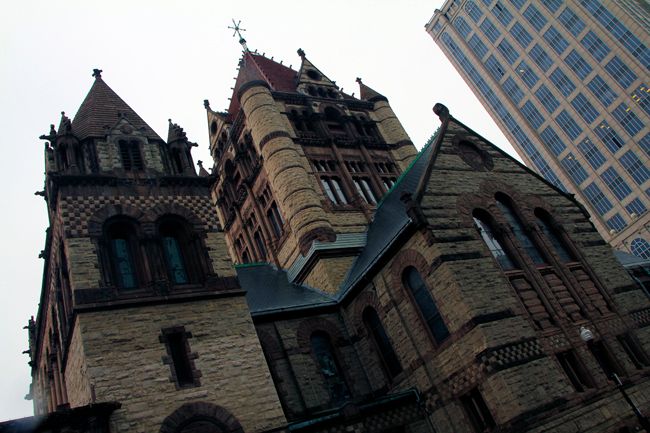 Views from the Prudential tower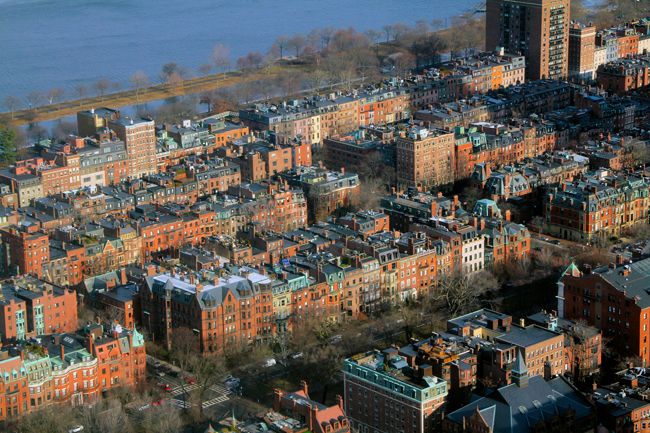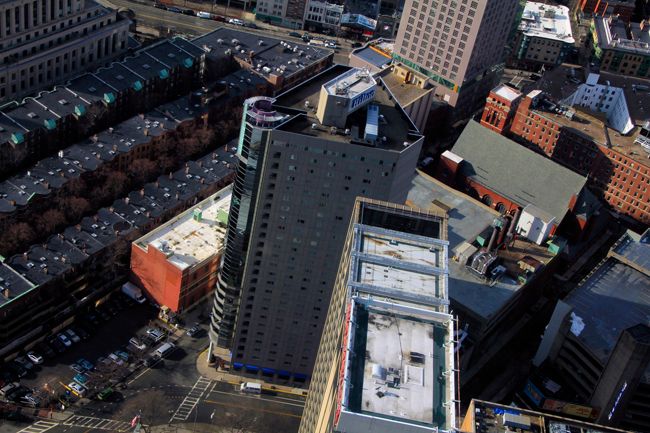 My hotel from above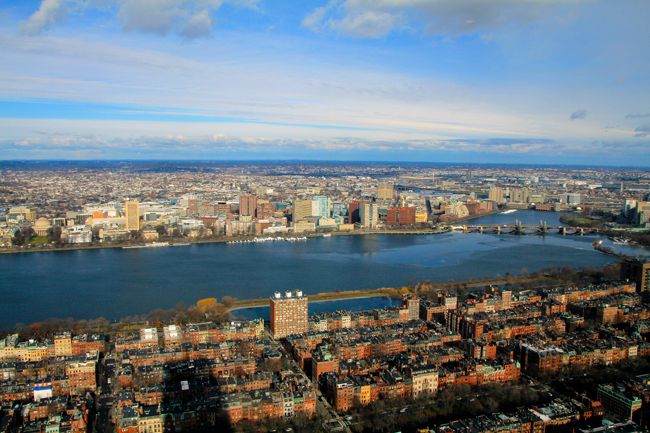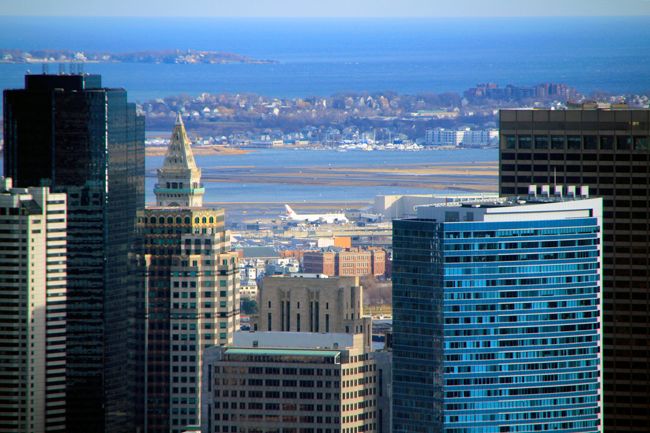 JAL 787 hiding between the skyline
And Sampling the cities delicacies


At the station heading back to BOS now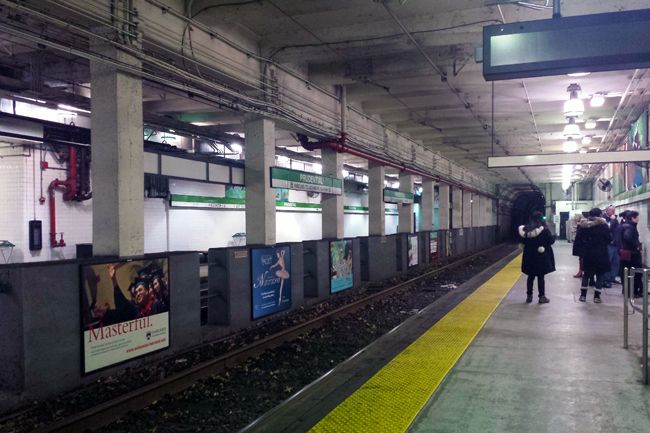 Once at the airport train station, it was on a bus over to the terminal. I inadvertently got on a bus to terminals C and E rather than terminal B where AA depart from. No big deal though as terminals C and B are linked by a walkway, offering some decent ramp views.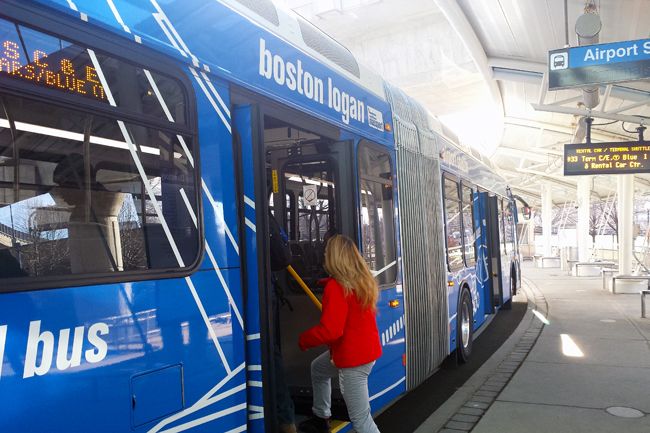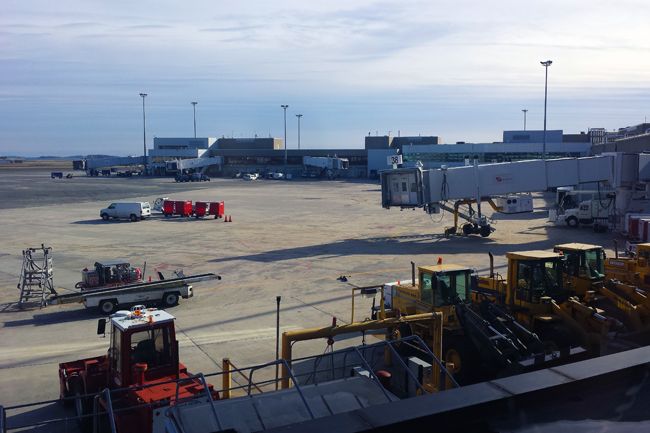 Upon arrival at the correct terminal, it was over to grab a souvenir boarding pass. Despite using the Priority AAccess check in, there were still only machines. So only flimsy receipts.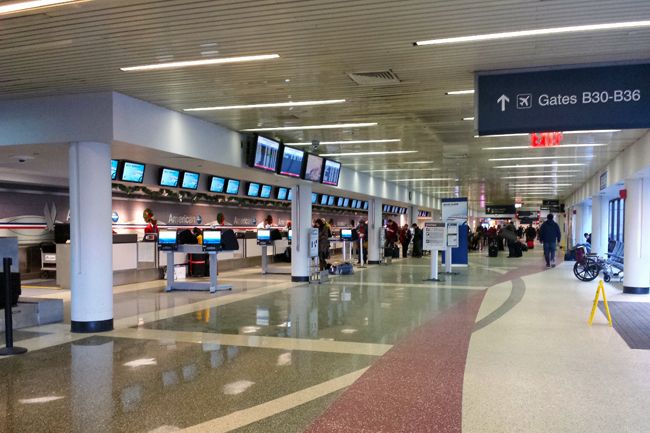 With not much landside in terminal B, it was straight through security. There was a fast track available however I failed to really notice it until quite a few other people started using it. As I was near the front of the queue I was in, I didn't see much point in swapping lanes. I was processed in around ten minutes and then it was up to the Admirals club, which was conveniently located right next to my assigned gate.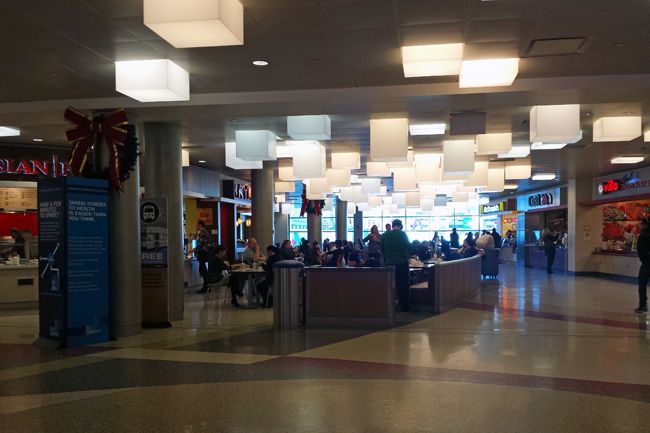 The lounge itself wasn't massive, but big enough to hold everybody. This time I wasn't given any drinks coupons, although they could have been free here, as I didn't see any price lists.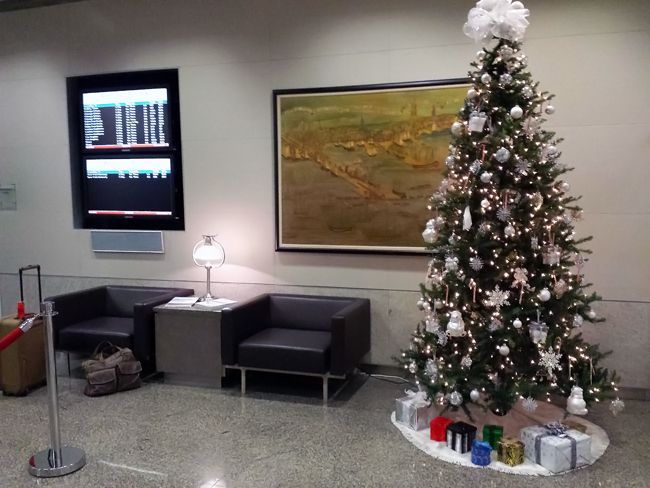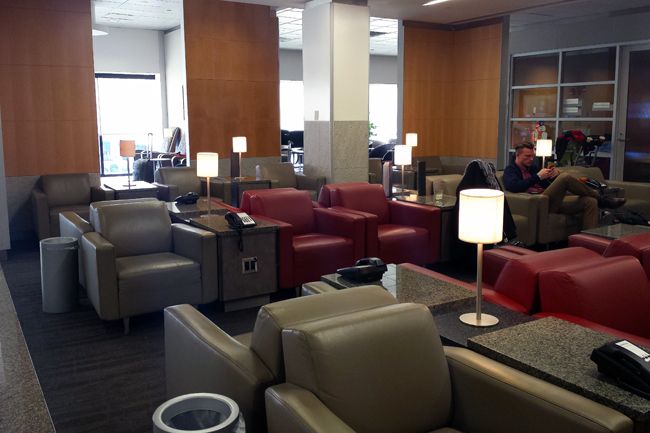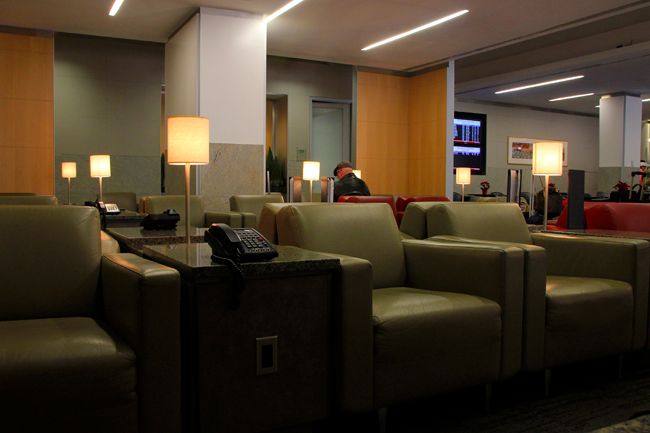 Standard AA lounge food it would appear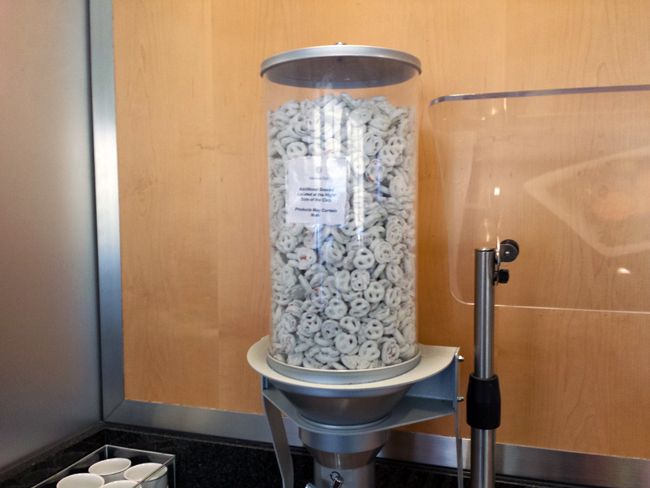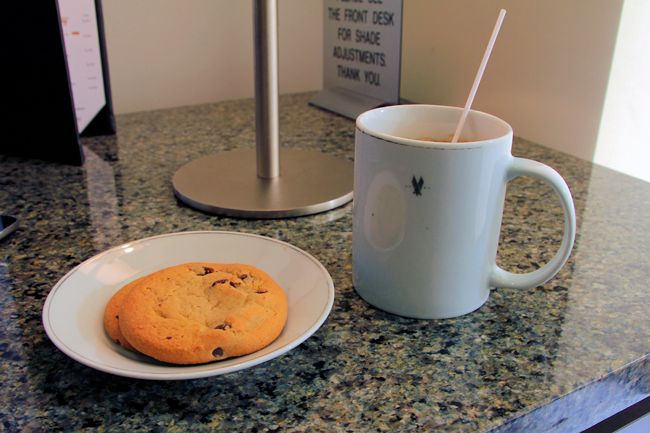 This did me, as I'd eaten before setting off for the airport.
A few moments later, I saw my jet pull on to stand, still in the old colours.


And as the later 77W would be in the new colours, this would be the only time on this trip I'd fly the 'Old American'. AA are getting their planes repainted at an impressive rate. N978AN would be doing the honours, delivered new to AA in December 2001 and having its winglets retrofitted in June 2006. And the first time on this trip I'd actually been able to see the reg.
I left the lounge around twenty minutes before boarding was due to begin and went for a walk to see what was around.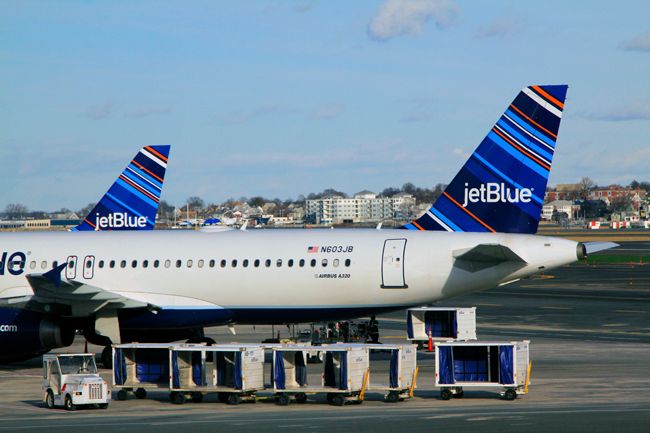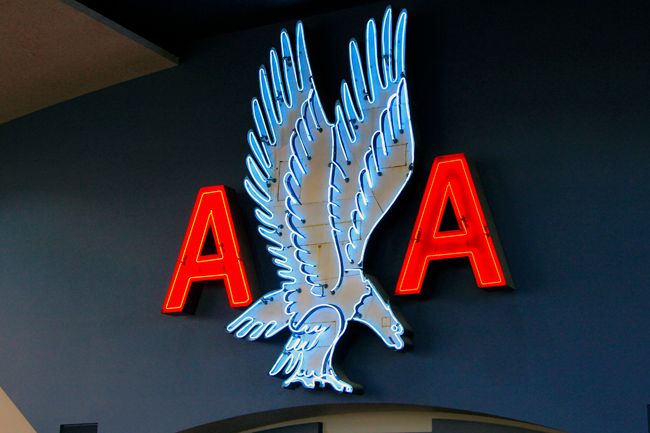 Nice!

Some five minutes ahead of schedule, boarding began.



AA178
BOS-JFK
December 2013
Boeing 737-823/ N978AN
Seat: 12F / Main Cabin Extra
Scheduled: 14:50/16:15
Off Stand: 14:44
On Stand: 16:22
The flight seemed pretty full – so much that the dog in the row opposite had to make do with the floor!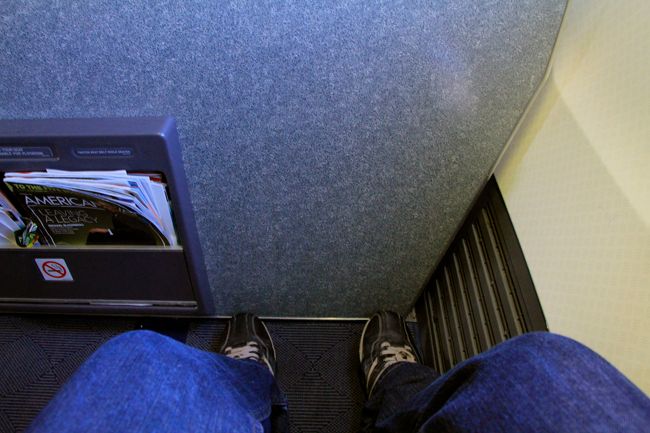 We pushed back six minutes ahead of schedule and made the journey over to the active.


Departure was at a couple of minutes past 3, behind a smoky MD80. There were great views of the city of Boston on climb out.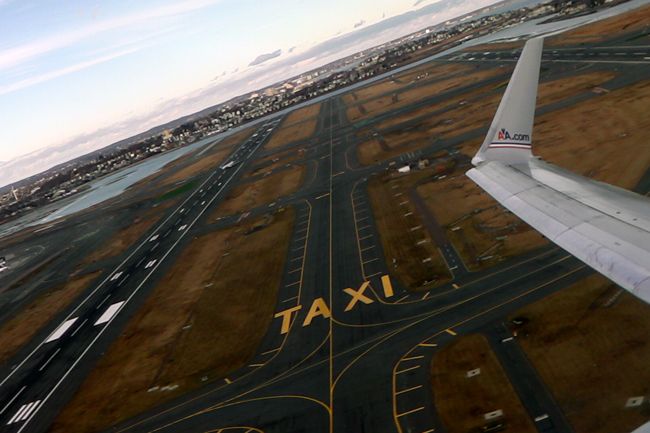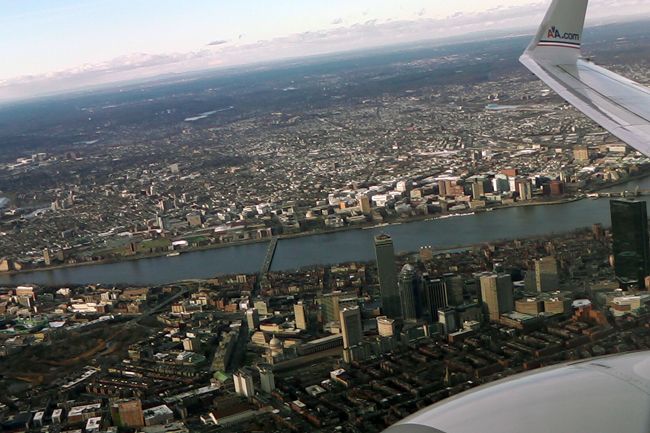 Prudential tower once more
We made a turn to the left and the captain informed us that we would be flying at an altitude of 20,000 ft.


Very shortly after, the drink service started – which surprised me as on my MCO-MIA flight earlier in the year, which was of a similar duration, there was no service at all.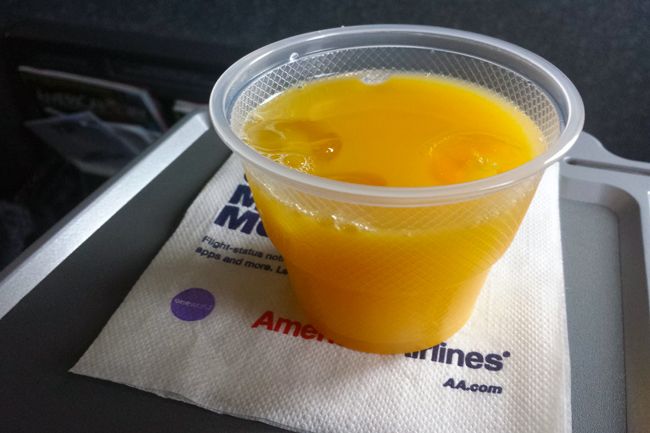 Due to the relatively low altitude there were pretty good views to be had of the coastline throughout the flight.


Passing many airfields en route, most of which looked familiar from my last flight into JFK with VS back in September 2012.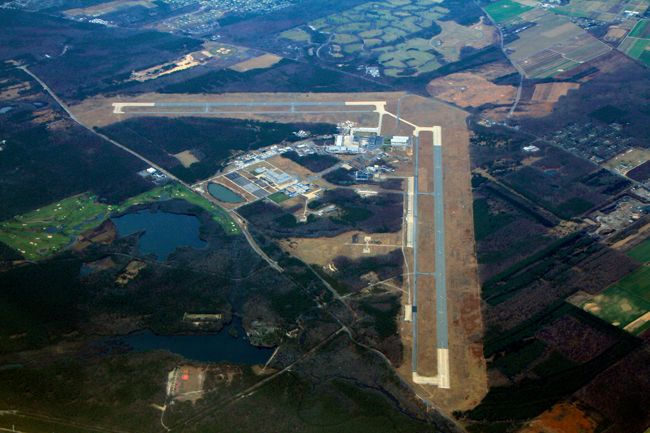 Descent started and the coastline got closer.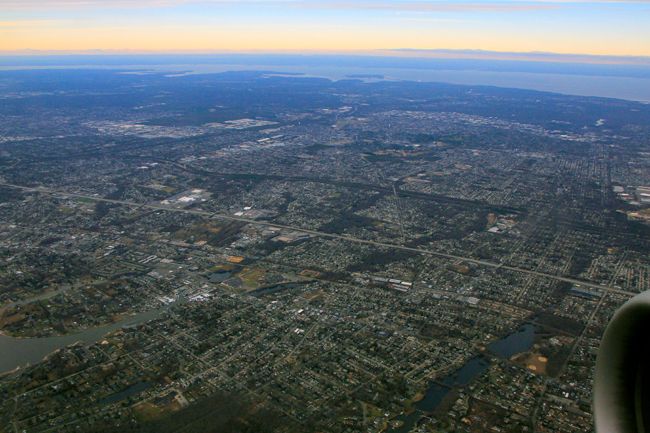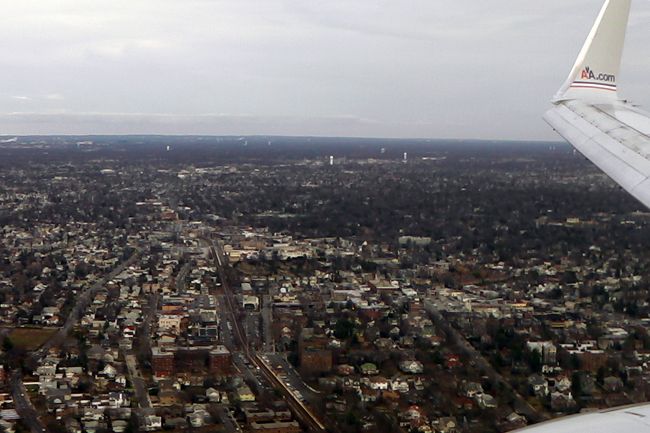 We landed at just after 15:40, some 35 minutes ahead of schedule.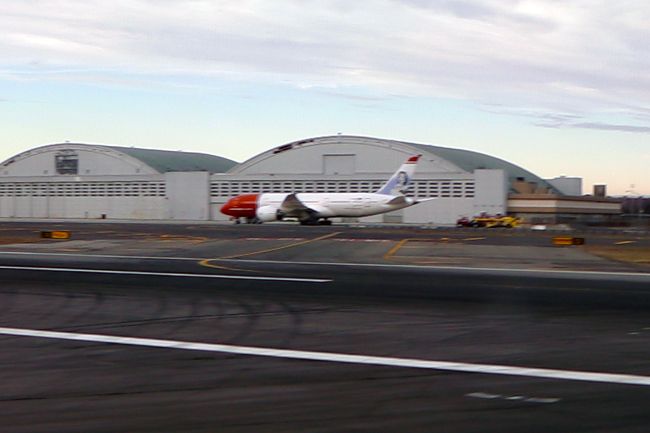 Lonely looking DY 787
Our early arrival didn't turn out to be a blessing though. We made our way over to the terminal and came to a stop. A few moments later the captain said due to our early arrival, there wasn't a spare gate so we would have to wait around ten minutes.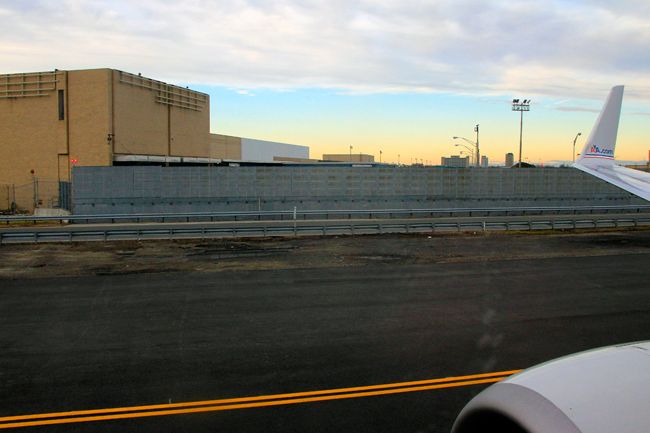 Ten minutes later, we were informed it would now be another ten minutes. We eventually did move, but only to make way for an Air Berlin A330 that had recently arrived. We then held in the cargo/maintenance area for a further ten minutes or so before finally moving back in the direction of the terminal.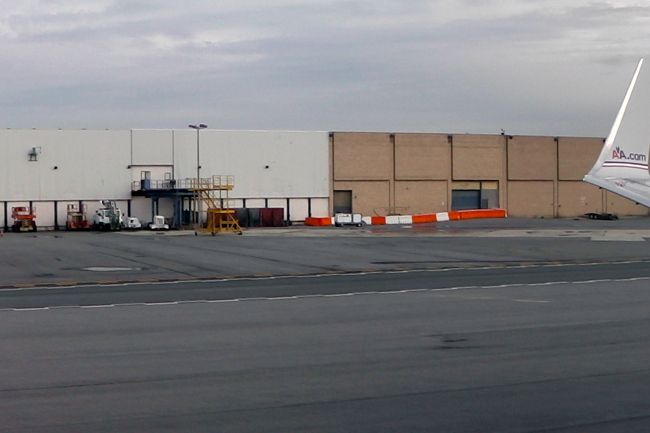 Once again, we were in the way. This time of a company 762, and were ushered back out towards the runway. It appeared whoever was at the controls was getting a little fed up, as each time we did move a little more thrust was applied each time to get us on the move!


We spun around and then followed our original route back in towards the terminal, finally pulling on to stand seven minutes behind schedule. The flight from Boston took 50 minutes; the taxi from the runway to the gate at JFK took over 40! Only in JFK. Luckily I had a decent time to connect.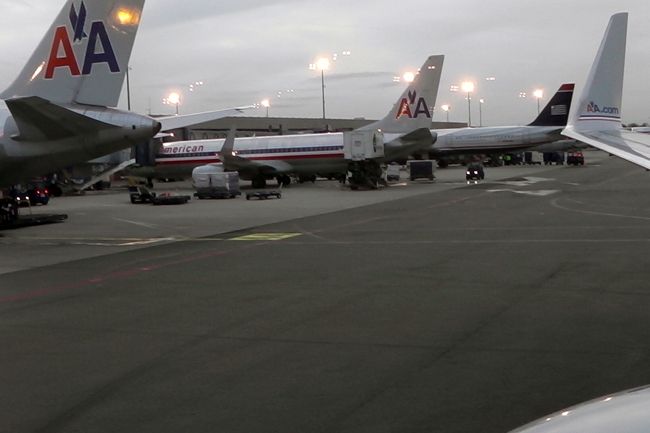 It was then out into the terminal, and across to the opposite concourse where my flight back to London would be departing from in a couple of hours time.


I made my way up to the AA admirals club, where the casually dressed staff – something I noticed at all the AA lounges in the USA on this trip, said the computer had thrown up an error. They saw that everything was as it should be from my boarding pass and FF card though and I was welcomed in anyway, gaining two free drinks coupons in the process. Once more, it was an underwhelming experience.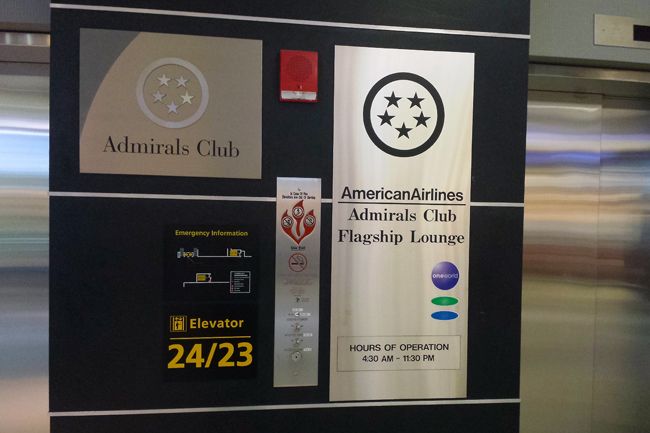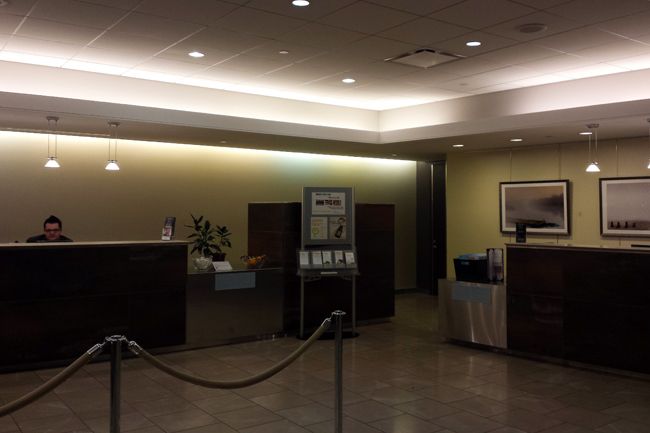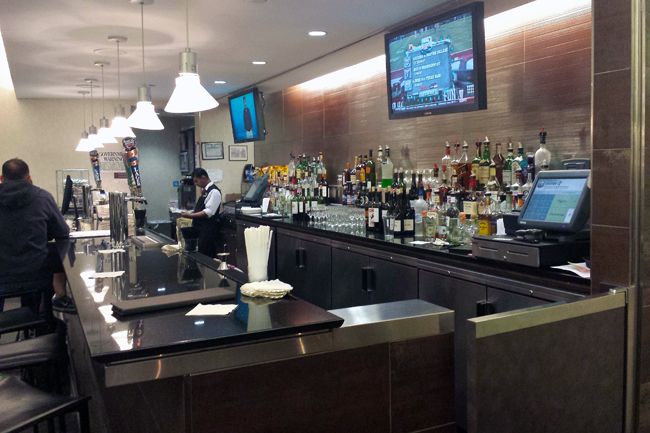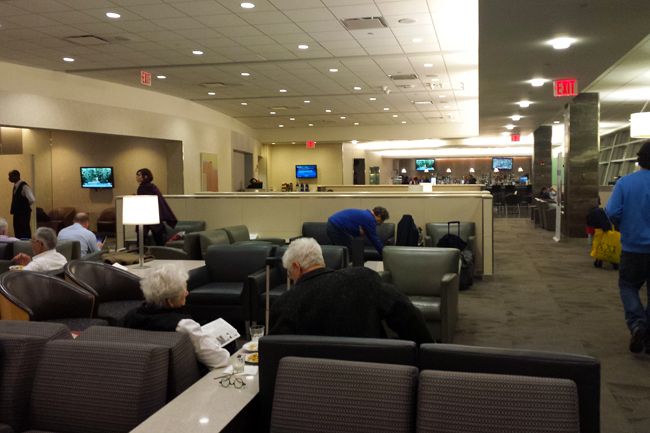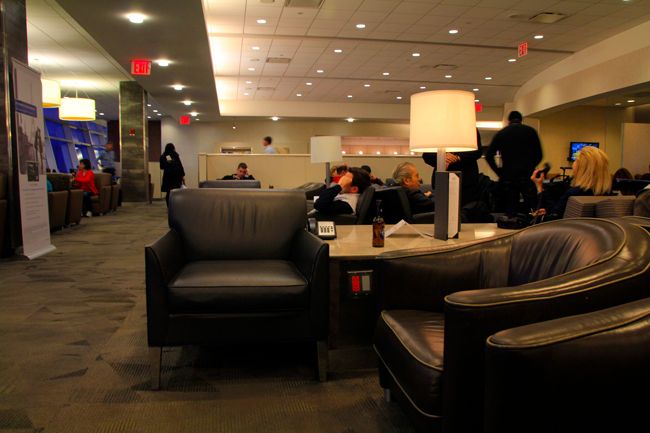 It's not only crazy that they charge for pretty much everything in here, but it's not exactly cheap either.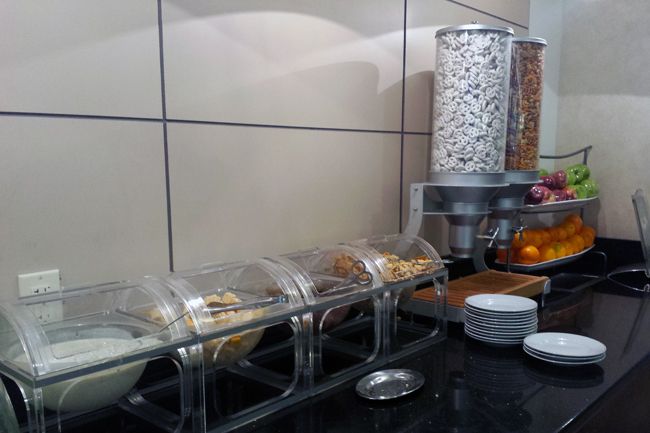 I used one of my drinks coupons on a Sprite and sat with a pretty sad looking plate of cheese and crackers.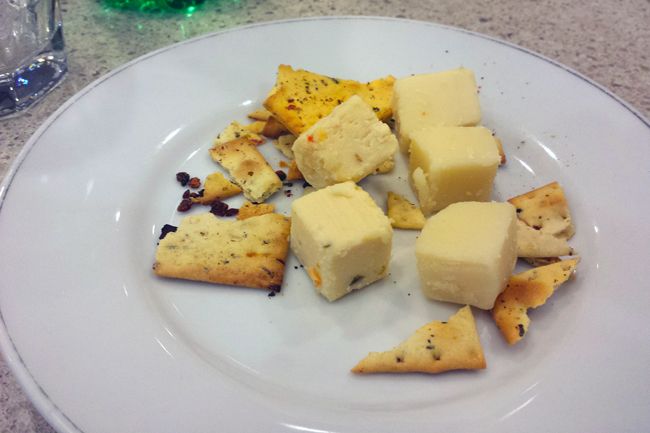 The plus side of this lounge however was the decent view of the ramp


Around an hour or so before departure, my aircraft pulled on to stand just below me. N721AN would be my bed for this evening, delivered fresh to AA in March 2013 – so just nine months old at the time. After a while, I was feeling bored so I used my second drinks coupon on a bottle of water for the flight and left the lounge to have a look around the terminal, although there wasn't an awful lot to see. I sat nearby my gate and waited.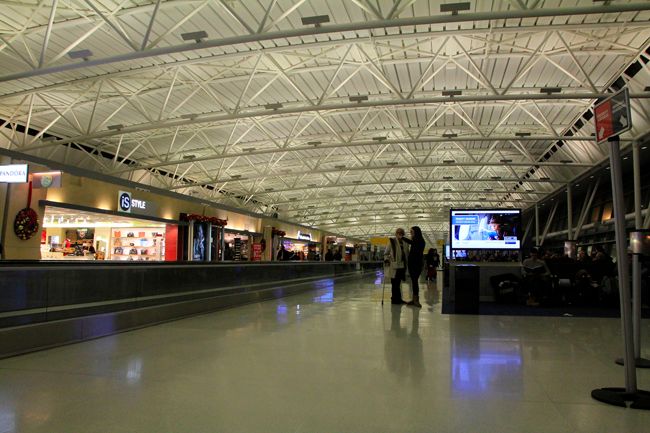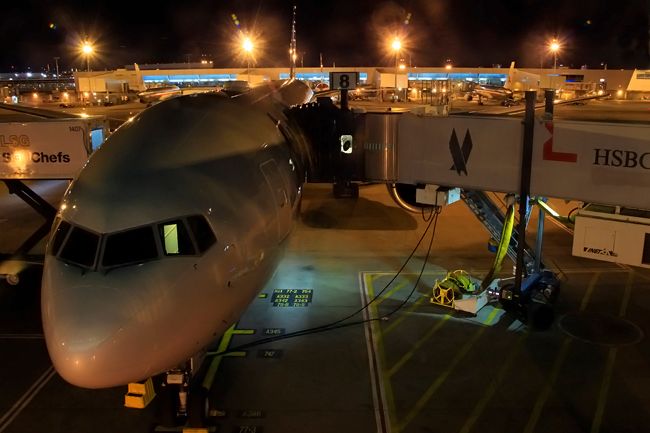 Boarding was called at 18:40, initially for first and business class. There were no takers, so then priority access was called. I ended up being the first on board.



AA106
JFK-LHR
December 2013
Boeing 777-323ER / N721AN
Seat: 18L / Main Cabin Extra
Scheduled: 19:25/07:35
Off Stand: 19:31
On Stand: 07:08
As I had the aircraft to myself, I went a bit snap happy in this separate main cabin extra.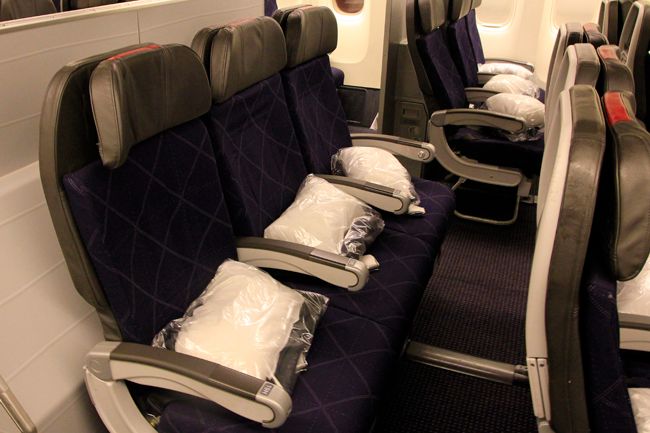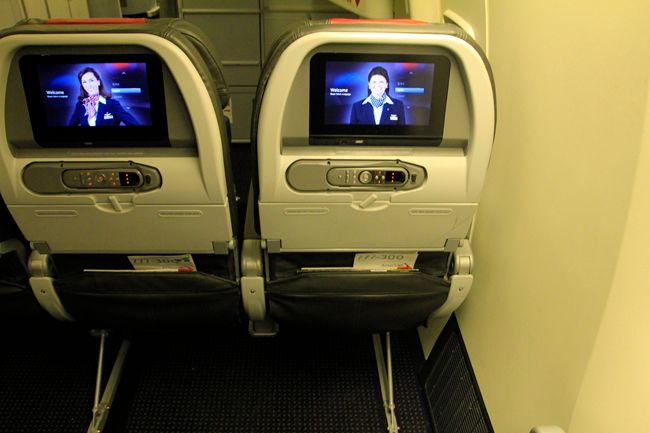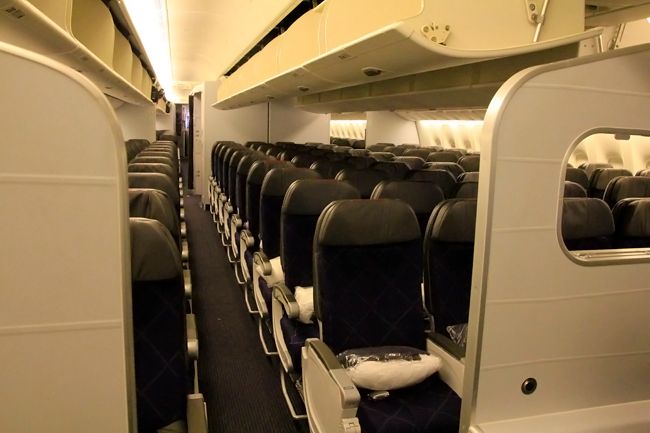 View back to the main cabin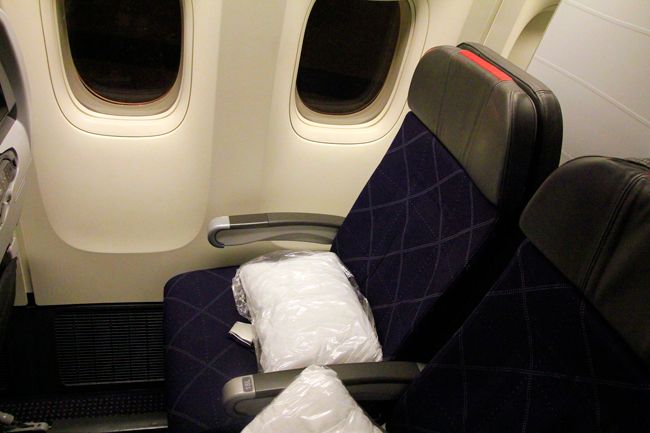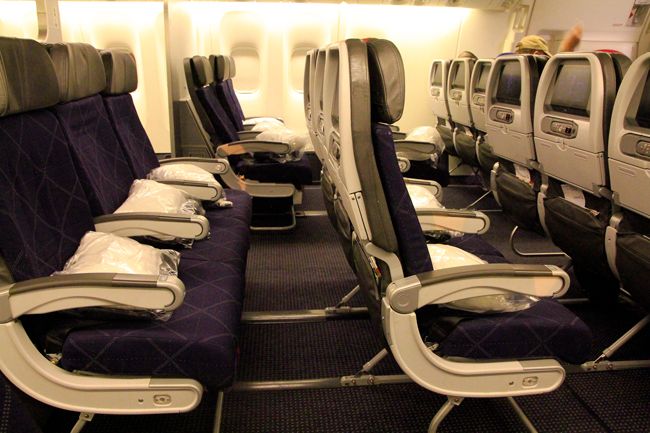 Boarding was completed pretty quickly, meaning we had a pretty long wait on stand.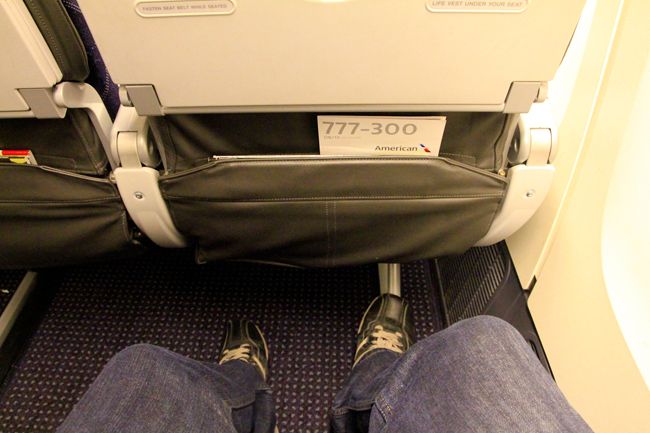 Excellent legroom
Our neighbour would also be our neighbour at LHR
Just when I thought I had lucked out with two empty seats next to me, a couple of Indian/Pakistani girls with Swiss passports and accents wandered past, and then back again looking a little confused. But upon getting a glance of their boarding passes it was confirmed they would be taking the two seats next to me. Oh so close… They still seemed to be a little unsure that they were supposed to be seated here though. We exchanged hello's then they chatted between themselves for pretty much the rest of the flight.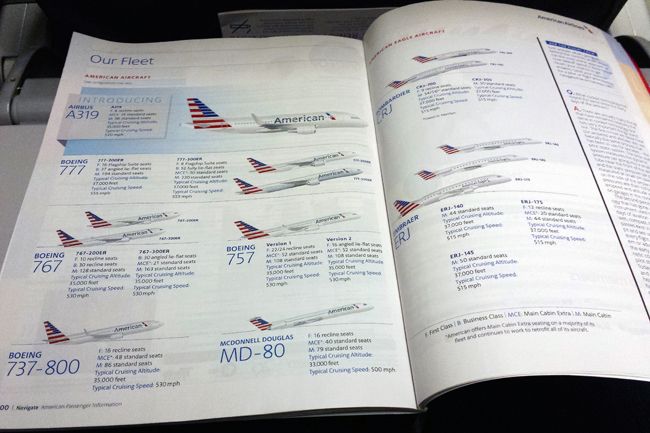 These need to happen I think
During this time the crew all but disappeared. When they did reappear, they distributed the earphones. The same ones they charge $5 on domestic flights. I gave them a quick try out, but they sounded awful. We pushed back a few minutes behind schedule, during which the safety video was played. I was more interested in the great sound if the massive GE90's firing into life though. We made our way over to the runway, giving us a great, if a little distant view of New York City.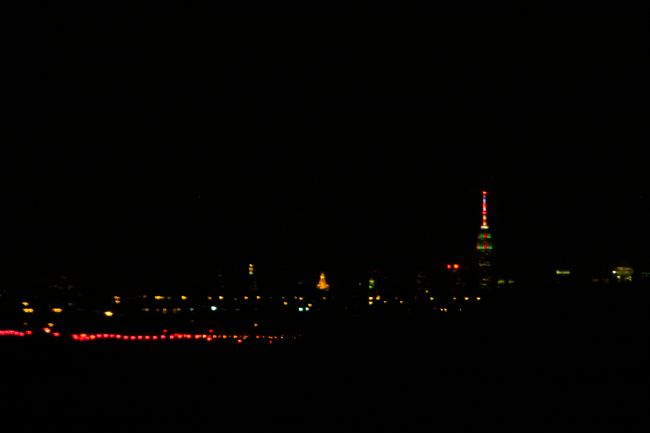 During which, the captain got in touch for the first time, saying there were two aircraft ahead of us to depart (a BA 777 and a DL 738 from what I could see) and that our flight time would be a pretty quick 5 hours 48 minutes. Probably my quickest Atlantic crossing?
We rumbled into the air at 19:55 local. I was amazed that this aircraft makes more noise on startup than on takeoff. This one seemed a lot quieter than the EK 77W's I was on earlier in the year. Maybe they gain volume with age?!
There was a brief light show before a total black out and a few bumps – much like the last time I flew out of JFK actually.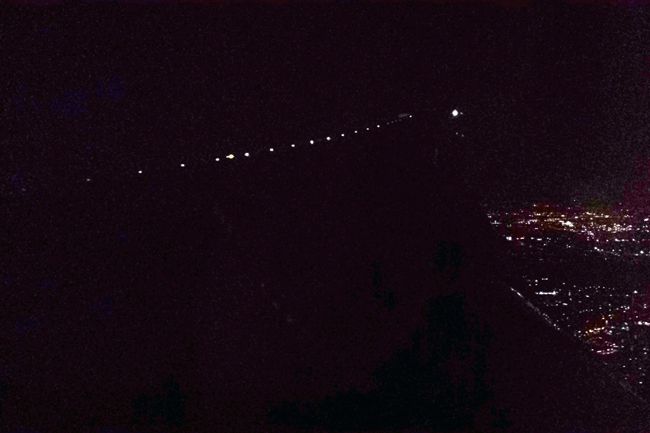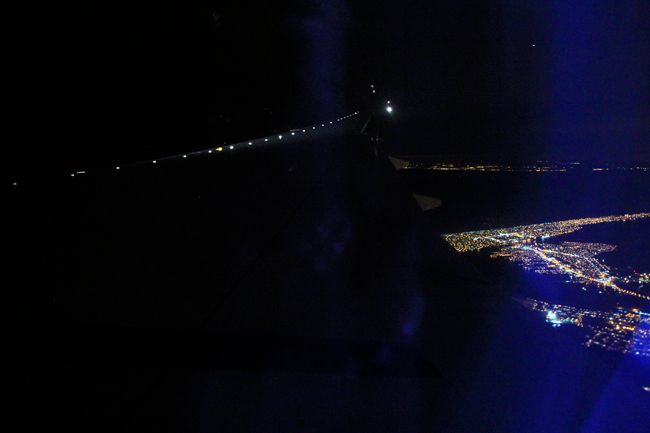 Shortly after departure, the captain was on again, saying that the turbulence we were currently experiencing should only last for another ten minutes or so and then he would turn the seatbelt sign off. It was eventually turned off around three hours into the flight, by which time most people had eaten, used the washroom and fallen asleep – myself included. He also mentioned that our expected arrival time into London was 06:35, a massive sixty minutes ahead of schedule. American really do pad their schedules. Although I figured (correctly) that ATC at LHR would likely bring that time down a touch.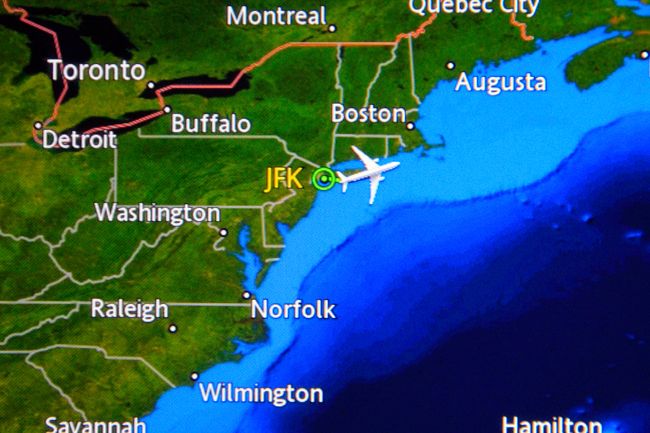 Around an hour or so into the flight, the snack service began.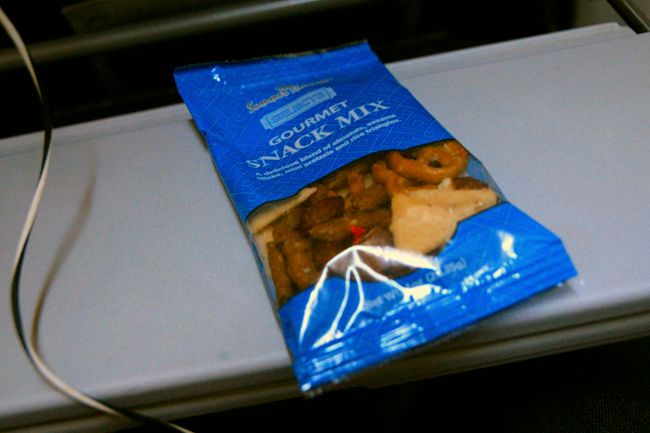 I decided to put a film on during this time, This Is the End, and for once I didn't fall asleep before it finished. So it must have been pretty good!


Followed almost immediately by the meal service. It was a choice of lasagne or chicken and potatoes. I went for the lasagne, although it was more a cheese ravioli. It tasted pretty similar to the meal I had in Venice a few weeks previously, so top marks to the AA caterers. Or the restaurant in Venice did a very poor job.


I decided to see how the Wi-Fi worked once the trays had been cleared. I didn't purchase though as I figured I'd shortly be asleep


After dinner, there was a final drinks service before the cabin lights were dimmed. As I was at the rear of the cabin, I put my seat into full recline. It actually went back quite a way – and the bottom of the seat also slid forwards making for quite a comfortable ride. The only complaint being that the IFE screens don't tilt, so when the mother of the child sat in front of me decided he should recline, it made for a bit of an awkward viewing angle. Luckily, due to the extra space offered in this cabin, the person in front reclining wasn't an issue.
The IFE itself was pretty good, although I found the touchscreen wasn't overly responsive. Using the controller worked much better though. I didn't find much of the TV selection to my taste either – just one episode of The Simpsons was the only thing that really took my fancy. I never saw the end of it though, waking only when the crew turned the lights up, just over an hour before landing. A few moments later, breakfast was dished up. The croissants were offered from a separate basket, rather than pre packaged. They were also slightly warm too.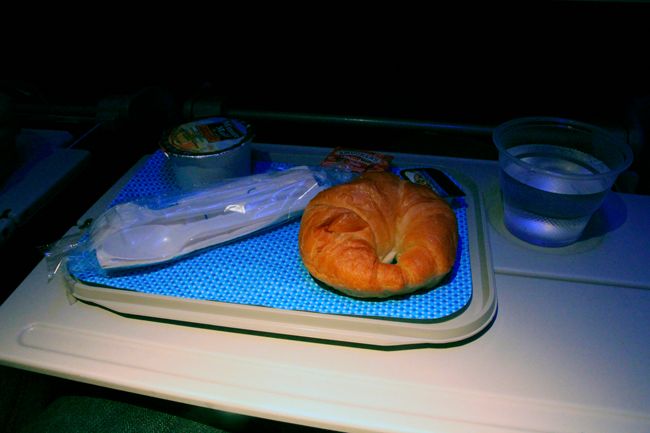 With 33 minutes left to run, things got quieter outside. A few moments later, a chirpy sounding captain gave us an 'early morning wake up call', updating us on the weather and saying there were a few delays inbound. Which was hardly surprising. After quite a few laps, the captain got in touch saying we were having to do a few more turns than expected – but we would be landing on the hour – which was still around twenty five minutes away. Bearing in mind we had already been holding for around fifteen minutes already, it was quite a lengthy hold up. I could see quite a few more flashing lights outside as we made our way around.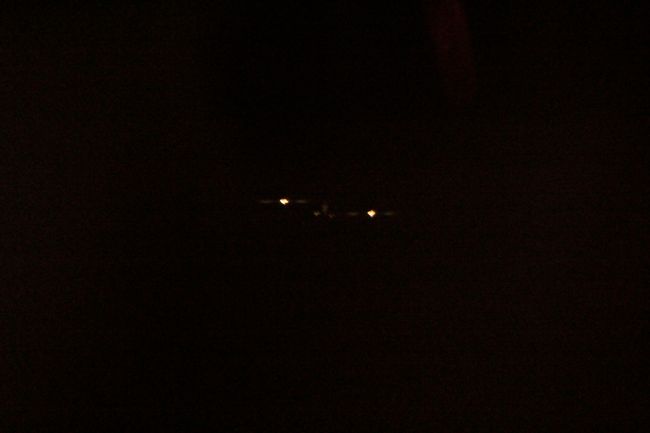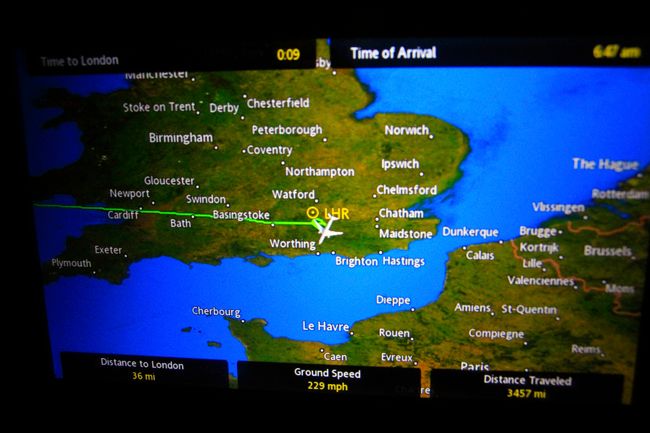 We were finally ushered on to finals and touched down into a wet Heathrow pretty much on the hour as promised. After a short taxi over to T3, we pulled on to stand 34 alongside the company 77W that had departed JFK around an hour or so before us. We also passed the last CX 744 service into LHR along the way. Had I realised I would have attempted a picture.
Disembarking was a pretty relaxed affair for once. My two seatmates had rushed off to catch their BA flight to ZRH, and everybody else was casually putting their things away, leaving when they were ready rather than the mass stampede towards the door the second the parking brake is applied. As I made my way through the business class cabin, it appeared it had been pretty empty due to all the wrapped blankets and seat belts still crossed. It looked decent enough though, apart from the windows being seemingly blocked out by the design of the seat


It was then the usual procedure – through a maze of corridors, through to a busy border control and then out to the central bus station.


Did American manage to win me over then? They certainly did! I've made no secret before that after my experience with them previously I thought they weren't too great. But a few months after their relaunch they appear to be getting it right in the air. The business class I experienced was very good, despite being a little old. All the food I had on board was great. My only complaint about the service in the air was that on the domestic flights there aren't any free food options – even a bag of the snacks I got on the JFK-LHR sector would keep them on a par with the other US carriers.
The downsides however continue to be on the ground. It's only a minor thing, but I like to see an actual person at check in rather than have to deal with a machine. And I was massively unimpressed with the lounges stateside. The one in LHR was pretty good, however charging for food and so called premium drinks left me thinking what's the point? If I wanted to pay for a meal, I'd grab something in the terminal – and it would be far cheaper too.
And that brings 2013 to a close for me. Next up will be my first two Euro Hops of 2014, seeing me fly to a sunny, but not overly exciting Faro on a combination of Norwegian and BA, and a rainy visit to Salzburg, again on BA in their Club Europe cabin on a pair of elderly 737's.