Alitalia | Airbus A320 | FCO-LHR | Economy
This Trip
KLM Cityhopper | Fokker F70 | LHR-AMS | Economy
KLM | Boeing 737-800 | AMS-FCO | Business
Hilton, Rome FCO
Alitalia | Airbus A320 | FCO-LHR | Economy
Airline: Alitalia
Aircraft: Airbus A320
Route: Rome – London Heathrow
Flight number: AZ204
Seat number: 29F
Cabin: Economy
Flight date: March 2016
Check In / Security
Upon arriving at Fiumicino, I was a little unsure of which terminal I needed to use. A quick check of the FID showed that Terminal 1 was where I needed to be.


I walked up to the Alitalia desk and was asked my destination. I replied London and was sent to another desk. I was checked in without any fuss, but then told that the flight would actually be departing from Terminal 3 – how confusing! As such, I had to clear security there. No big deal as it was right next door, but how hard can it be to send you to the right place to begin with?


Security was an absolute breeze. I used the fast track and was met by an official with a hand held scanner. I saw that the scanner came up with a red cross and said I wasn't eligible, however no mention of this was made and I was given the all clear to proceed anyway. Thumbs up for the use of common sense and not just using the "computer says no" approach. Upon reaching the x-ray, I was the only person there and I was processed in just a couple of minutes.
Lounge
Alitalia have a handful of lounges at FCO. The one I used was to the right as I exited security. There was a boarding pass check before heading up the stairs. Next door was the recently (as of March 2016) reopened British Airways lounge.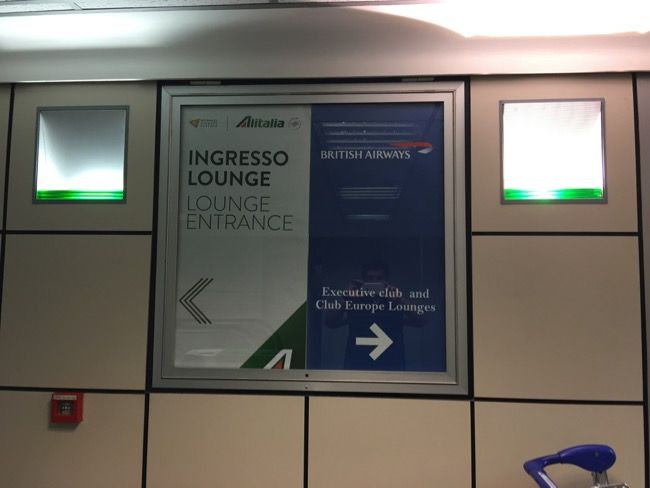 Into the lounge itself, and it was a little on the small side, spread out over two levels. There was a manned bar and a small buffet area which included pasta, pizza and other small snacks.


Whilst most occupants decided to stay on the ground level, I headed upstairs which was virtually deserted, and therefore quite peaceful.


Boarding / Onboard
When boarding came, it was over to the satellite. A few minutes before boarding was announced, the ground crew sorted the mass pile of gate lice into something a little moe organised. Most were sent to the general boarding line, where as a few remained in the Sky Priority lane. Although it made virtually no difference, as it was downstairs on to a bus anyway.


On board I was pleasantly surprised. I had expected to find a cabin that was a little long in the tooth, however this one appeared to have been recently refurbished.


Legroom was reasonably good and the seat reclined miles. An added bonus was that the load was very light on this Easter Sunday so I had plenty of room for myself.


Service
The service was a little strange. When dishing out the main snack (an aubergine roll, along with soft drinks) the crew member serving the rear of the cabin couldn't look more uninterested.


However, as previously mentioned, I was flying on Easter Sunday and Alitalia had an extra surprise up their sleeve. A pretty big tray of mini easter eggs were handed out and the same crew member couldn't have looked happier. I grabbed a couple and they shook the tray and gave me a look as if to say "take more", followed with another big grin. I obliged.


Arrival
As is normally the case at Heathrow, there was quite a bit of holding involved – pushing the flight time to around two hours thirty minutes.


Touchdown was made on to runway 27L, meaning a short taxi over to Terminal 4. There was a bit of a wait at border control as one of the many fail KLM shuttles had just arrived, but I still made it from Terminal 4, to Heathrow Central and over to Terminal 5 within 25 minutes.
Conclusions
Admittedly, I had some reservations when I booked this flight. However none of them were justified and I actually had a decent enough flight. Sure the cabin crew were a little surly but all the other staff I met at the airport were fine. The lounge could have been a little bigger, but I guess its taking the strain until the one in the satellite opens in May, which I should be trying out when I fly through Rome then.
Questions? Comments? Come and Say Hi on Twitter!
Follow @mytripreport
Look out for the YouTube video soon!